I made my first fall wreath over the weekend and it turned out better than I expected!
I use the term "made" very loosely because I didn't really make anything on it.
I started with an off-white burlap wreath I got on clearance from Joann's. You may have seen me post it on
Instagram
2 weeks ago:
The wreath was originally $40 but I got it for $8! I couldn't have made one for that cheap!
When I was checking out, the girl asked me where I was going to hang it since it's so light colored and would get dirty easily. I said outside even though the tag clearly said indoors only. I'm a rebel, what can I say haha Her comment stuck in my head so I sprayed a few coats of Scotchgard on it before I began to fallify it.
I wasn't sure how to decorate it (again, first fall wreath) so I wandered around Michael's for a little while looking at all of their fall pick options. I narrowed my choices down to two that I got on clearance for $1.49 and $2.49.
The main pick is the one you see with the dried lotus pod, pinecones, sticks, faux leaves and faux orange/yellow berries. I pulled the pumpkin, the acorn, and the red berries off of the other pick and nestled them into the main pick.
I didn't want to permanently attach anything to the burlap wreath so glue was out of the question. Instead, I used a few
cable staples
to hold the picks in place. The wreath form underneath the burlap is foam so the nails slid in like butter!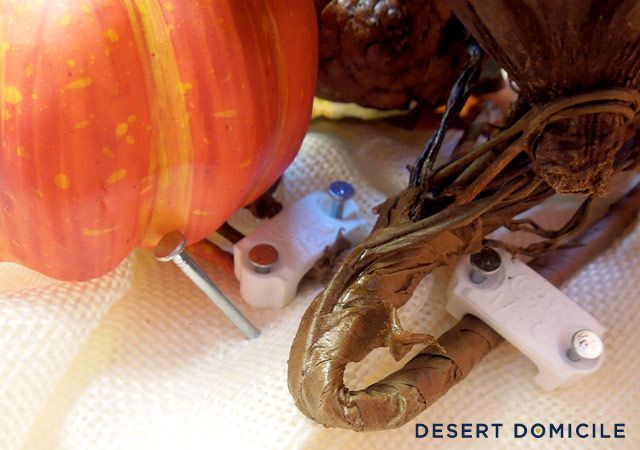 I stuck the wreath to our door with Command strips that I added to each side of the back of the wreath:
I didn't measure the placement, I just eyeballed where I thought the wreath would look the best and then I stuck it in place.
I love the texture of the burlap and hope that the Scotchgard helps keep it from getting dirty.
I also love how the orange in the wreath's picks coordinate with our door and Tabouret chairs:
I mentioned a while back that
our front patio
was looking a little different nowadays. Here's what it currently looks like:
Our planters used to sit in front of our sidelight window (see below) but our spineless yucca wasn't getting enough light and it started to die so we moved the planters out into part of the yard.
The planters' legs are buried in the dirt because the planters fell over during a monsoon storm. They got scratched up and the crashing noise scared us half to death so burying them seemed like a good solution for preventing a repeat crash performance.
In case you're curious, here's what our patio previously looked before the planters fell over and the chairs took their spot:
And here's one more wreath shot for the road :)
What do you think of my first fall wreath?
Psst:
don't forget to vote
for your favorite blogs in the
Lamps Plus 2013 Home Blog Awards
! That $500 is calling your name, I can hear it :)
SOCIALIZE WITH ME!



This post contains affiliate links.