Thanks to everyone who voted for me in the Lamps Plus Best Home Blog awards! I don't think they've tallied up the winners yet but I'll be sure to let you know the outcome! :)
---
Happy Monday!
How was your weekend? Mine was busy, busy, busy! I attended two birthday dinners, helped my boyfriend's brother's fiancée try on wedding dresses and met Kim from
NewlyWoodwards
!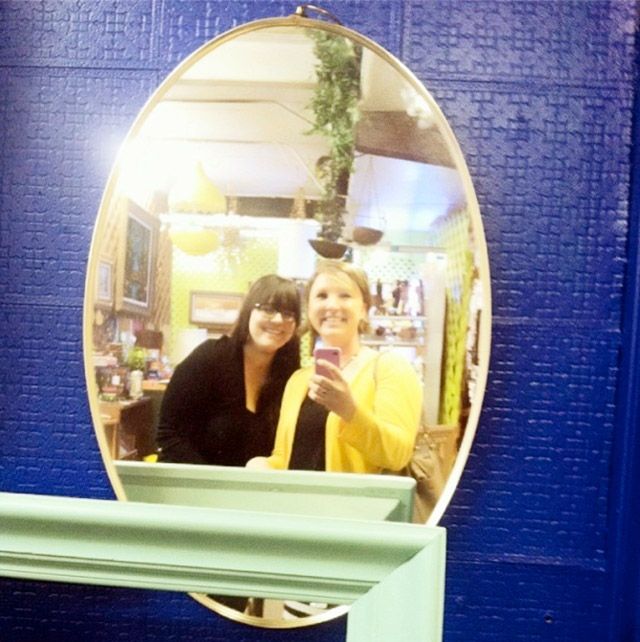 She happened to be in Phoenix visiting family so I drove up there Saturday morning and met her for lunch at
Four Peaks Brewery
. We spent most of the time chatting away and even though we had never met before, it felt like I was spending time with an old friend I hadn't seen in a while!
After our lunch, we made our way out to some vintage shops on 7th Avenue. The first store we went into didn't allow photos but I did find a nice pair of chairs that needed to be reupholstered. I also found a pair of
Wassily leather chairs
that were $399/each. I don't know if they were reproductions or not but they were in great condition!
The second store we went into had a ton of stuff everywhere! I loved this subway sign:
It was only $49 which I didn't think was too bad for such a large piece!
I really liked this old, worn leather bag: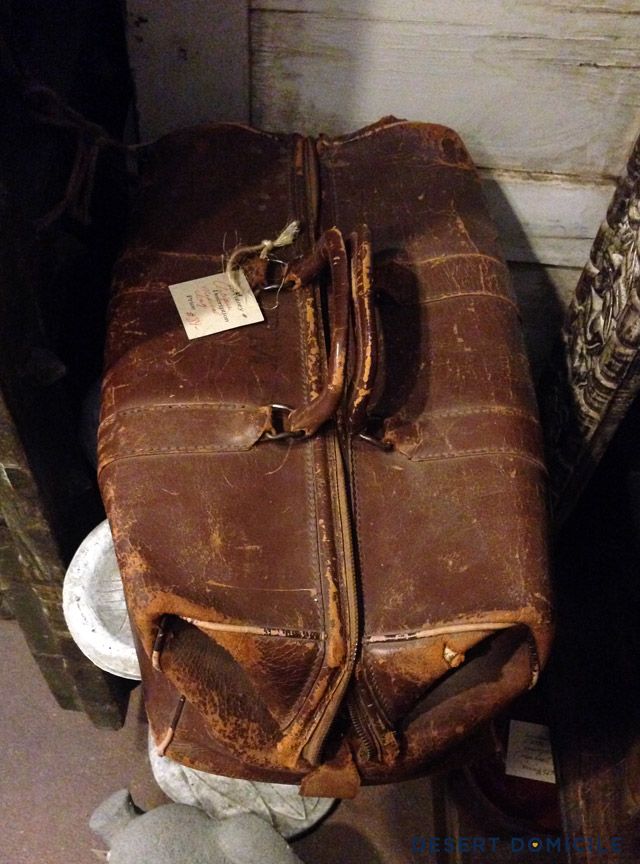 It was $89 which Kim and I both thought was too much.
I thought these paper mache faux-taxidermy animal heads were different!
The pig was my favorite but I didn't check to see how much it was.
This cast iron mermaid was $59 and almost came home with me: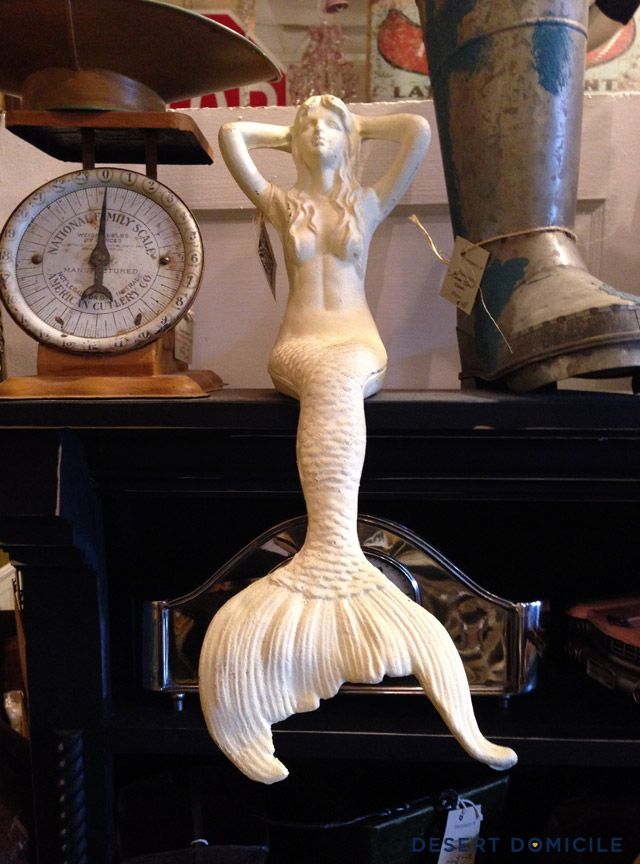 I liked how she was posed but wasn't sure where she'd fit in at my house.
I liked these vintage trophy toppers:
They were $22/each which I thought was too much. I think you could easily find an old trophy at a thrift store for maybe $5 and take the top of it off yourself!
This store also had a ton of other stuff for sale like burlap sacks, some giant cast iron lions, a vintage soldier's helmet, bins full of hardware, odd artwork, etc.
The second store we went to was right next to the first. They were asking $85 for this vintage locker:
It was pretty tall (maybe 7'?) and had a lot of character. Kim and I thought it would look great in a mudroom!
I loved this olive green flat file cabinet that was selling for $425:
I remember seeing a home tour in HGTV's magazine that included a massive flat file cabinet as a coffee table and I loved the look of it. This one wasn't quite big enough to be a coffee table though so I passed.
Guess how much the wooden 7-UP crate on the top right of the shelf was?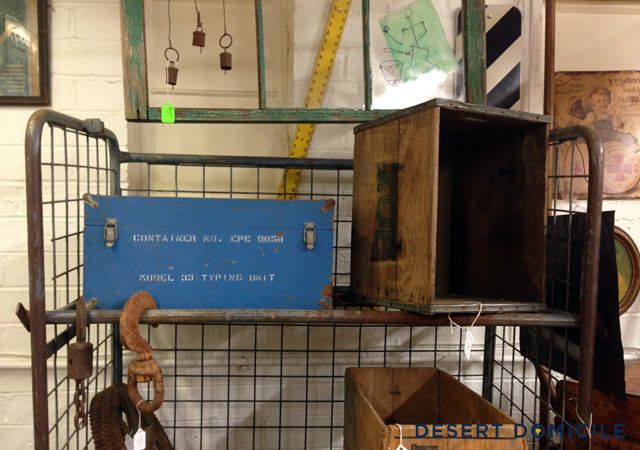 $3! Such a steal! The one below it was $15 and I think the blue one to the left of it was $30.
This brass trunk was hanging out in a section behind the mirror that Kim and I took the photo in above: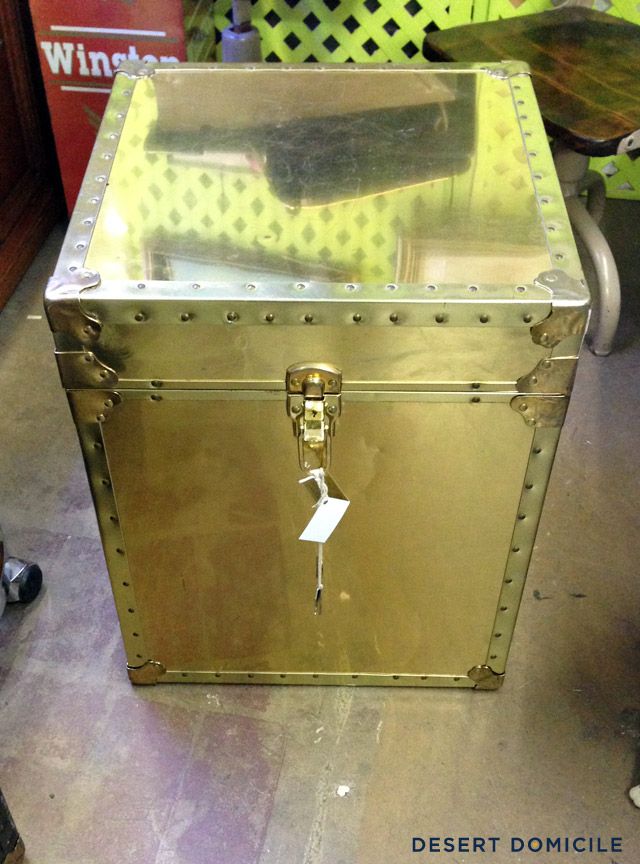 It had a few dents and scratches but was in great condition for a vintage piece. It was $59 and reminded me of the one Kristin at
The Hunted Interior
won from Emily Henderson!
These lockers were $300 I believe: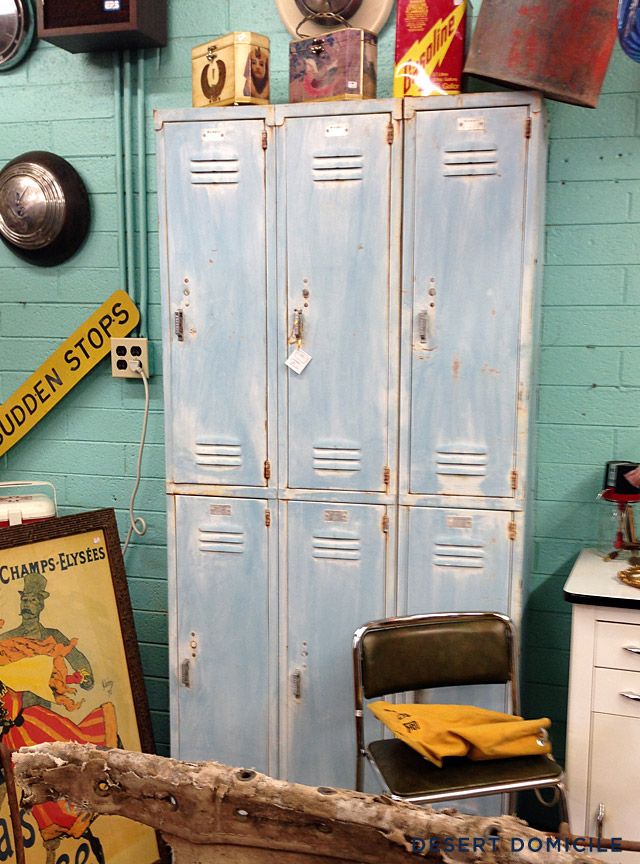 I thought they'd also look great in a mudroom or in a kitchen/dining room acting as a pantry for extra storage.
This store was also selling records, card catalogs, metal letters, vintage license plates, old table legs, window panes, wingback chairs, cast iron towel hooks, etc.
We went to a couple of other neat stores before visiting a mid-century modern furniture warehouse. They had a white set of vintage
Bertoia chairs
sitting outside that were in pretty good condition from what I could tell. I don't know how much they were asking for them but it was probably way out of my price range haha
They also had vintage Eames loungers, chesterfield sofas, teak sideboards, etc. I was in awe of all of the amazing pieces they had to offer that I only managed to snap one photo of this chair:
They had two of them and they looked super comfortable! They also had a set of yellow chairs that would have made good stand ins for the gorgeous leather ones everyone loved in my
living room mood board
. They had a rocking mechanism in them and were pretty comfortable but were $1,650 for the pair so they stayed behind.
I ended up buying 2 things and one of them is shown above! Can you guess what I got? Stop by tomorrow to find out!
SOCIALIZE WITH ME!