I attempted to add the hardware to the doors and drawers of our guest bathroom's vanity Tuesday night. I planned to have them all installed before my boyfriend got home from work so I could show off what I had done and have a blog post up yesterday.
As the post title states, I failed.
If you can't tell from the photo below, the screw head broke off of the screw I was screwing into the pilot hole I had made which left the bottom pointy portion of the screw stuck in the drawer front. Sigh.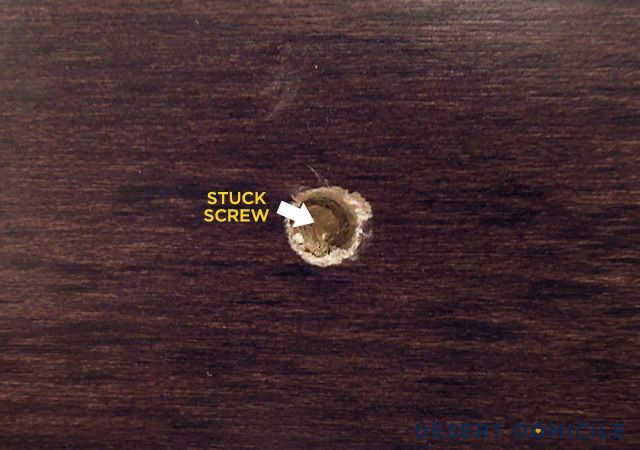 The hole is so tiny that I can't stick anything inside of it to try and pry the remaining piece of screw out.
Desperate for a solution, I did a little Googling and came across a suggestion somewhere that said to try drilling into the screw with a drill bit to see if you can get the drill bit stuck in the screw and then reverse it out to remove it. I tried that anddd I broke the tip off the drill bit I was using. I suggest you don't try it either. Needless to say, it wasn't a very good night.
I'm not entirely sure what to do now. A few blogger friends gave me some suggestions (thank you again!) that I plan on trying at some point but right now I'm not ready to jump back on the hardware train. I'm worried I'm going to damage the drawer front to the point where the hardware won't cover the damage.
Speaking of the hardware:
I got polished brass bin pulls for the drawers and polished brass knobs for the doors. I think they'll look nice if I can ever get them attached ;)
Have you ever had a screw break off in something?
SOCIALIZE WITH ME!