I have some exciting news to share with you today!
I was chosen as a finalist for
Better Homes & Gardens' first-annual Blogger Awards
in the DIY category!
Ahhh, I still can't believe it! I have no idea how I was chosen and I honestly feel like I might be getting Punk'd haha Ashton has to be hiding somewhere, I'm sure of it!
All kidding aside, it's an honor to have been chosen and I'm really, really thankful to whoever nominated me and ultimately chose me as a finalist. Thank you, thank you, thank you :)
Speaking of finalists...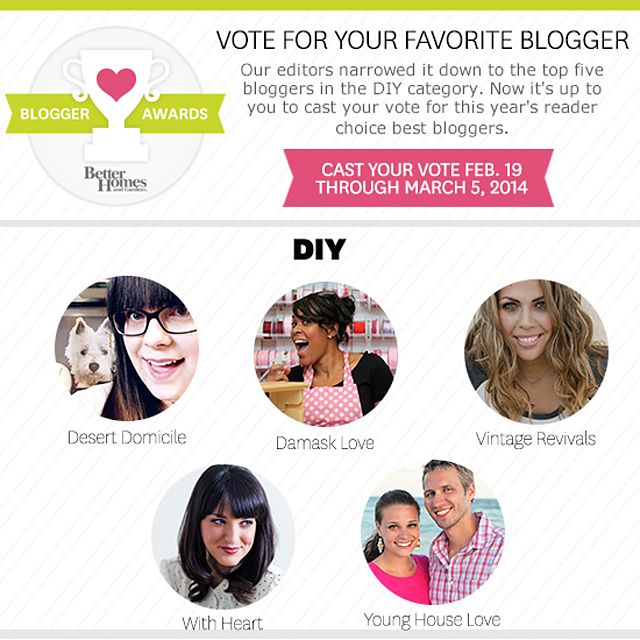 I'm in the running with Amber from
Damask Love
, Mandi from
Vintage Revivals
, Jen from
With Heart
, and Sherry and John from
Young House Love
. Wow! Excuse me while I go breathe into a paper bag...
Voting begins today
and will run until March 5th. You'll be able to vote
once an hour
in each category everyday!

Winners will be announced on March 6th and will receive $200 as well as a mention in an upcoming issue of BHG! How awesome is that prize?! There is a chance that 2 winners can win from each category – a reader's pick and an editor's pick but those 2 winners
can
be the same blogger.
If I were to win, I would take the $200 prize money and do one of the following things:
Buy supplies for the coffee table we plan on building
Buy supplies to make the remaining curtain rods we need for our living room windows
Buy 2/3's of the ground cover we'd like to add to our front, back, and side yards
Buy supplies to make a headboard for our guest bedroom since we have company coming in a month and we don't even have a bed
Pay someone to come in and move our washer and dryer off of their pedestals and out of our skinny laundry room (seems like a very daunting task) so we can buy supplies to tile the wall behind the machines. Maybe we'd wallpaper the room instead...
Happy voting! :)
SOCIALIZE WITH ME!