Happy Monday!
What'd you guys think of the Super Bowl and Puppy Bowl (if you watched it)? We watched both and I went to bed wishing I had bet money on the Seahawks and wanting to get another dog haha
Aside from
fixing our hardware situation
, we still need to decide on a new
light fixture
and mirror for our guest bathroom. However, I've jumped right past those decisions and and have started picking out some accessories for the room instead: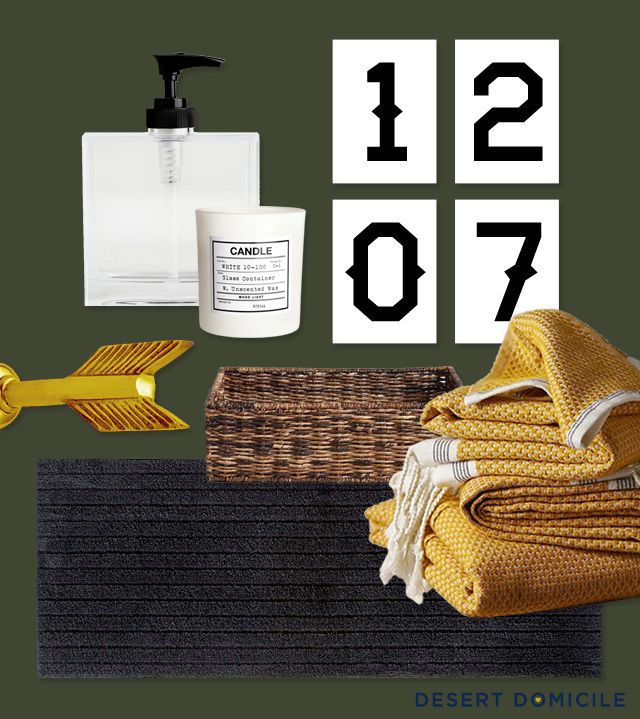 Ideally I'd like to keep the total accessory budget under $100 which I think is pretty doable!
The
soap pump
is $8 and the
candle
is $6. I'll be keeping an eye out for similar items at HomeGoods as well.
The
arrow wall hooks
are $8 each but they were on sale for $6 a couple of weeks ago. We'd need 3 so that'd be $24 at full price and $18 if we can get them on sale. They come in a silver finish which is nice but I'd probably end up painting them a golden yellow color.
The
bath runner
is $25 which I think is a great price for essentially two bath mats!
I'd only get the hand towel version of the
bath towels
shown (we'll be using bath towels we already own). It's $22 which is a bit of a splurge but I love the color and I like how the thin black stripes pick up on the stripes in the bath runner. The hand towel was available in the golden yellow color a few weeks ago but it looks like it's no longer available online. We have a local Anthropologie store I can check out so I'm hoping I can find the hand towel there!
We already have a basket like the the
one shown above
. I plan on using it for toilet paper storage.
I made the art last April
but I'm going to have to remake it since the numbers are starting to peel up from the canvases and no longer stay stuck in place. I'm going to try and salvage the canvases to save some money but if I can't, I already have a 2 pack of them on hand and another 2 pack will add $15 or so to the budget.
The total cost minus extra canvases is $85 and $100 with the cost of 2 extra canvases. Not too bad!
What do you think of the accessories I've chosen? Am I forgetting to include anything?
SOCIALIZE WITH ME!