The gallery wall in our living room is almost finished! Before I show it to you, I thought I'd walk you through a little bit of the behind-the-scenes thought process that happened before I even put a hole in the wall.
When we put together the
gallery wall in our office
(pre-desk styling), I basically winged the entire thing.
I kind of knew what I wanted to include on the wall but I didn't really have a plan for it. Instead, I collected every piece of art/hanging object we had at the time and just went for it, tweaking things along the way. Thankfully everything worked out okay and the wall looks pretty decent!
When I started thinking about putting together a gallery wall for our living room, I knew that I'd have to plan it out ahead of time for a couple of reasons:
Our living room is the room we spend the most time in and I wanted everything included in our gallery wall to be something we wouldn't mind staring at for long periods of time.
Our home is open concept and our living room is open to our dining room, kitchen, and foyer. I wanted anything I put on the wall to coordinate with the art and furnishings in the other spaces so everything would be cohesive.
I started the process by
searching for pieces of art
that I liked and that I thought would coordinate with a few pieces I already had.
Note: All images shown above are property of the respective artists. I claim no ownership.
Spoiler alert: all but one of those pieces ended up on our wall :)
After I narrowed down my art options, I started planning their layout.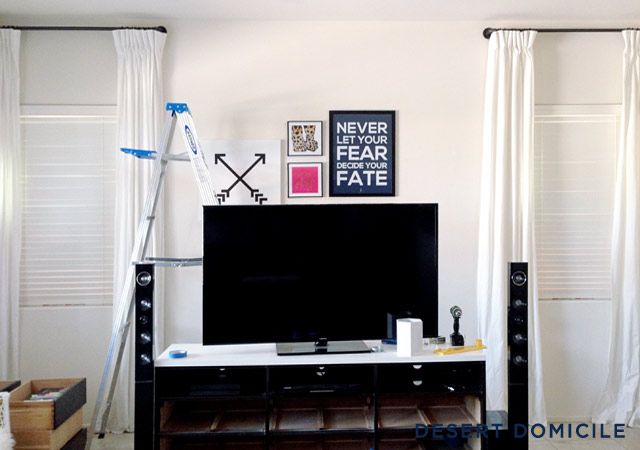 I used Illustrator to enlarge a photo of our living room to it's actual size in real life. The photo was pixelated and grainy but it helped me start to visualize the size and placement of the pieces I planned to use.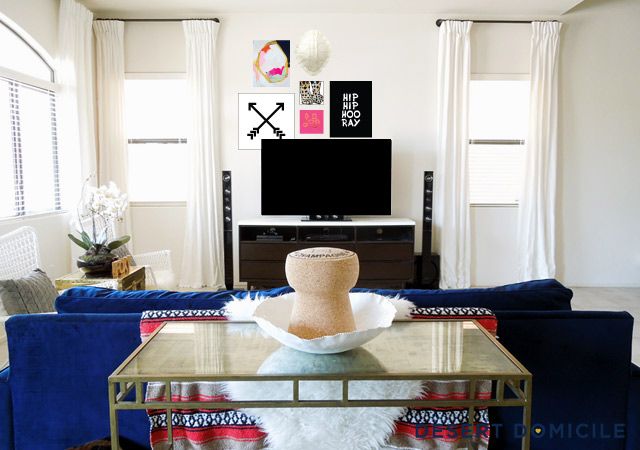 I measured our TV and created a true-to-life black box to represent it. From there, I measured the size of each piece of art that was going to be included on the wall. I created separate boxes for each piece in their exact sizes (8x10, 16x20, etc.) and started placing them around our "TV".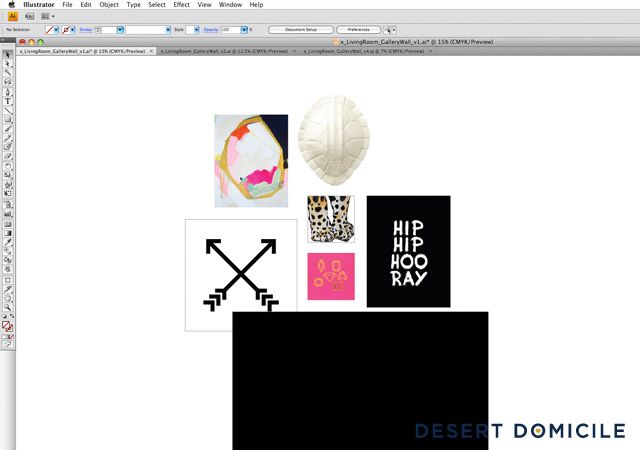 I ended up creating 4 separate, slightly different layouts before choosing a winner. I forgot to include the measurements of my frames in my layout examples so I ran into a couple of spacing issues when I started hanging the art. I had to wing things towards the end so the final layout is different than I had planned but things turned out better than expected! I can't wait to share everything with you on Monday!
How do you accomplish things around your home? Do you wing it and hope for the best or plan things out ahead of time?
Psst: if you don't have Illustrator, you could always do things old school by cutting "frames" out of pieces of kraft paper or newspaper, taping them to your wall, and moving them around until you get a layout you like :)
SOCIALIZE WITH ME!