Last week I showed you the
oversized piece of art
that my boyfriend and I mounted, framed, and hung in our foyer: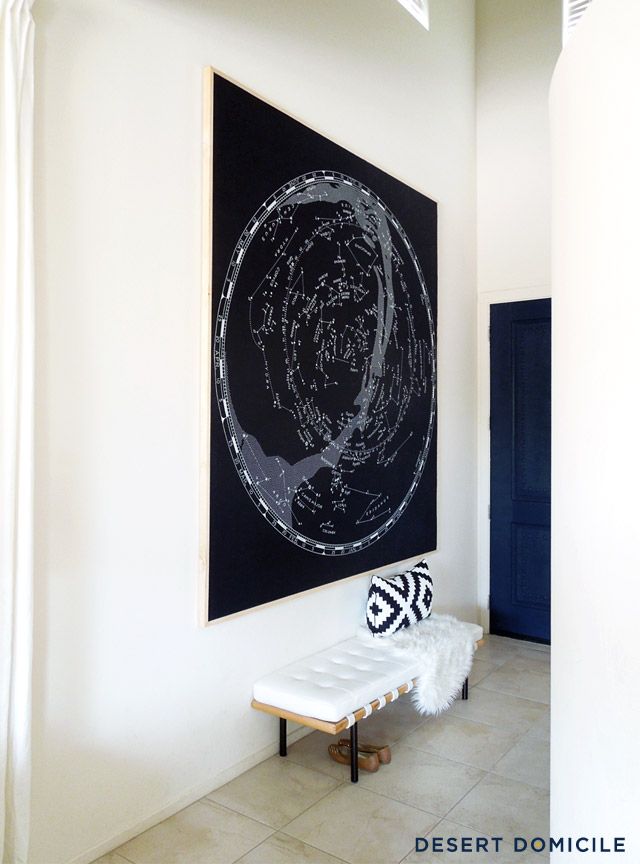 Today I'm going to show you how we made it!
Let me preface this tutorial by saying that
we're not professional canvas makers or framers
. If you're looking for the proper and professional way to do this, you're in the wrong spot! If you're looking for the DIY way to save a little money, read on!
We 110% winged this entire project!
It turned out beautifully and saved us a ton of money (can you imagine how much it'd cost to have this 7 1/2' x 8' beast professionally mounted and framed?!) but it's probably not done "correctly" haha
Anyway...
If you'd like to build a similar piece of your own, you'll need the following supplies:
Supplies we purchased:
Supplies we had on hand:
Duct tape
Paint (optional)
Paint roller + pole extender (optional)
Painter's tape
Tape measurer
Pen/pencil
A utility knife (or something else to cut your foam with)
Staple gun
Staples
Goggles (or other eye protection)
Ear plugs (or other hearing protection – staple guns in garages are loud!)
Kreg Jig
Kreg Jig screws
Miter saw
We started with 2,
4' x 8' pieces of 3/4" foam insulation sheathing
that we got from Home Depot for $8.35/each.
Sidenote:
make sure you have a large vehicle to get these home! Ours barely fit in the bed of my boyfriend's truck...
I duct taped the two pieces together to create one massive 8' x 8' "canvas" that we would eventually mount our
constellations tapestry
to:
Before any mounting began, I painted the canvas with regular black interior paint:
I started with a handheld roller but had to add a pole extender due to the massive size of the insulation foam:
I chose to paint my insulation foam before mounting the tapestry to it because the tapestry was a little see-through and I wanted to make sure that none of the writing on the foam would show through the tapestry. Feel free to skip this step if your tapestry is thicker!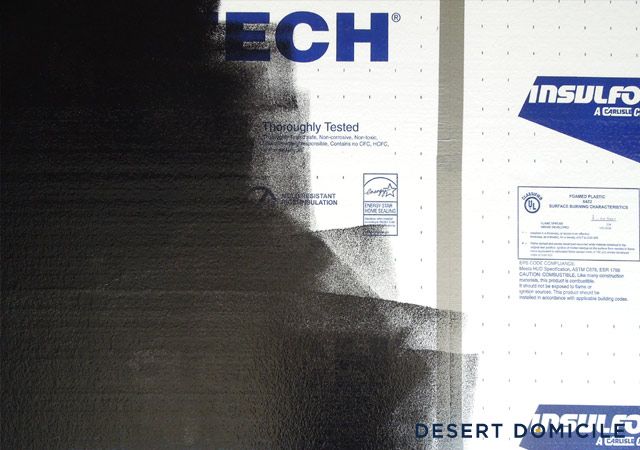 After the entire foam canvas was painted, I let everything dry in our hot, 100+ degree garage for a few hours while we made and ate dinner.
I washed and air dried the tapestry prior to mounting it. Bad idea. Some of the crisp white constellations had a worn look to them after coming out of the dryer, kind of like when graphics on old t-shirts start to pull apart from excessive wear and washing. The tapestry reeked of gasoline though so washing it was a must!
I laid the tapestry on top of the foam to test fit the size:
I wanted the overall piece of art to be taller than it was wider so I cut my foam down to about 7 1/2' wide by 8' high. Your dimensions may vary based on how big you want your piece to be!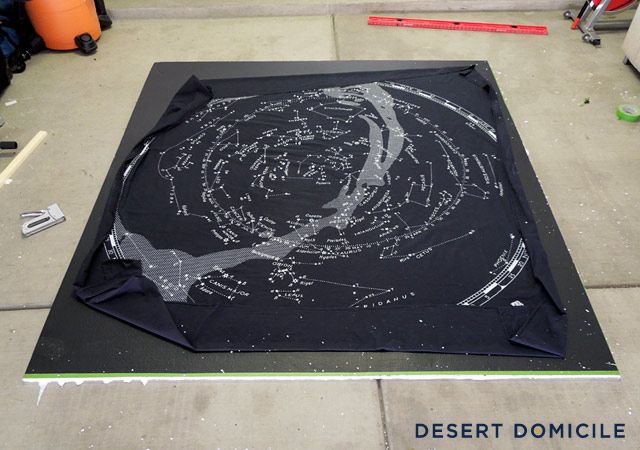 Tip:
apply painters tape to your foam prior to cutting it so the foam won't rip and tear as much!
My cut edges were a little bumpy from where parts of the foam ripped out: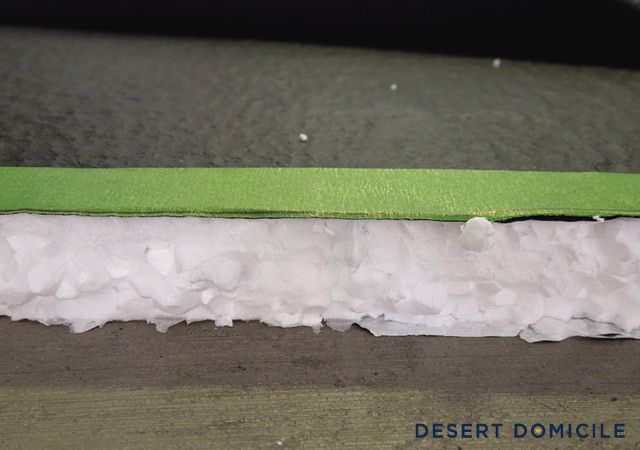 I applied some painter's tape along the cut edges to help smooth them out:
I placed the tapestry on top of the newly cut foam to make sure it would fit. I cut the foam smaller than the size of the tapestry which is why you see a lot of leftover fabric at the top and bottom edges.
After I had the placement of the tapestry where I wanted it, I ran a leftover 1 x 2 piece of wood across the entire tapestry to smooth any bubbles and bumps out: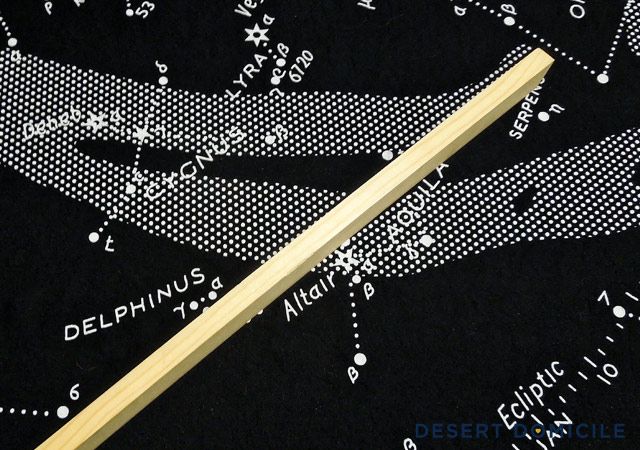 I ironed the tapestry prior to mounting it but some wrinkles remained. I was able to pull them out by stretching and stapling the tapestry though!
I put my goggles on, stuffed my ears with ear plugs, and got to stapling! I started by stapling the top and bottom edges directly into the side of the insulation foam (the side you saw taped above). I added a few staples to each edge before moving onto the sides and stapling those.
There wasn't enough fabric on some of the sides: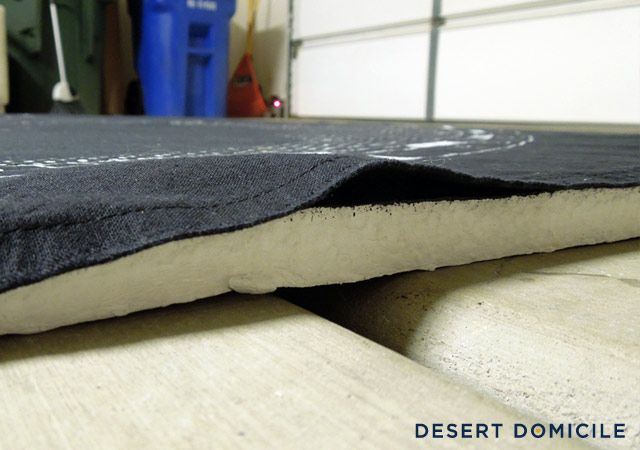 I got a little ghetto and grabbed some duct tape:
I pulled the fabric tight and taped it in place: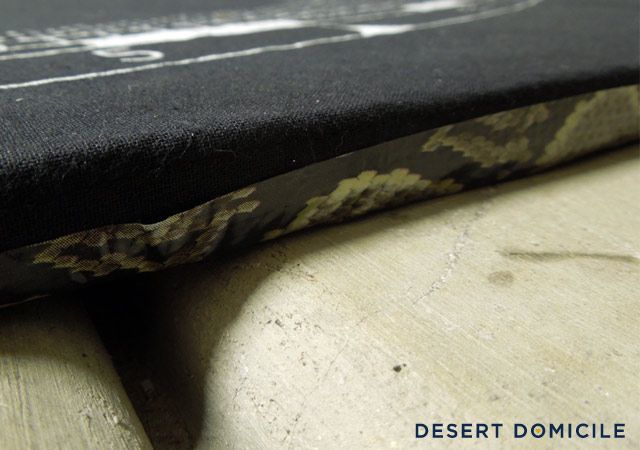 I added a few staples as well:
Thankfully you can't see the duct tape from the front haha After the entire tapestry was stapled in place, it was time to build the frame for it!
We used 8,
1 x 2 x 8 pieces of select pine
– 4 for the outer frame and 4 for the back/bracing frame.
They were expensive at $5.43/each but we needed each piece to be as straight as possible, something we couldn't find with the cheaper 1 x 2 options we saw.
We mitered the edges of the 4 outer pieces: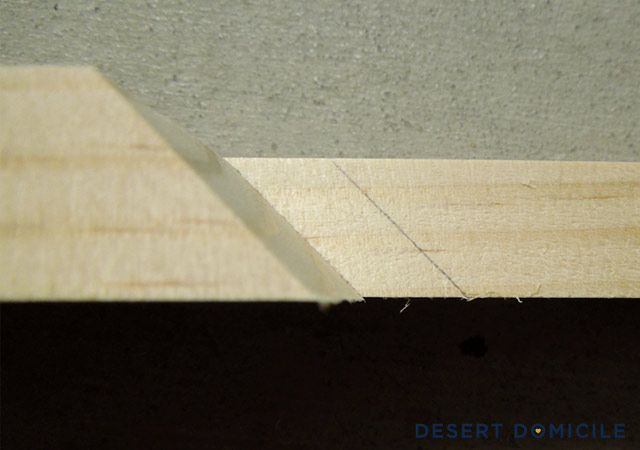 We had to build our frame in the middle of our living room because of its massive size so I apologize for the crappy photos that follow haha
We glued and stapled the outer frame together and let everything dry overnight before laying the foam canvas in place: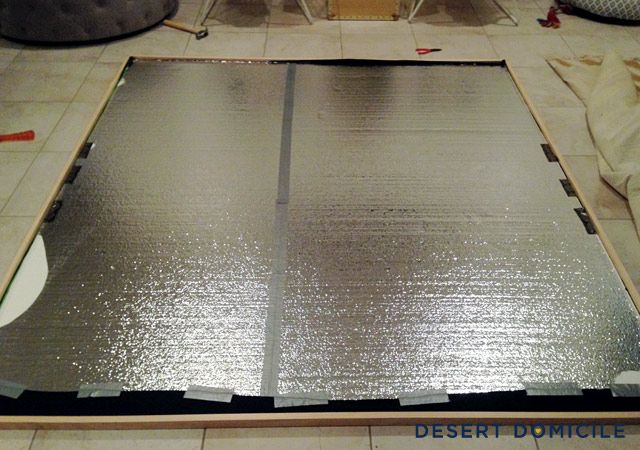 We didn't nail or screw the outer frame together because we wanted the outer edge of it to be as blemish free as possible. Our gluing/stapling method worked well for us but adjust your attachment method if you need a stronger bond.
We cut two back braces down to size and used our Kreg Jig to attach them to the edges of the outer frame:
This was our first time using our Kreg Jig and we loved it!
We cut 4 corner braces down to size and Kreg Jigged them in place as well: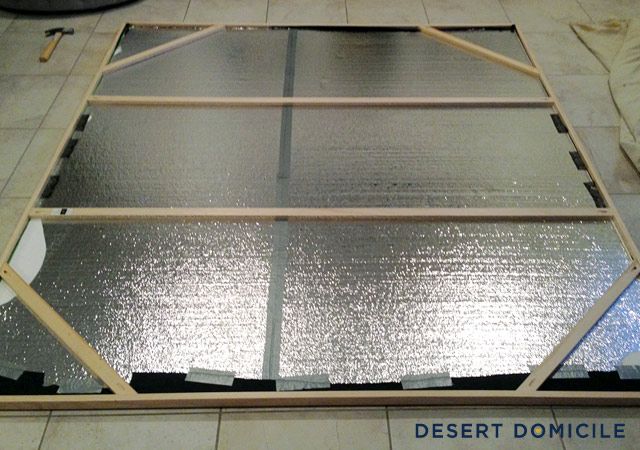 We had planned on screwing the wood braces into the insulation foam to hold it in place but the screws pulled right out of the foam sooooo we duct taped everything in place haha I told you we weren't professionals!
After we had the braces duct taped in place, we lifted the entire canvas up to make sure that the braces were holding and that the front of the insulation foam was flush with the front of the frame.
We noticed that the top and bottom parts of the foam weren't flush with the edge of the wood frame so we cut two more support pieces and Kreg Jigged those in place to make them flush:
Here you can see that we also duct taped the excess fabric in place:
We also duct taped random places where we couldn't add a wooden brace to help make the canvas flush with the front of the frame:
When we felt the entire frame was secure, we added two D-rings to the top middle support bar, figured out where we wanted the canvas to hang on our wall, screwed 50-lb anchors and screws into the wall, and hung everything in place:
The total cost of buying, mounting, and framing the piece was a little over $100. It was more than we thought it'd be (mostly due to the cost of the nice pine 1 x 2's) but the cost was definitely worth it for such a large statement piece!
Have you ever mounted a massive piece of art?
Disclaimer: I can't guarantee that your tapestry wall art will turn out just like mine. Differences in materials and tools used, and your skill level, will yield different results. I cannot be held responsible for a failed project or an injury of any kind so proceed with caution and build at your own risk. Remember: always use caution when working with power tools and read any instructions before beginning any project.
---
I'm sharing this project at Fynes Designs!
SOCIALIZE WITH ME!