Happy Monday!
Erin and Dan from
DIY Passion
invited me to participate in a Tour Through Blogland a couple of weeks ago and I happily accepted! I love reading more about the bloggers behind the screen and thought you might to :)
For those of you that are new here (hi!), I'm Caitlin and this is a small snippet of
our home
: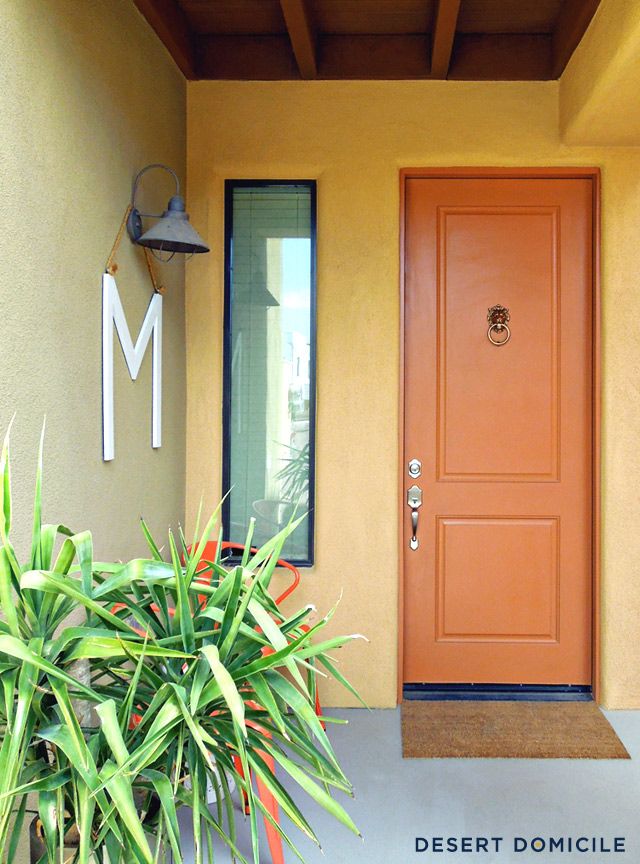 We finished building it in the summer of 2012 and have been adding our own quirky touch to it ever since. The "we" I speak of is my boyfriend and I. We live together with our 3 dogs :)
Part of the tour involves answering some questions so let's get started!
What are you working on right now?
When I drafted my answers to these questions last week, I had actually written "Nothing in particular at the moment" for my answer. Boy has that changed! I have a bunch of exciting projects in the works (plus some more travel!) and will be posting some sneak peeks on
Instagram
so make sure you're following me (
@desertdomicile
) if you don't want to miss out! :)
Aside from projects, I'm starting to prepare for fall and for the holidays if you can believe it haha I'm participating in a couple of home tours as well as a thrift store challenge that I'm really excited about! Stay tuned friends, the rest of the year is going to be legen-...wait for it... ;)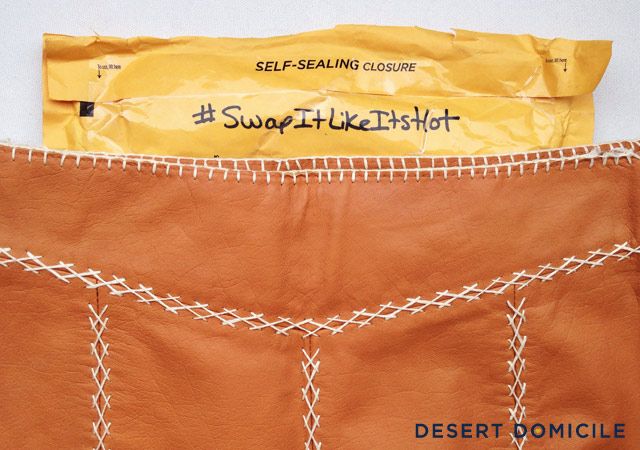 How does your work differ from others in the genre?
I'm a graphic designer by day and the graphic design work I do, and am influenced by, on screen tends to spill over into my home in the form of art and decor.
My work differs from others because I like weird, quirky things like gold dinosaur skeletons, vinyl toys, and
sequin tiger pillows
.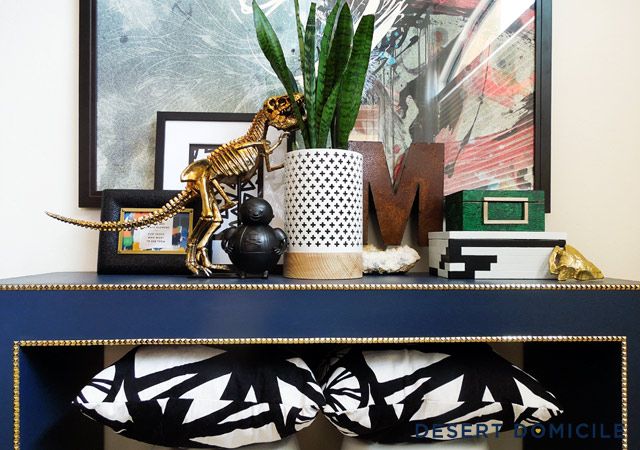 I also live with my geeky boyfriend (I mean that in the most loving way possible!) so I try and incorporate his love of gaming into my love of decorative accessories.
Sometimes we make it work
and other times I hide things in the closet ;)
Why do you write and create what you do?
I write and create what I do because interior decorating is a passion of mine! I'd be doing what I'm doing regardless of if I had a blog or not. I love sharing my ideas with others and I love looking back at how far our house has come!
Case in point:
our living room
. Here's what it looked like shortly after we moved in:
And here's what it looks like today (minus the coffee table):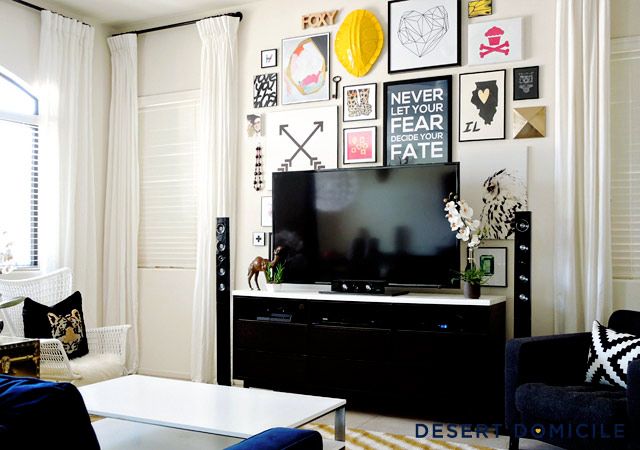 My blog is also the only way we have to share our home with our friends and family back in the Midwest (we're West coast transplants). They haven't been able to see our home in person yet but our posts and projects allow them to see it virtually whenever they'd like! :)
How does your writing and creative process work?
To be completely honest, my writing and creative process is pretty chaotic haha
WRITING PROCESS:
I try and blog Monday's, Wednesday's, and Friday's which means I'm glued to my computer from about 8PM until 1 or 2AM on Sunday, Tuesday, and Thursday nights. Some nights are shorter, others are longer. Sorting, editing, resizing, and watermarking my photos is what takes the most time. I try and pre-write my posts to save some time but I don't always get a chance to.
CREATIVE PROCESS:
I have a full-time job so my only time to work on
projects
or anything blog-related is after work and on the weekends. During that time, I eat, sleep, and breathe my blog. I have an editorial calendar that I typically have "booked" one to two months in advance and I work off of that. My boyfriend plays a big role in helping me with projects but he works a different full-time schedule than I do so we have a limited amount of time to work on projects together. We have to make the most of the time we're given which is where my calendar comes in handy!
If we're working on a big project, we start planning it out the Monday/Tuesday before it happens that weekend. We typically shop for any project supplies we need on Wednesday or Thursday nights and start working on Friday nights. We start working after dinner and work as late as we can before it becomes too dangerous for us to use power tools due to sleep deprivation.
If I don't need my boyfriend's help, I'll finish working on the project when I get up on Saturday morning. If I do need his help, we try and finish it up on Saturday night. My Sunday mornings/afternoons are spent staging and photographing the project while my boyfriend is at work. At night I sort through the photos, pick the photos, edit said photos, write my blog post, edit my blog post, and schedule the post's promotions on social media.
I keep an ongoing project list of smaller/quick ideas that I can reference on weekends when I'm feeling lazy or when we have plans. These are typically easy, 1 to 2 hour projects that I can start and finish in an afternoon.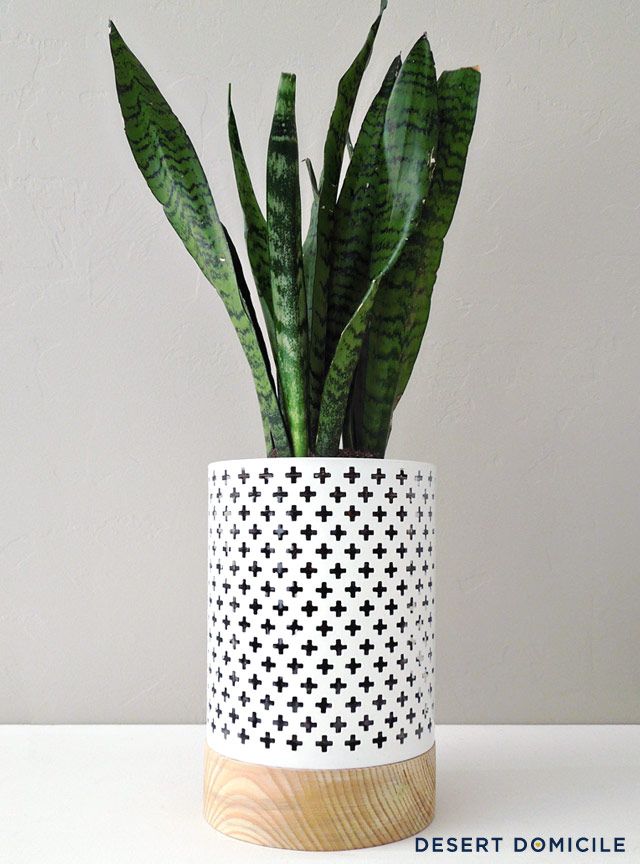 Our tour has come to an end so I'm going to pass the torch along to these other bloggers!
Michelle from
Decor and the Dog
:
And Leanne from
Diva of DIY
: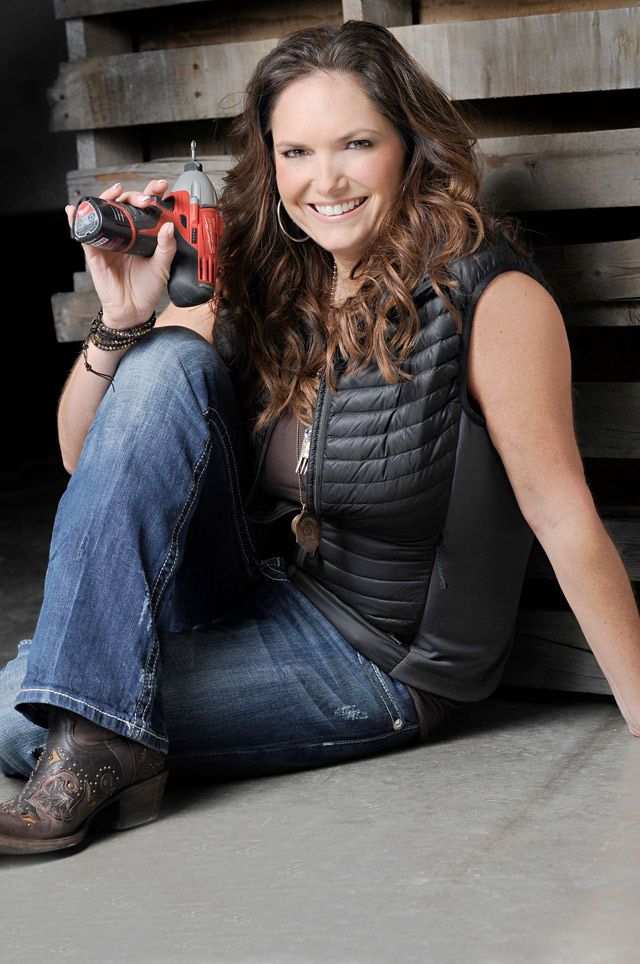 Both ladies are incredibly talented so go show them some love! They'll be posting their tours next Monday, the 25th but you should check out their blogs in the mean time. Tell them I sent you :)
SOCIALIZE WITH ME!