Thanks for casting your vote in my
lighting options poll
! We chose the winning option,
World Market's Lotus Pendant
.
I hate to be a Debbie Downer but I want to be honest with you: I wish I could be more excited about the pendant. I really love it (REALLY love it) but I'm struggling with it.
Let's talk about the pros for a minute.
The finish of the fixture is beautiful:
The quality is great and the installation was pretty easy.
We were able to swag the pendant over to the center of the room which made me happy!
Anddd that's it for the pros. Let's talk about the cons. Well, I should say con because there's only one but it's a big one: the pendant doesn't give off enough light :(
These next two photos were taken straight out of the camera with the only edit being color correction. I wanted to try and give you a realistic idea of how much light the pendant gives off so you can get a better sense of what I'm talking about.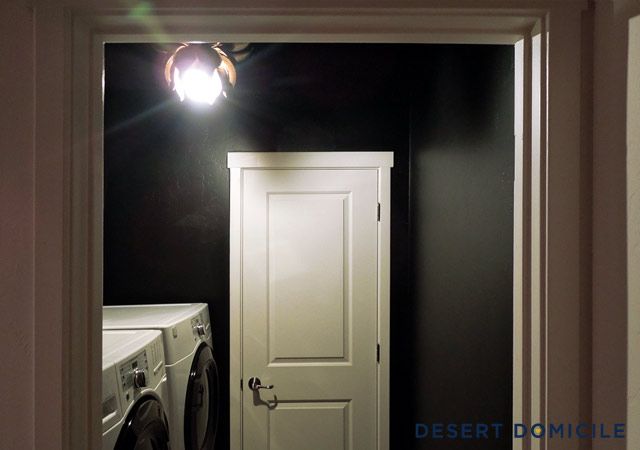 We're currently using a
60W equivalent LED bulb
(which uses 9W). The room isn't a total cave but it could definitely be brighter in there. The best way I can describe it is like a dimmed, moody lounge room at an upscale restaurant only a little brighter. I love our
black walls
and really don't want to repaint but I don't know what to do.
The pendant is so beautiful and would add a touch of glam to the utilitarian room but it's not as functional as I had hoped it would be. Needless to say, I'm bummed. I know this is a first world problem but it sucks when things don't work out the way you had planned.
I asked my boyfriend what he thought and he said he doesn't think it's too bad considering we only have the light on when we're loading/unloading the washer and dryer. We don't spot clean or iron in the room (it's way too small for that) so we don't need a ton of light in there but I'd like a little more than we're getting.
I'm going to live with things for a few days before I make a decision on whether or not to replace the light. I'm reconsidering
CB2's tribe pendant
but am looking at other options as well.
What would you do?
SOCIALIZE WITH ME!