I was invited to participate in this year's Swap It Like It's Hot event by
Charlotte from Ciburbanity
and
Jessica from Gourley Girl & Guy
.
All of the bloggers listed above were given a partner. Our mission was to go out and find something at a thrift store that we could send to our partner and have them transform into something else.
Their projects were revealed last week (go check them out!) but I had a family emergency so I'm revealing mine today.
Carrie from Making Lemonade
sent me the cute leather skirt seen below!
I tried a few things (all fails) before attempting to make a leather bottomed clutch. Now, let me preface everything you're about to see/read by saying it didn't work out. I tried making it work but there's many reasons I don't sew and this is one of them haha
Anyway, I gathered my supplies (shown above) and cut out my pieces. If you're wondering, I was basing my clutch off of
the cute one Elsie at A Beautiful Mess made
! I cut my pieces smaller than hers but you can determine your cuts based on how big you want your bag to be.
I enlisted my mom for help since I don't sew. We started off pretty good! After she sewed these two pieces together, we flipped them so the outside was facing in and then she sewed up the sides.
She sewed the lining together next and then we attempted the zipper. That's where things went wrong. The clutch is nice but we need to get the hidden zipper out!
When everything was said and done, we ended up with this little guy! I probably should have cut the navy pieces a little smaller buuuttt...
I can fold the top over like so!
I tried to keep some of the stitching detail from the skirt on the bottom of the clutch. I really liked it and wanted to incorporate it somehow.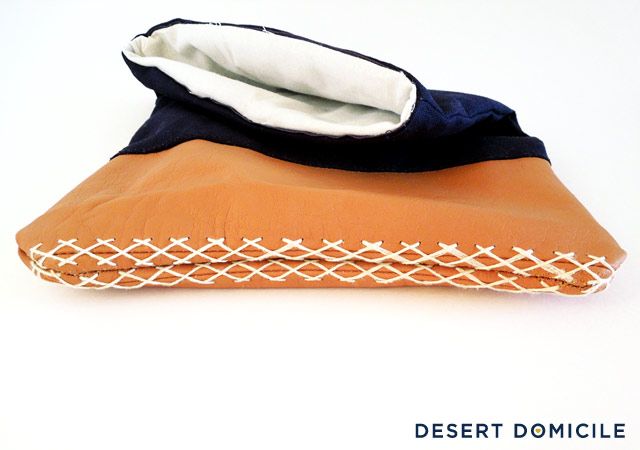 The zipper is hidden in between the navy and white pieces of fabric (it's the piece that looks like piping).
We tried sewing the zipper on two different ways but neither worked for us. My mom has a solution though so we're going to fix it!
Despite it's imperfections, I think it's a cute little bag :)
Here are the links to everyone else's projects!
2 Little Superheroes
AKA Design + Life
A Chic Little House
The Chronicles of Home
Ciburbanity
Decor Adventures
Desert Domicile
Finding Silver Pennies
Gourley Girl & Guy
The Happier Homemaker
Hearts and Sharts
A Home Full of Color
Makely Home
Making Lemonade
My Passion For Decor
Primitive and Proper
Queen of Everything
Rooms For Rent
Shades of Blue
Stone Gable
Thoughts From Alice
Town and Country Living
Two Purple Couches
While They Snooze
White Buffalo Styling Co.
Windgate Lane
If you'd like to link up your own project, join our link party below! You'll need to
click over to the blog
if you're reading this in your e-mail or a reader :)
SOCIALIZE WITH ME!