A few weeks ago,
Jeanette from Country Design Style
invited me and 20+ other pet-loving bloggers to participate in her 2nd annual Thrift Benefit for Shelter Animals.
Thrift Benefit is a DIY blogger event to bring awareness to thrift shops that sponsor animal rescues and the rescues that care for the animals that share our journey.
I'm a huge supporter of adopting from animal shelters and have adopted 2 of our 3 dogs (our boys) from a local shelter here in Tucson!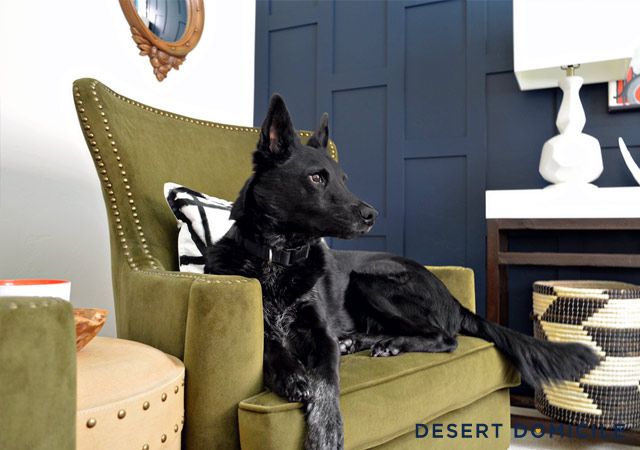 They're both German Shepherd mixes (not planned, just a happy accident) and are the best dogs! They're inseparable, they love to play tug-of-war and wrestle with our little lady.
Speaking of, our little lady was rescued from a puppy mill when she was 4 months old. She has hip dysplasia and had to have her little hip fused shortly after I got her. She traveled cross-country with me when I moved to Arizona and I can't imagine my life without her!
Anyway, onto the project!
We went shopping for our project supplies at
The Humane Society of Southern Arizona's thrift store
:
Every purchase is tax-free and every penny goes to The Humane Society of Southern Arizona's shelter to help the animals in need.
I've driven past
the HSSAZ thrift store
before but I've never stopped in to shop. I was surprised by the size of the store and how much they had to offer!
I ended up purchasing 3 embroidery hoops for my Thrift Benefit project:
One was $6, the other was $5, and the tiny little one was 50¢ (I didn't end up using this one):
I ended up making some ring sculptures with them!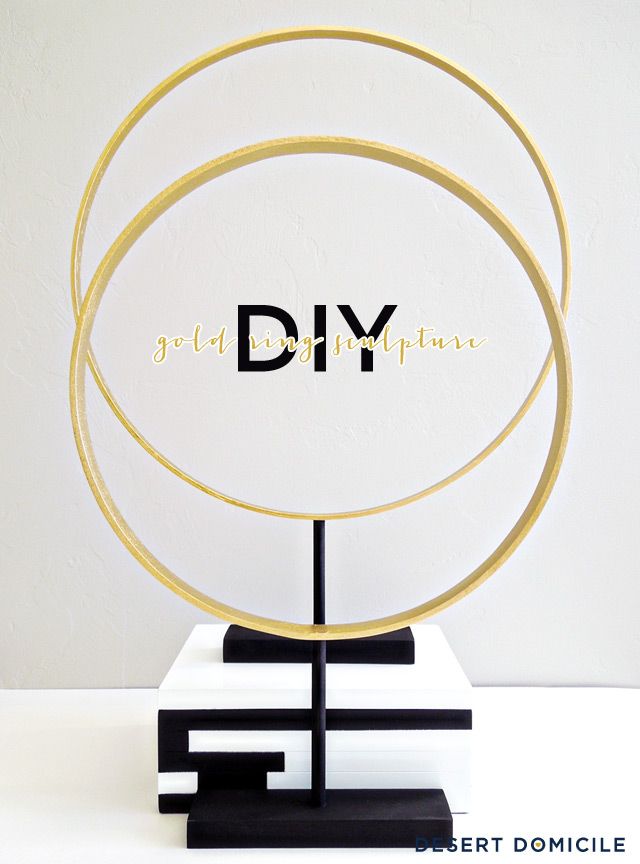 I was inspired by some ring sculptures I saw in
Mila Kunis' dining room
:
I'm pretty sure they're the
large ring sculptures designed by Gregory Small and sold at Arteriors Home
but I could be wrong.
Unfortunately I don't have $600 to spend on one decoration so I made one (two actually)!
I started my sculpture by separating the embroidery hoops (ignore the smallest one):
I bought a 98¢ dowel rod (3/8" x 48") for the stand and used a scrap piece of 1 x 2 for the base:
We cut the dowel rod into 1, 4" piece and 1, 5" piece. We cut the 1 x 2 into 1, 6" piece and 1, 7" piece: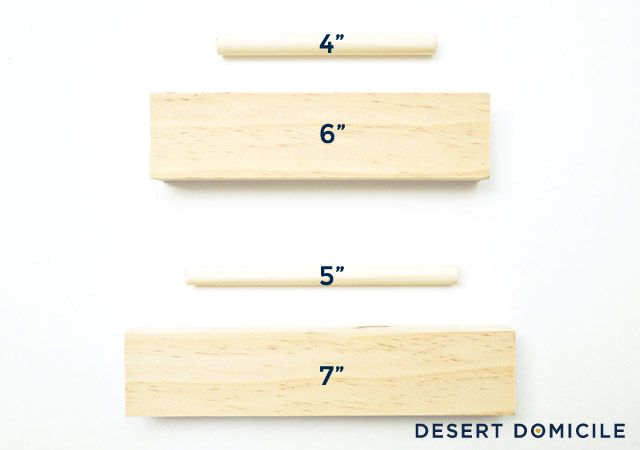 The 4" dowel rod was paired with the 6" base and the 5" dowel rod was paired with the 7" base.
I found the center of each base and drilled a 3/8" hole (the size of my dowel rod) into it:
I dipped the end of each dowel rod into a little bit of wood glue and stuck it into the base's hole: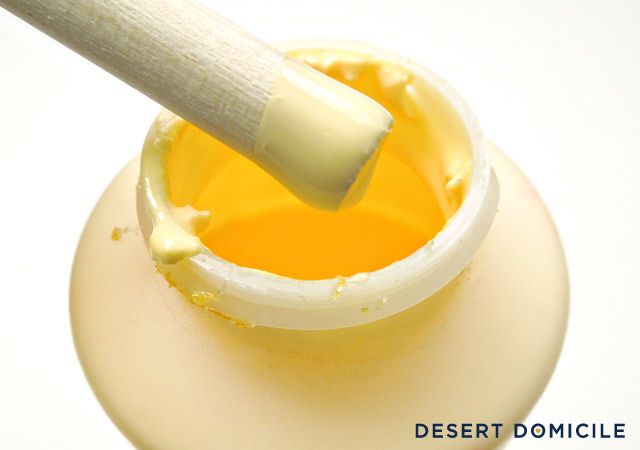 I let the wood glue dry a little bit before filling in some gouges with wood filler and sanding everything down:
I spray painted the embroidery hoops gold and hand painted the bases black (I ran out of black spray paint). I let the paint dry a few hours before hot gluing the embroidery hoops to the top of the dowel rods. I let the hot glue dry overnight before moving the sculptures.
Not too bad for $12, huh?!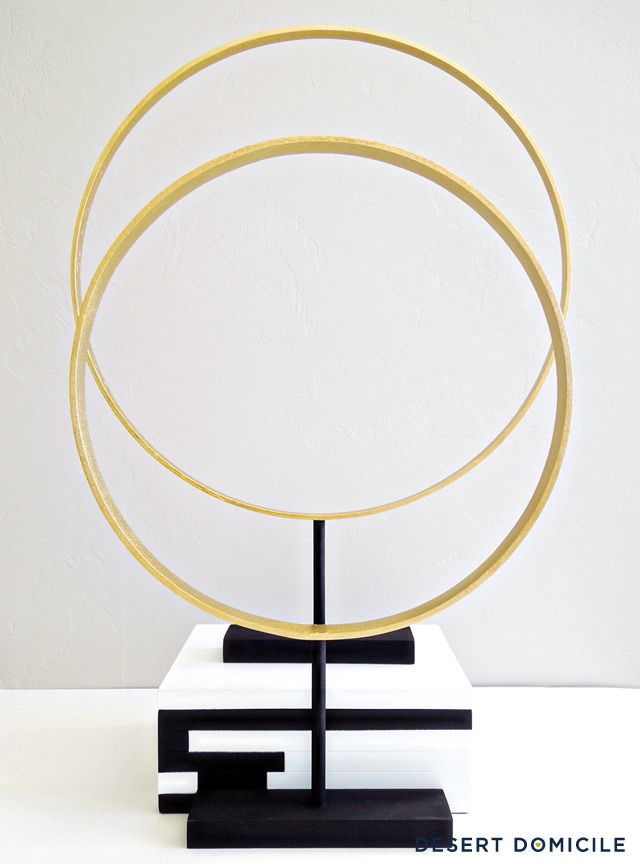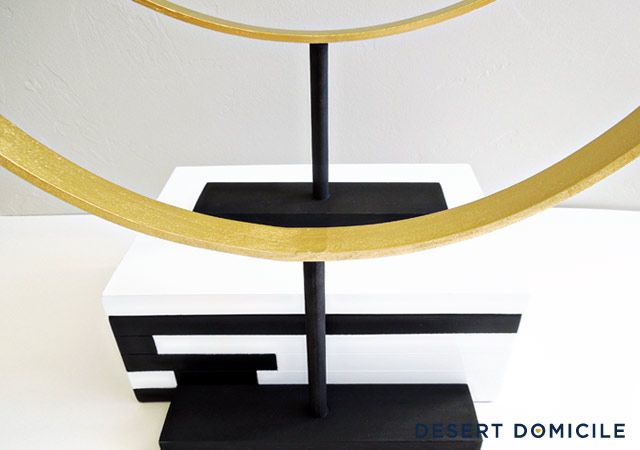 They don't have a home yet but I'm thinking about restyling
our new console table
and have a feeling they'll end up there!
Stop by the rest of the Thrift Benefit participants blogs to check out their projects! If you're reading this in an e-mail or reader, you may need to
click over to the blog
in order to click on the links in the link party.
SOCIALIZE WITH ME!