10 Creative DIY Agate Coaster Ideas
Agate coasters are all the rage right now. Check out any home goods retailer and you'll likely find lots of options, many of which are pretty expensive for a single coaster (like these that are $11+ at Anthropologie or these monogrammed ones at Bloomingdales for $16 a piece).
Instead of paying $40+ for a set of coasters, consider a DIY option. We've found 10 great tutorials that are easy, inexpensive, and yield great results.
Faux Agate Using Silicone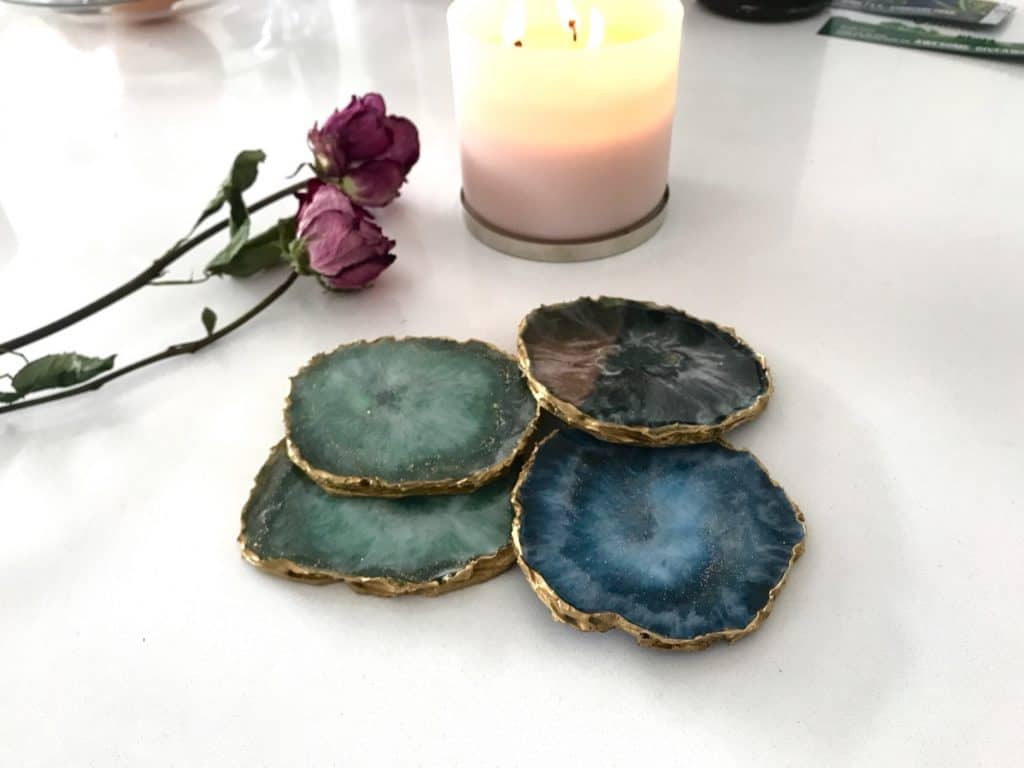 It's hard to believe that these coasters are made using silicone! This tutorial gives you step by step instructions and delivers a beautiful result.
You'd never know that these weren't made of real stone.
DIY Silicone Molds and Geode Inspired Coasters by Paintings by Agnes
Polymer Clay Faux Agate Coasters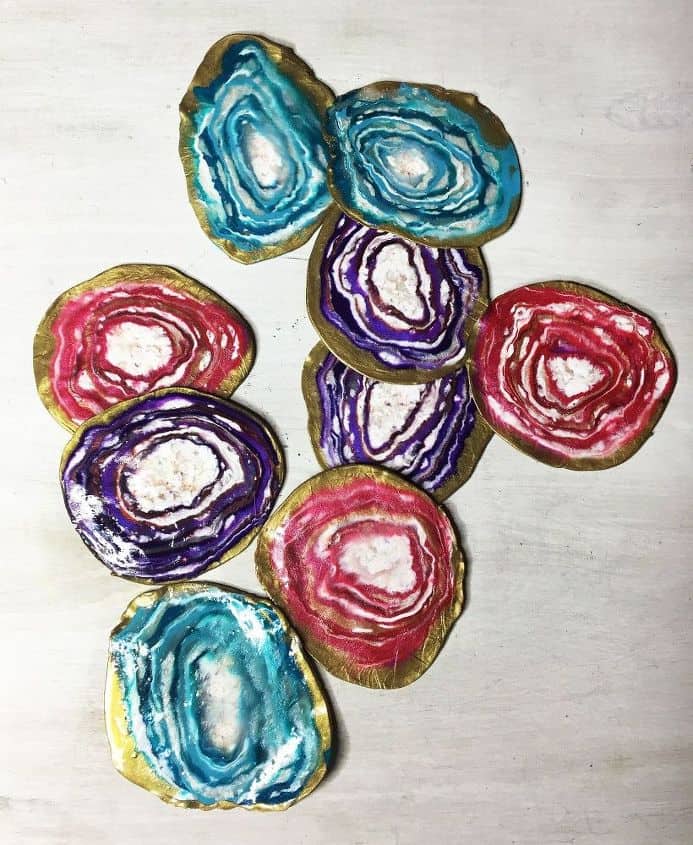 Remember back in elementary school how your favorite days were the ones where you got to play with clay? You can relive those days with this DIY hack.
All you need is some polymer clay and a few other elementary school supplies and you'll have beautiful faux agate coasters in no time!
DIY Faux Agate Coasters by Home Talk
Mixed Media Agate
These coasters are similar to the Home Talk ones, in that they also use clay, but they also incorporate painting and liquid gold leaf.
These require a little more precision than the other clay coasters, but the end product is worth the time.
How To Make Faux Agate Coasters by Jen Woodhouse
Real Agate Coasters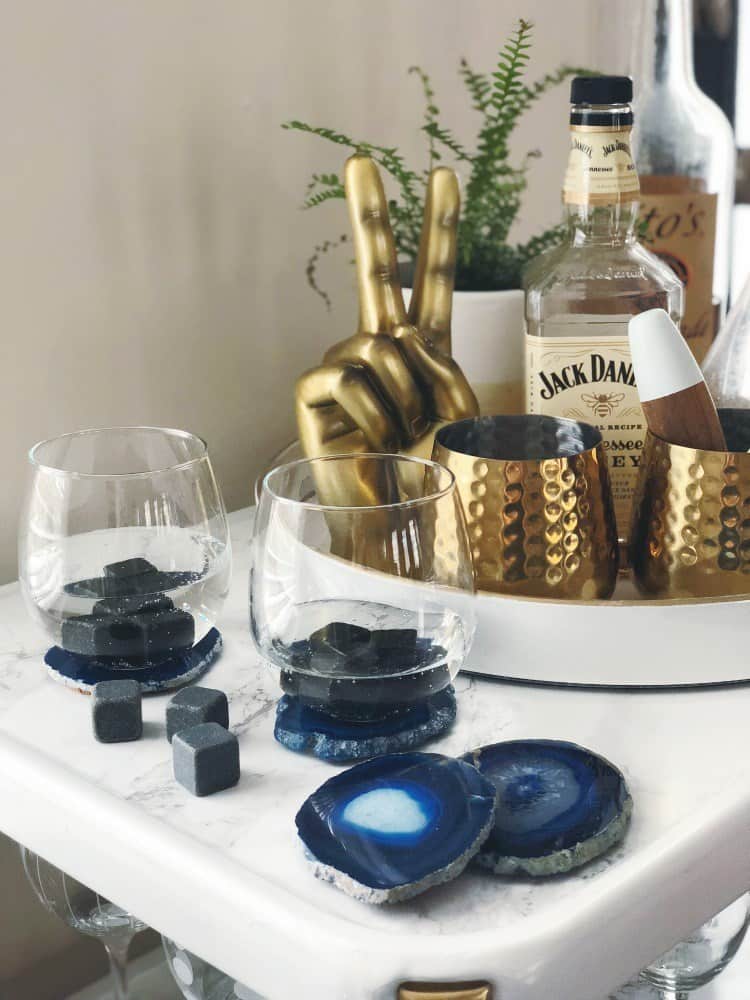 Despite what the retail stores want you to think, you can actually get reasonably priced agate stone pieces online. This DIY tutorial teaches you how (and where) to get them.
Once you have the stone, all you have to do is glue some cork to the bottom and you have beautiful coasters just waiting to be used.
Easy DIY Agate Stone Coasters by Lela Burris
Real Agate, But with Gold Leaf Detail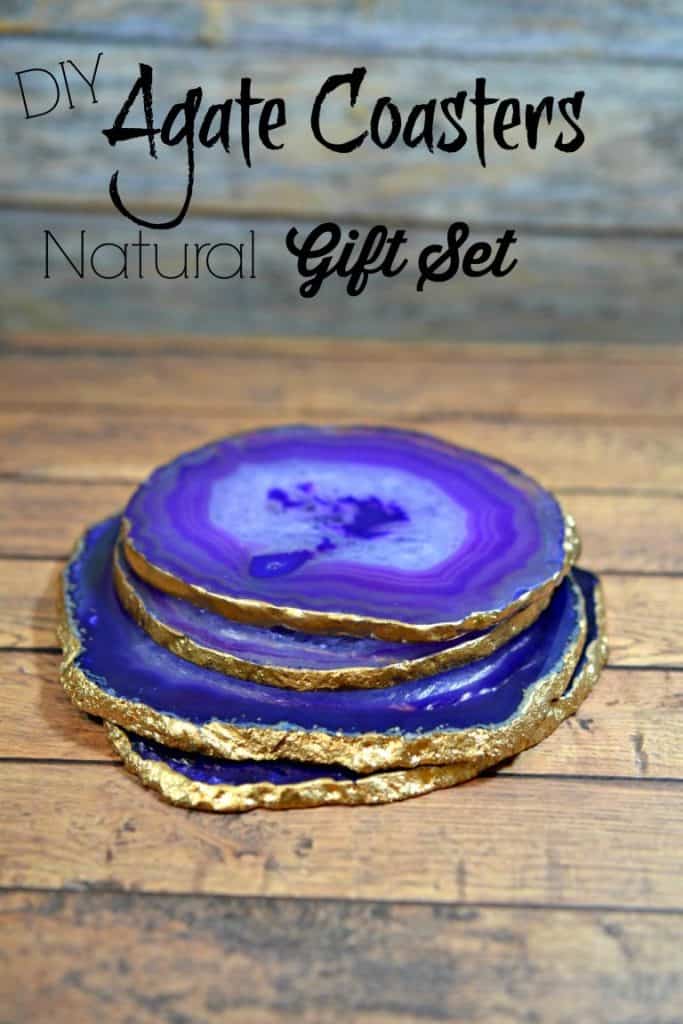 These coasters also use real agate stones, but this blogger went a step further by adding gold leaf details to the edges (which definitely adds some style).
She also opts to glue rubber feet to the bottom of her coasters which keeps them off the table and firmly in place to ensure no spills!
DIY Agate Slice Coasters by Surviving a Teacher's Salary
Five Minute Gilding Paint Coasters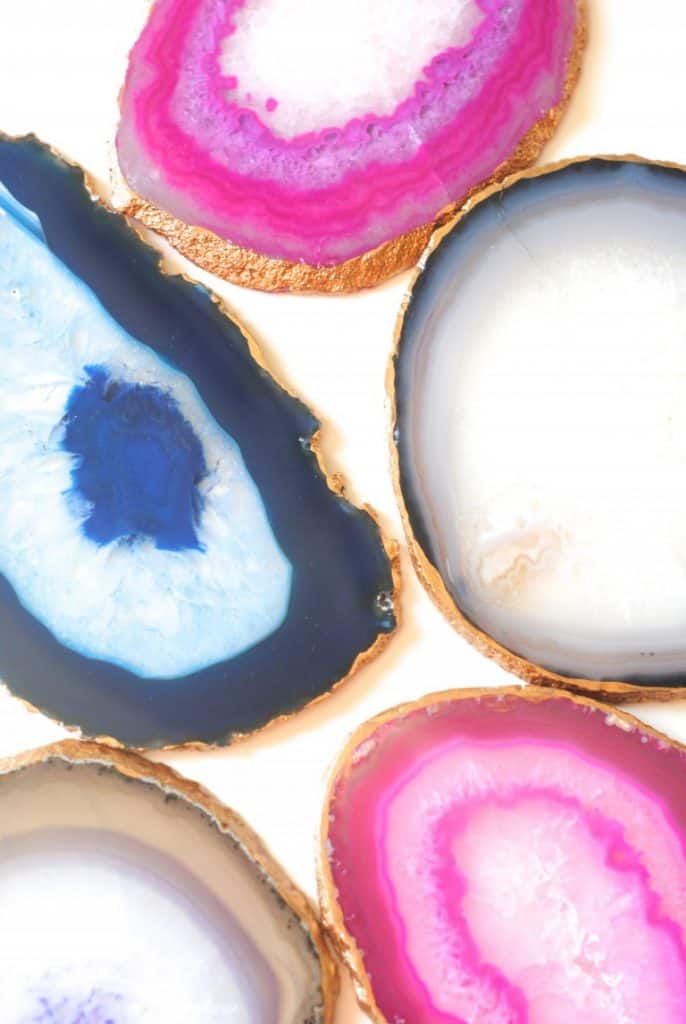 If you're short on time, these five-minute coasters are amazing (seriously, they only take five minutes to make!). This blogger found her agate stones at Urban Outfitters, but you can find them other places too, she just recommends you look for some with smooth edges.
She added some gold gilding paint to the edges and created the high-end looking coasters in only minutes.
How to Make Gilded Edged Agate Coasters by Making Lemonade
Agate-Inspired Coasters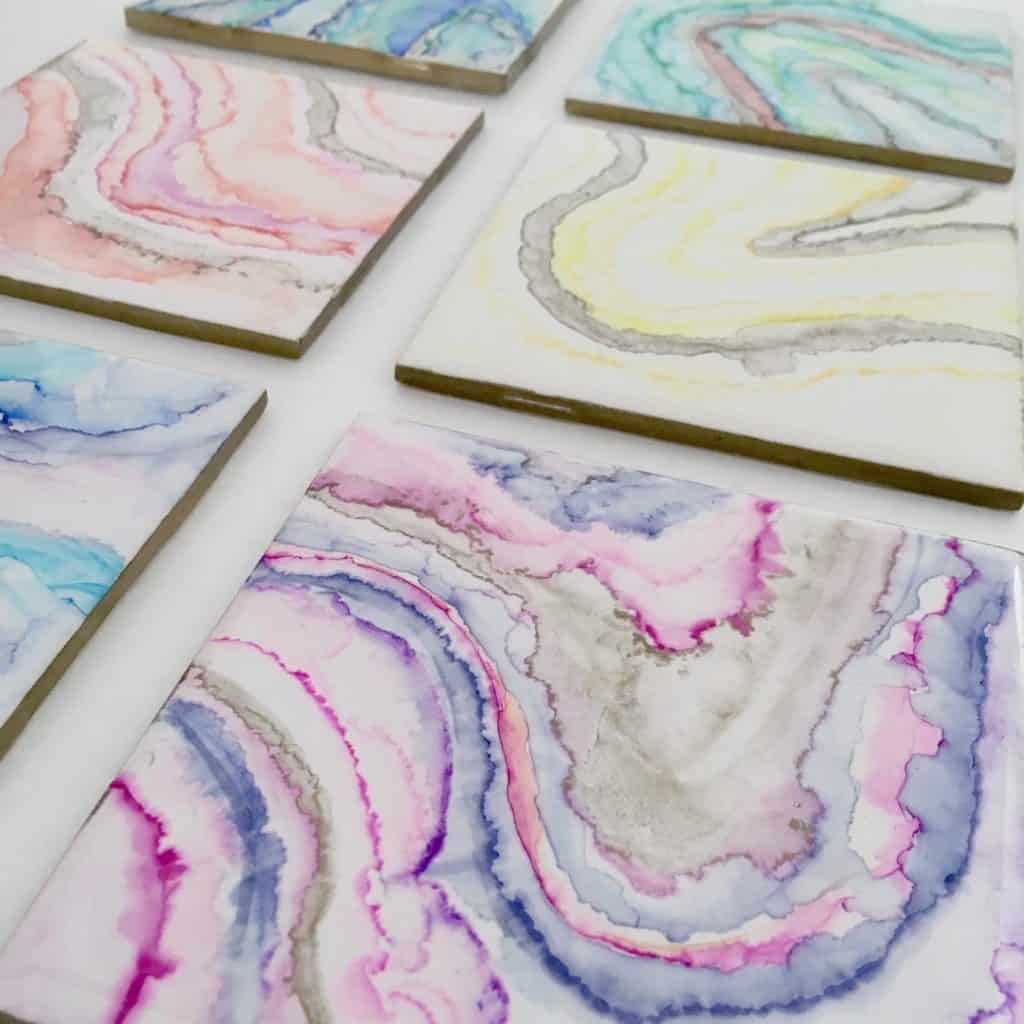 These coasters are inspired by agate stone, not meant to mimic it. Either way, they look amazing and are super easy to create.
To make these, all you need are some white tiles, colored sharpies, rubbing alcohol a couple of paintbrushes and a clear glaze.
DIY Agate Inspired Coasters by 5 O'Clock Design
Cardboard Faux Agate Coasters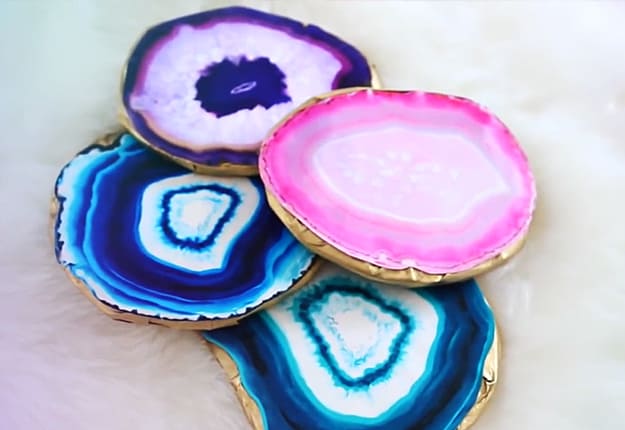 These coasters are literally made from cardboard and prints of agate stone! Even so, they turn out looking amazing and function just like any coaster should.
All you need to make these coasters is some cardboard, agate prints, spray glue, gold spray paint, and modge podge.
DIY Faux Agate Coasters by DIY Joy
Swirly Resin Dye Agate Coasters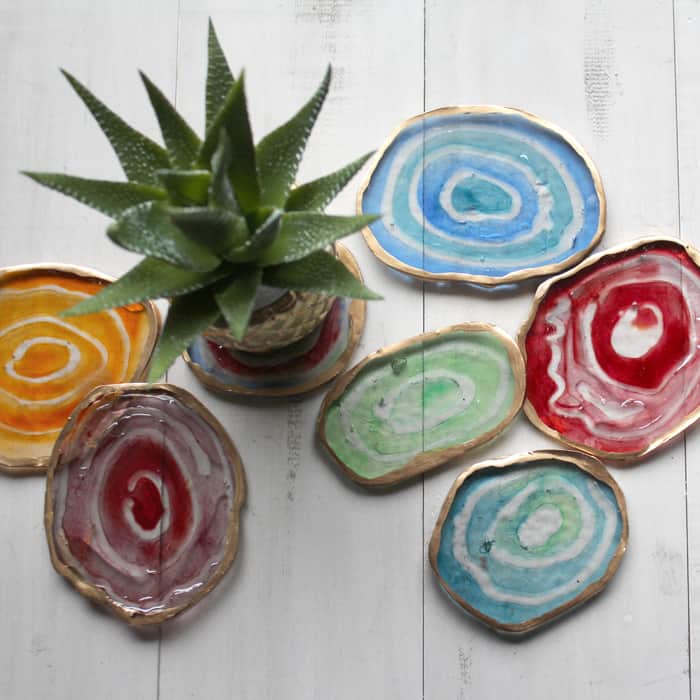 The end result from this DIY project is a little different than the others, because the coasters are a little see-through, but they still turn out beautiful and unique.
You don't need much artistic ability to create these, either. If you know how to trace a circle, you're good!
Agate Slices Made With Clear Polyester Resin by Resin Crafts
Super Easy Felt Bottom Agate Stone Coaster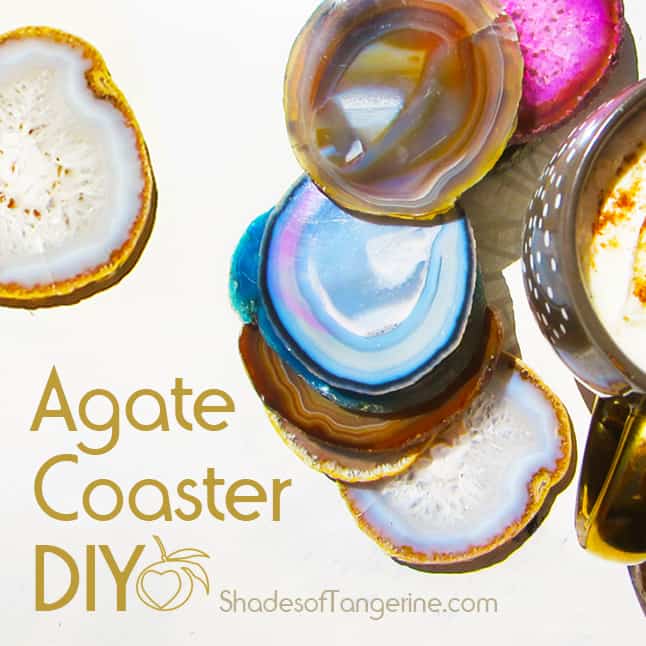 These DIY coasters may be the easiest ones, ever. The blogger purchased some pre-cut agate stone, cut up felt to the size of each piece, and glued it on the bottom. Seriously, that's it!
She did also add a small hand-painted heart to her felt to give the coasters a personal touch, but that's a step that can certainly be skipped if you want to keep it easy.
Agate Coasters DIY by Shades of Tangerine
Conclusion
You can find agate stones in various places, but the tricky part is finding ones that are large enough in diameter to serve as coasters once they are cut. This is part of the reason the retail cost of these coasters is (way too) high, that, and that they are beautiful so retailers know they can get the money for them!
These DIY coasters are fantastic for creating the look, with or without the actual stone. Plus, adding little details like gold leaf edges and hand-crafted swirls give them a personalized look that will definitely blend in with your overall aesthetic.