20 DIY Baby Gate Ideas — Time To Babyproof
Once your little one starts crawling, they're busy getting into just about everything they can get their sticky hands on. Their curiosity leads them into rooms they shouldn't be in and, of course, the staircase.
To combat this, parents install baby gates around the house to help keep the mischief at bay. If you're at the stage where you need to babyproof the house and install a gate, check out these DIY options.
Reclaimed Door DIY Baby Gate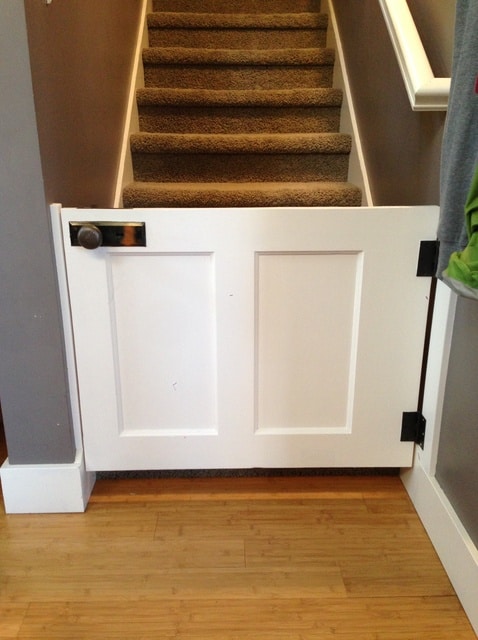 This unique, but functional DIY baby gate made from an old wood door is not only beautiful but also insanely easy.
The doorknob doesn't actually latch (there is a standard lock on the back of the door) but makes for easy opening and closing thanks to the hinges. Little ones won't be able to work it, but visiting adults will (which is more than can be said about most store-bought gates).
Baby Gate From An Old Wood Door from Charissa Johaneson/Snapguide
Farmhouse Chic Baby Gate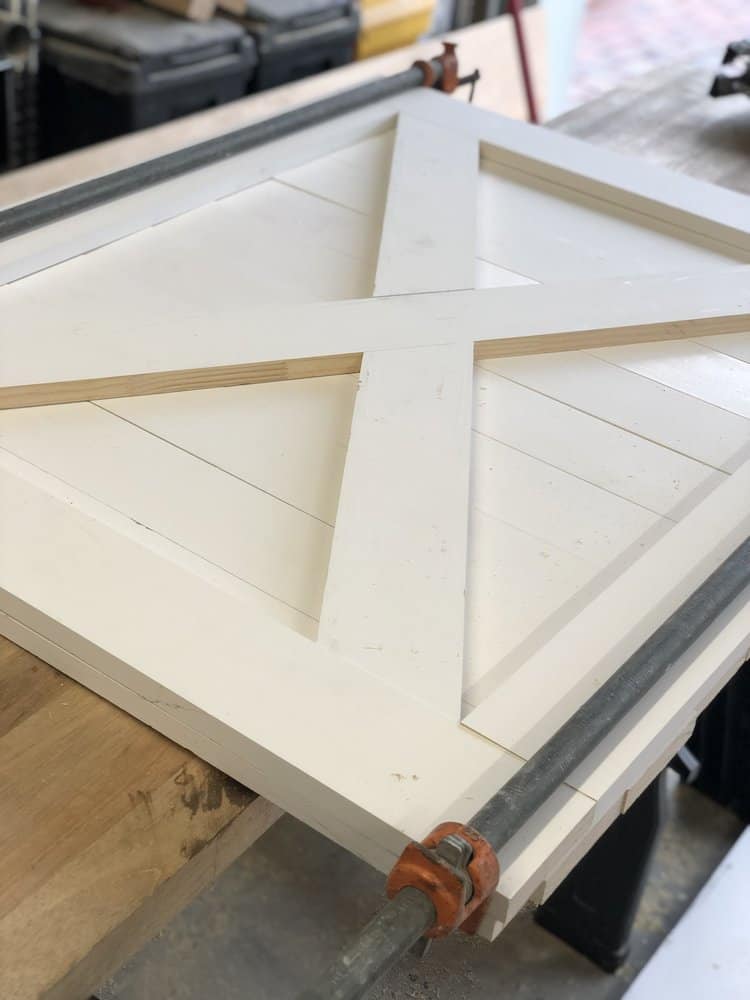 If your style is inspired by Joanna Gaines, then this DIY baby gate will fit right in with your home's aesthetic.
It features farmhouse-classic black and white design and is created to be mounted to a staircase newel post (which is a serious issue a lot of homeowners face). This gate is made to mount with as little damage to the wall as possible.
DIY Farmhouse Gate from Gray House Design Co.
Modern Baby Gate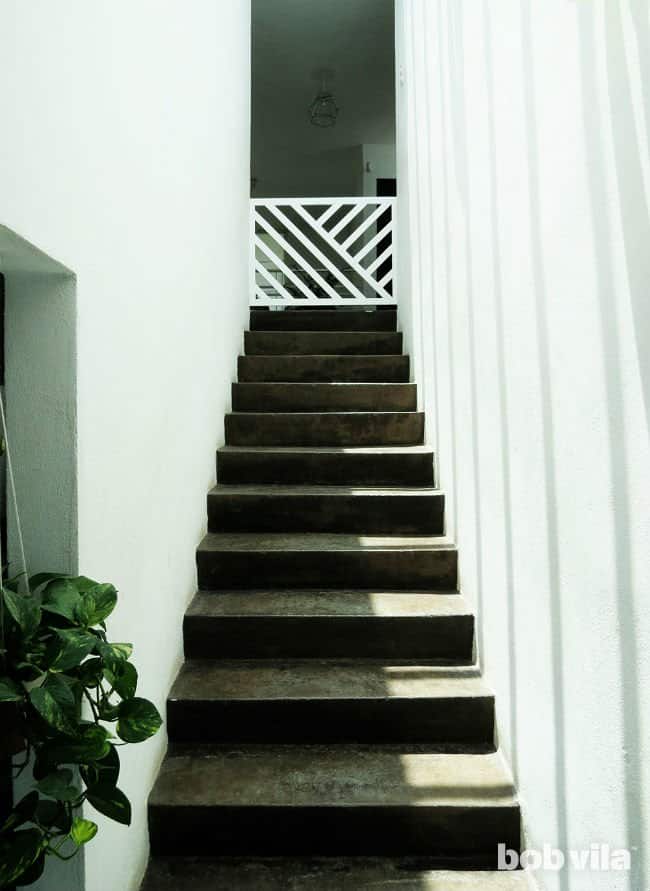 This gate has a funky, different design but still provides the safety element parents are looking for with baby gates. All it requires is a few inexpensive pieces of wood, some hinges, a lock, and a little bit of time. This gate is especially great for a cat-owner who wants their pet to be able to go up and down the stairs freely.
Modern DIY Baby Gate from Bob Vila
No Drill Baby Gate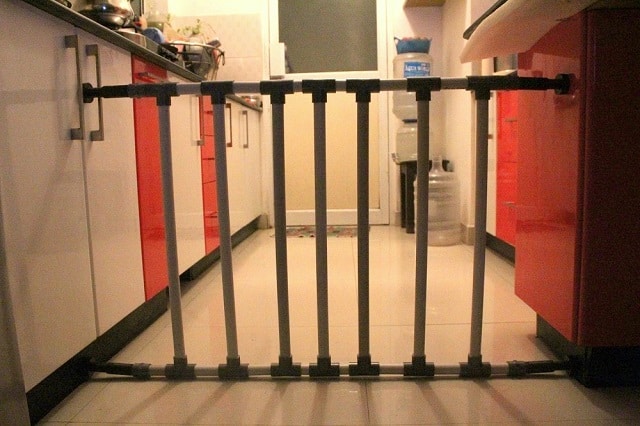 One of the biggest concerns when it comes to baby gates is the damage they can do to the wall(s). Pressure mounted gates are a great way to avoid this issue but are often only available in standard sizes.
This DIY baby gate uses PVC pipes that connect, don't need to be drilled into the wall, can be made to fit custom sizes, and keeps your little one safe.
No Drill Baby Gate/Fence from Woodooz Home Decor
Temporary Fabric Baby Gate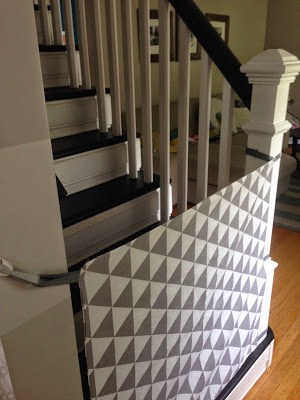 If you're looking for a gate that will certainly fit your aesthetic, this DIY fabric gate is an excellent option because you can pick a pattern that works perfectly with the rest of your home.
Aside from the design aspect of this gate, it's also a nice alternative to gates with bars that toddlers love to try to hang on (and can then accidentally bust open).
DIY Fabric Baby Gate from Curly Girl
Vintage Headboard Baby Gate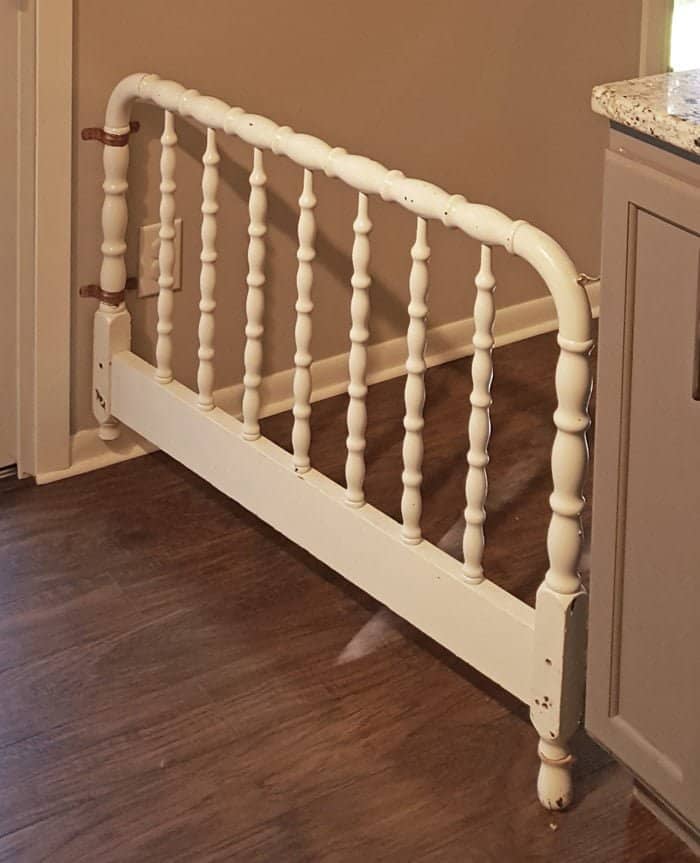 This unique baby gate was inspired by a mom who, like most people, hates the look of the basic pressure-mounted gates that are sold pretty much everywhere.
This gate isn't meant for the stairs but is perfect for blocking off an area or room you want your little one to stay out of (like your office while you're trying to work or the kitchen if you are cooking a dish that sprays hot oil all over).
DIY Baby Gate From Vintage Wood Headboard from The Factual Fairytale
Ten-Minute DIY Gate
If there is anything parents don't have a lot of (besides money, thanks to daycare) it's time. So, while the idea of saving money by making a DIY baby gate sounds nice, the idea of finding time to make it is another story. This simple, pretty, and safe gate only takes 10 minutes to create and the end result is far better than any store-bought option.
10 Minute DIY Baby/Pet Gate from Home Talk
Gorgeous Saloon Style Baby Gate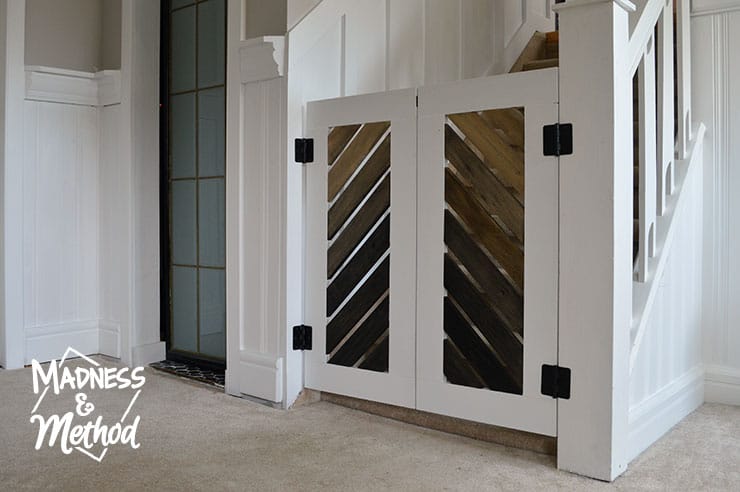 Remember when you were a kid and you loved how cool swinging saloon-style doors were? Now that you're a grown-up you can make them, and they will keep your kids safe from potential danger. This gate is stylish, fun, and so much prettier than a pressure-mounted gate.
Saloon Style DIY Baby Gate from Madness & Method
Easy & Modern Baby Gate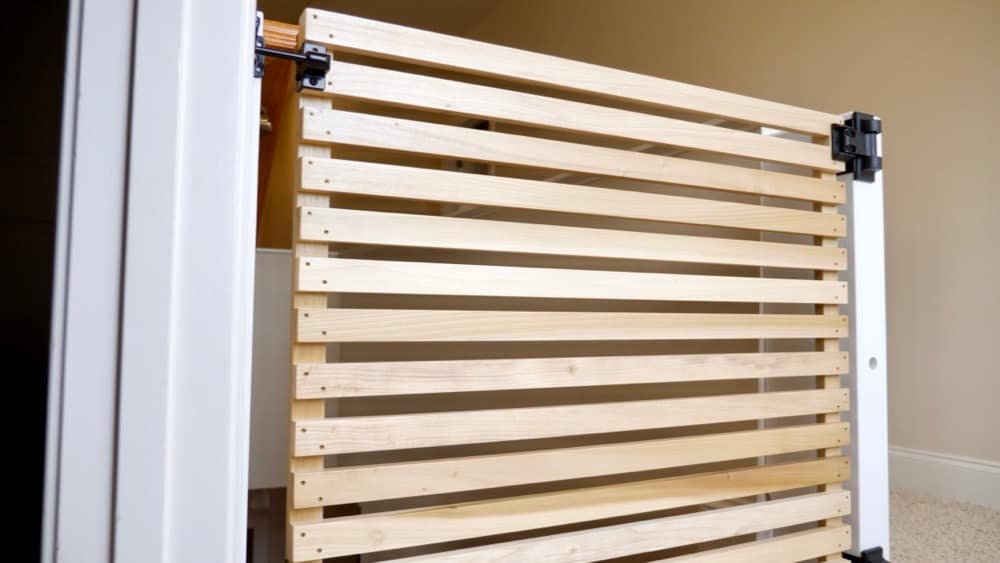 A baby gate doesn't have to be complex to be aesthetically pleasing. This DIY gate is great for someone who enjoys clean, straight lines, but hates the look of a metal gate.
What's nice about the beams on this gate is that they're horizontal close together so a little one can't grab on them to pull/hang their weight.
Easy DIY Modern Baby Gate from Crafted Workshop
Folding Wide & Tall Baby Gate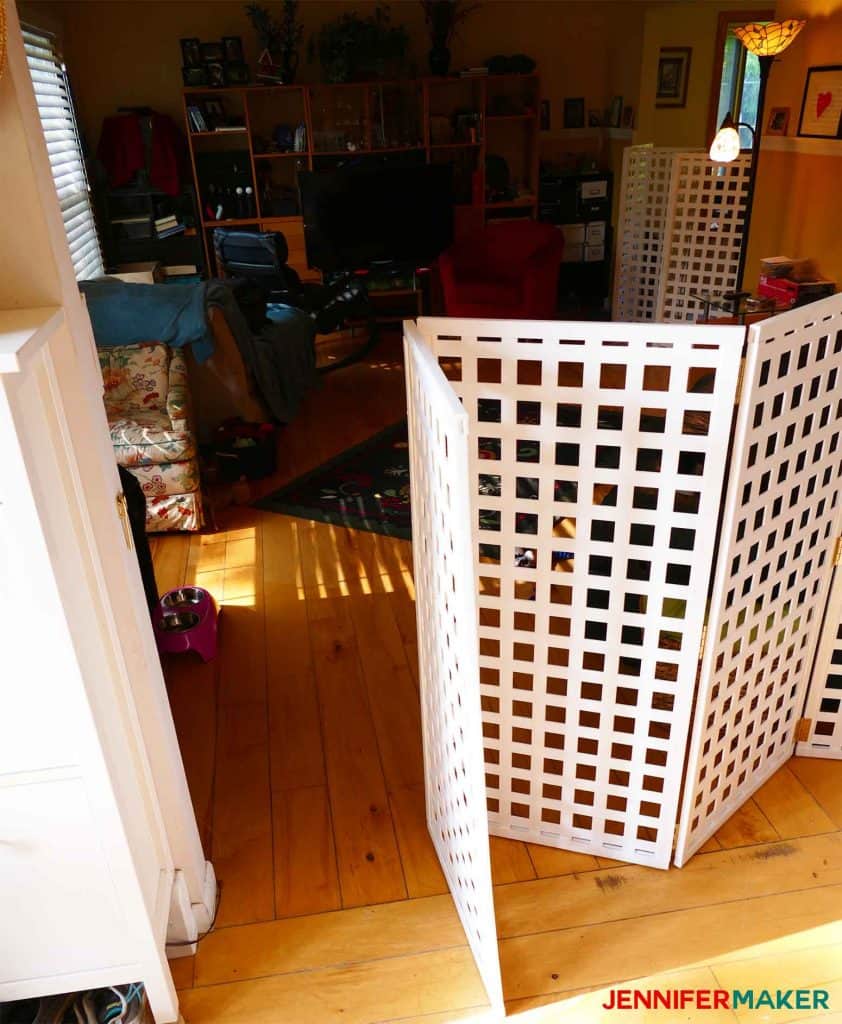 If you have a room you'd like to block off from your kiddo, but it doesn't have a door or standard-size opening, this folding DIY baby gate is the answer. It's tall so it provides privacy, hooks onto either side of the wall so it won't budge, and it's easy on the eyes.
DIY Pet Gate / Baby Gate – Freestanding & Extra Wide + Tall from Jennifer Maker
Folding Industrial Baby Gate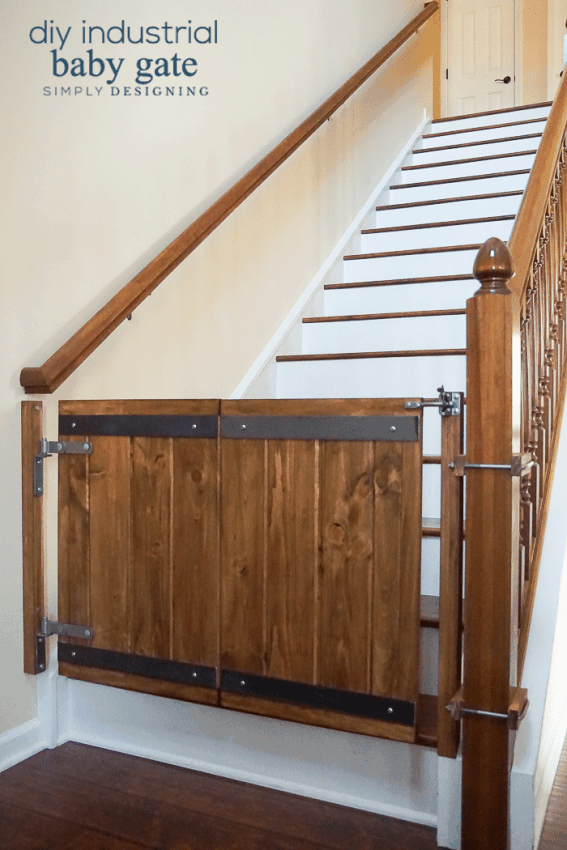 One of the trendiest looks right now is mixing rustic wood with industrial metal. This DIY baby gate fits right in with that aesthetic.
It can be safely secured at the top or bottom of a staircase (bonus points, it can be stained to match your banister) and it folds open so it's better for an area with a tight fight.
DIY Industrial Baby Gate from Simply Designing
Craftsman Inspired Baby Gate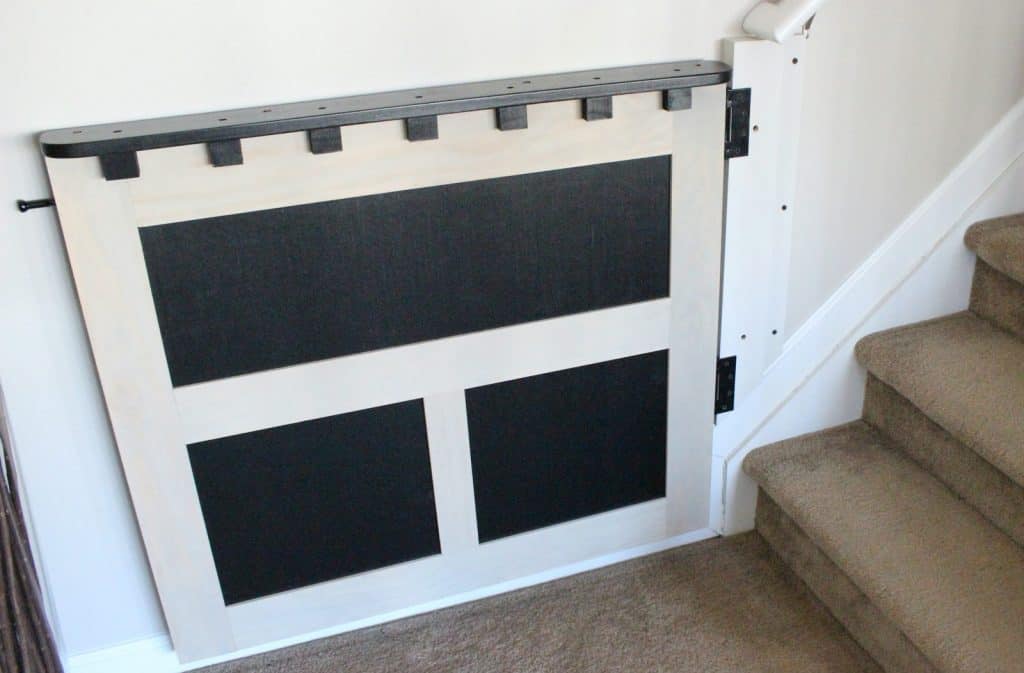 Love all things craftsman style? This DIY baby gate is all of that and more. It swings open, as it was inspired not only by craftsman style design but also by dutch doors, and had intricate details that make it look less like a baby gate and more like a work of art.
It's completely customizable as well, so you can make it any color to match your home.
Craftsman & Dutch Door Inspired DIY Baby Gate from Duo Ventures
Cat-Friendly Baby Gate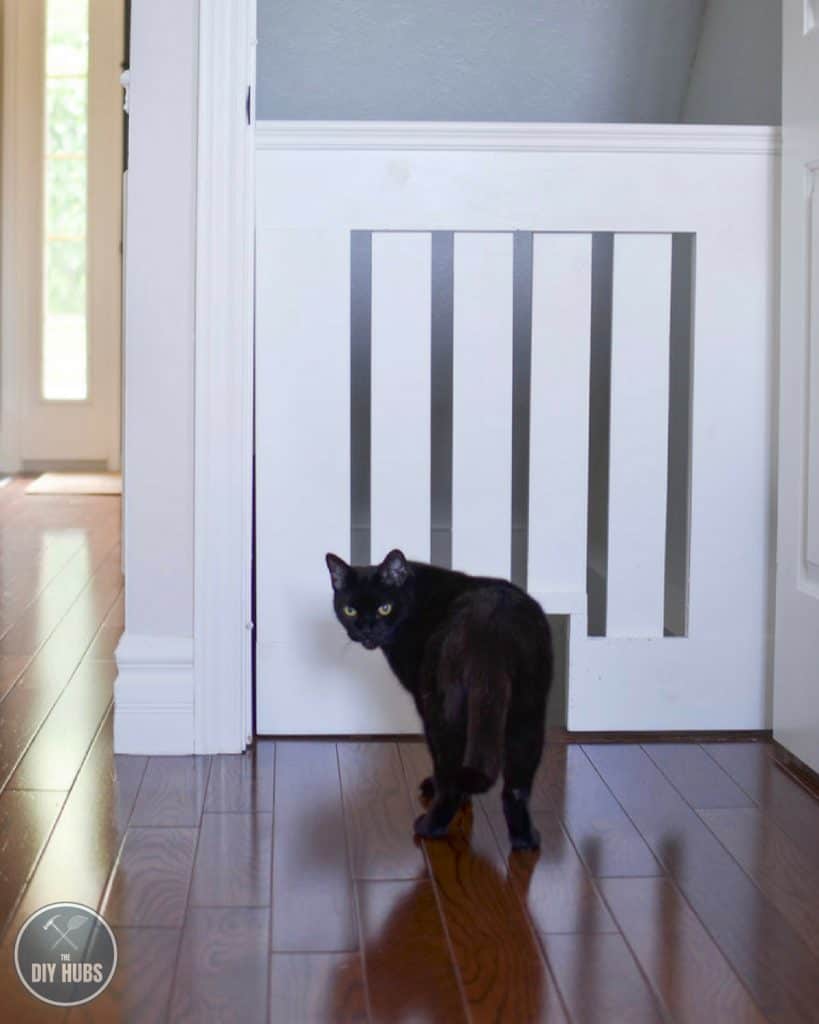 Unlike dogs, cats need two stations in the home: the food and the litter box. Oftentimes those important areas are on opposite floors in a home, so a baby gate can stop a cat from getting to its food – or its bathroom.
This DIY baby gate solves that issue by having a small cutout that's big enough for a cat to sneak through, but too small for a baby.
Baby & Pet Gate from The DIY Hubs
Chalkboard Baby Gate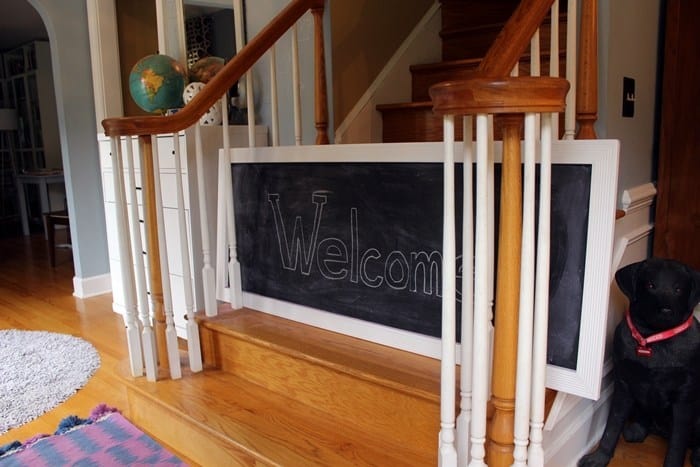 This baby gate is different in a lot of ways, but what's fun about it is that it has a giant chalkboard!
It's really easy to install, just slip it through some spindles on the stairway and hook it in place, then all you have to do is rest easy knowing your kid won't fall down the stairs and they have a chalkboard to play with.
Chalkboard Baby Gate from Boxy Colonial
Pocket Door Baby Gate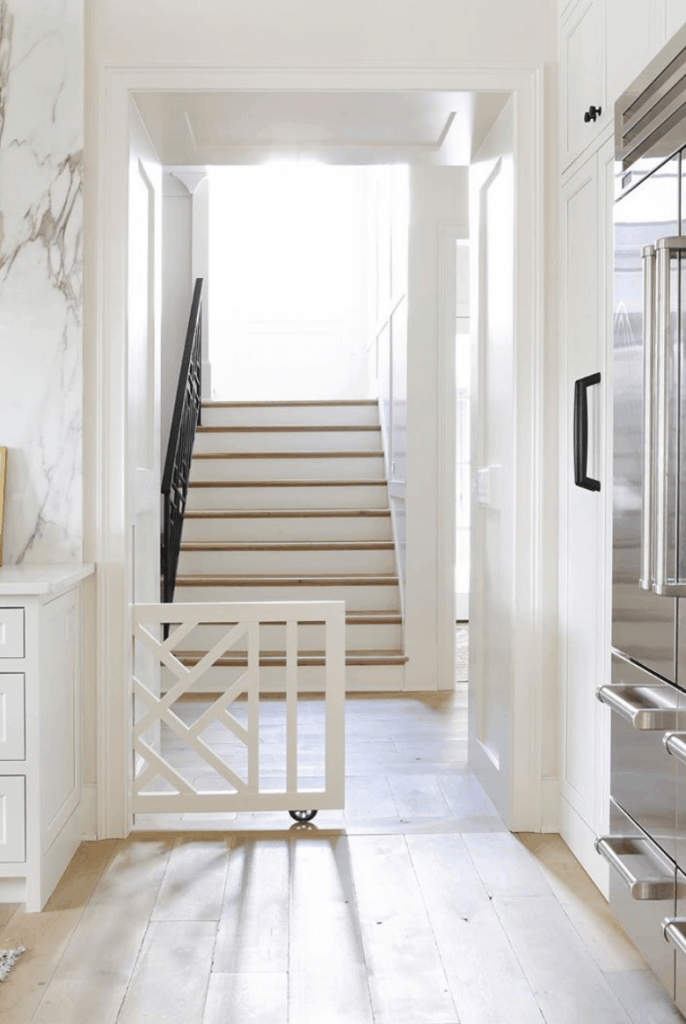 If you have a space in your home that has a pocket door, you can pull out the door and replace it with a gate on wheels! If you love the idea but don't have an existing pocket door, there are plenty of DIY tutorials on it all over the internet.
Instead of a door, just replace it with a baby gate. It's a fantastic way of hiding a necessity.
Pocket Door Baby Gate (Concept) from Lori Paranjape
Dark & Light Baby Gate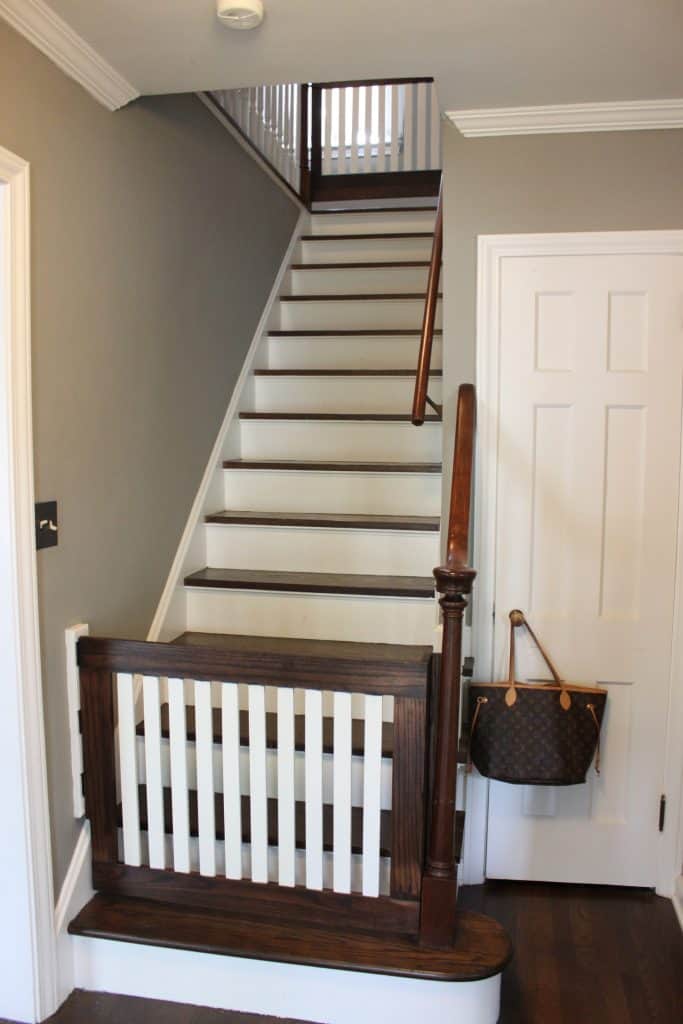 Wood stairs are a beautiful addition to any home, so putting an unsightly baby gate at the top and bottom of them really take away from the aesthetic.
This DIY baby gate is perfect for a wood staircase because it can be stained to match the steps, plus the white and espresso mix is simply beautiful.
DIY Baby Gate from The Fat Hydrangea
Basic But Beautiful Baby Gate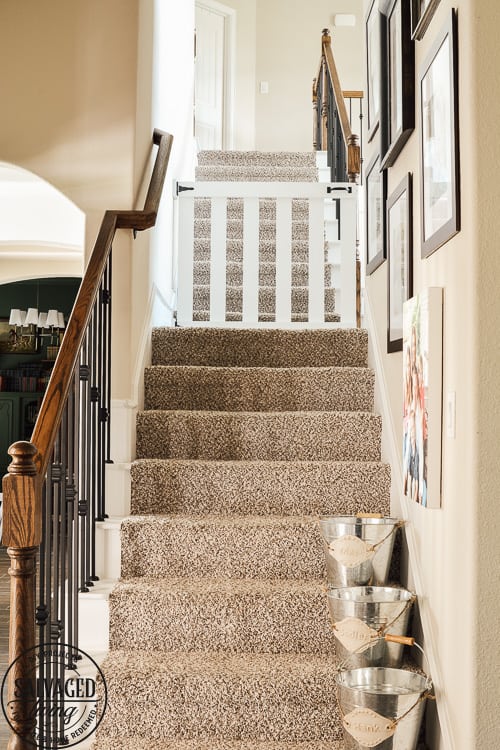 Sometimes just a classic white gate with basic vertical bars can be a show stopper in a home. This DIY gate requires very little building but comes out crisp and clean. You can customize it to your home by adding different color hardware to better match your own aesthetic (gold, perhaps?).
Easy Stairway Gate from Salvaged Living
Multicolor Pallet Baby Gate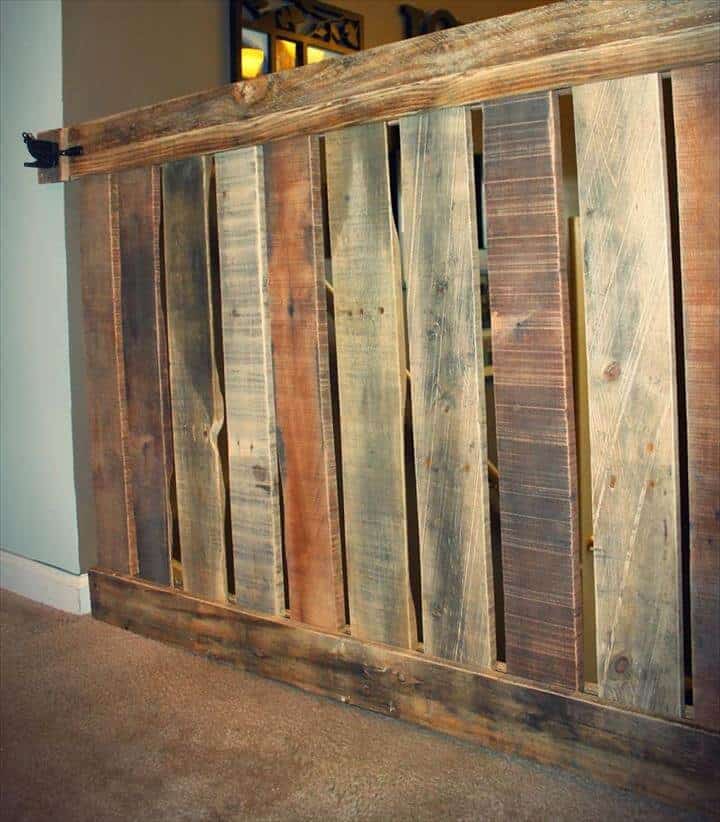 Pallet projects are always fun, plus the wood is easy to get! This DIY pallet baby gate is not only easy to make but also has a unique and gorgeous final look.
This style is good for anyone who likes a rustic look or who enjoy adding a bit of color to the home (while keeping the little ones safe, of course).
DIY Pallet Baby Gate from 99 Pallet Ideas
Beadboard Baby Gate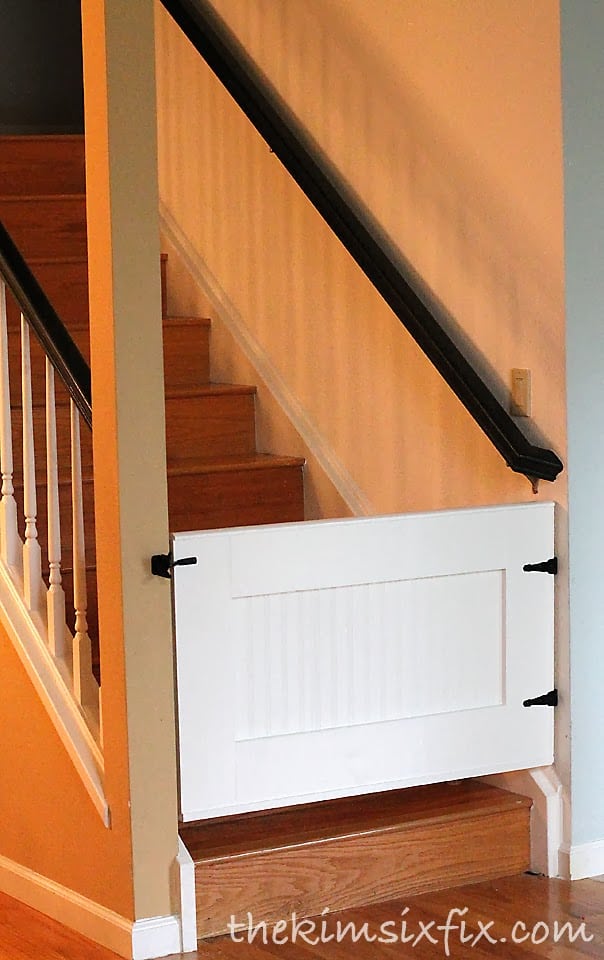 This DIY baby gate isn't terribly different from a lot of the other swinging gates, except it features some gorgeous beadboard! This little detail makes it look so much more polished and unique. It gives it a more custom feel for the same amount of work!
Easy Custom DIY Baby Gate from The Kim Six Fix
Beautifully Crafted Baby Gate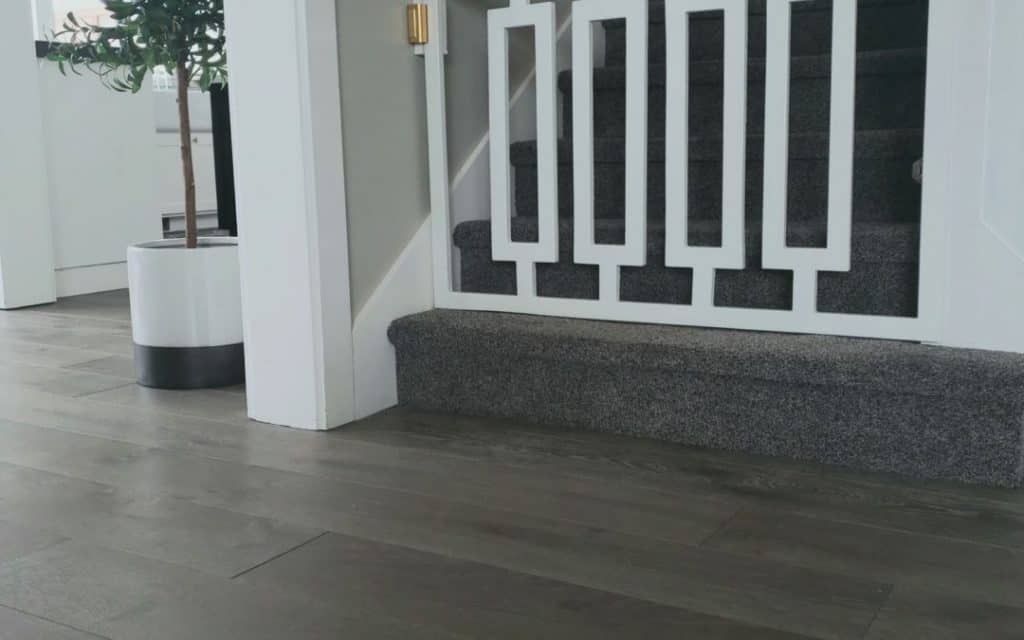 This stylish baby gate is one that could easily be left out well after the baby can maneuver the stairs. However, this DIY may require a little more expertise than some of the others but the end result is worth it. The small touch of gold on the hinges helps elevate the style even more.
DIY Stylish Baby Gates from Craven Haven
Conclusion
Accidental falls are one of the top reasons kids end up in the ER. Stairs are dangerous for anyone, but especially for a little one who can barely stand in perfect conditions. Gates are non-negotiable when it comes to babyproofing a home.
Unfortunately, most of the models available to purchase leave a lot to be desired when it comes to style, and the ones that are aesthetically pleasing tend to cost way too much money.
DIY baby gates can solve all of these problems, you can customize it, build it on a budget, and still keep your little one safe.