14 DIY Business Card Holder Ideas
There's something so fun and uplifting about having your own business cards – especially the first time you get a new set printed for your brand-new business. Whether you're a blogger, contractor, seamstress, or pet sitter, this new pile of little paper cards makes things feel official.
So, what better way to celebrate your official-ness than making a business card holder just right for your unique small business? There are tons of fun, unique and easy-to-make diy business card holder options out there – and we've rounded up the best of the best just for you.
Demonstrate Your Puppy Love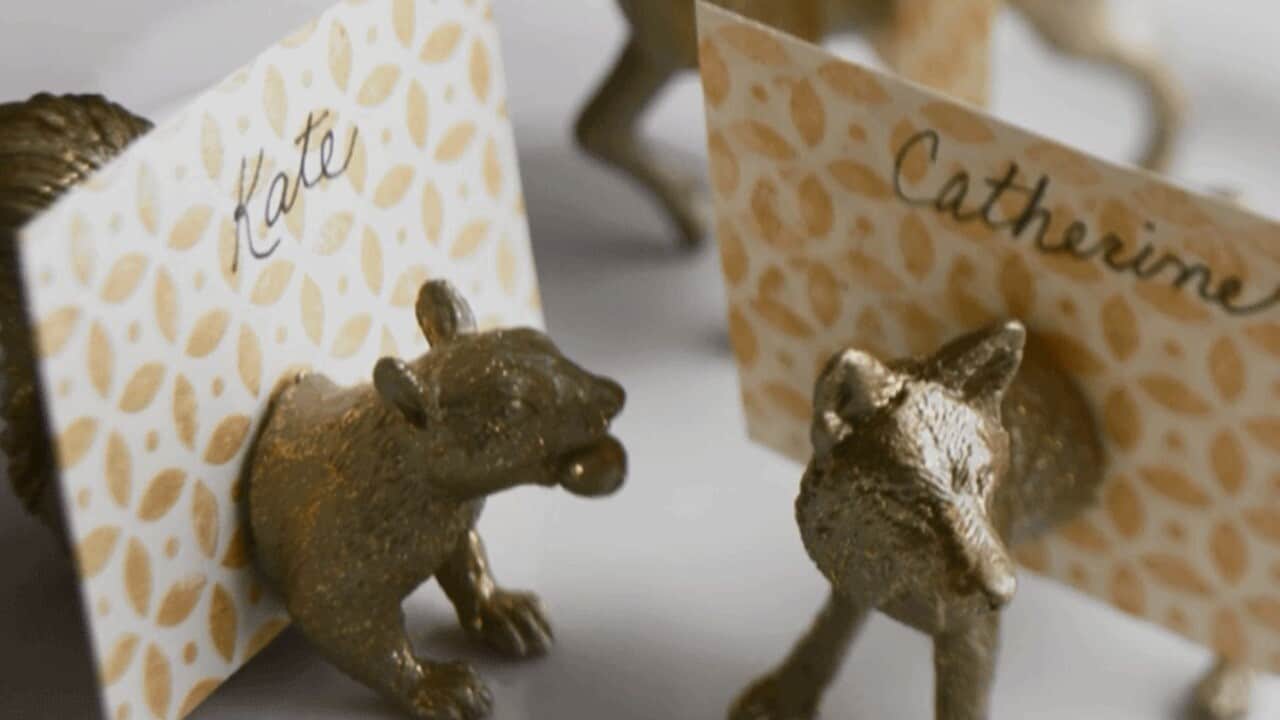 Whether you've got a thing for Dachshunds, Shelties, or Corgis, you're bound to find some adorable little animal figures you can create your own puppy love business card holders from.
Technically, this video tutorial is for place card holders made from wild animals, but you can easily adapt the incision a little wider for more space for the business cards and trade out the moose for your pooch of choice.
Snag some plastic figurines of your favorite breeds from Amazon and keep them as is or follow the instructions for the full metallic effect.
Or, if you're not feeling the DIY on this one, you can always snag this cute Dachshund from Anthropologie.
Via BHG
Go Retro with a Cassette Tape Business Card Holder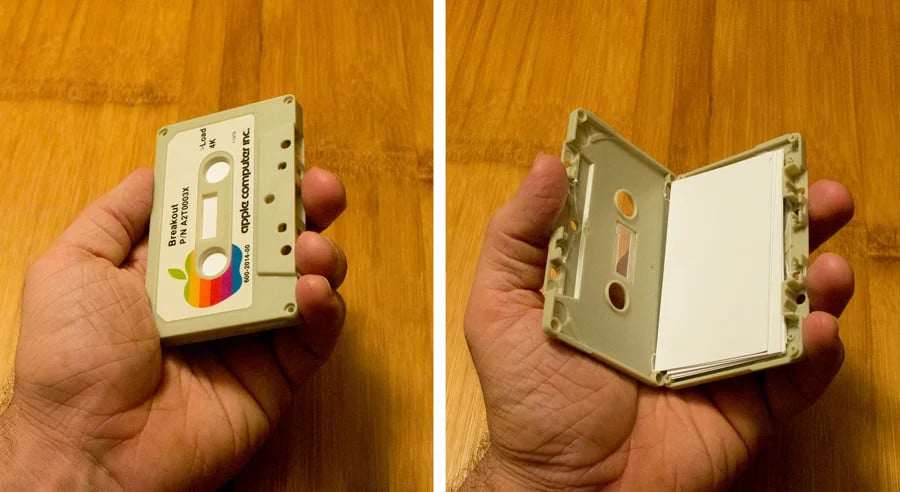 Cassette tapes – they're not just for your junk drawer anymore! In fact, they're the perfect size to fit business cards in. And they're a fun way to show off your love of music with a retro vibe.
First, you'll need to find a cool tape that you're going to love carrying with you to pass out your cards from. Then, follow the straight-forward instructions from the Instructable tutorial, from start to finish.
Via Instructables
Show Your Playful Side With Lego Business Card Holders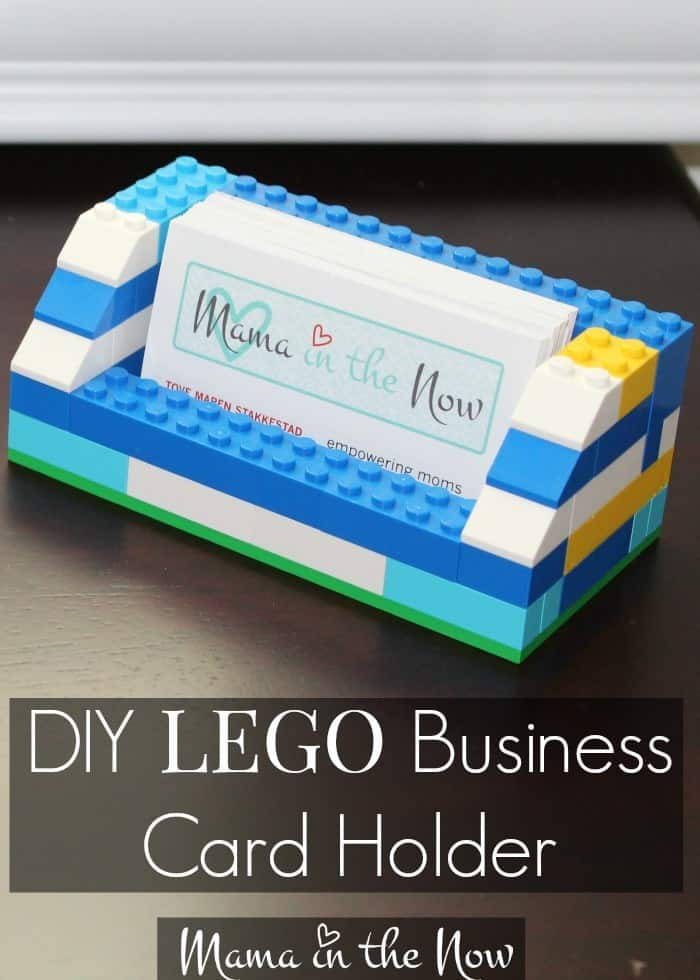 These are one of the easiest DIY business holders you can make – plus they're super cute and just fun. They also add as much – or as little – color as you want to your office setting.
You can follow the easy-to-make instructions from Mama In the Now or create your own design with a little experimentation. Don't forget to get the right size plastic Lego base "sheet" and use some plastic-friendly glue, if you want to keep the holder permanently.
Via Mama In the Now
Get Hooked on this Crocheted Holder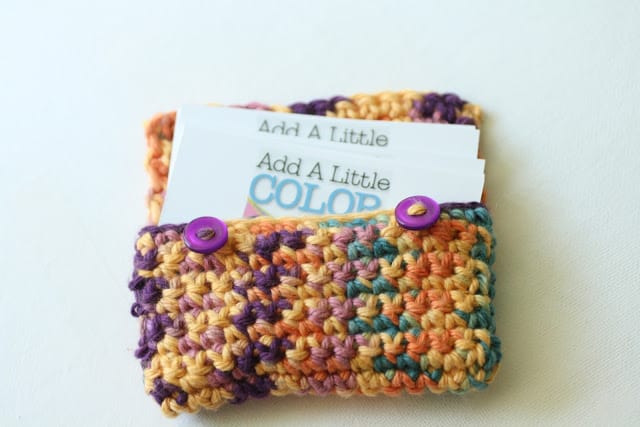 For anybody looking for a super crafty, fun, and adorable homemade business card holder, look no further than this ridiculously cut crocheted business card wallet. You can go as colorful as you like, or use some crazy buttons to shine your personality through.
You'll need some yarn – your preference type! – some fun buttons, and a 4mm crochet hook. That's it.
Follow the simple instructions to make this cute holder. And if you're not really sure how to crochet yet, there are tons of tutorials online to help. A great option is this Youtube video.
Get Fancy with a Gilded Leather Business Card Holder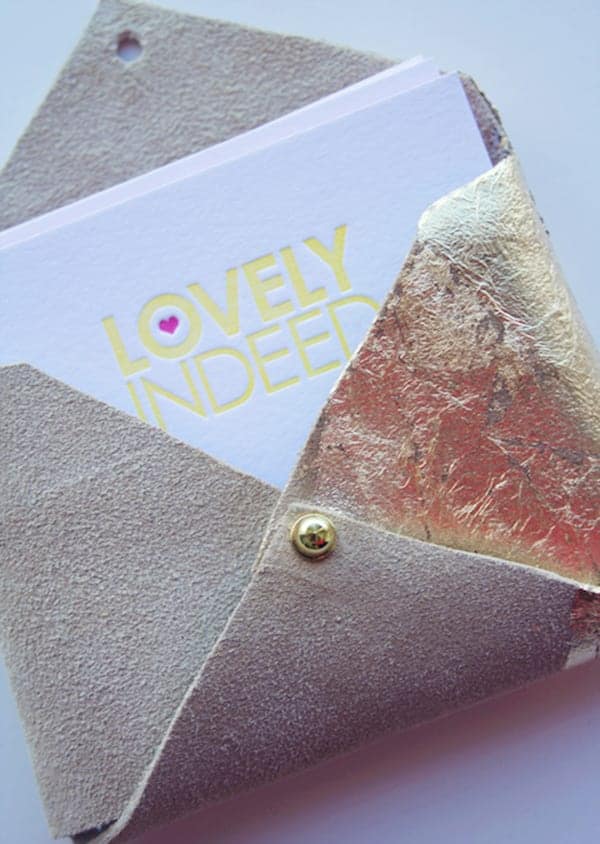 If you're feeling a more elegant look is your wheelhouse, and have some basic skills for working with leather and ModPodges, you'll want to check out this gorgeous option from Lovely Indeed. You'll use the Martha Stewart business card template, some 7×7-inch suede pieces, a leather punch, gold leaf, and basic supplies like ModPodge and pen to create this stunning little leather card holder.
Instructions are easy to follow, too, so even if you've never used leather before, don't worry. It's easy.
Via Lovely Indeed
Create An Elegantly Simple Look With This Wooden Holder
If you need a desktop card holder, this beautiful option from DIY Huntress is an elegantly simple choice you can make at home. You'll need some basic woodworking skills and tools, though, like a bandsaw or jigsaw, and a miter saw.
Other supplies include sandpaper, wood putty, pencil, tape measure, and T-square. Not stain required, though, of course, you can always opt for it.
Via DIY Huntress
Get McGuyver (Only Prettier) with This Duct Tape Card Holder
For a paper business card holder you can make quickly, easily, and even as a project with the kids, this McGuyver-esque option is a fun solution, except way prettier than anything he ever made.
The tutorial is complete with patterns and illustrations to make this simple project even easier. Just grab some pretty duct tape from the craft store, some ribbon, and card stock. You're all set!
Try This Simple Leather Case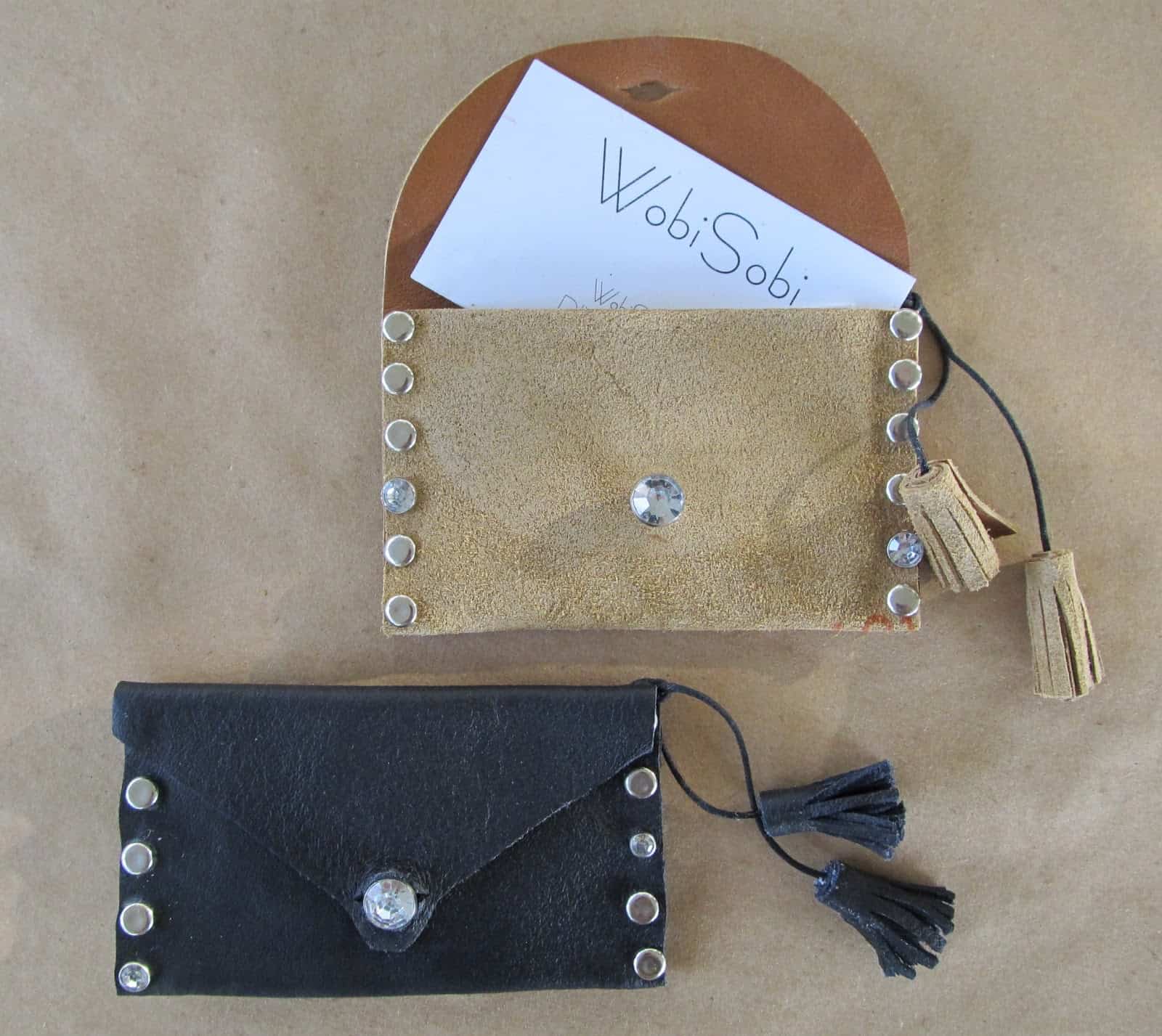 If you like the idea of leather, but aren't so fond of the gilded details of the option above, here's another simpler, super easy leather card case you can make in under an hour.
To make this rustic option, you'll need scissors, leather – suede or glossy – rivets, and a pencil. If you want to get fancier, you can opt for rhinestone rivets like the original crafter made, or if you're more on the simple side, just find some plain rivets.
The tutorial is pretty straight forward and anyone can make the card holder, just about, so you can even do this as a rainy day activity with kids old enough to use sharp scissors.
Via WobiSobi
Enjoy the Classics with This Vinyl Holder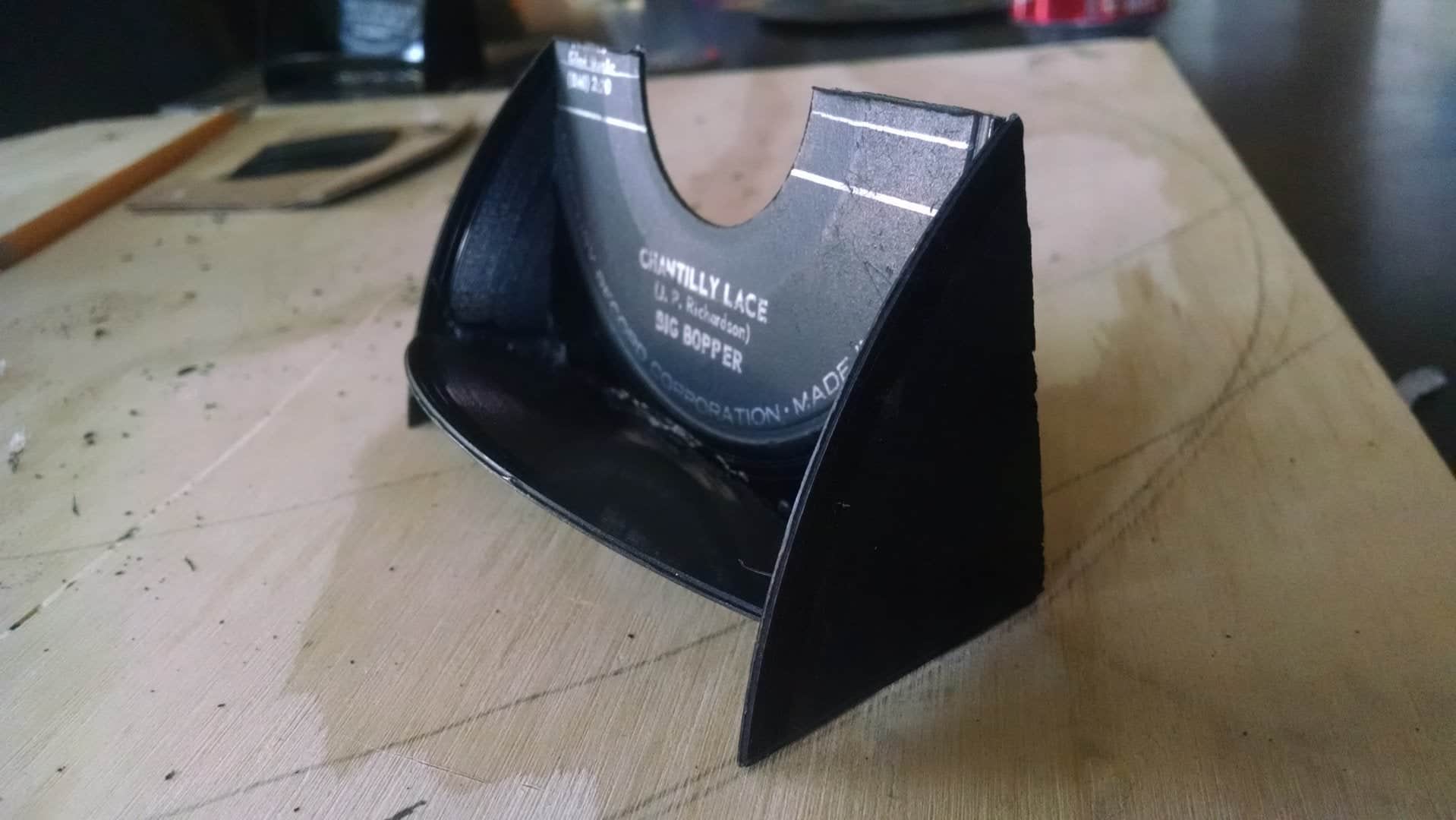 Love music? Then you'll love this creative business card holder made from some old Vinyl. Just find an old LP at a garage sale, thrift store, or in the basement. You'll need some cardboard to make your template, an Olfa knife, pencil, tape measure, and a hot glue gun to make this super fun business card holder.
You'll be cutting up that old LP, just to warn you, so don't pick an album you adore unless it's scratched beyond repair!
Via Instructables
Time to Commit with This Decorative Clock Card Holder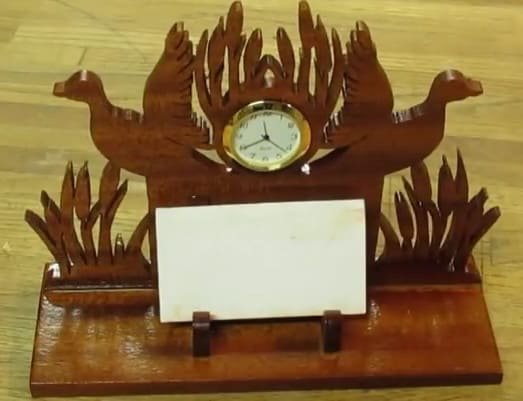 For those handy with woodworking, this unique DIY business card holder could be a great option. You'll need a single piece of scrap wood – Mahogany suggested – to create this beauty. You'll also need some scroll work skills and the right tools.
This tutorial is specifically themed on a woodsy design, but you can use any pattern for any motif you prefer, such as equestrian, seasonally themed cutouts, or a flag. You can find many patterns to choose from online on sites like Etsy and Pinterest.
Just watch the video for the step-by-step directions.
Via Instructables
Nintendo Controller Business Card Holder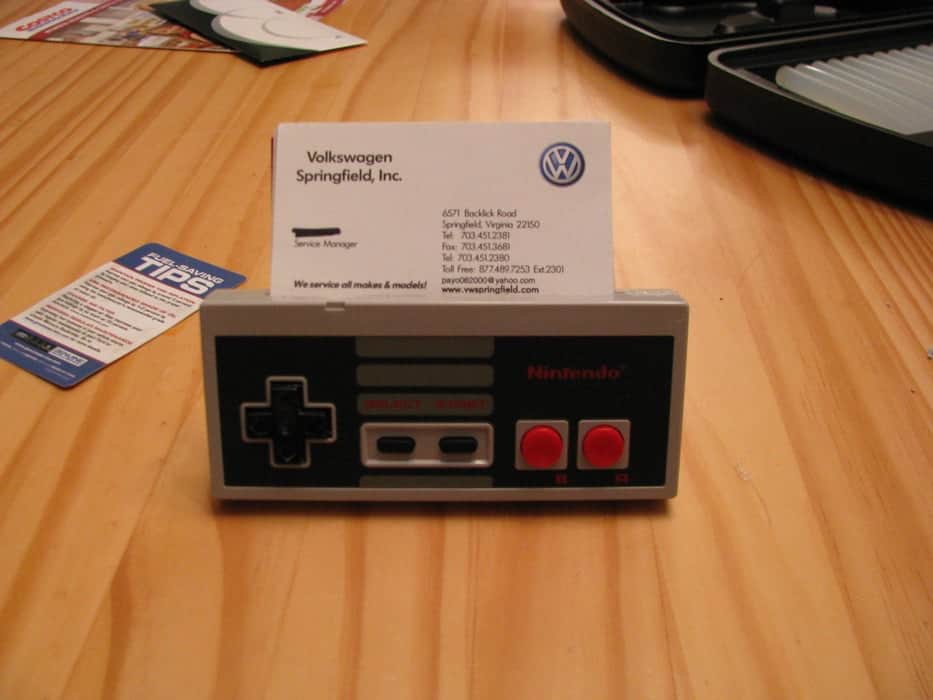 If you're looking for a fun, cool business card holder with a bit of nostalgia, you'll love this old school Nintendo controller card holder. It's a great way to show off some of your personality and interests while putting to use that old controller for a system taking up space in the attic.
You'll need some simple supplies, starting with that classic controller. Grab a small screwdriver, hobby knife, rotary tool, hot glue gun, and a door hinge – and don't forget your safety equipment. In no time, you'll have this nostalgic piece of gaming history ready to use for your everyday business life.
Via Instructables
Go Jurassic with Dinosaur Business Card Holders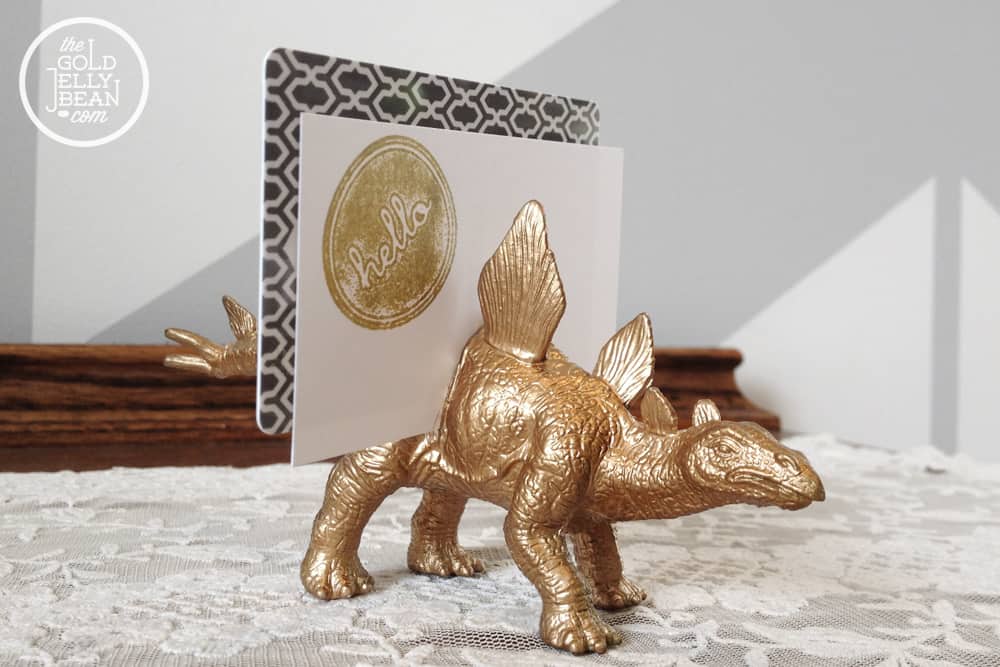 Here's a funny business card holder your office mates will enjoy: a dinosaur business card holder. This dollar store DIY is super easy, fun to do, and adds some punch to your potentially otherwise boring office space.
You'll need a plastic dinosaur – whatever type you love best! – some spray paint, and an X-acto knife. Follow the tutorial and you'll have a fun, fantastic new functional decor item in just a few minutes, plus drying time.
Make an Impression with this Wooden Business Card Wallet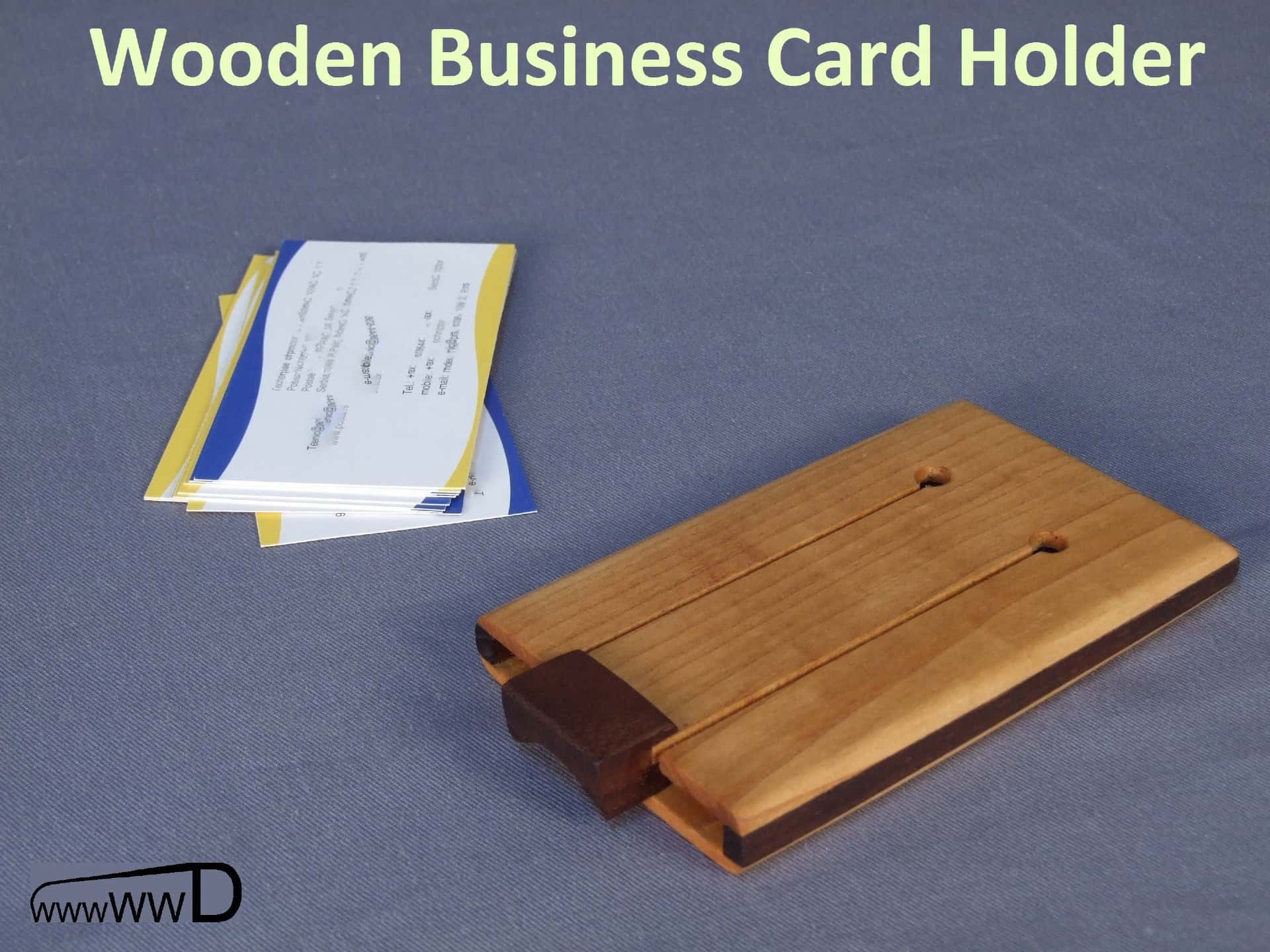 For anyone looking for a unique business card holder to bring along while networking, this beautiful wooden business card wallet is a must have. It's slim, stylist, and shows of your woodworking skills in an intriguing way. You'll make a unique impression every time you pull out your business cards to hand out.
And despite it looking hefty, it's actually less than ½-inch thick when empty, and very light weight. The design uses a wooden "elastic lock" that keeps everything in place, thanks to the natural elasticity of the wood. No metal parts and no magnets required.
Via Instructables
Make this Adorable Clay Card Holder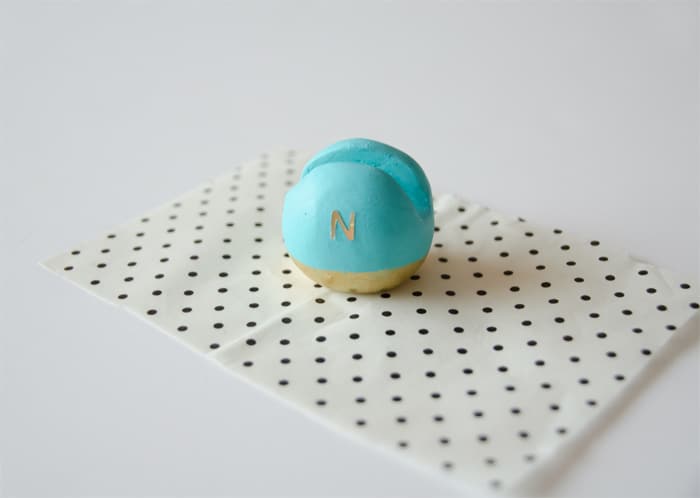 If you're looking for a great project to do with the kids, there's this clay card holder. You can make a bunch for Christmas and gift them to your small business owner friends and family.
They're super easy to make, fun to paint, and look great. Choose vibrant colors, muted tones, or monochrome shades – whatever you like for the perfect look for each recipient.
You just need Sculpey (or oven bake clay), acrylic paint, and a craft knife, plus an oven to bake them up in.
So Many Ideas to Choose From
Whether your style is cute, rustic, or elegant, one of these business card holder designs is bound to suit your purposes. Most are also great projects to work on with a friend – or kid! – or test and grow your own crafting skills of any type.
And because most of them are fairly low-key and budget-friendly, they not only work great for adding some interesting decor to your own office space or networking events, but they make great gifts for your clients, contacts, or even your family members.