25 DIY Coffee Table Ideas That Will Inspire You
Adding a coffee table to your living room will not only give you a spot to put your drink, rest your feet, or store some magazines, it will also tie the room together and give it a polished look. 
If you want to get creative and have a table that perfectly suits your needs, consider a DIY project! You'll be able to have fun making it, and end up with a beautiful finished product. 
Modern Farmhouse Style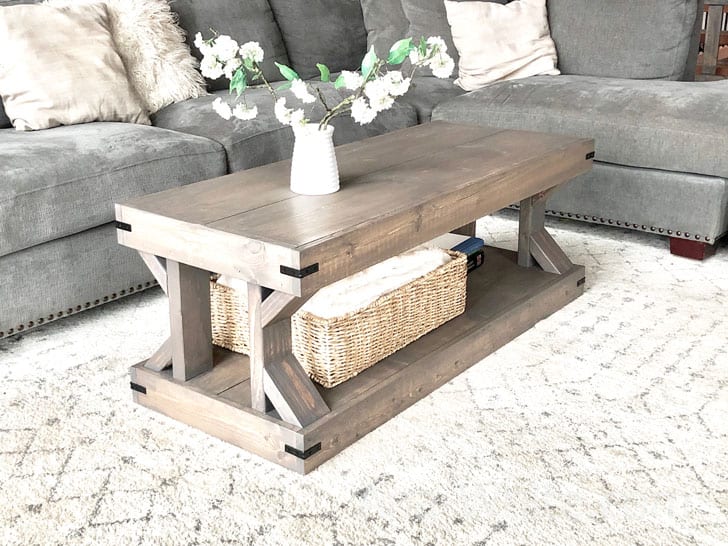 This farmhouse style coffee table is what every "Fixer Upper" fan's dreams are made of!
You can find step-by-step directions for making this on the Ana White website!
Coffee Table by Ana White
Unique & Modern
If you're not a fan of basic and boring, this coffee table is for you!
This blogger made the table very simple, but it still looks like a piece you'd find at a high-end retailer.
DIY Wooden Coffee Table by A Beautiful Mess
Gorgeous X Base Table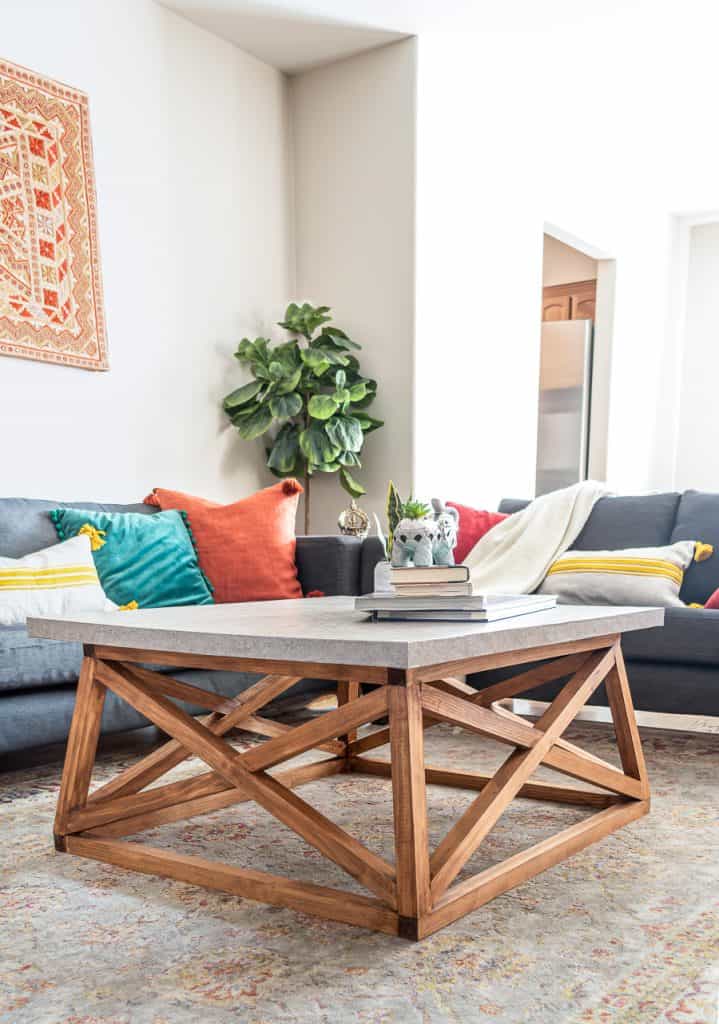 Did you know it was possible to make something this pretty by yourself?
This blogger explains how she used concrete to create the coffee table top and how she built out the bottom with wood.
How to Build a DIY Concrete and Wood Angled X Base Coffee Table by Jen Woodhouse
Easy & Industrial Coffee Table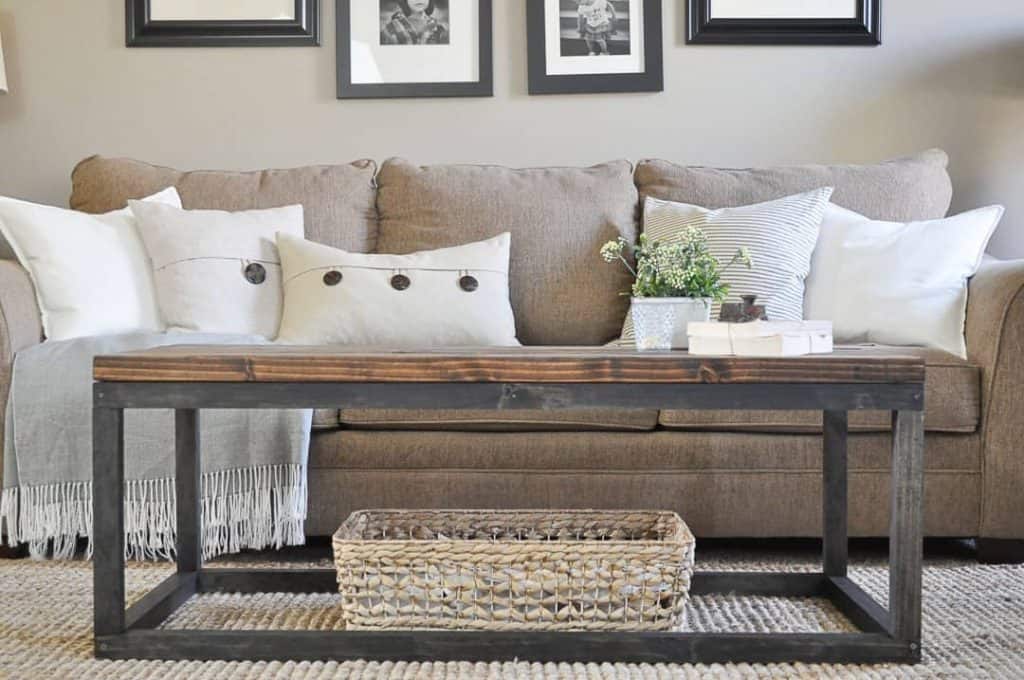 The best part about a rustic piece is that if you mess up at all, you can just say it adds to its "charm".
Even the most novice DIYer can recreate this rustic-industrial table.
Industrial Coffee Table by Little Glass Jar
Large Chunky Table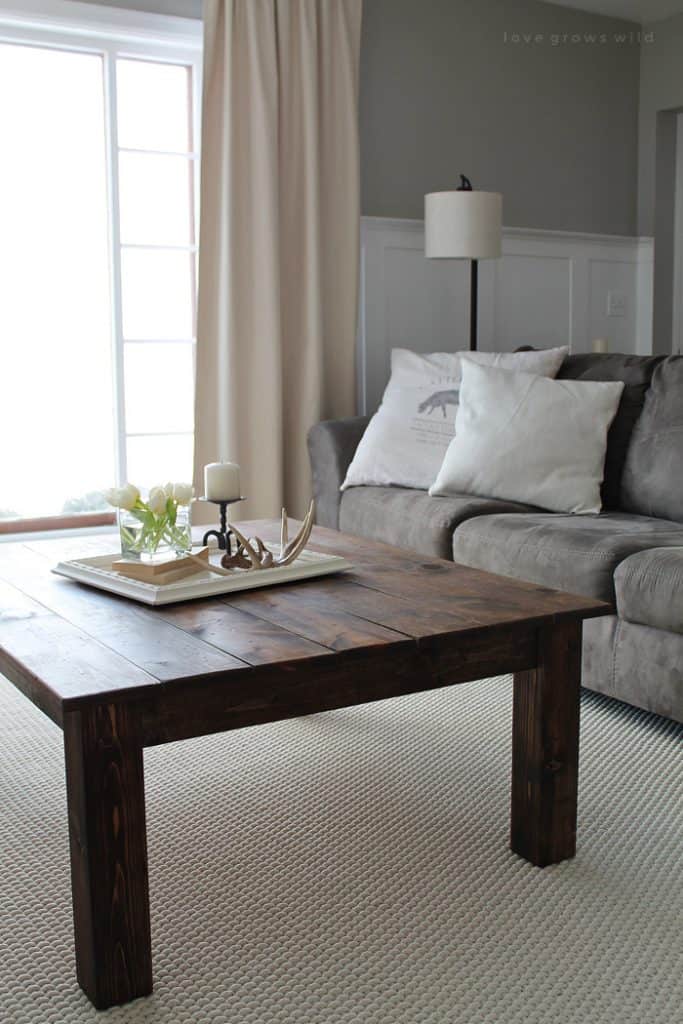 If you frequently eat in front of the TV, or love to gather around for game nights, this large, chunky table is perfect for you.
There aren't any crazy cuts you have to make to recreate this, and the end product is functional without sacrificing style.
DIY Farmhouse Coffee Table by Love Grows Wild
Block Style Table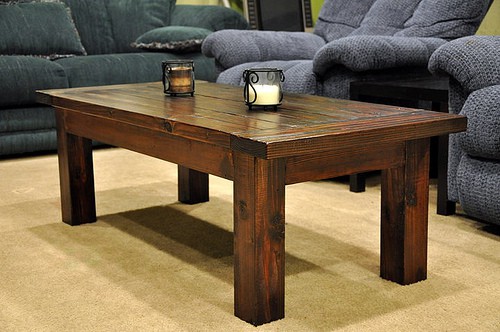 This block-style table is similar to the one above, but a little smaller, and with a little more small details.
You can find the steps for making it yourself on the Ana White website.
Tryde Coffee Table by Ana White
Terrarium Coffee Table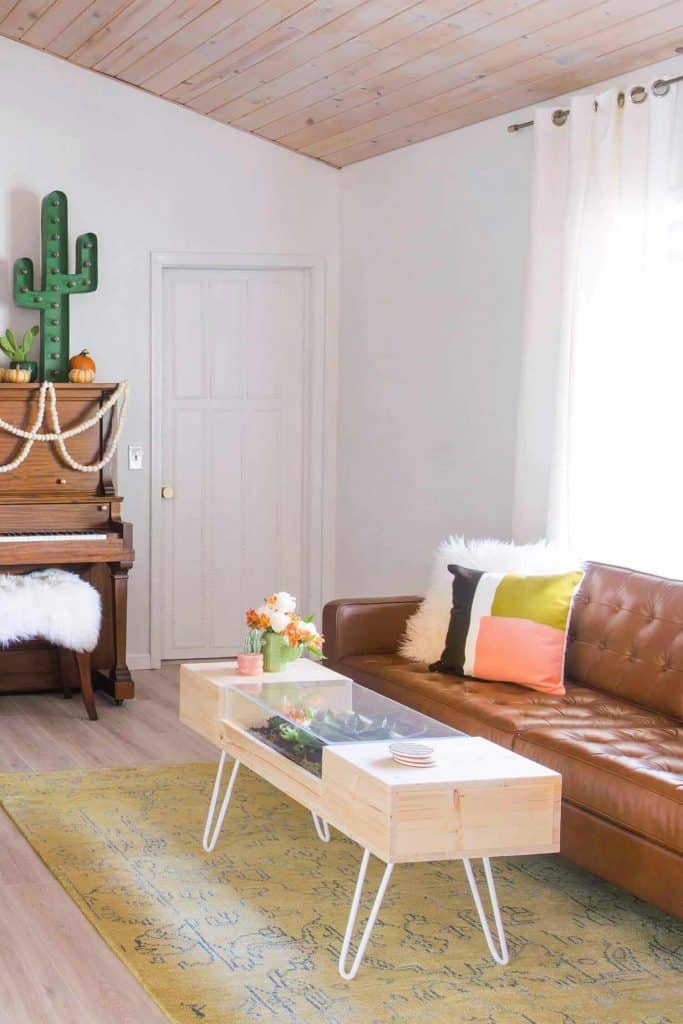 If you want something fun, easy, and totally unique, this is the coffee table for you!
This blogger created a table with a built-in terrarium, so she can have a little green in her home without having to sacrifice floor space.
DIY Terrarium Coffee Table by A Beautiful Mess
Wood & Steel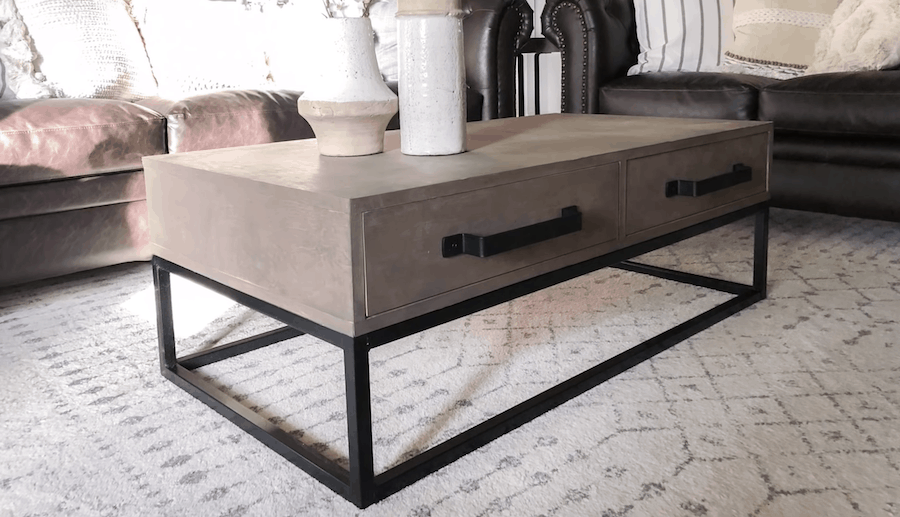 This table looks like it came straight from a store like Restoration Hardware, but this blogger made it herself!
Getting comfortable mixing steel and wood may seem intimidating, but it's worth it to learn – just look at the final product!
DIY Wood and Steel Coffee Table by Jen Woodhouse
Round Coffee Table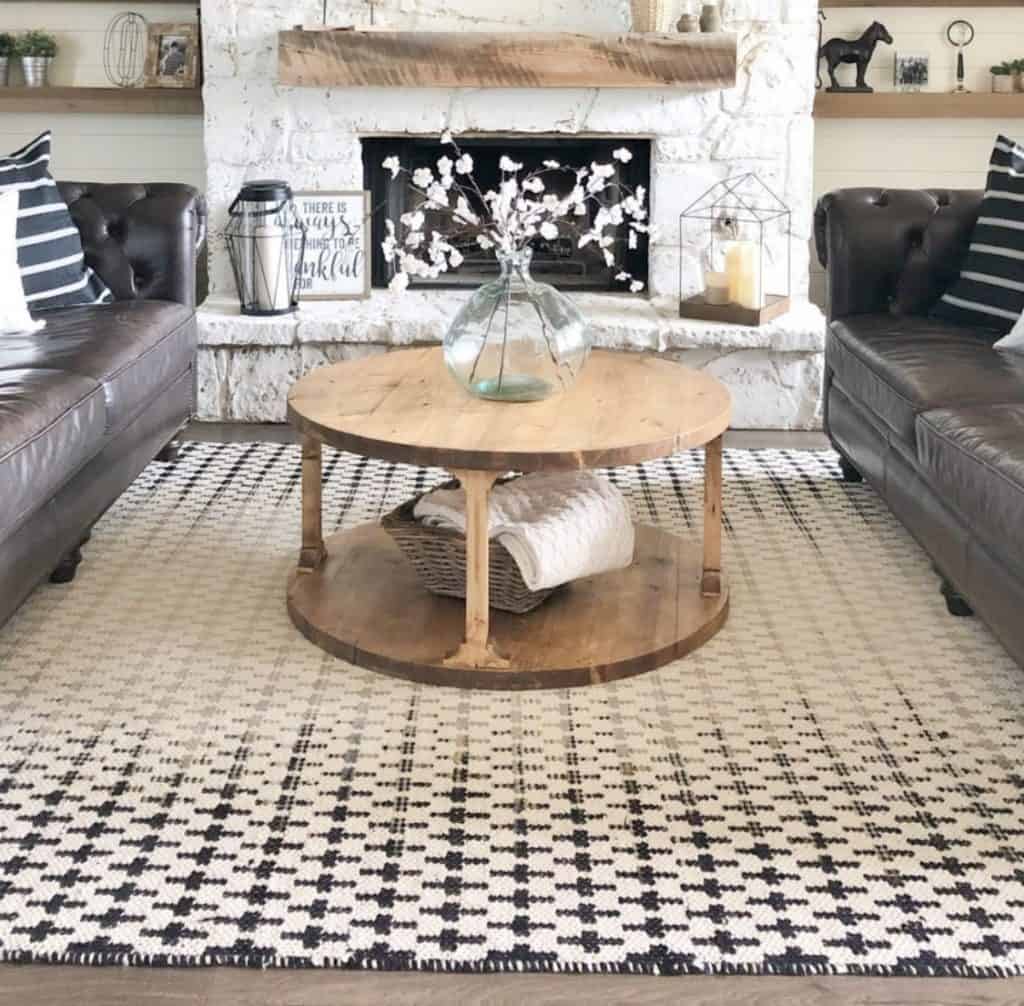 Coffee tables are commonly rectangle, which makes circular ones all the more fun!
The hardest part about recreating this will be learning to make those round cuts. Once you have them down, it will be smooth sailing.
DIY Round Coffee Table by Shanty 2 Chic
Angled Coffee Table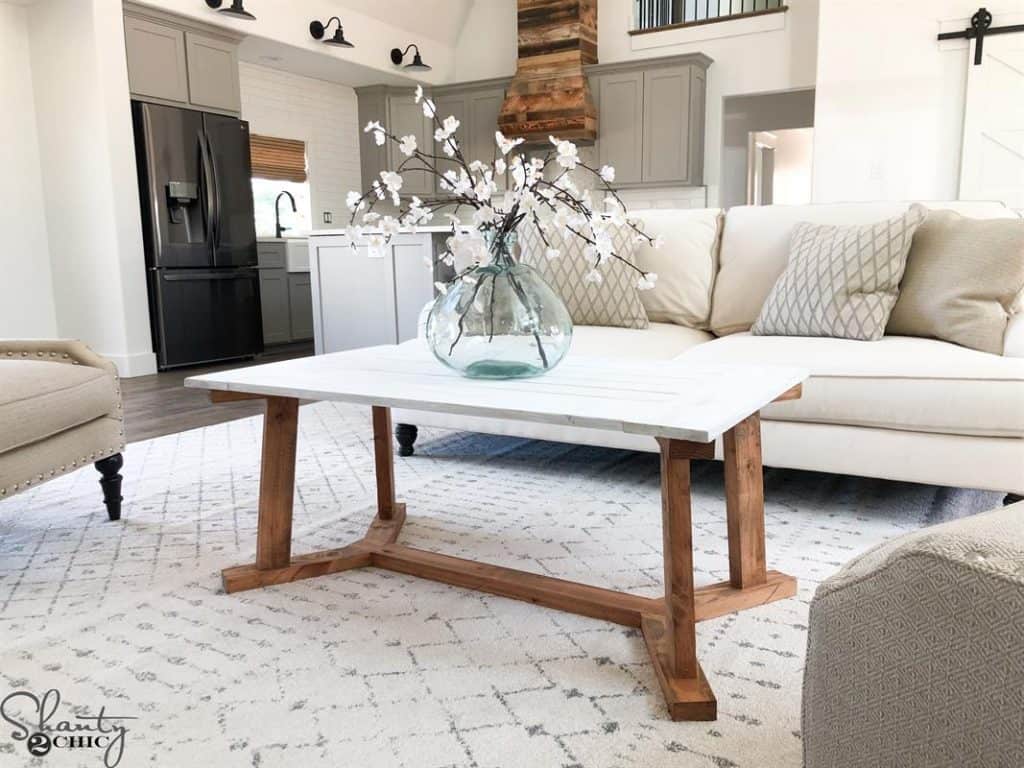 You can get a fun twist on a basic coffee table by recreating this angled coffee table.
It may look a little intimidating, but this website gives you easy instructions so you'll be able to add this piece to your home in no time.
DIY Angled Coffee Table by Build Something
Industrial Chic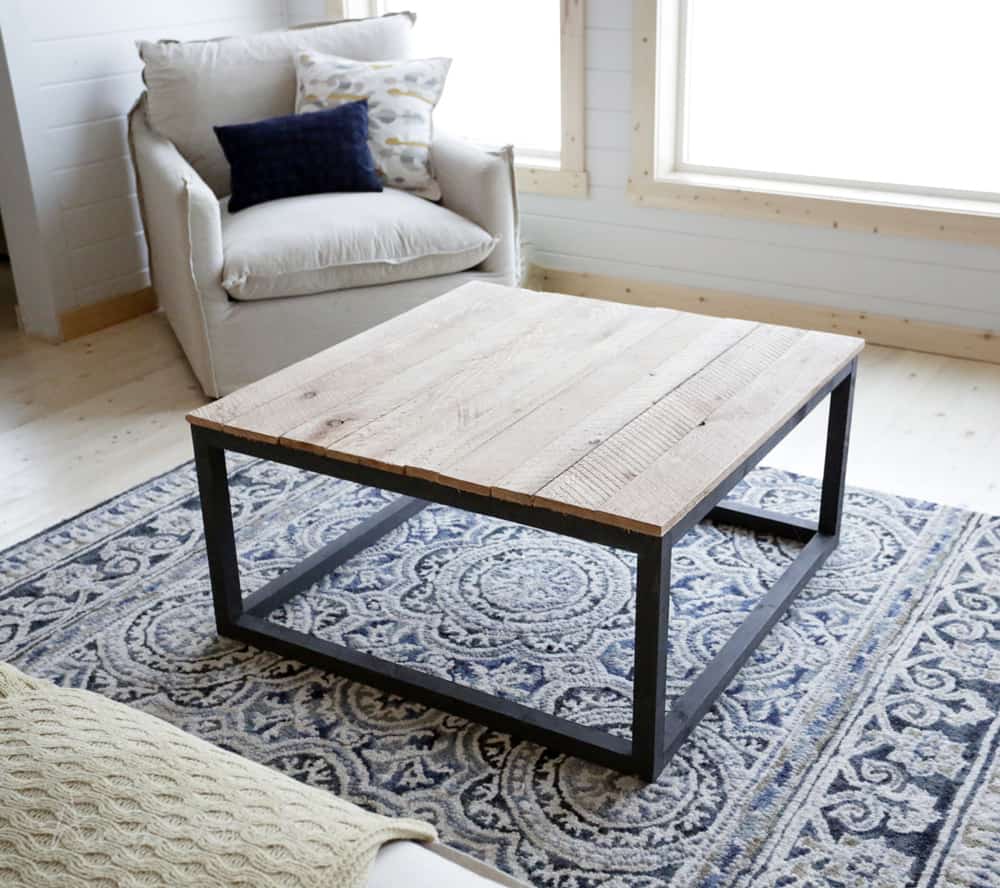 Mixing metal and wood is a huge trend, and for good reason, they compliment each other well.
The Ana White website has a step-by-step guide that will teach you how to recreate this table.
Square Industrial Coffee Table by Ana White
Herb Garden Coffee Table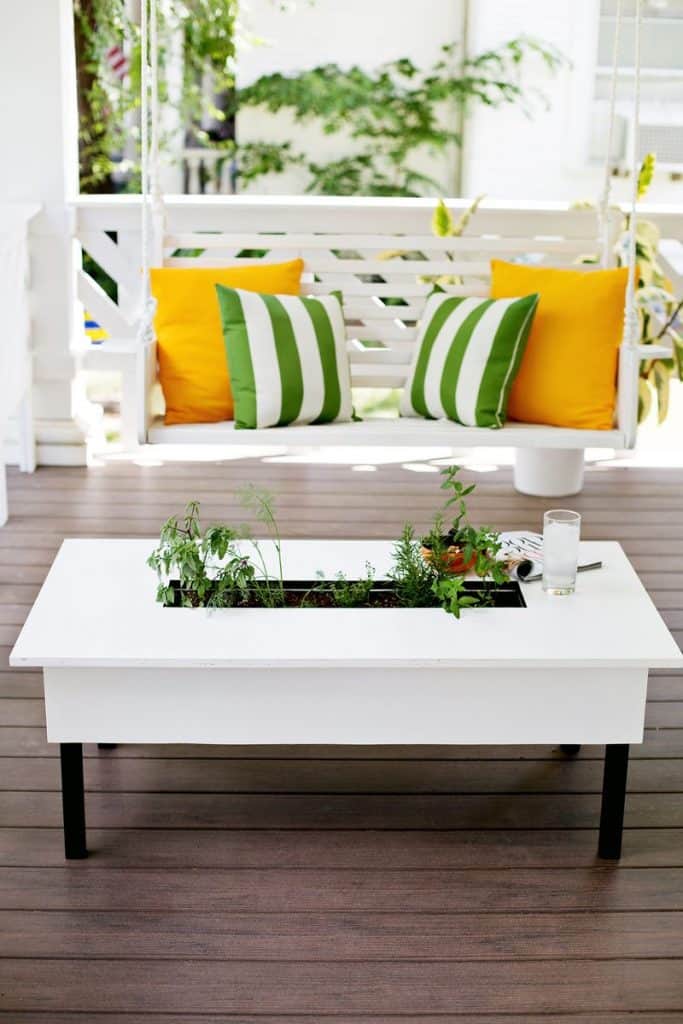 How cute is this?!
This table is perfect for outdoors or on a porch. The built-in planter is a fun addition to an otherwise basic table.
Herb Garden Coffee Table by A Beautiful Mess
Rustic & Industrial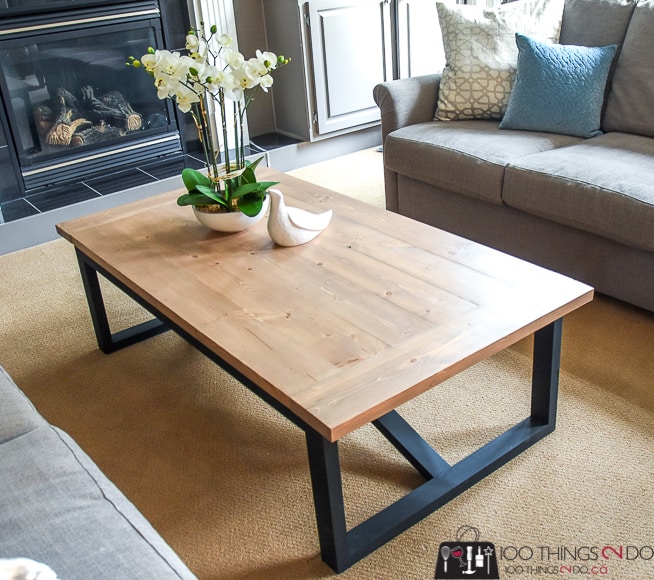 Here's another great example of what you can create when you mix metal and wood.
You can recreate this using the tutorial on the blogger's website.
Rustic Industrial Coffee Table by Jen Woodhouse
Stone Top Table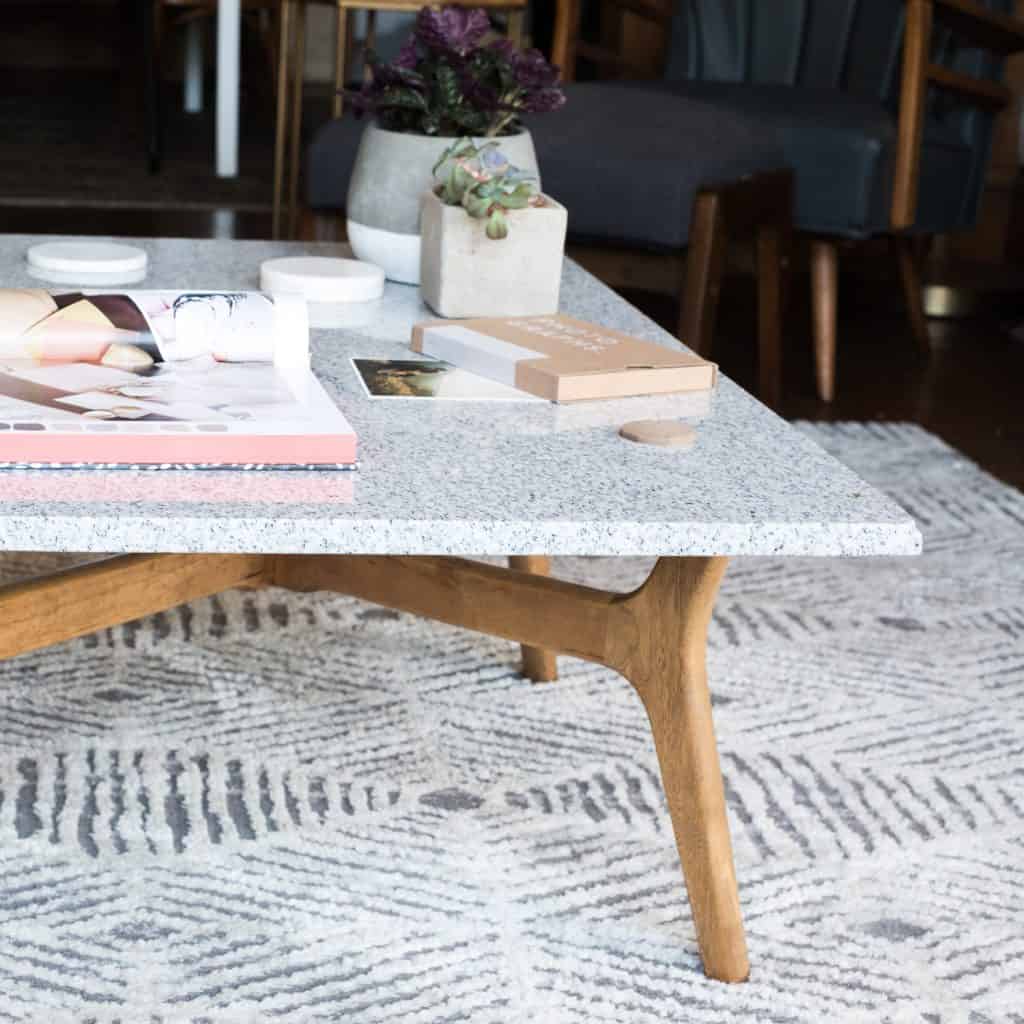 If you like the midcentury modern style, this stone-top table is just for you.
It has such a unique, but cool style and will definitely add a fun design element to your home.
DIY Stone Top Coffee Table by Design Sponge
Pallet Coffee Table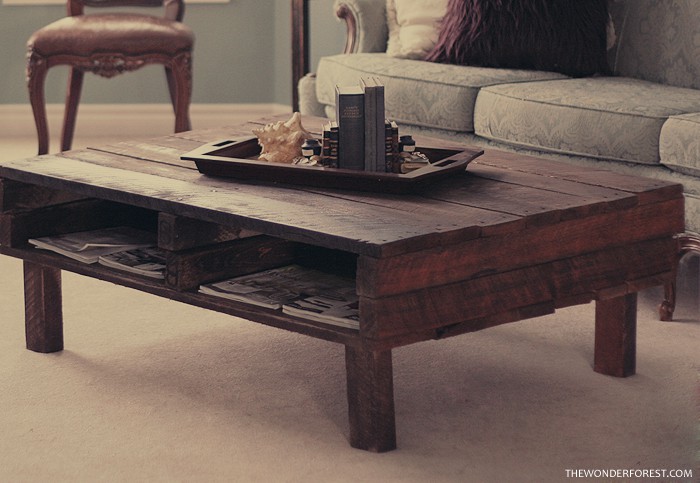 Pallets are always fun to use to create something from basically nothing.
Even better, this table keeps its pallet origins once it's finished, which adds to that rustic feel.
DIY Rustic Pallet Coffee Table by Wonder Forest
Multi-Purpose Table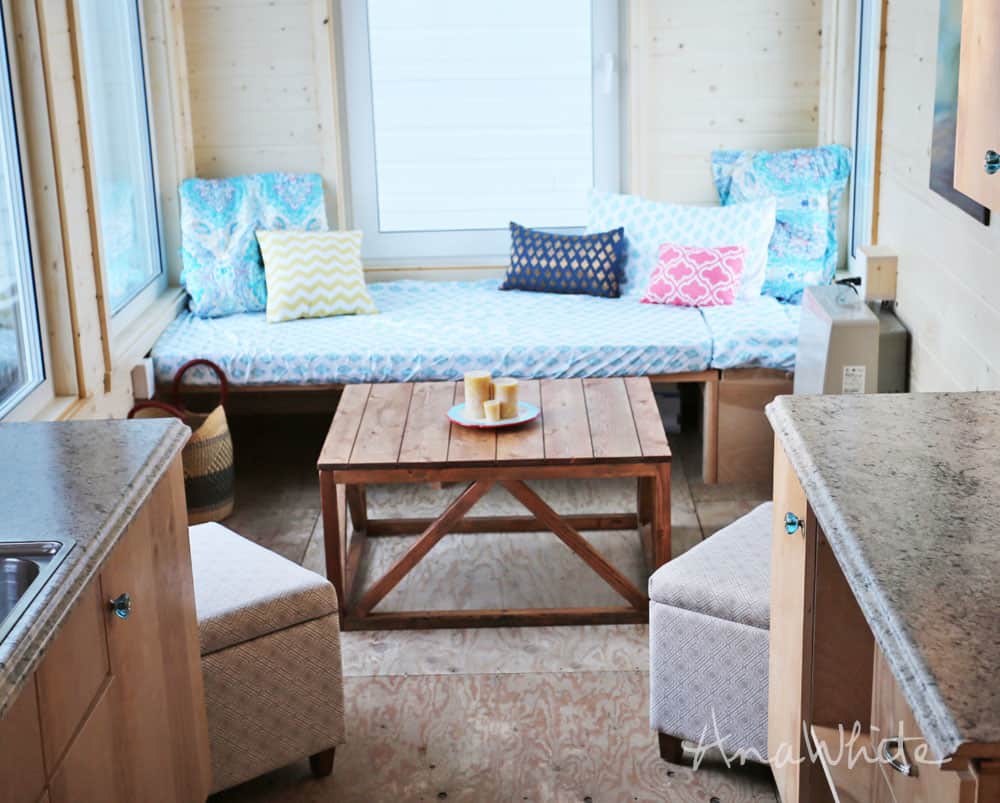 If you have a large family or are often hosting, a big coffee table can serve two purposes.
This table by Ana White converts into a dining table for when you need a little extra space to put plates at dinner time.
Coffee Table Converts to Dining Table by Ana White
Lace Patterned Coffee Table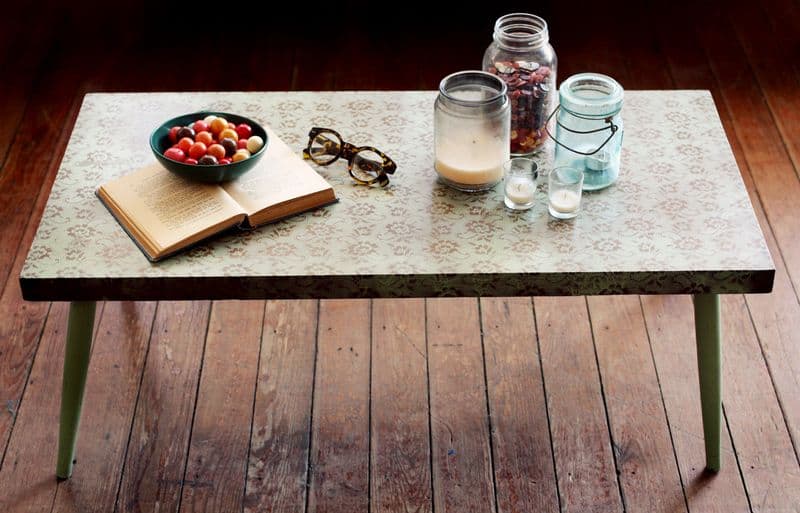 You don't have to build a coffee table completely from scratch to get a piece that's unique to you.
You can update an old table by adding some lace pattern to it like this blogger did.
How to Make a Lace Patterned Coffee Table by A Beautiful Mess
Funky Concrete & Wood Table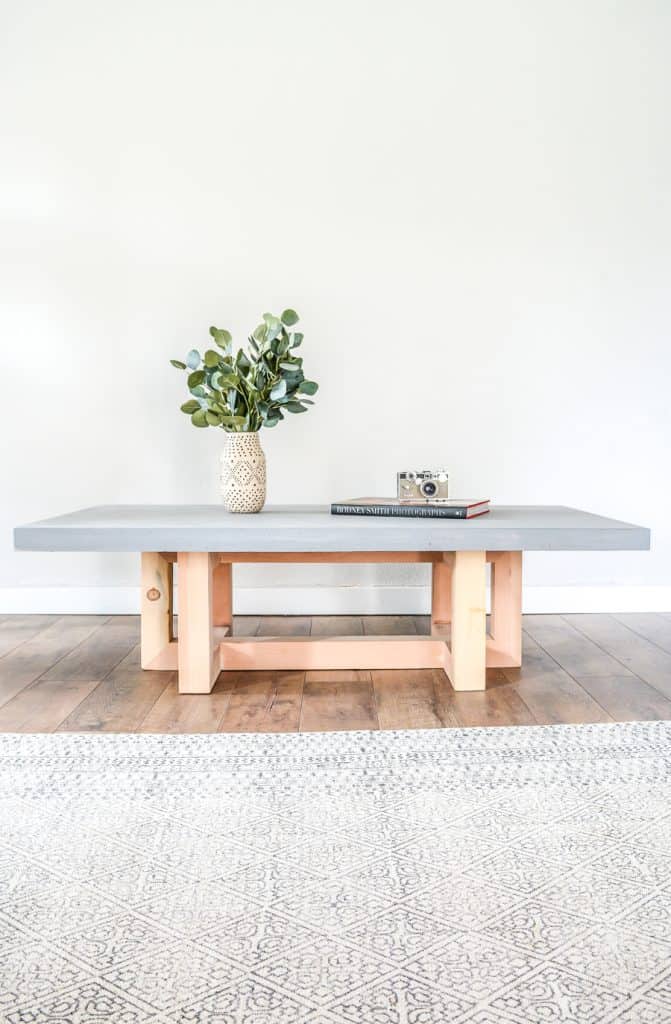 This table may require a little extra effort, but the end result is totally worth it.
The light wood adds some softness to the cold, dark concrete top to create a truly unique piece.
DIY Geometric Concrete and Wood Coffee Table by Jen Woodhouse
Easy Table With Gold Legs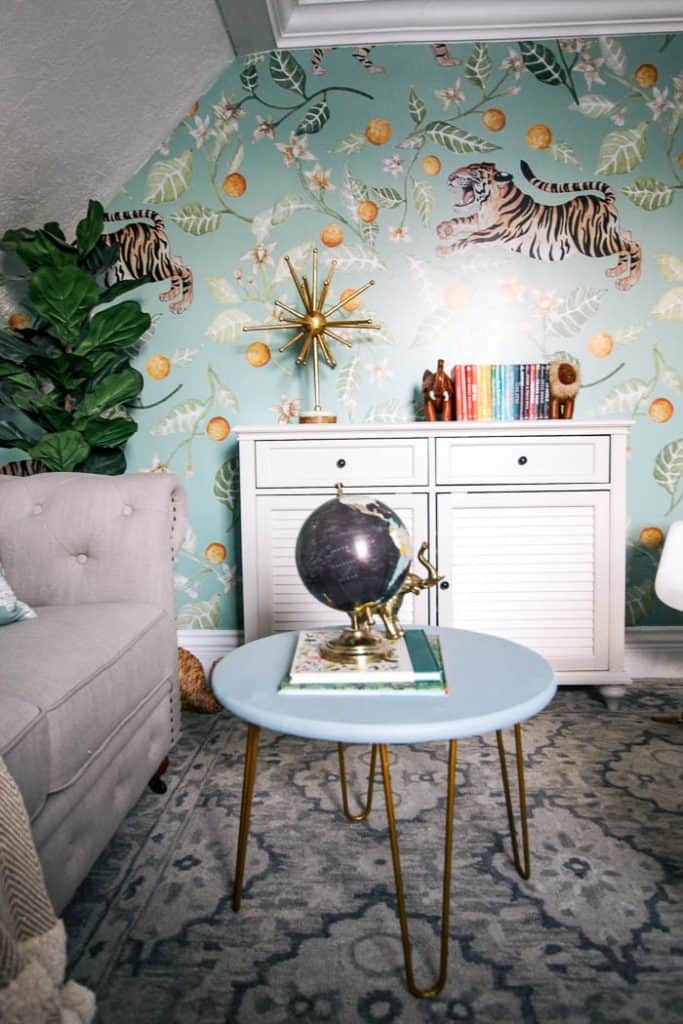 This blogger figured out how to make one of the trendiest styles of furniture for next to nothing.
All you need to recreate this is a pre-cut piece of round wood, some contact paper, and hairpin legs. So easy!
Affordable DIY Coffee Table by At Home With Ashley
Coffee Table On Wheels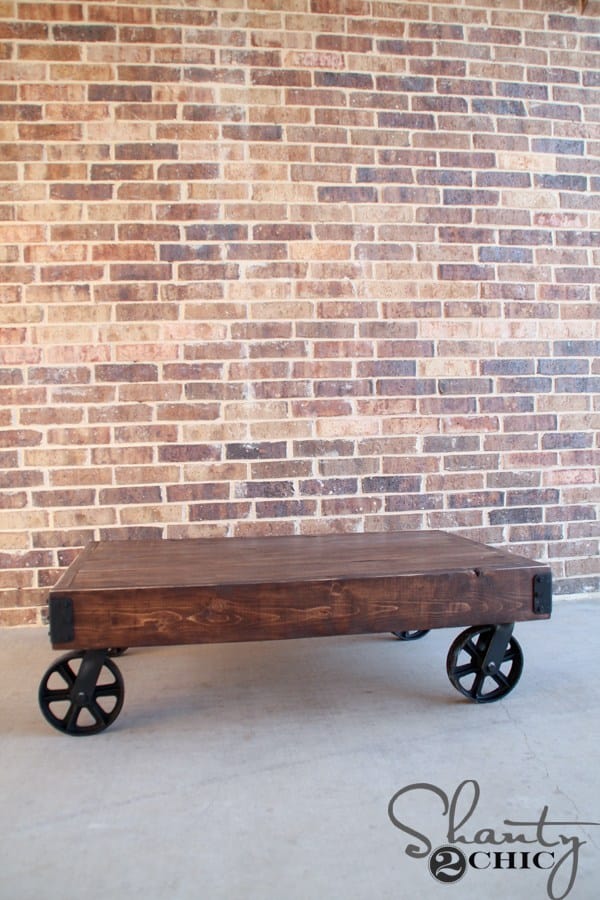 If you're looking for a coffee table to put in a playroom or in front of a pull out sofa, this is it!
This coffee table has wheels on the bottom so you can easily roll it out of the way for slumber parties, playtime, or forts.
Factory Cart Coffee Table by Shanty 2 Chic
Rustic Table With Storage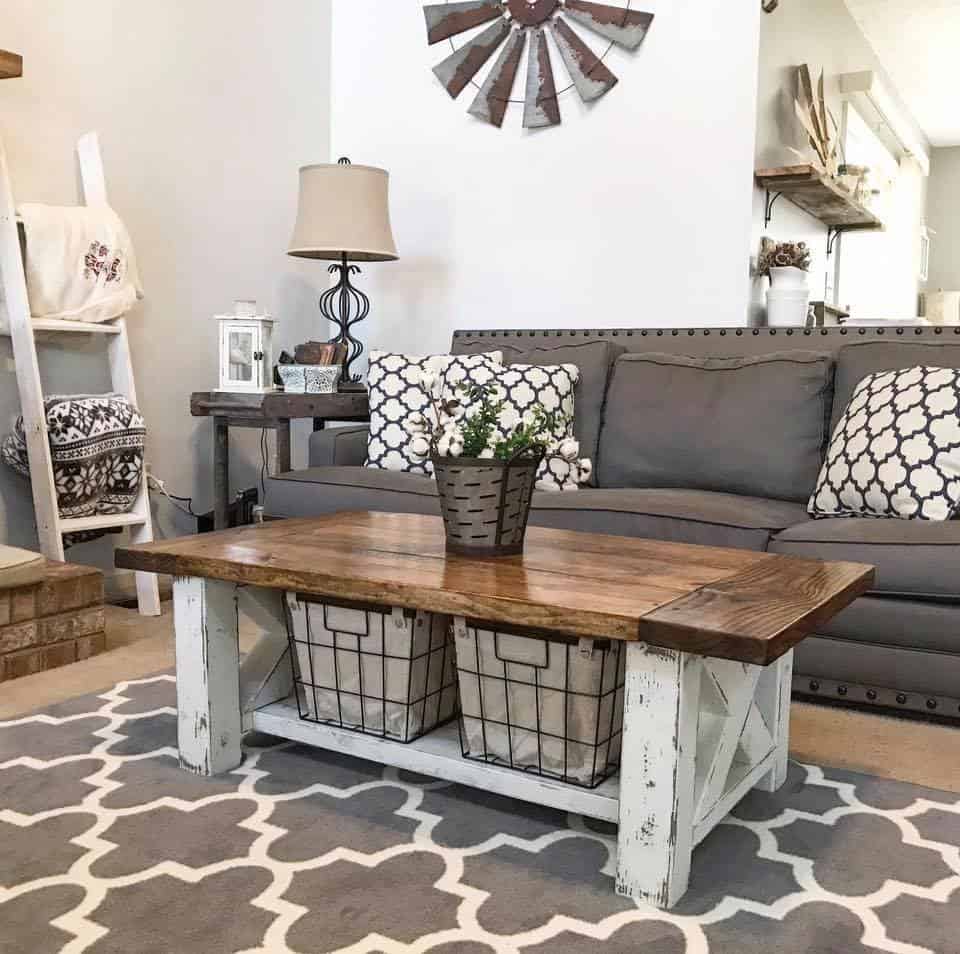 If you like to store games, remotes, magazines, or anything else in your coffee table, you can use the tutorial on the Ana White website to recreate this piece.
It's perfect for anyone who wants to have things within reach, but hates having clutter all over the table top.
Chunky Farmhouse Coffee Table by Ana White
Modern & Stylish Table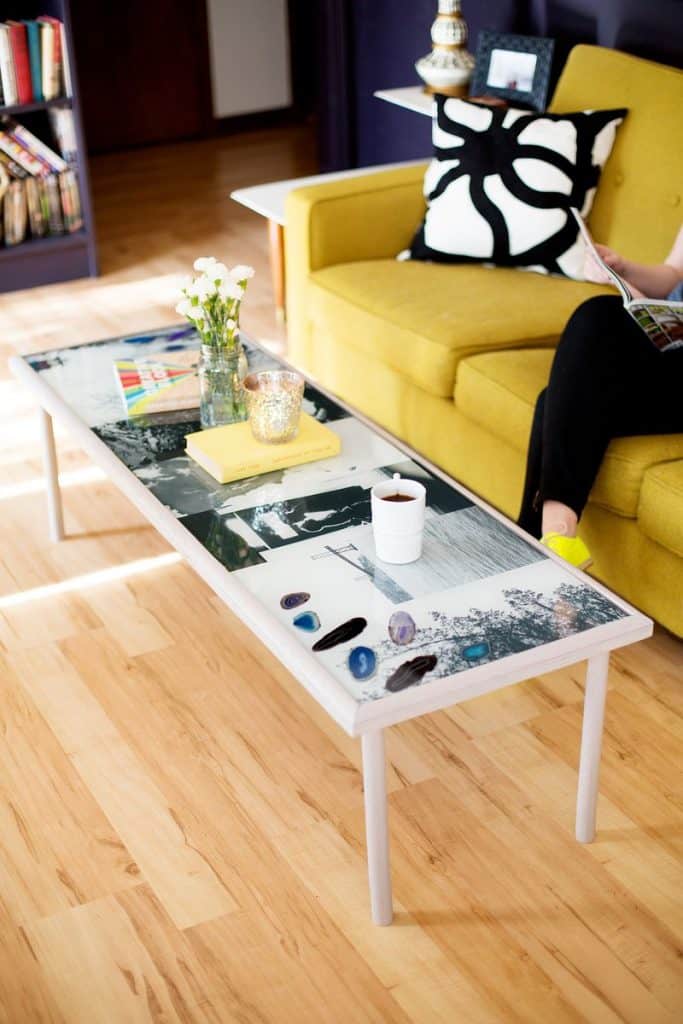 You can seriously personalize this coffee table by A Beautiful Mess.
She gives you step-by-step instructions to recreate the table, but leaves you some room to add some personal touches.
DIY Epoxy Resin Coffee Table by A Beautiful Mess
Retro Coffee Table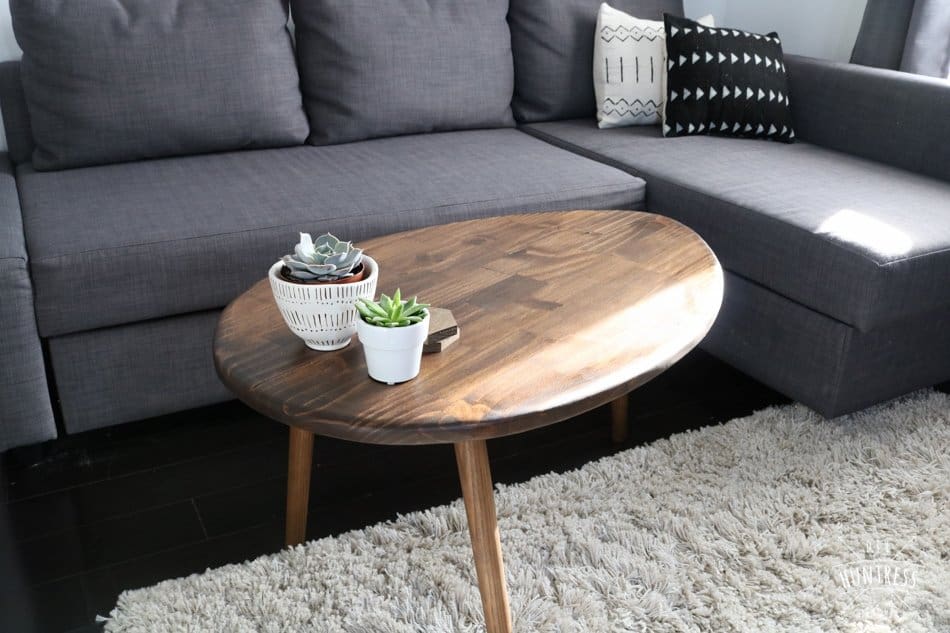 Adding some curves to a room with a lot of lines helps add some variety and softness, which is exactly what this coffee table will do.
Pair it with a couch that has hard edges/corners and you'll end up with a carefully curated and well designed space.
DIY Retro Coffee Table by DIY Huntress
West Elm Inspired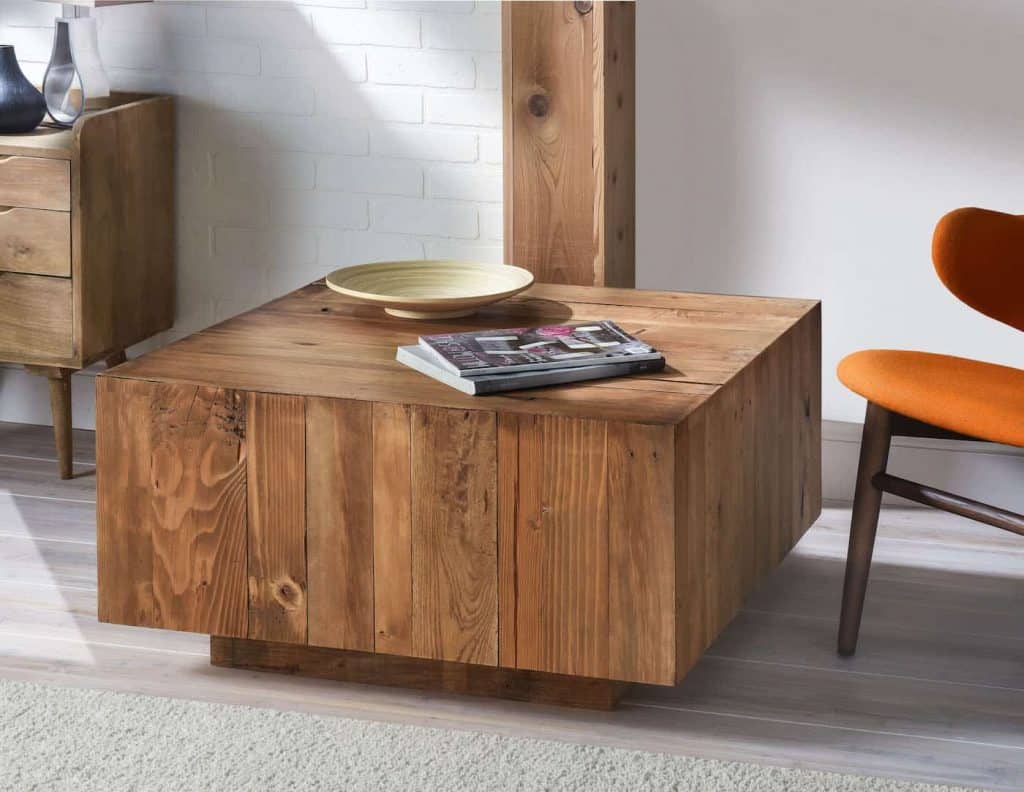 Why spend a ton of money at a high-end store when you can make the same thing yourself at home?
This blogger recreated a stylish West Elm table for a fraction of the cost, and didn't have to sacrifice any quality.
DIY Coffee Table Inspired By West Elm by DIY Candy
Outdoor Coffee Table
If you enjoy lounging outside on your patio or porch, a coffee table will be just as convenient as it is indoors.
You can create this outdoor table using the step-by-step tutorial on the Ana White page.
Adirondack Outdoor Coffee Table by Ana White
Conclusion
Coffee tables are useful for so many reasons, both indoors and outside. You never realize just how much you need the little table until you snuggle in on your couch and realize there is nowhere to put your drink!
You can certainly buy a pre-made coffee table, but what's the fun in that?! Instead, you can make your own and end up with the perfect table that was created just for you – by you!