20 DIY Dog Gates – Keep Dirty Paws Where They Belong
As much as you may love your furry friend, there are some rooms where they just don't belong (whether for safety reasons or to preserve your gorgeous white couch).
So you need to find a way to teach them boundaries and block off those spaces.
That's where a dog gate comes into play. Or, even better, a DIY dog gate because every dog is different and a one-size-fits-all gate doesn't make sense.
Folding Gate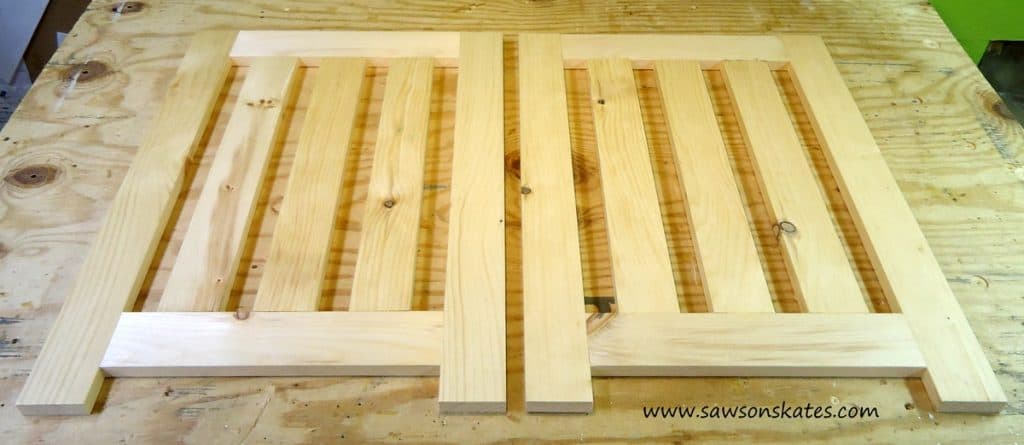 This gate is great because you don't have to swing it to open/shut it, and you can simply fold it up and push it to the side when you're not using it.
Even better, you can make it yourself using the tutorial on the Ana White website!
DIY Dog Gate by Ana White
High-End Dog Gate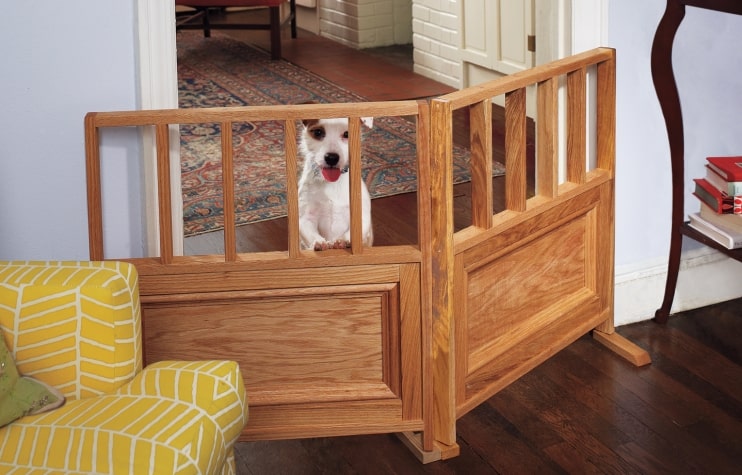 The trim detailing on this gate gives it a high-end custom look, which is surprisingly easy to recreate!
You can customize this gate to your and your dog's needs and match it with your existing decor to help it blend in.
How to Build a Dog Gate by This Old House
Tall and Sturdy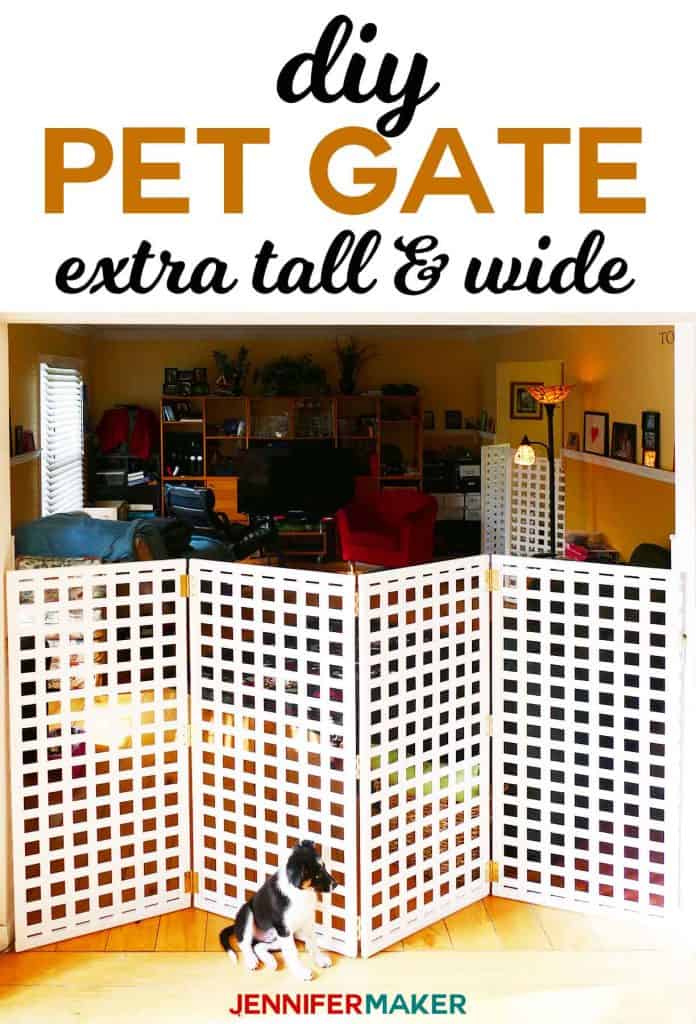 If your dog is really big, or has a high verticle, this gate will be sure to keep it out of a room where it doesn't belong.
This gate is also perfect for blocking off a room with a large doorway because it can expand as needed.
DIY Pet Gate/Baby Gate by Jennifer Maker
Dog Gate Using Old Picture Frame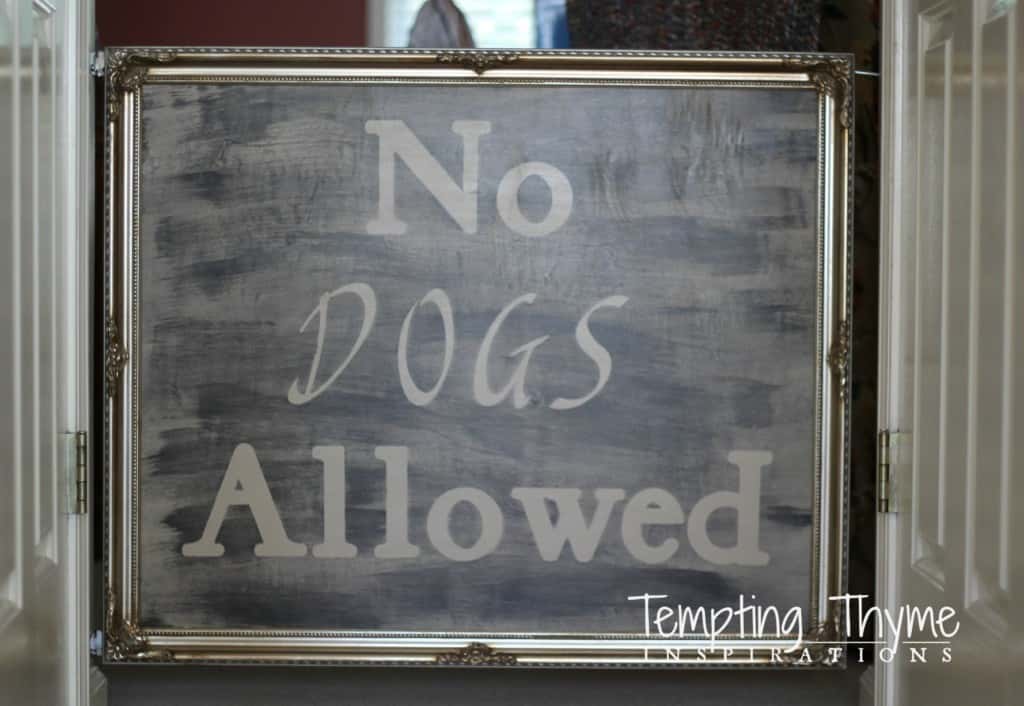 We love that this blogger not only upcycled a picture frame to make this gate but also did it with such a fun, cheeky message!
Whether you want to get "punny" or not is your choice, but it certainly adds to this gate's charm.
DIY Dog Gate by Tempting Thyme
Stylish Gate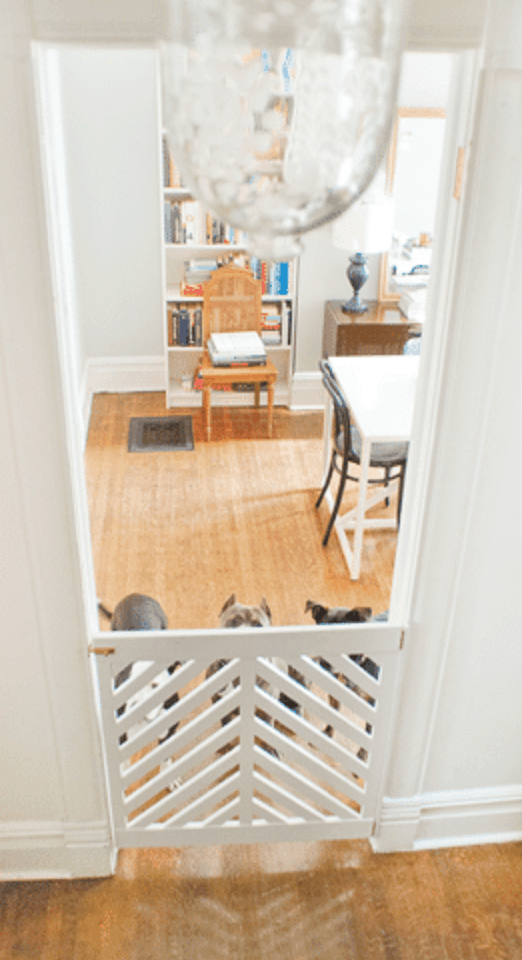 You can probably think of a million reasons to use this gate even if you don't have pets, because it's just that pretty!
The color combination of white and gold really elevates the look in general, but the design is what makes it so unique. It's the kind of gate you won't want to hide away.
Doggie Gate DIY by Yellow Brick Home
Easy DIY Gate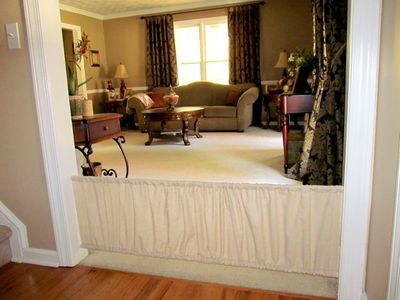 On the flip side, if you just need something that works, but doesn't have to be the most gorgeous piece of decor, this is a really easy way to get the job done.
For this, you just need some tension rods and fabric to keep your pups contained. Obviously, this is recommended for smaller dogs. It probably would not work for a Great Dane.
DIY Pet Barrier by Art by Debbie Saenz
Farmhouse Chic Dog Gate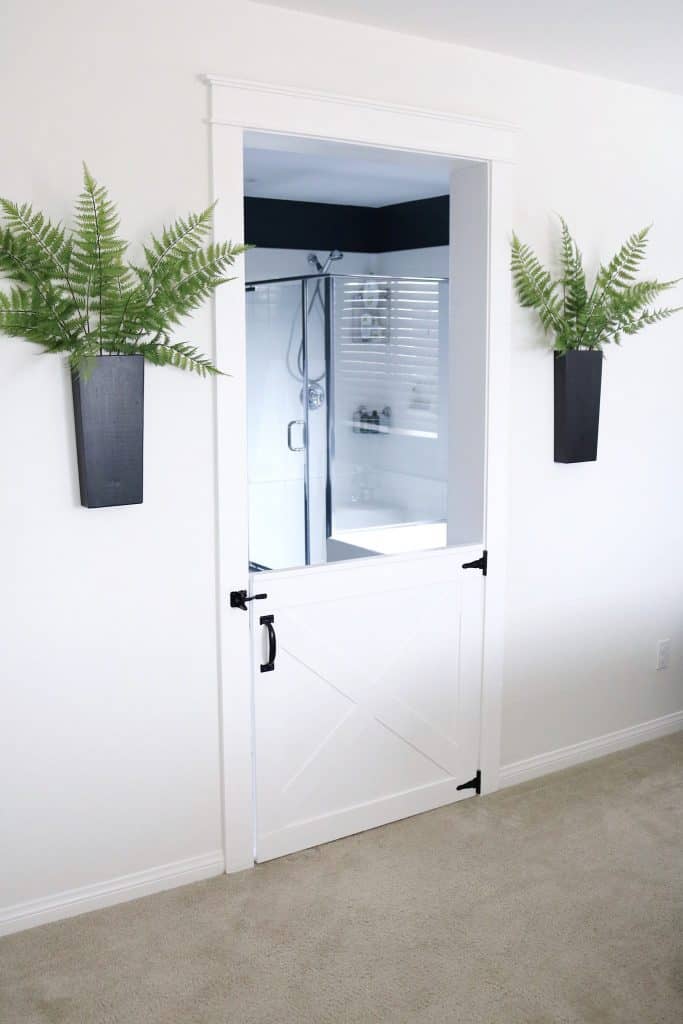 This blogger created a gate that worked perfectly with their decor and has a gorgeous finished look.
Even if you don't want to mimic this exact design, it's great inspo for anyone who wants a gate that blends in with the rest of the house.
DIY Dog or Baby Gate by Timber + Crow
Built-In and Hidden Gate
It's like a pocket door, but for a dog gate!
This is really smart if you need a gate to block off a room, but don't need to use it on a daily basis. It keeps the gate within arms reach when you need it, and tucked away discretely when you don't.
Built-In Hidden Dog Gate by Newly Woodwards
Budget-Friendly Gate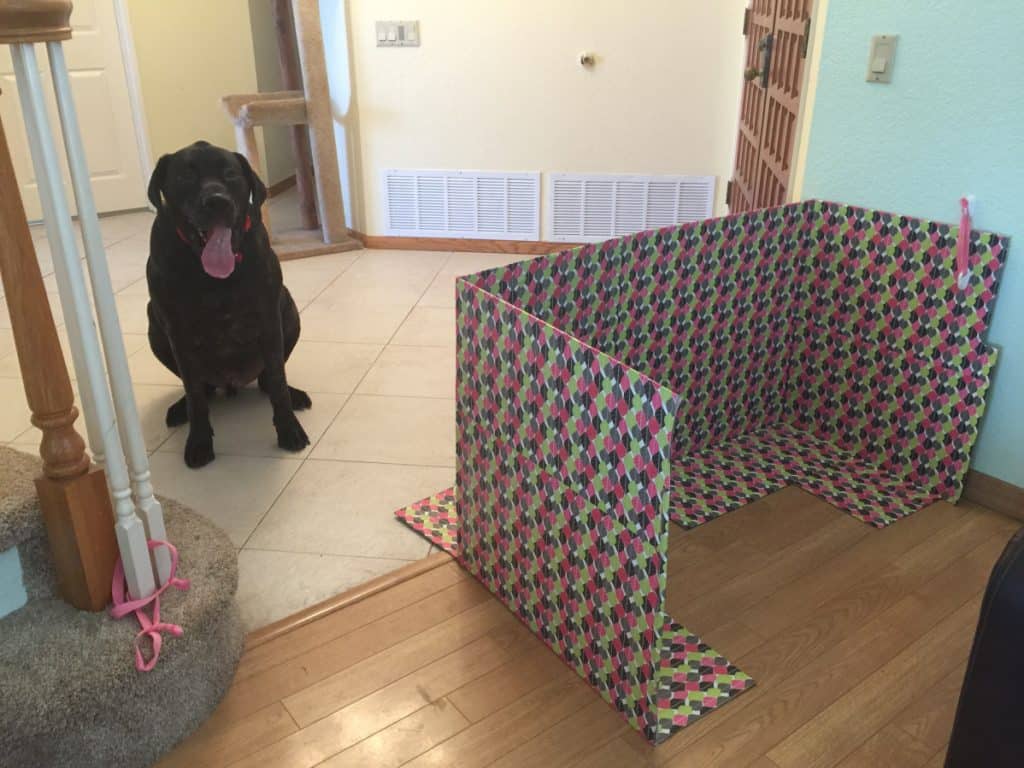 If your dog is trained to respect boundaries, and the gate is there as a reminder rather than a physical barrier, this budget-friendly gate is perfect.
It's made from cardboard, so it definitely won't keep a feisty and curious dog out of a room. But, if your dog is pretty chill, this is a great budget-friendly way to block off a room.
DIY Dog Gate by Two and Three Quarters
$16 Dog Gate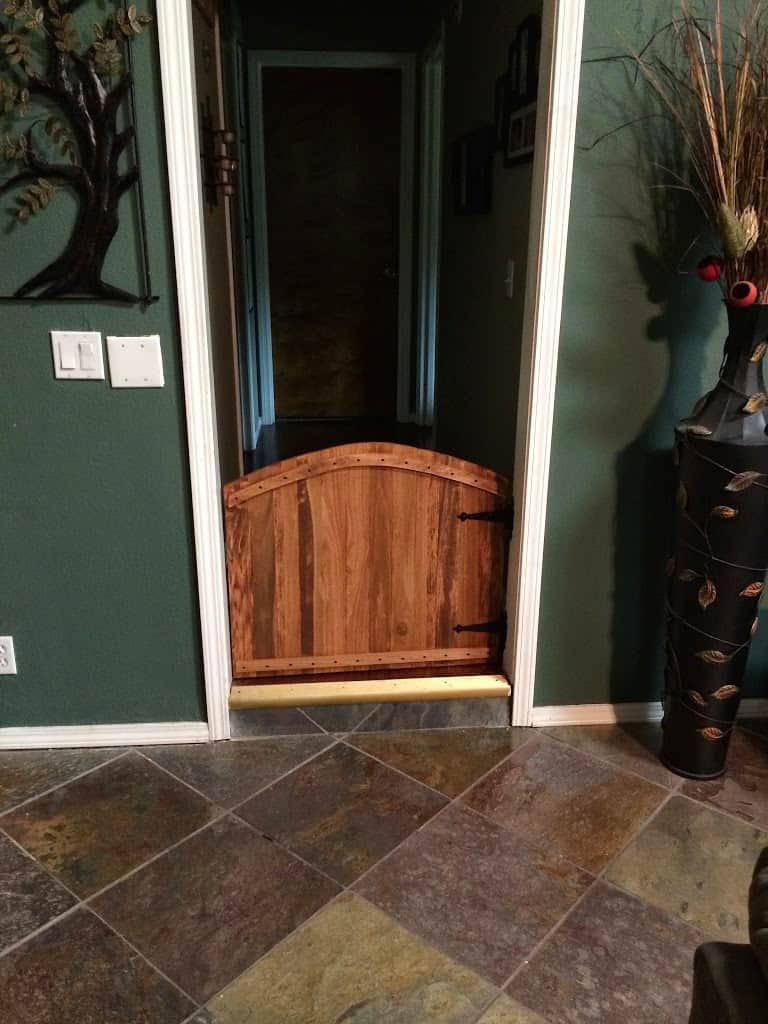 There is no way you could buy a gate that looks this good for only $16!
You can learn how to recreate this stylish barrier by checking out the Wilker Do's blog.
DIY Dog Gate by Wilker Do's
PVC Pipe Gate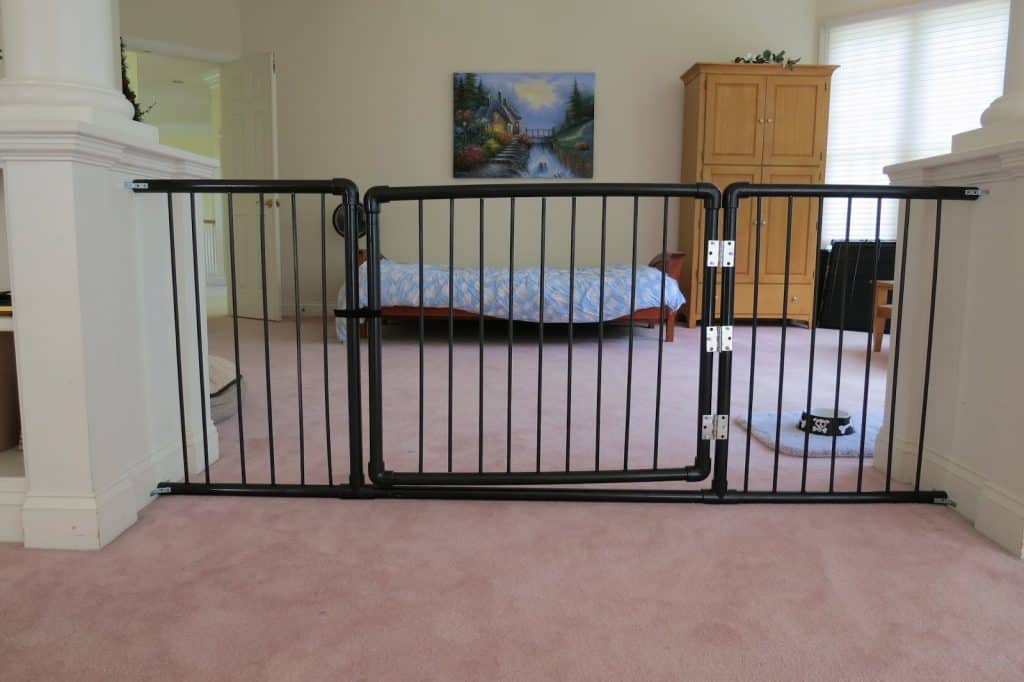 PVC Pipes are so versatile and inexpensive, and you can use them to make a gate!
This blogger spraypainted her gate black, which really helped enhance the design and style factor of the gate. Using a spray paint with a shiny or metallic finish will give you the same result.
DIY Dog Gate by Kathie Fischer
Ikea Hack Dog Gate
Whenever there's an Ikea hack version of something, it's like hitting the jackpot because you know the end result will look good and be easy on the budget.
Ikea Hackers came up with this dog gate using Ikea furniture, and you'd never know it wasn't a high-end gate. You can learn how to DIY on their website.
Hemnes Dog Gate by Ikea Hackers
Wood Pallet Gate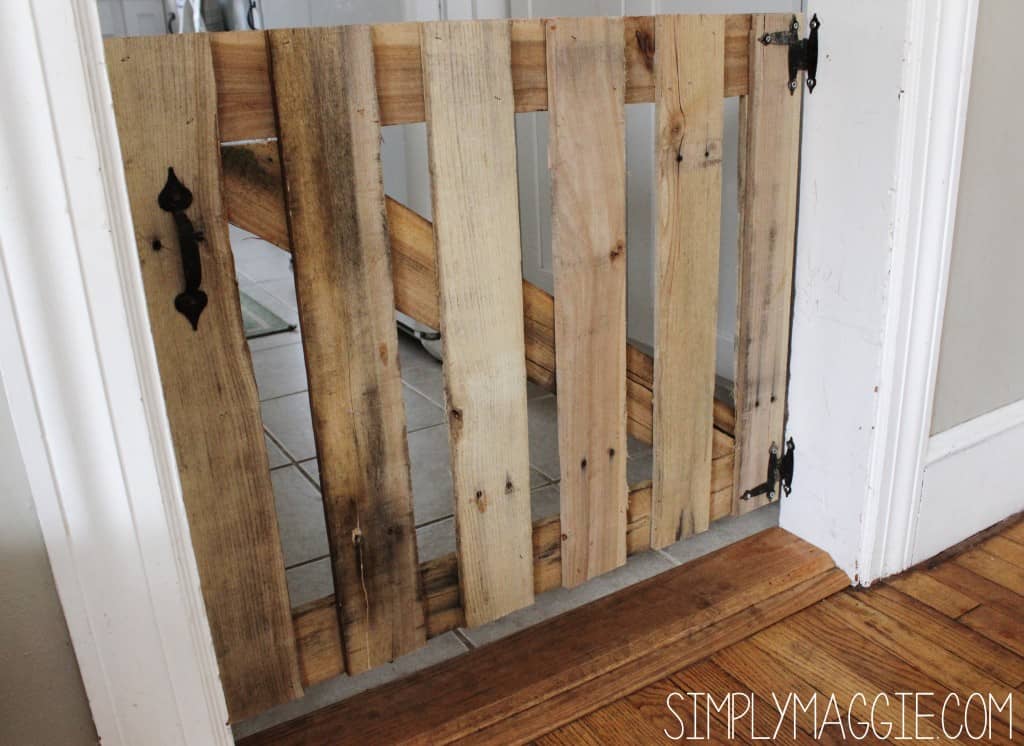 Any time you can use a wood pallet as a base for a DIY project, you should! It's inexpensive and always has a cool, rustic look in the end.
This blogger created a stylish gate using a wood pallet that is simple to mimic. You don't need a ton of skill to build or install it.
DIY – Pallet Doggy Gate by Simply Maggie
Simple and Chic Gate

This is another example of a well-made gate that blends in nicely with its surrounding decor and aesthetic. The added poms also make for a fun and stylish touch!
This is a super simple DIY project because it doesn't require a lot of cuts or pieces. The most novice DIYer can certainly recreate this beautiful gate.
Wood Dog Gate by Wouldn't It Be Lovely
Picket Fence Gate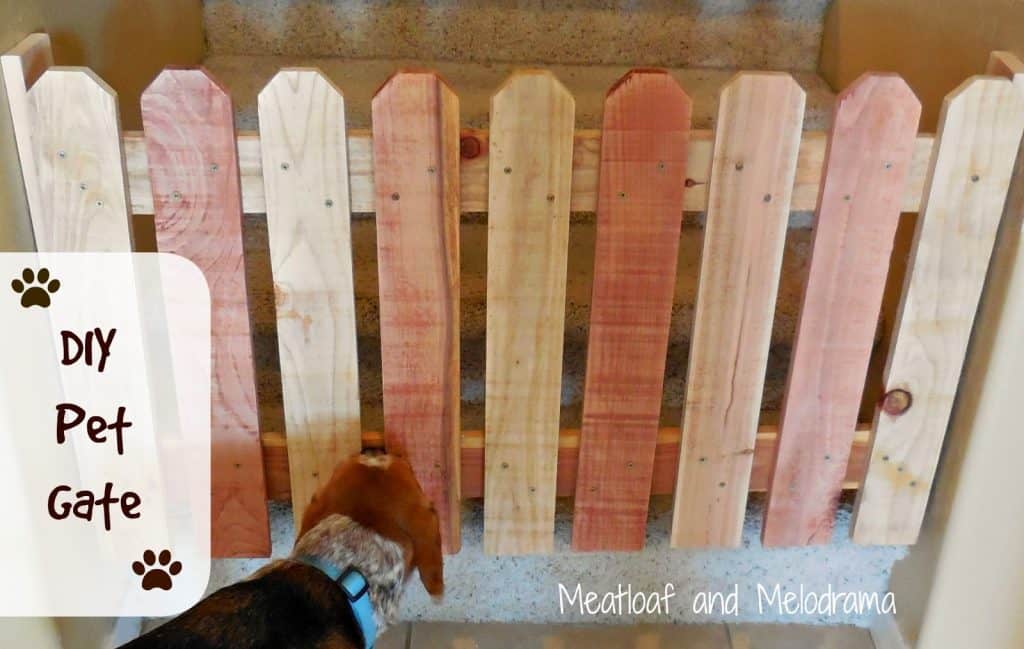 There are two things that make this gate a little more fun: the picket fence vibe and the alternating colors/stains.
The only skills you need for this gate are some simple cuts, nailing, and installing the gate itself. It's simple, fun, and functional!
DIY Pet Gate by Meatloaf and Melodrama
Barn Door Gate (With Cat Cutout)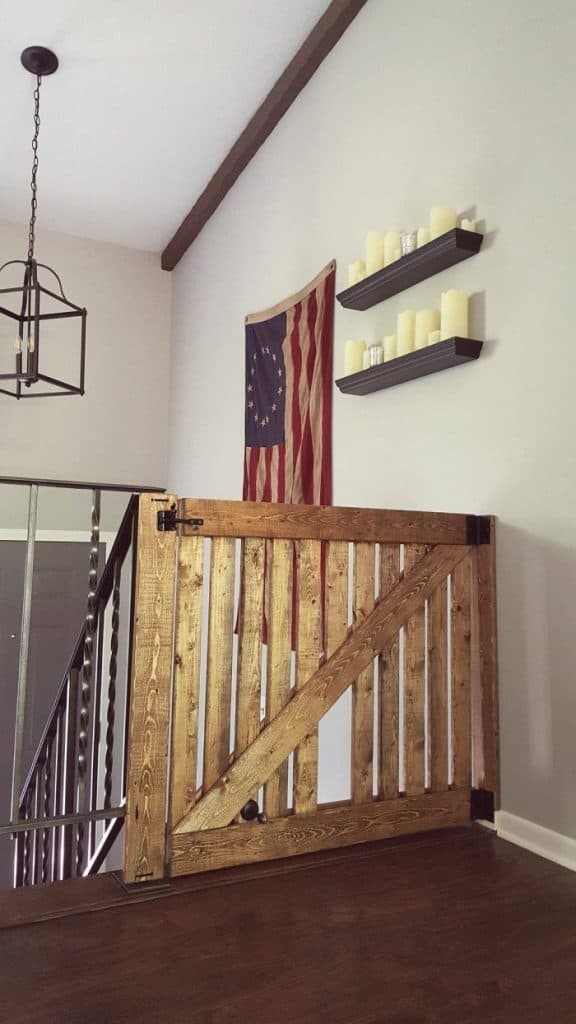 When you have a cat and a dog, there may be some rooms the dog needs to stay out of, but the cat needs access to (like, where its litter is). This gate takes care of that problem.
It has a little cut-out that allows the cat to easily slip in and out but is much too small for even a small dog to get through. It's a creative way to do what's best for both pets at once.
DIY Barn Door Baby Gate with Pet Door by Factual Fairytale
10-Minute Gate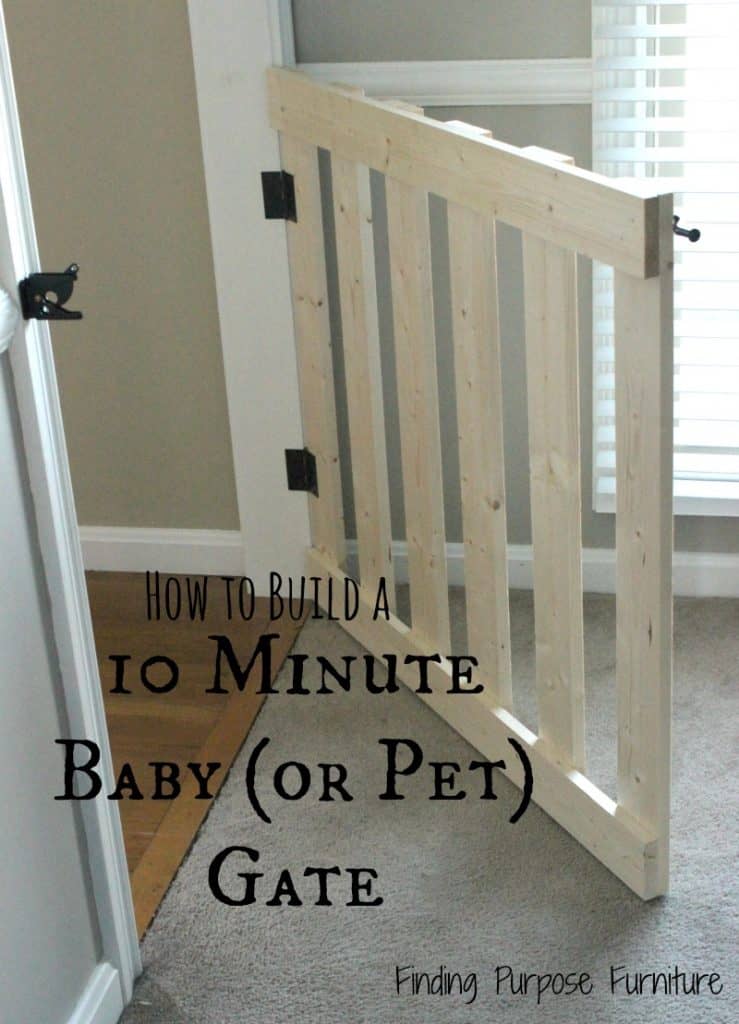 The blogger behind Finding Purpose created this gate in only 10 minutes!
It's a very simple design, which makes it equally as simple to build. You can also modify it to have smaller gaps between boards if you have a smaller dog that may be able to squeeze through.
10 Minute DIY Baby Gate by Finding Purpose
Lattice Dog Gate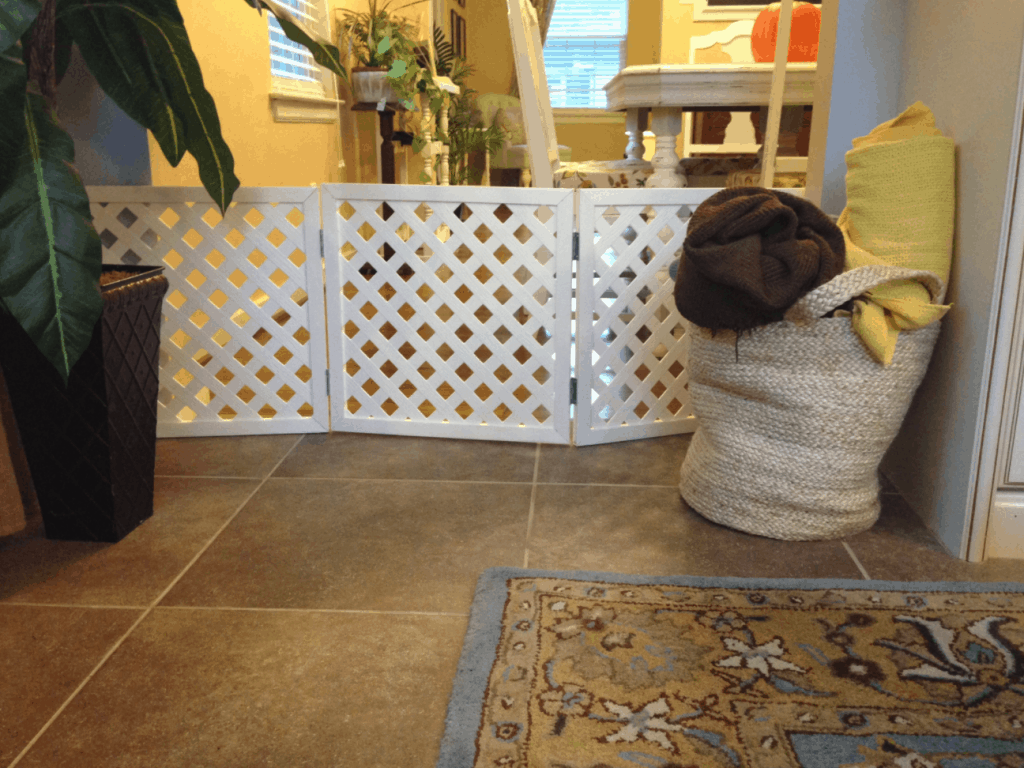 For this gate, all you need to do is pick up some lattice and wood for framing, and you have all of the wood material you need.
You can either follow this guide by making the gate foldable, or you can mount it to a door frame, add a hook closure, and make it a swinging gate.
DIY Pet Gate by Black + Decker
Rustic and Weathered Gate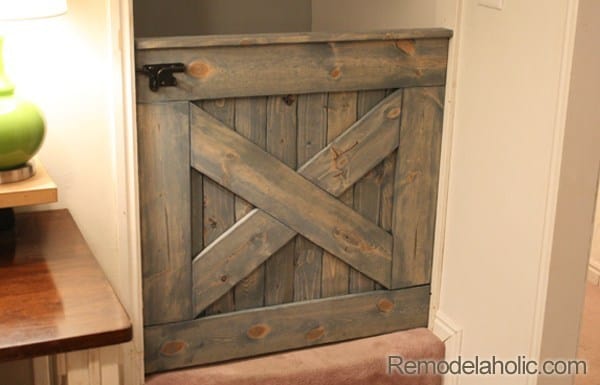 There is no shortage of barn door style gates to choose from, but this one sticks out because even though it has a weathered look, it also still looks polished.
The blogger behind Remodelaholic has tips on recreating this gate, or you can just use it as inspiration for a similar farmhouse chic look.
DIY Wooden Barn Door Baby Gate by Remodelaholic
Stylish Pallet Gate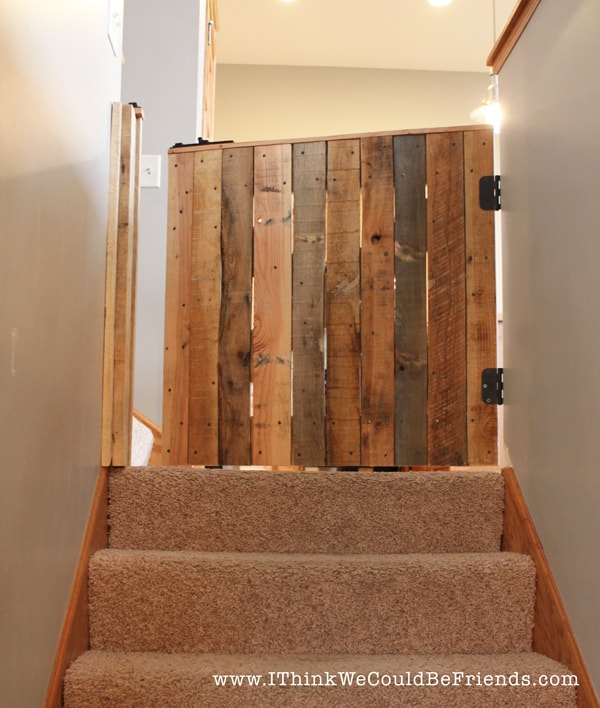 What makes this gate stand out is the different, but equally stylish designs on either side. One side resembles a barn door, and the other side resembles a picket fence.
It's made from pallet boards, so it's inexpensive and easy to make!
DIY Pallet Wood Baby & Pet Gate by I Think We Could Be Friends
Conclusion
Whether you're looking to save a few bucks, want a custom design, or just love the idea of spending a weekend getting creative, a DIY dog gate is the way to go. There are so many directions you can go in terms of style, functionality, and general use.
Every dog and home is different, and everyone has different needs – so buying a basic gate at the store may save you some time, but it's not going to work for your specific needs. By making a gate yourself, you can ensure that it functions exactly the way you need it to.