25 DIY Garage Shelves Ideas
There are certain parts of each home that tend to get messy faster and easier – and stay that way! – than others. For many, the worst area is the garage. Stacks of tools and gardening supplies pile up, preventing you from getting anything done, and for many of us, that can be pretty stressful.
With this in mind, we've been thinking about cleaning things up – and that means shelving units. And since we like DIY around here, we thought we'd gather ideas for the best DIY garage shelving instead of just premade options you can spend hundreds (even thousands!) of dollars on.
Simple Wall-Attached Shelves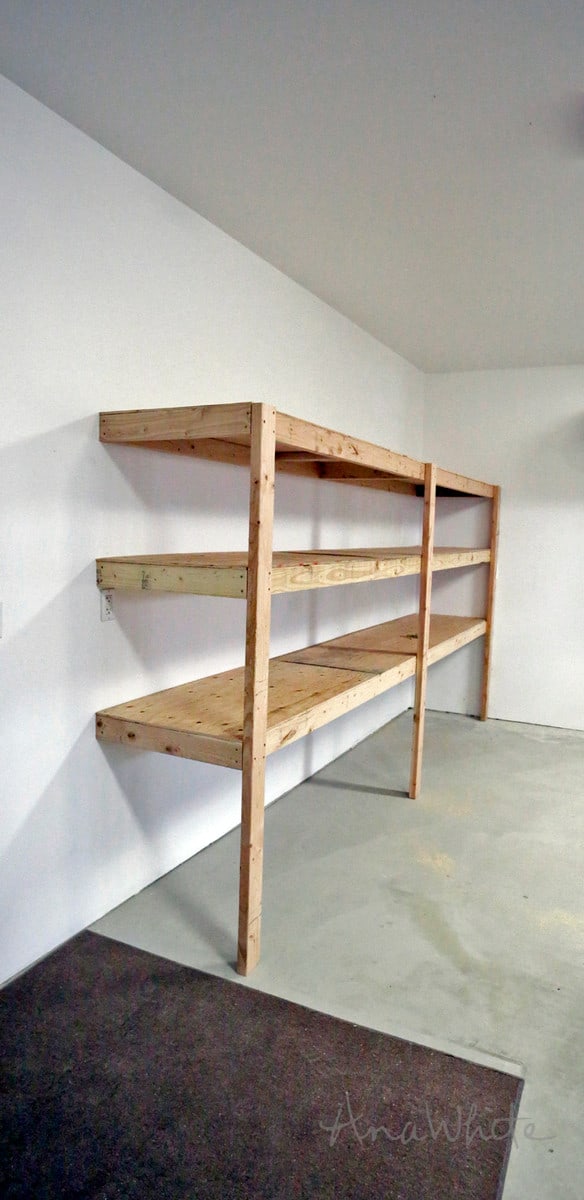 If you're looking for a simple garage shelf design that you can attach to the wall for permanent storage, then this obe from Ana-White is a great option. The simple design will go up quickly, you won't spend a fortune, and you can customize it to fit your exact needs.
Via Ana White
Over the Door Shelves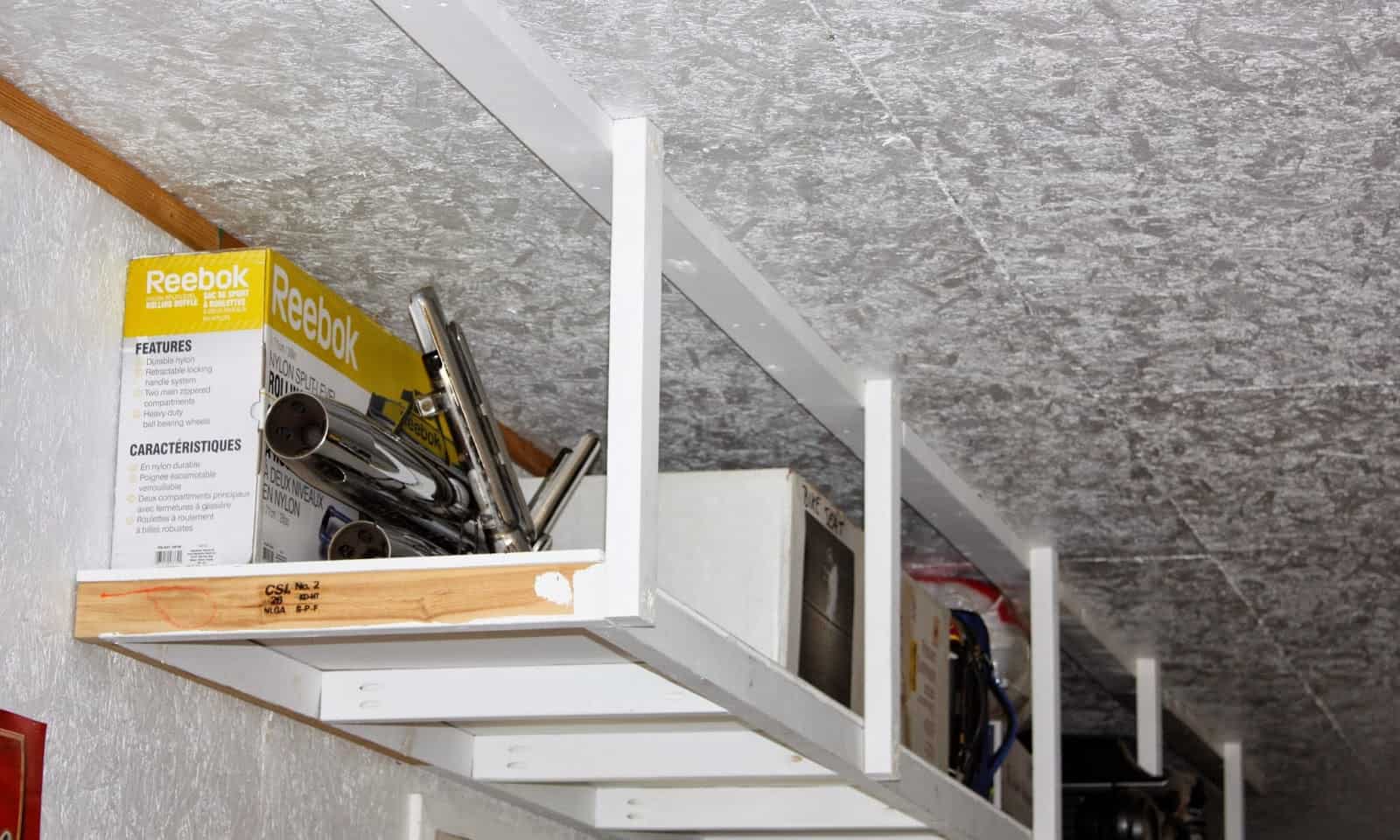 If you're thinking more along the lines of DIY overhead garage storage, then check out these shelves. They're perfect for small garage space where floor room is tight. Consider adding some white or other light colored paint to not only finish off the look but create a sense of "big" in the area to help it feel even less cramped.
Heavy-Duty Free-Standing Shelves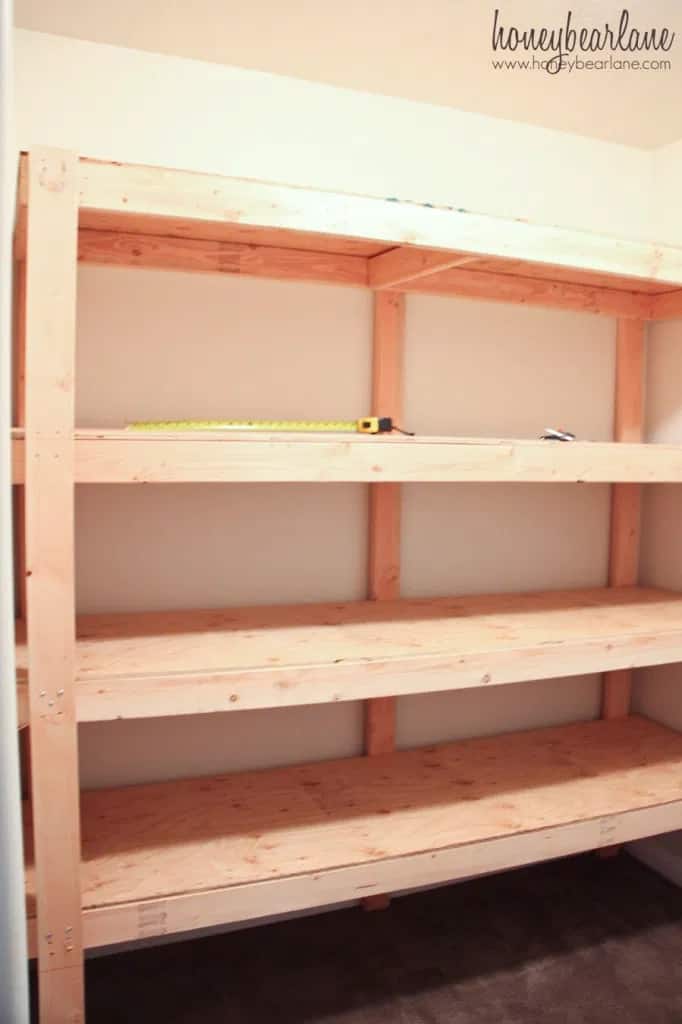 Now, if you're in the need of some really heavy-duty shelves that can hold lots of tools, paint supplies, and woodworking tools, then you're in luck. This DIY design is super sturdy and can handle just about anything.
It's a free-standing design with deep shelves, made of plywood cut in half, lengthwise, and attached to a solid frame.
It's a pretty basic design, too, so even if you don't have tons of experience, you can definitely knock this out on a weekend.
Via Honey Bear Lane
Large Garage Organizer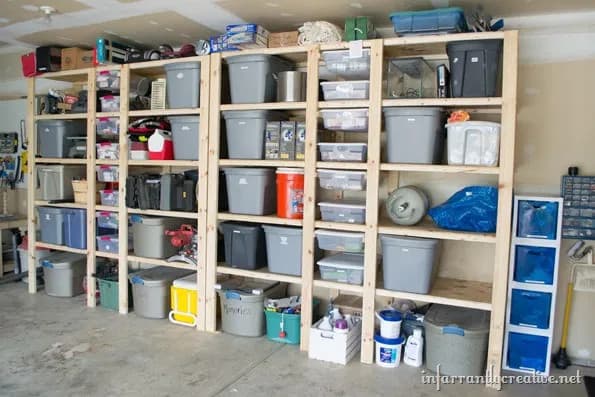 If you've got loads of space, then these garage shelving plans might be a perfect fit for you. The shelves are 8 feet by 8 feet, which means barely any cutting – a great choice for anyone without much experience with saws.
The design includes ways to use totes like drawers and more. The tutorial is super easy to follow and understand, too, so again, if you haven't done a ton of woodworking, you could pull this off in a weekend.
Corner Garage Tower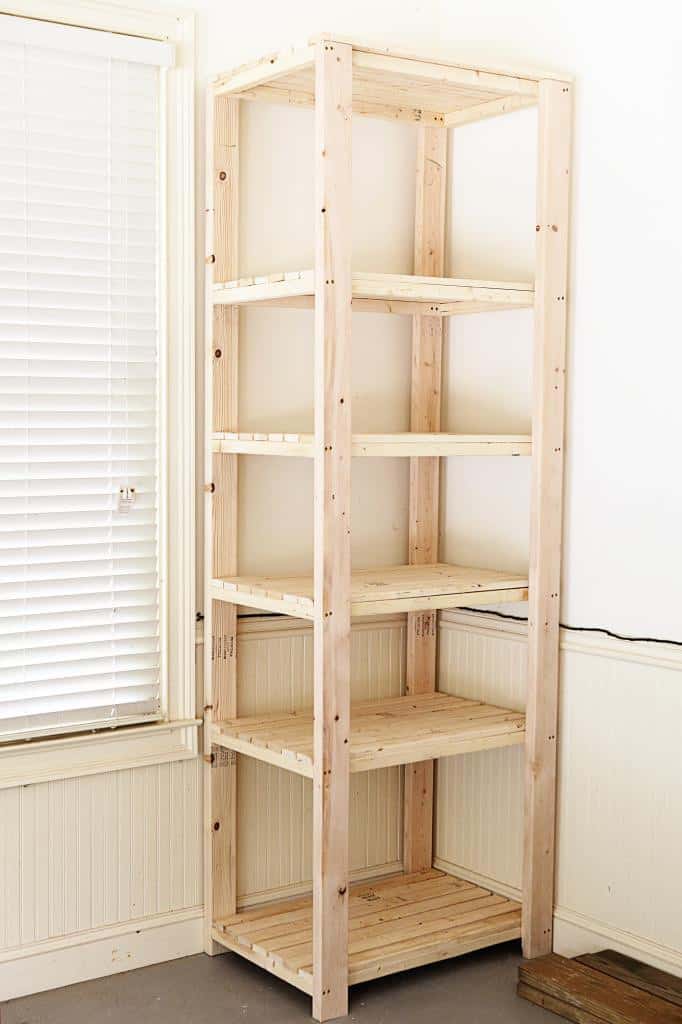 If you have an awkwardly shaped space in your garage or just need a little bit of storage, these towers are great garage shelf ideas. They're compact, versatile, sturdy, and can get a lot of good use. Plus, because they open on all sides, as needed, they can go just about anywhere for easy access.
Via Bower Power Blog
Free-Standing Long Wall Storage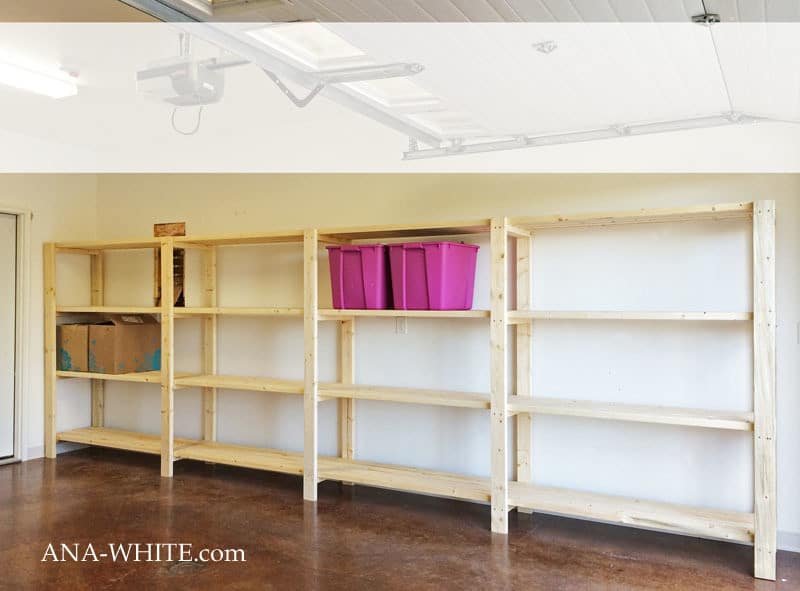 The shelves in this design are 19 feet long, meaning you've got to have a pretty hefty garage to fit them as is. They use six leg supports and some sturdy wood supplies to create, but the original creator says it only took 2 hours to construct them. She's got a lot of experience, though, so if you're new to woodworking, they might take you a bit longer. Even so, they're pretty easy to follow.
Via Ana White
Pegboard Storage Wall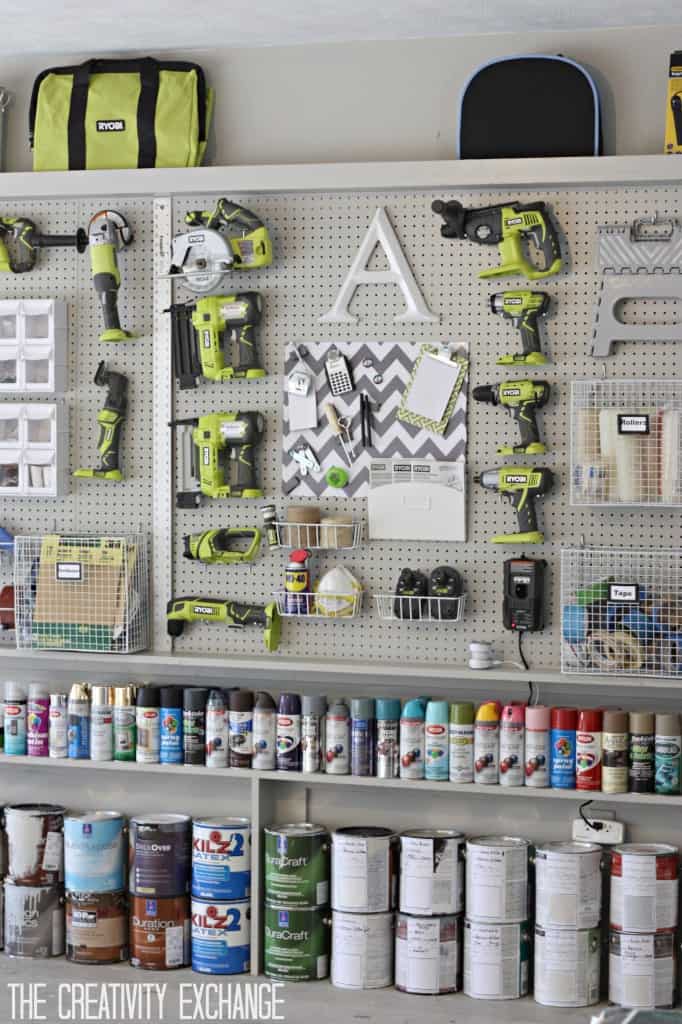 These garage wall storage ideas are perfect for folks who like a really neat and tidy looking space. Pegboards give you precise places for everything to go – from hammer hangs to ladder racks, depending on the style you choose.
This particular pegboard wall is perfect for anyone with just a sliver of space they can use to create their garage storage, while still storing all tools and even paint cans neatly and orderly.
Potting Bench Gardening Storage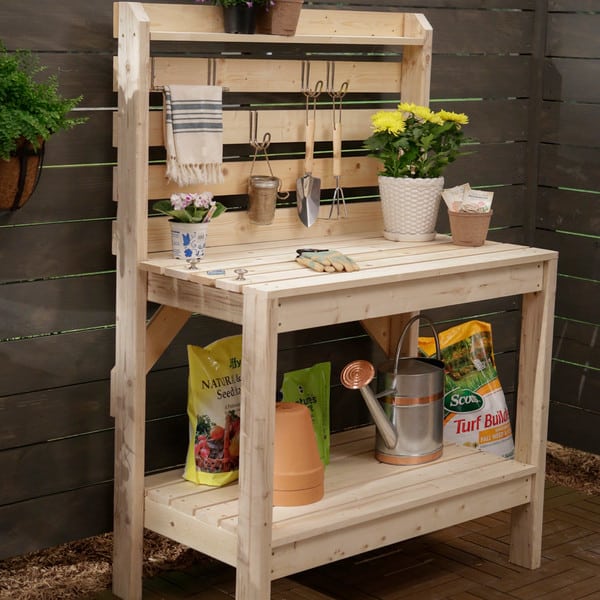 If you're into gardening and need a great place to store all your potting gear in one place in the garage, this potting bench is a fantastic shelving option – plus it's a bit more versatile than just shelves.
The design uses simple joinery and is overall pretty straightforward and simple, so just about anyone can build it. They do recommend using cedar construct it if you plan to wheel it outdoors at all.
Via Ryobitools
Fold Out Pegboard Storage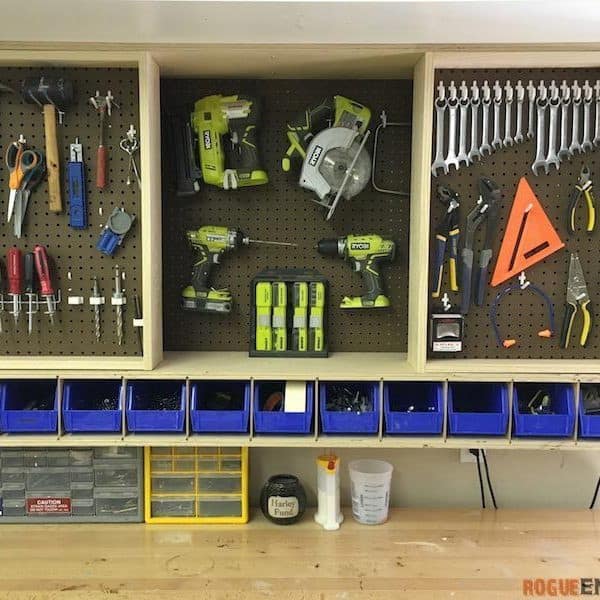 This garage shelving DIY is perfect anyone looking to keep their garage neat and clean looking while being exceptionally functional. The fold-out aspect of the pegboard storage piece is one of our favorites because of that precise, clean feeling it offers over open-air shelves.
This particular design also triples most pegboard storage while keeping everything in easy reach with hanging tools for an open, easy access workbench.
Via Ryobitools
All-Terrain Workstation and Storage in One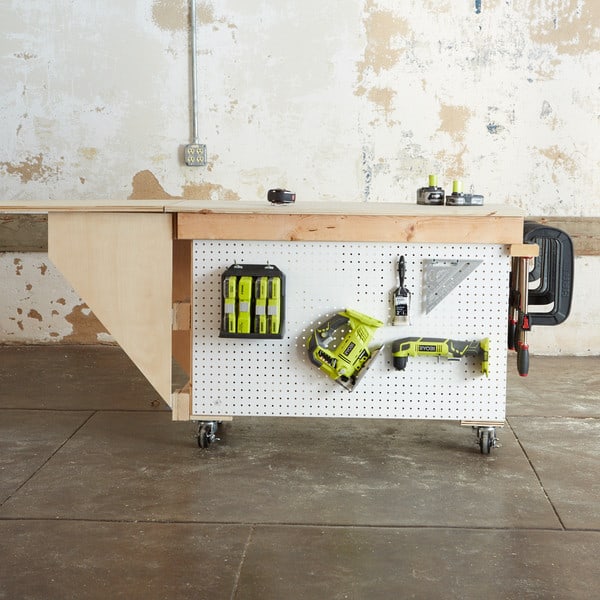 For those looking to keep things easy to access, portable, and well-organized, this all-terrain cart station/storage-in-one is the perfect solution. It's perfect for limited space, giving you dedicated tool storage and a workstation while being made with a simple, clean, modestly easy design.
You need some experience working with wood to create this, but you by no means need to be an expert.
Via Ryobitools
Built-in Saw Storage Cart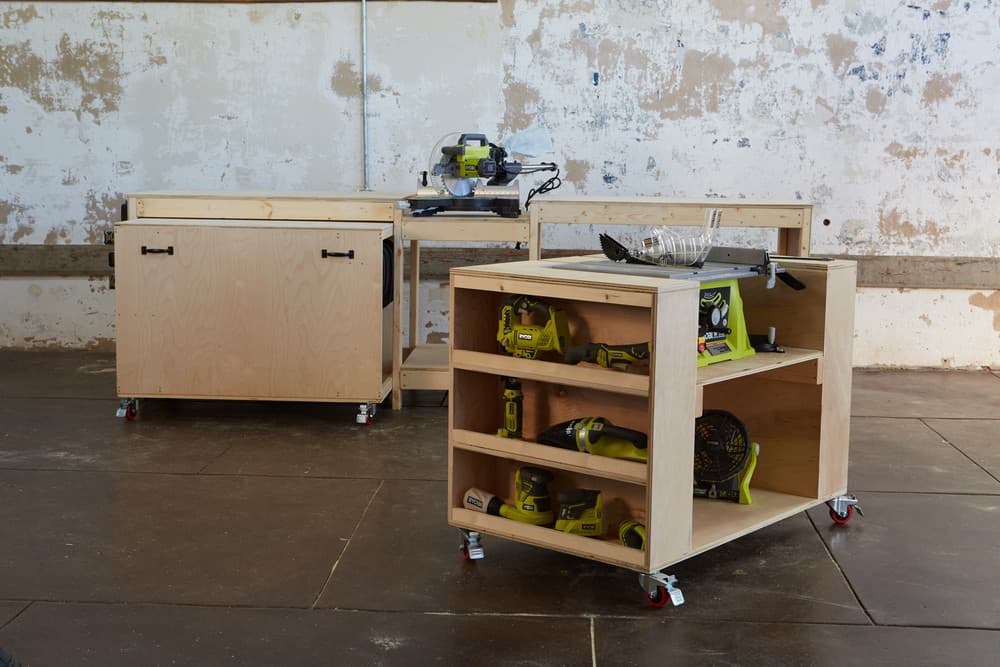 One-up on the workstation cart is this built-in saw storage cart. It's a really snazzy way to clean up the garage and create an easy workstation that's portable. The design is specifically created around saws to make it easy to use, sturdy enough for cutting, and easily accessible for your embedded Kreg jig or other choices. This really frees up space with uber practical usage of the little space it does use.
Via Ryobitools
Full Overhead Storage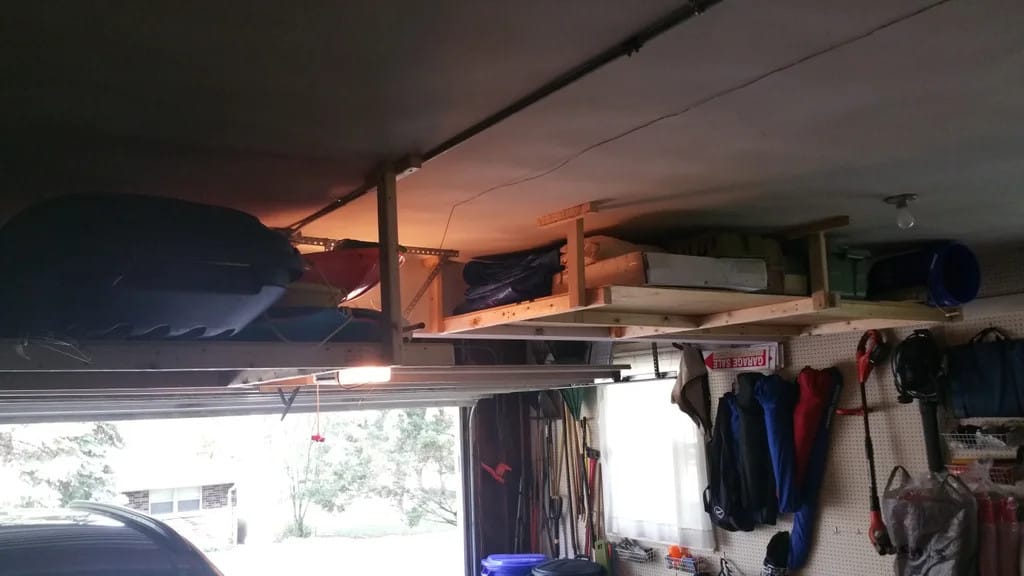 If DIY garage ceiling storage is your thing, then this design from Instructables is definitely worth investigating. This design choice provides you with even more storage than most, and all you need is a stud finder, plywood, screws, clears, and a circular saw to create it all.
Via Instructables
Budget-Friendly Industrial Storage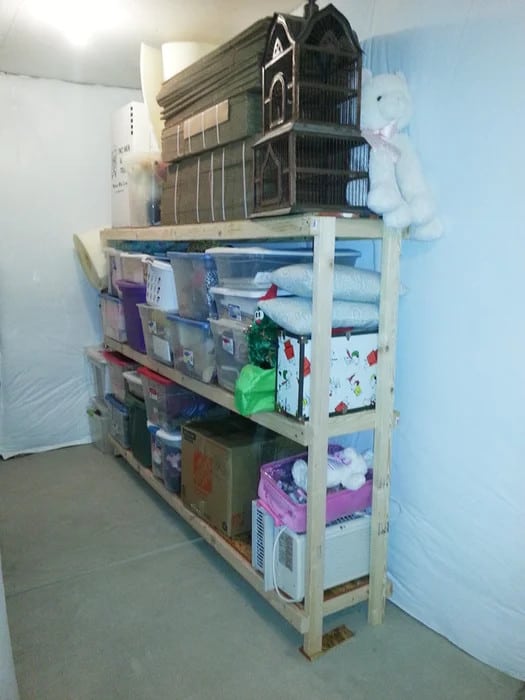 If budget-friendly is a concern for your choice of industrial storage, then you've got this fantastic project to look at. You need some screws, studs, and oriented strand board to create it, meaning it will cost under $50 on average. And if you're not that comfortable with using saws yourself, bring the cut list and have the hardware store do it for you.
Via Instructables
Super Simple Storage Shelves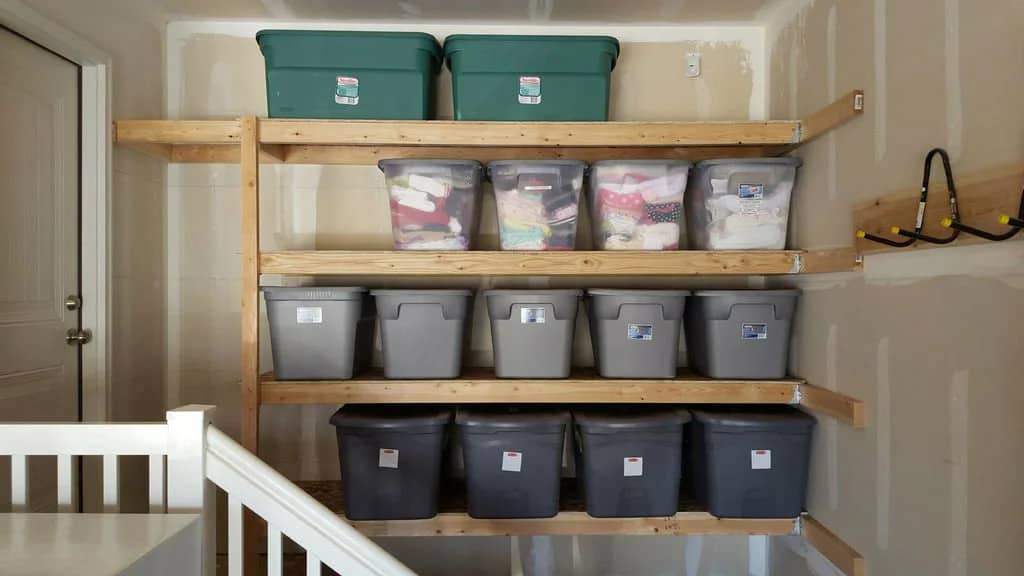 These super simple storage shelves are another budget-friendly option, running you under $100 for tons of storage space that will clean up that messy garage in no time. This is a beginner-friendly project, as well, meaning just about anyone can make this storage unit.
Via Instructables
Floating Garage Shelves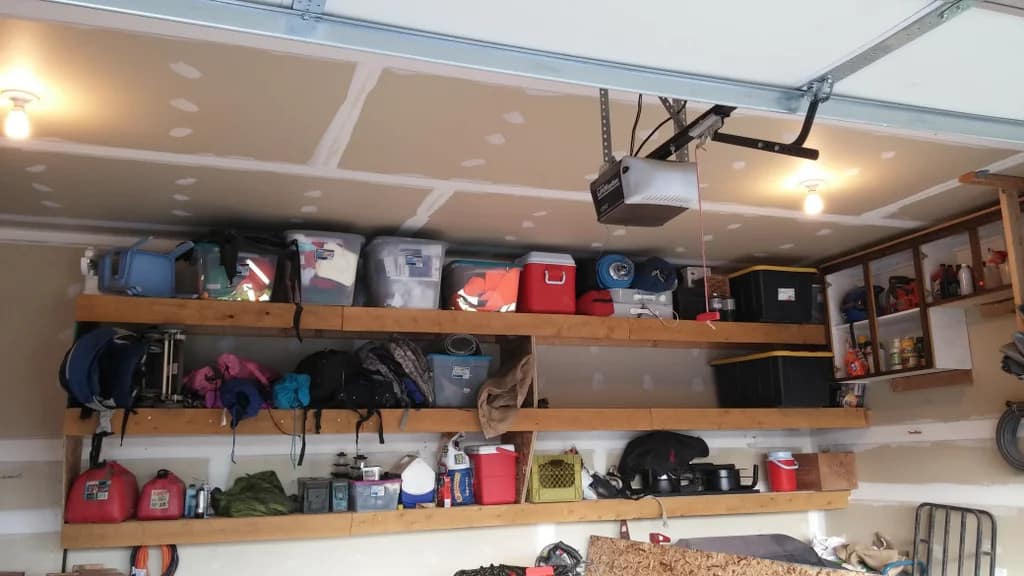 This option for wood garage shelving is a beautiful choice. The units are mounted directing on the wall, so you don't lose any floor space, either, making this design even more appealing. To make this one, you'll need some deck screws, a handsaw, some plywood, angle brackets, a power drill, and an oriented strand board.
The tutorial is easy to follow along and doesn't require much experience with woodworking.
Via Instructables
Under $300 Garage Storage Wall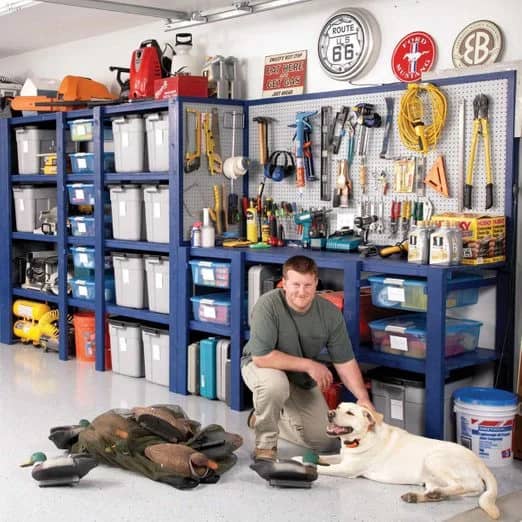 DIY garage shelving ideas come in many shapes – and this shape is one of our favorites. Especially because you get tons and tons of storage that's super organized, accessible, and provides you with workspace all while costing less than $300 to construct. When you look at this design, you'd assume the cost would be upward of $500 and many hours. According to the designer, though, it's less than $300 and less than 5 hours of work, if you have some experience.
Via Family Handyman
Sturdy Woodworking Tools and Supply Shelves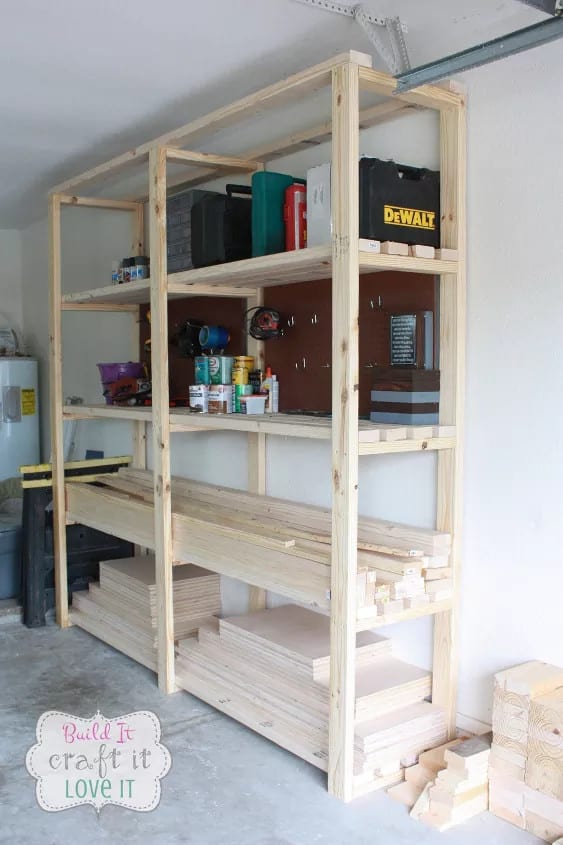 If you need a lot of shelving, this DIY project is a great solution. It won't cost you much (the original builder notes it was under $100) and won't take you that long (i.e. under 5 hours). It's 8 feet long and 8 feet tall, meaning you will seriously get tons of storage here, and don't even need a lot of building experience to create it. Plus, it can be disassembled and reassembled any time you need to.
Via Home Talk
Lockable Storage Cabinet
If you have small children or nosy pets around, this lockable storage cabinet is a great idea for your garage storage. Keep your sharp tools, chemicals, paint, and anything else potentially dangerous in here. It keeps the whole family safe while also cleaning up the aesthetics of your garage. Win-win!
Via Family Handyman
Plywood Ceiling Shelves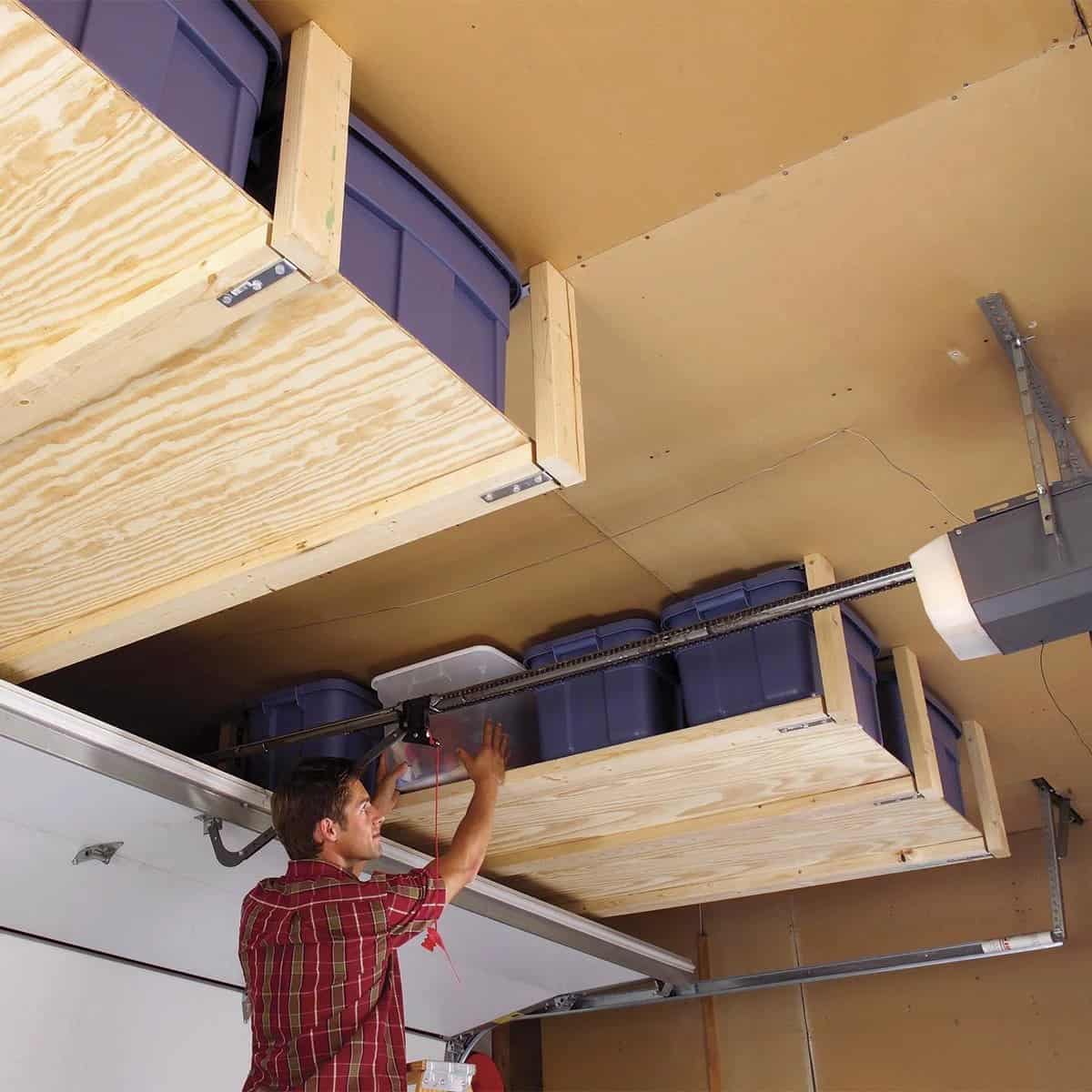 Another ceiling shelf design is this one from Family Handyman. It's suitable for lightweight and medium weight items and helps you clean up that space without losing floor room. You just need 16 inches of clearance above the garage door for these to fit bins on the shelves. You can, of course, adjust the shelf height and durability with the right supplies and measurements, allowing for loads up to 160 pounds.
Via Family Handyman
Fold Up Workbench and Storage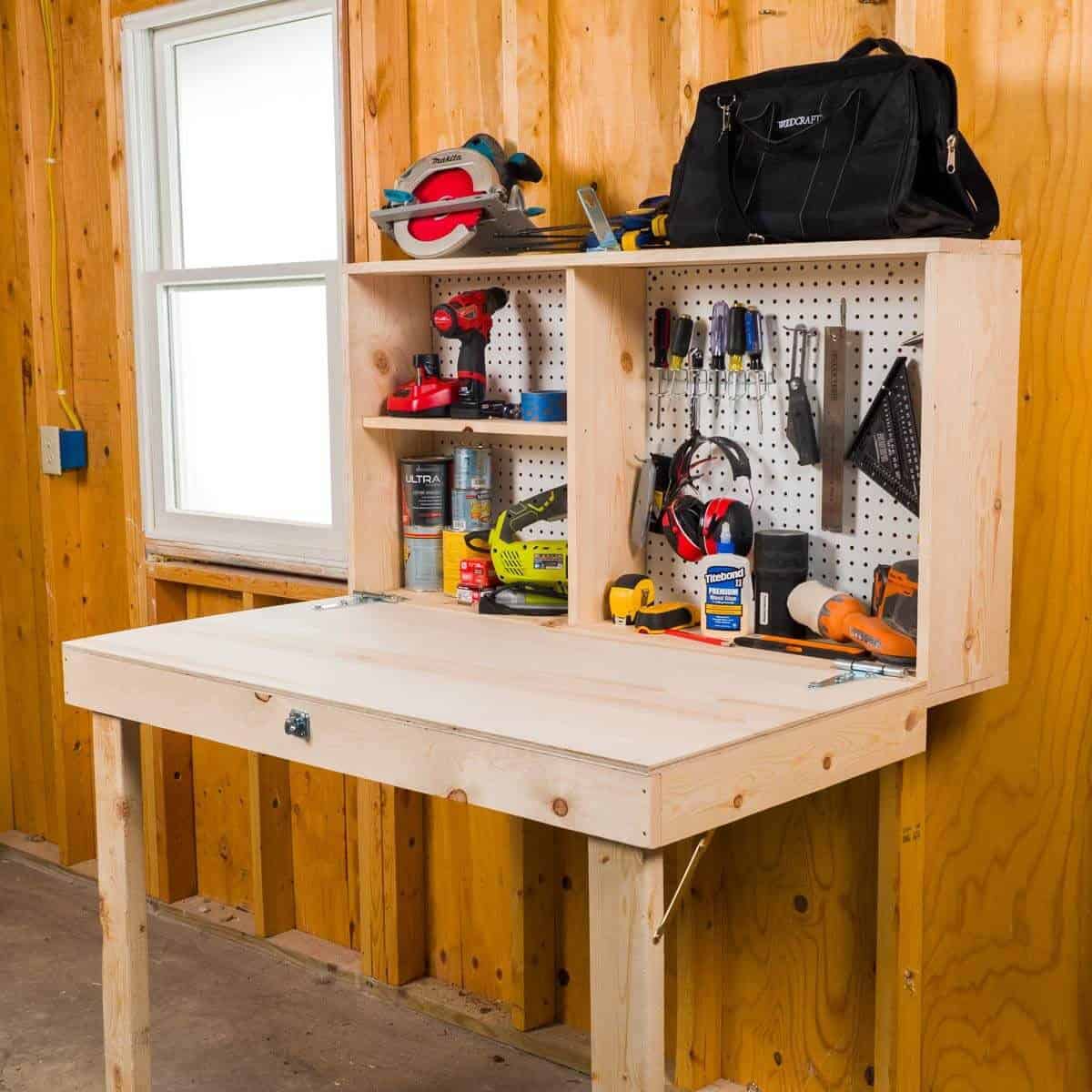 Another handy tutorial for tight spaces is this fold up workbench and storage unit in one. The workbench is sturdy and usable for most projects, and the "fold up" aspect of it makes it possible to keep everything stored neatly and safely, taking up less space in your garage.
Via Family Handyman
Upcycled Wooden Bleacher Shelves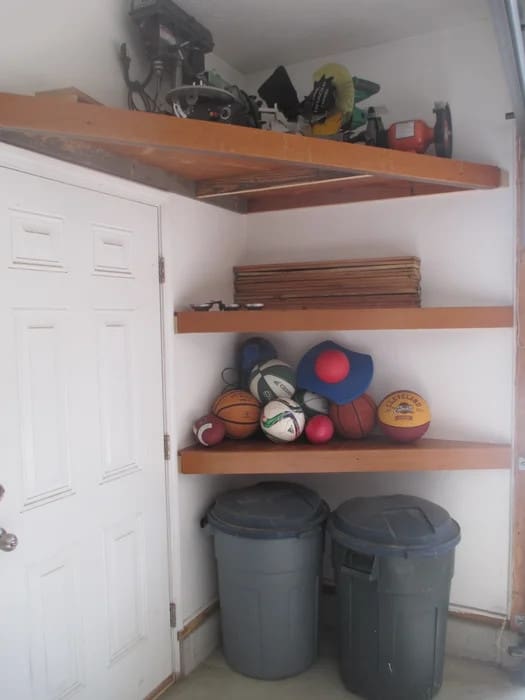 This one won't be for everyone, of course, since retired wooden bleachers aren't constantly available, but it you can find some, this wood shelf plans for the garage is absolutely gorgeous and incredibly unique while being super functional.
You can craft these homemade garage shelves modestly easily thanks to the tutorial, while saving some money, since it's using reclaimed wood.
Via Instructables
Easy, Super Budget-Friendly Shelves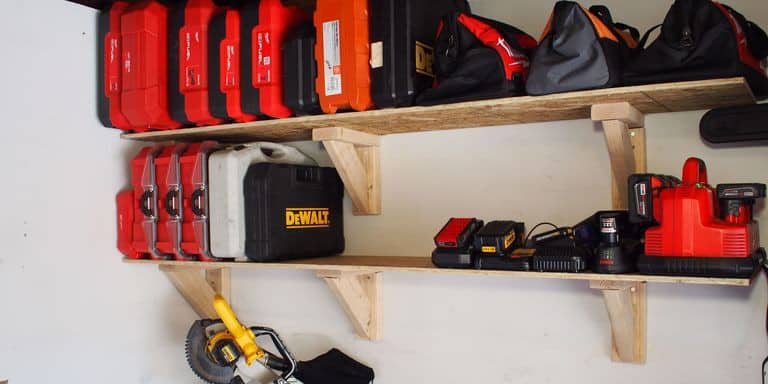 This cheap garage storage is super easy to build, making it a great project for anyone who's not got much woodworking experience and not much garage space! The tutorial is super easy to follow and doesn't have a lot of extra fluff to wade through. Just grab an oriented strand board, circular saw, brackets, wood screws, power drill, and stud finder, and in less than a weekend, you'll have this easy storage in place.
Space-Saving Sliding Pegboard Storage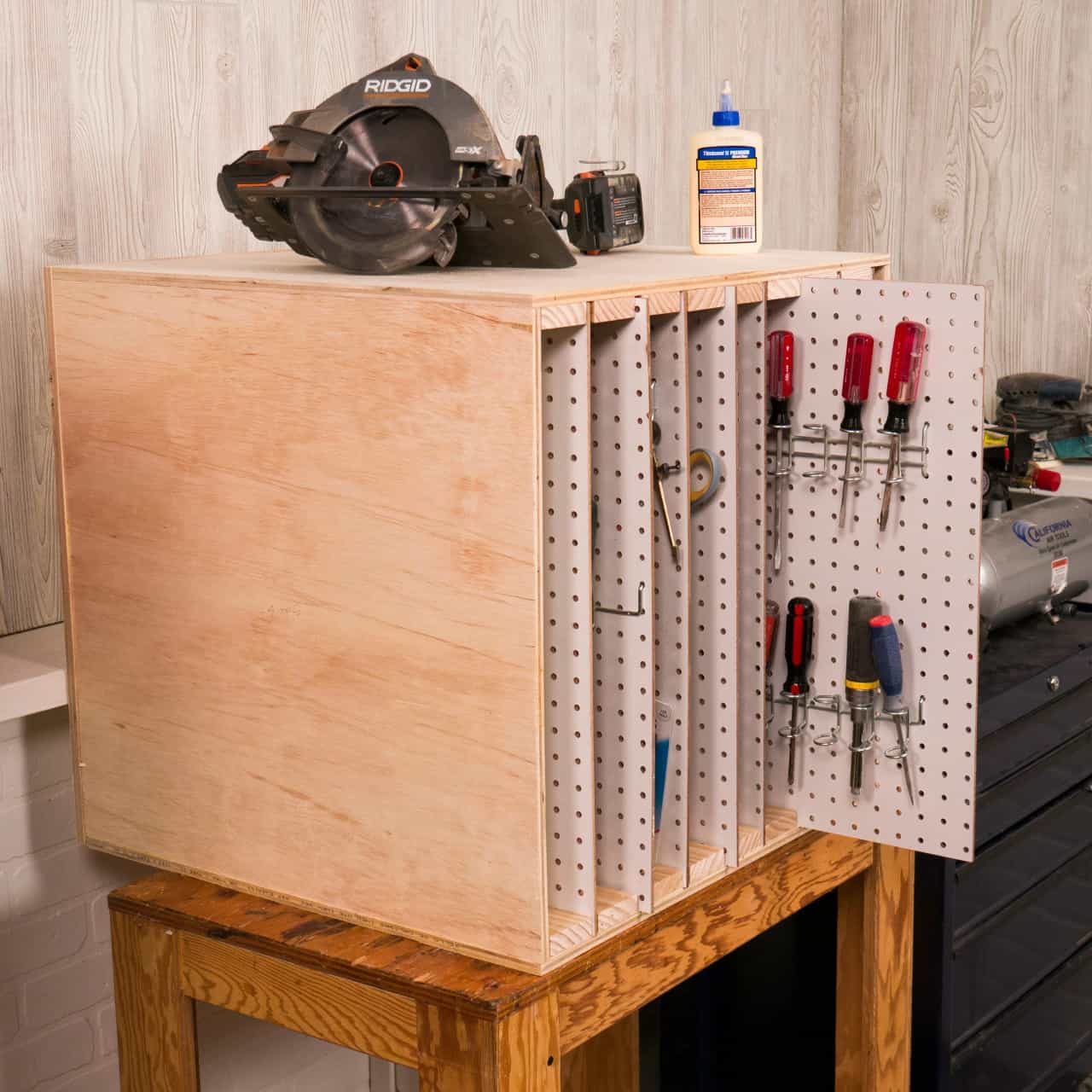 If you need some storage for small supplies, this simple project is great for saving you space while keeping those little bits organized. Watch the video tutorial and read the page for clear instructions on how to create the compact box that holds so much.
Via Family Handyman
Easy Recycled Pallet Storage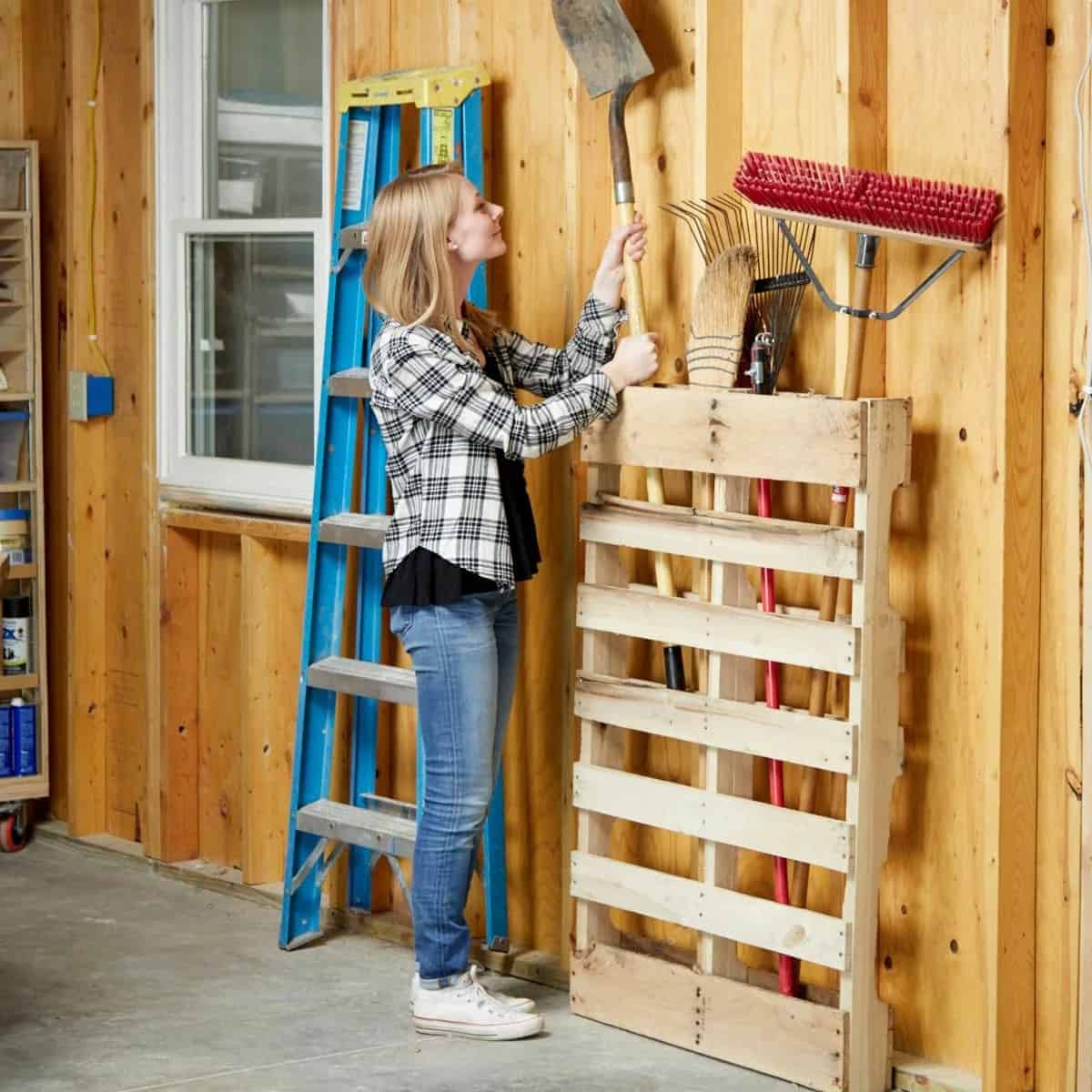 This one is for the less than handy – you just need a wooden pallet, some screws, and a drill. You need an old pallet and someplace to attach it. It's perfect for storing long handled tools in the garage.
If you don't already have some pallets lying around, you can easily find some on Craigslist, Freecycle, or a ton of other places.
Via Family Handyman
All On the Wall Storage System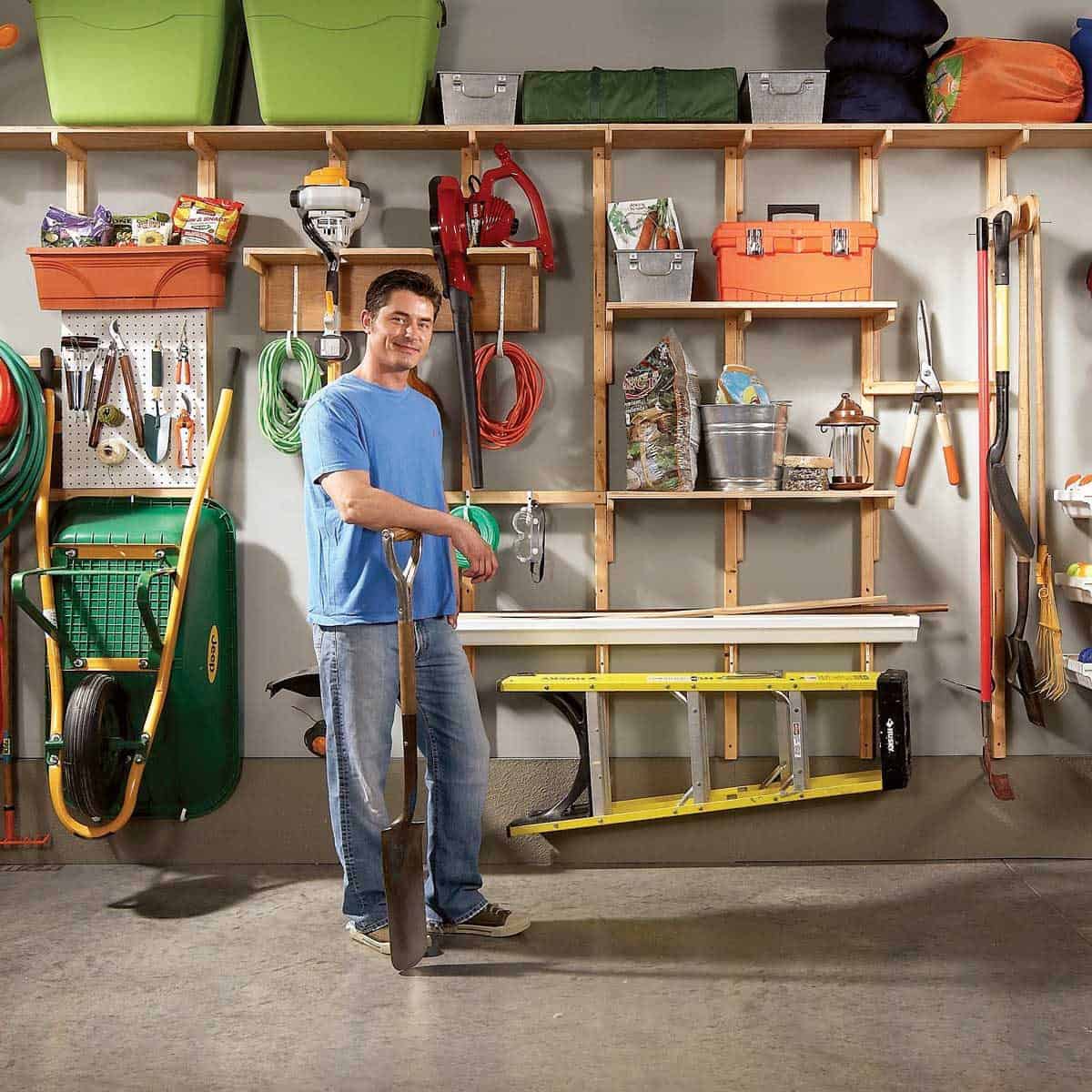 Our final DIY garage storage plans suggestion is this complete all-on-the-wall design that keeps everything off the floor. As you can see from the photo, you can tuck away anything your garage is holding into this space-saving design. The best part is that though it looks complicated, it's actually a very simple, easy design and just about anyone can build it.
Via Family Handyman
Get Creative With That Storage Space
The best part of all these different plans and designs is that you can use any of them creatively to fit your exact needs. Convert the full-wall design into a smaller space or make multiples of small corner shelves or overhead shelves to create your perfect full-garage storage space.
Just remember to thoroughly read all tutorials before you start the project and gather all tools and materials ahead of time to ensure everything's all set to go. This will save you time, money, and hassle, every time.