25 DIY Keychains To Help You Keep Track Of Your Keys In A Trendy Way
If you toss your keys into a big bag every day, there's a good chance you spend a lot of time searching around for them later when you need to start your car. One way to help you find them a little easier is by adding a keychain to your key ring.
Skip buying one at the store – instead, create a DIY keychain.
Photo Keychain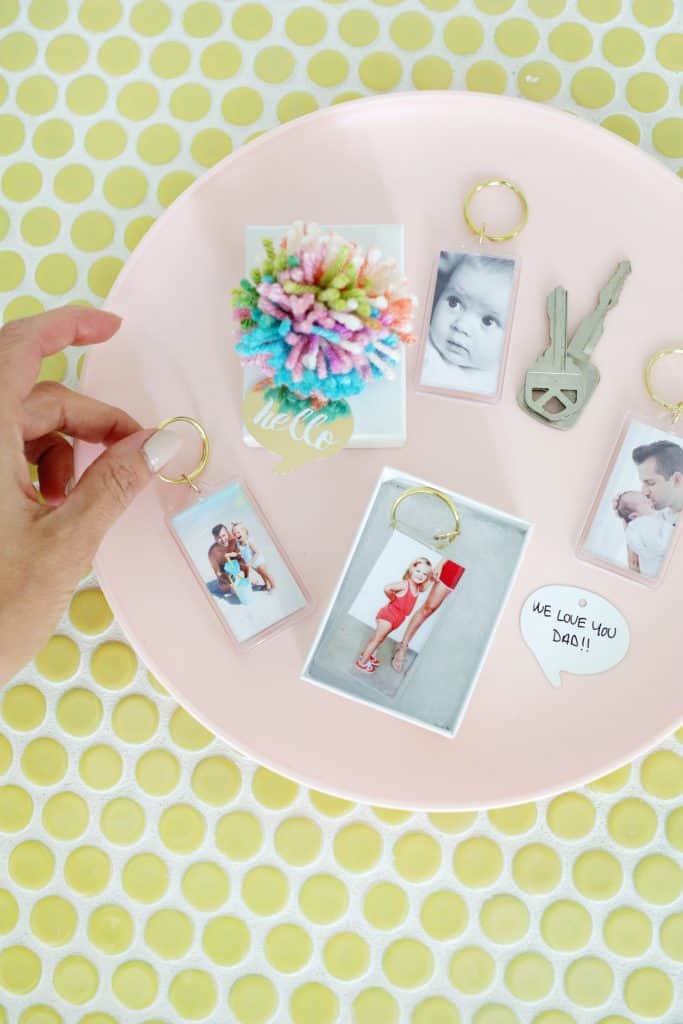 Pick a picture of your kids, your significant other, or your pet that you'd love to carry around with you.
Then, make a keychain out of it! It's super easy and will make you smile every time you grab your keys.
Easy Photo Keychain DIY by A Beautiful Mess
Using Shrink Wrap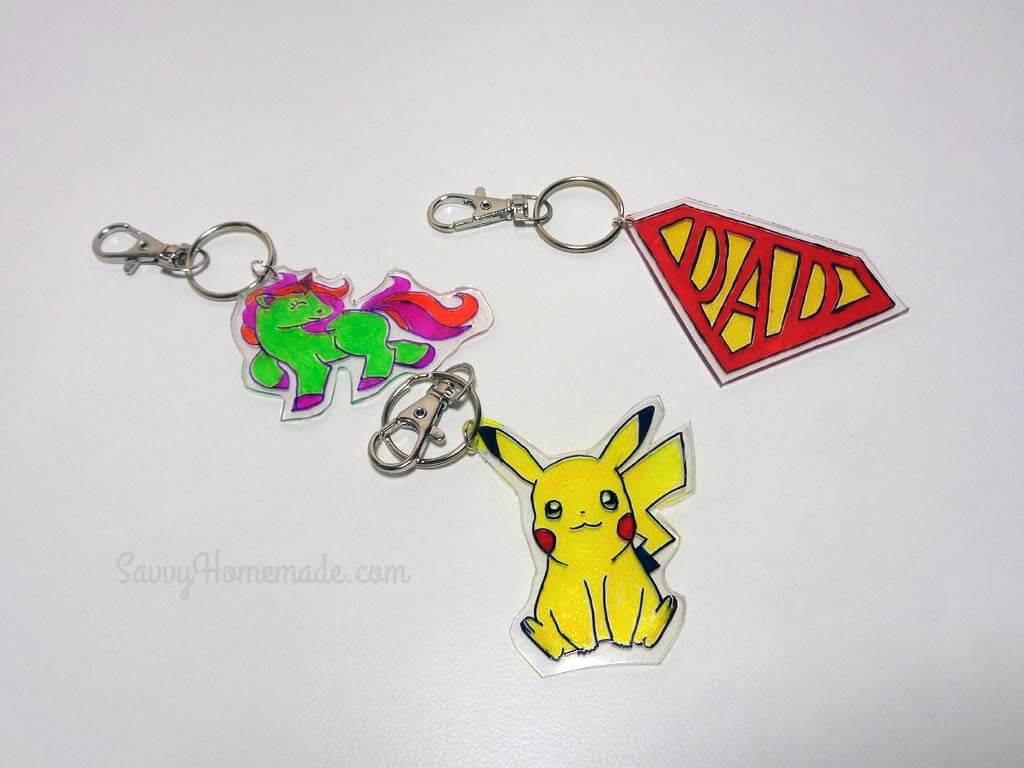 These are just downright amazing. How were they made from plastic wrap?!
If you're artsy, this is the perfect opportunity to carry something around that you created so you can show it off to anyone and everyone.
How to Make a Personalized DIY Keychain by Savvy Homemade
Leather Loop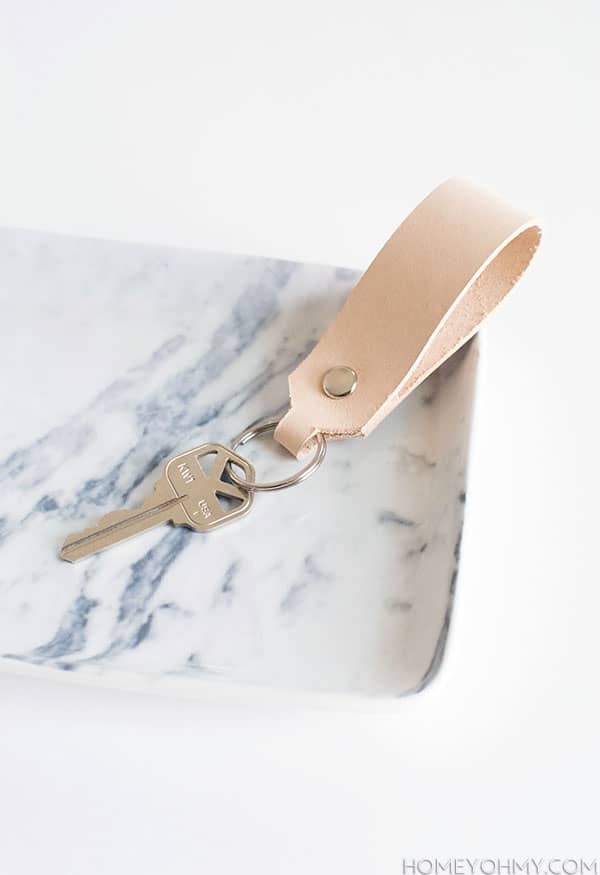 Simple, classy, and easy to grab.
Even better, there are so many different colored leathers that you can choose from to mae this keychain perfect for you.
DIY Leather Loop Keychain by Homey Oh My
Cute Bangle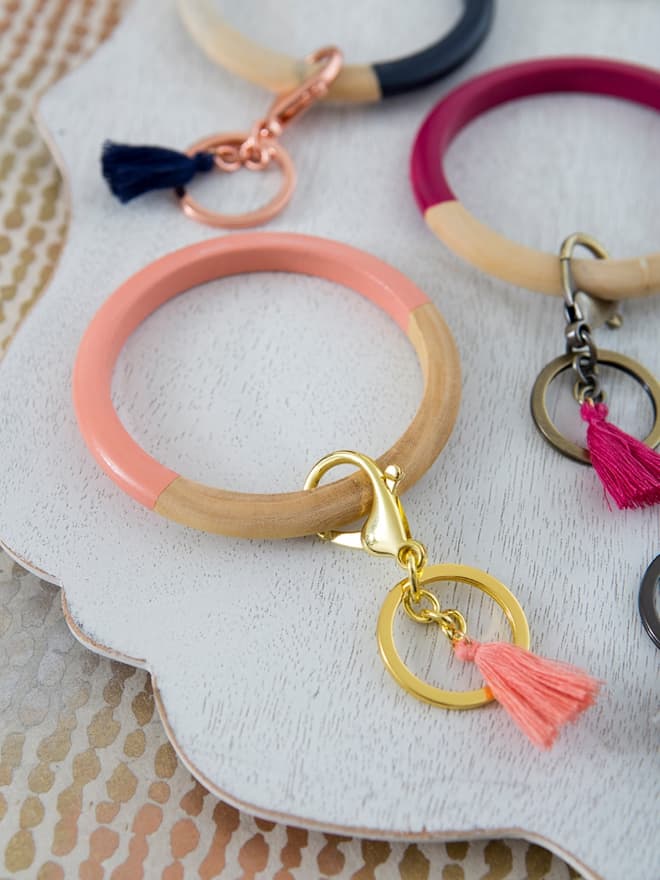 If you make this one, you pretty much never have an excuse to lose your keys, because you can literally wear them.
You can dress this up as much as you want and even make it a color that will go well with your bag.
How to Make an Adorable Bangle Keychain by Something Turquoise
Macrame & Tassel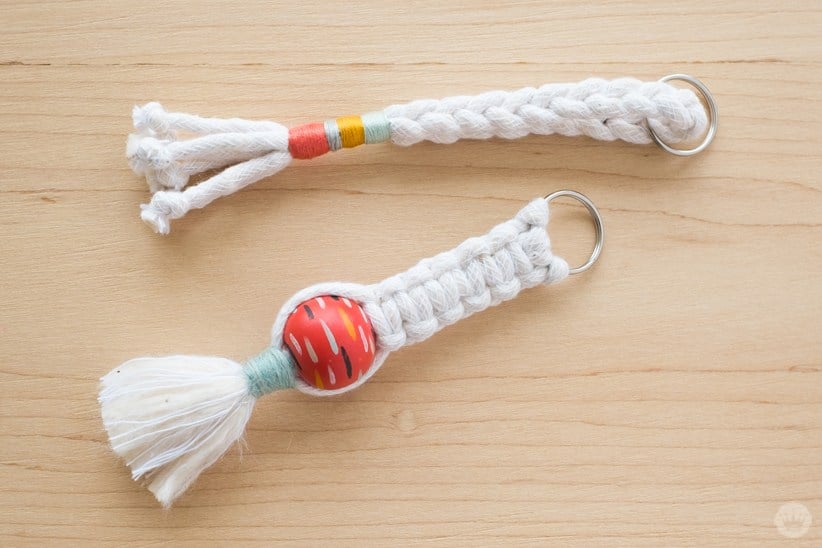 If you're into the more boho-chic look, this macrame keychain is ideal.
There are a bunch of different ways to bead and knot macrame, and even the most flawed version still looks great.
How-to: DIY Tassel and Macrame Keychains by Think Make Share
Speckled Clay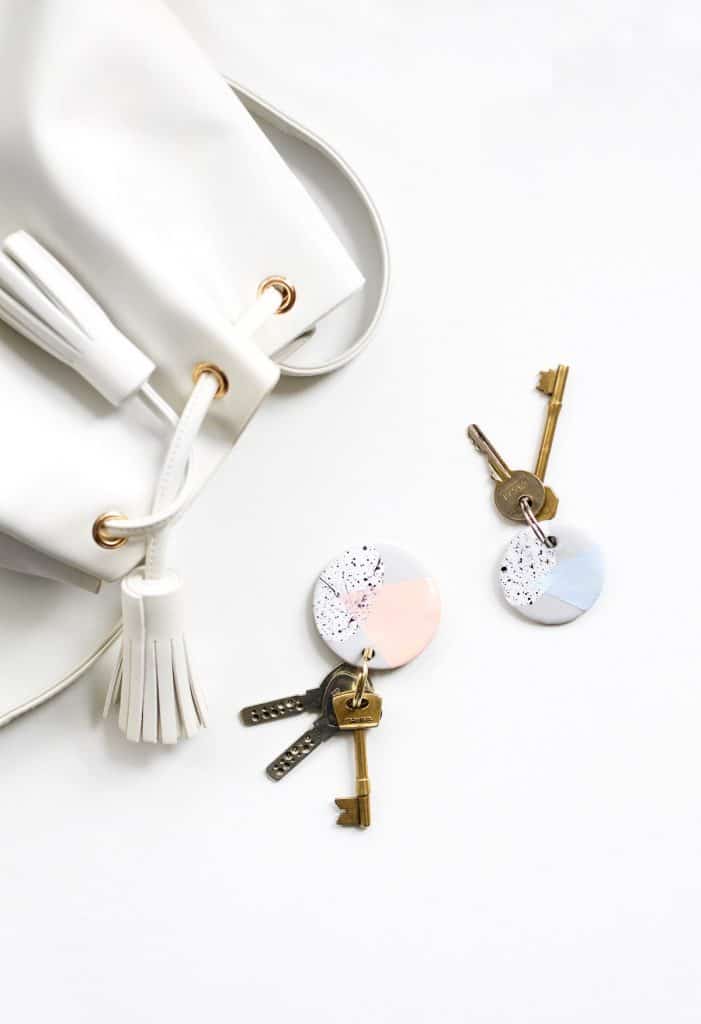 Grab some clay, roll it out, and get creative!
This blogger gives you a tutorial on exactly how to make a gorgeous speckled clay circle that will defintely liven up your key ring.
Speckled DIY Clay Keychain by Sugar and Cloth
Resin Flowers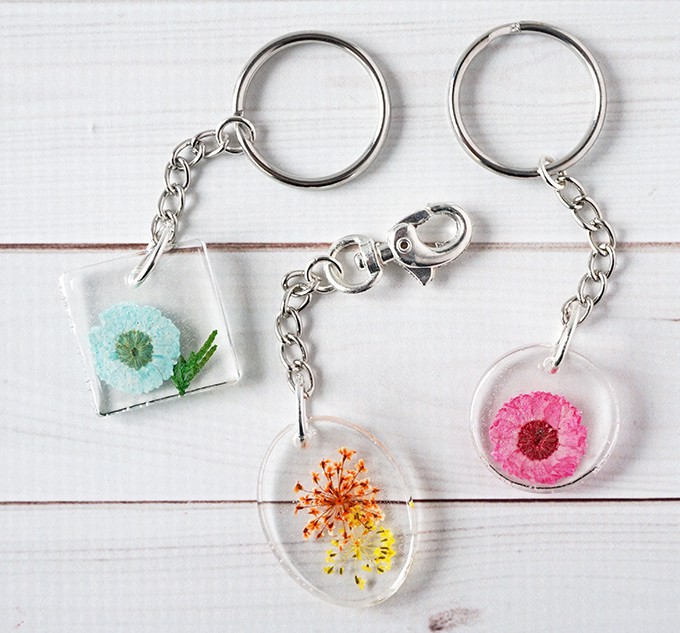 If you're into florals, you can literally carry a flower with you wherever you go.
This keychain by Resin Crafts looks like it was professionally made, but it's actually really simple and a great rainy day DIY project.
DIY Resin Flower Keychain by Resin Crafts
Rope Knot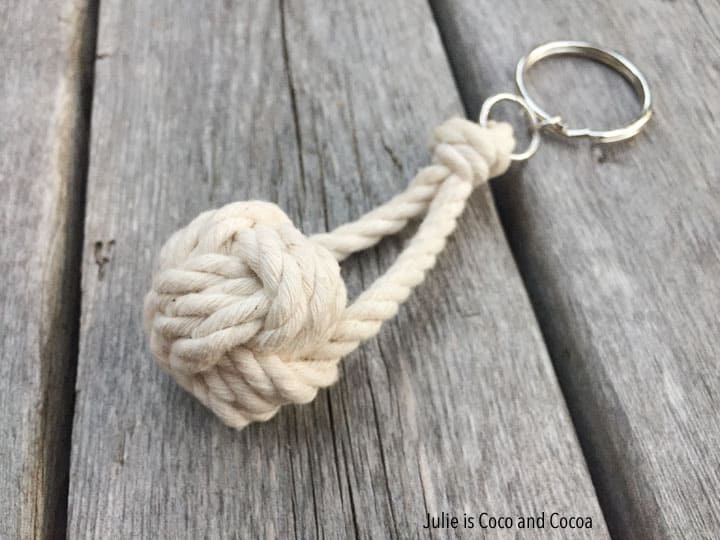 A good keychain is something that you can easily grab, it doesn't have to be bright or sparkly.
This rope knot keychain is a perfect example of something functional but not over-the-top.
DIY Keychain by Julie Measures
Tiny Picture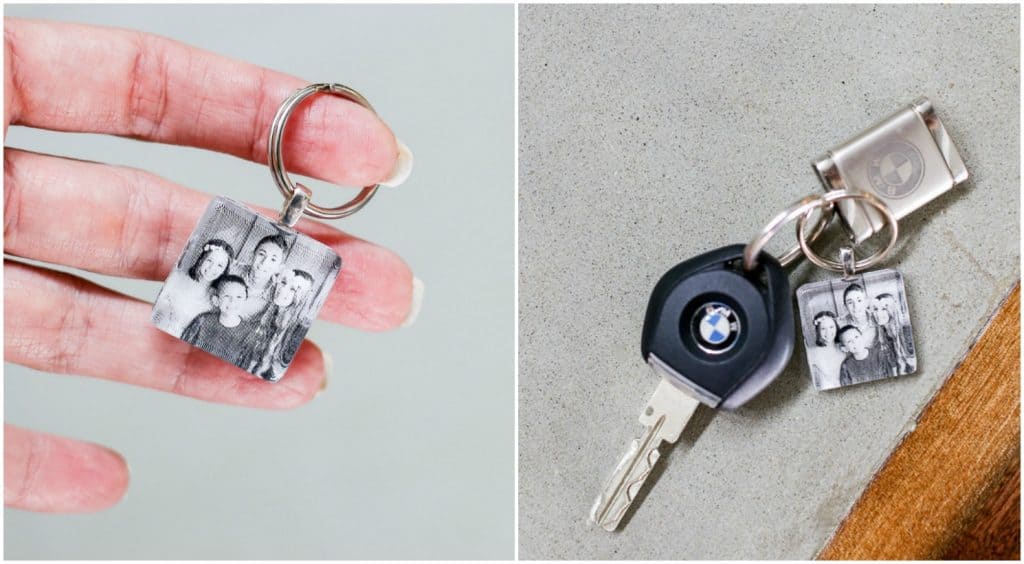 If you love the idea of carrying a picture around, but don't love the idea of a huge one, consider this option.
It's not in a frame at all, and it's significantly smaller than your keys, but still has that sentimental value.
How to Make a Custom Homemade Picture Keychain by Sugar Bee Crafts
Soda Can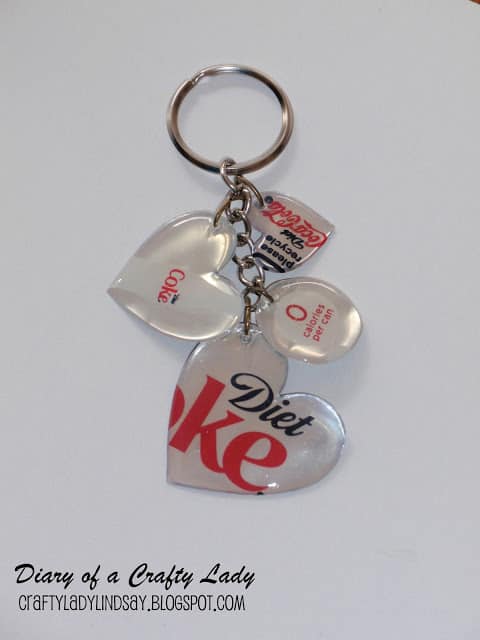 Have a favorite beverage of choice that comes in a can? Make it into a keychain!
Follow the tutorial on the Diary of a Crafty Lady, and start showing off your love of Diet Coke, La Croix, or a craft beef you're into.
Pop Can Keychain by Diary of a Crafty Lady
Wood Beads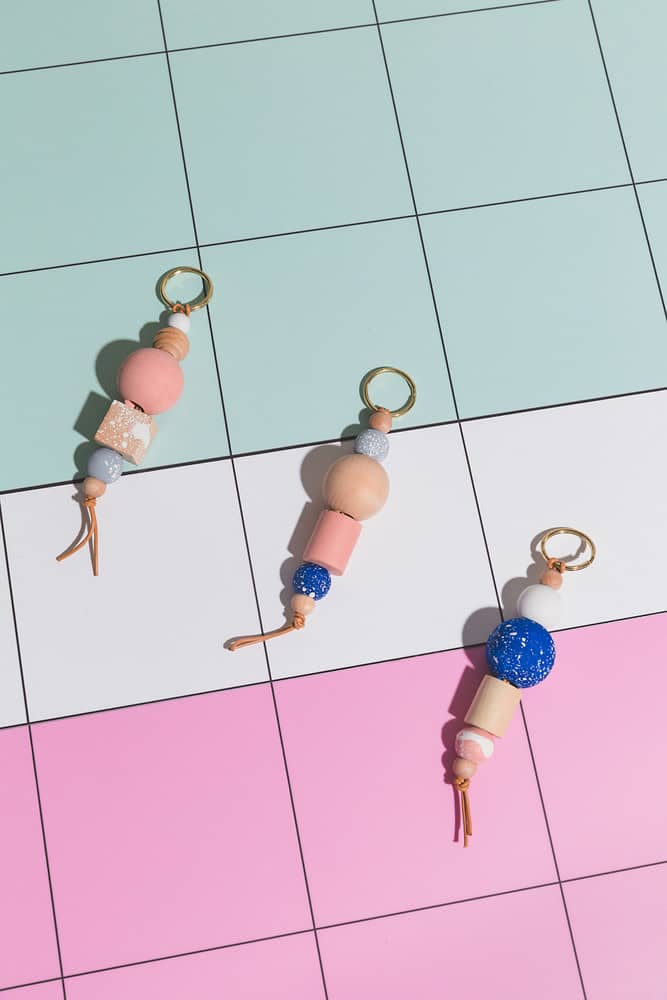 This is basically the grown up version of something you made at camp when you were a kid.
It's about as simple as it gets in terms of DIY projects, but it's still very pretty, and serves its purpose.
DIY Keychain Beaded Design by Cute Homemade Gift Ideas
Tassel and Beads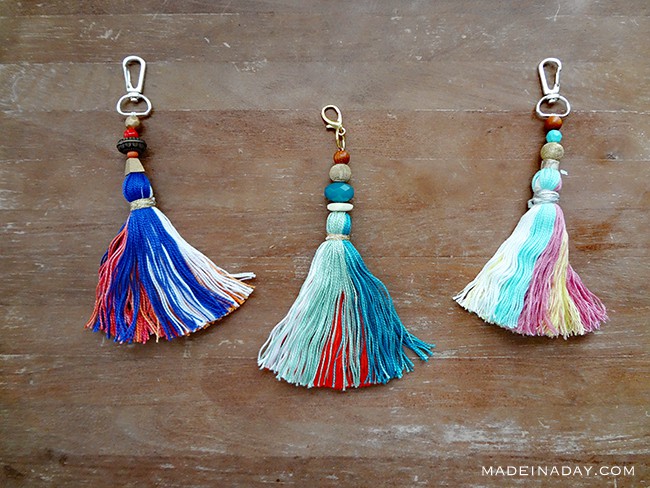 If you love bright colors, a fun multi-colored tassel with beads is a fun way to show off your personality on your key ring.
There are so many ways you can customize this keychain to reflect your personality.
DIY Tassel Keychain by Made in a Day
Charms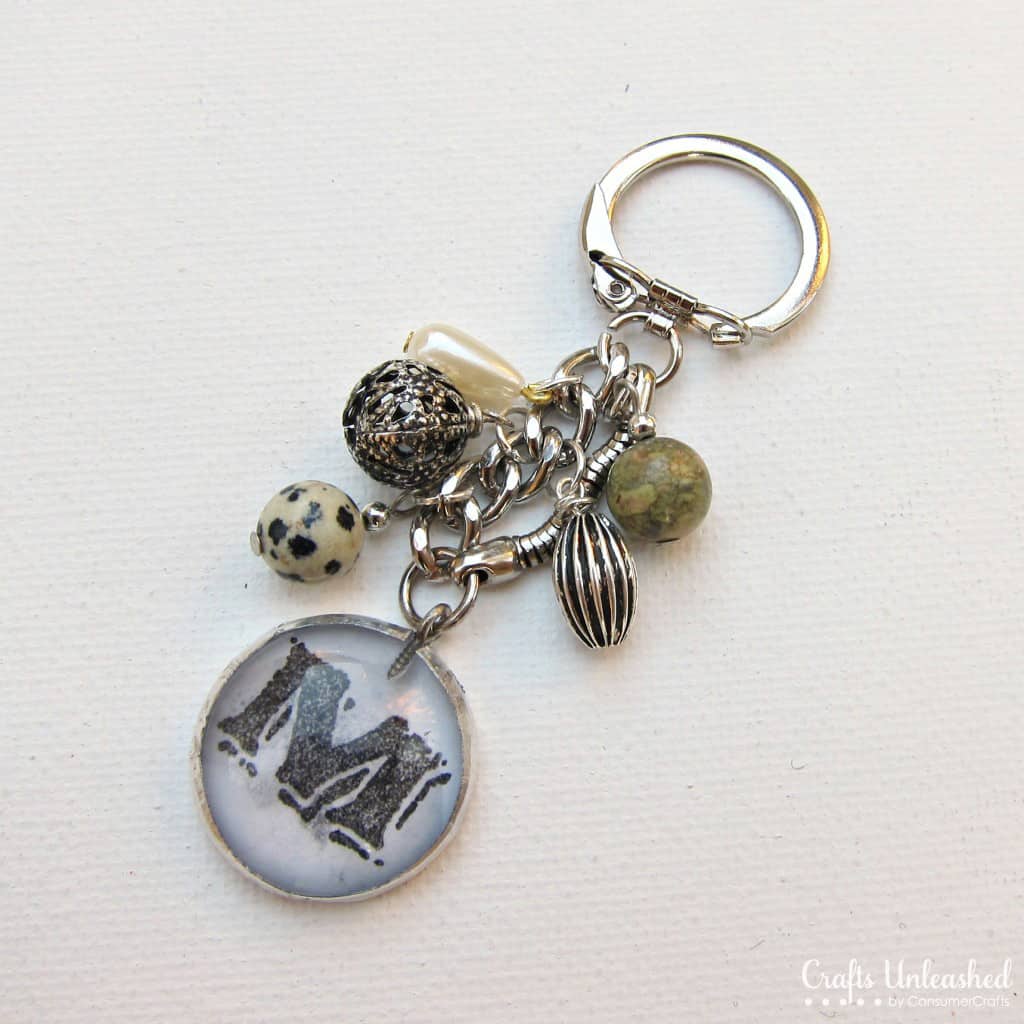 This blogger saw a keychain at Anthropologie and decided to make her own version of it.
It's made up of a bunch of different charms (including an initial) so there is a lot of room for creativity and customization.
Anthropologie Inspired DIY Keychain by Consumer Crafts
Stamped Metal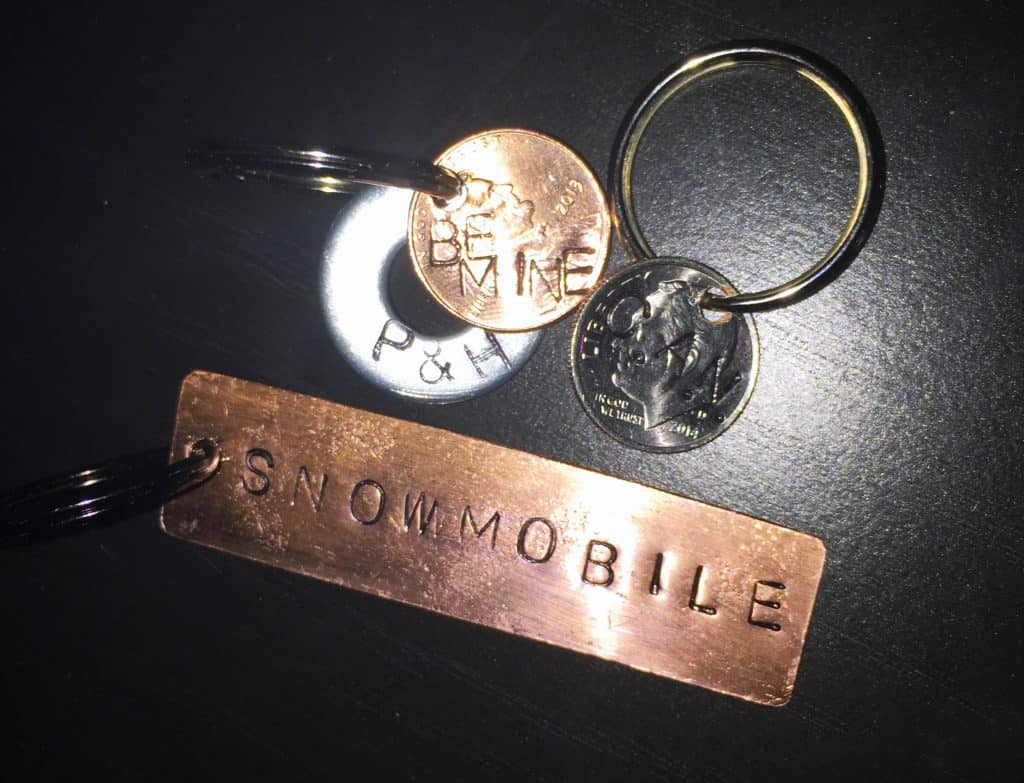 For anyone who loves simplicity (and maybe isn't into bright colors and beads), stamped metal is the way to go.
You can stamp in a significant date, name, or something else that means something to you and will make you smile whenever you see it.
DIY Keychain by Ward Motor Clinic
From Your Kids' Art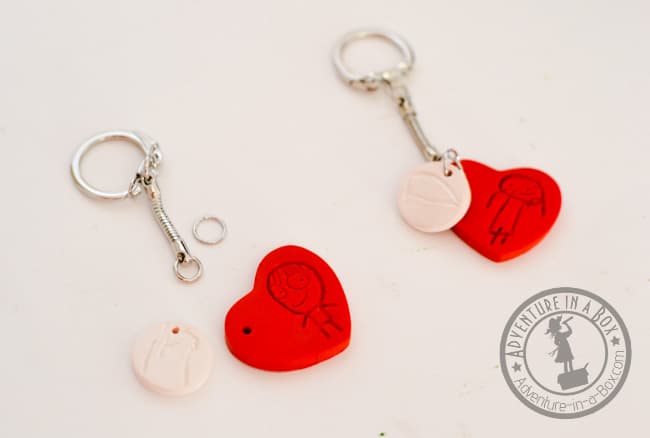 Let's face it, your kids come home with a LOT of art, so it's impossible to display them all.
But, you can carry one of them with you on a keychain! Adventure in a Box has a tutorial to teach you how to make it happen so you always have a piece of your favorite kiddo with you.
DIY Kid-Designed Keychains by Adventure in a Box
Handprint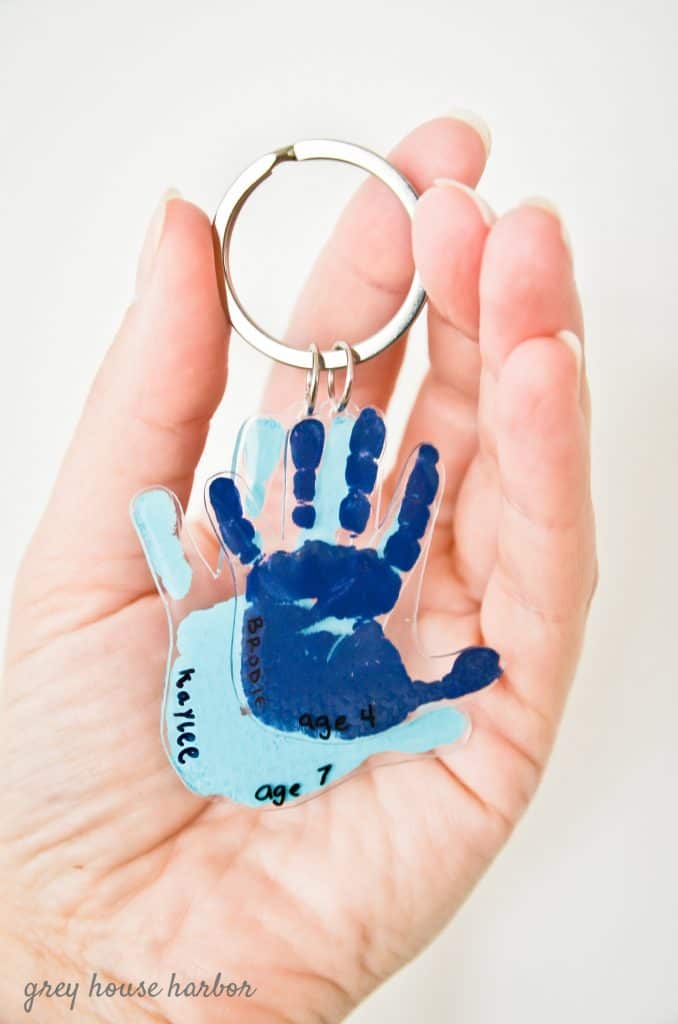 If your kid's art isn't your thing, their handprint surely is!
You can follow the tutorial on this blog to learn how to create a keychain that captures your little one's handprint so you can (kind of) freeze that moment in time.
DIY Handprint Keychain by Grey House Harbor
Confetti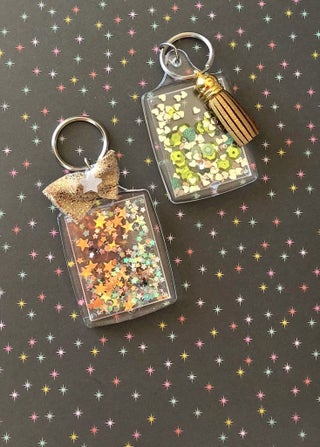 Anyone who loves sparkle and glitter needs to make one of these vibrant keychains.
There are so many directions to go with this keychain – multi-colored sequins, one color in various shapes, or a carefully curated color blend.
DIY Confetti Keychain by Instructables
Bottle Caps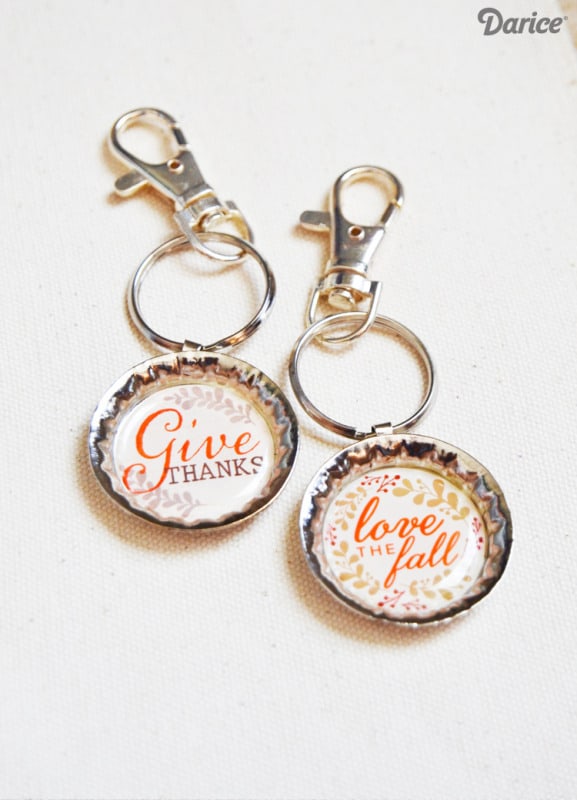 Glass bottles aren't as easy to find as they used to be (well, in soda form at least), but if you can get your hands on one, it's the perfect charm for a fun keychain.
This blog has free printouts if you want to add a message to your bottlecap, but you can also spray paint it and customize it to your liking – the possibilities are endless.
DIY Keychain Tutorial by Darice
Lip Gloss on the Go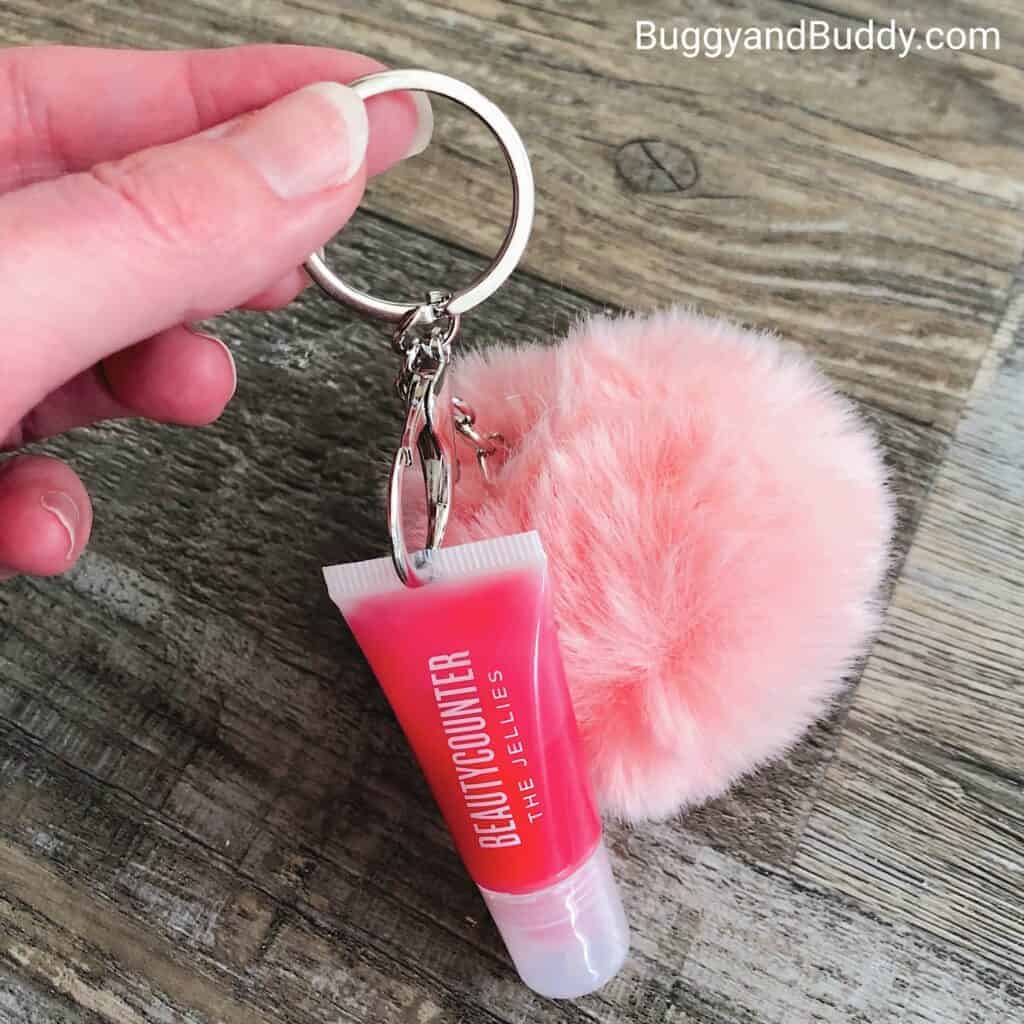 If you can't leave home without your lip gloss, just attach it to your keys!
This keychain is fun because you can also add a charm alongside the lip gloss to give it a funky and fun touch. Either way, you will always have some lip gloss on hand should you find yourself with less than shiny lips.
DIY Lip Gloss Keychain by Buggy and Buddy
Glitter Deco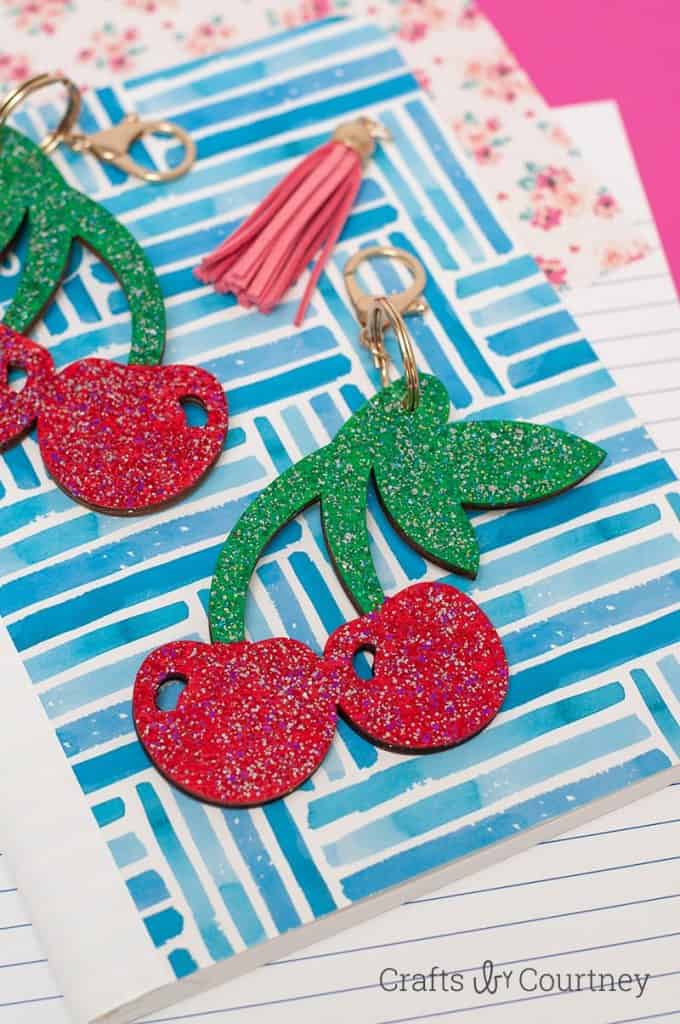 Well, this is such a fun and cute idea!
You obviously don't have to completely recreate this keychain with the cherries, there are so many ways to do it, which is what makes it so great! Plus, the glitter is a fun touch.
Back to School DIY Keychain by Crafts by Courtney
Resin and Glitter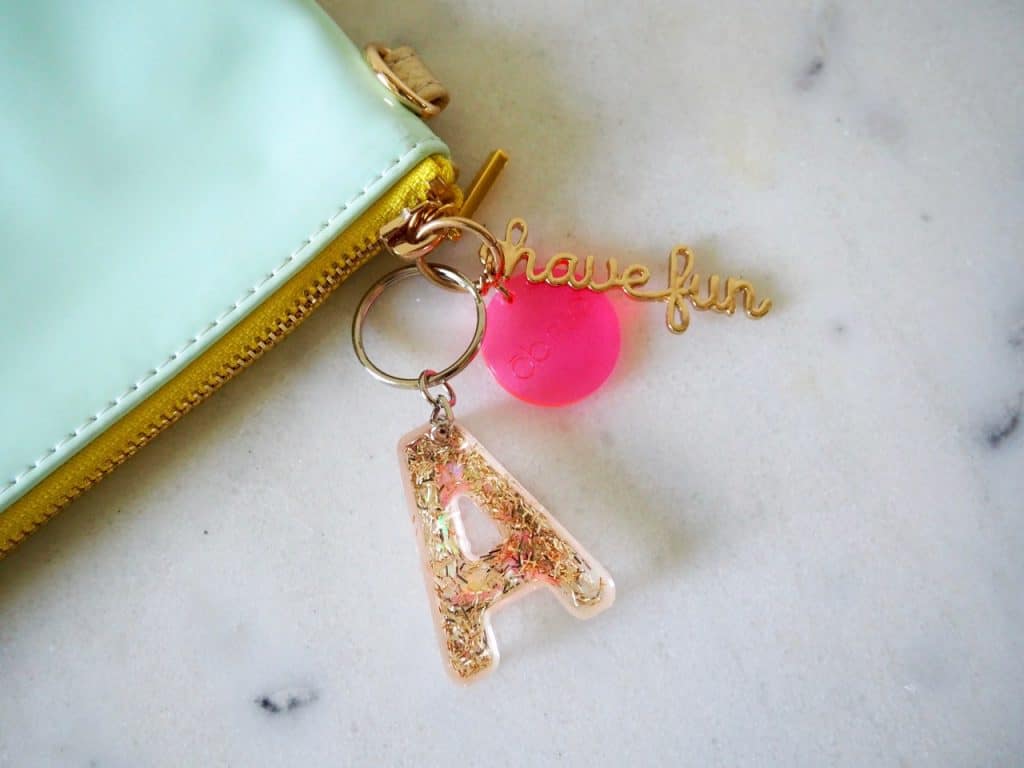 The most classic keychain is one with your initial on it – everyone has had one at some point or another.
This tutorial will help you make one of your own, and make it with style! It will come out looking like it was professionally made but will reflect your preferences and personality.
Resin & Glitter Keychain DIY by We're Going To Make It
Leather Tassel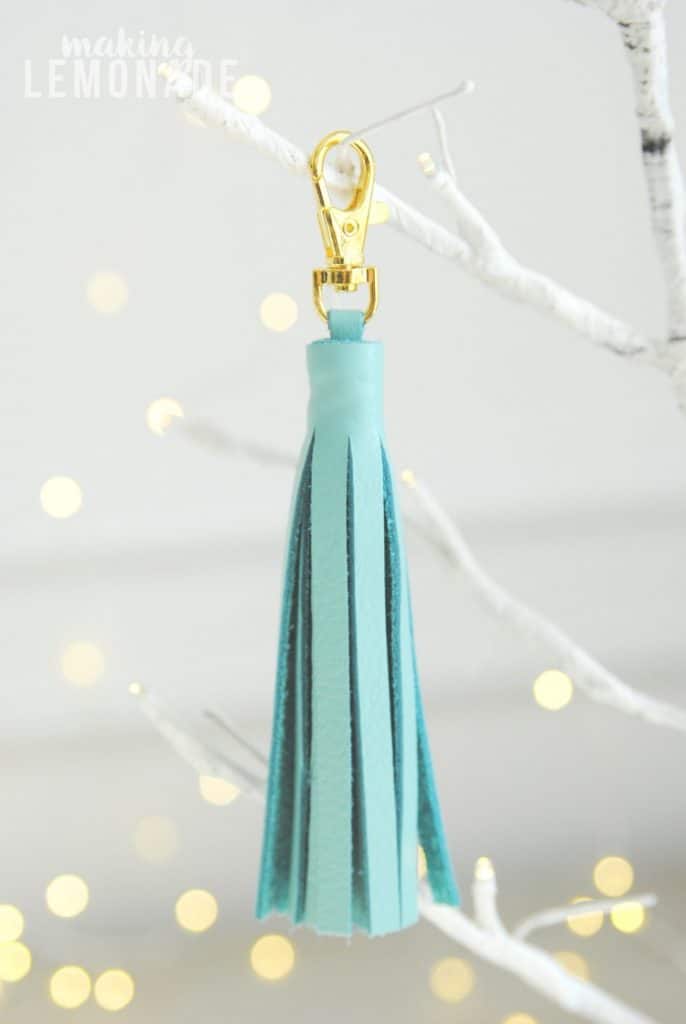 Leather tassels are attached to the outside of purses to add in some color all the time. Now, you can turn one into a keychain instead.
You can definitely still put this tassel on the outside of your bag, but it makes for a really cute addition to a keychain.
DIY Leather Tassel Keychain by Making Lemonade
Acrylic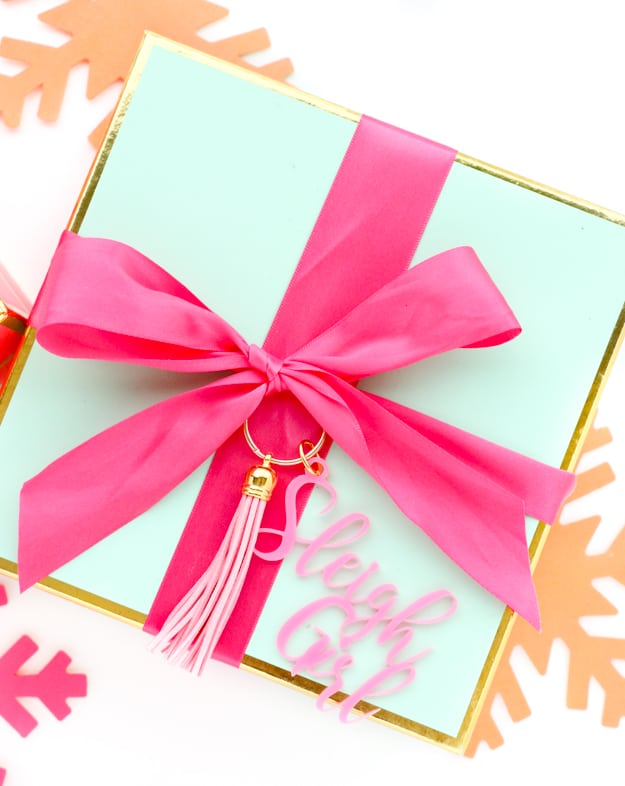 Do you have a favorite phrase? Carry it around with you!
This blogger has a tutorial that will teach you how to make an acrylic keychain out of a custom phrase. She attached hers to gifts, but you can feel free to keep it all for yourself.
Gift It – Acrylic Keychain Gift Toppers by A Kailo Chic Life
Leather and Gemstones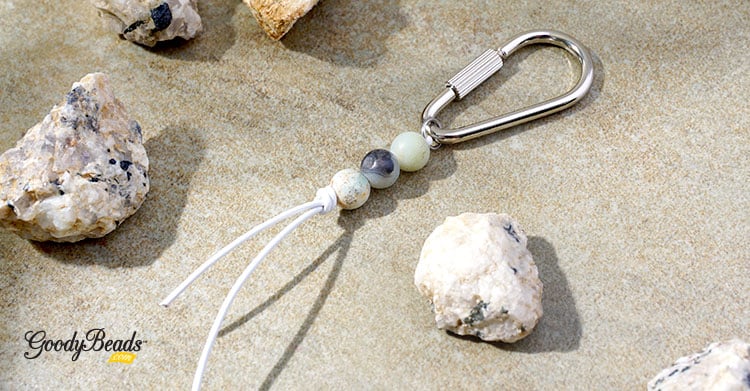 For a less glittery, more earthy vibe, you can make a keychain with some gemstones and leather.
There is a lot of space to customize this style, different color leather or various types of stones. No matter what, it will come out looking amazing.
Leather & Gemstone DIY Keychain by Goody Beads
Just for Mom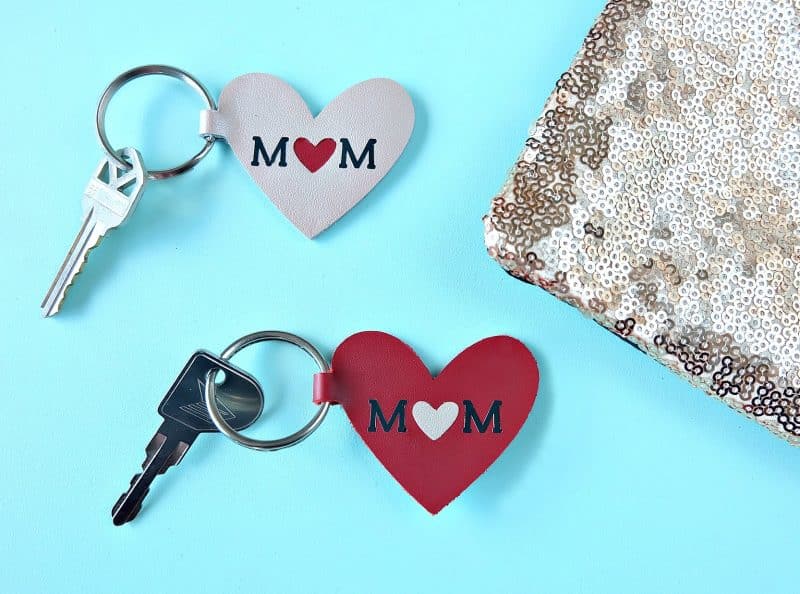 The fact that this keychain only takes ten minutes is secondary to how cute it is!
This blogger made their keychain especially for their mom, but you can create yours however you want. Either way, it will be a cute little heart you can carry with you anywhere you go.
10 Minute DIY Leather Heart Mom Keychain by Hello Creative Family
Conclusion
Go to just about any retail store and you'll likely find some fancy-looking keychains to clip to your bag or are easy to grab when you're shuffling through your purse. Those keychains, while functional, are no better than the ones you can make at home.
You can have a keychain that looks exactly how you want it, is the right size for you, and will be a lot of fun to make.