11 DIY Laundry Pedestal Ideas
Whether you're a home organizer or not, having a messy laundry room is one of the most frustrating things at home. It's also one of the easiest areas to leave unkempt, despite there being some simple solutions to the cleanup.
One of the most effective things for improving your overall laundry experience is a DIY washer and dryer pedestal. Not only will these washer and dryer pedestal plans make your laundry room cleaner, but they'll keep you from breaking your back as you lean in to use the front load machines.
Farmhouse Sorter Pedestal for Washer and Dryer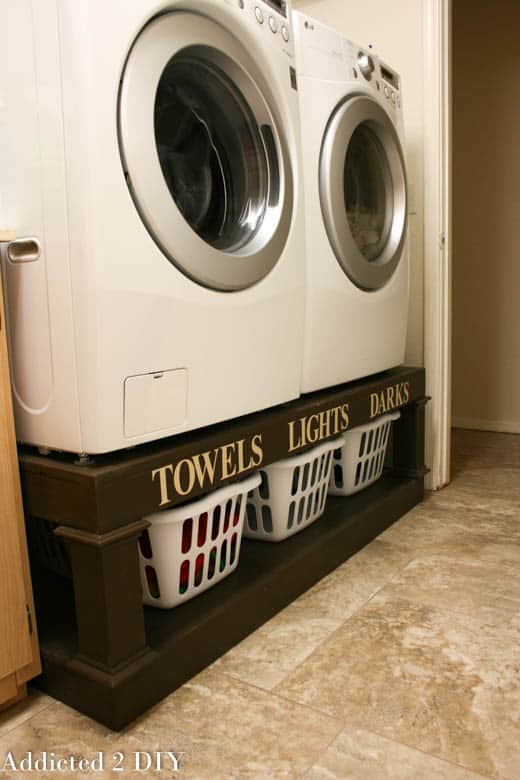 This great pedestal is perfect for anyone on a tighter budget and needs a taller pedestal. It's especially great for families that sometimes have a hard time keeping laundry sorted properly. The design is reasonably basic with some simple touches that can make all the difference.
To build this, you'll need supplies that will run you about $125-$150, unless you've already got things on hand. The detailed instructions show you everything you need to know and how to do it all, even if you're not the most experienced woodworker.
Via Ana-White
Simple Laundry Machine Pedestal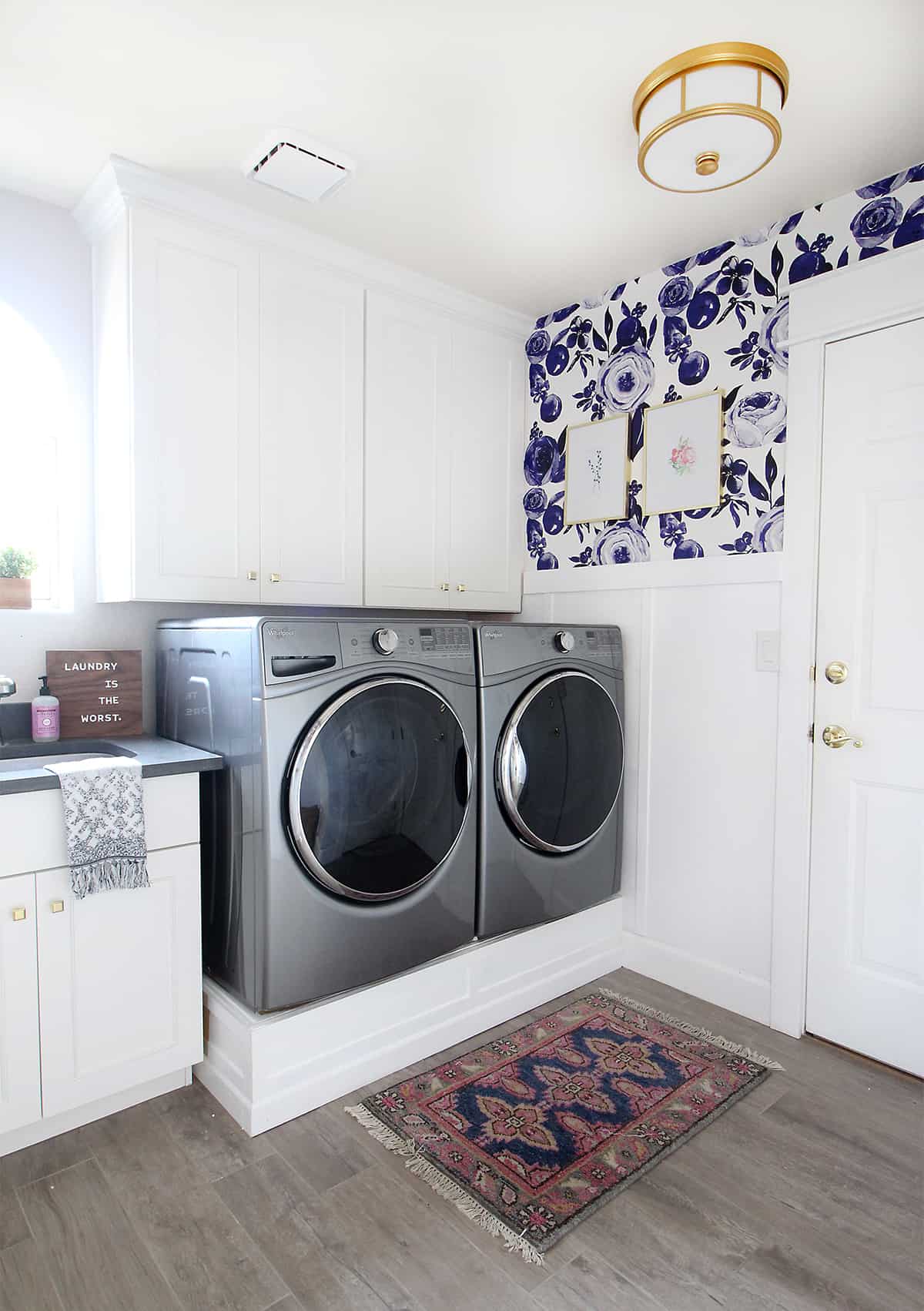 If something a bit simpler is more your style, this simple laundry machine pedestal is pretty easy to make and won't cost much time or money. Plus, it's fairly easy to follow along with the instructions, no matter your skill level.
To make this great pedestal, you'll need some 10x2s, nails, MDF, a nailer, miter saw, some trim, caulk, and paint in your color choice. Once you've gathered supplies, you'll have it made in no time.
Via Classy Clutter
Low Profile Laundry Pedestal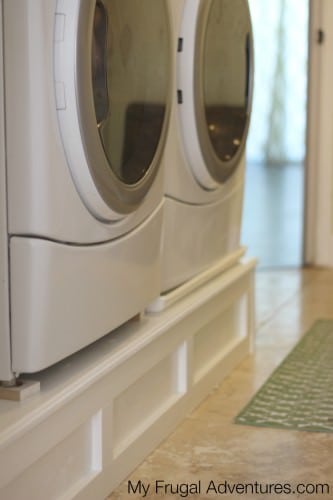 If you're looking for something with a low-profile, this beautiful wood laundry pedestal is a great option. It's a reasonably easy project to build for anyone with some standard woodworking skills, doesn't require a lot of time or money, and winds up looking really beautiful.
The basic plan is a solid starting point for anyone with a little experience and creativity and for those with little experience, the plan, as-is, is perfect, too.
Via Family Handyman
Simple High-Rise Pedestal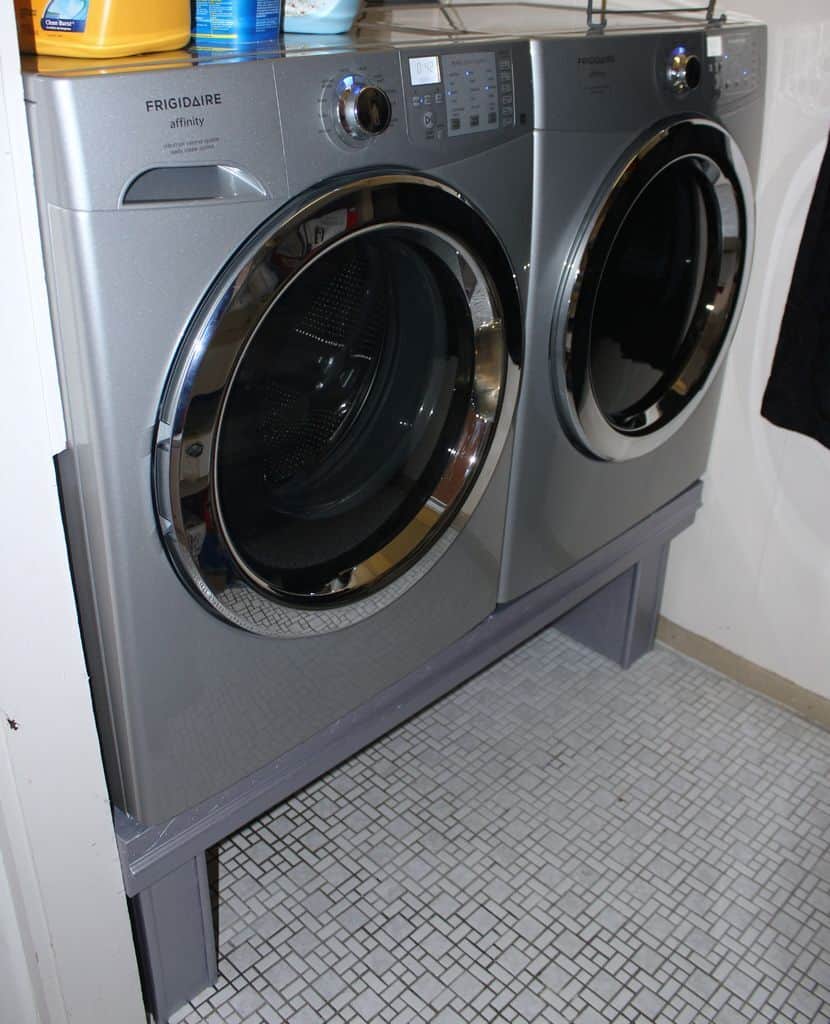 This DIY washing machine pedestal is a very simple, high-rise option for those who are extra tall, have a bad back, or simply want to raise up their machines without the big expense of buying a store-bought laundry pedestal.
The original builder spent only about $150 (instead of the usual $450) for the supplies, and built it in just a few hours, plus drying time for the paint. You'll need MDF boards, 4x4s, 2x4s, corner trim, 1/8th-inch trim, wood screws, standard screws, wood filler, and paint.
Via Instructables
Simple Individual Appliance Risers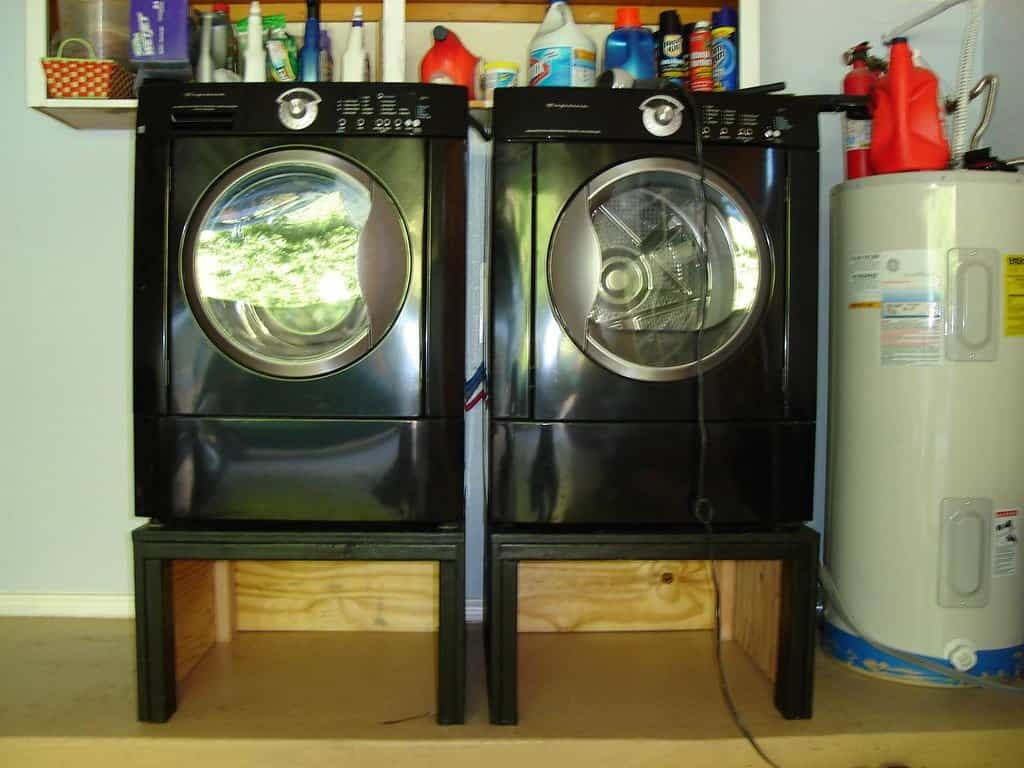 This simple laundry platform is a great option specifically for anyone who's looking for an easy, quick, cheap, beginner's project. This one is particularly flexible, too, as each pedestal is totally customizable and works for a single appliance or stacked appliances, without taking up extra room.
To build it, you'll need some thick plywood, 2x4s, a saw, drill, screws, and paint of your choice. The whole project will cost you about $50 or less, and only take a few hours, plus drying time for the paint.
Via Instructables
Solid Wood Laundry Pedestal with Storage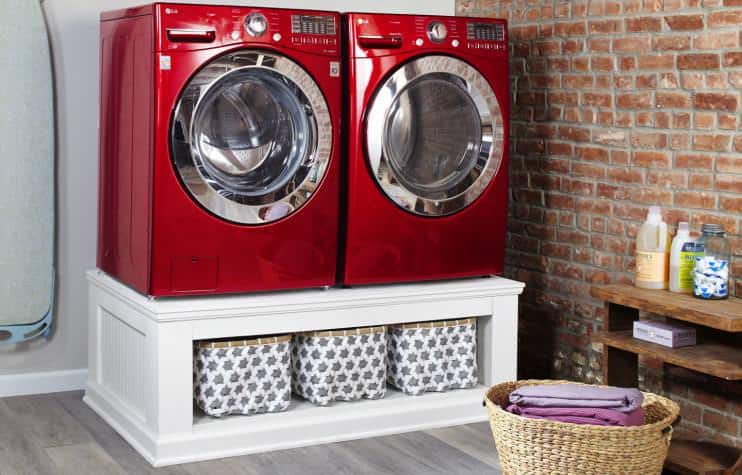 For those needing a really heavy-duty pedestal, this one is your go-to. It's incredibly solid, not too challenging to build, and won't cost you a fortune. Plus, there's loads of storage beneath for placing baskets, laundry supplies, or anything else you need to keep nearby.
To make it, you'll need some plywood, a melamine shelf, beadboard panels, and a wooden frame. You'll find all the instructions provided to build the frame and put the whole thing together.
Via This Old House
Laundry Pedestal With Drawers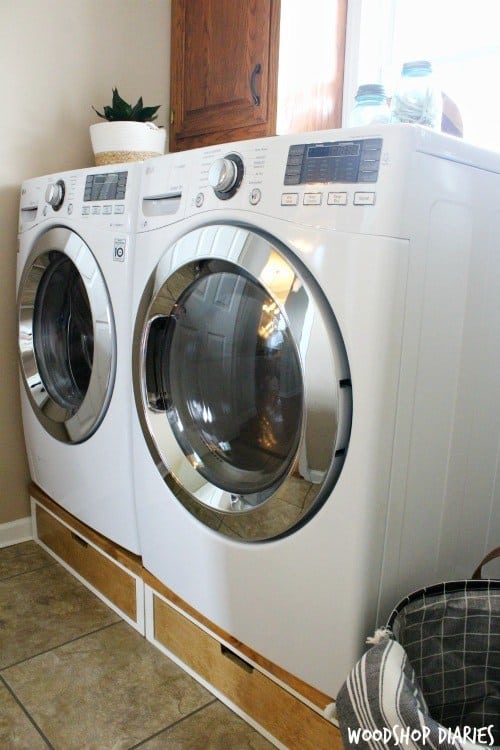 If you're a little more advanced in woodworking skills and want some built-in storage, this is a great option. It's beautiful, it's sturdy, and it's got two solid drawers for easy storage for just about anything you'll need for doing laundry.
The full instructions are included on the site, but you can also check out the YouTube video provided to watch the process. Use the instructions to customize to the fit you need.
Via Build Something
Three Section Laundry Pedestal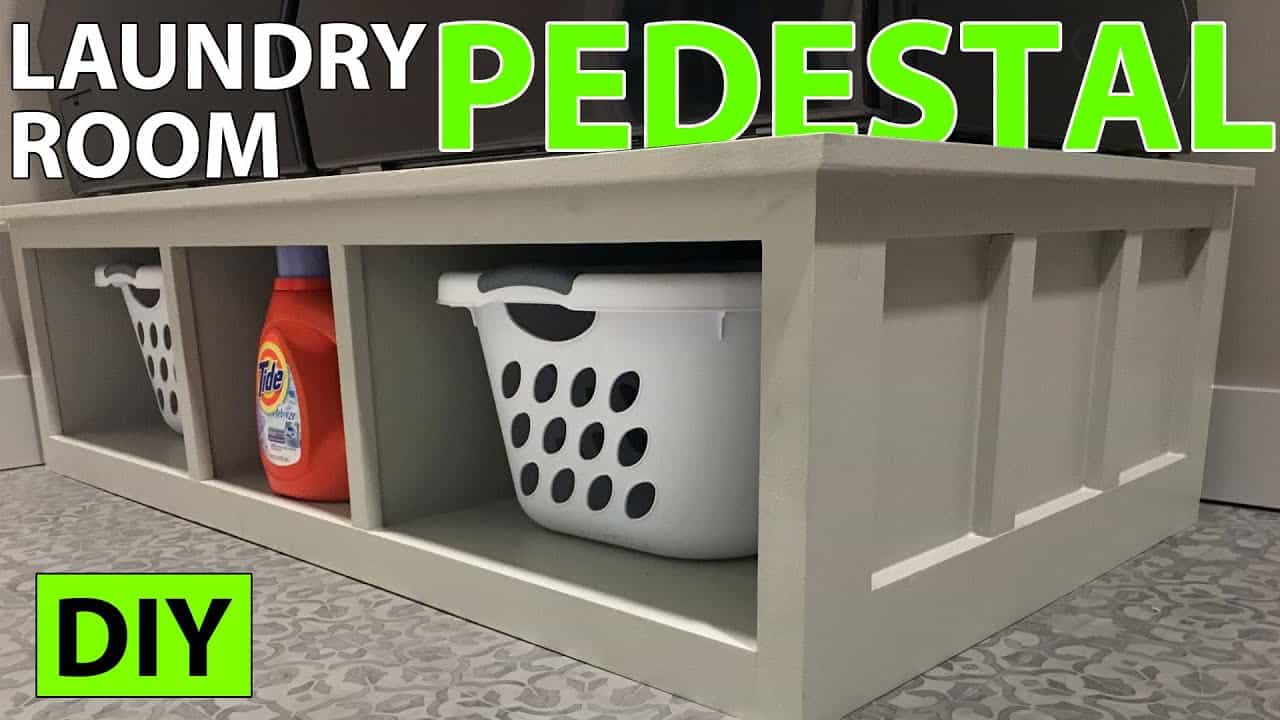 This is a step-by-step video tutorial that takes you through the process of making this attractive, easy, low-cost laundry pedestal. From materials list to tips and tricks, you'll find the video and associated links come in super handy as you go along.
Be sure to watch the video a few times before getting started and thoroughly study the printout materials so that you can easily gather, build, and finish the project with ease, even as a beginner.
Via Youtube
Solid-Build Laundry Pedestal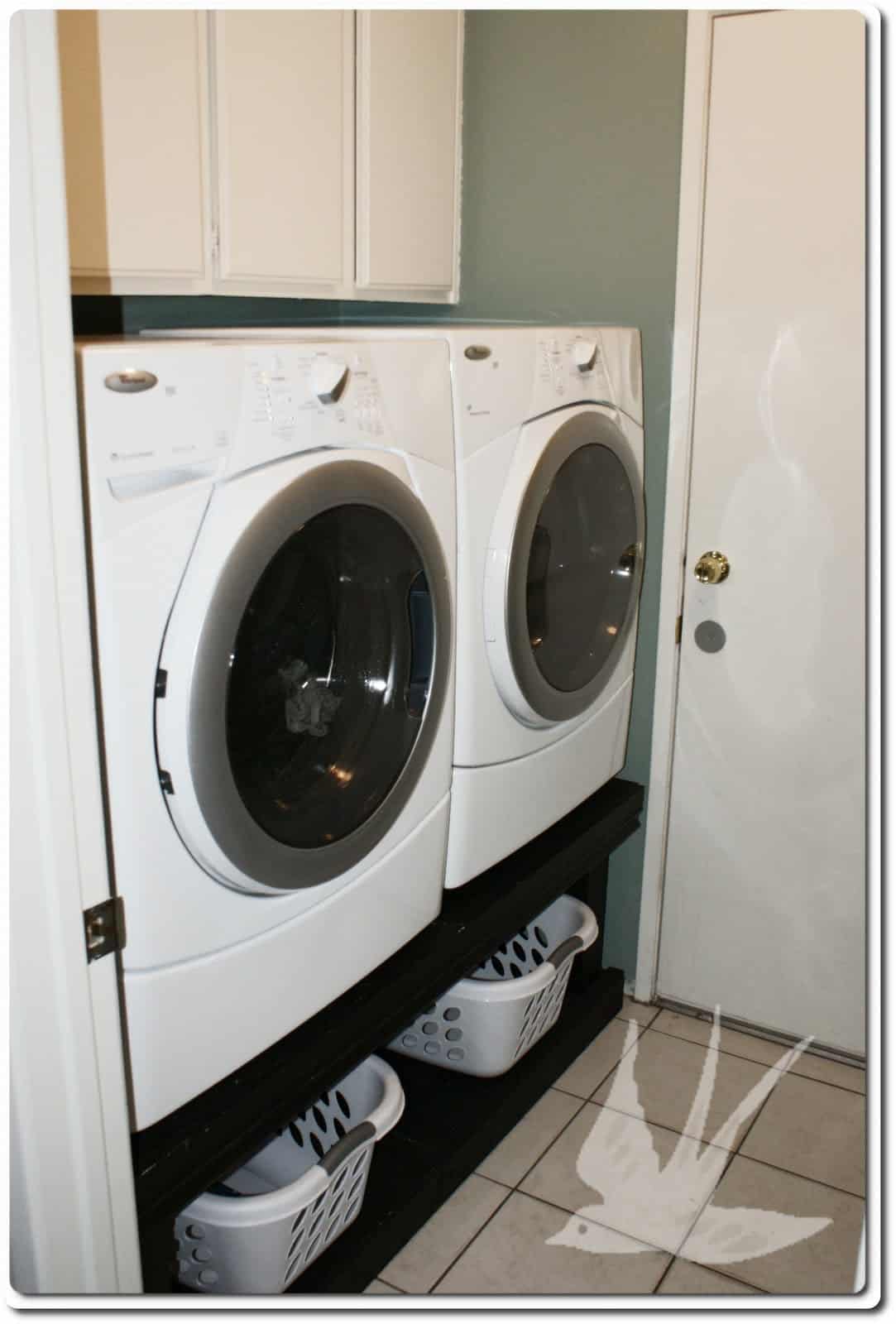 This is a photo journal of the process of building a really solid laundry pedestal out of simple supplies you might even have lying around the house already if you do any woodworking at all. It is definitely more of a "this is how I did it" than a standard tutorial though.
If you have any experience with woodworking, you should be able to follow along with the basic plans easily and build one of your own, customizing it to the height, width, etc. that you need for your own washer and dryer.
Ikea Upcycle Laundry Riser with Drawers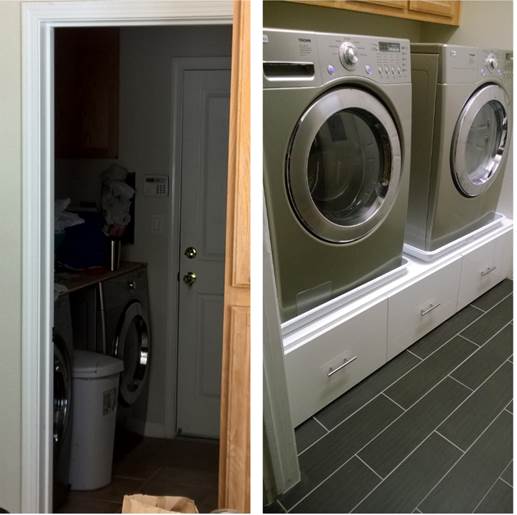 If you're a bit less handy than some of the other folks in the room, doing an upcycle project is always great. Or, even if you just like the idea of nothing going to waste, you'll love this, too. You'll take a Ikea TV bench known as the BESTÅ and adapt it into this great pedestal.
You'll also need some drawer fronts, drawer frames, and drawer runners (or your choice of drawers in the BESTÅ line), 2x4s, 4x8s, drywall screws, caulk, and paint, along with some drawer pulls.
Via Ikea Hackers
Tall Washer/Dryer Stand with Deep Drawers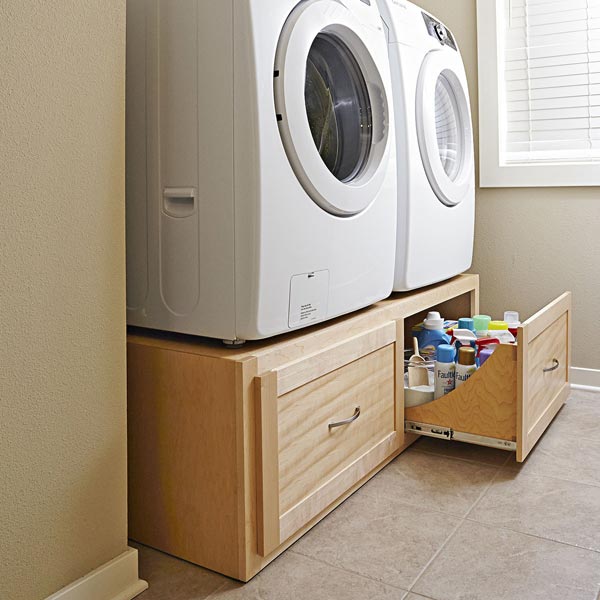 This washer and dryer pedestal is for those looking for self-contained storage and a much higher height than average. The beautiful drawers offer enough storage space to keep everything laundry-related close by, but hidden, and organized.
You'll have to purchase the plans, which run about $8, but they're well worth it if you're serious about making laundry an easier task. Your whole laundry room will feel cleaner, more organized, and more pleasant overall.
Via Woodstore
Making Your Laundry Room Cleaner and More Organized is Just a Few Hours Away
These fantastic washer and dryer pedestal plans will simply make your life better, once you've gathered supplies and built the right project for your home. So, whether you're upgrading your space, buying a new washer and dryer and want to "do it right," or just need to add some height, these will do the trick.
Just be sure to gather up your materials beforehand, read the directions a few times before starting, and allow your creativity to lend a hand while you build. You can add your own little tweaks to make them just right for your laundry room needs.