24 DIY Mason Jar Centerpieces Ideas in 2023
Whether you're looking for some simple Mason jars wedding centerpiece ideas for your DIY wedding or you're looking for a beautiful, inexpensive Christmas centerpiece, these Mason jar options are an easy and great way to do it all.
You'll just need to gather up some supplies and you'll find the projects are super easy and most take under an hour to make. In no time at all, you'll have the centerpiece of your dreams.
Rustic Burlap-Wrapped Centerpiece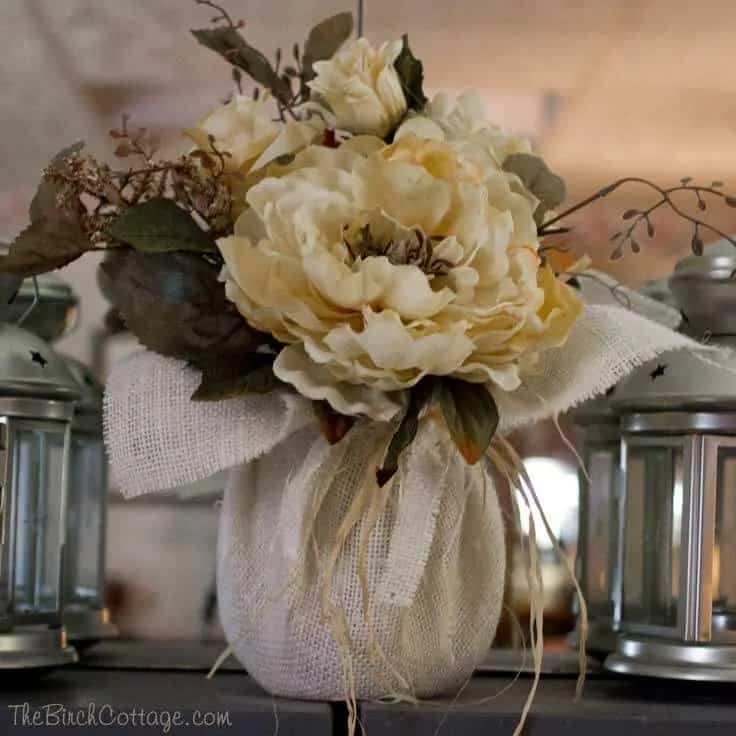 In recent years, going rustic and country for your wedding has become a definite thing, especially for folks making their own. And these simple but beautiful rustic Mason jar centerpieces with burlap are just the thing. They're incredibly attractive but super easy to make.
The centerpieces look upscale while still being homey and down to earth. They're especially great for fall weddings or gatherings and work perfectly with real or silk flowers in any rustic setting.
Via Ken Arry
Glittered Metallic Mason Jar Centerpiece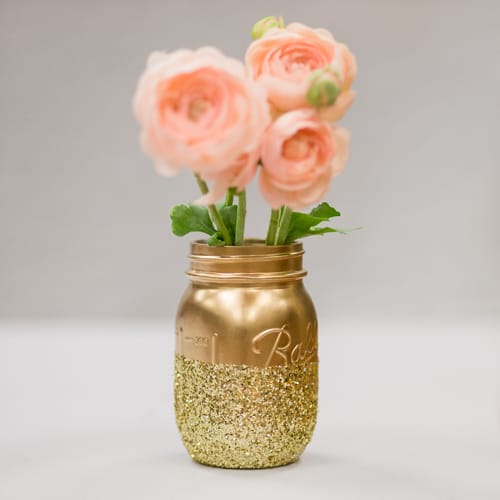 If you want some easy, sparkly Mason Jar accents for your next gathering or big celebration, then these glittered metallic centerpieces are a great choice. You just need a few simple craft supplies and basically no skills at all to produce them.
Get the Mason jars you love, then some metallic spray paint in your preferred color. You'll also need some Mod Podge, a paint brush, glitter of your color choice, and a paper plate.
Swirled Glitter Mason Jar Centerpiece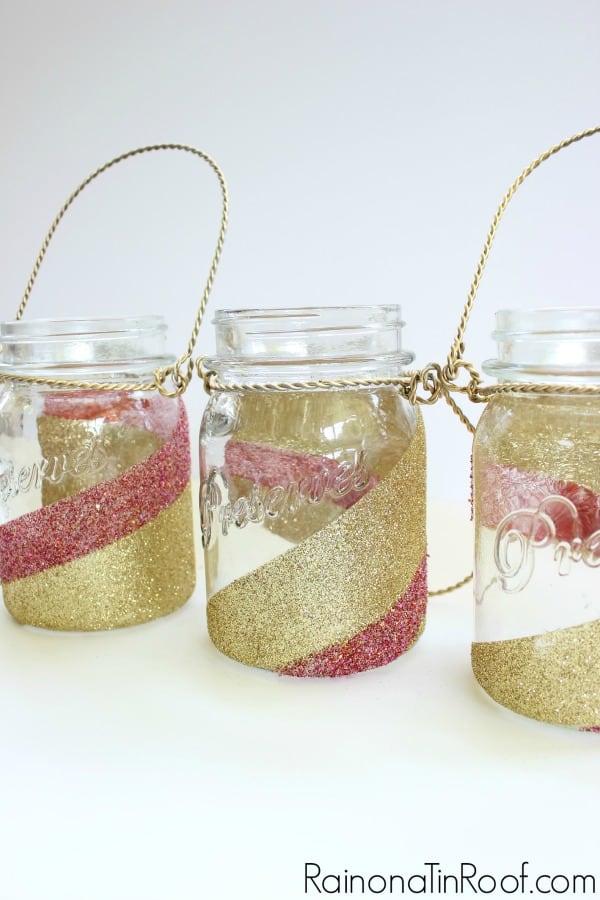 If you love glitter but want something more than just the "dipped" look of the other glitter jars out there, this swirled glitter jar is a great centerpiece option. It's super easy to make – much easier than it looks – inexpensive, and a lot of fun.
You'll need some Mason jars, glitters in complementary colors, Mod Podge, a foam brush, and some Frog tape (or painter's tape). Once you've got things gathered, just follow the simple tutorial to create these stunners in just about an hour or so.
Glittered Mason Jar Candleholder Centerpiece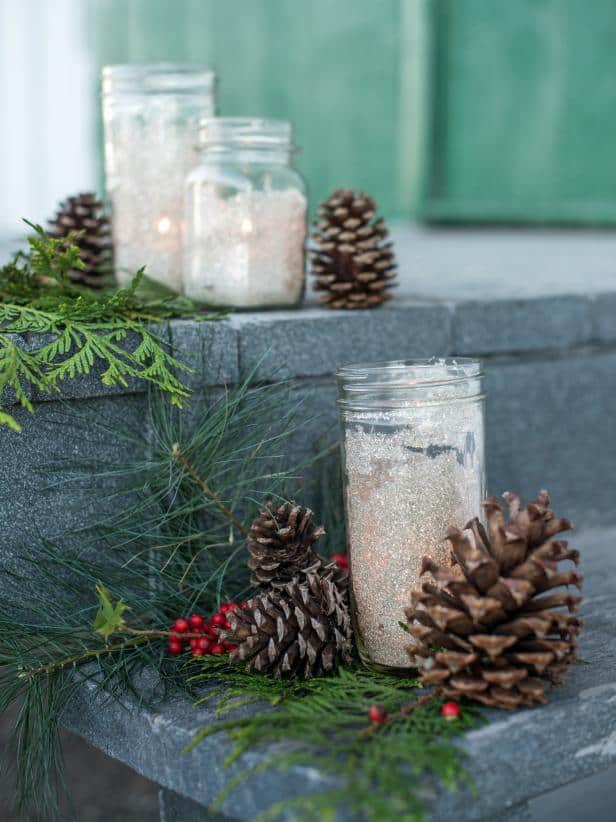 Now, if you want to up the beauty factor on the glitter jars even more, you've got this stunning candleholder option. They give a kind of glittery, snowy look that's perfect for winter celebrations, birthday parties, themed parties, and elegant soirees.
You'll need Mason jars, glitter, clear glue, a spoon, a paintbrush, and candles. In just a short while – basically as long as it takes the glue to dry – you'll have stunning candle holder centerpieces ready to go.
Via HGTV
Fairy Light Frosted Mason Jar Centerpiece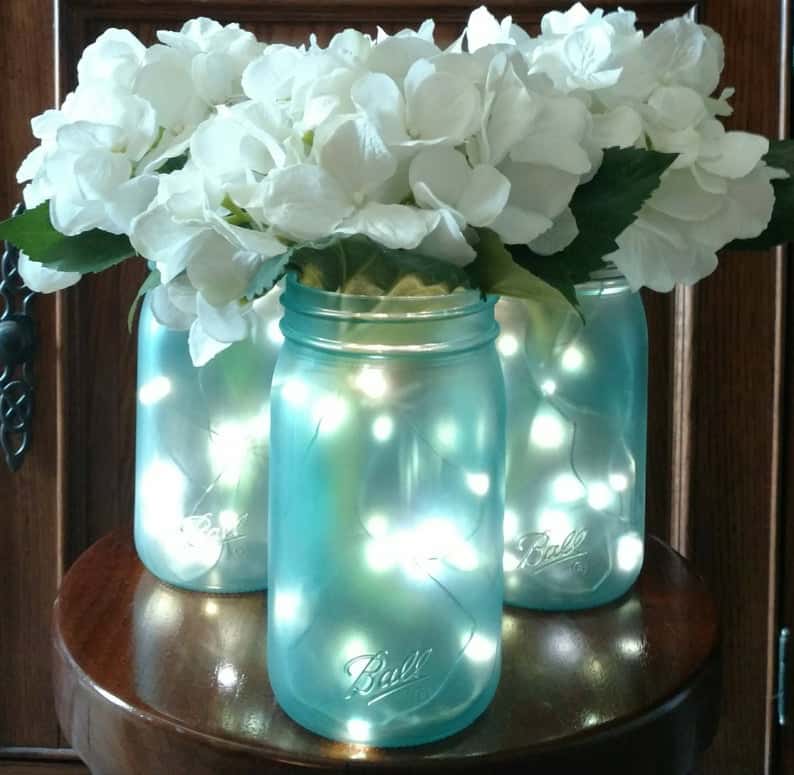 This mason jar flower centerpiece is more of an inspiration than a tutorial from an Etsy page. You can take any of the transparent or semi-transparent Mason jar centerpiece ideas and turn them into this beautiful centerpiece.
You'll need that crafted Mason jar, some battery-operated LED firefly lights and the flowers you want for your gorgeous attention-getter. You can go with the style the Etsy bought options have – quart size with sea glass paint – or anything else you love in the size right for you.
Via Etsy
Gold and Burlap Centerpiece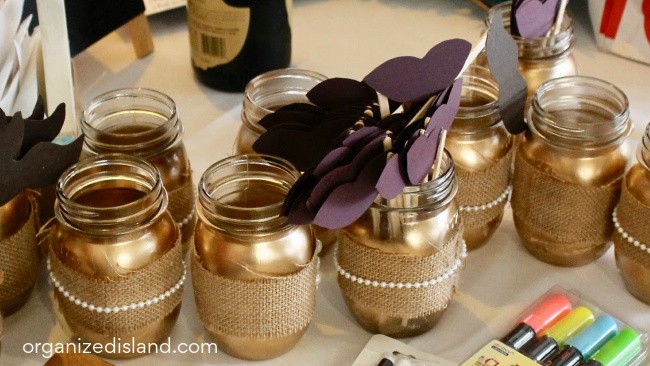 If you love both the rustic look and the elegance of metallic look, then you'll love this Mason jar centerpiece that combines the two. It's a simple tutorial that results in a gorgeous centerpiece for your wedding, birthday party, or anything another special event.
One nice thing about this one is it's extra versatile with very simple details that change up the looks even by just a bit. You'll just need spray paint, Mason jars, some burlap ribbon, and the extra bits for the bonus décor accents.
Via Organized Island
Painted Fall Centerpiece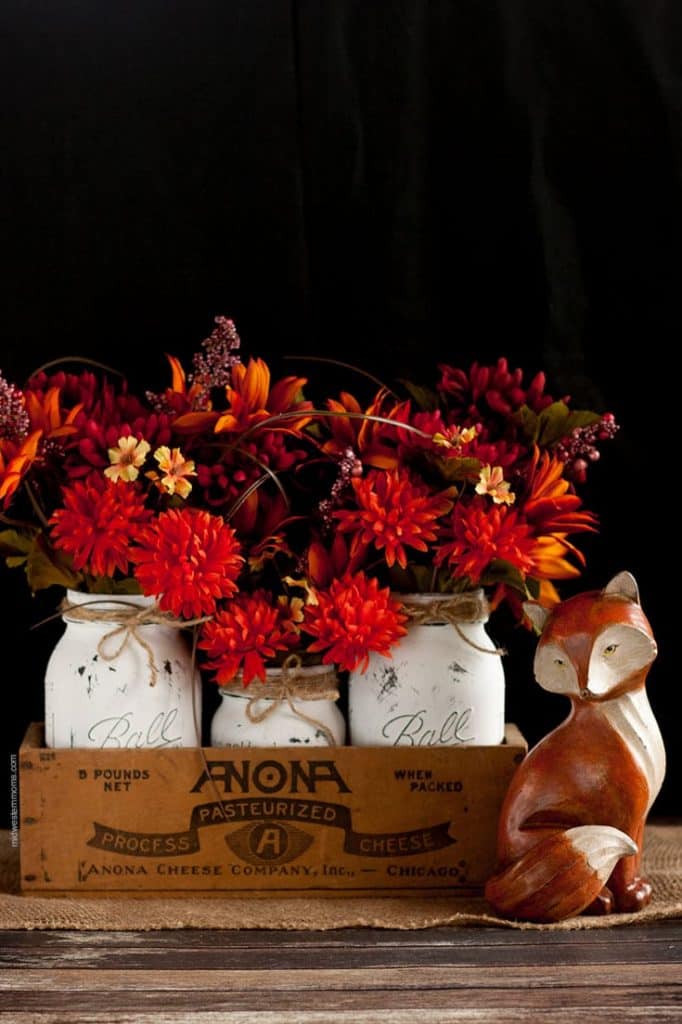 This is a beautiful and simple centerpiece that anyone can make with a few vintage supplies. You'll need to head to a thrift store or vintage shop to find the right wooden box for the piece to come together. From there, you'll need some Mason jars.
Beyond the two main parts of this project, you'll need the right paint – white chalk paint – some sandpaper, topcoat, and twine. Plus, of course, the flowers, greenery, or other items to put into the piece when it's completed.
Via Midwestern Moms
Marbleized Painted Mason Jar Centerpieces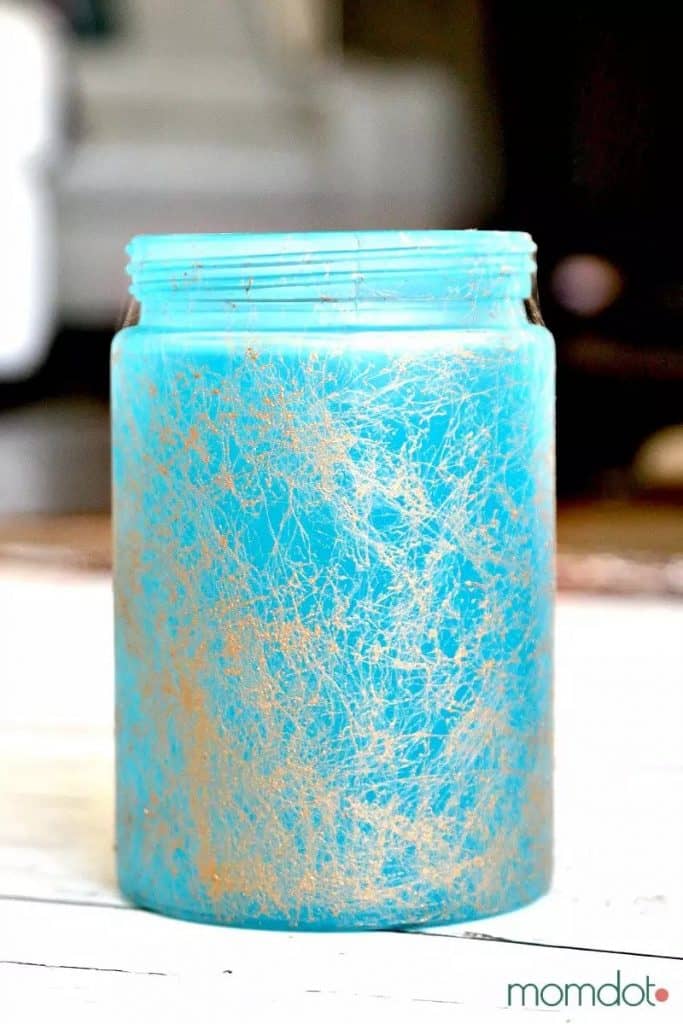 This absolutely gorgeous Mason jar piece is way easier than you think just looking at it. It's fun, beautiful, and easy, so seriously a huge win in the crafter department – even if you're not the best at working with your hands.
You'll need to have some Mason jars, Sea Glass spray paint, and marbleizing spray paint. Total, it'll cost you about $10 or less – especially if you find some coupons. Just remember to take everything outside or work in a well-ventilated room.
Via Mom Dot
Photo Frame Mason Jar Centerpiece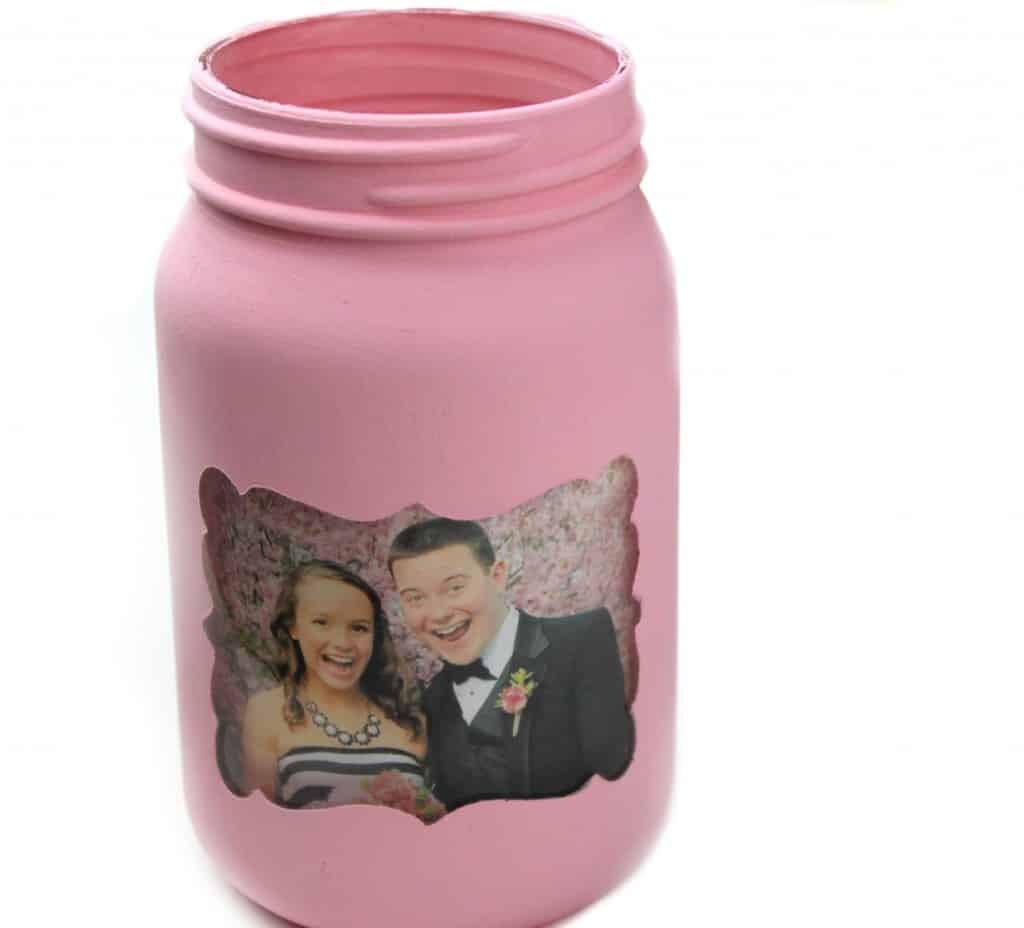 If you want to add something unique to your celebration, then you might want to try this unique option of turning a Mason jar into a photo frame centerpiece. You can customize and personalize for everyone at the event, whether it's a Mason jars centerpieces wedding or birthday party project.
The directions are super simple, with great photos to show you each step of the project. You just need some paint, some adhesive labels, and photos of your guests.
Via A Little Craft in Your Day
Winter Holiday Candleholder Mason Jar Centerpiece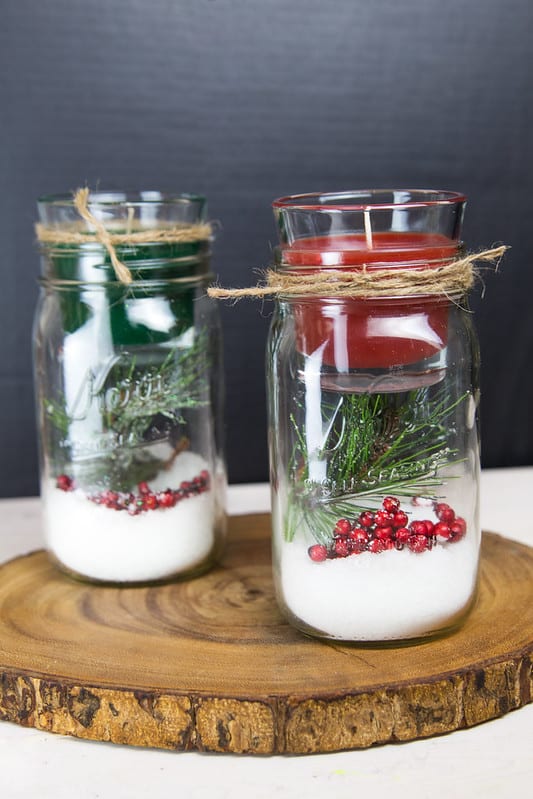 These are some beautiful mason jar centerpieces without flowers for a gorgeous holiday celebration. The unique design uses natural elements of the season – such as cranberries and pine needles – some small candle holders, and Epsom salts for artificial snow.
Depending on your preferences, you may want to pull out some holiday scented candles or go plain, along with some pretty ribbons, to make each one unique. The design is super simple but super beautiful.
Via The Nerds Wife
Christmas Luminary Centerpiece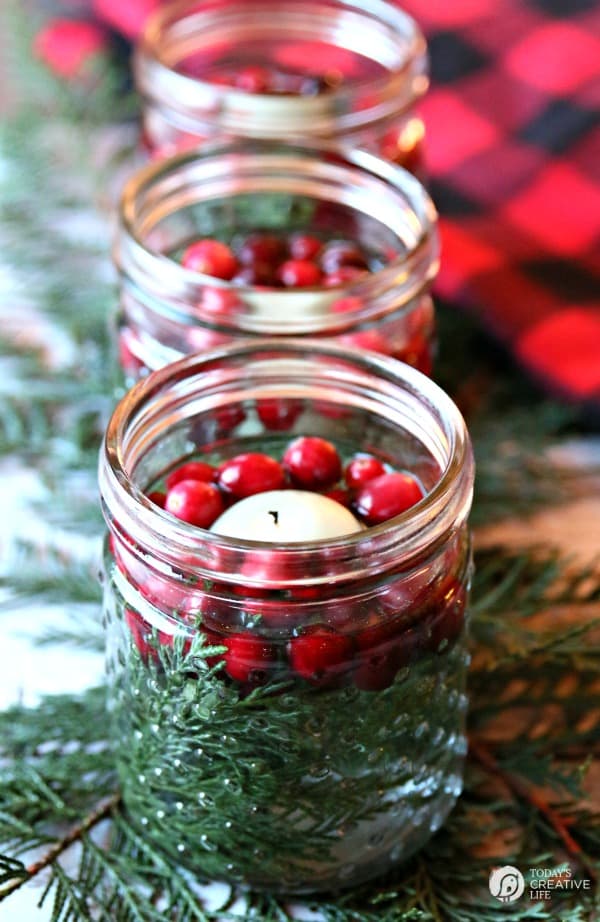 Here's another super-fast Christmas décor item for your holiday dinner table. You'll need some small Mason jars, some greenery – pine needles, stems of cedar, or something similar will do – and raw cranberries. You'll also need a floating candle of some kind, like a plastic case on a tea light.
Follow the very basic instructions on the placement of the materials and candle. In less than 5 minutes, you'll have a beautiful holiday luminary that your whole family will love.
10-Minute Christmas Centerpiece Box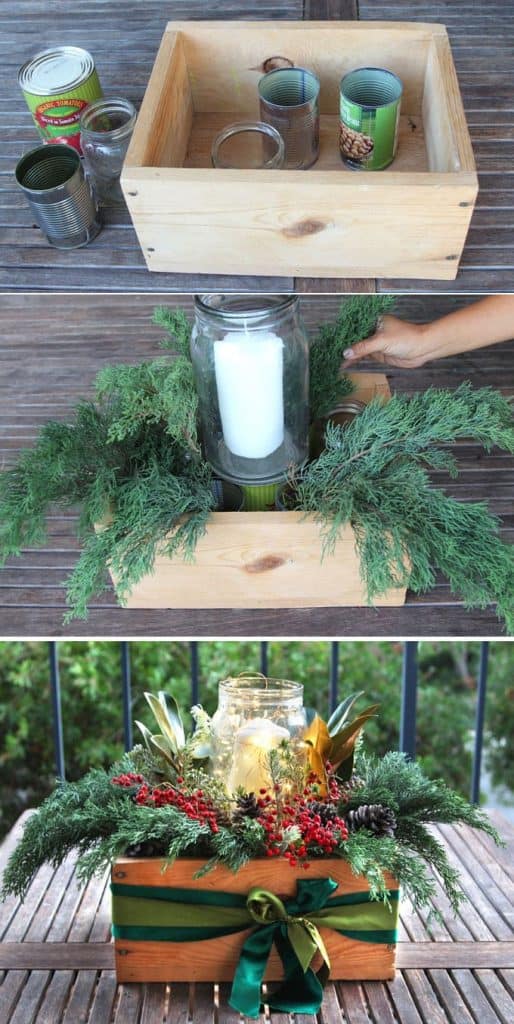 Another super easy and quick centerpiece for a larger table is this beautiful 10-minute Christmas themed centerpiece box. For the most part, you'll already have everything around the home already, so you won't even need to spend a dime.
You'll want to go outside and get some evergreen clippings, crab some cranberries from the fridge, and floral blocks, if you've got them. And, then, of course, the central pieces – the Mason jars and candles.
Simple Sand Luminary Centerpiece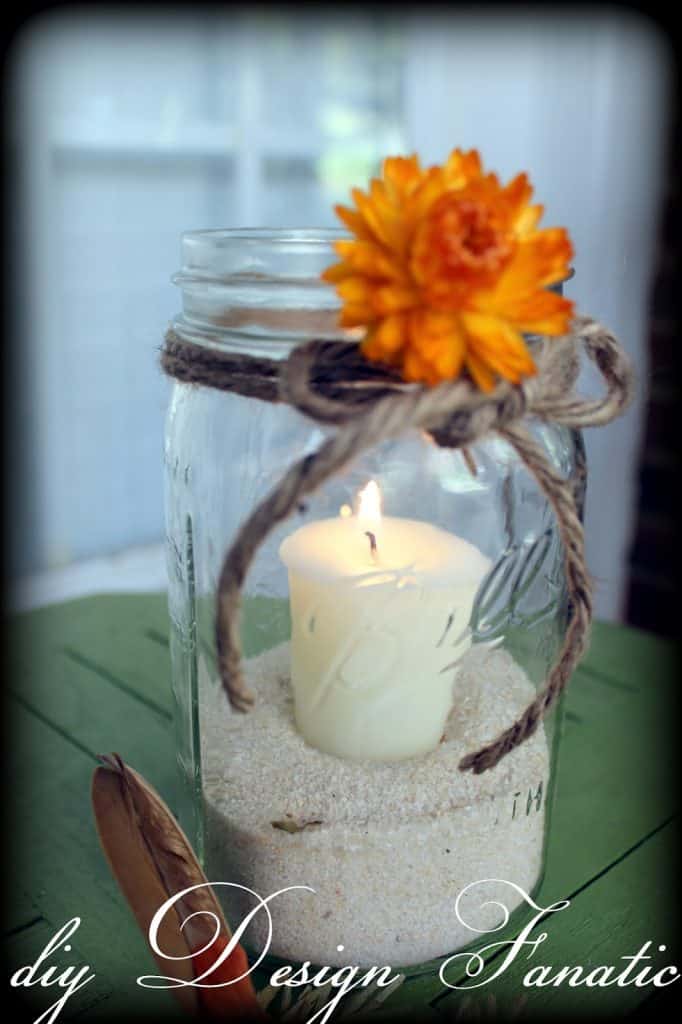 You'll have to scroll down through this blog a little bit to find the picture and notes. There's not really a tutorial, but you should be able to figure things out by looking at the picture. You'll need a Mason jar and some decorative sand – you can find some on Amazon or at Hobby Lobby.
You'll also need accent items that you want, like ribbon, Sisal rope, or similar. Plus, of course, that beautiful flower and a pillar or tealight candle.
Knitted Jar Cover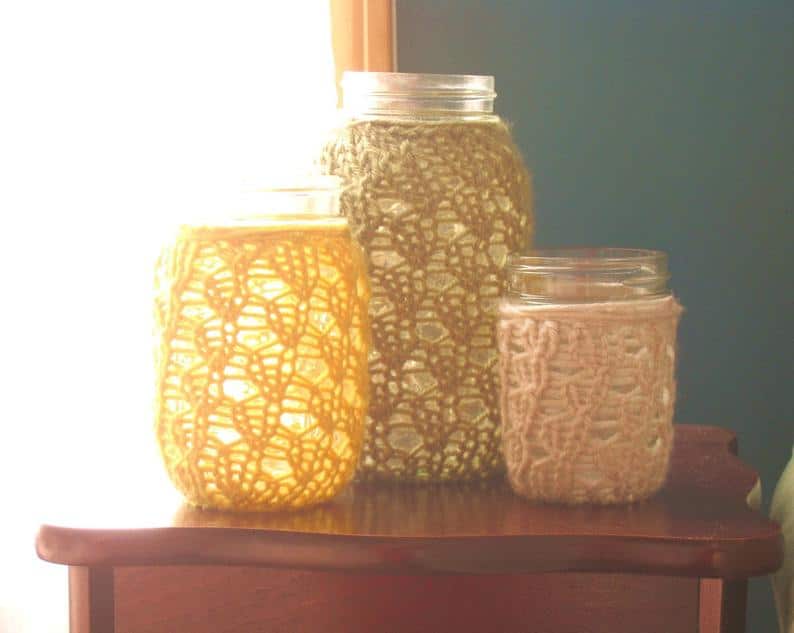 This beautiful Mason jar cover is a simple knitted pattern that you can whip up in a short time – if you have beginner skills. You'll need to purchase the pattern from the designer on Etsy, which offers three different size patterns for jars between 4 and 7 inches tall.
The pattern is a digital PDF for download. You'll need to be able to knit in the round – so make sure you watch some videos on Youtube if you don't already know-how. You'll also need worsted to heavy worsted yarn, size 9 double-pointed needles or a 9-inch circular needle, and a yarn needle.
Via Etsy
Polka Dotted and Striped Halloween Centerpieces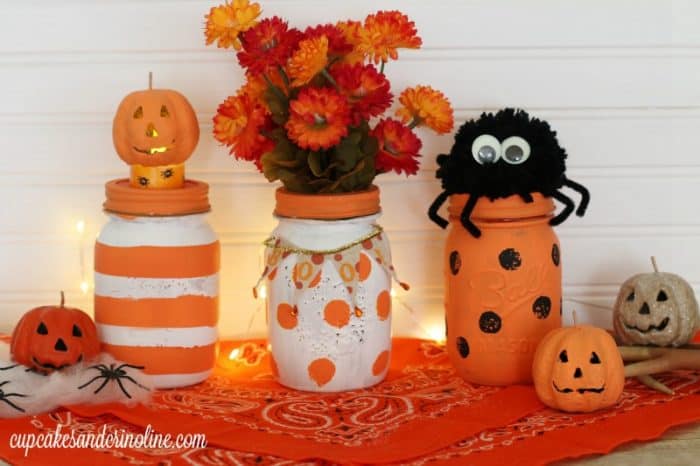 When you're throwing a Halloween party, you might need something simple and quick and fun for your event. And you might want to try this cute tutorial with Mason jars. Total, the project takes about 15 minutes – plus drying time – and anyone can do it.
You'll need some Mason jars, Frog tape, craft paint, craft paintbrushes, and a stippler sponge. And if you want, you can add some cute Halloween stuff from Dollar Tree, like googly-eyed spiders, and tealights.
Via The How To Home
Square Scallop Box Centerpiece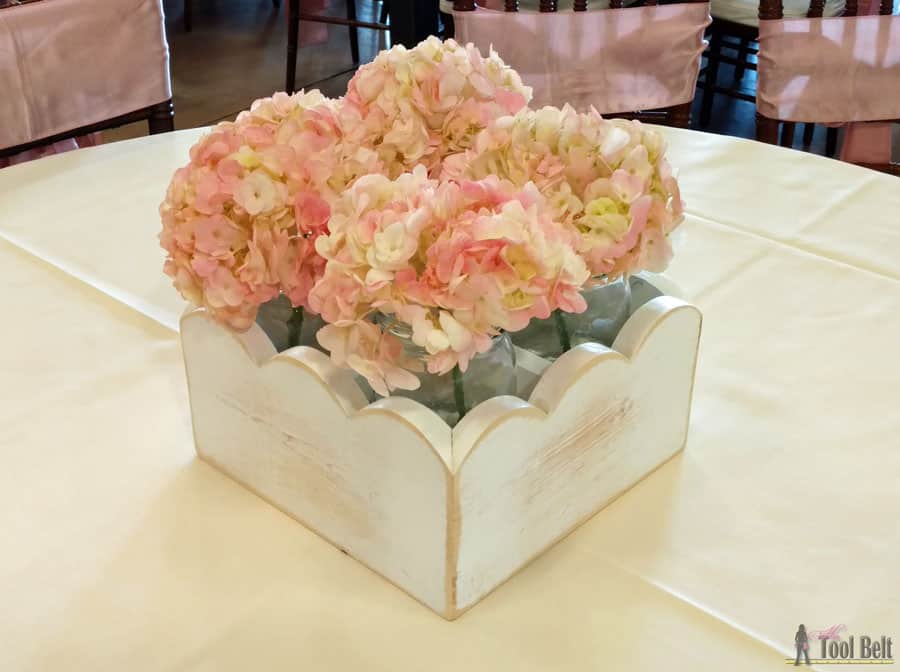 This one is a made-from-scratch mason jar floral arrangement project. You'll make everything from the wooden box to decorating the Mason jars. You'll need some boards – upcycling is great! – plywood, pocket hole screws, brad nails, wood glue, sandpaper, paint, wood filler, wood candlestick, and maybe a glass knob.
You will need a miter saw for the unique cuts. You'll need to just follow the instructions and, in an hour, or so you'll have the centerpiece all painted and drying.
Via Her Toolbelt
Sheet Music Candleholder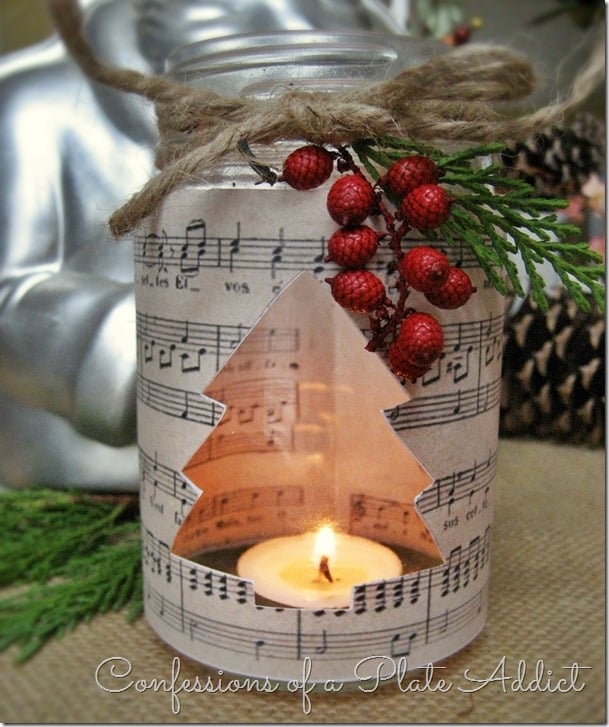 Music lovers will get a thrill out of this one. It's beautiful but super simple to make. It's a little bit vintage and all gorgeous and fun. You'll just need some Mason jars and candles along with some beautiful sheet music.
You'll also need some rubber cement and jute twine to finish things off. The tutorial is super simple. You'll be able to put the candleholder centerpiece together in no time.
Via Confessions of a Plate Addict
Snowy Pinecone Mason Jar Centerpiece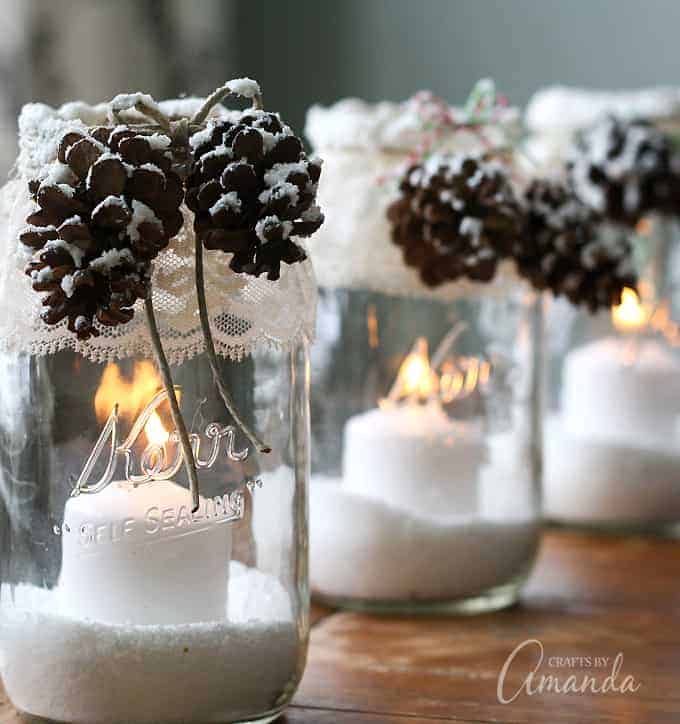 These beautiful wintery centerpieces are absolutely fun to make. It won't take long to make them, either, just give yourself a little bit of time for the snow texture paint to dry. That's right. It's paint. You'll just need a few supplies for your local craft store or the back yard.
You'll want to grab some pinecones, burlap rope, the snow texture paint, feathery lace, your favorite Mason jars, and of course, some candles.
Via Crafts By Amanda
Autumn Leaf Candle Jar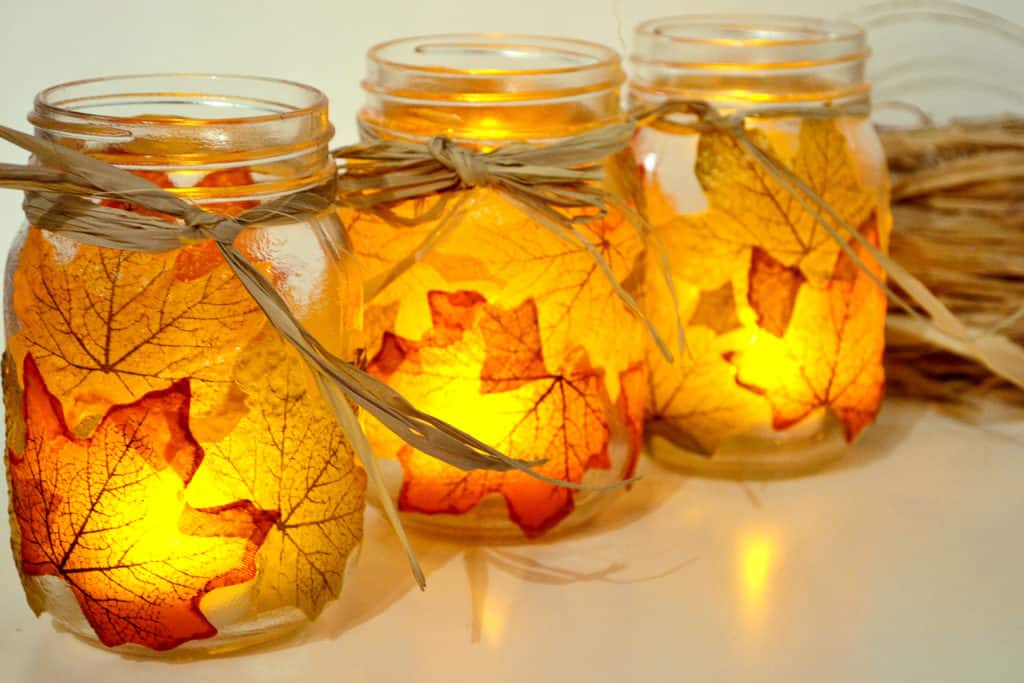 These beautiful Mason jar centerpieces are perfect for your autumn party, Thanksgiving dinner, or fall wedding. And they're so simple anyone can make them – even folks who have zero crafting skills or experience.
You'll just need some Mason jars, Mod Podge, a paintbrush, candles, and some paper ribbon or burlap rope. They'd make a great kids' craft project, too, if you're looking for a fun activity for a fall-themed party.
Patriotic Candleholder Jar Centerpieces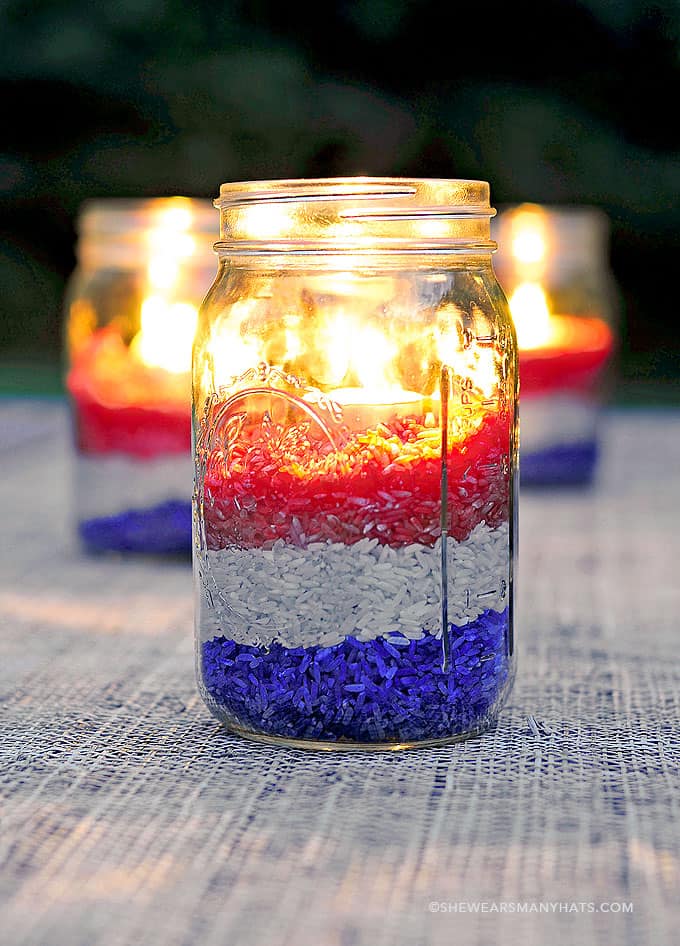 These unique candleholder centerpieces are super fun, colorful, and very patriotic. They make great use of household items, too, to help clear out the kitchen. They're perfect for your Fourth of July party, Memorial Day picnic, or any other patriotic celebration.
You'll need to gather some rice, some food dye in red, white, and blue, some Mason jars, and, of course, some votives or pillar candles. For coloring rice, you'll also need some glass or metal bowls – to avoid dyeing them.
Woodsy Firefly Candleholder Centerpiece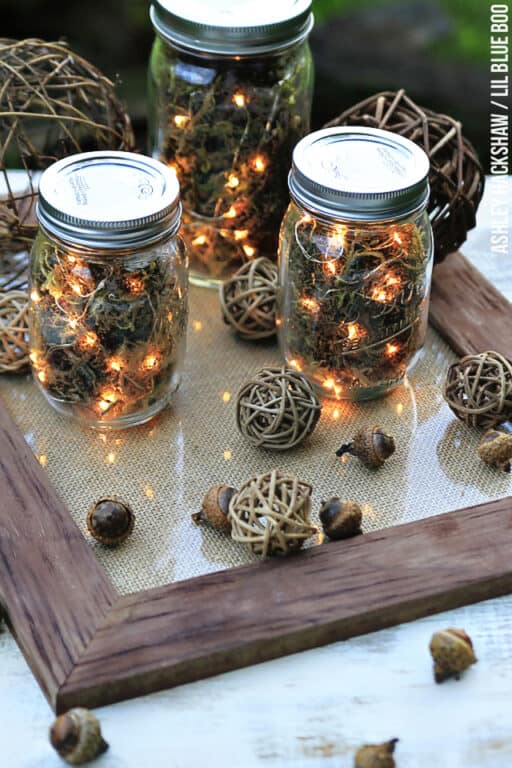 If you love the rustic, woodsy look, you'll love these woodsy firefly candleholder centerpieces. They're perfectly set on a Barnwood tray. They're perfect for any autumn setting or rustic wedding.
You'll need to get your Mason jars, battery-operated set of LED string lights – one per jar. You'll also need some dried moss or dried Spanish moss, some rustic twig balls, and other natural items you love. Don't forget your batteries for your light strings.
Via Lil Blue Boo
Glass Marble Mosaic Centerpiece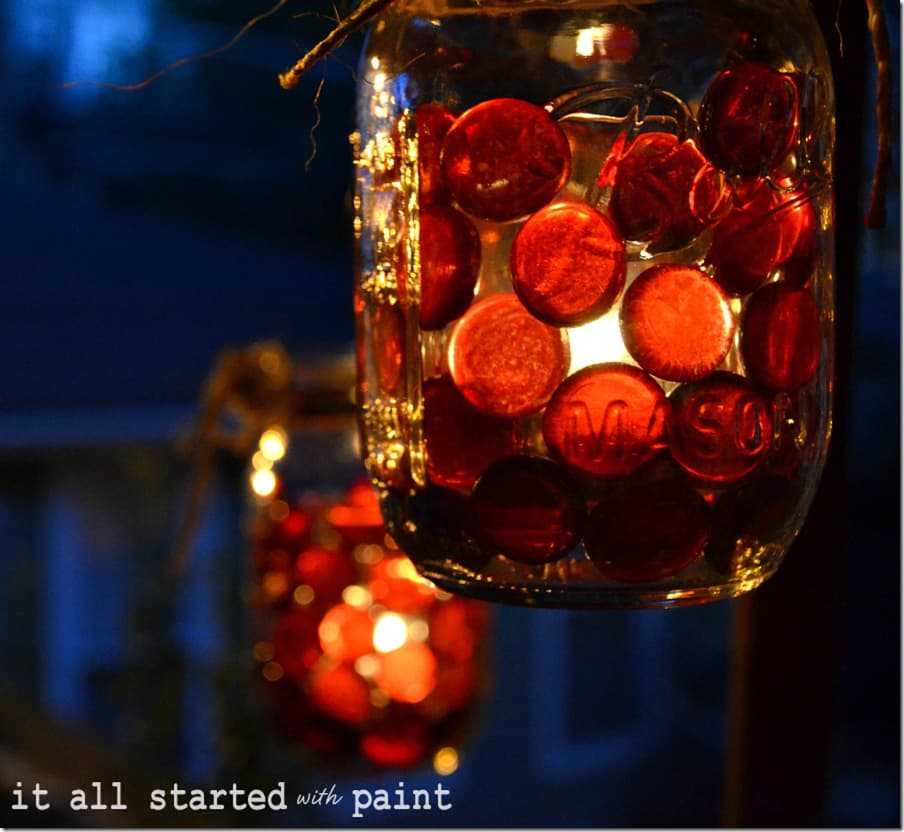 This is another Dollar Tree style project that's absolutely gorgeous and looks like you bought them from some department or home goods store. You'll just need some simple supplies from the Dollar store, plus your Mason jars, wire, glue, and small glass candleholders to insert into the jars.
You'll create these beautiful mosaics with the glass "flat" marbles in whatever color you love and top them off with some ribbon or other decorative items to add a final touch of interest.
Frosted Snow Jar Centerpiece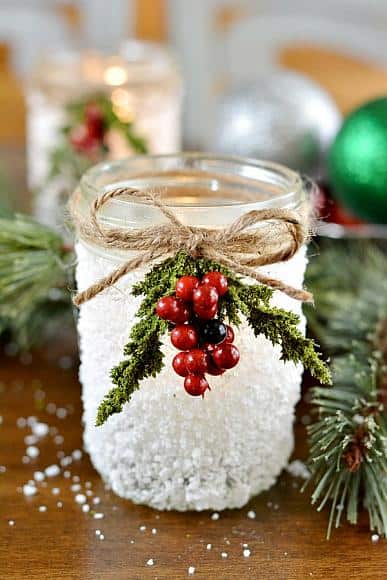 These beautiful Mason jar centerpieces use Epsom salt, glue, and some basic crafting supplies to create this wintery beauty, perfect for any holiday party or wedding celebration. You'll also need a brush, some twine, and whatever décor you want to add as details to the jars.
The instructions are easy and straightforward enough that pretty much anyone can make these beautiful pieces. Be sure to pay attention to the tips at the top, specifically regarding extra coats of glue, etc.
Via Deco Art
City Silhouette Lighted Candleholder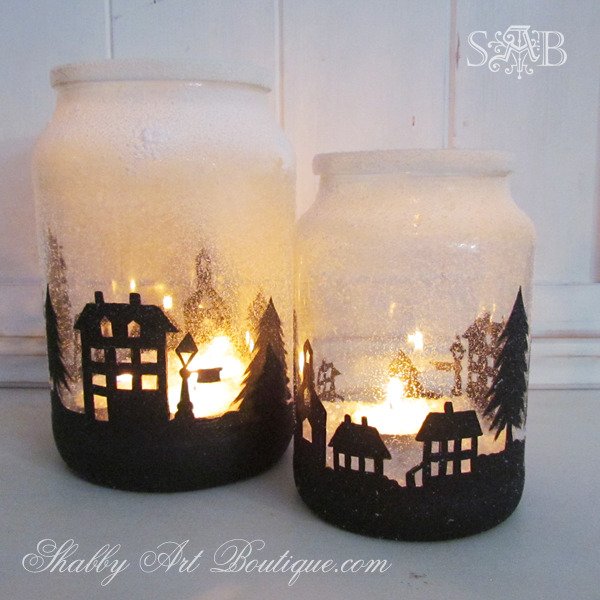 This final Mason jar table décor idea is absolutely gorgeous and totally unique, while being much easier than it looks. You'll need candles, a Mason jar, and a little imagination, and soon you'll have this beauty ready for your wintry evening affair.
The creator provides the cutout pattern for the silhouette, along with basic instructions on how to craft this beautiful centerpiece. Just follow along each step of the way for easy constructing.
Mason Jar Table Décor For Any Occasion
The twenty-four above ideas provide you with loads of options for just about any occasion you might have going on this year. Whether you're throwing a country ball, hosting a fancy holiday sit-down dinner, or putting together your dream rustic chic wedding, you've got options.
If your event's a ways off and you're just gathering ideas, you'll also want to start gathering unique and interesting Mason jars and similar jars and jugs to help creation of these centerpieces along the way. Most of the projects work with any size or shape jar that you love, so have some fun getting creative.