25 Best DIY Nautical Decorations Ideas
My dad was super into all things nautical. He collected boats and lighthouses and turtles. He brought home fishing nets and driftwood, seashells, and more – all to decorate our house with reminders of his favorite place: the beach. He had some cheap nautical decorating ideas and some not-so-cheap ideas.
My dad would have loved all these DIY nautical decorations available now. And, well, I do!
If you're looking for some great options that everyone will love, this roundup is a great place to start – just follow the tutorials or get some inspiration for things you can do for yourself.
Driftwood Candle Holder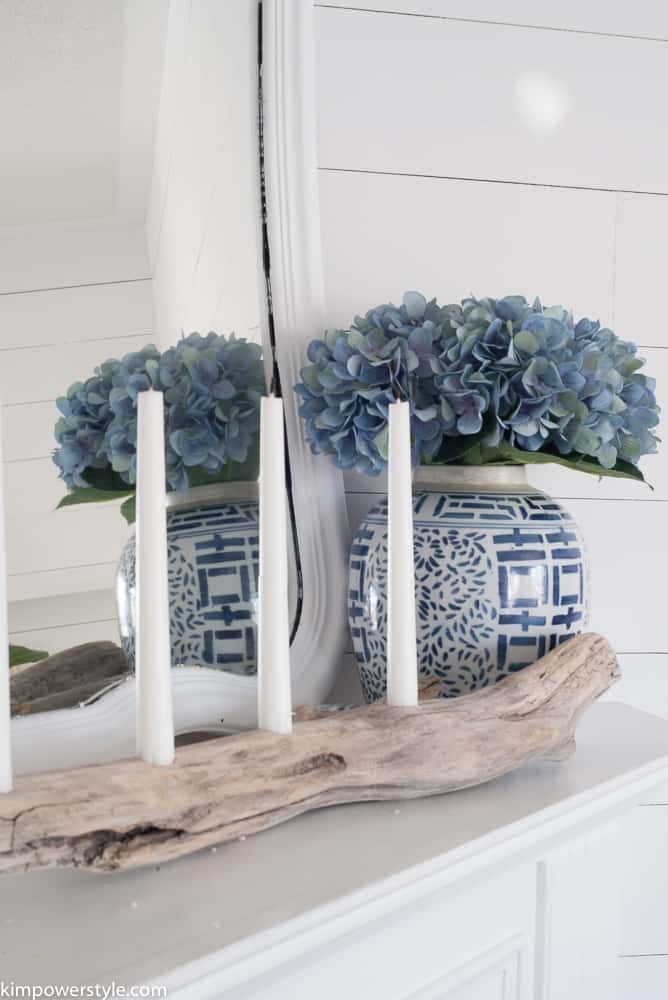 A super simple, absolutely gorgeous, natural, and rustic nautical decoration you can make quickly is this beautiful driftwood candle holder.
Follow the simple directions from the tutorial, and make adjustments as needed to fit the types of candles you want to use, whether tapers or pillars, or tea lights. Super simple and gorgeous.
Via Kim Power Style
Pottery Barn Style Rope Wrapped Candle Holders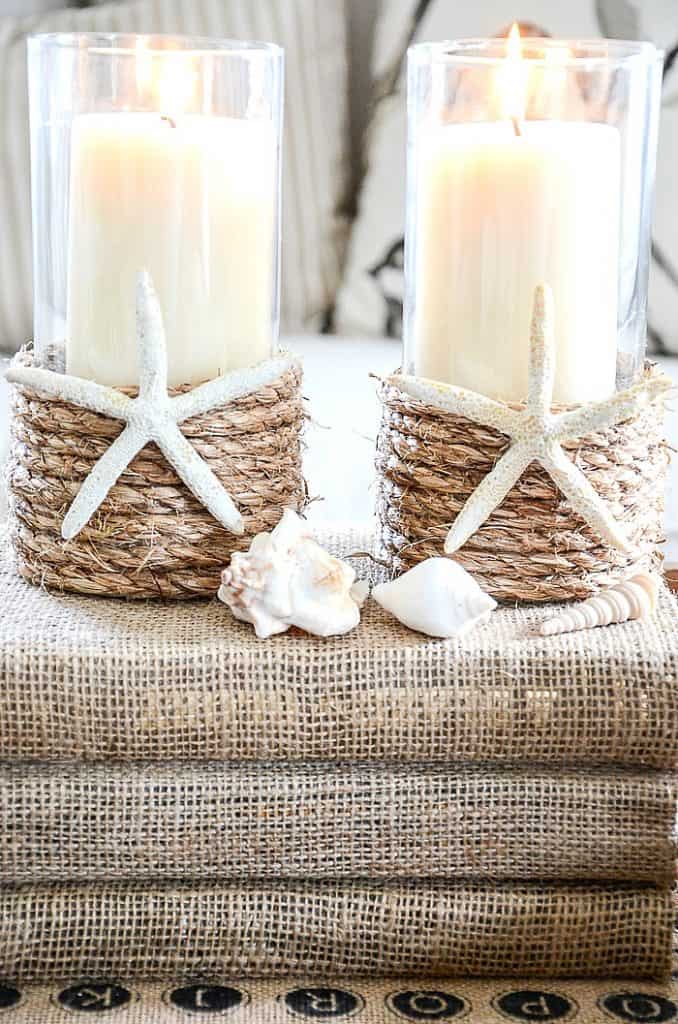 For those who like nautical decor ideas from places like Pottery Barn, you're in luck. This super simple and beautiful option tutorial for a rope wrapped candle holder is easy enough anybody can do it.
Just grab your supplies ahead of time (and do be sure to vary sizes and rope gauges to fit all your needs), and make an afternoon of it. It's the perfect project for rainy afternoons (especially if you have a window overlooking the water!), wintertime creative hour with the family, or when you need a simple, gorgeous gift to pass along.
Via Stone Gable Blog
Sea Glass Candle Stick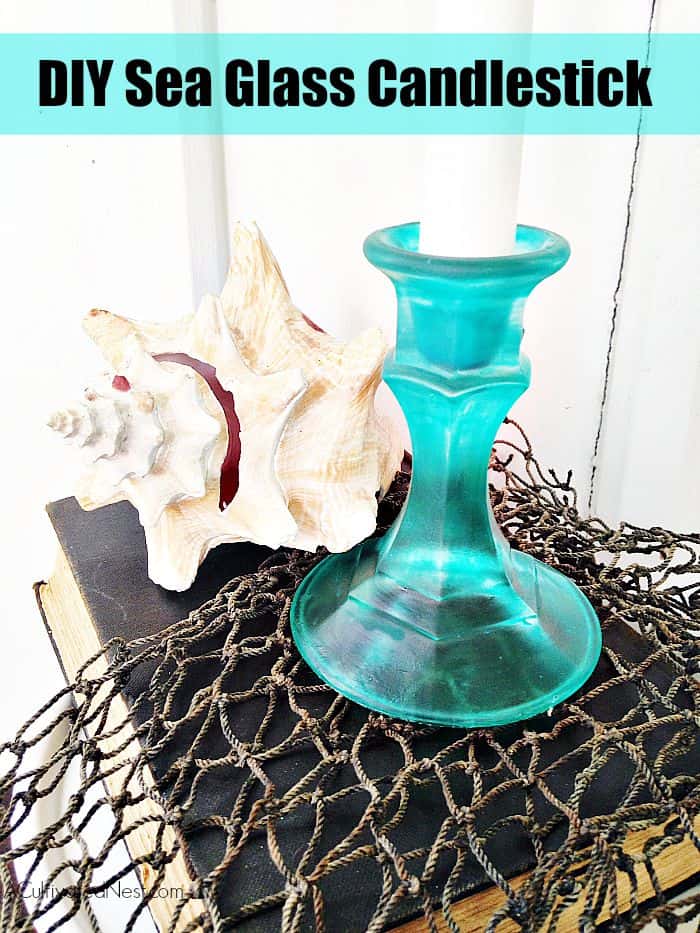 Love colored glass, candles, and all things nautical? Why not craft your own "sea glass" candle stick for display in your nautically themed room or for your beach wedding? These beautiful candle sticks are pretty easy to make, don't require special supplies (you use food coloring!), and turns out beautifully every time.
Simple Round Rope Entry Mat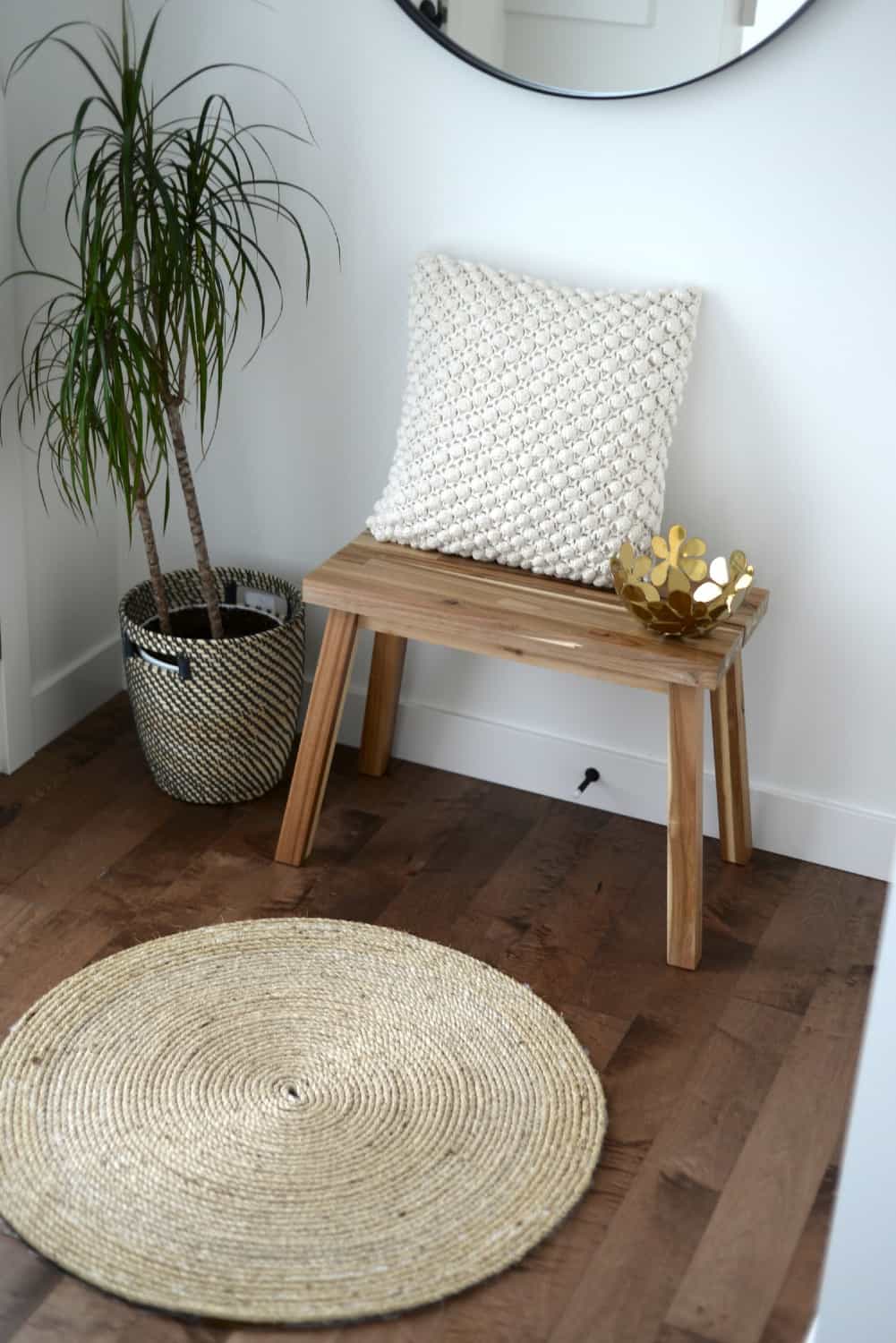 Super easy, simple, and chic nautical DIY crafts come in many forms, including this beautiful but uncomplicated round rope rug for your entryway. This is an easy piece to add to your entryway to add that nautical touch, even when you don't have any space to sacrifice to other decor. Let it lead your guests into the next space that does have room for sailboat decor and nautical furniture.
Via 204 Park
Summery Nautical Wreath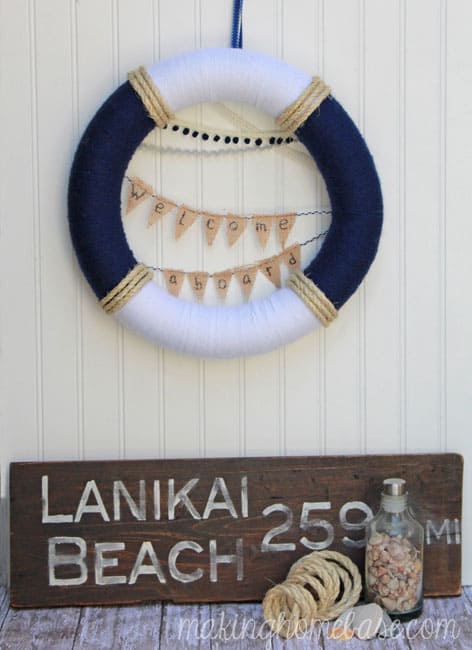 Looking for something to put outside to welcome the summer with? Consider this simple nautical wreath. It's easy to craft, looks amazing, and is easy to tweak the details on to create your perfect piece for a welcoming space.
Via Making Home Base
Fishing Net Candle Jars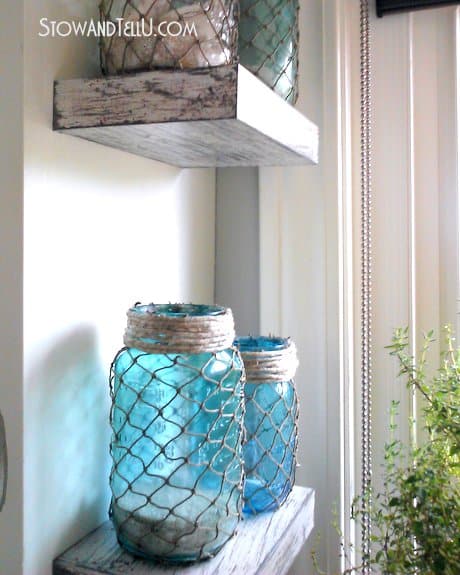 If you love nautical decor but aren't super crafty yourself – or need a project for the kids – this is a great option. You just need a few simple supplies and a little time, and soon you'll have some chic, trendy beach decor perfect for any occasion. They're great for weddings, parties, or displaying around the home.
Via Stow and Tell U
Nautical Themed Coasters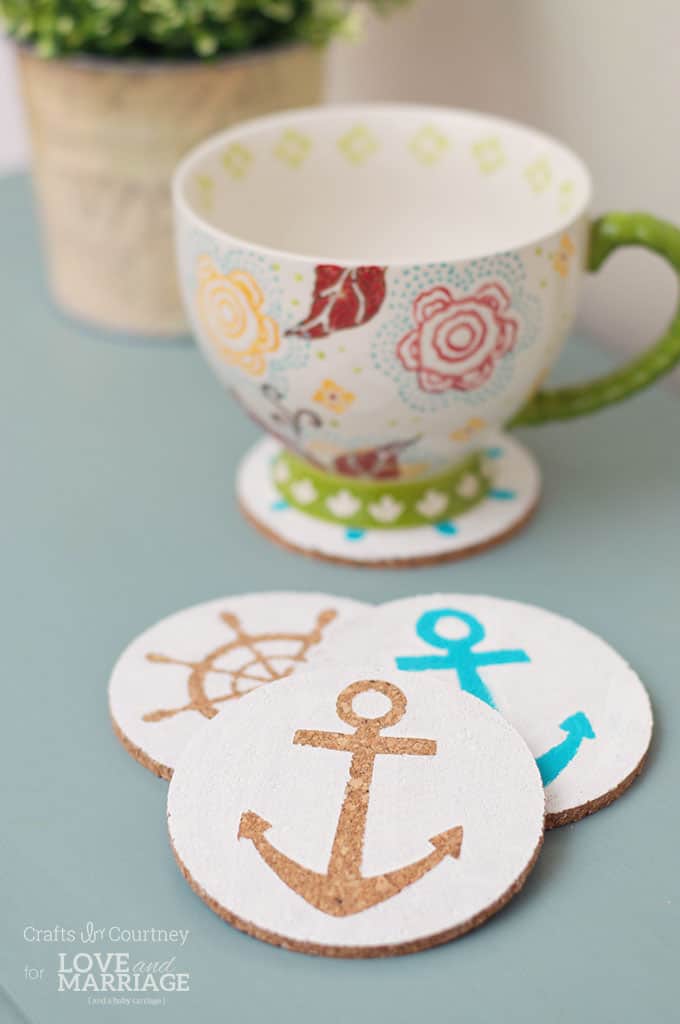 If you love to host, these nautical themed coasters are a great touch for your space – wherever you live or whatever the occasion. A little anchor, a mermaid, a seashell, a boat – they're all fun little touches that can make all the difference in your decor.
They're easy to make, won't cost you a fortune, and are fairly quick. They make for great takeaways for beach weddings, too.
10-Minute Faux Coral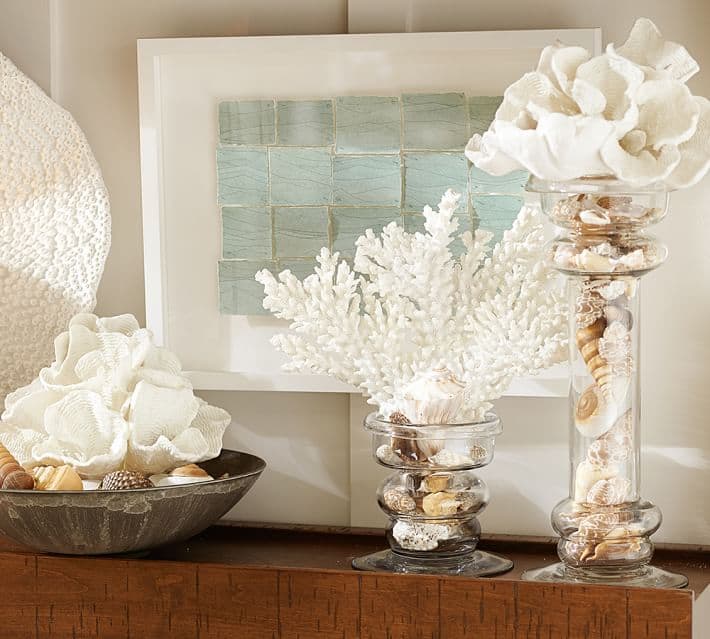 If you're looking for some flexibility in your nautical room decor ideas, making your own faux coral is the perfect solution. You can whip up some in 10 minutes for whatever space you've got, or make a day of it for a bigger display, gifts, etc. Since we don't want to use real coral (save the reefs!) this is the perfect way to look like you've got the real stuff without sacrificing any tiny nautical lives.
Via Setting for Four
Simple Shell Planter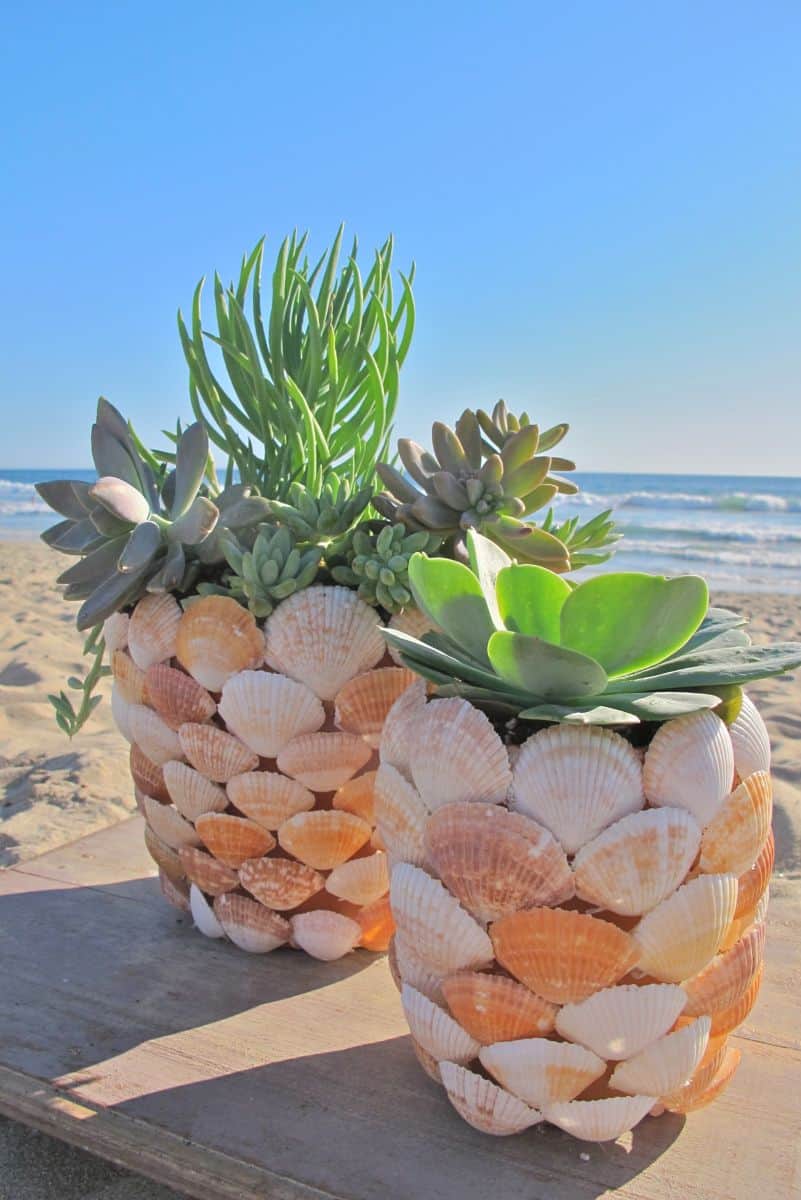 If you're tired of the boring old terra cotta pots, you can still grab some from the store but transform them into something beautiful and beachy – these shell planters. You basically just glue seashells to the planter in rows and boom. You're done.
Via Billabong
DIY Driftwood Mirror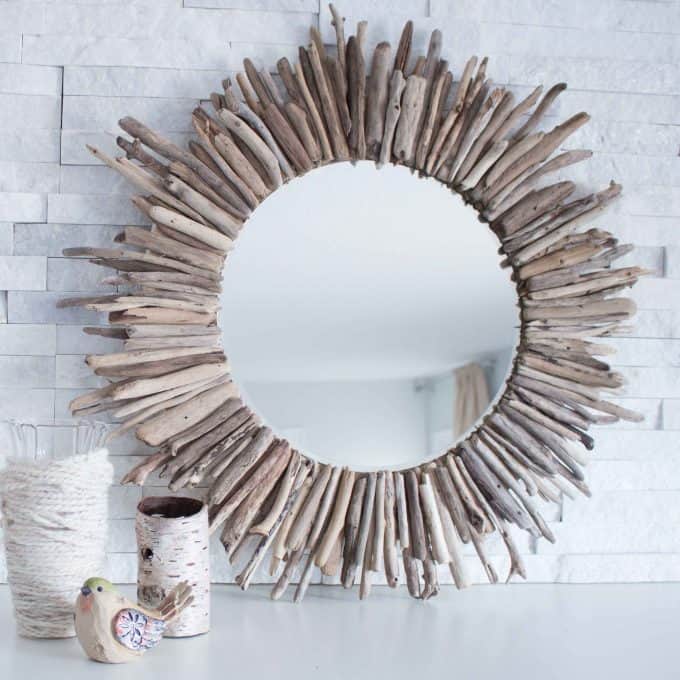 Chic round mirrors with unique frames are all the rage these days. So, if you've got a nautically themed space, why not make your own out of some driftwood? The simple, rustic look of this mirror adds loads of texture and natural beauty along with that nautical feeling. It won't take long to make, either, and doesn't require uniform pieces of driftwood – in fact, it's better if pieces are different.
Easy Embroidered Anchor Pillow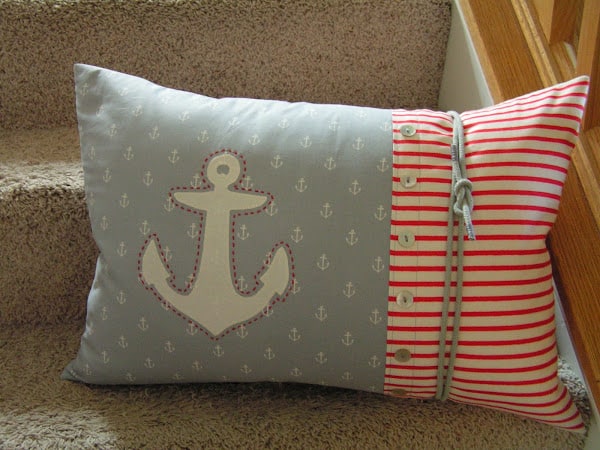 Need some new throw pillows to match that couch in your beachy living room? You can grab some simple fabric pieces, a little embroidery thread, and whip one of these up fairly easily, even if you're not really skilled at sewing.
Follow the tutorial (complete with images and the anchor outline), pick your favorite nautical colors, and soon, you'll have as many as you like.
Via Tea Rose Home
Easy Ocean Art Canvases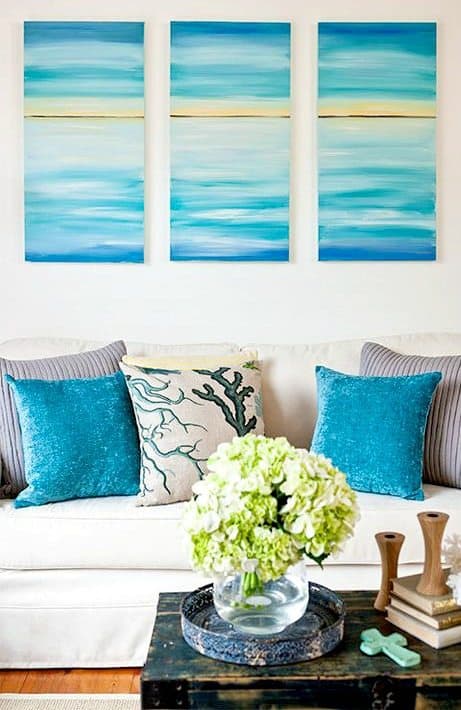 For those who love paintings but aren't so great at detailed figures, these easy ocean art canvases are the perfect solution. The blending of the streaks of blues, greens, and shades of white and cream are the perfect way to give that "ocean feel" without shelling out a few hundred for paint on a canvas.
I'd also recommend looking up some easy "how to blend" paint on canvas type videos (or check out this one) if you're not that experienced. It's easy and fun – and personally, it's my favorite part of painting.
DIY Oyster Shell Mirror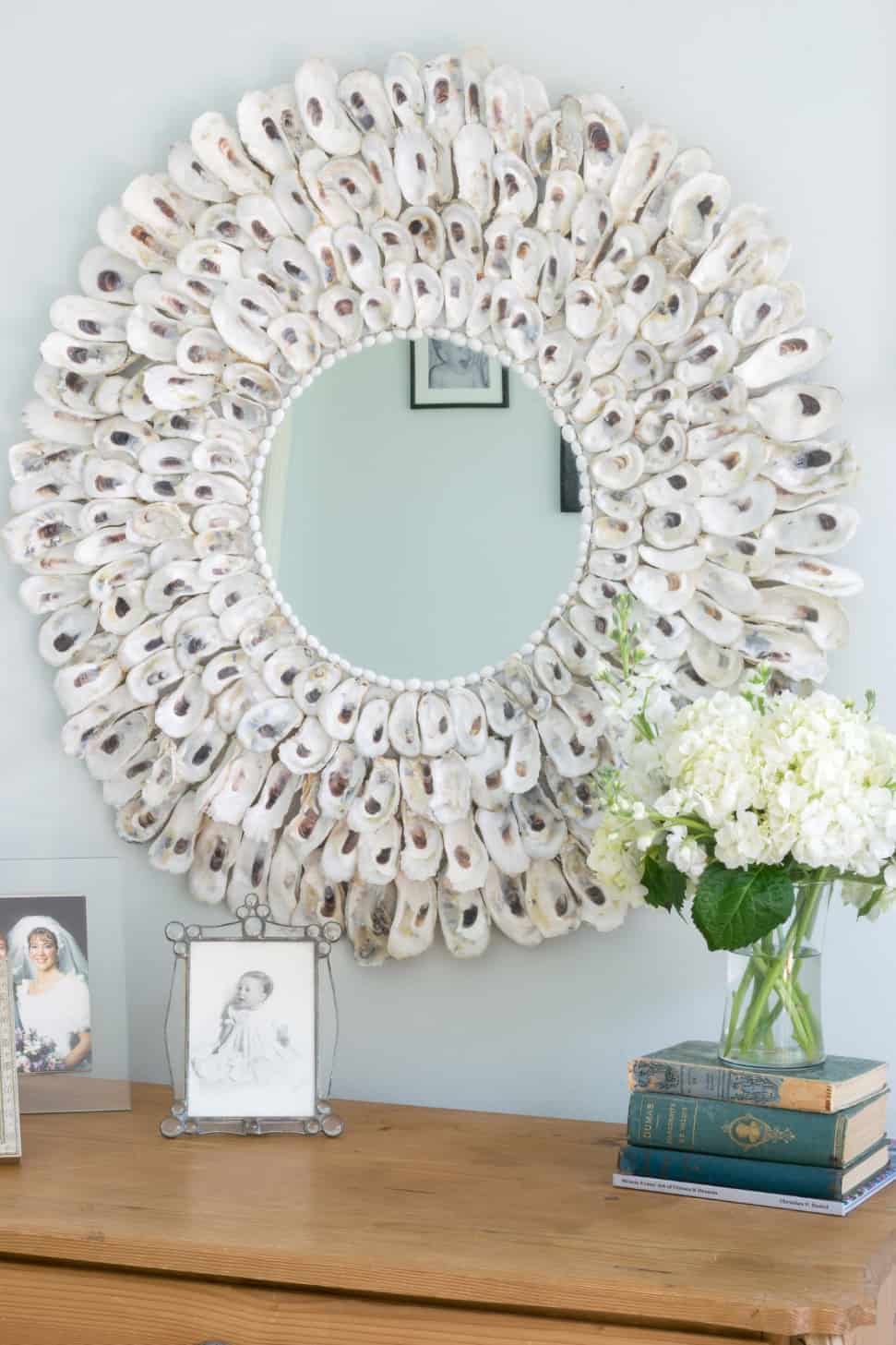 If a driftwood mirror doesn't float your boat, you could try making this easy, attractive oyster shell mirror instead. It's affordable, easy, and gorgeous, but it does take a bit of time to craft together. It's perfect for a weekend project.
DIY Seashell String Lights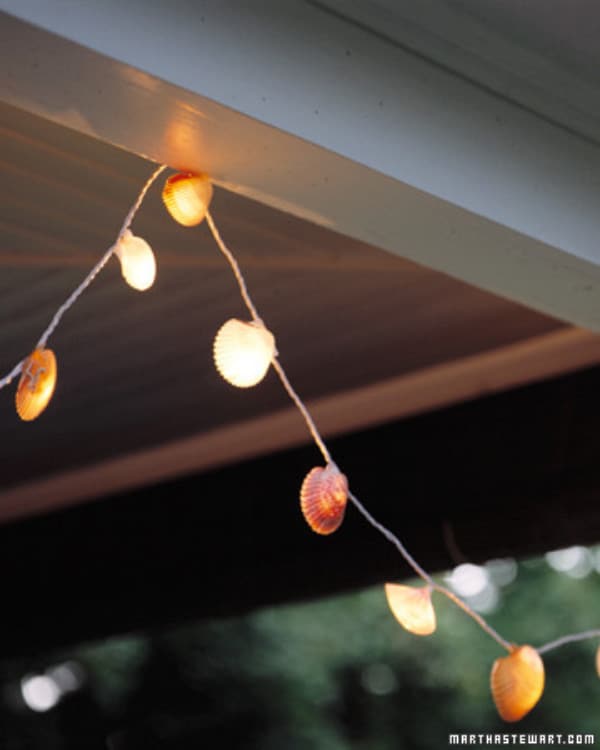 Some super fun, easy, and unique nautical themed decorations include this delightful little string light project from Martha Stewart. You'll need some glue, a string of lights, and a bunch of seashells (two per bulb), and an afternoon or evening to craft it.
It's super easy to make, so just about anyone can do it.
Via Martha Stewart
Driftwood Seahorse Wall Decor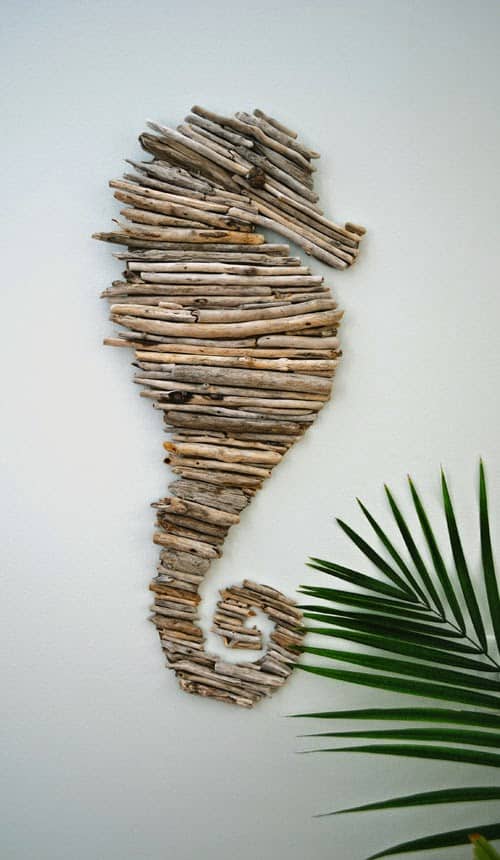 This project looks more complicated than it is, thankfully! You'll do some tracing and cutting and some gluing, but ultimately, this driftwood seahorse is an easy creation for any space. The nice thing is, you can decide how big or small you want it and trim to size as needed.
Weathered Beach Signs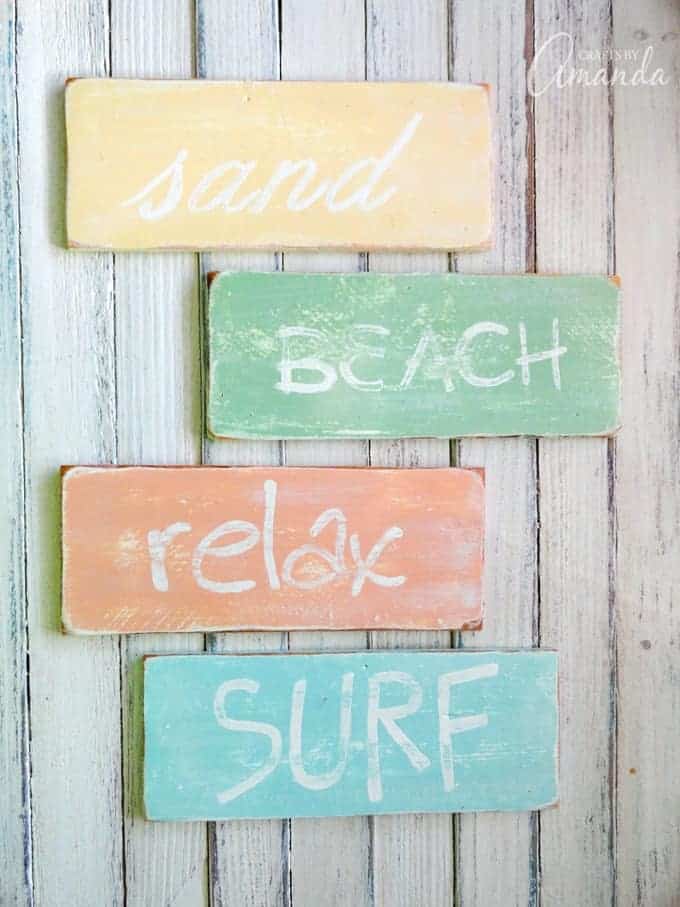 If you're into the cute signs that have been so popular in the last several years, these rustic beach signs will do the trick for you. They look weathered and kind of vintage, so they're great for any classic nautical room, front porch, or an actual beach house.
Via Crafts by Amanda
Seashell Pineapple – Aloha Sign

This wall decoration combines two different tropical/beachy items by using seashells to create an adorable pineapple. Plus, it's part of a sign saying, "Aloha" to welcome your guests into that delightful home for your next luau.
You'll need some seashells, the base sign, and a few other supplies, but you can get most of these from a thrift store, dollar store, or somewhere similar. It won't cost much time or money, and it's super fun to put together and show off.
Easy Beachy Painted Mason Jars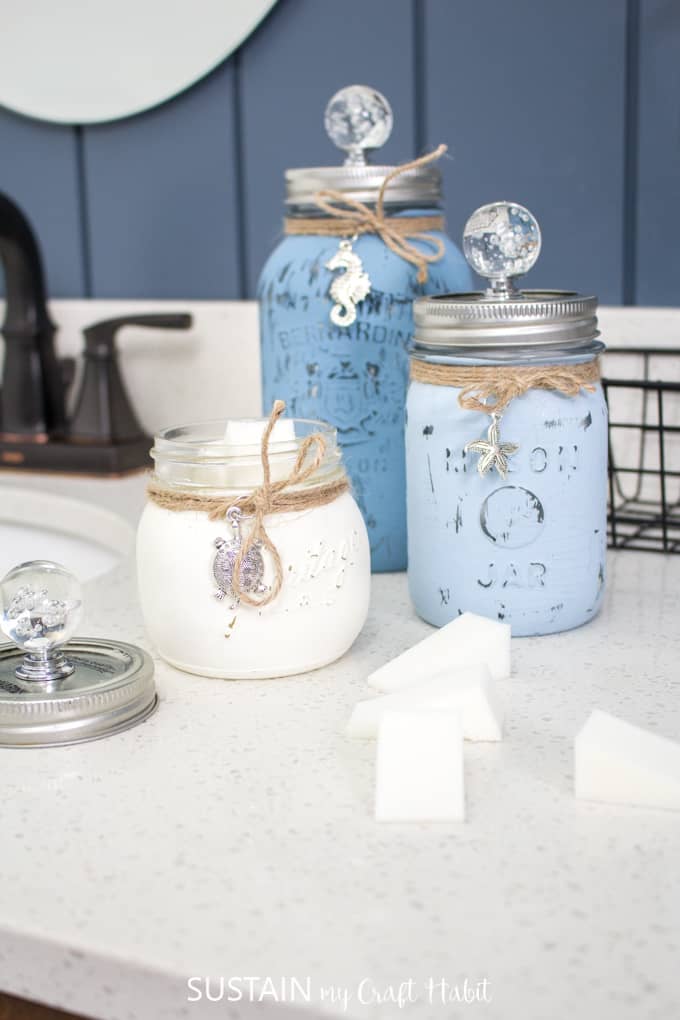 Looking for an easy and fun craft to do with the kids and falls in line with your beach-house dreams? Try making these simple beach-themed painted mason jars. They're easy, attractive, and don't take long to make. And when you're done, you can use them to organize so many different things!
Homemade Shell Tea Lights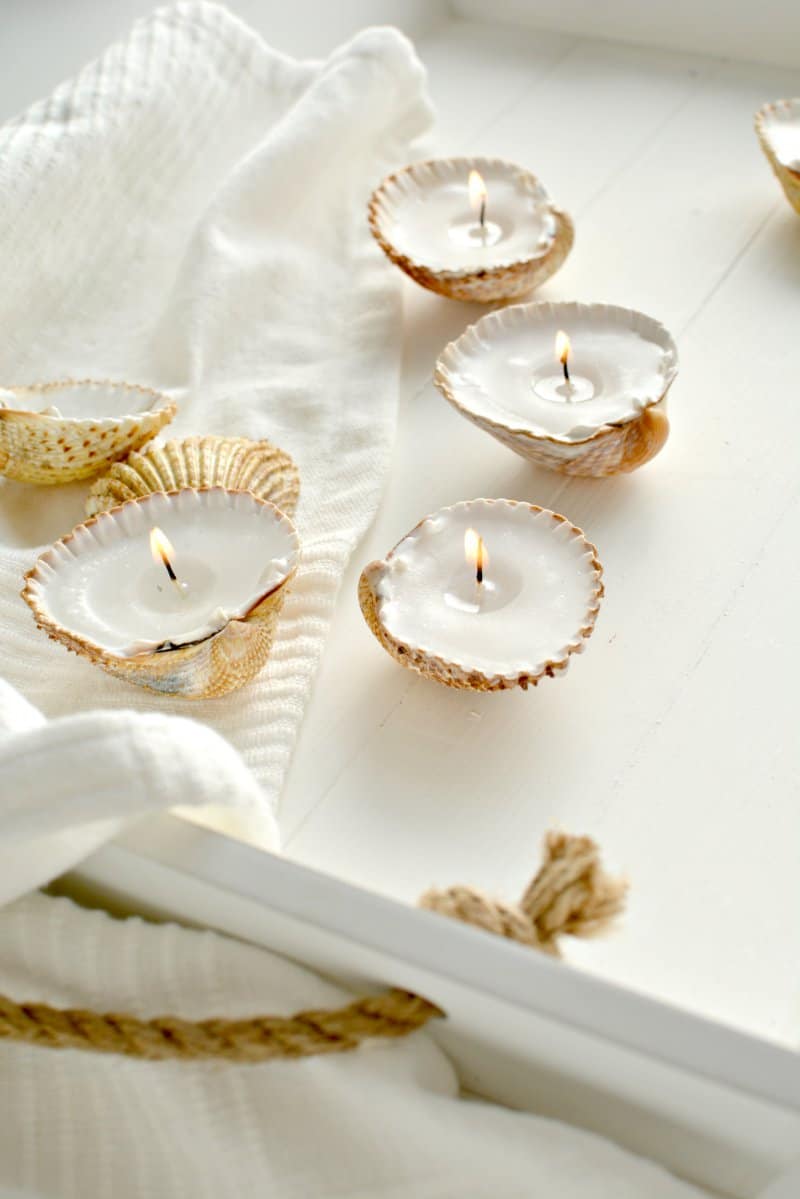 For those able to do hot wax crafts, these dainty little homemade nautical decorations are a winner. You'll need clean, empty seashells, some wax, and candle making tools (i.e. something to heat the wax in, something to pour with, wicks, etc.).
They're easy, reasonably quick, and make for great decorations and gifts.
Via Burkatron
Small Spindle Lighthouse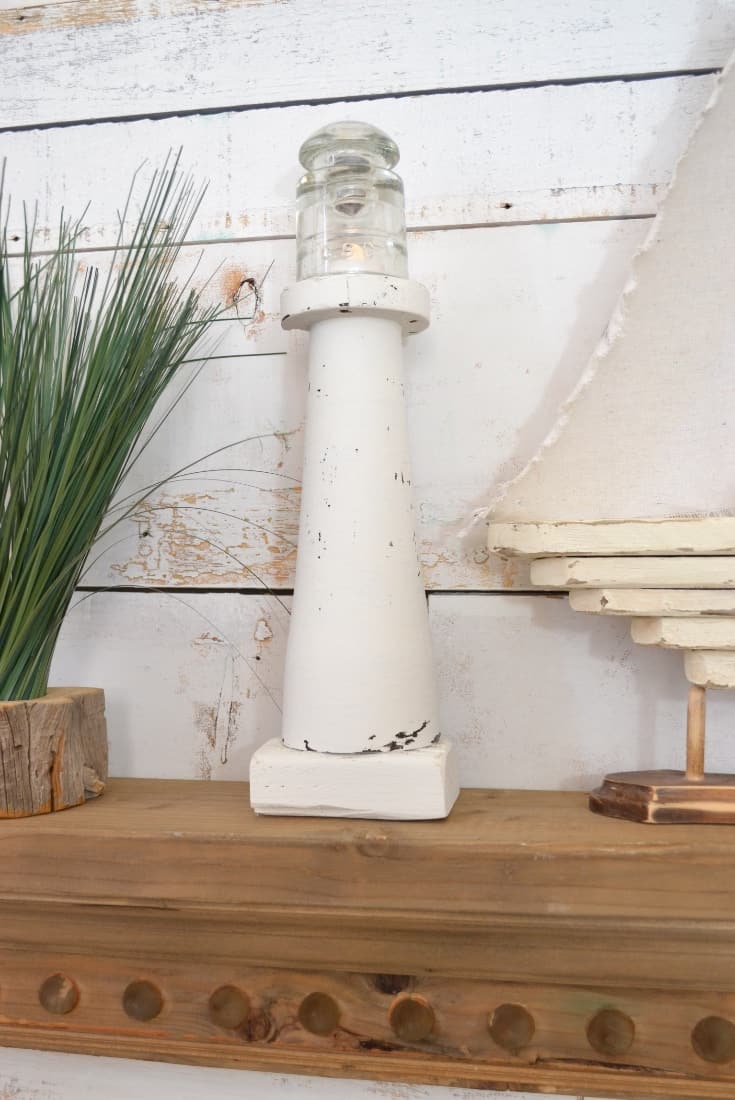 A truly nautical design ideas option is this delightful little small spindle lighthouse. It's a good upcycle project, using an old spindle leg from a table, plus a few other simple supplies. And it looks a lot harder than it actually is – it uses a battery powered candle, so no wiring required!
Pottery Barn Knock Off Rope Lamp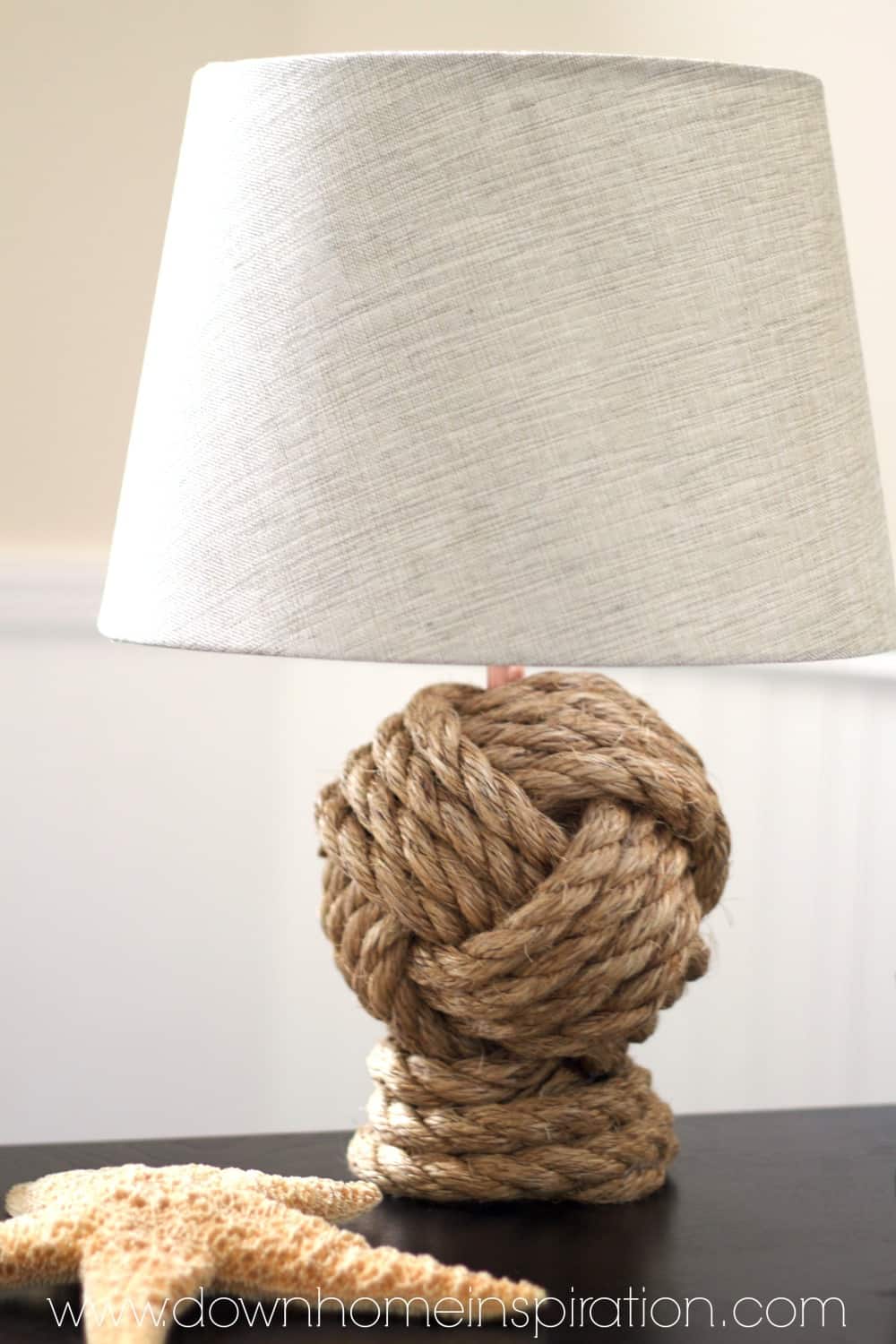 This is perfect for anyone looking to upcycle an ugly old lamp and who wants a nice nautical piece for the house. You can put this beautiful lamp together for a fraction of the cost of premade lamps, and you'll just have to invest a little energy to get it there. And really, just a little of that. Get some rope, that old lamp, and some glue, and follow the tutorial.
Sea Glass Mermaid Art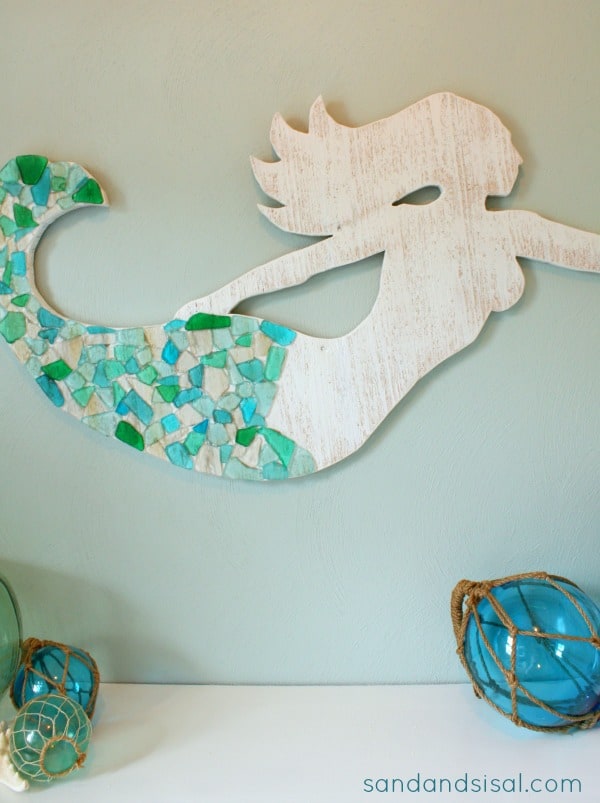 Looking for more nautical wall decor ideas? Consider making this sea glass mermaid art piece. You don't have to be a great artist for this – just someone with a little imagination and the ability to follow a tutorial.
Just grab the supplies and get to work. In less than a day, you'll have this beauty ready to hang on your wall.
Via Sand & Sisal
DIY Beach Tray with Rope Handles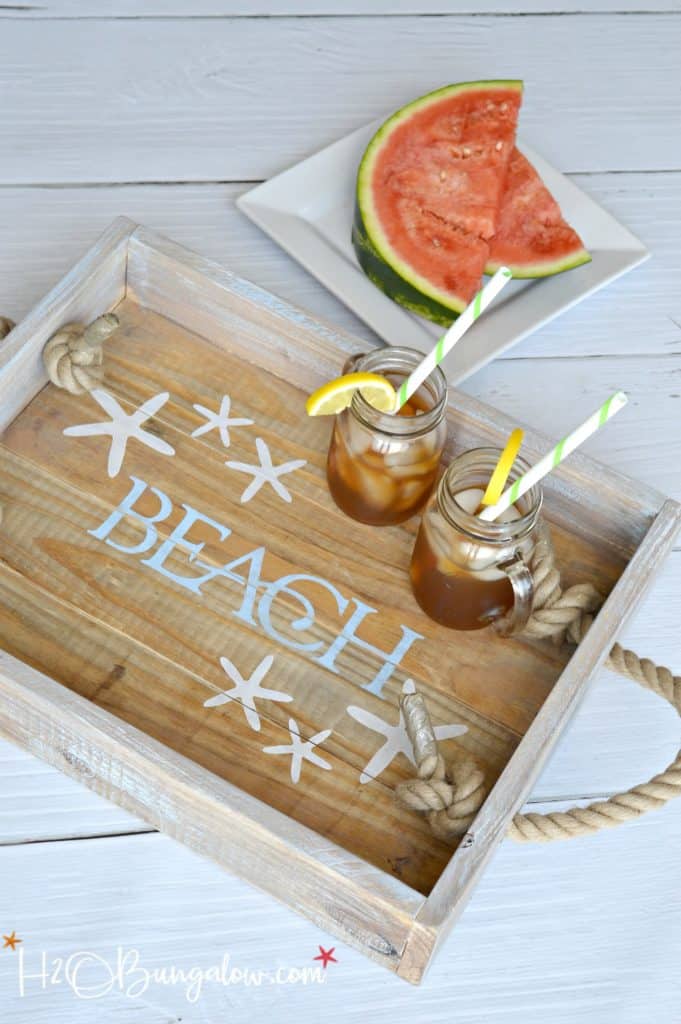 If you're looking for some decor that's a little more practical, this is the perfect choice – assuming you love serving drinks or want a pretty table display. This simple tray upcycle is a nice project for an afternoon – you just need the right supplies.
Via H2O Bungalow
Easy Beach Lantern Upcycle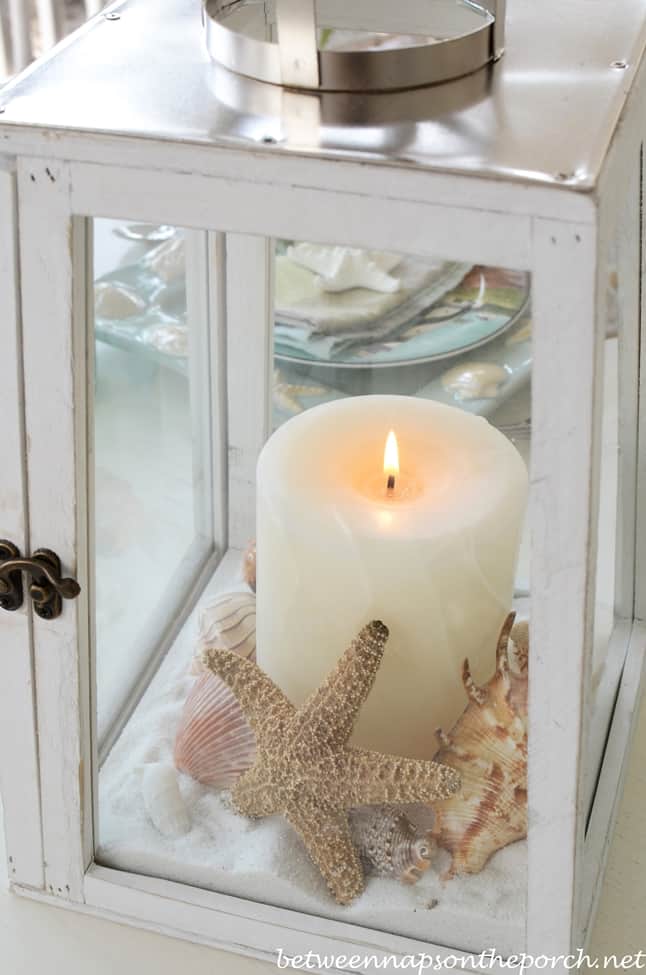 This one is super easy – you just have to find a few simple supplies to get started. First, you'll need to find the perfect empty lantern (i.e. no "works" inside for using oil) that's large enough to hold a decent sized pillar candle and your decor items.
Be sure to scroll down the page a bit until you find the "tutorial." It's not a full-fledged, photo-by-photo thing. It's more of a simple instruction list on how the writer made the simple centerpiece.
Homemade Designer Shell Candles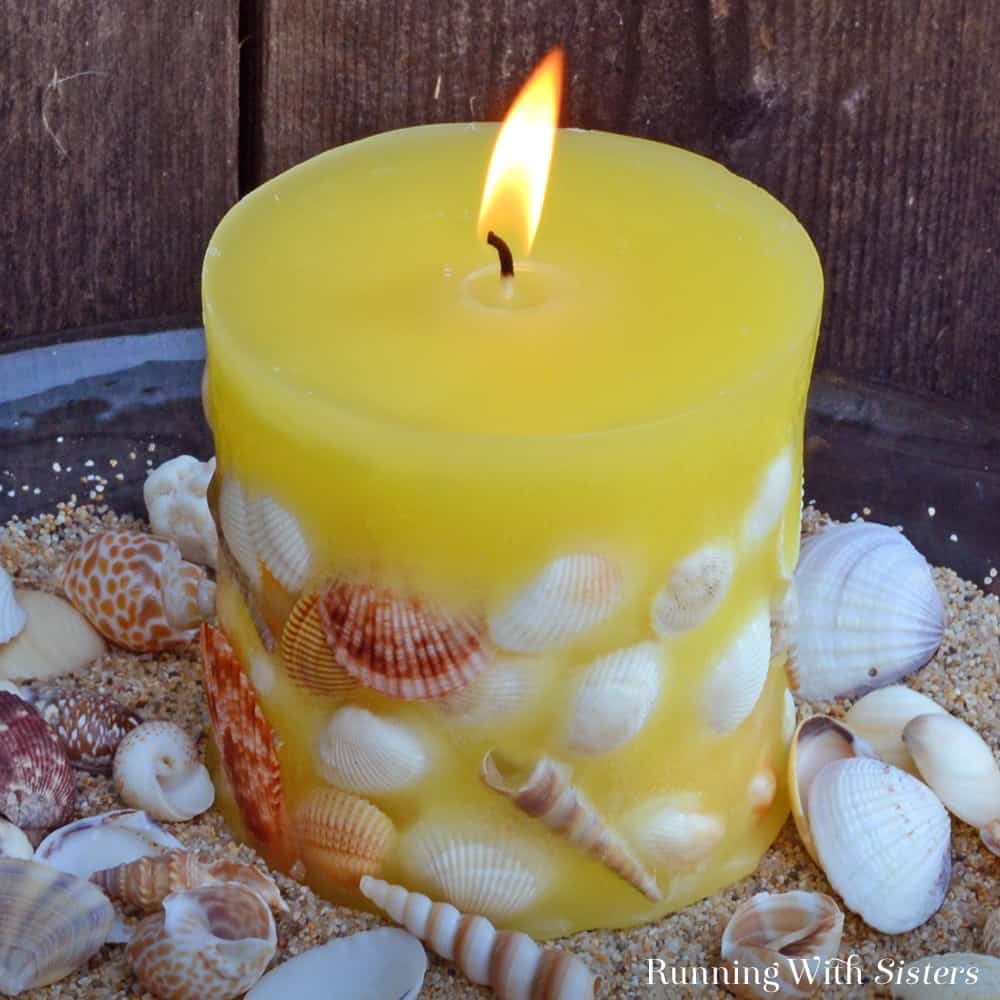 If you love candles and love seashells, these are a great choice. You actually get to make the candles yourself, infusing seashells into them for a fun "melt-down" reveal of shells as the wax melts away.
These candles are perfect for your patio setting, bathroom, living room display, and so much more. Just grab your supplies and follow the instructions.
The Best Nautical Decor Is Easy to Make
Whether you're a seasoned crafter or a newbie, these designs are simple, chic, and so fun to make and display. Choose from mermaids, sea candles, signs, and more – ideally combining several items to create the perfect beachy homestead you'll love inviting your friends into for enjoying a great dinner party.