29 DIY Outdoor Water Fountain Ideas
There's nothing quite so wonderful as having a carefully personalized outdoor space like your balcony or patio and yard. The right planters, the right table, and chairs, the right fire pit – they all make the difference in creating a soothing, beautiful home.
And one feature that a lot of us may pass on typically because of the expense – or the misconception that we couldn't possibly build one – is the fountain.
But some small fountain ideas or garden fountain ideas are incredibly easy and don't require much experience or expensive supplies and tools at all.
Clay Planter Fountain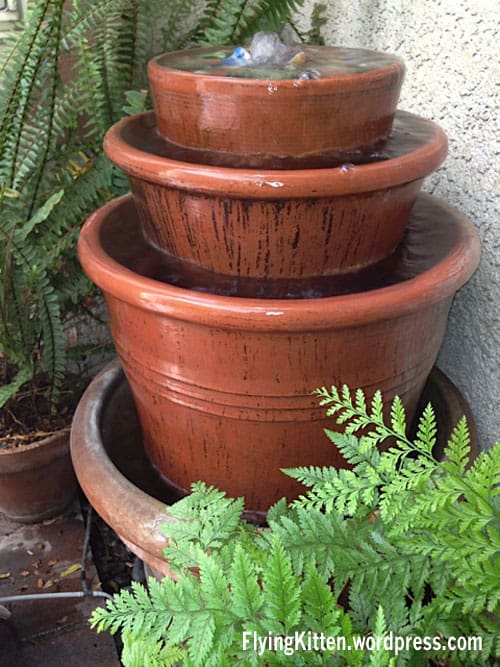 Before you head out for the supplies for this one, we'd recommend looking through some Etsy store ideas for truly unique clay planters that you could use for this beautiful fountain. You might have to wait a little longer to get them shipped and get started, but for the uniquely distinct options you'd have, it would be worth it.
Once you do have the planters in hand, you'll just have to follow the simple instructions and in no time at all, you'll have this fantastic fountain ready to go for the backyard.
Via Flying Kitten
DIY Urn Fountain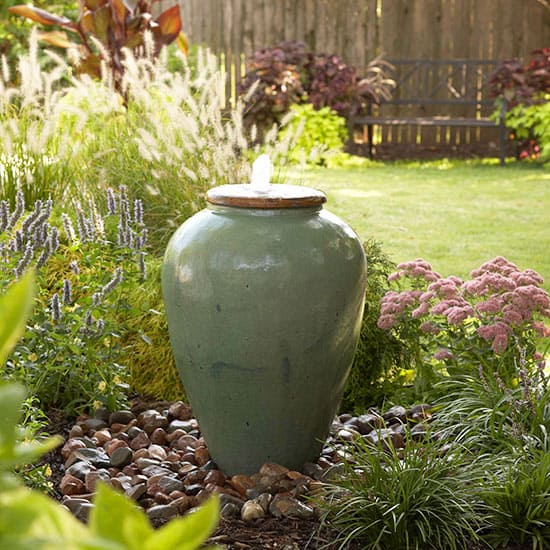 Another easy to get ahold of option for making your own homemade water fountain for the backyard is the DIY urn fountain idea. You'll spend about 3 hours building it, but it is a little bit challenging as you need some basic plumbing skills and will need to do some digging.
It is an absolutely beautiful option, though, so if you're ready to invest some muscle-power and do some plumbing work, you won't regret the results.
Via BHG
Tea Kettle Fountain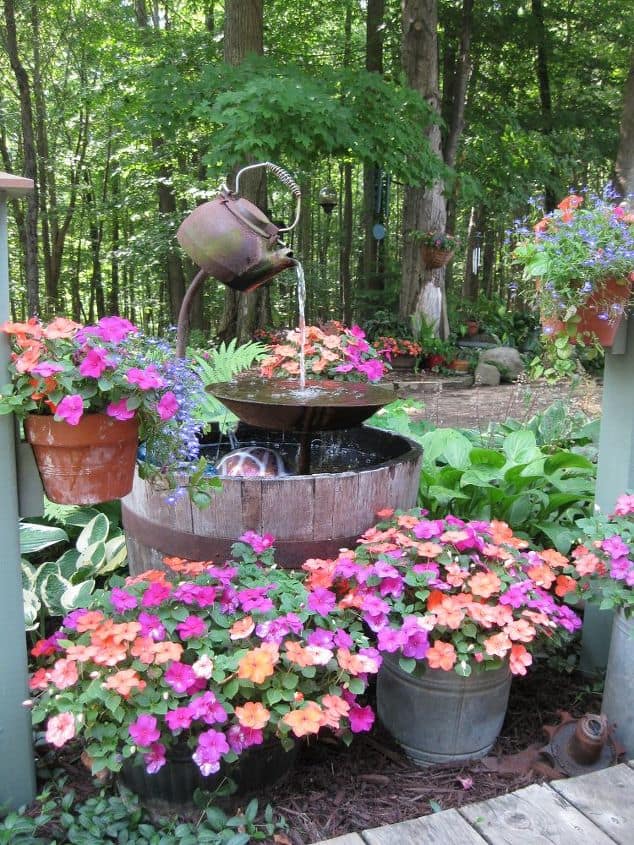 If you love tea and vintage metal items, you'll love this recycling project that uses an old metal tea kettle that's well, seen better days. And you may not be able to drink out of it anymore, but it will make a gorgeous, quirky, fun little fountain for the backyard.
This homemade fountain uses some super simple supplies and provides basic instructions written out between the photos for the tutorial.
Via Home Talk
Three-Tiered Fountain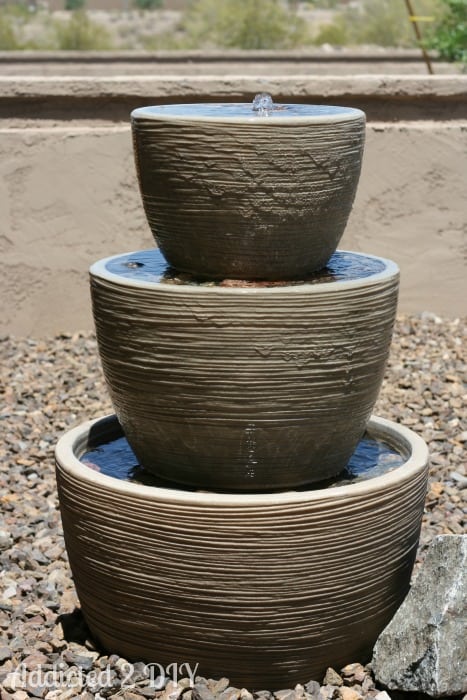 This beautifully classic fountain with a modern twist is an easy front or backyard addition that won't cost a lot of money to make. You won't need a lot of expensive supplies or fancy skills to build it, either. So, take a gander at the tutorial and see if you think it just might do it for you.
You'll need some PVC pots, rubber hose, and a water pump. You'll also need access to a drill, epoxy putty, rocks to fill the pots with, and a little imagination.
Via Addicted 2 DIY
Watering Can Water Feature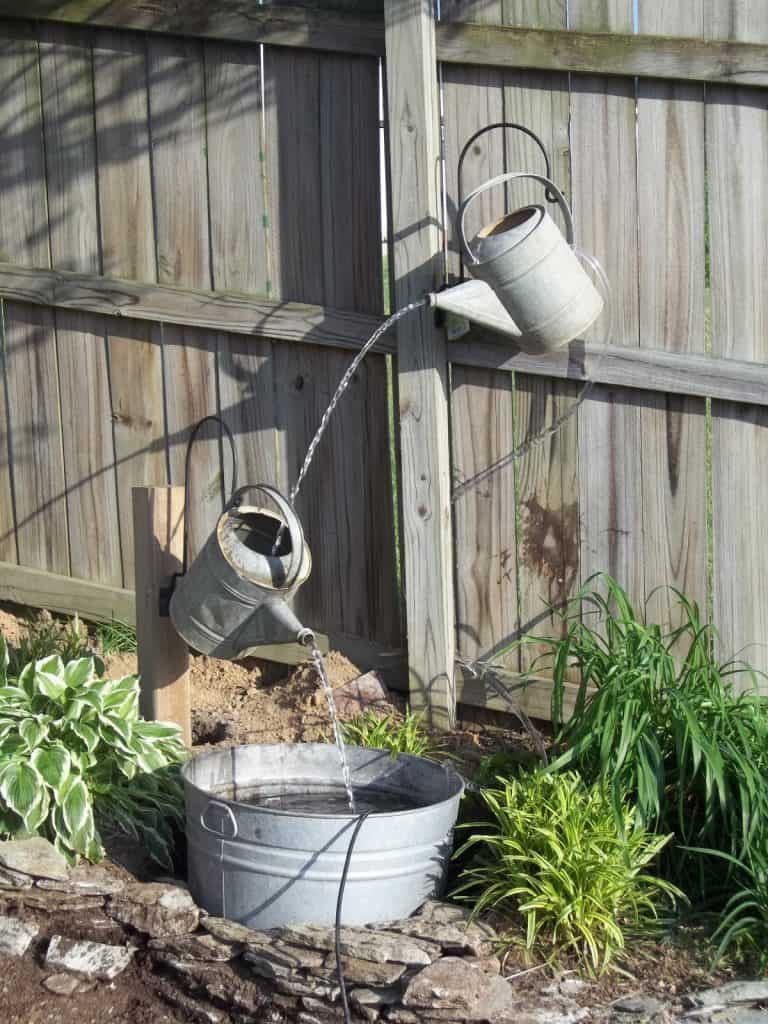 Here's another great upcycled project for building your own water feature for the yard. It uses some galvanized watering cans – whether you find some at an old thrift shop or grab some from Lowes – and a large barrel or galvanized tub.
You'll need a water pump, of course, and some water tubing, hanging brackets, and a drill. The project doesn't take long, is easy to do and to install, and winds up looking pretty darn awesome.
Via Dawn Marie 100
Stone-Lined Concrete Fountain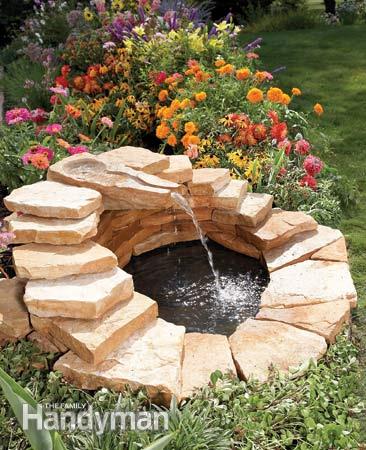 This easy-to-build stone-lined concrete fountain will draw attention from the neighbors and your guests when they come over for a visit. It's absolutely beautiful and looks expensive. But it's not. In fact, you can determine how much you spend on it, based upon the supplies you choose.
You'll make a pond and then surround it with hand-carved sandstone. It sounds complicated, even scary, but the tutorial takes you through each step and you'll discover just about anyone can do it.
Via Family Handy Man
Trickling Water Wall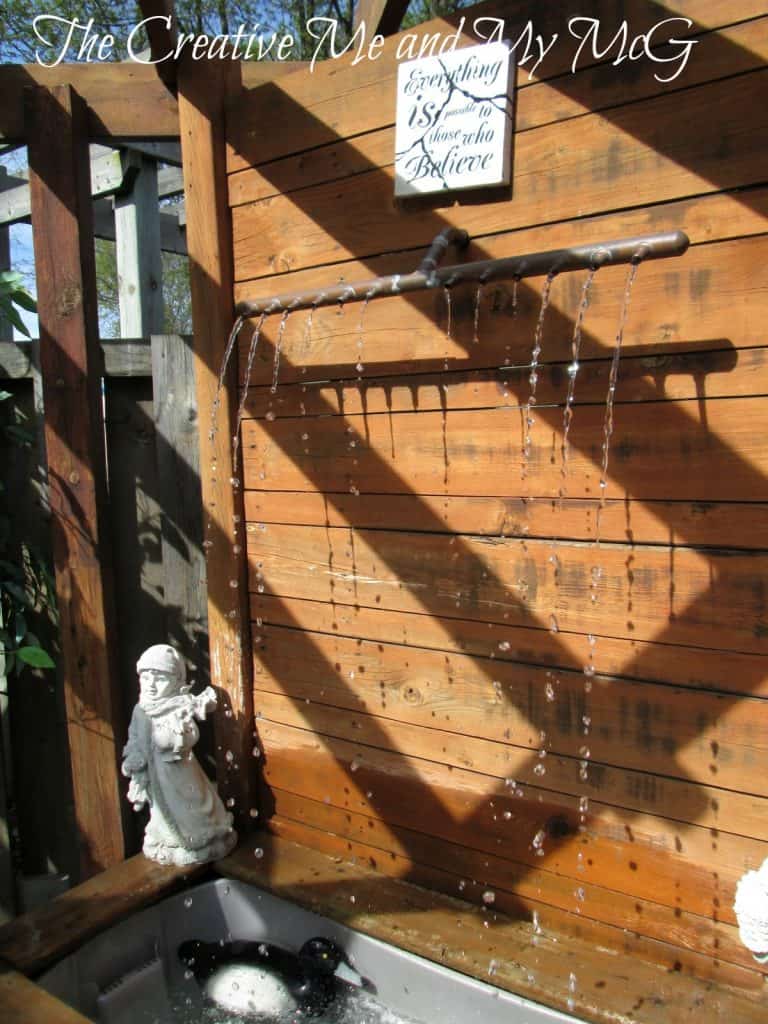 If you love the idea of a fountain, but want to keep the water feature a little closer to the house or just don't have enough yard room for something that takes up much space, a trickling water wall may be a great option for you.
This beautiful water feature uses a plastic storage container, a wooden box to hold – read: hide! – the container, some pipe, and tubing, and some basic tools and supplies, along with wood for the "wall." The step-by-step is easy to understand and follow.
Via The Creative Me and My MCG
Concrete Bubble Fountain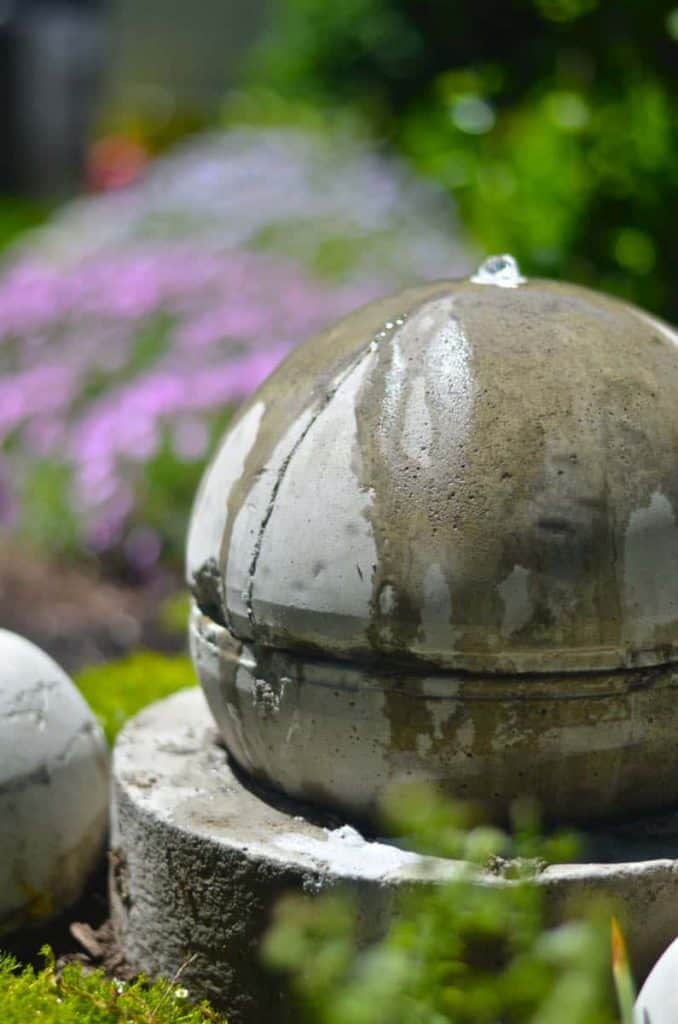 This bubbler fountain is a beautiful and unique way to add some splash to the backyard without the upkeep of a large water feature like a pond or hefty fountain. And it's surprisingly easy to build, using some basic supplies you probably wouldn't have thought of.
To create your bubbler, you'll use an old globe (cardboard or paper only), some cardboard tubes, concrete mix, and some really basic supplies. In a couple of days – including drying time – you'll have this amazing fountain nobody will be able to believe you made yourself.
Modern Concrete Fountain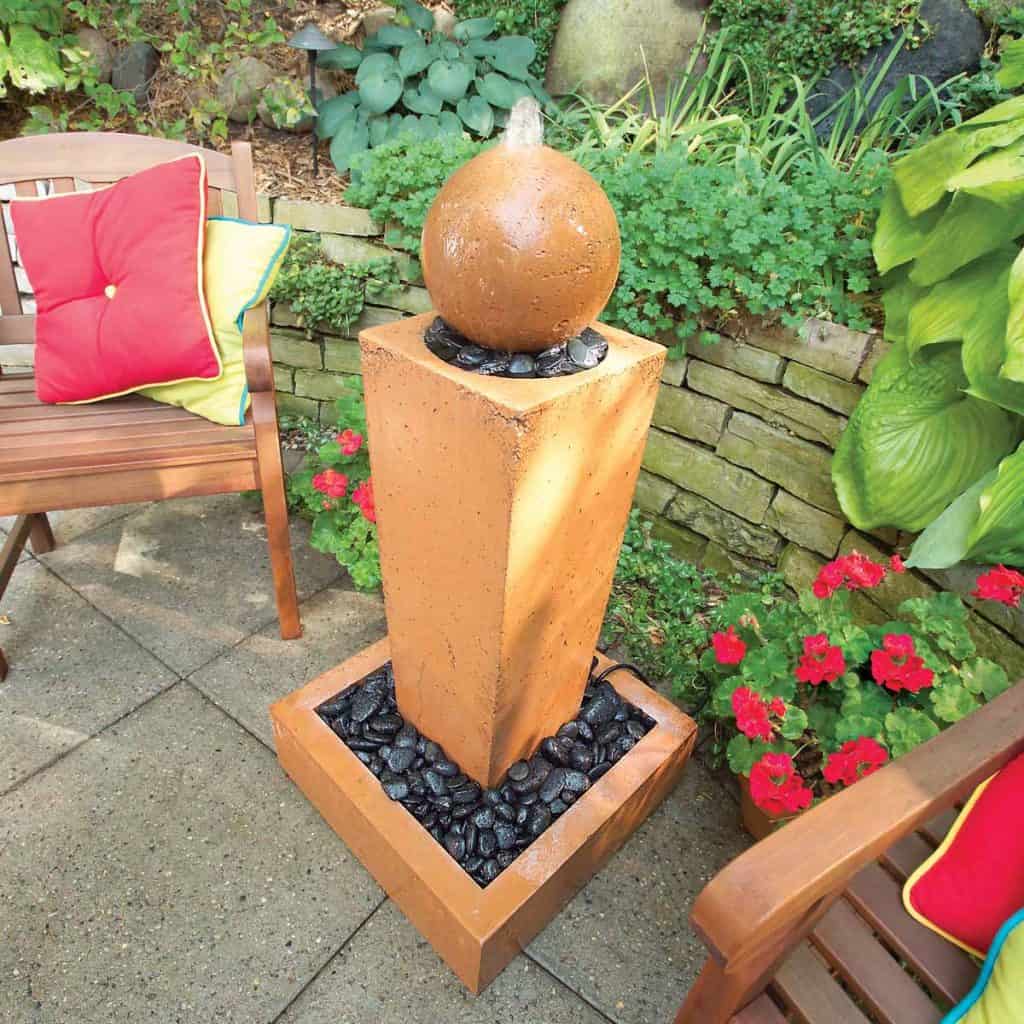 Here's another dazzling concrete fountain that everyone will assume you spend loads of money on buying it from some expensive catalog. But nope – it's a reasonably simple concrete fountain made with basic skills and supplies.
You'll need some galvanized hardware cloth, a 12-inch flowerpot, PVC pipe, insulated copper wire, pump tubing, setting-type join compound, duct tape, an ABS toilet flange, Quikrete cement color, concrete mix, some foam insulation, river pebbles, and a 9 to 10-inch diameter ball.
Via Family Handy Man
Wine Barrel Fountain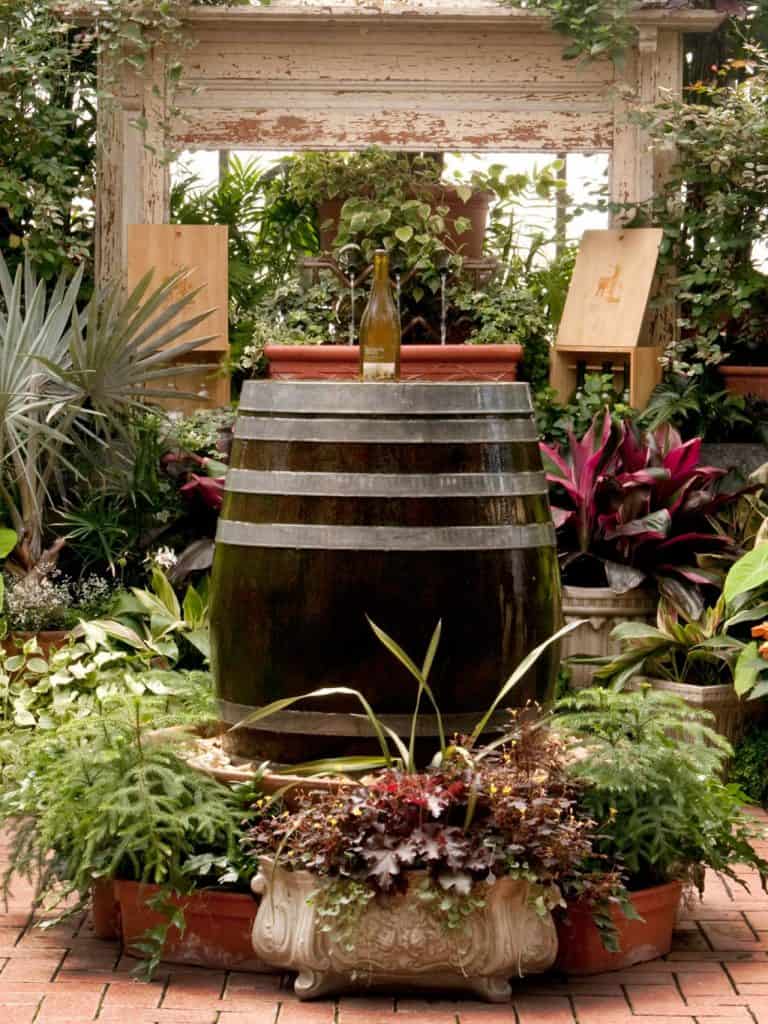 Wine lovers will adore this fountain that proclaims their l'amour du Vin. And, heck, even if you don't love wine, you may still love this unique fountain that provides a classy, vintage centerpiece for any yard.
You'll need a clean, empty wine bottle, a water pump, a large cork, wine barrel, wood shims, a reservoir wider than the barrel – like terra-cotta, plastic, or metal basins – safety gear, a glass drill bit, and tubing.
Via HGTV
Table-Top Bamboo Water Feature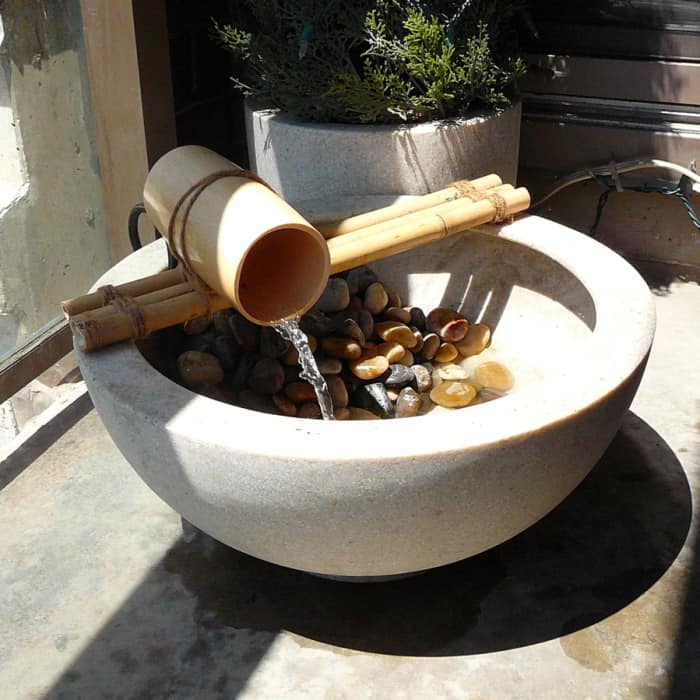 This is the perfect indoor or outdoor water feature for anybody who's limited on space. This small fountain uses the beauty of bamboo with a solid bowl to create a trickling, bubbly water feature that can calm and soothe – and help drown out the noise of a busy city.
The poster used an old bamboo tiki torch to create the fountain and combined it with the bowl, pump tubing, and a water pump to create this peaceful design.
Via SAF Affect
Stacked Stone Fountain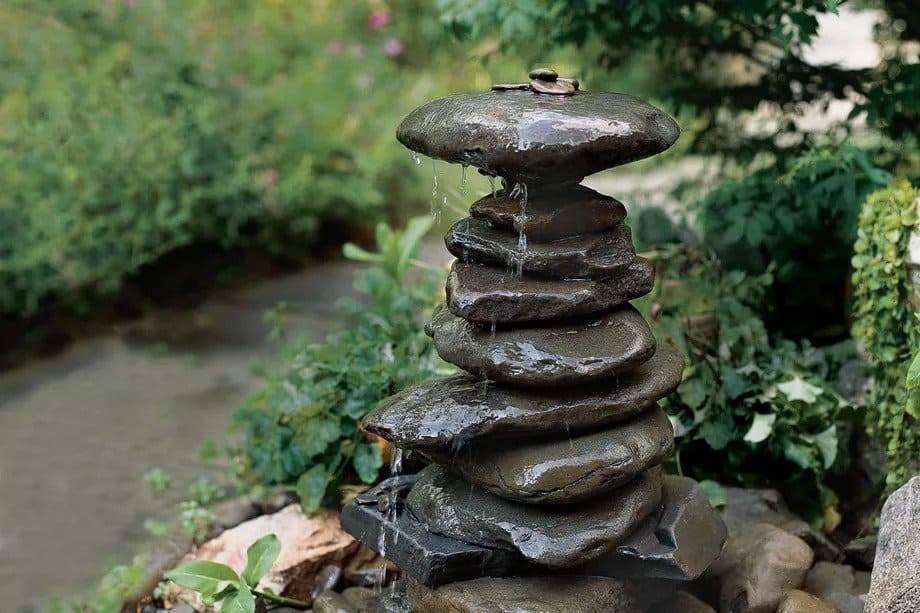 This beautiful fountain looks like something you'd find at some fancy spa where you've paid hundreds – maybe thousands – of dollars to relax with some mud on your face and seaweed in your drinks. But, with about a day's worth of work and maybe $200, you can have the fountain at home for your pleasure any time.
Besides some basic tools like a pipe cutter and drill, you'll need some copper pipe, large flat rocks, smaller rocks, a ball valve, basic for the water, a metal screen, PVC pipe, and a few other supplies to create this beautiful feature.
Via This Old House
Small Stone Patio Fountain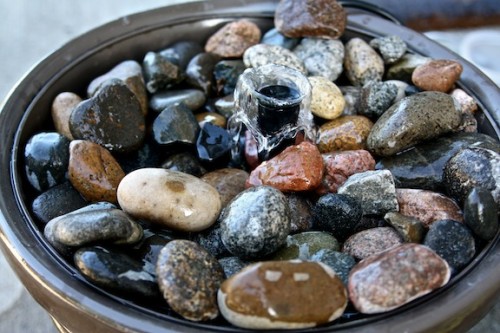 Here's another small water fountain for small spaces. It's great for an office, a deck, or patio. And it doesn't cost much or take much energy to build. It's not tiny, but it is definitely small enough for most any space.
You'll need a large pot, a bucket, a fountain kit, river rocks, and some hardware cloth to build this beautiful, simple little fountain. So, for about $30, you've got this one made. And, if you want something smaller, you can apply the same techniques to have a tabletop fountain of the same style.
Via Shelterness
In-Ground Disappearing Fountain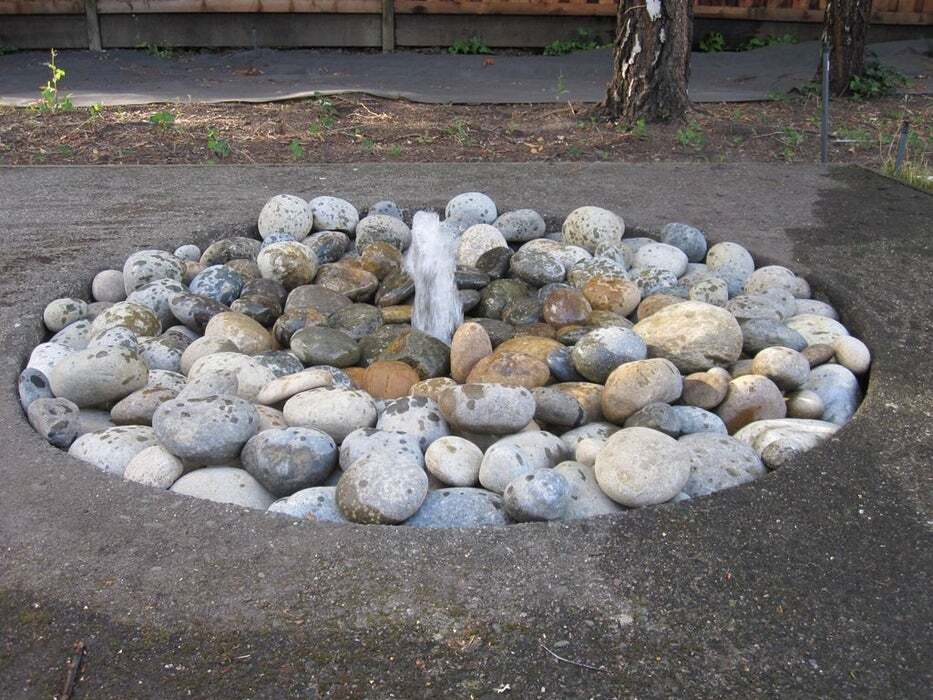 If you love a larger, gushing water sound, this fountain is for you, assuming you've got the space in the backyard to built it. It's really more of a water "feature" than a fountain because it's designed with the intent of being a "geyser" with a noticeable gushing, splashing sound. But it's beautiful and calming.
The fountain gives you the spray and sound of water without having an open body of water, too, so it's safe for families with pets and small children.
Via Instructables
Fishpond Fountain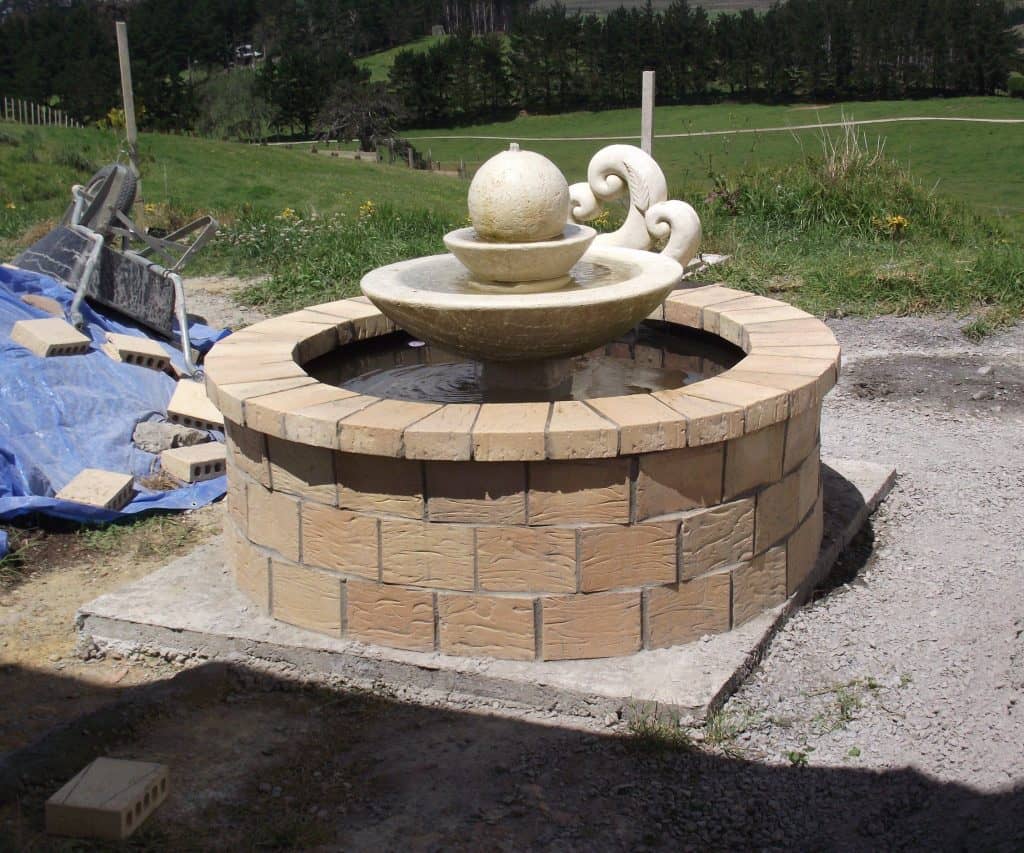 This beautiful idea on Instructables is perfect for someone who's looking for a fountain and a fishpond in one to save on space and build-time. It's got the feel of a traditional fountain in some ways, but it's also designed specifically for housing outdoor fish that love a good water-flow.
The fountain will take about 3 working days – including drying time and building time – but it's a pretty simple build and most anyone can make it.
Via Instructables
Raised Terra Cotta Pot Fountain
Terra cotta is a beautiful building material for outdoor features, especially water features and landscaping projects. And if you're looking for some more substantial garden fountain ideas, then you've come to the right option.
Total, this fountain stands about 32-inches tall. You can find the shape of terra cotta pots you want to use to create your own twist on it, too. Plus, it's pretty easy to put together, so it's great for beginners as well, as long as you carefully follow the instructions, especially about the electrical input information.
Via Instructables
Gazing Ball Galvanized Tub Bubbler Fountain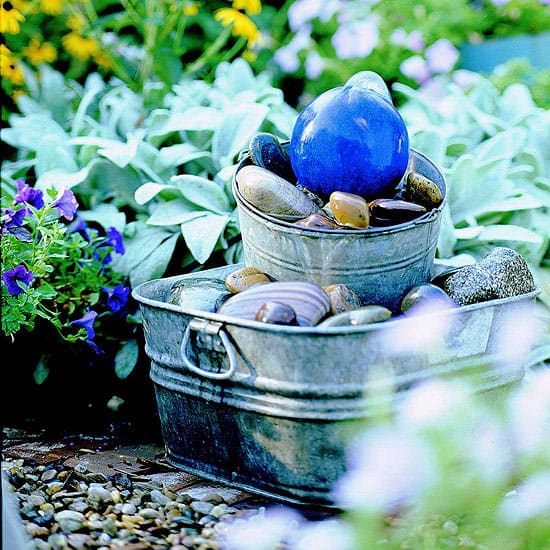 This beautiful and unique fountain idea uses some fun materials to create that bubbling, soothing sound we crave. You'll need a galvanized tub for the water basin, but then you get to use a gazing ball for some color and glitz that most options don't allow for.
Gather up some pretty stones, seashells, some clay pots or aluminum cans and foam blocks, and get ready to build something absolutely beautiful and, if you go with foam blocks, easy to move.
Via BHG
Inexpensive, Low Maintenance Lawn Fountain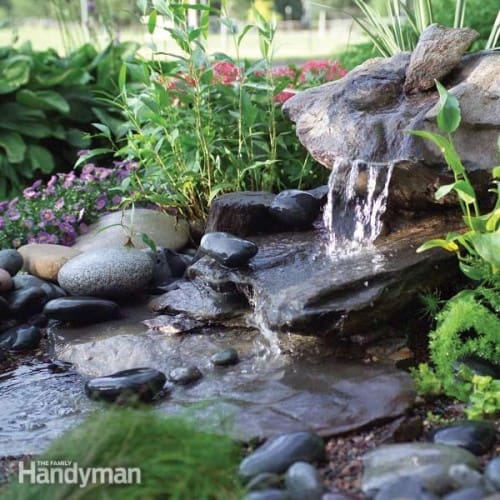 This beautiful water feature helps your yard feel like you've got some natural water flow going on, even in the middle of a city. Plus, it's very inexpensive and super low maintenance, so once it's built, you're pretty much good to let it run on its own.
There's no collection pond, which reduces the maintenance, and a gravel-filled reservoir collects the overflow for recirculation – meaning no sunlight reaches the reservoir and therefore, there's less algae growth.
Via Family Handy Man
Modern Rugged Stone Fountain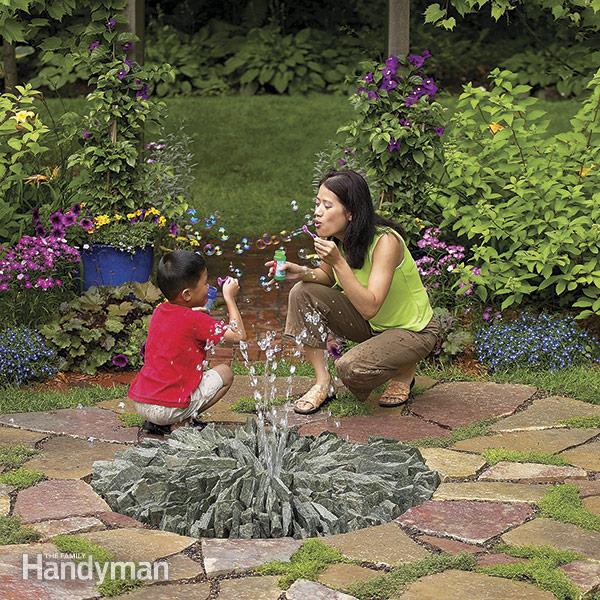 This DIY backyard fountain is a truly unique, beautiful option for anyone with some backyard space. You can customize the exact design, too, to fit your needs, using the basic construction plans and principles. The original is 4-feet in diameter, but you can make yours larger or smaller.
The fountain will take most of a weekend to build, is moderately complex, and can vary greatly in cost. So, if you're on a tighter budget, you can find interesting materials to use instead of the prescribed by hitting up a junkyard, a resale shop that has building supplies, etc.
Via Family Handy Man
Unique Spiral Fountain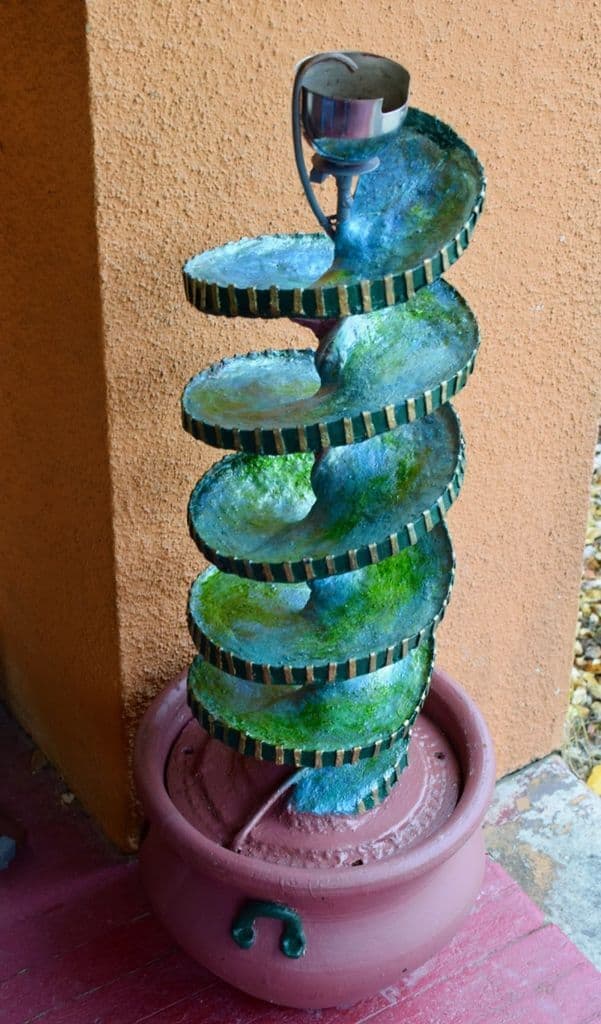 This unique fountain was inspired by an old electric motor coil. To replicate it, you'll need a MIG welder, metal rod, and some other salvaged materials, along with your imagination and several hours.
Overall, the project is a bit intensive, so be sure to give yourself plenty of time for the fountain build. You'll also need to gather the supplies in advance to make sure you've got everything you need – or if you'll need to get creative.
Via Instructables
Coffee Mug Fountain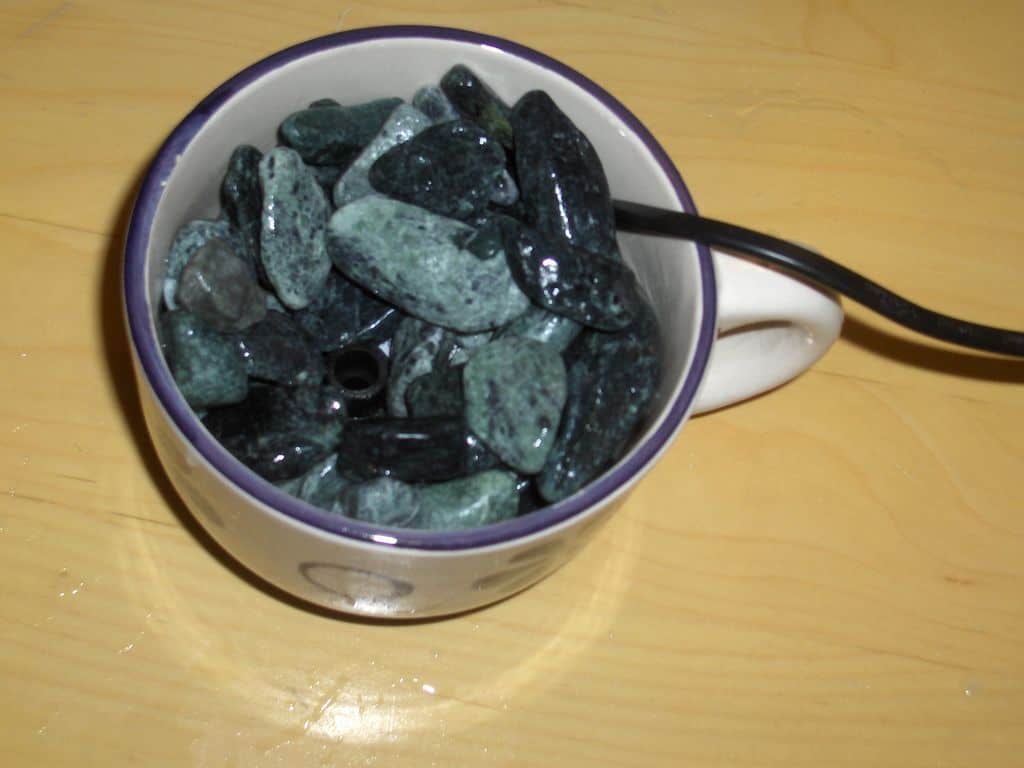 This DIY water fountain is perfect for anybody who wants a little pretty in their house but doesn't want to spend a load on supplies and materials. It's a very simple project that older kids can even help you with.
To make this simple indoor fountain, you just need a mug, a water pump, decorative stones, and a rubber stopper. If you're crafty, you'll probably get to recycle almost everything into the project since you'll likely have 90% of the materials lying around the house somewhere anyhow.
Via Instructables
Tabletop Lamp Fountain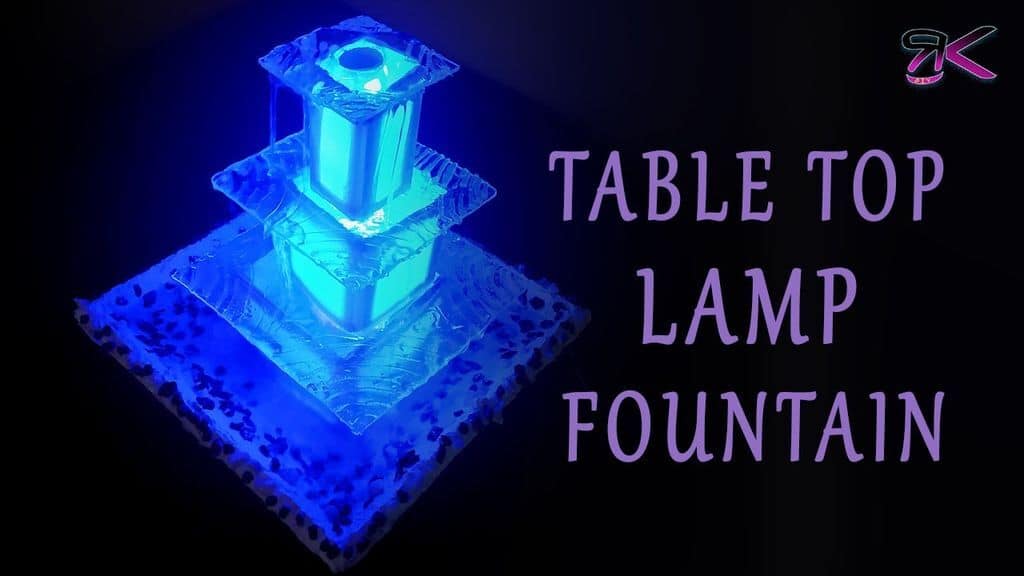 Here's a water fountain the kids will love. It's also a great option for weddings, parties, and any other setting where you might have the lights low and fun waiting around to play.
You'll need some popsicle sticks, an acrylic sheet, polyester film, blue waterproof LED lights, a water pump, a 12 volt LED adapter, electric wire, PVC pipe, bulb holder, and aquarium pipe. You will need a soldering iron, scissors, hot glue, and super glue to actually build it. Just watch the video and follow along or go through the step-by-step on Instructables.
Via Instructables
Indoor Teapot Fountain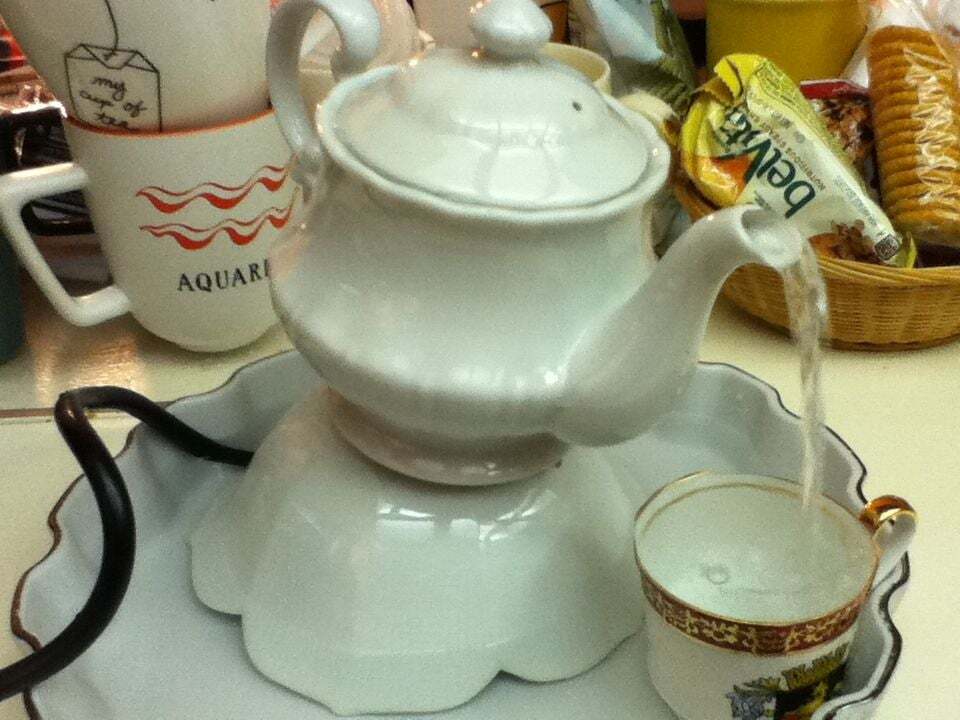 Here's a cute fountain for the tea-lover in the family. You can switch out a coffeepot, as well, if there are more coffee drinkers around, though. The project requires a few days for completion with all of the waterproof sealants to cure. Don't rush it or you'll ruin the fountain.
To make the fountain, you'll need a teapot, some teacups, a bowl, a basic, a water pump, waterproof silicone sealant, tubing, a glass and tile drill bit, masking tape, scissors, and a marker.
Via Instructables
Stacked Bowling Ball Fountain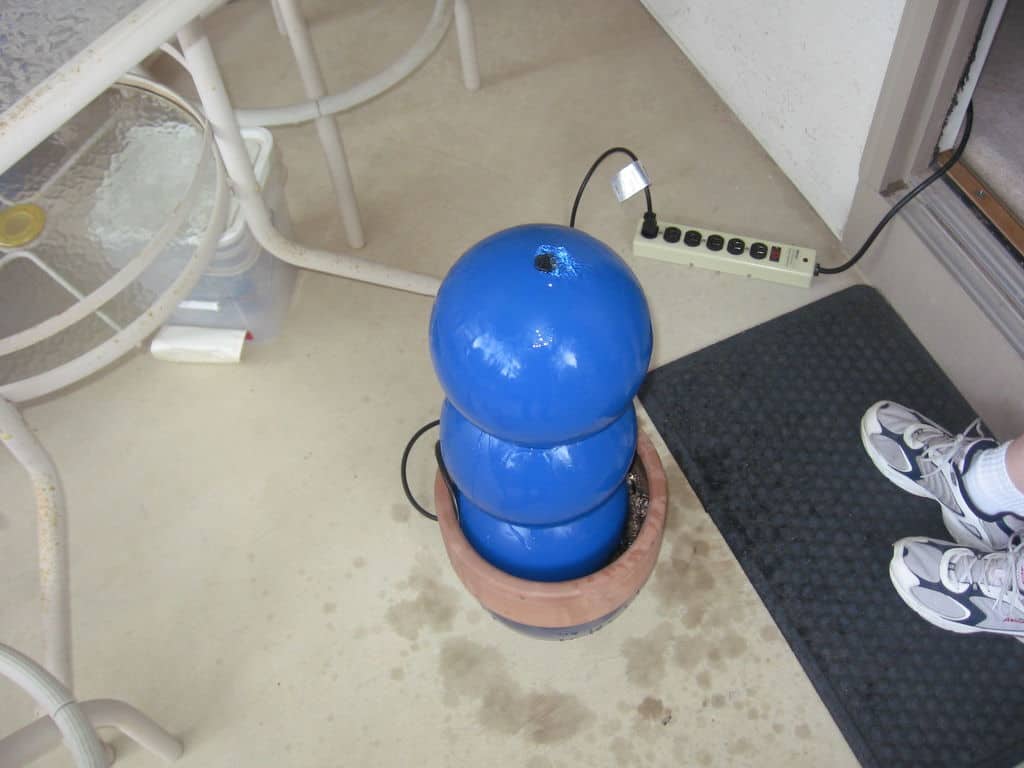 Now, here's a funky and unique fountain made from bowling balls. So, get on your thrifting pants and head out – you'll need three of them. It won't take long to make – though you'll need some decent drying time before starting up the water – and won't cost much at all to make.
To make this unique fountain that rolls the water along smoothly and beautifully, you'll need the bowling balls, plus a fountain pump, some vinyl tubing, metal rods, epoxy, epoxy putty, spray primer, spray paint, a flower pot, and some shredded paper.
Via Instructables
Free-Standing Rain Curtain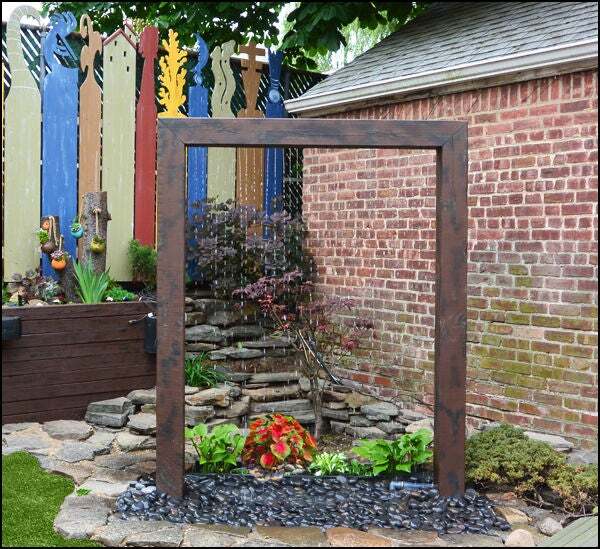 This beautiful DIY water feature is perfect for just about any backyard, whether you've got a tiny city yard or a big countryside abode. The curtain of water offers a soft, soothing, almost natural trickling waterfall feel that gives you some peaceful moments after a crazy day.
To make it, you'll need some pressure-treated lumber, copper pipe, copper elbows, copper solder or epoxy, plastic tubing, drip tubing, a waterfall pump, a PVC ball valve, and some tools like a miter saw and drill and router.
Via Instructables
Upcycled Cast Iron Sink Fountain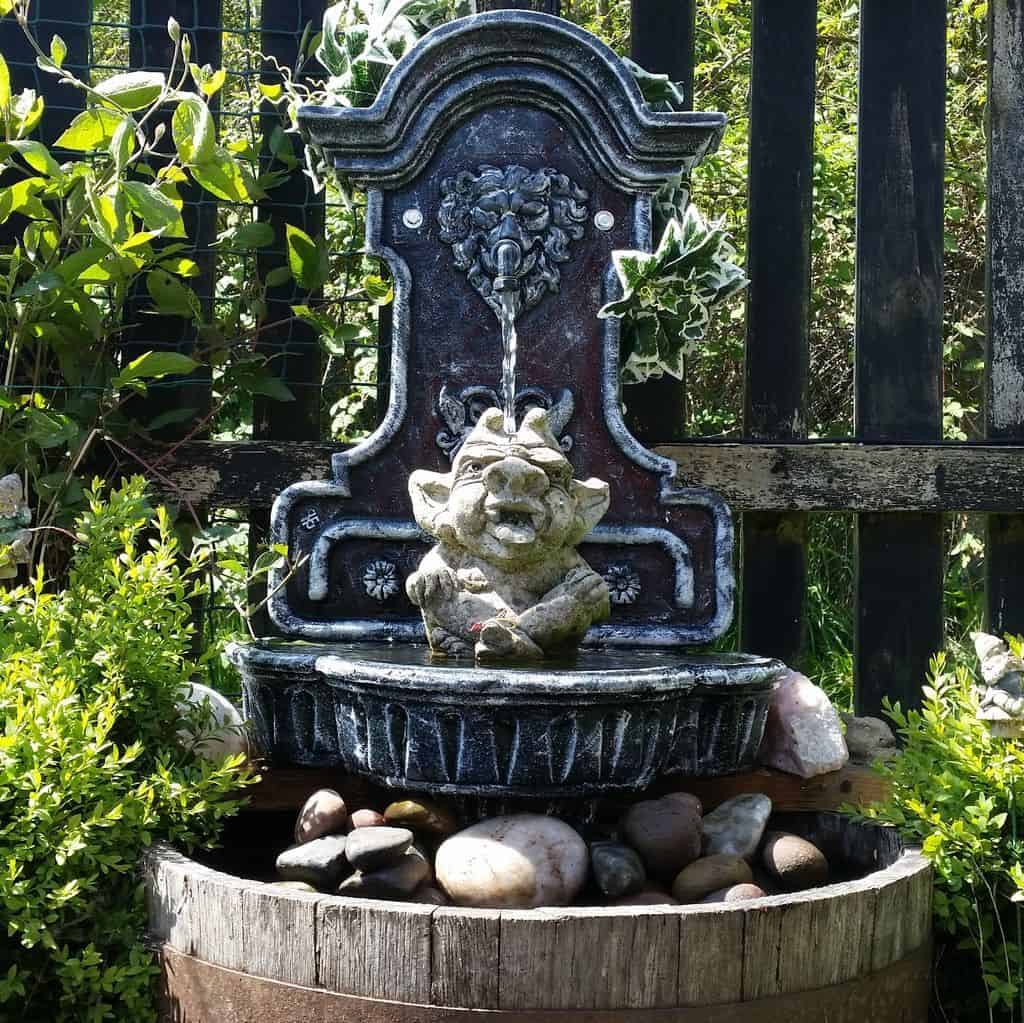 This DIY outdoor fountain is a great way to upcycle an old cast iron sink – or similar fixture – that you love but don't know what to do with. Or, if you just love the idea, you can hit up your nearest junkyards to find the right one to make your own.
To make the fountain, you'll need the old cast iron sink, a wire brush and wire brush drill attachment, sandpaper, drill, gray metal primer, black metal paint, white car paint, high gloss car lacquer, a pond pump, a copper elbow bend, and a paintbrush or sponge pad.
Via Instructables
Easy Garden Sculpture Fountain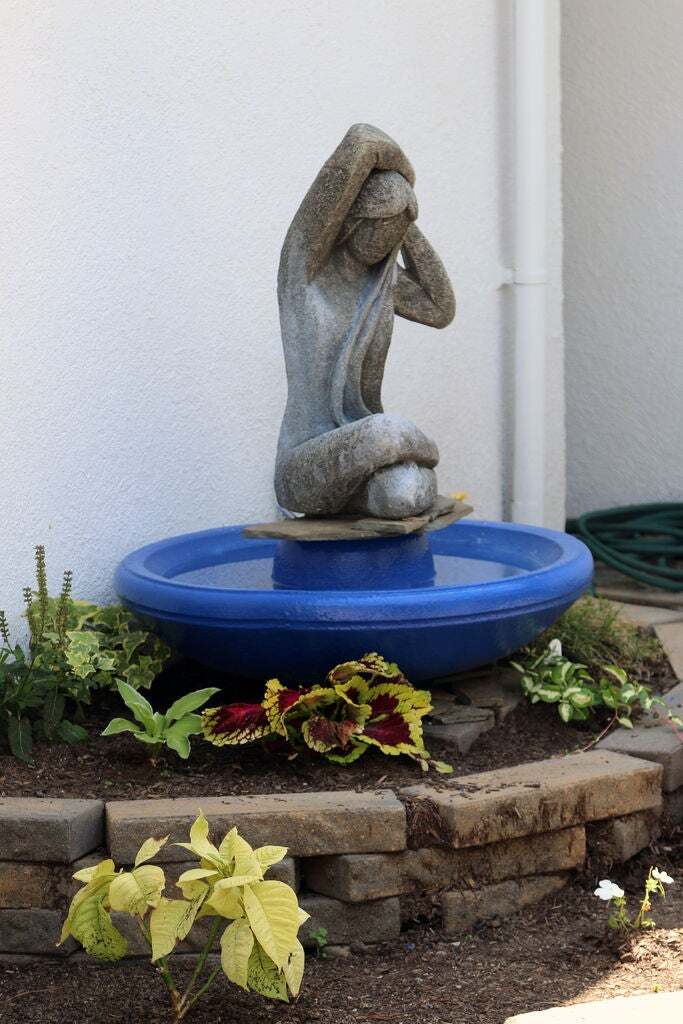 Here's another great upcycling/recycling project for creating the right fountain for your home. It's an easy project, won't take that long to make, and won't cost much, if you're willing to do some thrifting or alley shopping.
To build this fountain, you'll need a bowl or planter, some chunks of slate, a garden sculpture that you love, some clear tubing, a fountain pump, C-hooks, marine epoxy, a drill, and some supplemental supplies for refinishing the basic.
Via Instructables
Quirky Sculpture Solar Fountain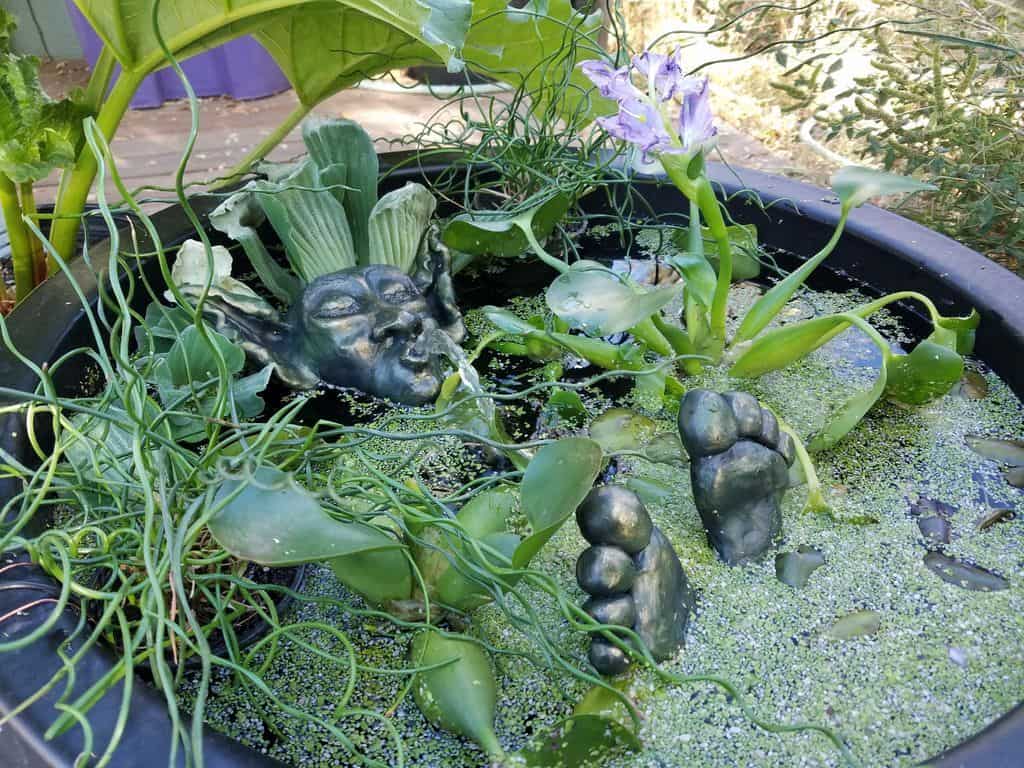 If you love quirky sculptures, want to go green wherever possible, and don't have a lot of space, you've come to the right tutorial. This little fountain is made from oven-bake clay, and some other basic supplies and some inexpensive solar equipment.
To build the solar kit, you'll need a pre-made solar panel (you only need a 10-watt panel), a 12-volt controller, a battery to keep the solar charge in, a DC pump, cables kit with male connector, plastic tubing. Everything is pretty basic from PVC pipe to Sculpey bake clay for your sculpture.
Via Instructables
Oxidized Concrete Fountain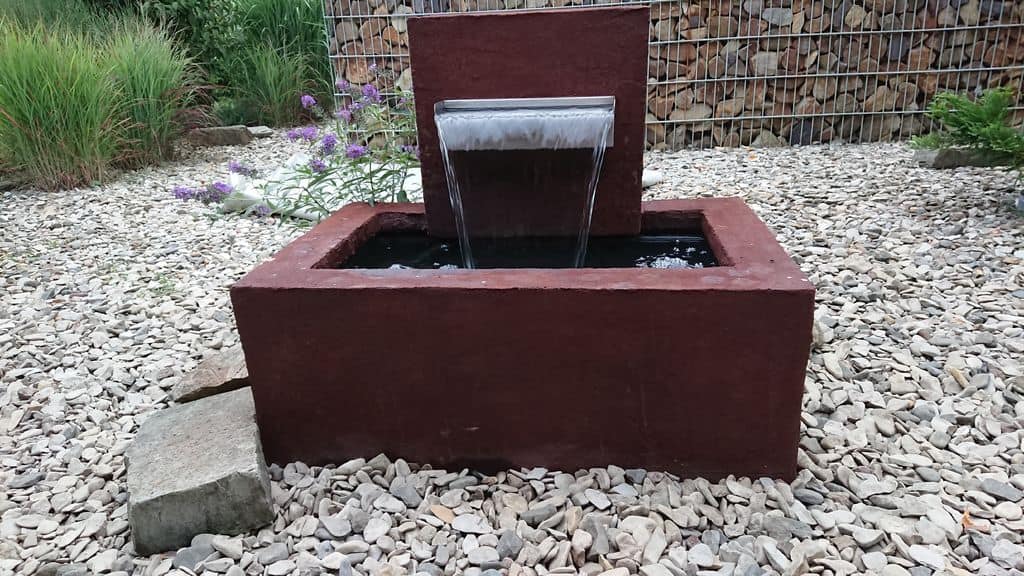 If you love rustic industrial design, you'll love this oxidized concrete fountain that looks and feels like it must come from some old factory where they felt the need to keep some water flowing. It's a fairly simple project, too, which is great, and works well in medium to larger spaces.
You'll need some basic concrete supplies like a mortar bucket, some Styrodur, reinforcing mesh, cement plaster, iron primer, paint, and oxidation chemicals for the quick rust effect. For the rest of the project, you'll also need a pump and a gush shower.
Via Instructables
The Right Fountain For Your Space
After you choose the right fountain for your space, you'll need to make sure you gather up all the supplies ahead of time and prepare some space and time for your project. Be sure to always allow for more drying time than the tutorial recommends, in case it just takes longer due to climate differences.
You will need the right fountain pump, so be sure to study up on the sizes, power levels, and uses before purchasing. Once you do that, you're pretty much all set. Build. Paint. Enjoy! And don't forget to share any changes you make and upload somewhere like Ana-White or Instructables. You never know who your project might inspire.