25 DIY Speaker Stand Ideas
Looking to mount your speakers on your stands instead of those awkward tripods that feel like they cost a fortune?
You can make your own from a variety of materials ranging from pre-made table legs to heavy gauge wire, scrap wood, concrete blocks, and so much more.
Here are the best ideas we could find, with instructions, to make your own DIY speaker stands.
Simple Pallet Wood Z Stands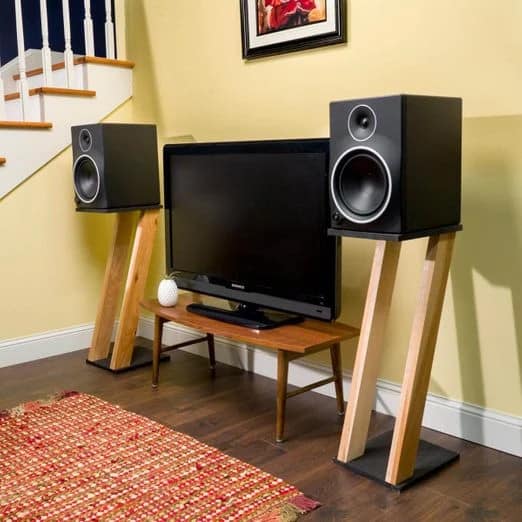 For a really solid plan to build speaker stands, this option from Family Handyman is a great way to go, if you've got a few tools on hand, including a circular saw, cordless drill, and clamps.
The stands lift the speakers to roughly ear level for most people when they're sitting, making them a great choice for living room speaker stands. The stands isolate the vibrations of the speakers from the floor, allowing bass but not shelf vibration to shape the sound you hear.This helps to create the perfect sound balance in the room.
Via Family Handyman
Ikea Upcycled CD Holder Speaker Stand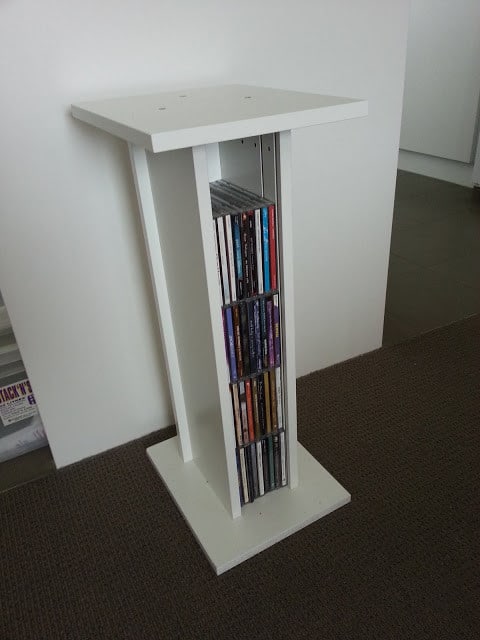 If you're into Ikea hacks, this simple stand is a fantastic choice. You just need a few simple tools – electric drill, hand saw, ruler – and Besta Vara Drawer Fronts from Ikea.
There's a handy video tutorial to follow along for the best and easiest instructions for this nice little project.
Via Ikea Hackers
Cinder Block Stand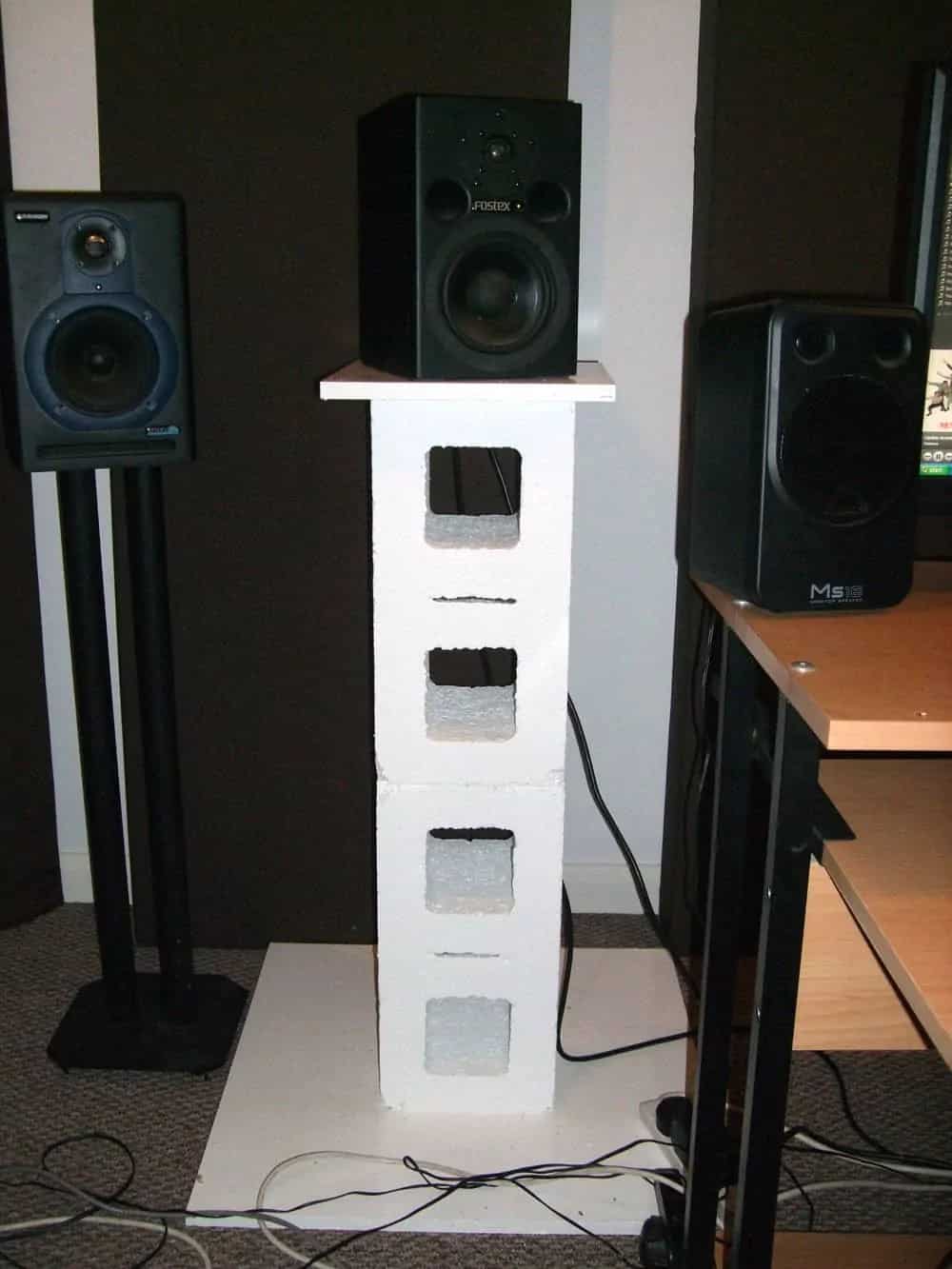 If you're looking for a great outdoor speaker stand option, then consider this simple cinder block stand from Definebottle. It's an extremely easy design to follow, and you just need three items: 5 cinder blocks, cement mortar, and paint. That's it.
You just need an hour or two to create it, then time to paint and dry – then you're done and ready to use these stands outdoors or indoors – your call.
Via Definebottle
Space-Saving Monitor Stands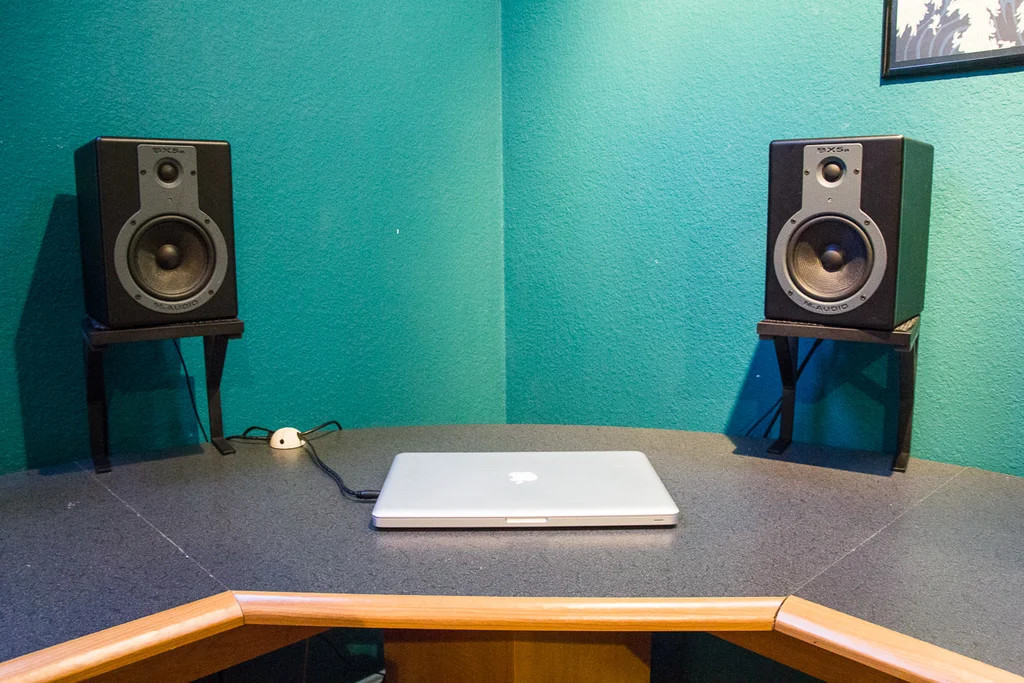 Need to keep those speakers in a tight space on your desk or bookshelf? These attractive, easy speaker stands save loads of space by clamping onto the desk rather than sucking up that surface space needed for all your work tools and supplies.
You'll need 4 Ikea EKBY TORE brackets, some screws, non-slip drawer liner, and some spray paint, sand paper, and masking tape.
Via Instructables
Upcycled Scrap Wood Stands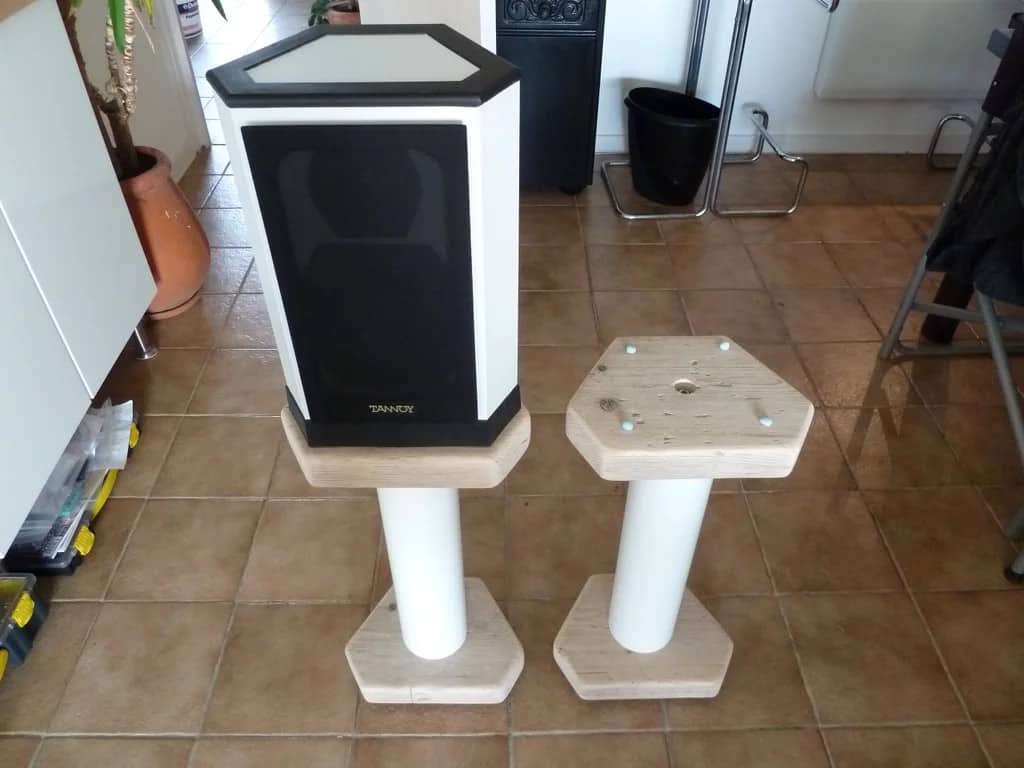 These simple speaker stand plans kind of look like weird spools converted into speaker stands. They're custom-tailored to the shape of your speakers, though, and don't take up a lot of floor space.
The stands elevate your speakers to whatever height you deem, thanks to the use of PVC pipe for the length of the stands. Otherwise, just grab some scrap wood that suits your style and follow the straightforward instructions.
Via Instructables
Ikea Hack 15-Minute Desktop Stands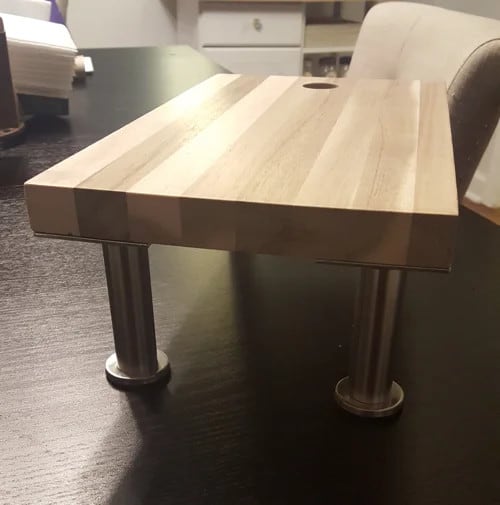 These DIY bookshelf speaker stands are a fast, easy Ikea hack. You just need two Skogsta chopping boards from Ikea, two packs of Capita legs, a drill, a pencil, and a phillips head screwdriver to create them. This is a perfect afternoon project for a quick fix for those speakers.
Via Instructables
Simple PVC and Wood Speaker Stand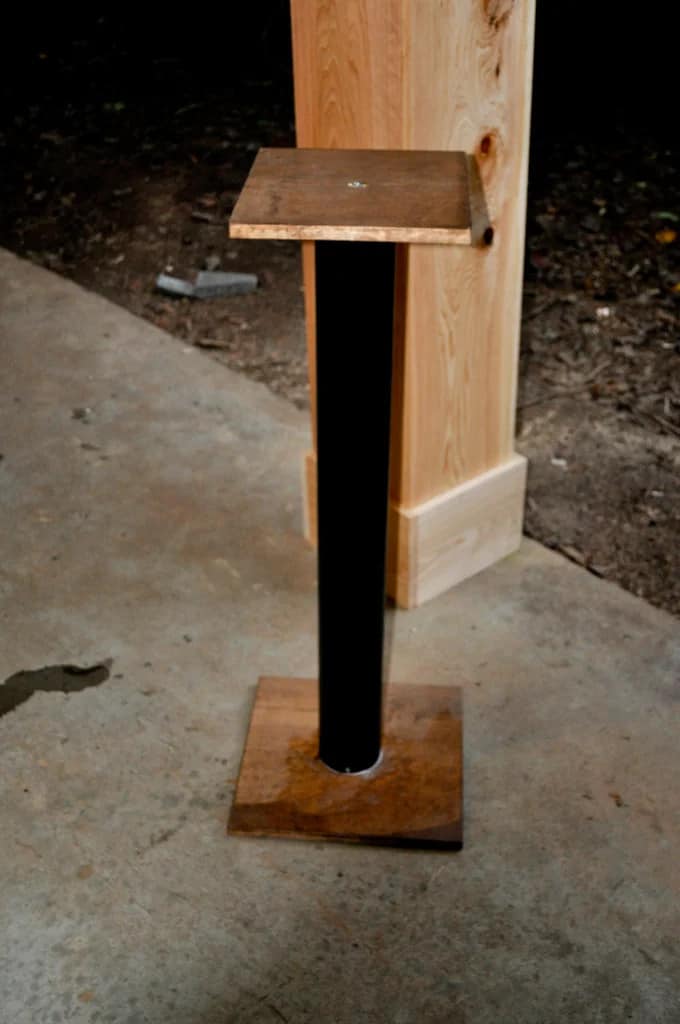 Feeling like a PVC speaker stand might be your thing? Try this design from Instructables. It uses scrap wood and PVC pipes, ⅜" all thread, nuts and washers, sand (for balance), caulk, spray paint and wood stain (if desired). You'll need a drill, caulk gun, hack saw and circular saw to make it.
Via Instructables
Easy Custom Speaker Stands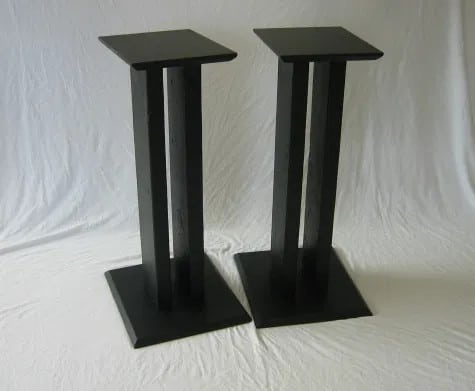 Another easy speaker stand pair to construct on your own is this set from Dan Marx. The tutorial isn't a standard step by step, but he goes into detail of each step, with pictures for each stage of the process at the bottom.
The speaker stands look really nice and blend in perfectly with any modern decor style.
Via Dan Marx
Ikea Chopping Board Upcycle Stand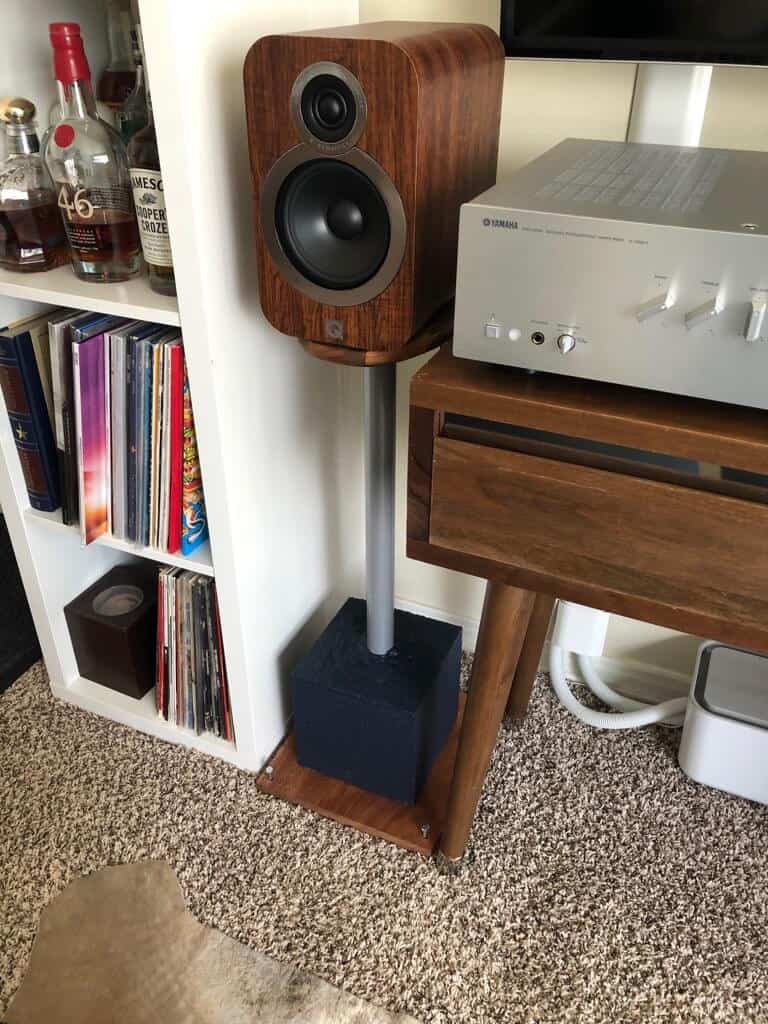 For another Ikea hack using their chopping boards, this speaker stand option looks fantastic and isn't that hard to make. To make it, you'll need 2 silver Adils and 2 small Fascinera from Ikea, 4 8×8 concrete blocks, some concrete mix, 2 12×12 walnut wood pieces, caulking, and some offs and ends.
Be sure to thoroughly read the instructions before you begin to make sure you have everything in place.
Via Ikea Hackers
Robust Speaker Stands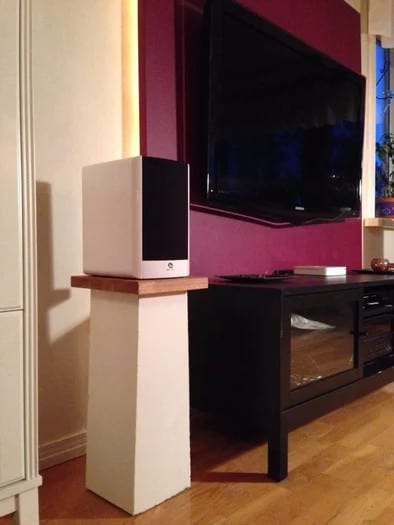 If you're looking for some really heavy-duty speaker stands, these robust ones from Instructables are a solid option. They're made from concrete blocks – the long ones – and some wood, screws, and paint. That's pretty much it.
Since these are so heavy, they're perfect use outdoors as well as in garage setups, and similar situations where there may be some rough handling.
Via Instructables
Modern Maple and Aluminum Stands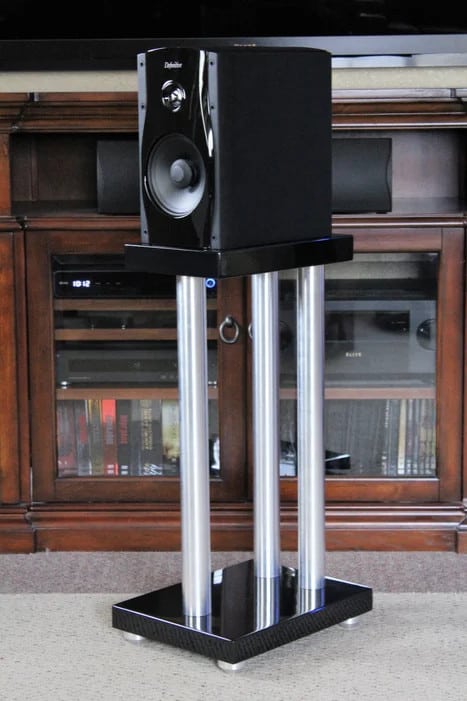 These beautiful speaker stands require a bit more DIY knowledge than most of the others, but if you've got the patience and the supplies, you won't regret these. If you're not that familiar with DIY, you may still be able to make them, you'll just need to be comfortable working with power tools and cutting metal.
To make these, you'll need maple wood, solid aluminum, a milling machine, hanger bolts, clamps, calipers, hacksaw machine, table saw, miter saw, planer, jointer, belt sander, lathe, lathe dog, and a steady rest.
Via Instructables
Attractive, Basic Wooden Speaker Stands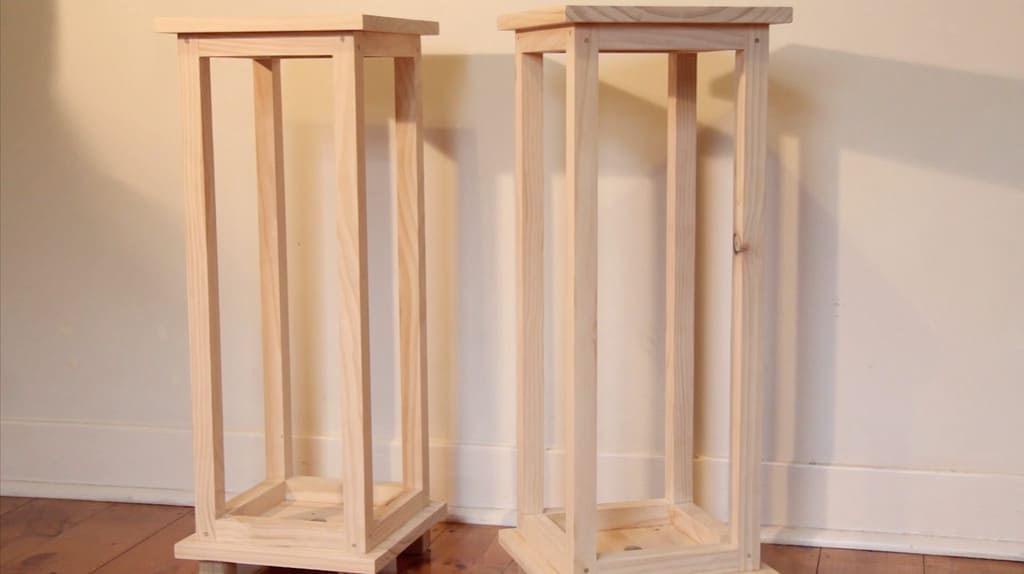 These basic wooden speaker stand designs are fairly easy to make if you have any woodworking experience at all. They're made with basic pinewood and easy-to-get supplies and tools.
The instructions are pretty clear and offer step-by-step photos, as well as a video tutorial on the process as a whole.
Via Instructables
Curved Wood Speaker Stands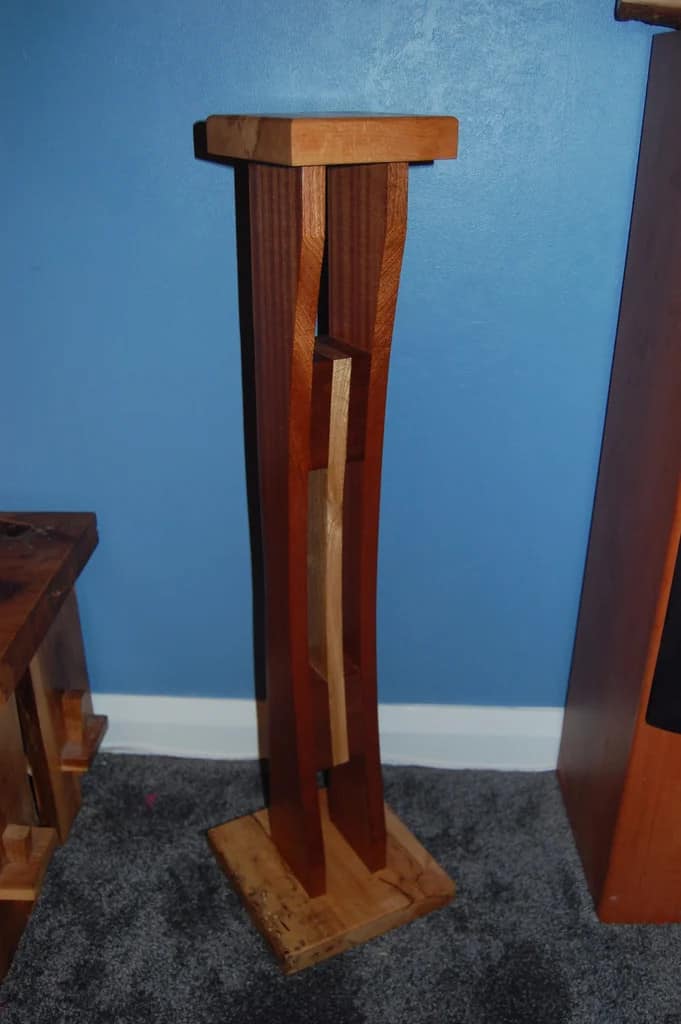 If you're looking for some really attractive, less conventional speaker stands, these beautiful curved woods stands are a stunning option. They use three different kinds of wood – giving them that extra textured look – along with some basic supplies.
You'll need spalted beech wood, oak, and sapele wood, wood glue, nut inserts, and threaded bar, plus a table saw, band saw, router, chisels, and hand saw. The instructions go into decent detail and provide photos for each step of the process to make the process less confusing.
Via Instructables
Basic Desktop Speaker Stand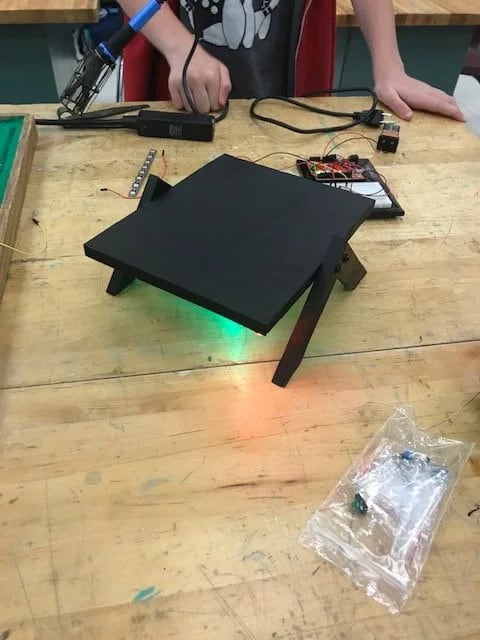 This nice little desktop speaker stand is great for a lot of different spaces. It's reasonably compact and attractive, but the design also helps prevent the awkward vibration resonation on a desktop, meaning it won't be as uncomfortable using them at the same time as when you work.
The instructions don't give dimensions and a lot of details, but if you can measure out your speaker and have at least some basic knowledge of woodworking, you should be able to do it yourself from the simple tutorial anyway.
Via Instructables
Easy Metal Speaker Stand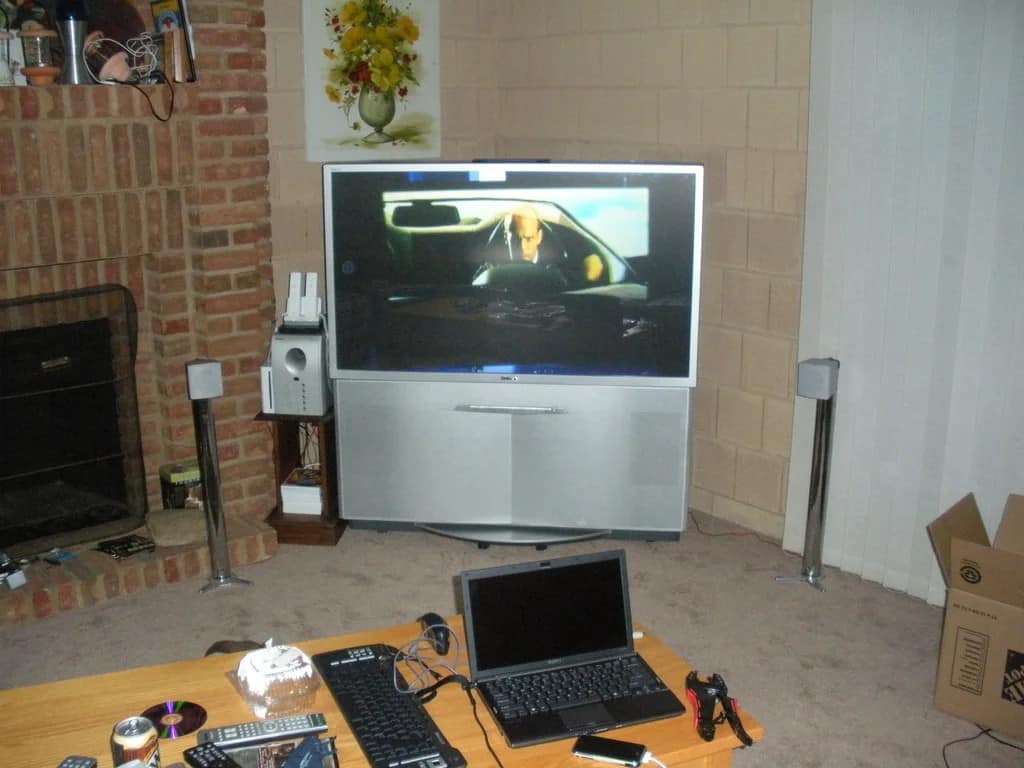 These metal speaker stands don't require you to know how to weld or work with metal. They use pre-made materials (metal table legs, for example) to create a sturdy, solid speaker stand setup.
To make them, you'll need metal table legs (see images for the type), hot glue and hot glue gun, paint, and, of course, your speakers. Note: the stands are portable, but the speakers are being permanently affixed to the stands.
These would work as a surround sound speaker stand or as a standard speaker stand.
Via Instructables
Hardwood Floor Stands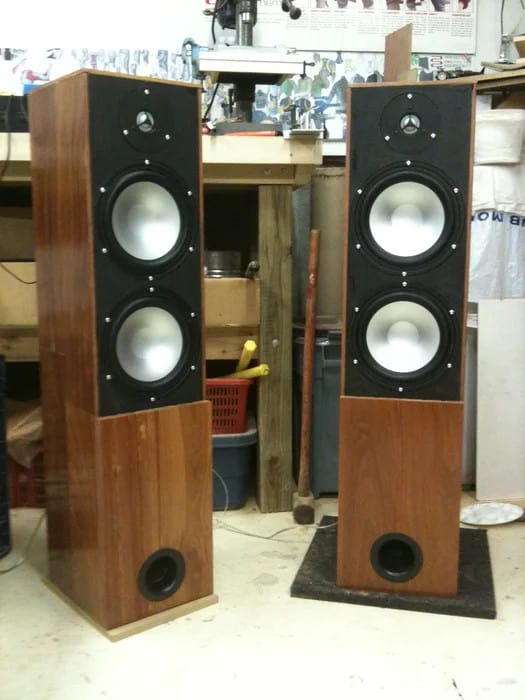 These beautiful hardwood floor stands are a great weekend project, especially for anyone looking to make homemade speaker stands that nobody will believe you made yourself.
The intermediate to advanced woodworking skill project is made from scrap hardwood, speaker components, screws, packing foam, wood glue, and liquid nails. To make them, you'll need a drill and bits, router or jigsaw, and a tablesaw.
Via Instructables
Simple Concrete Speaker Stand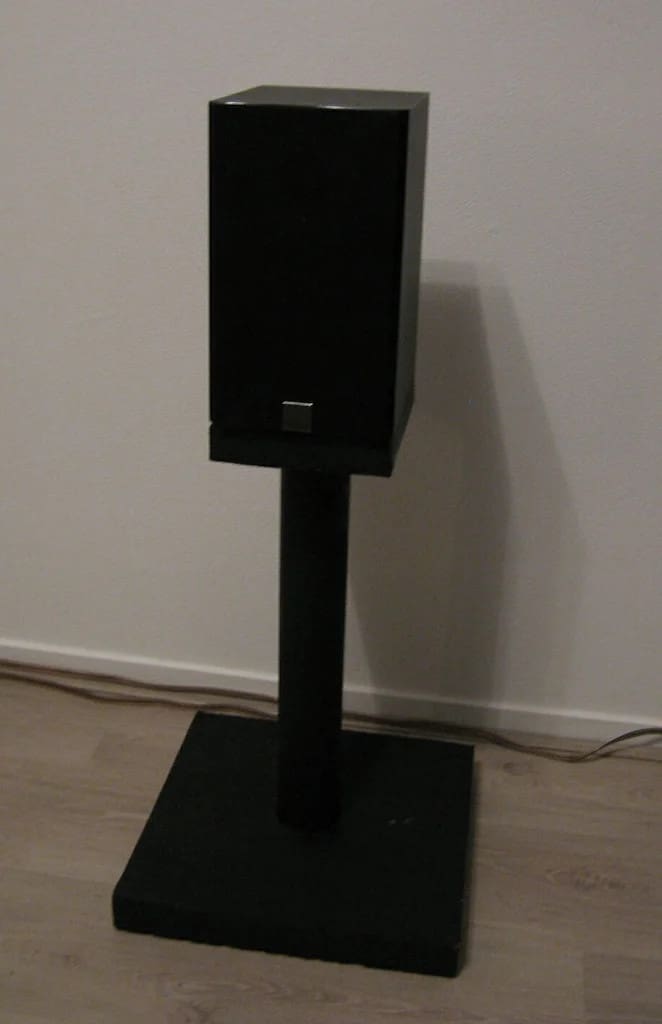 Looking for a sturdy stand that isn't too heavy? This simple concrete stand might do the trick for you. This type of speaker stand doesn't translate the vibrations from your speaker into the space, so you wind up with better sound.
The instructions are pretty easy to follow along, just be sure to pay attention as they're not quite as clear cut as some of the more organized tutorials. They do offer clear, step-by-step photos for easily making your way through.
Via Instructables
One-Hour Speaker Stands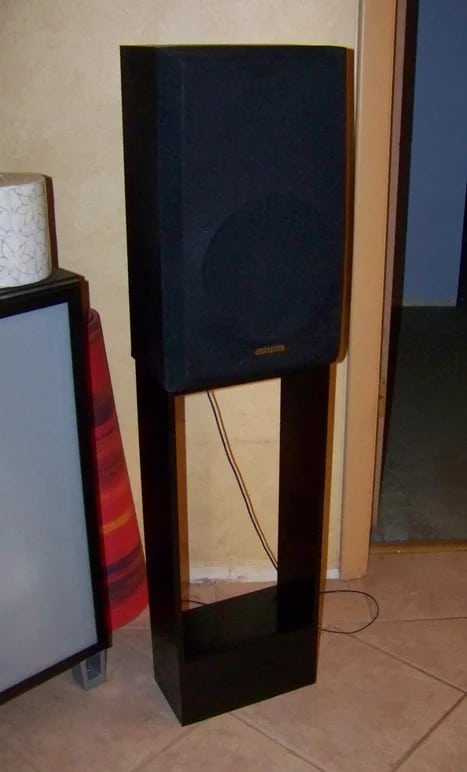 If you're in a rush for new stands, this simple wood speaker stand tutorial should be doable in an hour or less. The tutorial offers images for each stage of the process, along with some tips to help these not transfer the vibrations like some stands do.
You'll need some plywood and bricks for the construction, along with basic tools for cutting, measuring, and tightening.
Via Instructables
Desktop Speaker Stands for Audioengine A2 Speakers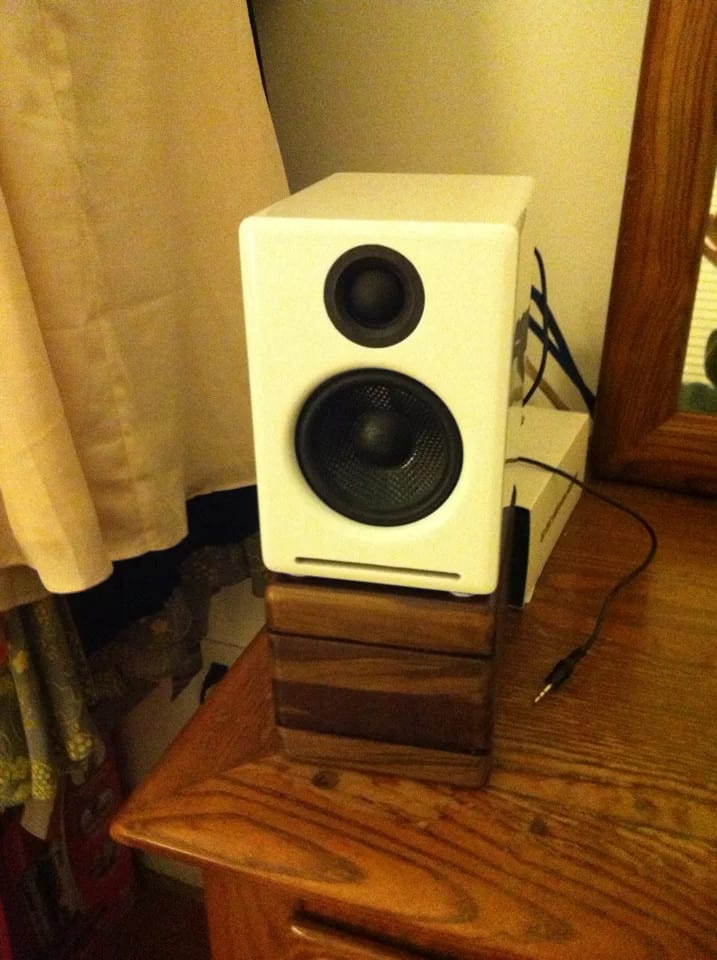 This gorgeous design for a desktop speaker stand is perfectly designed for the Audioengine A2 speakers, but if you're got some woodworking know-how, you'll be able to tweak the measurements to match whatever kind you have.
To make them, you'll need walnut (ideally Peruvian walnut), wood glue, quick set epoxy, lead fishing weights, a chop saw, drill press, Forstner bit, clamps, random orbital sander, and laquering materials for this beautiful shiny finish.
The instructions are straightforward and reasonably in-depth, so assuming you have some woodworking experience, you should be able to follow along pretty easily.
Via Instructables
Recycled Spray Can Speaker Stands

Like the idea of a metal speaker stands but love recycling things rather than buying new supplies? How about turning old spray cans into speaker stands? These nifty little speaker stands are made from old spray bottlers and really do the trick.
To make them, you'll need spray cans, an old chopping board, speaker cloth, brown tape, hook and loop tape, strong thread, synthetic rubber based fevicol, screws, a drill machine, scissors, sewing machine, and other basic supplies.
The tutorial is well laid-out with clear, detailed directions, and no extras that distract.
Via Instructables
Sawhorse Corner Speaker Stand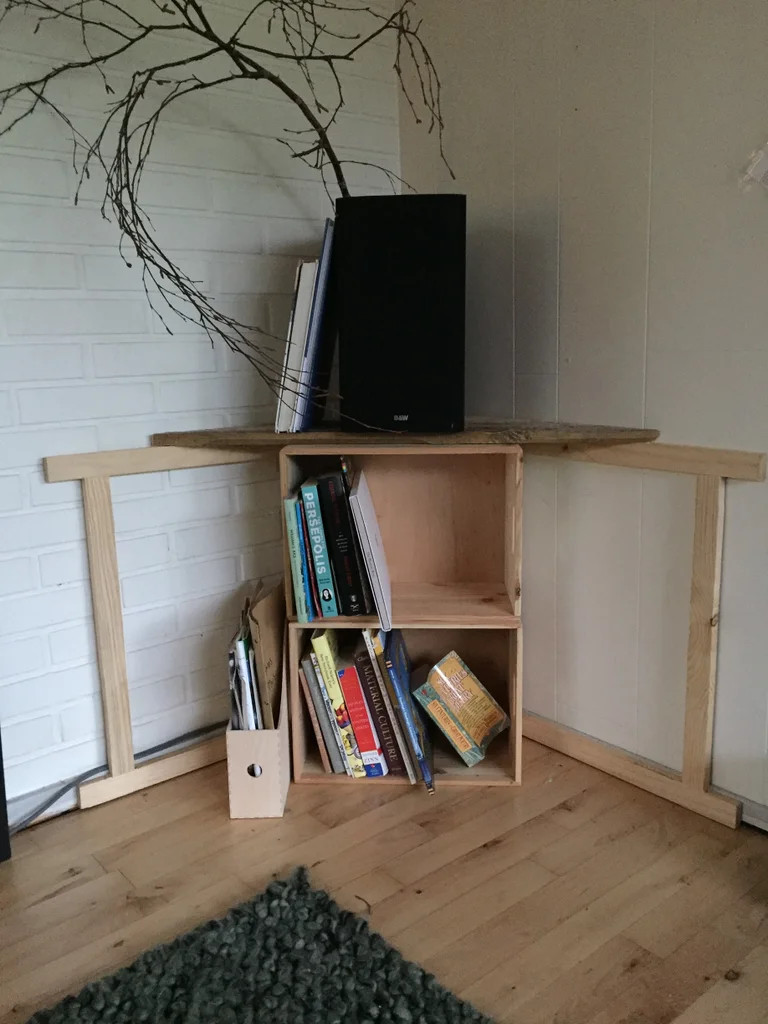 This unique speaker stand is perfect for anyone putting their speakers into the corner of the room. The stand is made of – you guessed it – a wooden sawhorse and some pretty basic supplies.
One nice thing about this is that though it's made of wood, the unique design with the amplifier hammock reduces the vibration transfer, offering you a cleaner, clearer sound quality.
Via Instructables
Metallic Adjustable Height Speaker Stands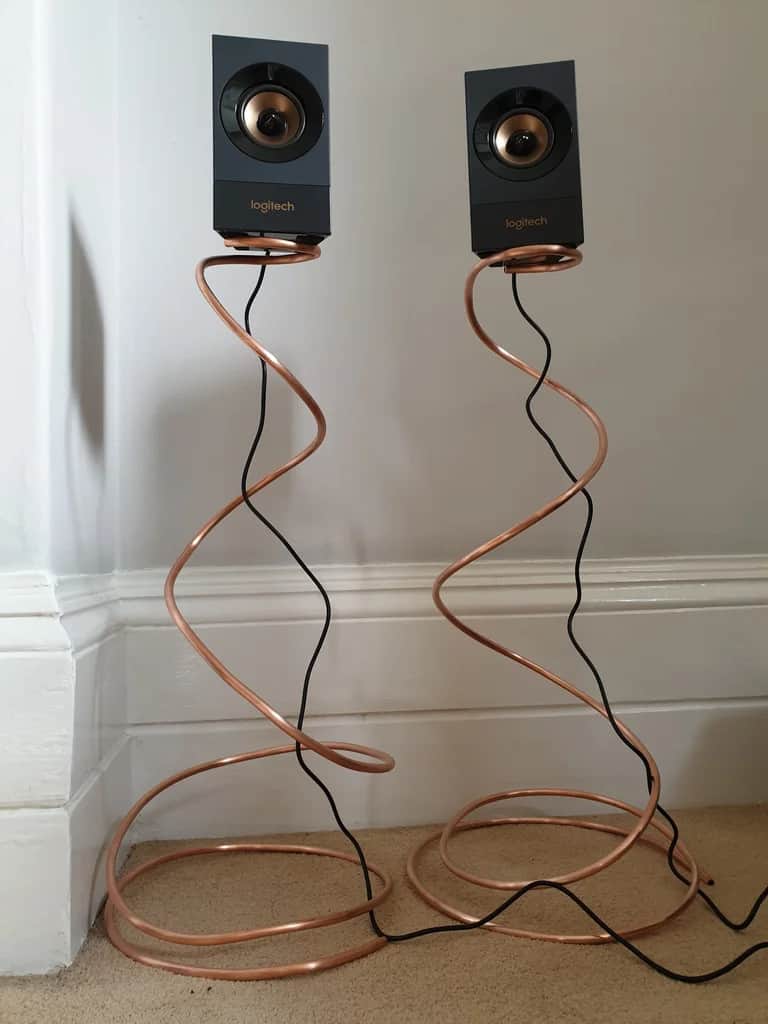 These are probably the most unique speaker stands on the list. They also happen to pretty easy to make – no welding required! You just need three supplies, too, and they take less than an hour to craft.
You'll need three yards of microbore tubing, a tube cutter, and either Brasso or sandpaper, depending on the type of finish you'd like for the stands when you're done.
Via Instructables
Upcycled Lampstand Speaker Stand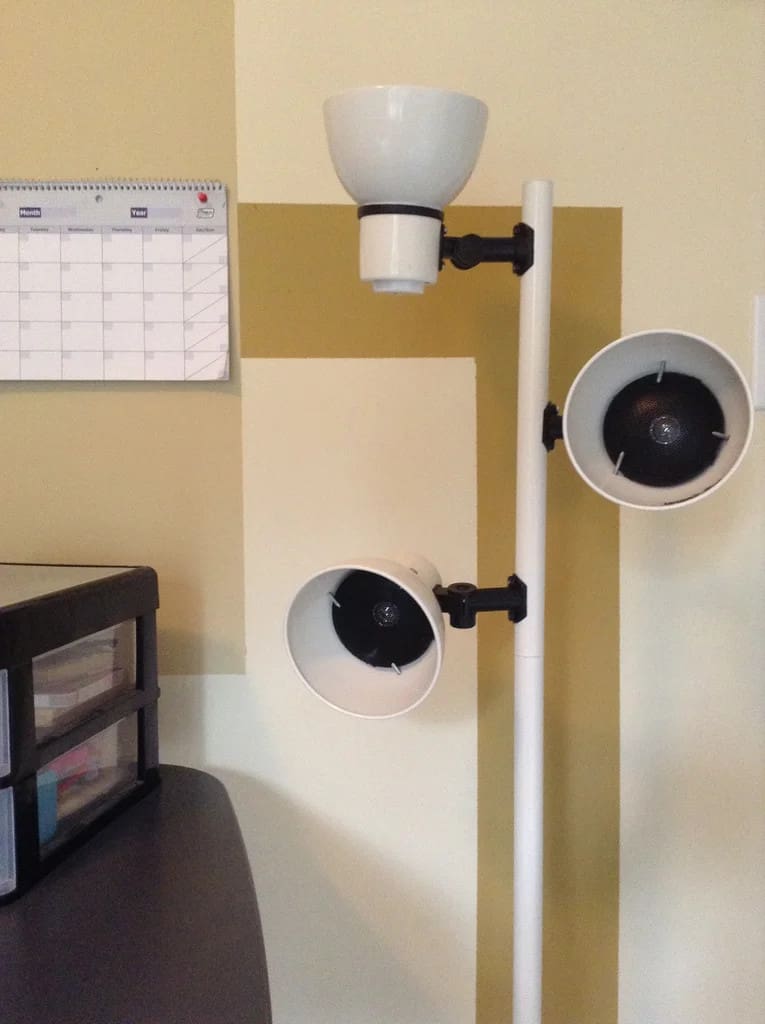 Here's another great upcycling project that helps you get that perfect sound while saving the environment just a little bit. You'll need to find some old lampstands on sites like Craigslist or Freecycle and some patience as you gut the lamp and rejigger it into a speaker stand with built in mini speakers.
The nice thing about this speaker stand is that because the speakers are at different levels, they add some depth and a kind of surround sound feeling to the music or entertainment you're listening to.
Via Instructables
No-Weld Metal Speaker Stands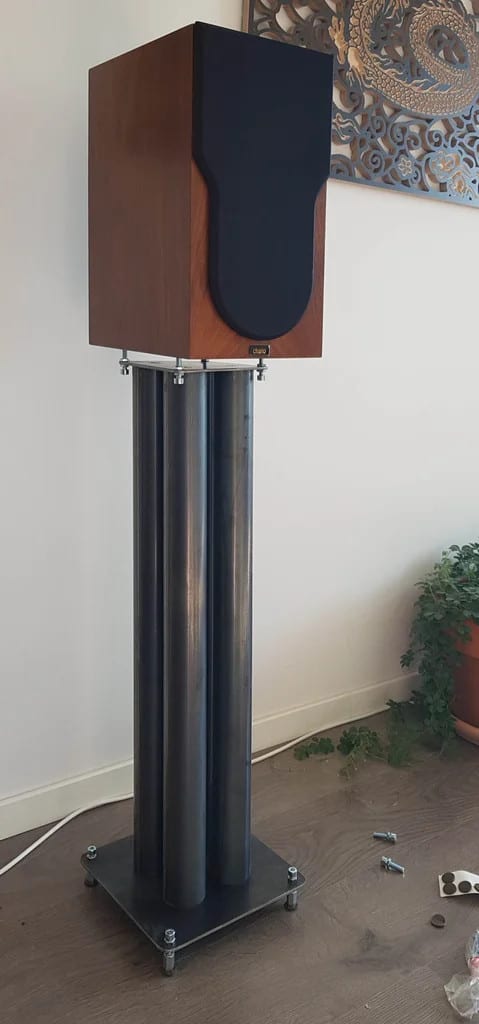 Looking for a creative speaker stand? Try this no-welding required option that has a classic, kind of rustic look to it while also looking modern and chic.
To make this unique stand, you'll need 8 metal pipes, 4 metal plates, coupling nuts, screws and nuts, and some screw rods. The tutorial will walk you through the process with this no-weld project for a really nice set of speaker stands.
Via Instructables
Smartphone Speaker Stand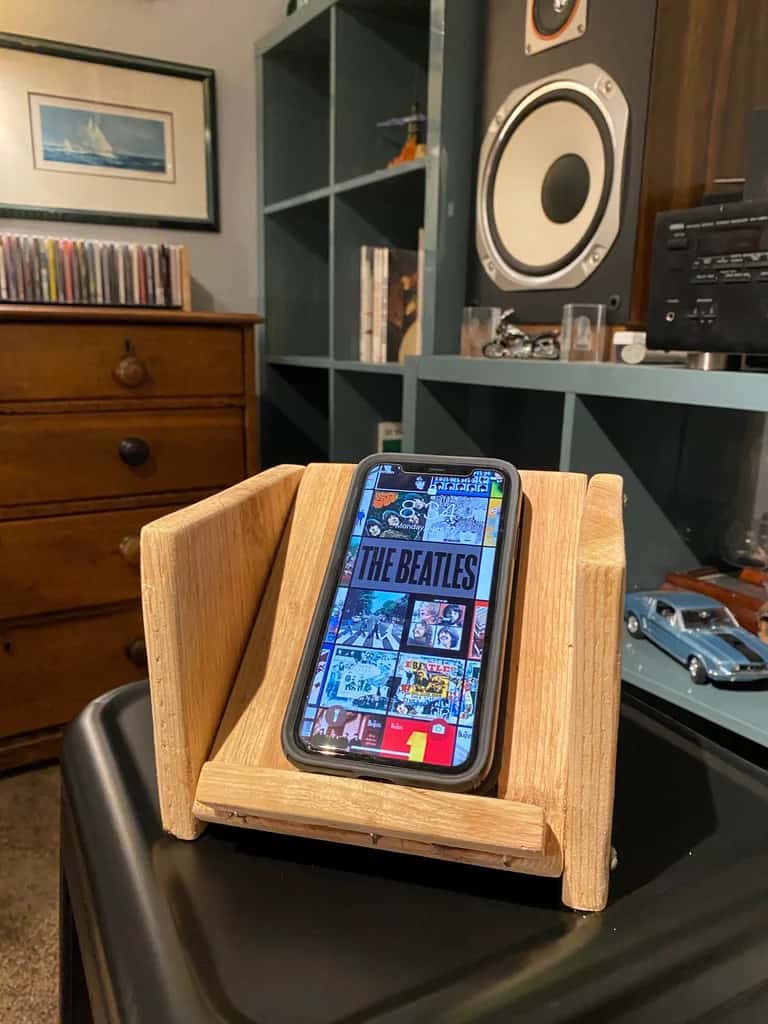 And because not all speakers are alike, I thought a good smartphone speaker stand might just be handy. Personally, I have issues keeping my phone upright with a store bought stand, so this seems extra appealing when I'm multitasking.
The simple instructions are pretty easy to follow along with and the result is a beautiful desk, shelf, or tabletop speaker for your phone.
Via Instructables
Whatever Your Style, These Speaker Stands Will Do It!
Whether you're thinking chic, modern, rustic, or simple, these tutorials and plans should offer you something you're looking for in a speaker stand. Some are super basic and anyone can make them, while others require a little more experience.
Depending on your dream sound system setup, you may even want to make a few different types to keep the bass vibrations at bay and the sound clear and crisp, while keeping your sound system looking good in just about any setting.