15 DIY TV Gallery Wall Inspirations & How-Tos
In 2019, the average size of a family's TV is 47 inches. TVs tend to be the focal point of common rooms, but they aren't exactly nice to look at if you aren't actively watching them.
To combat this, consider creating a gallery wall to help the TV blend in a little. It will add character and color to a space that may otherwise be pretty blank (aside from the giant flat screen, of course).
White & Bright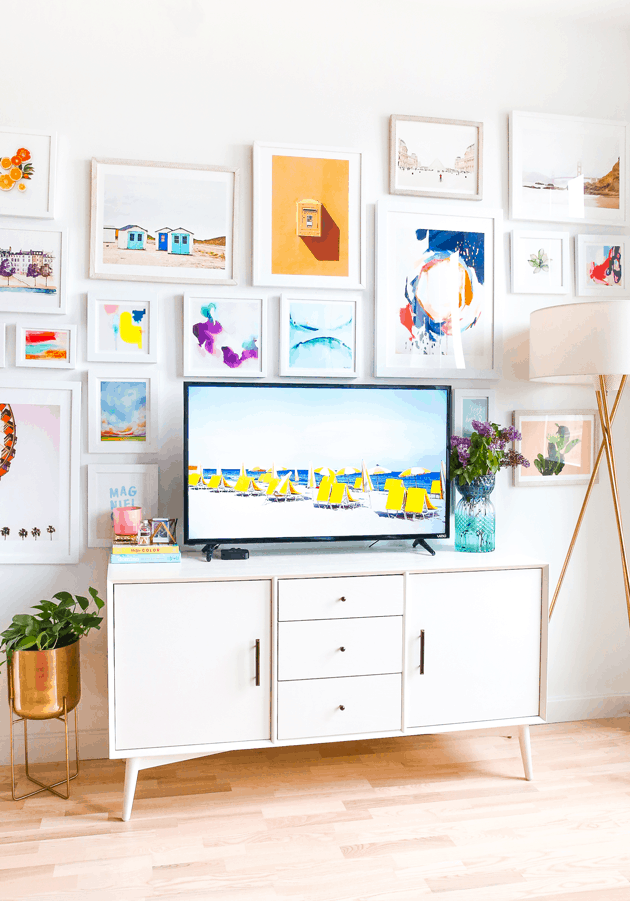 This gallery wall is what colorful dreams are made of! The bright hues pop from the white walls and the neutral and white frames create texture without distraction.
You barely even notice a TV is there with this setup, but the wall isn't so distracting that you can't pay attention to a show if it's on.
DIY TV Gallery Wall by The Crafted Life
Mixed Media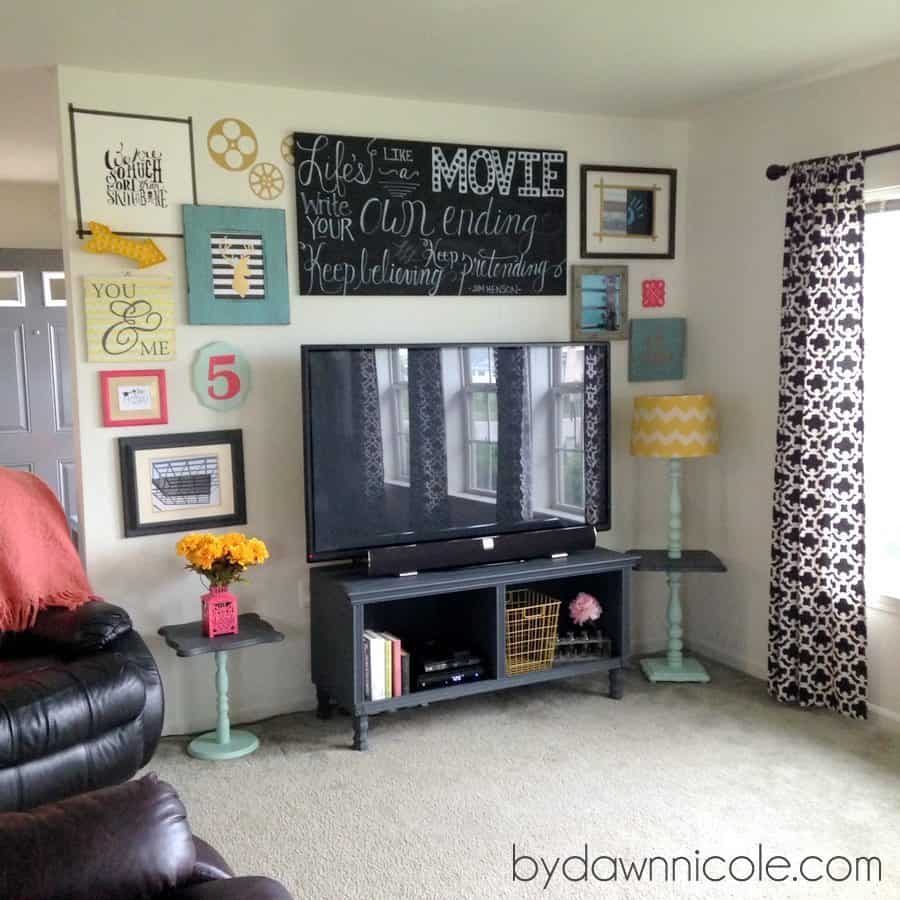 The previous gallery wall was carefully designed to blend together, but this one is full of charm because it is beautifully mismatched (yes, that can be a thing).
While there are a lot of different textures and no actual theme, there is a clear color palate which is what makes this wall work so well.
DIY TV Gallery Wall by Dawn Nicole
Awkward Space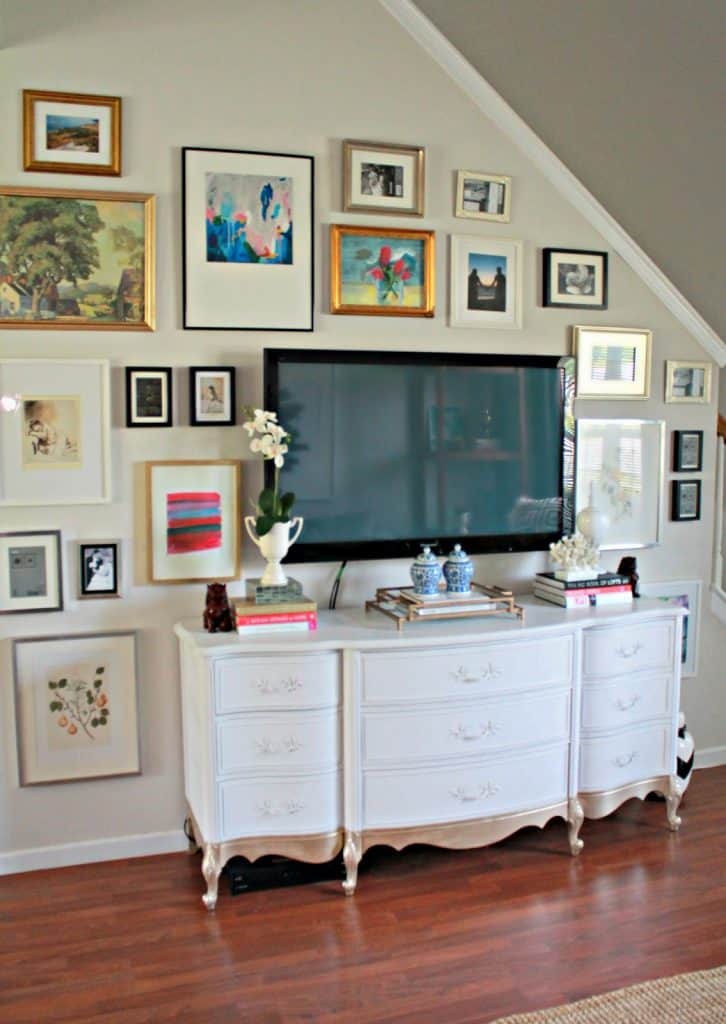 A lot of two-story homes have an awkward wall where the staircase is, and if that's the only spot for your TV you have to get creative.
This gallery wall is a great example of how you can beautify an odd space – and still have your TV there, too.
DIY TV Gallery Wall by Shannon Claire Interiors
Neutral Shades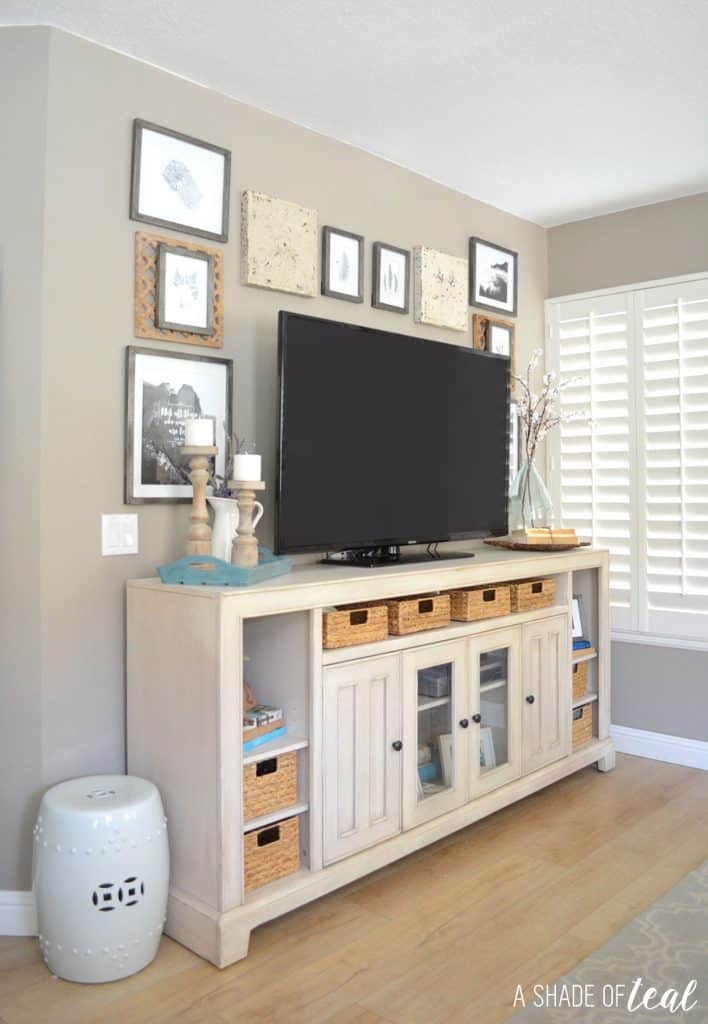 If you prefer your home to be pretty neutral and airy, this gallery wall design is great inspiration. The frames all work together, but aren't terribly matchy-matchy and the white pieces above each corner of the TV add some texture to the space.
Also note that all of the photos are in black and white, which adds to the uniform feel of the wall.
TV Gallery Wall: How To Decorate Around A Wall by A Shade of Teal
Balanced & Symmetrical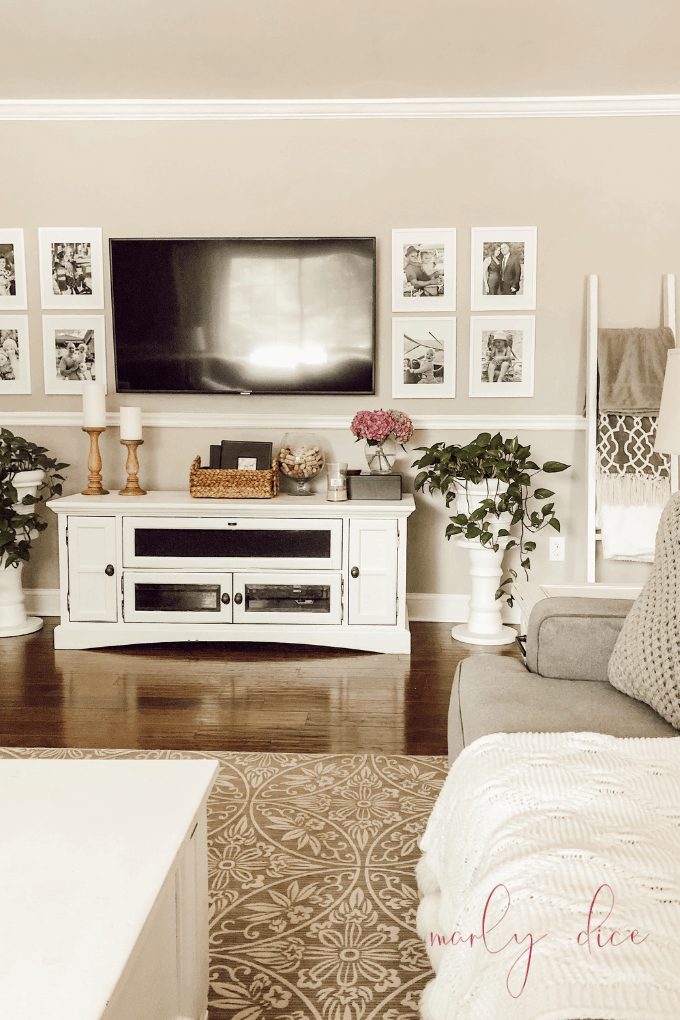 If the thought of a chaotic gallery wall makes your skin crawl, this setup is perfect for you. The TV is perfectly centered between eight photos (four on each side) to create a symmetrical grid.
Part of what makes this look so clean and polished is that all of the frames are exactly the same and the photos in them are all black and white. Proof that you can have variety and uniformity at the same time.
How to Decorate Around a TV Using A Gallery Wall by Marly Dice: A Brick Home
Black & White Modern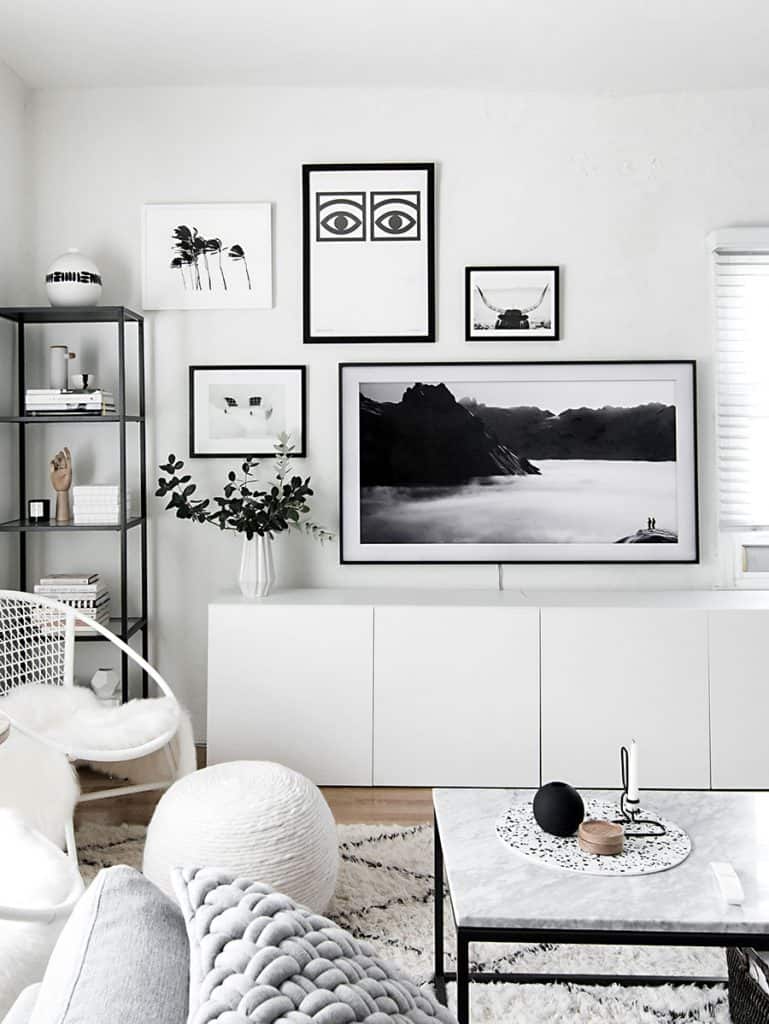 In many homes, the overall color scheme is none at all. If you prefer shades of black, white, and grey this gallery wall is probably your dream come true.
Even though the only colors are black and white, there is still a ton of variety that draws the eye away from the TV (which blends in perfectly when it's off because it's black!).
Gallery Wall Update: A TV That Matches Our Decor by HOMYOHMY
Framed TV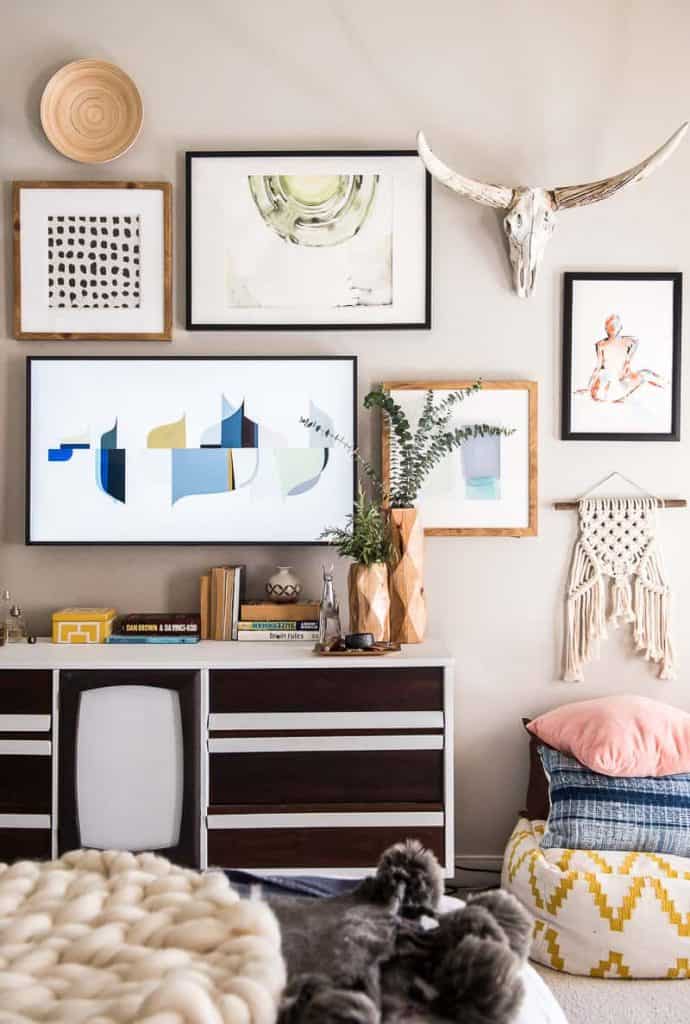 This blogger posted the gallery wall as a sponsored article for a framed TV, but the idea still works even without purchasing a new TV (there are tons of DIY tutorials for adding a frame to your TV).
The frame around the TV works well with the frames on the various prints surrounding it. It all blends together nicely and the TV doesn't look out of place at all.
Gallery Wall With The Frame TV by Place of my Taste
Grid Gallery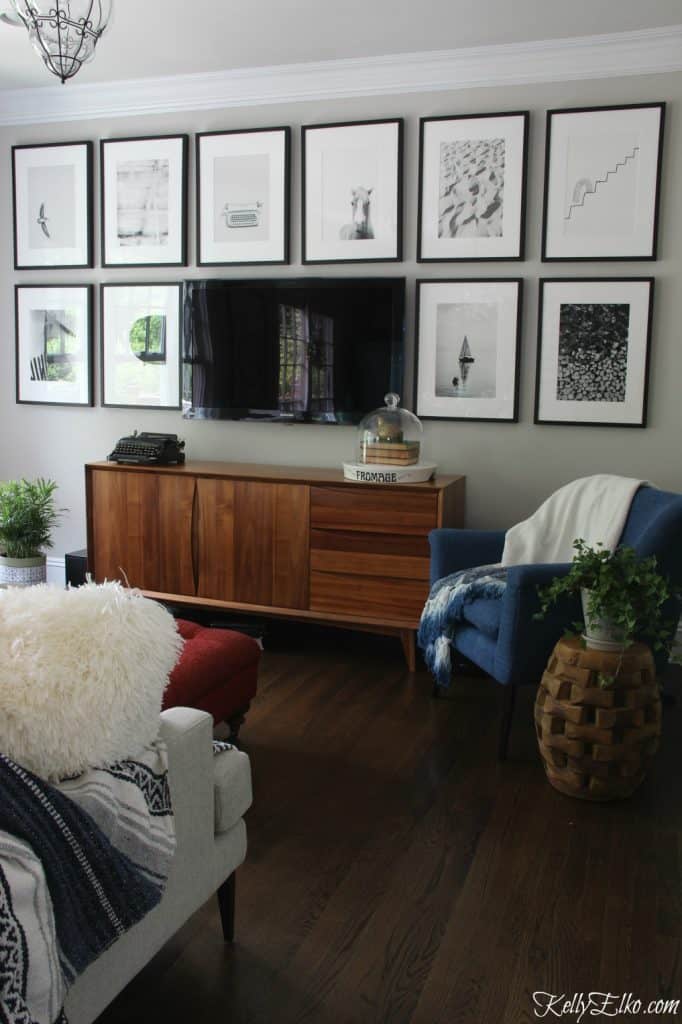 Much like the previous symmetrical grid shown above, this one provides a uniform design. What's different about this one, though, is that instead of only hanging photos on the sides of the TV, there are several over it which deflect away from the screen even more.
Since everything is relatively the same (the prints vary, but not by much), the hardest part of achieving this look is getting just the right spacing between photos.
Camouflaging TV With A Gallery Wall by Kelly Elko
Small TV Made Chic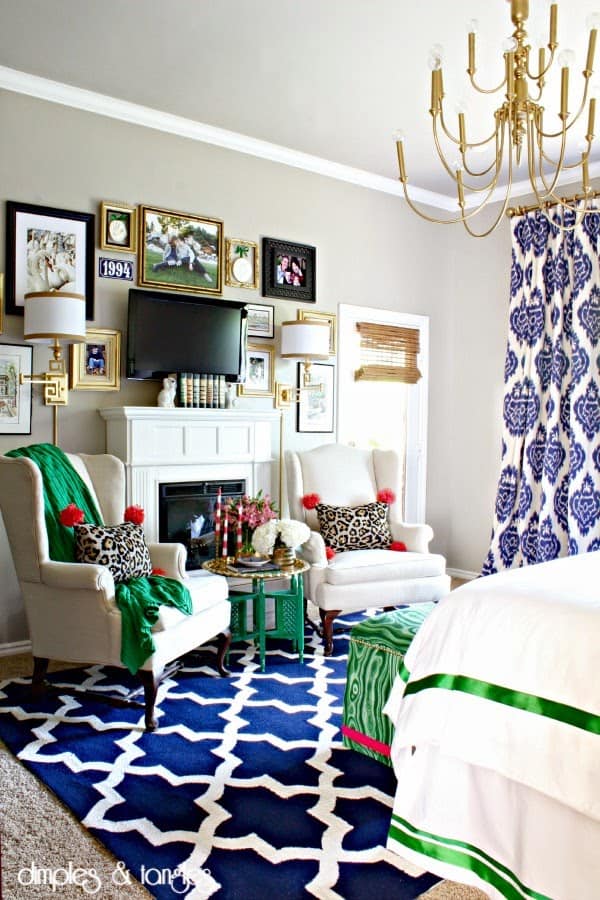 Even if you don't mount your TV to the wall, it can still blend in nicely with a gallery wall behind it.
This photo shows a TV sitting in the center of a dresser with the gallery photos hung around it. By arranging the gallery wall with the TV as the centerpiece, everything flows together well even though the TV isn't mounted.
How To Design A Gallery Wall Around A TV by The DIY Playbook
Mantle TV Gallery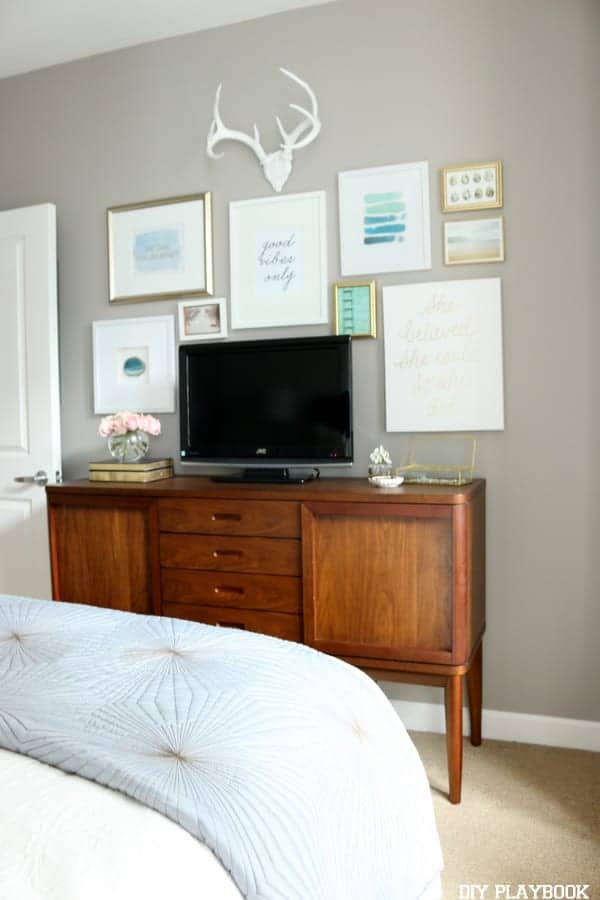 A lot of homes are built pre-wired to hang a TV over the fireplace and mantle. You can leave it at that and just add some decor to the mantle, or you can style it up a bit more with a gallery wall.
This blogger redecorated her bedroom, which has a fireplace and mantle in it, and was able to blend the TV into a gallery wall that extends over and around the fireplace, which camouflages the TV and gives the illusion that the mantle is wider than it actually is.
One Room Challenge by Dimples and Tangles
Diagonal Design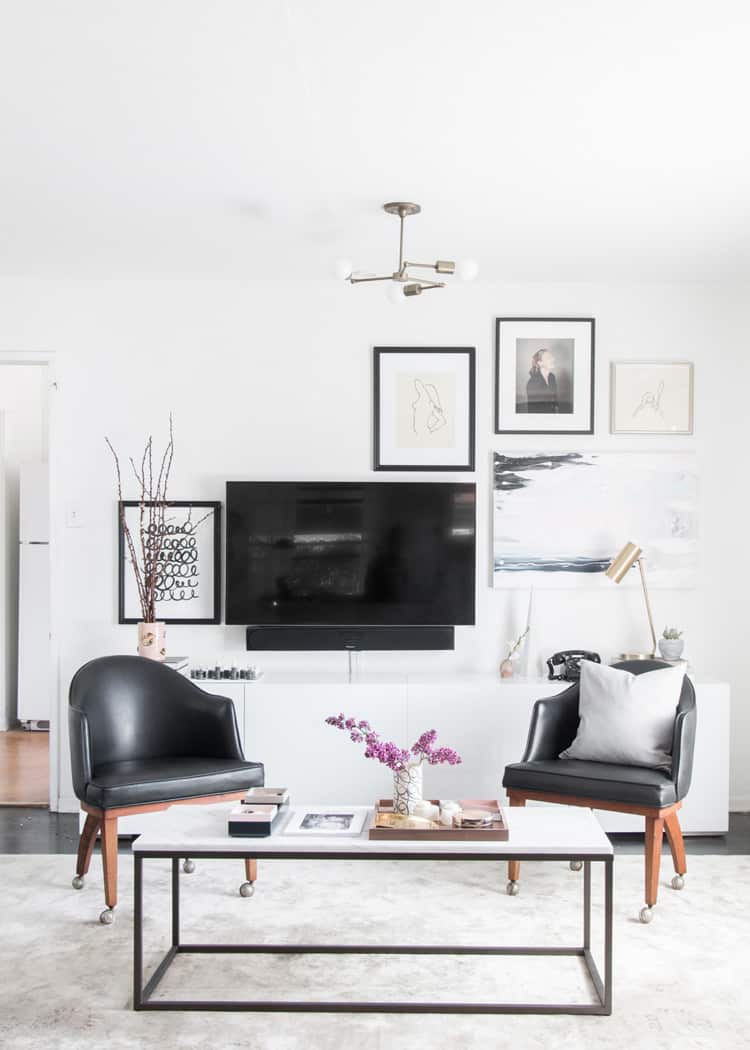 What stands out about this gallery wall is that the designer clearly wasn't trying to hide the TV, but simply incorporate it into a larger design – and it worked!
This unique gallery wall proves that symmetry isn't necessary to create a beautiful space. The TV works with the design instead of being the center of it, which is what makes it so unique (and aesthetically pleasing).
Exploring Nostalgia in Airy LA Craftsman Bungalow by Design Sponge
Glam Gold Gallery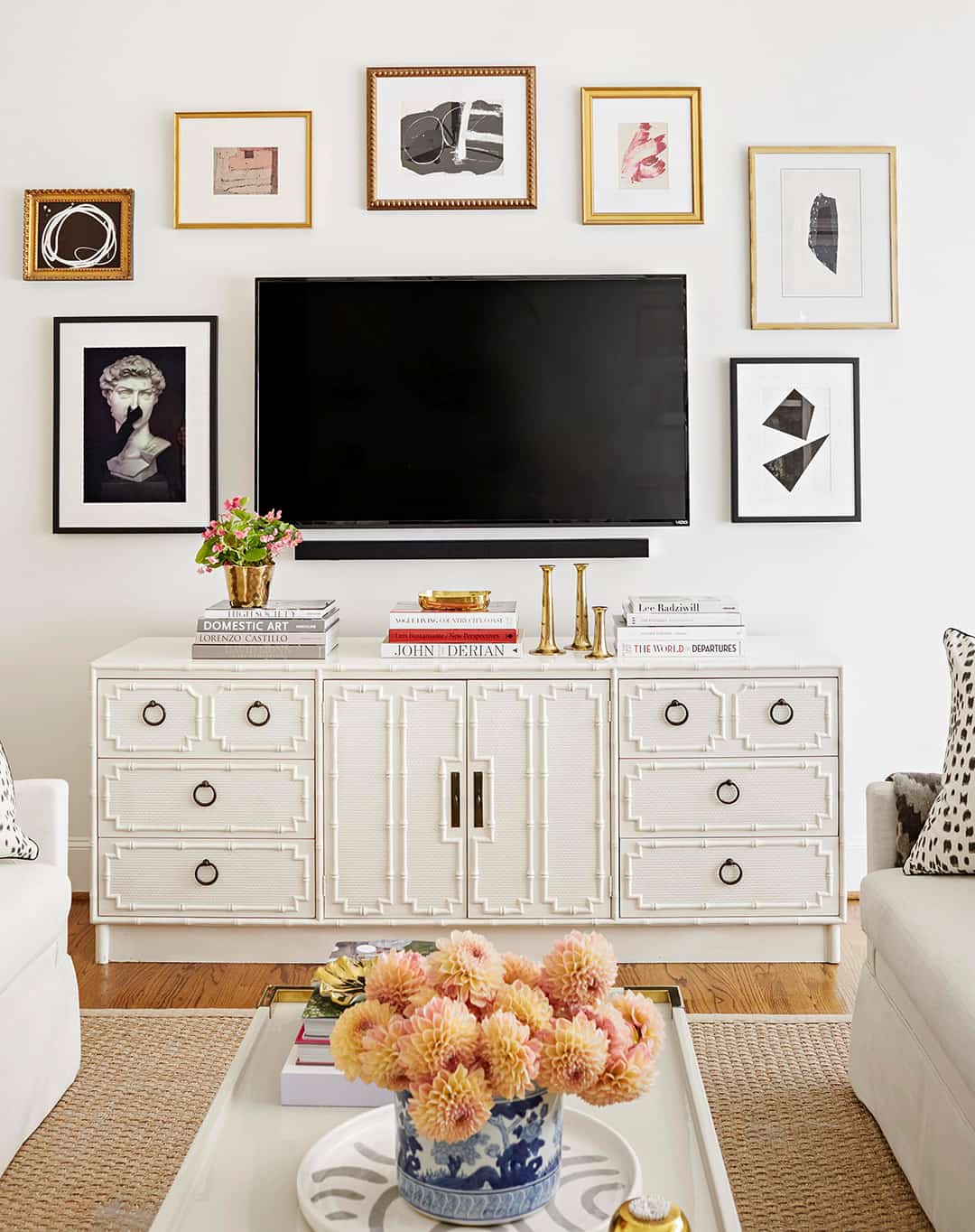 The best way to make even the least glamorous piece of decor look better? Add some gold!
This gallery wall completely styled up the TV by playing up the classic black of the screen and adding touches of gold, white, and soft pink around it. Everything blends together nicely, and the TV looks less like a piece of tech equipment and more like a piece of art.
Decorating Ideas That Make White Walls Anything But Boring by Better Homes & Gardens
Colorful, Funky, and Fun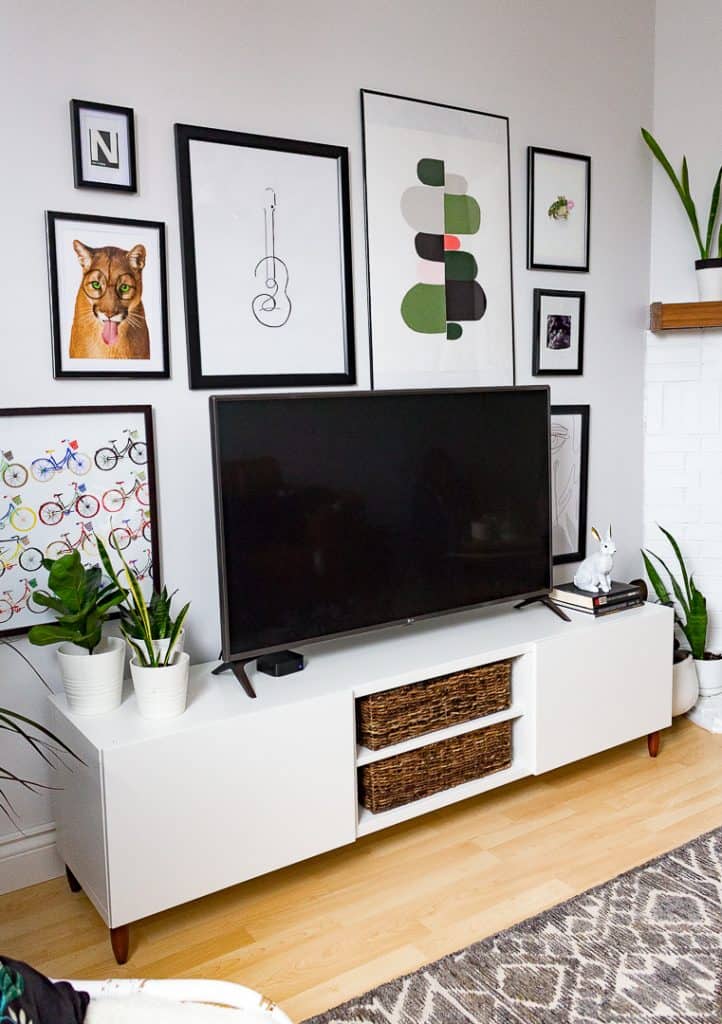 No one said that decor had to be boring in order to look good – and this gallery wall is proof of that!
Every piece is in a black frame which gives it the flow a gallery wall needs, but the prints inside the frames are anything by coordinating. It all flows nicely and makes the black TV fit in well.
Small Living Room Makeover by Craftberry Bush
Minimalist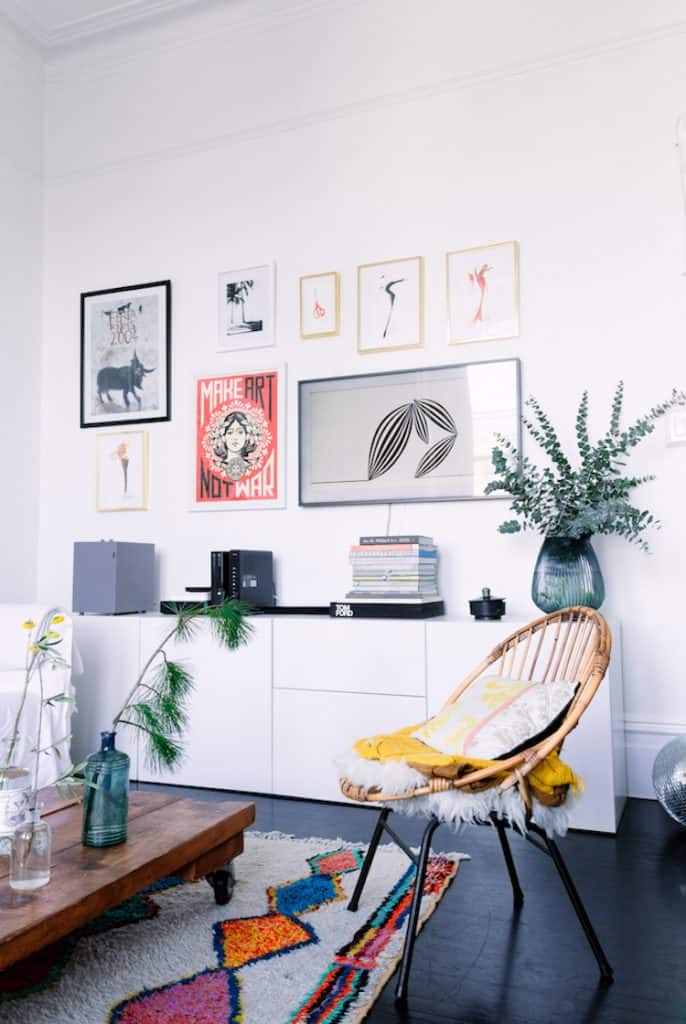 Minimalism and gallery wall may not seem like they go together, but this TV gallery wall somehow manages to make it work.
The TV has a thin black frame around it, which allows it to blend in with the beautiful, but understated pieces around it. There's just enough color to add some pop, but is still clean and not overstimulating.
A Minimalist Yet Pretty Holiday Vibe In San Fransisco Home by My Scandanavian Home
Blended In TV With Black Paint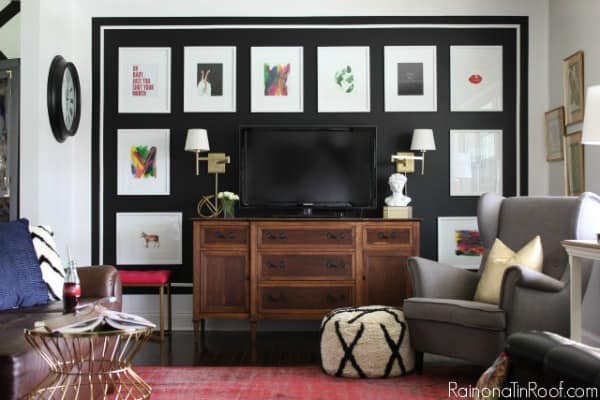 If you want to hide your TV, this is exactly how to do it – paint the wall black!
This blogger created a gorgeous gallery wall where every piece pops out except for the TV. In fact, you hardly even realize the TV is there because it blends in so well with the accent wall.
Black and White Gallery Wall by Rain on a Tin Roof
Conclusion
It's easy to get overwhelmed with the idea of creating a gallery wall because you've probably seen a few that are overcrowded or just don't have a good flow to them (you can avoid doing that by checking out these tips for creating a well-styled gallery wall).
These inspiration photos (and various tutorials) can help you find the right flow for you and your home. Whether you love a little chaos, like things grayscale, want to hide your technology, or simply want to fill an otherwise empty wall, with a little guidance and inspo you can achieve your desired result.