15 DIY Vanity Mirrors For A Custom Look
Whether you're looking for a lighted, makeup vanity mirror or a unique bathroom vanity mirror, it can cost more than $100, and you may not even get the aesthetic you'd prefer.
Instead of relying on retailers, consider making your own vanity mirror. You can upcycle a discarded mirror at a thrift shop, install lights around your existing mirror, or create something totally unique to your needs and style.
Basic Mirror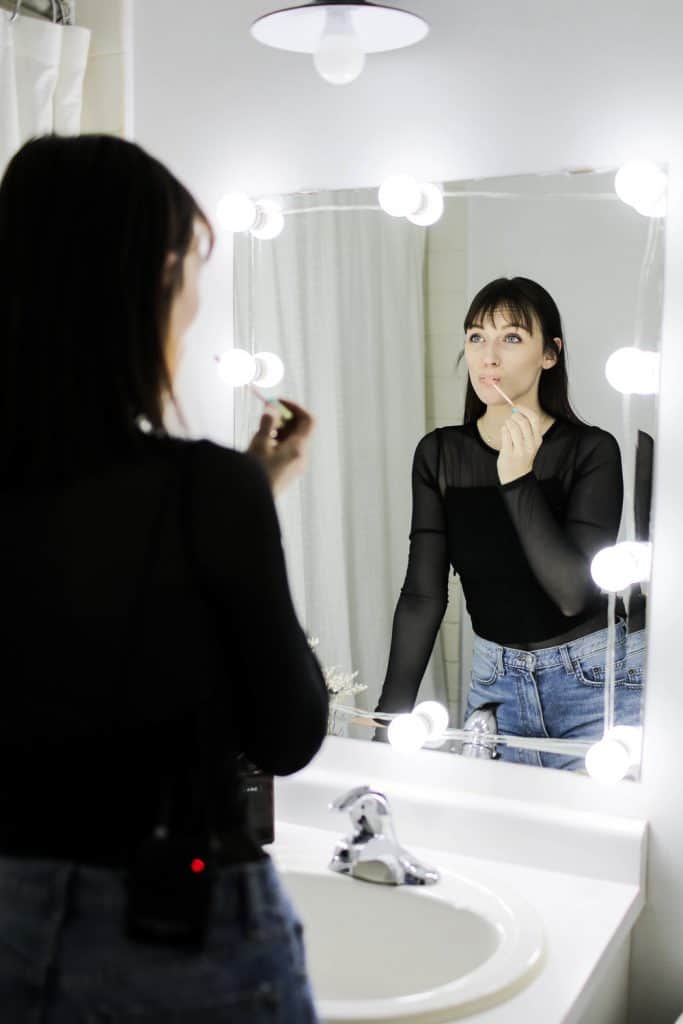 This is about as basic as it gets when it comes to lighted vanity mirrors, and it's super easy to do!
All you need to recreate this look is your existing mirror and some stick on globe lights. Thats it! No electrician needed.
DIY Vanity Mirrors + Hacks by The Sorry Girls
Full-Length Mirror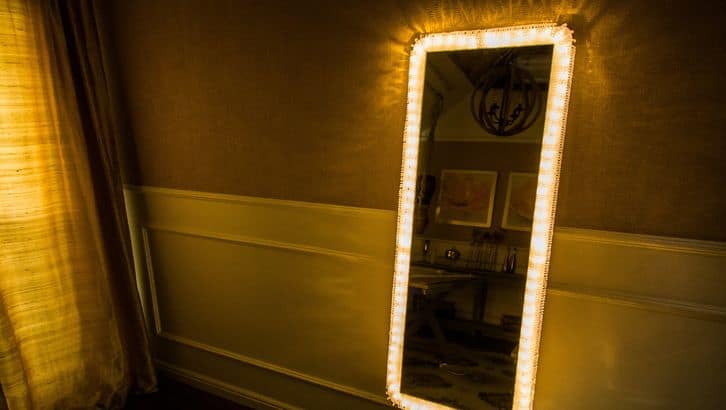 If you love the look of a lighted mirror but want something big, consider a full length version.
A string of rope lights can turn a basic full length mirror into a Hollywood dream.
DIY Vanity Mirror by The Hallmark Channel
Budget-Friendly Mirror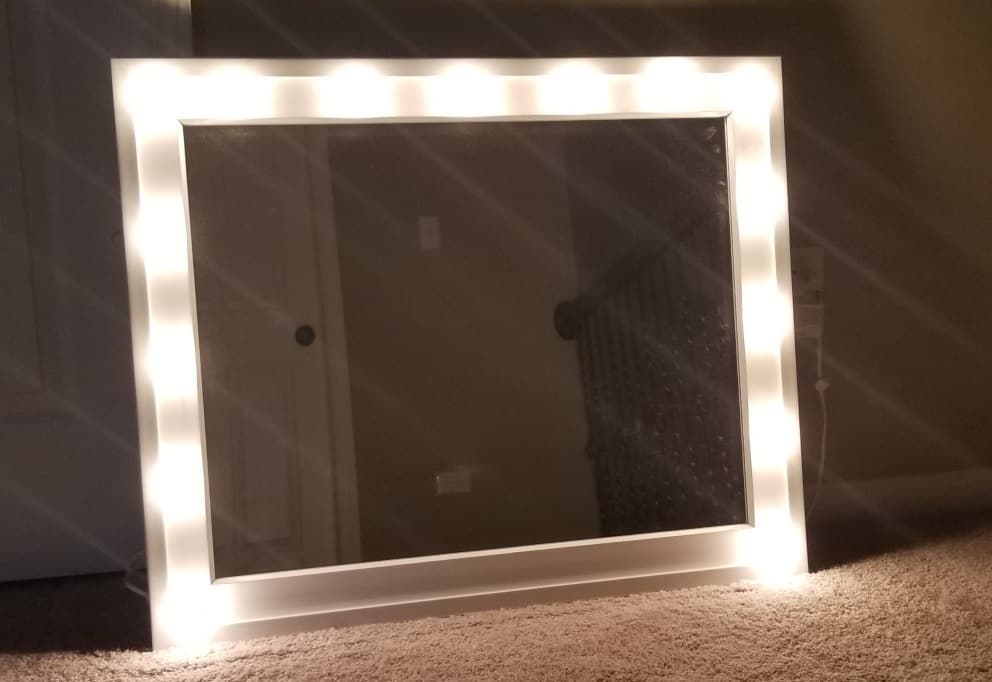 This blogger made her own lighted mirror for less than $40 from start to finish.
She was able to find everything she needed on Amazon and got a gorgeous end result.
The $39 Hollywood Mirror by My Pet-Friendly Home
Wall Mounted Bathroom Vanity Mirror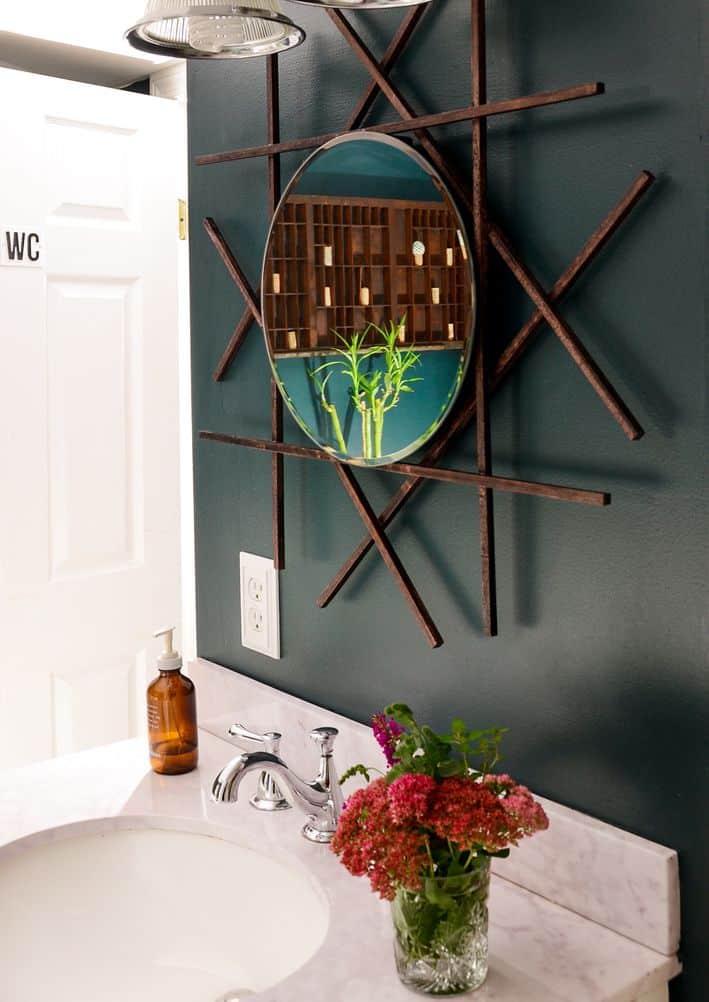 If you're looking for a new mirror for over your bathroom vanity, this is a really cool take on it!
This mirror only *looks* difficult to make, but it's something that even a beginner can easily do.
DIY Vanity Mirror by Curbly
Small Concrete Vanity Mirror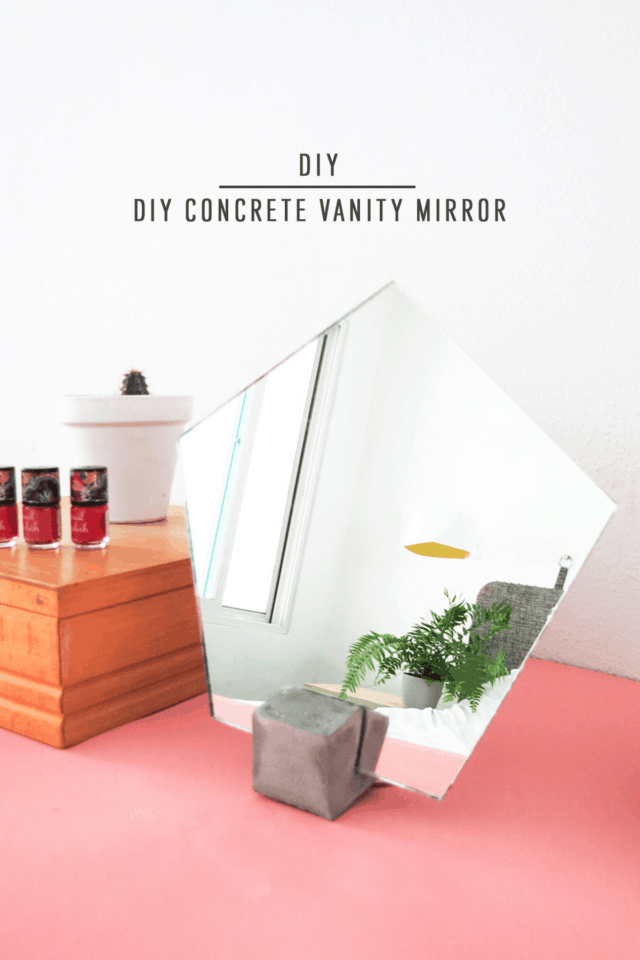 Concrete stand mirrors are trendy, functional, and great for small spaces.
You can greate your own using this easy tutorial. You'll end up with a totally custom piece that will get the job done, and serve as a conversation starter.
DIY Concrete Vanity Mirror by Sugar and Cloth
Sconce Lighted Mirror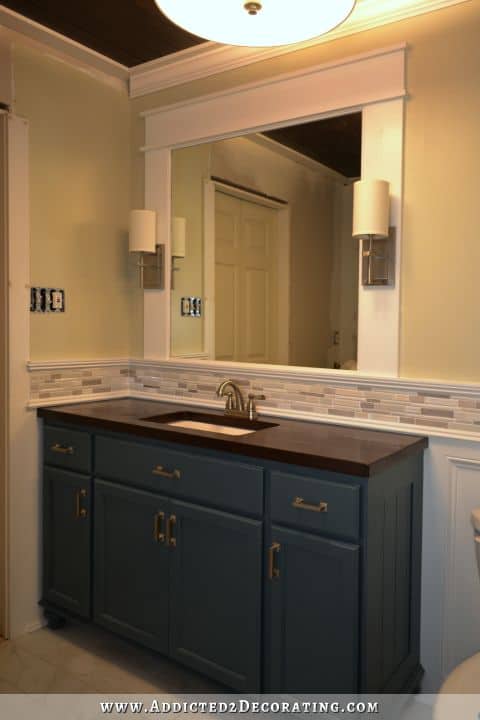 Instead of installing over-the-mirror lights in your bathroom, build some right into your mirror frame!
This DIY mirror frame is made to fit the space above the vanity and has built in sconces to give it some good light and a unique touch.
Easy DIY Vanity Mirror With Sconces by Addicted 2 Decorating
Farmhouse Style Mirror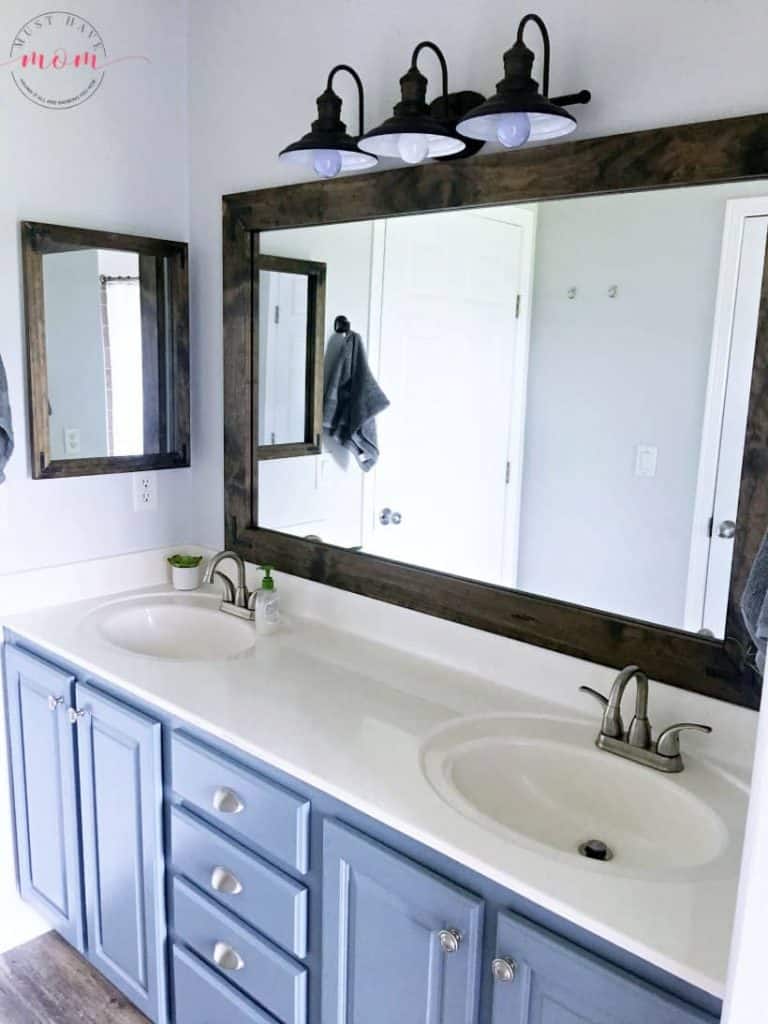 The farmhouse trend isn't going anywhere anytime soon, so you might as well embrace it.
All you need to do to create this look is frame your existing builder-grade mirror with stained wood. It's super simple and instantly enhances your mirror.
Farmhouse Style DIY Vanity Mirror by Must Have Mom
Round Lighted Mirror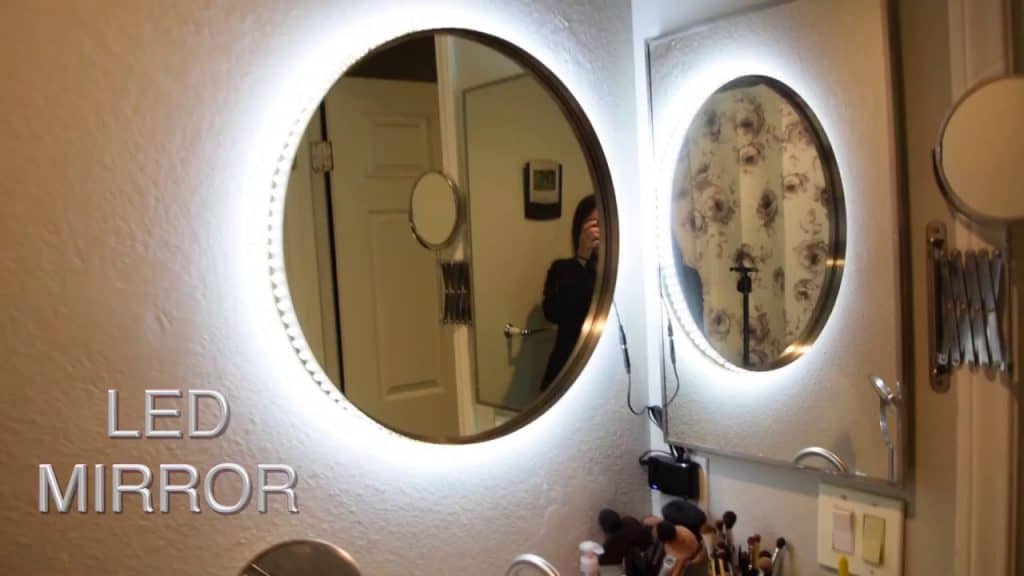 This mirror is not only functional but looks amazing as well.
To create this, the blogger purchased a new circular mirror and light kit from a DIY store. That's it! An easy kit is all you need.
Simple DIY Round Lighted Mirror by Beauty For A Living
Scrap Wood Mirror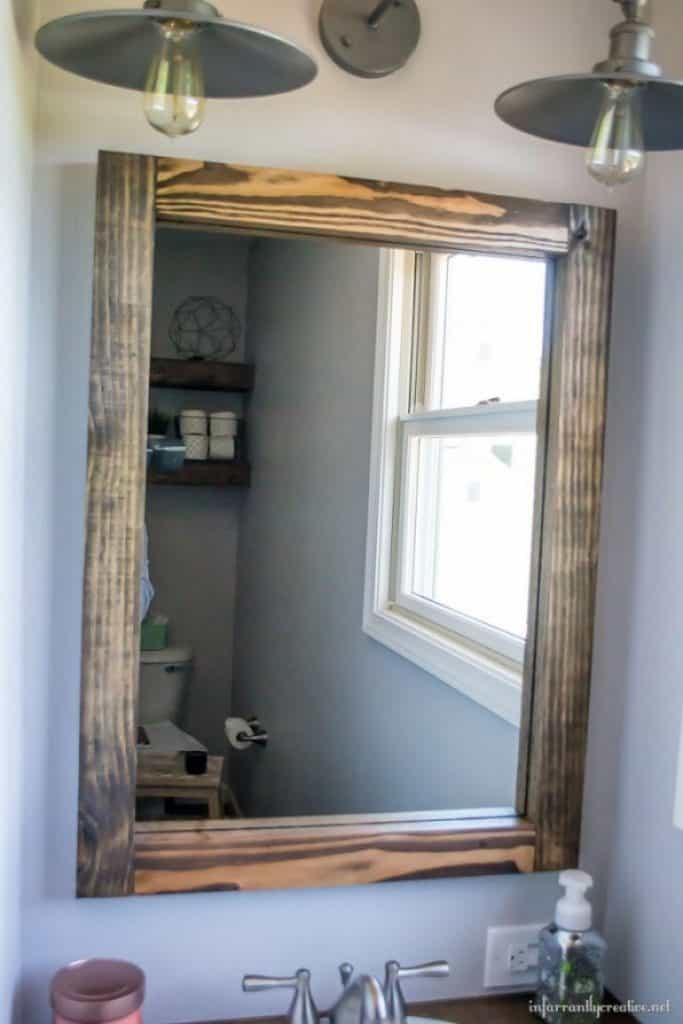 Much like the farmhouse mirror, this one only uses a few pieces of wood for framing to get a completely new look.
Stain the pieces of scrap wood whatever color you want to go with your bathroom, and you'll instantly upgrade the room.
DIY Scrap Wood Mirror by Infarrantly Creative
Rockstar Spiked Mirror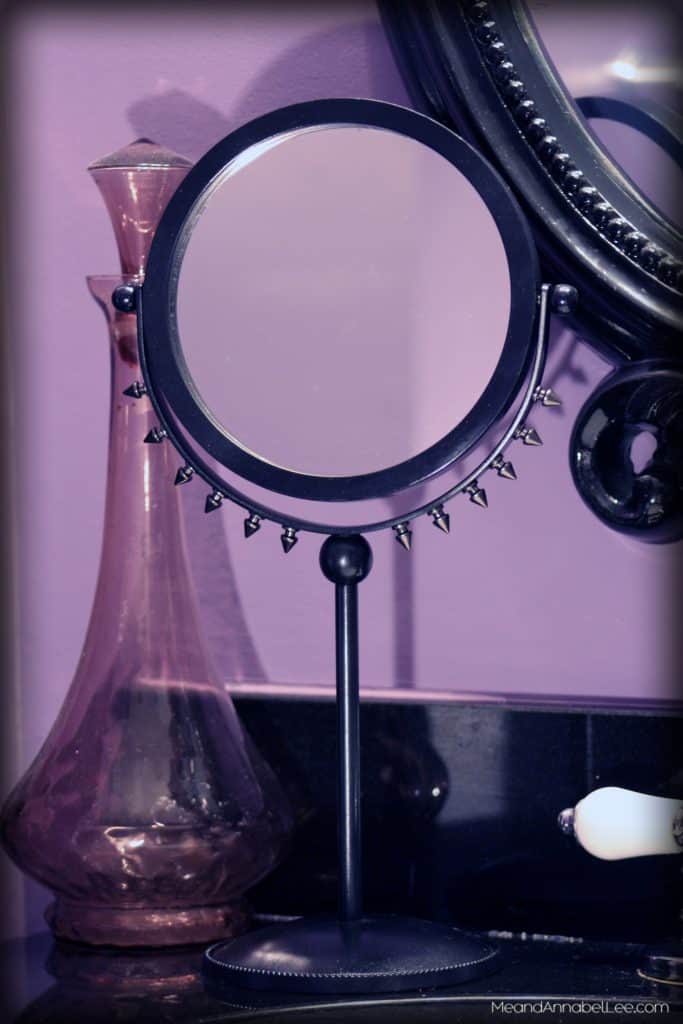 This mirror isn't wall-mounted, but it's a great makeup mirror and the way the blogger customized it is definitely unique.
You can recreate this using whatever color spray paint you want and adding spikes or some other material (like sparkly studs). The best thing about a DIY project is that you can make it all your own.
DIY Black Spiked Makeup Mirror by Me and Annabell Lee
Floating Sunrise Mirror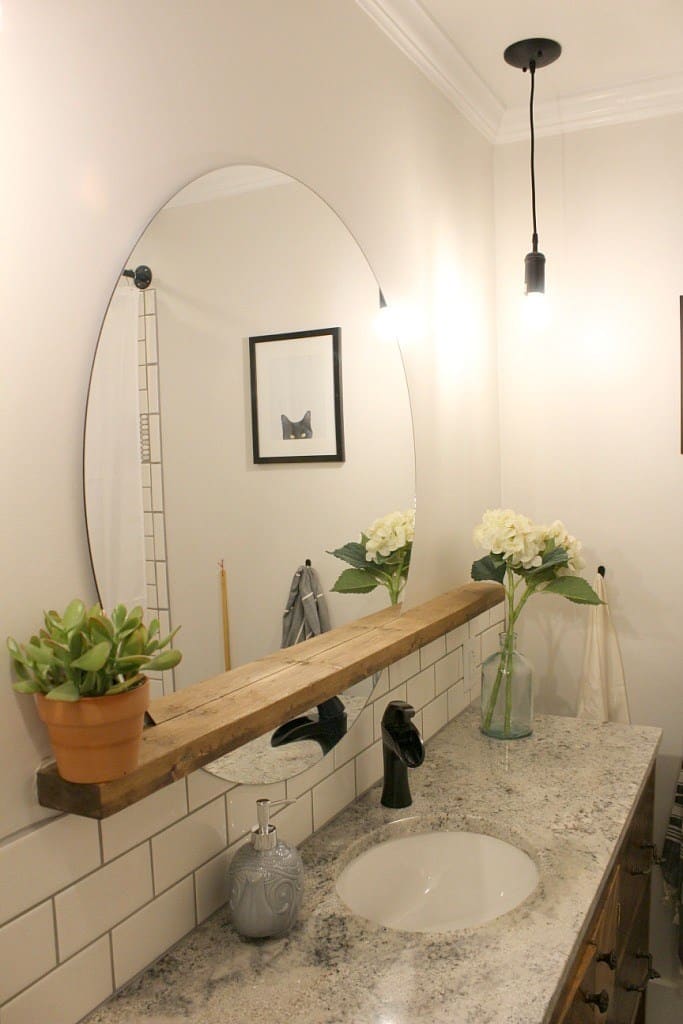 This mirror looks like it came straight from an HGTV home, but it's a DIY job!
You can get the step by step tutorial from the blogger who created this and totally upgrade your vanity while also getting a little more storage space thanks to the shelf.
Modern Sunrise Floating Mirror & Shelf by Remodelaholic
Mirror With A Ledge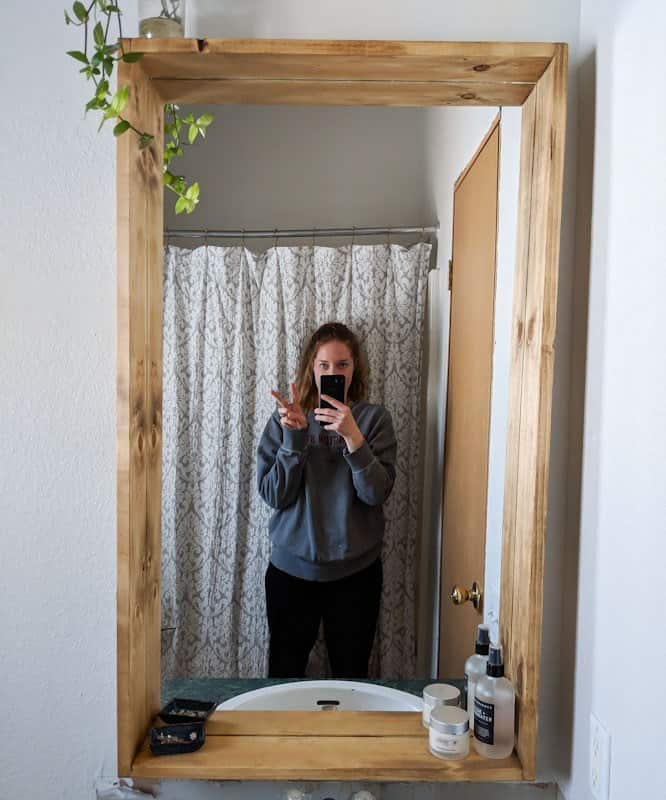 This mirror's design gives some extra texture and storage space to the vanity.
To recreate this, all you need is some wood and wood glue! You can completely transform your existing builder grade mirror with just a few easy steps.
DIY Bathroom Mirror Makeover by My Happy Simple Living
Mosaic Tile Mirror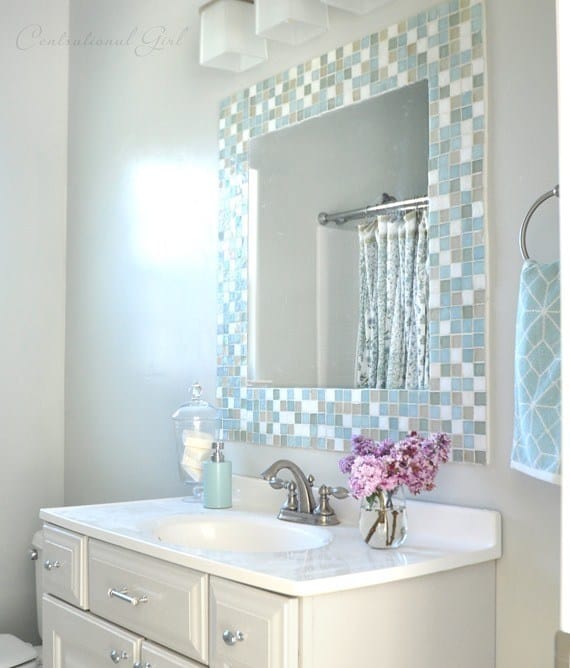 This mirror looks like it's something straight from a luxury spa, but it's a DIY job!
You can recreate this look, or upgrade it with whatever tiles you like best, using the tutorial from the blogger.
DIY Mosaic Tile Bathroom Mirror by Centsational Style
Rustic Mirror With Storage Space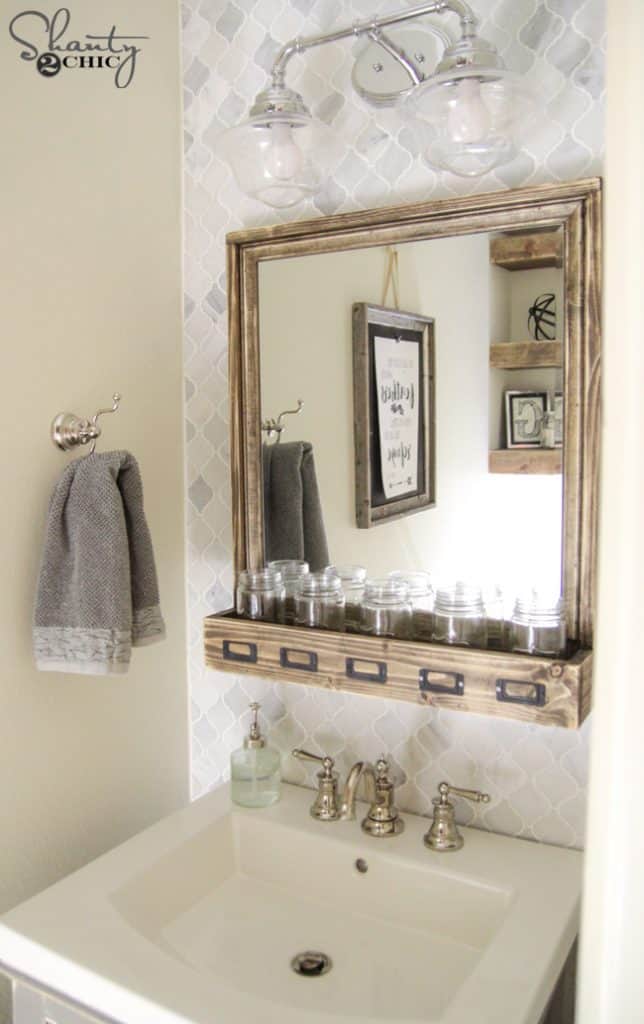 This mirror has a little extra shelving space for some glass jars that are perfect for storing bobby pins, hair bands, toothbrushes, or whatever else you need to stash away in an easily accessible spot.
All you need to recreate this is some wood and little bit of creativity.
DIY Bathroom Vanity by Shanty 2 Chic
Pottery Barn Inspired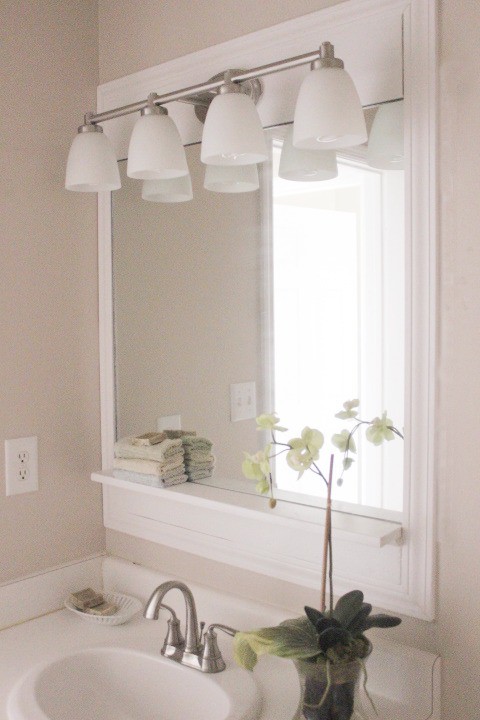 This blogger was inspired by a mirror sold at Pottery Barn, and used that inspo to create a custom vanity mirror.
The end result is a gorgeous framed mirror, a shelf, and perfect lighting.
DIY Pottery Barn-Inspired Bathroom Mirror on a Budget by Hometalk
Conclusion
You can totally transform your bathroom or makeup vanity by simply changing out your mirror. It's amazing how much different a room can look after such a small switch.
Thankfully, if you're trying to stick to a budget, you don't have to be stuck with a boring, builder-grade mirror as long as you're willing to put in a little elbow grease with a DIY project. You can create a high-end look for a quarter of what you'd spend on a similar already-made piece.