20 DIY Wall Hooks — Organize And Declutter
It's tempting to come home after a long day and toss your coat on an armchair. The thing is, that armchair will (very) quickly become a coat closet with shoes piled around it and more than one coat draped across.
This kind of disorganization not only looks chaotic but can eventually lead to anxiety and stress for the people living with it.
If the problem is a lack of closet space, consider mounting some hooks to the wall to create a make-shift organizing space.
Leather Wall Hooks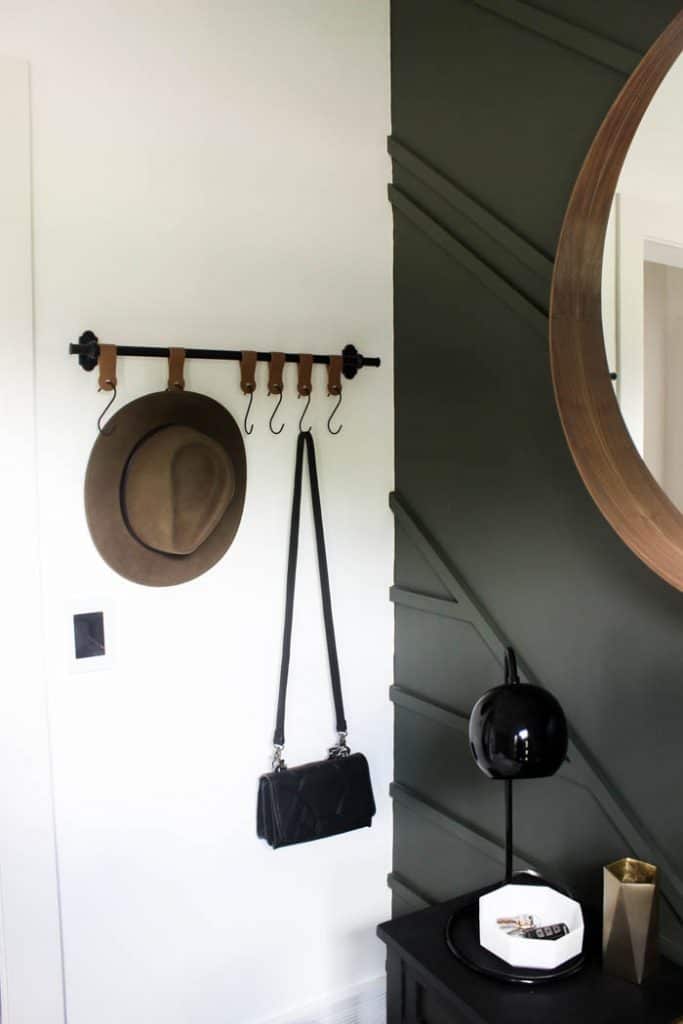 These leather wall hooks are easy to create, and the metal on leather look is very trendy right now.
These hooks will provide all you need to hang up a coat or a scarf and will add a little sophistication to your space.
Modern Entry Wall Hooks by Love Create Celebrate
Neon Nursery Hooks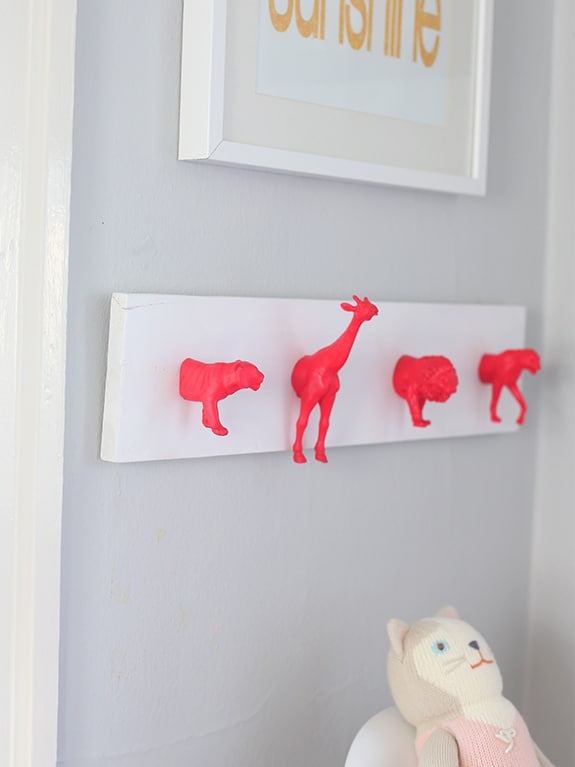 Kids are probably the worst culprits when it comes to throwing their coats around. These neon animal hooks are just right for them.
Mount these hooks a little lower so your little ones can reach and will be able to hang, and pull down, their coats all by themselves.
Neon Nursery Hooks by Web Archive
Decorative Wall Hooks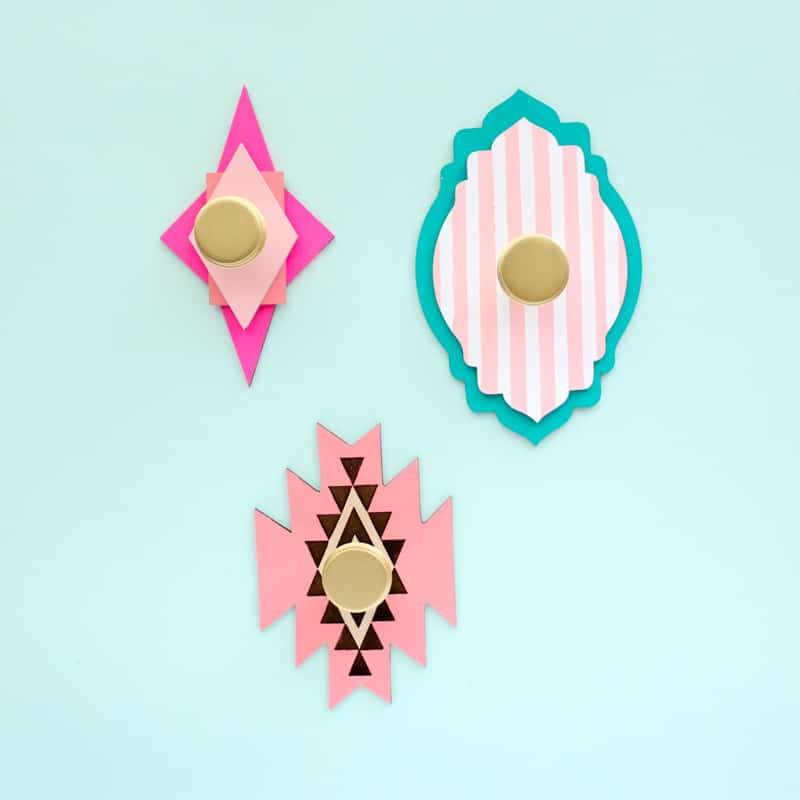 These hooks are funky, bright, and still add to your home's organization.
This blogger uses a 3D laser printer to make these hooks, but you can easily Modge-Podge some scrapbook paper to some wood and get the same effect. Cute, easy, fun!
DIY Decorative Wall Hooks by A Kalio Chic Life
Rustic Wall Or Towel Hooks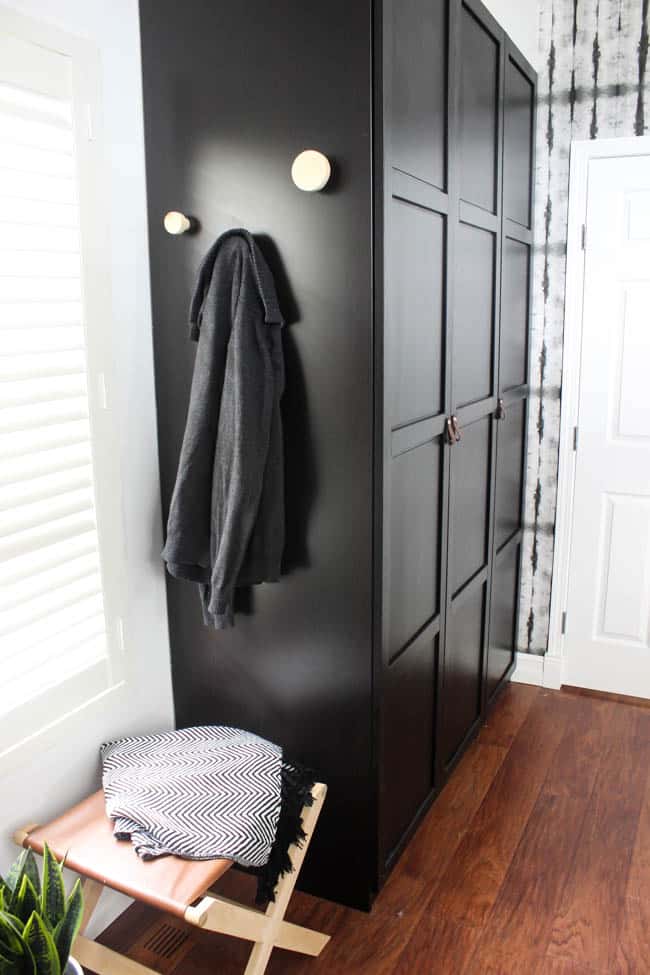 Chip and Jo would be so proud if they walked into your home to find this easy-peasy wall hook.
All you need for this is a piece of wood, some stain, and a few hooks to screw in! It's stylish, easy, and a fraction of the cost of the same style in any store.
DIY Rustic Towel Rack by Maison de Pax
Circle Hooks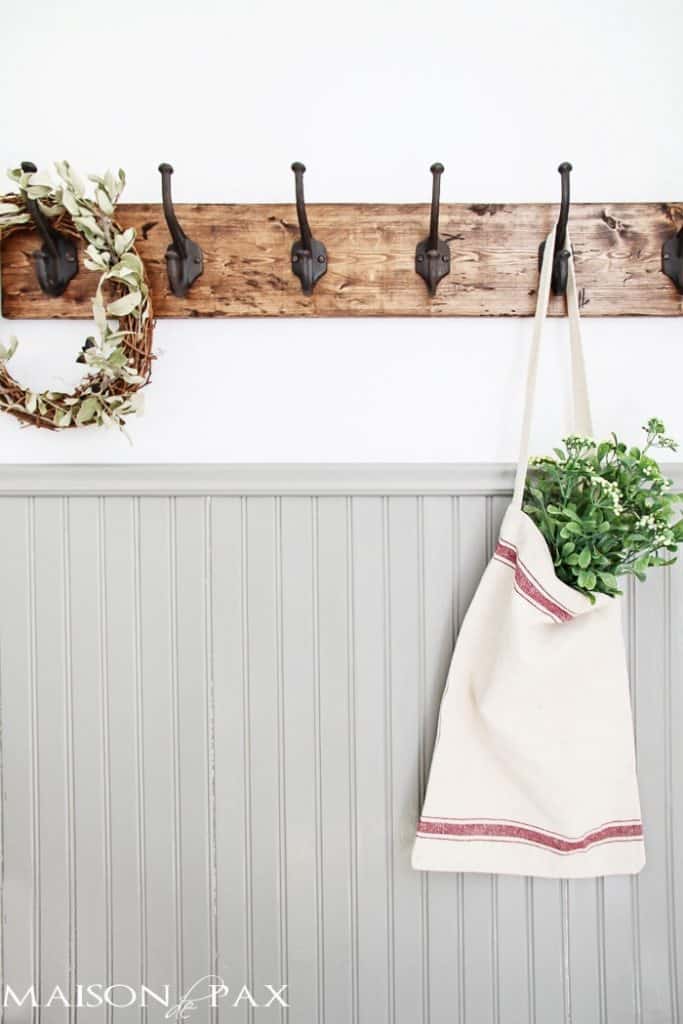 These circular hooks are a new take on the old hook design. They offer the same function and storage, but offer a little more style.
The best part about these hooks is that you can make them in different sizes if you're not into a uniform/minimalist style.
DIY Circle Hooks by Love Create Celebrate
Entry Shelf & Hooks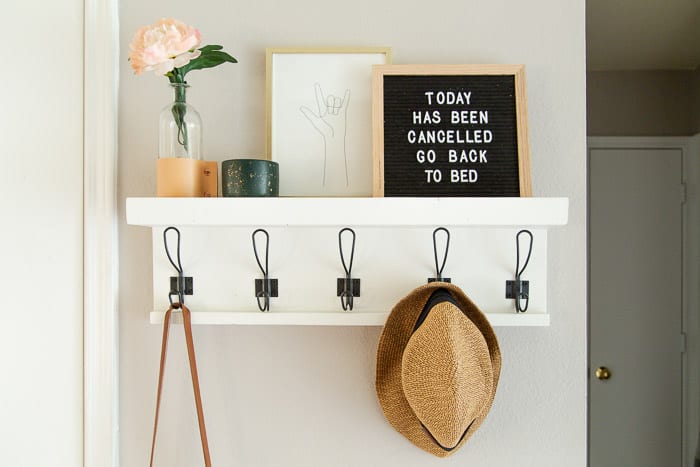 This entry shelf and hook combo is not only easy to make but a gorgeous piece that will fit into just about any home aesthetic.
The shelf gives the hooks a little extra style and allows for further decor, or storing baskets of gloves, hats, or whatever else you need.
DIY Entry Shelf with Hooks by Love and Renovations
Agate Stone Wall Hooks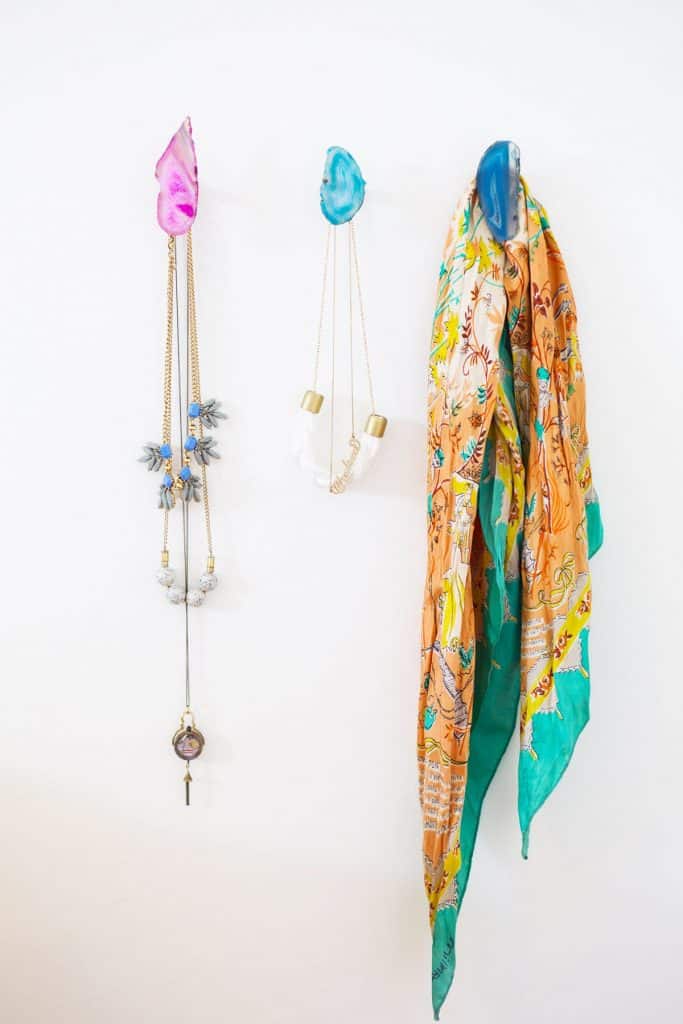 These are probably some of the prettiest wall hooks ever, and they'd cost you a small fortune at any store.
If you like a little color and uniqueness, these hooks are perfect for you! The only downside is that you won't want to use them because they're so pretty you won't want to cover them up.
DIY Agate Stone Wall Hooks by Lovely Indeed
Flamingo Wall Hooks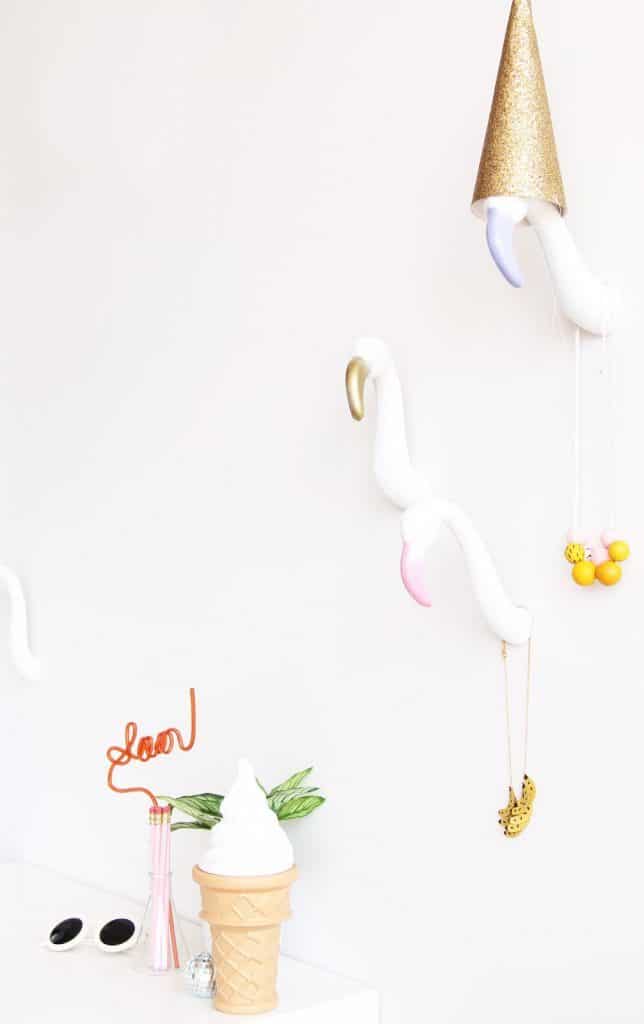 These (awesome) hooks aren't for everyone, but they are definitely fun and different!
If you're not into the idea of having flamingos in your entryway, these are also a great option for a bathroom for towels or a mudroom for beach/pool towels.
DIY Flamingo Wall Hooks by Aww Sam
Easy Wood Slice Wall Hook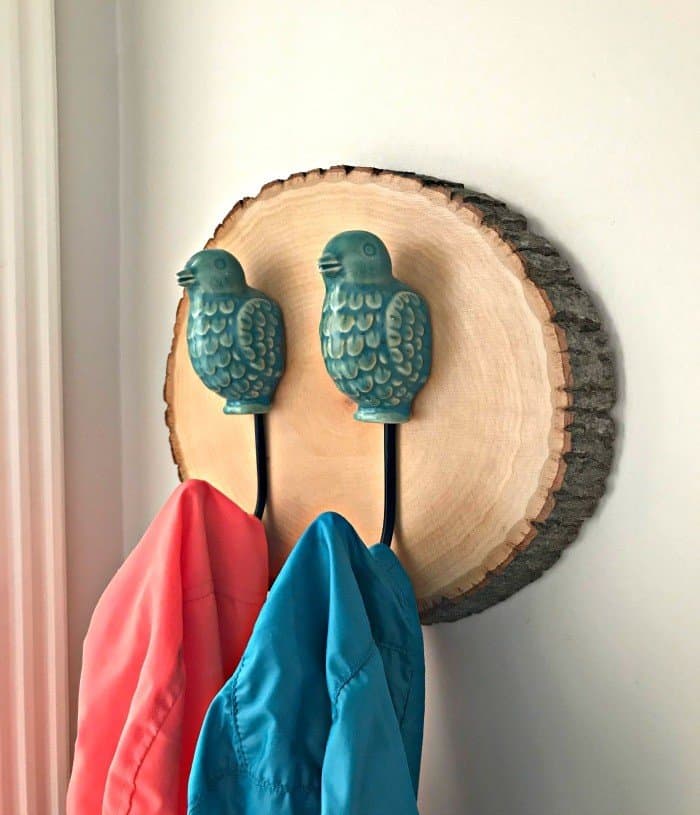 The rustic-chic look isn't going out of style any time soon, so you might as well embrace it.
This wood slice wall hook is a great way to incorporate the trend into your home. You can pick out whatever kind of hooks you want to mount on it to instantly style it up.
Easy DIY Wood Slice Wall Hook by Abbotts at Home
Peg Coat Rack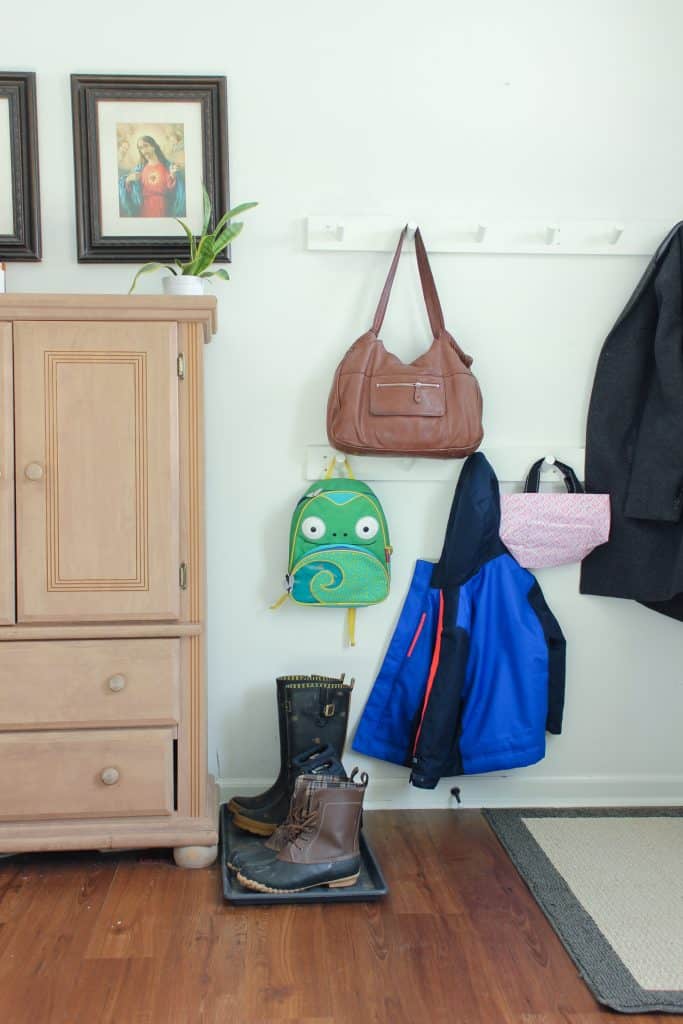 If you're more of a minimalist when it comes to decor, this peg coat rack is just for you.
It's easy and quick to make, and you can stain it whatever color you want to match your home or keep it natural for an even more minimalist look.
DIY Peg Wall Coat Rack by Rachel & Co. Interiors
Reclaimed Wood Wall Hook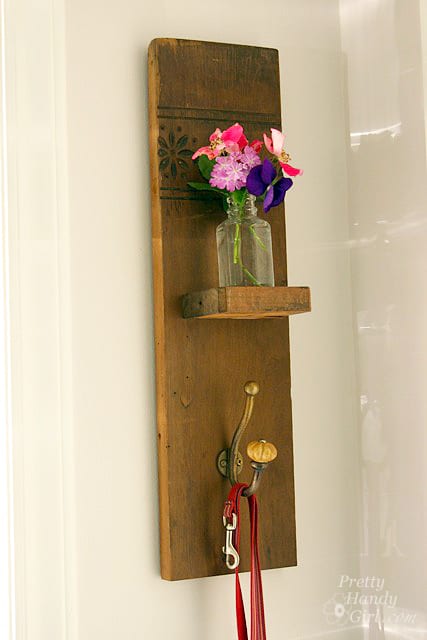 This wall hook with a built-in vase holder/shelf is equal parts amazing and functional.
This can be made with any size piece of reclaimed wood, and the shelf doesn't have to be made to hold flowers – it can hold pictures, keys, or anything else you want!
Reclaimed Wood Wall Hook & Vase by Pretty Handy Girl
Triangular Wood Wall Hooks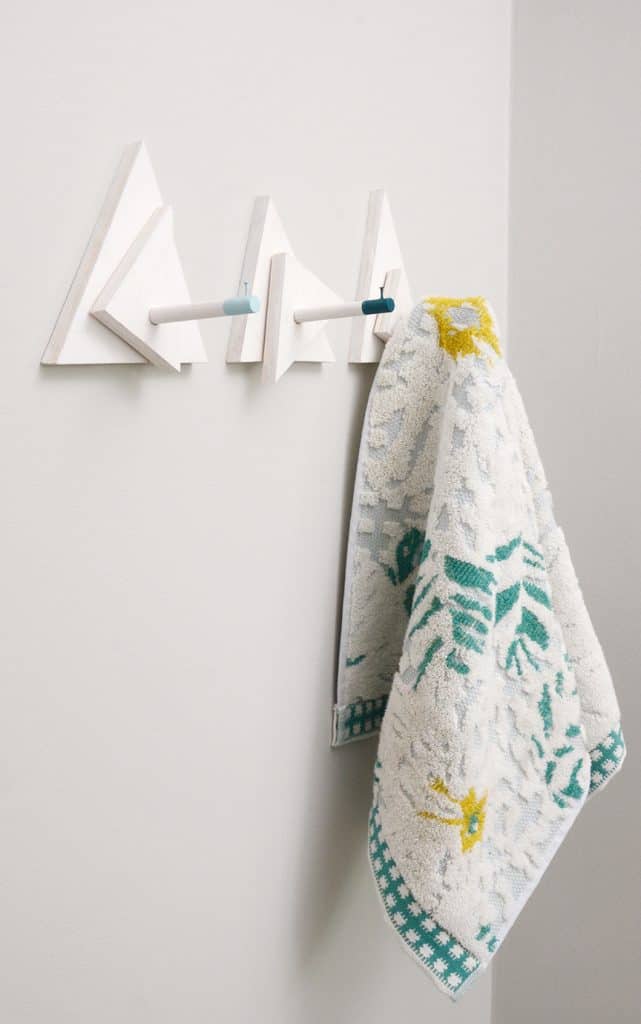 If you want something that is really easy, and you can customize to your color scheme, these hooks are it!
Each one is made from wood that only requires a few simple cuts, and then they're painted to match her bath towels. These can be used in bathrooms, mudrooms, bedrooms, anywhere!
Triangular Wood Wall Hooks by Design Fixation
Wall Organizer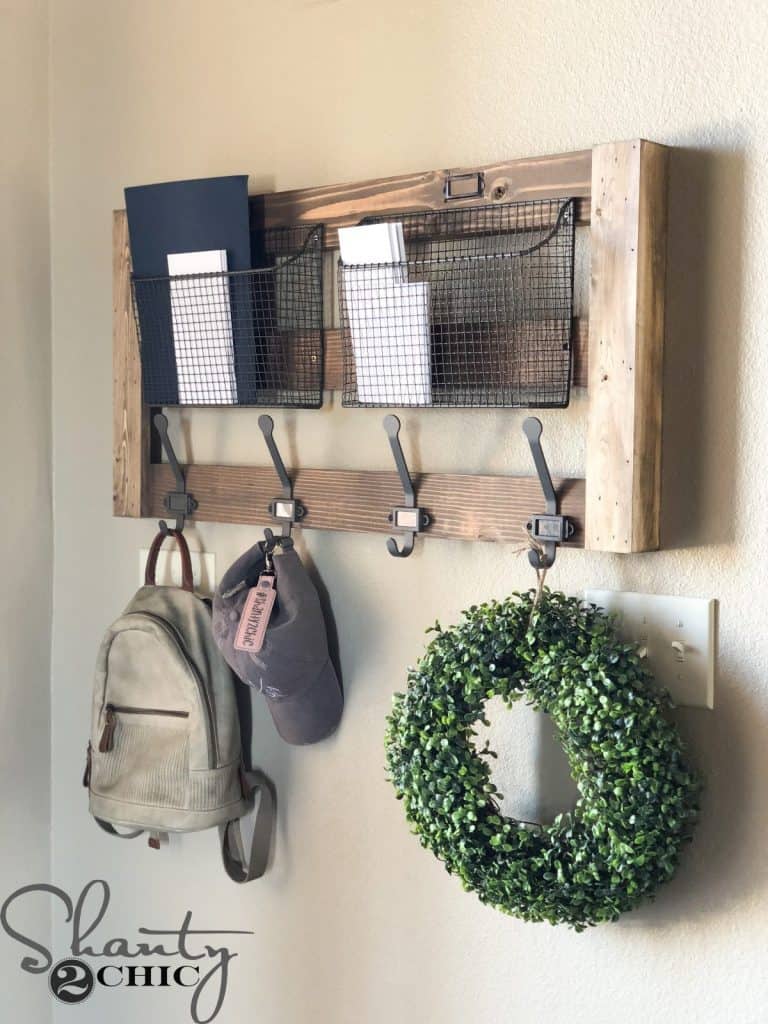 If you have a family, you have to find a way to organize everyone's stuff or it will end up everywhere.
This wall organizer is perfect because it can hold documents (like homework, envelopes to mail, etc) and it has hangers for coats so you will be sure to grab everything you need on your way out the door.
DIY Wall Organizer by Shanty 2 Chic
Rainbow Wall Hooks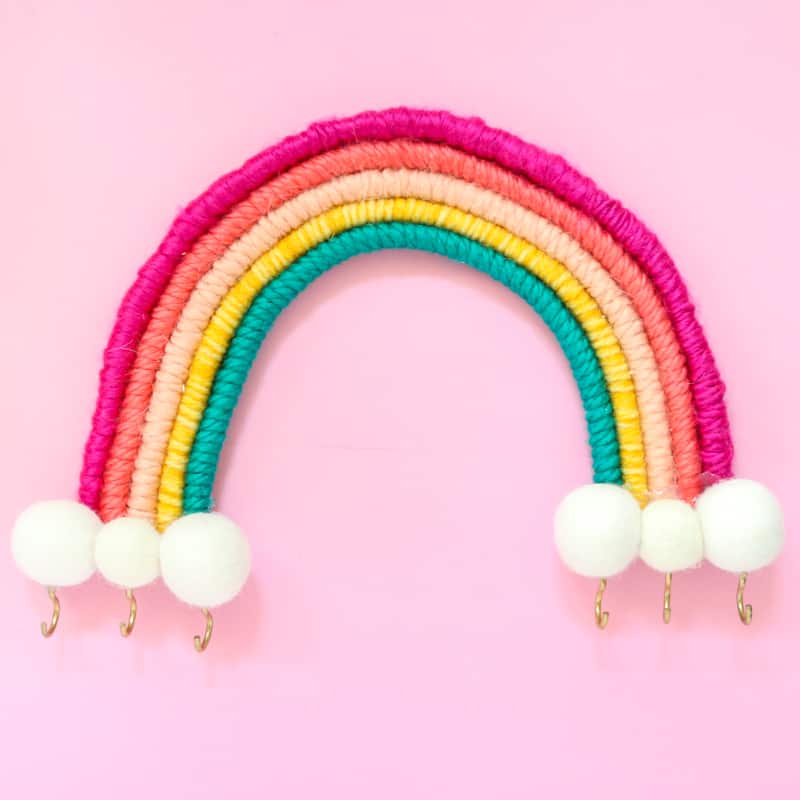 This is another style that may not go with everyone's aesthetic, but it's certainly great for a kid's room!
It's on the smaller size, so coats may not be a great idea to hang from it, but it's perfect for necklaces, scarves, and other little kid things.
DIY Rainbow Wall Hooks by A Kalio Chic Life
Modern Gold Wall Hooks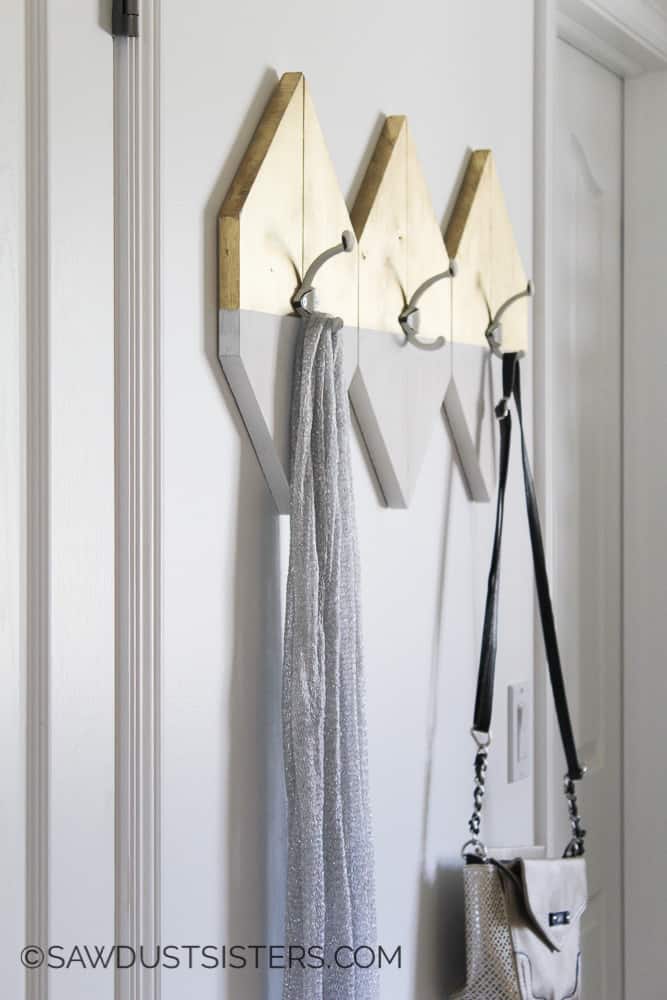 If there's one way to instantly upgrade the look of something, it's to add some gold to it.
Gold is a huge trend right now, and these modern white/gold hooks fit right in with it. They're perfect for mounting in plain sight.
DIY Sparkly Modern Wall Hooks by Sawdust Sisters
Wooden Arrow Wall Hooks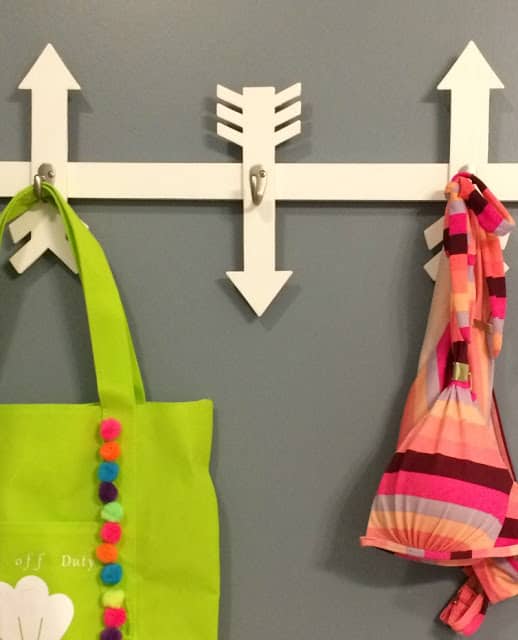 Go to just about any home decor store and you'll see decorative wooden arrows for sale.
This DIY wooden arrow hook is right on trend with stores, but costs way less and can be customized to fit your home and needs.
DIY Wooden Arrow Wall Hooks by Real Girl's Realm
Cement Letter Wall Hooks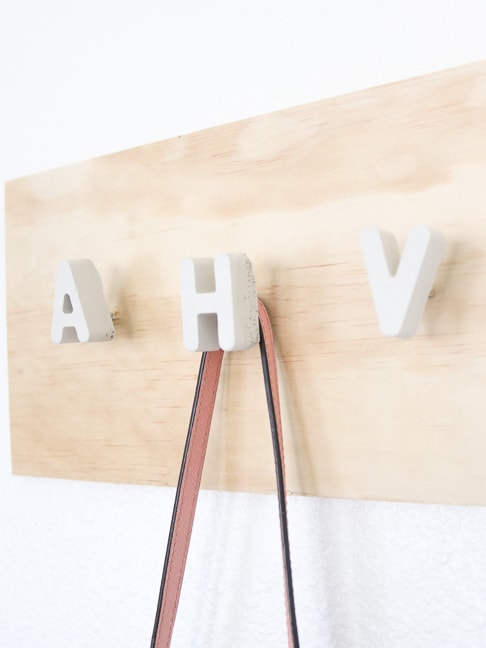 When you hear "cement" and DIY, it probably doesn't sound doable.
These little cement letters are actually simple to make and create a stylish initial hook so that none of the kids will fight over whose hook is whose.
DIY Cement Alphabet Wall Hooks by Momtastic
Minimalist Hoop Wall Hook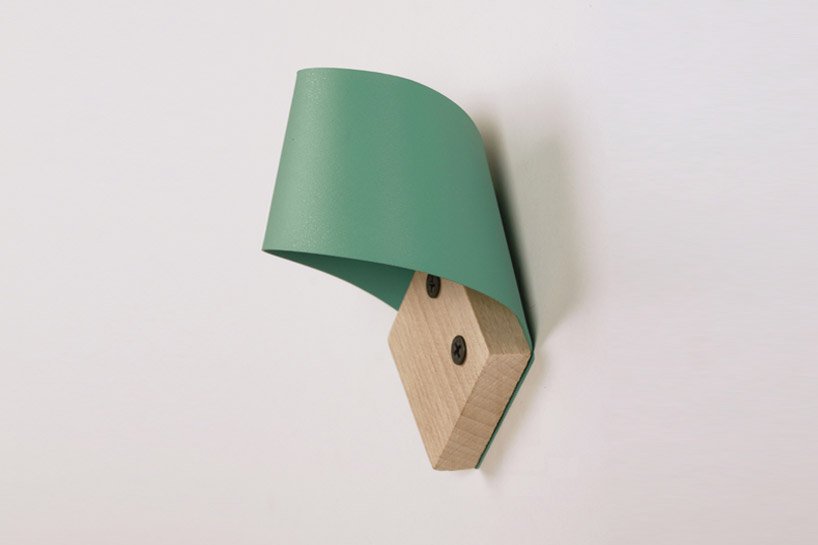 This is by far the easiest DIY option on this list.
All you need is a small square of wood, a firm piece of paper (think paint sample!), and a couple of screws and you have a unique and functional hook.
Minimalist Loop Wall Hook by Laselva Studio Designs/Design Boom
Rose Gold Wall Hooks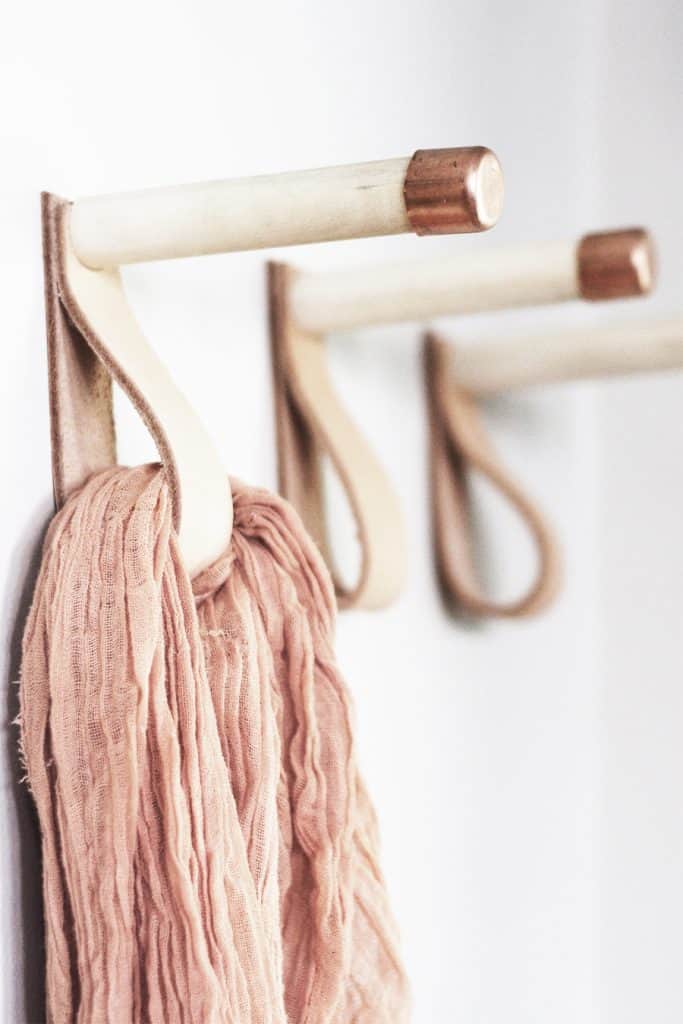 These hooks perfectly mix wood, leather, and metallic for a stylish, but still simple end result.
Even better, you can customize them to fit whatever color palate works for your home. These are a great way to add a little bit of color and functionality to a room.
Entryway Coat Hooks by Deuce Cities Henhouse
Giant Minimalist Coat Rack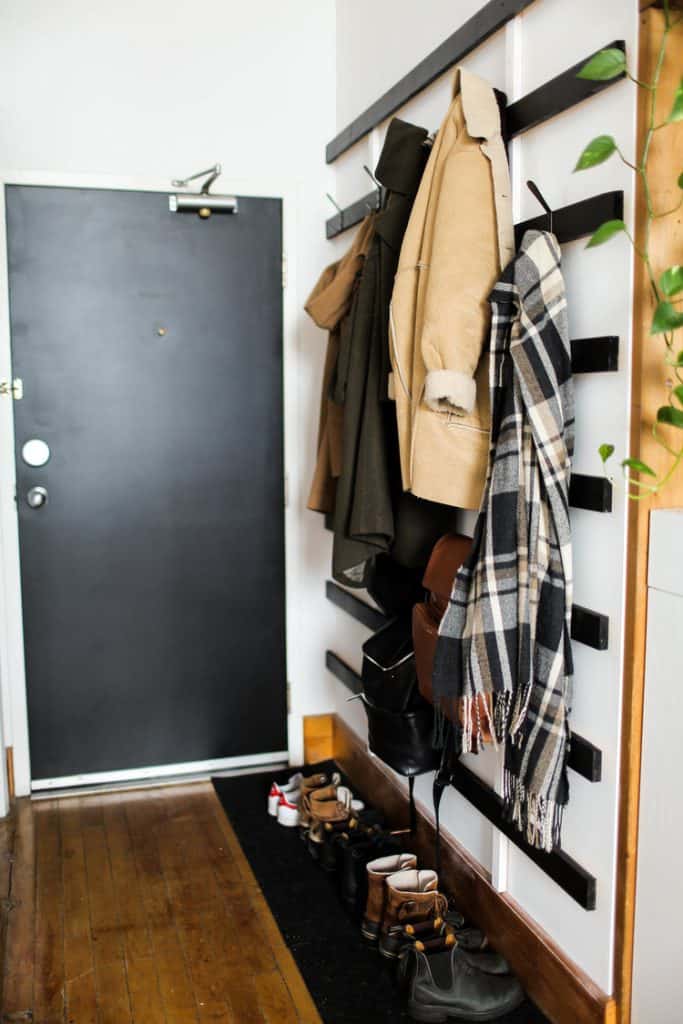 If you have a lot of coats, and basically no closet space, this is for you.
This full-wall of hooks is aesthetically pleasing, and especially functional because the hooks are arranged in a way that they can all be used at once without one coat or scarf covering another directly below it.
Giant Minimalist Coat Rack by The Sorry Girls
Conclusion
There is enough clutter lin life between work, bills, kids, and all of your other mounting responsibilities. Your home should be an escape from that stress.
Adding small things, like adding simple hooks to the wall, to create a cleaner, more organized home will have lasting benefits for your mind – and your overall aesthetic.
Also, doing the project yourself will allow you to customize the organization for what you need (and how you want it to look) and it will save you some serious money because the same system at a big box store will cost you at least double what a DIY project will cost you.