15 Beautiful DIY Wood Clock Ideas in 2023
With all the iPhones, Fitbits, microwaves, ovens, and other electronic devices telling us the time, a lot of us forget that such a thing as a wall clock exists.
Of course, really nice clocks can get expensive. Or they just don't look quite right in your space.
So, why not make your own? You can pick the materials to make exactly the size, color, and style you want, with just a little do-it-yourself magic applied.
Giant Electrical Reel Wood Clock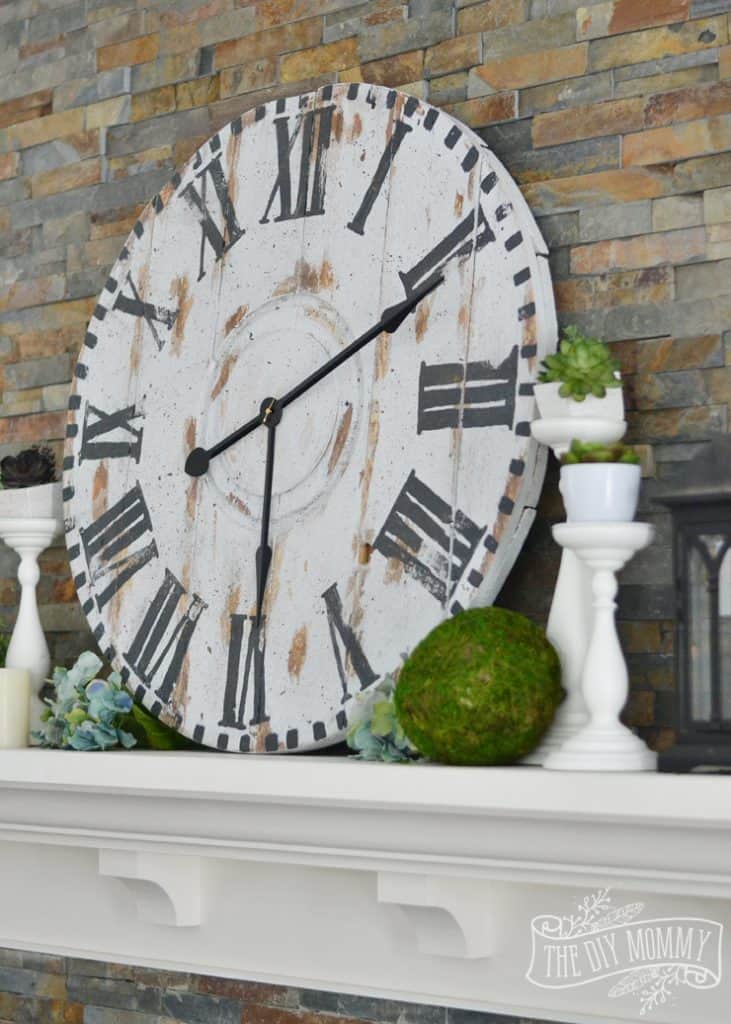 For the homeowner with big, open walls, this giant reclaimed DIY wood clock is perfect. The large clock looks great in any rustic, farmhouse-style, or cozy home.
The clock uses an old electrical reel wood end cap, white, charcoal, and bronze mineral paint – though you can change up the colors, if you wish, of course – some hand-held power tools, and an orbital sander.
The instructions are pretty easy to follow, but it's a project for someone who's got a little time to put together an intermediate level project.
Via theDIYMommy
Color Block Wall Clock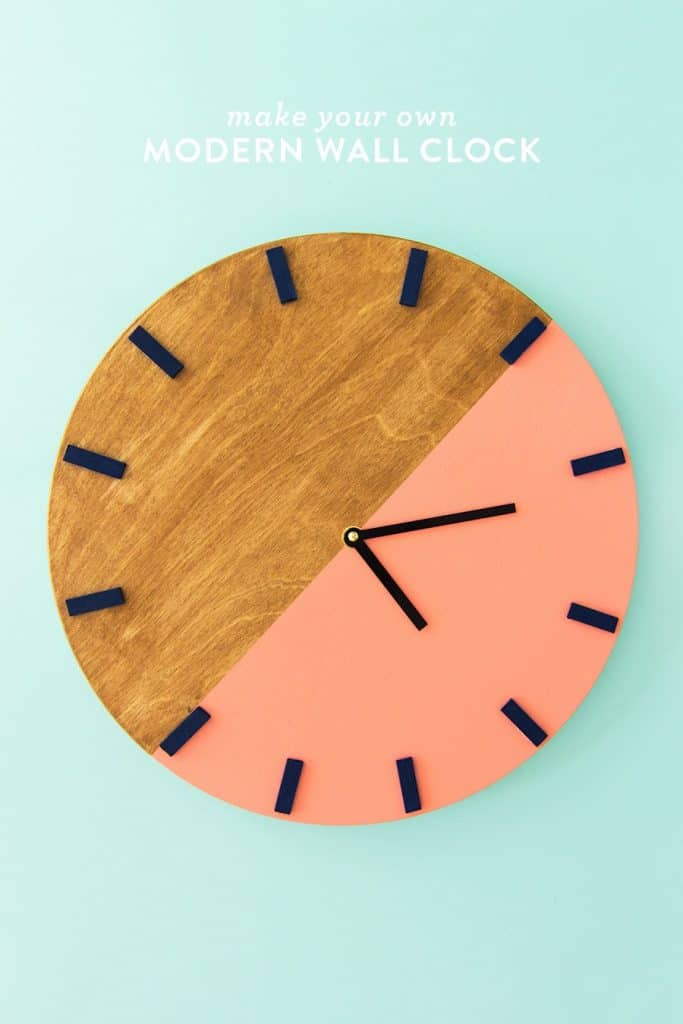 This is a very easy, unique, and very artsy looking DIY clock that anyone can make – no matter how experienced or inexperienced you may be. You just need to buy a few basic supplies from a JoAnn's, Walmart craft section, or someplace similar – think clock mechanism and wood clock round – and you're all set.
This wall clock is perfect for the chic, trendy workspace, bedroom, or living room where modern looks abound. You can choose whatever you'd like for your color scheme instead.
Via SarahHearts
Pallet Wood Farmhouse Clock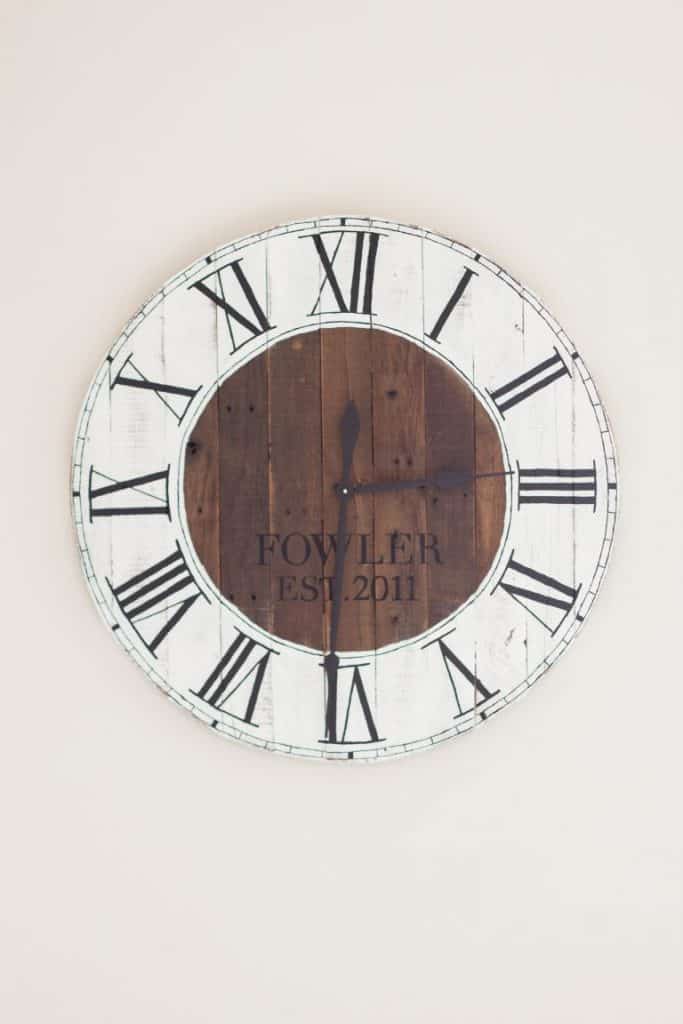 For a beautiful statement piece for any home or office featuring rustic, farmhouse, or otherwise simple wooden art and schemes, this one is a must-do. The clock is made from reclaimed pallet wood – hit up some alleys or a grocery store if you don't already have some – and a little bit of paint.
The stylish clock fits in just about anywhere, and just about anyone can make it, as long as they have access to a jigsaw and nail gun.
Upcycled Vintage Domino Clock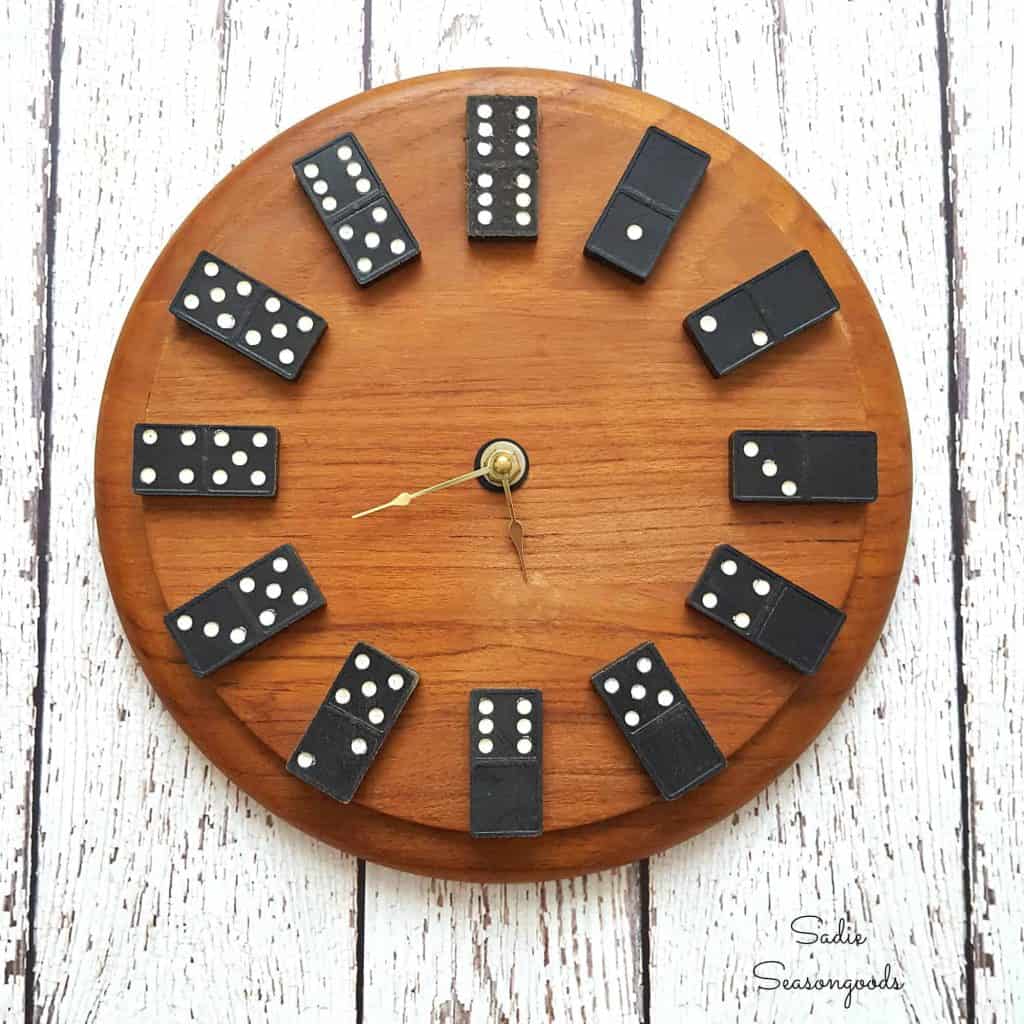 This one is perfect for gamers and vintage lovers. You'll want to head out to some vintage shops, thrift stores, and consignment shops to find some old dominoes – any color scheme will do – and grab up an old cutting board or platter from a yard sale or the back of the cabinet.
With a drill and some glue, you'll have a clock together in less than an hour, apart from drying time.
Tabletop Farmhouse Clock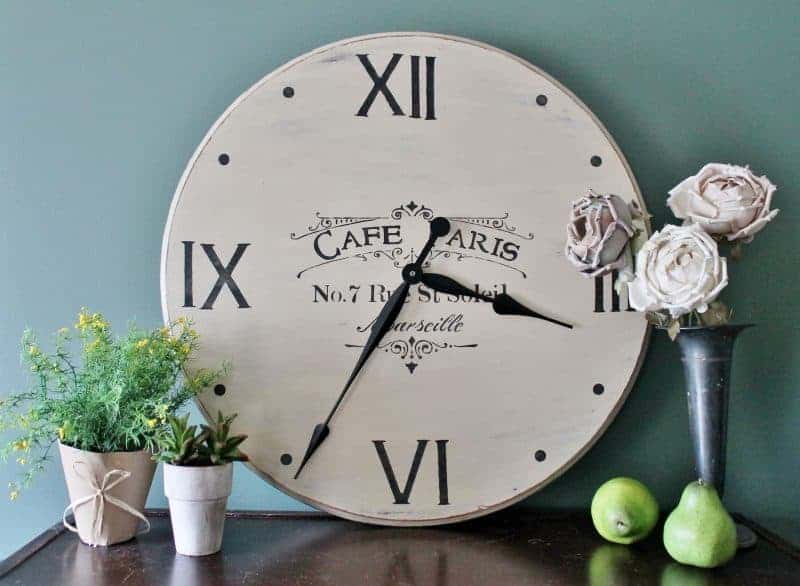 This one's perfect for the crafter who's got some old furniture in the basement and an empty wall. You'll need an old round table, some paint, and tools to create this farmhouse style giant clock. It's a stunningly simple look.
This project is probably best for intermediate to advanced crafters only. There are some tricks to this one, so be sure to read the instructions carefully to avoid the same mistakes the crafter made in her original attempts.
Salvaged Junk Clock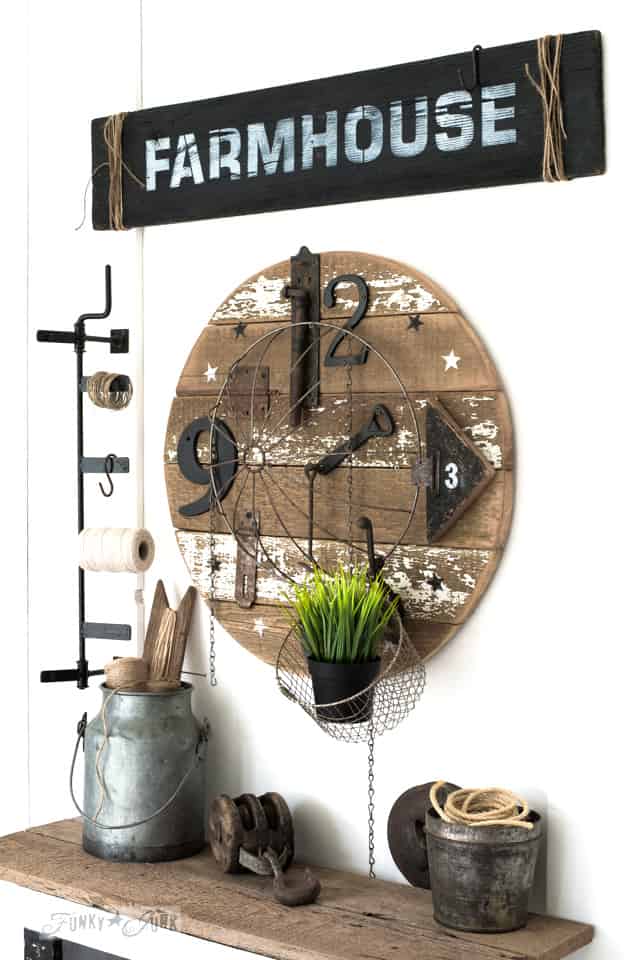 When you hear the word "junk" you probably picture stuff lying along the roadside. But in this case, junk is the beautiful old treasures found in a flea market, junkyard, or that grandparent's old barn.
Look for some unique metal pieces – old numbers, keys, hooks, metal flower baskets, etc. – and some pallet wood or fence planks. Combine these elements with some stenciling skills, and you've got everything you need for this charming clock.
Roman Numeral Wood Clock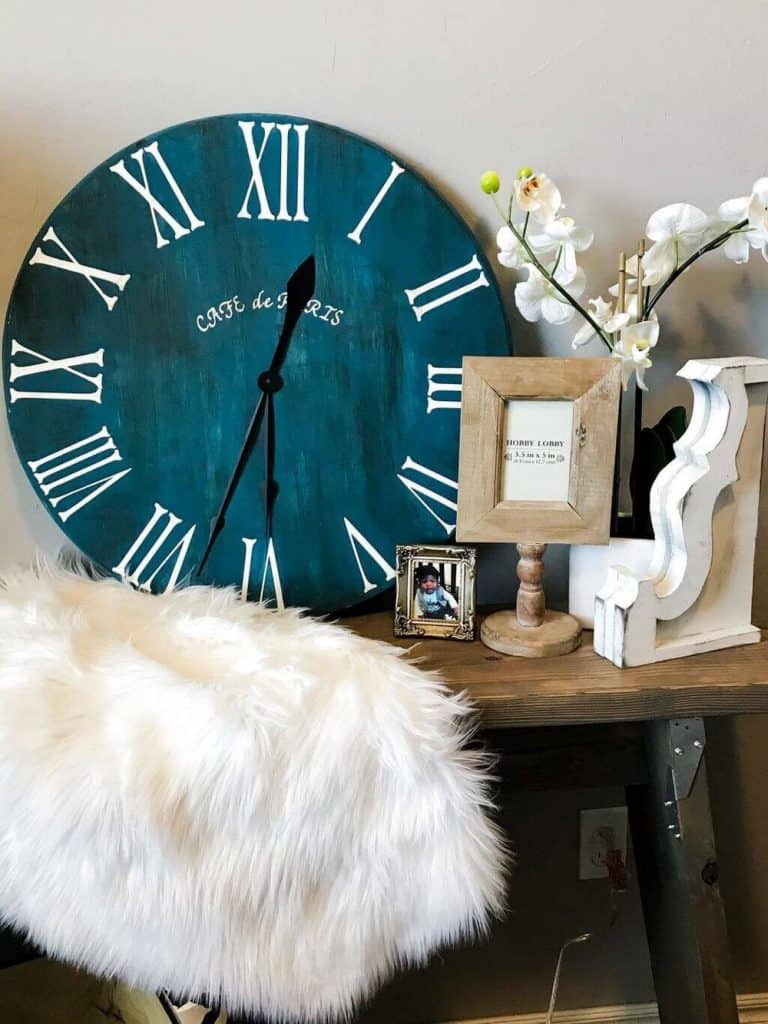 For those who love the classic look of Roman Numerals, this beautiful, café style clock is definitely a must-do. You'll need a 24-inch round wood piece, which you can find at Home Depot, Lowes, JoAnn's, and similar stores.
Next, you'll need some paint, some Roman Numeral wall decals, some tools, and a clock mechanism.
It's a super simple clock that even folks who really aren't handy to pull together through reading the simple instructions.
Via Handmade-Haven
Holographic Wall Clock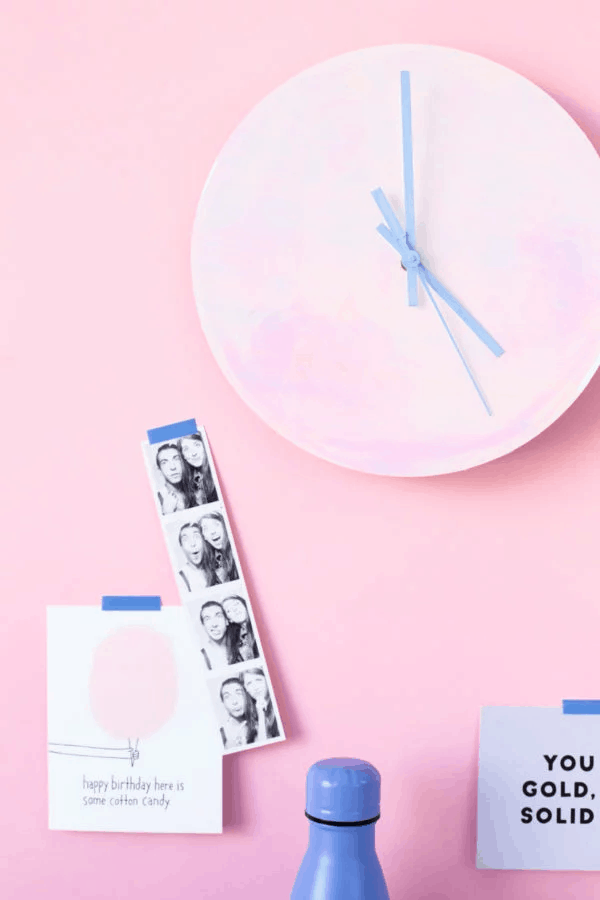 For a unique and fun twist on that homemade clock, why not consider doing a holographic clock. Yes – holographic. You'll need some basic clock making supplies, like a clock mechanism, a wooden clock round, some paint, glue, and sandpaper.
And then, the key to this whole thing: holographic car vinyl. You can get some online for very little.
Using the vinyl and these simple instructions, you'll have a unique, funky little wall clock in no time.
Via Studio DIY
Repurposed Pallet Clock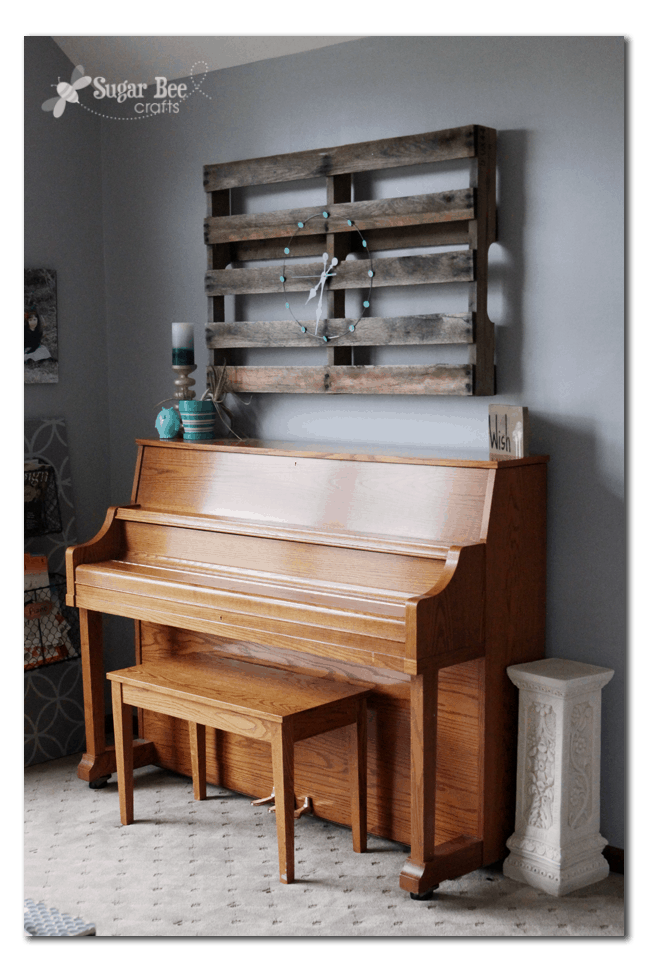 In recent years, pallets have been a hugely popular upcycle project item. They're used by many manufacturers and shipping companies as an easy way to move products around, but so often go to waste.
Well, this repurposed pallet clock helps put that waste to an end, one pallet at a time.
And the best thing is, it's incredibly easy to do!
You just need an old pallet – intact – some clock hands, a mechanism, spray paint, a few tools, and voila. You've got an easy-to-make, gorgeous, large wall clock that everyone will admire.
Via Sugar Bee Crafts
Square Rustic Wood Clock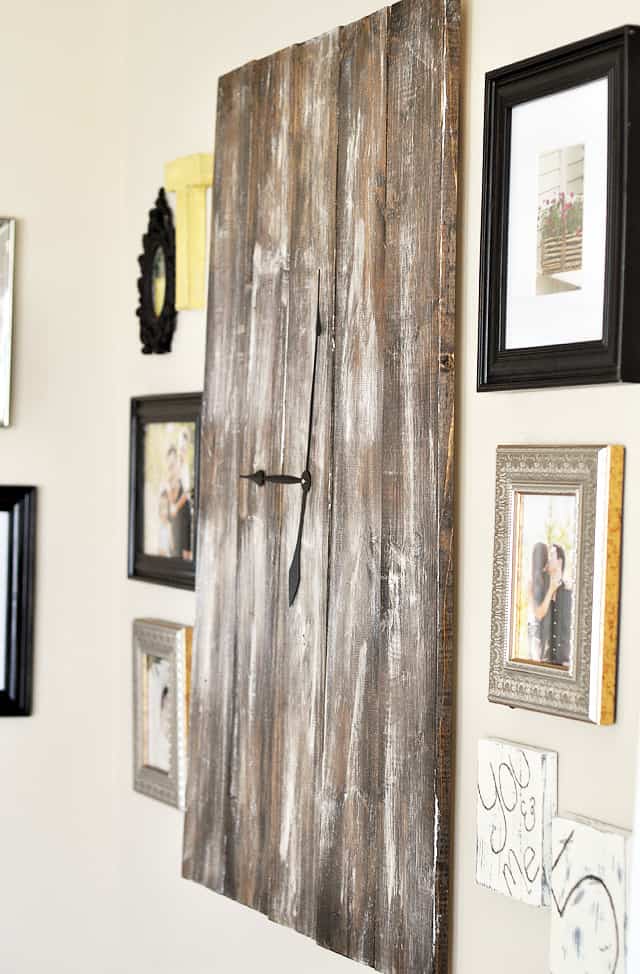 For a simple-looking, weathered wood wall clock, the square rustic wood clock is a stunning choice. You can use a variety of different wood types, though they recommend using inexpensive, "low quality" wood for the unique textures that higher quality wood lacks.
You'll learn how to weather the wood and install clock movements with the tutorial for this gorgeous clock. It's an intermediate level project though unless you've got a lot of patience and a miter saw.
Via Cherished Bliss
$12 Pallet Clock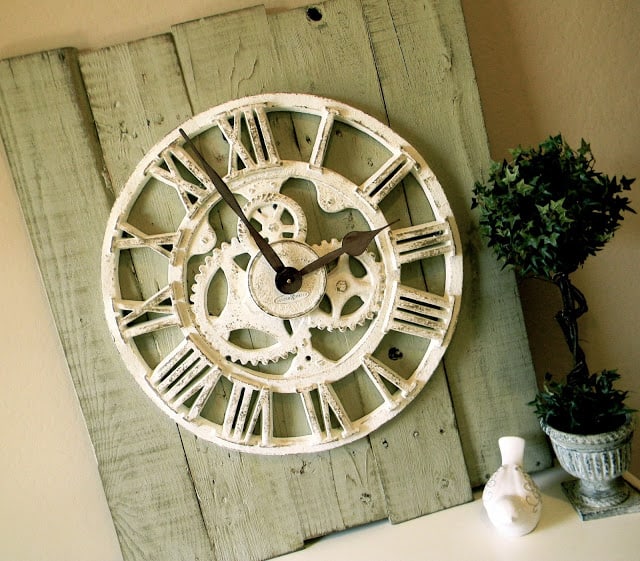 This clock looks surprisingly elegant and expensive for the low price tag. The $12 pallet clock really just requires a couple of things from the flea market or cellar, though that means a bit of good luck while shopping.
You may need to plan on shopping a while before finding the precise clock you want – like this amazing Howard Miller iron one the folks at Little Bit of Paint used – to keep it in the low price range. Otherwise, you just need some pallet wood and some paint and a few tools.
Large Rustic Stenciled Pallet Clock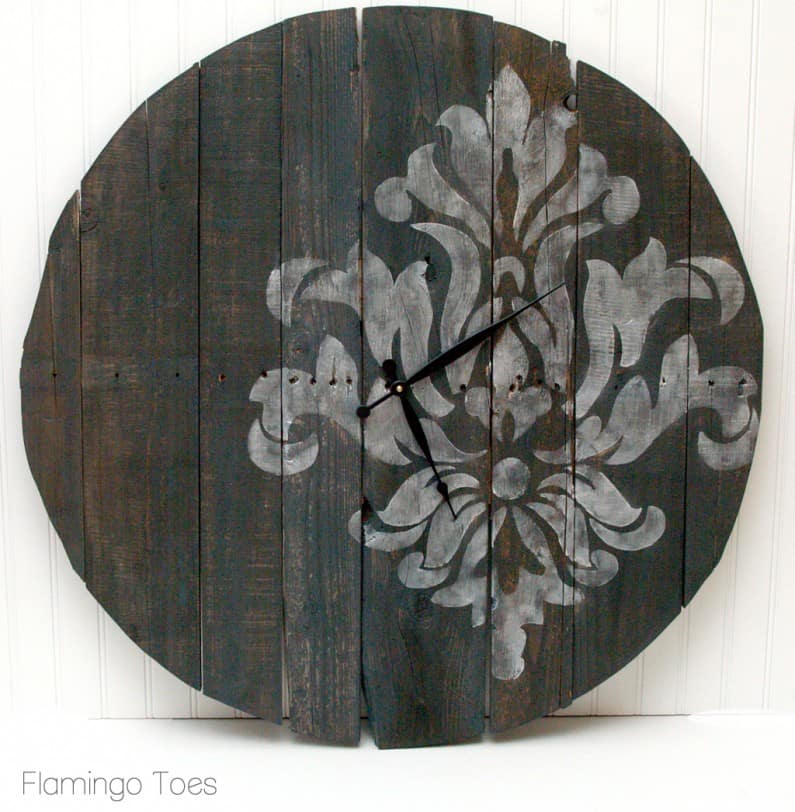 Yet another beautiful pallet wood project comes to you in the form of this gorgeous, large, stenciled wall clock.
You'll need some old pallet wood, a stencil you love, some paint, and some basic tools. But if you've got access to all of that, you can make it. It's simple enough that even the lesser-handy folks can make one.
Just beware, this is a large clock measuring 31 inches around.
Via Flamingo Toes
Wood Slice Clock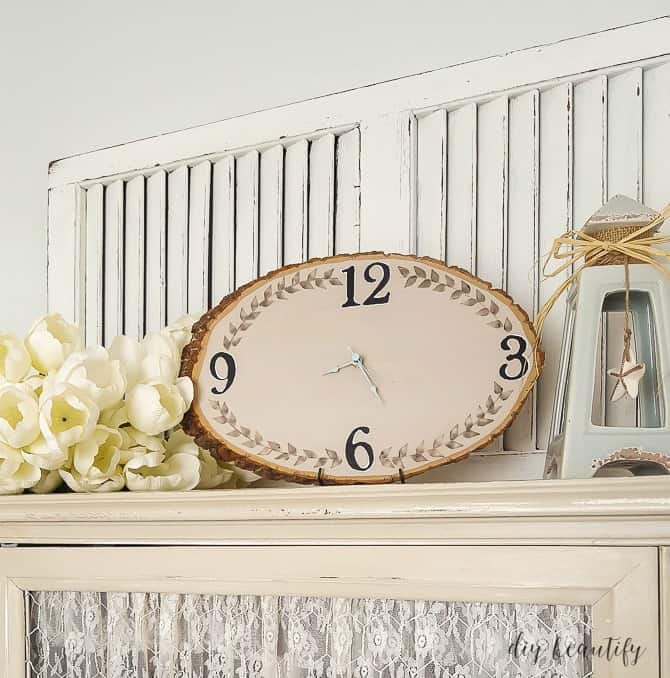 This one is for the wood-burning enthusiasts. Especially for those who love to start with basically nothing and come up with something gorgeous and functional from it.
You'll need a wood slice of any type or size. And you'll need a wood-burning tool, some paint, and clockworks.
Once you've collected your supplies, you'll just follow these simple, direct instructions to piece together and paint this beautifully simple, rustic wall clock the neighbors will envy.
Via DIY Beautify
Two-Tone Modern Wood Clock
For this sleek, modern, classy looking wall clock, you'll need to choose two different pieces of woods in different colors. The original in the post uses a dark brown and a lighter brown, but a nice cherry and oak combination would be a lovely alternative.
You'll need to know your way around a miter saw and router to create this. If you're already handy and know how to use them, this wall clock will be a piece of cake. Otherwise, you may want to visit Lowes or someplace to get some cuts made for you before you get started.
Via Woodshop Diaries
Colorful Outdoor Wood Clock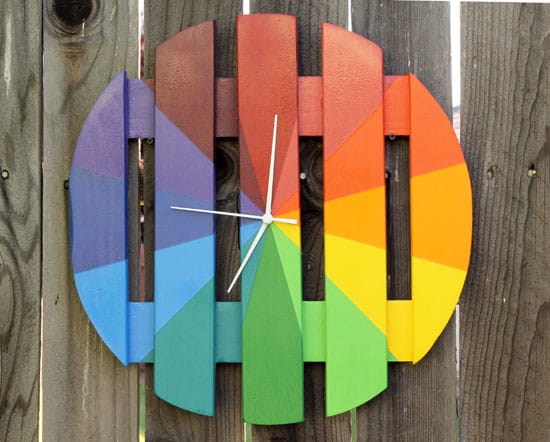 If you love bright, vibrant colors, and unique designs, you'll love this simple but colorful wooden clock made from plant stands and painted up with some acrylic paint.
You'll need to visit the garden section at Walmart or Lowes and grab some wood plant stands. Next, hop to the arts and crafts aisle for some rainbow shades of paint. Then, snag a clock mechanism.
Now, you'll go home and put it all together with these simple instructions, and discover a rainbow waiting for you on your outdoor wall.
Stunning Wall Clocks For Everyone
Whether you're a highly-skilled crafter or a beginner, at least a few of these beautiful clocks will meet your needs. Be sure to gather supplies ahead of time, be patient with the process, and fully allow all paint and glue to dry before proceeding with further steps.
While you wait for things to dry, choose the perfect spot for your new clock to reside. Think about creative locations that aren't necessarily the norm, too. The style of clock you choose could be the perfect décor item for a space you hadn't even thought of before.