25 DIY Wood Stove Ideas in 2023
There's nothing quite like a wood-burning stove for a homey feeling, whether you're talking kitchen and home or backyard patio. But a lot of times, the ones on the market aren't that interesting or are just too expensive.
So, if you love upcycling, recycling, and reclaiming anything old and abandoned and happen to need a good wood burner, then you should check out these ideas for some amazing wood-burning stove ideas you make yourself.
Metal Scrap Stove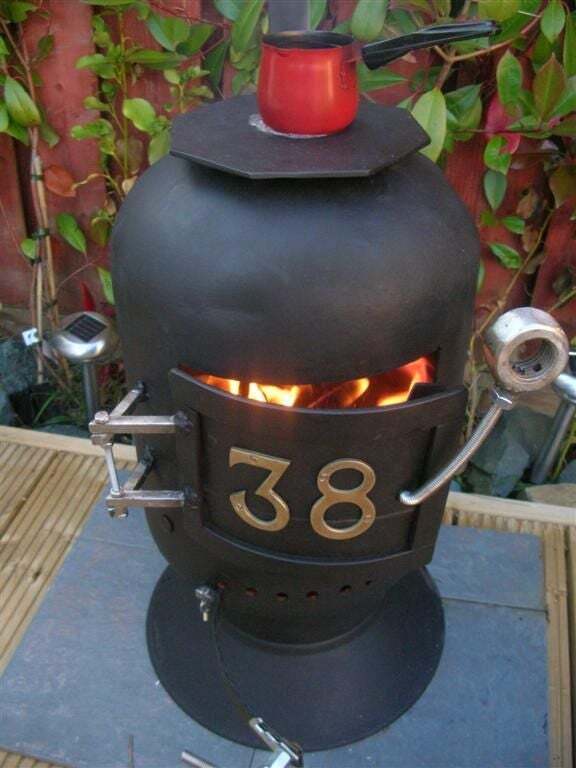 The first offering in this list is simply a scrap metal stove. If you're into upcycling and recycling, this is the perfect project for you. This wood-burning stove is specifically designed by the original creator to be used outdoors on a patio to keep warm in the winter while still being able to enjoy the outdoors.
The instructable shows you how to move from a pile of scrap metal to a great wood burner that even looks good. All for about $20.
Via Instructables
Gas Bottle Wood Burner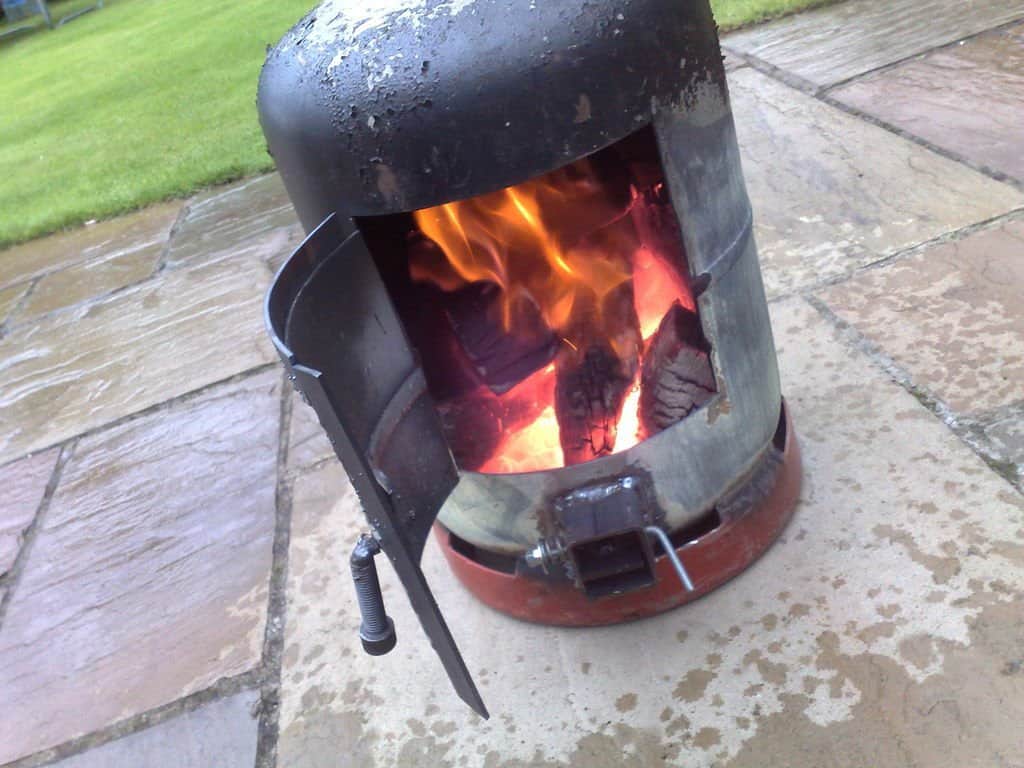 Here's another upcycle project, this one using an old gas bottle to create this cozy-looking, efficient wood-burning stove for patio use. When done properly, you'll even be able to notch up the heat to use a kettle or add a hot plate, if you'd like a low-key outdoor stove.
To make this one, you'll need a gas bottle, a 6-inch diameter chimney pipe, a handle, a section of heavy-duty hinge, a box section for air vent, and a length of rod for air regulators.
Via Instructables
Hot Water Tank Horizontal Wood Stove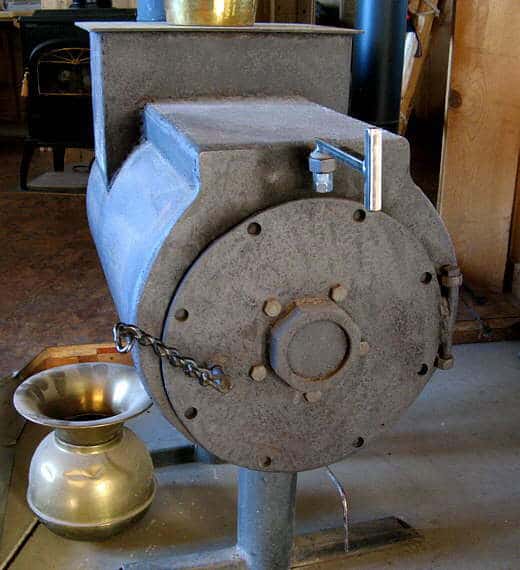 This is the perfect option for someone living in a cold climate, looking for a horizontal design wood-burning stove. It's made from an old hot water tank and flat sheets of steel.
This is a bit more of a "how I did it" than a tutorial, per se, but if you have any skills in this area, you should be able to follow along with what the poster wrote and create the same basic stove from the step-by-steps given.
Electric Water Tank Vertical Wood Stove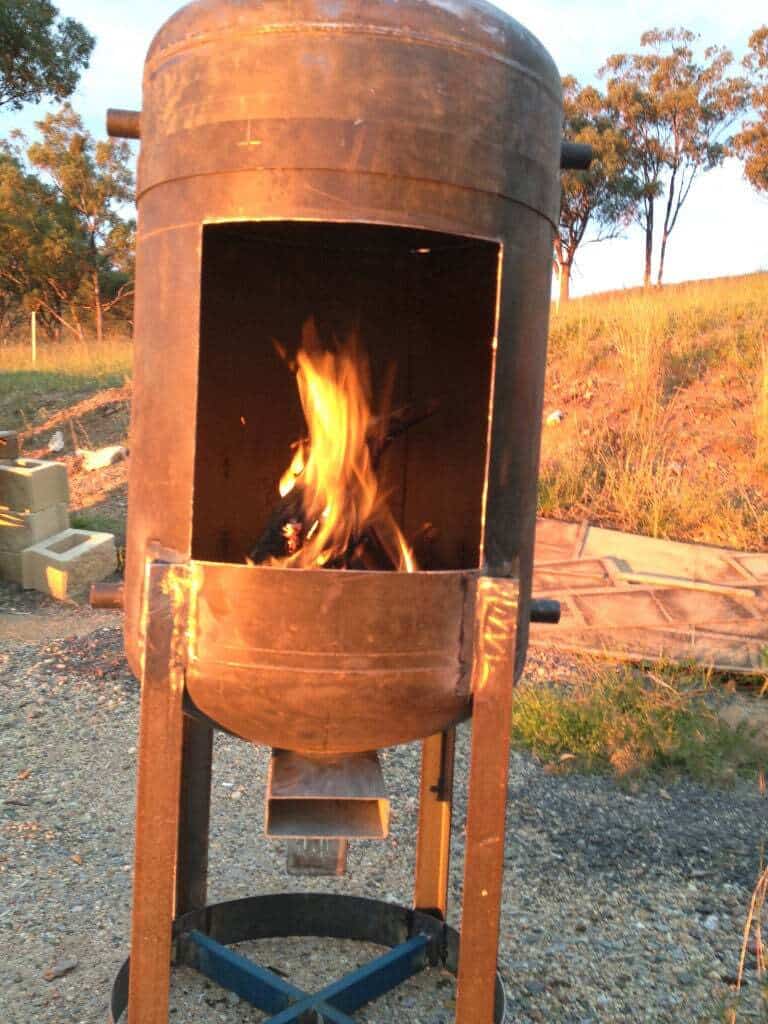 This is another hot water tank upcycle project for beginning welders. It's created from an old water tank, round tubing, a reinforcement steel rod, steel RHS, and steel angle. You'll need an angle grinder, jigsaw, and Mig welder to complete it.
So, if you're ready for a reasonably easy beginner's welding project that you can then use outdoors, this is definitely a great option for you. Just gather your supplies ahead of time and follow every safety precaution as you begin and finish the project.
Via Instructables
Reclaimed CNG Cylinder Stove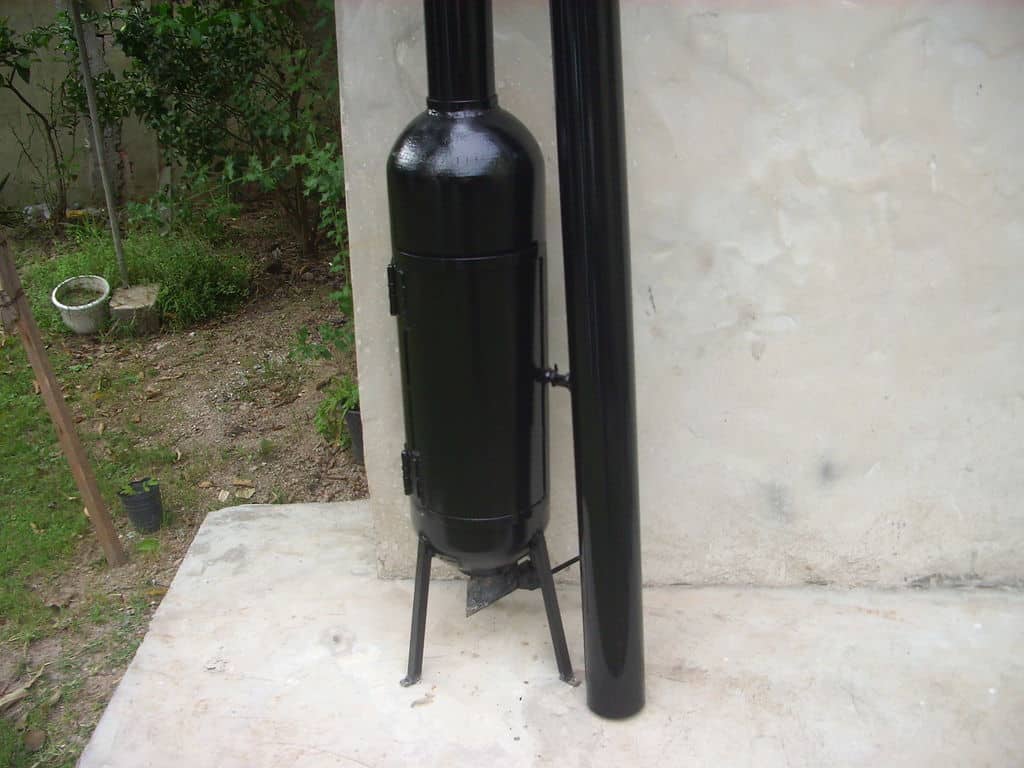 This is a fantastic option for anyone who can find a CNG Cylinder. They make a truly unique, efficient wood-burning stove for anyone with some welding skills and talent with scrap metal.
Be sure to follow the instructions carefully – the English ones fall below the Spanish all along the way – and use your safety precautions to avoid any potential issues with gas, etc. You'll need to drain the gas and remove the valve along with other preparations.
Via Instructables
DIY Potbelly Stove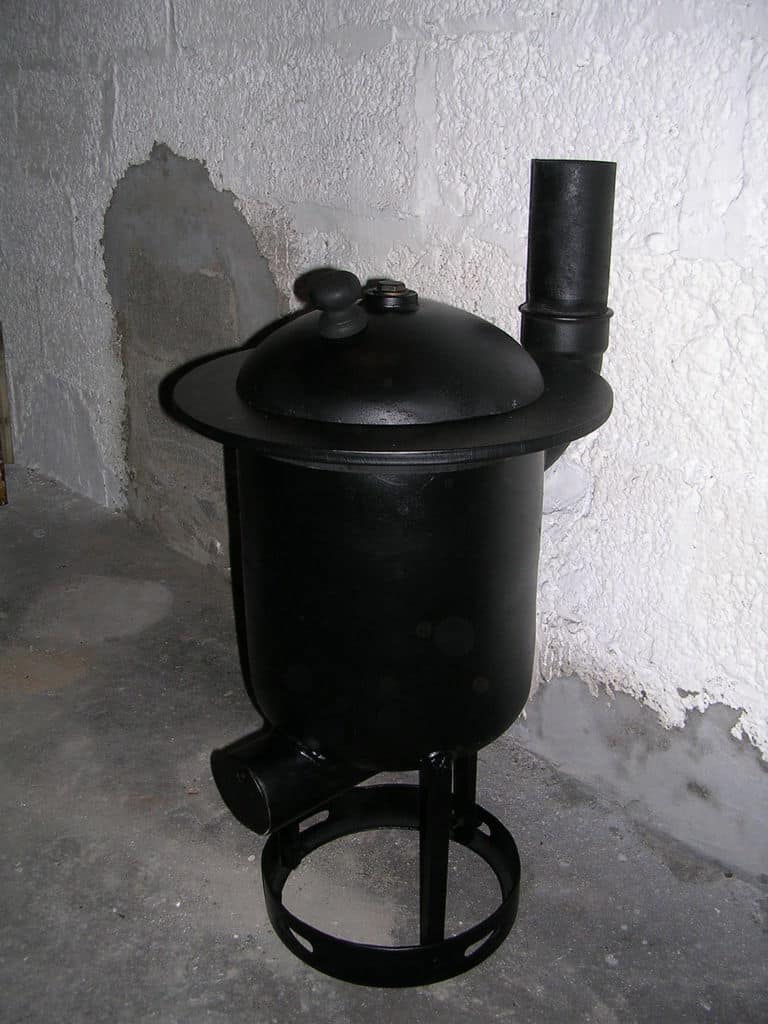 This fantastic little potbelly stove looks great but it also really does the trick. It's not too terribly complicated, either, if you know what you're doing at all with welding, etc. It's great for smaller spaces – think workshops, garages, sheds – for keeping them warm in the cold winter months.
The design uses scrap metal that you can collect around the home or local junkyard for very little money. And it only takes about a day – or less – to construct.
Via Instructables
Rocket Stove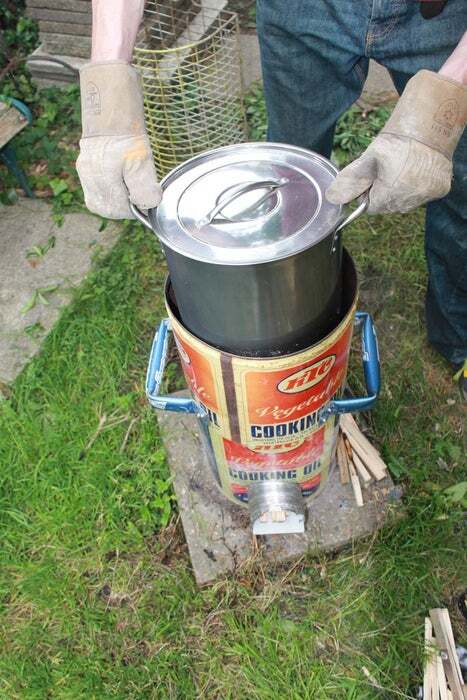 Rocket stoves are a fantastic way to cook with wood. The basic principle is burning wood hot and fast for efficiency's sake. This helps insulate the cooking area and therefore makes cooking faster and easier. And that's exactly what this DIY rocket stove does.
You'll need 2 oil cans, a cooking pot, wood ash, flexible flue, some metal tubes, and some sheet metal, along with some basic tools like work gloves and a rivet gun.
Via Instructables
Paint Can Stove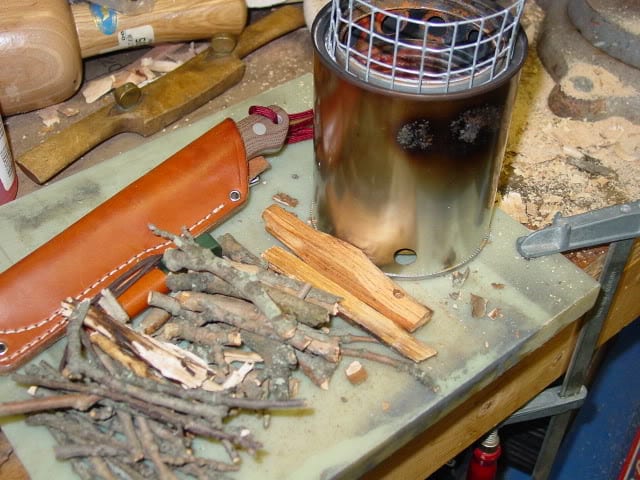 Have an old metal paint can and want a wood-burning stove you can take anywhere? Well, you're in luck. This little wood burner is perfect for bringing along for outdoor settings like camping and fishing, and won't take that long or that much effort to make.
This is another more "this is what I did" versus actual tutorial, but the instructions the writer gives are pretty easy to follow and use some unique twists to make the stove more effective.
Via Bushcraft USA
The $30 Portable Wood Stove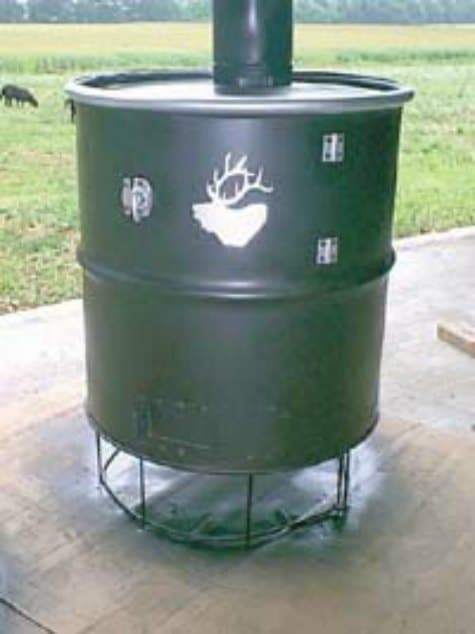 This fantastic little portable stove for wood-burning is an easy build for not much money. In fact, it should cost $30 or less. It's large enough to be suitable for a cabin or small building, but not so much for a large situation like a house.
It is also great for outdoor use, not merely indoor use, and will help to keep the freezing cold at bay out on the patio at the hunting cabin, or wherever.
Via Backwoods Home
DIY Wood Stove For A Small Boat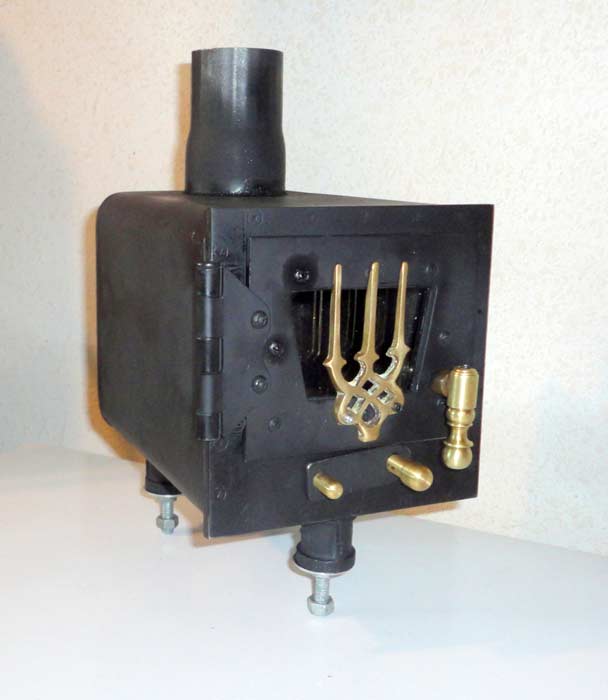 This particular wood-burning stove is designed for safe use on a small boat. It's small, extremely sturdy, and stable, and costs way less than the one you'd buy at the marina store in your area. Plus, it's actually small enough for smaller boats like 16-footers. The stove is great for warming up the boat itself.
This is not a tutorial per se, but more of a "this is what I did so you might try something similar" kind of thing.
Easy Mini Camping Brazier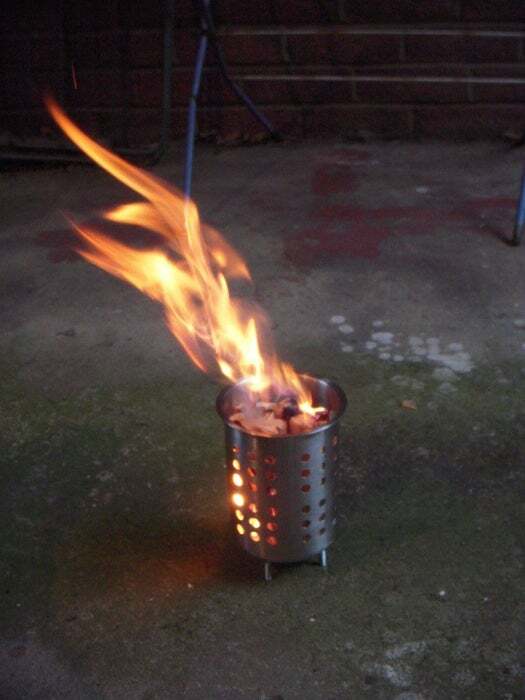 This is a super easy to build, small camping wood burner that you can make from really common items and not a whole lot of work. The components are inexpensive and easy to find and you don't have to modify them.
You'll need a stainless steel kitchen utensil holder – with holes – and 4 nuts and bolts that are long enough to fit the holes in the utensil holder. Seriously, it's so easy anyone can make it.
Via Instructables
Simple Barrel Stove From A Kit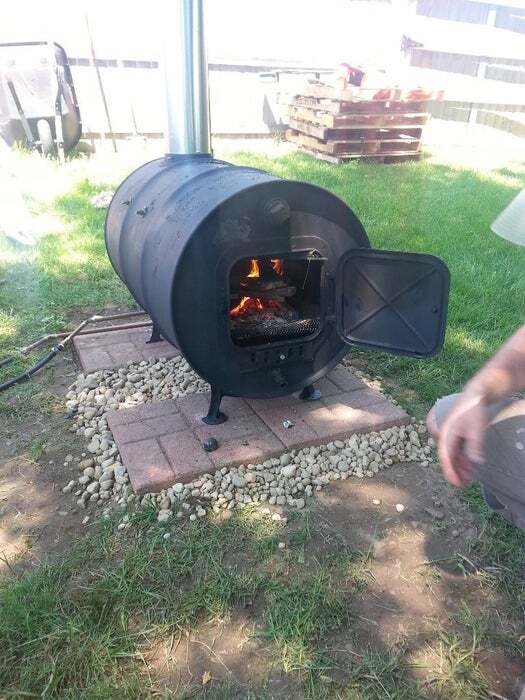 This is another simple option for people a little bit less handy than some. You use a pre-made kit to create the perfect wood stove, instead of having to create everything through heavy-duty welding work, etc. Instead, you'll just need a 55-gallon steel drum and the kit.
You can usually find such a barrel on Craigslist or a local scrap yard for just about nothing. But with the instructions, you can build a double barrel stove, so you might want to grab two of the barrels.
Via Instructables
Deluxe Barrel Wood Stove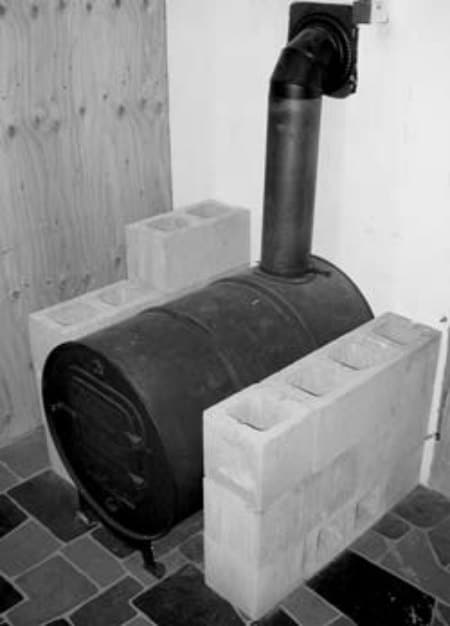 This wood-burning stove tutorial provides you with the opportunity to build a super deluxe wood-burning stove that's great for the home. Install in the basement and you'll keep the house warmer than ever.
This is another barrel kit for converting a barrel into a powerful wood-burning stove. The kits aren't too expensive, nor the barrel and other supplies, and you'll save loads over buying a full-on wood stove from some expensive store.
Homemade Mass Heater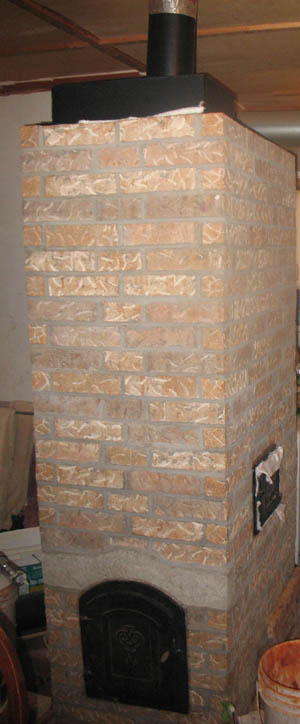 This homemade mass heater tutorial uses a variety of components to create a super-powerful, efficient wood burner that will supply your whole home with heat. You'll need some fiberglass insulation, an insulated burn tube, some wood for the frames, some clay and sand. You'll also build in a chimney.
The wood-burning stove is complicated, admittedly, and the "tutorial" is more of an "I did it this way" kind of thing than a step-by-step, but if you've got some skills, you can build it reasonably easily on your own.
Via Permies
Upgraded Weber Rapidfire Wood Stove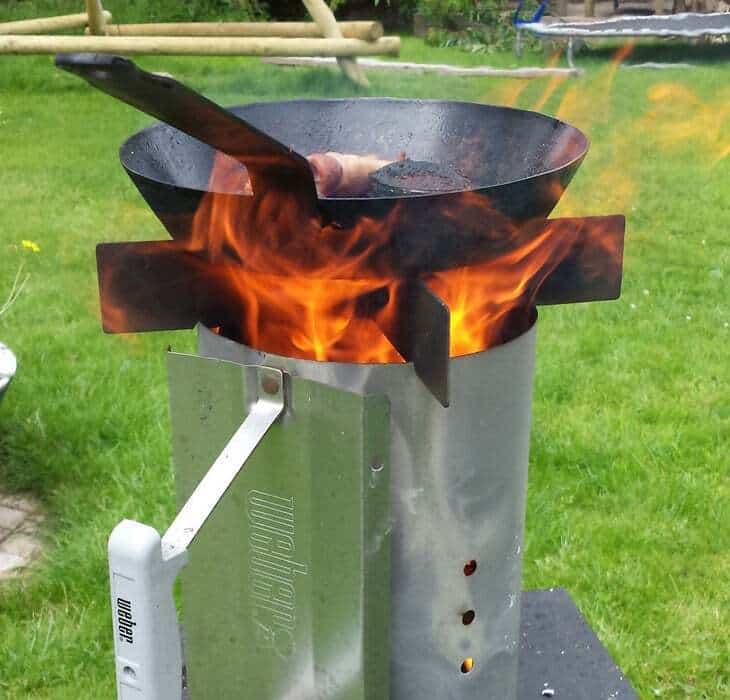 Here's another portable wood-burning stove perfect for cooking. You'll use a Weber Rapidfire component – easy to grab at the local hardware store – to build this portable stove. And this comes high-quality manufacture already, so it'll last for a long time to come.
Beyond the Rapidfire, you'll also need some steel sheet metal and some basic metalworking tools like gloves, metal files, metal screws, etc. It's reasonably easy to make, too, and winds up a lot more efficient than many other options out there.
Via Instructables
Miniature Wood-burning Camp Stove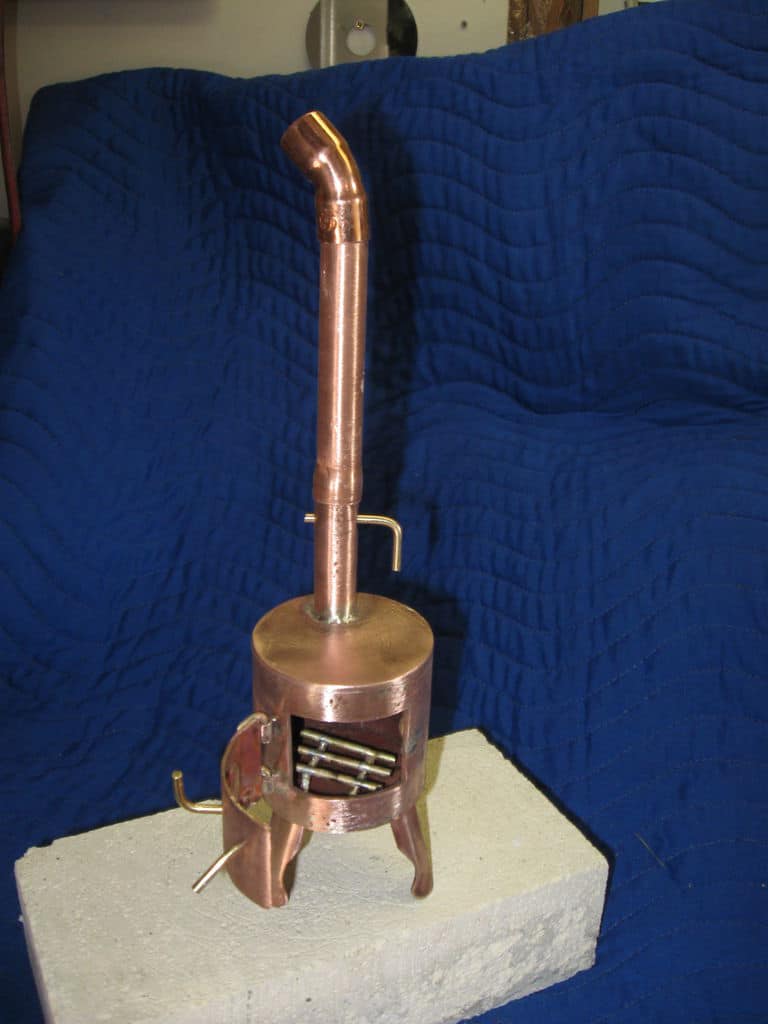 If you need a really small, stable, sturdy wood stove for taking along for some outdoor adventures, then you're in luck. This miniature wood-burning camp stove is reasonably easy to build, and though it's that important, it is kind of absolutely adorable once it's done.
You'll need some scrap copper pipes and tubing for the body, and then some basic metalworking tools and supplies you'd generally use in metalworking crafts.
Via Instructables
Basic Wood-Burning Stove From Scraps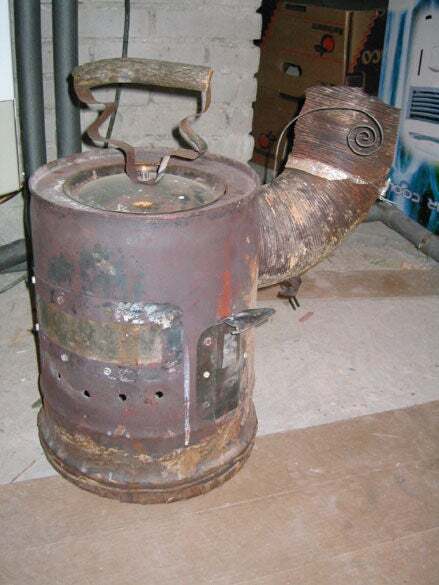 For this basic wood-burning stove made from scrap metal, you really have a lot of options on what to make it from. Just don't use aluminum. In fact, the original metal crafter suggested an empty oil drum and a pea fritter – thin metal, preferred for speedier heating. Or, a metal rubbish bin, even.
Depending on what you use, it may or may not be so pretty, but it will certainly do the trick for cooking up some wood for warmth in no time.
Via Instructables
Space Shuttle Rocket Stove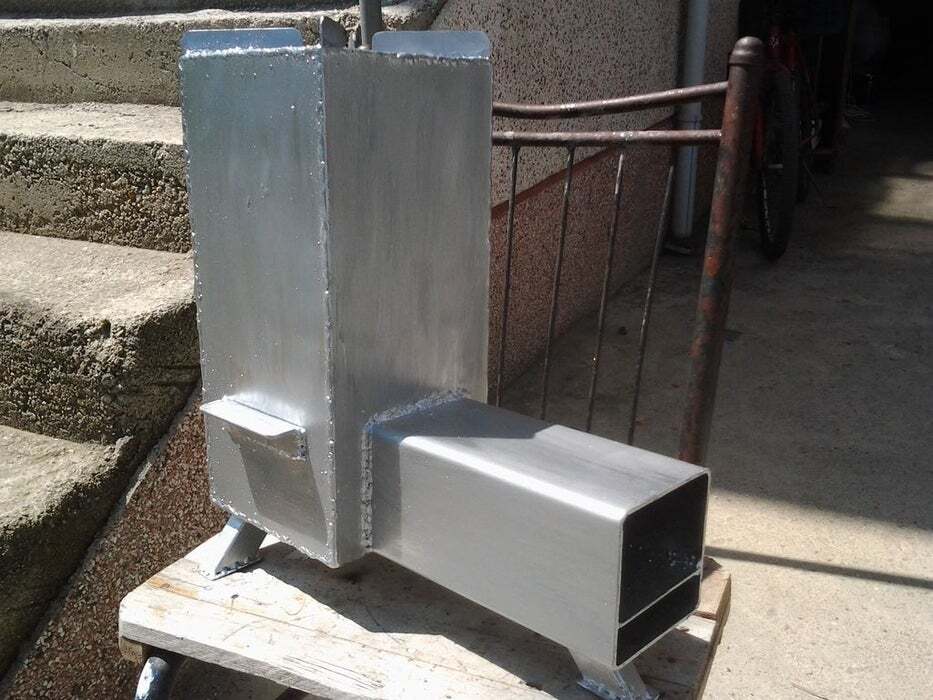 This fun one is another rocket stove for some fantastic wood-burning. But it's made in the color of a space shuttle – just for fun. So, if you enjoy some heat and fun in one, you'll probably enjoy whipping up this reasonably simple stove.
The stove has a nice "L" shape to it with a tight profile and efficient angles constructing the stove. This isn't a direct tutorial, per se, but it gives solid visuals on each step along the way. So if you know metalworking, you'll be pretty good to go with making it without too much issue.
Via Instructables
Old Hot Water Heater Into Wood-Burning Stove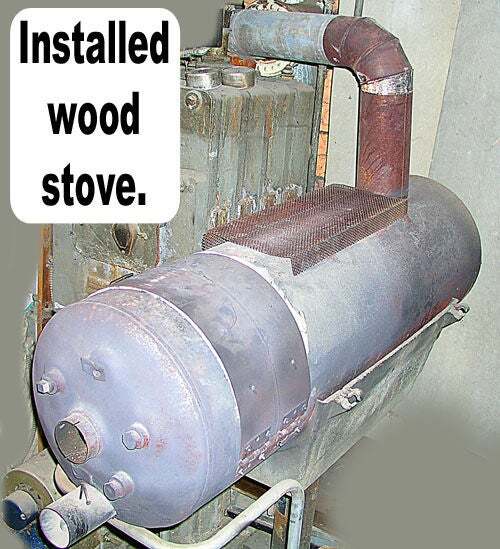 This is another upcycling project that takes an old hot water heater – in pretty much any shape, except holey – and turns it into a very efficient, effective wood-burning stove that will get your house warm. The original poster created the stove to reduce house heating costs and based it off of some old Mother Earth News.
It's suitable for a smaller house to heat it well with ducting built-in connecting the basement or first floor with the rest of the house.
Via Instructables
Wood-Burning Stove From Steel Sheet Metal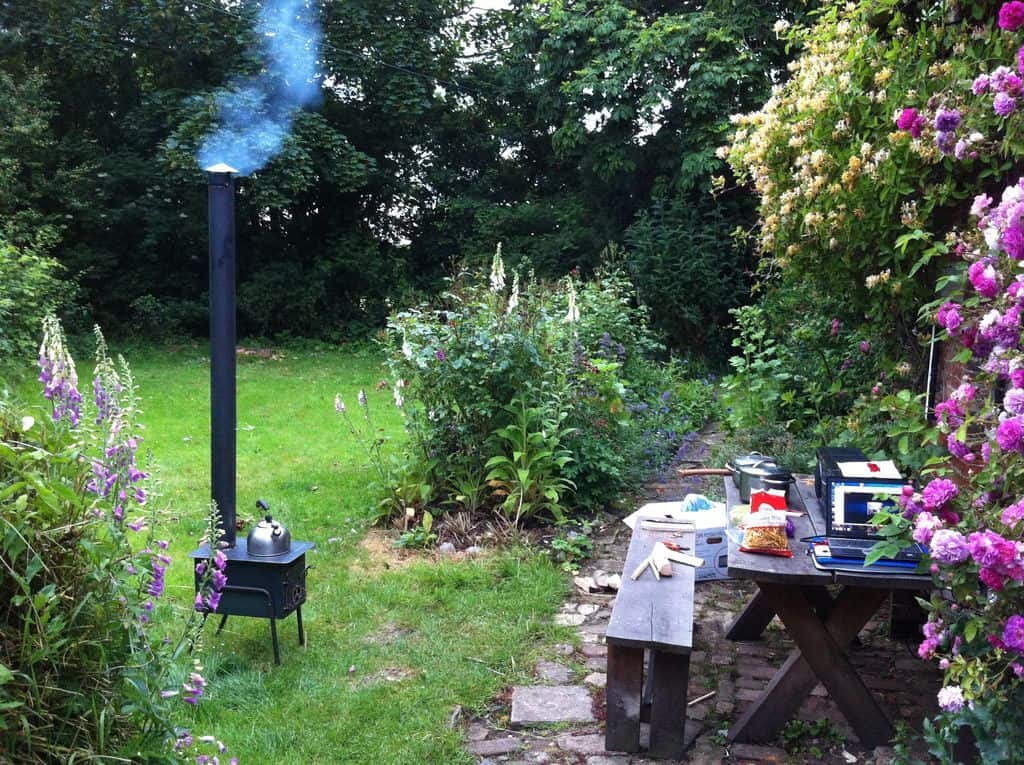 This is a very attractive option for your outdoor patio use for keeping those chilly winter nights at bay. In fact, if you're handy with metalworking, you'll have a stunning piece that looks like a well-maintained antique. Plus, the top gets hot enough to put on a kettle or small pot and do some cooking out there.
The best part, though, is that this stove is actually not that hard to make if you have some pre-existing skills or talent for metalworking and a bit of patience.
Via Instructables
Rocket Mass Heater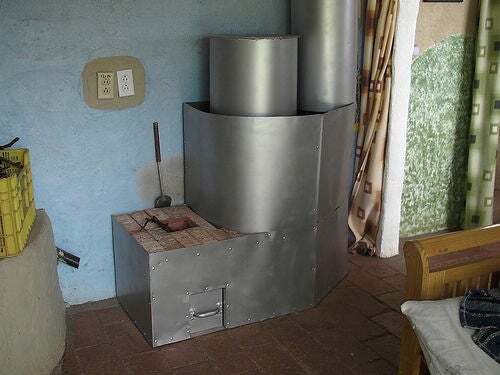 There are two things that separate a rocket from a standard wood-burning stove. The first is the combustion in a rocket mass heater is far more complete. The second is that a rocket mass heater is tahe thermal mass that encases the heater components.
This makes this mass heater one of the absolute best, most efficient options you'll find in the DIYs. This tutorial will take you through each step and in the end, you'll have a fantastic heater for your home.
Via Instructables
Pig-Shaped Barbecue Wood Burner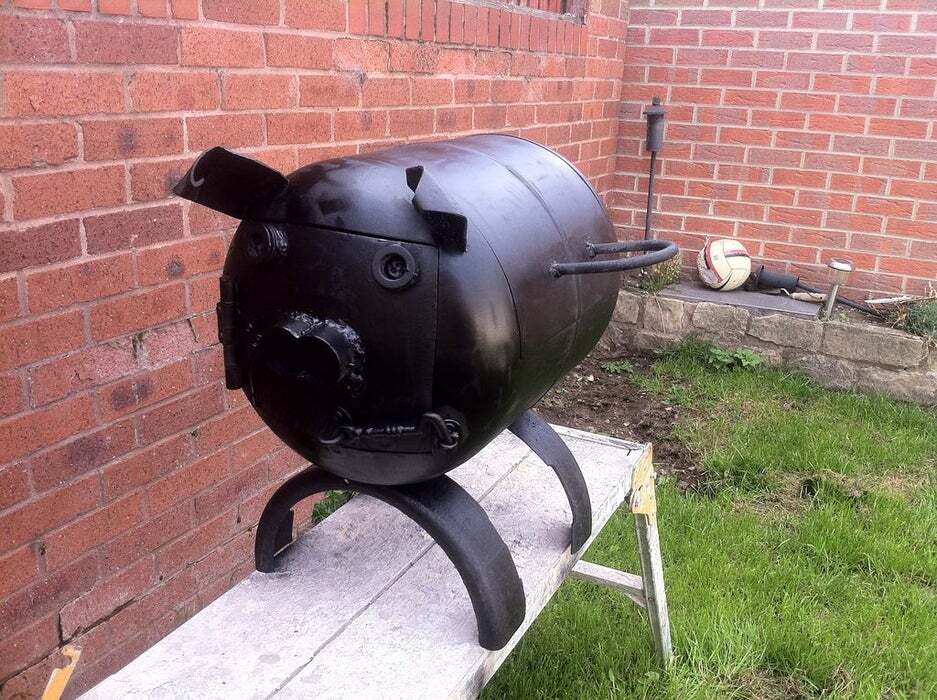 If you're looking for a fun wood burner option that would not just give some heat, but give you a spot for cooking and, well, make a great conversation piece, then this adorable porky wood burner is a great option.
The plan uses an old gas bottle and some metal cutting skills to create this adorable piggie. From there, you'll attach some valves and other components – as well as create the lid and feet from other parts of the gas bottle. Bam. "Babe-ecue."
Via Instructables
Darth Vader Log Burner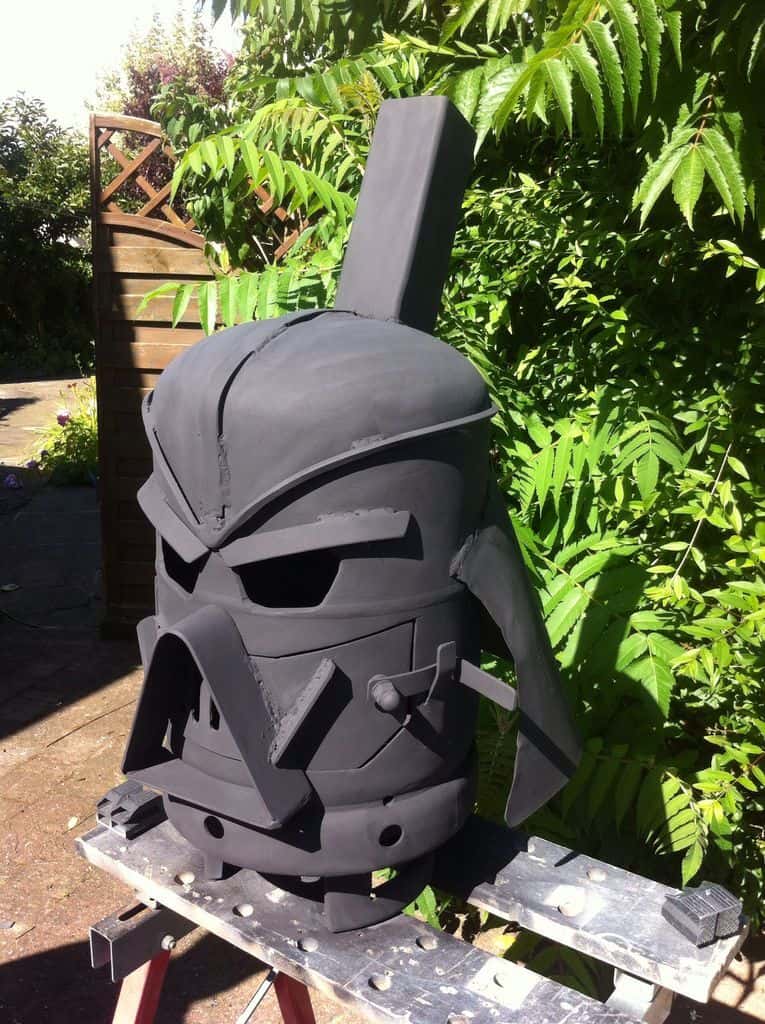 And for the Star Wars fans, you've got this Darth Vader shaped log burner. You'll use a gas bottle to create the log burner. From there, you'll have some fun crafting this intricate depiction of the Big Bad of the Star Wars original trilogy.
The instructions give clear directions for clearing out the gas bottle, putting together every component – including Vader's helmet – and doing it safely. Be especially careful of the safety instructions, as leftover gas can be very dangerous.
Via Instructables
Minion Log Burner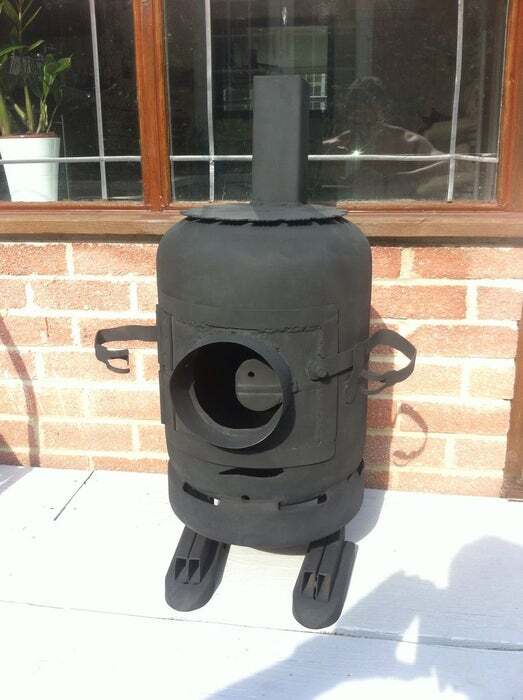 Love the Minions? Love fire and flames? Then, well, this one's for you. It's a solid log burner that's great for the patio and great for showing off your fun side. And you can make it all from an old gas bottle. Just follow the instructions.
The tutorial is pretty basic and very easy to follow, so if you have any welding skills at all, you should be fine. And if you don't, this is a reasonable project to learn some skills with, since it's so direct.
Via Instructables
Piglet Wood Burner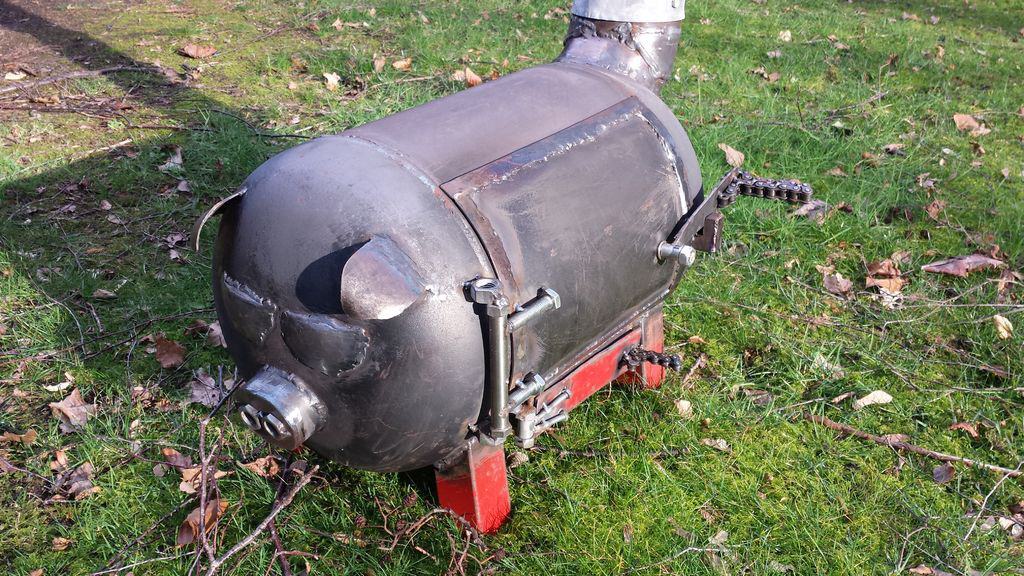 Here's another adorable piggie stove, this one smaller and just a wood burner, in case that's more effective for your needs. It's still just as fun as the previous model, but just a bit different. It's also made of an old metal gas bottle and various metal components.
The tutorial offers clear, easy-to-follow instructions for each step along the way, though they're written as an "I did it this way" guide instead.
Via Instructables
The Right Wood Burner For Your Needs
These amazing wood-burning stoves made from gas bottles, sheet metal, old scraps, bricks, and more are all pretty awesome. And you'll find the supplies a whole lot cheaper than buying a brand new one from the store.
You'll also find more interesting options through creating your own wood burner – Vader, Piggies, Minions? – and have a more interesting experience in the process.
All in all, building your own wood burner is a fantastic option if you're into welding or want to learn how to do it well. Just be sure to use careful safety measures, equipment, and thoroughly read all instructions multiple times before beginning.