DIY Homemade Bug Spray With Essential Oils
In some locations, bugs are worse every year, it feels like. Staying at home, doing some trail running, or going camping – the bugs are everywhere.
But if you're like me and don't want to use harsh, chemical-laden insect sprays, it can be a deterrent to hitting those trails because, well, nobody wants to be eaten up by mosquitoes!
So, instead of spending money on bug spray that hurts the environment and harms your skin, you can make your own essential oil bug repellent. You just need a few simple supplies, a great combination of oils, and about 5 minutes of time.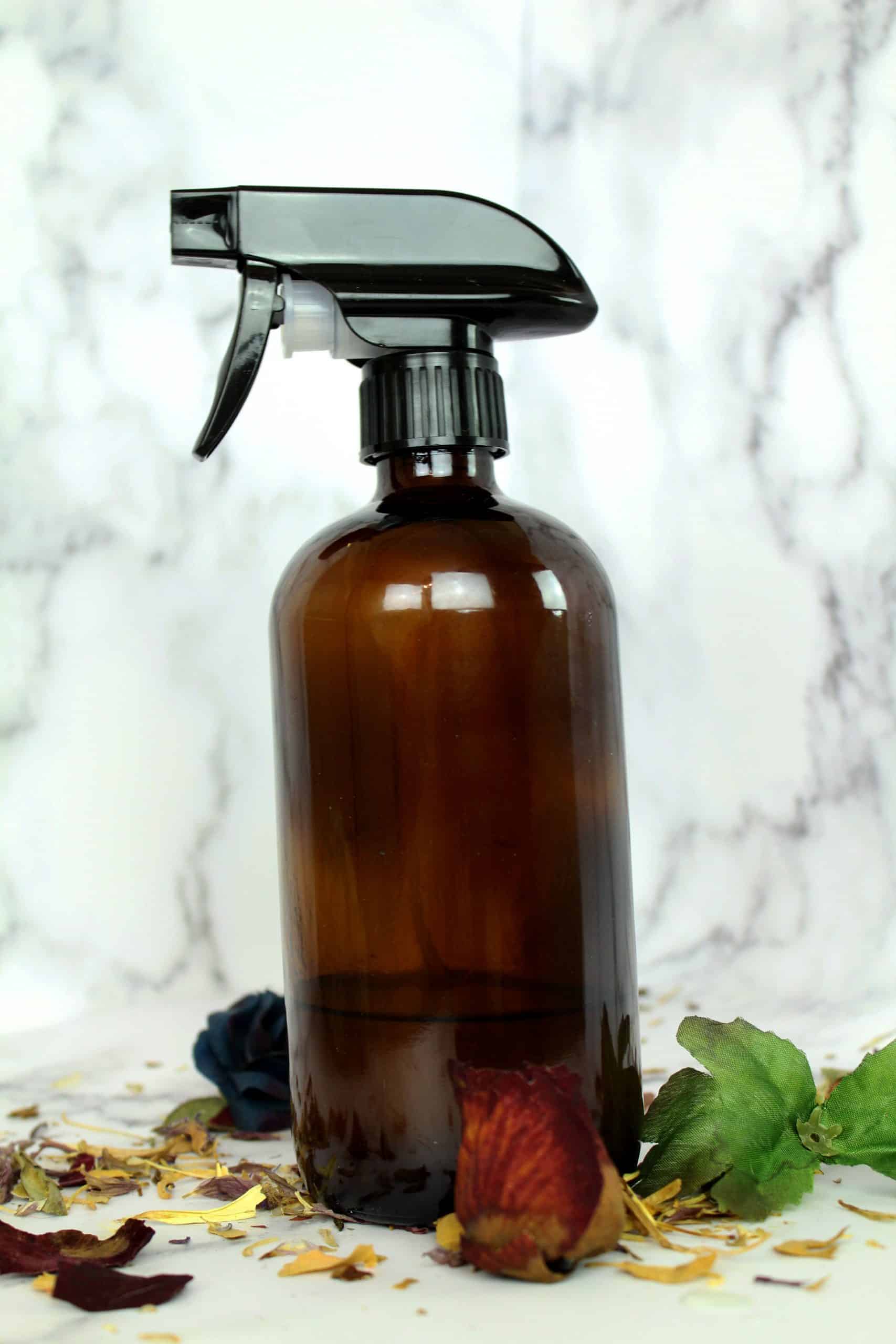 Materials Needed
½ cup distilled water
1 tablespoon Avocado oil
½ tablespoon Witch hazel
10 drops Citronella
7-10 drops Lemon
7-10 drops Sweet orange
10 drops Rosemary
Tools Needed
12 to 16 ounce amber bottle with sprayer lid
Funnel
Measuring spoons
Dropper for essential oils
Why Avocado as a Carrier Oil?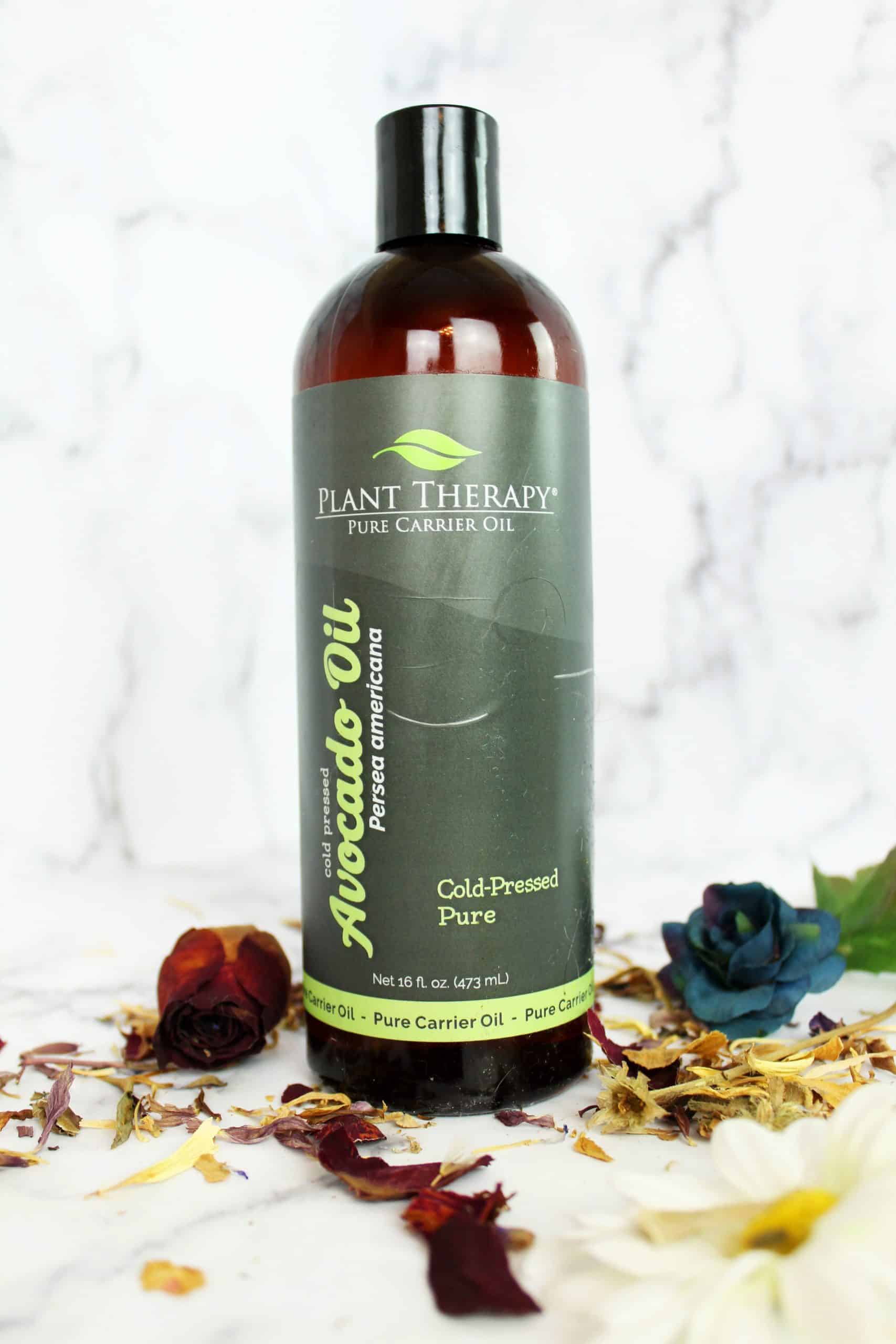 All right, let's talk about carrier oils and distilled water.
First off, you need some good, distilled water to flesh out your insect spray to avoid over-oiling your skin. It dilutes the oils enough to spray easily, as well, making it ideal for your best decent-sized batch of bug spray.
The first choice I have for bug spray is Avocado oil because it's great for the skin, which is one of my biggest complaints about the unnatural stuff you buy from the store.
It doesn't irritate existing skin issues, if you have them, it's loaded with monounsaturated fat and vitamin E, as well, meaning your skin loves it. Seriously. It's also a soothing base "layer" for your buy spray that works well with the rest of your ingredients.
Benefits of Witch Hazel for the Skin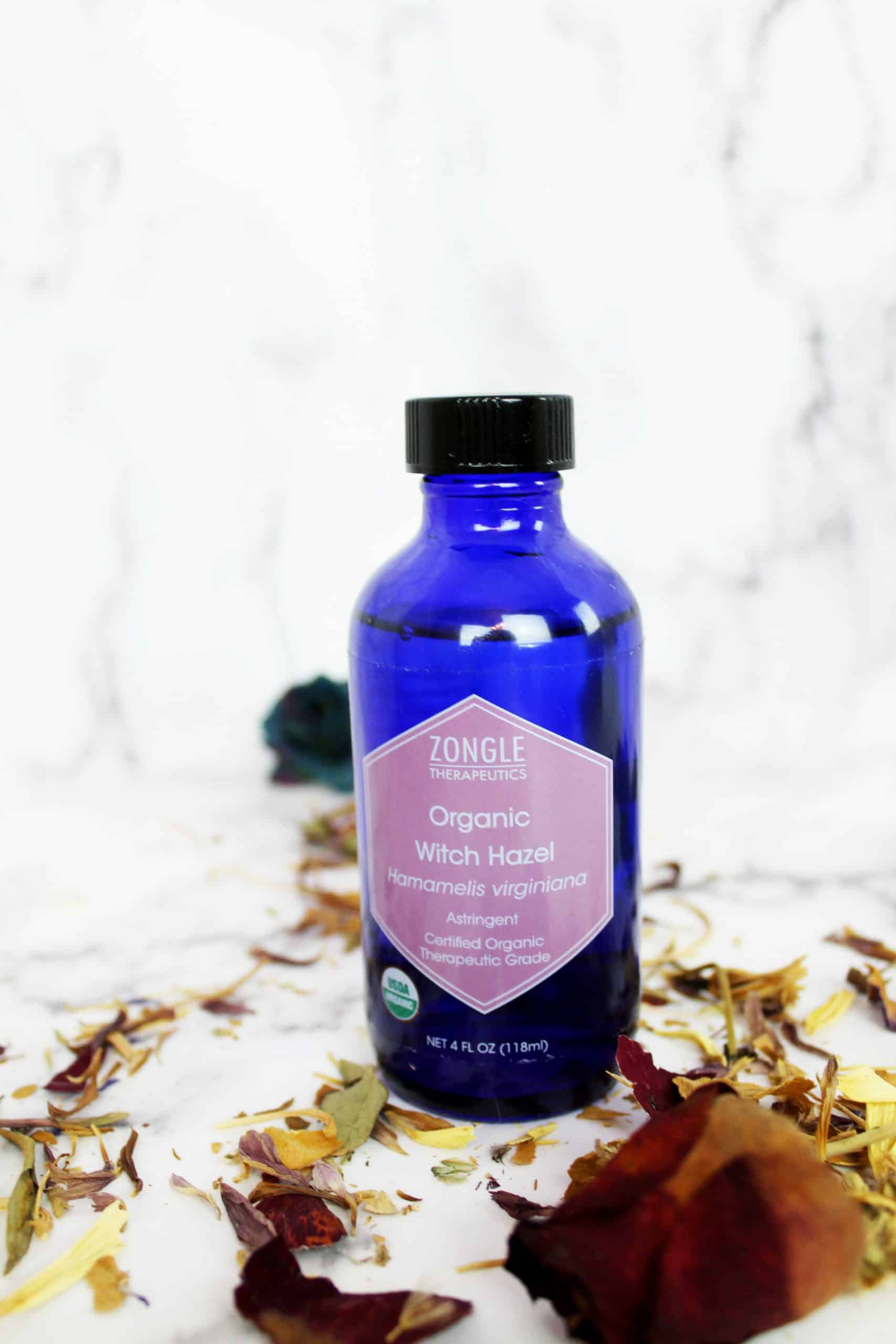 Witch hazel offers a lot of wonderful benefits for your skin, especially in an item like essential oil insect repellent. Some of the benefits you'll appreciate include:
Reduction of inflammation
Reduction of skin irritation
Helps fight acne
Is great for the scalp and helps fight sensitivity
Protects against skin damage
Wards off infection
Since many of us have skin sensitivities and deal with irritation, witch hazel is a fantastic carrier and supplement for almost any skin care product you make at home.
Why These Particular Essential Oils?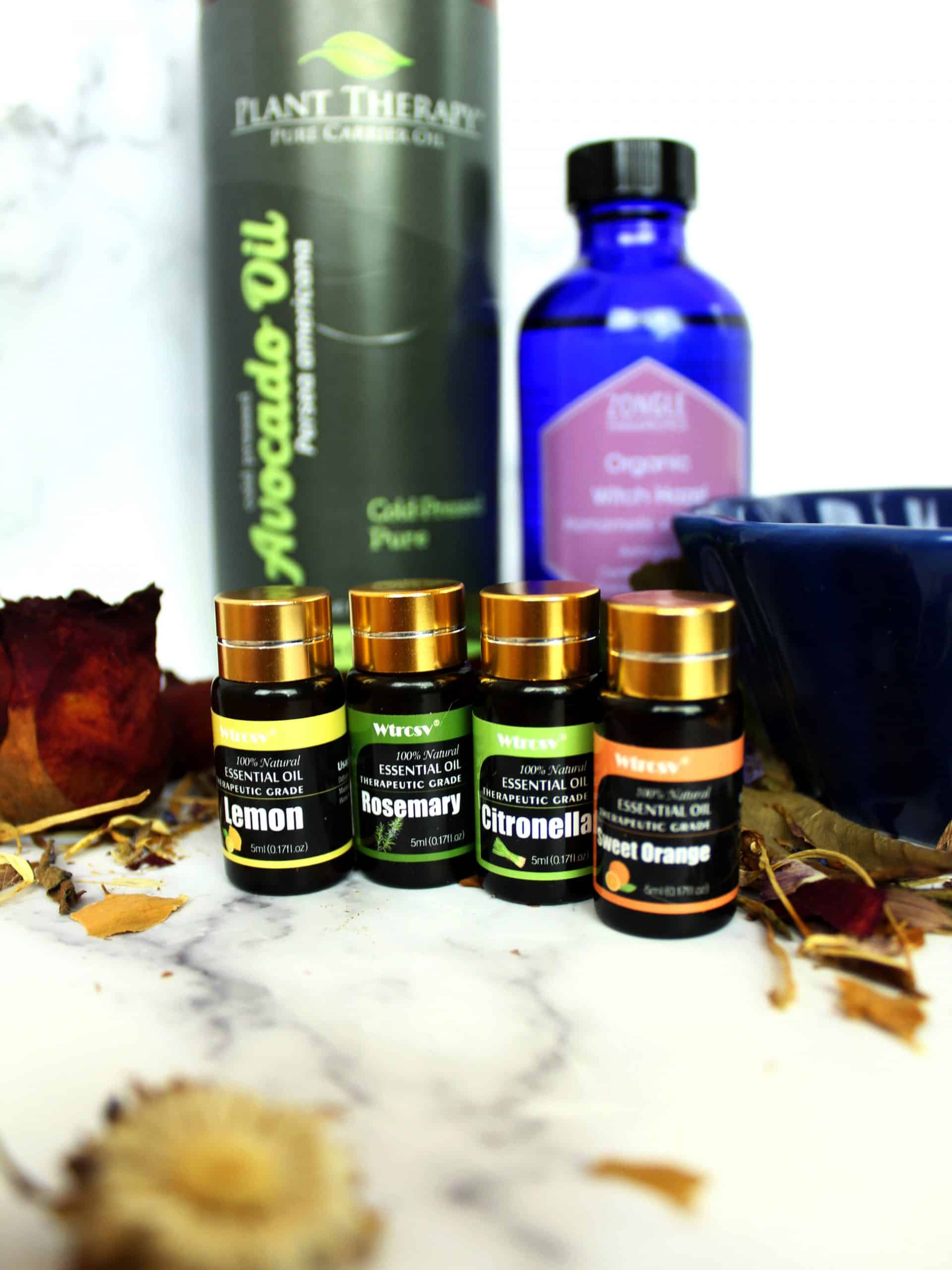 This particular collection of essential oils is really beneficial for a delightful smelling, powerful natural bug repellent you won't mind spraying on before a hike.
Citronella
In case you didn't already know it, citronella is a powerful natural bug repellent as a stand-alone.
Combine it with others that also urge bugs away, and you've got a super bug spray! It's also good for a few other things when it comes to your skin, especially when dealing with insects and allergies. It's a natural antifungal, it promotes wound healing, and it boosts your mood.
Rosemary
Next up is another natural bug repellent on its own: rosemary. This beautiful herb tastes great in sauces and works well on your skin.
It also relieves pain, can help improve circulation, decrease stress, boosts your mood, and decreases joint inflammation.
Lemon
Lemon essential oil is one of the brightest, perkiest smells you'll find in your essential oils kit. But it's good for a lot more than just boosting your mood.
It makes your skin healthier, lowers anxiety, eases morning sickness, reduces pain, increases alertness, opens up your breathing, has the potential to fight acne, and promotes wound healing while being an antifungal.
Sweet Orange
Finally, sweet orange lives up to its name, giving your natural bug spray made with essential oils a nice aromatic lift.
This oil does a load of wonderful things, too, including boosting your mood, reducing pain and inflammation, and treating skin conditions.
How To Make DIY Bug Spray with Essential Oils
While the idea of making insect repellent at home probably seems a little complicated, it's actually pretty darn easy.
You just need the right supplies and some various basic tools and you're ready to apply your bug spray in less than 10 minutes!
Step 1 – Clean your sprayer and bottle.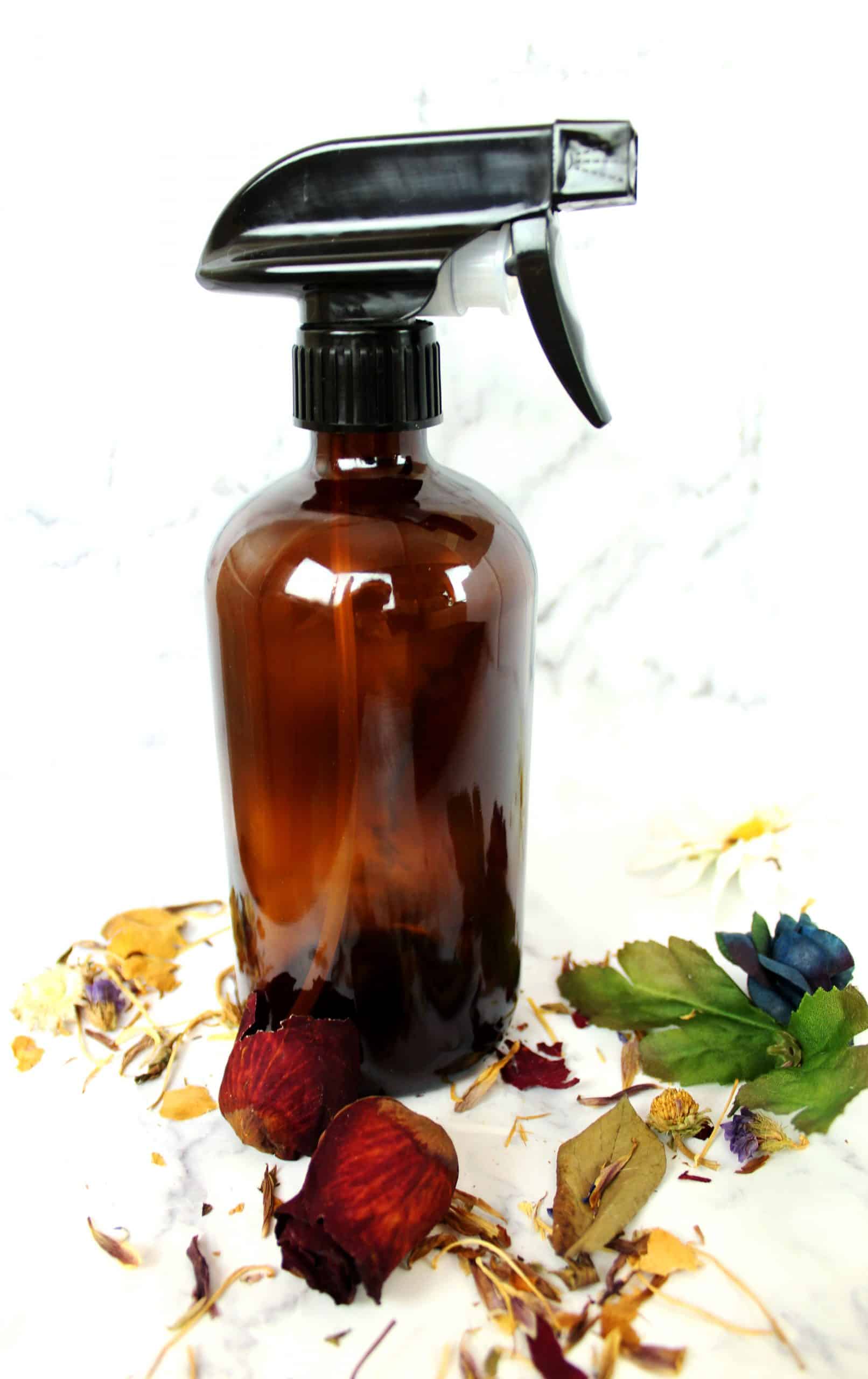 Use gentle soap and warm water to clean your spray bottle and sprayer. Be sure to first run the soapy water through the sprayer portion, then clean out with clean, pure water to rinse thoroughly.
I generally put soap directly into the bottle and swirl around with warm water first, then spray it out through the sprayer.
Then, I thoroughly rinse out the bottle and fill partially with clean, pure water and spray the soap out several times through the sprayer until no more shows up. Then, I rinse the bottle again. This ensures that both bottle and sprayer are thoroughly cleaned and rinsed before use.
Dry the outside of the bottle and you're all set.
Step 2 – Gather your tools and materials together.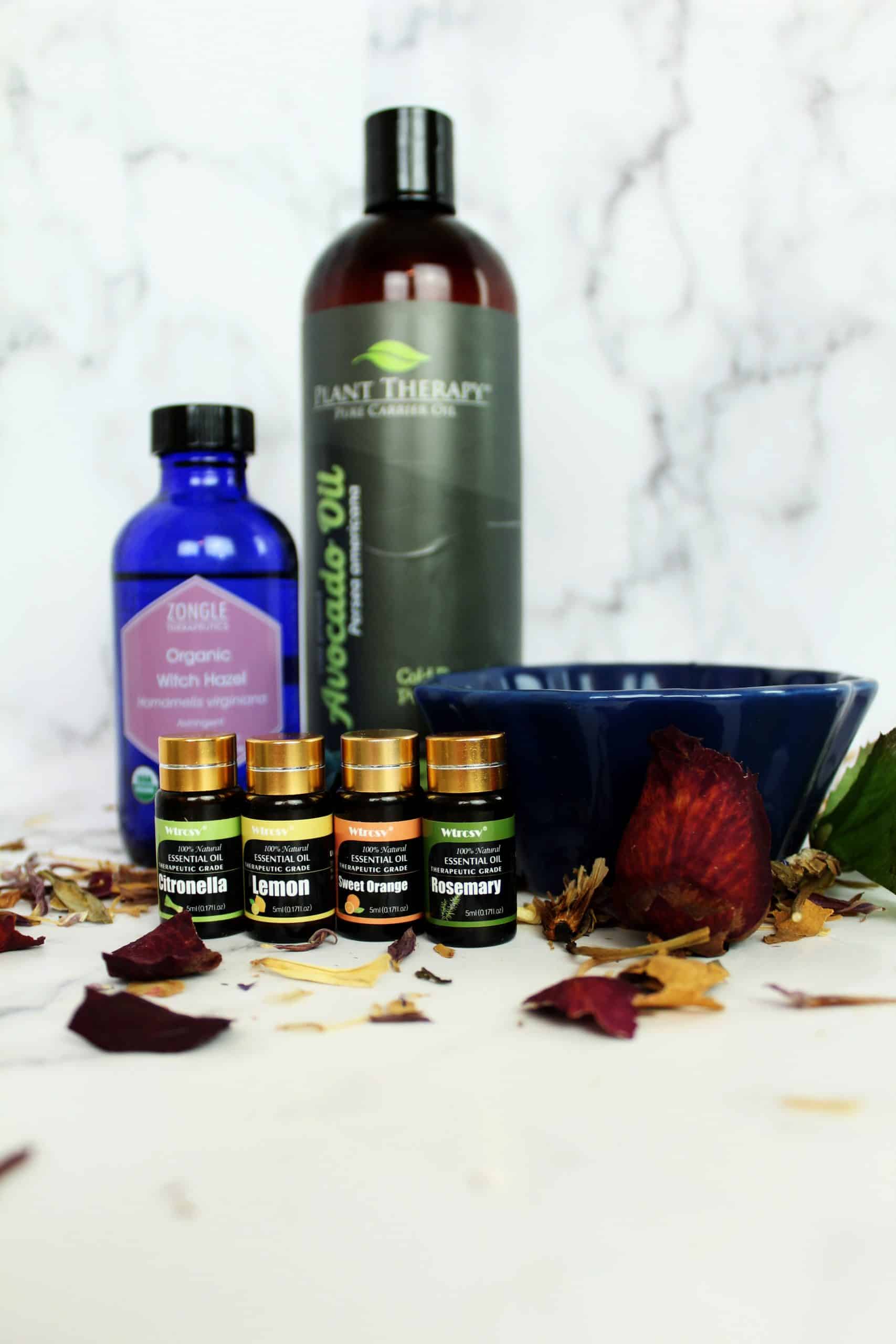 Once your sprayer bottle is clean and ready to use, you'll want to gather up your essential oils, carriers, and tools in one easy access spot for your DIY process.
Step 3 – Pour in the distilled water.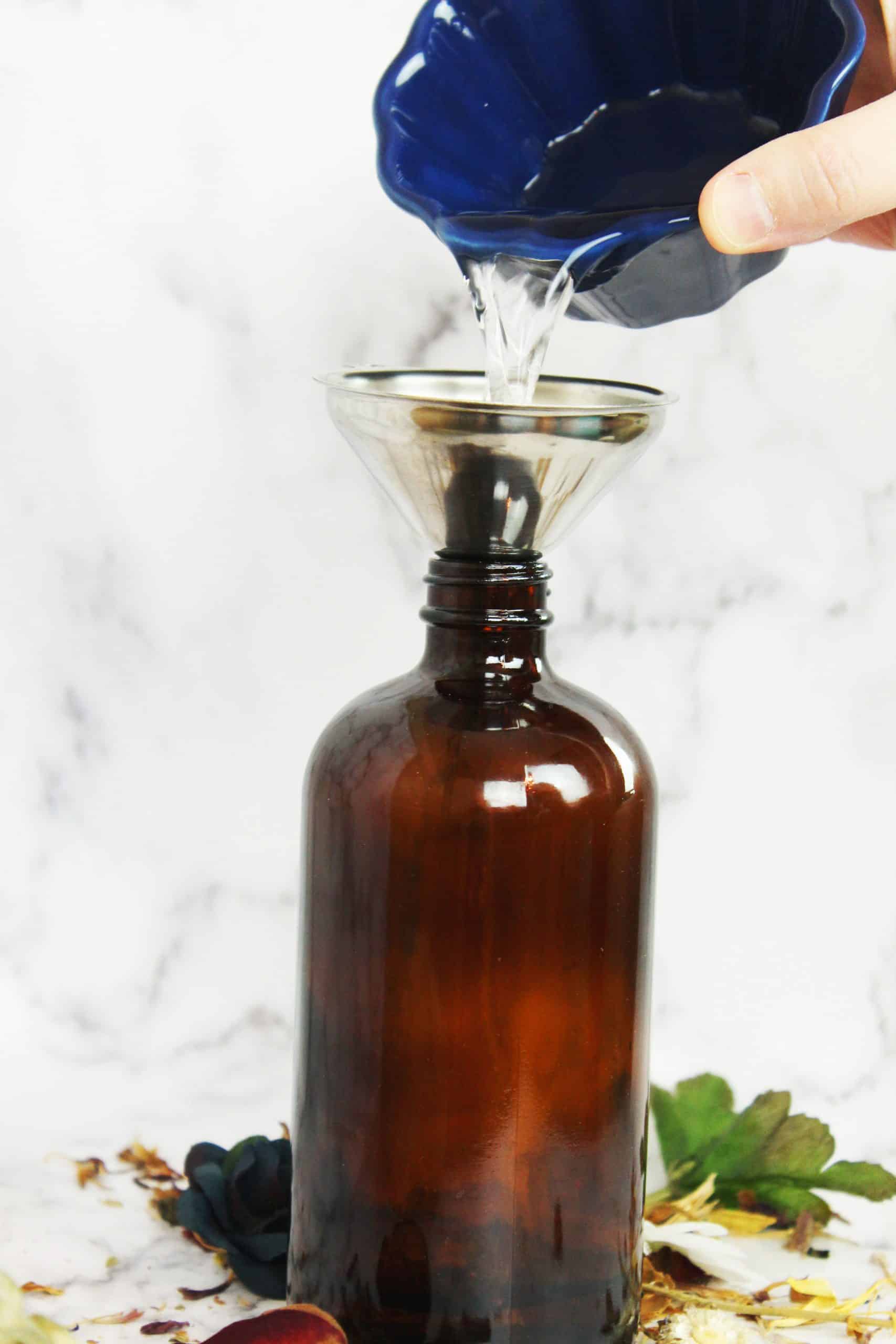 Place the funnel in the mouth of the sprayer bottle and carefully pour in the distilled water.
Step 4 – Pour in the avocado oil.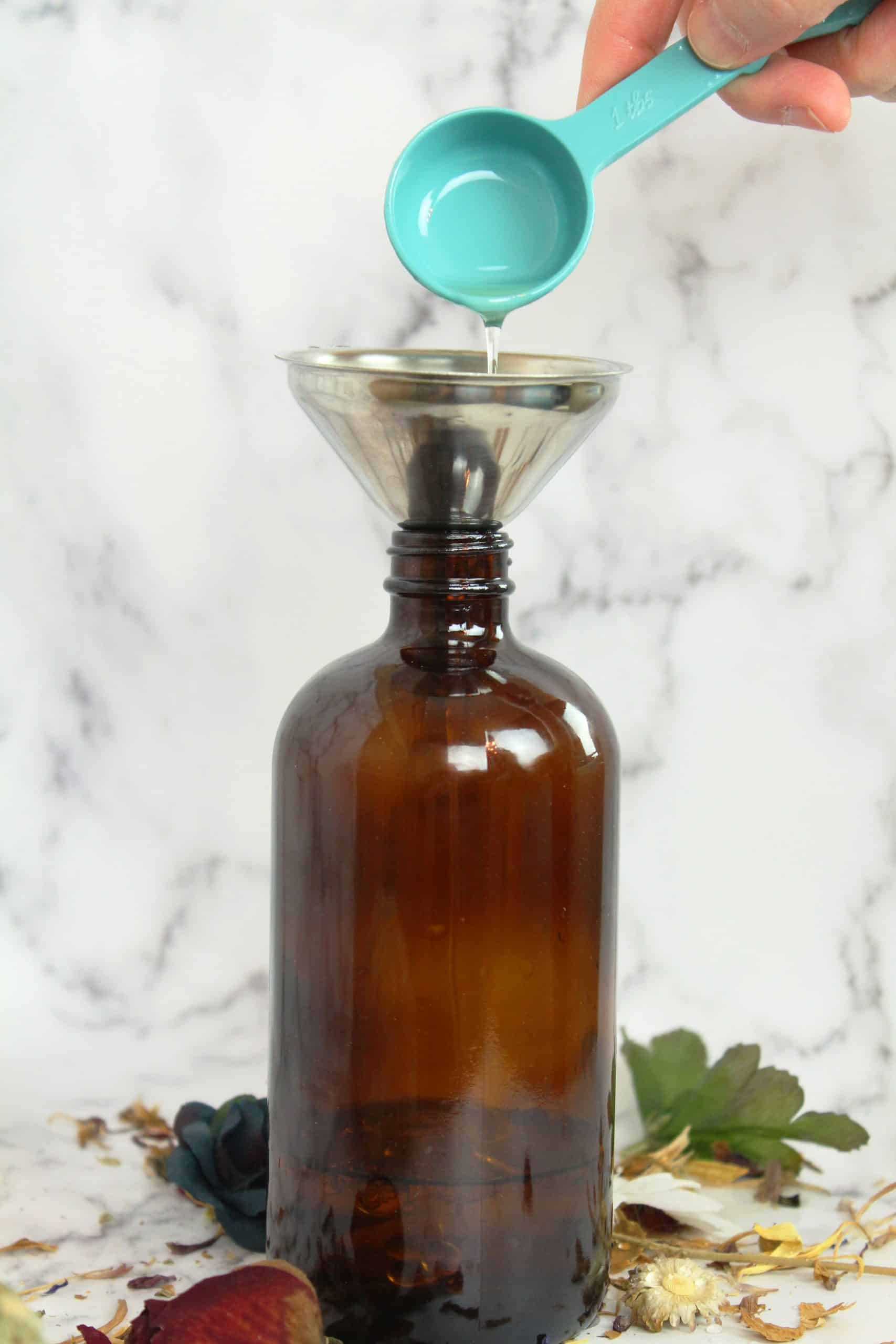 Next, measure out and pour in your avocado oil through the funnel.
Step 5 – Add witch hazel.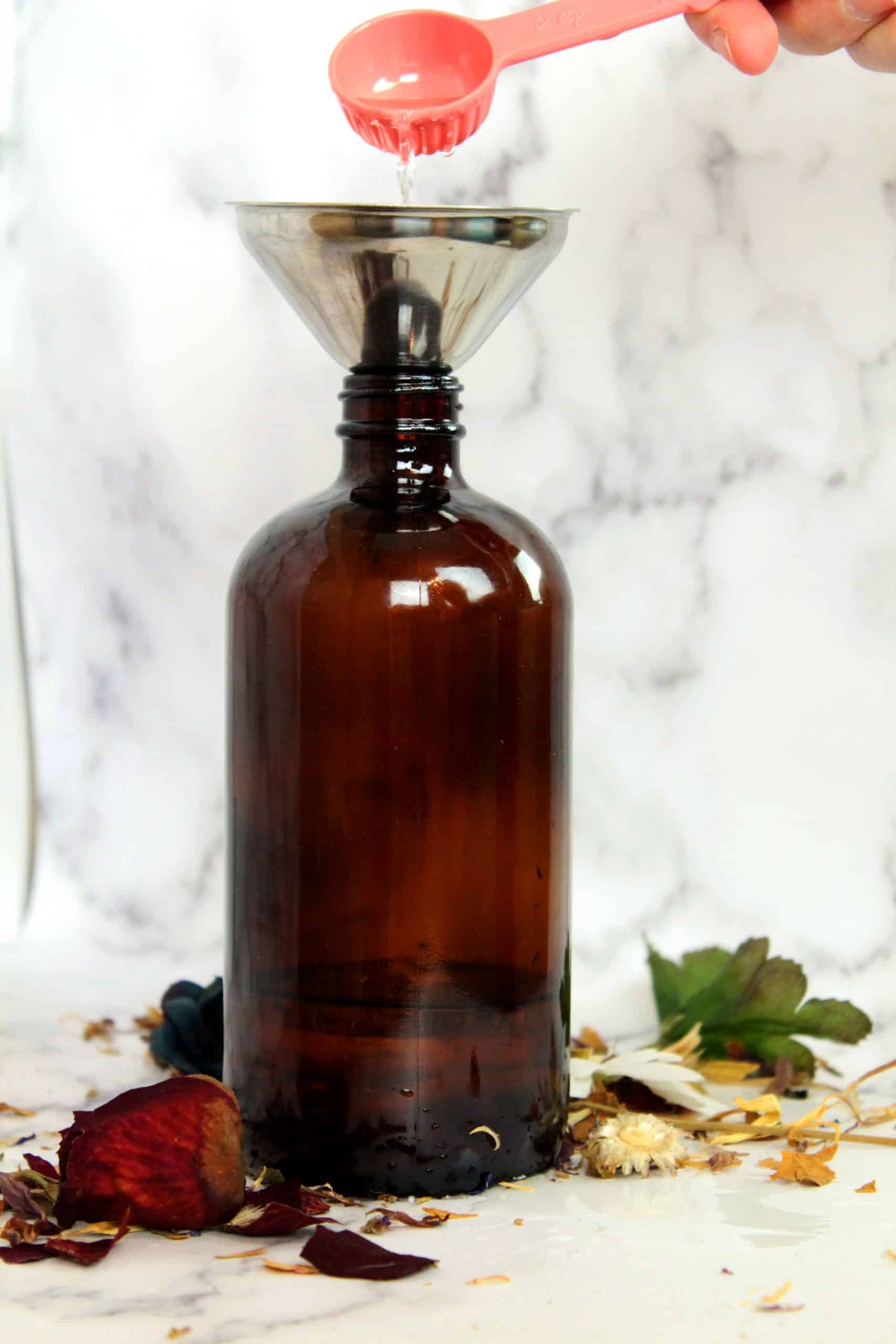 Now, pour in the correct amount of witch hazel. Gently swirl the ingredients in the bottle together for a second or two, then set back down and let settle.
Step 6 – Add in the essential oils.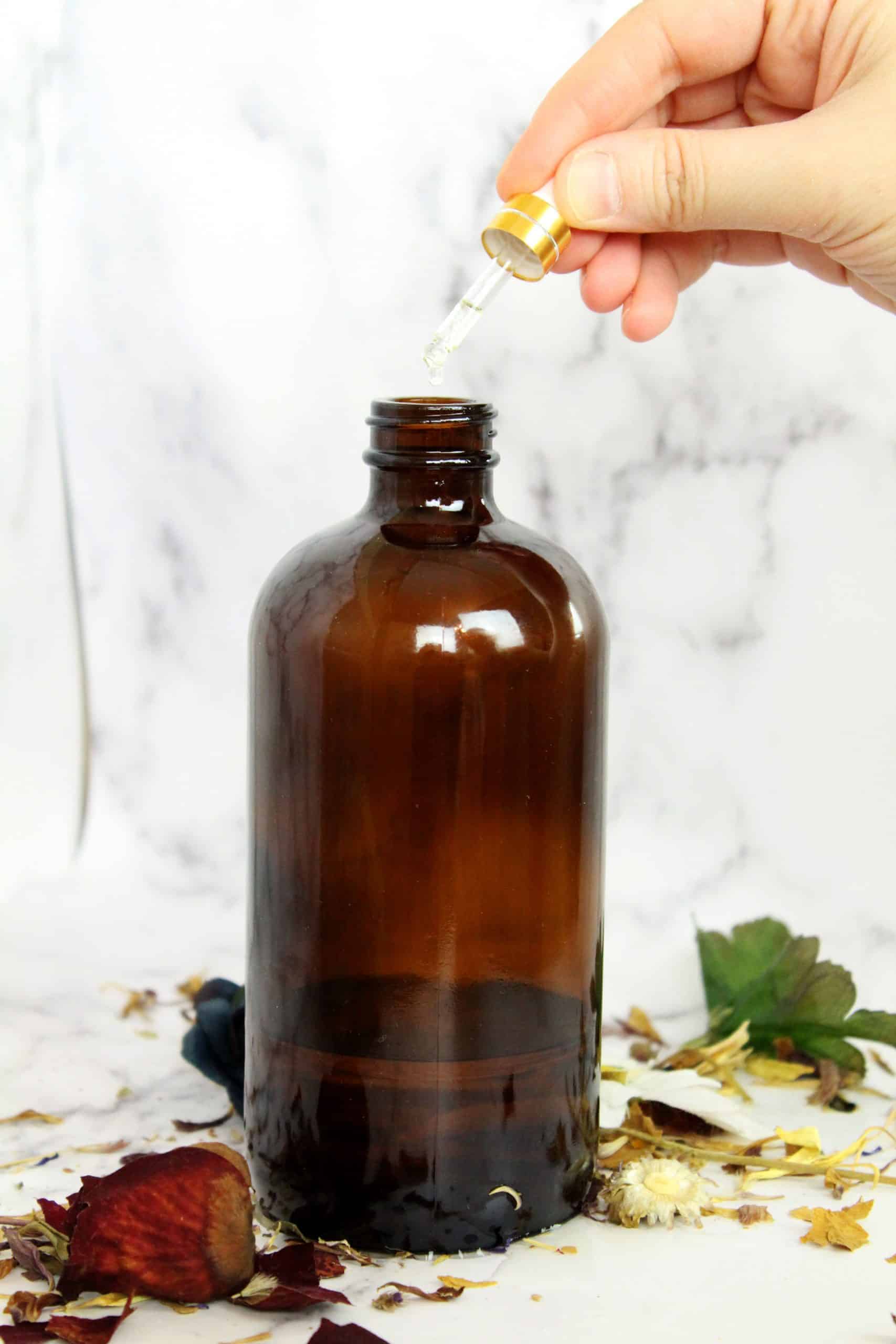 Take a dropper and carefully put in 5 drops of each essential oil in any order.
Step 7 – Gently shake the bottle to combine ingredients.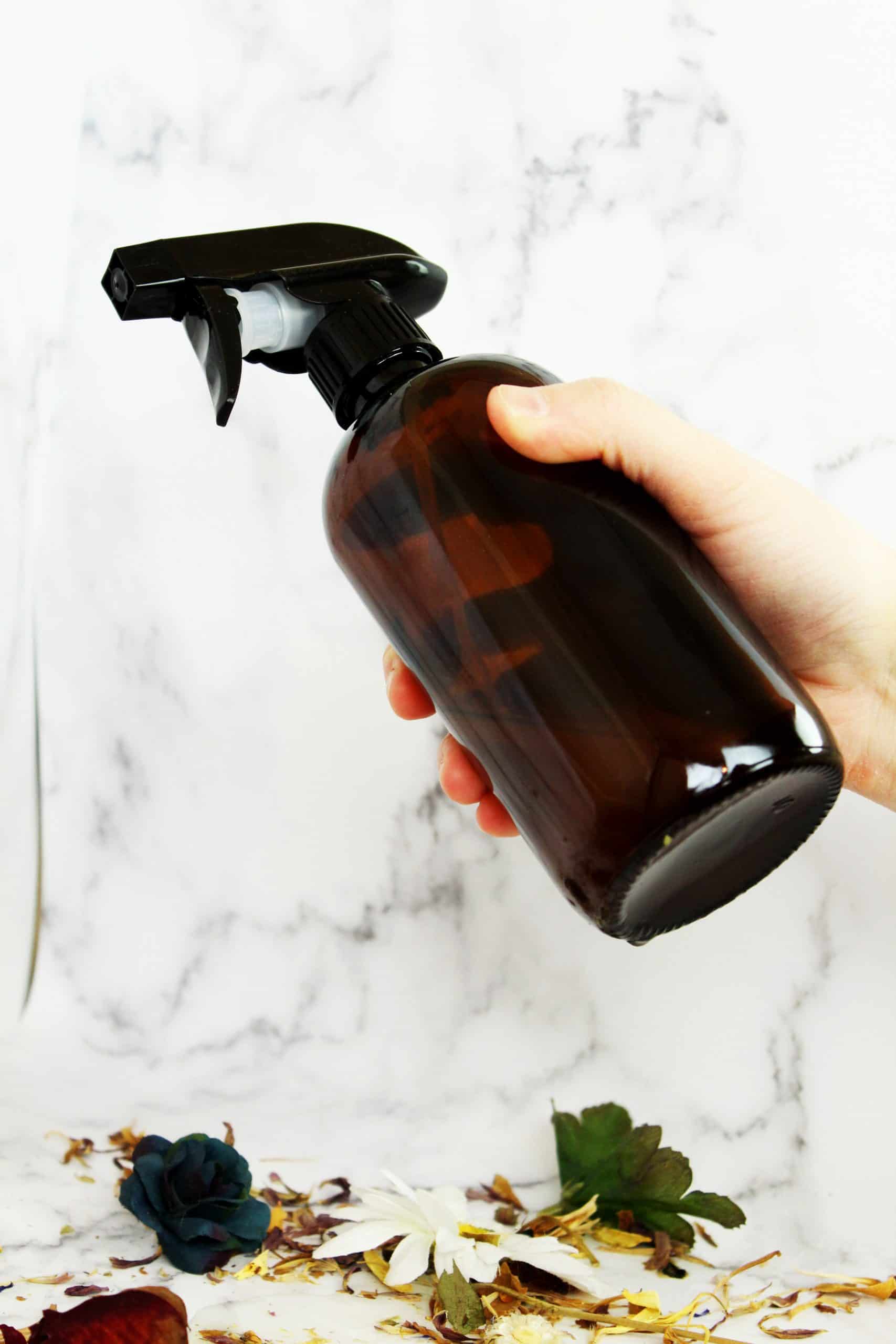 Finally, put the sprayer top on the bottle and gently shake or swirl the ingredients for several seconds to fully combine the ingredients.
Your bug spray is now ready to be used!
Notes
Keep your carrier oils, essential oils, witch hazel, and similar supplies in a cool, dark, dry place. Once you create any skin care products using these ingredients, you should store the newly made products in the same place to prevent contamination or weakening of the benefits of the essential oils.
Be sure to use up this bug spray within 6 to 8 months to ensure the ingredients remain potent enough to be effective in staving off insects.
Minor Cautions
High quality essential oils are highly concentrated and can irritate skin. Never apply essential oils directly to skin or scalp and always dilute with carrier oils, vitamin oils, witch hazel, and/or distilled water to prevent irritation. Never consume as food, unless specified "food grade" on the packaging.
Discontinue use of essential oils if you develop a rash, skin irritation, or other concern and contact your doctor to discuss possible solutions. Always avoid contact with eyes.
Variations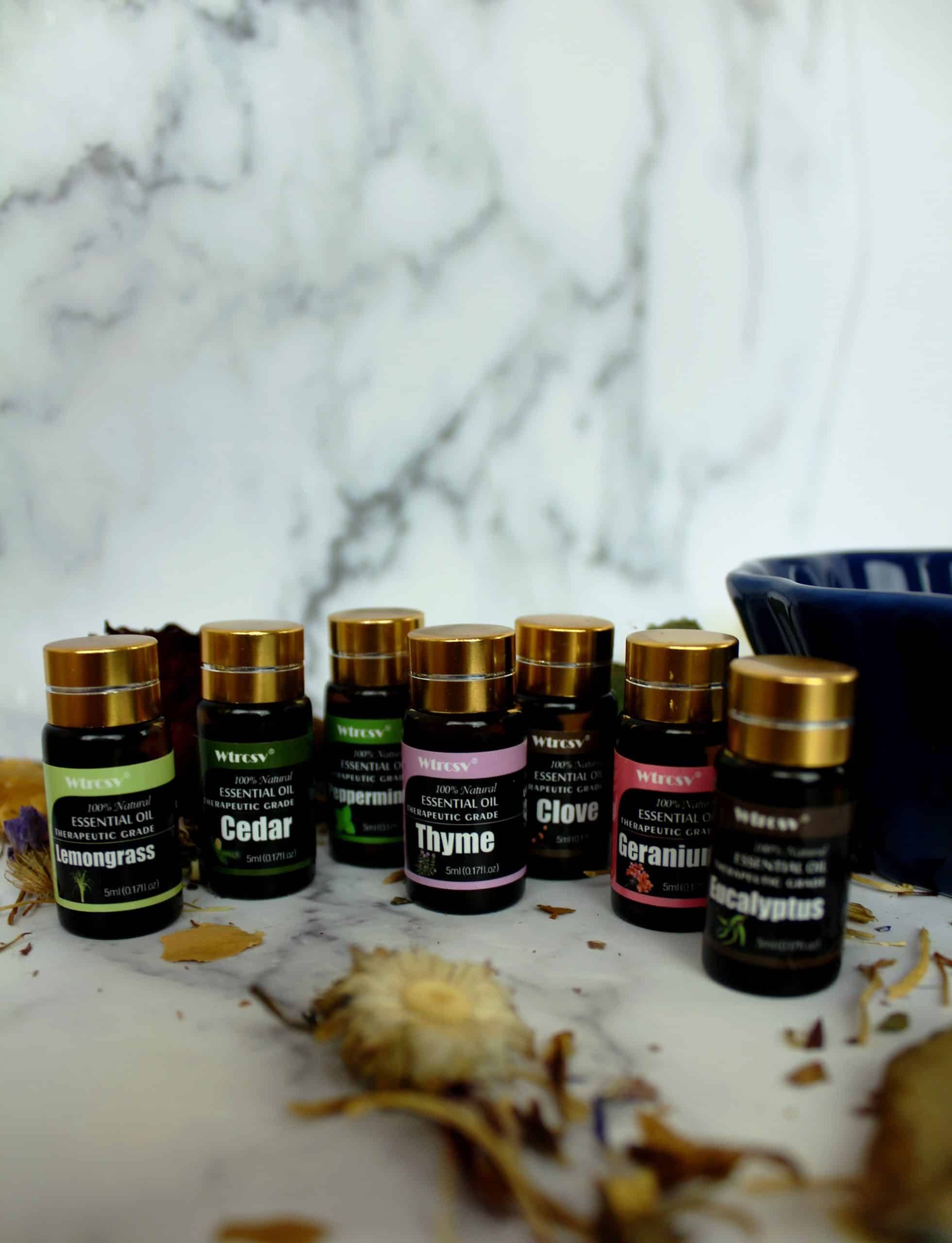 Another variation you may want to try with your bug spray with essential oils has several more oils, but fewer drops of each involved.
Geranium
Use 3-4 drops of geranium for your bug spray. It helps to fight infections, relieve skin irritaton, soothe skin, and reduce allergic reactions.
Lemongrass
Lemongrass is a many faceted essential oil that helps with many things, including being antibacterial, anti-inflammatory and antifungal, relieving nausea, relieving pain, and relieving various other symptoms of allergic reactions such as headache. Use 4-5 drops of lemongrass in your blend.
Eucalyptus
If you've ever smelled eucalyptus, you probably already know why it's included in this blend. It has a very strong smell that opens the sinuses and chest while calming skin.
The main reason we include it in the essential oil mosquito repellent is the naturally occurring strong insect deterrent built into the oil all on its own.
Use 6-8 drops of eucalyptus oil in your bug spray to really keep those pesky bugs away!
Peppermint
Peppermint oil contains some properties that you especially want in an insect repellent, namely anti-itch benefits. It also helps to reduce pain and kill germs, among many other great benefits in general.
Use 4 drops of peppermint essential oil in your homemade bug spray.
Thyme
Thyme – it's not just for seasoning your marinara sauce! In fact, thyme is a great topical application for acne and other skin irritations. We recommend blending in 2-3 drops of thyme for your bug spray.
Cedar
Cedar is another natural bug repellent all on its own. It's also an antiseptic, anti-inflammatory, antispasmodic, antifungal for many of those awful allergy responses to insects.
So, cedar helps to protect you in many ways when used in your homemade insect repellent spray.
Try using 6 drops of cedar in your insect spray blend.
Clove
Finally, in this outdoorsy blend for an alternative bug spray, try using 2 drops of clove essential oil. The aromatic oil helps fight illness and bacteria, relieves pain – including muscle aches – and can help with other allergy symptoms that may pop up.
How to Use Your Homemade Insect Repellent
While the DIY bug spray is all natural and nontoxic, you should still avoid spraying it too close to the eyes. You should also avoid applying heavily, but instead start out with a soft mist that you spray into the air and walk through a couple of times.
Close your eyes and mouth and avoid breathing in while you walk through the mist.
If bugs persist, try spraying the insect repellent into your hand and gently patting the repellent on skin and clothing for a stronger application.
Keeping the Bugs Away Can Be All Natural and Smell Great!
There's really nothing like an all-natural insect repellent to keep the nasty little biting bugs away. The natural aromas of the spray warm your senses while telling those flying and crawling pests to back away quickly.
Thankfully, it's not that expensive or difficult to whip up your own batch, either. You just need a few simple ingredients and tools and the right combination of essential oils to bring out the best for your skin while giving the bugs the boot.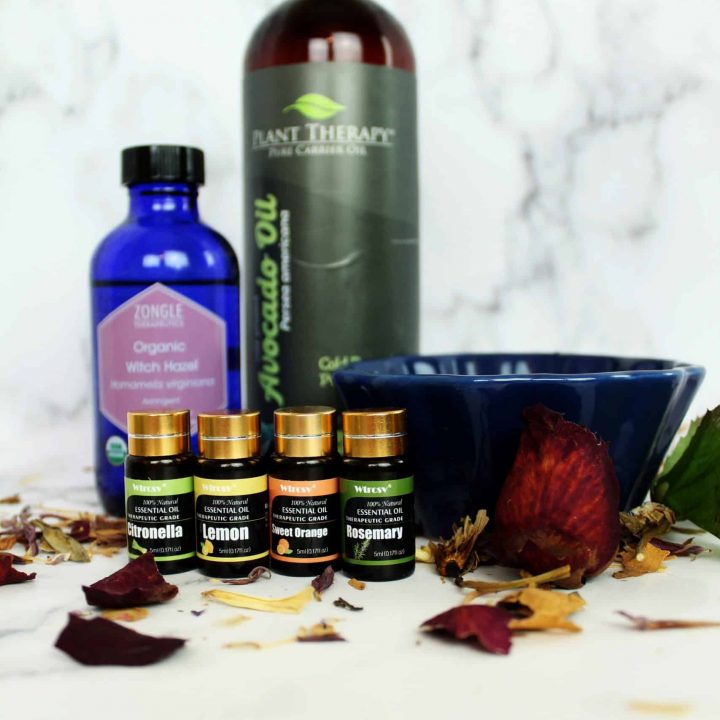 DIY Essential Oil Bug Spray
Materials
1 ½ tablespoons distilled water
1 teaspoon Avocado oil
1 teaspoon Witch hazel
5 drops Citronella
5 drops Lemon
5 drops Orange
5 drops Rosemary
Tools
12 to 16 ounce amber bottle with sprayer lid
Funnel
Measuring spoons
Dropper for essential oils
Instructions
Clean your sprayer and bottle thoroughly.
Gather your supplies and tools together.
Carefully measure out the distilled water and pour into the bottle.
Measure out your carrier oil and pour into the bottle.
Measure out the witch hazel and pour into your bottle.
Carefully drop essential oils into the bottle.
Put on the sprayer lid and gently swirl or shake to combine all ingredients.
Apply as instructed and enjoy a bug free day!
Notes
Carrier oils, vitamin oils, and essential oils should always be stored in a cool, dry, dark place to maintain the quality of the ingredients.