19 Porch Column Ideas – Give Your Boring Porch a Luxurious Appeal
By: Desert Domicile Team
|
Porch columns don't just bear the weight of the roof above them but also give a royal and luxurious look to your house entrance. They can be made in different ways to match the theme of your home. And they can be combined with the porch railing to give a uniform look.
If you want to enhance the curb appeal of your home, porch columns can be a good place to start. You can have plain and simple columns or more beefed up versions of them to create a fancy look. Let's discuss some porch column ideas.
Multiple Porch Columns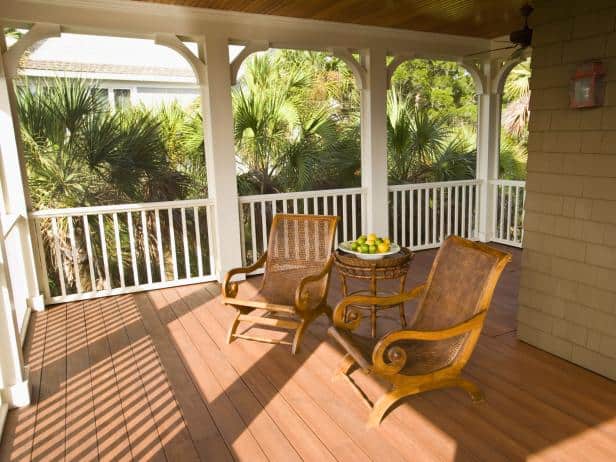 Instead of two porch columns, you can roof your porch and have multiple columns to support it. This will give you a nice seating area where you can put a couple of grandfather chairs and relax. This kind of porch is ideal for idling in the summer while staying protected from the sun.
If you have a large porch, having multiple columns will give you the look you're after. These columns blend in perfectly with the porch railings and create a uniform look. The columns have a minimal look but still give a luxurious appeal.
Porch Columns with a Twist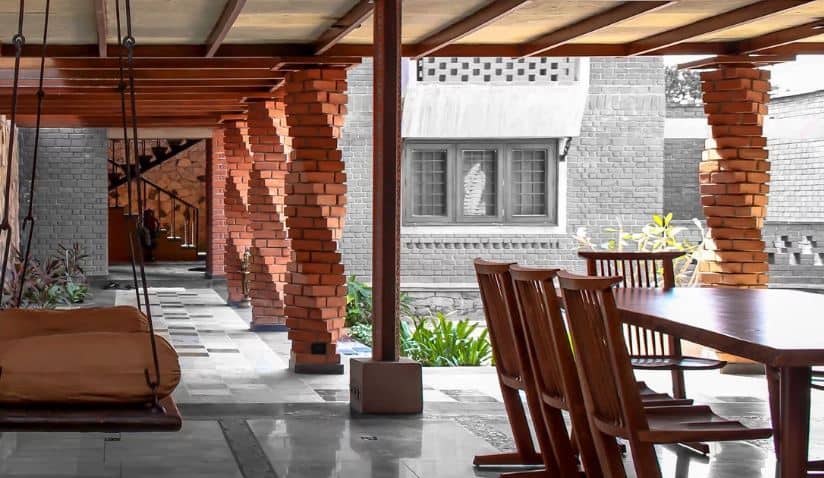 You don't want to settle with something that's common and seen everywhere. You like doing things in style and so when it comes to porch columns, you want a style that's unique and doesn't get used too often. These twisted front porch columns certainly come with a twist and aren't easy to design. But it's nothing an expert cannot handle.
The raw brick look gives a rustic appeal and the twisted design speaks volumes about the talented masonry applied here. Of course, the porch has to live up to this design and thus the porch décor becomes very important when you have columns that are as fine as these.
Cast Stone Columns for a Royal Look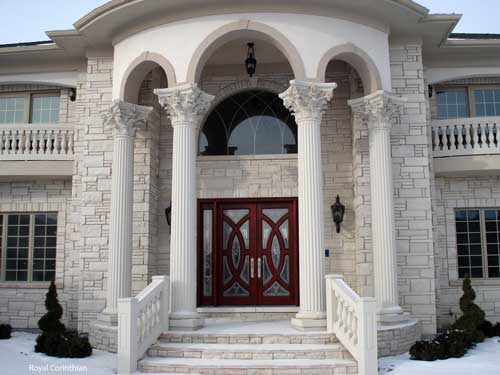 Give your home a royal look with cast stone columns. These can have any design on the top and bottom. In this case, the base is kept pretty bare but the top has intricate design patterns. The column has straight line patterns that look beautiful and traditional.
If you have a traditional looking house, these columns will enhance its appeal. You don't even need a big porch for these. However, if the building is tall, these columns will give a better and more impactful look. While four columns aren't needed here, but the extra columns give it a more luxurious and royal look.
Fairytale Stone Porch Columns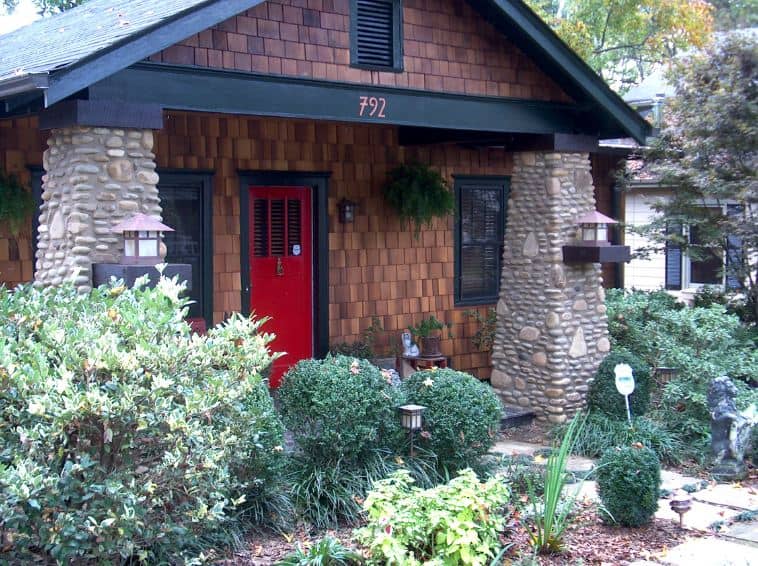 If you wish to live in a magical land where fairies fly freely among butterflies, these are the perfect porch supports for you. Made of stone, they give support to the roof above and make the porch area look more stylish. The rustic appeal is enhanced by the red brick look of the external walls.
The black windows and red door complete the perfect fairytale look and the shrubs add that much needed magical touch to the scene. Spread some gravel on the sides and it's the ideal getaway cottage that will make you feel relaxed and away from the hustle and bustle of city life.
Wooden Porch Pillars for a Simple and Rich Look
While wood isn't the most eco-friendly choice there is, there are many people who love wooden décor. And that includes me. Wood makes everything look richer. Plus, the type of wood you use makes all the difference.
If you have a plain white exterior, redwood would look amazing. You can also go for darker or lighter shades according to your preference. But wood will add a classical charm to your house. Since it's an old school design, you need to make sure the rest of the décor matches the ambiance. A few tastefully placed potted plants will do the trick.
A Combination of Stone and Wood
If you cannot decide whether you want stone or wood porch columns, get both of them. These columns have wood on top that's balanced by the stone columns from below. This design can be seen at many places and if you want to make it look unique, you can vary the proportion of wooden and stone parts.
Also, you can decide which wood and stone to use. The shape of the column is another thing that can be changed to give it an entirely different look. The combined wooden-stone look looks traditional yet minimalist and thus is good for all types of homes.
The Minimal Porch Columns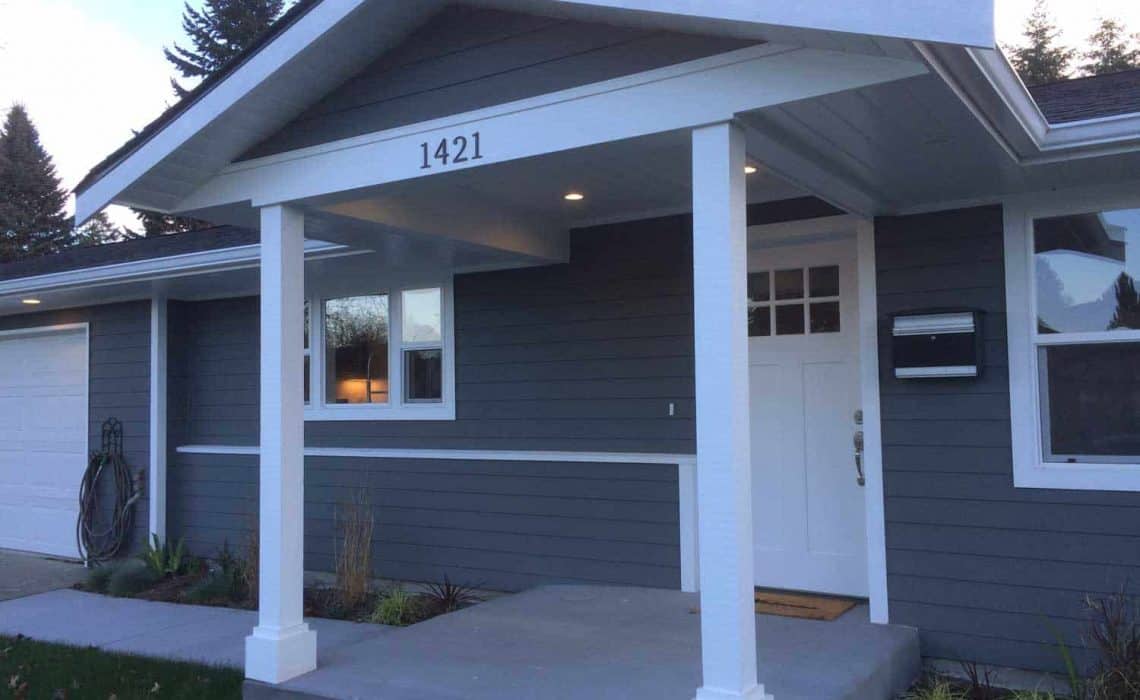 If you want to do a weekend DIY project of setting up porch columns, these will be ideal for that. These painted wooden columns aren't exactly fancy schmancy but do their work pretty well. They hold up the porch roof and let you enjoy the rain without getting soaked in it.
And of course, when it's Christmas time, these columns are good enough to wrap up lights to brighten the entire house. Paint them white to match the rest of the exterior décor. These columns look good with or without the porch railings.
Replace Stone with Wood
The stone and wood combined look is pretty popular and you'll get to see it at many places. But if you replace the stone base with wood, you'll get a completely unique look that isn't that common. Here the base is made of wood that stands firm on the ground and bears the weight of the wooden columns that come down from the roof.
The brown wooden glamour goes well with the reddish raw brick allure of the exterior walls and flooring. If you like a cabin type look, this porch post idea will be good for you.
Grey is the Way to Go
Grey and brown are the colors that go with any theme. Use grey stones and use grey paint on wood to create a uniform look. If the walls are white or light grey, dark grey will be a good color for stones and wooden porch columns.
To add to the grey theme, you can place chairs or benches that are grey. White marble flooring with grey pattern adds to the entire theme, and of course, everything looks good with a little greenery. Hanging plants along with flowering bushes and shrubs make the place look like a magic land.
Metal Porch Columns that Are Sturdy and Beautiful
When we think about porch columns, we generally think about stone, wood, and brickwork along with beautiful porch post wraps. But metal? Can porch columns be made of metal? It turns out that they can be. And they can be quite beautiful at that.
Metal columns come in a range of designs and colors. This house has a blue-teal décor which looks amazing. Depending on the theme of your décor, you can get the right kind of metal columns. Whether you have a modern and minimalist look or a traditional Victorian one, you can get metal columns to suit your needs.
Basic Concrete Columns
A perfect weekend project for the DIYers, these basic concrete columns can be made with bricks and concrete and then be painted according to your exterior home décor. A simple and easy project for someone who likes to try their hand at home improvement.
The simple brick and concrete platform is paved with gravel. It's a beautiful and simple look but what it lacks are houseplants. Just plant some flowering shrubs and bushes and the house entrance will look perfect. Improve the curb appeal of your home by getting the right porch columns. A railing running between the columns will make this house look prettier.
Porch Columns and Curtains
If you need privacy in your porch area but aren't exactly enticed by the idea of having railings, you can get curtains instead. These mild pink curtains look amazing with the light colored exterior that has a pinkish undertone.
When not required, you can open the curtains, making it an open space. And when you need some privacy, just draw the curtains so you have a private seating area. To make sure the curtains don't blow in wind, you can attach the curtains together to have a seamless covered space. If you live in a warm area, make sure you have a ceiling fan to cool off before you enter the house.
Cover the Porch Columns with Curtains
Curtains can come handy in various ways. For example, you can cover your porch columns with curtains. You can also use fabric valances if you like them. Fabric always imparts a soft look that carries a touch of luxury.
Place furniture here to create a comfortable seating area. A few houseplants help you have green and beautiful surroundings. Enhance the soft look of the porch with cushioned furniture. You can even carpet the porch with an outdoor carpet and create a more colorful appeal. However, keep the color theme of the place in mind before carpeting the porch.
Tapered Porch Column for a Picture Perfect Look
Tapered porch columns have a separate fan following. While plain symmetric ones are also used at many places, some people prefer tapered columns. These pillars are narrow at the top and wide at the base. They can extend to the floor or can be based on stone columns. Stone column bases especially look good with stone flooring.
Add a few houseplants and you'll get a good looking porch. You can also place wreaths on the doors to make the house more welcoming. A little color can always add more happiness to the place.
Porch Columns with Light in Them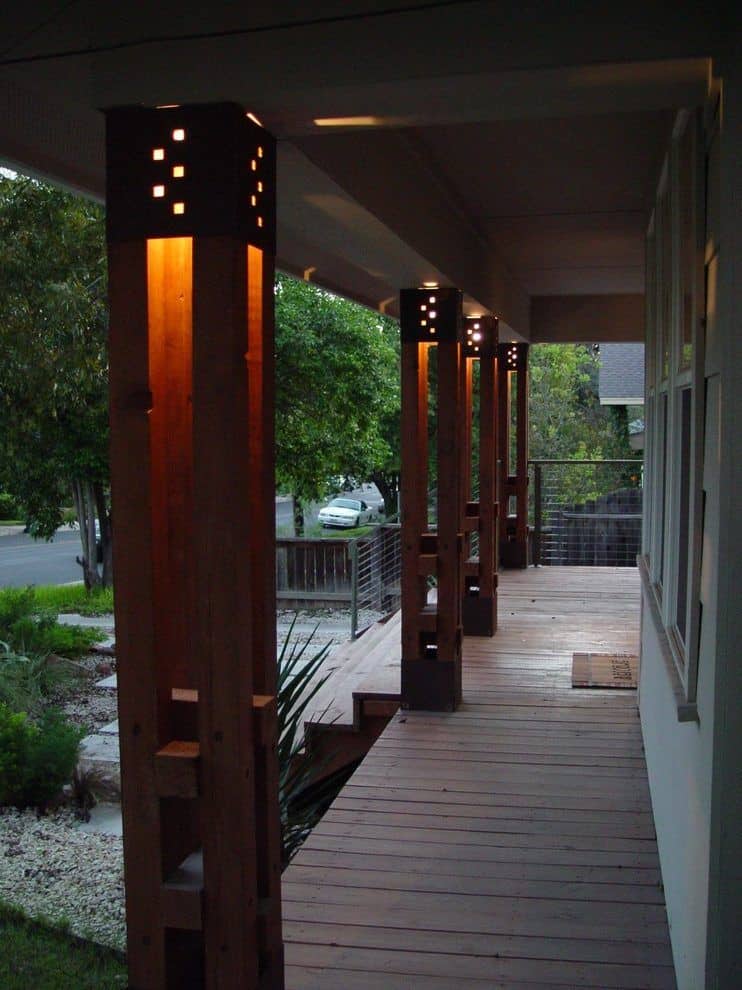 Go for something different, have porch columns that have spaces for candles, small lanterns, or bulbs. With this arrangement, the porch will look absolutely divine in the evening. If you're fond of lights, this will be something you'll adore.
While most porch pillars are solid, these pillars with lighting options that will steal the hearts of everyone who passes by. While these are wooden pillars, you can also have metal or brick pillars with the provision of light in them. These columns look good in the daytime. Come night and they create a completely different aura.
Victorian Porch Columns
The Victorian theme can never go out of style. Whether you want to set this theme in concrete or metal, there are many options that will take you back in time and will present the classical beauty of this theme.
Check out these thin porch pillars that are tastefully decorated to bring alive the olden times and make your curb appeal more stylish. If you want to boost your curb appeal by changing the porch columns, you can opt for these as they are easy to design and install and beautiful to look at.
Colorful Porch Pillars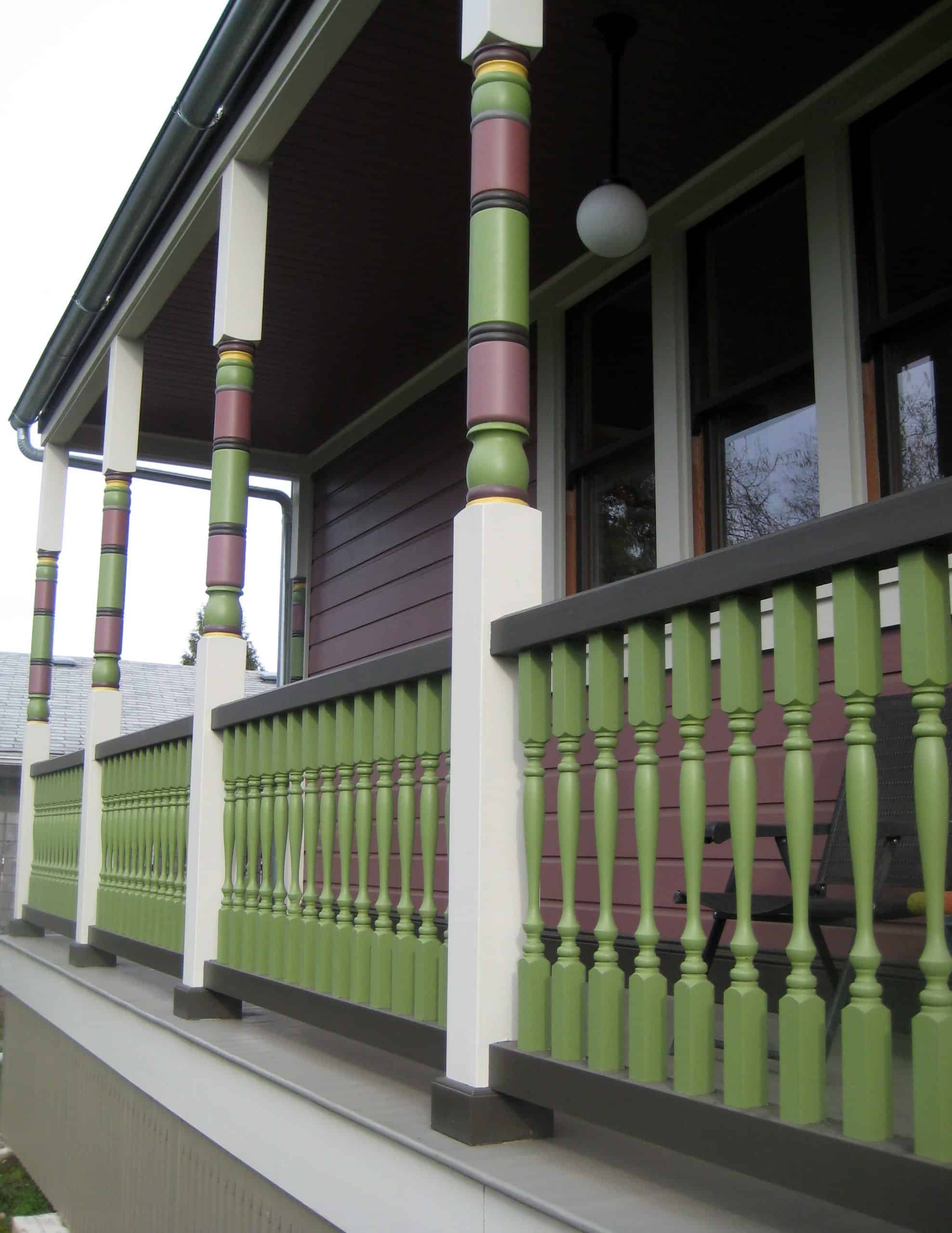 While most porch pillars are plain in color – mostly whites and greys (unless it's wood, then its brown), you don't have to stick to one color tone. If you want to be creative with the exterior décor, you can get colorful porch pillars.
These porch pillars follow a color theme that's uniform. If you want to get a wild look, just splash colors on the pillars to give it a quirkier appeal. It all boils down to what kind of aura you want your house to have. If you want a house that stands apart from the crowd, you can get colorful pillars.
An Intricate Pink and White Theme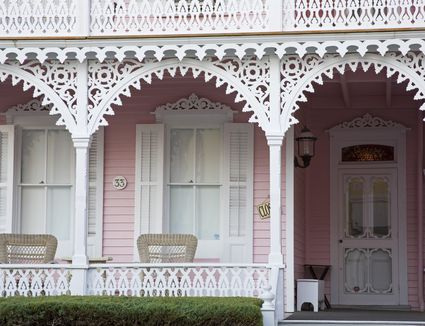 Pink and white are two colors that go well with each other. Watch them play in this house with an intricate design and beautiful porch columns. While the columns themselves are simple, the arches above them and the railing below them are complex and mesmerizing.
For someone who's a fan of traditional architecture, this style will be a marvel to look at. The light pink color of the walls suits well with the white of railings and pillars. With neatly trimmed hedge and everything in order, this house looks like it belongs to a perfectionist.
A Circular Porch and Beautiful Columns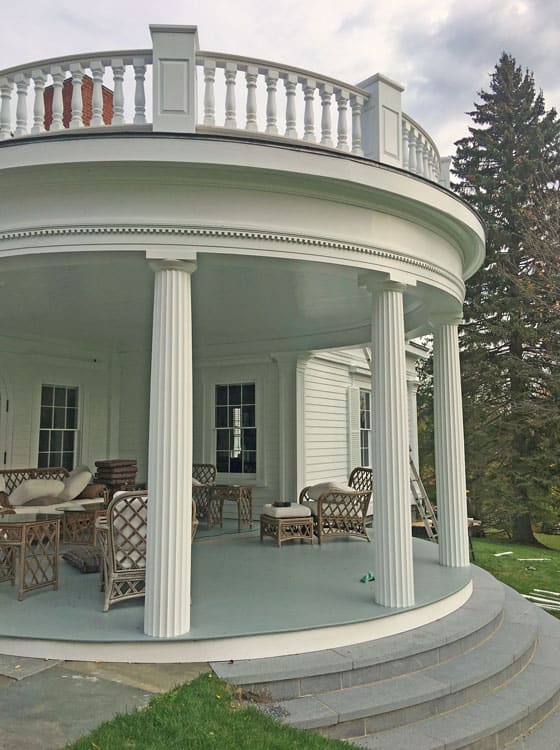 A porch can be of any shape and they're generally all square-shaped. A circular porch will look different and stylish. While it's more difficult to make than a typical porch, a circular one looks more beautiful. And of course, the all-white look with classic traditional patterns make it look royal.
The cane furniture and white cushions give it a semi-casual and relaxing appeal. Of course, when everything is white, there needs to be some accent. Some red cushions on a chair would look good in this scenario. While the porch looks exquisite, it's not exactly a weekend project. If you're looking for DIY options, you should look at other options.
Get Creative With Your Own Ideas
There are so many other things to do. Paint the porch column yourself – add patterns in it. Give it a different texture – maybe grainy? Don't like plain? Have it with vertical lines. Don't like minimalist designs? Add intricate patterns. There are so many things you can do.