Back in September I was invited to participate in a
Fall Home Tour series
hosted by Kristen from
KFD Designs
and Lindsay from
The White Buffalo Styling Co.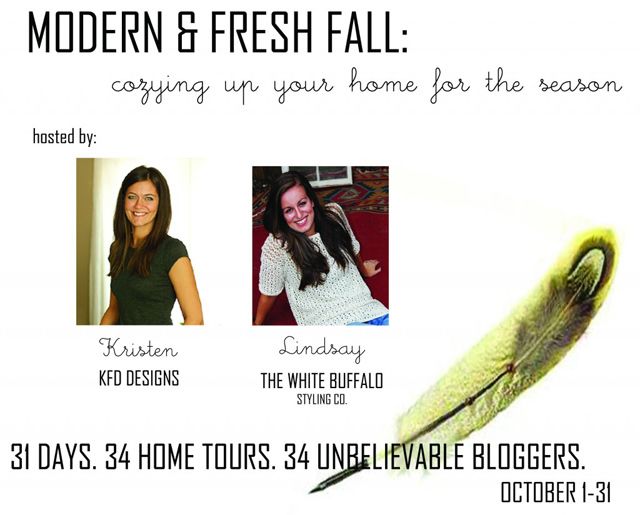 To say I was honored is an understatement – I was ecstatic! The home tours start today, October 1, and run every day (yep, even on the weekends!) until October 31.
The Modern and Fresh Fall home tour lineup includes the following amazing bloggers:
Kristen from KFD Designs and Lindsay from The White Buffalo Styling Co. who are kicking things off today!
Sarah from Sarah M. Dorsey Designs
Gabbi from Retro Ranch Reno
Brittany from Brittany Makes
Jesse from Scout & Nimble
Julia from Cuckoo 4 Design
Carolyn from Sweet Chaos Home
Jennifer from The Chronicles of Home
Bethany from Dwellings by Devore
Carmel from Our Fifth House
Kristin from The Hunted Interior
Annekke from This That & Life
Michelle from Décor and the Dog
Cassie from Primitive & Proper
Ally from From the Right Bank
Shannon from Shannon Berrey Designs
Danika from Gorgeous Shiny Things
Kristin from Bliss at Home
Jenna from Rain on a Tin Roof
Jessica from Dear Emmeline
Kelly from View Along the Way
Sarah from Lacquer and Linen
Eileen from A Creative Day Blog
Sarah from Royal Marigold
Lori from Lori May Interiors
Jennifer from Dimples and Tangles
Caitlin from Desert Domicile ––– that's me!
Sherry from Design Indulgence
Lakeitha from Lakeitha Duncan Lifestyle Blog
Shavonda from A Home Full of Color and Whitney from The Curtis Casa.
Angela from Number Fifty-three and Jennifer from Brave New Home.
Are you excited?! You should be! Believe me when I say that this is a series you do not want to miss :)
SOCIALIZE WITH ME!