Stylish DIY Curtain Rods (& Some Bonus DIY Shower Rods)
Adding curtains to a window can have a huge impact on a room's aesthetic. If you hang them the right way, they can make the room look more polished, the windows look larger, and the ceilings seem taller.
When it comes time to hang them, having a rod that compliments their style, as well as your home's design, will create a beautiful finished look.
For a customized rod, check out some great DIY ideas (plus, a few DIY shower curtain rods for even more inspiration).
Simple Budget-Friendly Curtain Rod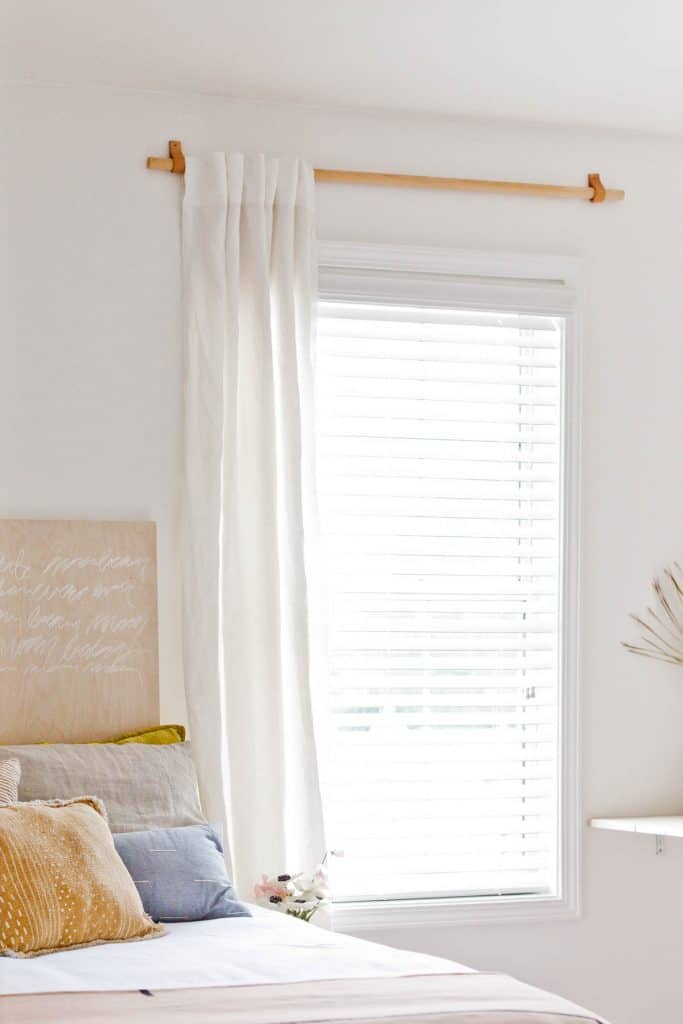 This simple, but beautiful curtain rod is easy to make, and will only cost you around $10.
If you have some drapes that are light and airy, this is a perfect rod for them, but you'll want something a little more heavy-duty for curtains that weigh a bit.
DIY Simple Curtain Rod by Paper & Stitch
Custom Curtain Rod & Matching Brackets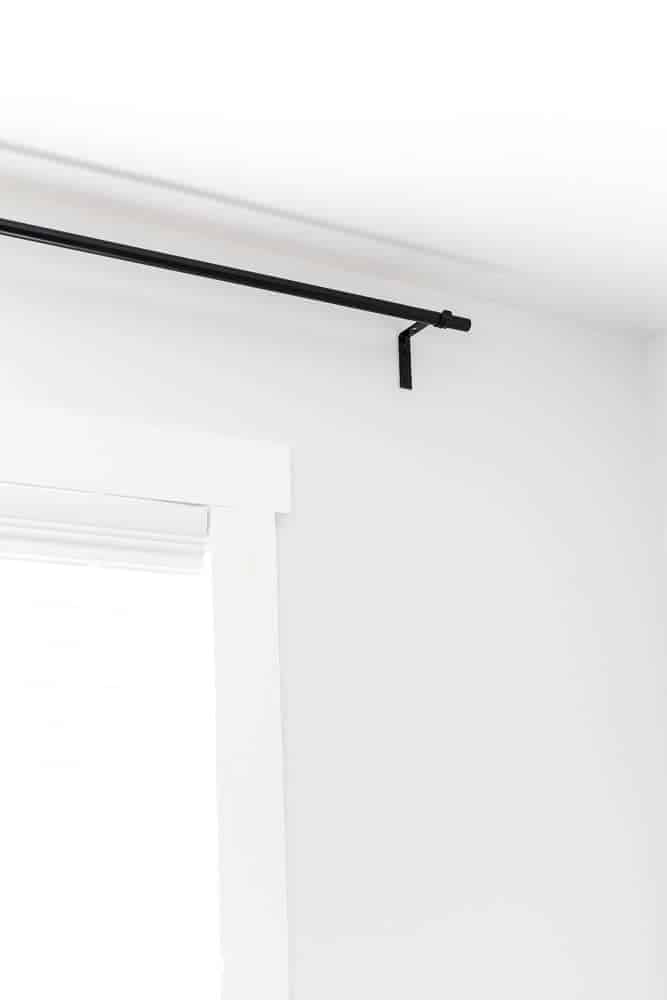 If you like the classic, basic curtain rod look, there's no reason to pay a lot of money for it.
This DIY teaches you how to make both the rod and brackets to your liking with simple materials and some spray paint.
DIY Curtain Rods and Brackets by Two Feet First
Piping Curtain Rods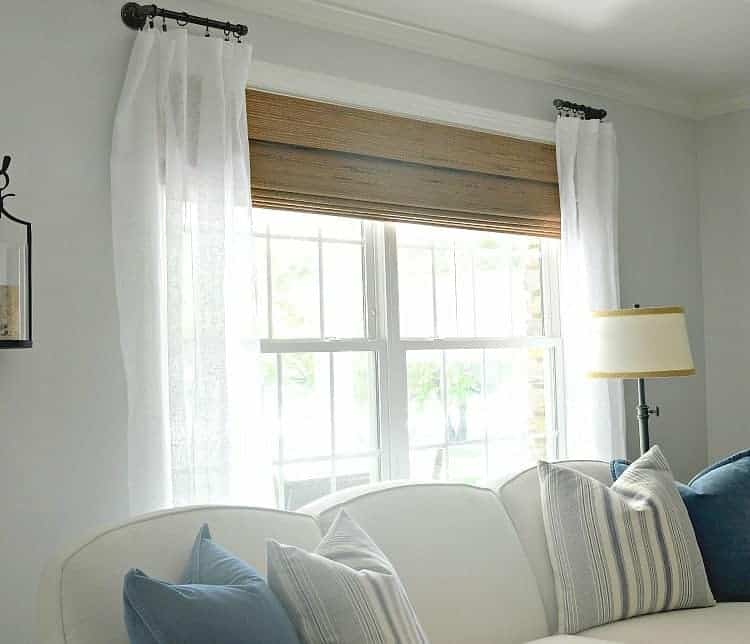 Not all curtains were meant to be closed, so there's no need for a rod that spreads across the window.
These DIY piping curtain rods are perfect for drapes that are meant for decoration and not for functionality.
Easy DIY Curtain Rods by Chatfield Court
Restoration Hardware Inspired Curtain Rods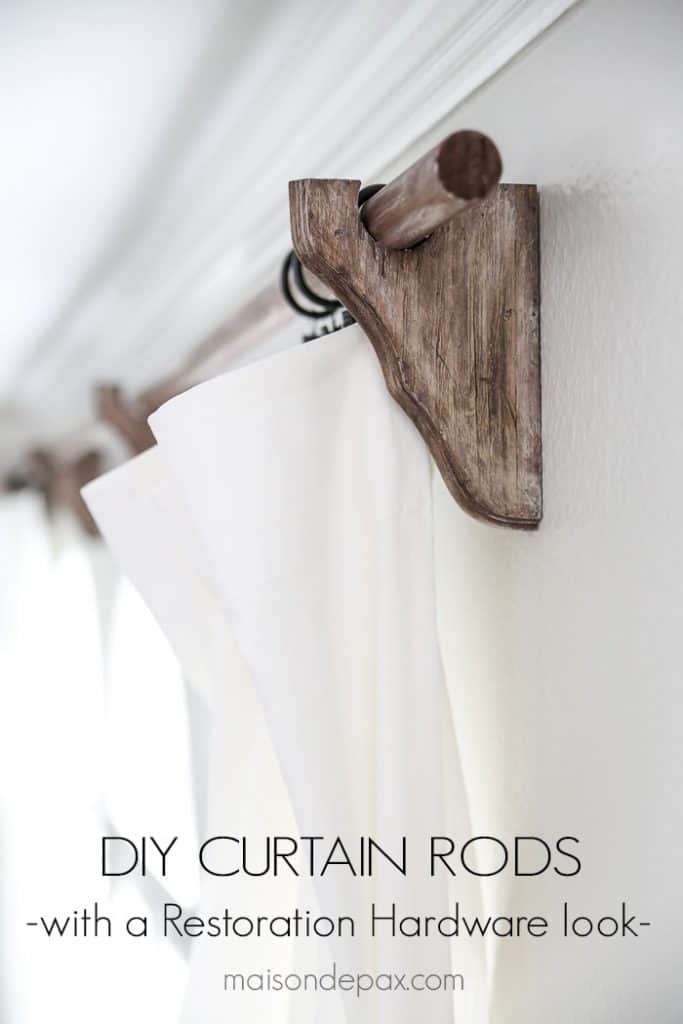 Restoration Hardware has some beautiful home decor, but it comes at a price.
If you love their style, but don't want to spend a small fortune on some curtain rods, these DIY dupes are perfect.
DIY Curtain Rods (Restoration Hardware Inspired) by Maison de Pax
Wall-To-Wall Curtain Rod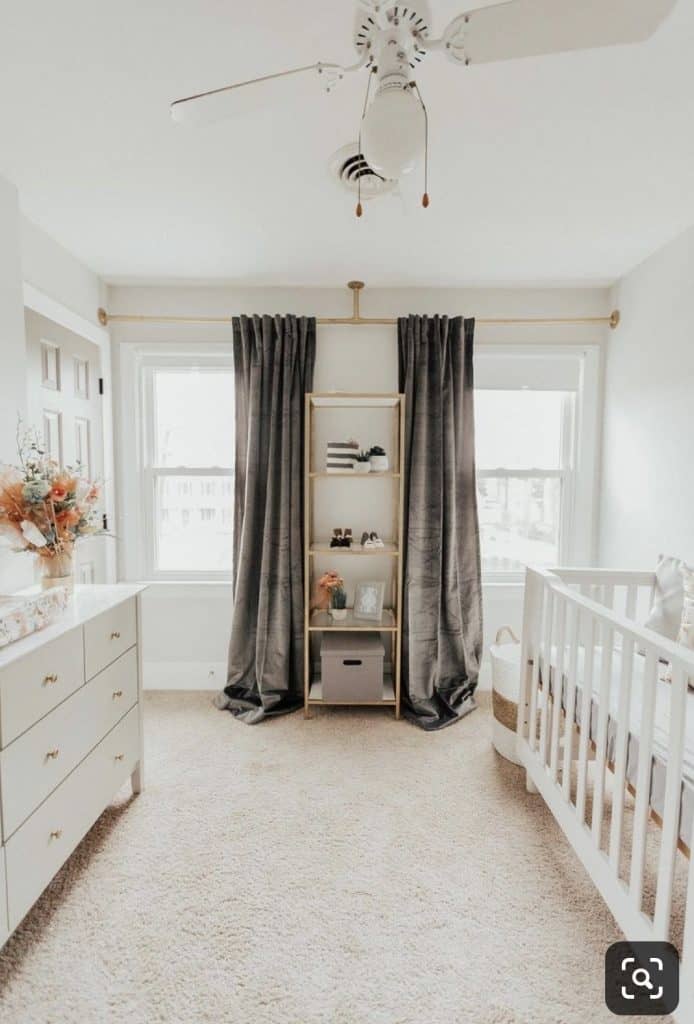 Some rooms are designed in a way that a traditional curtain rod won't really work – but this DIY wall-to-wall rod will.
All you need for this project is some piping, three mounts, and your favorite color of spray paint!
DIY Curtain Rod by Within the Groove
Budget-Friendly (Huge) Curtain Rod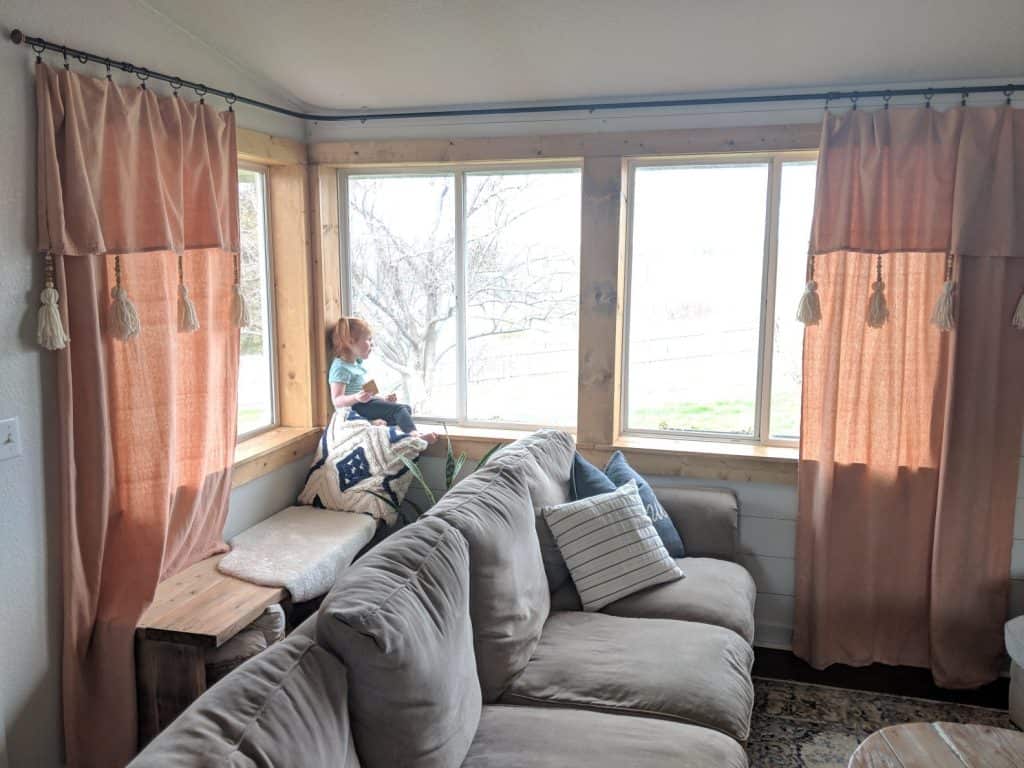 Corner windows require a little extra consideration when it comes to finding the right rod.
This DIY rod is perfect for large corner windows, and it's easy on the budget! A little piping and some imagination will give you a custom look and won't require a math degree to look good.
DIY Curtain Rod by My Happy Simple Living
Copper Pipe Curtain Rod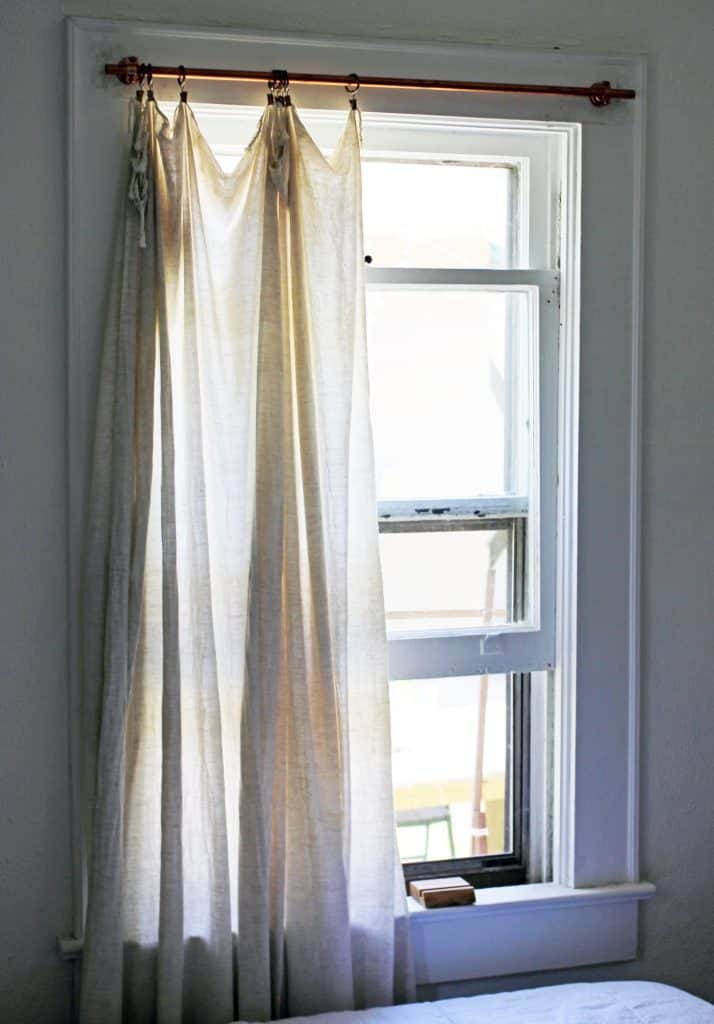 Gone are the days where everything was brushed nickel (thankfully!).
This DIY copper pipe curtain rod fits right in with the new trend of warm metallic finishes. They even went the extra mile and spray painted some curtain hooks copper to give the final look a chic touch.
Affordable and Easy Copper Pipe Curtain Rod by Apartment Therapy
Tree Branch Curtain Rod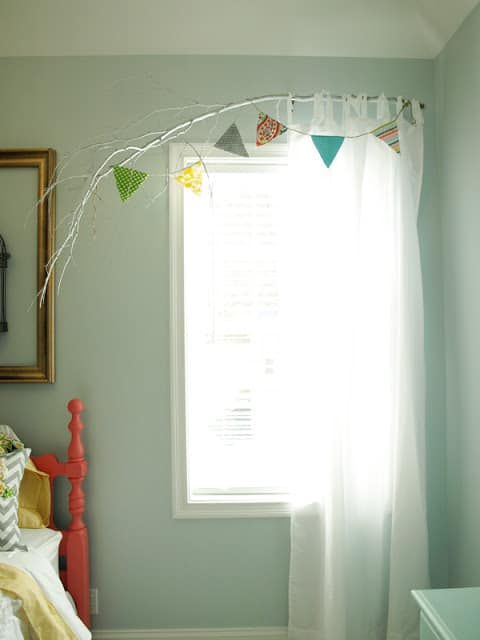 This DIY is great for someone on a budget and who only wants their curtain to serve as decor.
All you have to do is go into your backyard (or a friend's back yard if you don't have trees) and find a branch a little wider than the width of a window, spray paint it, and hang it. Unique and easy.
Tree Branch Curtain Rod by Less Than Perfect Life Of Bliss
Farmhouse Chic Curtain Rod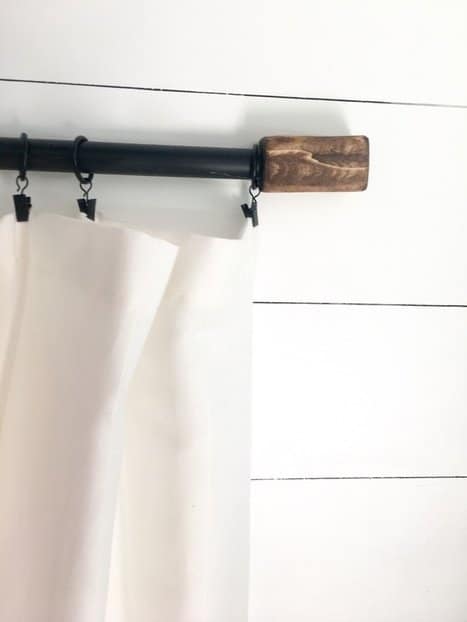 This DIY curtain rod only costs $5 to make.
If you need a little more convincing, it's also stylish and fits right in with farmhouse decor. You don't need an HGTV show to create this polished look.
$5 Farmhouse Curtain Rod by Clover Lane
Ping-Pong Ball Curtain Rods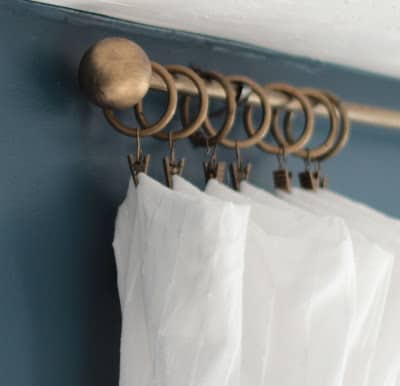 Did it ever occur to you to grab some ping-pong balls to create some decor?
This DIY project uses ping-pong balls and spray paint to create an amazing, easy, and inexpensive curtain rod that easily passes as the real thing.
DIY Curtain Rods by Shine DIY and Design
Curtain Rod Shelf Combo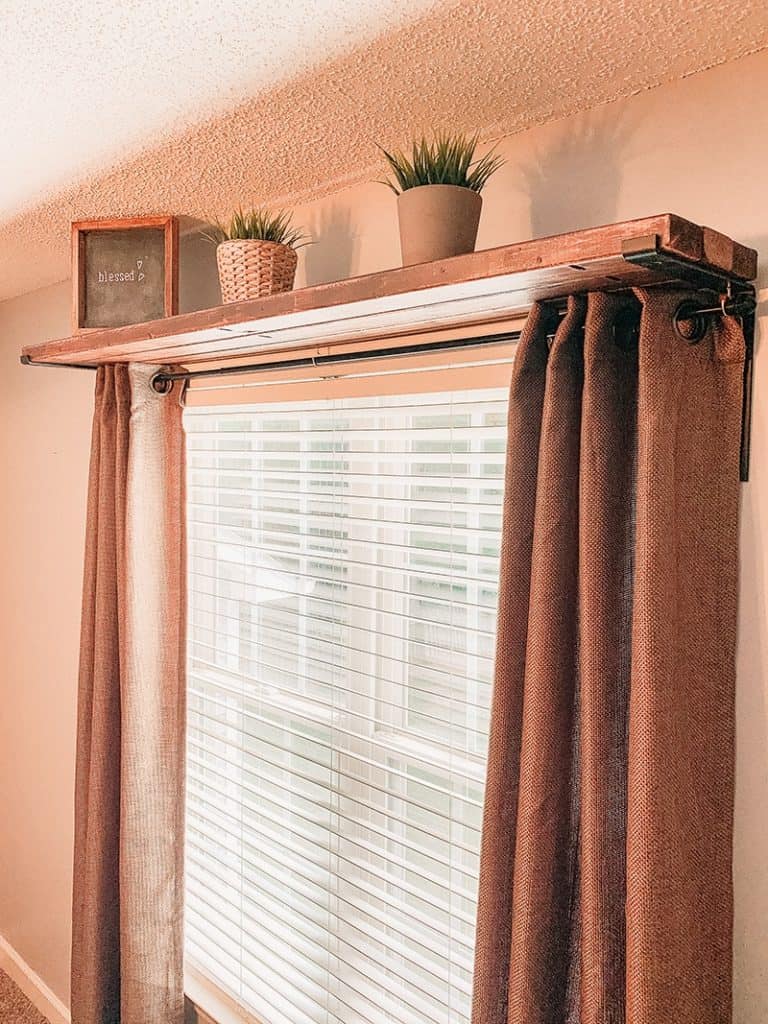 If you have a lot of height to your home, or just want to add a little more decor, this rod and shelf combo is brilliant.
All you need is an inexpensive rod, some brackets, a piece of wood, and whatever stain you want. The final product is unique and offers even more opportunities to decorate.
DIY Window Shelf Curtain Rod Combo by Kenya Rae
Gold Pipe Curtain Rod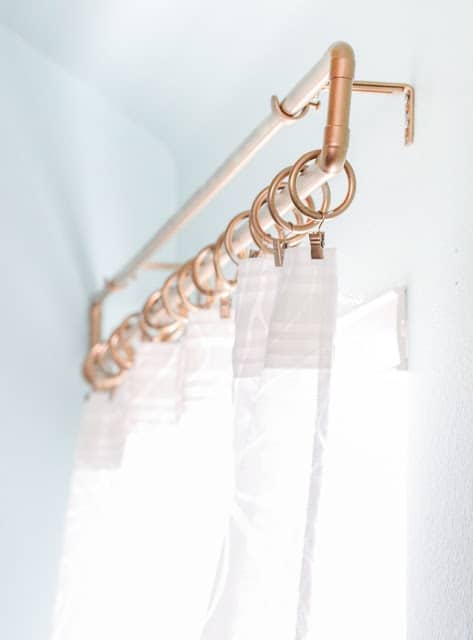 Any DIYer should always keep a can of gold spray paint on hand because it instantly styles up any piece.
This gold pipe curtain rod is the perfect example of that. She went a little extra with the piping (and it was a great move) and created a chic and expensive looking rod for hardly any cost.
DIY Gold Pipe Curtain Rod by A Kailo Chic Life
Bay Window Curtain Rod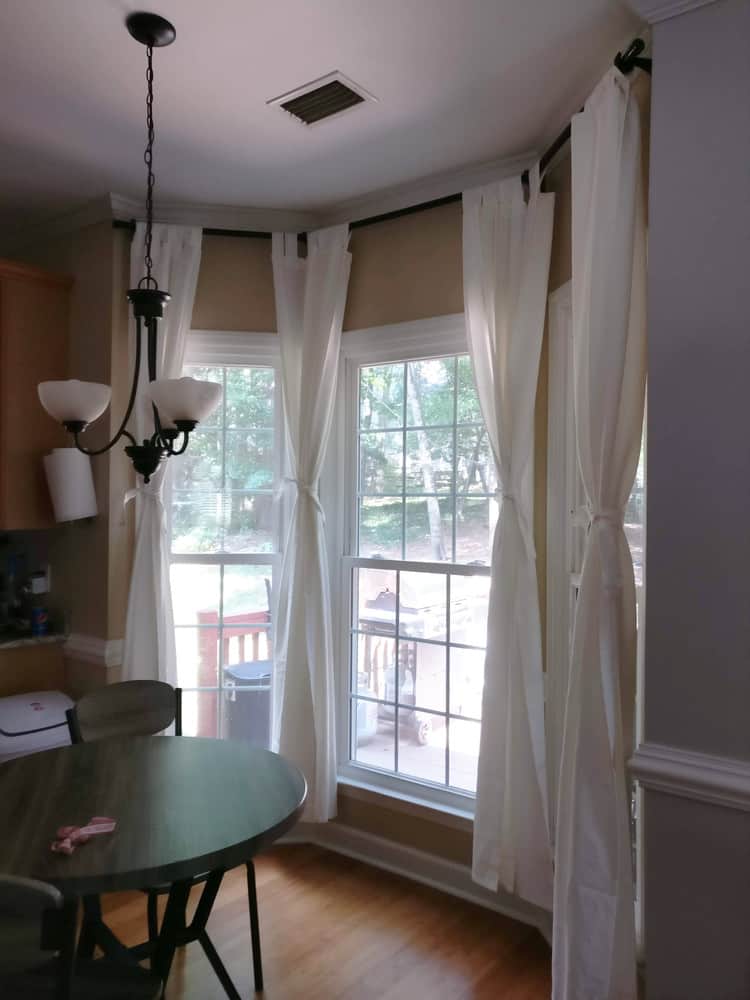 Bay windows are an entirely different beast when it comes to curtains and drapes.
This DIY is crafted especially for bay windows so you don't have to purchase three separate rods and stress out about hanging them all level.
DIY Bay Window Curtain Rod by Little Conquest
Rope Curtain Rod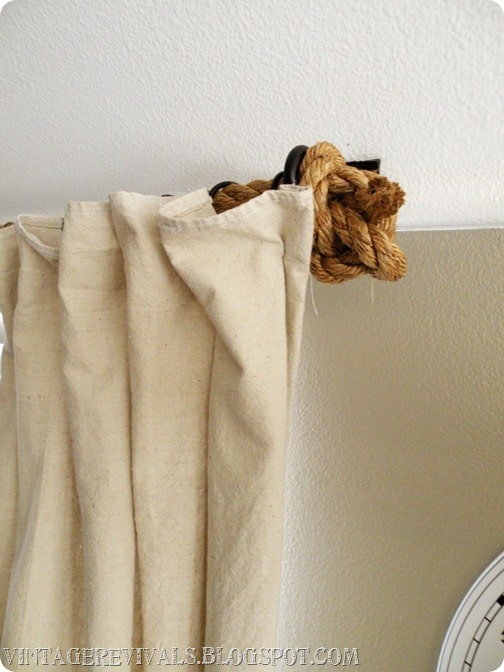 If your home's decor is more natural or you need to add a little texture, this rope curtain rod is a fantastic option.
All you need are some hooks, some spray paint, and a thick rope and you have a gorgeous custom curtain rod to fit your aesthetic.
Rope Curtain Rod by Vintage Revivals
Wood Curtain Rod With Base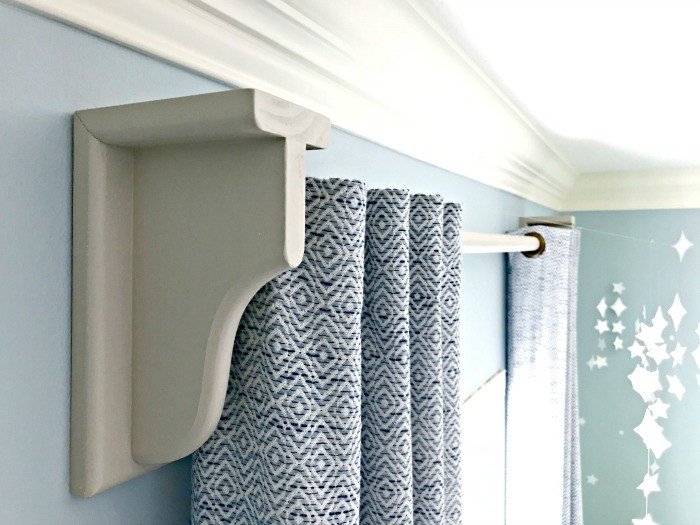 For this DIY, all you need is a wood dowel and a couple of decorative end pieces.
This project requires very little work (to put it lightly) and creates a beautifully finished look. It's simple but brings a touch of design to an otherwise basic piece.
DIY Wooden Curtain Rod by Abbotts At Home
Bonus: Copper Shower Curtain Rod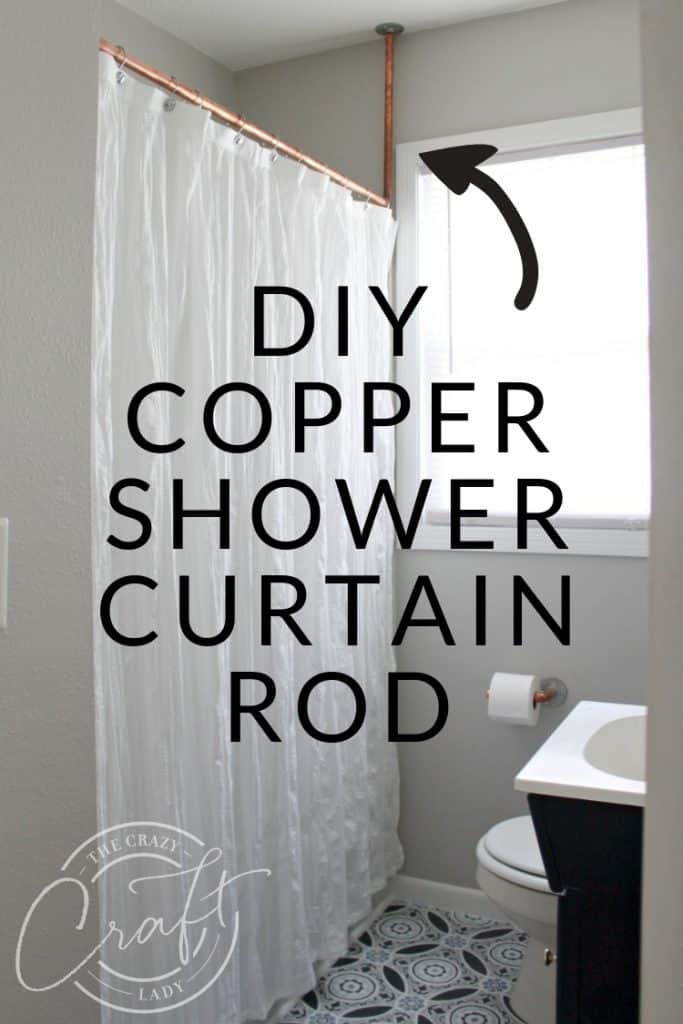 Have you ever had one of those shower rods that just won't stay up?
Instead of buying a replacement, consider adding this gorgeous copper shower curtain rod instead. It doesn't require any welding and has a gorgeous look.
DIY Copper Shower Curtain Rod by Crazy Craft Lady
Bonus: Shower Curtain Hoop
If you're lucky enough to have a clawfoot tub, this is for you.
This shower curtain hoop gives an industrial touch to a delicate standalone tub. Plus, its gorgeous and will give you some privacy if you just want some peace and quiet in the bath.
DIY Shower Curtain Hoop by Remodelista
Bonus: Subtle Wire Shower Curtain Rod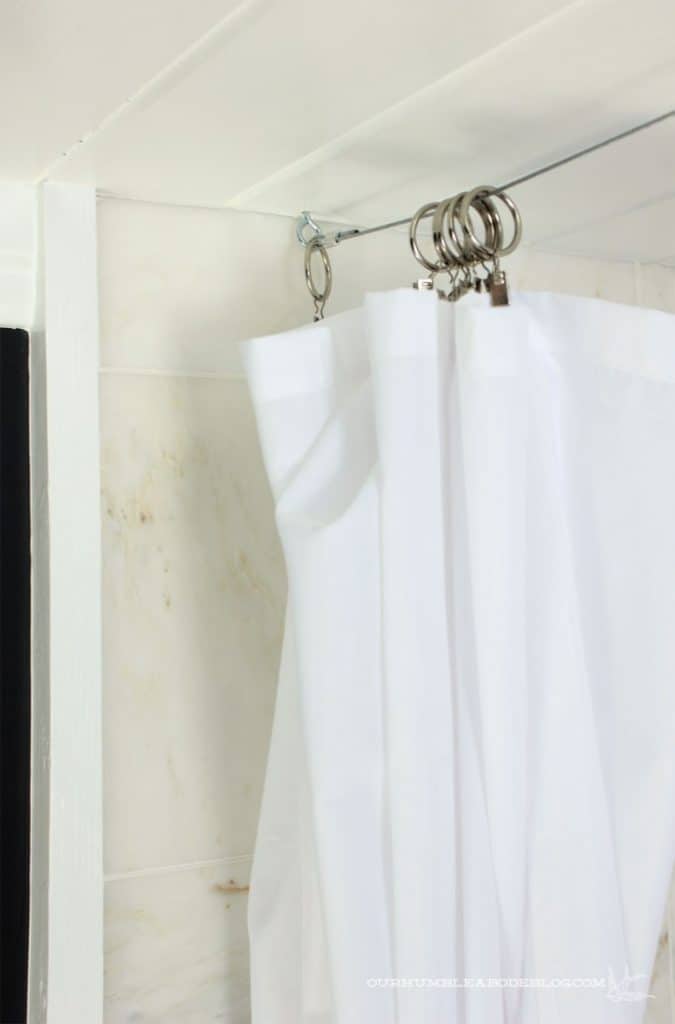 A standalone shower can be tough to cover with a curtain, but this wire "rod" fixes that.
All you need are a few hooks, some galvanized steel wire rope, and some curtain hooks and you have a gorgeous and unique way to get some privacy.
Galvanized Steel Wire Rope Shower Curtain Rod by Our Humble Abode
Bonus: Ball And Chain Shower Curtain Track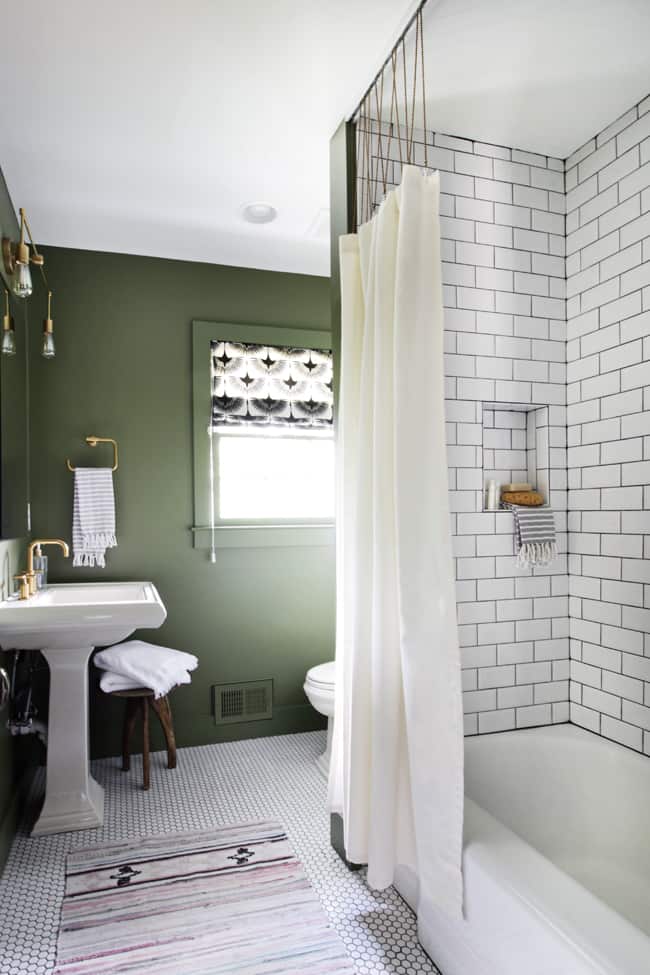 This may be one of the most inventive and unique ideas, ever.
This ball and chain shower curtain track creates that floor to ceiling feel, without covering up any beautiful tile work. It also helps the ceilings look taller and has a polished, chic finish.
Bathroom Shower Track With Ball and Chain by Hunted Interior
Bonus: Curved Corner Shower Curtain Rod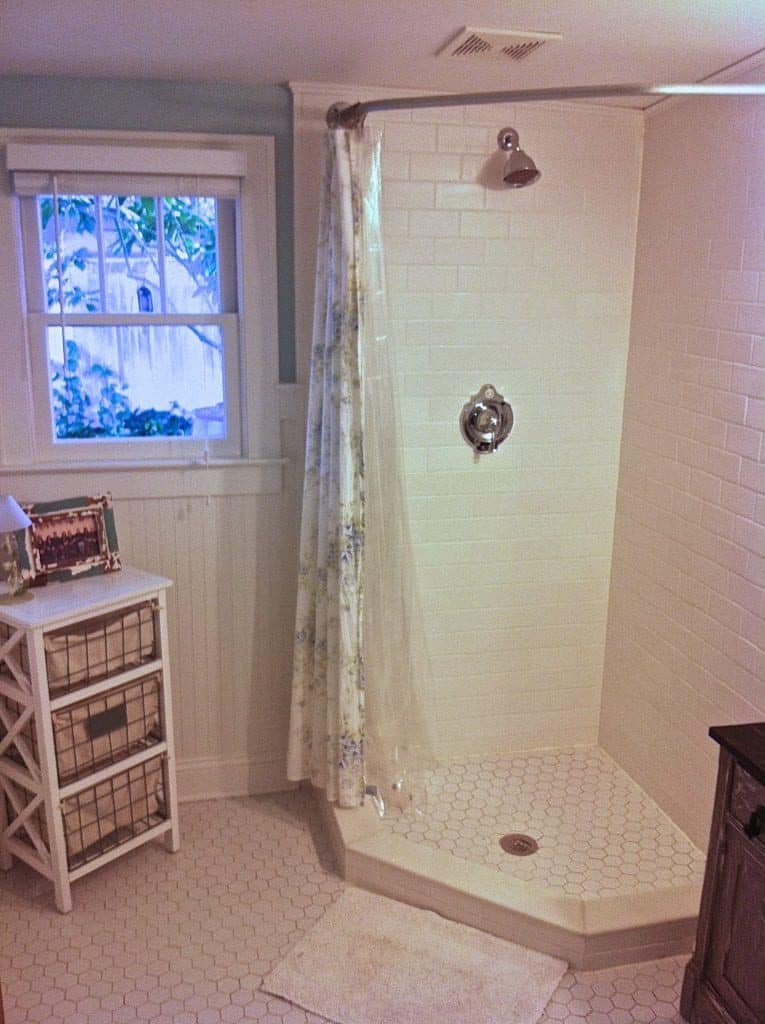 Corner standalone showers usually have those glass doors that can make them feel cramped.
Instead of that, this DIY curved shower rod will provide privacy and still leave some wiggle room for whoever is trying to get cleaned up.
DIY Industrial Shower Curtain Rod by The Craftsman Blog
Conclusion
The average cost of purchasing and installing a curtain rod is crazy high – and that's before purchasing the actual curtains!
While a curtain rod can make a statement in a home, the drapes themselves are what should be drawing the eye so it seems illogical to spend so much on just the hardware to hang them.
These DIY options are great for the budget and still add a little something to the final product. Whether you have one window or ten that you want to style up, creating your own rod will allow you to give it a personalized look.