23 DIY Corner Desks Plans and Ideas
Recently, I've been upgrading and updating my home office. The whole space was a total mess with bookcases everywhere, fitness equipment mingled in with DIY homegoods supplies, personal hobby supplies, and stray cat toys. So, I've been thinking a lot about desks and finding the right choice for replacing this wonky folding table I've used for the past year.
One of the best ideas I've come to is building a corner desk. Of course, that means I need some good corner desk plans to choose from. So, if you're in the same position I'm in, this list of ideas that I've made just might come in handy for you. Hopefully one of them will do it for your space and mine!
Simple Corner Desk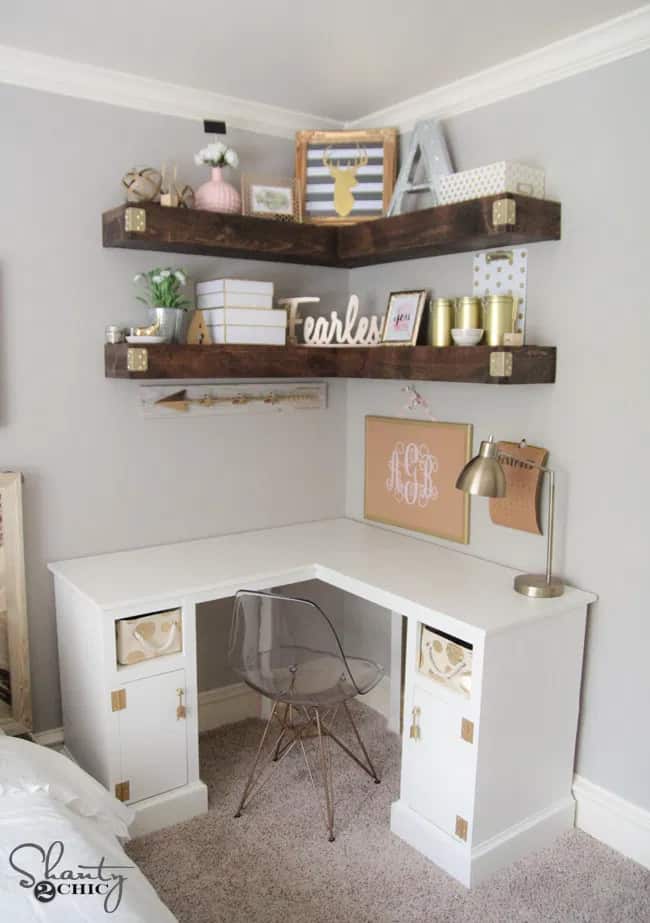 If you're looking for simple corner desk plans, this beautiful option could be a fantastic choice for you. The shape gives you plenty of work and study space and even more legroom beneath. Plus, this plan gives you some great storage, especially if you also opt to mount some floating shelves above.
Via Shanty 2 Chic
The DIYer's Office Desk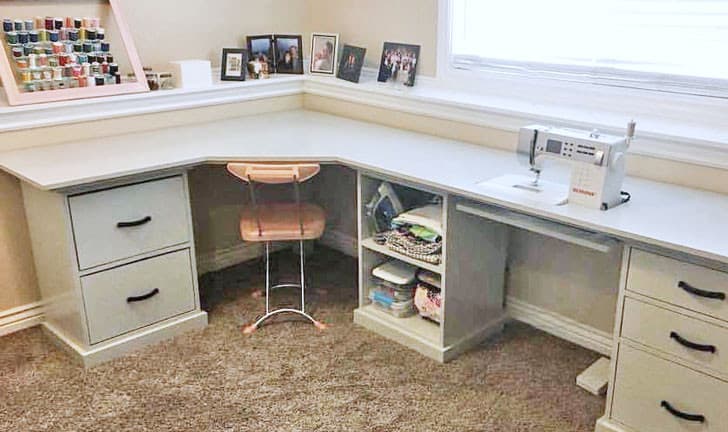 This is a truly great desk choice for the DIYer. There's tons of surface space, storage, and, if you so choose, space for that built-in sewing machine for your perfect setup. Even better, it's a fairly simple build so most folks can put this one together.
Via Ana-White
Budget-Friendly Corner Desk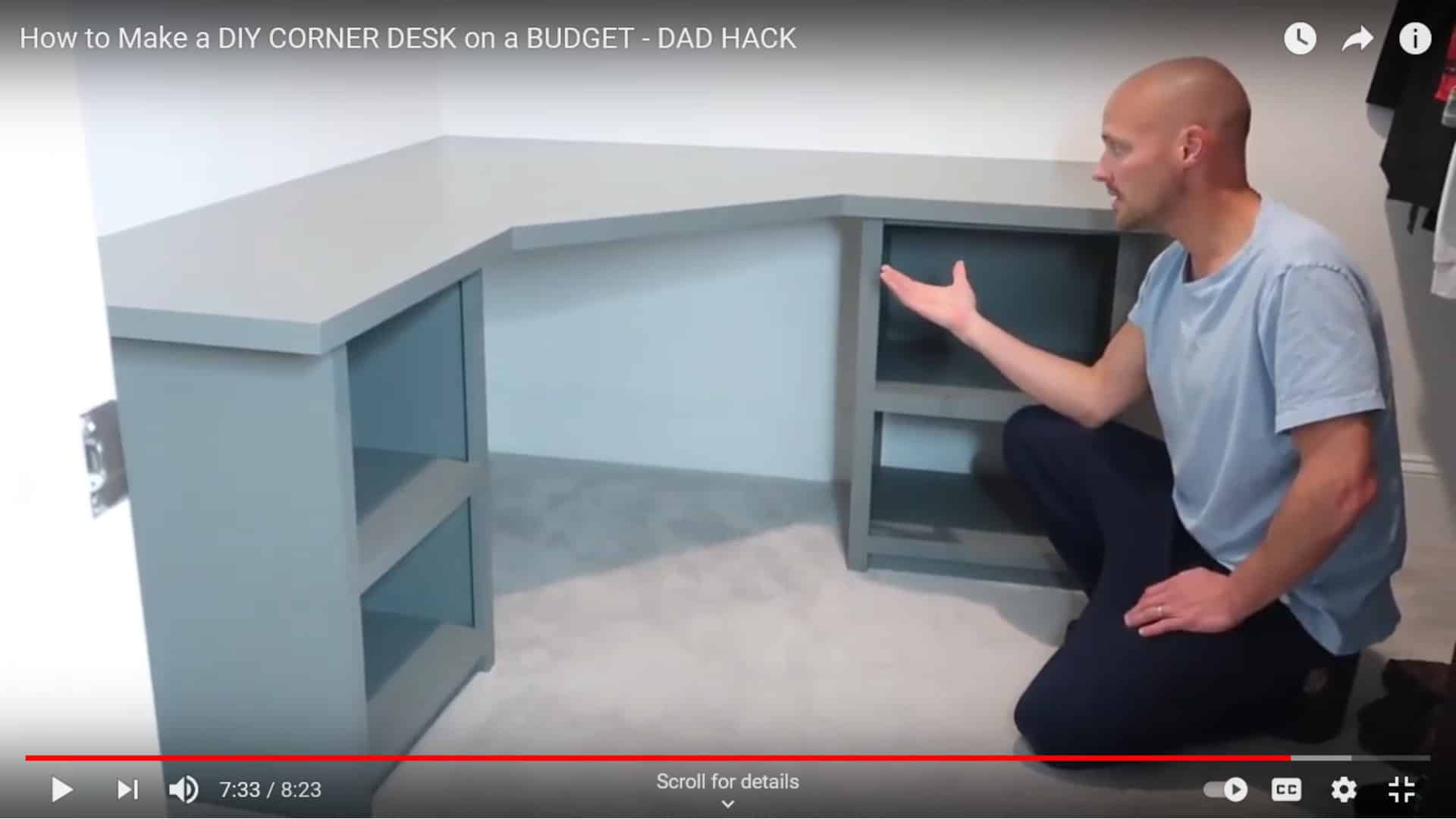 Here's a budget-friendly option for your corner desk. Even brand new, the supplies are pretty cheap, but if you have access, you can use this one to upcycle some old wood and scraps for an even cheaper build.
Watch the video for the full tutorial and information.
Via YouTube
Custom $50 Spindle Leg Desk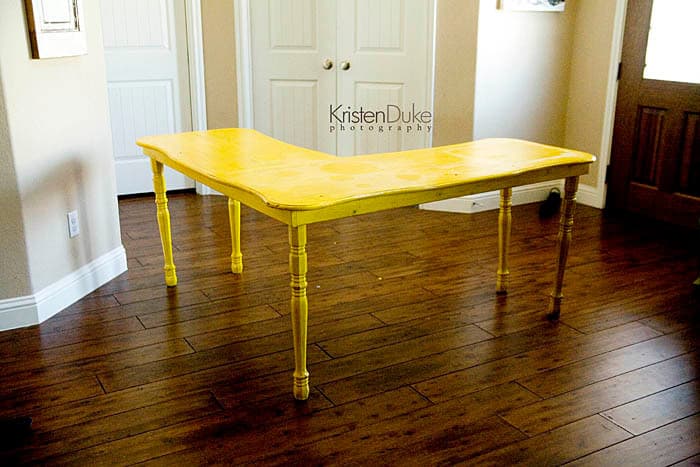 One of our favorite custom desk ideas is this spindle leg desk for cheap. It's beautiful, it's simple, and most anyone could build it. There's plenty of surface space, legroom, and open space underneath for either comfort for your claustrophobic self or some storage.
Giant L-Shaped Corner Desk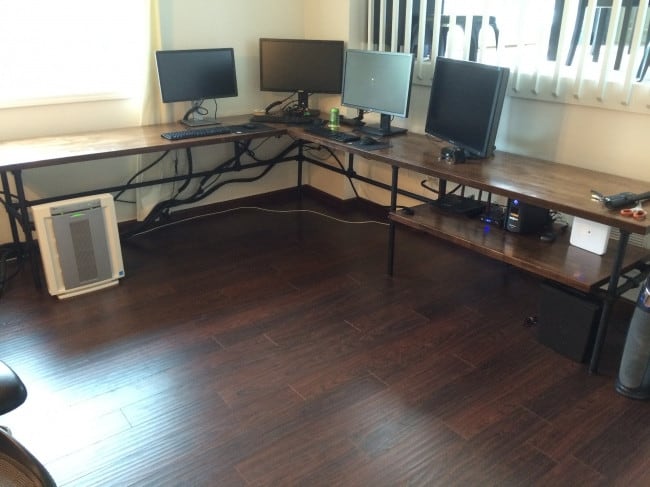 Looking for a large work space desk? Consider this DIY L-shaped desk for your studio or shared work spaces. It's large enough for either some major project work (my husband's eyeing it for his music studio!) or for multiple folks working in the same zone. There's enough space for up to four people to work comfortably together.
Via Phoronix
Wall Mounted L-Desk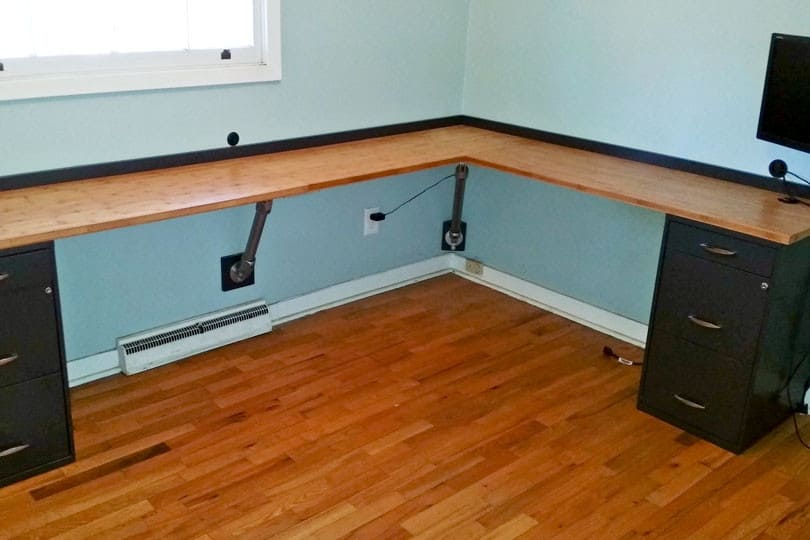 Scroll down a just a hint to see this one (#1) to see the instructions, etc. for this built-in corner desk. While it doesn't include the actual plans for the desk, it's pretty easy to figure out how to do. Using ideas from the Simplified Building wall-mounted desk plans and the swivel flanges, you can put this monster together for your shared workspace pretty quickly.
This DIY floating corner desk is perfect for office spaces, families with lots of kids doing homework, and crafters looking to save on precious floor space without sacrificing desk space.
Butcher Block Corner Desk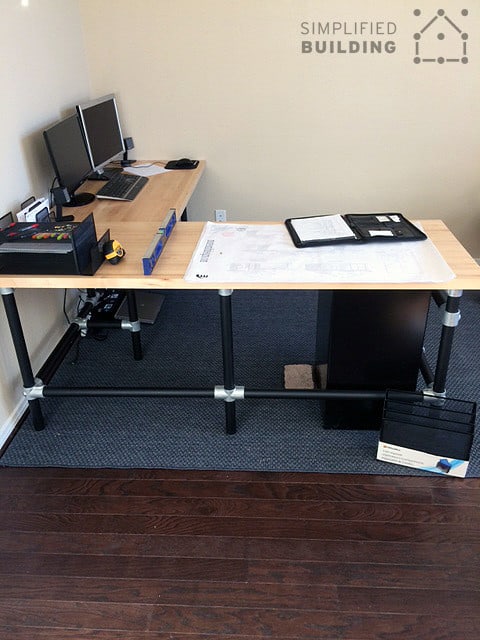 Butcher blocks are a fantastic surface for any kind of work you do. This particular DIY corner desk uses the butcher block for the top. This kind of desk topper is perfect for folks who do more than just writing at their desk. It's great for tinkerers, artists, designers, crafters, and even folks who do carving and other woodwork. Pretty much nothing destroys the surface.
Budget-Friendly Standing Corner Desk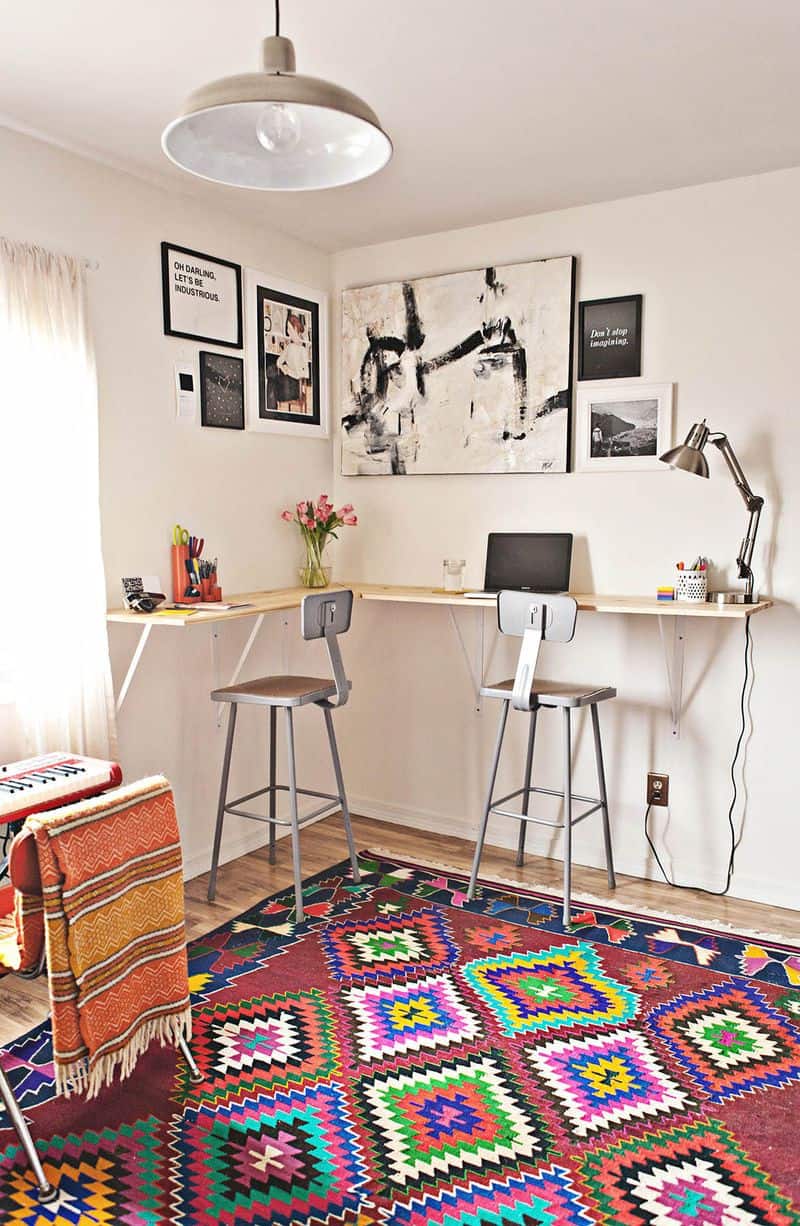 Here's a fantastic option for folks looking for a built-in standing corner desk. It's a super budget-friendly option (all you need is brackets, boards, and fasteners), and you're done. It's easy to customize this one, too, to your exact specifications to narrower, wider, longer, or shorter.
Via A Beautiful Mess
Double-X Corner Desk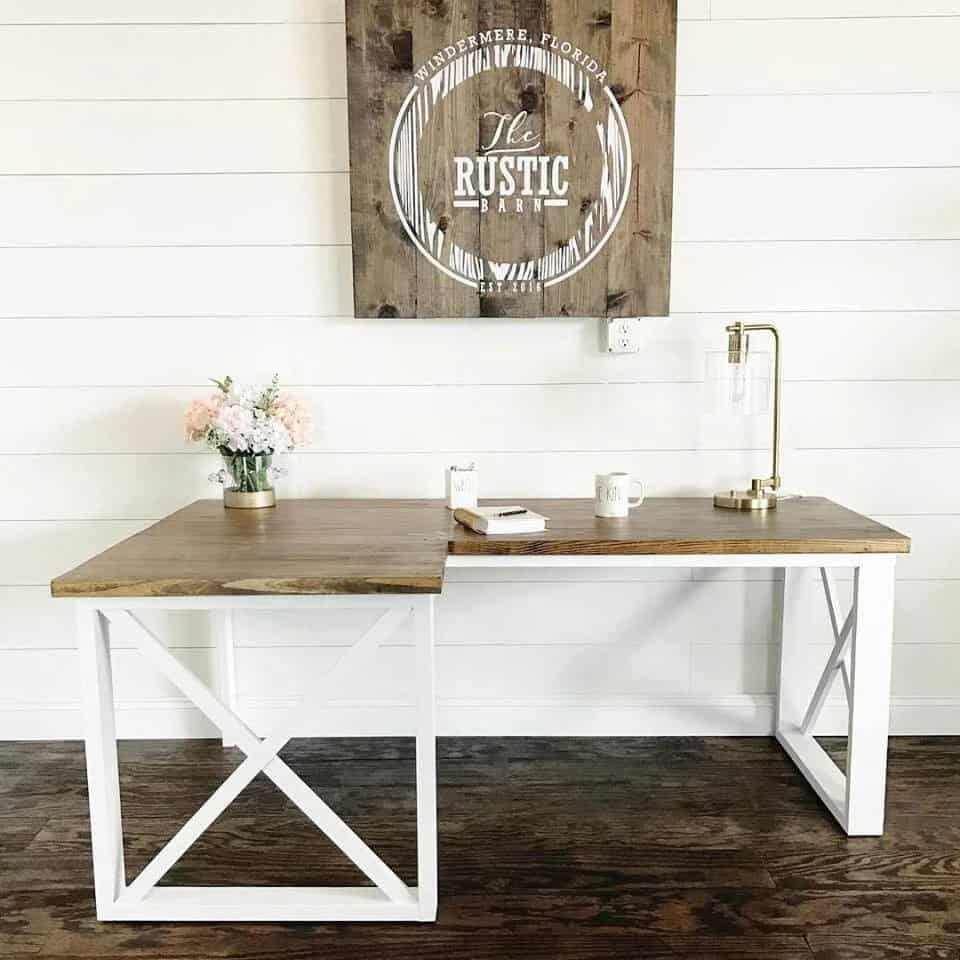 This lovely X-leg desk is a beautiful option for farm style office spaces. If you prefer a more modern look, choose paint for the topper instead of stain. Either way, this beautiful, deep desk is the perfect way to customize your office space while giving yourself tons of work surface.
Via Handmade Haven
Reclaimed Wood Corner Desk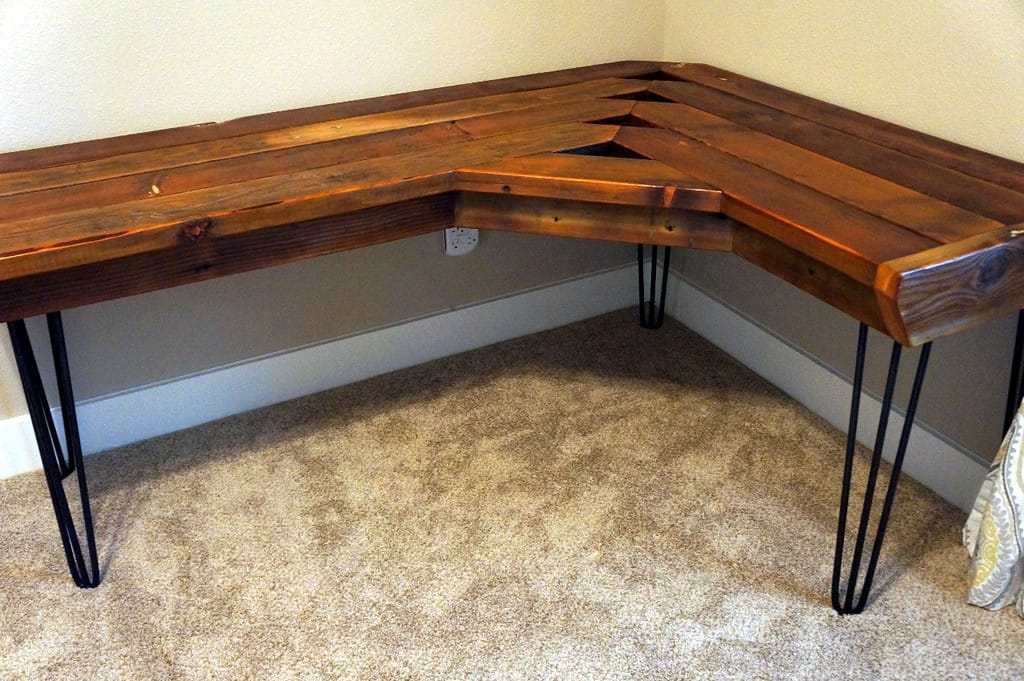 This gorgeous desk is an absolutely amazing option for the folks who like to recycle materials. You'll need some great wood pieces, some pin legs, and several tools to cut and trim to get those reclaimed boards to the right size. And don't forget some incredible stain color!
Watch the Project Video for best results.
Via Instructables
Rounded Corner Desk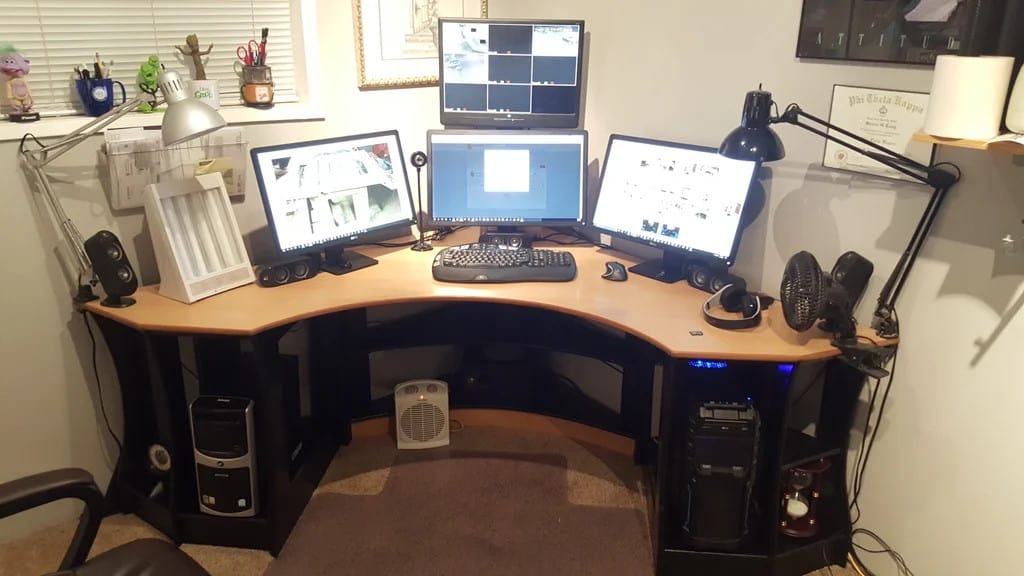 For an aesthetically pleasing space, this rounded corner desk just might do it for you. It's a pretty simple concept with clear instructions and tips on how to turn some veneer plywood into this gorgeous desk for your home office.
Via Instructables
Rugged Wood Corner Desk with Files Cabinets and Shelves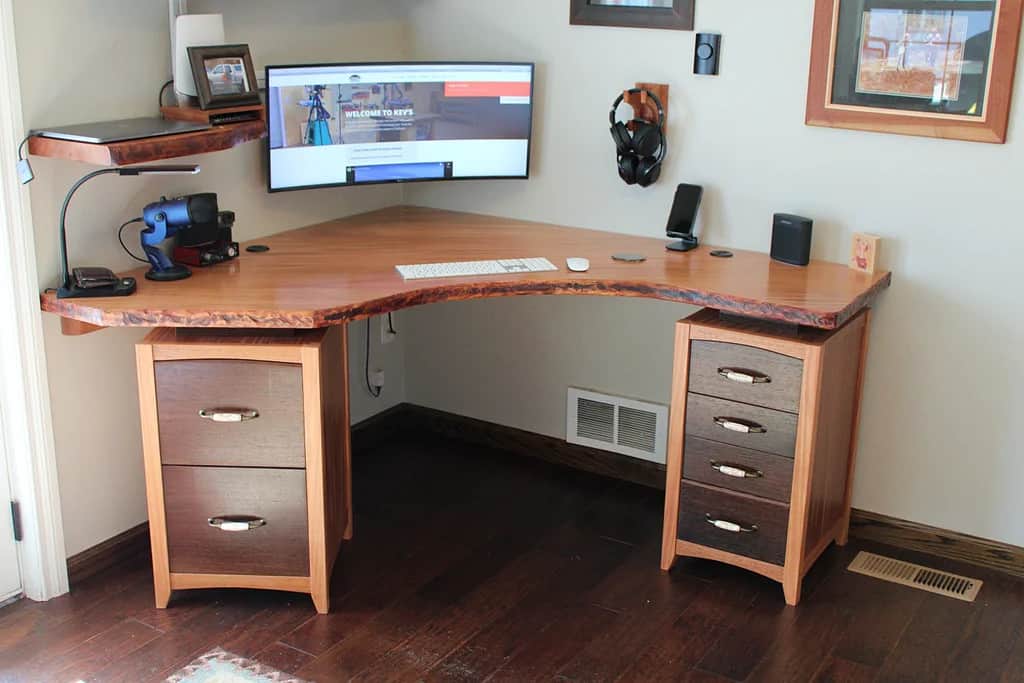 This design combines a couple of really nice elements, including the floating corner desk concept, the built-in concept, and storage. You'll notice most floating desks don't specifically include storage in the design concept, but this one does.
Technically, any floating desk can include file cabinets, but this lovely design does it flawlessly enough you might not even realize it's floating at first. Plus, bonus, a shelf above the desk for even more easy-access storage that looks amazing.
Via Instructables
Vintage Style Corner Desk with Tons of Storage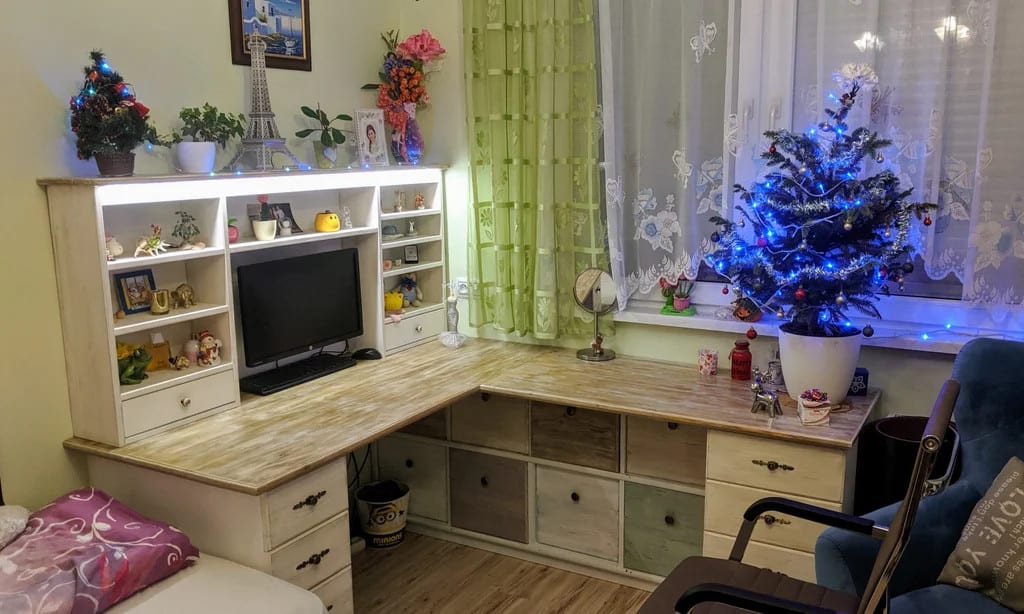 This particular design works from scratch or with an older desk you can upcycle for a gorgeous vintage look with loads of storage. The designer used it in his daughter's room to help her keep things organized. To me, it looks like the perfect desk for anyone who's got a lot of interests or a variety of project types going on. Personally, I'd use this for painting supplies for my hobbies, along with my writing job, DIY supplies, sewing supply storage, and my photography equipment.
Whatever you use it for, though, you'll have tons of storage and workspace alike with this beautiful desk
Via Instructables
Upcycled Kitchen Countertop Desk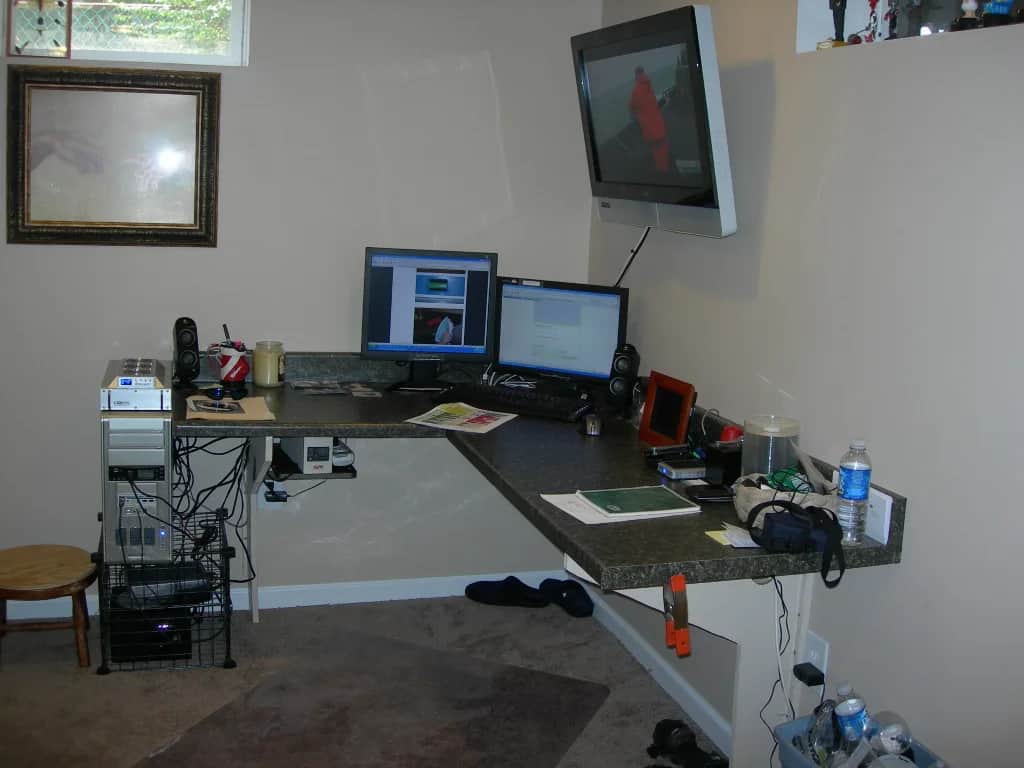 If you've got access to remodels in the area, you're in luck with this corner desk plan. It's designed specifically to use kitchen countertops for the desktop. If you don't have access to a remodel, you could easily find the countertop via sites like Freecycle and Craigslist.
Follow the step-by-step guide and you'll have a new corner desk in no time!
Via Instructables
Compact Corner Desk
Tight on space? Consider this compact design from Instructables. You'll need some plywood and basic supplies, plus a circular saw and bandsaw, pocket hole joinery jig, and a power driver. The simple design even has some nice storage for easy access to any books you're reading or supplies you want to keep close at hand.
Via Instructables
Modular Corner Desk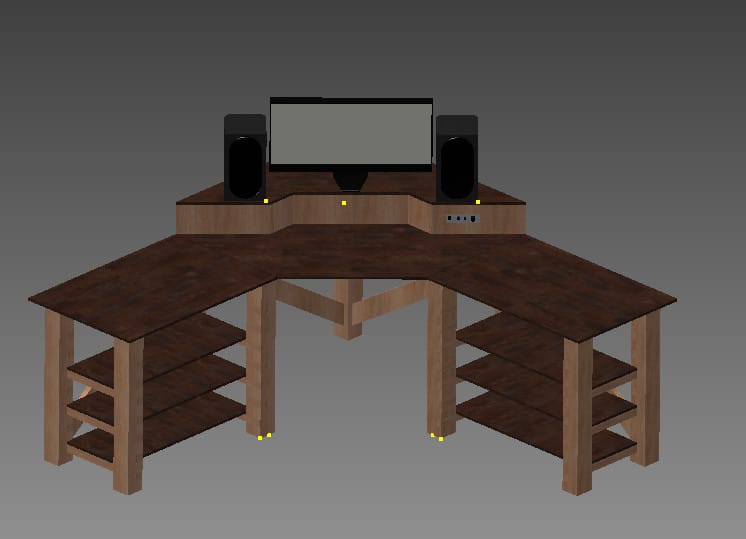 This modular corner desk was designed by someone looking for something very specific – and it turned out great. The desk meets the basic needs of good surface workspace and plenty of storage, and seems like the finished product would be rather attractive, if the right wood and stain is selected.
Via Instructables
$60 Corner Desk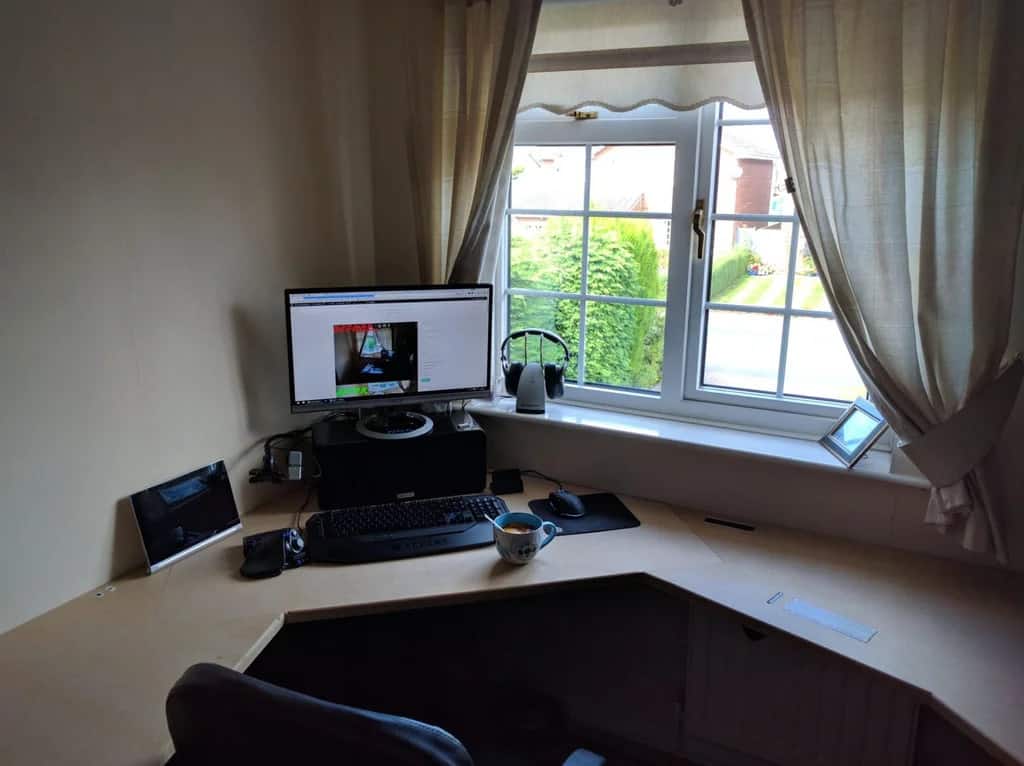 This DIY corner desk has some pretty nifty features, including 2 built-in USB ports, a USB self-powered hub with 7 ports, a built-in breadboard for prototyping, built-in graphical tablet integration, cable management slots, 6 slot mains power outlet and 5 USB charging sockets, and saves space in general for your office.
Via Instructables
Easy Corner Craft Desk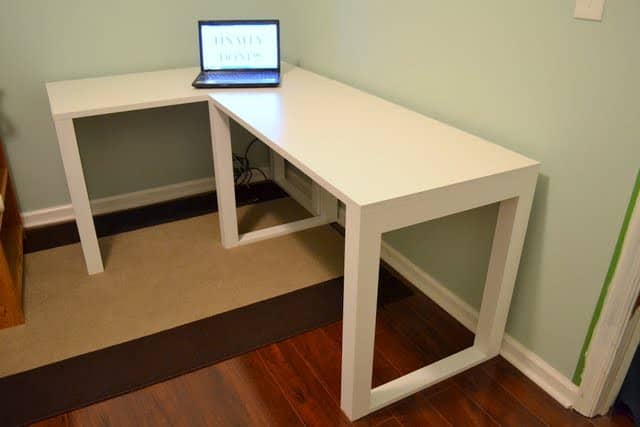 If you're not super handy but want to try your hand at building your own corner desk, this is a great option for you. The design is simple and it's an easy project that you can knock out pretty quickly. Plus, it provides you with tons of work surface, open space for your legs or multiple persons, and allows for added on storage pretty easily.
Nomad Corner Desk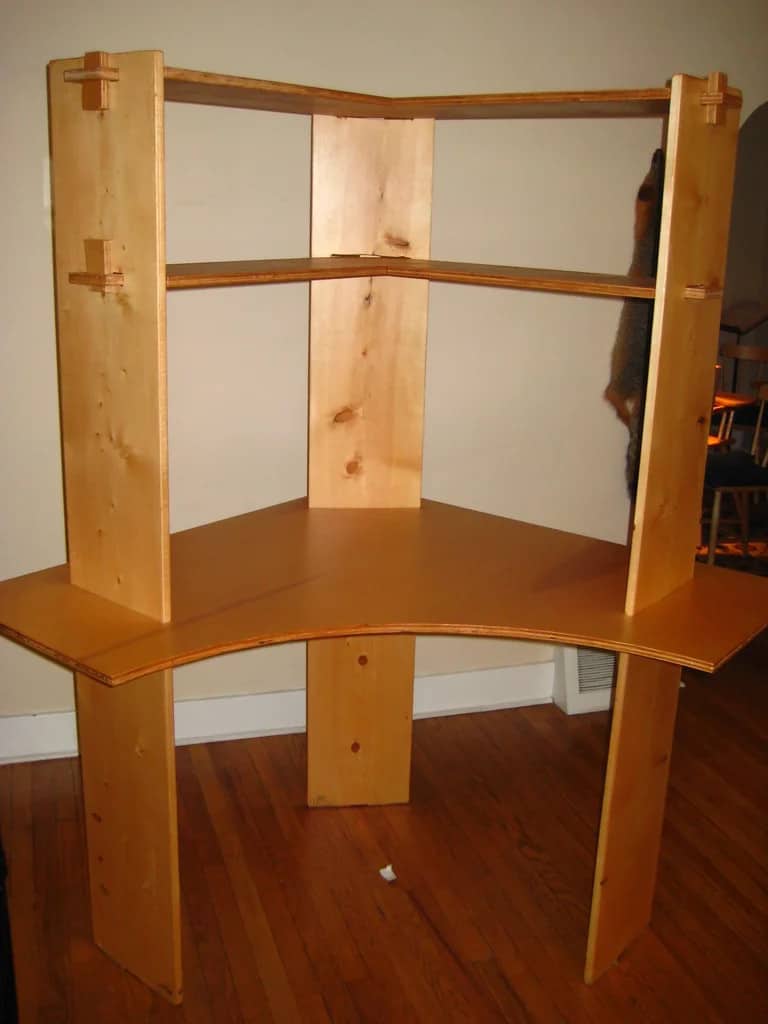 This little beauty is a great option for anyone looking for nomad style furniture that won't take up a lot of room. It requires no hardware and simple, easy-to-find supplies like plywood, stain, and pine boards. You'll need a jigsaw, circular saw, drill, and orbital sander.
Via Instructables
The Double-Seater Dream Desk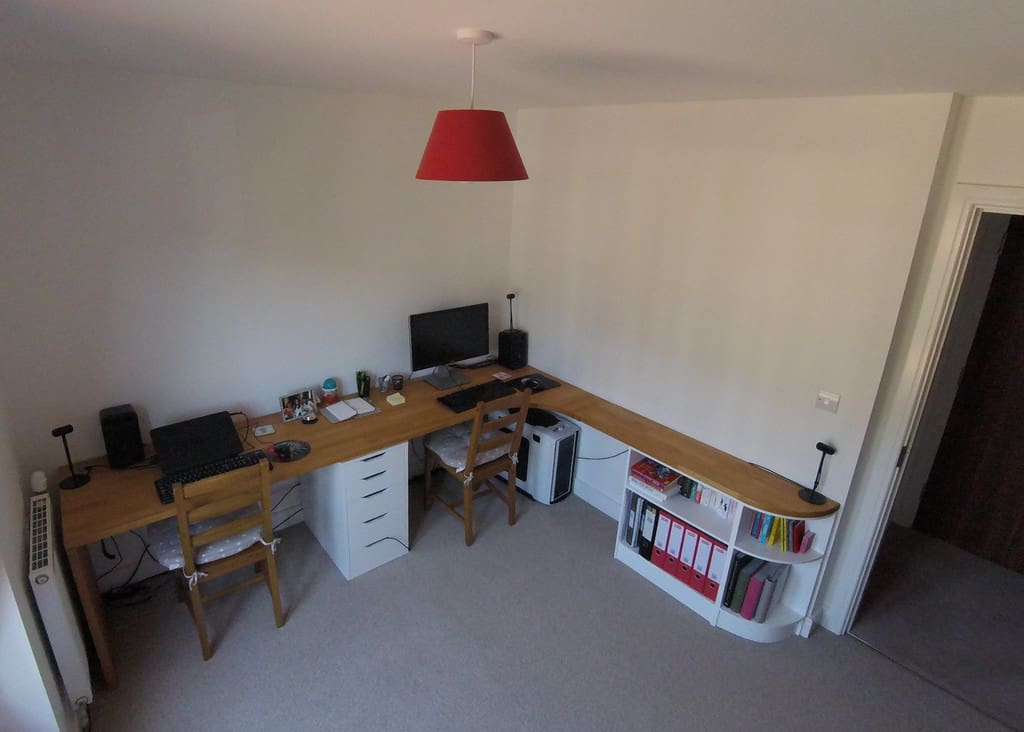 For those with a larger corner space available and need for two desks, this "dream" desk idea has it all. Enough space for two people comfortably to sit and work side-by-side without bumping into each other. Storage in the form of drawers and shelves, and some beautiful little touches that make this one truly a gorgeous and unique piece of furniture you'll enjoy looking at and using.
Via Instructables
Corner Desk with Moulding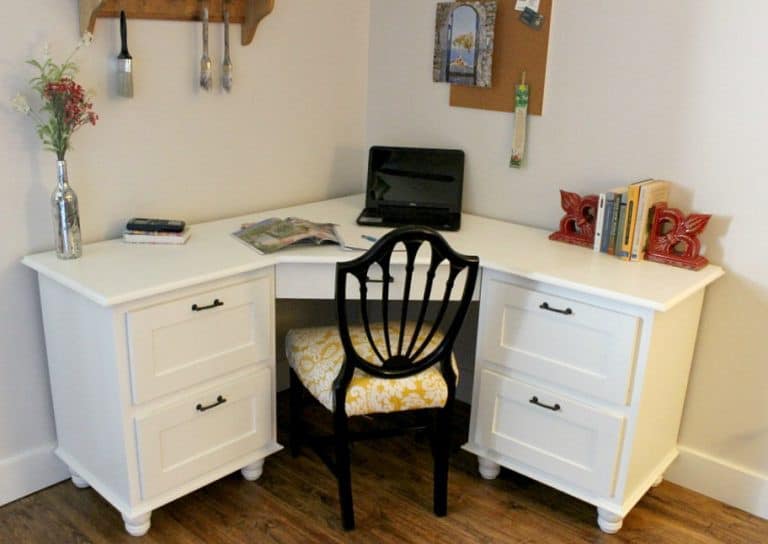 Want a truly gorgeous corner desk? This little beauty is exactly that. Simple but beautiful looks, storage, plenty of workspace, and loads of leg room. It's great for a bedroom desk for the kids for school or a small corner in your home office space.
Underlit Gamer's Corner Desk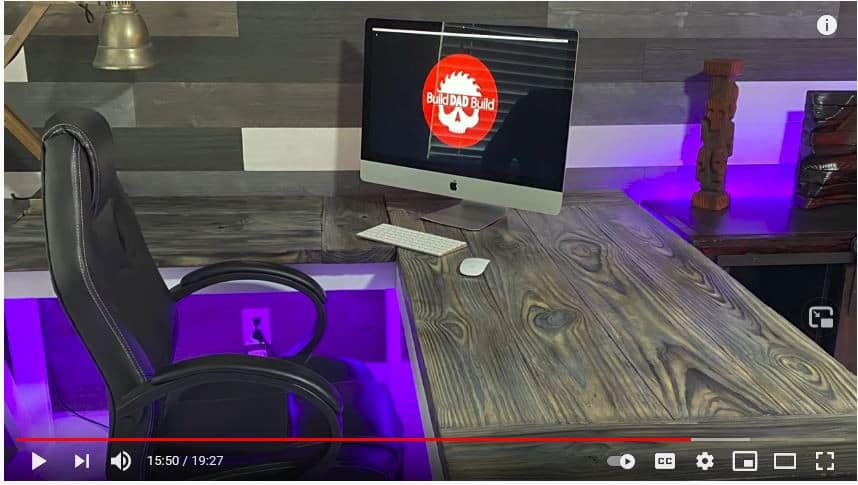 This unique desk is perfect for gamers looking to save some space by using a corner desk. Generally speaking, the design is pretty simple and basic, but it's got some super fun touches that make it perfect for gaming, filming your twitch stream, and so much more.
Via YouTube
Customizable Industrial Style Desk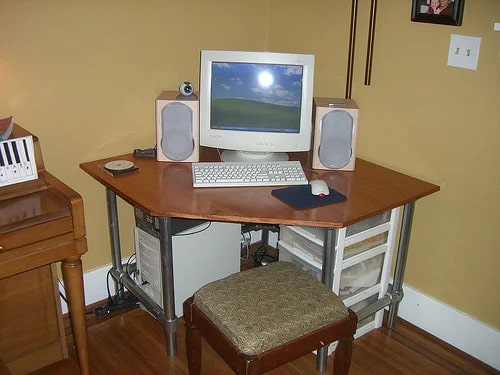 If you like the industrial style furniture movement, this is a great choice for you. It's compact in design and uses pipe, fittings, and recycled plywood for a sturdy, comfortable desk for the corner, at whatever height you need. You can add curtains beneath to keep things "private" or leave the pipe legs exposed – whatever you prefer.
Via Instructables
Build Your Own Corner Desk
Among all these different designs for DIY desks, you're bound to have found at least one you love. Be sure to take measurements, assess your skill set and tools in line with the plans, and get to work. In no time, you'll have the perfect desk for your space!