36 Christmas Door Decorations Ideas
Whether you're looking for a total DIY Christmas door decorations look or a combo of store-bought and homemade Christmas door decorations, you'll find tons of options available.
From doorknob hangers to a hundred different styles of wreaths, from swags to garlands to standing decor items – there are some incredibly beautiful, fun-to-make options that you're bound to love.
Be Inviting With a Holiday Welcome Sign
Every visitor deserves a warm welcome to our homes – especially at Christmas. So, since you're decorating that front stoop to invite holiday cheer, why not paint yourself an actual holiday-themed welcome sign?
You can find a bunch of tutorials online to help you make exactly the right one, or, if you're not quite feeling the paint this year, you can always find a premade one at Etsy or some other shop.
Welcome Santa With the Whole Setup
We all know Santa's coming down the chimney on Christmas Eve. But what if you don't have a chimney? You could still help make him feel welcome by decorating your front door to look like a fireplace and mantle.
You can add touches like a wreath, some dollar store stockings, or even a tiny Christmas tree just nearby.
Get Colorful with a Peacock-Themed Wreath
If you have a thing for peacocks, you can incorporate that into your holiday decor. Find some grapevines, feathers, peacock ornaments and other small decor items that match the color scheme, and voila! You've got an amazing, beautiful, and elegantly unique Christmas wreath for your door.
Hang a Wooly Leaf and Berry Wreath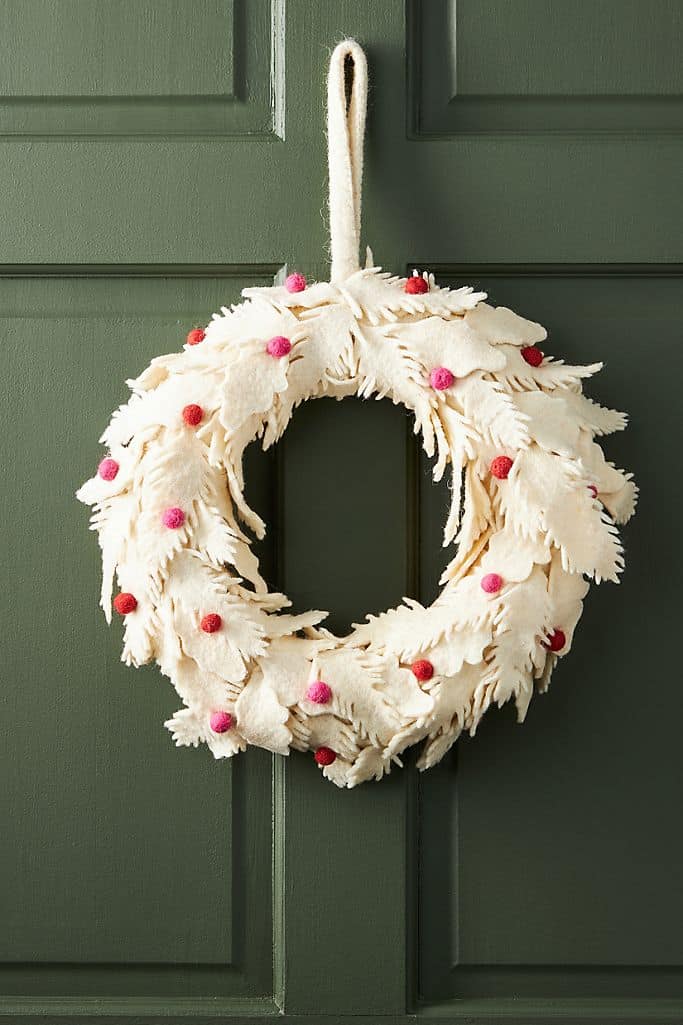 If you love the look of snow and berries on a bush, why not craft a wool felt wreath of your own? It's perfect for adding that touch of winter wonderland, even if you live in a warm climate where snow never falls.
Find a pattern for cutting out the leaves, find some fun berries at a craft store, grab a glue gun and a wreath form, and there you have it! Or, if you're not so keen on putting together all those leaves, you can always grab a similar wreath, premade from a store.
Make a Giant Candy Cane
What says Christmas cheer like candy canes? Not much that we can think of! So, why not deck the halls of your home with a giant candy "wreath"?
There are tons of designs, colors, styles, and materials that can go into your candy cane for a super fun, unique take on this traditional decor item of the season.
Frosted Greenery and Pinecones Wreath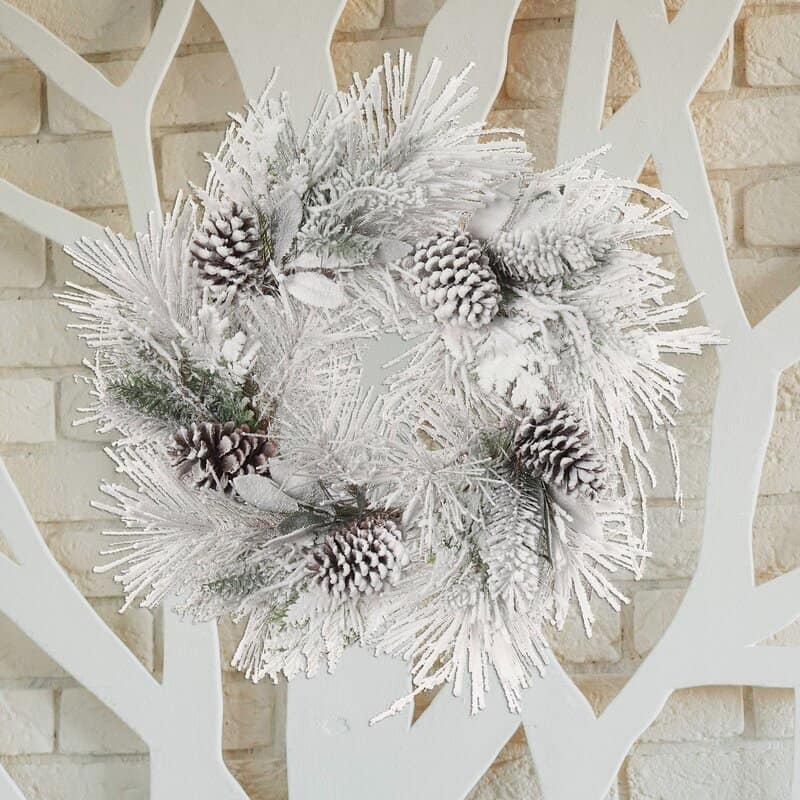 Looking for a super simple option? Why not make your own frosted greenery and pinecone wreath? This stunning piece will make the perfect front door Christmas decorations choice for your home without the hassle of using ribbons and bows or ornaments.
You can use this tutorial from Lovely Etc. to learn how to flock out the greenery, then add the simple pinecones to the wreath for punches of color.
Get Fruity With a Holiday Decorative Fruit Door Spray
Many traditions around the world use fruit as a part of their holiday decor. If you happen to love that tradition or have a family member who does, you can whip up a fruity decorative spray for your Christmas door decor this year.
You can pop into your favorite craft store or dollar store to find some nice artificial fruit and some leaves, then grab a wire frame, grapevines, or a small dowel for holding it all together.
Try Some Eucalyptus Greenery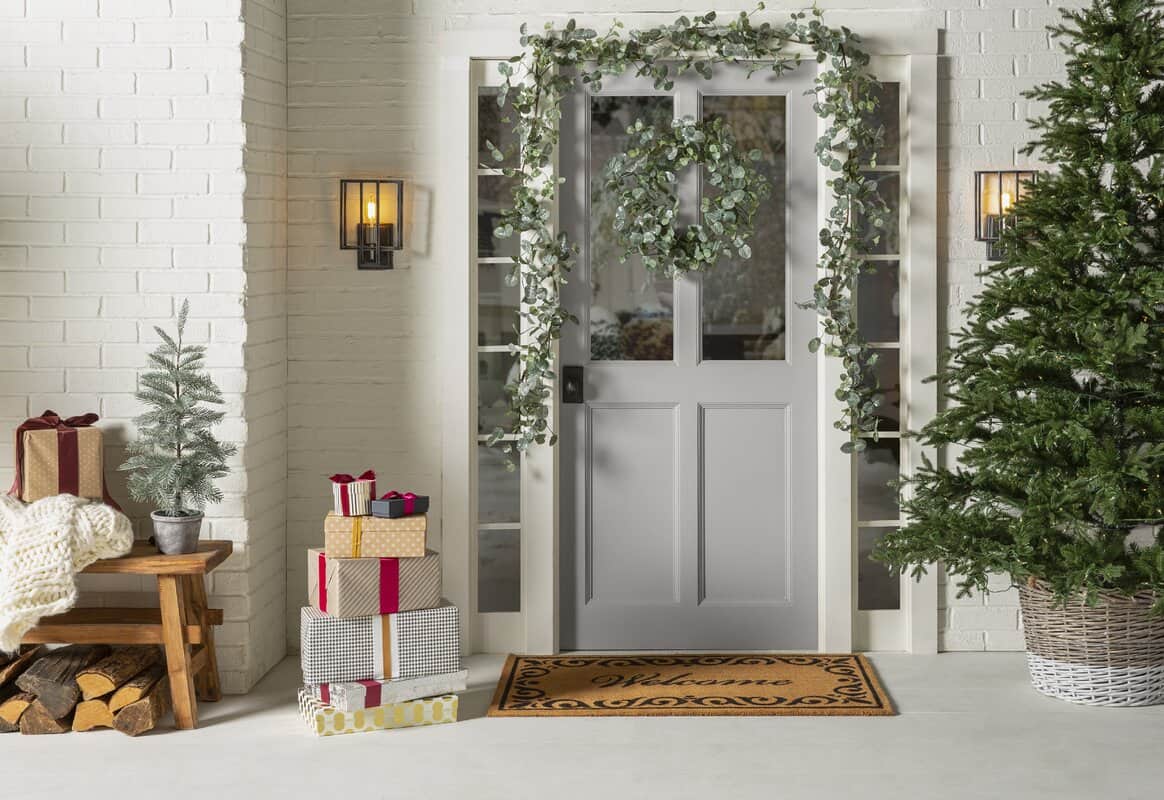 If you prefer a subtle, elegant look, you can take a hint from the koalas. Grab some eucalyptus branches for some muted, sage decor like wreaths, swags, or garlands to hang all around that door at Christmas.
You can go super simple with just leaves or you can add some pops of muted colors with some cranberries or even a few simple silvery ornaments.
Hang Decorative Lanterns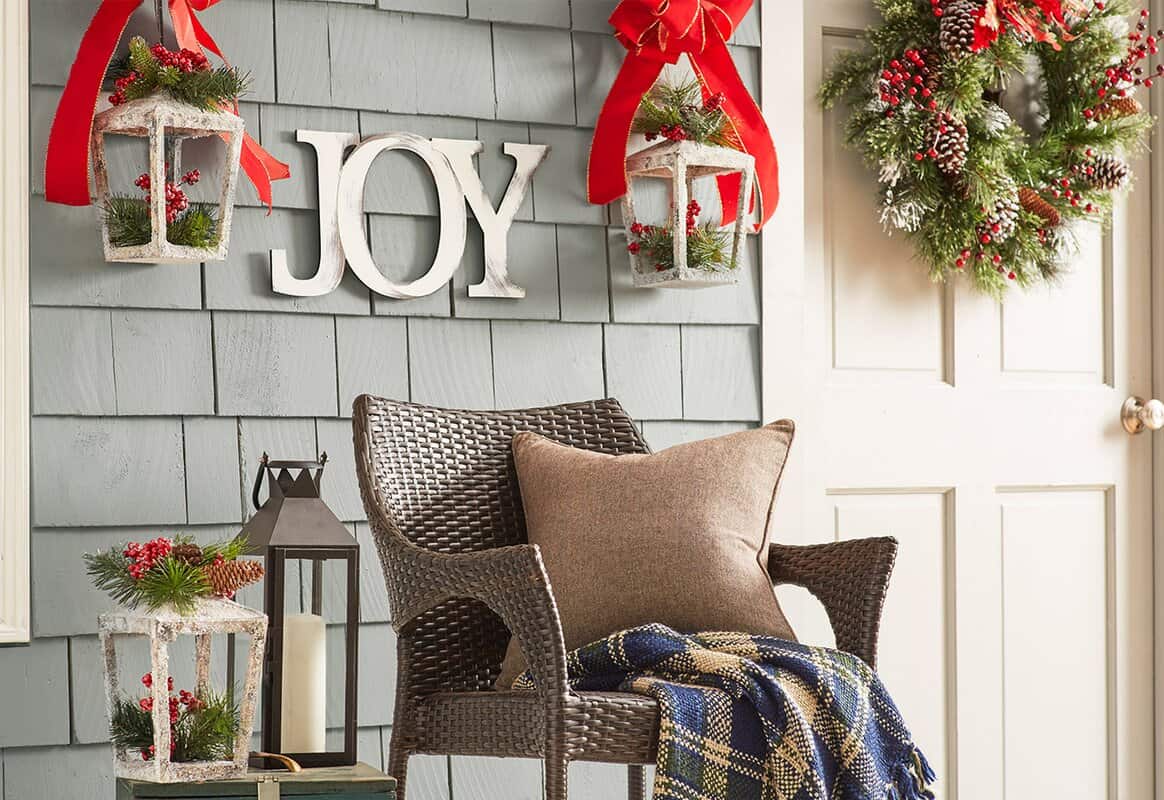 One of our favorite doorway Christmas decorations is the decorative lantern. Whether you're comfortable lighting them up or just showing them off in daylight, they're a stunning, old world option that lend a feeling of Victorian era charm.
You can use real lanterns or ornamental only options and add some decorative touches like holly leaves and berries or even a simple red ribbon to give them that holiday flair.
Paint a Let it Snow Sign
Whether you live in Vermont where snow comes just about every year or hang your hat in Alabama where it's an occasional affair, there's nothing that says Christmas like a little white powder.
So why not invite the festive feeling through a "Let it Snow" sign for your front door? Like those welcome signs mentioned above, there are tons of designs and options you can make or choose from in shops like Etsy, Target, or speciality stores in your own hometown.
Hang a Joy Ribbon
If you want your door decorations for Christmas to really send a message, why not create your own "Joy" ribbon? You'll need some wooden letters cutout – Michael's or Hobby Lobby has plenty! – and a wide ribbon, some glue, paint, and any additional ornamentation you'd like.
It will be the perfect afternoon craft for you and the kids – and makes a great gift to pass on the joy to others!
Make Your Own DIY Ho-Ho-Ho Sign
Another welcoming sign is the "Ho Ho Ho" from Santa. You can get really creative with this idea. You can go basic with just the words on a plain background, or you can add some embellishments like painting on Santa's belt and buckle, adding some ornamentation, or hanging a dollar tree Santa hat on top for that 3D touch.
"Plant" a Small Christmas Tree There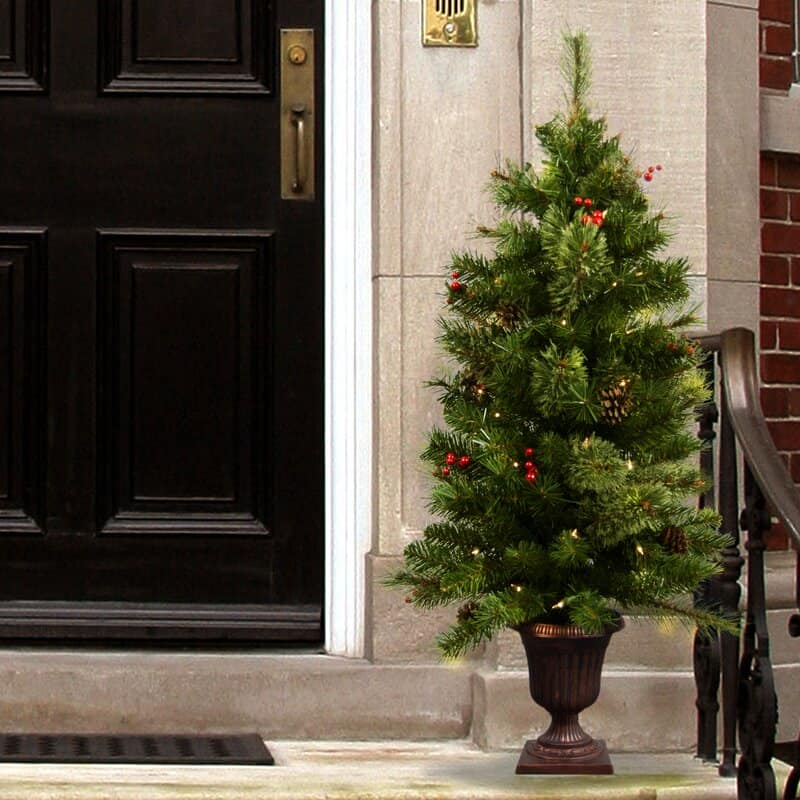 You might have some really excellent bushes or trees for lighting up outside, but if not, you've got this great option for a simple, yet decorative and inviting way to do it. Find some real evergreens or buy some artificial ones and some string lights.
Don't forget some decorative planters and some dirt or sand or something else to weigh down the planter. You can also add some plastic ornaments or weatherproof ribbons to really dress things up.
Get Floral With Your Wreath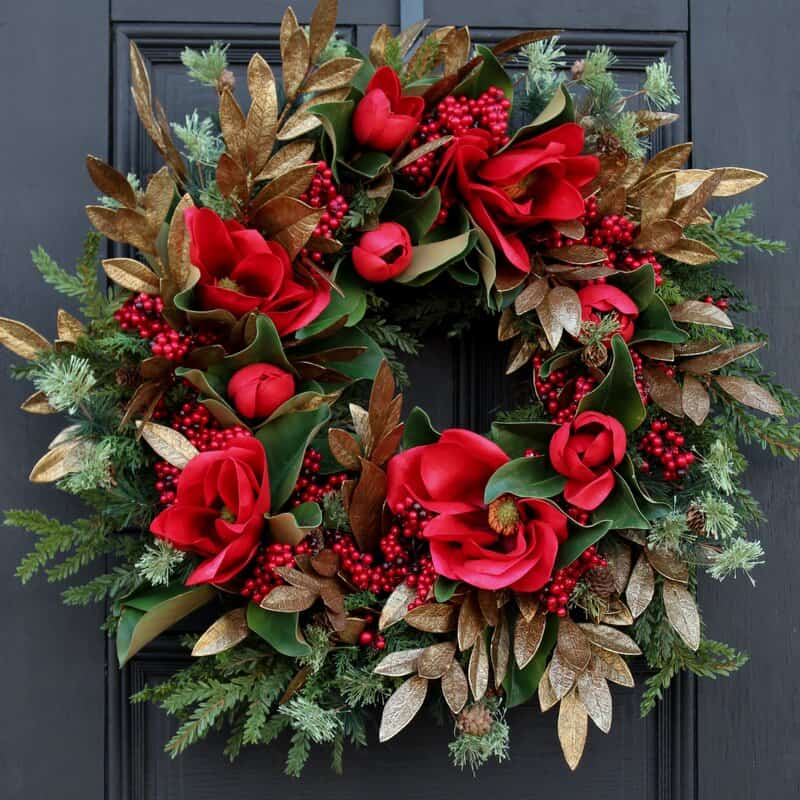 There's nothing that says holiday wreaths can't be floral, too. You just need to find some beautiful red magnolias and berries, maybe some antique gold eucalyptus leaves along with some greenery to craft a stunning floral wreath this holiday season.
Try a Simple Iced Berry Wreath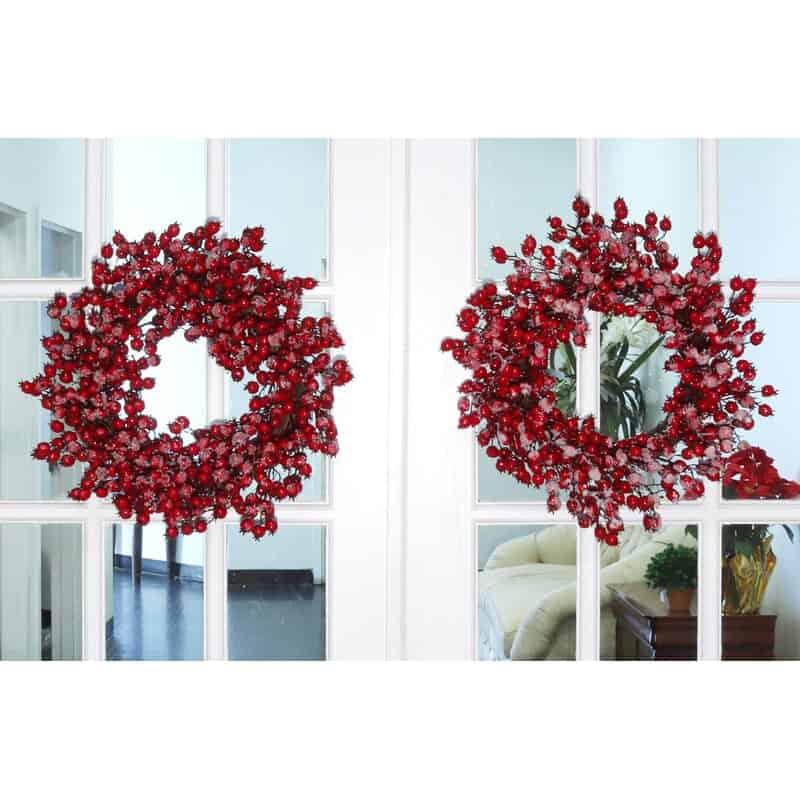 For some beautiful, modern Christmas front door decorations, try snagging yourself some berries, flocking material, and, if needed, some grapevine for crafting together this stunning wreath.
The berries add that pop of color, while the flocking material adds some sparkle without being gaudy. It's a win-win for a modern yet classic holiday look.
Deck Out the Deck with the Works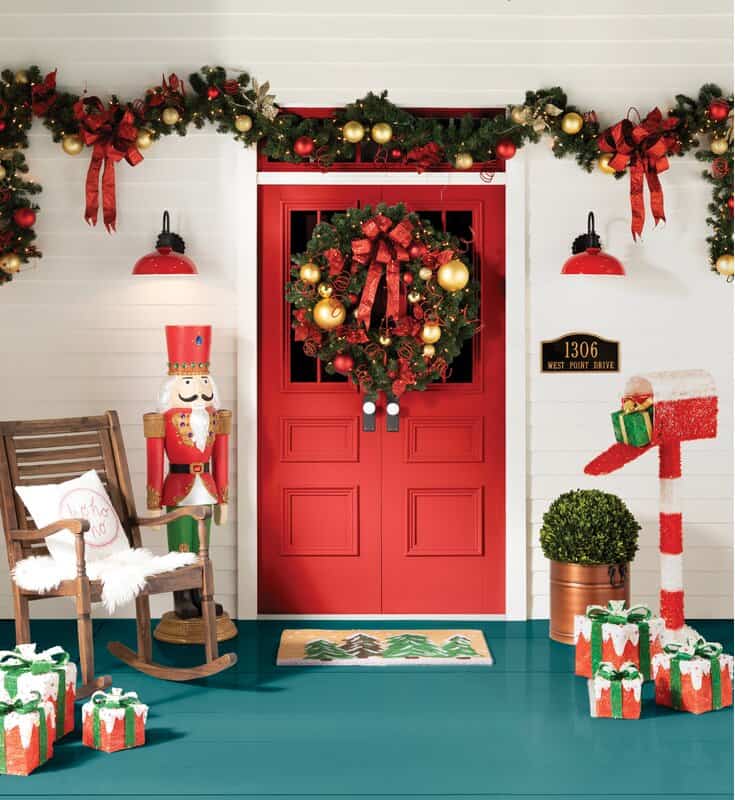 Of course, if you're like us, you'll want to go all the way with your front porch and pull out all the stops. Find a stunning wreath, some beautiful and fun decorative items and add touches of your own.
This amazing greenery and ornamented garland says loads while the giant nutcracker, adorable mailbox, and lighted gifts really add up to create a Christmas extravaganza that will welcome even the most grumpy guest into the Christmas spirit.
Paint A Holiday "Believe" Sign
If you love the movie "It's a Wonderful Life" and want others to join you in that wonderful tradition of believe, you can whip up your own holiday-themed "Believe" sign. The stunning but simple piece adds beautifully to any porch, even if it's all you have space for this year.
Make an Ornament Wreath
One intriguing look that's been creating waves for a few years now is the ornament wreath. Forget greenery, flocking, and candles – instead, get those plastic balls out of the closet and make up a stunning Christmas wreath for the door!
Be sure to use plastic ball ornaments – not glass! – and find a sturdy wire frame for crafting it. You'll love the results.
Craft a Poinsettia Wreath
If you love poinsettias, you'll love this idea. Take some wide burlap ribbon and craft your own poinsettia wreath. You can mix and match shades, styles, and even finer or heavier texture to create just the look you want.
Easily find the burlap ribbon at craft stores, dollar stores, or online at stores like Amazon.
Share Some Joy With a Reclaimed Holiday Toy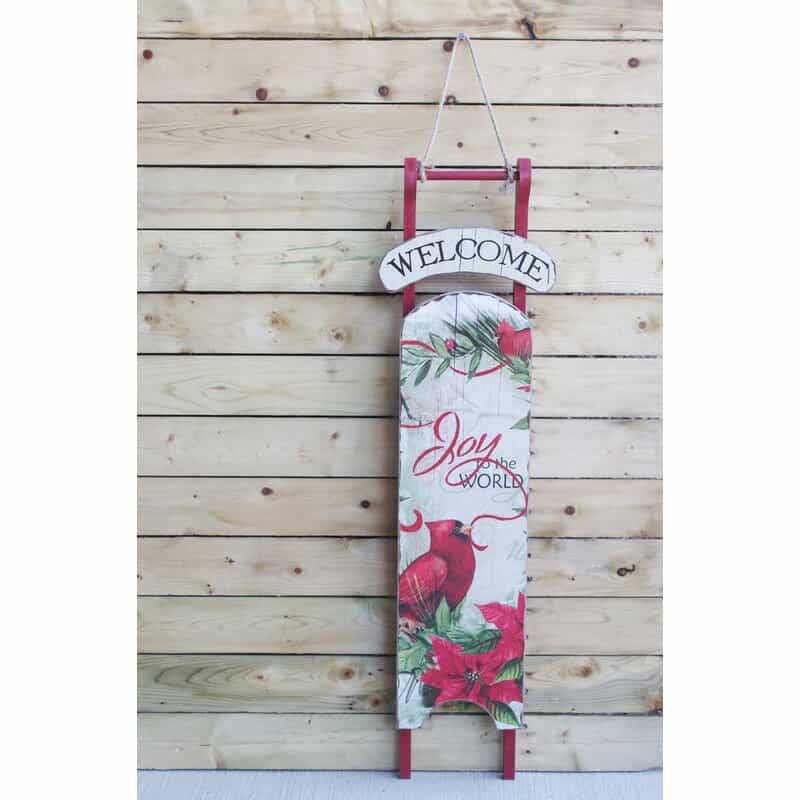 For fun, unique Christmas door decorations, find an old sled, decorative toy that's seen better days, oar from a canoe, or just about anything like that to paint and reclaim for Christmas. You can find some painting tutorials online or get some stencils for lettering or figures.
They make a great family craft for Thanksgiving gatherings, dull wintry nights, or Saturday afternoon projects, too. The kids will love remaking something old into something marvelously new.
A Simple Cedar and Pine Swag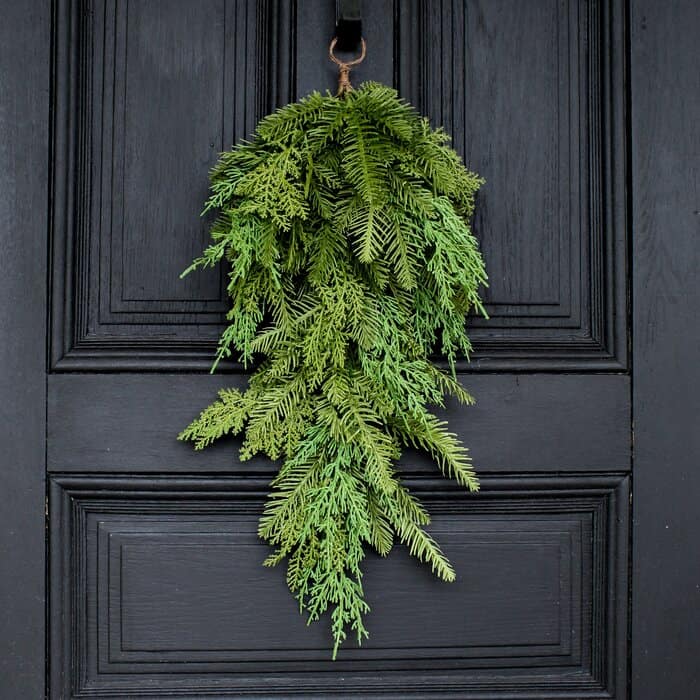 For an extremely simple Christmas door decor item, you can trim some nearby evergreens and grab some twine. In minutes, you'll have a beautiful, seasonal piece that goes with anything else you might like to deck the halls with.
Use A Matched Holiday "Set"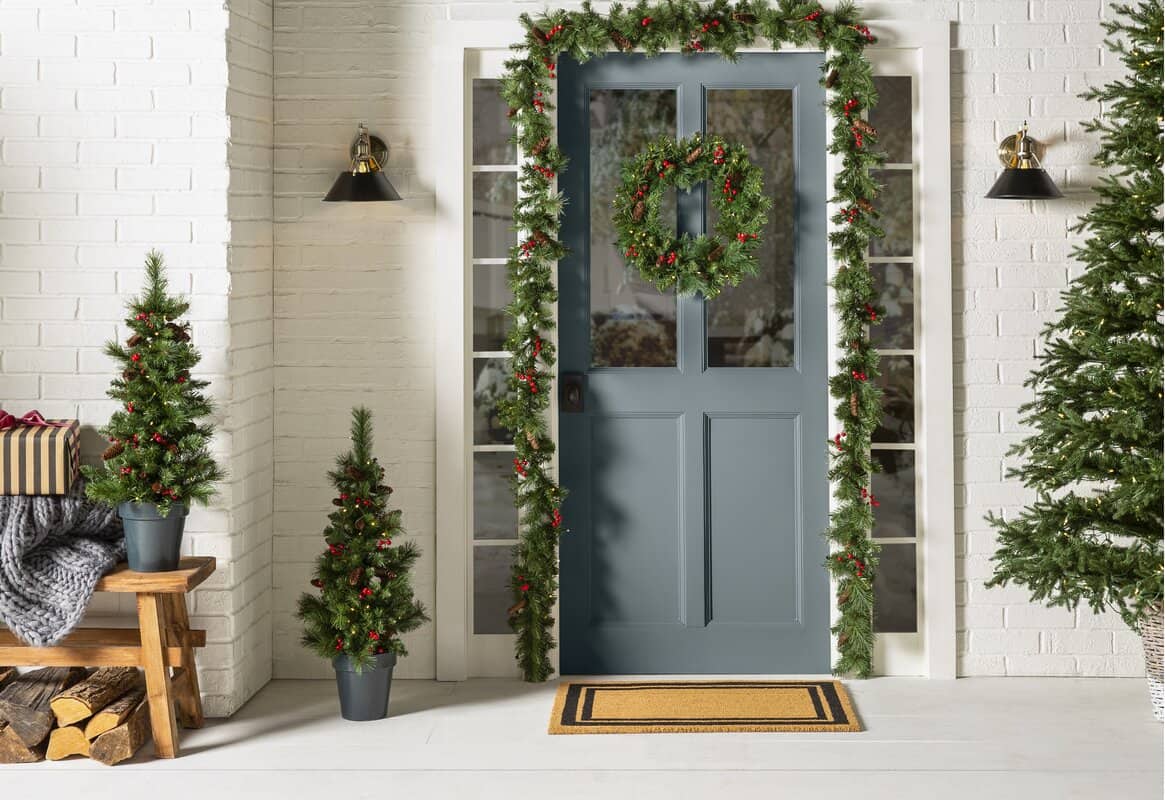 If you love an "organized" Christmas with matching looks, you can decorate the whole porch, from door frame to sides with a matching "set" of holiday decor pieces.
Grab some small potted evergreens – real or artificial – some matching greenery for a garland, a wreath, and some berries, flowers, lights, or ornaments to make a full set for the whole porch.
Make a Flocked Greenery and Ornament Garland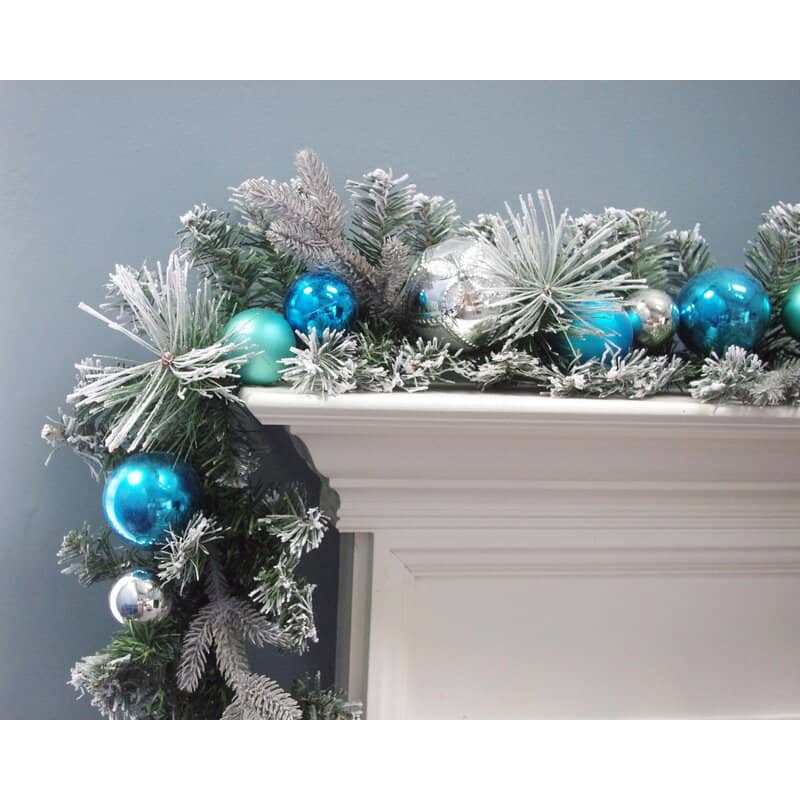 For a twist on some of the ideas above, you can combine the idea of a flocked greenery garland and a ornament wreath and turn them into a flocker greenery and ornament garland (or wreath).
You'll need loads of greenery in garland form, a frame if you want a wreath, some ornaments, ribbon, and, of course, some flocking material. Grab a glue gun and floral wire, and soon you'll have the most amazing and expensive looking garland in the neighborhood.
Lighted Pine Wreath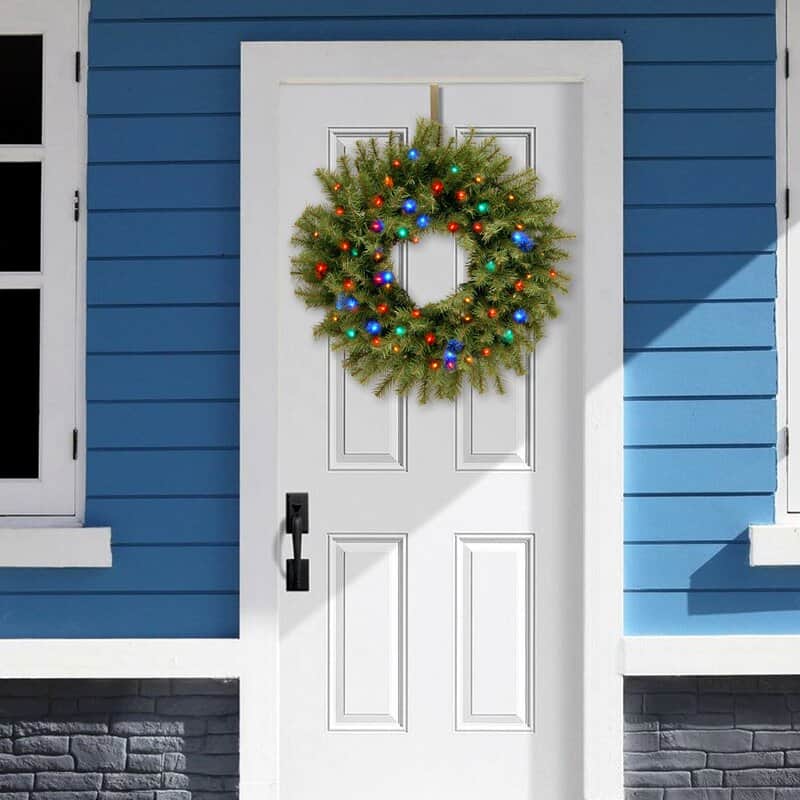 One of the best Christmas door decorations is a simple pine wreath lighted up with colorful Christmas lights. Ideally, use a string of battery-powered lights to make wires disappear.
You can make the wreath yourself or snag one from the local store and string up the lights yourself. Simple, elegant, beautiful. Well done.
Decorate with a Berry and Greenery Swag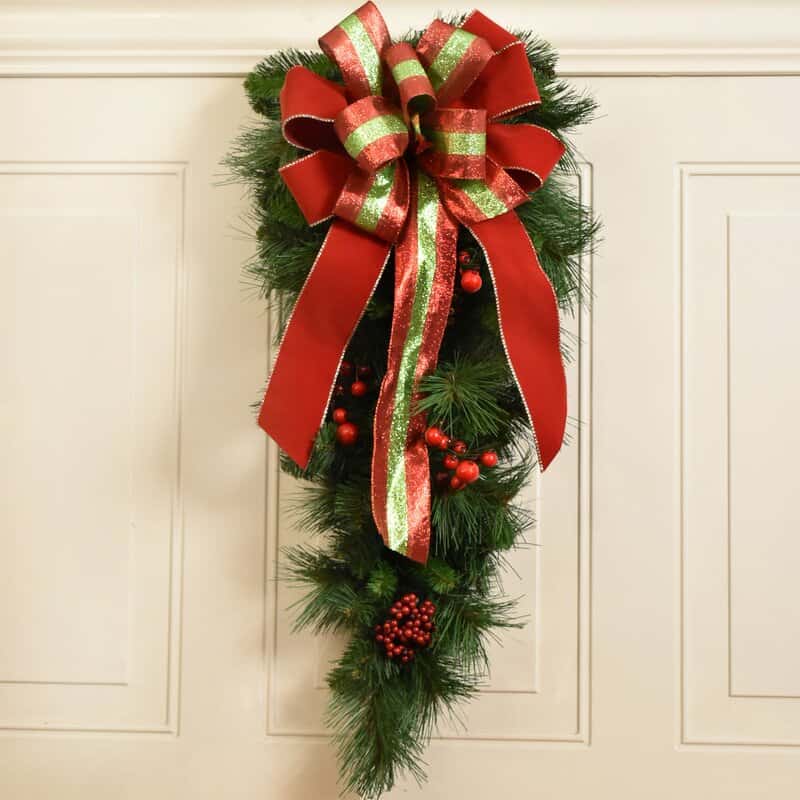 Another stunning but simple swag is the greenery and berry swag. You can whip one up in a matter of minutes with the right supplies on hand.
You'll need some pine garland or branched that can be trimmed to the right shape, some berries, and, of course, that stunning colorful ribbon in the shade(s) of your choice.
Post a Christmas Ornament "Merry Christmas" Sign
Tons of stores are now making wooden cutouts in Christmas shapes available. One of our favorites is the ornament cutout. You can paint up whatever message you want on it, but we love "Merry Christmas" for spreading good cheer.
Using some simple brushstrokes, you can create some snow covered pines. Next, add some burlap ribbon for that rustic touch, and maybe paint on some cardinals for a splash of extra color.
Initial A Simple Wood Cut Out Sign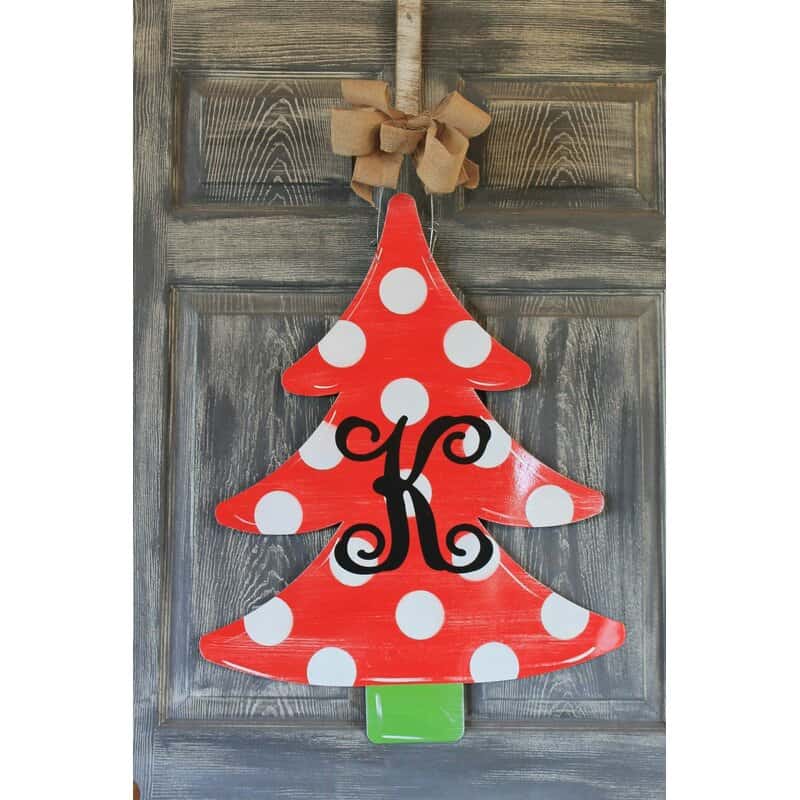 A super fun and simple craft your kids can make is a simple wooden cutout sign with the family's initial(s). Get the fun cutout of choice – trees, wreaths, pinecones, ornaments, reindeer or anything else! – and a few colors. Add a base layer, some spots, and then that family letter.
Easy, beautiful, fun, and makes for a great evening craft.
Craft a Cute Christmas Truck Grapevine Wreath
Another unique Christmas door decoration is this cute little square grapevine wreath. You can add some fun ornamentation like the Christmas tree truck, the mini swag, or any other fun designs you enjoy.
Alternative ideas could include creating special themes for the wreath. If you love bears, find a bear cutout to paint. Or if you love birds, add some bird ornaments. Love cows? They make those ornaments, too! Make this one completely your own!
Put Up Some Christmas Gift Tag Signs
A super cute idea for a door hanger is a set of "gift tags" like this pair. You can paint whatever message on them that you like. "All are Welcome." "Merry Christmas to us All!"
You can quote your favorite Christmas movie, write a message of love to a family member who can't join you this year (then photograph and send!), or anything else you want to welcome in good cheer all season long.
Go Unique With a Colorful Pom-Pom Wreath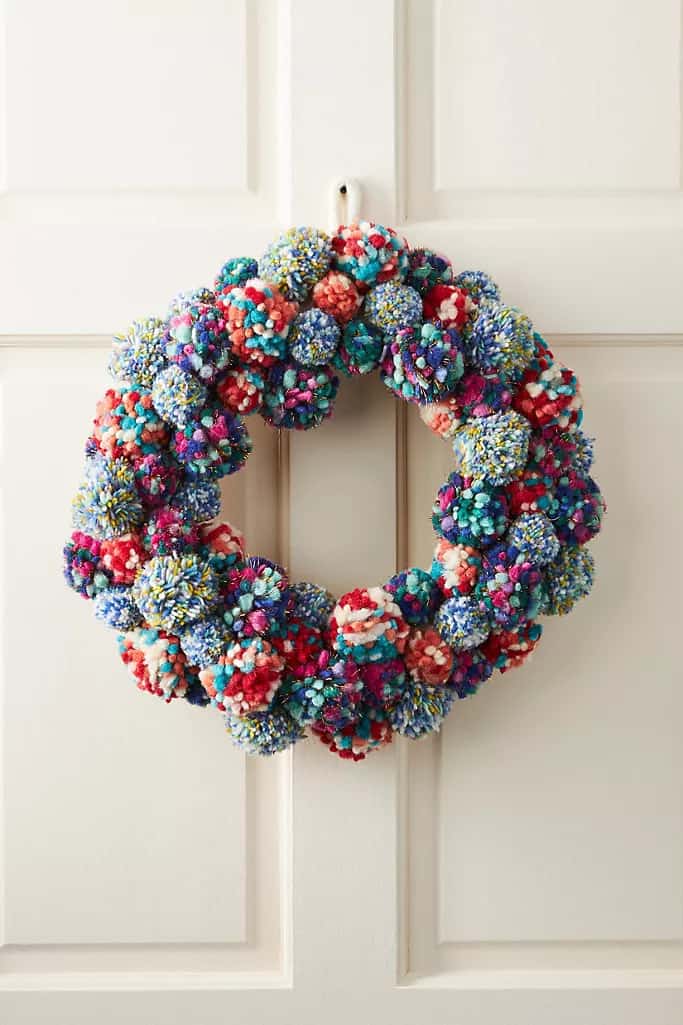 Remember when you used to make all those pom-pom crafts as a kid? Well, if you love something unique and colorful, you can have major fun with a pom-pom wreath like this one.
The best part is, you can carry on that Christmas craft tradition with your own kids as you create the pom-poms made of pom-poms that work together to create this colorful, fun wreath your family won't soon forget.
Simple Pine Cone Swag or Doorknob Hanger
You might also remember making pinecone crafts as a kid. Well, these natural craft supplies aren't just for kids' crafts! You can make yourself a lovely little doorknob hanger or door swag with a few simple supplies.
Go gather some pinecones (or grab some from Michael's), some ribbons, plastic ornaments or bells, and voila. Less than an hour later, this beautiful little piece will be ready to go outside.
Upcycle an Old Ice Skate Into a Gorgeous Door Swag
For those who love to upcycle, this is a super fun, unique way to go. Grab an old ice skate, boot, or other footwear piece associated with winter, and some greenery, wintry flowers, ribbons, or anything else you like and get to work.
This unique door swag will definitely leave an impression while not costing much money or time to create. You can find old ice skates easily at yard sales, thrift stores, or on sites like Offerup.
Make a Simple Doorknob Hanger from Fresh Herbs and Ribbon
Looking for something super simple? Grab some fresh herbs or greenery and a little bit of string and a decorative ribbon.
You'll simple bundle the greens into a pleasing shape, tie them together with some string, and top it off with ribbon for a pop of Christmasy color. Voila. A lovely smelling decoration!
Make a Fragrant Herb and Citrus Wreath
Have you ever smelled a cinnamon stick or anise star? The scene is that of Christmas itself! With this wreath idea, you can welcome your guests into the season of Christmas with not just their eyes but their noses!
Combining fresh herbs, spices, and dried citrus creates a unique look of a warm, inviting holiday while hitting the nose delightfully with a wonderful sense of spiced drinks and comforting cookies. You can't lose with this one!
Go Simple with an Easy-On Door Mural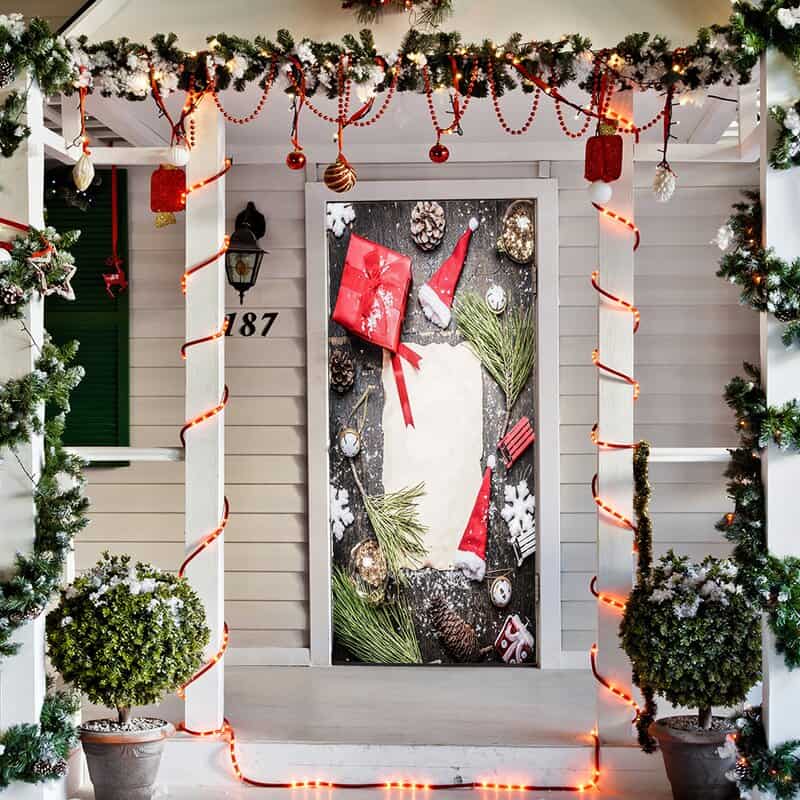 If you love the idea of murals but don't want to permanently paint your door – or don't have the skills to do it anyway! – you can grab an easy-on door mural. They come in a ton of different designs, color schemes, and sizes so you can find the right one for you.
Make Your Own Colorful Clothes Pin Wreath
Need a Christmas craft to keep the kids occupied after homework on a wintry night? Why not teach them how to make a clothespin wreath? It's always great when you can kill two birds with one stone.
This fun craft involves paint, glitter – if you're brave enough! – some hot glue, and a few basic supplies. After a couple nights of painting and gluing, you'll have a lovely wreath and happier kids.
Have a Merry Christmas!
This collection of fun, beautiful, and unique Christmas door decoration ideas are perfect for any home. Whatever size door you've got, whatever style you prefer, one of these simple to elaborate options is bound to fit just right.
You can, of course, combine any of the ideas to create a perfectly unique-to-you look for your family home. Welcome signs combined with wreaths and an over-door garland, or mini Christmas trees and lighted gifts. Whatever you choose, you'll welcome your family home to Christmas every day.