24 Creative Backyard Makeover Ideas
It's that time of year again – the season of deciding what we're going to do to improve our homes, our lives, our backyards for the healthiest, happiest year yet. Especially after a hard year like 2020, this is more important than ever.
And one of the best things we can do to improve our space is by creating a wonderful, comfortable, and inviting backyard. There are amazing things you can do for a backyard transformations on a budget. Whatever you budget.
Create a Clear Garden Path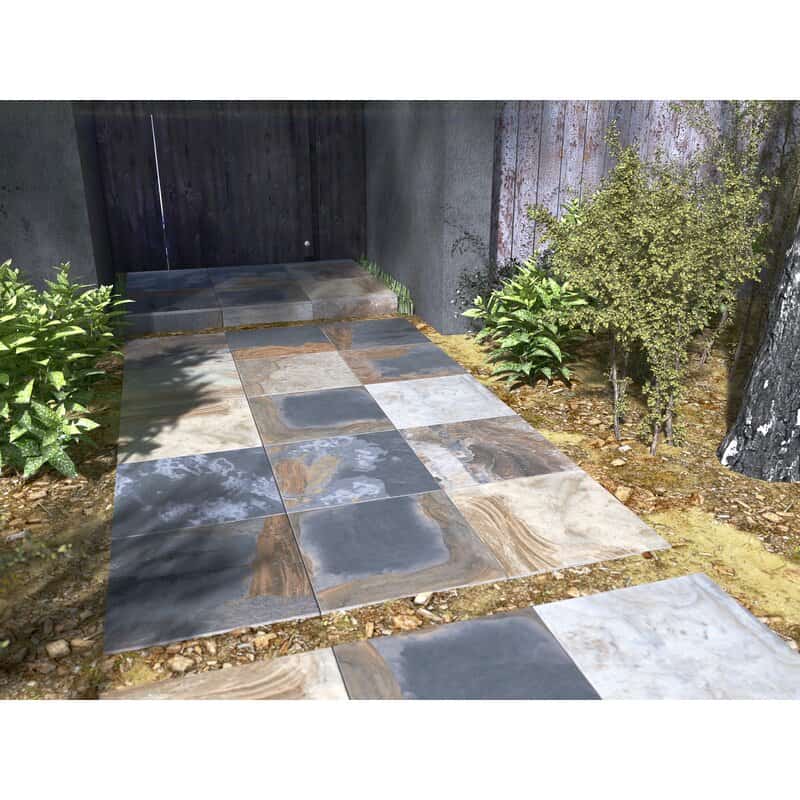 No matter what kind of backyard you have and no matter the size, a beautiful, stepping stone path is a stunning, moderately simple way to upgrade the looks of your backyard. It's one of the easiest and most popular backyard ideas on a budget when you're looking for something simple and attractive for that first step in your backyard upgrade.
Designate Areas For Entertainment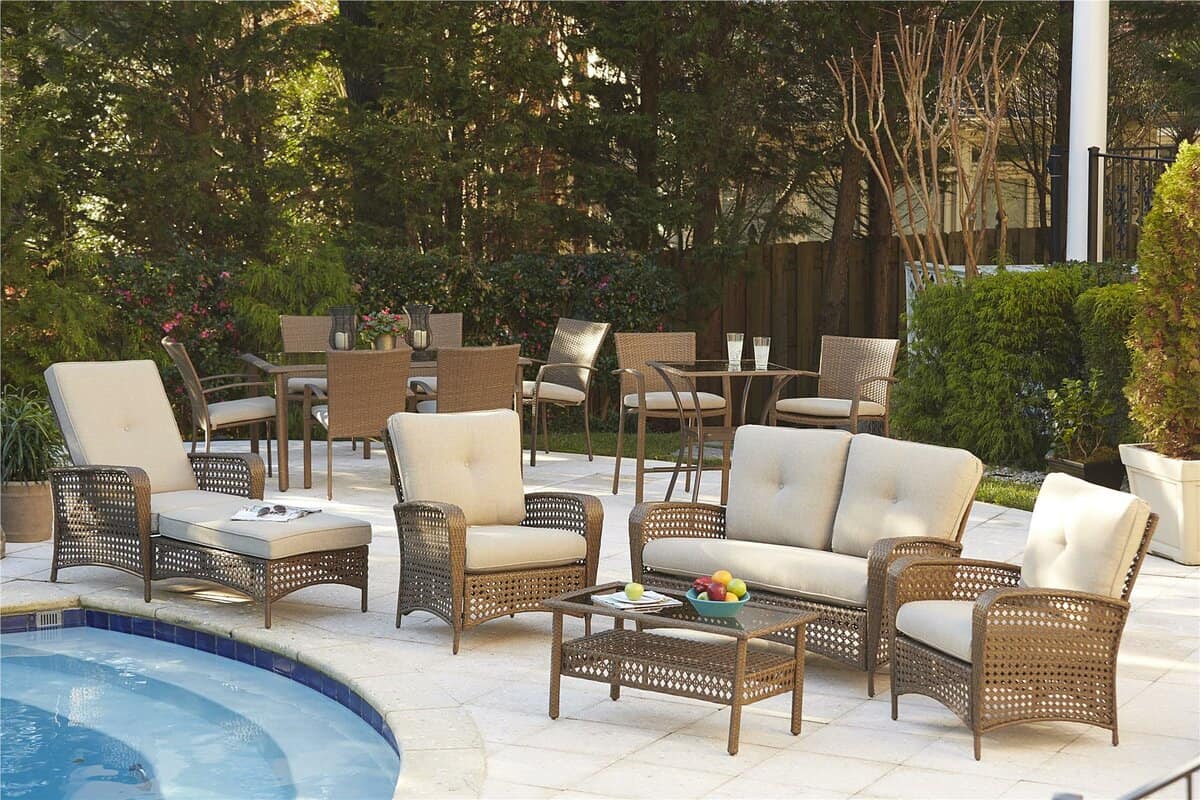 If you have a big enough space that you can enjoy more than one activity at a time, then you'll want to consider intentional space design. This fantastic little "how to" from The Spruce is a handy guide for doing just that.
Create a dining space, a cozy/reading space, game zone, or just about anything. The guide helps you figure out how to use the space most efficiently and creatively.
Build a Backyard Game Zone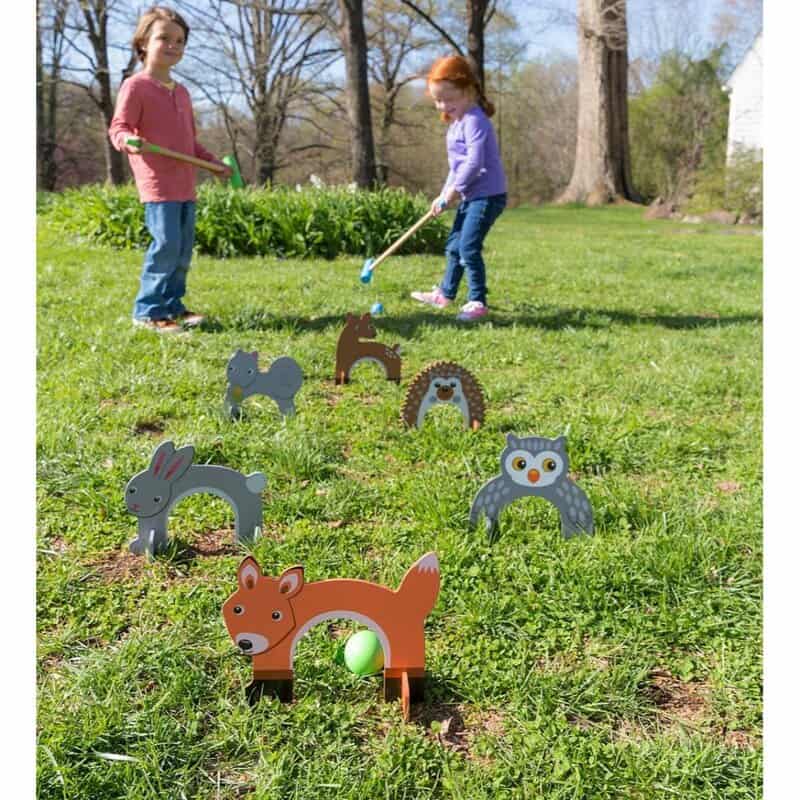 Whether you've got kids or not, a backyard game zone is an amazing option for a backyard makeover. You can create the zone as a permanent location for specific games or keep the space open for general game play with moveable games.
From basketball to cornhole and everything in between, there's a ton of different options for whatever your interests are. Country Living offers a bunch of different ideas for great outdoor games you might want to consider installing.
Turn That Patch of Grass Into a Patio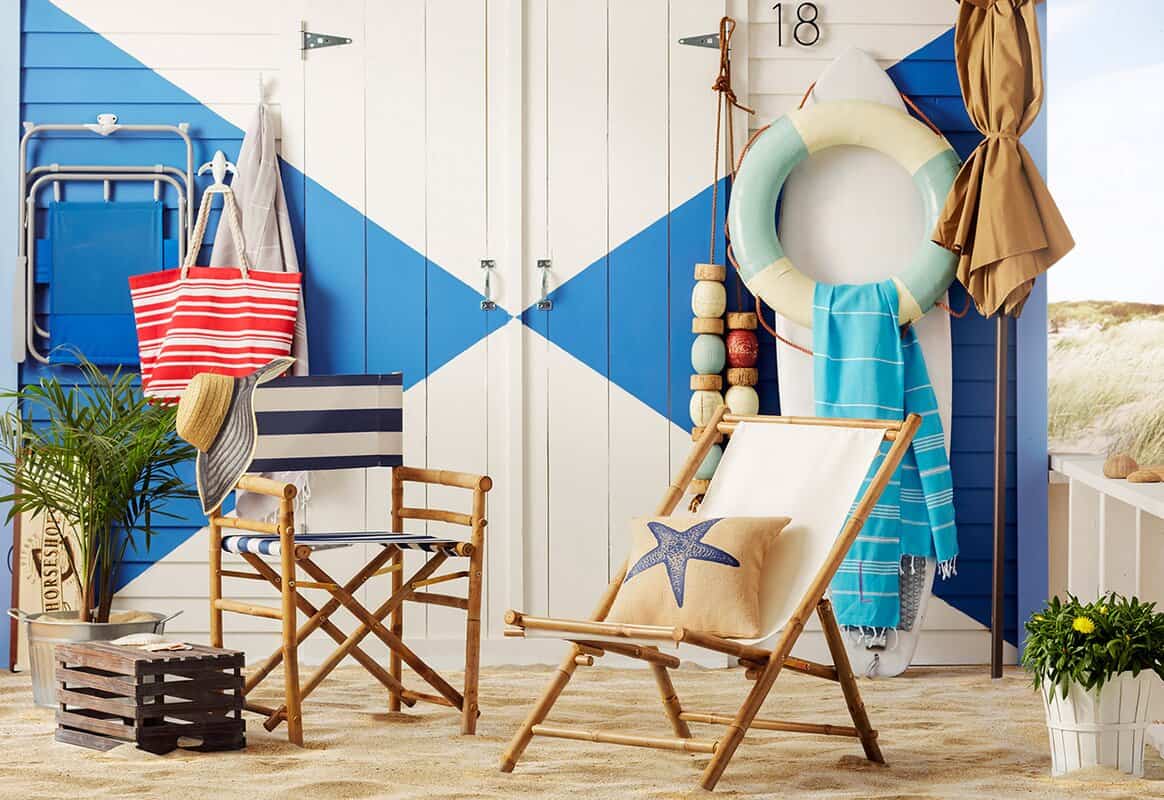 For a more extensive do it yourself backyard makeover project that just about anyone can do, consider installing a patio. There are tons of different types of patios you can build, using different materials and requiring different skill levels.
One of the easiest patio types you can install is patio pavers with gaps. Or, if you have time and energy to invest in, you can get more "professional" by doing a fitted patio with bricks, pavers, or tiles.
Or, if you're game for a multi-day project, you can install a poured concrete patio.
Build A Deck
For an even more extensive DIY backyard makeover, you can go all out with building your own deck. These beautiful wooden structures add definition to your yard, provide specific spaces for dining or relaxing, and can be made to fit just about any yard shape.
If you find the right blueprints, a patio is the perfect sloped backyard makeover, especially if your yard is mostly hill. It can level out your space for more practical use for the whole family.
Add Some Trellises
One of our favorite cheap backyard makeovers is the simple trellis. Whether you want to build your own or purchase some prefab trellis from the local garden shop, these small structures add so many layers of beauty and interest to your backyard space.
You can create arches, walls, or backdrops simply and easily with some lattice and posts. Grow vines, keep them clean, or add outdoor decor for the most interesting, inexpensive backyard touches.
Focus On the Flowers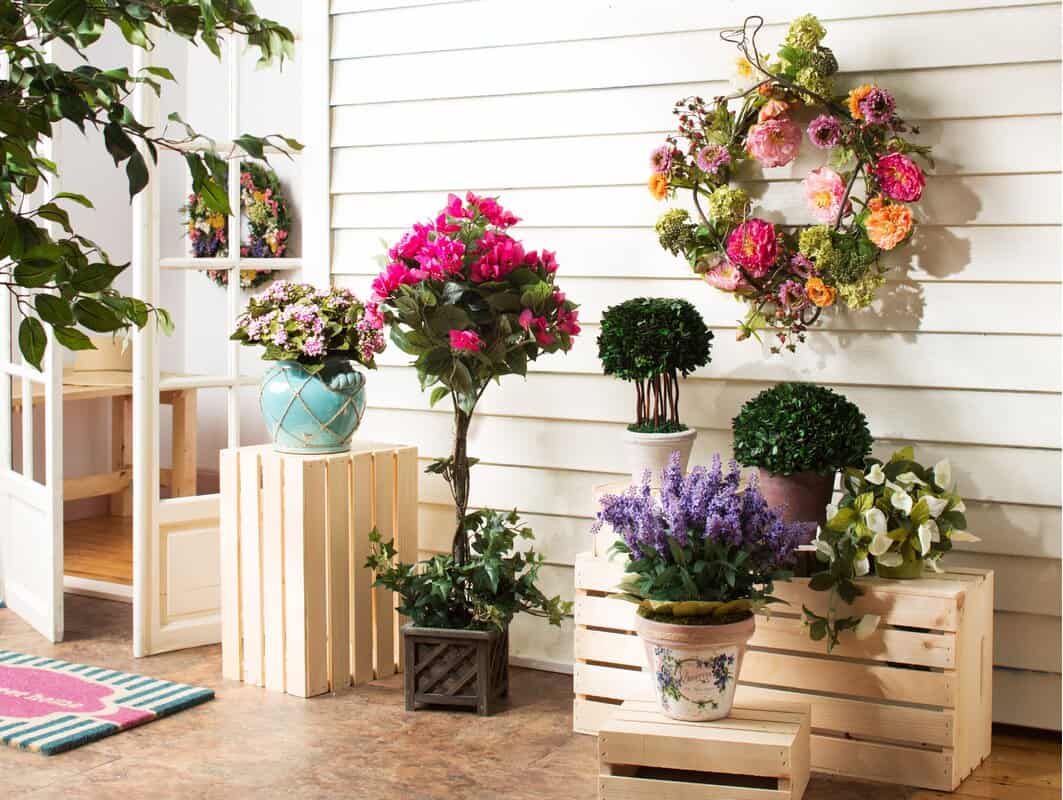 Of course, another simple, beautiful, easy way to upgrade the look of any backyard is focusing on the flowers. Whether you want to plant everything, lay out unique pots, or even cover your walls and patio with flowers, this is seriously one of the easiest and most beautiful ways to upgrade the backyard in a flash.
Just be sure to study up on the plants before you purchase. Make sure you know what kind of soil they do well with, when they should be planted, and whether or not they should be shaded, partially shaded, or planted in direct sunlight.
Create a Cozy Living Space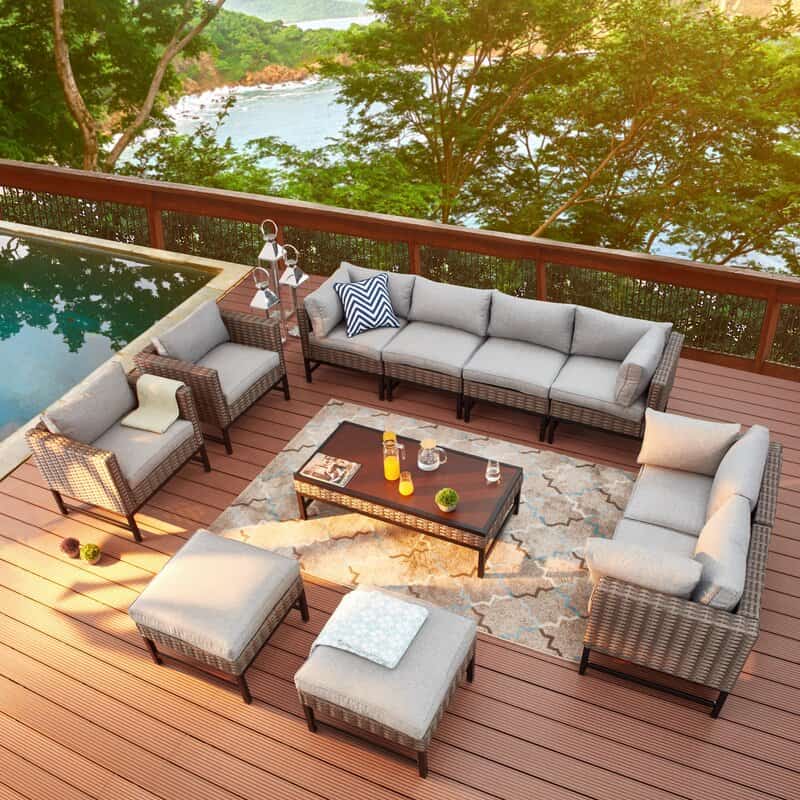 One of the most comforting and relaxing ways you can makeover your backyard space is through creating a cozy outdoor living room. You probably can't use them between late November and mid-March, but the rest of the year, these outdoor living rooms add a touch of class while inviting you and your family to spend more time outdoors, getting fresh air.
Many companies design furniture specifically for use outdoors, so be sure to check out the sofas, chairs, tables, and other pieces that could be perfect for helping you design exactly what you're looking for.
You can also check out this simple plan from Gardenista for creating that space for more ideas.
Add Some Heat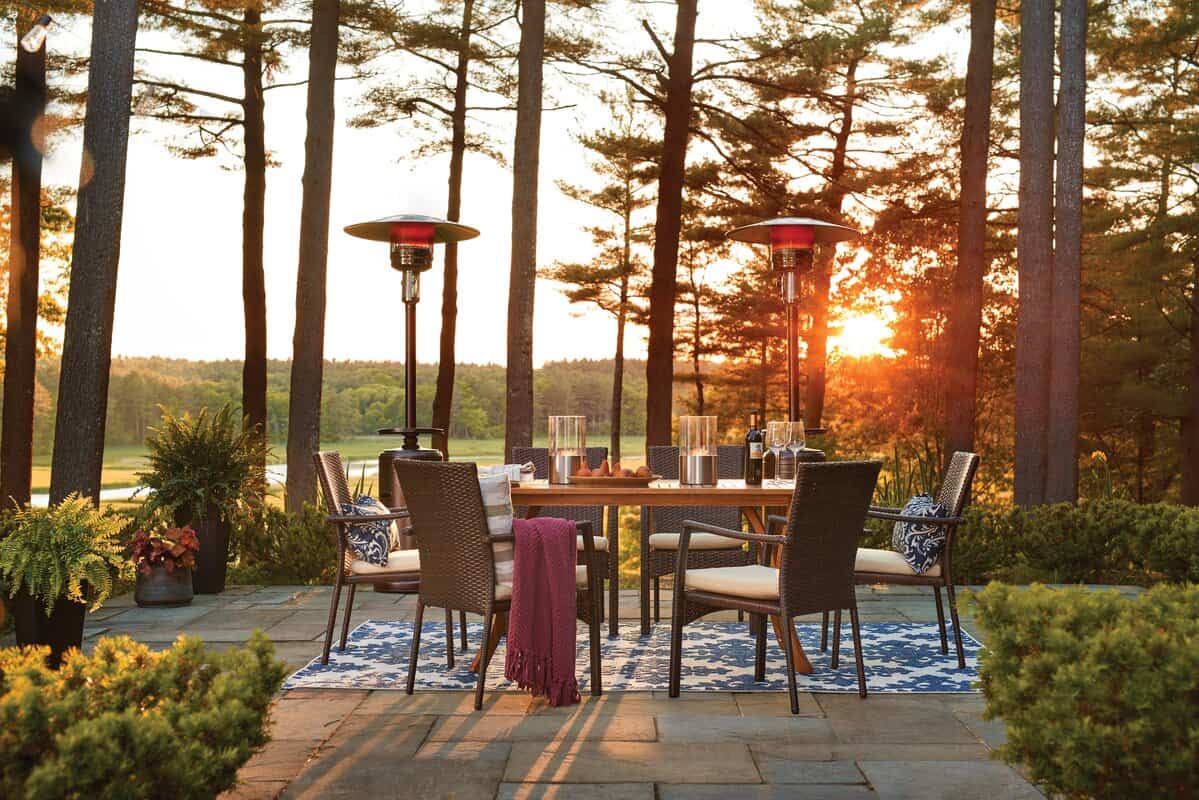 Of course, you might want to use that outdoor living room in cooler climates, too, even when it's a little chillier out. So, we recommend designing that space to accommodate patio heaters.
There's nothing quite so romantic and cozy as an autumn evening, with candles flickering, a good glass of wine, and a cozy blanket to snuggle up under beneath the stars. Adding that patio heater, though can make all the difference in the usability of that space after dark.
Create a Tropical Paradise
Whether you live in Illinois or Florida, you can have a tropical paradise right in your backyard. There are plants you can grow that give that tropical feel while not necessarily having super warm weather all the time. You can see hibiscus flowers all over the city of Chicago, for example.
Look into which plants and flowers grow in cooler climates, then plant them in large pots so you can move them indoors in wintertime. They won't mind a nook in the mud room for a couple of months.
Then, add some tiki torches, some thatched decor, and rattan furniture. You'll feel like you're on vacation every time you step into the backyard.
Build An Outdoor Kitchen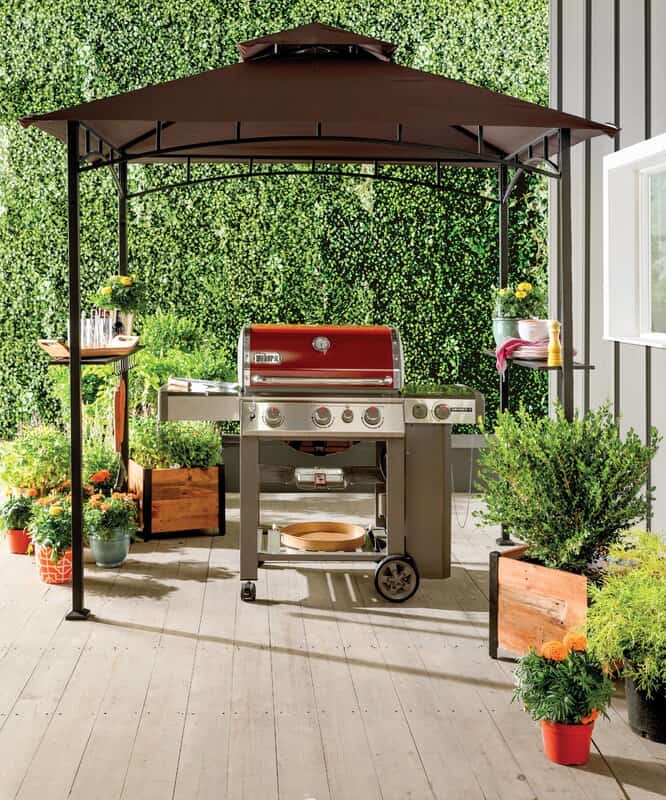 If you've got the budget and time, an outdoor kitchen could be exactly what you're looking for on that backyard makeover. And, depending on that budget, you can do anything from a grill and awning to a full on master DIY project, building in an oven, fridge, sink, and more.
Try scouring Pinterest, Home Depot, Lowes, Menards, and other DIY sites for amazing ideas, blueprints, and supplies. You'll be amazed at what you can install outdoors for your new outdoor kitchen.
Build In a Beautiful Privacy Fence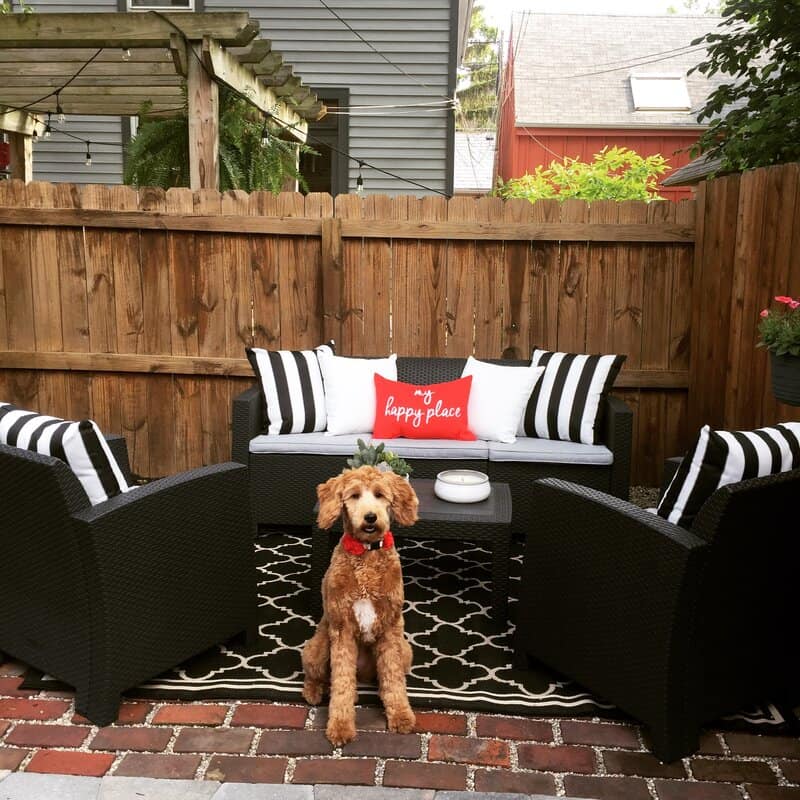 If you live close to your neighbors, your big backyard makeover might start with building in a beautiful privacy fence. And the fence doesn't have to be boring.You can order prefabricated panels, or build one from scratch.
You can upcycle some old pallets, create unique designs, paint a mural, or just about anything for this project. There are tons of interesting ideas out there for exactly how to do this.
Via Lowes
Add Some Swings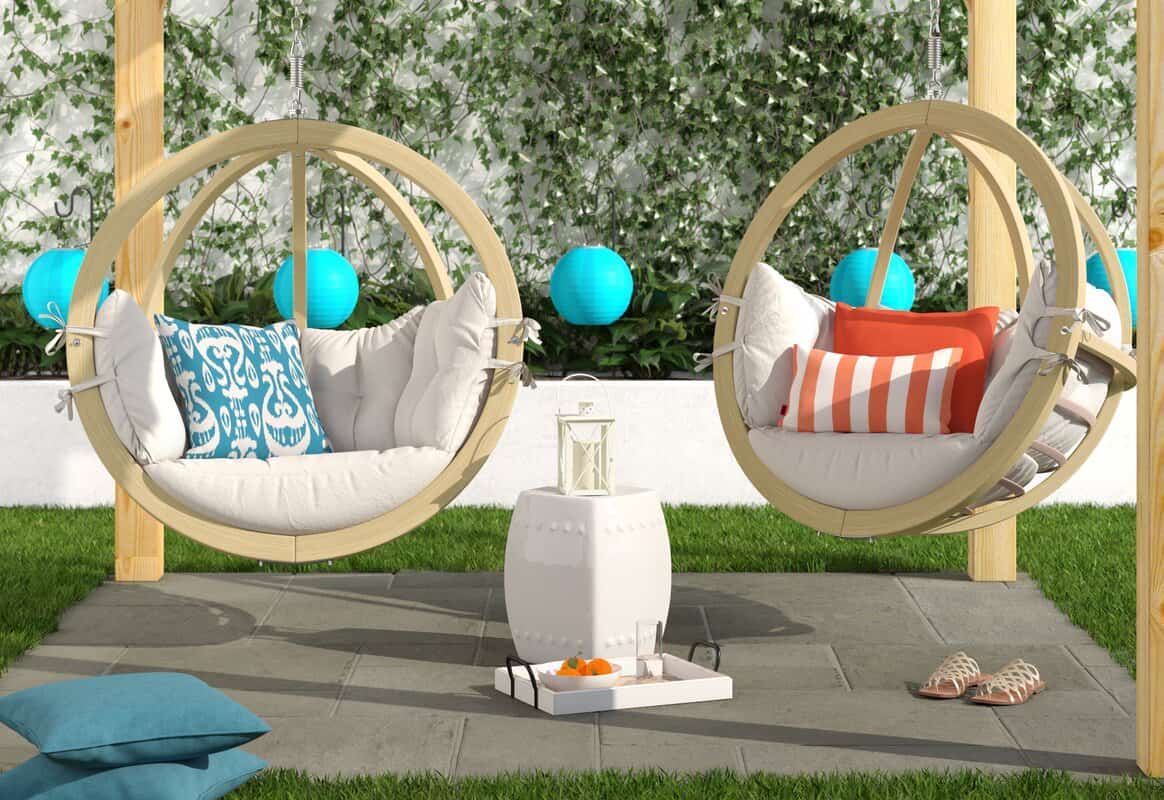 If you want fun small backyard makeovers, we recommend installing some swings. You can go with kid-friendly options like tire swings or old board swings, or, if you've got the budget for it, install a traditional porch swing, some basket swings, or even hammock swings.
Adding a few of these around the yard add comfortable seats that add a little activity into your "sitting time" while also adding some distinct charm.
Add a Hammock and Pergola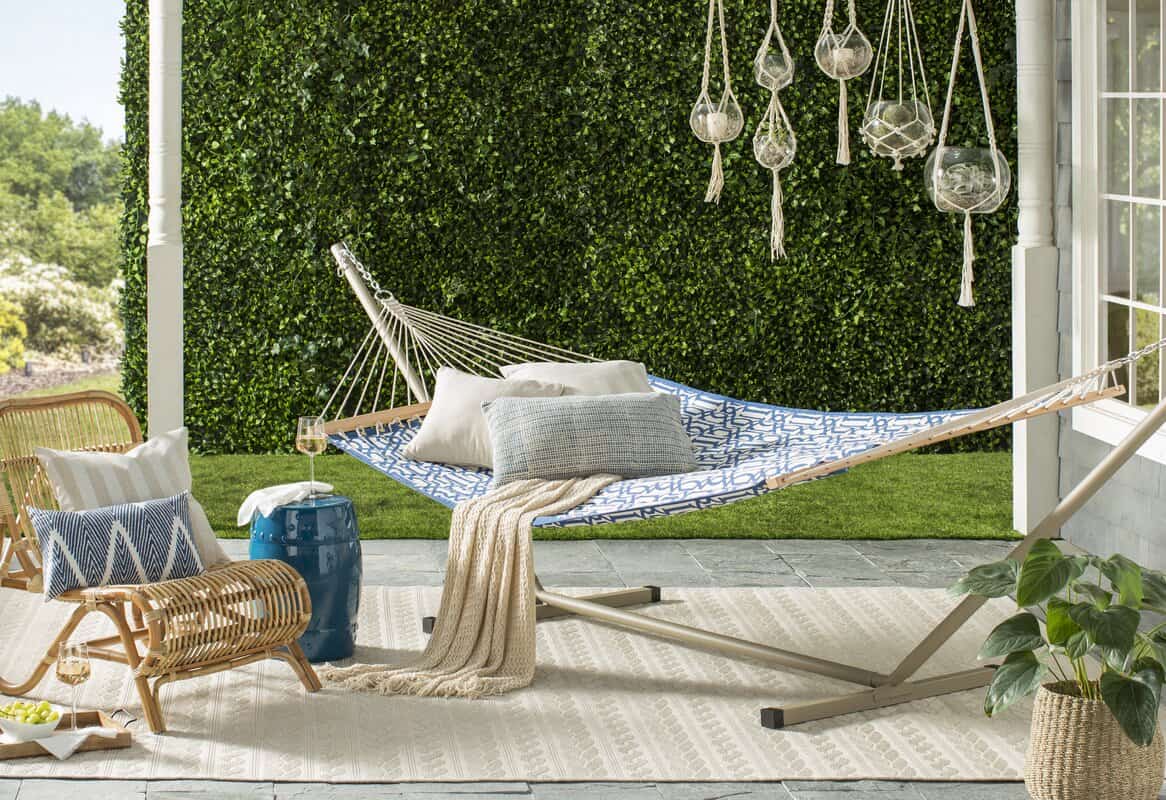 Or, if you think a full-size hammock is more your thing, find one of those at your local homegoods, hardware, or garden shop. You'll find a variety of styles and options, as well as different hammock stands and frames. Or, if you're really handy, you can build your own.
A nice pergola over your hammock would add another layer of comfort, a hint of shade, and buckets of charm. There are some pre-fab options for these, as well, or you can DIY it.
Play With Some Water Features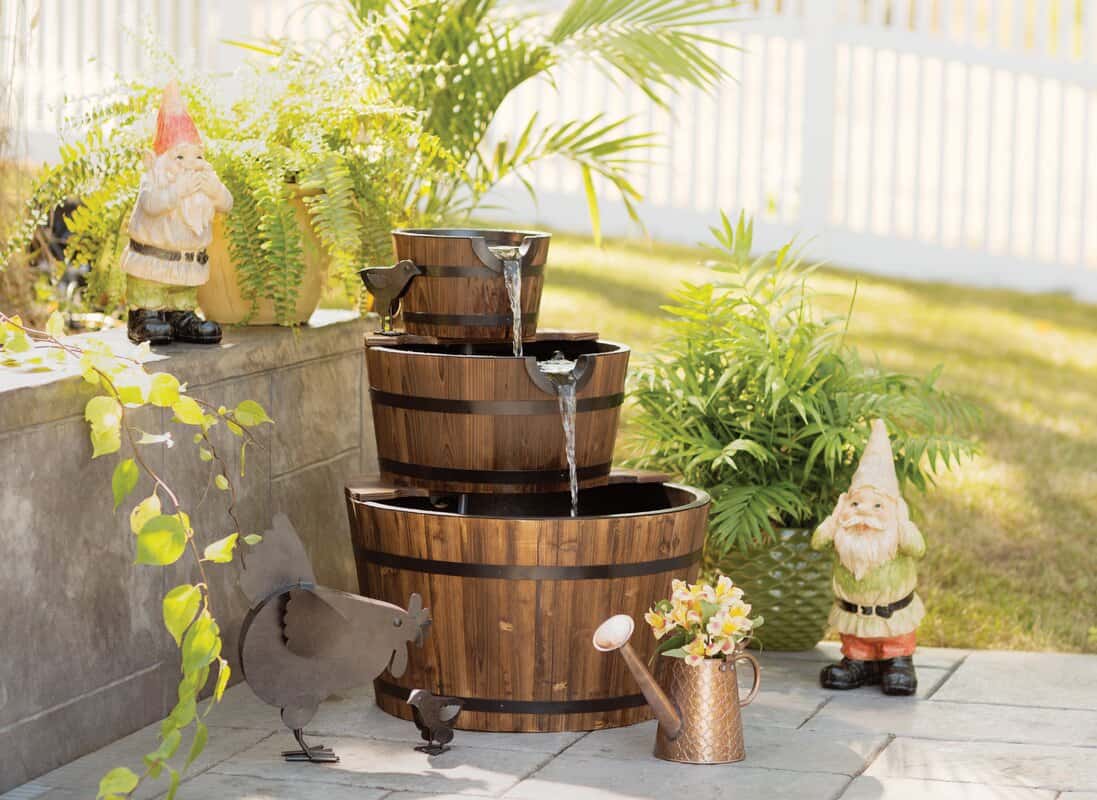 If your kids are old enough to be safe around them, you could add some fun water features to the backyard. You can build a stream, a pond, add some fountains, build in a small pool (or large pool, for that matter!), or anything else.
There are many designs, blueprints, plans, and ideas for exactly how to do any of these water features. Just determine your budget ahead of time, how much time and energy you're able to invest, and start searching Pinterest for ideas.
Place the Perfect Gazebo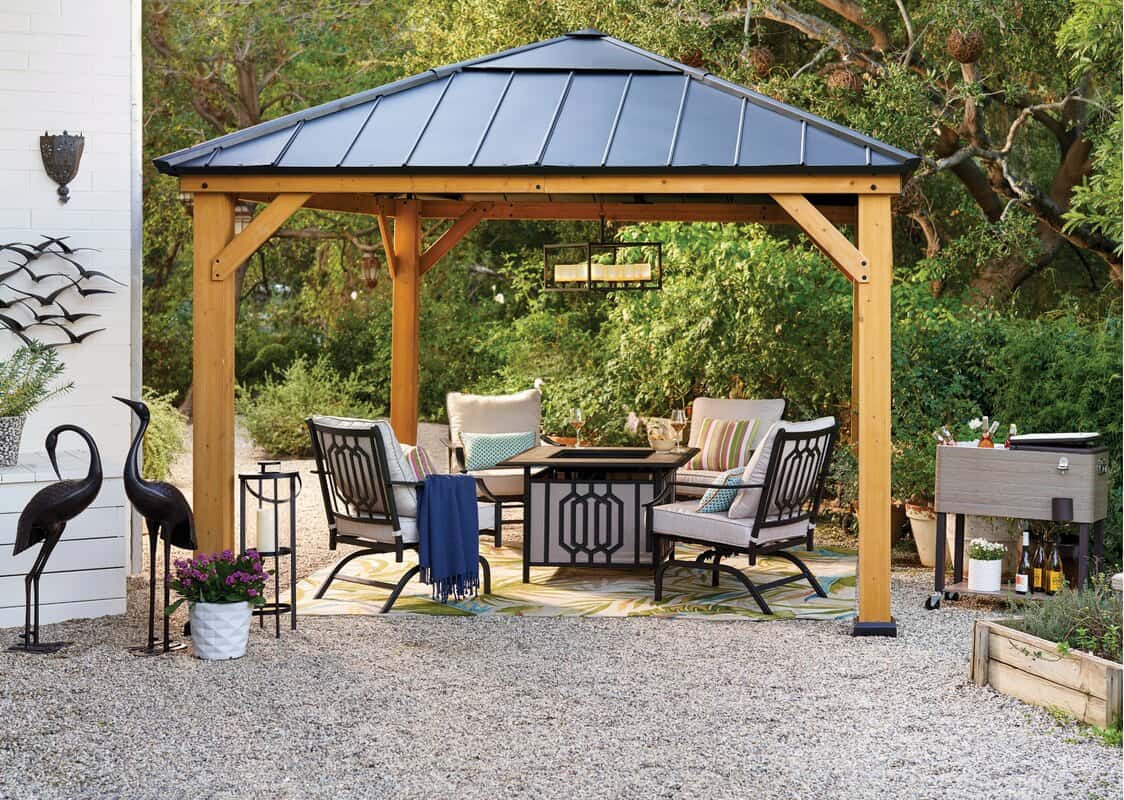 For those looking for a little shelter in their yards, a gazebo is a great option. They add some Victorian charm while providing shelter from the rain or snow. You can use gazebos year round, too, especially if you grab a firepit or patio heater.
You'll find many premade gazebo options at stores like Lowes and Wayfair, but if you're feeling the DIY bug kicking in, there are also thousands of DIY plans out there. Try Instructables or DIY Network for some great ideas.
Design a Zen Garden
While the world is in chaos, you might be looking for someplace to settle down and center, instead. So, maybe you'll want to consider building a Zen garden back there. You can add elements of many types to create the perfect zone for your peaceful contemplation.
A sand box for creating peaceful designs is a great element. Or building in benches surrounded by large rocks and Bonsai tree species can help you center. We also recommend making sure you design a space for meditation and yoga to help you melt off the stress and anxiety of the day.
Deck Out With Recycled and Upcycled Materials
For a super simple, inexpensive backyard makeover, you can snatch up some fun old elements from sites like Freecycle, Craigslist, or OfferUp. Find old colorful glass bottles and make a bottle tree or two. Get into glassworking to create other designs with the repurposed glass.
Claim old musical instruments and turn them into wall hanging planters. Or find some old pallets and turn them into outdoor plant stands. There are tons of ways to reuse, repurpose, and upcycle ordinary things into stunning new backyard decor.
Center On a Firepit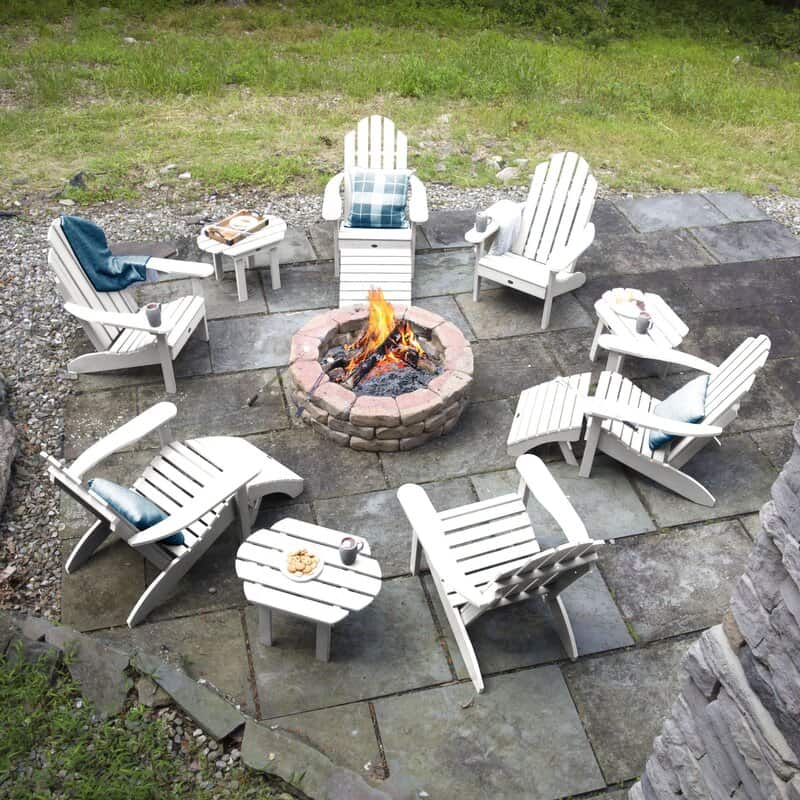 One of the coziest elements you can add to any backyard or patio – no matter how small or large – is a firepit. With the right chairs and maybe a table or two, a firepit can turn a drab patio into the most inviting space in the whole home.
You can purchase premade fire pits at places like Wayfair or Lowes, or you can make your own from stone, concrete, bricks, or other nonflammable materials. Family Handy Man has a great tutorial you can start with.
Build a Tree Bench
If you have an incredible tree in your yard, you can add a bench around it for some interesting looks as well as a comfortable place to chill. There are many styles you can opt from, from the round the tree simple bench to more elaborate lounging options.
Whatever you choose to do, though, you'll find this becomes a great place to read, relax, listen to music, or just sit and enjoy the quiet morning with a cup of Joe.
Construct Your Spa Day Paradise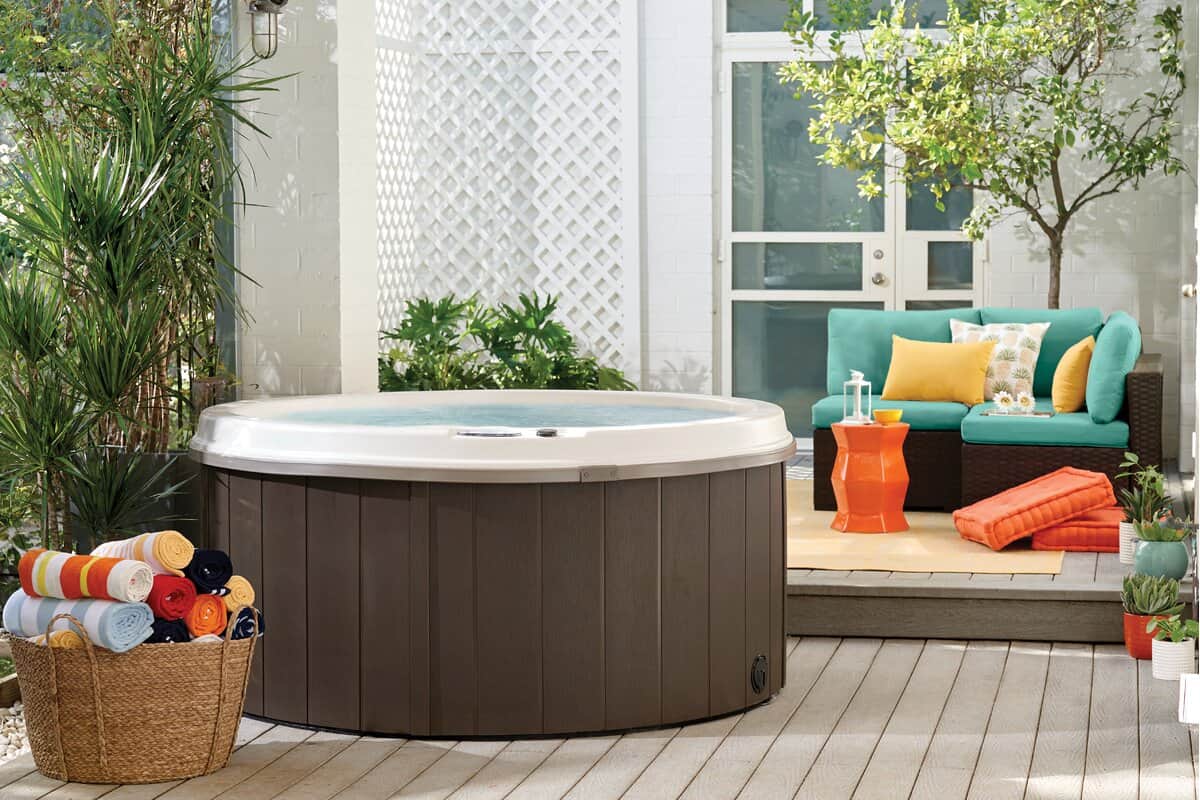 What could be more relaxing than a home spa? There are many elements you can add to make that home spa the absolute perfect spot for you, too – a true paradise at home.
Consider installing a hot tub or whirlpool to help melt away the stress from everyday life. Add some tables or shelves where you can easily reach a lovely beverage from the tub. Add in comforting colors and soft, weather-proof fabrics that evoke delight and peace.
And if you have the space and budget, consider adding in a sauna to your spa space as well. This way you've got that complete space ready for whatever you need.
Stock a Koi Pond
There's something so peaceful and enjoyable about watching fish. Studies have even shown that keeping fish at home can help ease mental health issues and deepen relaxation. Watching fish just swimming around, for whatever reason, is remarkably soothing.
So, why not stock your own koi pond in the backyard? The bright, colorful fish are a pleasure to watch, relatively easy to care for, and really add some unique visual interest to the atmosphere of the whole yard.
Layer Lights and Textures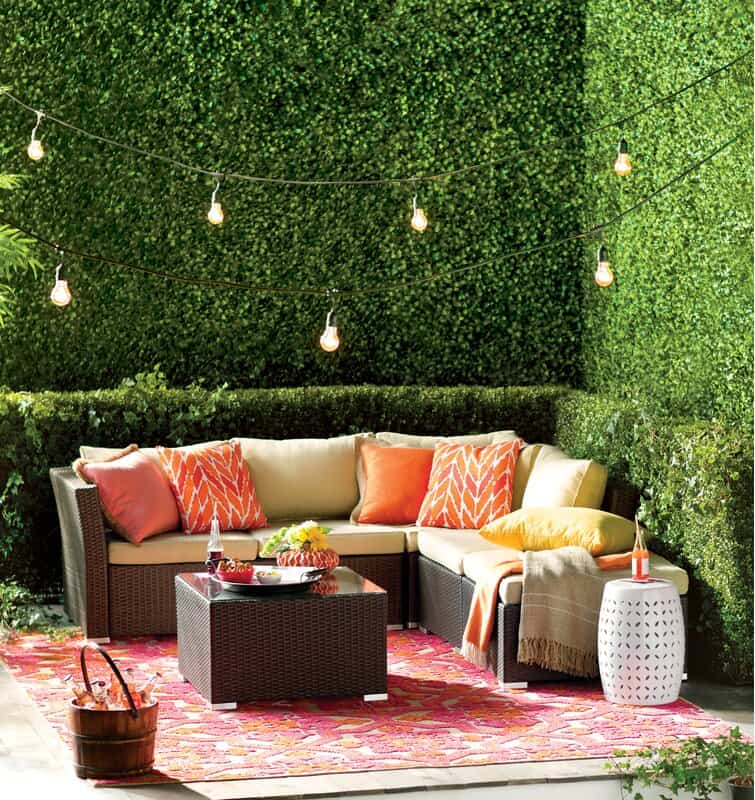 Whether you've got an unsightly privacy fence that's seen better years or just want some pleasant visuals or division to the yard, consider giving your backyard an upgrade through the simple addition of a few light strings and interesting textures. You can cover a wall in vines and toss up some lights.
Or you can lay some lattice work on that privacy fence and keep it clear of plants, but weave lights throughout the structure. Add some outdoor fabrics – in the forms of awnings or sails or even curtains – and try some other textures that bring pleasure to your heart. You'll be amazed at what a couple hours' work and a small budget can do when you think in layers instead of new equipment.
Make a Welcoming Backyard Theater
If you enjoy movies and love entertaining, creating your own outdoor theater is probably one of the best options of all for your outdoor remake. You can create a cozy watching area – even if it's planting thick grass for sitting near a projection wall – and welcome visitors with distinct offerings like homemade theater popcorn, pretzels with cheese sauce, or any other fan favorite treat.
Whatever You Envision Is Possible
No matter what you're envisioning for your soon-to-be-redone backyard is possible. You can add the simple touches now and upgrade more fully if the budget doesn't allow installing your sauna today. But whatever you do, create designs that allow for the further upgrades as your time and wallet opens up.