15 DIY Painted Wine Glass Ideas in 2022
For a relaxing evening on the veranda, you can just grab an ordinary, boring wine glass to sip from as the light sinks and night descends.
But if you're planning to have guests over for wine, host a dinner party or wedding shower, or generally just enjoy some fun, you might want to spice things up a bit.
Try painting some tumblers and stemware for your next party using any of these fun tutorials that anybody can do, pretty much, even the kids.
DIY Anthropologie Confetti Wine Glasses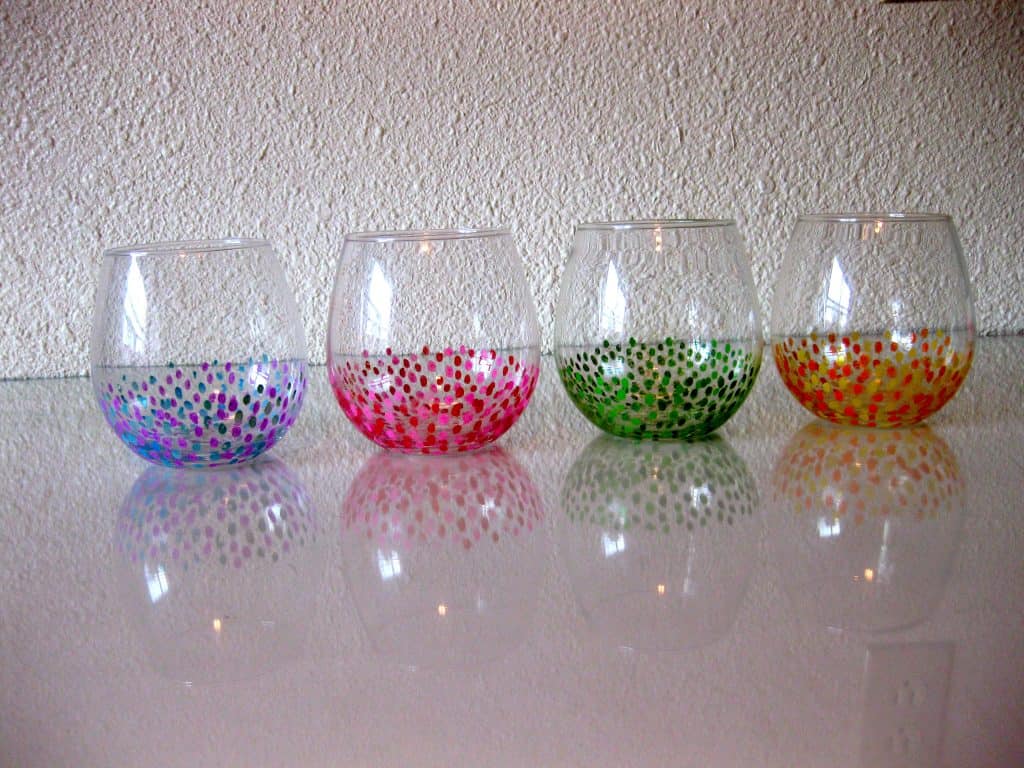 If you love name-brand designs, you'll love these DIY Anthropology knock-off confetti wine glasses from Housewife Problem. They're super easy to make, gorgeous, and fun, and they just add a pop of color wherever they sit.
These are perfect for a special celebration, like college graduation, birthday party, or promotion, but they also make for a great gift or just an everyday spark of color for your day. Just choose your favorite colors, grab some dollar store wine glasses, and get to painting.
Chalkboard Painted Wine Glasses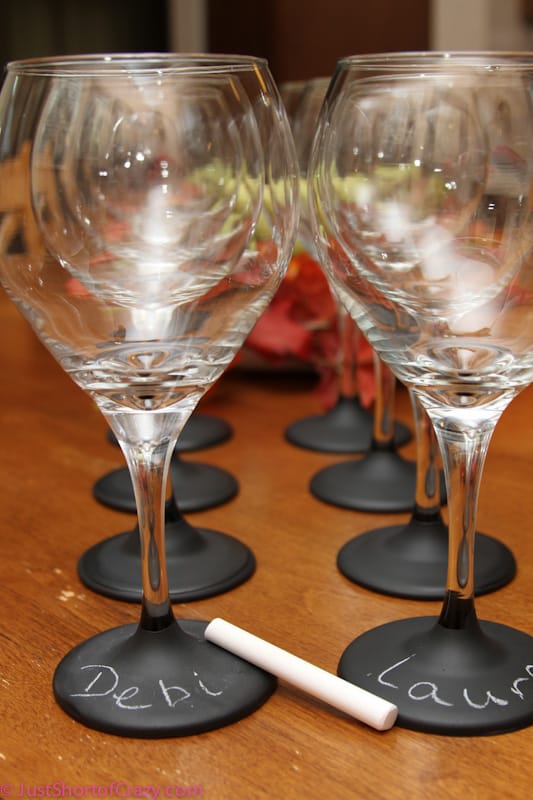 For those who enjoy hosting parties, you get this problem: everyone's glasses get mixed up. This chalkboard painted wine glass, though, provides the answer! Follow the simple instructions to make the simple, yet elegant, chalkboard painted wine glasses before your next party.
When the time comes, provide your guests with some chalk, and the mix-ups will stop. We love this idea in particular because it's more attractive and way less wasteful than the alternative: plastic cups.
Wispy Floral Glasses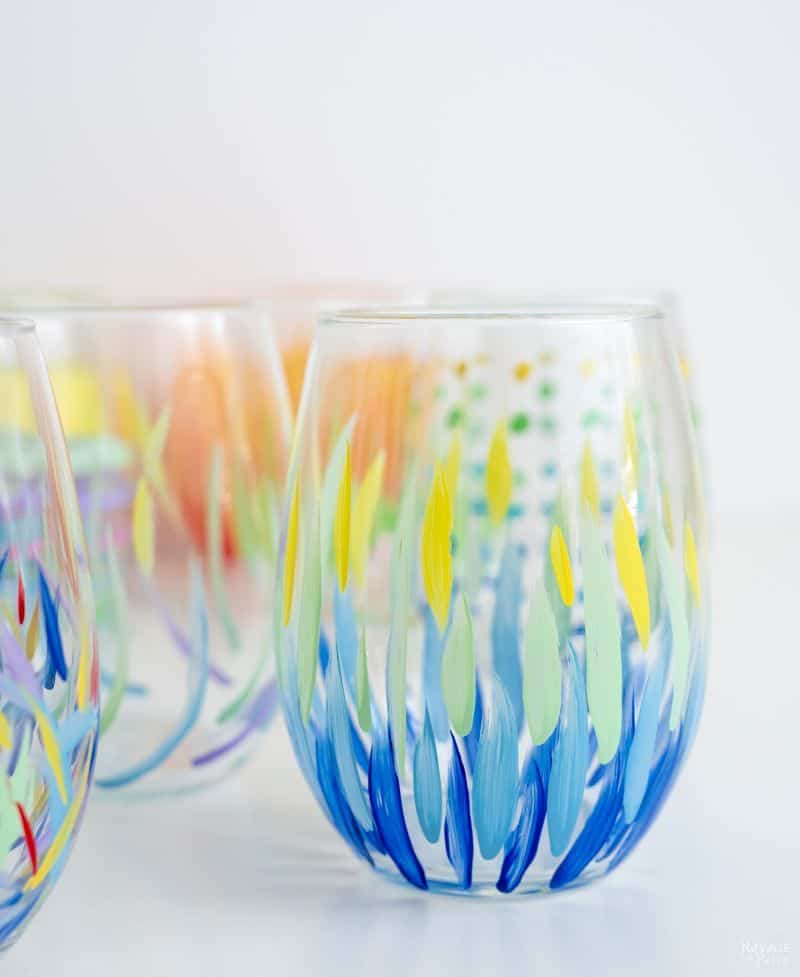 This is a great one for folks who love a pretty glass but don't necessarily have the most skilled painting hands. These simple wisps create beautiful floral designs – or explosions of fireworks for the New Year – without requiring a super detailed skill.
And, the tutorial is easy enough that you can do this as a party activity with the girls. Or if you need a quick, elegant, and fun gift for friends, you can whip up a bunch quickly and easily for just about $1.50 or so each.
Via The Navage Patch
Easy Painted Marble Glasses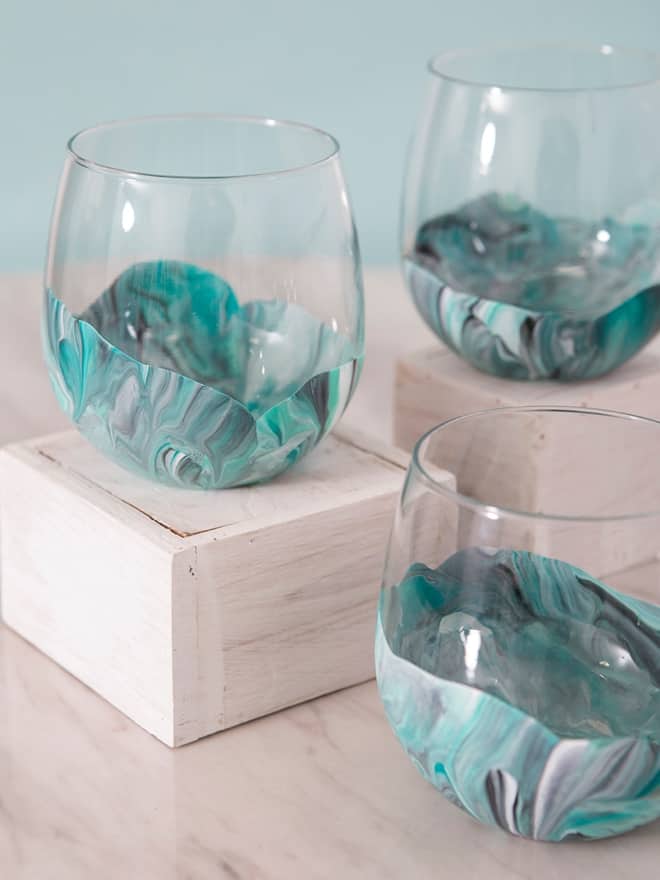 This elegant design is a stunning way to add some color and style to your next dinner party or major event – we're thinking weddings, bachelorettes, grown-up birthdays – without adding a lot of expense or giving a major time commitment.
You just need some wine glasses, craft paints, Martha Stewart Marbling Medium, rubbing alcohol, and other household supplies to create these stunning works of art for your wine.
The tutorial is super easy to follow and doesn't take long to make them.
Super Easy Glitter Stem Glasses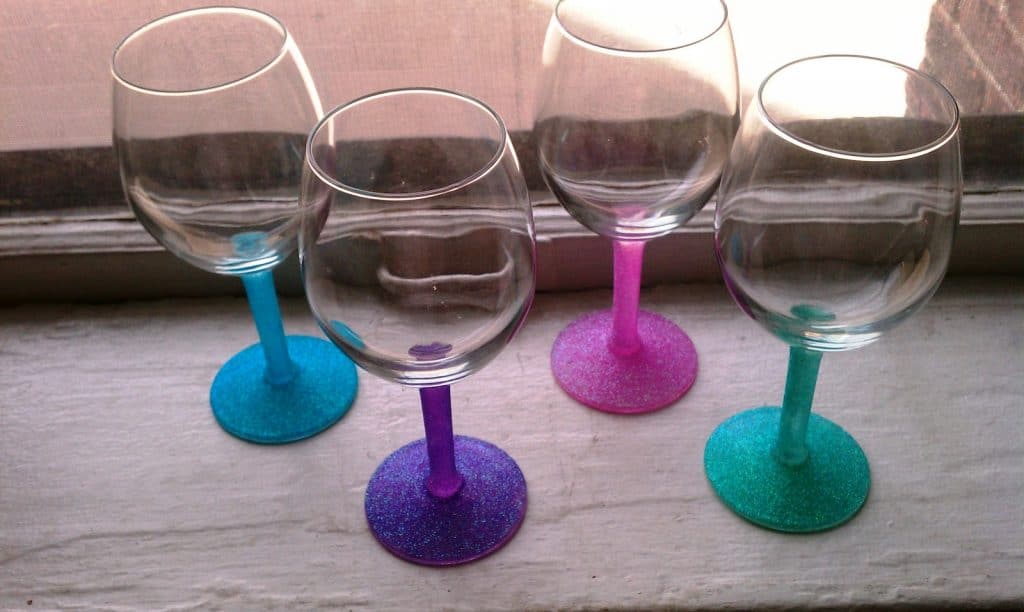 Need some glamour and glitz for that girls' night in? Then you may want to make a try of this easy glitter stemware tutorial. You'll wind up with wine glasses of any colors you like, all for a pretty inexpensive price and not a lot of work.
Go find some wine glasses with stems at your local dollar store – or better yet, at a thrift store or yard sale for some unusual shapes and designs – and get out that glitter, Mod Podge in glossy, and a fat paintbrush.
Via Cupcake Couture
Opaque Paint Stem Glasses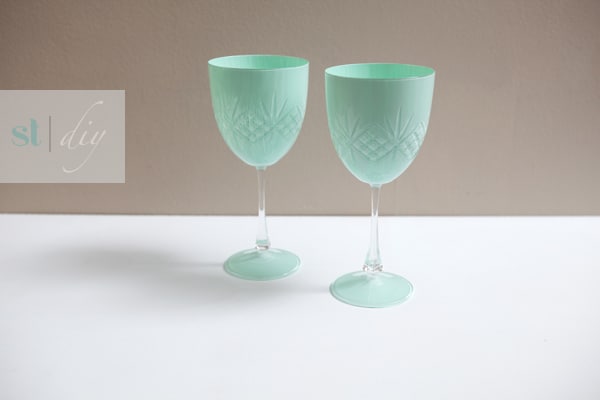 If you're not a wine drinker but still love the elegance of a beautiful wine glass – especially for things like holiday displays, candle holders, or unique planters – then you'll want to try this super simple, decorative only wine glass painting project.
You'll want to find a beautiful shade of Martha Stewart craft paint for this project, though, as the paints are specially designed for this sort of project. Then, follow the simple instructions. Soon, you'll have some of the most gorgeous and elegant displays around.
Peacock Feather Glasses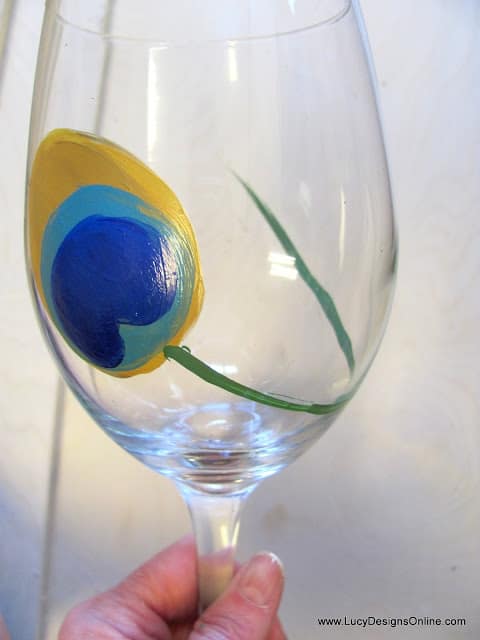 Peacock enthusiasts rejoice – this stunning project will give even the least talented painter the ability to create your own custom made peacock wine glasses for your next event.
You just need some smooth wine glasses – dollar store options are perfect – and some glass paint and brushes. Using the specific color palette they recommend – or creating your own to match your motif – you'll soon have some elegant, peacock-themed wine glasses your guests will envy.
Spray Painted Gold Wine Glasses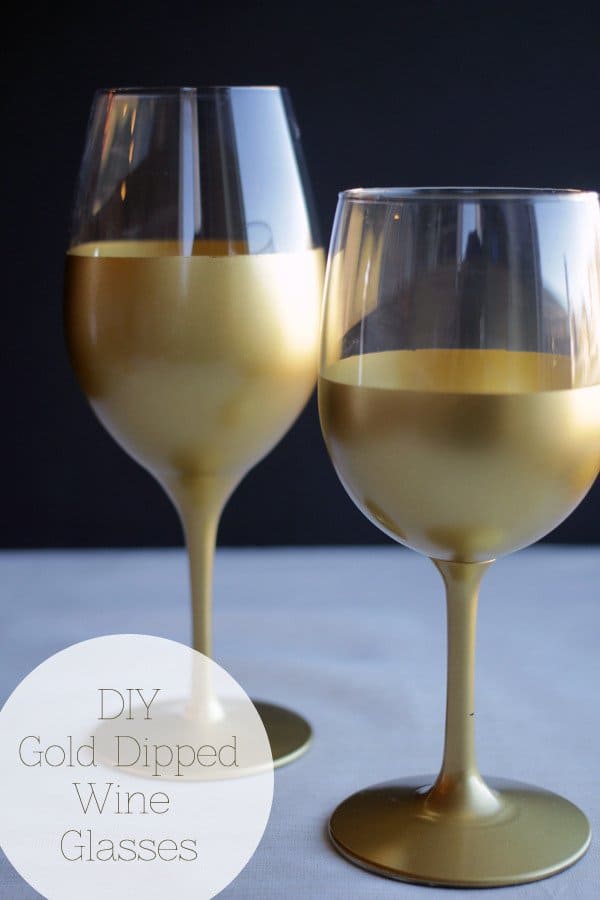 Looking for the perfect touch for your holiday party or rehearsal dinner? Then look no further than these super simple, elegant, and stunning spray-painted gold wine glasses.
You'll use painter's tape to create your lines. Then, with metallic spray paints and paint seal, you'll get those wine glasses "gold-dipped" in minutes. You'll be able to use the glasses within hours of painting, so even if you're looking here at 8 p.m. New Year's Eve, you'll still be golden.
Glitzy Personalized Wine Glasses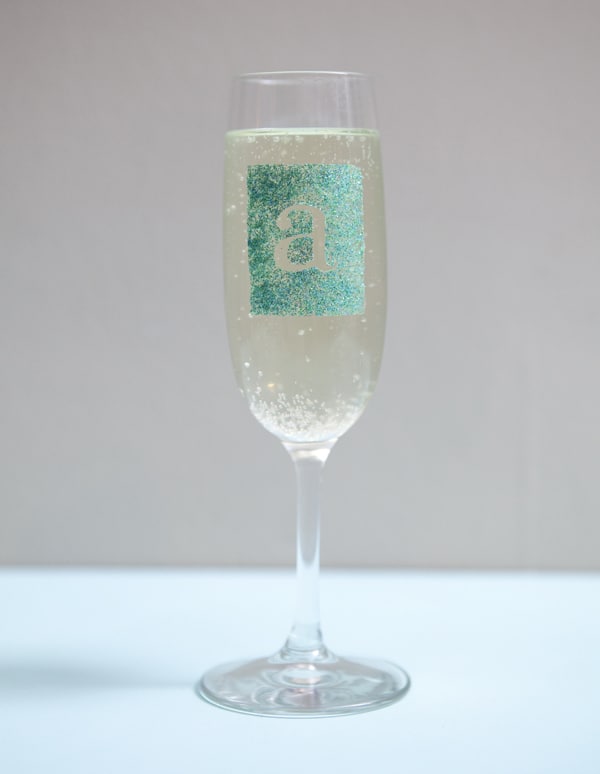 This one is perfect for girls' nights in, bachelorette parties, anniversaries, or any other occasion where you need a little glitz and glamour while adding some personalization.
Grab some glitter paints in your favorite colors from Michaels, snag some champagne flutes or wine glasses from the dollar store, choose your stencils or alphabet stickers, and within a few hours, you'll have some cured and dishwasher safe glittery, personalized wine glasses to share with your wedding party.
Sponged Paint Wine Glasses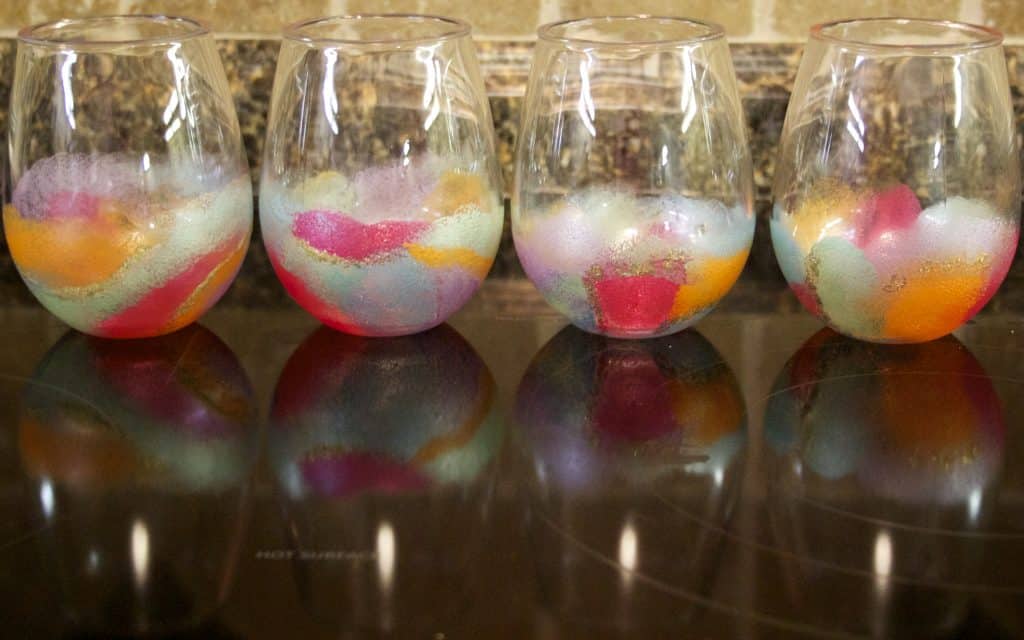 This is a super easy project for the crafty and the not-so-crafty alike. And it happens to turn out beautifully. So, win-win.
You'll want to grab either some acrylic or glass wine glasses – the tutorial is for acrylic stemless, but you can do it for any wine glass – and some acrylic or glass paint. You'll also want to grab some DecoColor opaque paint markers to get the full effect of the texture and colors from the instructions.
Valentine's Wine Glasses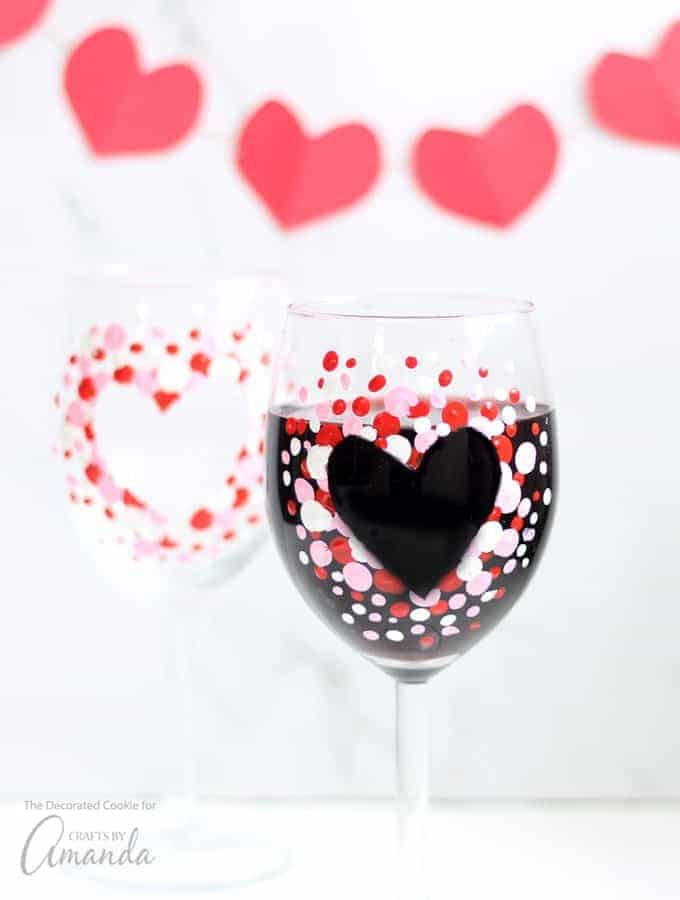 Ready for a romantic gift for two? This simple tutorial takes you through the process of creating these gorgeous heart-themed hand-painted wine glasses your special someone will adore.
Go traditional with the colors like those in the demos or get creative and use your Valentine's favorite colors, go rainbow, or, well, any other color scheme you love. They're also stunning in gold or silver for an anniversary, wedding, or even New Year's celebration of love.
Via Crafts By Amanda
Pour Paint Wine Glasses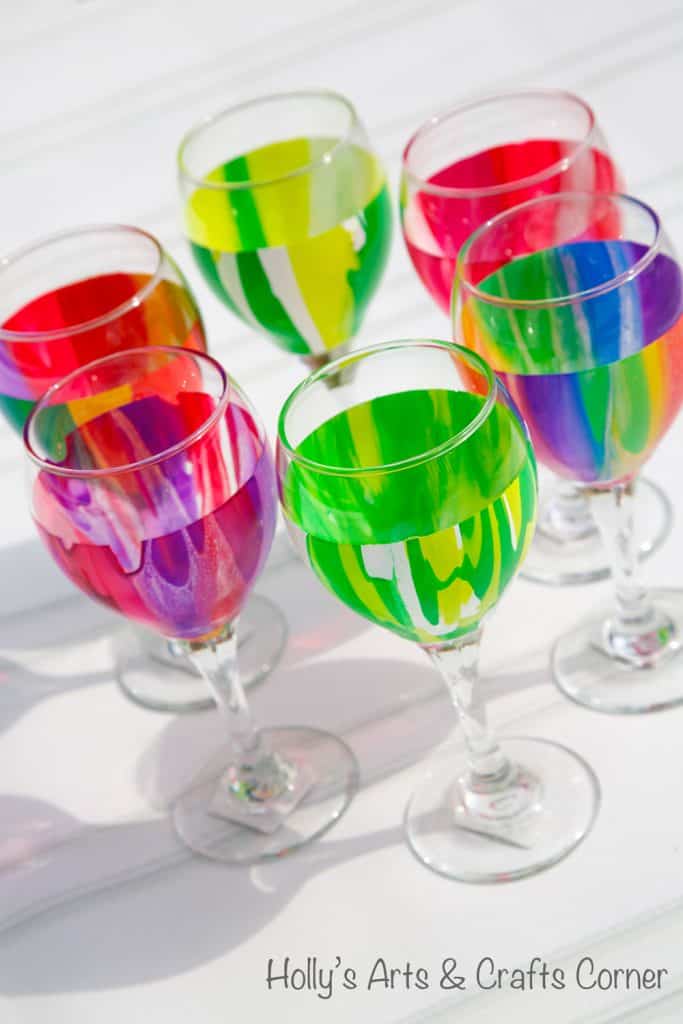 This one is a super fun project for anybody who loves colors and creating something that looks complicated, without the complication. The Pour Paint Wine Glass tutorial is well-detailed and does have several steps, but if you've got an afternoon, you won't regret the results.
These make a great family project, party activity, or just a fun afternoon with the girls. And since they're gorgeous, everybody will love taking their creation home with them at the end of the day.
Dip-Dyed Frosted Tumblers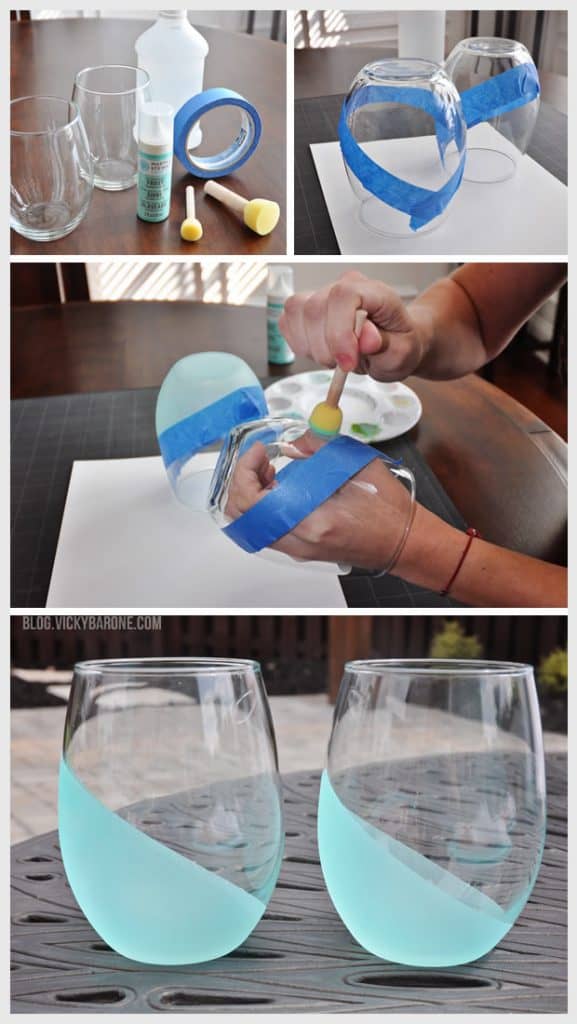 Looking for a unique take on the hand-painted tumbler? Then you'll definitely want to check out these dip-dyed Frosted tumblers. They're absolutely gorgeous but super easy to make.
You'll need glass tumblers, rubbing alcohol, painter's tape, a foam pounder, and some translucent frost glass paint – Martha Stewart brand is super popular for this. You'll just follow the seven simple steps and have those tumblers ready for your upcoming party or a relaxing evening by the fireplace.
Via Vicky Barone
Color-Block Frosted Tumblers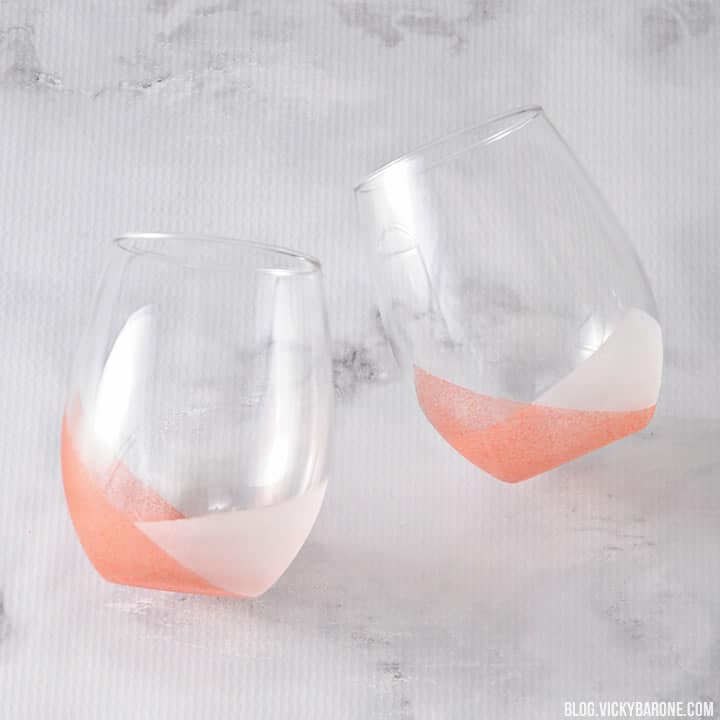 For a little bit of a twist on the frosted tumblers, try these color-block frosted tumblers. The tutorial uses the same basic principles as the single-color frosted tumblers above, but the extra twist just really adds something special for folks who love multi-colored projects.
Grab some glass tumblers, some frost glass paint, gloss glass paint, painter's tape, and foam pouncer, and you're all set for creating these beautiful two-toned tumblers.
Via Vicky Barone
Bottom of the Bowl Personalized Tumblers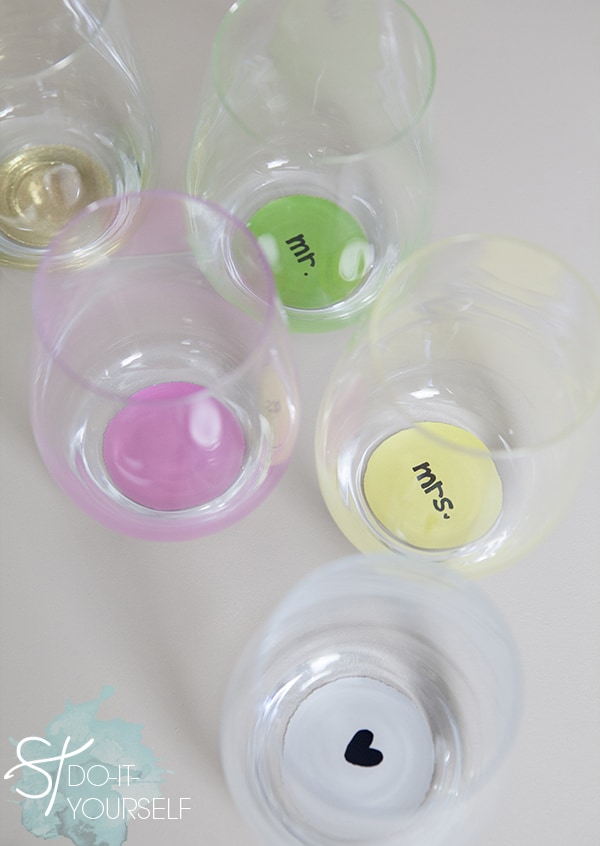 If you're getting ready to host a special event for a special couple or designated guest of honor, you'll love this simple, elegant DIY project. It's sort of a "surprise!" project for drinkers when they get to the bottom of the bowl.
They make for a great gift for that special couple, or for your bridesmaids, or even dinner party guests. And even though each one is specially made for each guest it doesn't take long at all to make them.
Something For Everybody
One of the best things about this list of the many types of hand-painted wine glasses is that you don't have to just pick one. A few are more time-consuming – we're looking at you poured paint! – but many require the same basic materials and methods to create the various beautiful designs.
So, if you're into getting uber creative and making distinctly unique gifts for all of your recipients, you can pick two, three, four, or even a dozen of the designs and make all those glasses in just a couple of days.
This is especially awesome if you love hosting paint parties. Let the guests choose their design.