15 Creative Fabric Storage Ideas
If your craft room looks anything like most we've seen, you need some fabric storage ideas, and fast. You can't sew, you can't craft, you can't do pretty much anything because of the disorganization in there!
So, let's take a look at some easy, fun ideas for how to store fabric in whatever you space is, be it a craft room, the corner of your bedroom, or a walk-in closet.
Purchase A Rolling Cart with Baskets
One of the easiest fabric organizer options is simply purchasing a rolling cart with baskets. These baskets allow you to see what fabric you've got where, without having to label or sort every single time.
You can simply put in your thematic fabrics or determine which drawer holds scraps, and there you go. Easy, quick organization that won't take you hours to figure out.
Convert A Hanging File Cabinet
An equally easy way to sort your fabric – unless you've got full bolts of fabric – is by converting a hanging file cabinet. You can use the hanging files to sort smaller pieces and leave other drawers empty for larger pieces of fabric or supplies you want to keep handy.
Upgrade with Cubby Hole Shelves
If you have a lot of fabric pieces and loads of sewing and crafting supplies, you might to invest in a cubby hole shelving unit. The square cubbies are the most versatile for storage. You can use fabric storage bins, mini organizers, bins, or anything else to keep smaller pieces in order.
Then, you can use some cardboard pieces to keep your fabrics organized and neat, taking up as little room as possible, while still being visible and easy to find.
Uber Organize Those Shelves With Labels for Widths and Lengths
If you're really intent on organization like some of us, there are some simple upgrades you can do to your existing storage options to really make it uber easy to find everything instantly. One of those things is creating extensive labels for your shelving unit.
If you do a lot of sewing, in particular, this will come in handy. Use some cardboard pieces or cardstock and label them according to the sizes of fabric you've got. List width, yardage, or anything else you'd like to keep in mind, then attach the labels to the shelves. Voila. Instant, uber organization!
Create Some Hanging Clothespin Racks
If you like making things yourself, this is a fun, creative way to do just that. Even if you're not super handy, this is a pretty easy project. You'll need some good old fashioned clothes pins – the kind with spring hinges – and some narrow boards for your backpieces. You'll attach the clothespins via screws and find some way of mounting the boards.
Upcycle an Old Ladder Into a Bolt Rack
If you're looking for great quilters fabric storage suggestion, you'll love this idea. Technically, the image shows an A-frame piece designed for the job, but you can make your own from a vintage ladder.
You'll need to attach some pegs to keep the fabric bolts in, but that's pretty much all you'll need to do to craft this awesome storage option.
Try a Fabric Drawer Set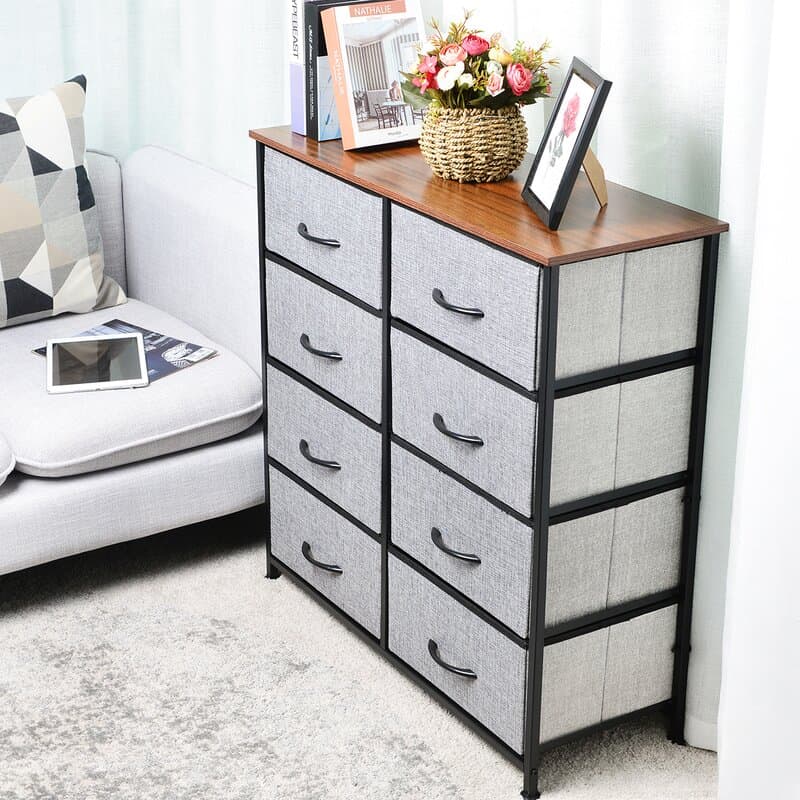 If you need a simple sewing fabric storage option, you can invest in a fabric drawer set. You'll just require a simple frame for the drawers and the drawers, or you can purchase a cubby piece and fabric cubes that fit into the cubbies.
This is a great way to keep your supplies organized and out of sight, while still being super accessible.
Use Some Letter Organizers
If you work with smaller pieces of fabric a lot – we're looking at you, quilters! – you can simply organize your fabric pieces with a wall-mounted letter organizer. Each section of the organizer can hold one, two, three, or even more pieces.
We'd recommend organizing with pieces that match in each section, or alternating multiple pieces of the same kind together with contrasting options to make it easy to visibly sort quickly.
Find Some Wire Basket Drawers
One of our favorite fabric organization ideas is the simple wire basket drawer set. They can keep your fabric in order, keep your other supplies organized and easy to find, and helps you keep things both accessible and out-of-sight.
Customize with a Modular Shelving Set
Another fantastic quilt fabric storage option is putting together a modular shelving unit. This kind of sewing material storage is incredibly flexible, allowing you to build up or across. You can stack as high or as wide as you need to fit your crafting space.
Plus, many times, you can get shelves in different depths and heights to accommodate your supplies, whatever they are.
Install a Hanging Shower Bar Rack
If you're tight on space, you might want to grab a shower rod the next time you're at the store. Get a bunch of shower curtain rings – ideally thin metal not the thick plastic rings – and some clips. Gator clips, paper clips (for lightweight fabrics only), or even clothespins can work for helping you hang up your fabric out of the way.
Get On a Roll
For those who work with bolts of fabric a fair bit, designing a "roll" setup that mounts on the wall might be your perfect solution. This concept is great for keeping ribbon, fabric, floss, and other similar materials neatly organized and out of the way.
Go Simple with Plastic Tubs
When you just need something effective but simple, plastic tubs are a great way to go. You can use clear tubs like these to keep things semi-visible for easy reference, or opaque tubs to keep things looking a little neater when they're not in use.
Adding a label to each in is a great idea, as well, whether you're using clear or opaque bins. They make it even easier to keep things quickly accessible and organized.
Convert an Old Dresser
Upcycling old furniture is always a great option, as well. You can find the right old dresser on sites like Freecycle.org or Craigslist, then grab a can of paint in your favorite shade. Repaint, add some wax to the drawer slides – or sand and smooth, depending on how well the drawers work! – and then you've got the perfect, easy storage.
We'd recommend using some cardboard dividers in the drawers to keep smaller pieces neatly organized and use small bins or decorative cardboard boxes to keep smaller pieces sorted.
Upgrade Your Whole Sewing Room with a Storage and Craft Table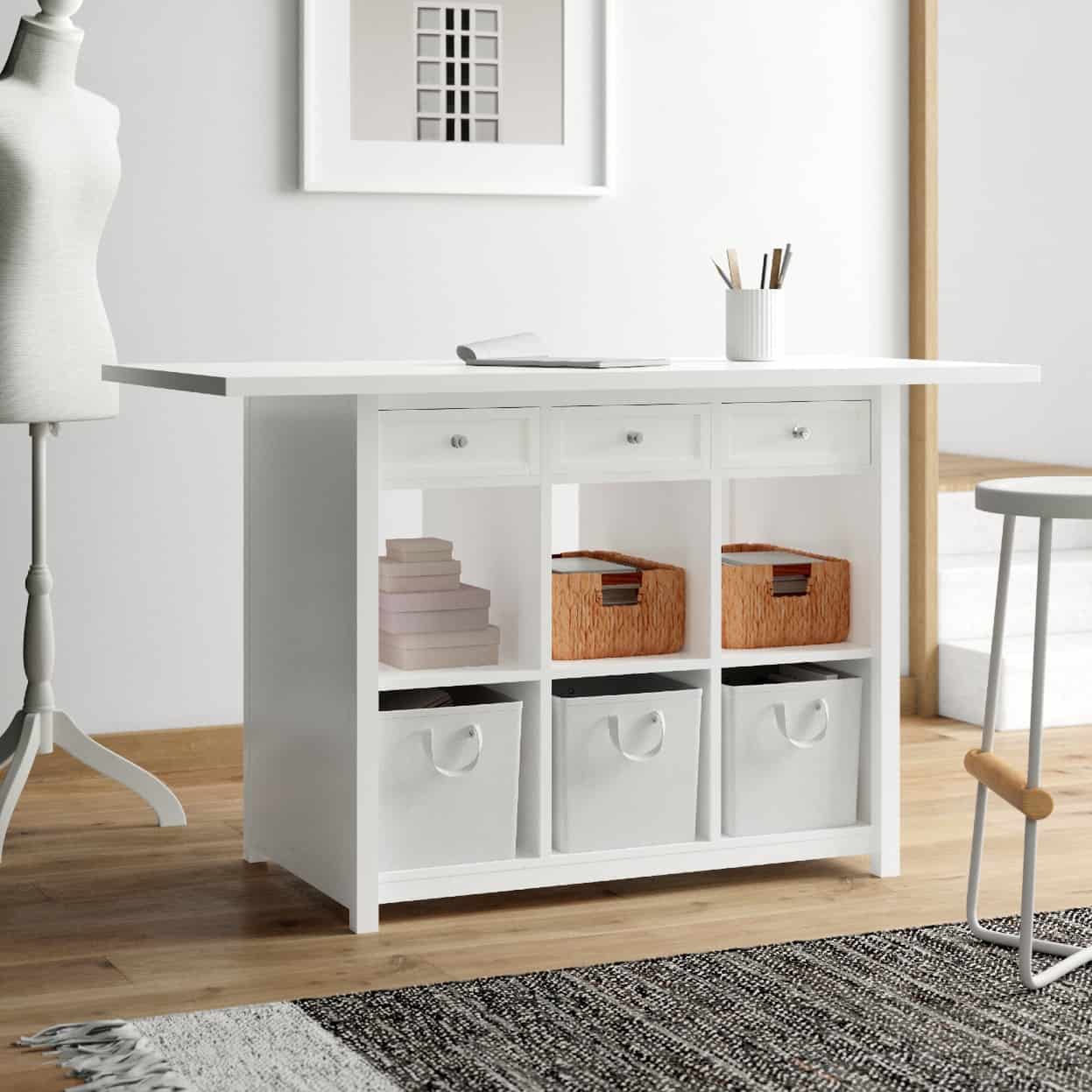 The ultimate upgrade for your crafting space is an entire sewing and craft table, complete with storage. You can build one for yourself using an Ikea upcycle tutorial or a desk upgrade, or you can purchase one from your favorite crafting or furniture retailer.
The Right Fabric Storage Ideas Help Keep You Organized
Whatever your available space, there are tons of options you can use to carefully store and organize your fabric and sewing supplies. Wall-mounted ideas are great options for small spaces, while drawers, shelves, and bins are great for people with a little more room to spare.
Ideally, you'll organize your materials by color, project, fabric or supply type, or thematically to make it easiest for you to find what you need right now.