40 DIY Birthday Cards Ideas for a Creative Celebration
Have you ever taken the time to pick the perfect birthday card from the store only to turn it over and discover it's really overpriced? You could just send an e-card instead, but those are so impersonal.
To get something that is thoughtful and unique, why not make your own creative birthday cards? You can probably make a handful of DIY birthday cards for the same cost as one at the store.
A Present Look-Alike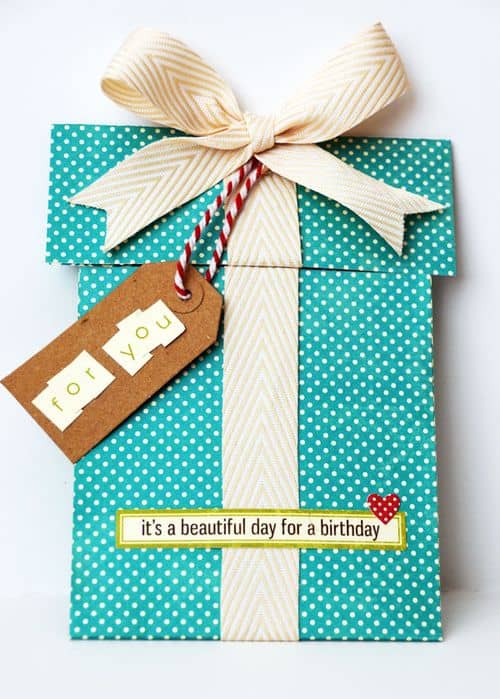 Didn't get your friend an actual present. No worries, just make their card look like one.
A little scrap book paper and creativity will help you achieve this cute birthday card.
Gift Card Ideas With Emily Pitts by Scrapbook & Cards Today
Pop Up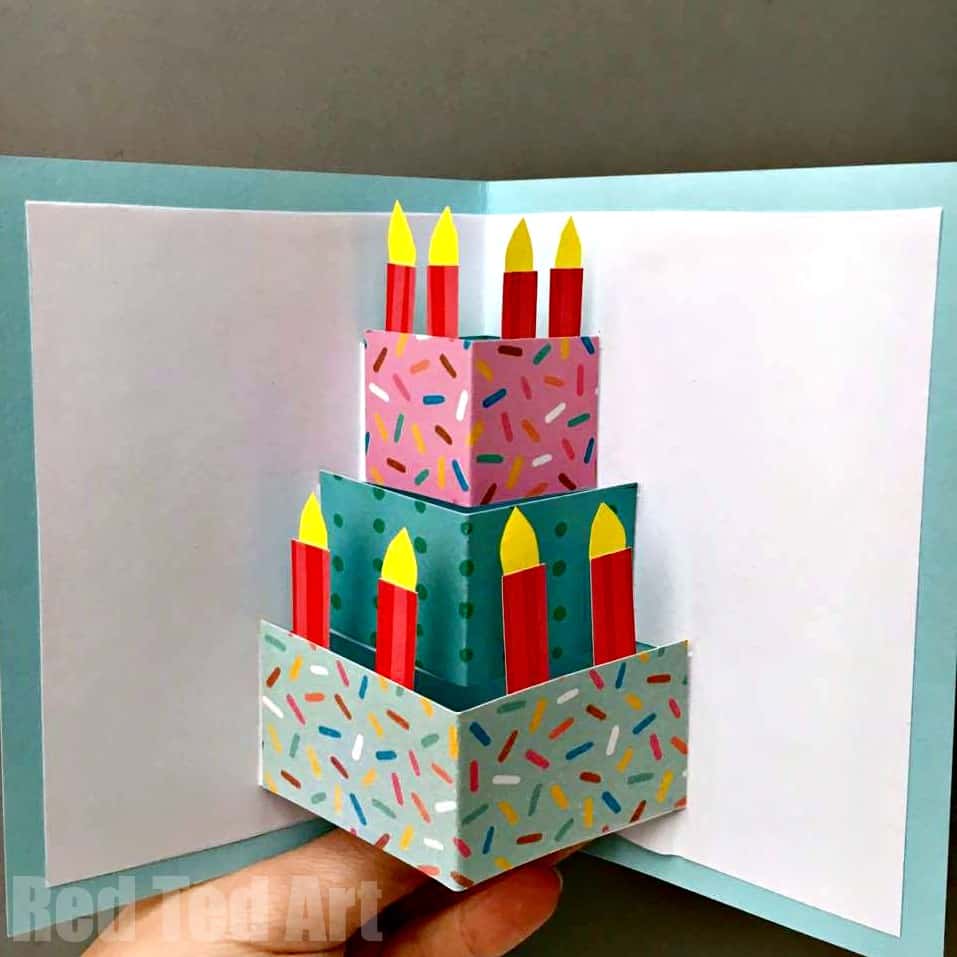 Remember pop-up books from when you were a kid? Bring back the joy.
You can learn how to make this three-tiered cake pop-up card on the Red Ted Art blog.
Easy Pop Up Birthday Card DIY by Red Ted Art
Paper Flowers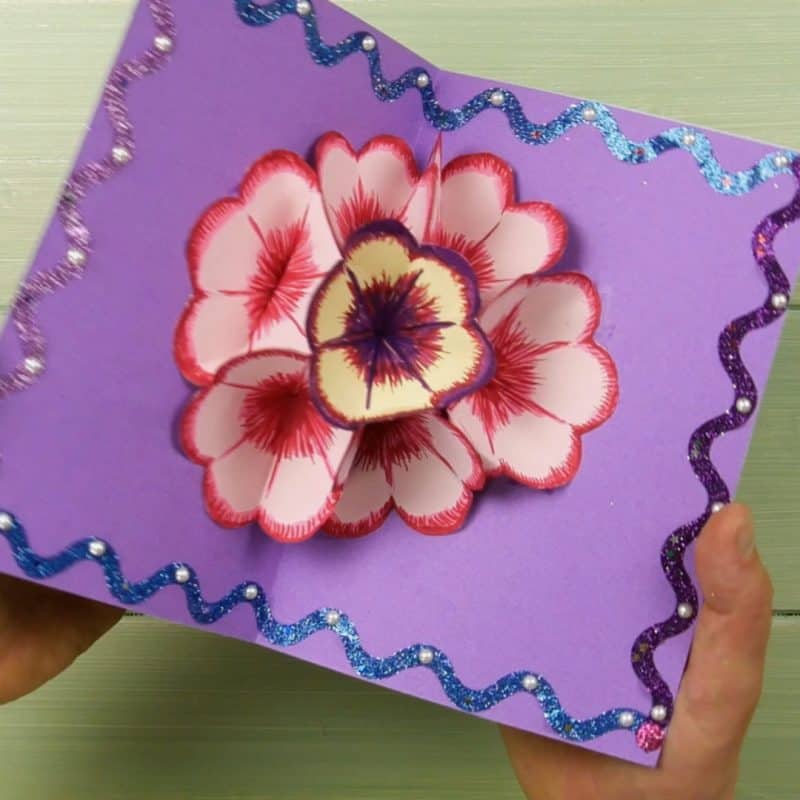 This homemade card only looks hard to make, it's actually really easy.
You can change this up a lot to give it your own signature style. Customize it with different colors and glitter.
4 Fun and Original Homemade Birthday Cards by Cleverly
Leafy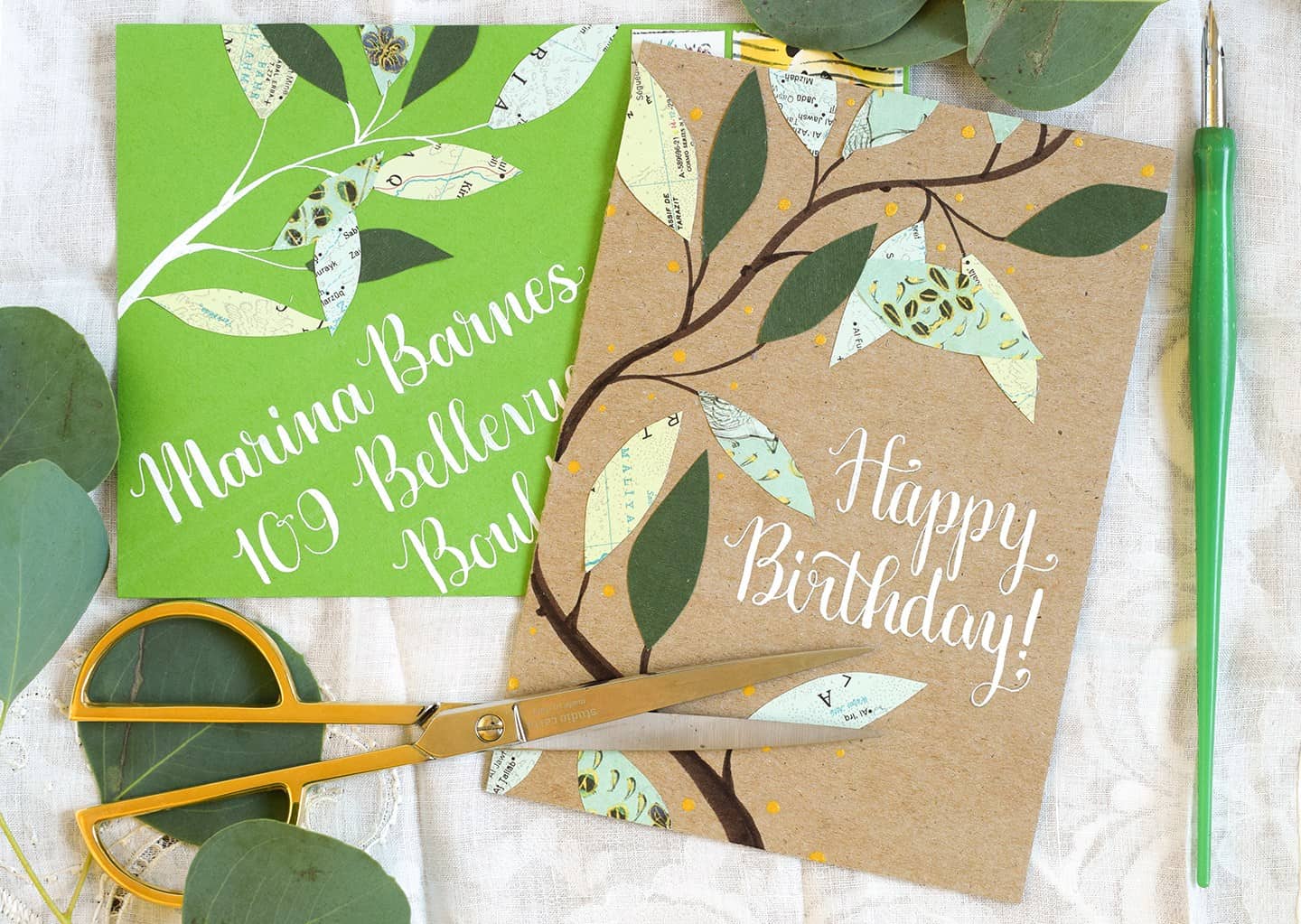 For the friend who loves being outdoors, consider a card with a tree on it.
You can use different pieces of scrap book paper to give the leaves some different looks or keep it simple with one pattern. Either way it'll look good.
Leafy Homemade Birthday Card Tutorial by The Postman's Knock
Birthday Cake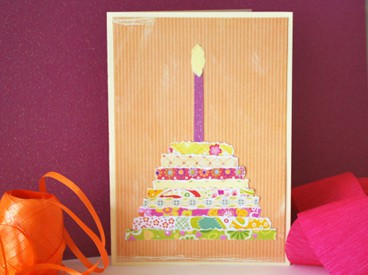 This birthday cake card uses scraps to create the different cake layers, and it looks amazing.
Chances are good you already have everything you need to make your own version of this sitting around the house.
Scrap Cake Birthday Card by The Saturday Evening Post
From the Kids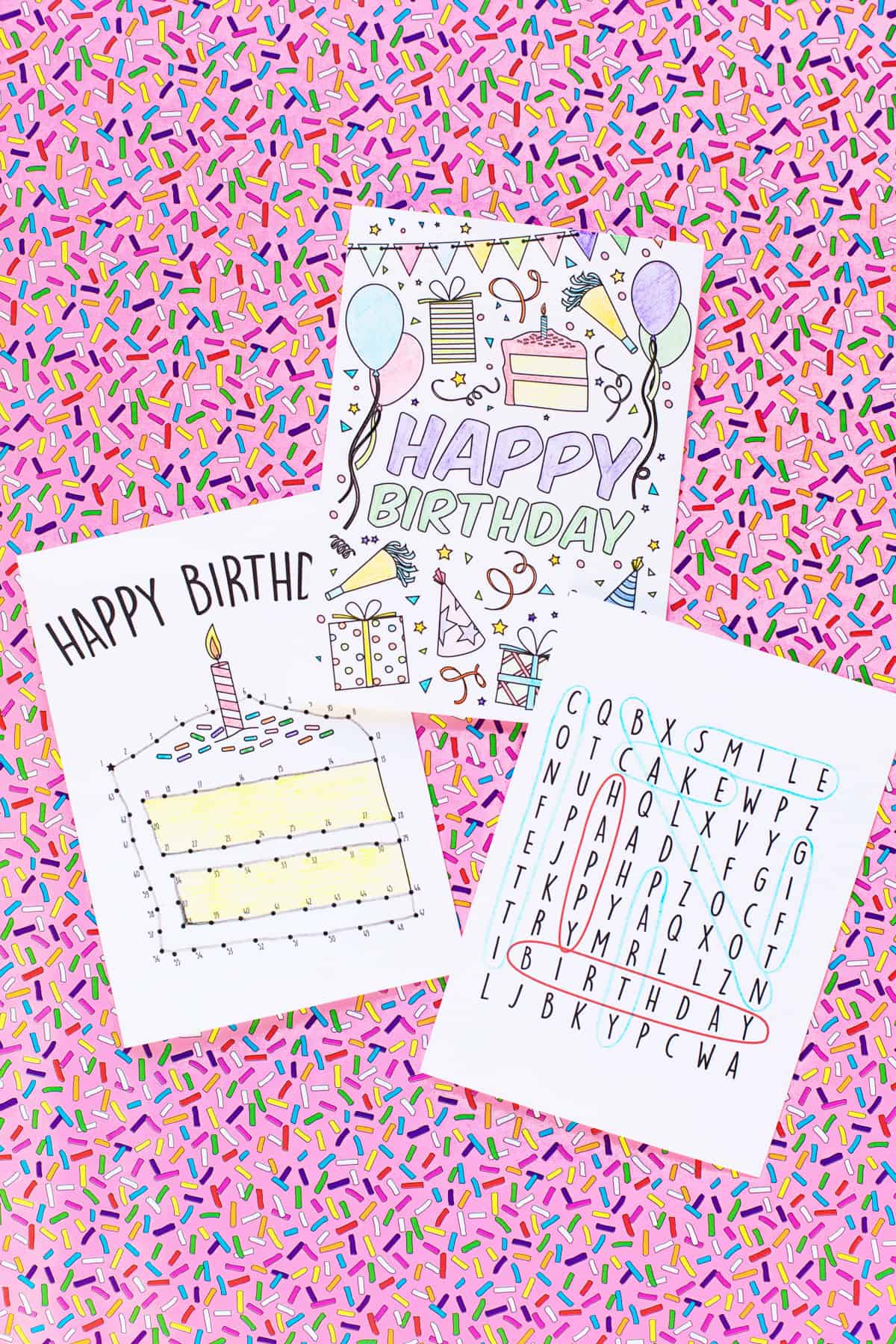 If you want your kids to make a handmade card for someone they love, but don't really want to deal with the mess of a DIY project, just print something out!
There are tons of free card printouts that you can use as the base before just letting your kids go to town with crayons. It's still personal even if its easy.
Free Printable Birthday Cards for Kids by Studio DIY
Glitter Shaker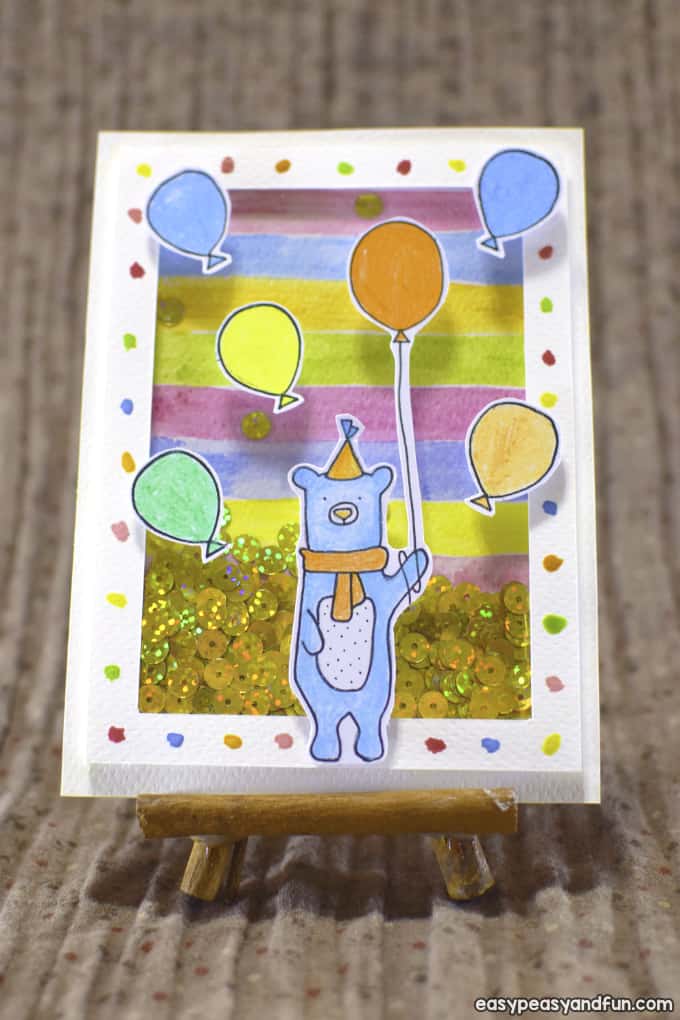 Ever wondered how to make a birthday card with sequins? Make it a shaker card.
You can follow the step-by-step instructions on the Easy Peasy and Fun blog to make your own.
How to Make a Birthday Shaker Card by Easy Peasy And Fun
Watercolor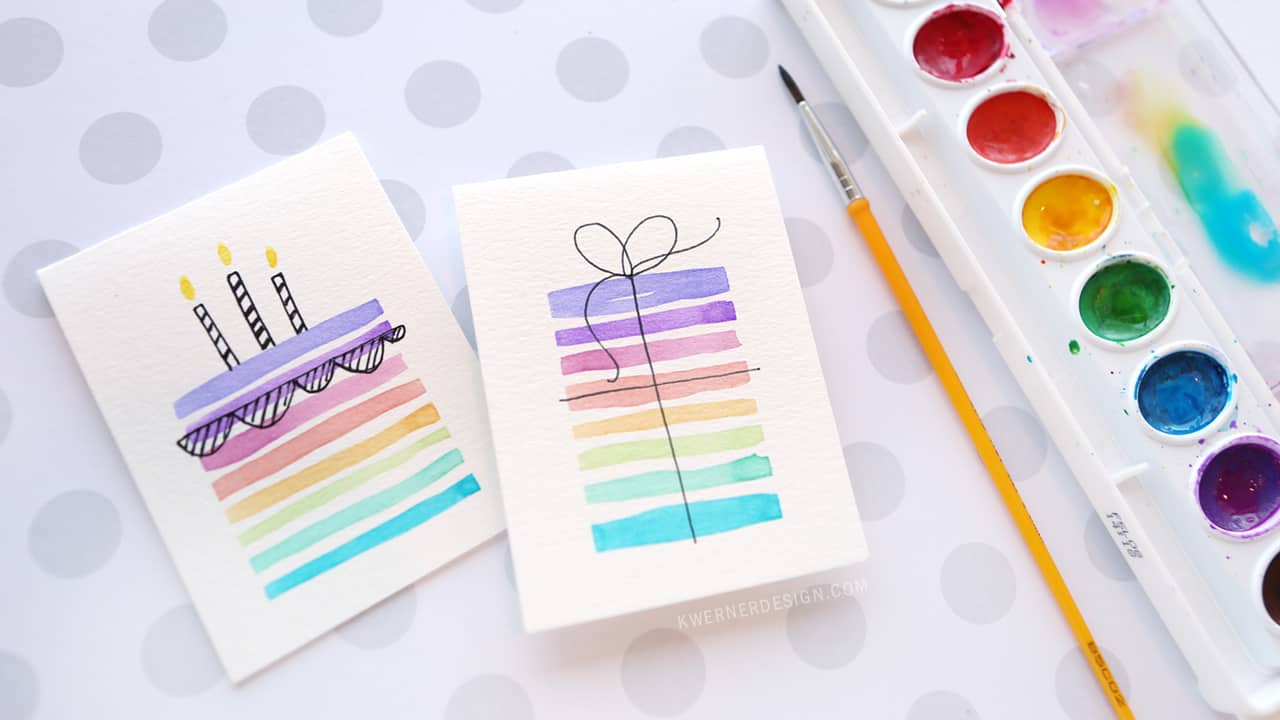 When you think watercolor, a really complicated piece of art probably comes to mind. But, it doesn't have to be like that!
This card is made using just simple brush strokes and it still has a gorgeous finished look.
Easy DIY Cards Using Minimal Supplies by Kristina Werner
Easy Washi Tape Design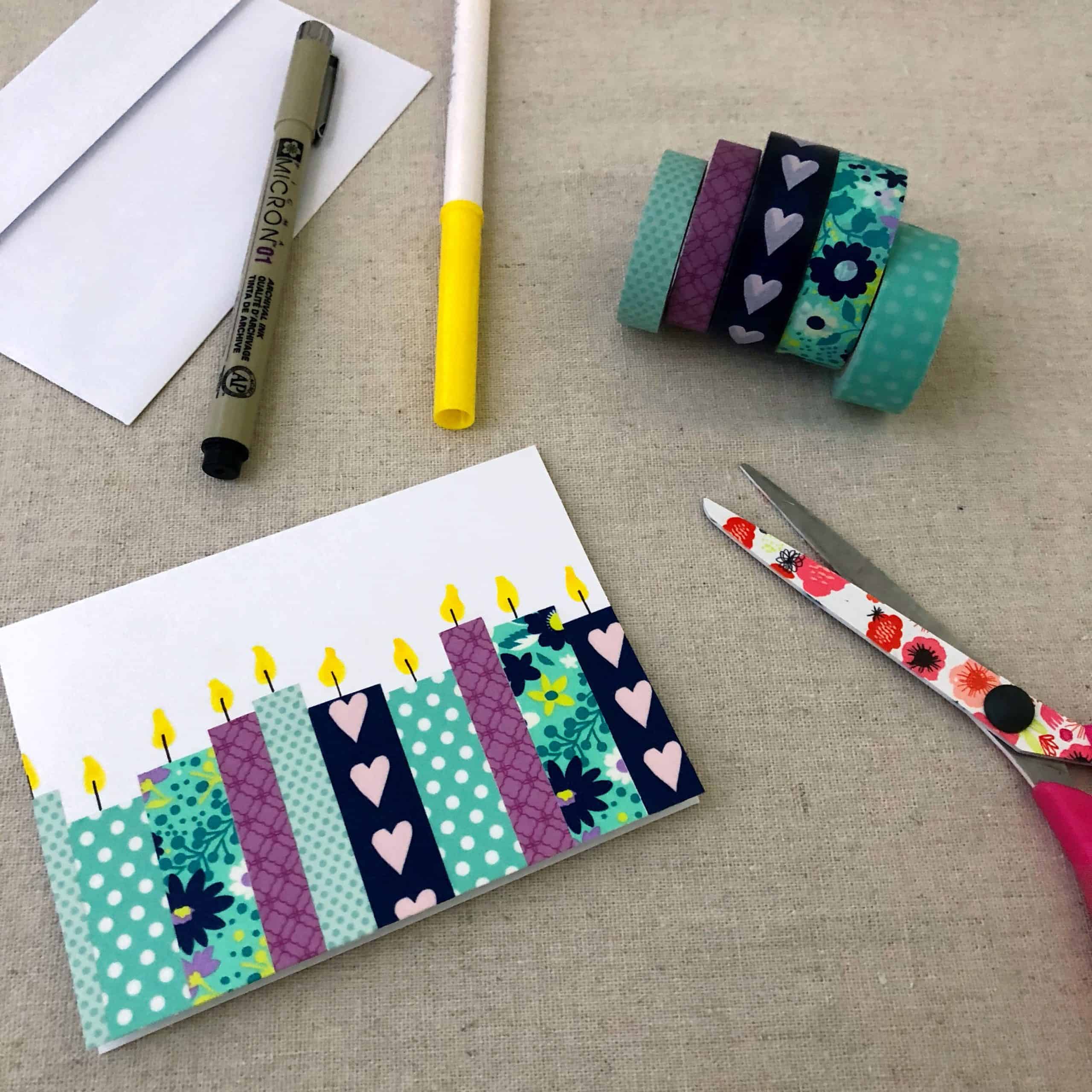 Washi tape has so many creative uses, including birthday cards.
All you need are a few pieces to help you create a birthday candle look and you've got a cute, one-of-a-kind card for your friend.
Easy DIY: Washi Tape Birthday Card by Pink Bows & Twinkle Toes
Pop-Up Cake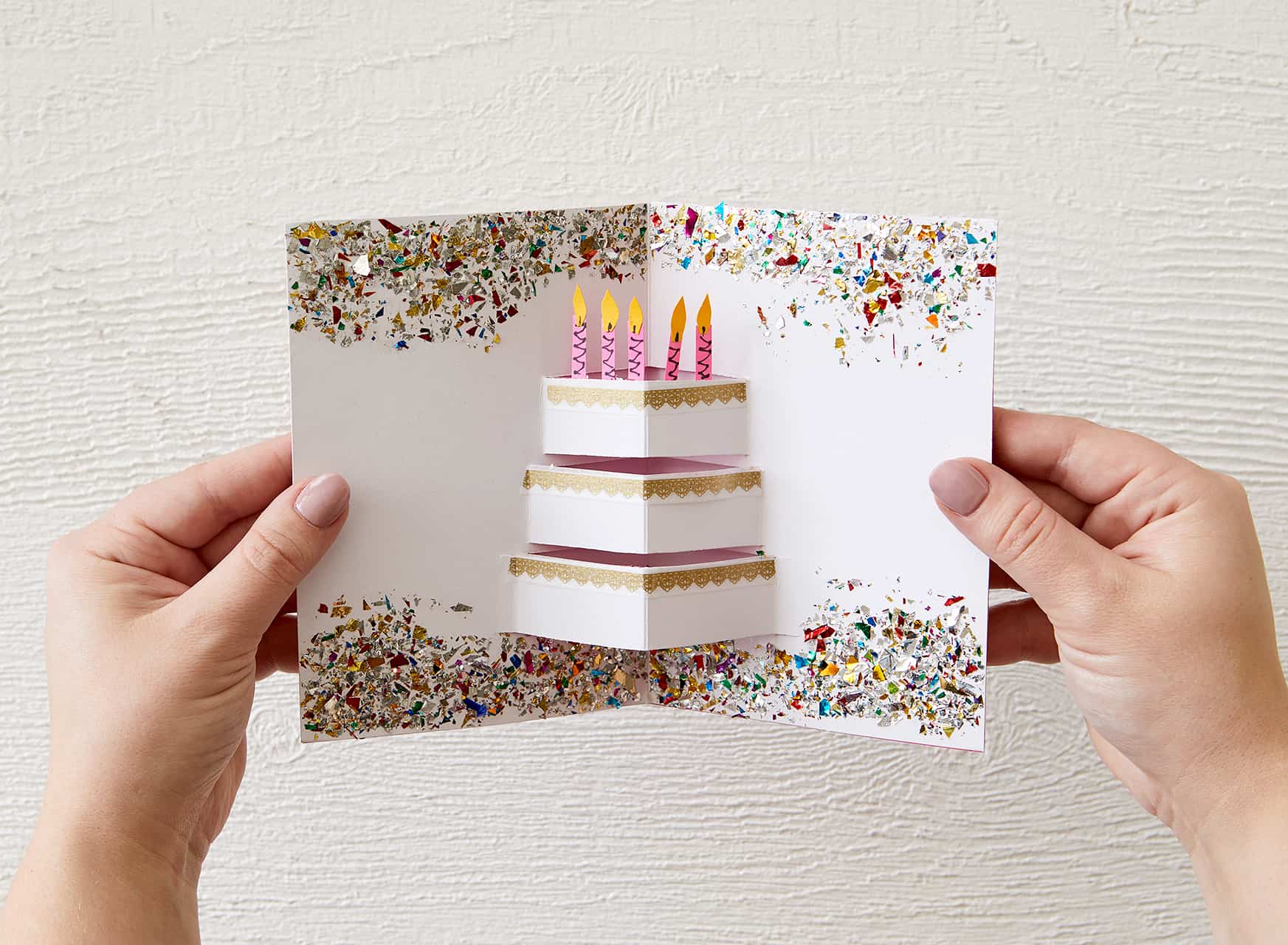 This is another take on the pop-up cake card – filled with glitter.
It's the same concept as the earlier example, but it has a totally different vibe simply by changing out colors and textures.
Make a DIY Pop Out Birthday Card by Better Homes & Garden
3D Ice Cream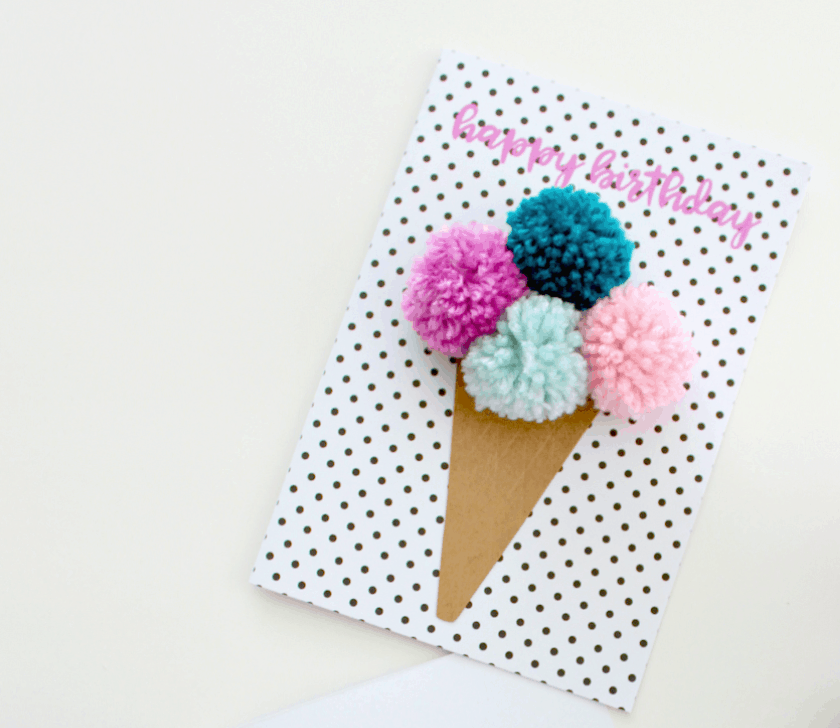 How cute are these little pom ice cream cones?!
You can create this 3D birthday card easily using the free print out on the White House Crafts blog and adding a few of your favorite poms as scoops.
Free Printable Pom Birthday Cards by White House Crafts
Pom-Pom Balloons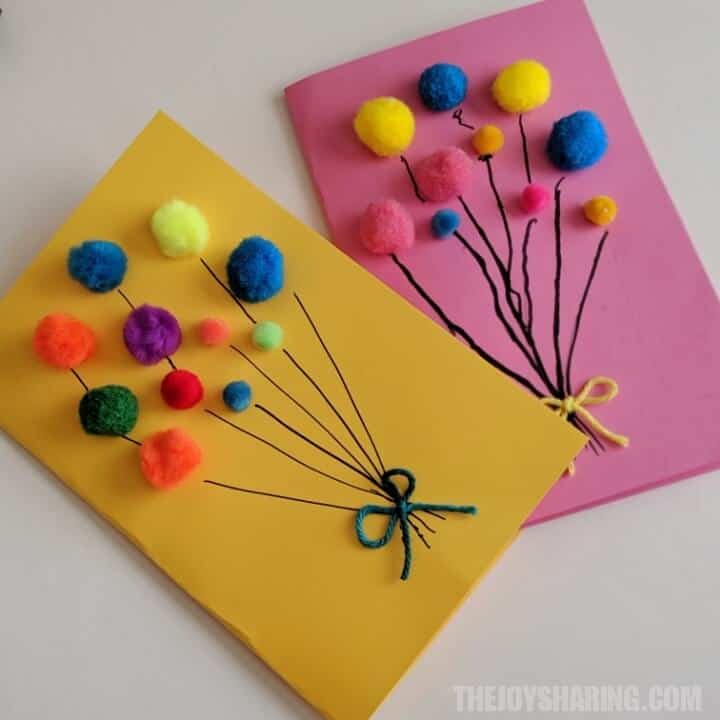 Another great way to use poms? Have them look like balloons!
This would be a great craft for yourself or kids to make. Either way, it will be festive and fun.
Pom-Pom Balloons Birthday Card by The Joy of Sharing
Surprise Bear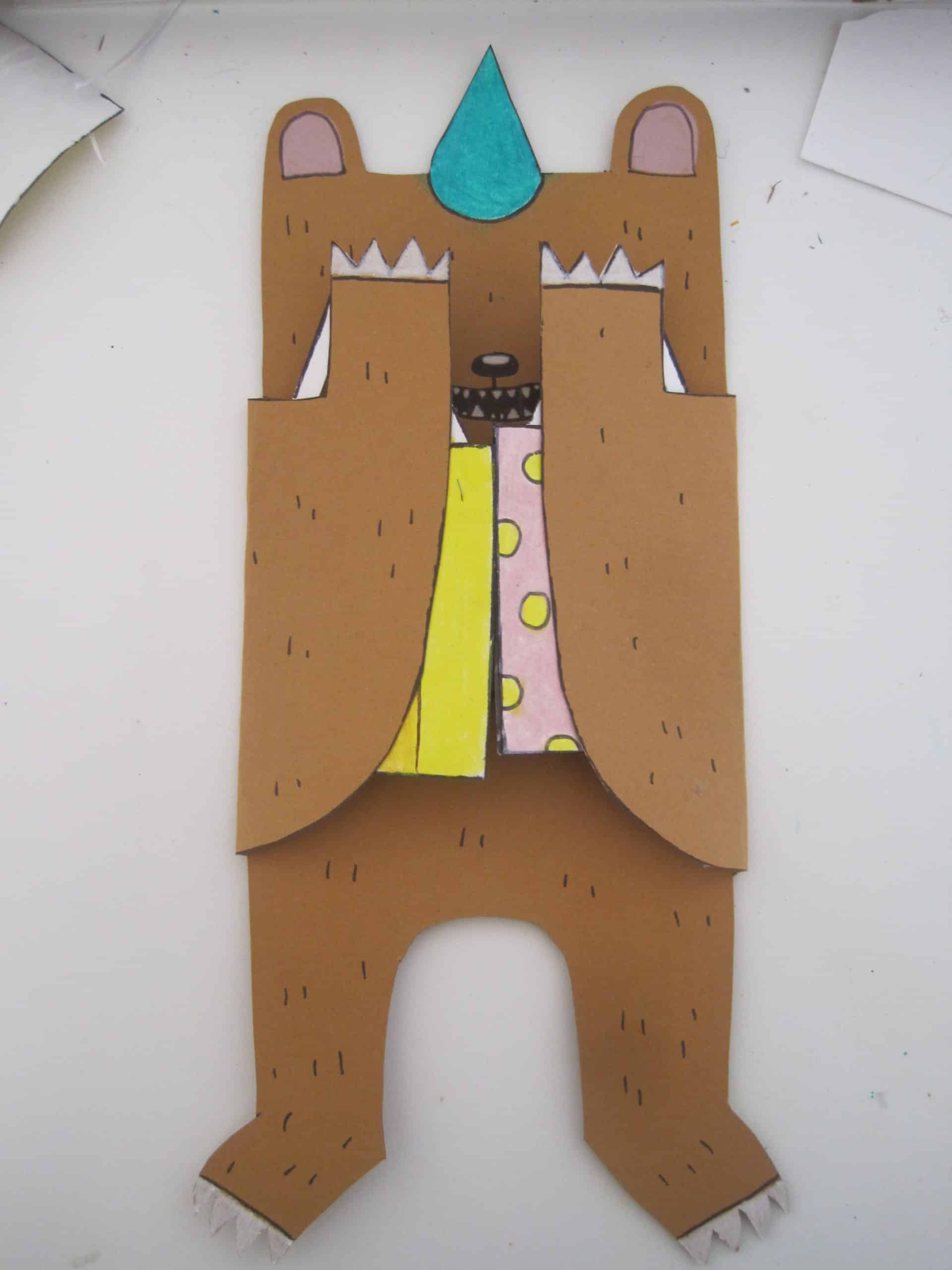 It's unclear whether this card is meant to be for kids or adults, but honestly, either age group will love it.
It's super easy to make this bear-hug card, just follow the instructions on the blogger's website.
DIY Birthday Bear Card by Shouldn't You Be Studying
Sprinkled Treats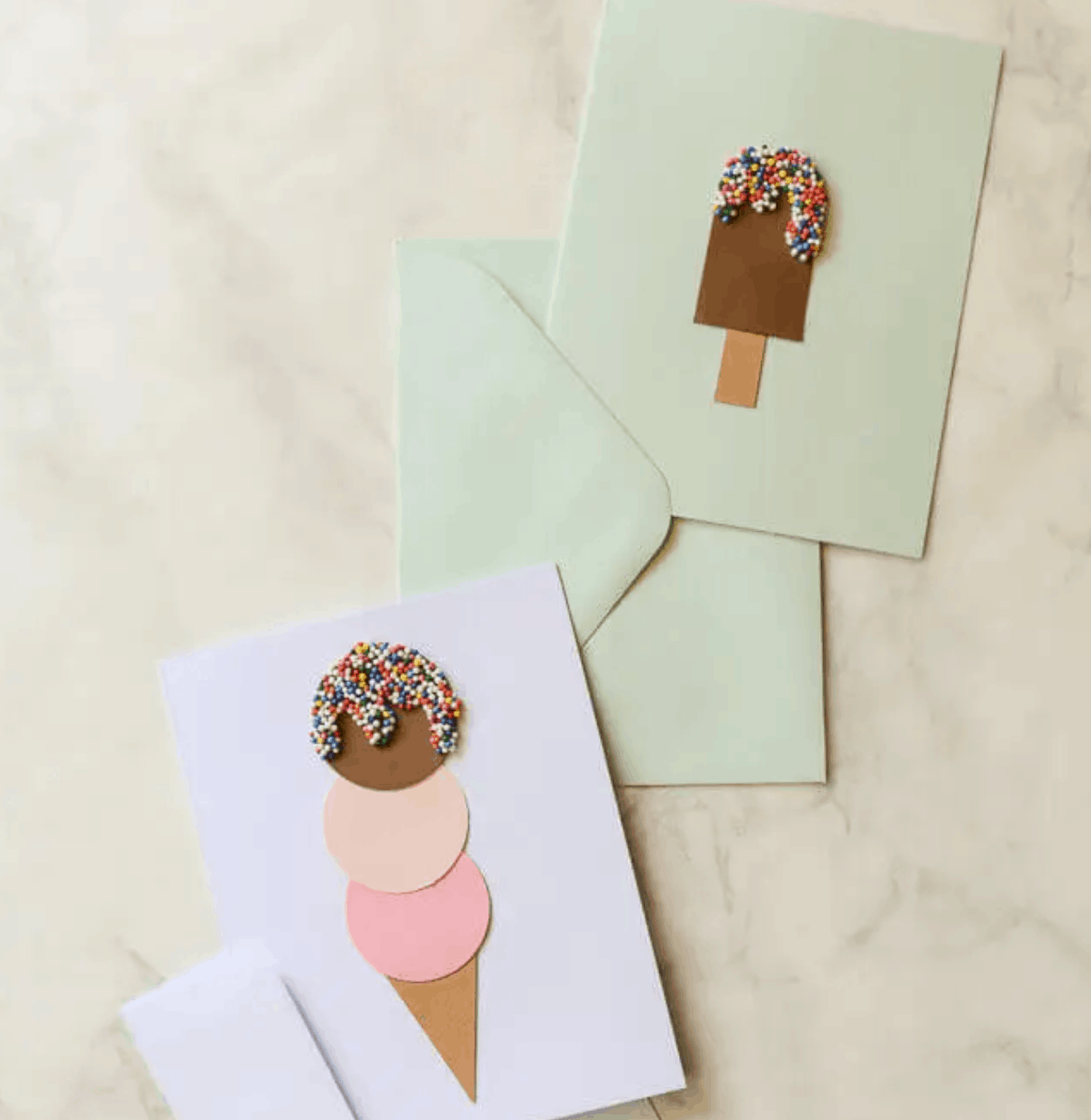 Not only is this card 3D, but it uses actual sprinkles to complete its look.
All you need are some sprinkles, glue, and craft paper to recreate this sweet card.
Easy Sprinkles Lollipop Card Tutorial by Tikkido
Birthday Candles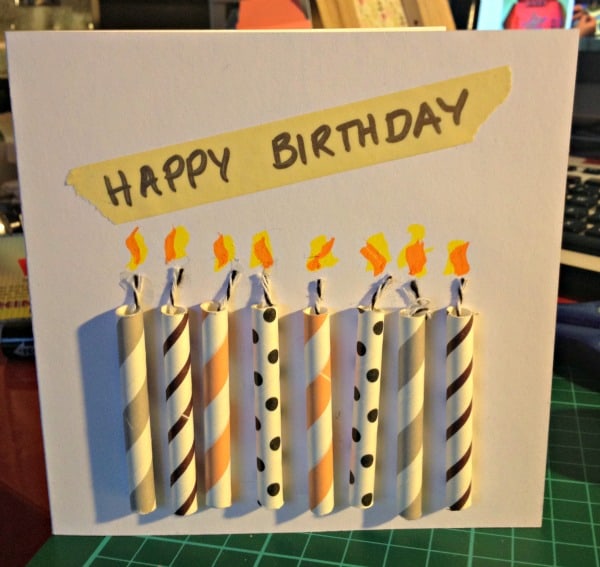 Unlike the washi tape candles, these are actually 3D because they're made from paper straws.
Beyond that, all this blogger did to complete the look was use some markers to draw flames and write out happy birthday. Super quick and easy.
Homemade Birthday Cards by Mum in the Madhouse
Hand Sewn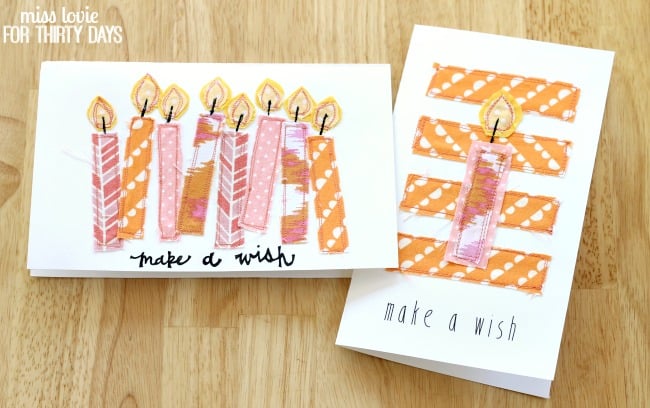 If you're a fan of sewing, and you have some time on your hands, you can actually hand sew a card for the person you love.
This isn't a card you'll be able to complete in under an hour, but it's one you know your loved one will never throw out.
Handsewn Birthday Cards by Thirty Handmade Days
Waffle Flower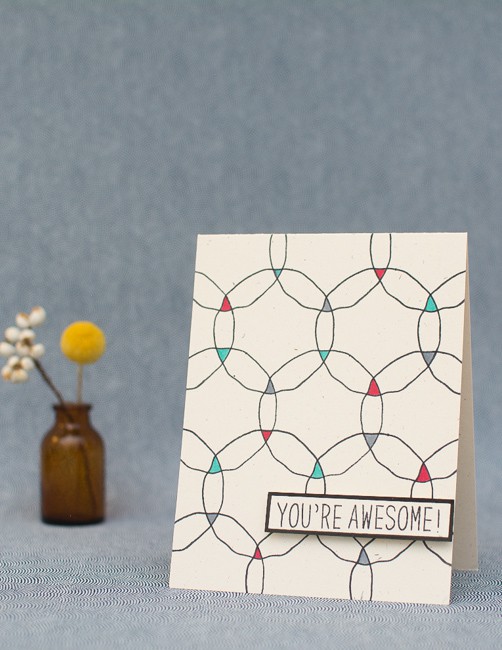 All this blogger did to create these little "waffle flowers" was trace the same circle over and over in strategic spots and then color overlapping areas in.
If nothing else, this is some great inspo for finding little things around the house to trace because you never know what you can make out of them!
Waffle Flower: You're Awesome Card by Mayholic In Crafts
Washi Tape Popsicles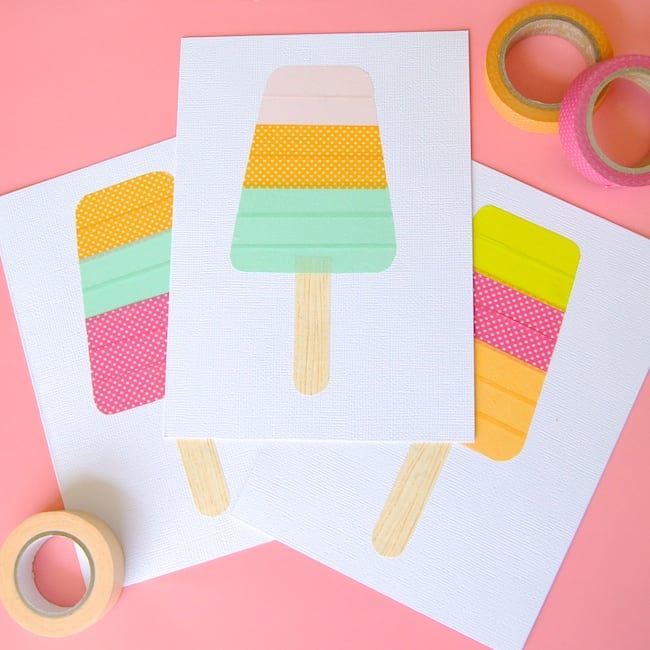 If you're looking to make some really cute DIY birthday cards, step up your washi tape game to make popsicles and ice cream bars.
You can stick with the single, large bar on your card or you can make several small ones. With washi tape, the possibilities are endless.
Washi Tape Popsicle Card by Omiyage Blogs
Balloon Pop Up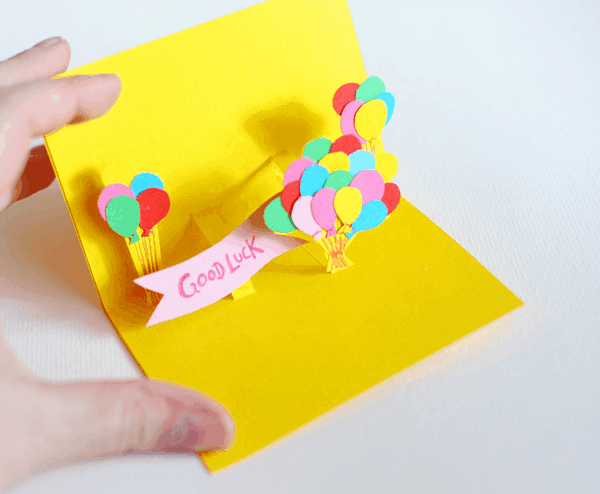 This is technically a "good luck" card on the blog, but nothing says happy birthday like balloons do.
You can really personalize this card using colors your loved one likes or adding in some glitter.
DIY Pop Up Cards by Oh Happy Day
3D Unicorn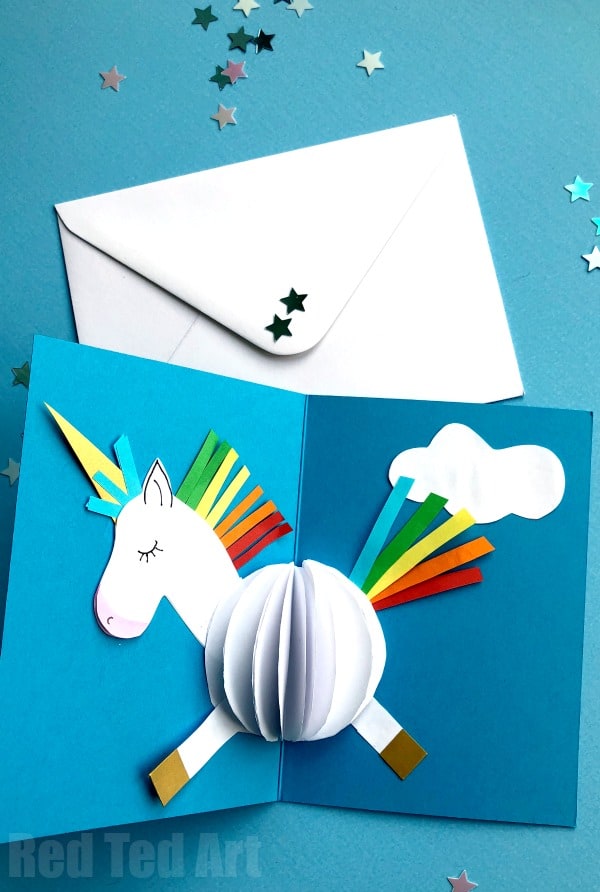 Did you get invited to a unicorn birthday party? Stay on theme with this cute 3D card.
You can get step-by-step instructions to recreate this birthday card on the Red Ted Art blog.
3D Unicorn Card DIY by Red Ted Art
Sweet Cupcake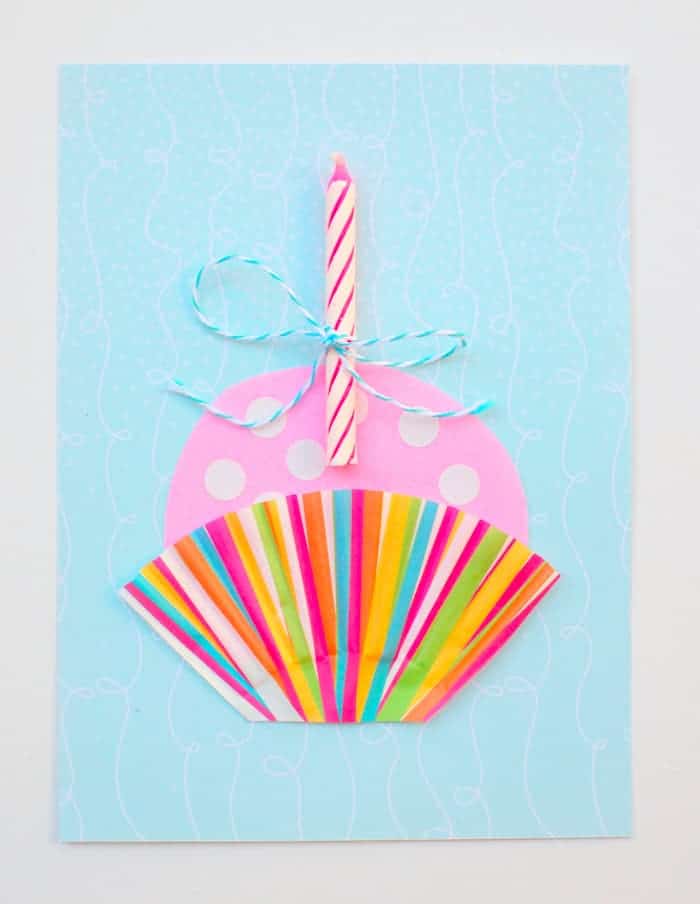 If you have some cupcake liners around the house, you can use them to make a really cute DIY birthday card.
This cupcake card is a result of a few different layers of paper and some creativity. It's super easy and will impress whoever you're giving it to.
Cute Cupcake DIY Card In Minutes by DIY Candy
String Art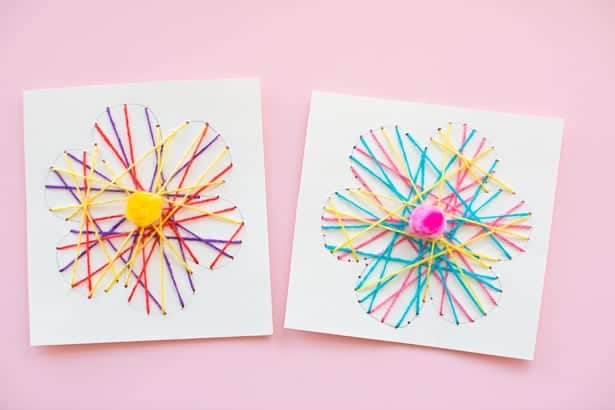 These cute little flowers are a result of some poked holes and yarn. It's a really easy craft for kids to make but can also be jazzed up for adults.
To give it a more finished look, glue the string art page onto a thick piece of colorful cardstock that complements the yarn you used.
Kid-Made DIY String Art Flower Cards by Hello Wonderful
Script Pop-Up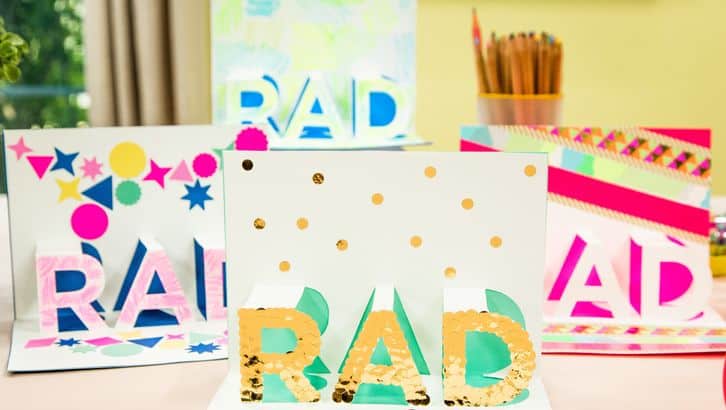 Pop-up cakes and unicorns are definitely fun, but you can really make a statement with one of these DIY birthday cards.
You can follow the examples on the website, or come up with your own favorite word (maybe an inside joke) to wish the person you love a happy birthday.
How To DIY Pop-Up Cards by Hallmark Channel
Lollipops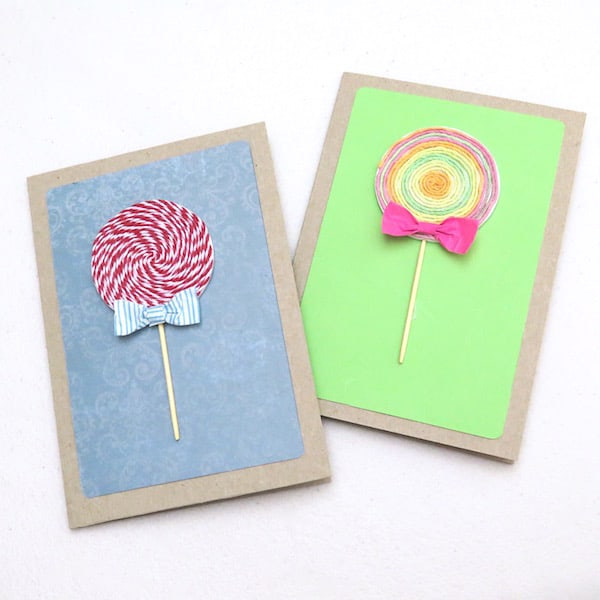 Have some yarn or twine laying around? Make a lollipop birthday card!
This is probably one of the easiest things to make, just glue the string in a spiral pattern and you've made a delicious-looking card.
DIY Cards: Lollipop Card by Craft Paper Scissors
Fold-Out Gift Card Holder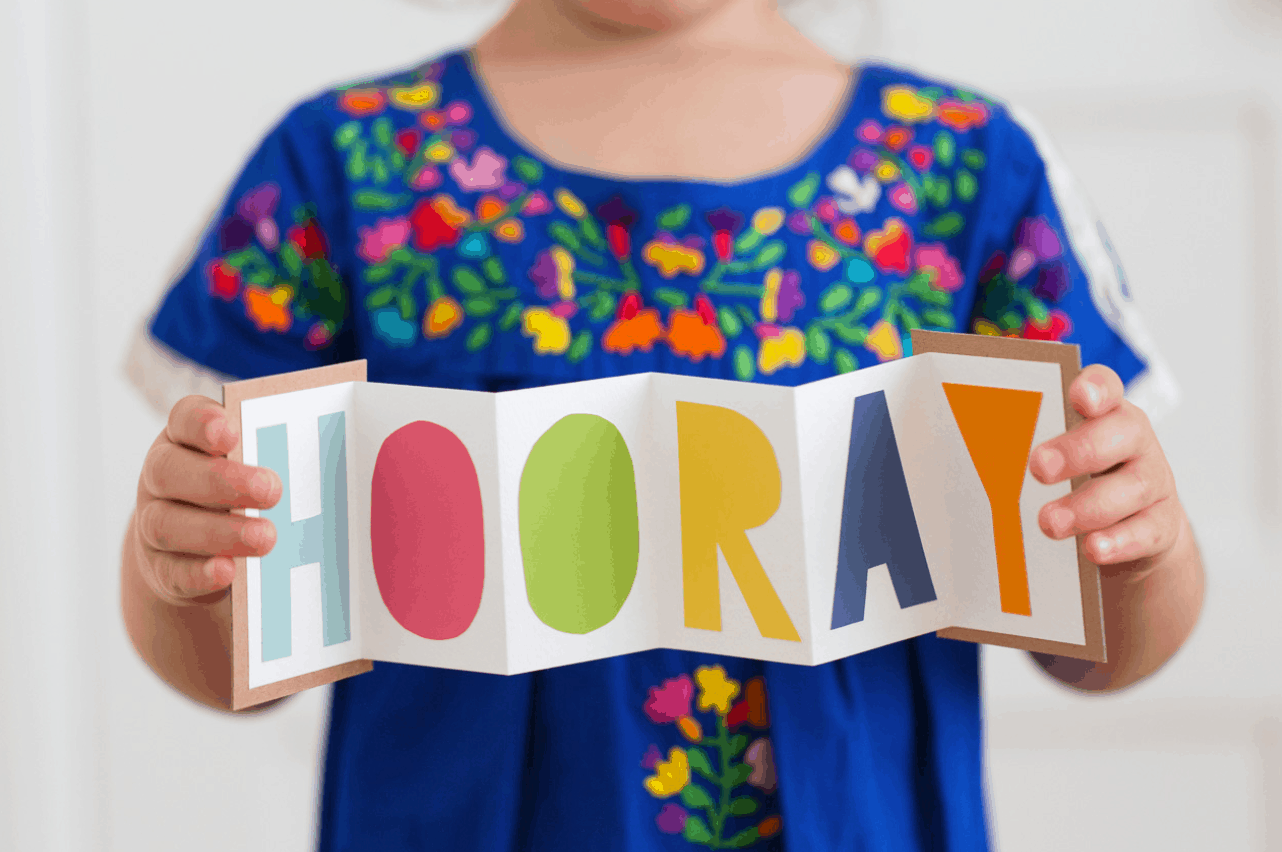 If you're more of a gift card giver than presents (no shame!) you can make it a little more special with a homemade gift card holder.
You can recreate this fold-out gift card holder using the tutorial by Kaley Ann.
DIY Gift Card Holder by Kaley Ann
Metallic Foil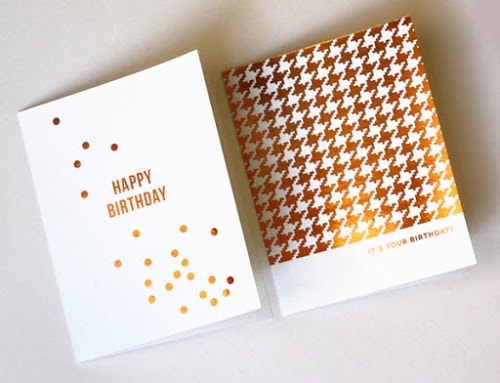 If you know how to use foil, you can make some seriously gorgeous cards!
This blogger came up with a simpler way of making the fun metallic birthday greetings, check out her method on her blog.
DIY Foil Cards by How About Orange
Magical Unicorn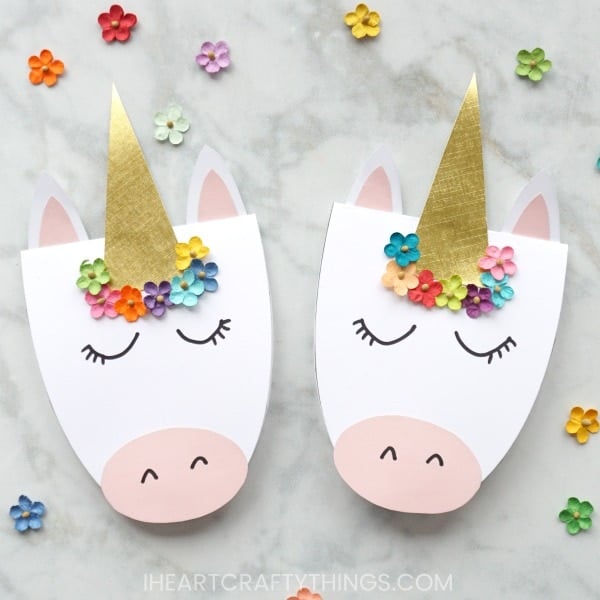 If you want to make some cool birthday cards, it's important to know what's on trend. Like unicorns.
These little unicorn birthday cards aren't traditional, but they are still a great way to wish someone a happy day!
How to Make a Simple DIY Unicorn Card by I Heart Crafty Things
Flowers in a Basket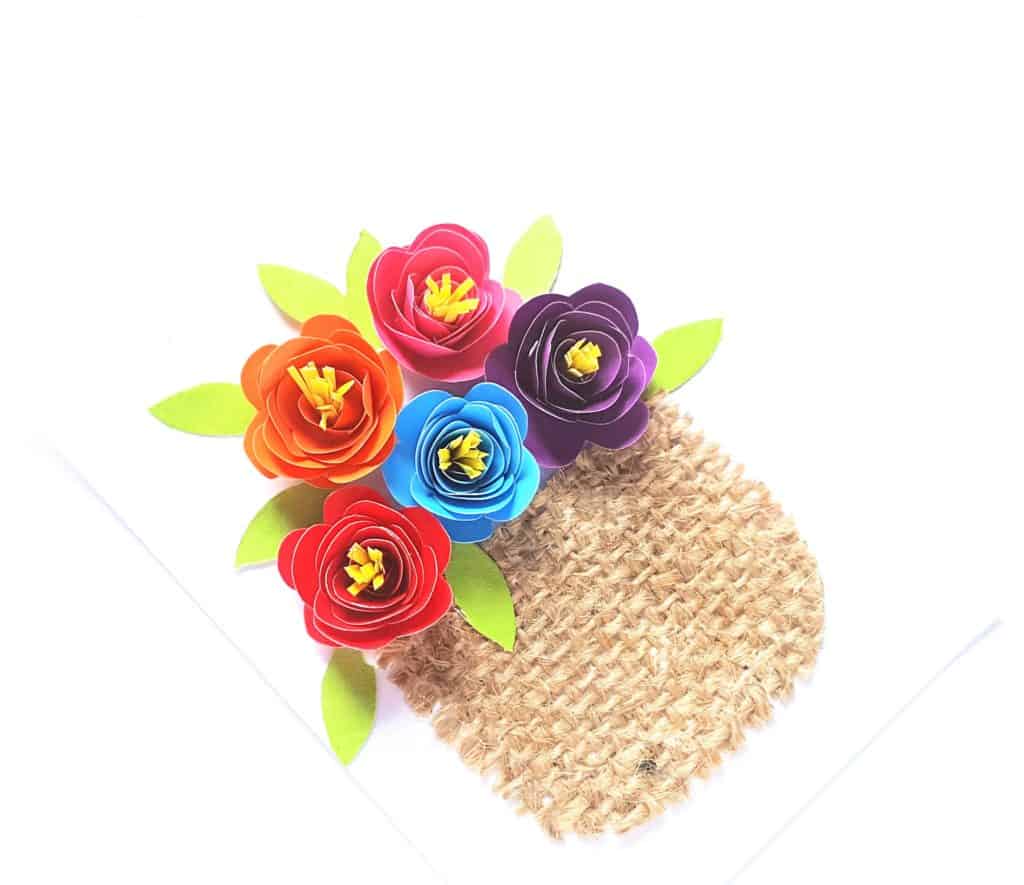 This blogger came up with this design as a Mother's Day card, but everyone likes getting flowers on their birthday – even if they're just on a card.
This card is not only gorgeous, but it's also really easy to make and is sure to bring a smile to someone's face.
DIY Rolled Flower Basket Handmade Card by Life Family Fun
Kid-Friendly Butterfly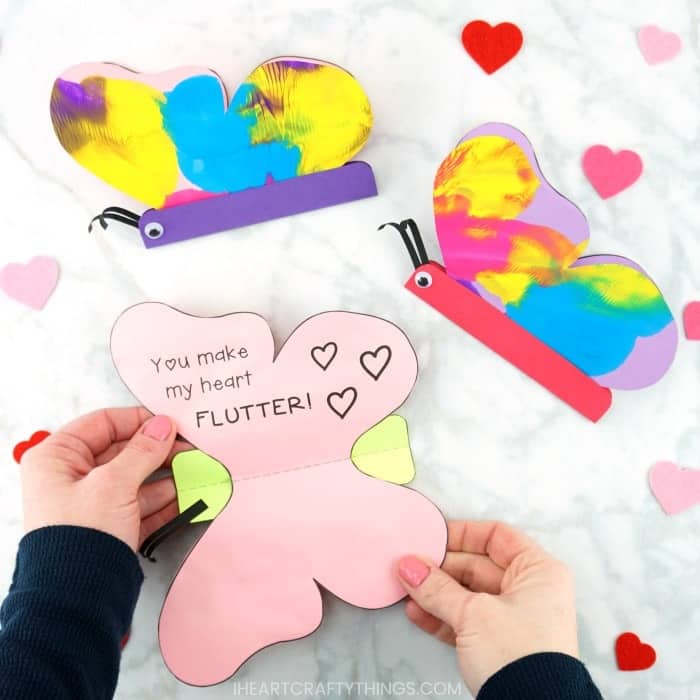 These little butterflies are double the fun because it's a craft for your kids *and* a gift for someone else.
If you don't have kids but still like the look, you can make it look a little more sophisticated by painting the clothespin a neutral shade and using metallic paints for the wings.
How to Make a Butterfly Card with Colorful Paint Smash Wings by I Heart Crafty Things
Flower in a Heart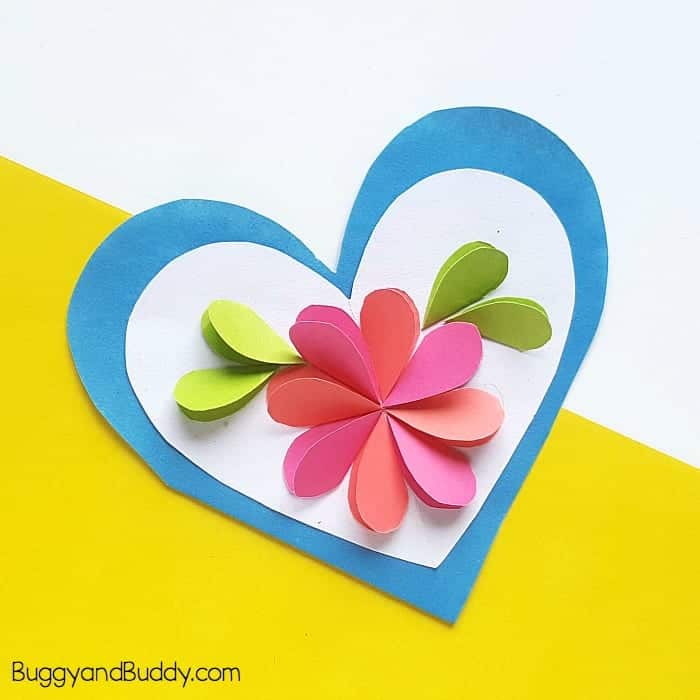 Here's another card that a blogger made for Mother's Day, but can definitely be used as a birthday card, too.
This is a great craft to do with your kids because its easy and has a cute final result. You can also use some scrapbook paper to give it a more patterned, one-of-a-kind look.
Homemade Heart and Flower Card Craft for Kids by Buggy and Buddy
Party Llama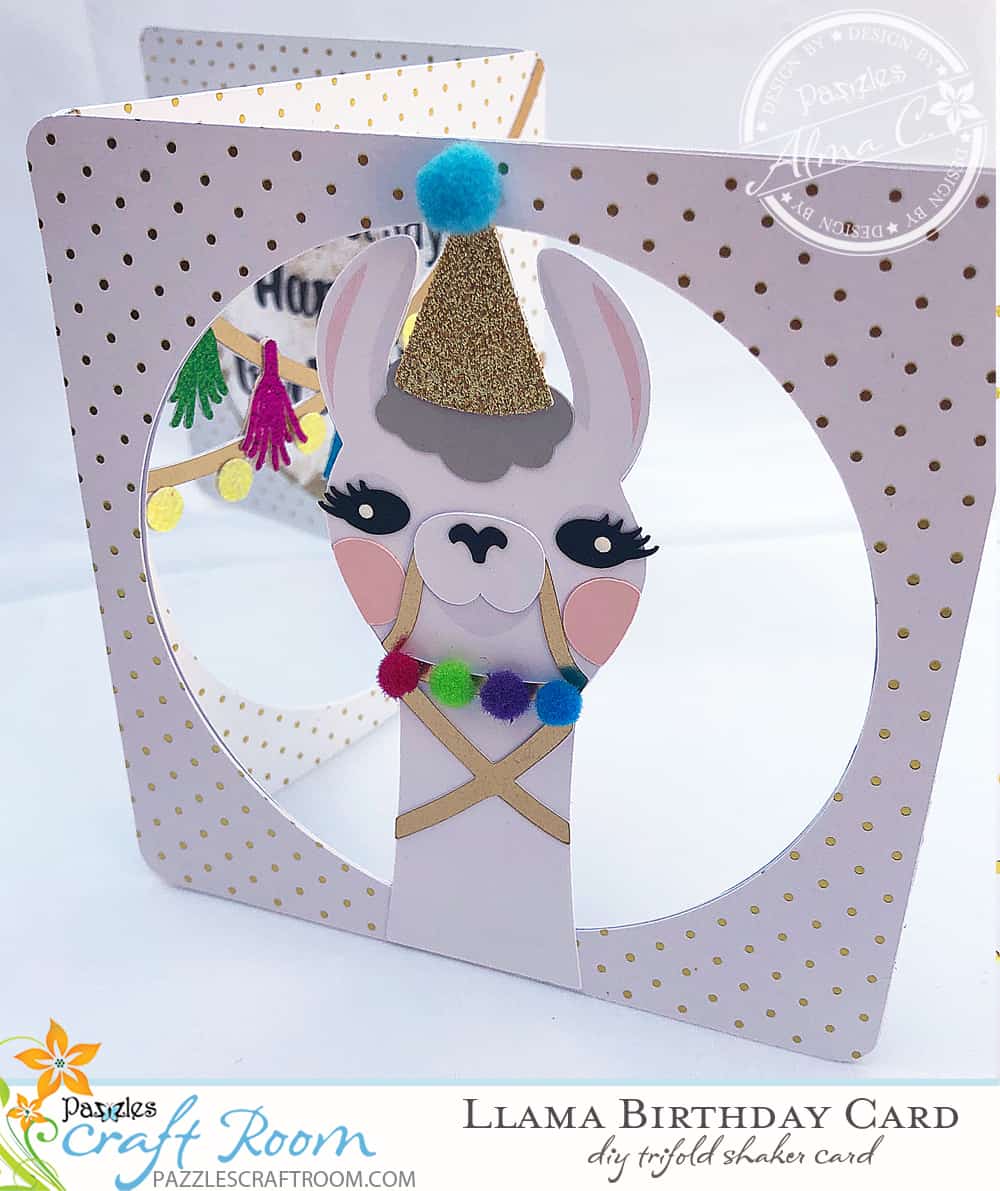 If you aren't into unicorns, but still want to be trendy – go with a llama birthday card.
Even better, this isn't just a normal card, it folds out accordion-style to reveal three unique (but complimenting) squares.
Llama Birthday Card by Pazzles Craft Room
Die Cuts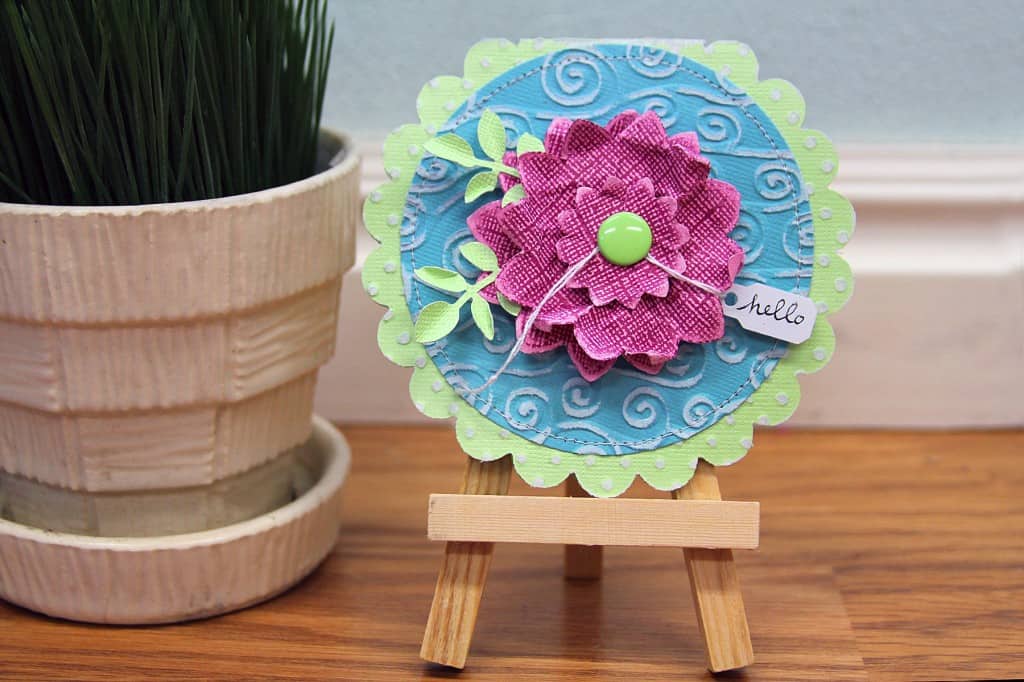 A birthday card doesn't have to be the traditional folded-in-half style, it can also be a postcard style like this one made from die cuts.
Check out the Consumer Crafts blog to learn how to make these simple but beautiful cards.
How to Make Quick & Easy Handmade Cards with Die Cuts by Consumer Crafts
Peek-A-Boo Design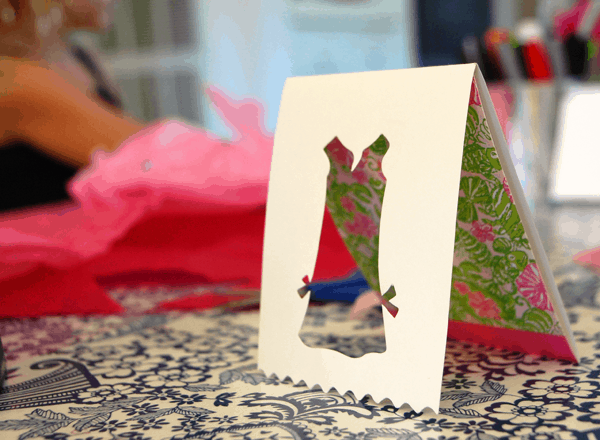 This blogger came up with a creative peek-a-boo design that allowed her to use a cutout and some patterned paper.
There is really no limit to the cutout possibilities here. You can do anything from a high heel, to a wine glass, to the bat signal. Get creative!
Homemade Card Idea: Peek-a-Boo Cards by TinkerLab
Easy Script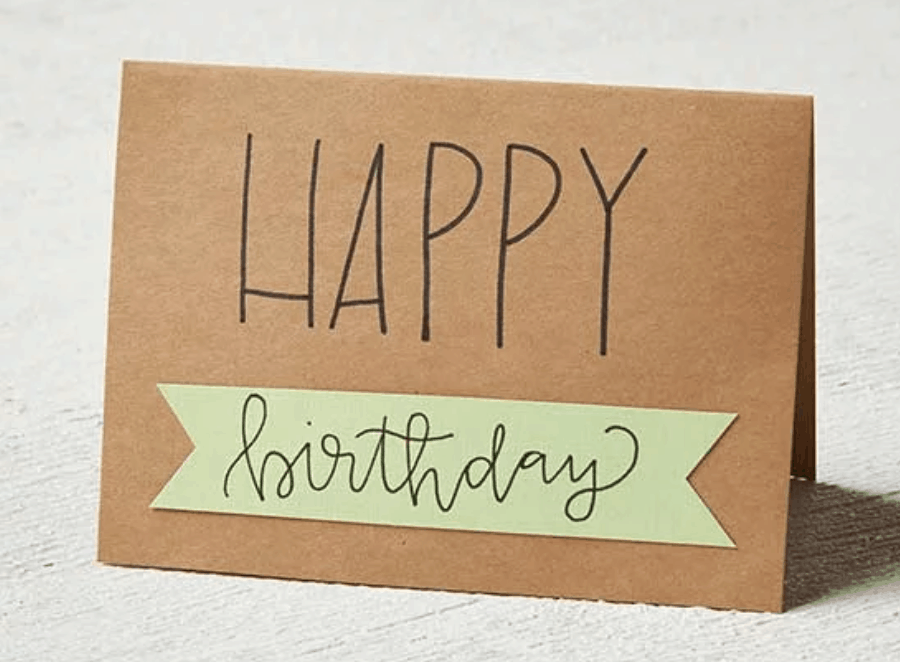 Sometimes, it's not necessary to go over-the-top with design. Case in point: this simple but sweet birthday card.
All you need to recreate this card are a couple of pieces of paper and some good handwriting.
Handmade Birthday Cards by Better Homes & Garden
Fancy Birthday Card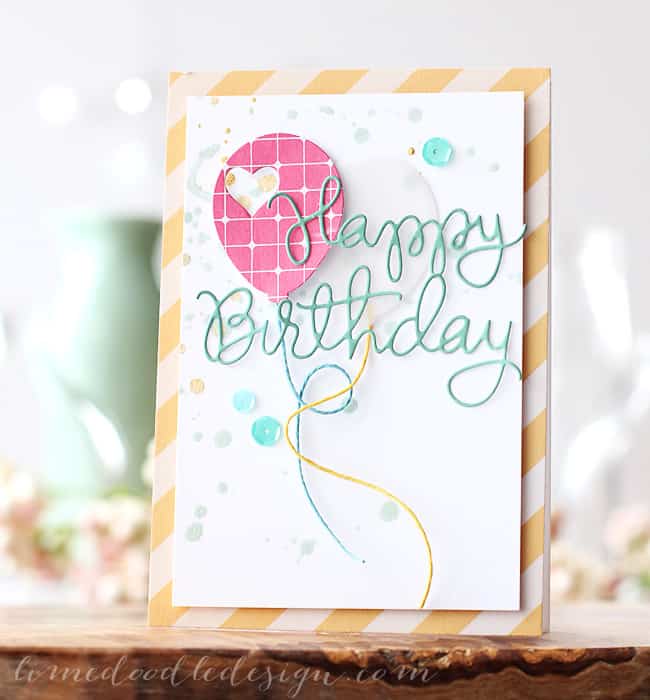 This blogger used stamps and die cuts to create this gorgeous birthday card.
If you're not into die cuts (or have no idea what they are), you can use this as inspiration. You can get a similar look with layers of scrapbook paper and some good handwriting.
Happy Birthday by Lime Doodle Designs
Letterboards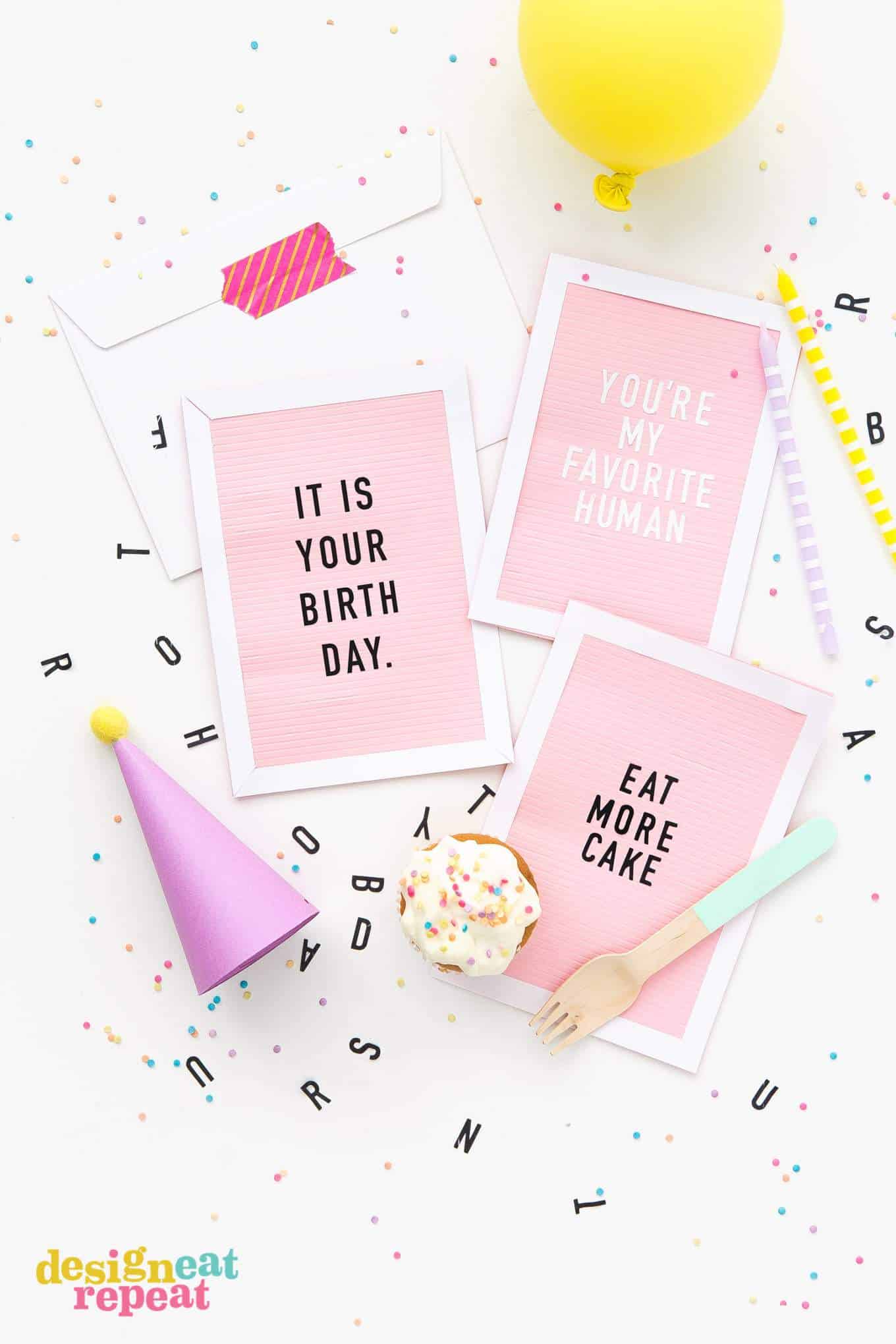 These may be some of the cutest handmade birthday cards, ever.
It's obviously not a real letterboard, but the look of it is on trend and allows for some fun messages (like "The Office" quote on the blogger's example).
Adorable Letterboard DIY Birthday Cards by Design Eat Repeat
Origami Cupcake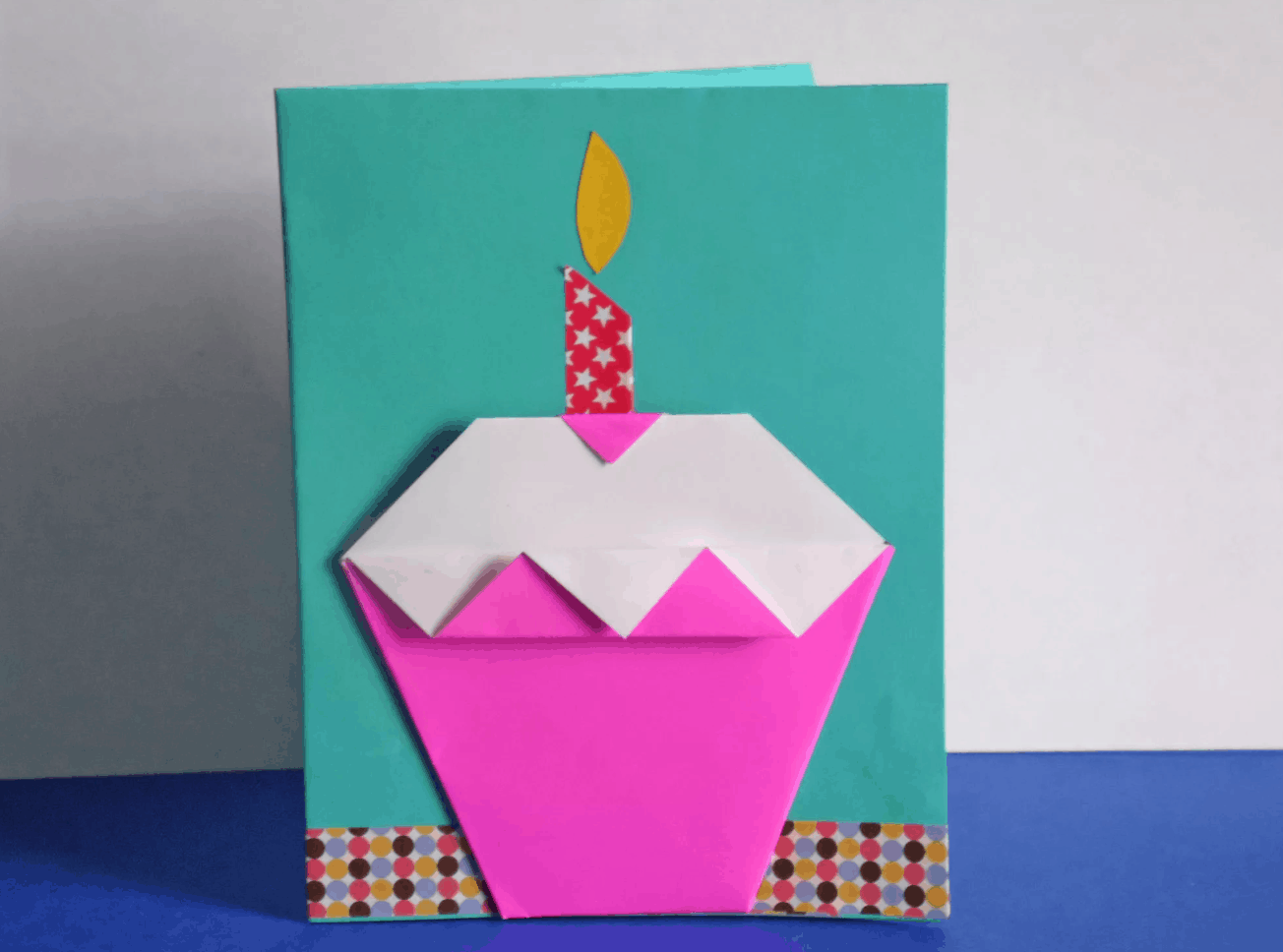 When you hear origami, it's natural to tune out if you feel like you just don't have the skills for it. But seriously, this one is really simple!
The Spruce will walk you through each easy step to help you create this beautiful cupcake card.
Easy DIY Origami Cupcake Birthday Card by The Spruce
Simple & Bright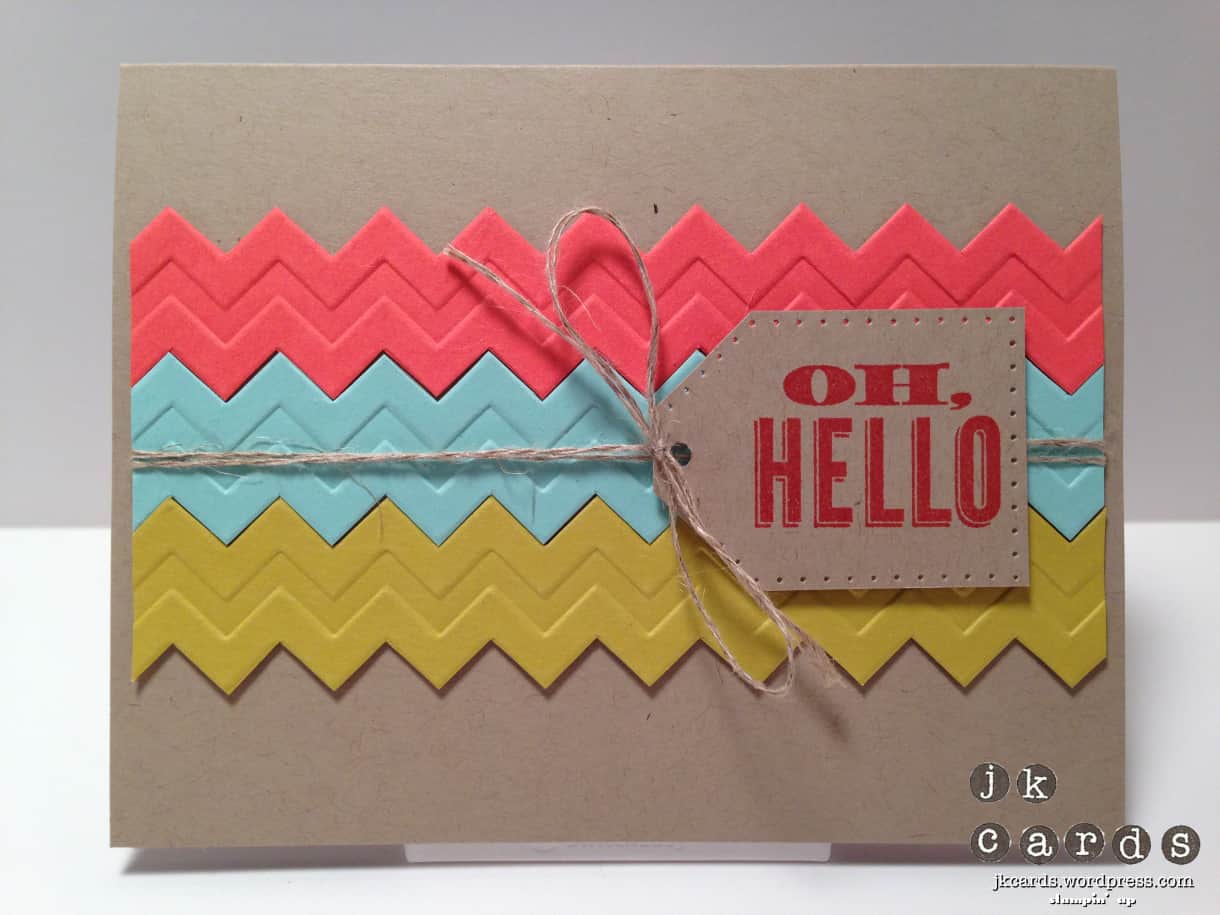 This blogger's card is pretty unique to them, but it's a great example of how much you can do with just a few materials.
It wouldn't be hard to get a similar look using some scrap paper, washi tape, or even markers. The best thing about a handmade card is that you can use whatever you want to create your beautiful final product.
Fab Friday 16 by JK Cards
Birthday Layers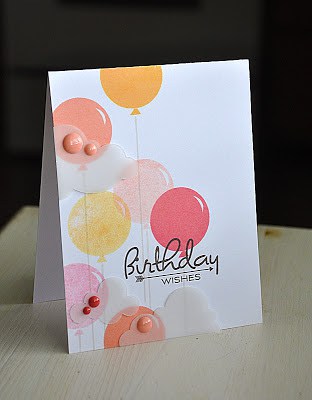 This blogger used a stamp kit to create the bulk of her card but added some layers that looked like clouds with little colorful dots on them.
If you're into stamps, you can probably recreate this exact look, but if not, you can get something similar by freehanding the balloons and script.
Birthday Card by Simply Stamped
Ink Splatter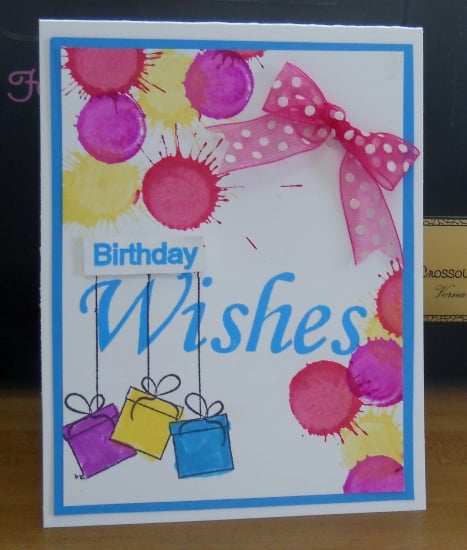 Do you have a bingo dauber laying around the house? Use it to your advantage!
This blogger used her dauber to create a cool ink splatter effect on her birthday card. If you don't want the messy paint look, you can use daubers to make balloons, or patterns, too.
Birthday Splash! By VA's Creative Clutter
Conclusion
Whether it's for your best friend, kids, parents, or someone else you're close with, giving a card that you took the time to make yourself will have a special effect because they'll know you put a lot of thought and heart into the project.
It can be as simple as printing out a template and coloring it in yourself, or as complicated as literally hand stitching a design onto a card. Whatever you do, the person you love will more than likely remember your card above all the store-bought ones.