15 Easy DIY Corner Shelves Ideas
When you have an awkward corner in your home some corner shelves are a great way to spruce it up. However, purchasing a corner shelving unit online can cost a pretty penny.
Making these shelves yourself might seem like a daunting task but it's worth the extra time and effort to try. You'll get a custom look and you may even learn some new skills in the process.
Corner Hutch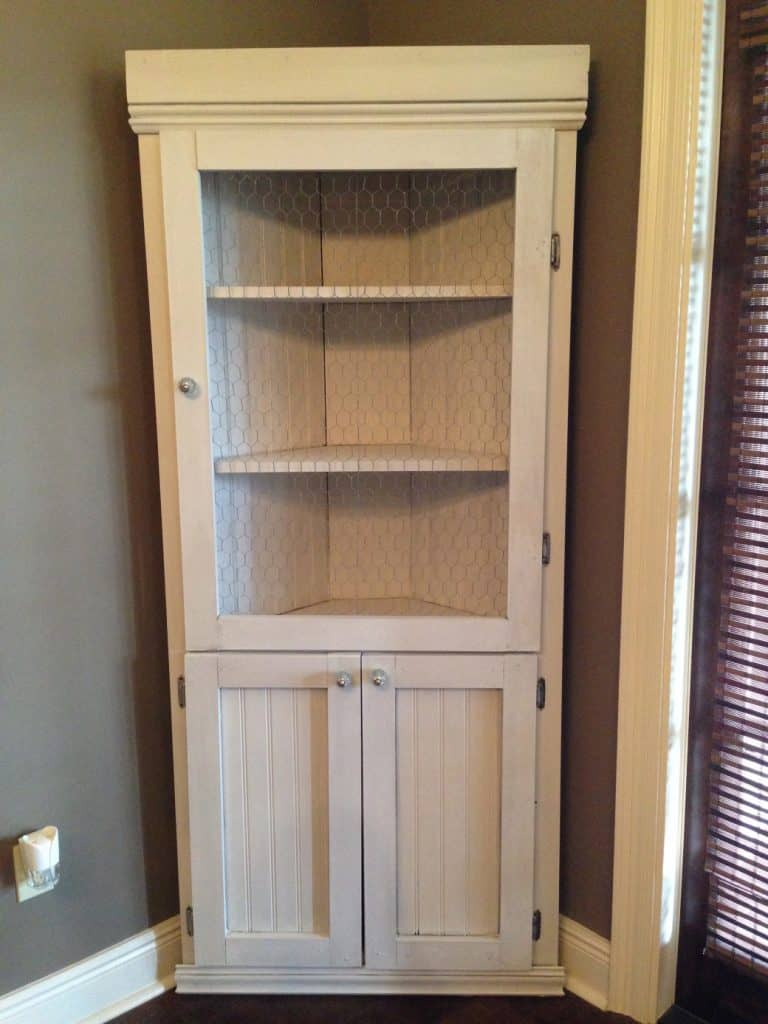 This corner hutch looks like it could be a family heirloom.
A little woodworking, some chicken wire, and elbow grease will give you this gorgeous, rustic looking hutch.
DIY Corner Hutch by The Sweet Life
Industrial & Rustic Corner Shelves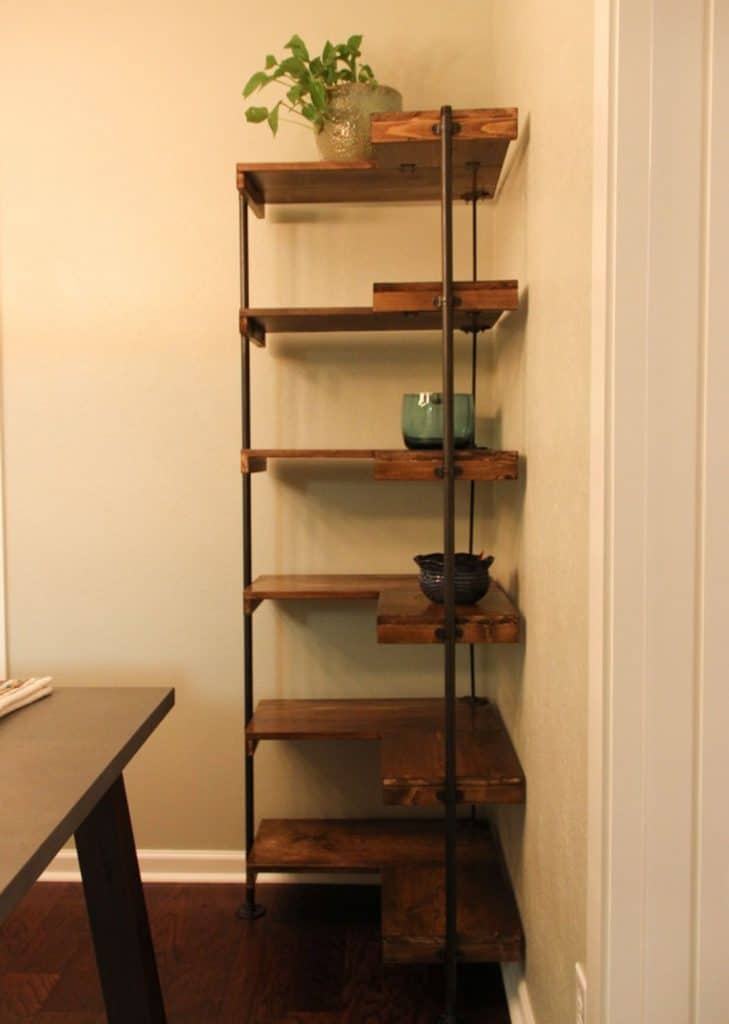 If there's one trend that isn't going away anytime soon – it's the industrial rustic look.
These shelves incorporate metal rods with deep stained wood shelves. It's beautiful and easy to do on your own.
Easy DIY Corner Shelves by SawHD
DIY Floating Corner Shelves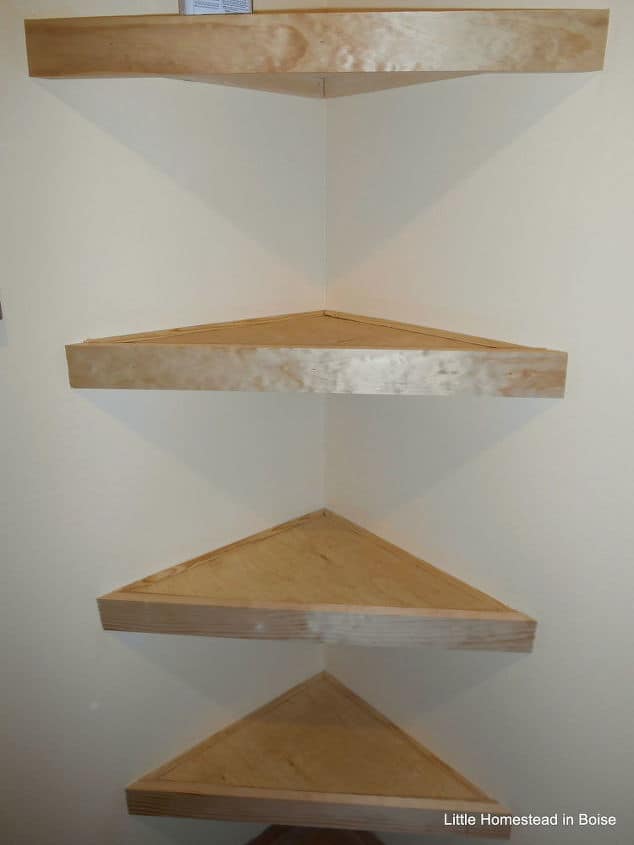 One way to create "floating" shelves is by drilling in small pieces of wood to a wall for a flat piece to lay on top of it.
This tutorial will give you all the details you need to create floating shelves using this technique.
DIY Floating Corner Shelves by Hometalk
Boxed Corner Shelf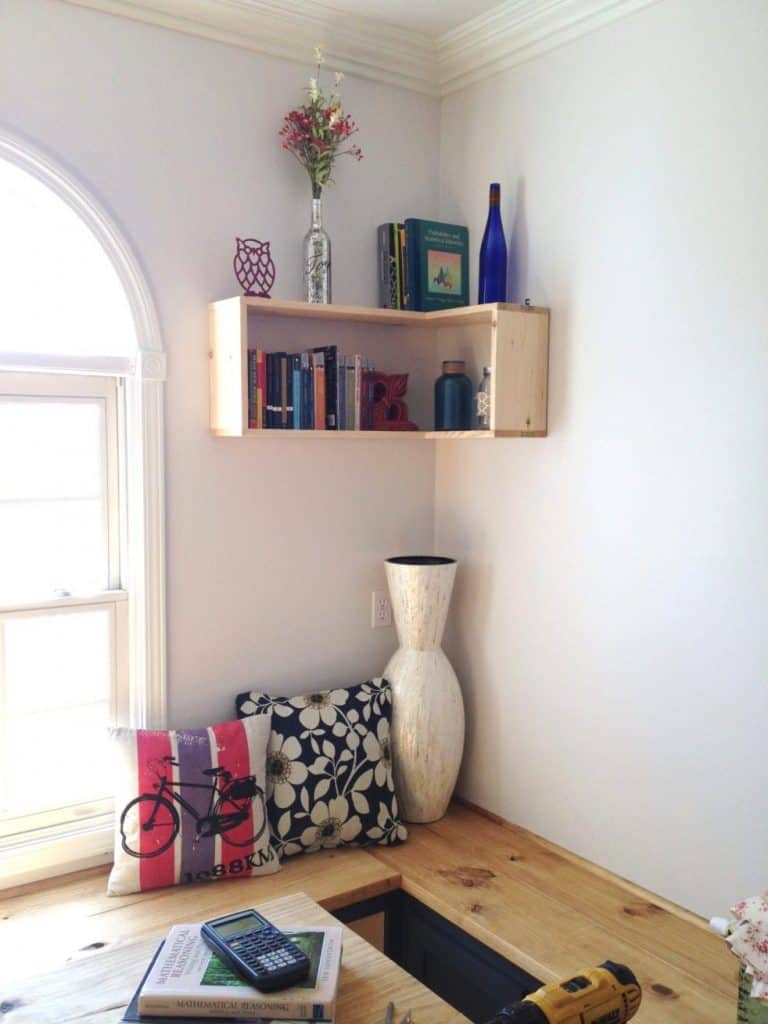 This shelf looks like it could be found on the Anthropologie website for a solid $200+, but it's an easy DIY project.
The end result is unique and beautiful – plus it will be customized to your home and space.
DIY Corner Shelf by Woodshop Diaries
Zig Zag Corner Shelf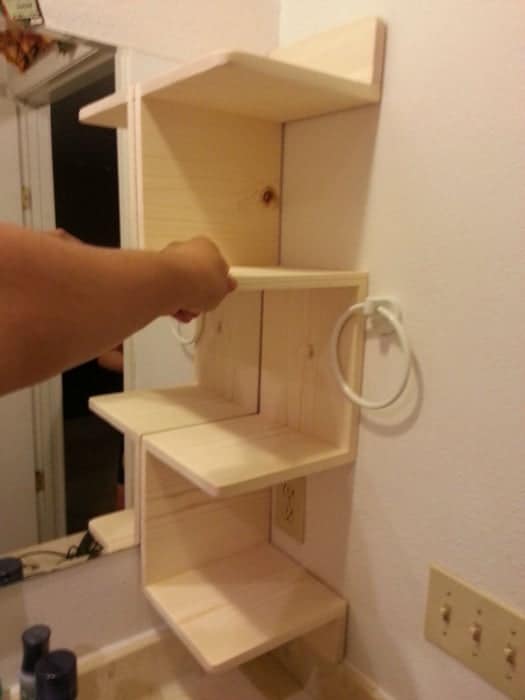 Zig Zag shelves have to be some of the coolest looking out there, and they're actually really simple to make.
You don't have to be a master woodworker to create this look, if you can cut a straight line, you're good.
How to Build a Corner Shelf for Your Bathroom by Instructables
Pallet Wood Corner Shelf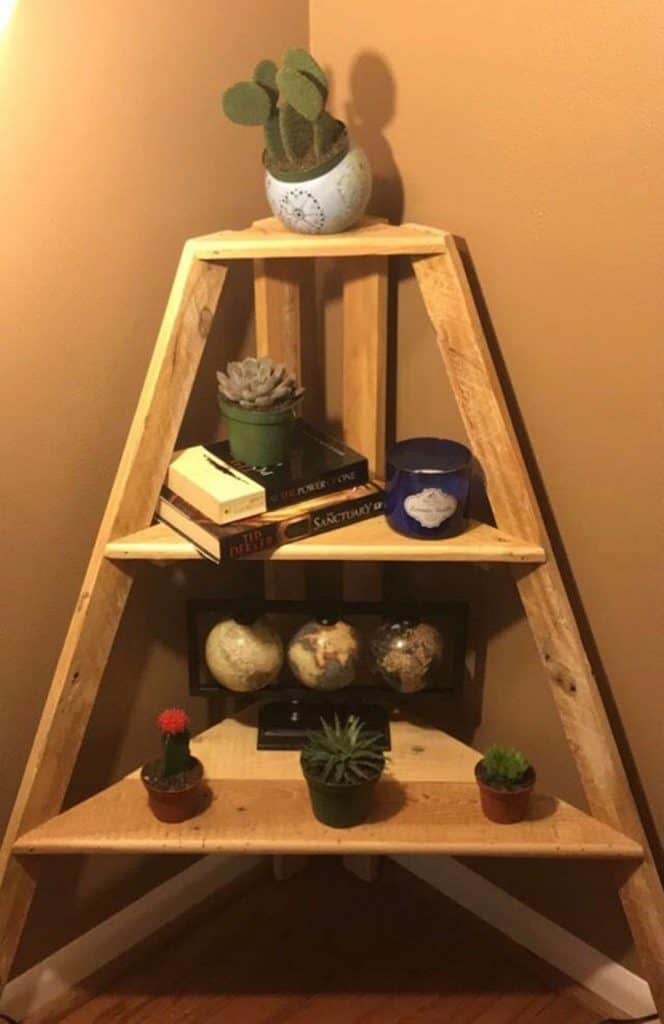 If there's a DIY project to be done, there is someone who can figure out how to make it happen with a wood pallet.
This corner shelf was created using a pallet of wood and the finished product is gorgeous.
DIY Corner Shelf Made From Pallet Wood by Good SGN
Corner Cabinet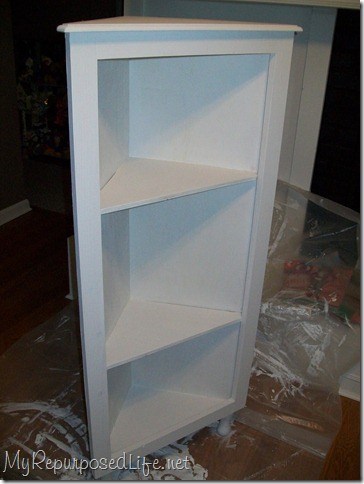 If you need a little more hidden storage, a shelf/cabinet combo may be the best use of corner space.
This particular cabinet was made using a seethrough door, but you can opt to use a solid piece if you want to hide some of your belongings.
DIY Corner Cabinet by My Repurposed Life
Faux Built-In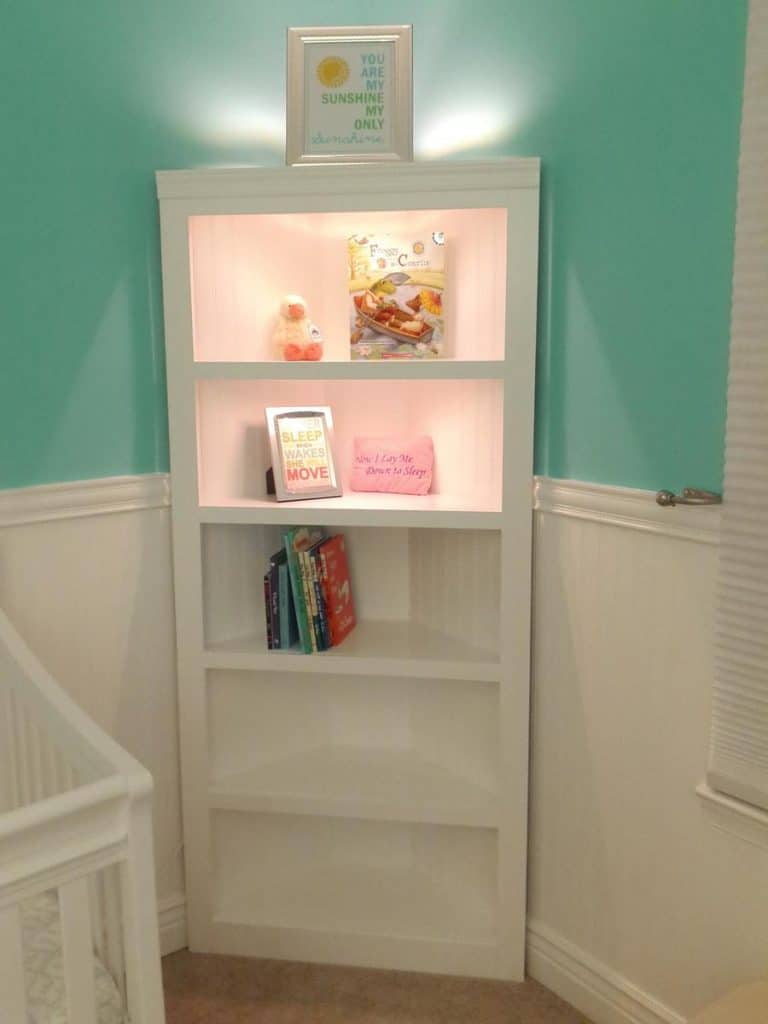 If you've ever walked into a home and marveled at a built-in bookshelf, this corner shelf is the perfect hack for you.
By painting it the same color as the trim and wall, it has the illusion of being a built-in. Plus, it's really cute in this nursery.
Corner Shelf for Nursery by Ana White
3D Corner Shelf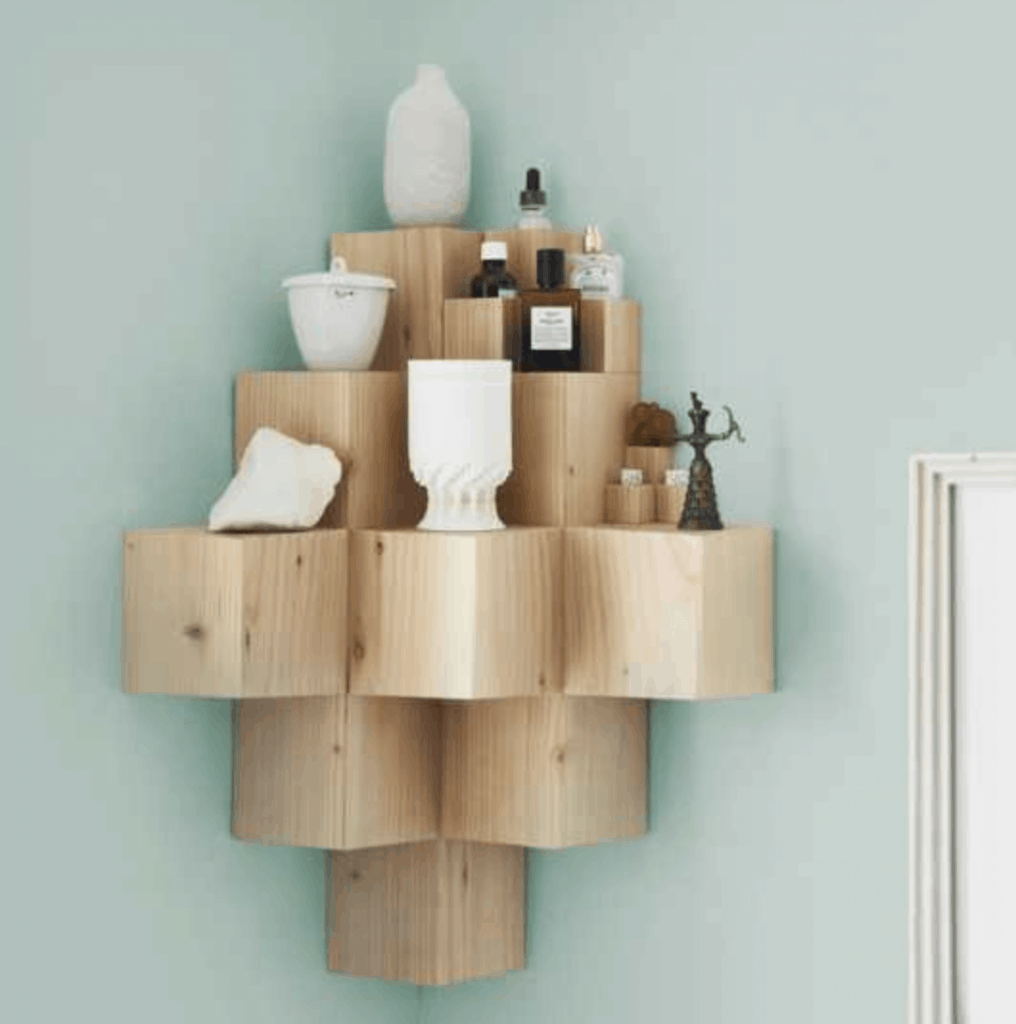 Doesn't this shelf make you want to find a corner in your house just so you can have it?
This design is unique, to put it lightly, but provides a gorgeous focal point in a room and will certainly serve as a conversation piece.
Sold Wood Shelves by Lushome
Repurposed Doors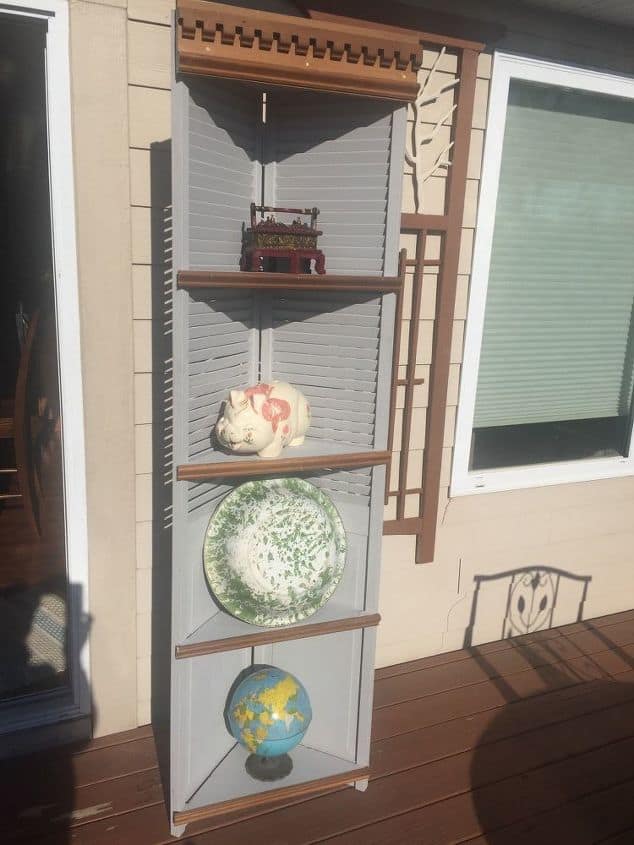 Don't get rid of those bi-fold doors!
You can repurpose them and turn them into a really cool, texturized corner shelf, instead.
How To Run Bi-Fold Doors Into A Shelf by Hometalk
Thick Floating Shelves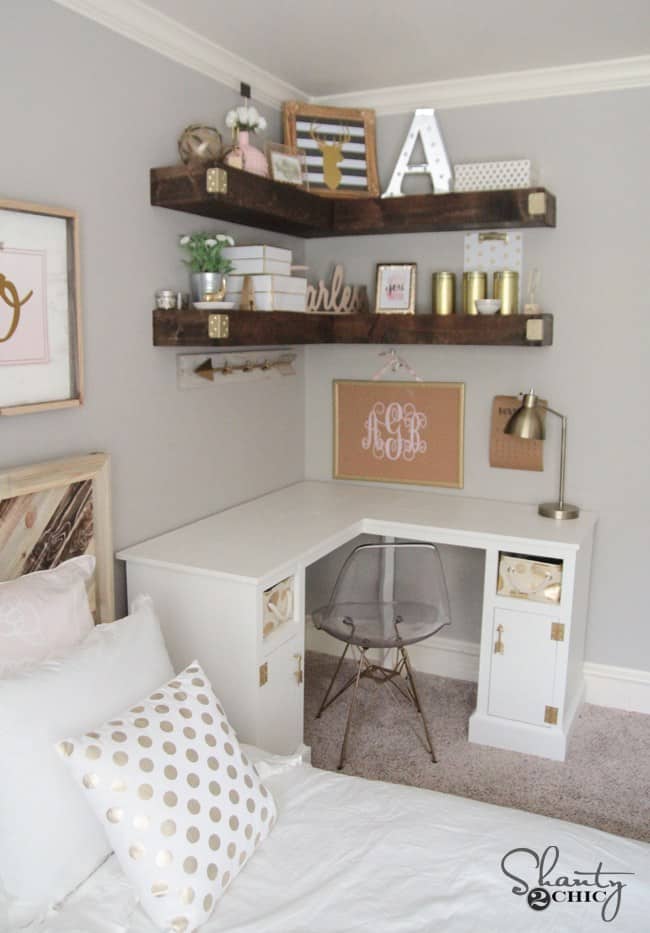 These shelves look like they're floating, but they're definitely securely snug in their corner.
This blogger used another common technique to create this floating shelf look, and the end result is a rustic, rich focal point.
DIY Floating Corner Shelves by Shanty 2 Chic
12. Rounded Corner Shelves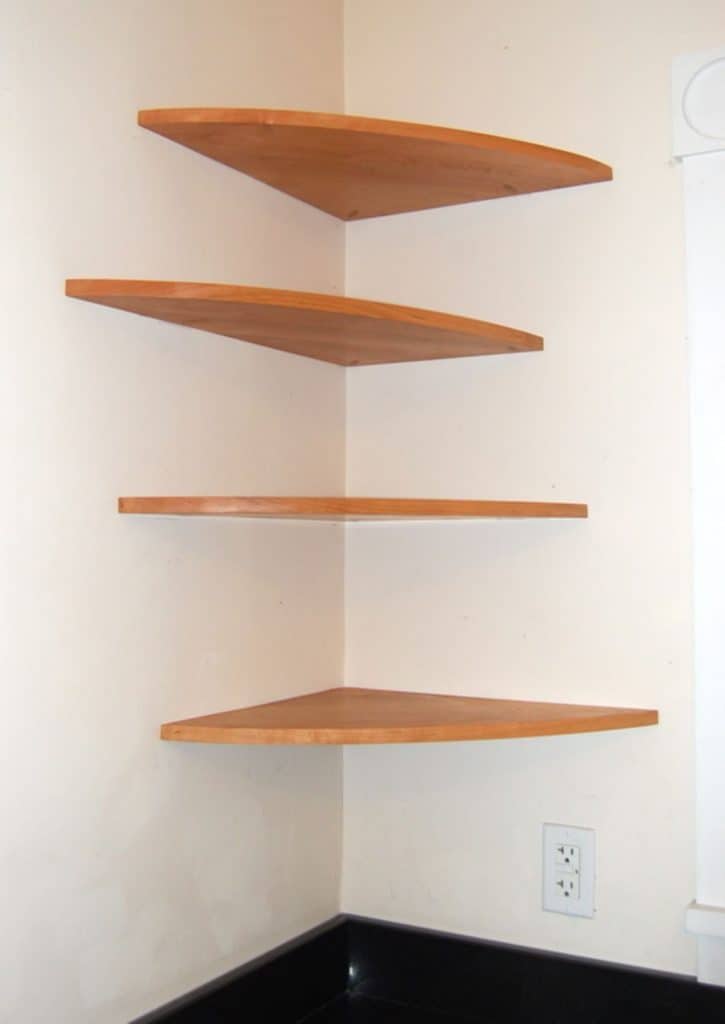 Corners are very linear, and if you want to add a little something extra, rounded corner shelves will definitely do the trick.
This DIY project isn't much different from some of the other corner shelves, but it does require a little extra skill at the saw to get those nice rounded edges.
Easy DIY Corner Shelves by SawHD
Corner Bookcase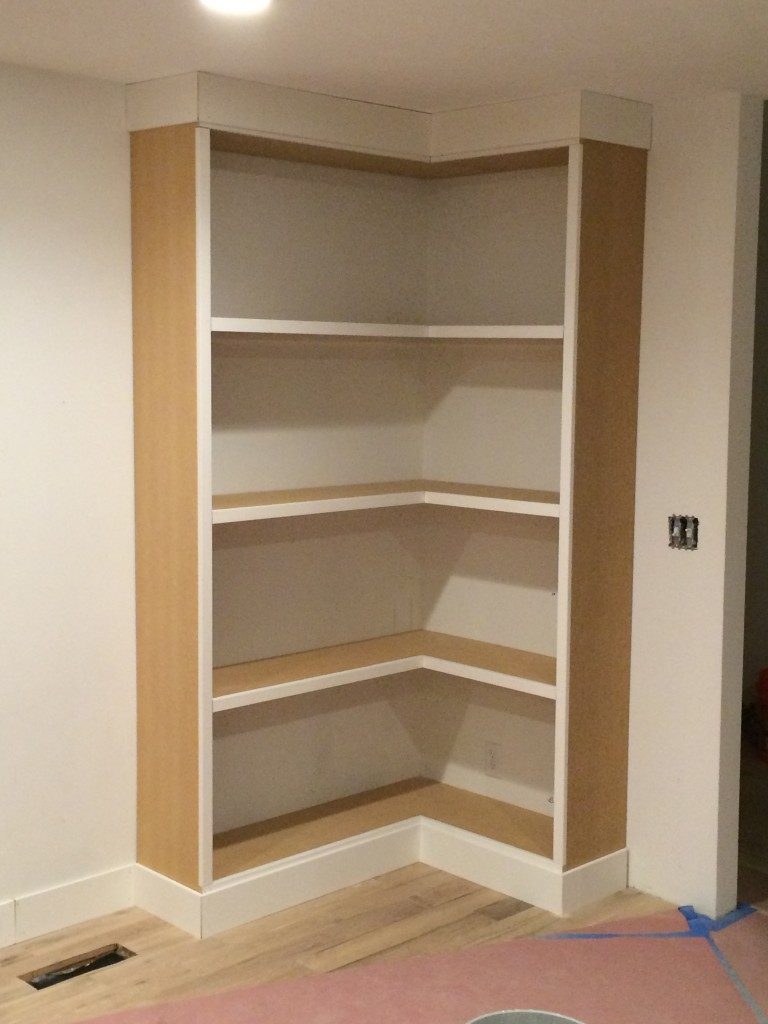 This floor to ceiling corner bookcase is designed to look like it was built-in with the original floorplan.
These bloggers created a video tutorial to teach you everything you need to know to recreate this simple, but beautiful shelving unit.
DIY Corner Bookcase by Stagg Design
Door Corner Shelf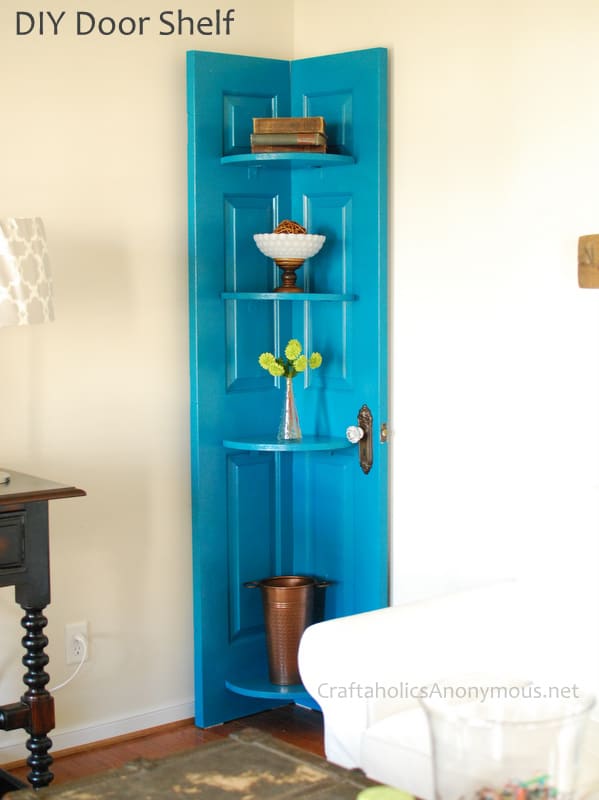 Who knew an old door could turn into something so unique (and useful)?
What makes this project all the more interesting is the choice of colors this blogger used. This tactic is a great way to add texture and color into an otherwise bland area of your home.
DIY Door Shelf Tutorial by Craftaholics Anonymous
Kitchen Corner Shelves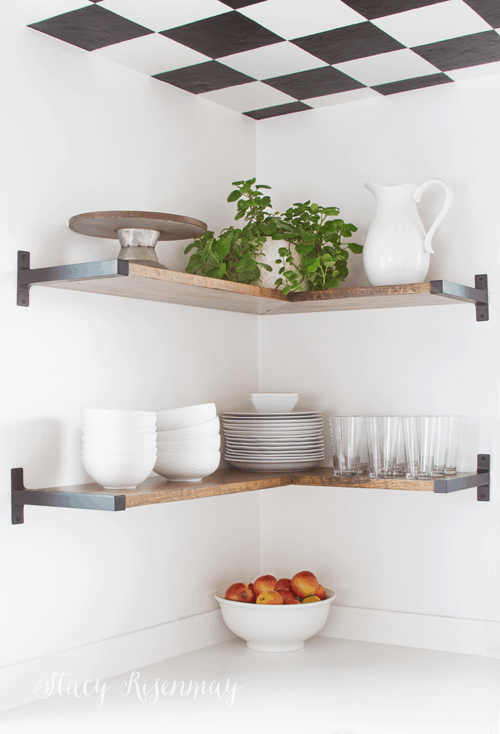 If you've kept up with home trends, even just a little bit, over the last few years you know that open kitchen shelving is a huge deal.
These corner shelves are not only on trend, but gorgeous. The added touch of metal gives them something just a little different, but keeps the sleek look.
Open Shelves In The Kitchen by Not Just A Housewife
Conclusion
You can easily spend well over $150 on simple corner shelving units or you can DIY. If you're not a master woodworker the angled cuts may be intimidating but the little extra time to learn the skill will be well worth the end product. (and if you are a master woodworker, you probably don't need tutorials anyway).
By DIYing corner shelves, you can customize the stain, shape, and overall design to your liking. Plus, you'll save some serious money.