30 Easy & Budget-Friendly DIY Pallet Shelves
Thanks to the farmhouse chic design trend, pallets are a huge commodity for DIYers. Even better, you can get this already-distressed looking wood for free (well, assuming you know a business owner or don't mind going through some garbage).
One thing you can build from pallets? Shelves! You can increase your storage space, give your books a home, or put things on display all with the help of a simple pallet.
Wall Mounted Bookshelf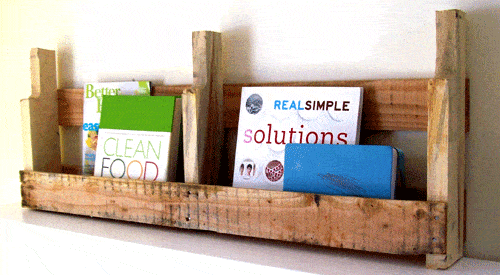 She calls this "The Original Pallet Shelf" for a reason – it's a classic!
You can use this tutorial to create the standard pallet shelf you see all over Pinterest to add a little charm to your home.
by Ana White
Shelf with Hooks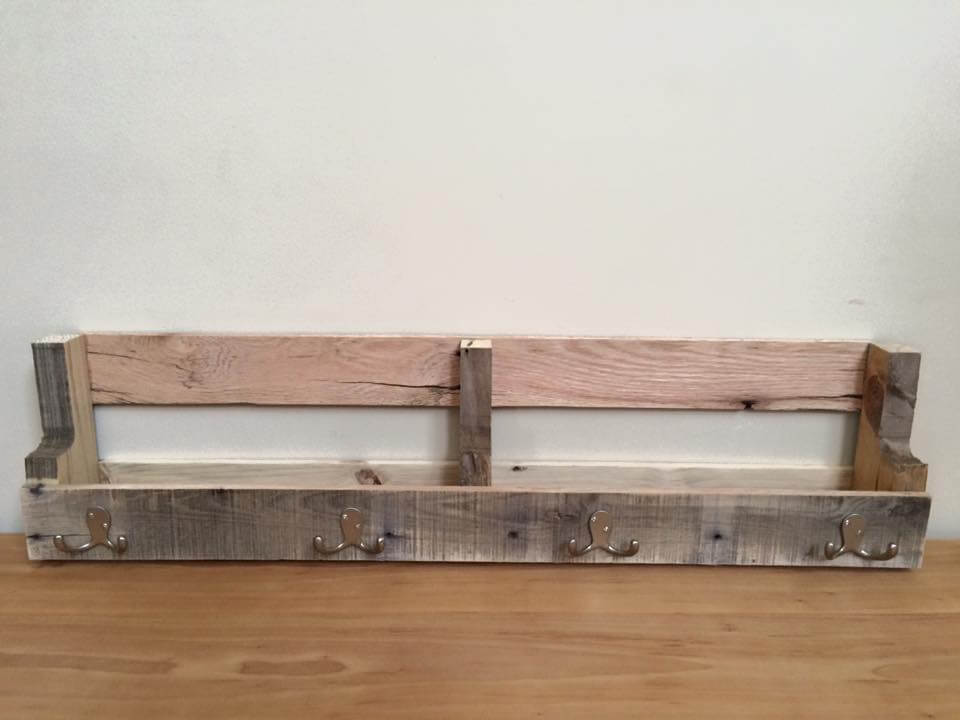 This shelf is much like the classic pallet shelf, but it has added hooks on it.
You could use the shelf to store your cookbooks and hang an apron or two from the hooks. Or you can make it a mini drop-zone for your kids. The possibilities are endless.
Display Shelf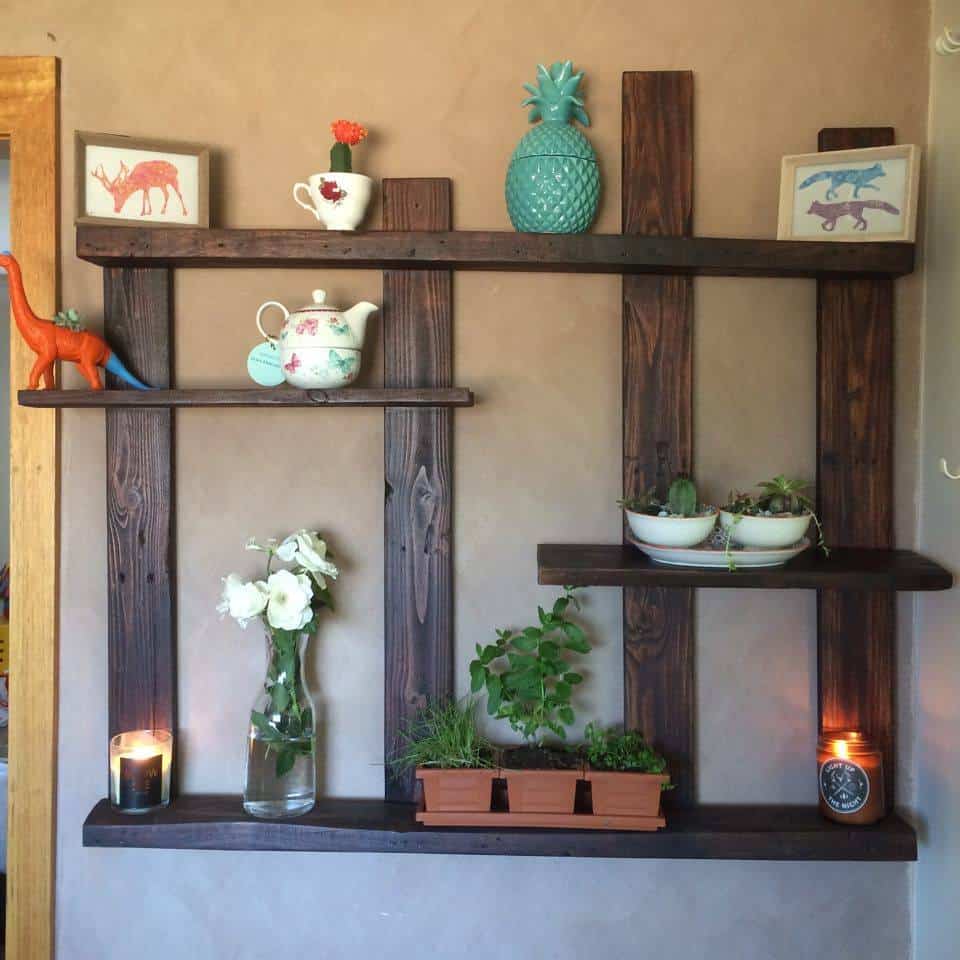 Who knew a pallet could look this good?!
You just need to put a little extra elbow grease into this project to get this gorgeous finished product. It's nothing a little sanding and staining can't accomplish!
Bottle Shelf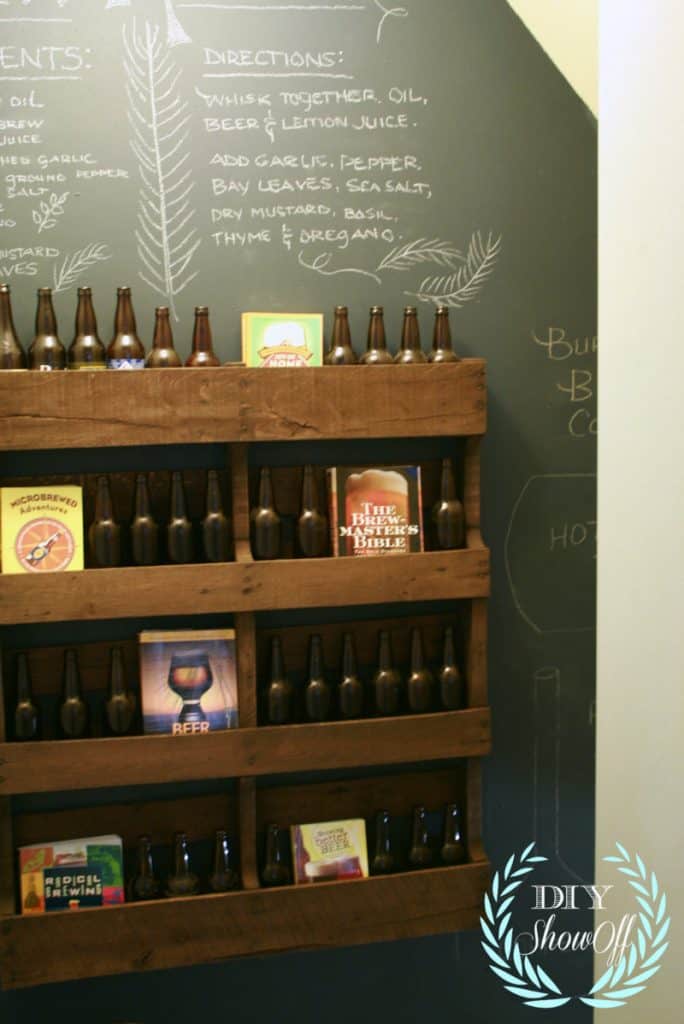 If you're a fan of bottled beer, you can replicate this shelf and use it just like this blogger did.
For everyone else, you can store wine bottles, crafting supplies, or basically anything else you can think of!
by DIY Show Off
Zig Zag Shelf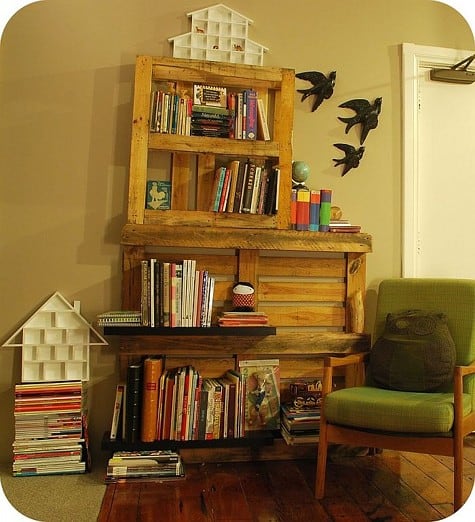 This blogger got really creative with her self, and gave it a bit of a zig-zag pattern.
You can recreate this, or use it as inspo to create your own custom shelving unit.
Custom Designed Shelf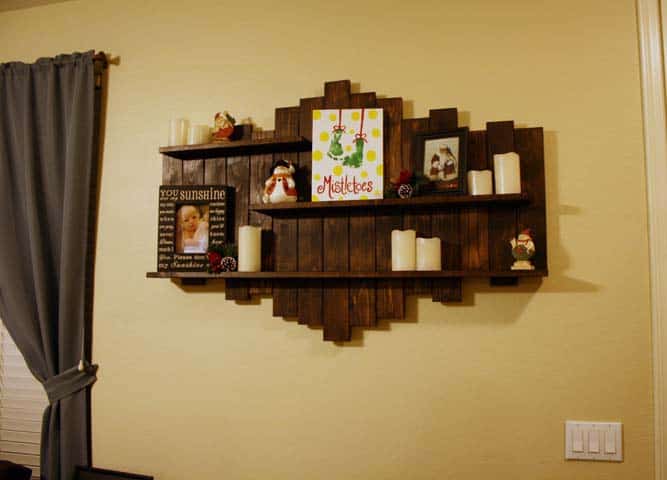 There is something so aesthetically pleasing about this shelf!
The best part about this design is that it doesn't have to be perfect to be complete! The uneven edges give it character and don't require as much precision.
10 Minute Shelves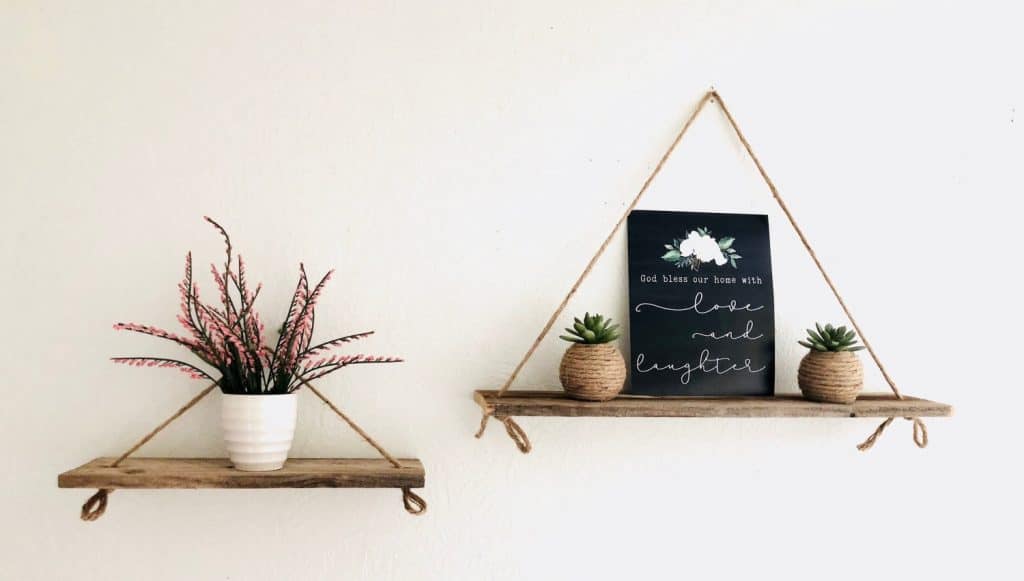 These little shelves are so simple that even a little kid could make them!
Not to mention, they're really cute! You can hang these basically anywhere in your home that needs a little texture or character.
Tall Shelf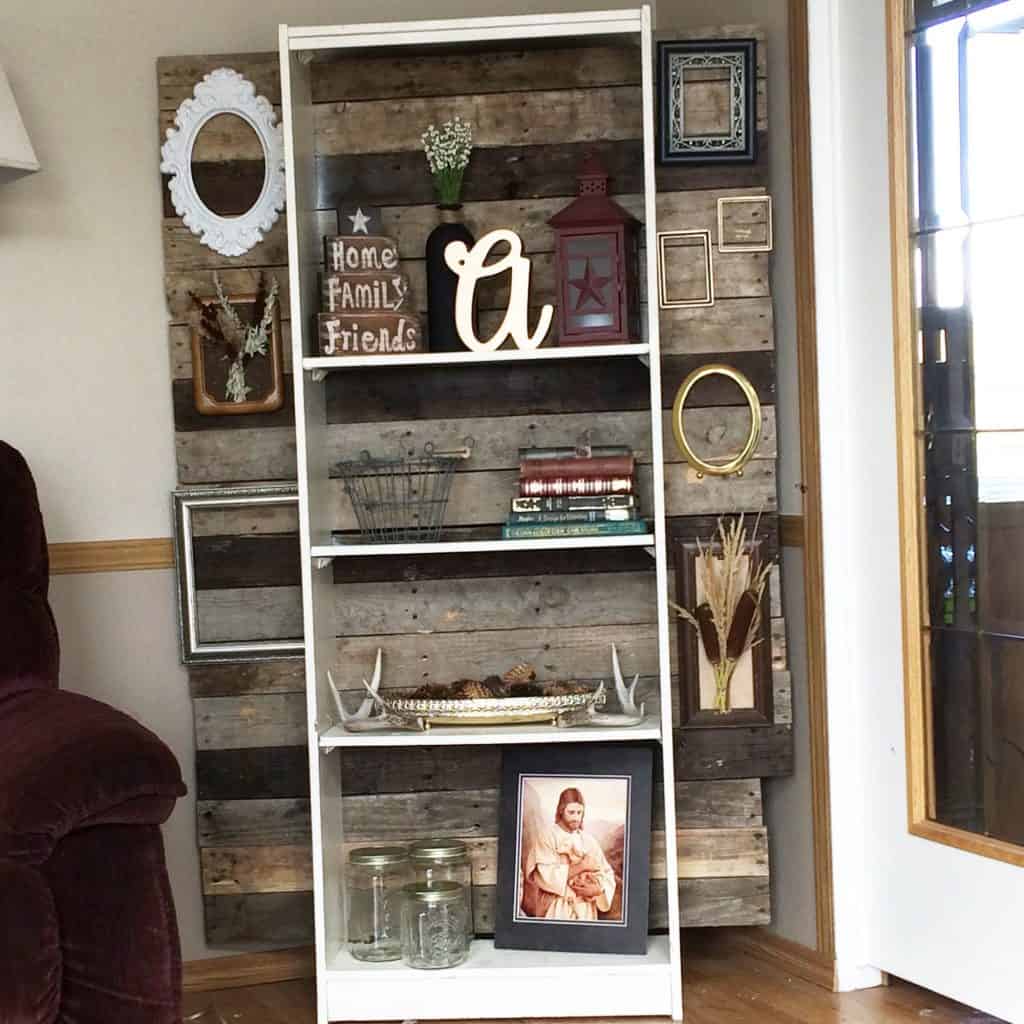 This blogger built the tall shelving unit from the pallet, and also lined the back wall with additional pallet wood to give it a complete look.
If you already have a bookcase, consider recreating the wood planking behind it.
Two-Tier Shelf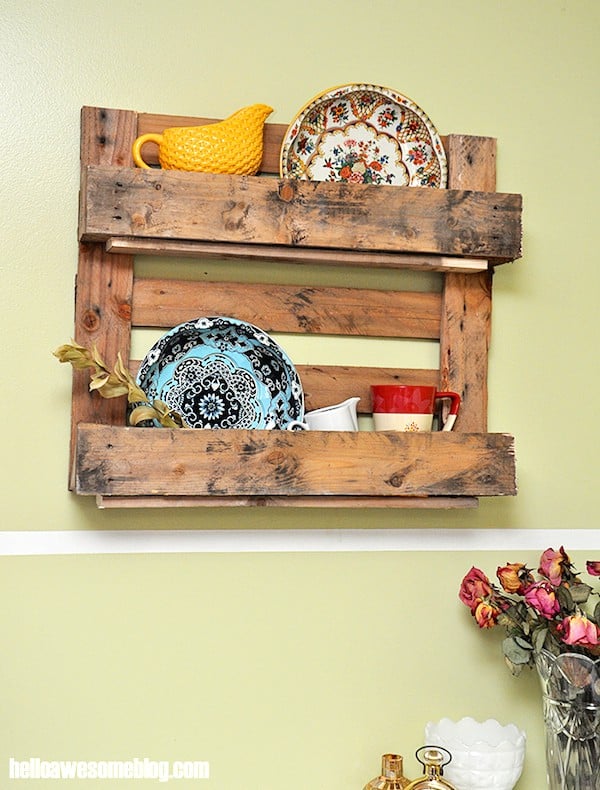 This blogger took the classic pallet shelf and added a second tier to it.
It's still about as simple as it gets in terms of DIY projects, but it doesn't sacrifice style.
by DIY Candy
Tall and Thin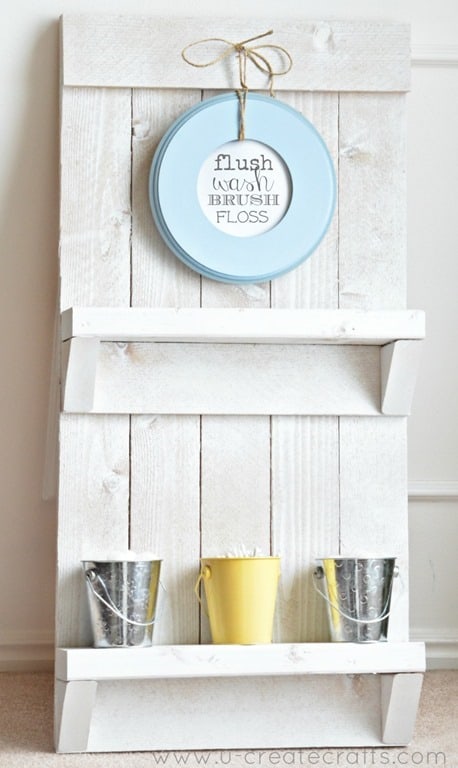 If you have a spot on a wall that just needs a little *something* but you're not sure what, this could do the trick!
It's definitely more of a statement or design piece rather than something super functional, but it's really pretty and can give you the final touch you need.
by U Create
Statement Piece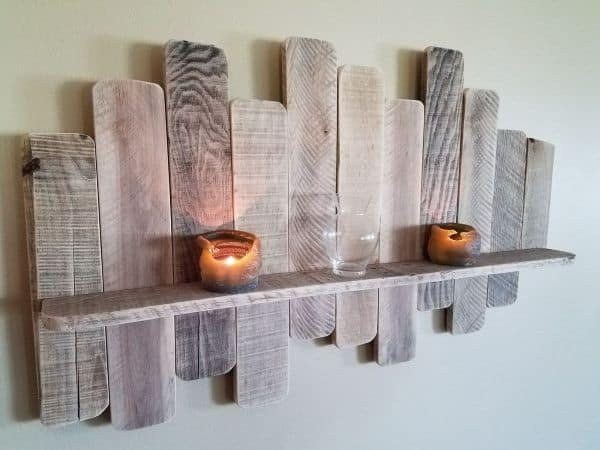 It doesn't get much prettier than this! The single horizontal shelf brings structure to the uneven verticle planks, and creates a gorgeous finished product.
One thing to note: the candles look really pretty in this picture, but if you're recreating the look consider flameless candles.
Floating Shelf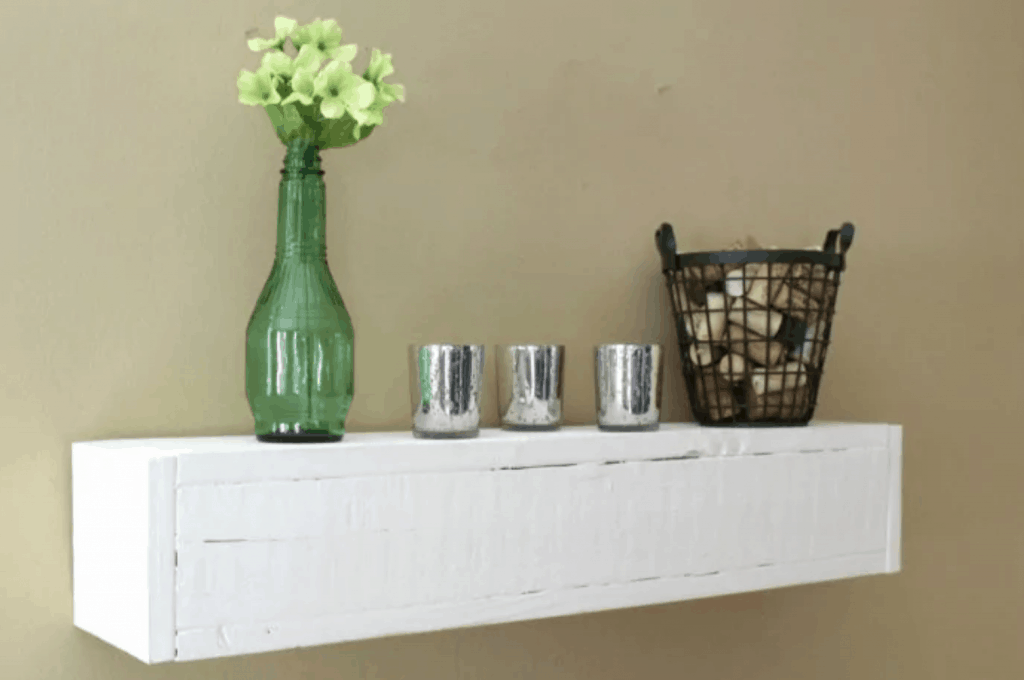 Floating shelves have a little extra rustic charm, and somehow add a little more to a room than a standard shelf.
You can recreate these shelves by following the tutorial on Angie's List.
by Angie's List
With Some Added Chicken Wire for Character
This blogger really doubled down on the whole farmhouse chic trend by adding some burlap and chicken wire.
You don't have to go that far (unless you want to, of course!), but this is a great inspiration for what you can make when you think outside the box.
by Debbie Doos
Storage Shelf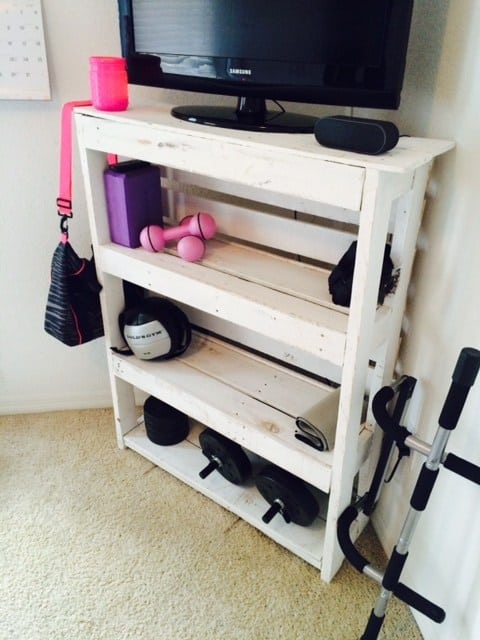 You can use pallets to create a storage shelf like this blogger did. She uses her unit to hold a TV and some workout equipment.
She was really crafty in how she built her shelf, because she designed it for exactly what she needed. This is a great example of why a DIY project is so much better than trying to find a one-size-fits-all piece of furniture at a store.
Window Shelf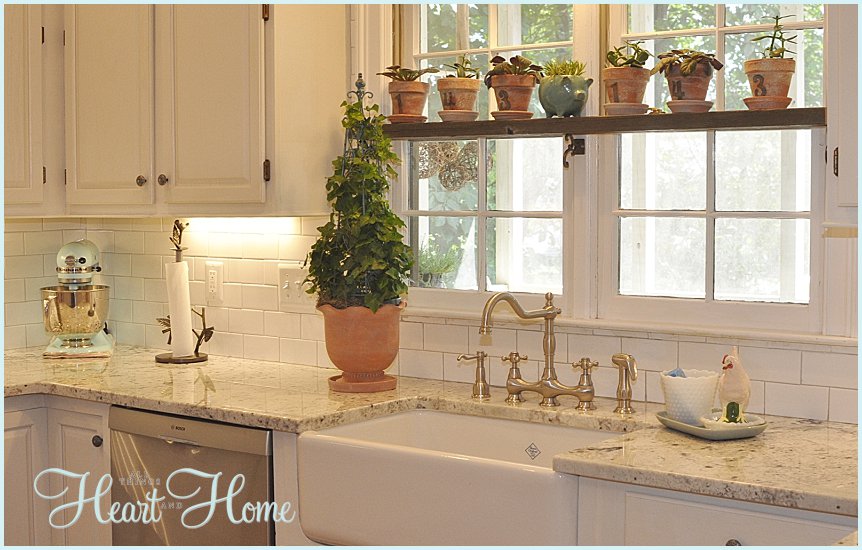 Isn't this the dreamiest kitchen, ever? It's made extra special thanks to the window shelf.
This blogger added some herbs to the shelf to bring in some greenery and tie the whole look together.
Book Cases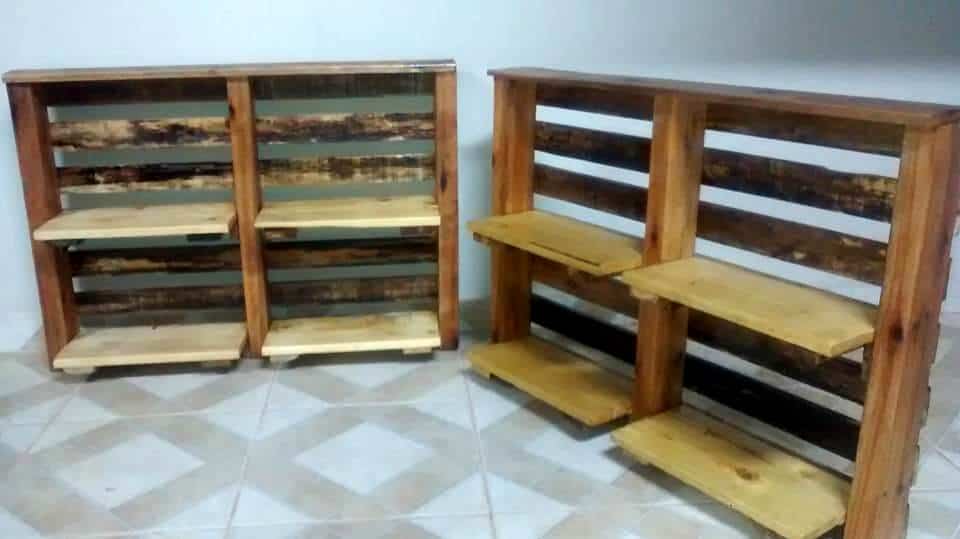 If you need somewhere to house a few books, this is a great project for you!
Since pallets aren't deep by nature, this blogger added some extra wood to give some depth.
by Pallet List
Toiletry Shelf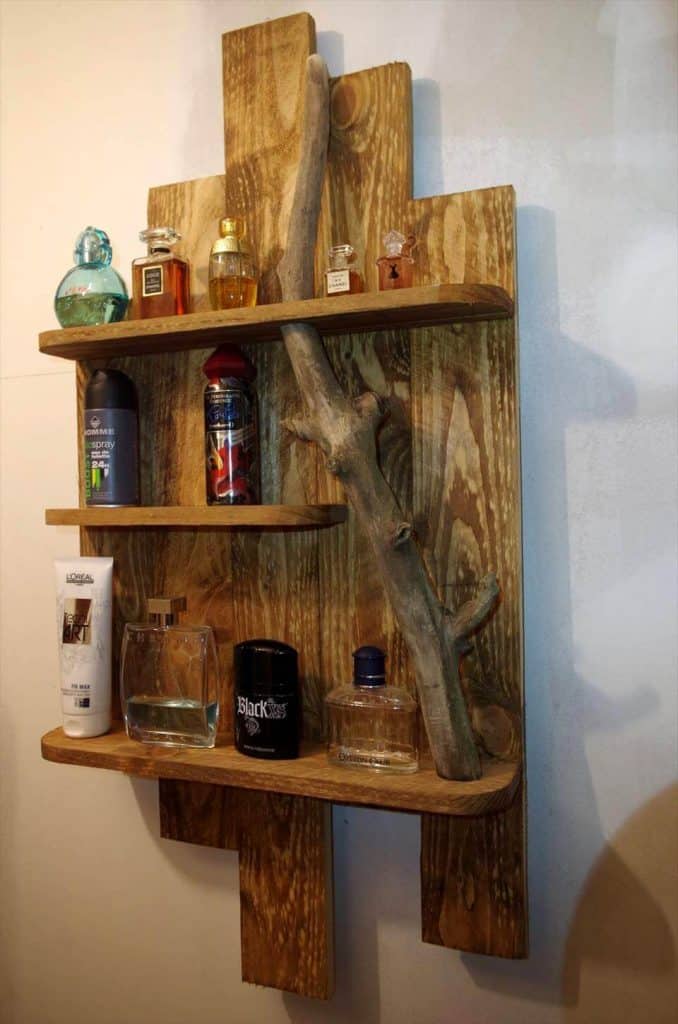 This shelf is functional, aesthetically pleasing, and it has an actual tree branch running through it. It doesn't get more rustic than that!
You don't need the tree branch to recreate this shelf, though. It will look (almost) as good without it.
by Pallets Pro
Easy and Chic Shelf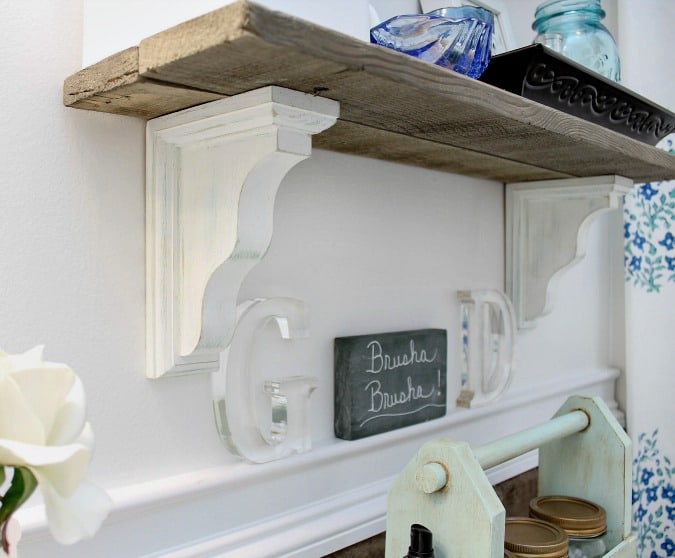 This blogger added a single shelf using pallet wood and mixed it in with shelves made from other textures to create a unique but inviting design.
It's a good example of how mismatching can actually create a really put-together look.
Flower Box Shelf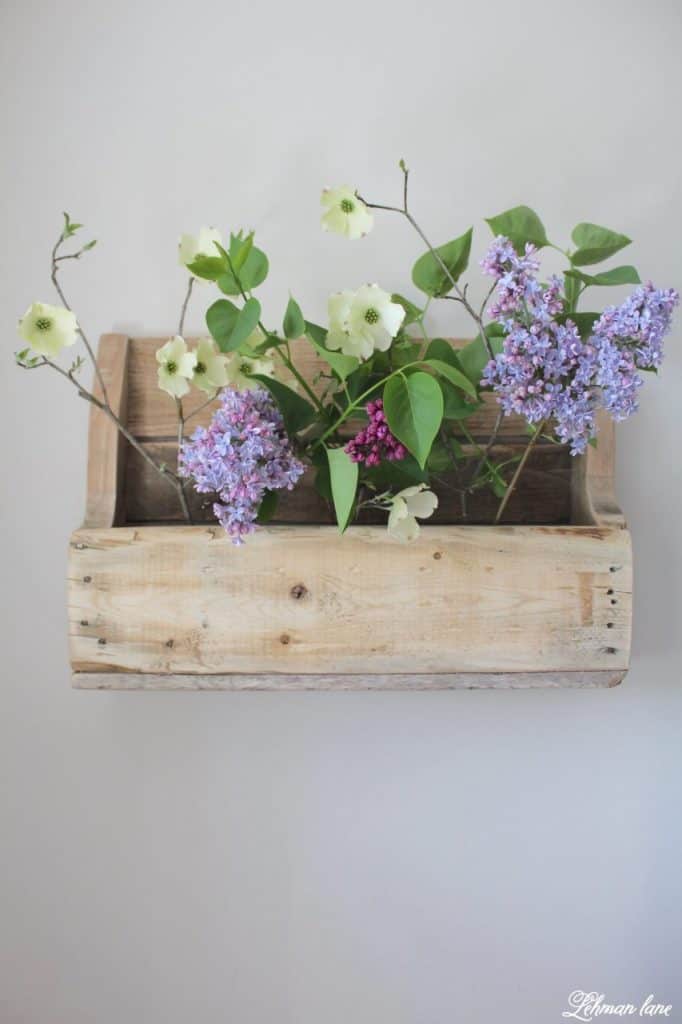 This shelf isn't terribly different from the classic pallet shelf, but it's made to fit flowers, which is completely different from how other bloggers have used it.
You can recreate this and have flowers hanging inside and outside using this shelf.
by Lehman Lane
Floor Shelf
This may not be the prettiest shelf on the list, but it serves its purpose and it creates a lot of storage space where there wasn't any before!
You can use pallet wood to create rough-looking shelves under cabinets, in the garage, or anywhere that just needs a little extra storage space.
Bookshelf With Knobs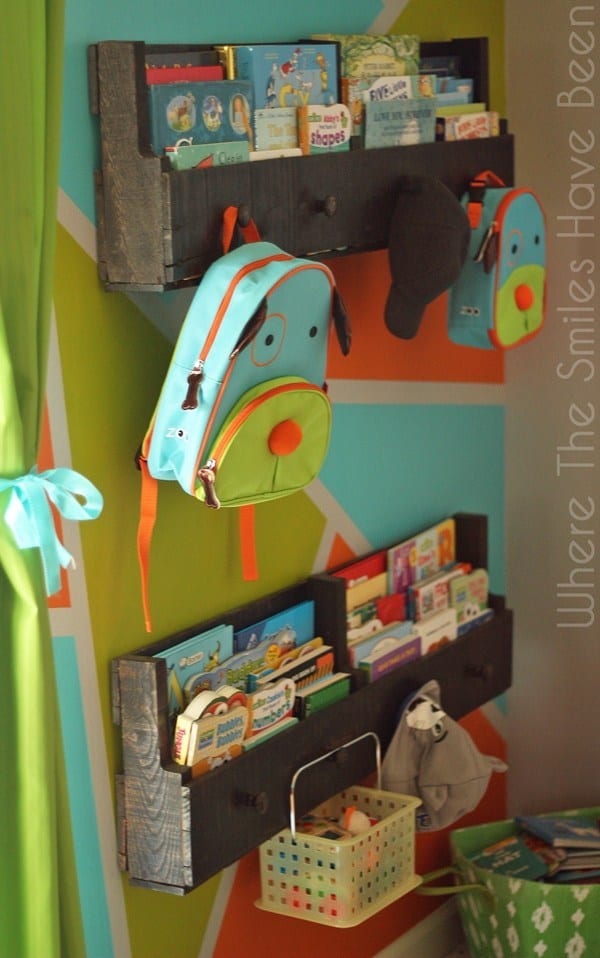 This blogger turned pallets into the cutest little kid shelves, ever!
She put a few books in them, added some knobs, and they became a playroom staple.
Hanging Pallet Shelf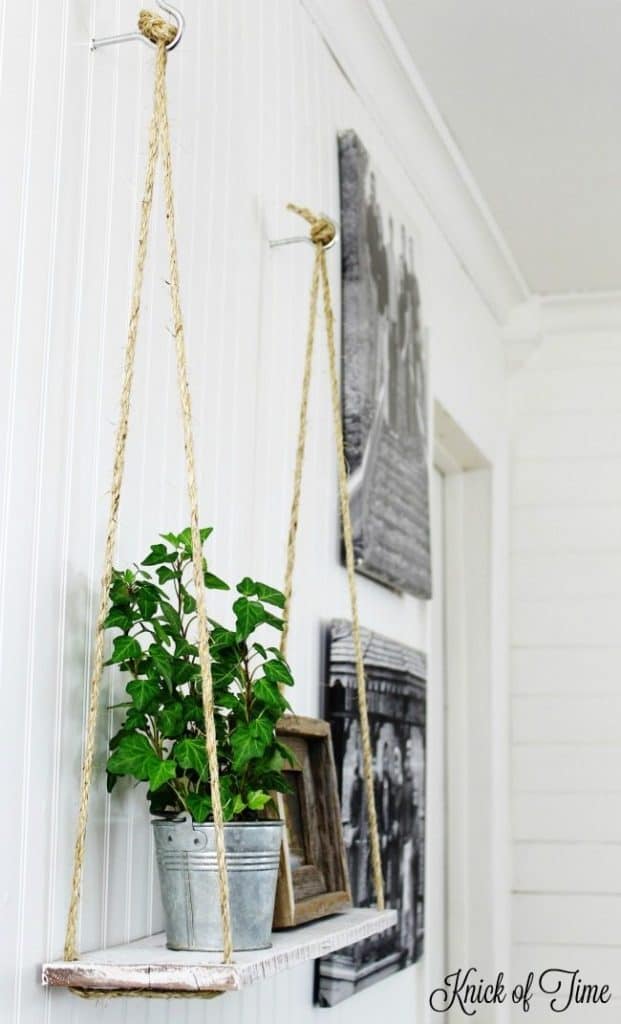 This is similar to another hanging shelf on this list, but it's designed with two pieces of rope/twine instead of one, which gives it a different look.
These shelves would work great on a big wall as a way to split up traditional photo frames.
Laundry Shelf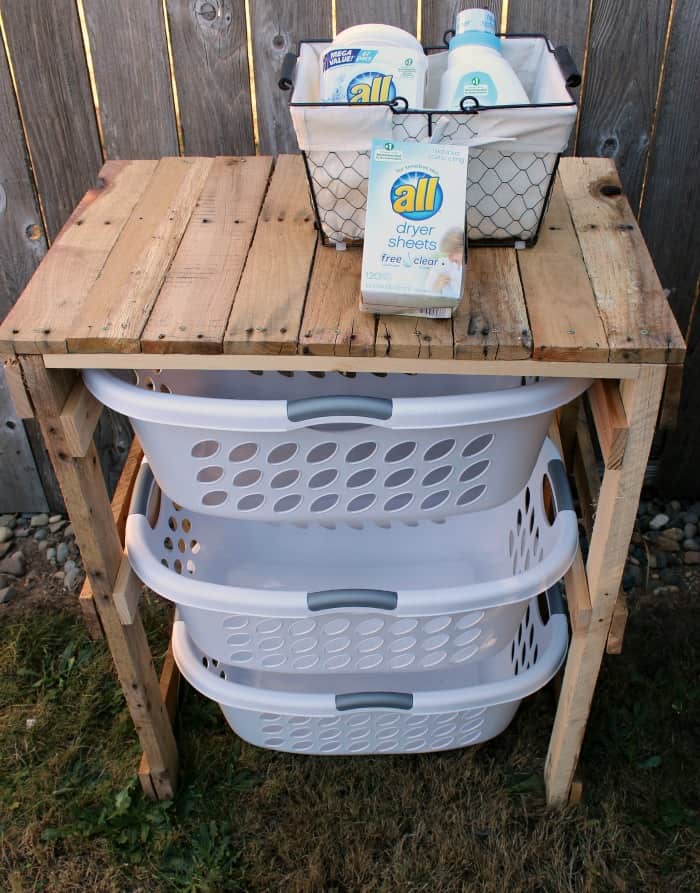 You can even use pallet wood to organize your laundry room!
This (brilliant) blogger created a shelving unit for laundry baskets to help keep their family's laundry organized and put away. So smart.
by Cook Eat Go
Perfectly Imperfect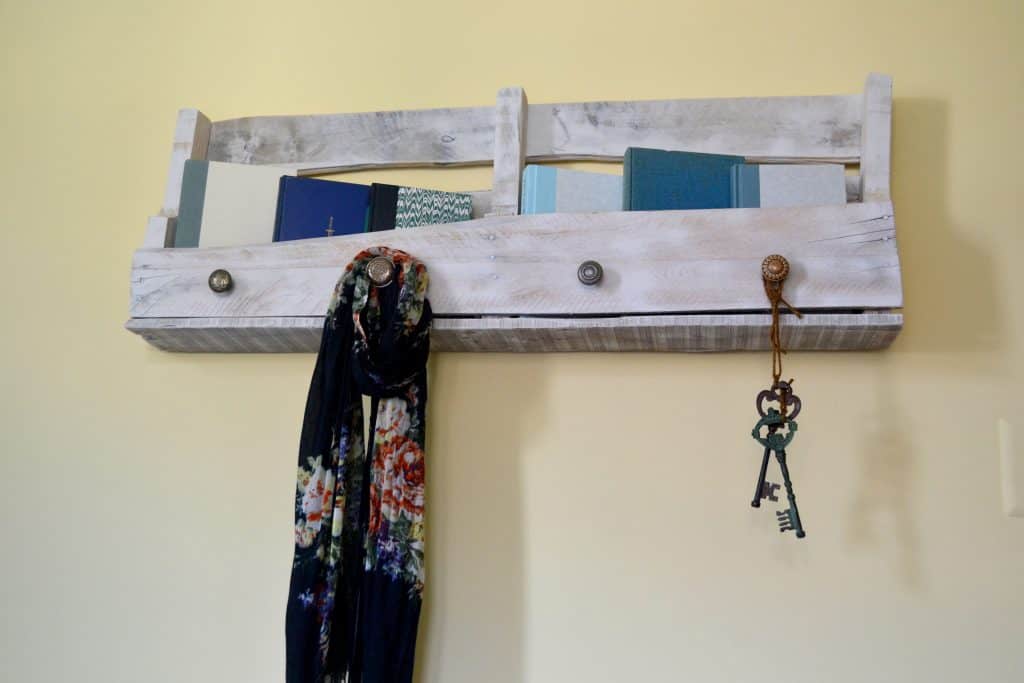 What's great about this shelf is that it's supposed to look imperfect, so anyone who lacks attention to detail will love making it.
If nothing else, it's a good example of how much beauty can come from a mistake or imperfection.
Tall and Sturdy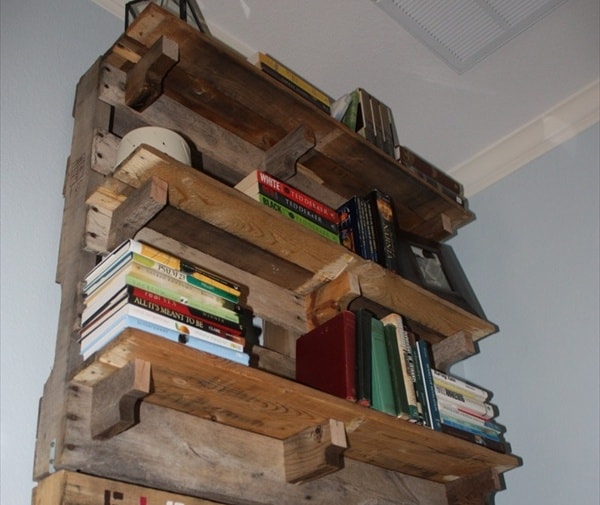 If you want some floor to ceiling shelves, these are it!
This blogger created these shelves to be strong, sturdy, and look good while being functional.
by Dan 330
Home Bar Shelf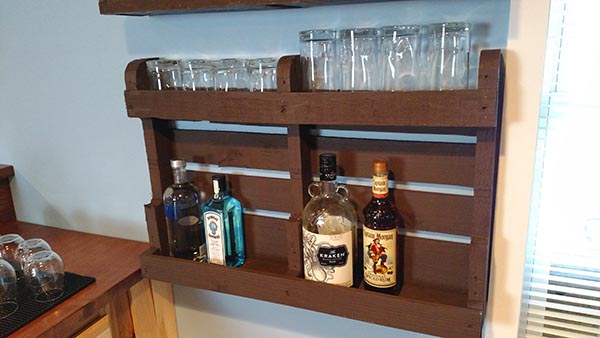 If you like to pour yourself a nightcap after a long day, this shelf will make sure everything is right in arm's reach.
You can recreate this shelf to hold something other than liquor, too, but the perfect fit can't be ignored here.
by Home Construction Improvement
Multi-Level Shelves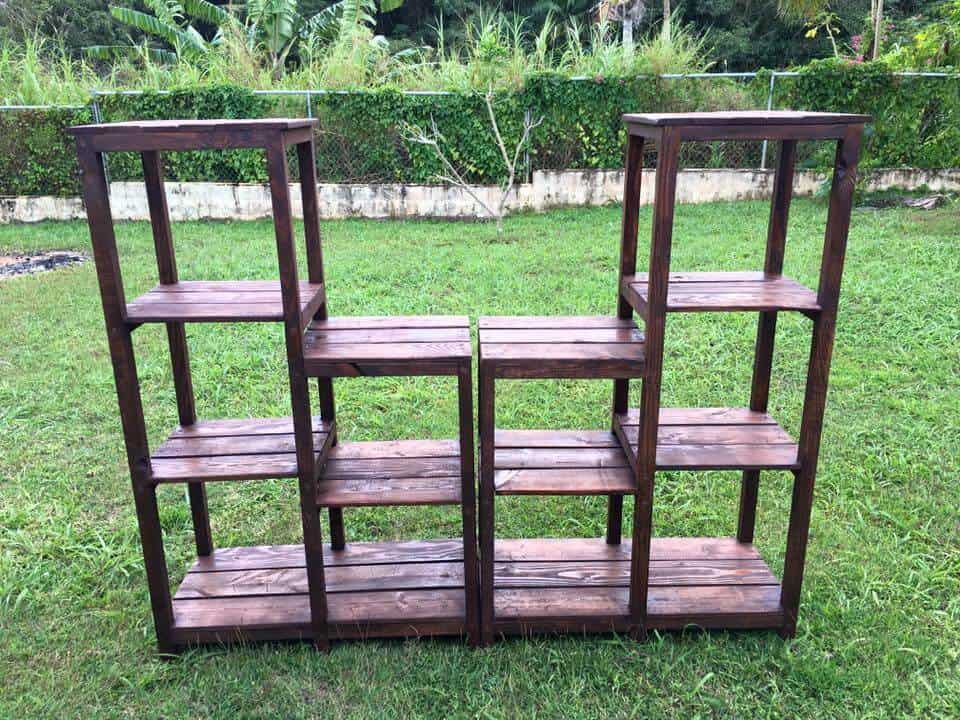 These shelves would be great to put plants on, store books in, or just as decorative pieces for the house.
This is a great example of how much you can do with some scrap wood and creativity.
by DIY Craftsy
Crates and Pallet Shelves

This shelving unit looks like it came straight from Restoration Hardware. It's that gorgeous.
It's hard to believe it was made from pallet wood. You can learn how to recreate it on Jen Woodhouse's blog.
Flower Vase Shelves (Inspo)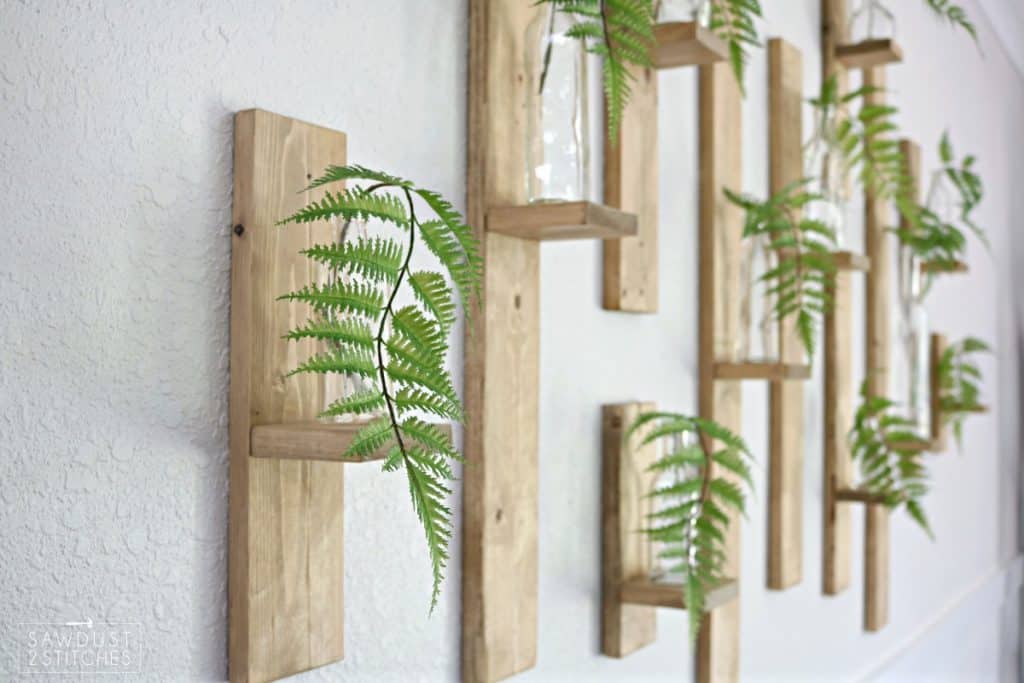 Okay, so this one isn't technically made from pallets, but you can still easily recreate the look using pallets.
This blogger filled up a wall with these little shelves and it gives so much texture to space, as well as an extra dose of green that almost every home could use.
Coat Rack & Shelf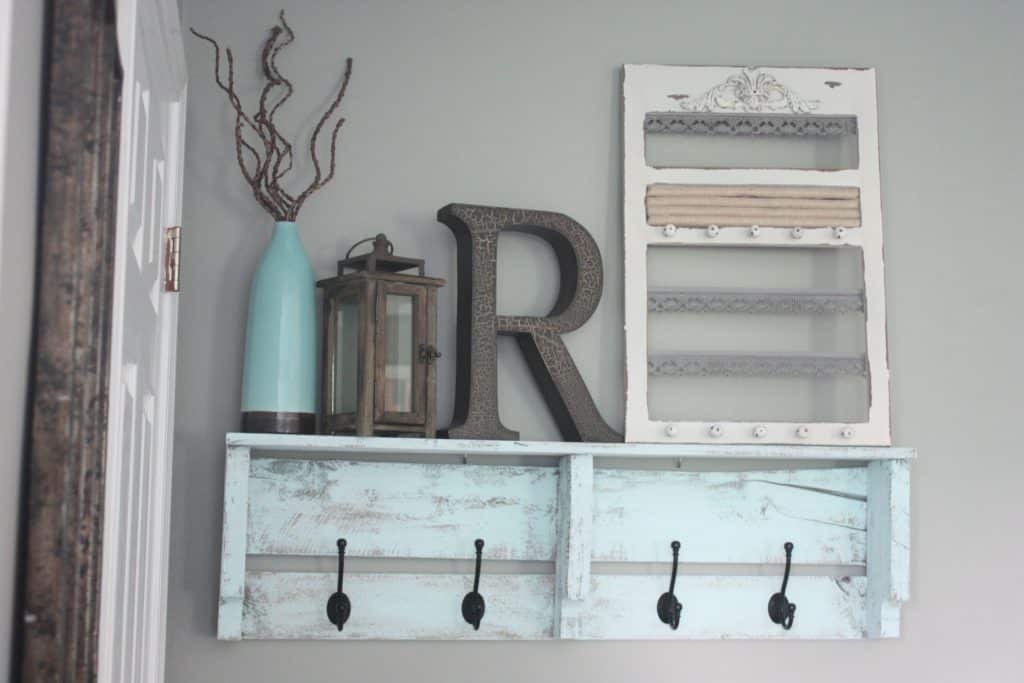 Adding some paint instantly enhances the look of pallet projects, and this shelf is no exception.
It has a little more of a finished look than some of the other shelves simply because the blogger took the extra time to paint it.
by Re Fabbed
Conclusion
There's nothing quite like that feeling of pride you get when you see a piece of furniture (or shelves) in your home that you made with your own hands.
All you have to do to get some pallet wood is ask a small business owner what they do with their discarded pallets. Most of the time they have so much on their hands they'll be happy to give it to you. And before you know it, you'll have enough scrap wood to make an entire project.