20 DIY Game Table Ideas – Love Games?
Whether you're into D&D, puzzles, board games, or even tic-tac-toe, having a dedicated game table can enhance your experience (and relaxation). Unfortunately, even the most basic game tables can retail for $100 or more.
If you want a game table, but don't want to spend a lot, DIY! Not only will you save some cash, but you'll also end up with a table perfectly suited for you – and the games you love to play.
DIY High-End Table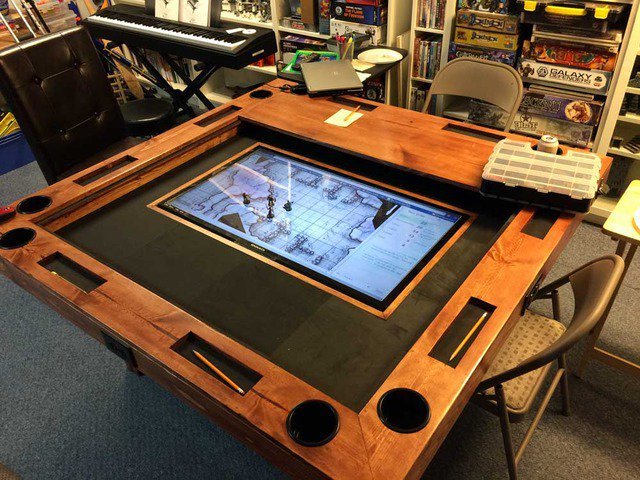 Where to start? There are so many things to love about this game table!
This is a great option for anyone who is into online gaming with friends – and who wouldn't mind some cup holders while they play.
High-End Gaming Table by Makezine
Multi-Purpose Game Table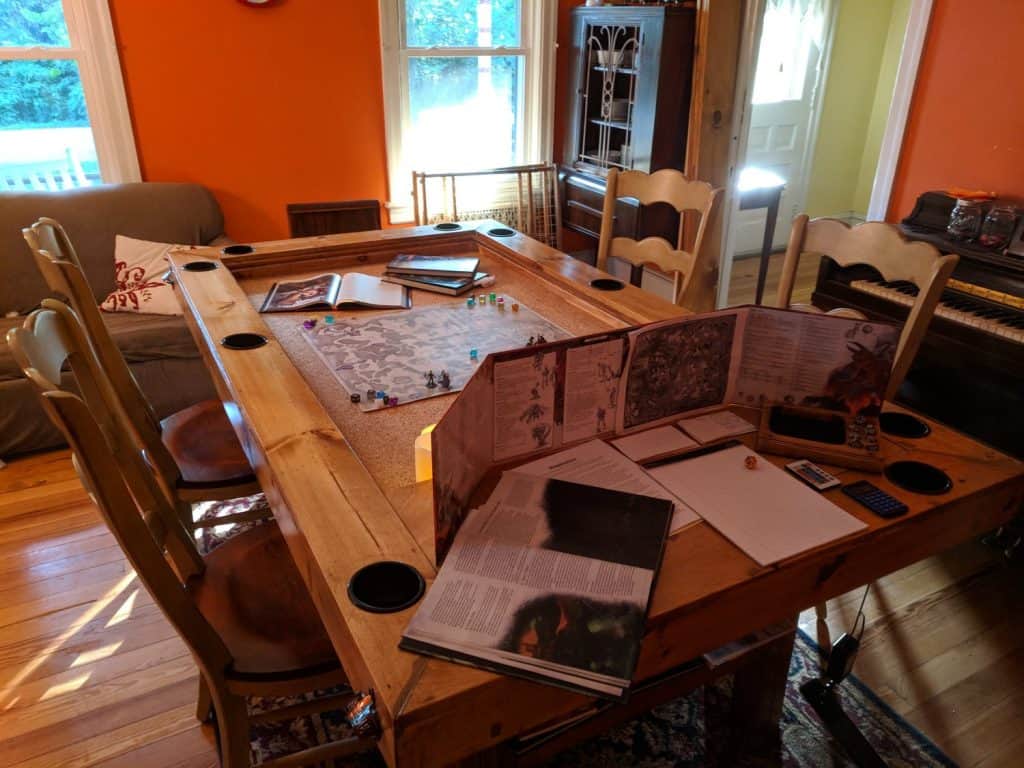 You can play just about any board game on this table, and you can do it in serious style.
The best feature of this DIY project is rope lighting. It gives it a fun vibe and adds some visibility to the game itself.
Custom Gaming Table by Idiot Tantrum
Coffee Table Style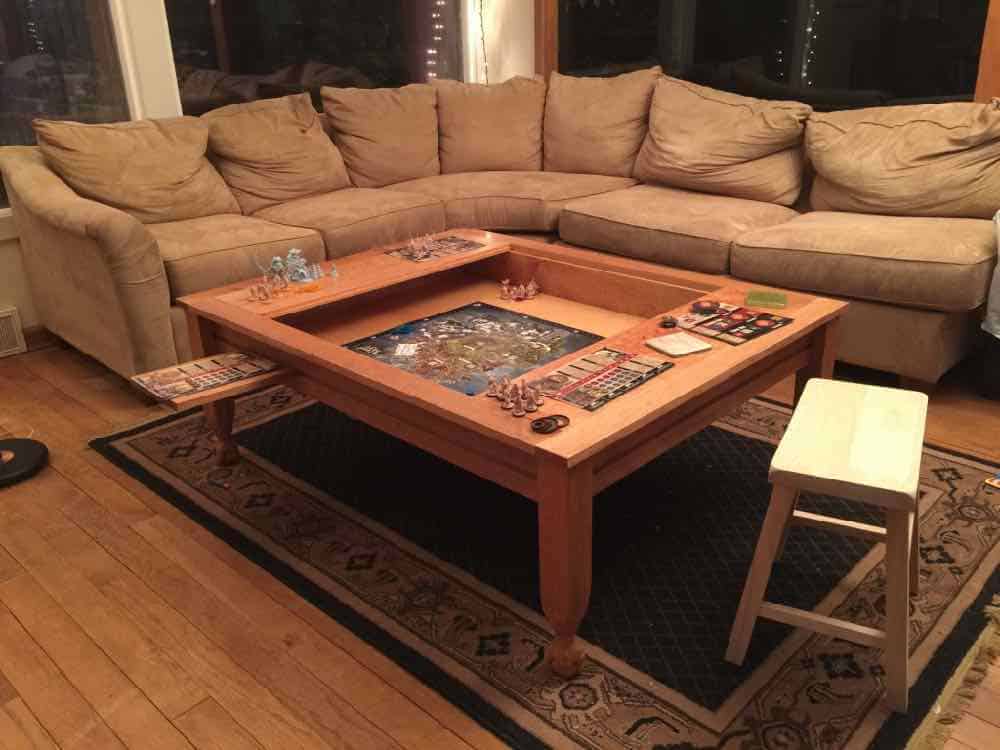 If you like playing intense board games that take a while to play, this coffee table makes it easy for players to take a break and "store" the game away without having to tear it down and set it back up later.
You can also use this design for puzzles or other activities that are best left undisturbed.
Build Your Own Gaming Table by GeekDad
Nesting Checkers Game Tables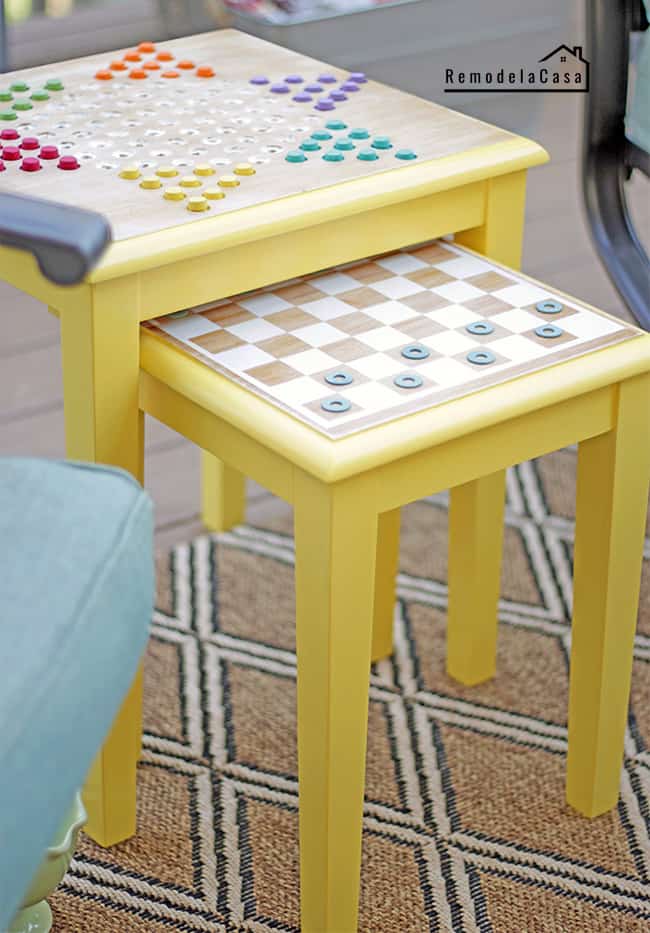 If you're more into checkers, chess, or other run-of-the-mill games, you can repurpose some nesting tables to make fun game tables!
You can find nesting tables at a local thrift store (or upcycle some of your own), spray on a fresh coat of paint, add a stencil, and you've created a custom game table!
Chinese Checkers Nesting Table by Remodelando la Casa
Board Game Table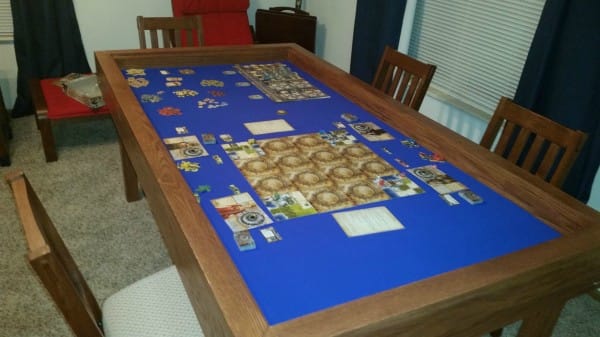 This table looks like it was made by a pro, but it only requires some simple cuts and measurements to recreate!
If you love a good family game night, something like this will surely serve you well.
DIY Board Game Table by Little Things
Coffee Table Upcycle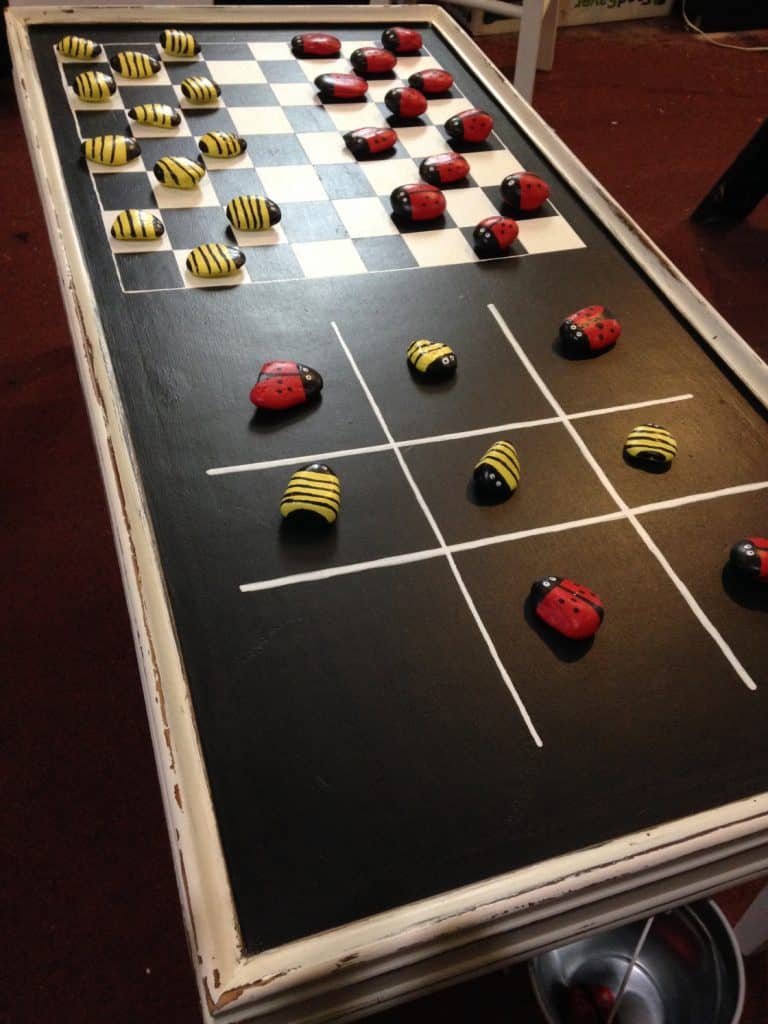 All you need to create a DIY game table is an old coffee table, some paint, and imagination.
This blogger created a fabulous checkers and tic-tac-toe table for her family using an old coffee table. Even a beginning crafter can recreate this project!
DIY Game Table by Cookies Crafts and Chaos
Outdoor Game Table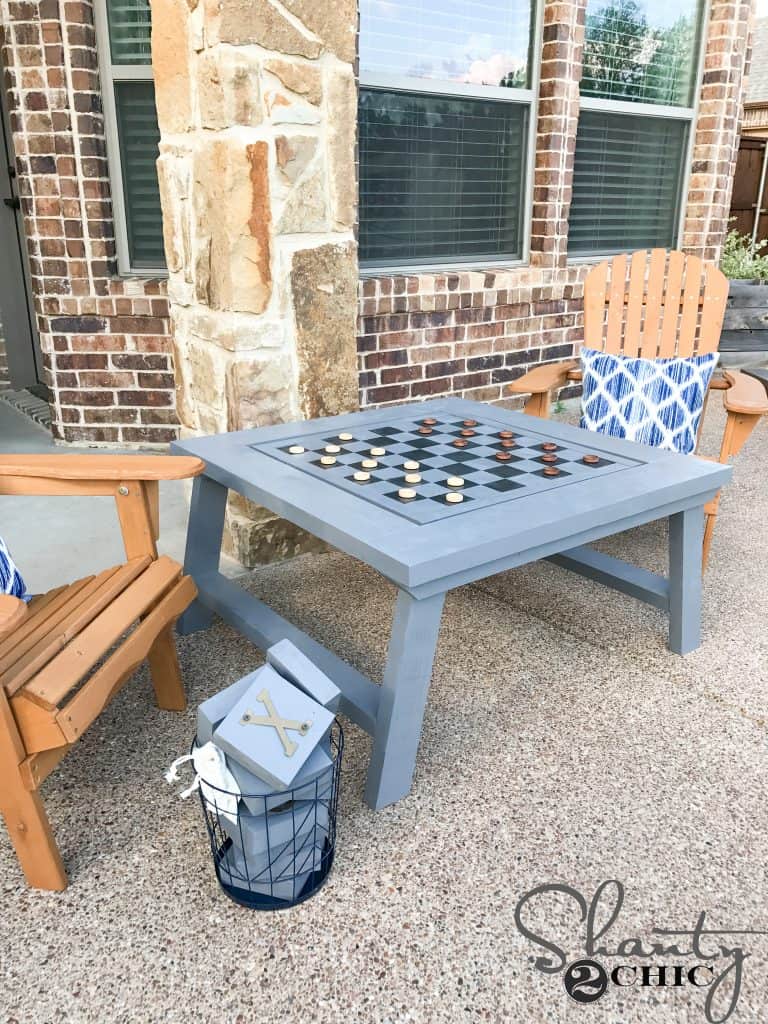 If your family loves games and being outdoors, it only makes sense for your game table to go outside!
Check out the blog to see the steps she took to create this beautiful outdoor game table.
DIY Outdoor Game Table by Shanty 2 Chic
Game Table/Desk Combo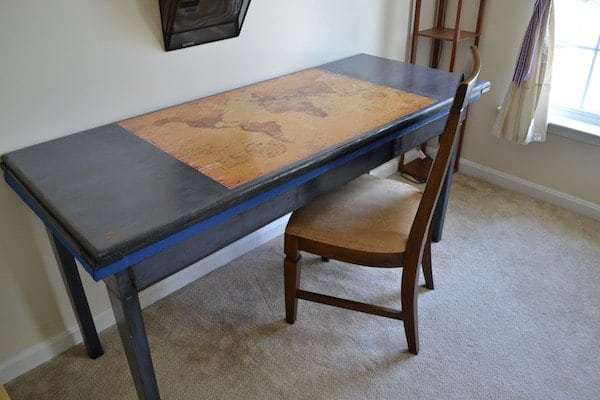 Not everyone has the luxury of a basement or large space they can dedicate to gaming, so creating a combo game table is a brilliant workaround.
This blogger created a game table/desk combo that allows her to work during the day and play after she punches out. This project creates a multifunctional table that will surely be fun to build!
DIY Board Game Table and Desk by DIY Danielle
Game Table With Player Storage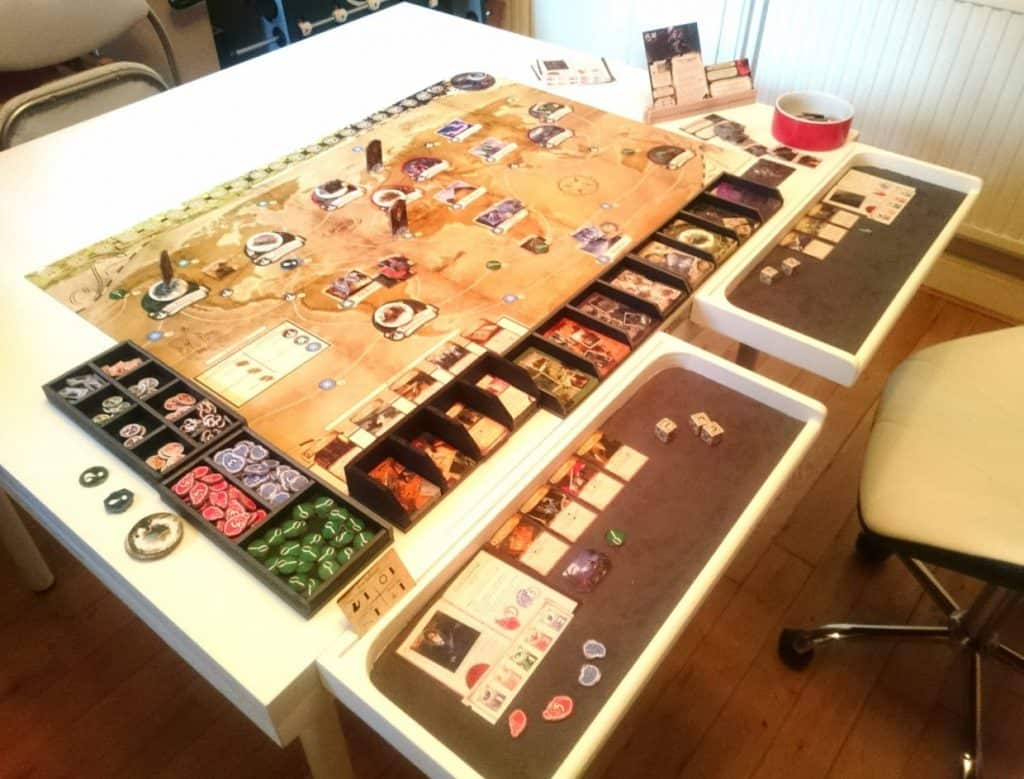 You know how when you're playing Monopoly, you have to find a way to organize your money and property cards? This table has a solution for that.
If you want to recreate this table, you can find the plans on the blog. But, if nothing else, it serves as a great inspiration for anyone who likes playing board games with a lot of pieces.
DIY Game Table by Board Geek Girl
Puzzle Table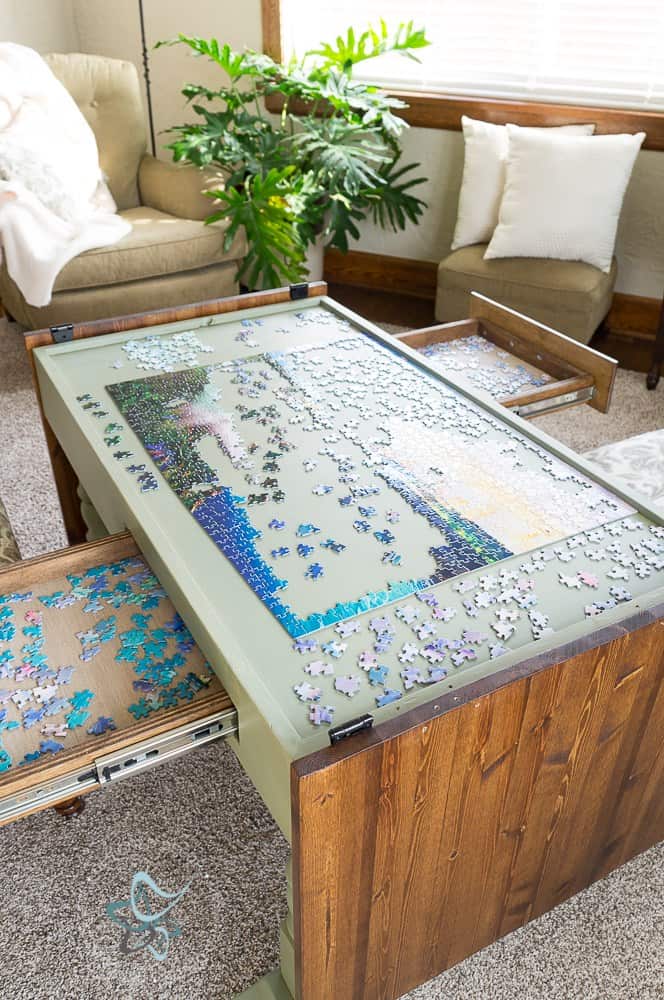 Jigsaw puzzles are a fun, relaxing way to spend some time. But, it's rare to finish one in a single sitting.
A puzzle/game table like this will allow you to tuck the puzzle away when you're not working on it without ruining all of the hard work you already put into it!
DIY Puzzle Game Table by Designed Decor
Outdoor Checkers Table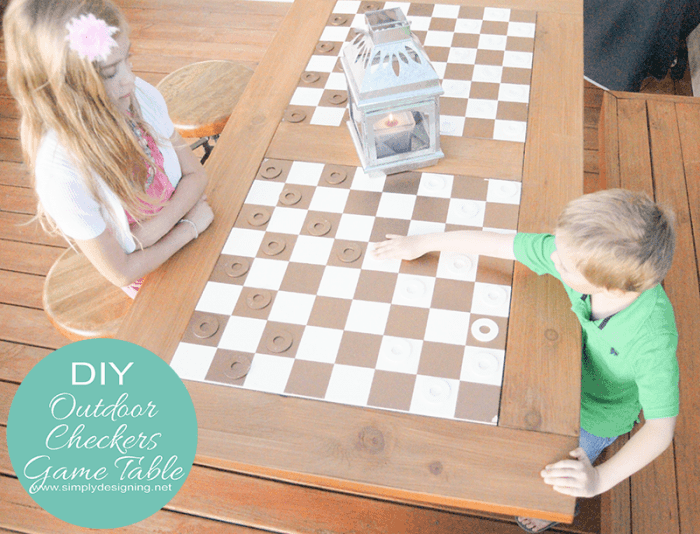 If you have an outdoor table, you can make an outdoor game table. It's as easy as that!
This blogger created a multi-game table for her family to use outside, and you can easily follow suit. Check out her tutorial, or just use her table as inspiration to make your own.
DIY Outdoor Checkers Game Table by Simply Designing
Toddler Game Table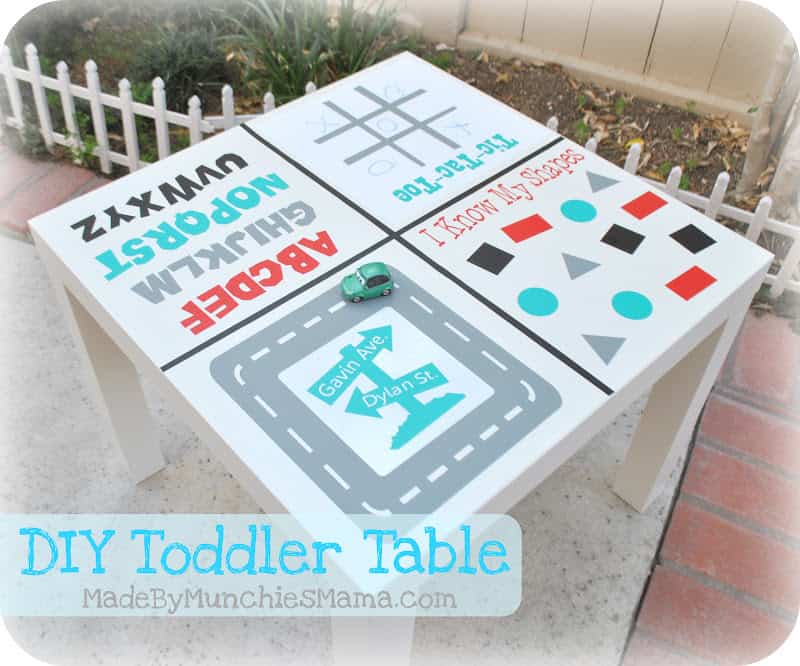 No one likes to spend a lot of money on toys that kids will grow out of in a matter of months. So an inexpensive, DIY toddler game table is a great solution to this conundrum.
This blogger used an $8 IKEA table and some vinyl to create a fun activity center for her little ones. This is a really easy project to recreate, or tweak to include your kids' favorite games.
DIY Toddler Game Table by The 36th AVENUE
Fire Pit Cover & Game Table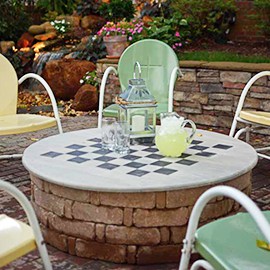 If you have an outdoor fire pit, you have to cover it with something, right?
3M shared a tutorial for this fun and creative fire pit cover that doubles as a game table. So, you can play checkers by day, and cozy up by the fire at night.
DIY Fire Pit Cover & Game Table by 3M
Coffee Table With Game Storage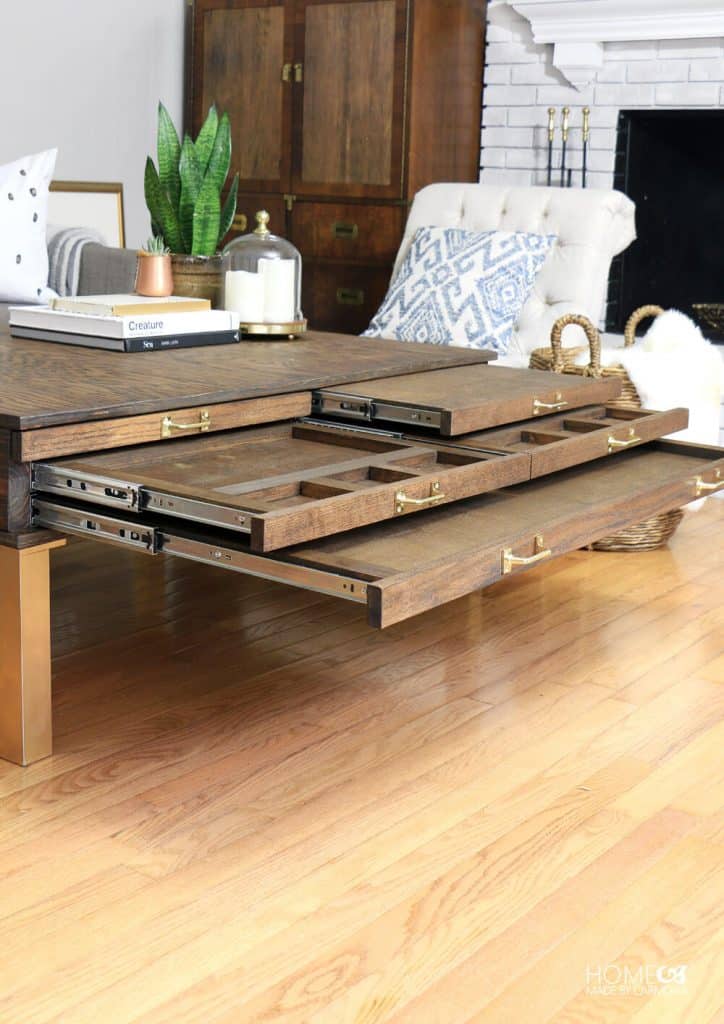 This table has storage on storage on storage – and it's perfect for games!
The blogger made this table from scratch and it's one that someone who is just starting out with woodworking can recreate!
DIY Coffee Table With Pullouts by Home Made by Carmona
IKEA Hack: Kids Game Table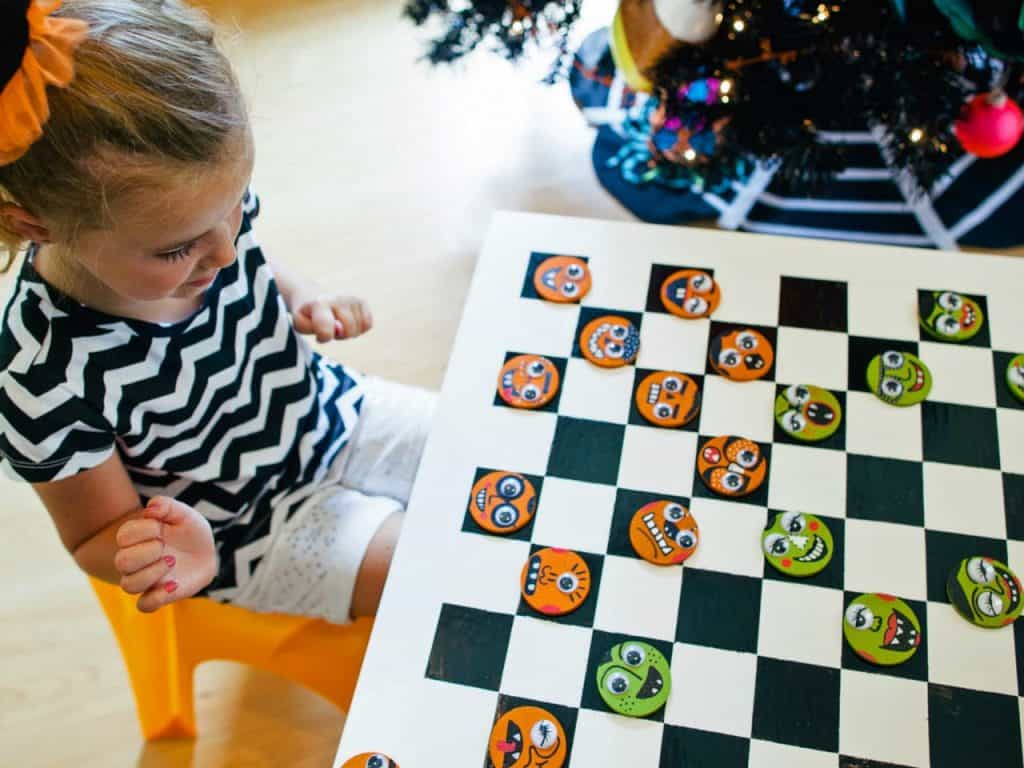 Once again, an $8 IKEA table can be so much more with a little imagination and some DIY skills.
This DIYer turned the table into a checkers board with just some painters tape and paint. She also took it up a notch by creating some fun game pieces that kids will definitely love.
Ikea Hack: How to Turn a Lack Table into a Kid Size Game Table by DIY Network
Easy Spray Paint Game Table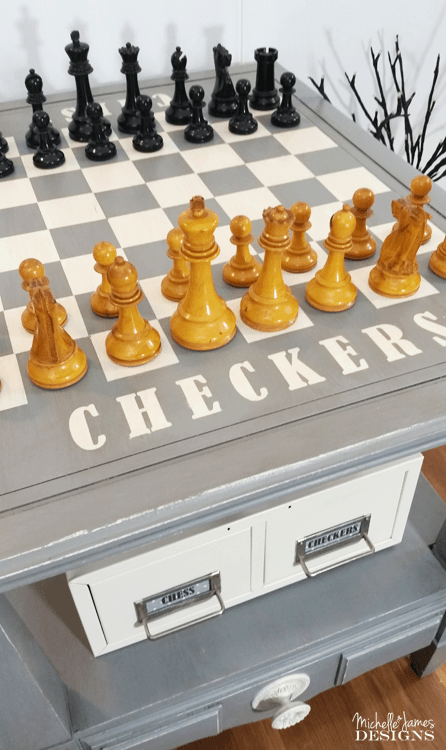 This blogger created a beautiful game table with an upcycled table and a little spray paint.
Her end product is proof that you can have a fun piece of furniture that still works with the style and aesthetic of your home.
Spray Paint Your Way To A Gorgeous Game Table by Michelle J Designs
Upcycled Rocking Chair Game Table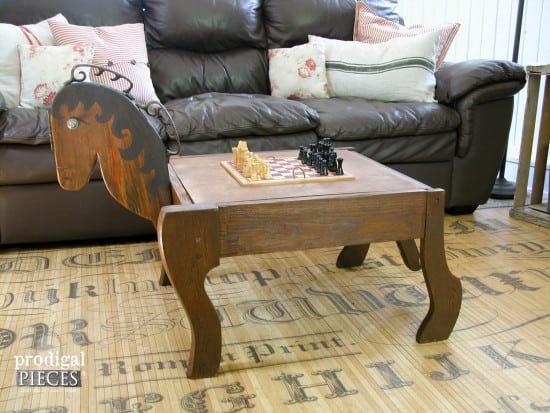 Isn't this the cutest little kids game table, ever?
This blogger used an old rocking chair to build this table for their kids, and it's definitely one of a kind! You can easily recreate it, or change it up a little to fit your kid's personality (maybe turn it into a dinosaur instead?).
Reclaimed Game Table from Rocking Chair by Prodigal Pieces
Shoebox Foosball Table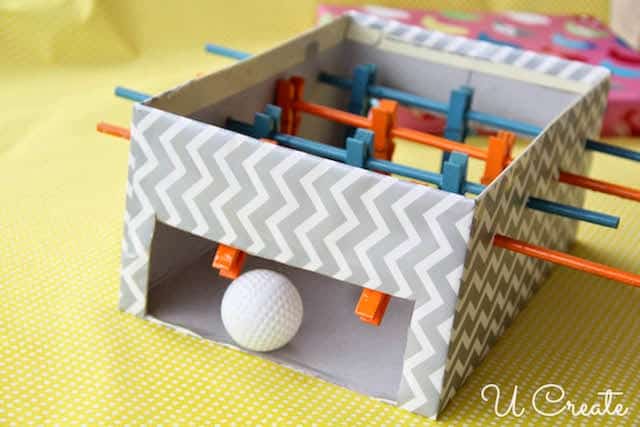 You can create a DIY game table without a single piece of wood.
Chances are good you have all the supplies you need for this foosball table laying around your house. Plus, you can let your kids help you make it, which adds an extra layer of fun to the project.
DIY Mini Fooseball Table by U Create
Shuffleboard Table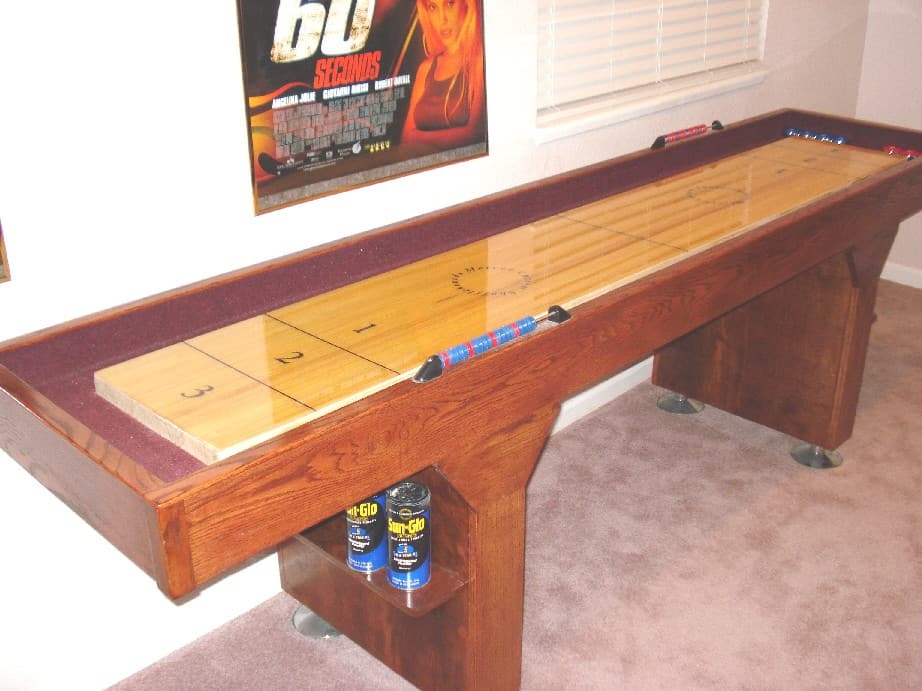 If you want something a little more sophisticated, check out this gorgeous DIY shuffleboard table!
This game table is definitely not a quick and easy (or cheap) project, so it's best for someone who is really passionate about their craft. If you don't think that's you, check out the tutorial anyway because you may think up some hacks to make the project a little more realistic.
DIY Shuffleboard Table by Shuffleboard.net
IKEA Hack: Arcade Table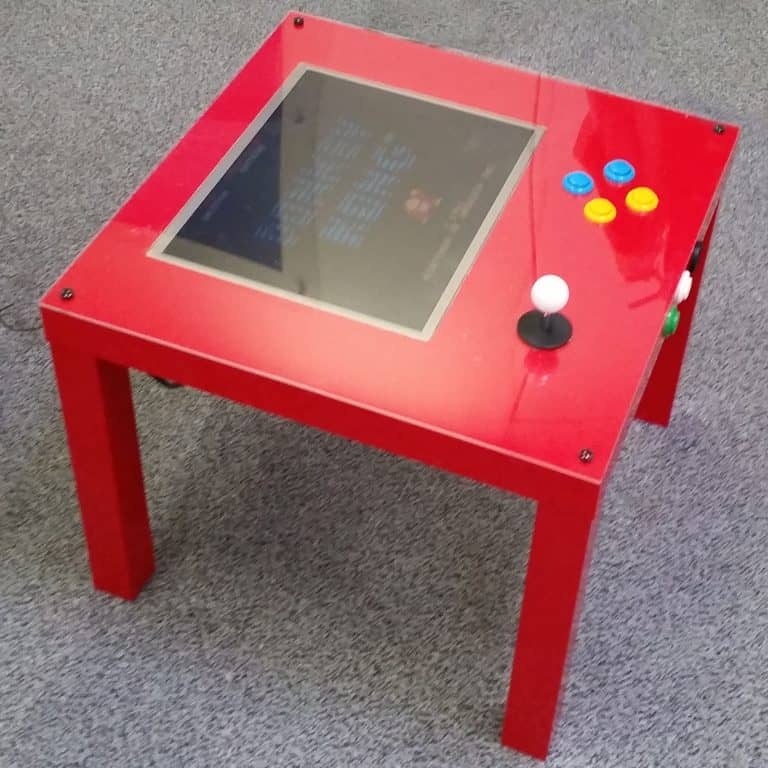 Remember those retro Pacman game tables? You can make something similar for yourself!
Who says a game table can't be one that's designed for video games, anyway?
Raspberry Pi + IKEA Arcade Table by Raspberry Pi
Conclusion
The best thing about a DIY game table (aside from saving money) is that you can design it in a way that it works best for you.
You don't have to be a master maker to get the game table of your dreams, you just need a little elbow grease, determination, and maybe an old talbe to repurpose. As with any DIY project, you can go as basic or as big as you want, and you'll probably love the end product far more than any you could find in a store.