20 Inspiring DIY Sewing Table Ideas in 2023
When you're a seamstress, you need a sewing table – someplace where you can work and create easily and fluidly without a lot of hassle.
Whether you need a sewing machine table for that awesome Hobby Lobby find or vintage machine from a yard sale, or you need a cutting or pressing table, this list of DIY sewing tables will give you just about every style you could imagine, from hidden tables to tiny tables to giant tables fit for a costume shop.
Ikea Turned Sewing Table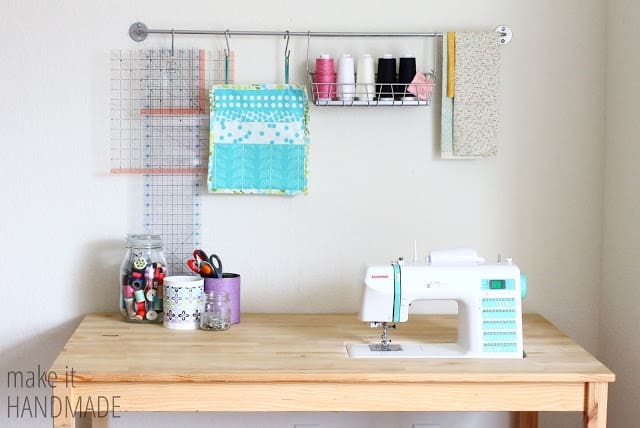 Who doesn't love a good Ikea piece? Better yet, though, is an Ikea piece turned into something else, something even better. And this Ikea table turned sewing table is just the ticket. It's simple, it's beautiful, and just about anybody can do it with the right tools.
Before you go shopping for a new Ikea table to convert, though, check out Craigslist, Facebook Marketplace, or even Freecycle.org to see if you can find something inexpensive – or free! – near you. Might as well upcycle while you're at it.
Via Make It Handmade
Drawer Slides Craft Table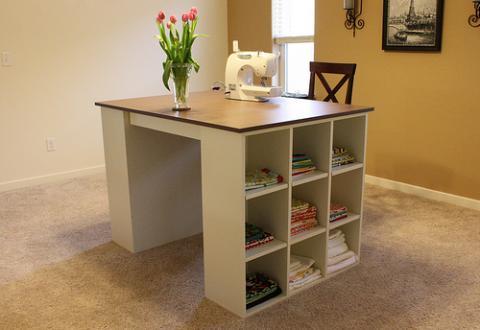 If you need a load of open storage, then this is a great option for your sewing room. The Drawer Slides sewing table features two drawers and 18 cubbies for keeping all of your sewing gear, craft supplies, and sewing bits close at hand and well-organized.
To create this awesome table, you'll build a couple of the cubby bookcases from a modular office collection, add a desktop, and install some drawers. Thankfully, it's not as hard as it sounds.
Via Ana-White
Pressing Table with Removable Cover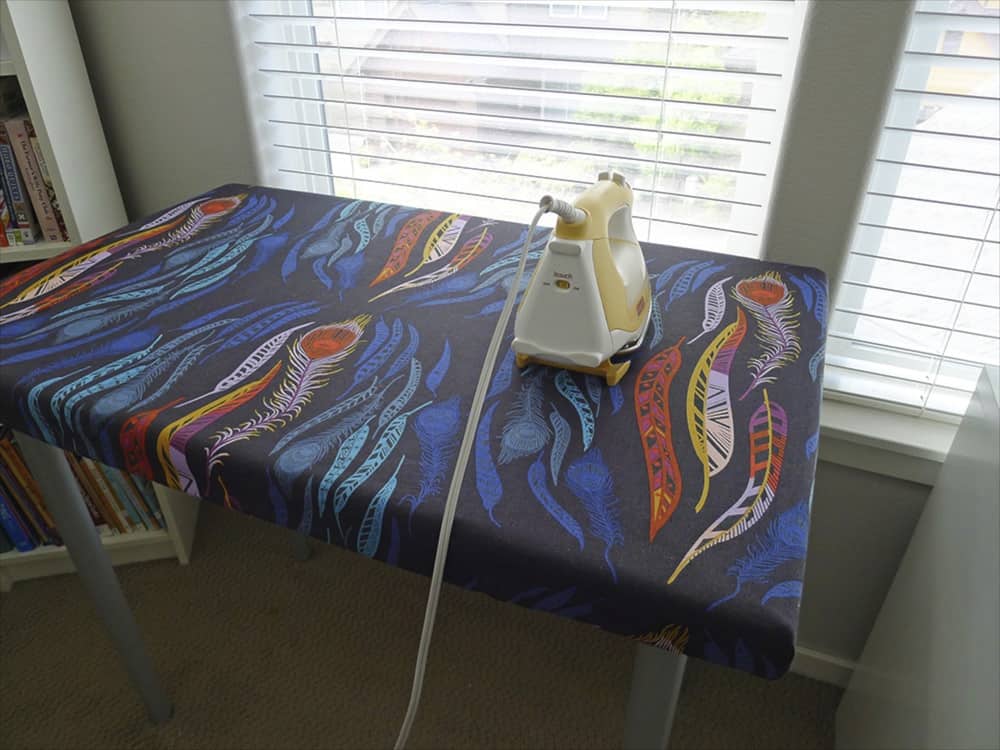 For anyone who does a lot of sewing projects that require pressing, you'll want to consider this pressing table. This is especially a great option for anyone on the taller side of average or taller since it's a counter height table, instead of a back-breaking low-height ironing board of old.
Plus, the table is wider, sturdier, and longer than the typical ironing board, so you've got a work surface as well when you remove the pressing cover. Win-win-win.
Tight Spaces Expandable Sewing Table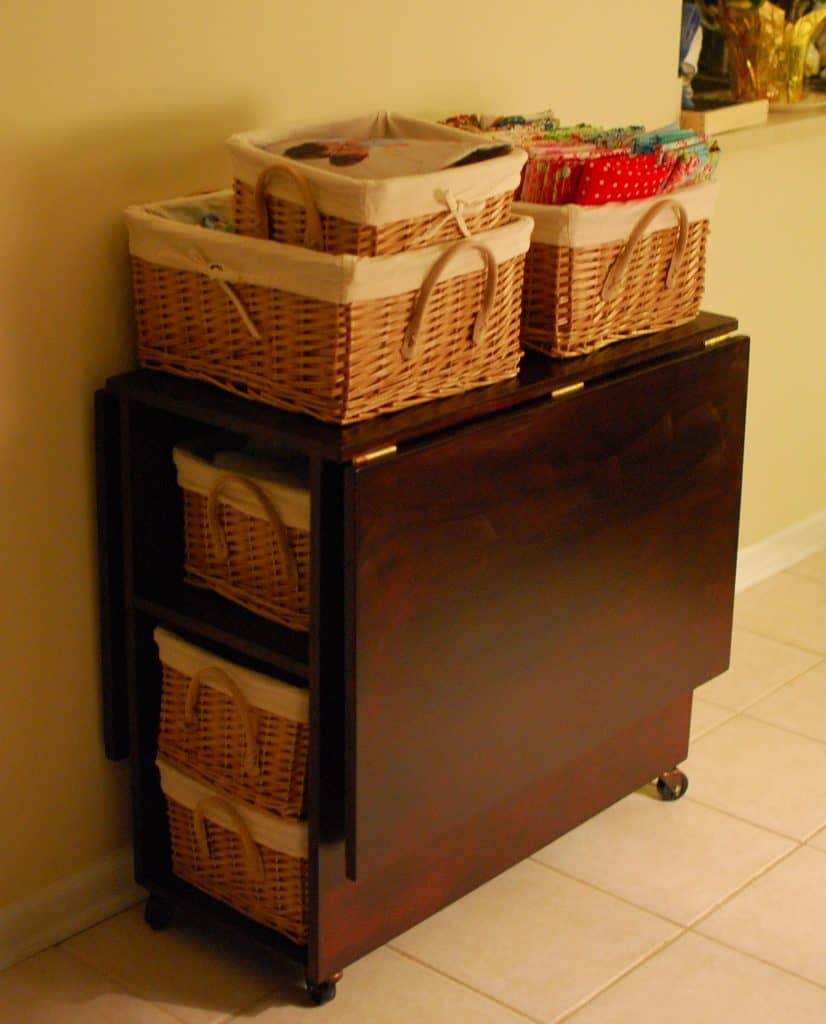 If you live in a small apartment, have a narrow workspace, or otherwise just want a small sewing table, then this is your golden ticket. The Tight Spaces Expandable Sewing Table kind of looks like a tuck-in kitchen island, but it's so much more.
Let the flaps drop to the side for that tight fit when you're not working, but pull it out, spread it out, and wheel it out to your best work area whenever you're ready to make some pillow shams or stitch up some Christmas stockings for the family gathering.
Via Ana-White
Hidden Sewing Cabinet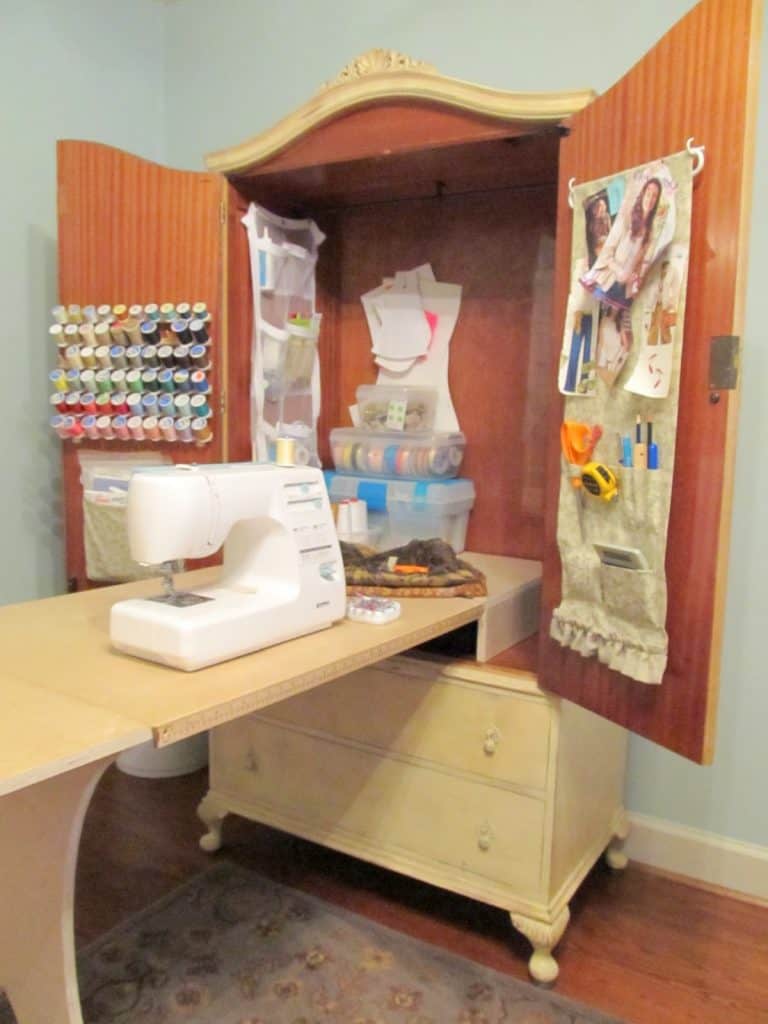 Time to hit up those yard sales and flea markets to find the perfect old armoire for this upcycled sewing table.
It's a hidden table that's built into the armoire, a bit like a murphy bed gets built into a case or opening in the wall. Nobody knows it's there, and it doesn't interfere with everyday living in tight spaces.
Then, bam! Open her up and you've not just got a sewing table but you've storage for your sewing supplies in one cozy package.
Chalkboard Fold Down Sewing Table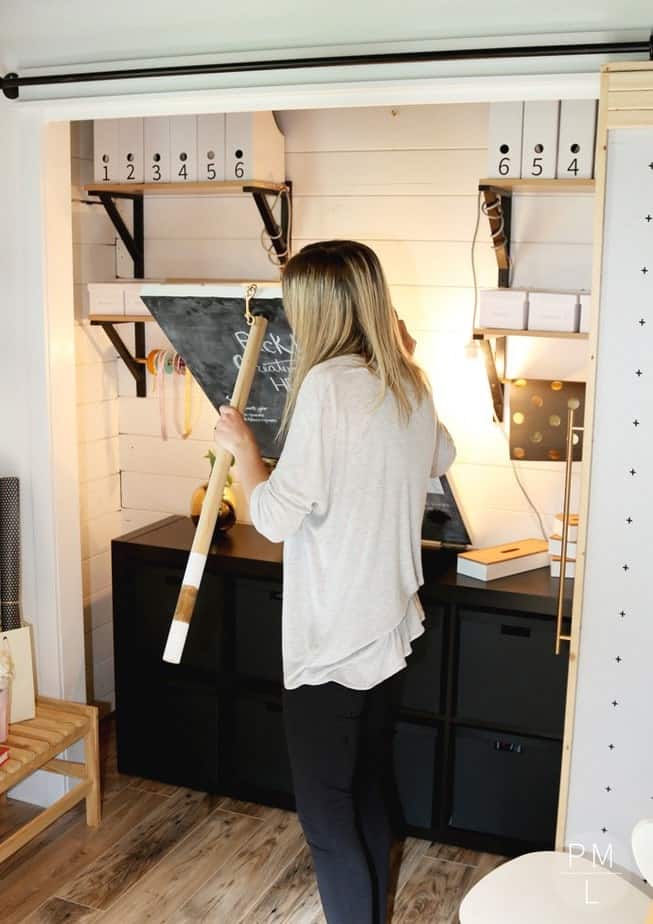 If you like the idea of multi-functional furniture, you'll love this chalkboard fold down DIY sewing table. You'll just need to find some old Ikea pieces – ideally the Kallax or Expedit and the Limmon tabletop – and some supplies from your local hardware store.
Once you've built the table, you'll brush on some chalkboard paint and you've got an attractive work area that takes care of storage, function, and even aesthetics in one.
Foldable Cutting Table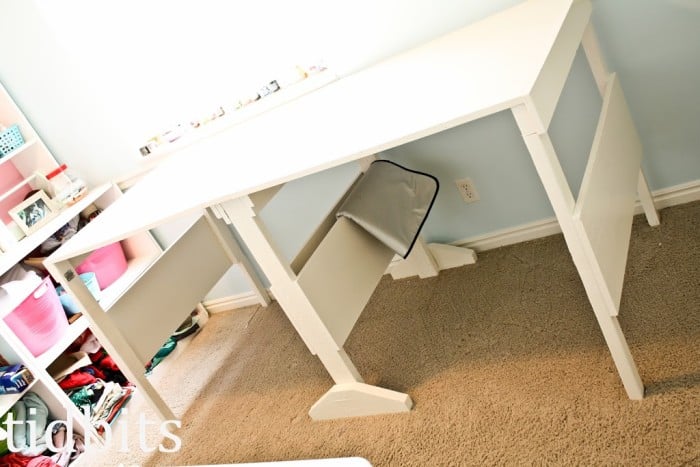 If you've got the sewing machine table already taken care of but need a cutting surface that won't take loads of room yet provides plenty of surface, this is the one for you.
You'll take some plywood and boards, a dowel, some hinges, and basic supplies, and then you'll have this amazing, foldable cutting table. It's large enough that you can easily cut out blankets, clothing, and other larger projects, but it folds down small enough to tuck into just about any corner without notice.
Via Tidbits Cami
Modern Craft Sewing Table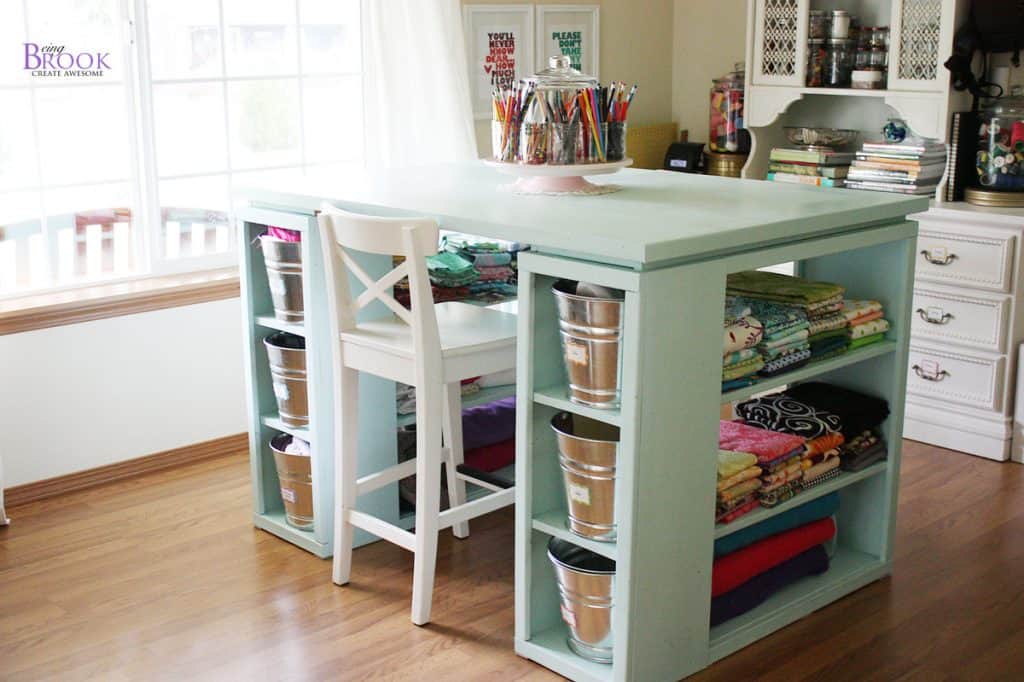 Another storage heavy, extremely attractive option for your DIY sewing table is this modern style table using more modular office furniture designs from Ana White.
The beautiful table is crafted simply from a different style of bookshelves – providing you with loads and loads of storage – and a solid work surface atop for that cutting surface.
And though it's a completely gorgeous piece of furniture that looks like it's loads of work, it's actually a very doable project for most crafters with a little time.
Via Ana-White
Super Easy Sewing Desk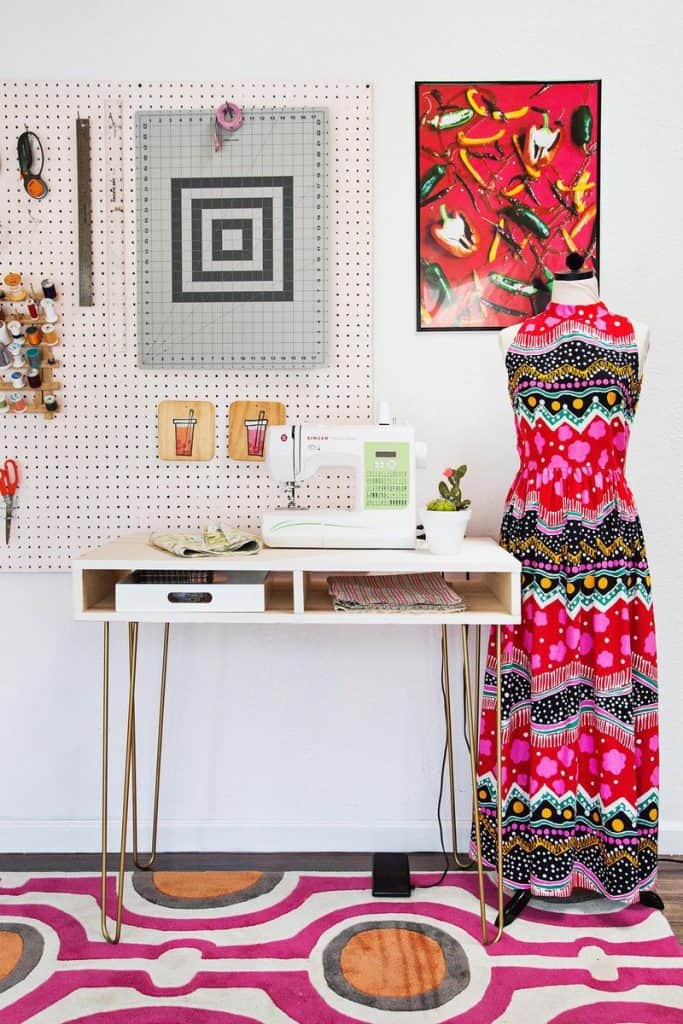 If you just want a quick, easy-to-build sewing machine table, then you'll want to consider this super easy option. You just need a few boards, some wood glue and clamps, table legs, paint, and some standard handheld power tools.
In just about an hour – plus drying time – you'll have a super easy DIY sewing table that' sturdy, attractive, and even provides you with a little bit of storage for your sewing supplies.
Via A Beautiful Mess
Large Cutting Table on Wheels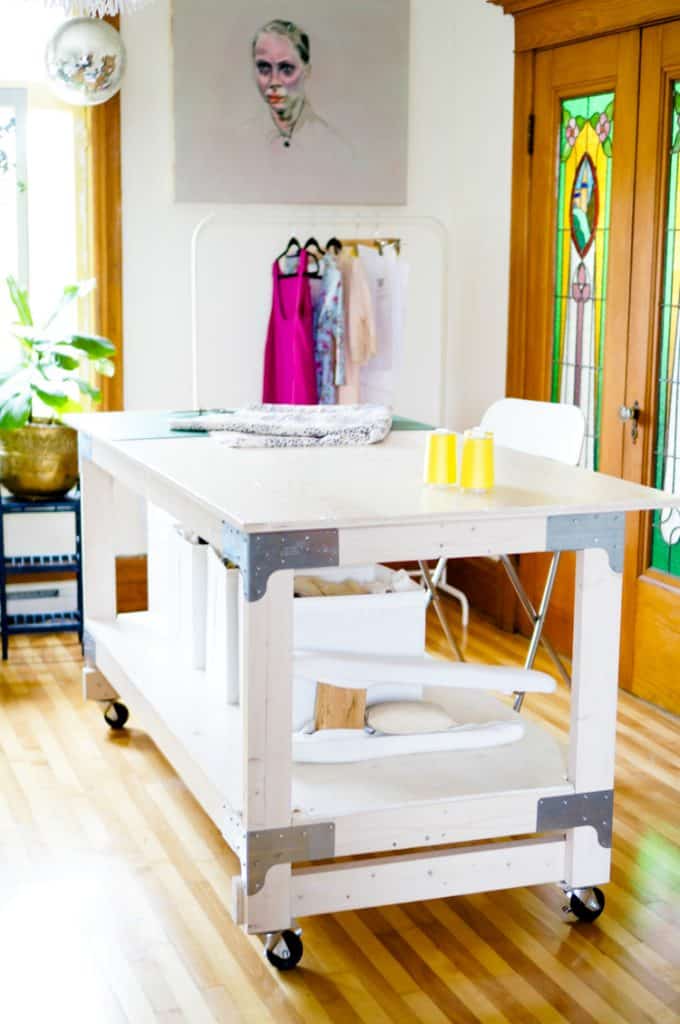 When you need a very large cutting surface and worktable, this is your best bet for a DIY option. It's a heavy-duty option, too, so it'll really withstand all your toughest projects and life in a rough and tumble household.
The best part? It's 36-inches high, so it won't break your back to use it. Plus, it's on heavy-duty casters that won't break any time soon, and you'll be able to smoothly move it around the home or workspace conveniently.
Ikea Hack Craft Room Storage Table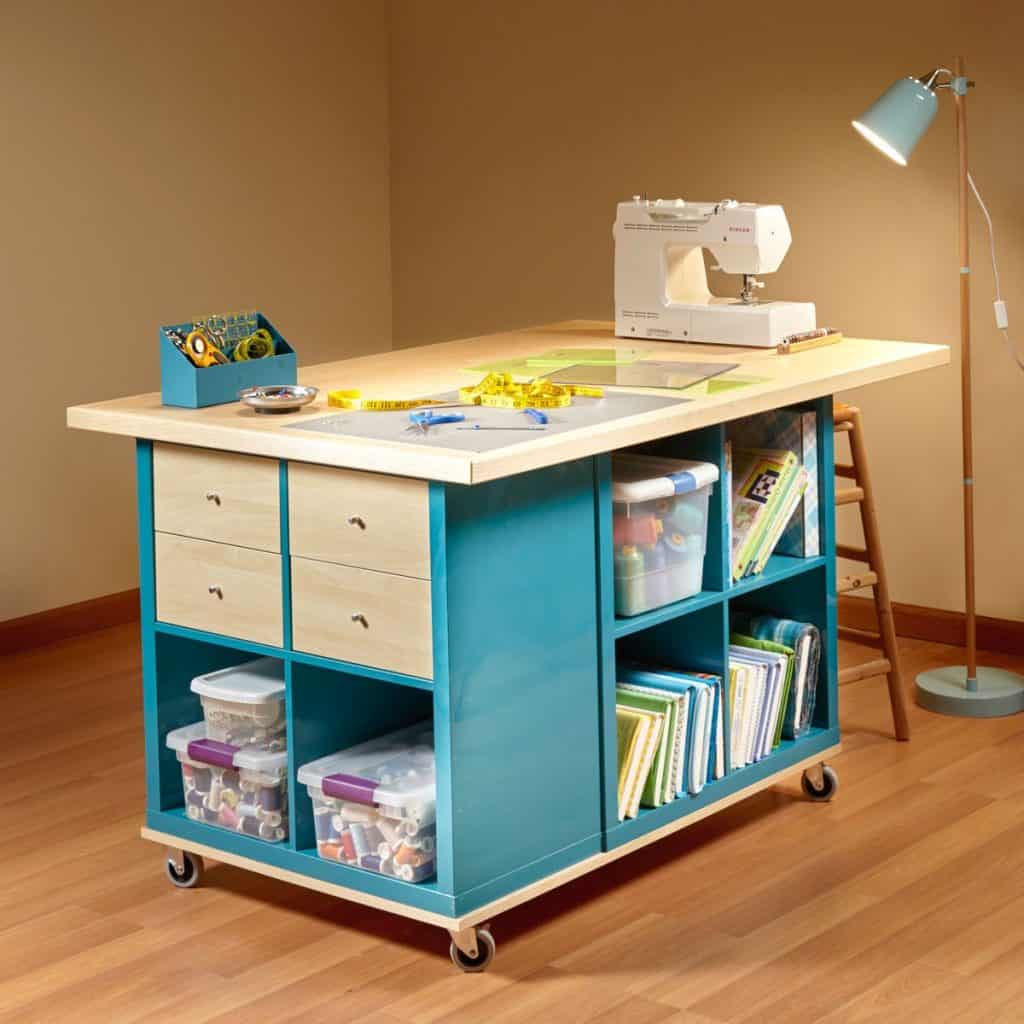 Another Ikea hack on the Kallak shelf is this fantastic storage table. It's definitely not your tiny table for a small apartment, but it makes up for its size in sheer storage power for a sewing room.
Each side provides you with bin space, drawers, or shelves, and the top is a solid, huge surface for cutting, pressing, or anything else you need.
The table also works on casters to make it super mobile. And, surprisingly enough, it's not that hard to make.
Via Family Handy Man
Mid-Century Modern Sewing Desk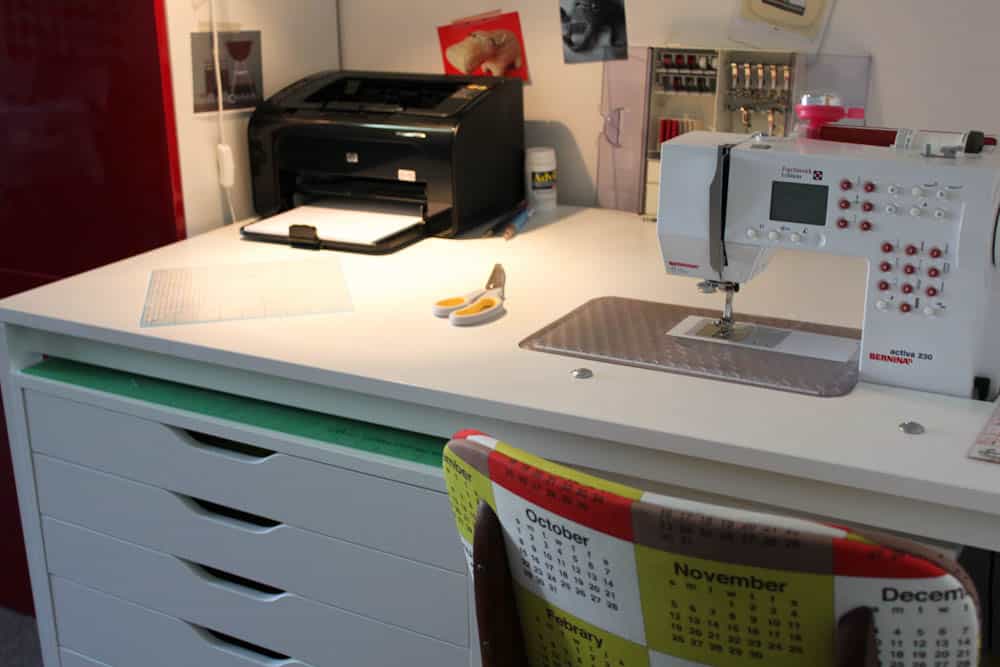 Yet another Ikea hack provides us with a fantastic, drawer-heavy sewing machine table option.
You'll need to do some cutting and building a bit, so it's not just a straight-up "glue this together and you're done." But you'll wind up with a modern-looking sewing table that's got all the class and efficiency of old.
This one does require some skill with a saw, so this is a mid-level skill project or higher, so be prepared.
Via Bad Skirt
Dresser Turned Cutting Table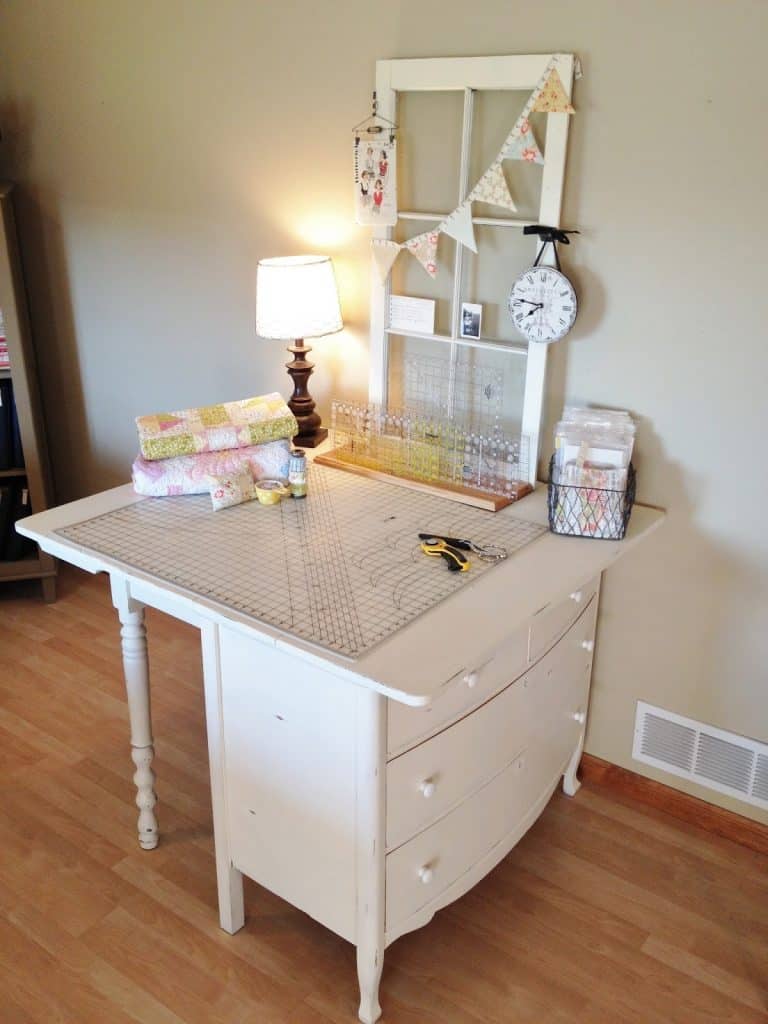 For the upcycler, this one is an amazing option. You'll just need to find an old dresser or set of drawers that stands at about the height you'd want for cutting your fabric.
You'll also need a drop leaf table – easy to find on Craigslist or Facebook Marketplace – and some basic hardware store supplies.
Once you've constructed the table, you've got one of the best cutting surfaces ever. And all for just about $50.
Narrow Farmhouse Sewing Table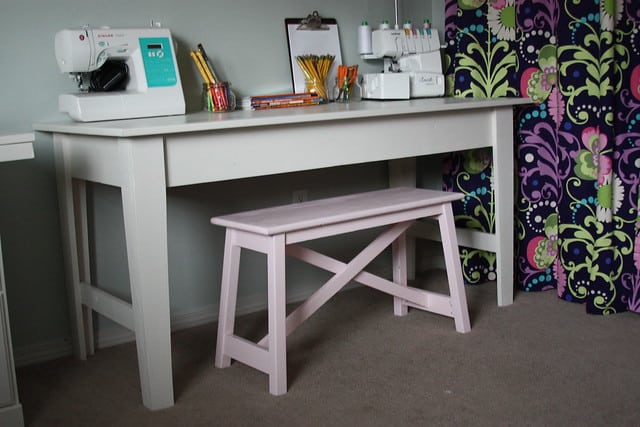 If you've got a long, thin space for your work area, you'll want to consider this narrow farmhouse sewing table. It's designed from a dining table design but easily converts into your sewing table for that awkward space at home in the sewing room.
The instructions are super thorough, with step-by-step illustrations. But this one is best for those with some skills already gained in the woodworking department, as you'll be fully constructing the table from scratch.
Via Ana-White
Super Simple Small Sewing Table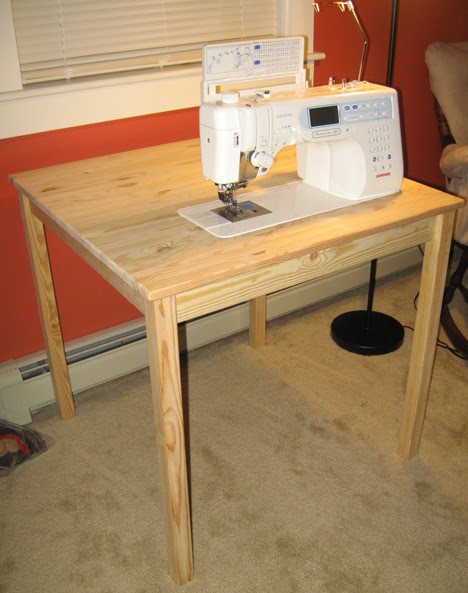 This super simple DIY sewing table is one that just about anyone can make and use in just about any small space, even the tiniest of apartments.
It's technically an Ikea hack, but any small table will work, as long as it's made of wood. It's also a super cheap option, too, since you just need to find some scrap wood, an old table the size you want, and a little hardware. You do need a jigsaw and handsaw, though.
Via Blue Dinosaurs
Cheap And Easy Large Sewing Desk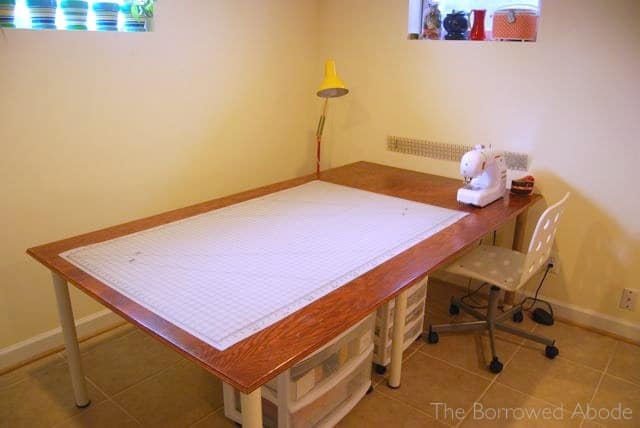 Another super cheap, easy sewing machine table is this option made from some plywood, molding strips, and desk legs.
It's a super-easy way to throw together a sewing desk right now, especially if you get the lumber store to make your cuts for you.
You can make the sewing table any size you need, though the instructions are specifically for 7 feet by 4 feet, due to the crafter's needs. Generally speaking, you probably won't need one this big, so just adjust the measurements to your own needs instead.
Sewing Machine Wood Box Base With Side Cubbies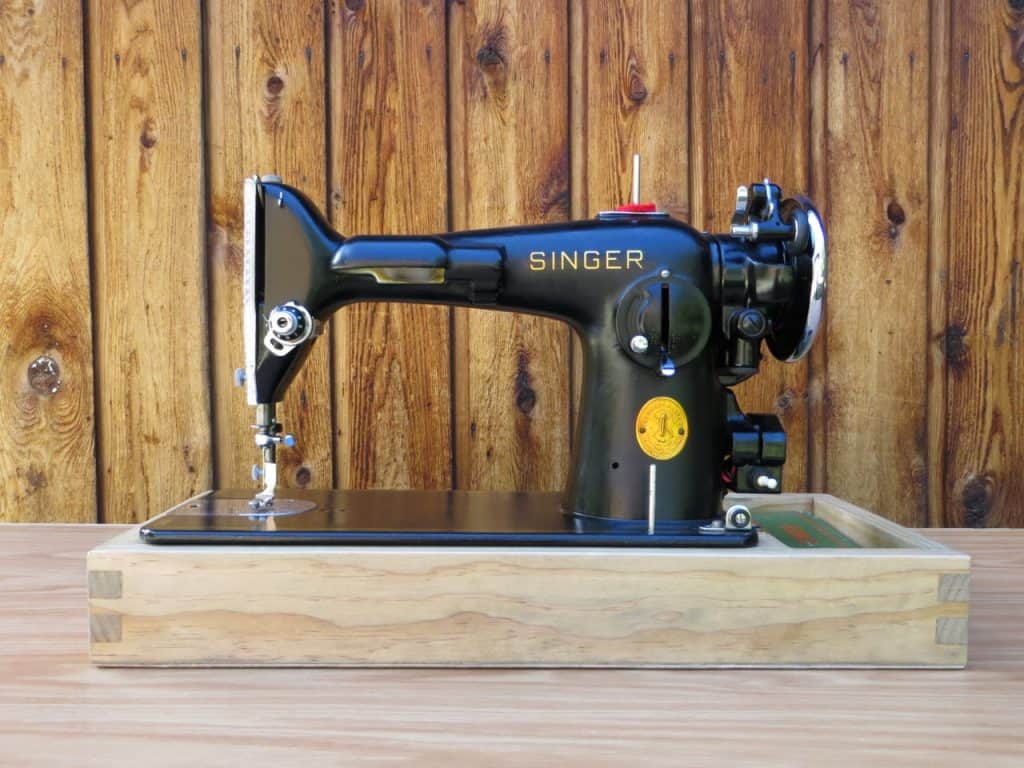 If you already have a great table you want to use as-is, then this is the one for you. It's a sewing machine box base that allows you to have that solid placement for the machine without having to cut into a tabletop.
The tutorial shows you the step-by-step sewing table plans and gives notes on how to make the base with the cubbies or without – whichever best suits your needs.
Via The Project Lady
L-Shaped Corner Sewing Desk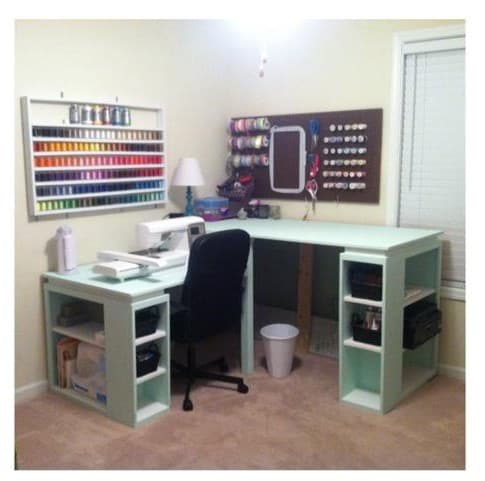 This is a twist on a sewing desk we've already seen from Ana White. It's an L-shaped turn on the sewing desk to make it more suitable for use in the corner of the room. And it's just so gorgeous you'll find any excuse to make it.
The crafter used the shorter portion for the sewing machine and the taller, longer portion for cutting table. The taller height makes your work much less back-breaking.
Via Ana-White
Sawhorse Style Sewing Table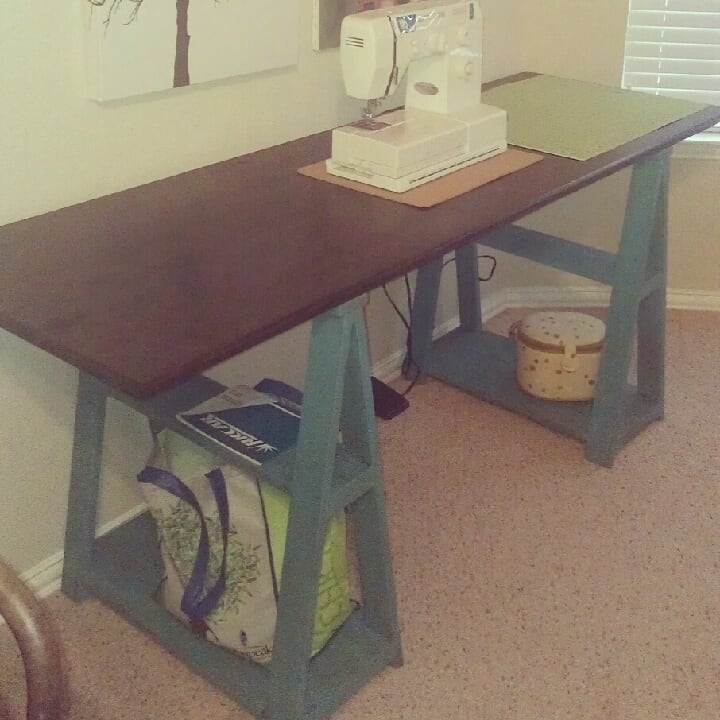 Another fantastic design from Ana White was turned from a dining table into a sewing table by a member of the DIY community.
The sawhorse style dining table is beautiful, but as a crafting table, it's doubly functional with that unique storage and exceptional shape.
You'll probably want to make a narrower version of the table, however, as the full-size is quite large, as it's intended for outdoor use. But, hey, if you have the room, go for it!
Via Ana-White
Pallet Sewing Work Table with Storage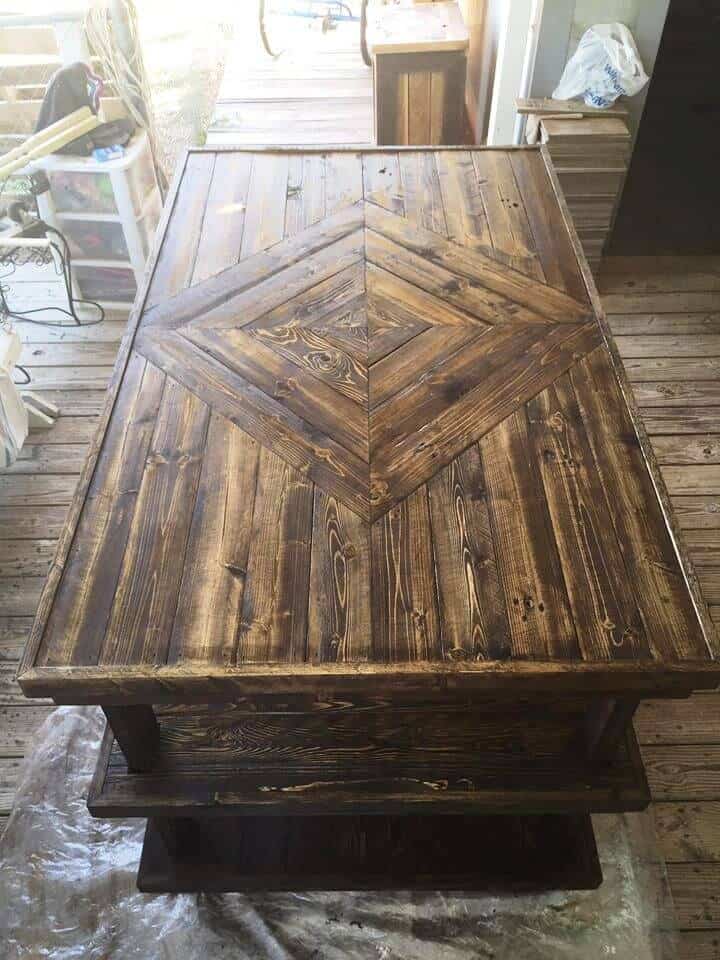 This final option is a great one. A pallet wood sewing table does so many things. It's a great upcycle or recycle of something that's going to go to waste otherwise. It provides you with a larger working space for your crafting projects. And it's absolutely gorgeous to boot.
Just go out and find some pallets, follow the easy-to-understand instructions, and get to work. You'll soon have one of the most beautiful pieces of furniture in your home, thanks to these old boards.
Via 1o1 Pallets
The Right Sewing Table For You
You've seen these 20 amazing designs for sewing, cutting, and pressing tables. Each one is unique in the design, the style, and the work levels involved.
But the best part is that you can use any of the designs and make them your own, fitting your needs, your home, your interests.
Have fun choosing colors to paint the table, choose some quirky, unique furniture pieces to upcycle, or go straight out of the plans with exactly what the designers recommend.
And if you happen to fall in love with one of the designs that doesn't have a cut-out, you can use this hack to change that.