25 DIY Solar Pool Heater Ideas
Keeping your pool warm and comfortable for swimming for a longer season requires a little heater. And if you want to keep that energy cost down, help the environment, and simply have a better experience, you should consider a solar pool heater.
But not just any old heater – a DIY one. You can make several of these options very easily from a variety of supplies, including hula hoops, pre-made solar panels, PEX tubing, and more.
$50 DIY Solar Pool Heater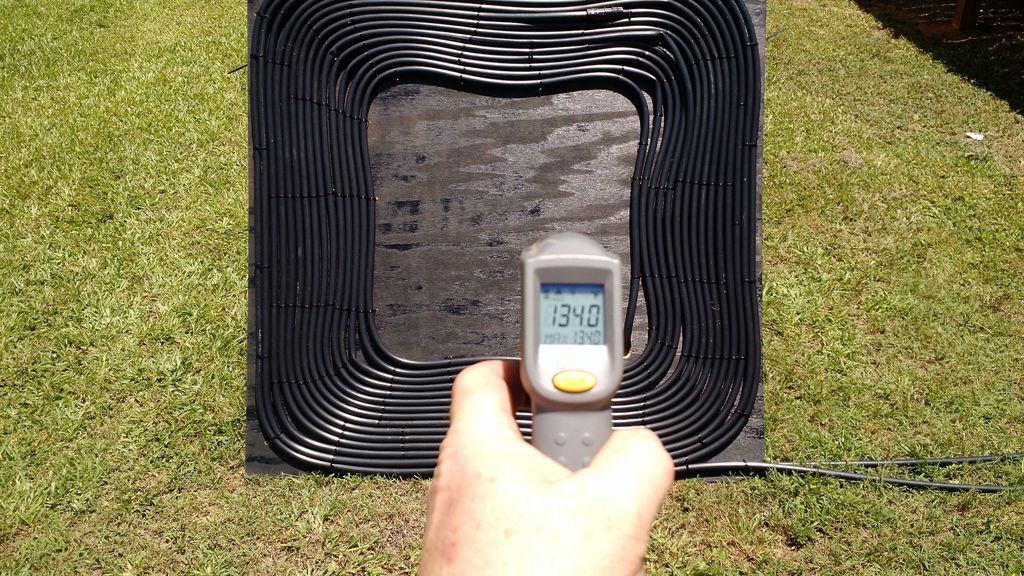 For the family on a tight budget, this $50 DIY solar heater is a potentially really fantastic option. It's strong enough to help keep the pool warmer in shaded areas, as well as extend the swimming season for your home pool for more days from earlier into the spring into later in autumn.
You'll use some plywood – painted black – and black vinyl irrigation hose to create it. It doesn't take long, and it doesn't cost much to make.
Via Instructables
DIY Large Solar Panel Pool Heater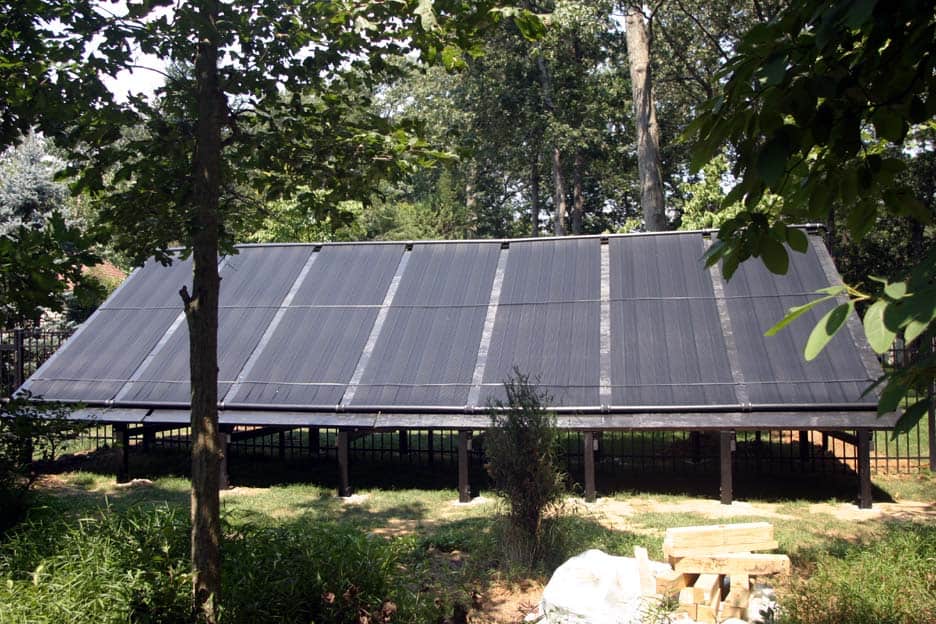 If you need a bit larger pool heater for a larger pool or colder climate, this is the solar panel pool heater you want. The tutorial takes you through the poster's step-by-step, helping you determine what you need to do, where to place the panels in your own yard, etc., for the most benefit.
The tutorial is, admittedly, more of a "this is what I did" than a standard tutorial, but if you know anything about construction, it's good enough to follow and put together your own full system, including solar panels and pipes.
Via Mind Challenger
Easy Floating Solar Pool Heater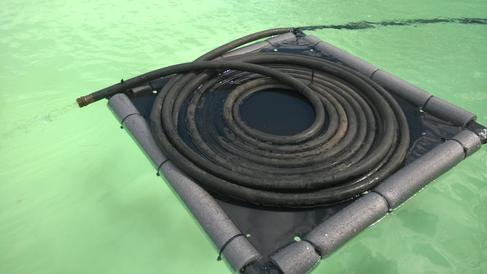 This is possibly the easiest solar pool heater you could build – even if you don't have much in the way of handyman skills. You just need a few easy-to-find supplies from the hardware store and a little bit of time to make and let dry.
To make these floating solar heaters, you need four PVC pipes, 4 PVC elbows, PVC glue, black plastic tarp, duct tape, and foam pipe insulation tubes. Just follow the simple instructions. Seriously, anyone can make these.
Via DIY Easy Crafts
Easy 1-Hour Solar Pool Heater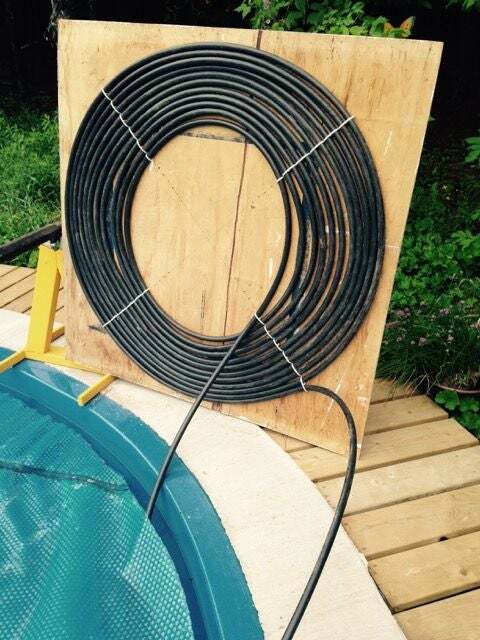 Another incredibly easy solar pool heater, one that takes less than an hour to make, is this one that uses PVC tubing, wood dowels, tie wraps, and plywood only. As to tools, you only need a drill and some cutters for the tie wrap.
If you can find some scrap wood, you can make this one for just a tiny amount of money – the original poster said it cost him $5 – very little effort, and very little time.
Via Instructables
Decorative Solar Pool Heater Discs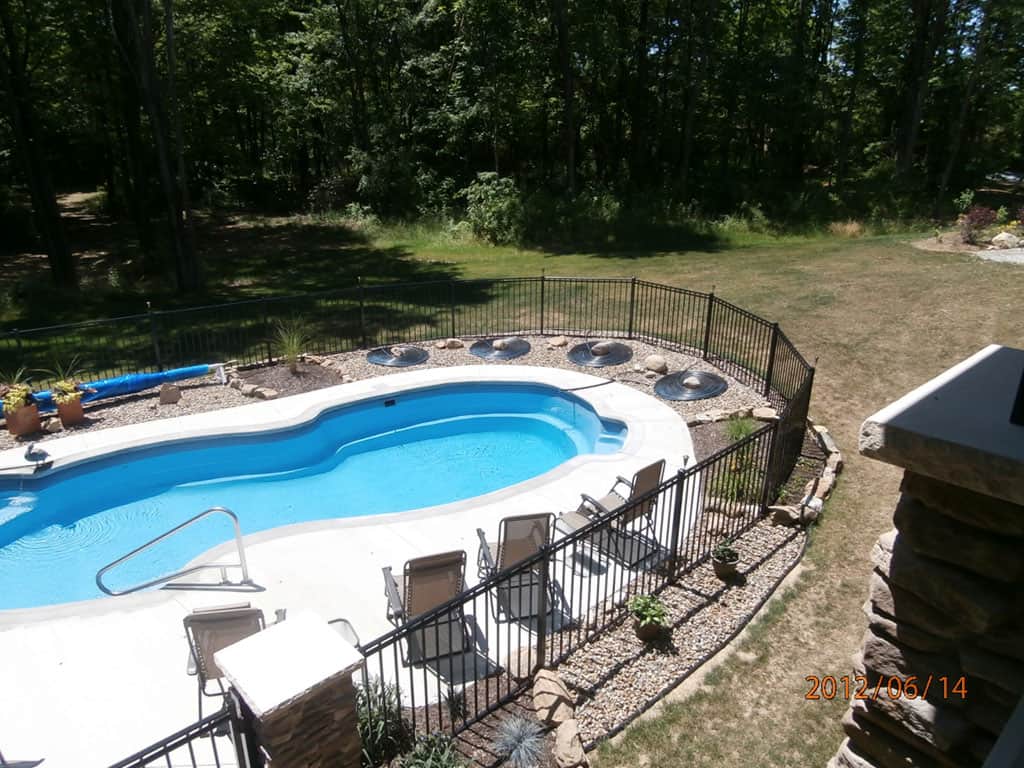 These decorative Solar Pool Heater Discs use some of the methods from other tutorials on this list, but they make for some excellent and much more attractive heating options for your pool because of their intent as decorative pieces.
The reason? A lot of people find solar power devices ugly and distracting. But this tutorial twists that focus and makes the ugly into something much more pleasing to the eye. You just need the supplies and some decorative items – like rocks – to centerpiece the panels.
Via Mildevco
Hula Hoop Floating Solar Heaters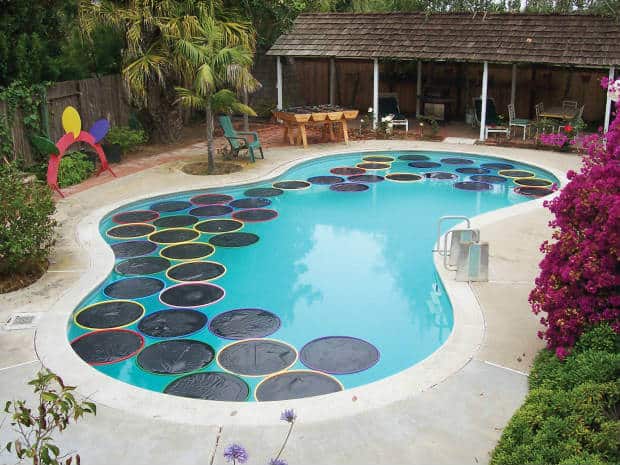 For another floating model that looks like many of the popular solar heaters on Amazon, you can make these Hula Hoop floating solar heaters for yourself. They don't cost much to make, they're easy and kind of fun to work on, and they add some whimsy to the pool when they're out there floating around.
You'll need some Hula Hoops, some polyethylene film, and a soldering gun to make them. They're super simple and just take minutes apiece.
Via Insteading
Upcycled Sliding Glass Door DIY Solar Panel and Heater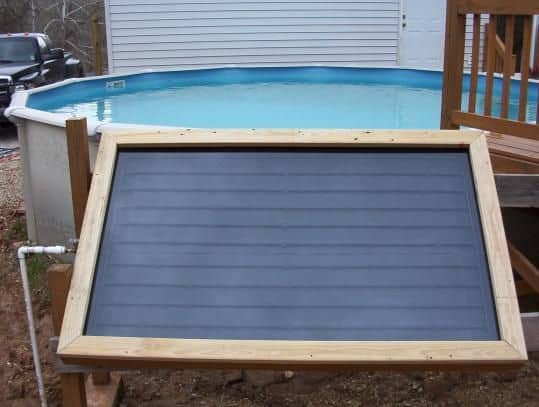 This mid-sized wood panel frame heater is made completely of easy-to-find materials that anyone can access from a hardware store. And the tools are all pretty common for homeowners to already have – or be able to borrow – without issue.
You'll need an old sliding glass door, some plywood, heavy copper flashing, and some copper fittings. The result is a mid-sized solar panel that keeps your pool warmer for longer while upcycling and keeping stuff from the dump. That's a win-win if ever we heard it.
Via Instructables
Solar Pool Heater with Diverter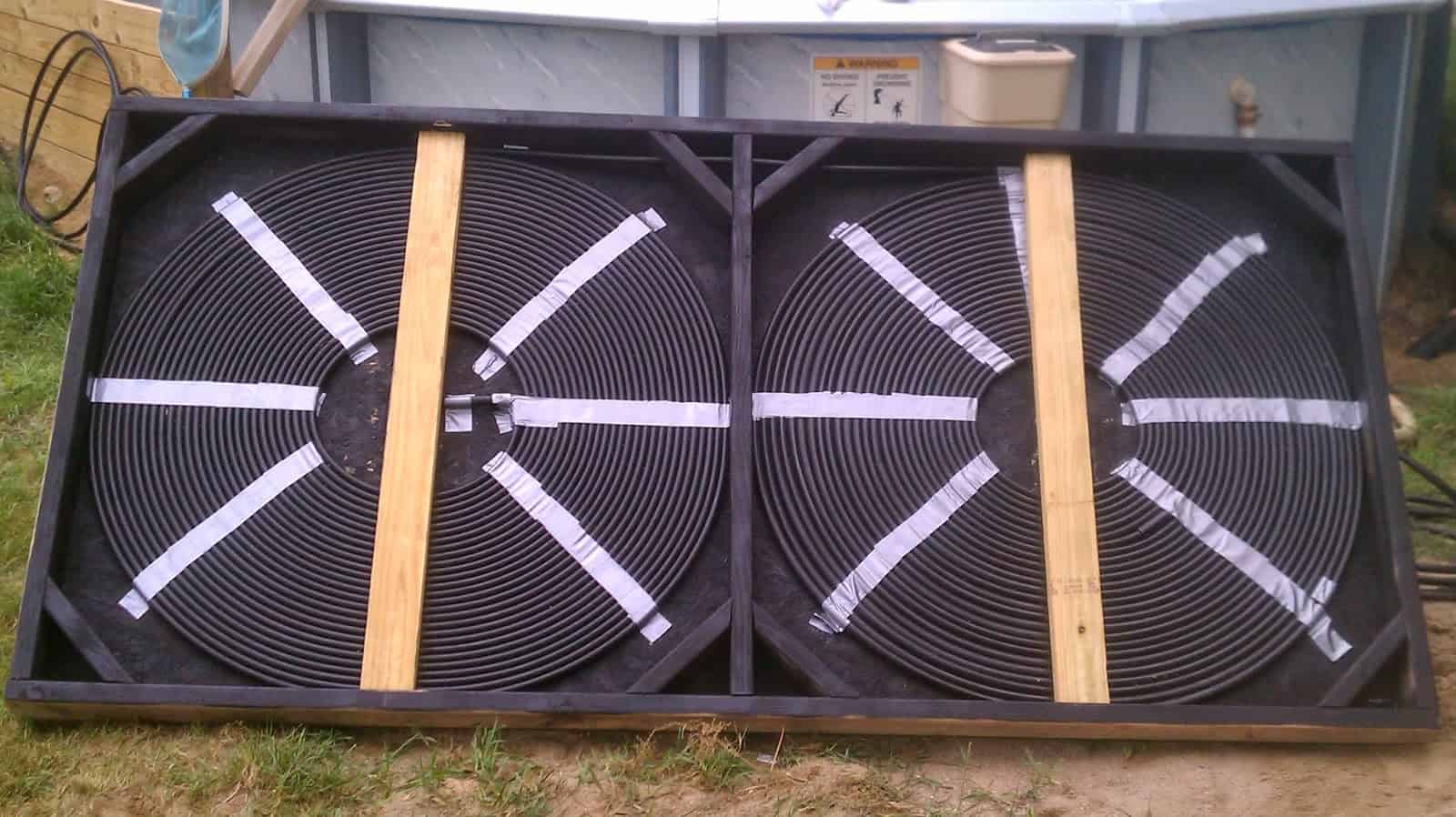 If you're more of a "watch that video to learn" kind of person, then you'll love this tutorial. The video goes into thorough detail on every part of the design, construction, and more, for making this fantastic solar pool heater with a diverter.
You'll also learn some additional tips and tricks that you can apply to other similar projects as you go deeper into using solar energy at home instead of only living on the grid.
PEX Tubing and Aluminum Fin Solar Pool Heater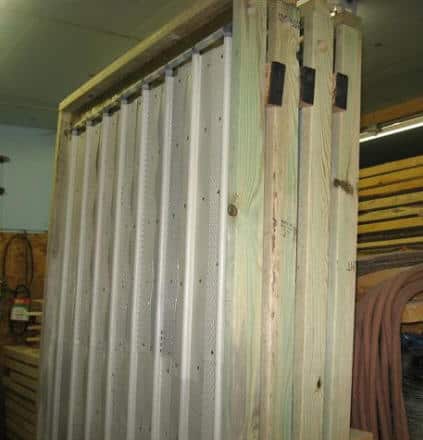 This DIY uses PEX tubing and aluminum fin to create the entire solar power system, from the collector risers to the panels and the tubing to warm the water. The collector is the simpler part – it uses PEX tubing without glazing – and the cheaper part to build.
The best part is that this homemade system is at least as effective as a commercial plastic collector, if not more so. And since it's not glazed, it doesn't overheat due to direct exposure, unlike some other models out there.
Via Build It Solar
Black Irrigation Pipe Solar Pool Heater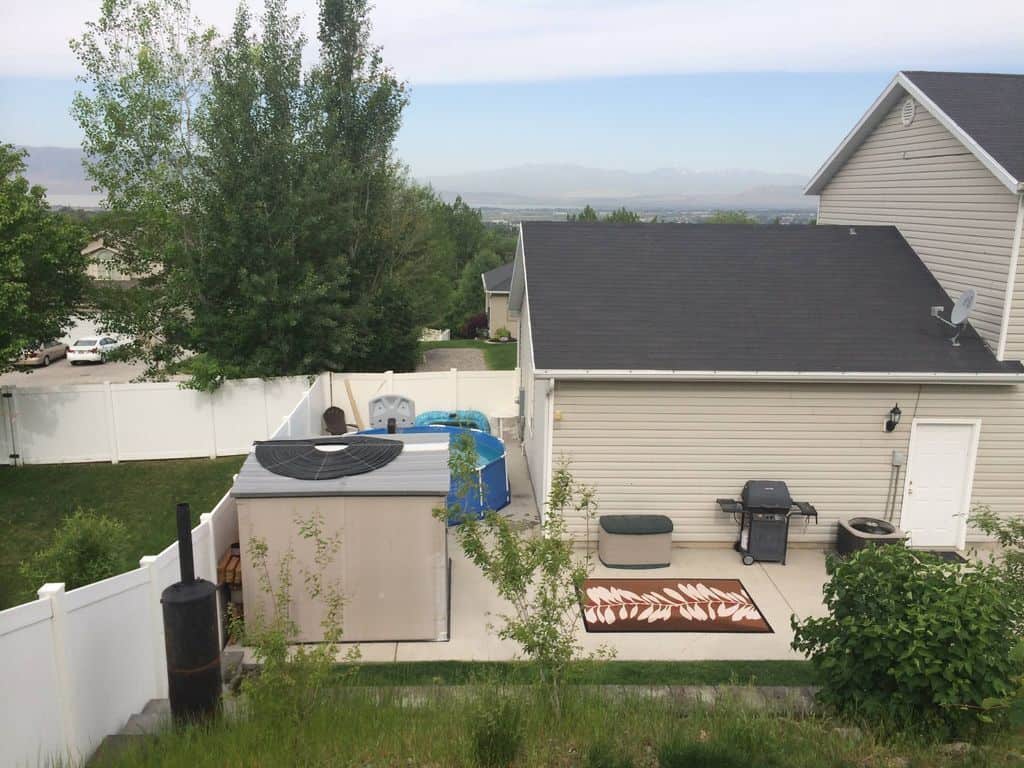 This design is perfect for the small, above ground pool. The heater system is made from 300-feet of black irrigation pipe, a 12-volt utility pump and a 12-volt battery, a programmable timer, a solar charger, and some copper pipe and fittings.
This design was later paired with a wood-burning heater to increase the heating power even more, which is doable for most folks as a DIY project as well. But whether or not you go full-on heat with this, it's powerful enough to increase the swim season by several days either direction.
Via Instructables
Corrugated Metal Roofing Solar Pool Heater System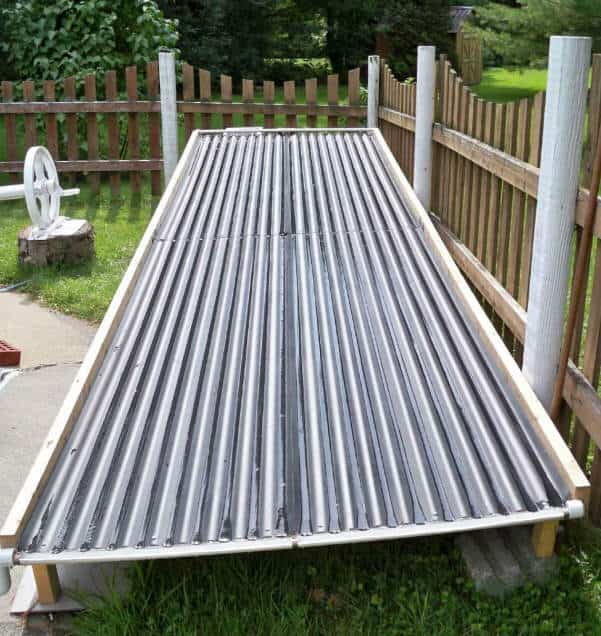 If you love working with corrugated metal roofing like some folks we know, you'll love this reasonably DIY for a metal roofing solar pool heater system. The unique design for the collector increases the solar intake and offers high-efficiency and dropping your overall heating costs.
The collector – read solar panel – uses the corrugated metal roofing material as the absorber while the design makes the system efficient and effective while being reasonably easy to make and inexpensive to build.
Via Build it Solar
Easy "Under $100" Solar Pool Heater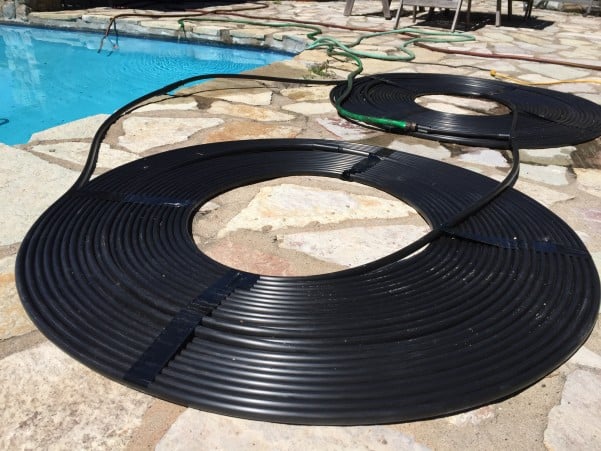 If you're looking for a mid-range inexpensive solar pool heater to build, this is it. This was designed by folks looking for something affordable – so they got creative. Using inspiration from their garden hose and a recent irrigation system they built, they created this heater.
The heater itself will cost under $100, use mostly black hoses and miscellaneous parts, and simple "this is what I did" instructions to guide you through the easy process.
Via LiveDan330
Simple, Portable Solar Pool Heater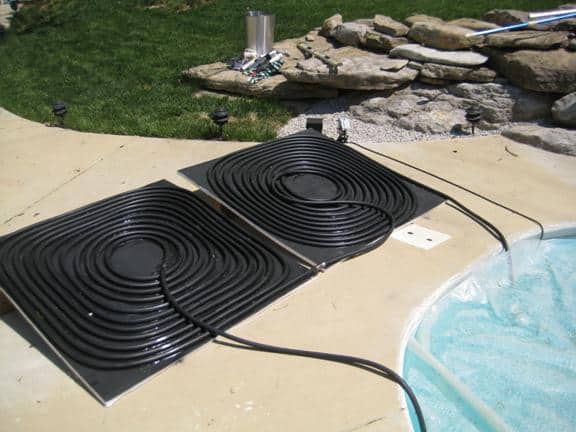 This particular solar heater is very simple and looks a bit more like the standard options you might buy online for hundreds of dollars. But it only takes about six hours to build and under $300. And the best part? It's portable. You don't have to permanently affix this system anywhere, making it perfect for just about any environment.
To make this, you'll need aluminum flashing, Styrofoam insulation board, aluminum covered Styrofoam sheets, black hose, and some common supplies.
Via Dr Roy Spencer
Flat Spiral Solar Pool Heater System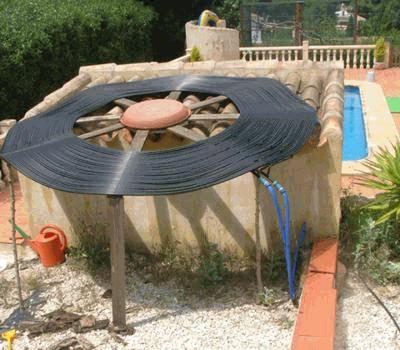 This system is a bit unique in the fact that it's a flat disc system instead of the "3D" hose system that most of the others on the list involved. It's also a unique design that works well enough to heat hot tubs that insulated and pools of mid-size or more at a decent temperature for several months during sunny seasons.
The design is specifically made to fully or partially rest on a rooftop, though you'll need to calculate the proper angle.
Via Rimstar
Super Simple Budget-Friendly Solar Heater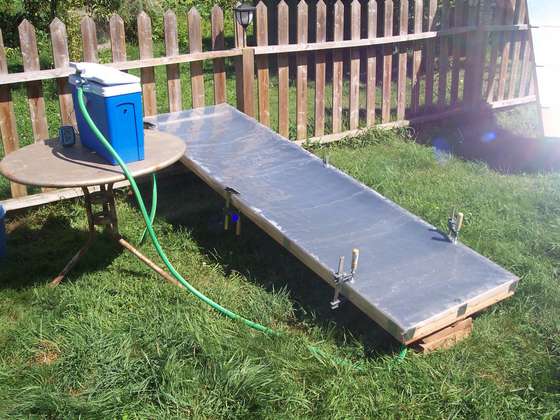 This design is super budget-friendly and very easy to build. You'll need some basic tools, including a table saw, hand saw, drill press, power drill, Exacto knife, screwdriver, caulking gun, and a digital thermometer.
For supplies, you'll need Coroplast plastic, ABS tubing, ABS caps, hose nipples, silicone, and spray paint for the collector. You'll also need plywood, polystyrene, 2x3s, a transparent plastic sheet, a cooler – your water tank – garden hose, and clamps. With all this, you'll have a complete solar power system from scratch.
Via I Will Try
Solar PVC Pipe Collector and Pool Heater System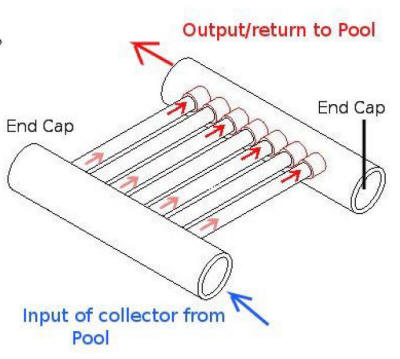 This system takes a twist and uses PVC pipe instead of irrigation or garden hoses like most of the others. So, depending on your construction style, this may be more suited to your liking. You'll basically be creating a mat of PVC pipes as the heat collector. From there you'll run tubing to heat the water.
You'll need PVC pipe and other basic, common hardware store supplies to craft this fairly easy to build system.
Via Build it Solar
Thermal Solar Pool Heater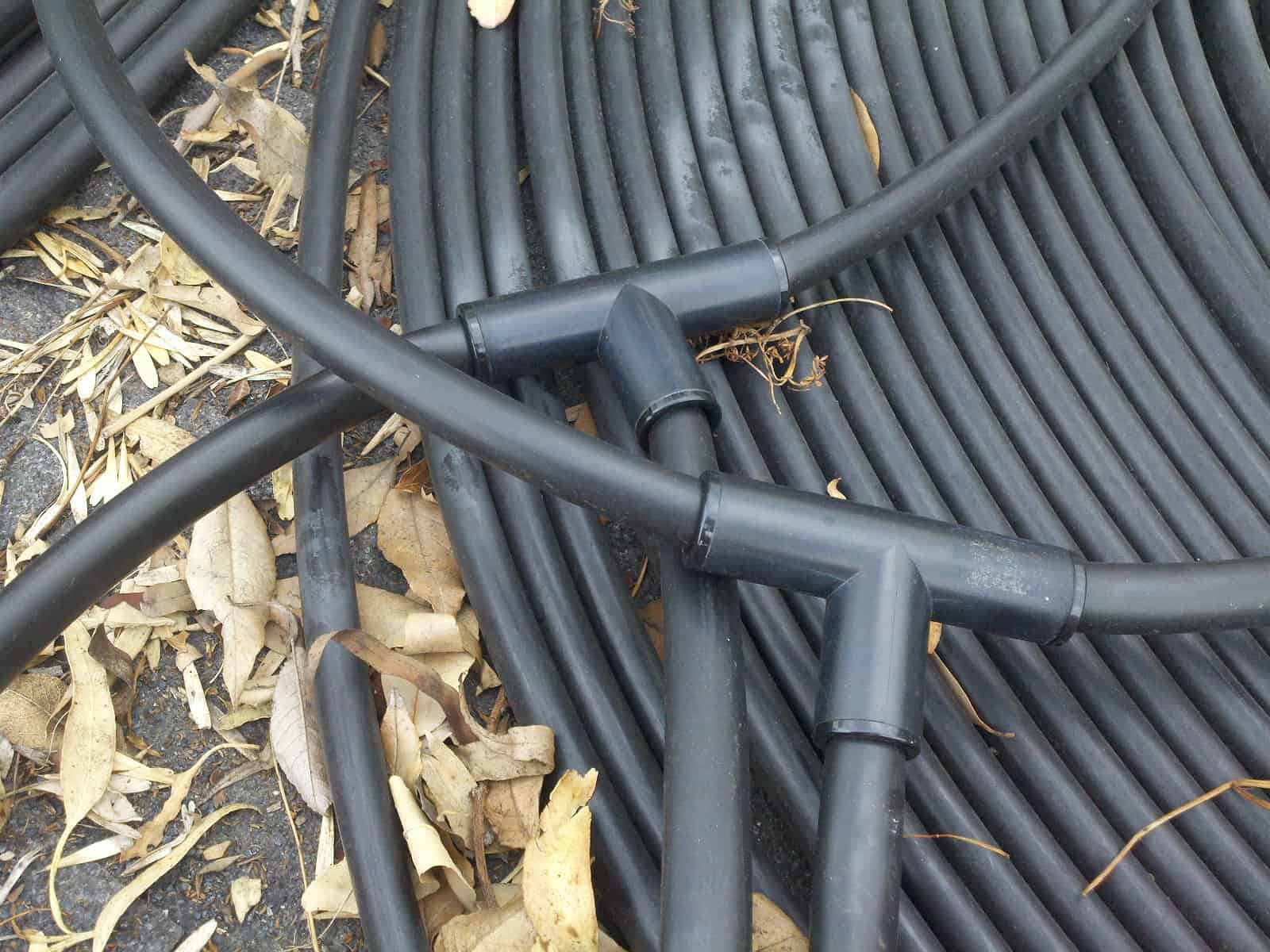 This is a pump-driven thermal solar pool heater that you build from a few simple supplies that most of us can grab from any old hardware store – or at least while shopping at Amazon. You'll need some coils and a pump for your main components.
It's a very flexible option that works with any size pool you have. Larger pools will need more pumps than smaller pools of course.
Via Where Is Holden
Plywood and Irrigation Hose Solar Heater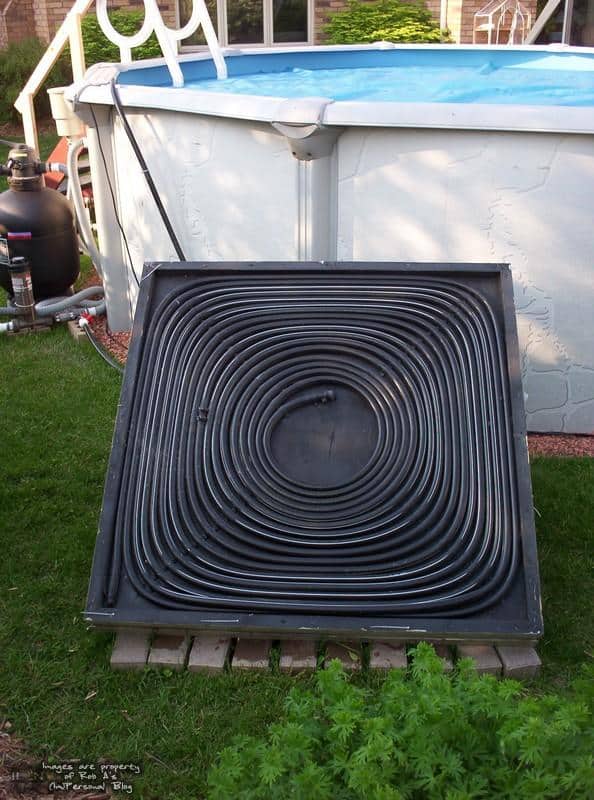 Here's another easy, common supplies list option for keeping that swimming pool water warmer longer: the plywood and irrigation hose heater. The design is built from a collection of info gathered by the poster, from sources like some old Mother Earth News articles, forum discussions, and old newsgroups.
The solar heater is between the super easy and the more advanced options, so we'll class this as an intermediate skill project. It's still reasonably easy, though, so if you're patient and have basic knowledge, you can still probably build it without too much difficulty.
Via Silent9
Multi-Panel Solar Pool Heater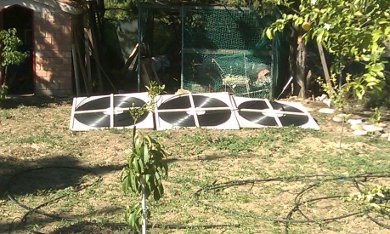 This DIY system is perfect for folks in sunny areas who want to keep their pools really warm. Or for people who live in less sunny areas and have the space to add several panels to keep that water comfortable.
The design allows for the addition of as many solar collector panels as needed. The step-by-step "How I did it" instructions offer suggestions for improvement as well, so carefully read those along the way.
Via Rimstar
DIY Solar Pool Cover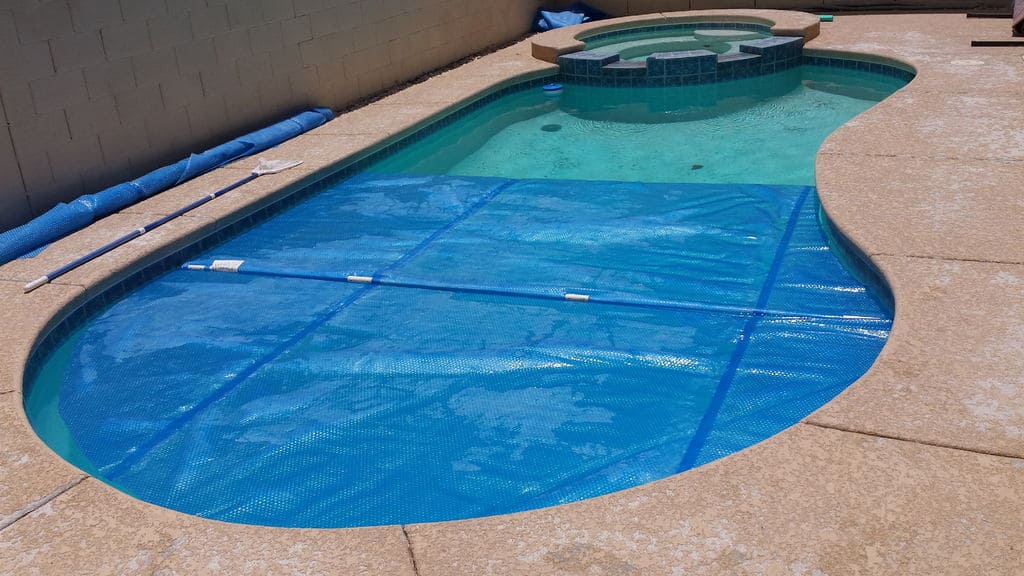 For those looking to make a solar pool cover instead of a series of solar panels or solar collectors, this one is for you. It's a super-efficient, low-cost option that most folks can make without too much effort or time. Just follow the basic instructions to put it together in a day.
You'll need to measure your pool, then gather enough PVC for the "frame," a tarp, and a few other supplies. In no time, you'll have a pool cover that retracts moderately easily.
Via Do It Yourself
Easy to Build Solar Heater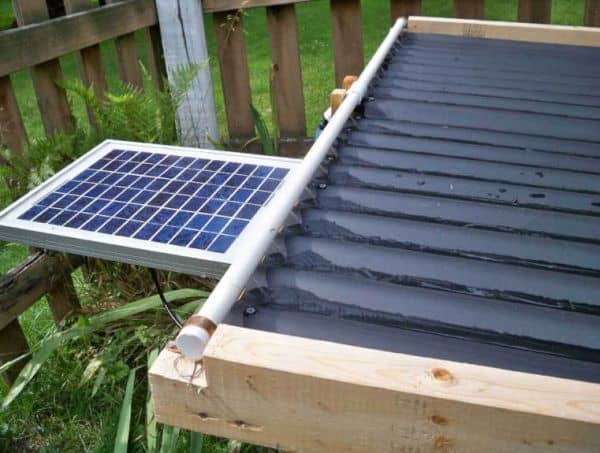 For those looking to build a full system without having a lot of foreknowledge of solar energy and building, this is a great option. You'll need solar panels, a submersible pump, landscape tubing, tube junctions, and a pool cover.
Once you put the supplies together, read the tutorial thoroughly a few times to get a hang of it, then get to work. In just a couple of hours, you'll have a full system without burning a giant hole in your wallet.
Via Green Diary
Copper and Plexiglass Solar Pool Heater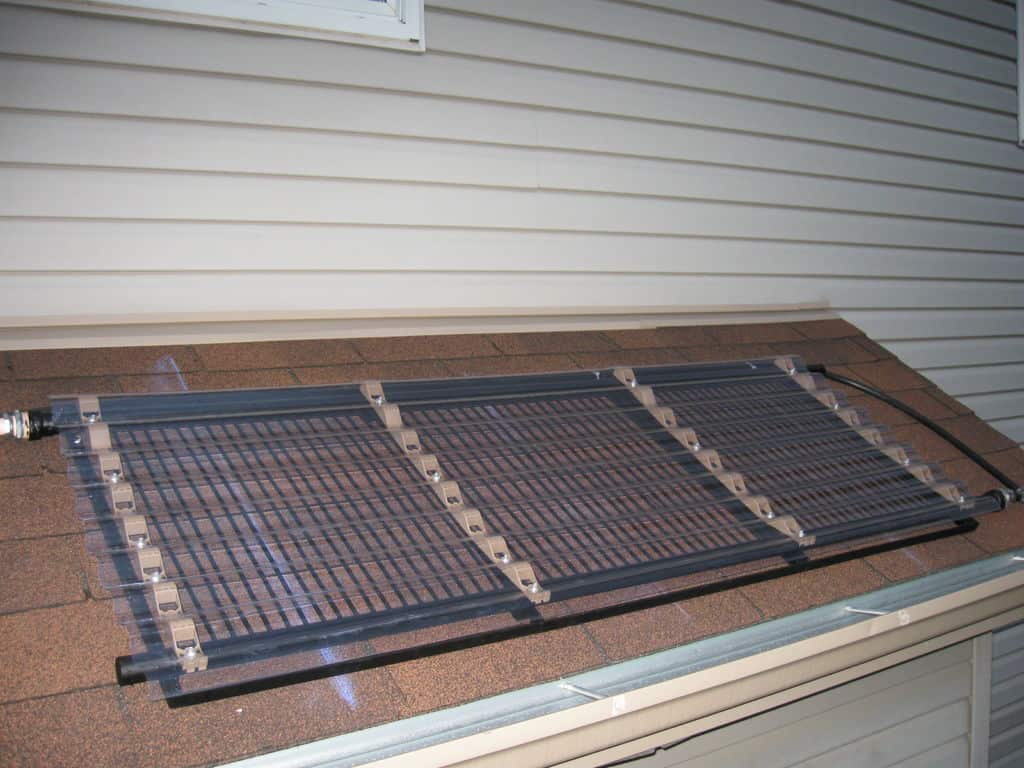 This intermediate project has a unique twist on the usual solar collector and heat system. It uses a combination of copper pipe, tin solder, L-shaped metal rods (or wood, if preferred), and plexiglass to create everything. You'll also need some basic tools like sandpaper and plumber's tape.
You will need a welding torch – can be found in the plumbing section – a pipe cutter, and acetone to complete the project. It's interesting-looking when complete, but more importantly, it's efficient and effective for colder climates in particular.
Via Instructables
Rubber Duckie Kiddie Pool Solar Heater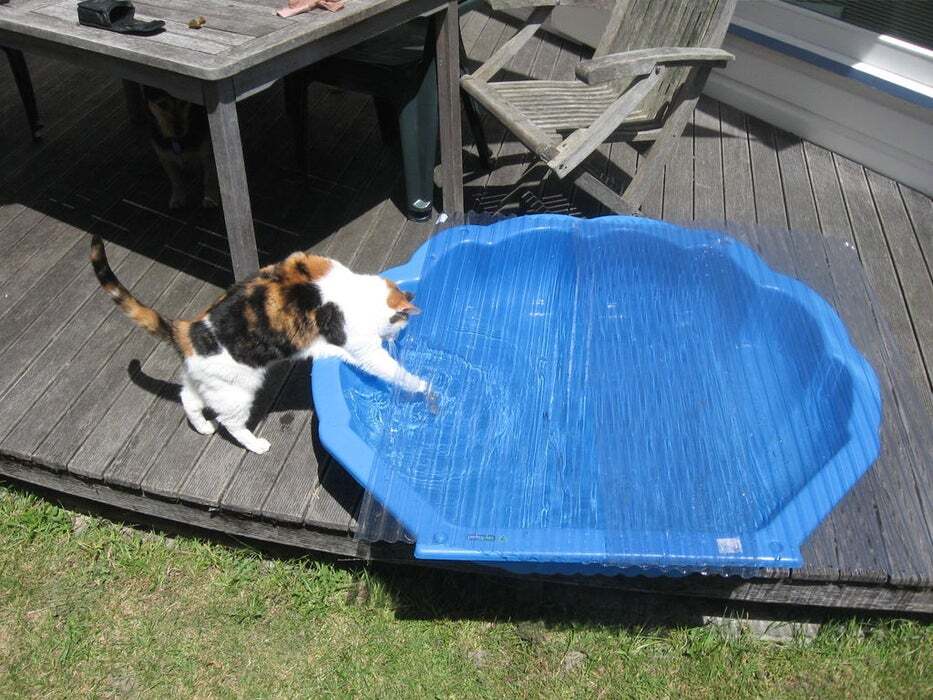 If you really want something unique and extremely inexpensive, then this adorable rubber duckie kiddie pool solar heater is a sure choice. It's not a full-size pool heater, but it certainly does the trick for smaller bodies of water.
To make it, you'll need a kiddie swimming pool that doesn't leak, an access pipe, and some basic plumbing supplies to construct this "rinse-off" and warm water kiddie pool solar heater.
Via Instructables
Temporary Solar Pool Heater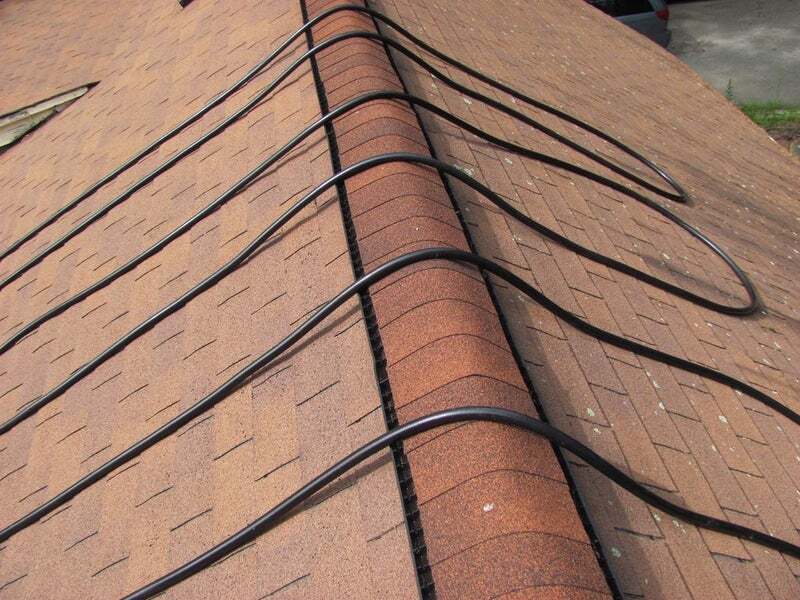 If you're in the position where you need a temporary pool heater but don't want a permanent one – rental cottage anyone? – this is your must-read tutorial for a solar pool heater. It will warm up the water a bit but won't cost an arm and a leg or loads of time to set up.
And, when you're done for the season, you simply remove the system and put it into storage for next year. Simple, cheap, and easy. Can't beat that.
Via Instructables
Optical Illusion Solar Pool Heater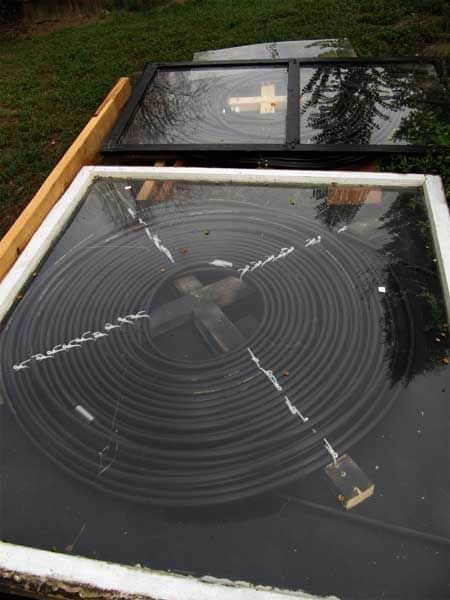 This final option is both a pool heater and party-trick, according to the designer. It's great for creating a unique optical illusion that can entertain – or in some cases, possibly frighten – your guests when they come over.
And, according to the poster, it's easier than it looks to build – and anyone can do it. Better still, it's inexpensive to make one, so even if you need several to get the pool to the right temperate, you should be good to go.
Via Instructables
Whatever Heater You Need, It's Here
So, in this article, we put together every type of DIY solar pool heater we could find. Whether you need a floating pool heater for easy removal, fun projects to do with the kids, something more complicated to test your skills, a roll-up pool cover, or, well, anything else, it's here.
So, just look through the supply lists on each tutorial, do some pricing, and then decide which option is best for you. You might discover that something unexpected is perfect for your needs. Just remember to make sure it's something you've got the budget and skill level for.