30 DIY Wedding Arches & Backdrops Ideas
The national average cost of a wedding is $33,000. Between the dress, invitations, flowers, and dinner for guests, it's not hard to quickly approach that number. The best way to save money for your big day is to take on some DIY projects.
One simple DIY project you can do is your archway or ceremony backdrop. They're minimal, easy to set up, and are much less expensive to make than a pro will charge.
Simple & Romantic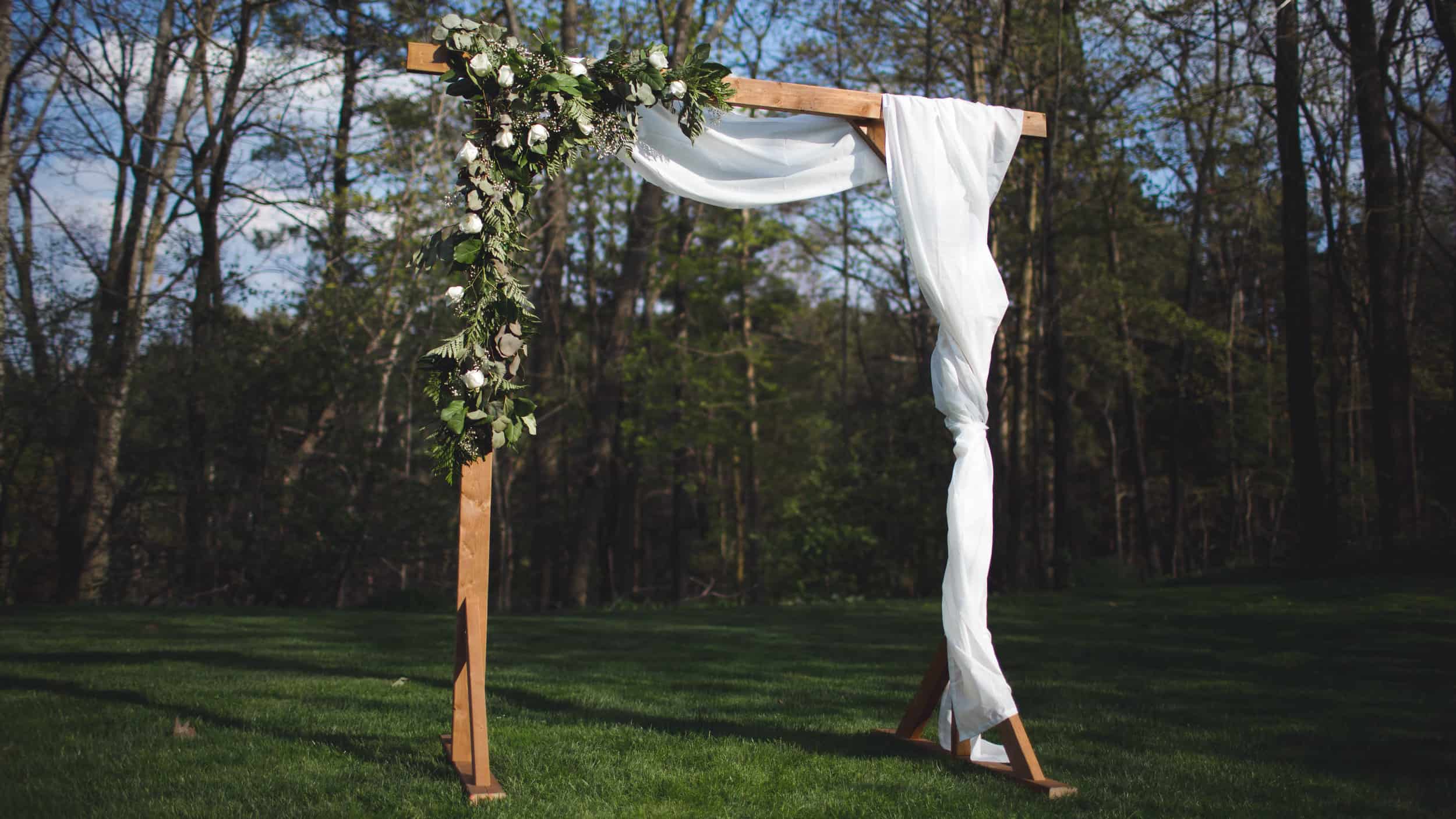 If you have some spare time before your wedding, or you need to give your dad or future father-in-law something to do, this is a beautiful DIY arch.
It's big and requires a little woodworking skill, but it's a simple design that will definitely make a statement
Flowers & Lace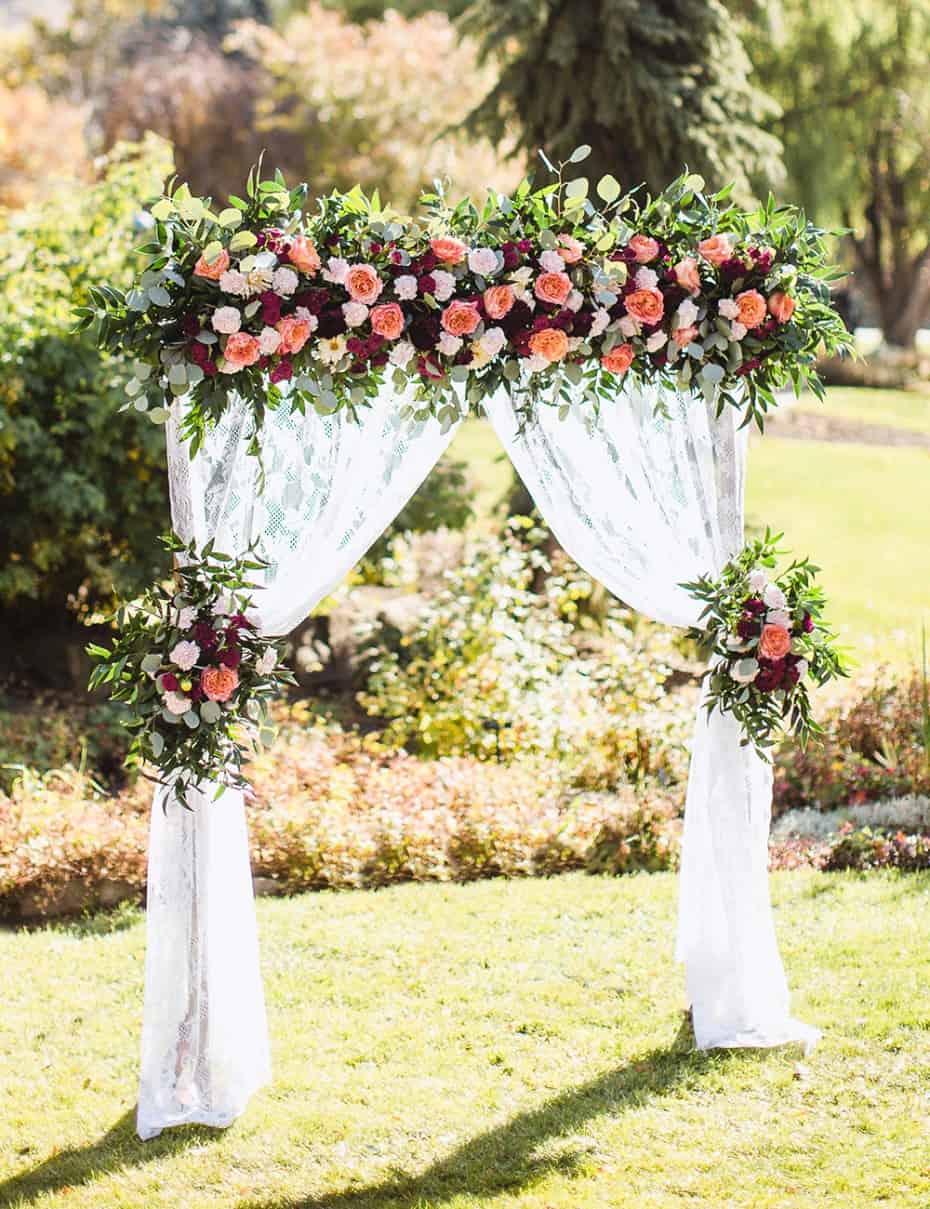 You don't need to build something crazy, just a few tall pieces of wood can be dressed up into something magical like this.
Fill up your arch with some flowers and lace fabric, and you have an amazing place to say "I Do".
Easy DIY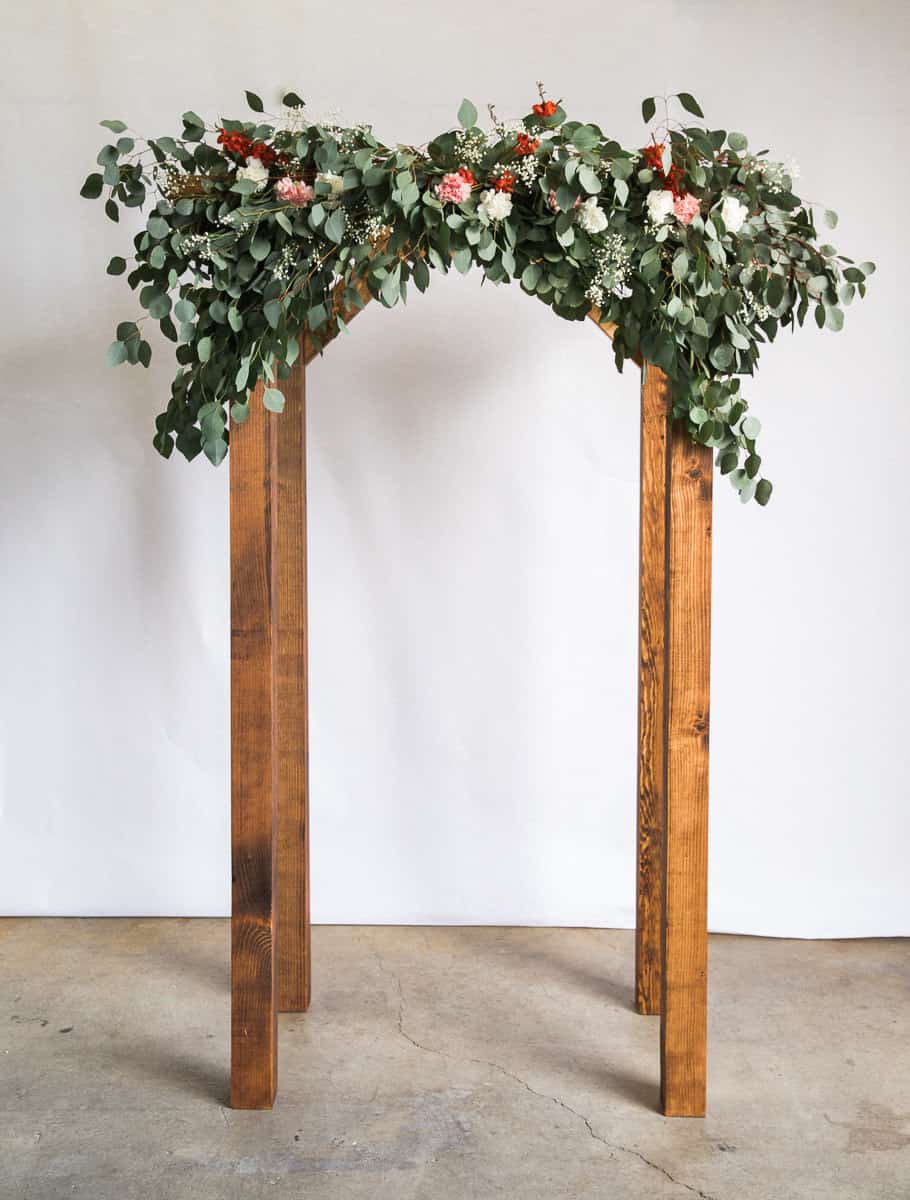 Even the most novice DIYer can make something like this – it's super easy but the finished product looks fantastic.
You can dress this up to be on theme with your colors, or hang some lanterns or twinkle lights from it for a more romantic look.
by Dunn Lumber
Quick and Easy Florals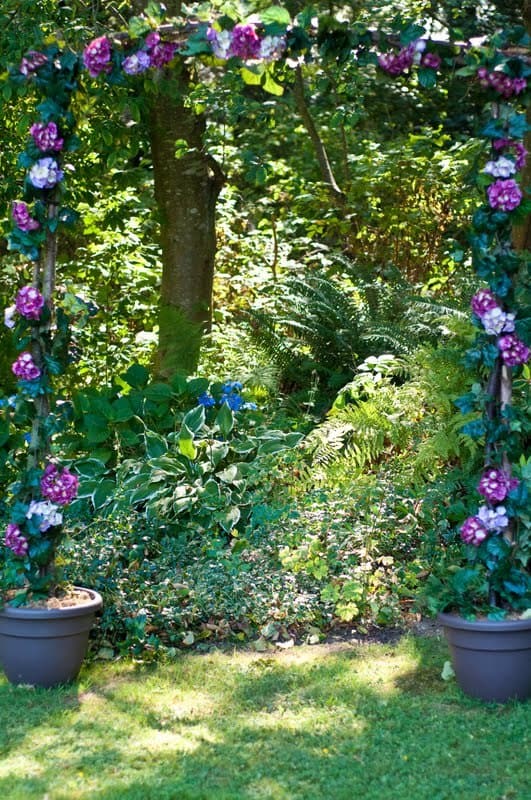 This arch is a perfect example of something you can make without full-on building a new arch from scratch.
It's simple and understated but it does the trick and would look perfect in a backyard wedding.
Self Standing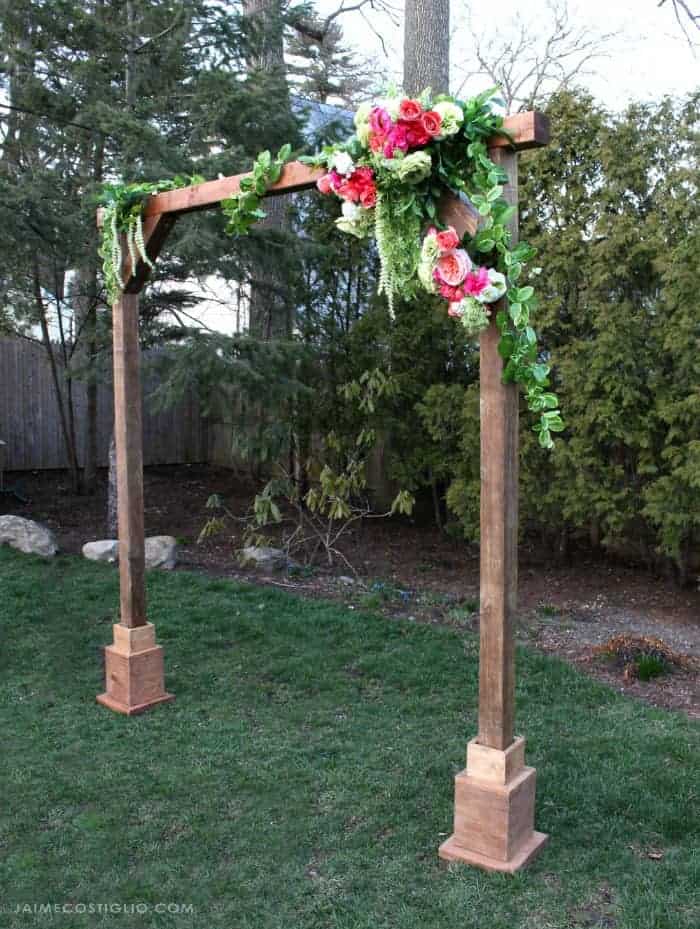 Another simple wood design, but the legs are built from solid molding to allow it to stand all on its own.
Dress it up however you want and consider putting it in your backyard after your wedding, because it's too pretty to just throw out!
Copper Pipes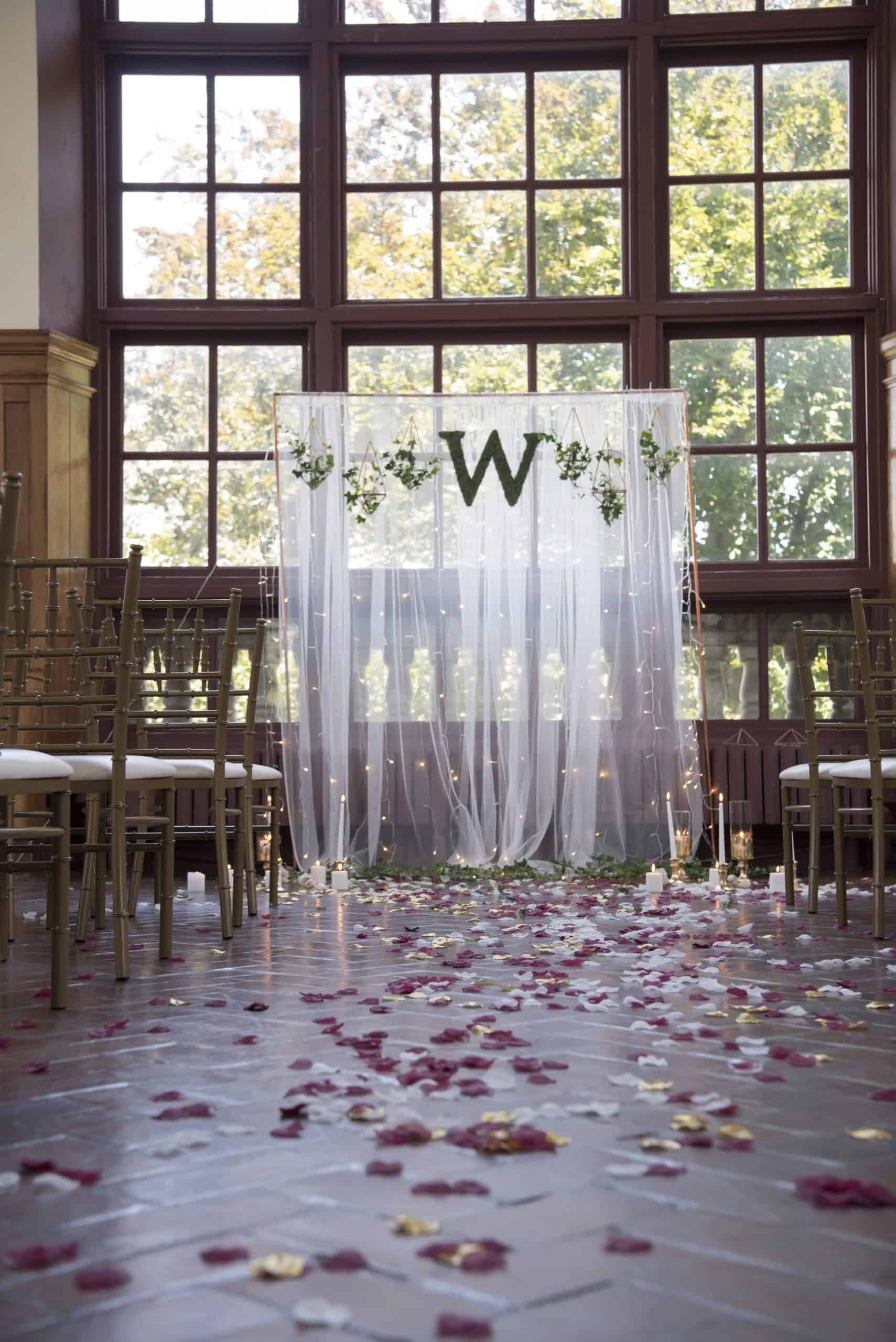 You can get the dreamy romantic look with a touch of metallic with this arch.
The bride on this blog dressed her copper pipe arch with see-through tulle and a monogram. It's gorgeous and looks great with some light behind it.
Ladder Style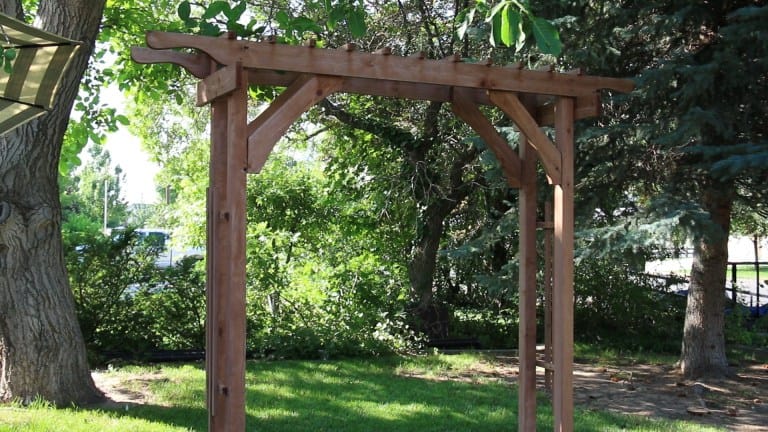 This arch was designed for a backyard but can be used for a wedding too.
It's a little more complicated than some of the other wood arches, but the craftsmanship will allow it to stand up nicely in your backyard after the wedding.
Floral Covered Metal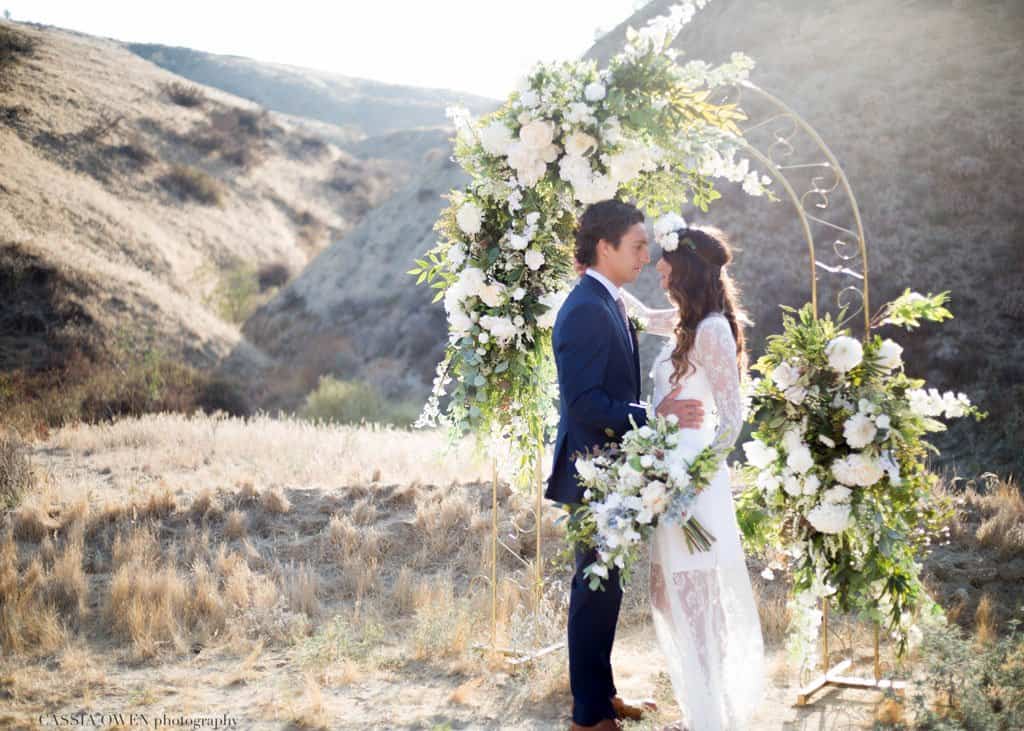 You can get metal archways that are meant to grow vines on at home improvement stores.
To dress it up, you can spray paint it a fun color (or another metallic color) and decorate it with your flowers of choice.
by Afloral
Hexagon
This may be one of the coolest arches, ever.
You can recreate it on a smaller scale, or keep it big like this. It requires some angled cuts and will need some support to stand upright, but it's so worth it.
Faux Arch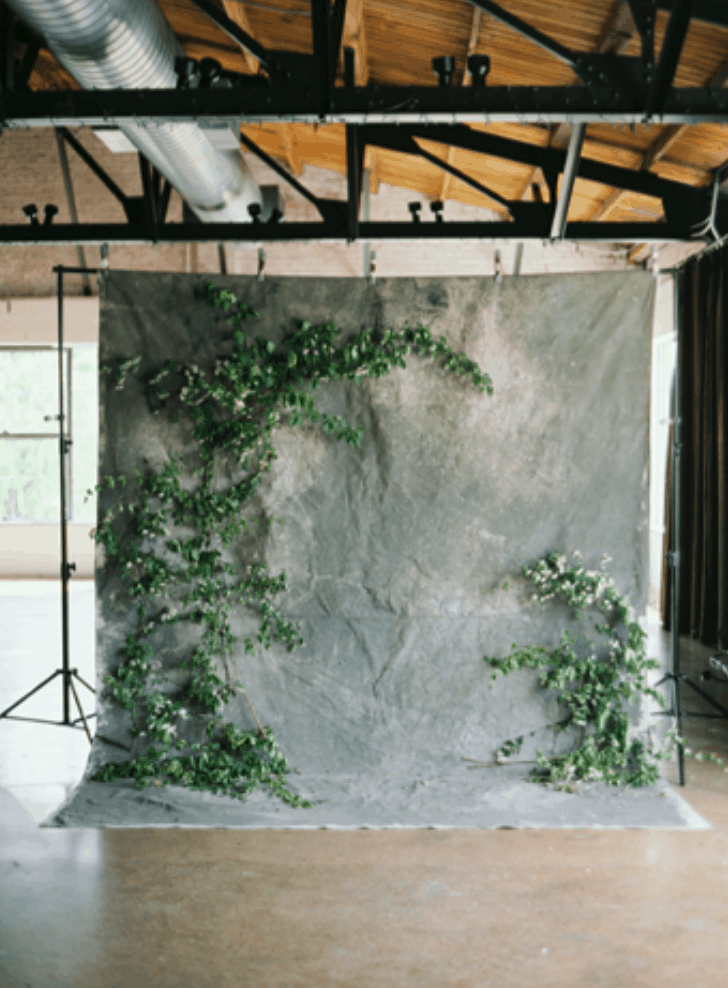 If you are planning to stand in front of a tree or wall, you can create a faux arch using greenery or other flowers.
The idea is to say your vows in front of something that will photograph well and isn't taking attention away from the bride and groom. This definitely does the trick.
by Once Wed
Overflowing with Flowers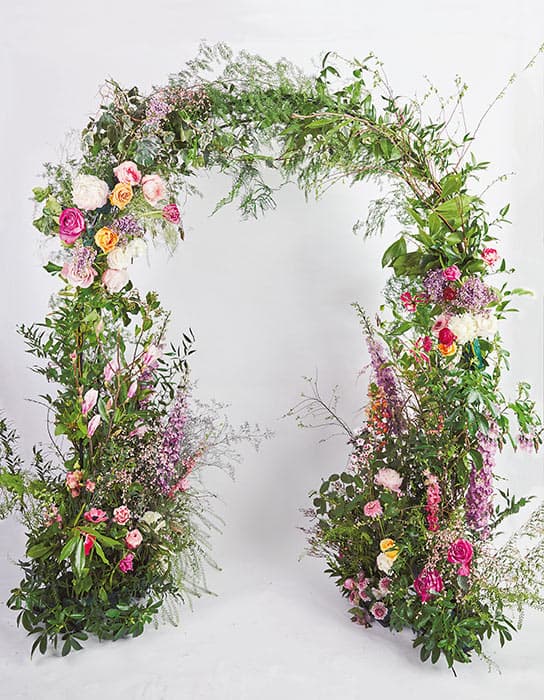 Get yourself some wholesale blooms and have your arch hold as many flowers as possible!
Have them match your bouquets, or go for something that will complement your colors and help the bride stand out. Whatever it is, it'll be gorgeous.
by HELLO!
Twinkle Lights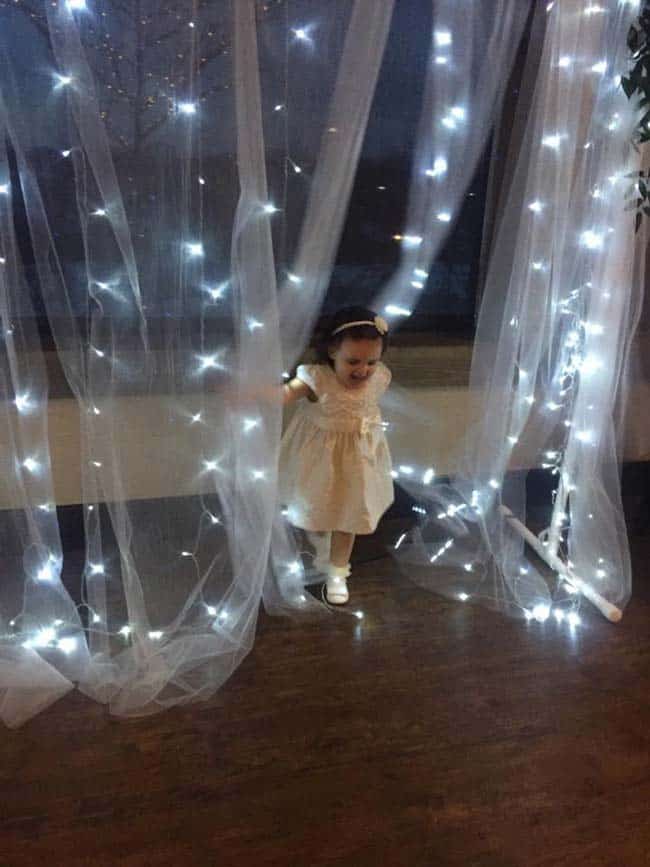 You can't go wrong with candles or twinkle lights at a wedding – they're perfect for that romantic vibe.
Hang a few layers of tulle to serve as a backdrop and then add some twinkle lights behind it. The light will glow through, but the wires won't show.
by Audrey Gail
Circular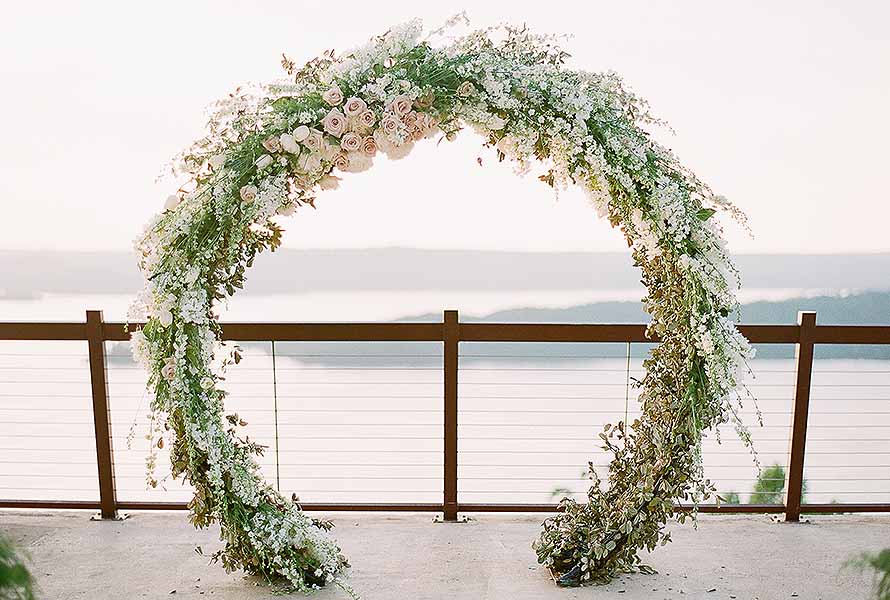 Did you know you can get big wire circular hoops like this?! This one is perfect for a photo op!
Fill it up with some flowers, greenery, or whatever is on theme for you, and just watch your guests' faces as they stand in awe of it.
Paper Flowers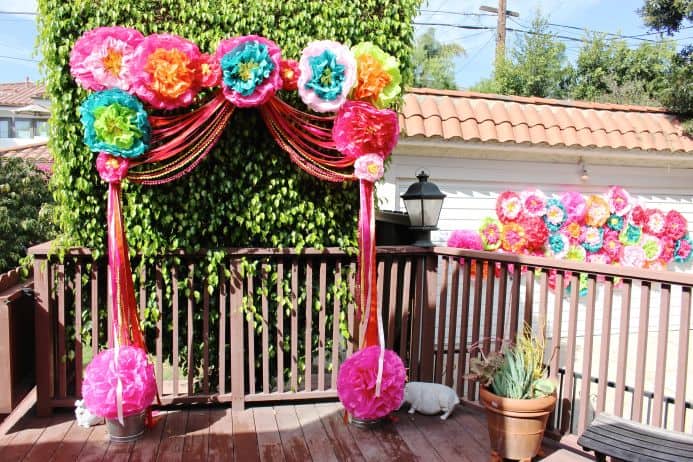 No one says your wedding has to be traditional – liven things up with some paper flowers.
You can get tissue paper in basically any color to stick with your color scheme. Some navy and gold or bright pink paper flowers will add a fun, pretty touch to your arch.
Vintage Inspired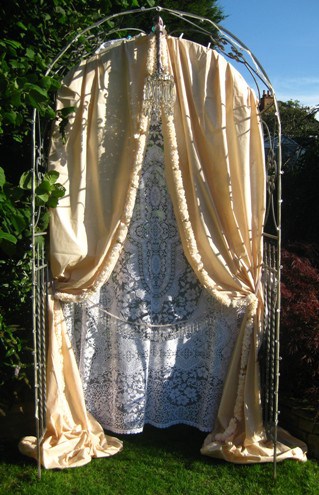 Another way to dress up an otherwise traditional arch is to hang some lace curtains and a little greenery to give it a vintage look.
Instead of tying the curtains tightly to the sides of the arch, loosen them up a bit to give it a more flowly look.
Doorway Arch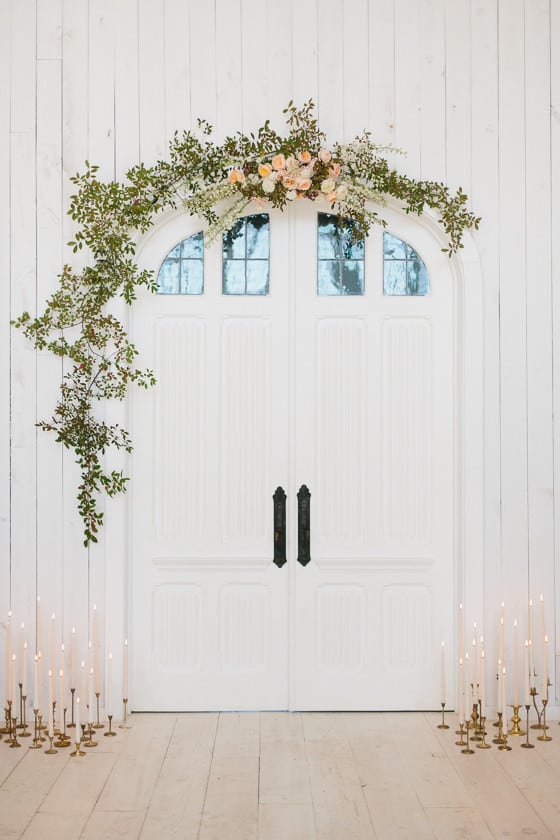 If you're getting married somewhere that your grand entrance will be through a doorway, turn it into your arch.
Add some flowers along the side and top of the door and you've created a very inexpensive but beautiful arch.
Indoor Arch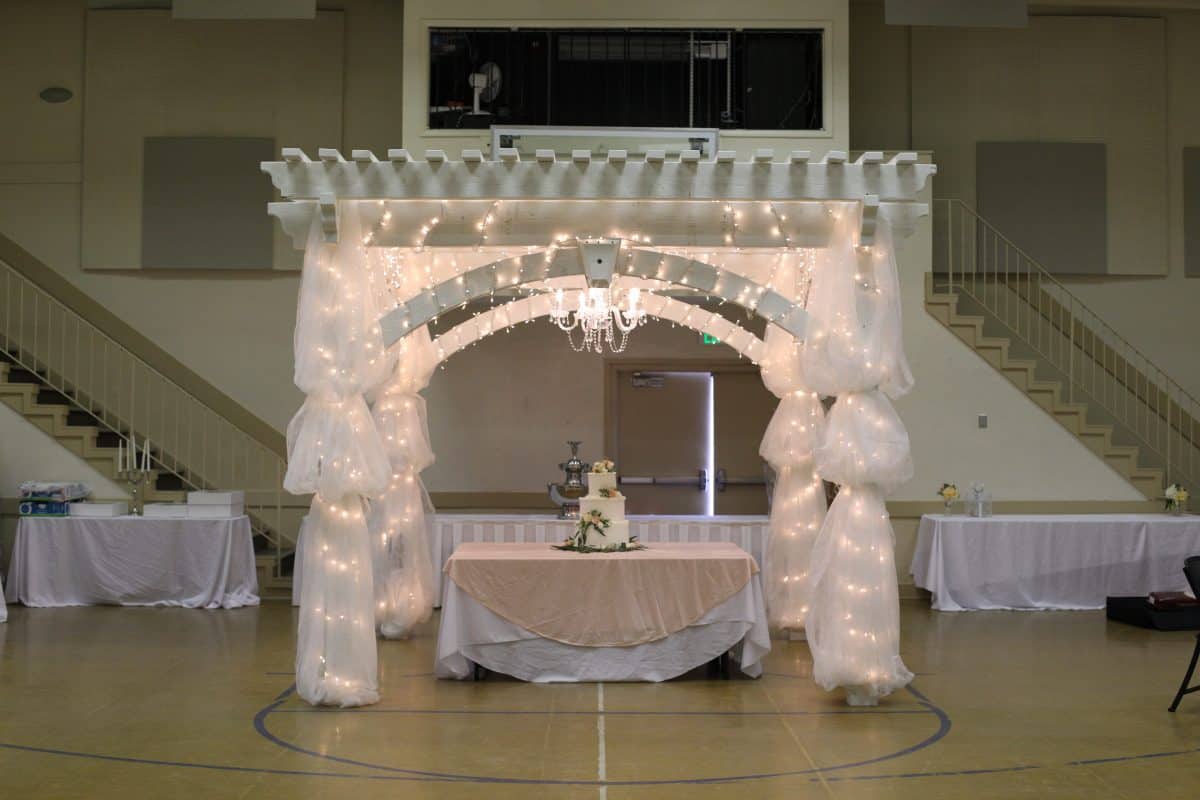 Who says pergolas are only for the backyard?
You can certainly use this outdoors, but there is something fun about bringing it indoors to cover your cake, eat dinner under, or to house all of your wedding gifts.
Sticks and Ribbon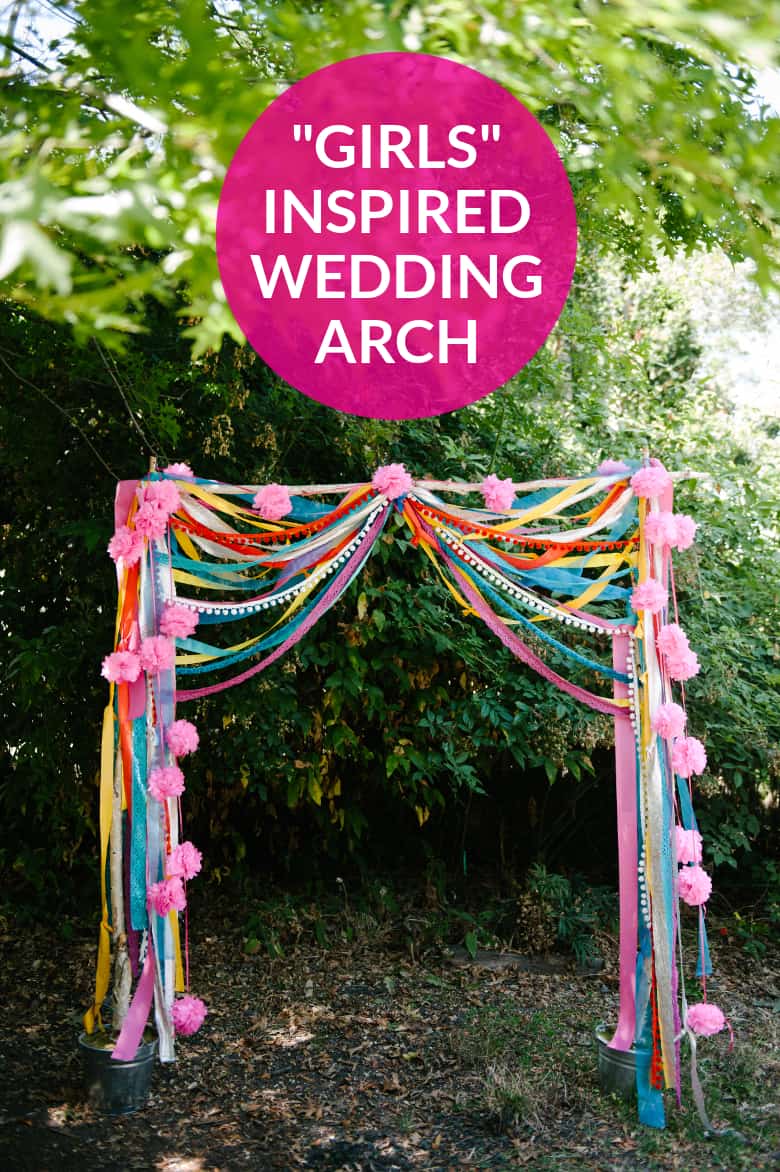 You don't need big pieces of wood to make your arch, you can simply use some tall branches.
This arch was inspired by a wedding on the show "Girls" and has a bunch of differently textured ribbons tied to it to create a faux curtain.
Reclaimed Doors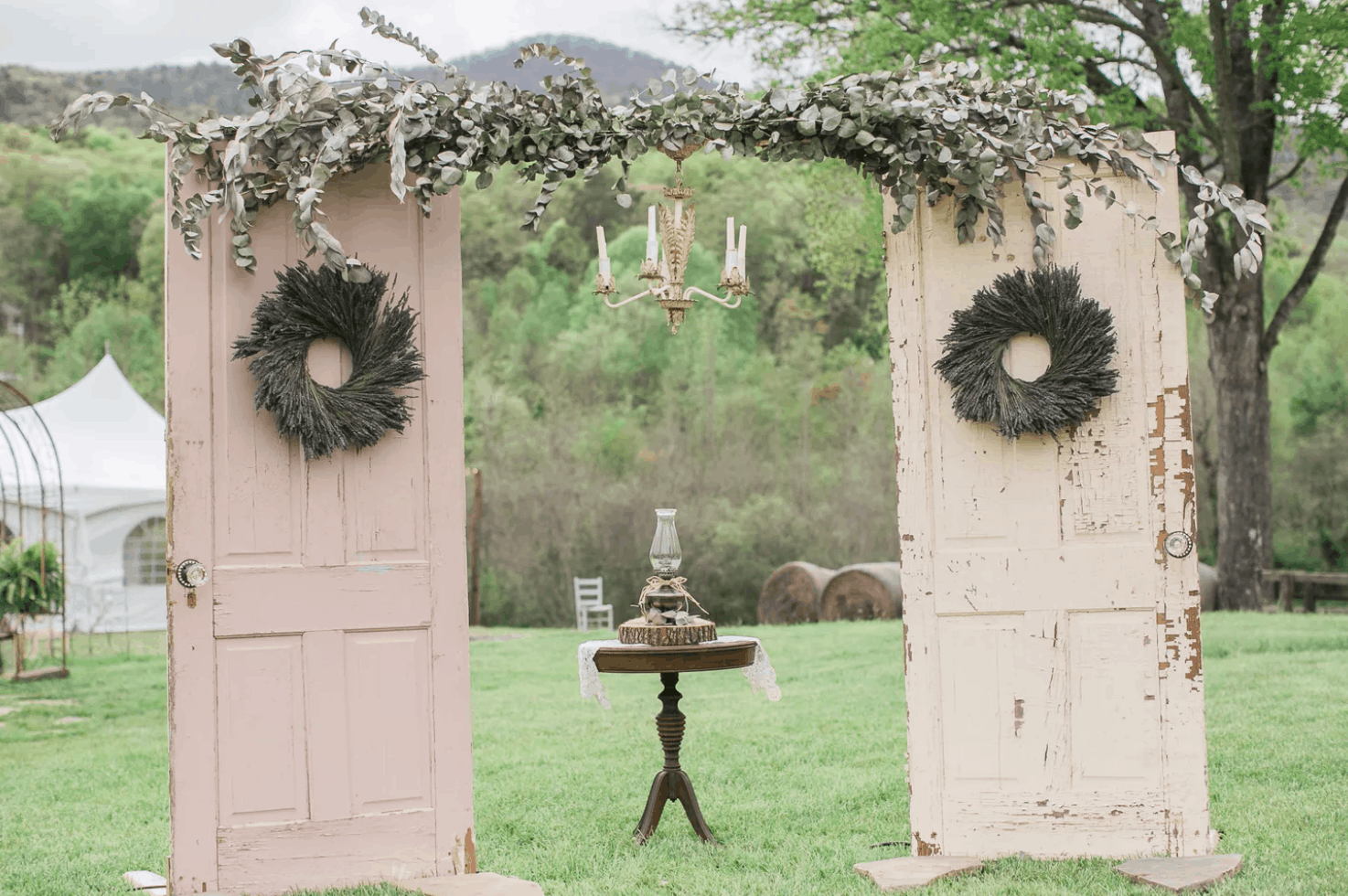 Head over to a thrift store or vintage market and see if you can score some old doors. If not, you can always take some newer ones and give them a weathered look.
Either way, they'll be the perfect side pieces to an arch, and you can hang flowers over the top to give them a completed look.
by The Knot
Boho Macrame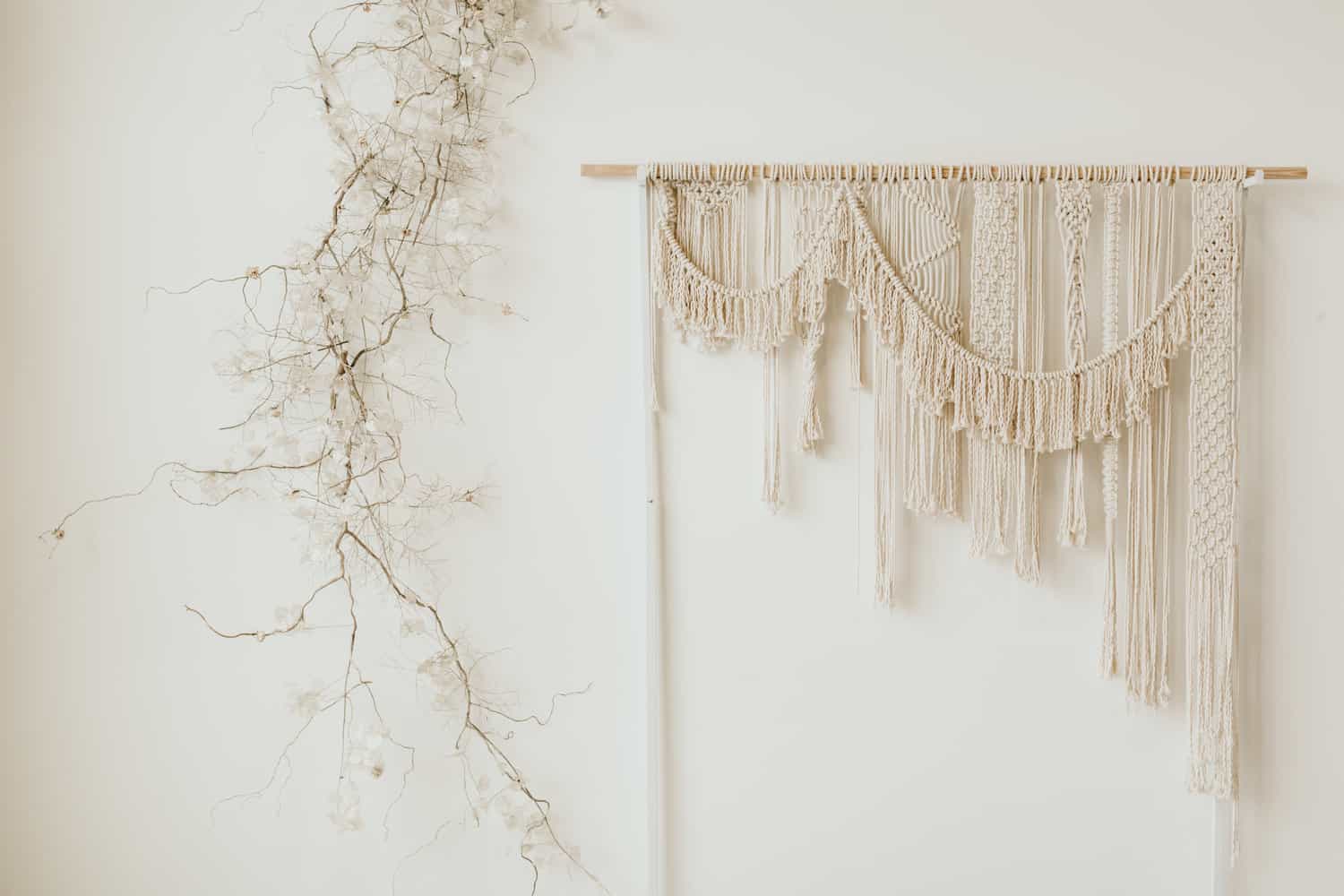 Ditch the flowers altogether and go for a boho vibe by decorating your arch with some DIY macrame.
The best part about the boho-chic look is that you can keep the arch super minimal because the macrame is so intricate and the overall theme is a less-is-more vibe.
Triangle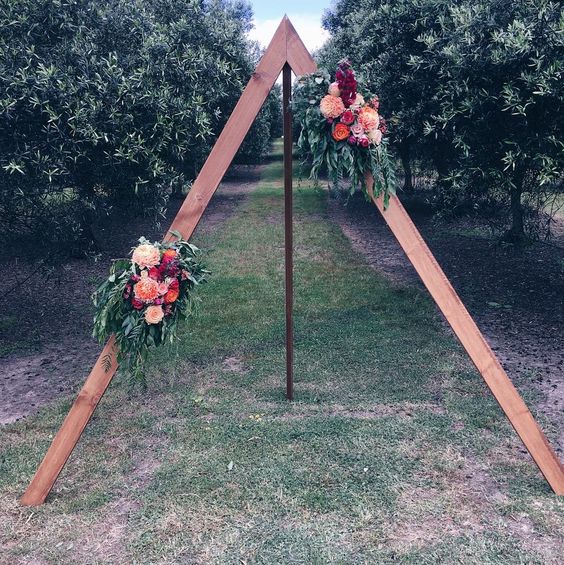 An arch doesn't have to be an actual arch – it can be a triangle that you walk through or use as a ceremony backdrop!
This is super simple to build and would need very little decoration on it because it's a statement piece all on its own.
Books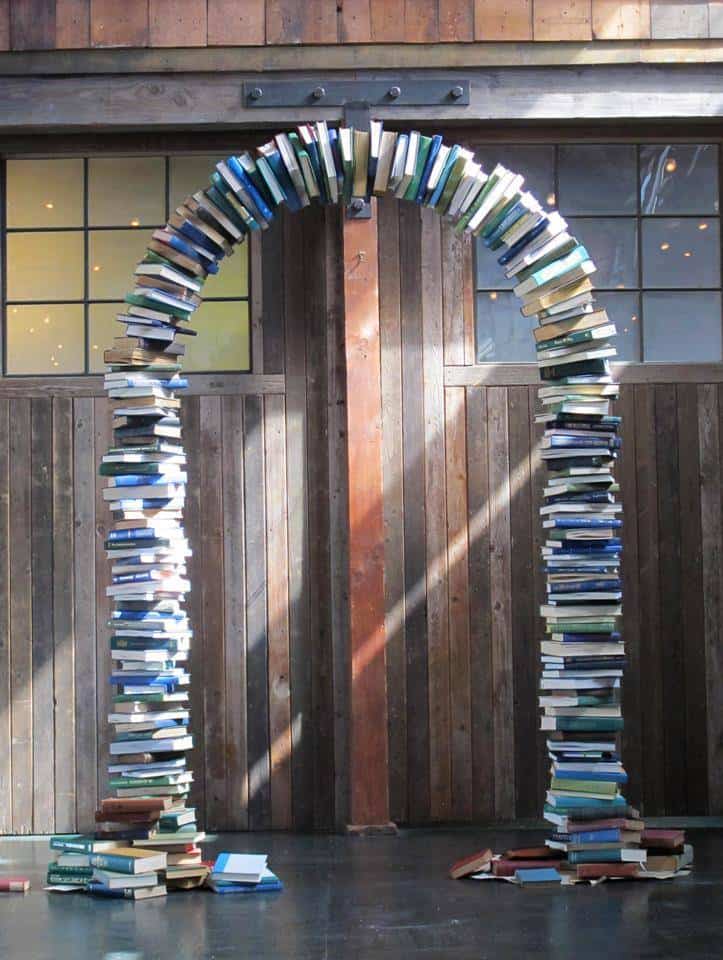 Any couple that loves a good reading night should consider something like this.
It would take some mechanics to create (drilling holes through the middle of the books and stacking them just right), but it makes for a beautiful and personal arch.
Hanging Flowers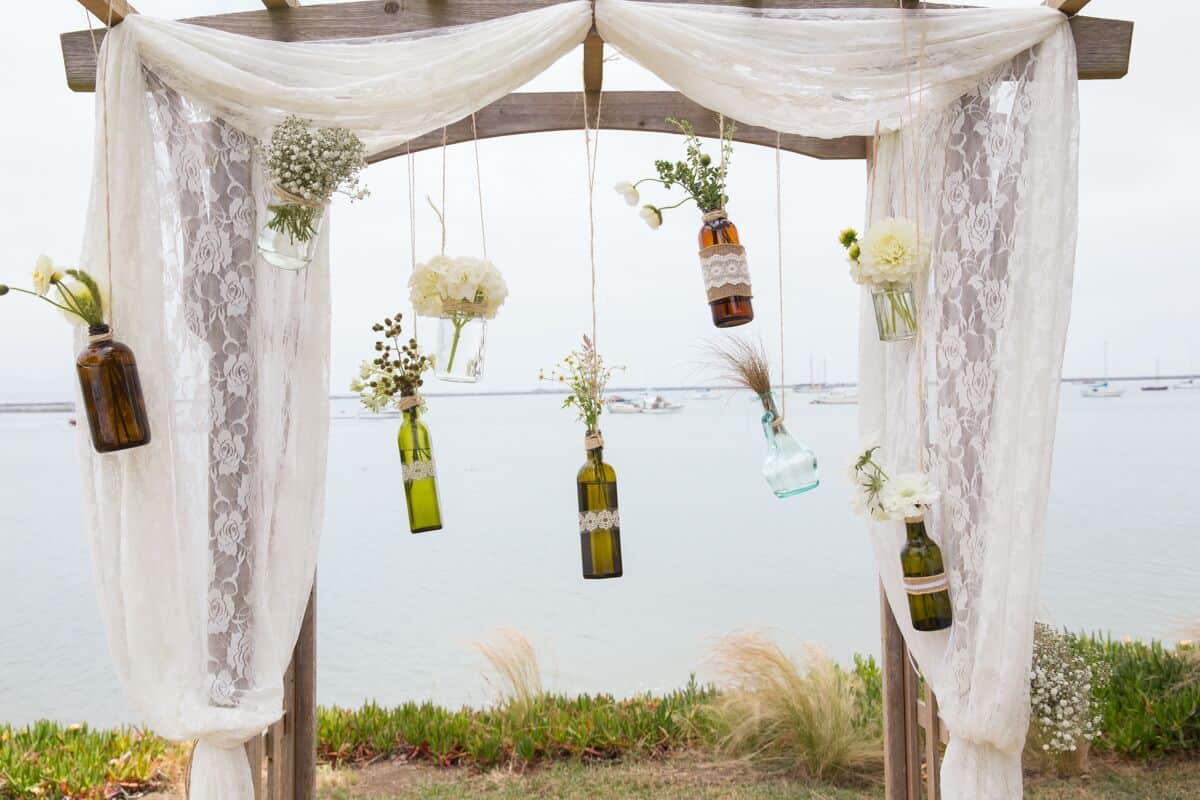 If you don't want to cover your arch with flowers, you can hang some bottles from it that can serve as little vases.
This bride and groom used various styles of bottles to keep it from looking too matchy-matchy, but it's a beautiful way to dress up a simple arch.
by The Knot
Ceiling Arch
If your venue allows you to hang things from the ceiling, create an arch that will float over you.
This couple used a make-shift industrial-chic chandelier and it adds to the overall theme, gives off a gorgeous romantic hue, and looks amazing.
Beach Theme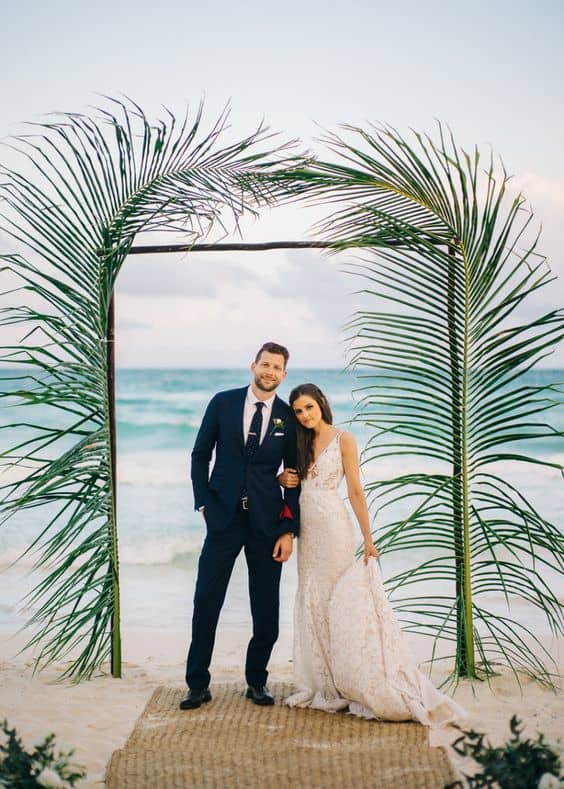 Getting married on the beach? Palms are definitely the way to go!
Dress up a basic arch with a few palm leaves to stay on theme and give yourself a beautiful, green backdrop.
Market Lights & Tulle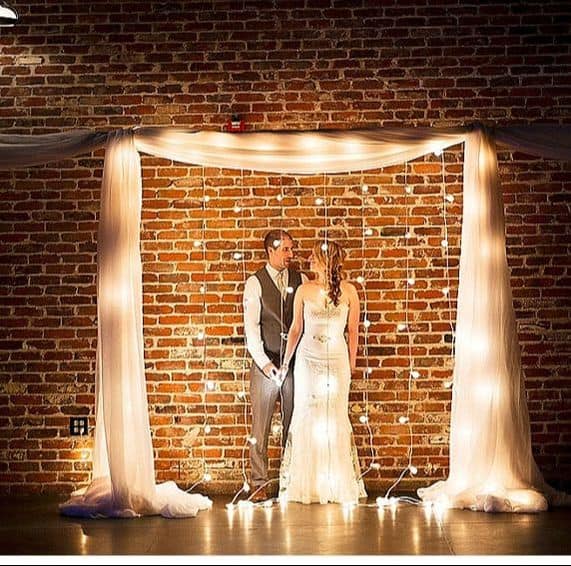 Wrap some twinkle or market lights around the poles of your arch to give it a lit-up-like-Christmas look.
Then Hang some tulle around the arch so you still have the structure, but it's softened by the fabric. The mixture of the wood, lights, and tulle will give off a dreamy look.
Balloon Arch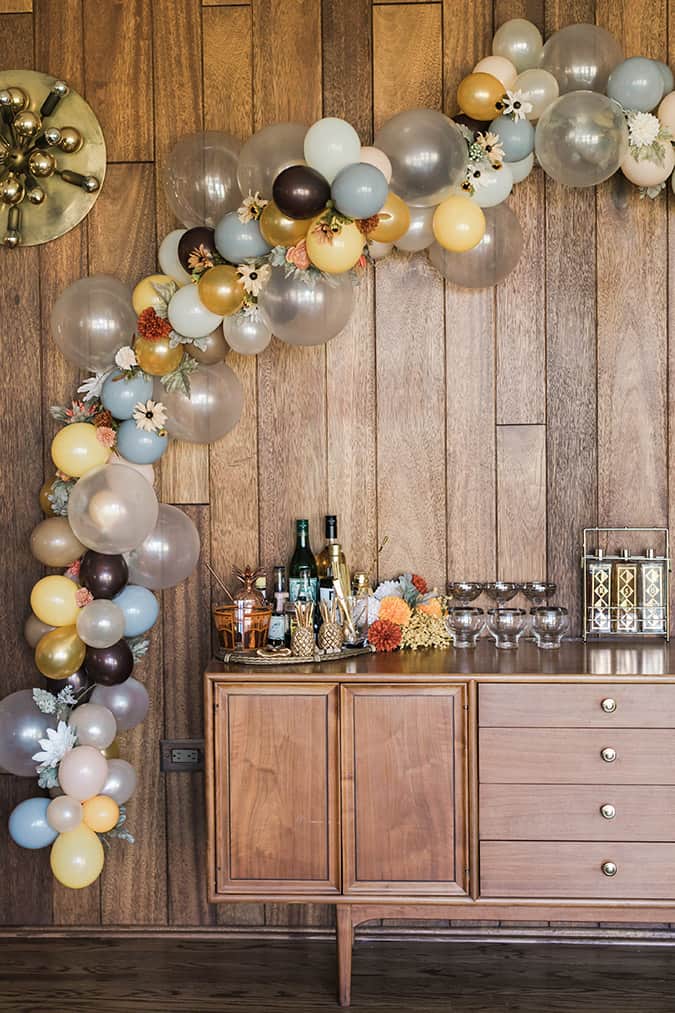 Balloon arches don't have to look like they belong at a kid's birthday party. If they're done right, they can look really elegant.
Lauren Conrad hung hers on a wall and classed it up with some florals and different textures. It's a grown-up way to do balloons.
Paper Fans & Lanterns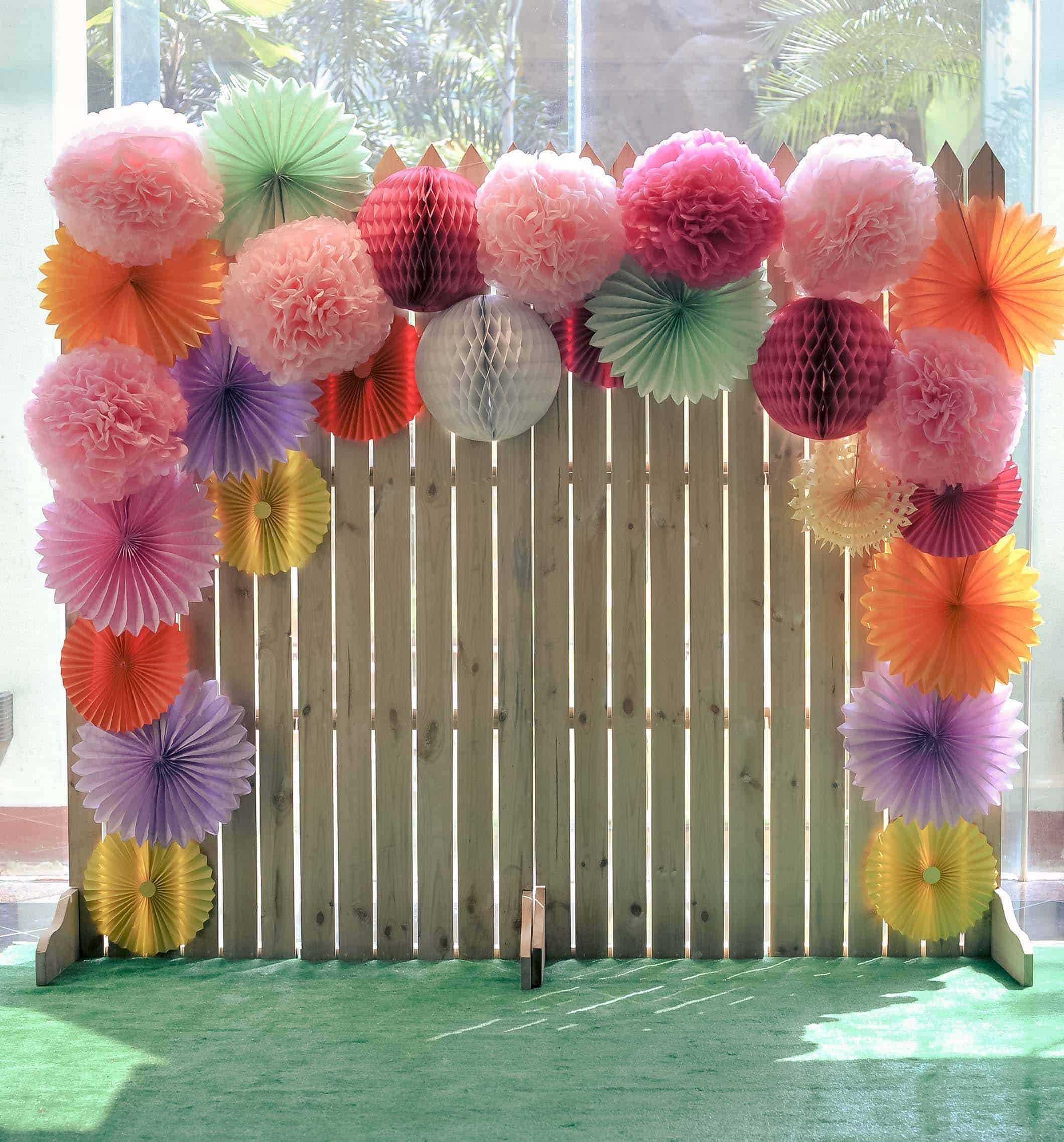 Paper fans and lanterns are really inexpensive, but their light, see-through nature gives them a great wedding vibe.
Stock up on some in your wedding colors and then cover your arch with them. It will be a beautiful ceremony backdrop and won't cost you a ton of money!
by OOSILE
Ribbon Curtains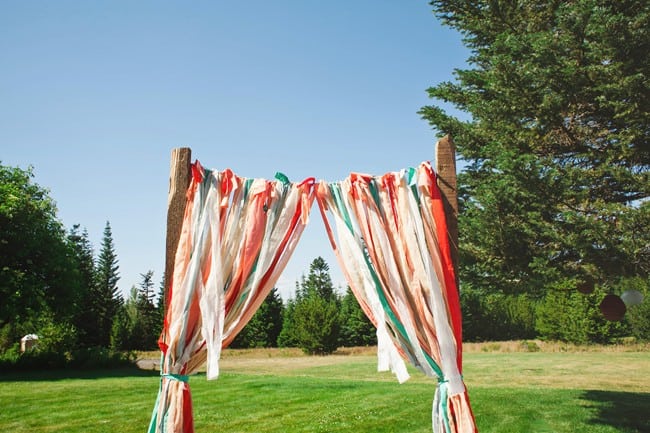 Tie various colors of ribbon on the beam that attaches the two sides of your arch and let them hang to create a curtain.
You use this as your backdrop or tie them off to the sides to help you create a colorful entrance.
Greenery with a Script Balloon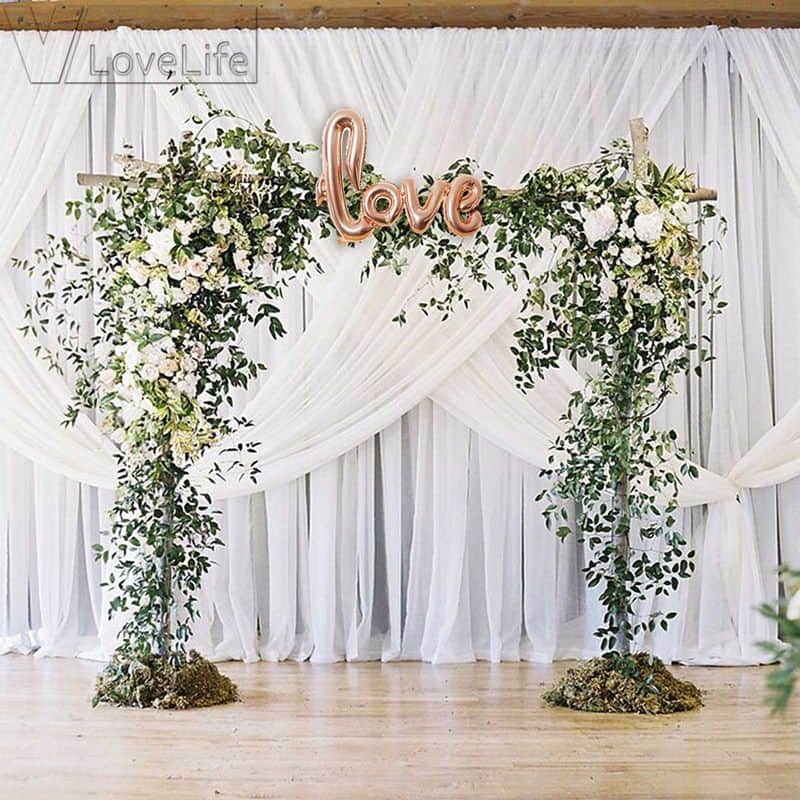 Simple greenery adds a beautiful touch to a wedding without being too flashy like overdoing it on flowers can be.
Cover your arch in some greenery and then add a metallic script balloon to the top to help it stand out a bit. You can get a balloon that says something or hang up the letters to make your new married couple monogram.
by Mrs To Be
Conclusion
Whether your theme is elegance, boho chic, rustic, beachy, or something else entirely, there is no shortage of ideas for a DIY arch or backdrop. If you have woodworking skills, you can make an arch from scratch, but if you don't then you can buy an inexpensive premade one at a craft store, or even create a faux arch out of nothing.
The best weddings are the ones that have personal touches and don't feel like every other trendy wedding. Make the decor about you and your tastes, and leave the big things to the pros.