35 DIY Balloon Decor For A Festive Event
Event decorations have come a long way from the days of paper streamers. One thing that remains a party staple, though, is balloons. And, while you can certainly go the traditional helium-filled balloon route, there are a lot of other ways you can use balloons to decorate.
Whether it's a kids party, wedding, festive brunch, or baby shower, there is no shortage of ways to incorporate some fun balloon decor.
Table Centerpiece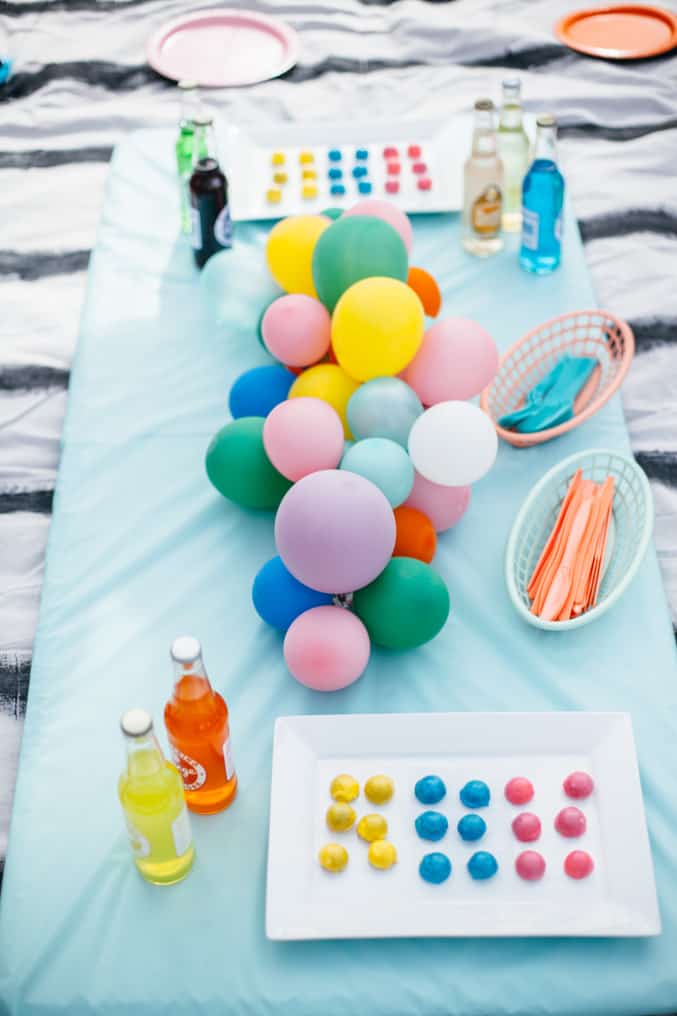 Skip the flowers and candles and go for a fun balloon centerpiece at your next dinner or brunch!
You can keep it colorful like this blogger or go with a specific color scheme. The possibilities are endless.
DIY Balloon Centerpiece by The House That Lars Built
Wall Garland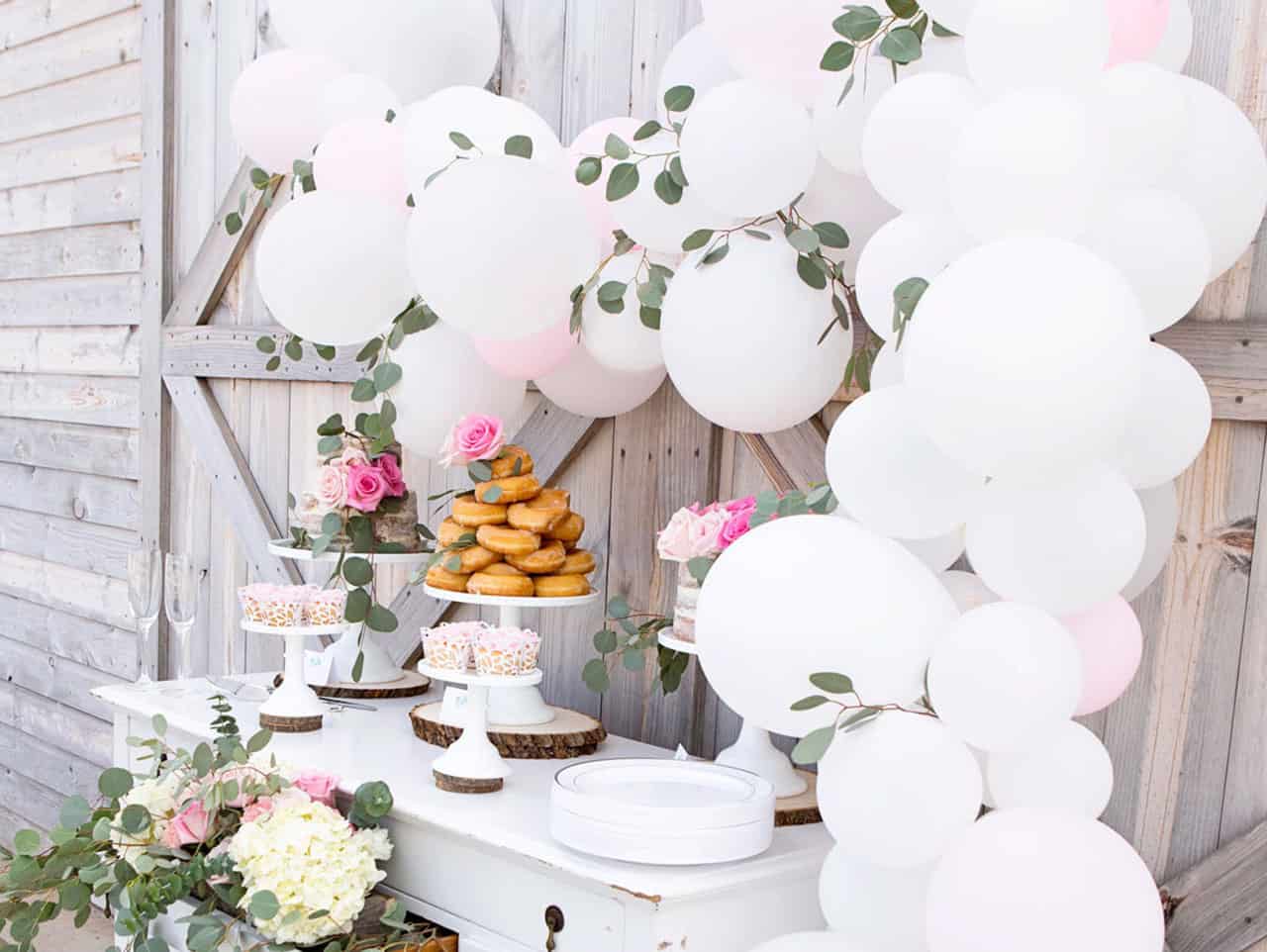 Have a bare wall you need to liven up? Balloons!
You can make a garland or arch shape out of balloons to dress up an otherwise dull wall.
How To DIY A Balloon Garland by Fun 365
Arch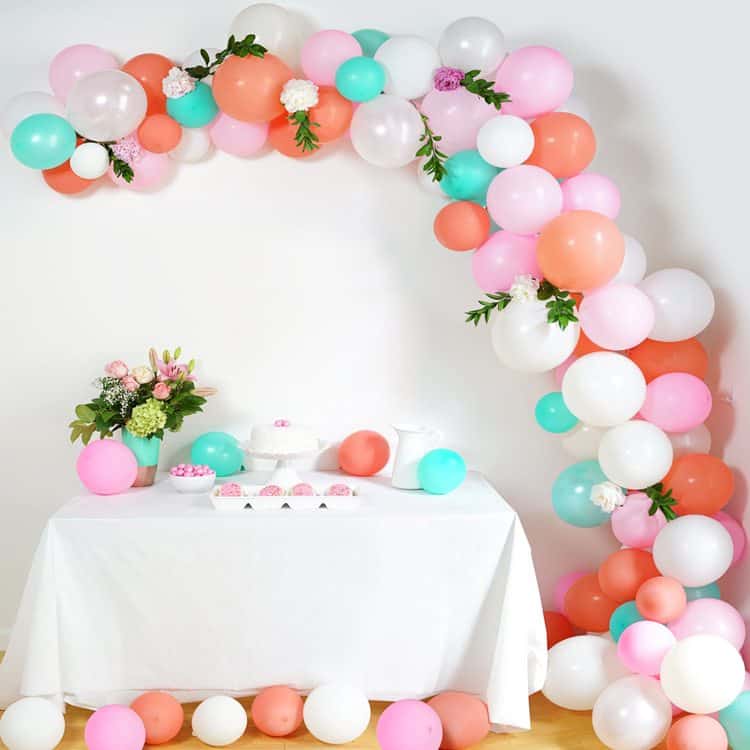 If you want to give your party guests a grand entrance, build a balloon arch.
You can put it up over a doorway, or as a way to frame a seat for the guest of honor. It's a fun way to be a little extra.
How to Make a Balloon Arch by ProFlowers
Cake Topper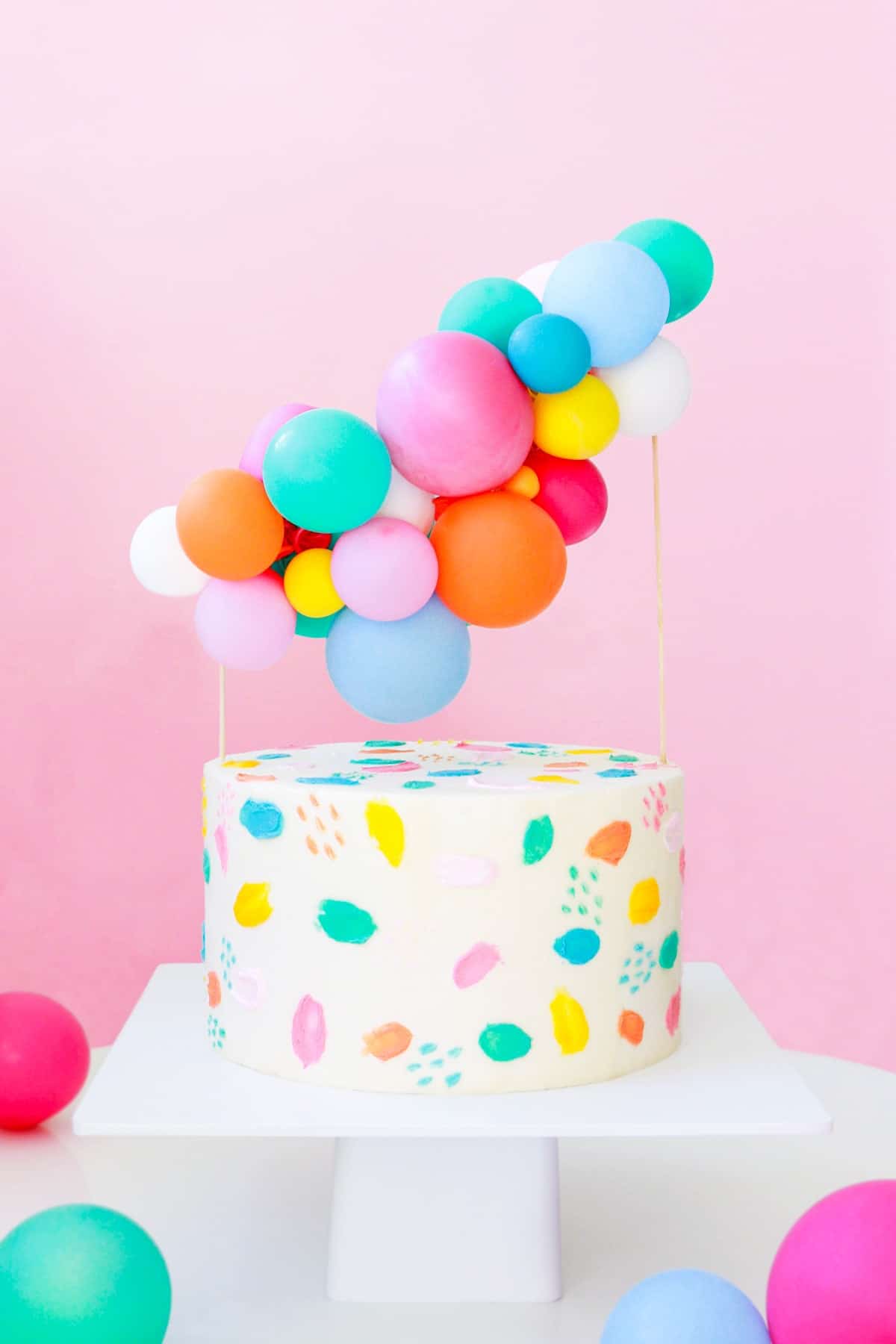 Want to incorporate even more balloons into your event? Dress up the cake with some!
This cute balloon cake topper is super easy to make, colorful, and adds a little flare to your dessert.
DIY Balloon Garland Cake Topper by Sugar and Cloth
Fruit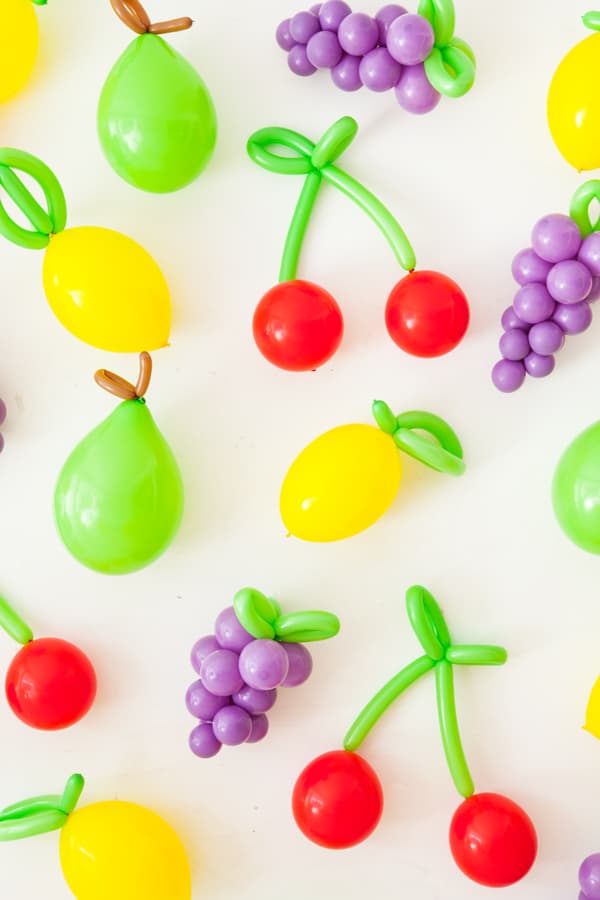 You can throw a tropical party with fruit-shaped balloons!
This tutorial teaches you how to make cherries, grapes, and more using different sized balloons.
DIY Balloon Fruit by Oh Happy Day
Faux Letter Balloons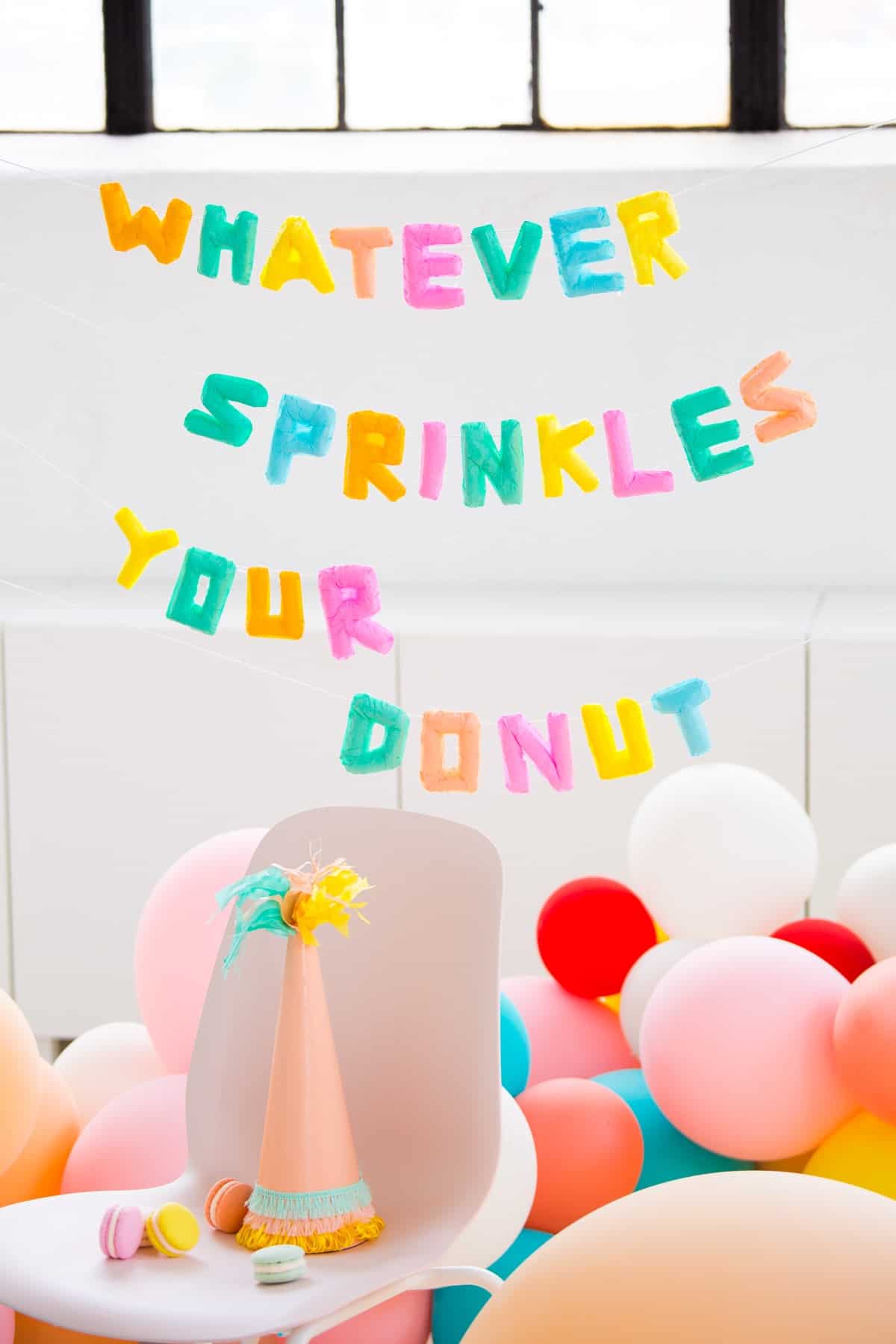 If you don't actually want to spend all day blowing up balloons, you can make something that looks like them!
This blogger created some faux letter-shaped balloons to make a custom, but still just as fun, message for guests.
DIY Balloon Letter Garland by Sugar and Cloth
Balloon Wall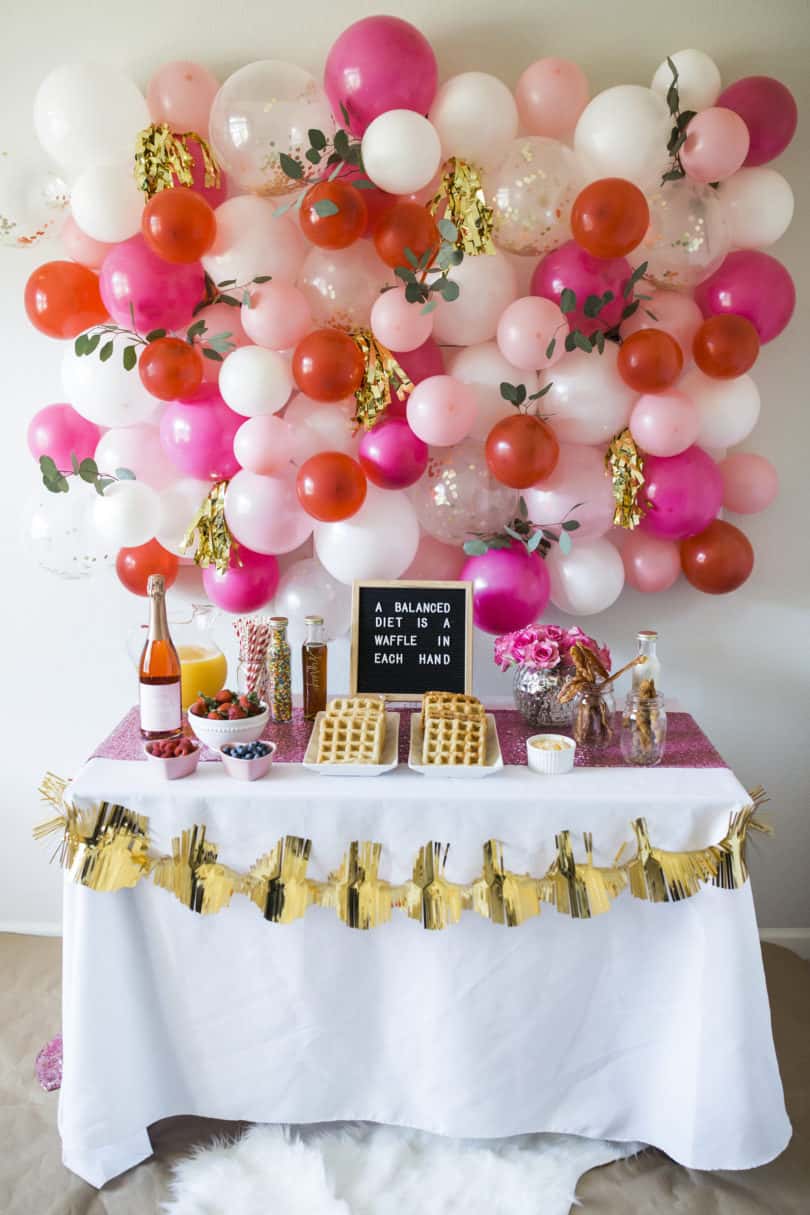 One surefire way to get your party's hashtag trending (well, with your friends at least) is by giving guests a fun spot to take pictures.
You can make an entire wall full of balloons that will serve as an awesome Instagram spot for your guests.
DIY Balloon Wall by Okayest Moms
Candy Shaped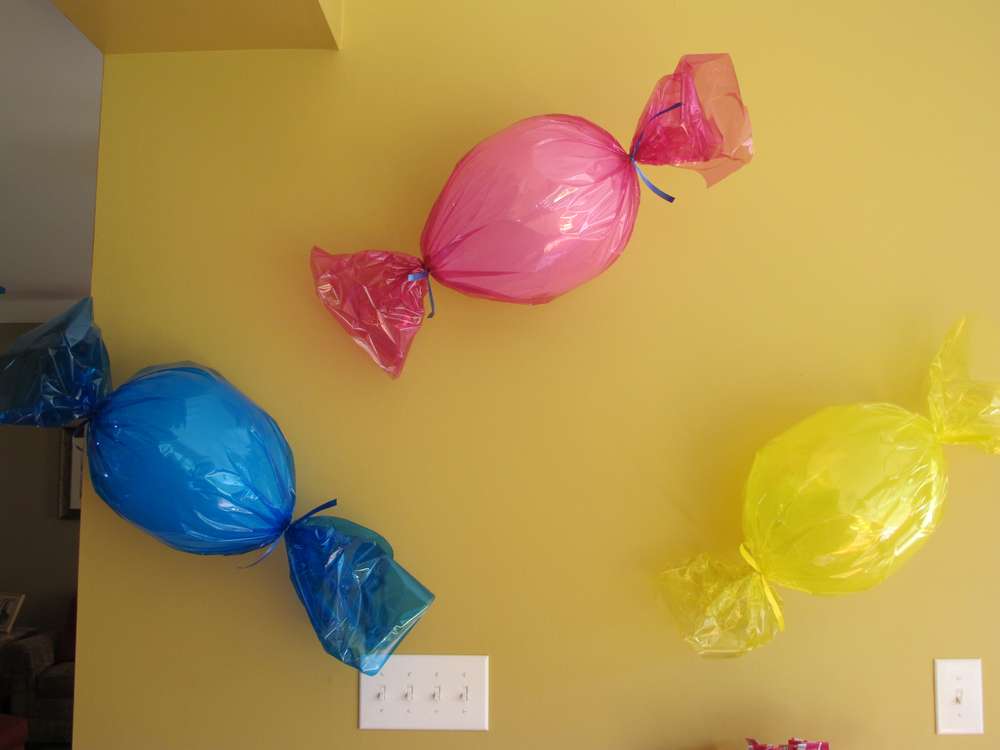 A great kids party theme? Candy Land!
You can bring the theme to life by wrapping balloons in cellophane to look like little wrapped hard candies
Candyland Birthday Party Ideas by Catch My Party
Pop Some Bubbly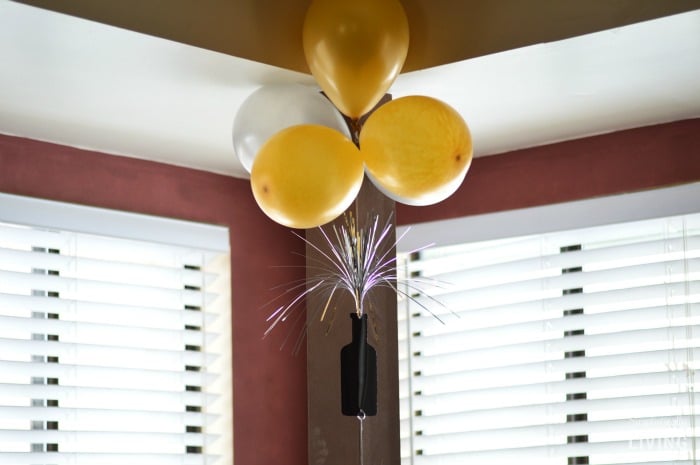 If you're throwing a New Year, engagement, retirement, or some other sort of celebratory party, make balloons look like champagne bubbles!
This blogger found decorations with champagne bottles, but you can get creative and make your own.
DIY Elegant Balloon Decoration by Simplicity Living
Rainbow Banner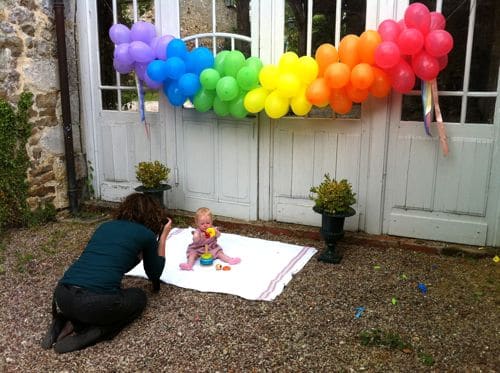 You can certainly make a balloon banner using any colors you like, but the rainbow color scheme has a big fun factor.
This blogger gives a step-by-step tutorial on how she made this incredible rainbow balloon banner for a birthday photo session.
DIY Balloon Banner by Design Mom
Floral Arch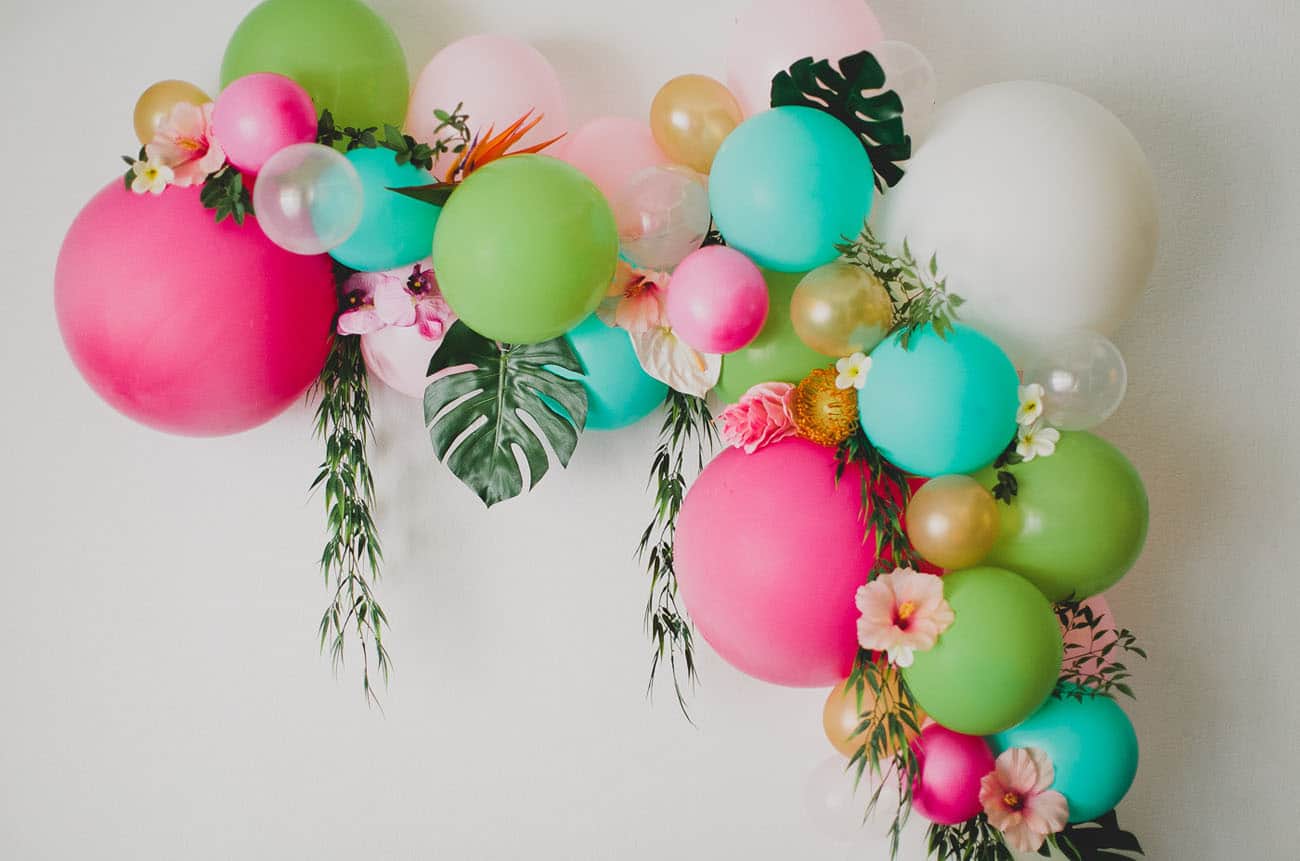 If you want to decorate with balloons, but want to make it look a little more sophisticated, add some flowers.
This balloon and floral wall arch is the perfect combination of textures, colors, and shapes.
DIY Floral Balloon Arch by Green Wedding Shoes
Balloon Drop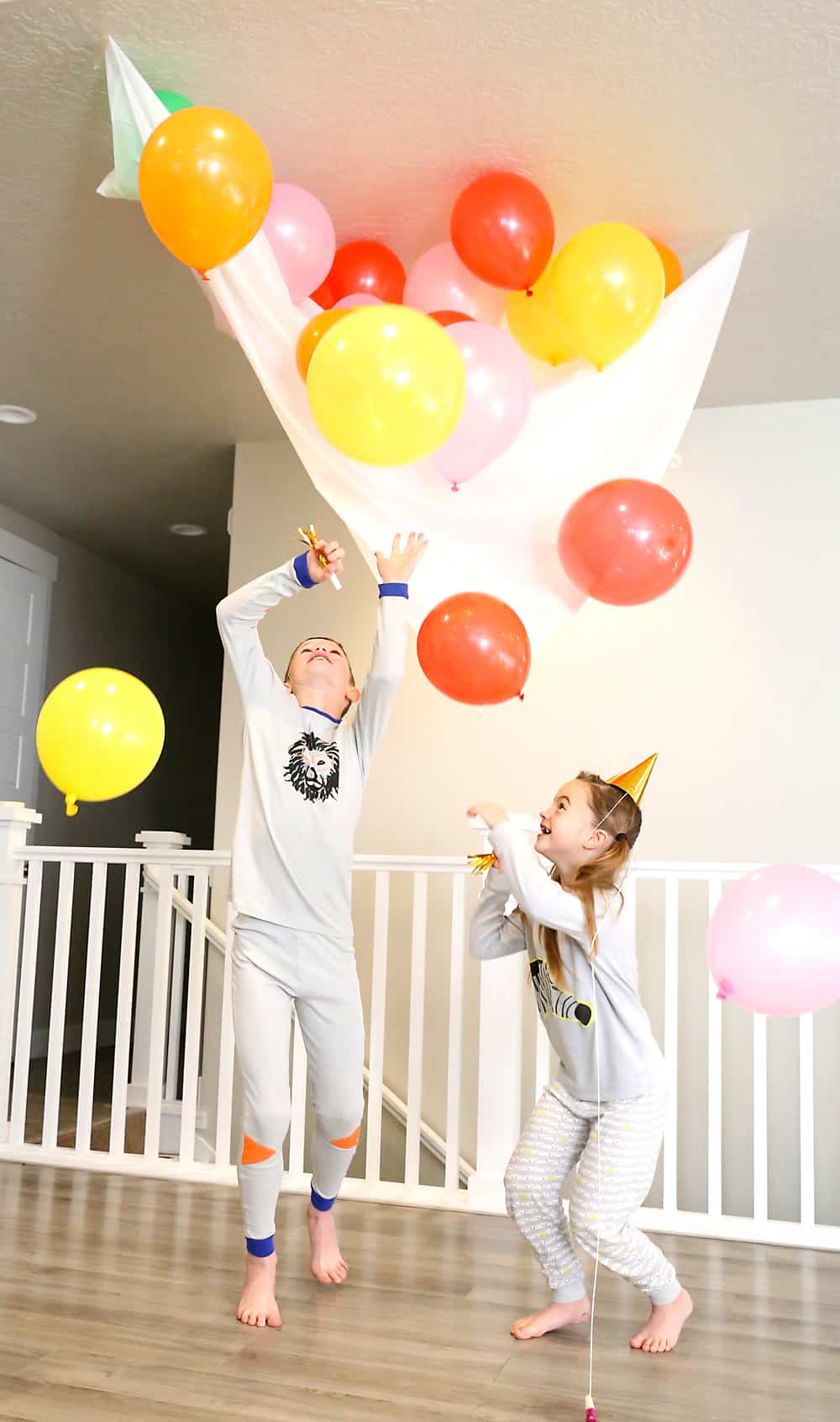 Not all event decor needs to be announced right away. Some surprises are worth keeping.
A fun and fantastic balloon drop is one of them! Check out this blogger's How-To on how to create a super easy balloon drop.
DIY Balloon Drop for New Year's Eve by It's Always Autumn
Giant Confetti Balloon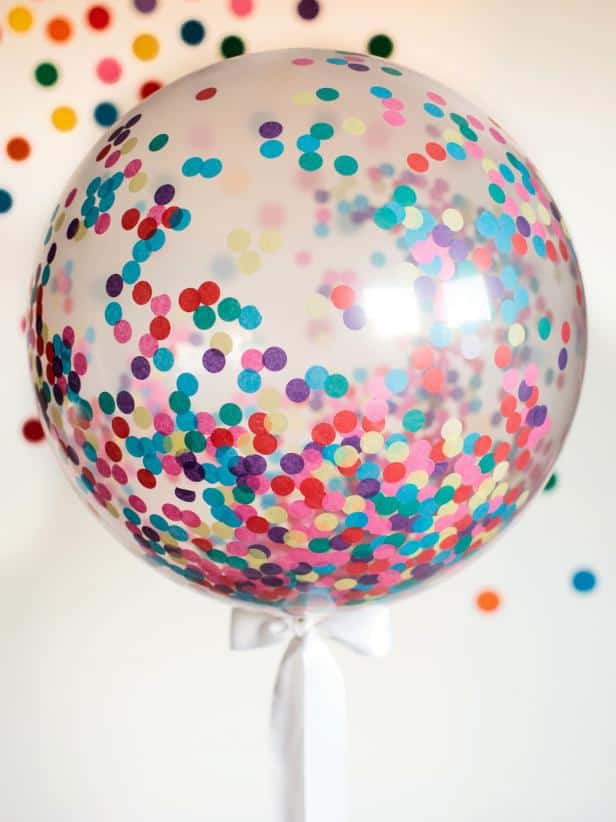 Confetti balloons are a great way to decorate because it's combining two wonderful symbols of celebration into one.
What's even better than a balloon full of confetti? A *giant* balloon full of confetti!
How To Make A Giant Confetti Balloon by DIY Network
Farm Animals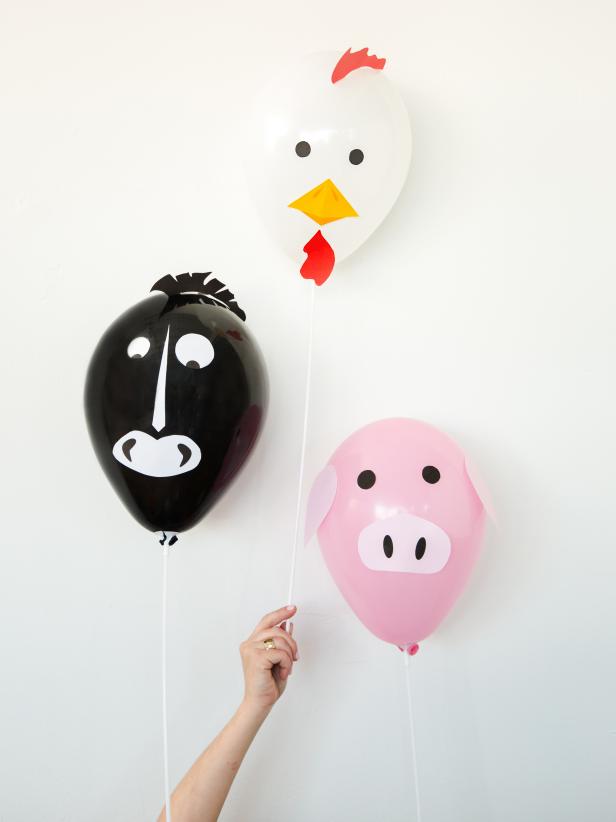 These little animals are great for a barnyard party, or if you just want to entertain your kiddos for a few days.
They're super easy to make, and you can definitely use them as inspiration to make other (non-farm) animals, too.
Easy DIY Farm Animal Balloons by HGTV
Chandelier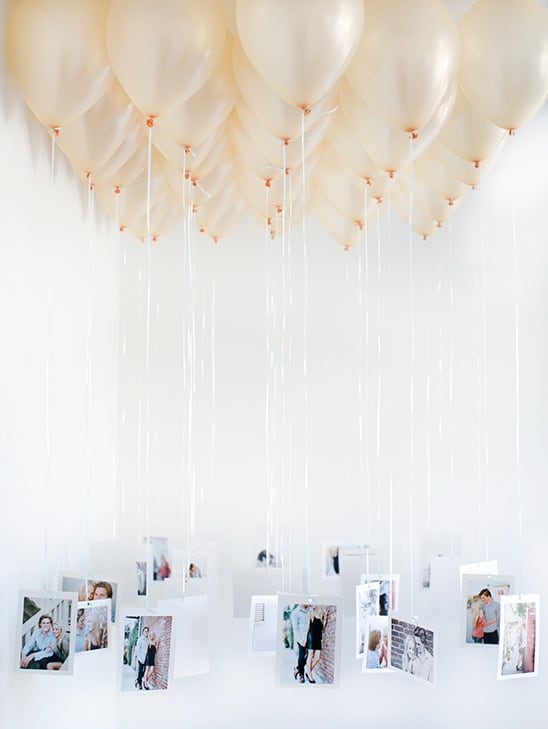 If you don't already have a grand chandelier as the focal point of a room (which, who does?), you can make one yourself with some ballons and creativity!
This blogger tied pictures to the ends of balloon strings to give a dangling chandelier effect. You can copy this or tie something else on to the end to get a similar effect.
Balloon Chandelier DIY by Wedding Chicks
Balloon Installation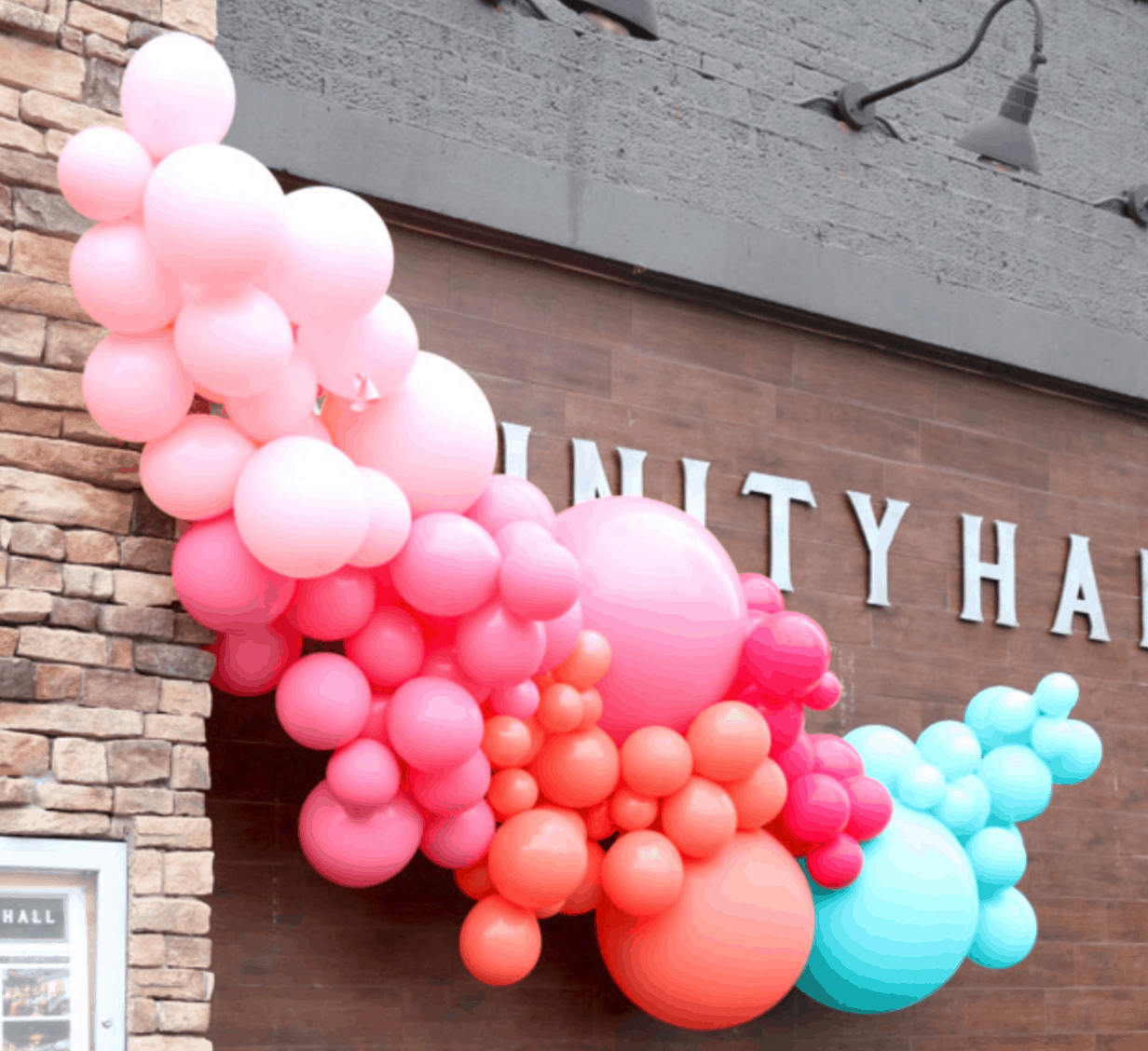 This giant balloon installation isn't for the passive DIYers out there, it requires some serious commitment.
But, if you're determined to create a knock-out attention-grabbing piece of decor, this is the tutorial to follow.
How to Make a Balloon Installation by A Kailo Chic Life
Clusters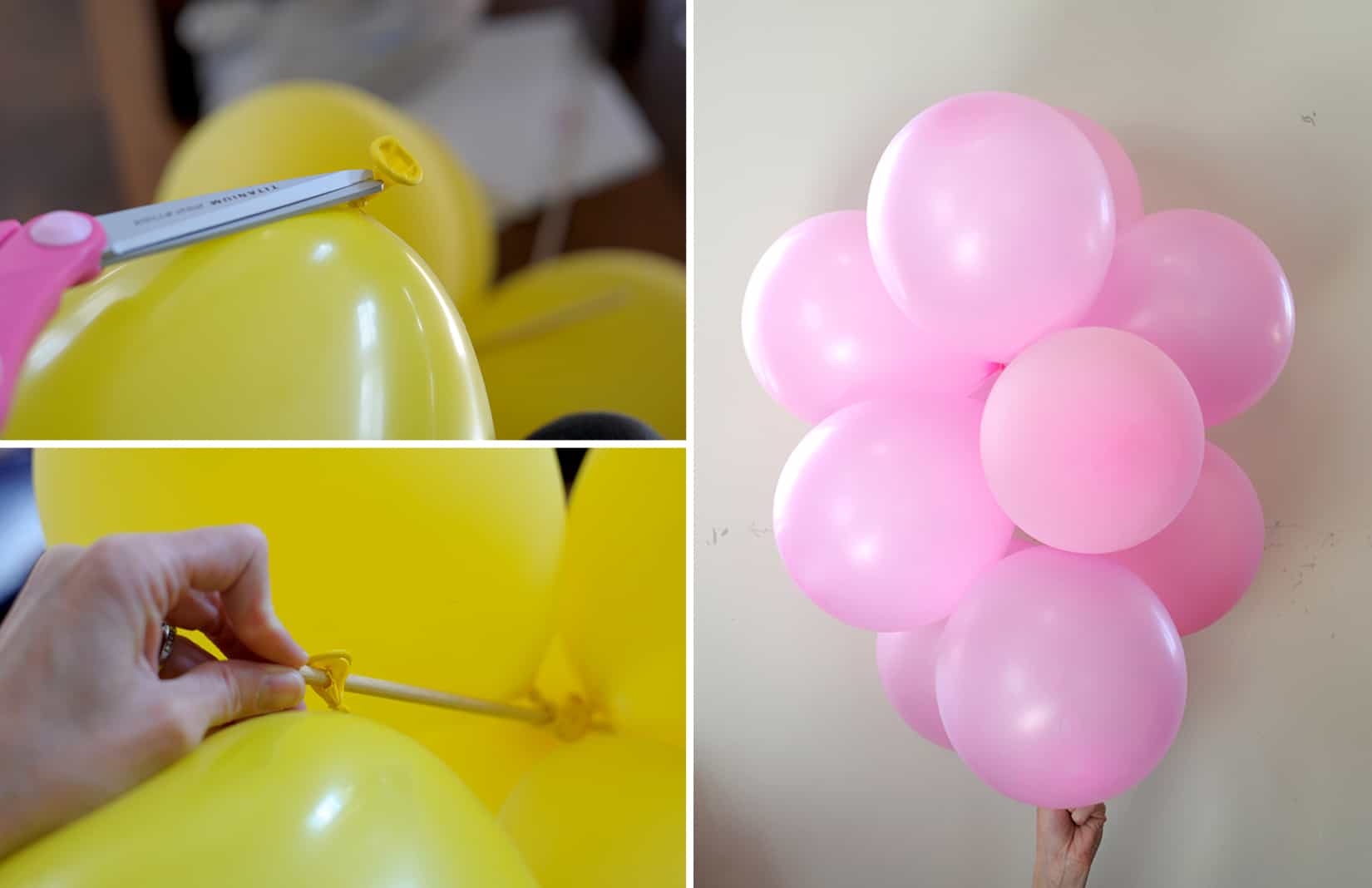 If you want to dress up a photoshoot, give your kids something to play with, or add a little three-dimensional decor to an event consider a balloon cluster.
This is probably the easiest way to use balloons as decoration – and it still looks dressed up and polished.
DIY Balloon Clusters by Alice and Lois
Upside Down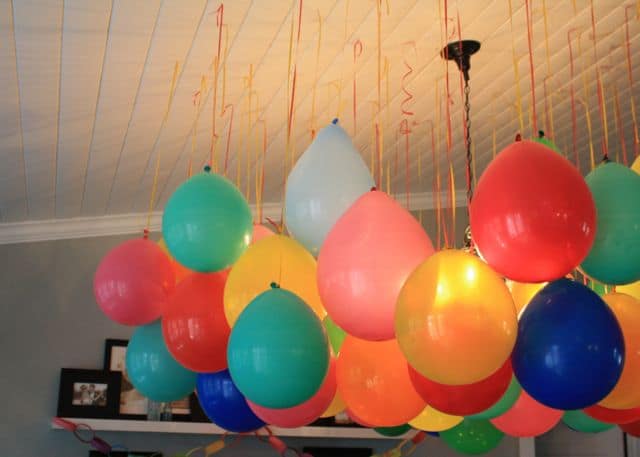 Want to use balloons but don't have a helium tank handy? This blogger has your back.
Just tie some strings to the ends of your balloons and tape them to your ceiling for an upside-down effect.
Art Party by The Pleated Poppy
Decorative Strings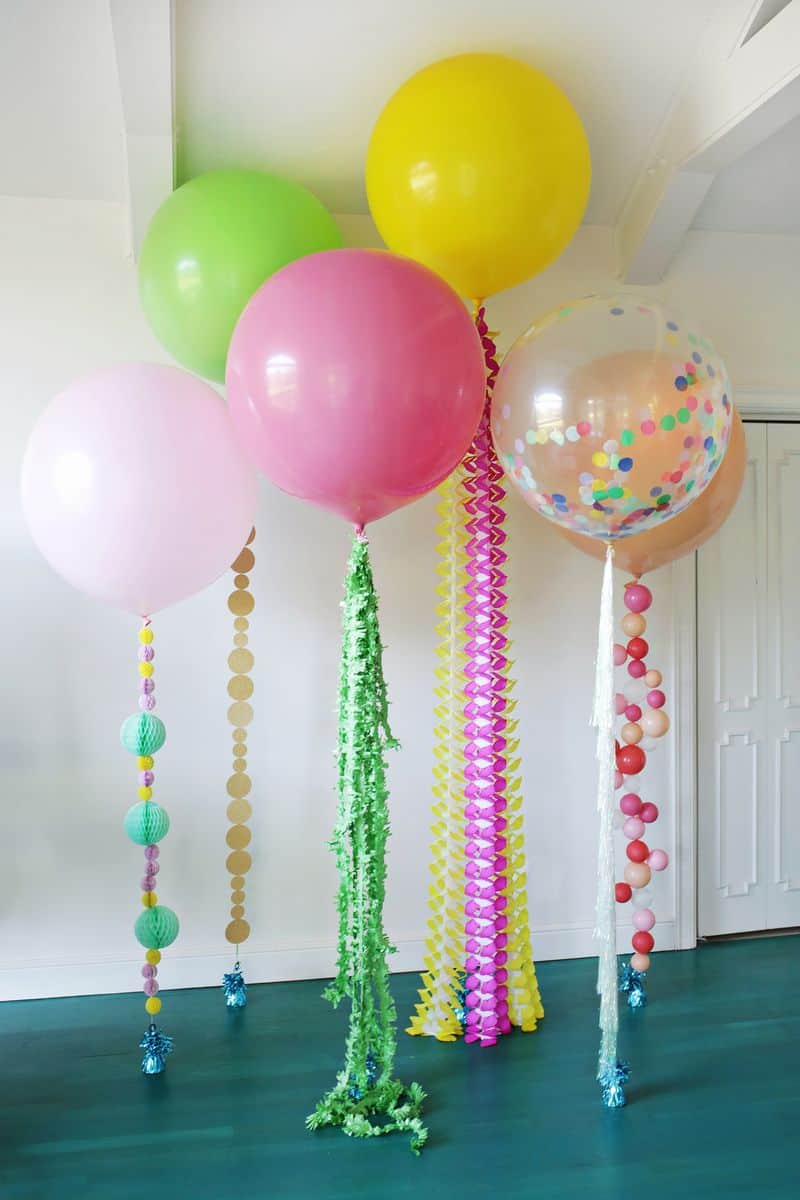 Another way to dress up the traditional balloon is by paying attention to the string, rather than the balloon itself.
This blogger went all out with a variety of fun ideas for dressing up balloon strings. The possibilities are really endless.
5 Balloon DIYs for Your Holiday Party by A Beautiful Mess
Planets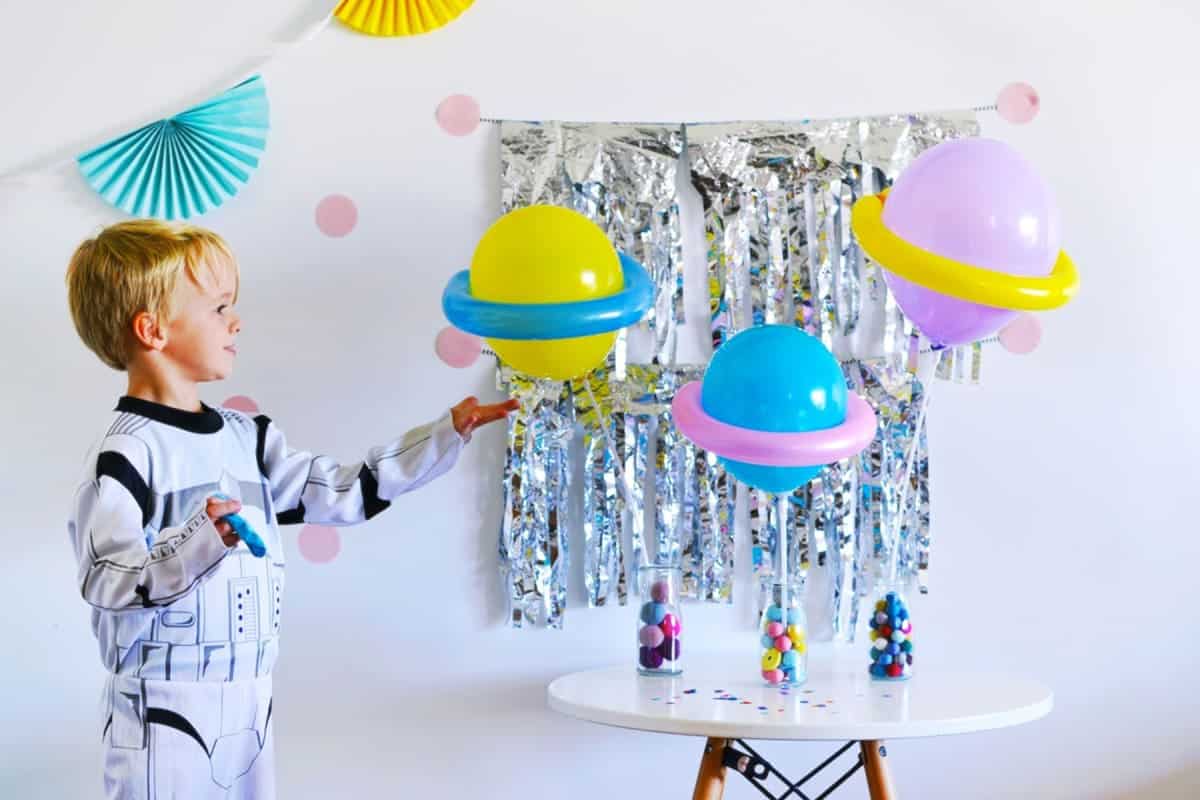 Throw an outer space theme party if for no other reason than these super easy planet balloons.
Seriously, all you have to do is blow up a traditional balloon and wrap a long balloon around it. It doesn't get much simpler.
DIY Balloon Planets by Westfield
Flowers in a Jar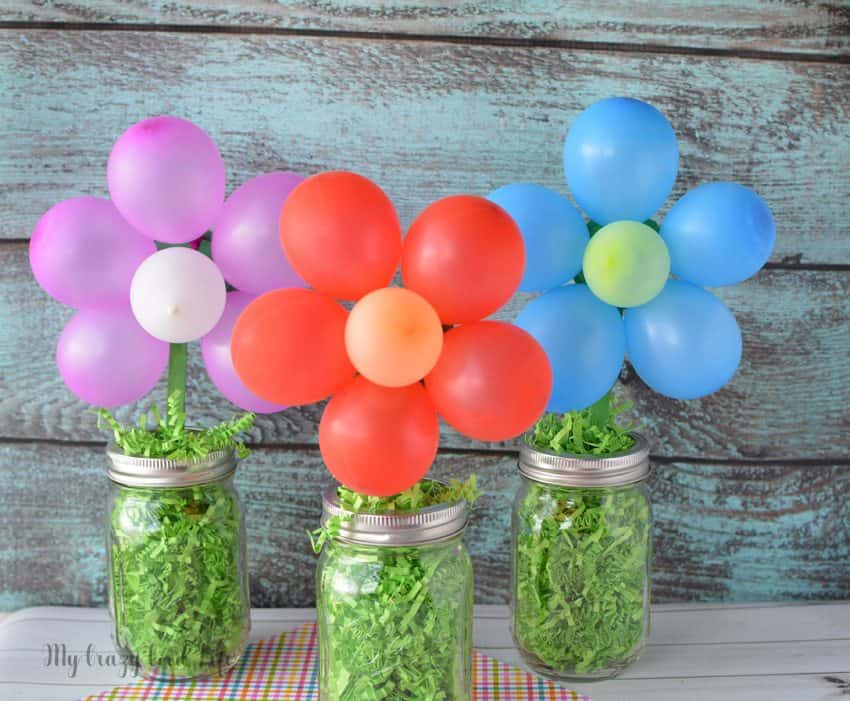 Why spend a bunch of money on real flowers when you can make cute, bubbly, balloon flowers?
This blogger created the flowers and then put them in little mason jars to really bring the flower vibe home. It's a fun alternative to a traditional centerpiece.
DIY Balloon Centerpieces by My Crazy Good Life
Hot Air Balloon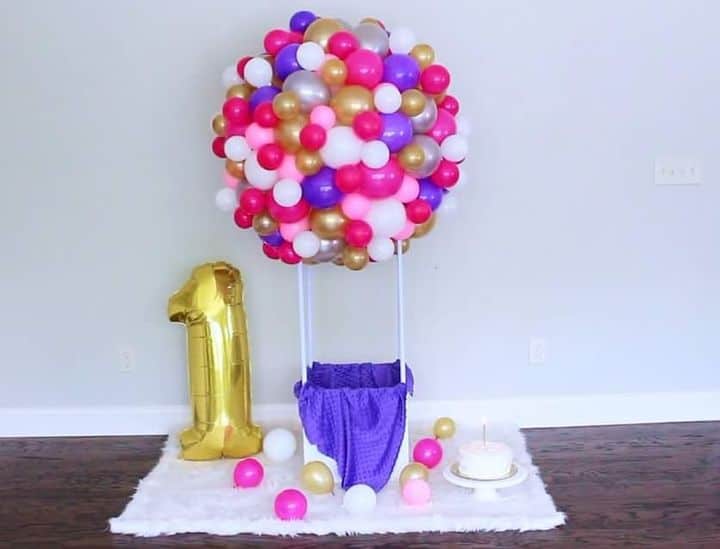 You can create a hot air balloon out of balloons. Yup, you read that right.
This blogger created a hot air balloon sculpture and used small balloons to bring the "balloon" aspect to life.
DIY Organic Hot Air Balloon Sculpture by Hometalk
Christmas Wreath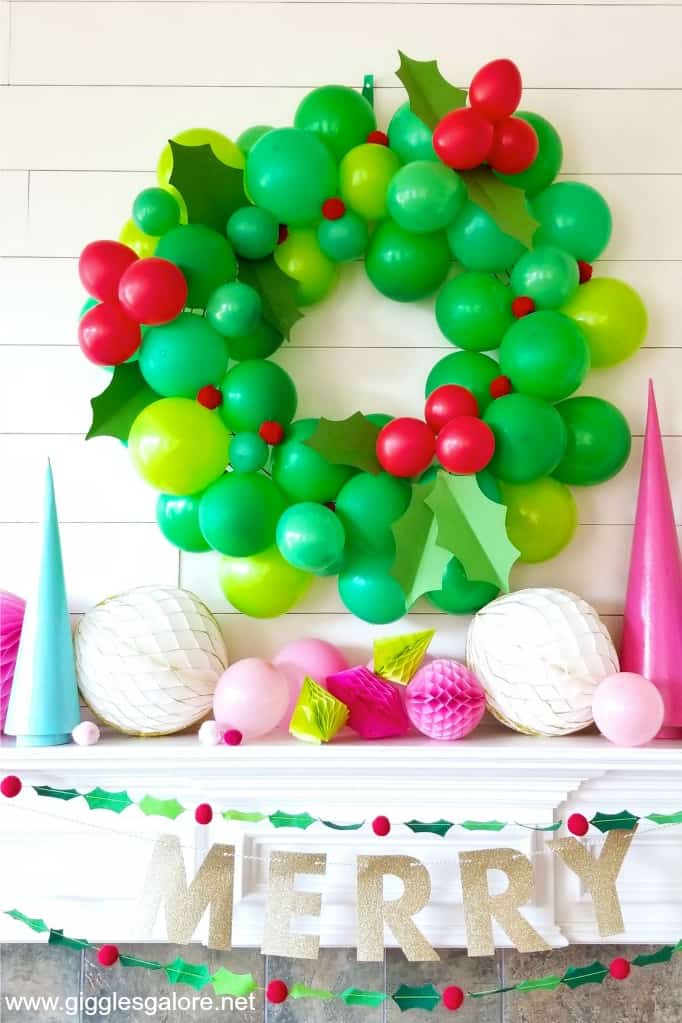 There is no shortage of decor options when Christmas rolls around, but this is a much more festive alternative to all of those pine needles.
If nothing else, it's some good inspiration to make a wreath for other holidays – all you have to do is change out some colors.
Giant DIY Balloon Christmas Wreath by Giggles Galore
Ice Cream Cone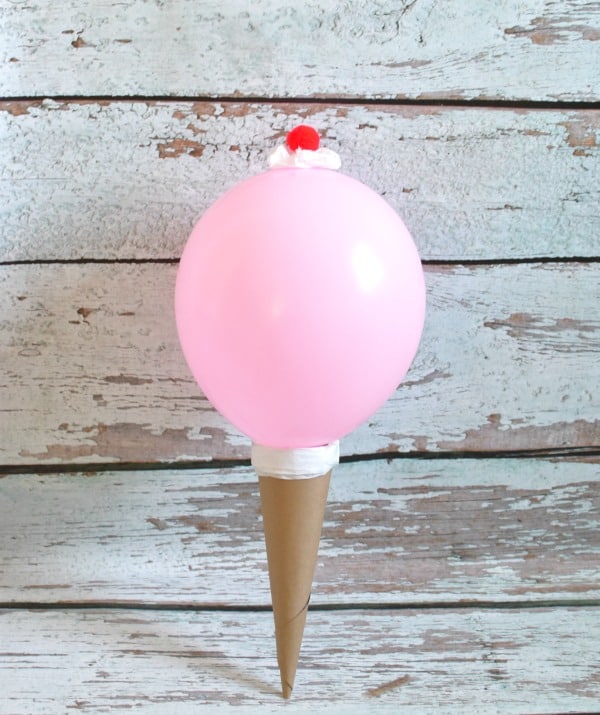 Throw an ice cream social and get creative with balloons for on-theme decor.
All you need are a few simple supplies to make any balloon look like a delicious ice cream cone.
DIY Ice Cream Cone Balloon by Pretty My Party
Balloon Walkway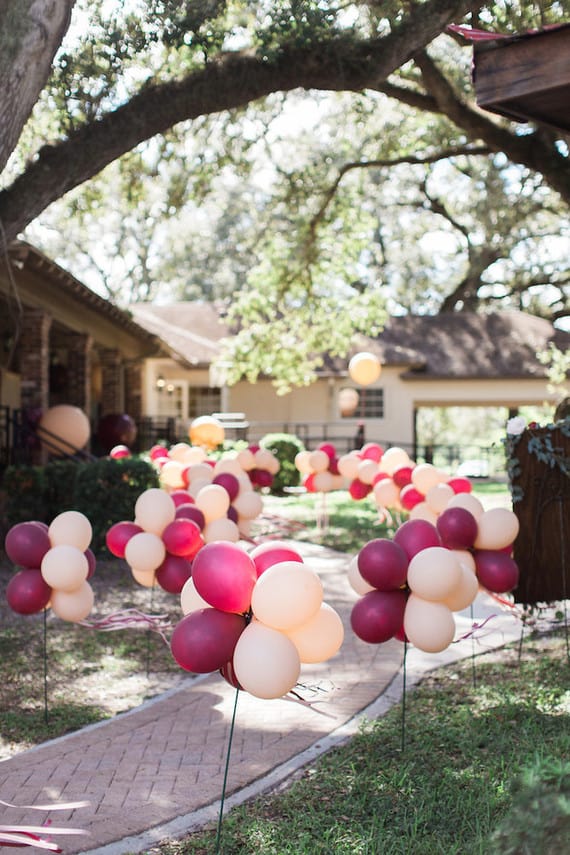 If you just want to welcome your guests in a unique, but festive way, you can line your walkway with balloon clusters.
Tie them onto a little plastic stake, pop them in the ground, and your house is all dressed up.
Blush and Marsala Balloons by 100 Layer Cake
Strawberries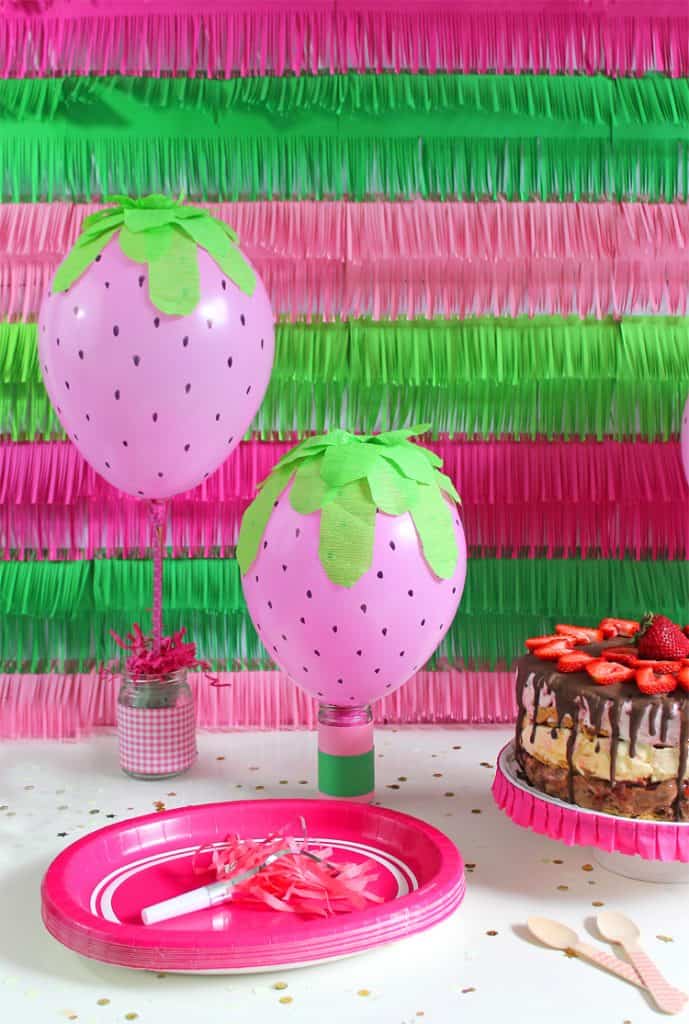 These may be the cutest strawberries, ever.
You can create these little berries using red or pink (or both) balloons and get your guests excited for some strawberry treats.
"Berry" Glad It's Summer Party by The Craft Patch
Bumble Bees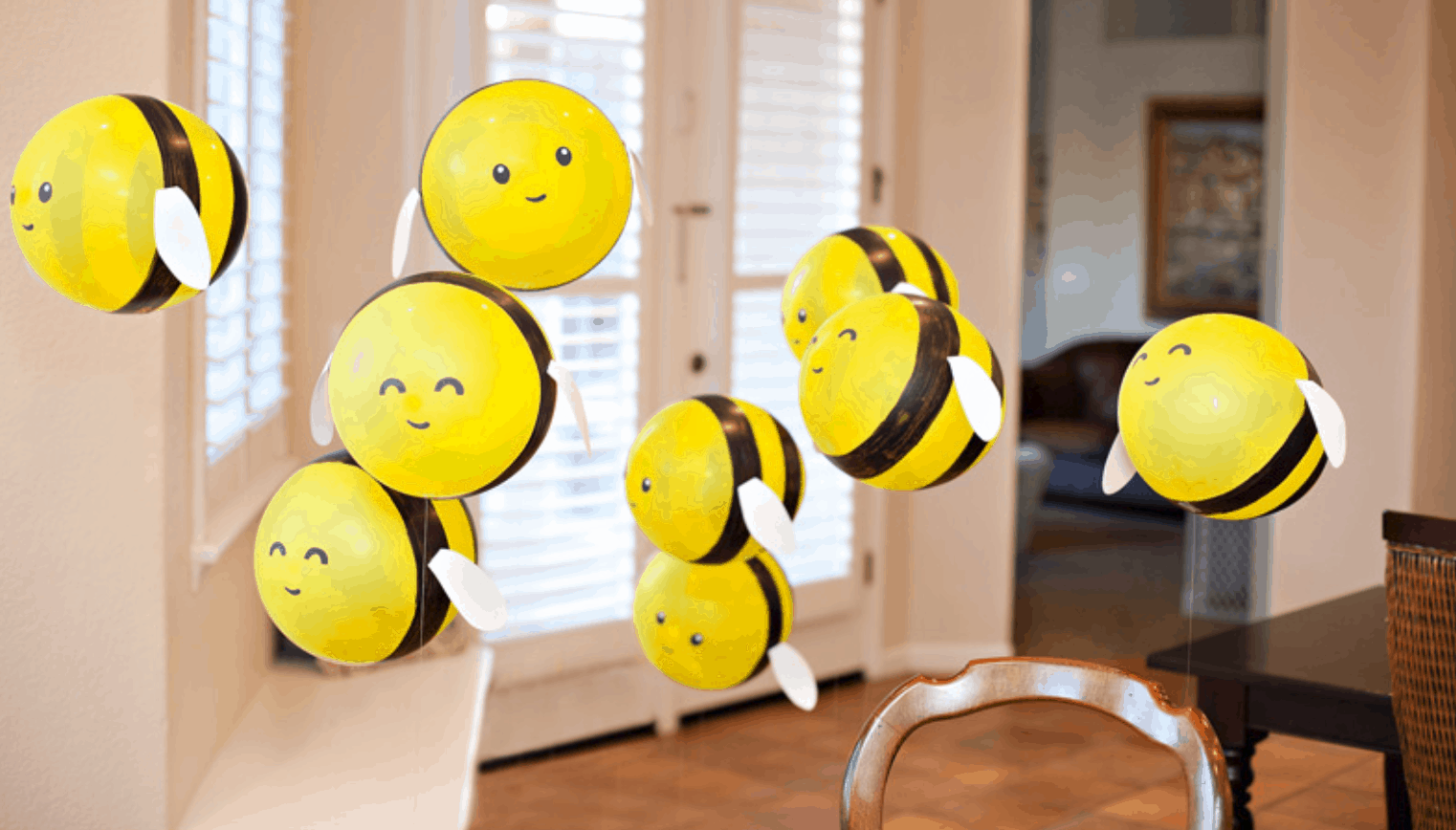 You can use these little bumble bees as party decor or just something fun for your kids to play with because they're just so cute!
If you're not sure how to make them, check out the how-to blog.
DIY Bumble Bee Balloons by Hostess with the Mostess
Unicorn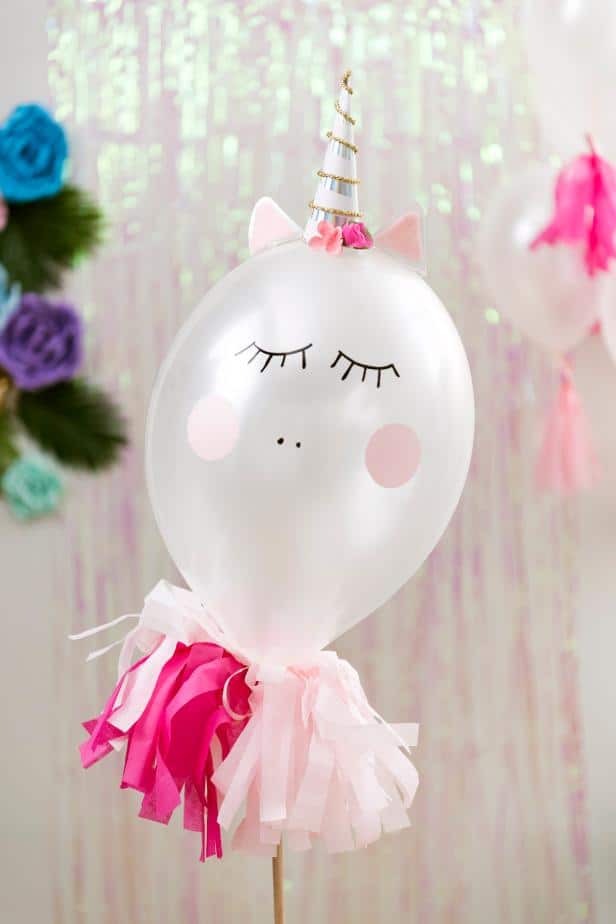 The unicorn trend is still going strong, so lean into it with some cute balloons.
HGTV has a tutorial on how to make them, or you can use the picture as inspiration to make your own magical creature.
3 Party Decor Ideas Using Balloons by HGTV
Ornaments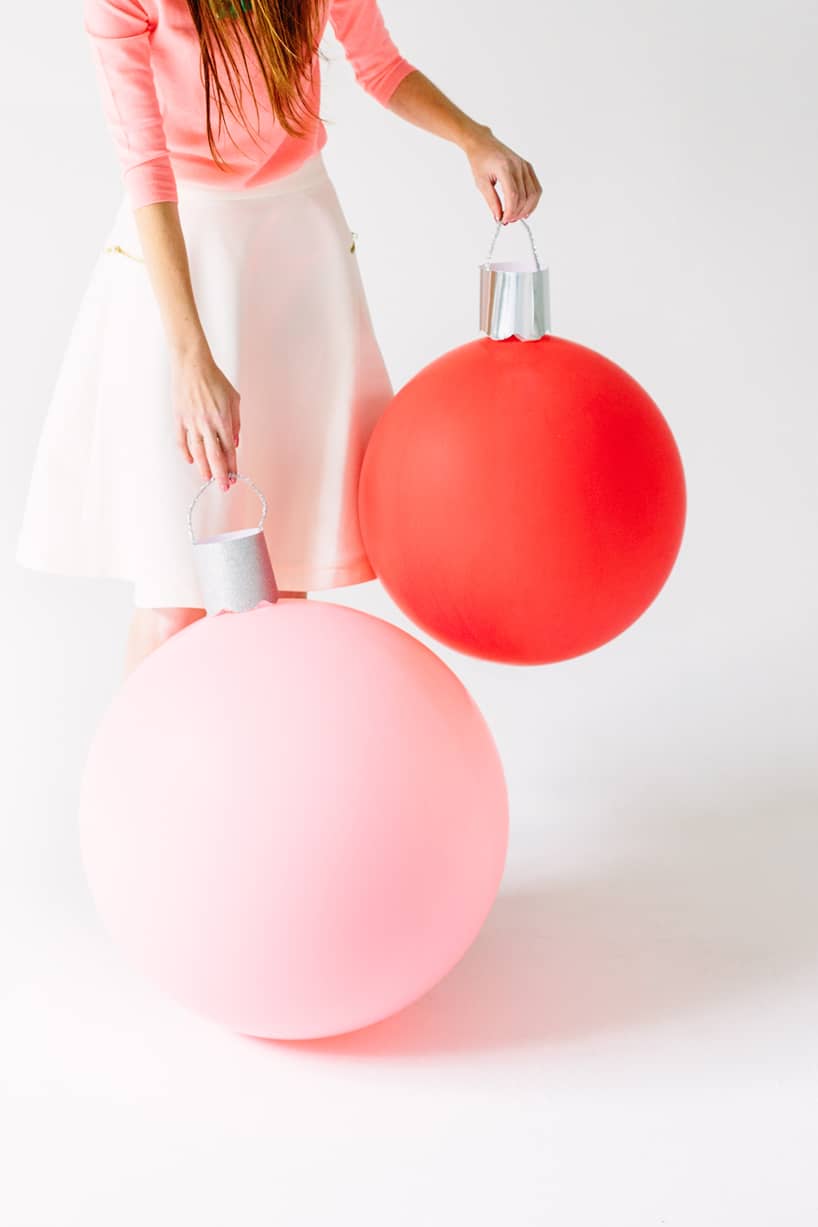 Liven things up at your holiday party with some giant balloon ornaments.
You can use regular size balloons, too, of course, but there's just something a little more exciting about the giant ones.
DIY Giant Ornaments by Studio DIY
Molecules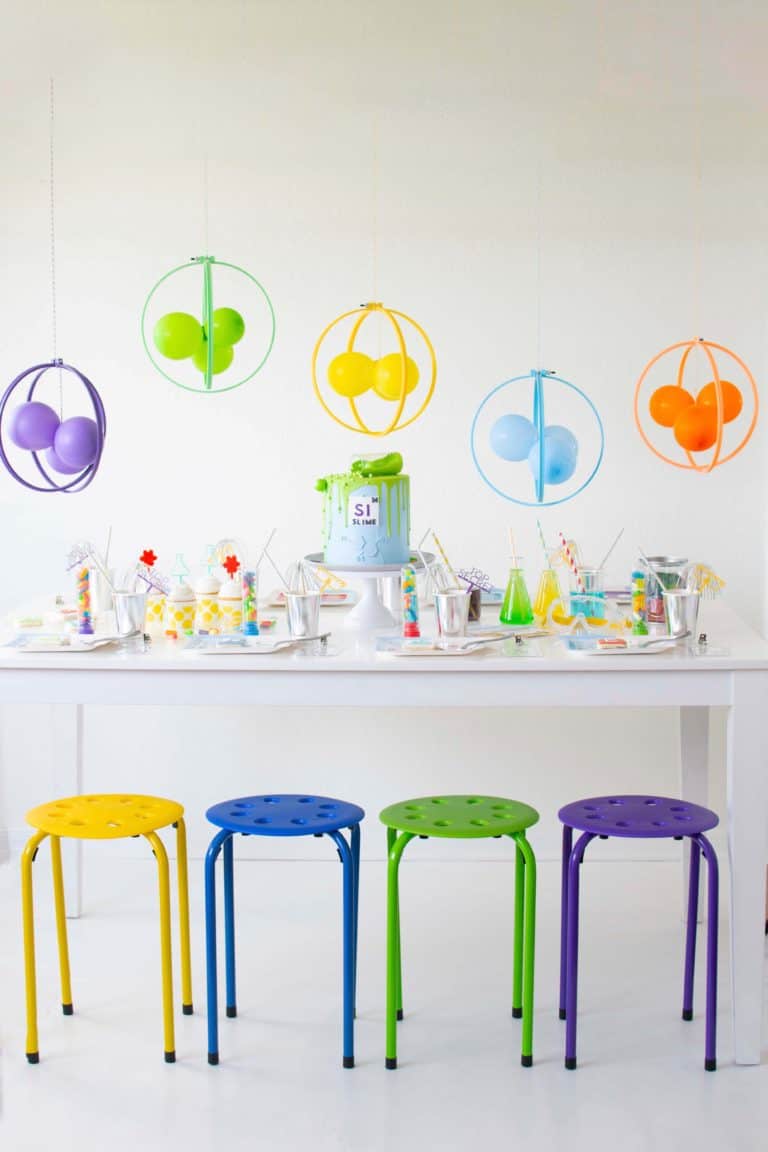 Have you ever considered throwing a "mad scientist" party before? Bet you are now!
These balloon molecules are super easy to make and are on trend with a really fun party theme.
DIY Molecule Balloon Party Decor by Twinkle Twinkle Little Party
Bridal Wishes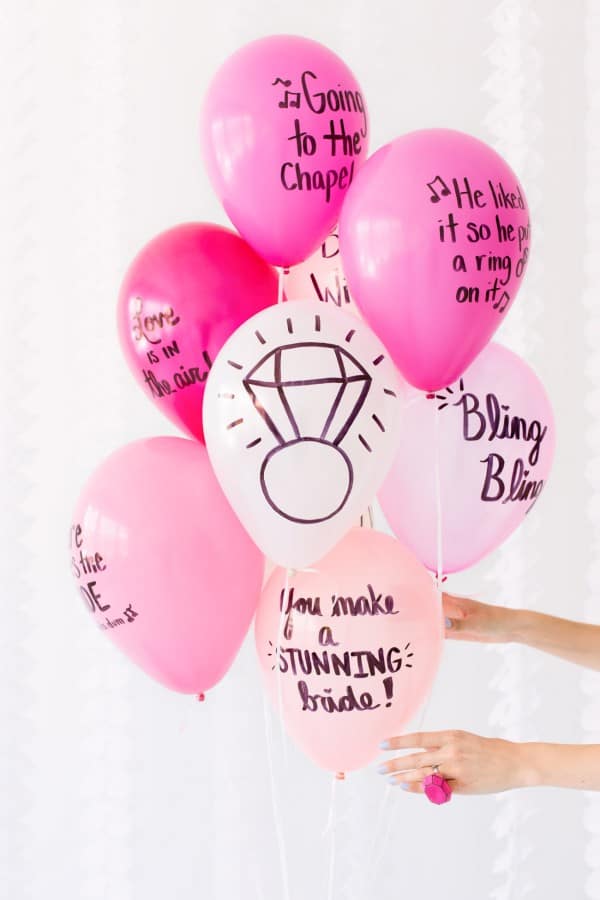 One fun way to change up the traditional balloon decor is by adding some wishes, quotes, song lyrics, or other script on them.
You can do this yourself before guests arrive, or have it be a game that everyone plays.
DIY Balloon Wishes for the Bride-to-Be by Studio DIY
Ombre Heart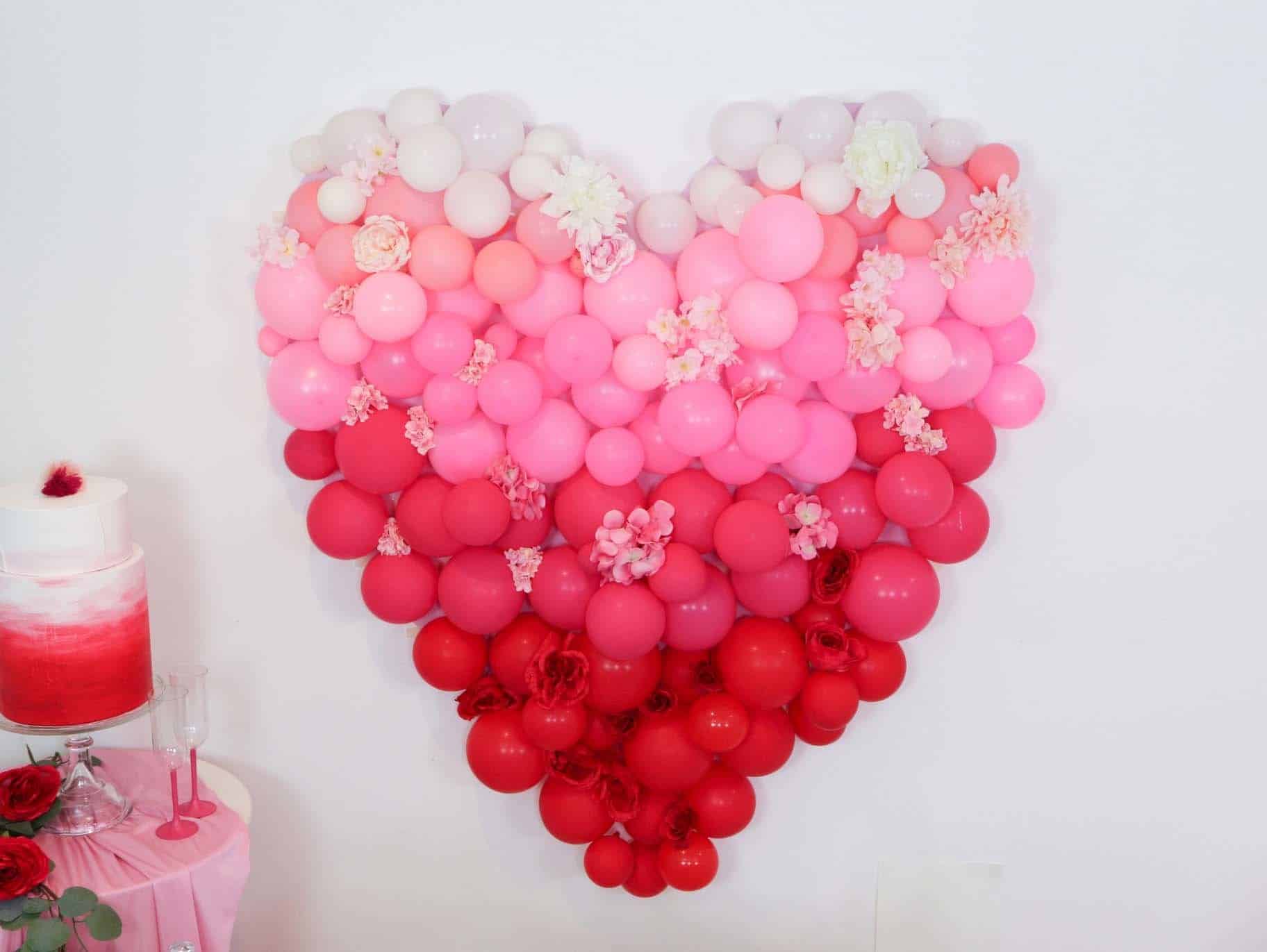 This giant wall heart looks really polished and complicated, but it's actually really easy.
What makes it stand out so much is the added flower textures – which are super easy to pop in for some flare.
How to Make an Ombre Balloon Heart Backdrop by Fun 365
Cupcakes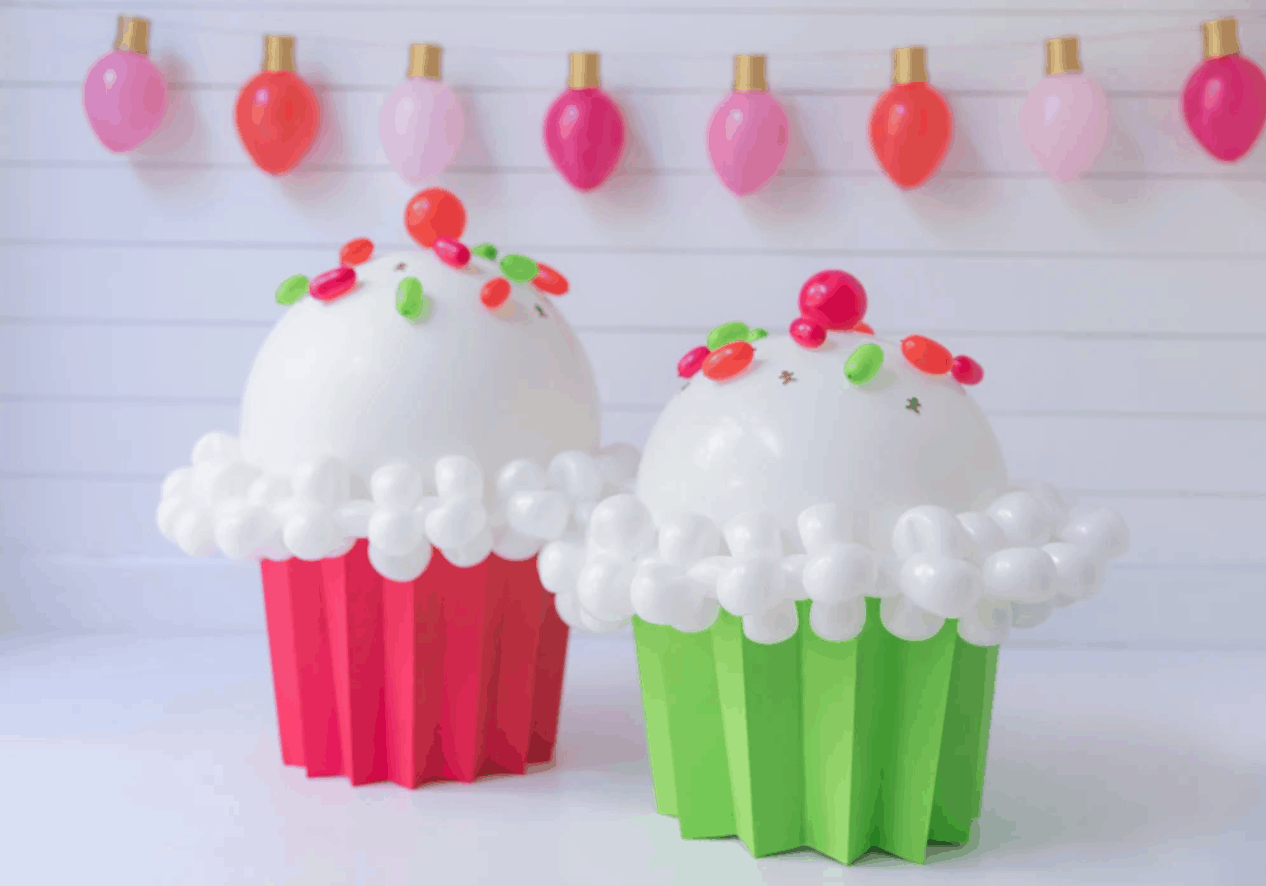 These cupcake balloons can go with the decor of a bunch of different themes, or just by themselves because they're pretty awesome.
If you love them as much as we do, check out the blogger's site to learn how to make them.
DIY Balloon Cupcake by The Creative Heart Studio
Balloon & Floral Number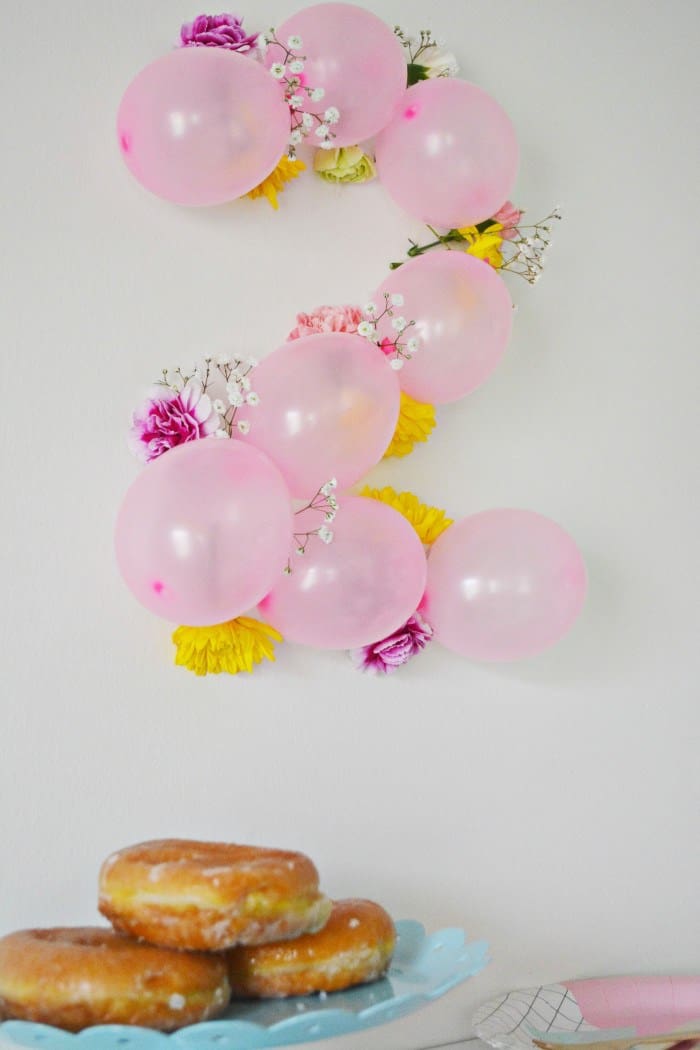 Celebrating a major milestone birthday or anniversary? Use balloons and florals to write out the number on a wall.
It's a lot easier than it looks and the end result will definitely get your guests talking.
DIY Balloon Flower Numbers by A Joyful Riot
Tropical Fruit Centerpiece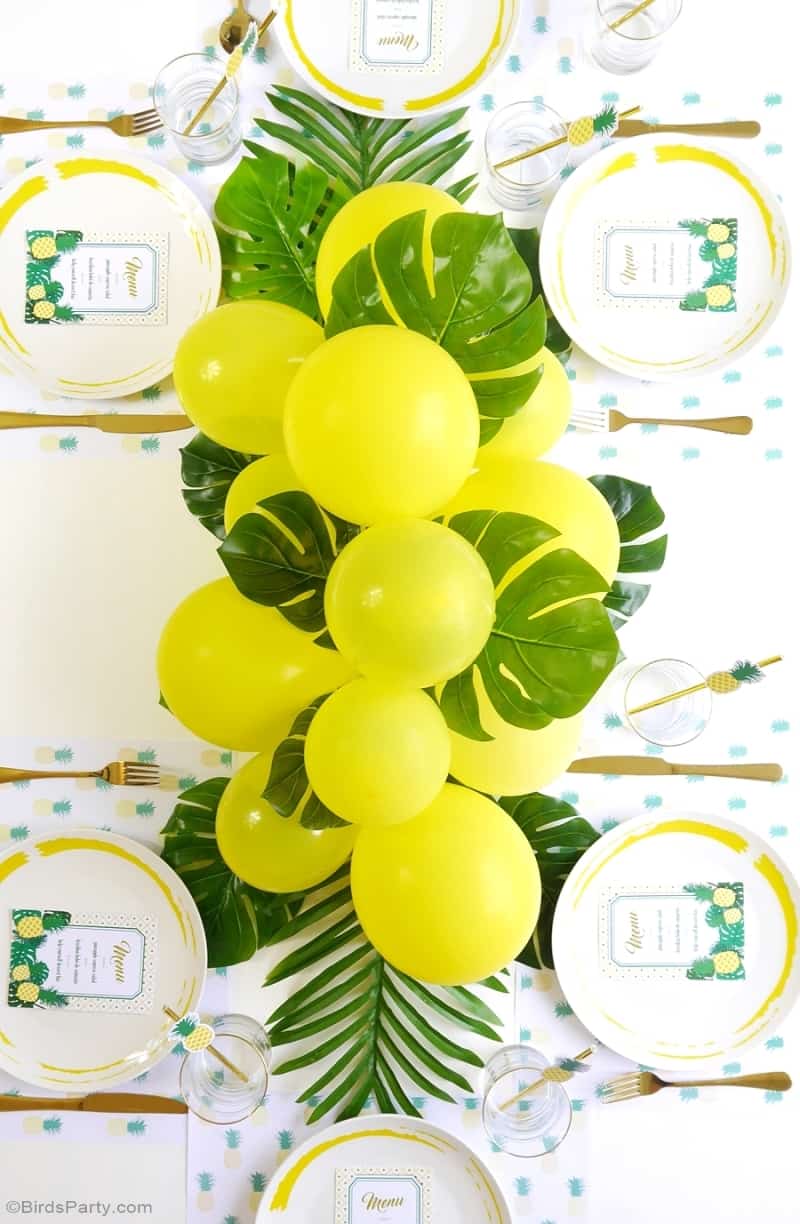 By adding some fake tropical leaves to this balloon centerpiece, it creates a totally different vibe than one that has only balloons.
This is a great example of how a small change to another DIYer's project can make a huge difference.
DIY Balloon & Fronds Tropical Party Centerpiece by Bird's Party
Conclusion
With so many fun ways to use balloons, it's kind of a no-brainer to implement them into your event decor. They're a (super!) inexpensive way to add some color, shape, and texture into your overall aesthetic.
If nothing else, making your own balloon decor is an excuse to spend some extra time with the guest of honor (your kid, the bride, mom-to-be) as you decorate for the big event. This is one piece of decor you shouldn't leave up to Etsy sellers.