20 DIY Wedding Card Box Ideas
There are at least a million little pieces to planning the perfect wedding. You have to find the right flowers, the perfect dress, the most delicious cake.
One of the little details often overlooked is the wedding card box. And it's no wonder. Who has time for crazy complicated projects?
Instead of spending loads of money and time on this simple piece, use these DIY wedding card box ideas to add that perfect touch to your big day.
Vintage Suitcase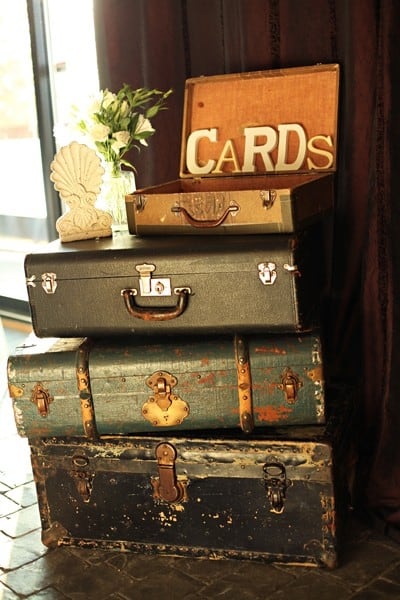 For anyone who loves a travel theme with a touch of the old class, a vintage suitcase is a perfect idea for your wedding card box. You can collect a stack of old suitcases – vintage shops, thrift stores, and flea markets are the best places to find them for not a lot of money – and add some simple effects.
Your names, a wood sign demarking "cards," or other simple décor items will turn that old suitcase into a vintage masterpiece for your wedding card collection.
Via Something Borrowed Wedding
Padded Fabric Card Box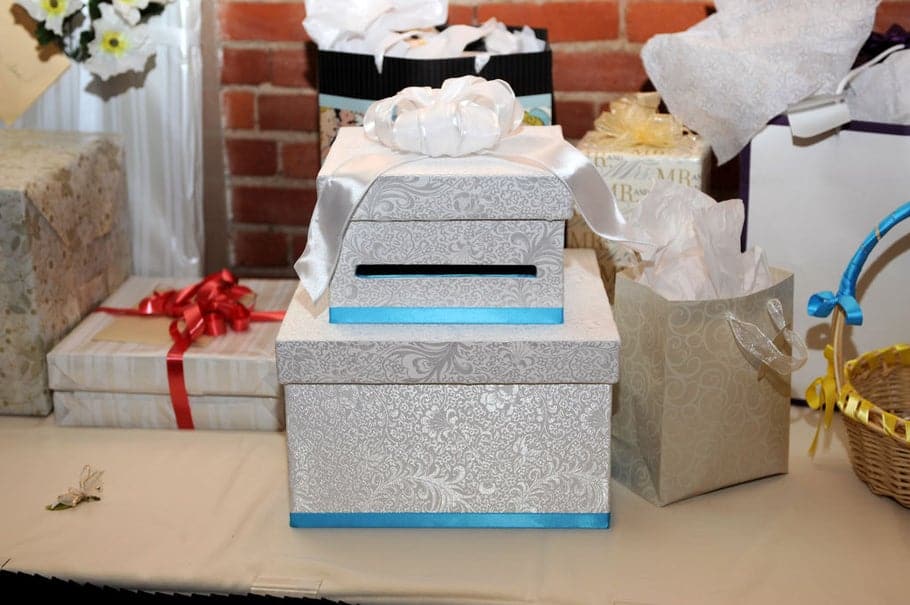 If you're more into starting from scratch, this padded fabric card box might be the ticket. It's elegant, it's simple, and it's easy to make. You can take the directions for it literally and have a stack of three with a wide slot for accepting your cards, or you can bigger or smaller – whatever looks and feels right to you.
You just need foam core sheets, fabric, spray glue, some decoration items, and the tools, and you're all set to go.
Via Instructables
Ye Olde Mailbox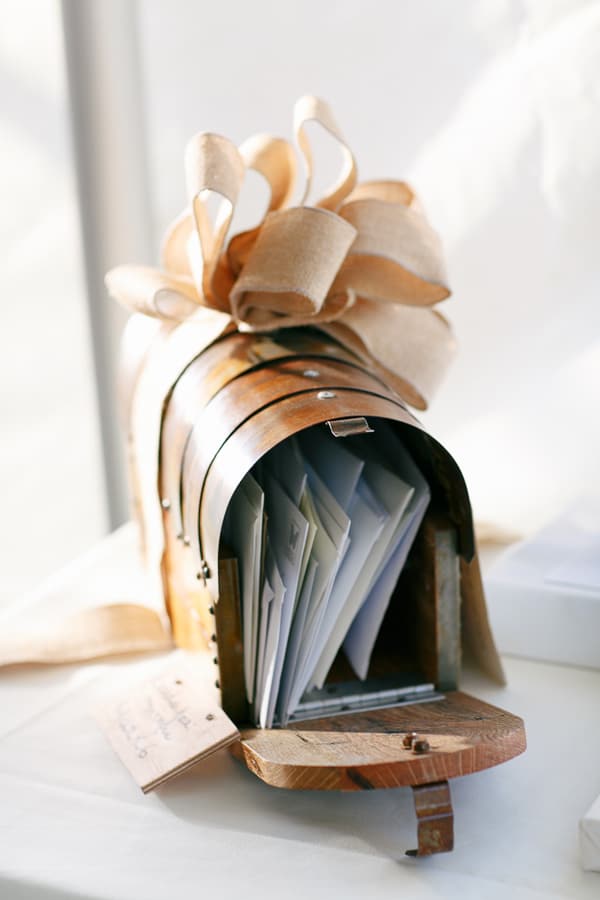 For one of the simplest and cutest card boxes, you can find an old mailbox – of any color or style – and turn it into your dream wedding accent. If you've already got one that's lovely, you're all set. But if you find an old rusty one at a garage sale or slung into a cellar somewhere, you've got a great starting point.
For older ones, line them with fabric or paper with a glue gun. Paint the outside with spray paint or hand paint it with acrylics. Add some accents. You're all done.
Via Bridal Musings
Hollow Log Card Box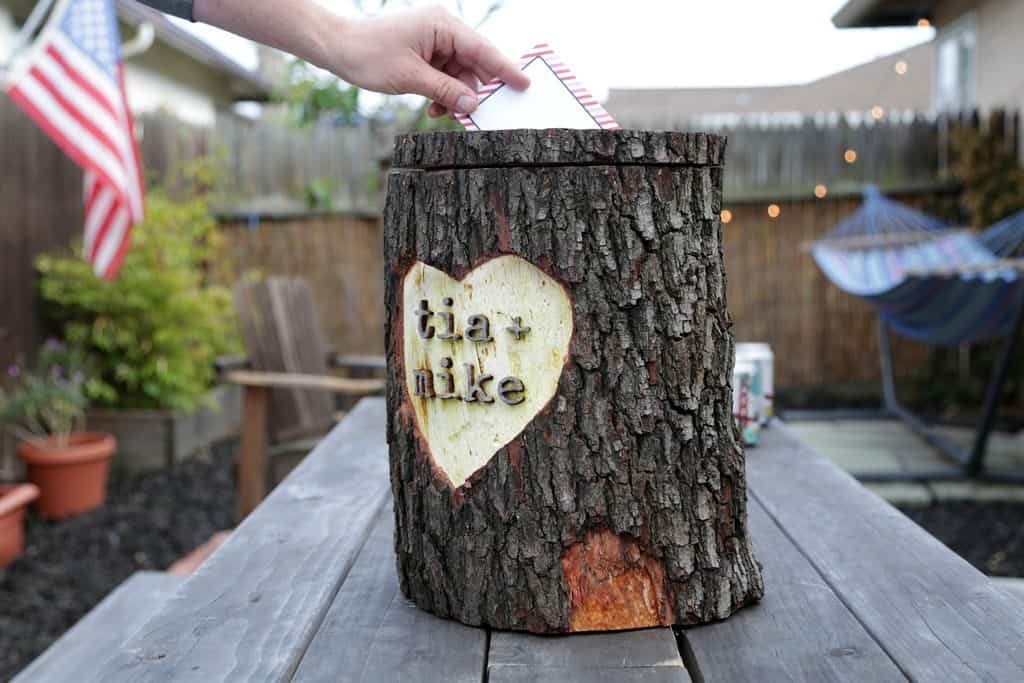 If you're going with a woodsy wedding, you might want to go find yourself a hollow log or small tree stump. The reason? This adorable card box that aligns with that wedding theme.
There are thorough instructions you can follow for creating this unique and distinct wedding card box. They include everything you need to know from sourcing the log to hollowing it out and making it into the perfect accent item for your wedding.
Via Instructables
Lantern Card Box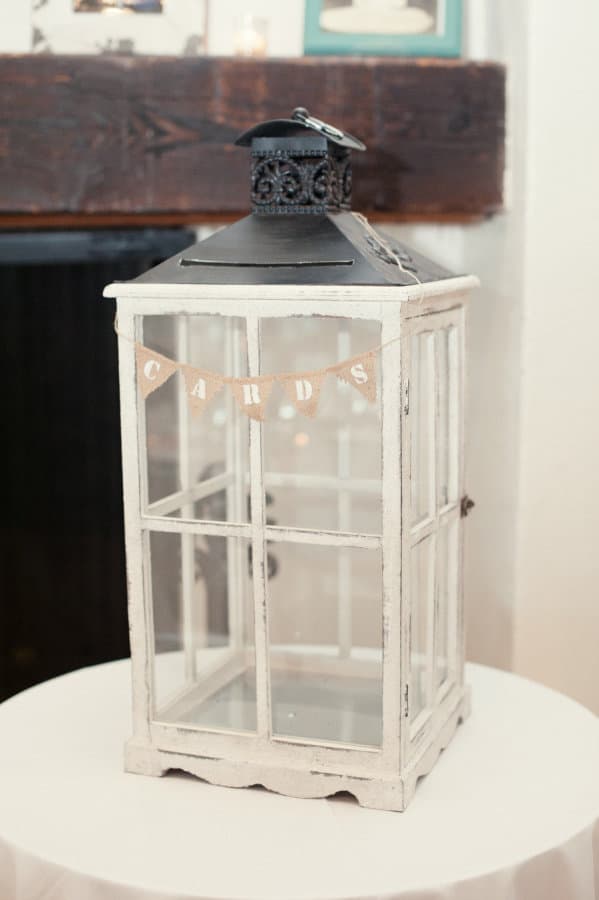 If you're going for a nautical or old rustic/vintage theme, using a beautiful lantern box as your card collector is a tasteful idea. You can find some old lanterns at yard sales, the occasional Goodwill, or even some home décor shops.
But if you can't find a wooden lantern frame that you love, you can always make your own using picture frames, thanks to these instructions from Shades of Tangerine. They're beautiful, practical, and pretty easy.
Old Milk Crates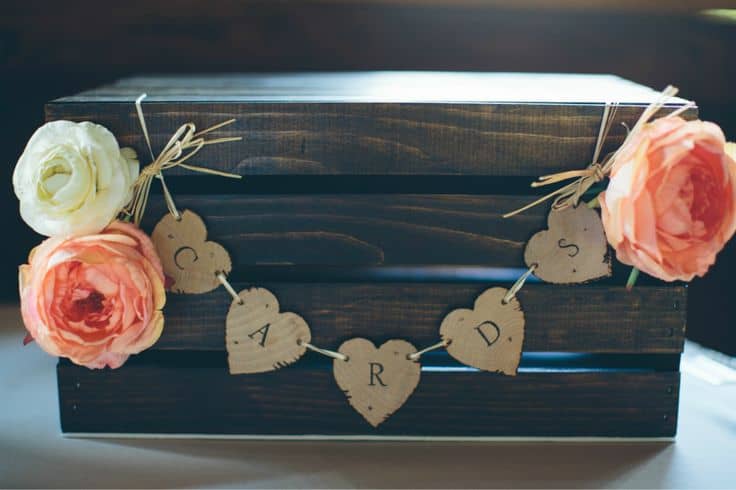 If you're going with a country or rustic theme, you may want to consider the beautiful and simple style of the old milk crate. These boxes are beautifully made and reasonably easy to find online at places like Michaels, Hobby Lobby, and Etsy.
Once you acquire the crate, you can add a simple string of letters, some flowers, a placard, or just about anything else you like to turn it into a simple card box that will catch the eye.
Via Pinterest
Picnic Basket Card Holder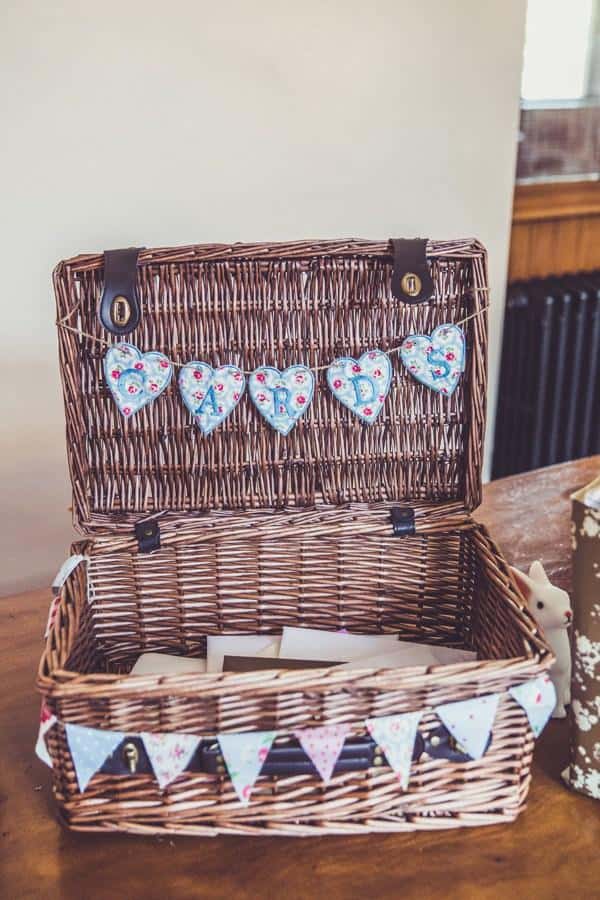 For the casual springtime wedding, the picnic basket cardholder is a classic choice. If your parents still have a picnic basket from their younger years, you've got that something borrowed and something old in one. Plus, the charm of using a hand-me-down for your décor can't be beaten.
Line the basket with fabric or paper of your choosing, toss in some simple knick-knack items and add a sign denoting the purpose of the basket, and you're all set – without permanently changing the basket.
Via Weddbook
Wooden Recipe Box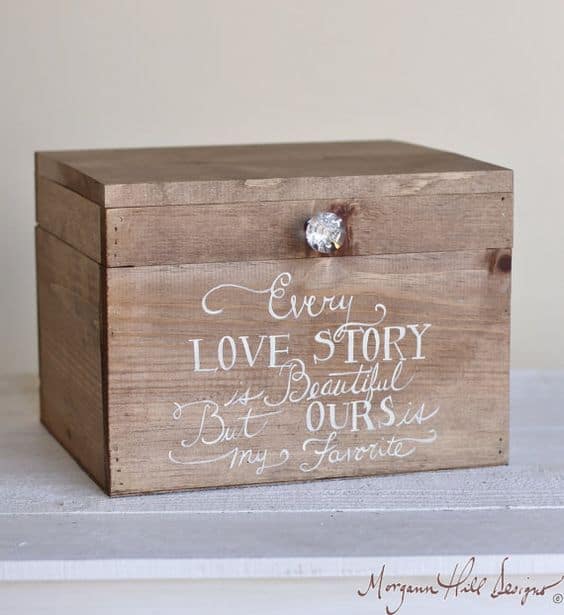 For this one, you'd need to find an old wooden recipe box, grab some paint, stencils, and possibly a decorate knob with which to replace the original. Your best bet for finding them is at thrift stores, eBay, consignment shops, or kitchen goods stores. Possibly someplace like Ross will carry some.
Next, you'll just need to use that stencil and paint to etch on your names, dates, or any other information you'd love to remember forever.
Via Etsy
Globe Card Holder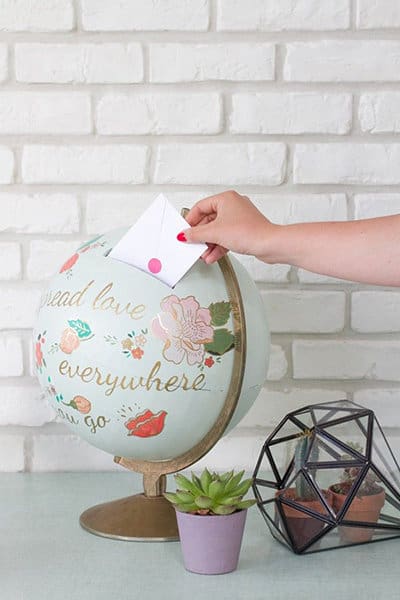 If you're planning a destination wedding – or honeymoon – or just love travel, this cardholder is perfect for you. You'll need to find an old globe – thrift stores and Craigslist are great for this – some paint, and a few tools to create this beautiful option.
There are loads of decorating styles you can use, like the one pictured, from Un Beau Jour (instructions in French), or you can come up with your own theme or color scheme based on your color palette.
Via Un Beau Jour
Birdcage Card Box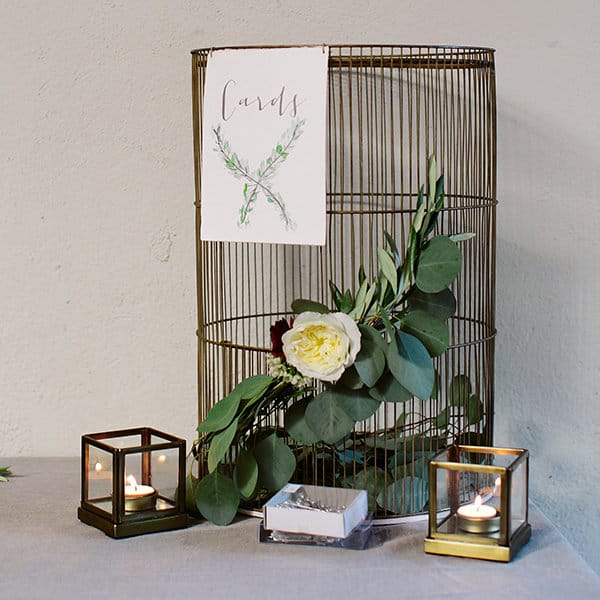 If you're getting married in the outdoors, or specifically in a garden type venue, a vintage birdcage is a beautiful touch that your guests won't soon forget. All you need to do is create a simple sign and select some décor items that blend into the theme of your wedding.
Fresh flowers, ribbons, or pinning a picture of the happy couple to the wire is a great way to quickly, easily, and inexpensively add some pizzazz to the simple wire cage.
Via Bridal Guide
Upcycled Shelving Unit or Inbox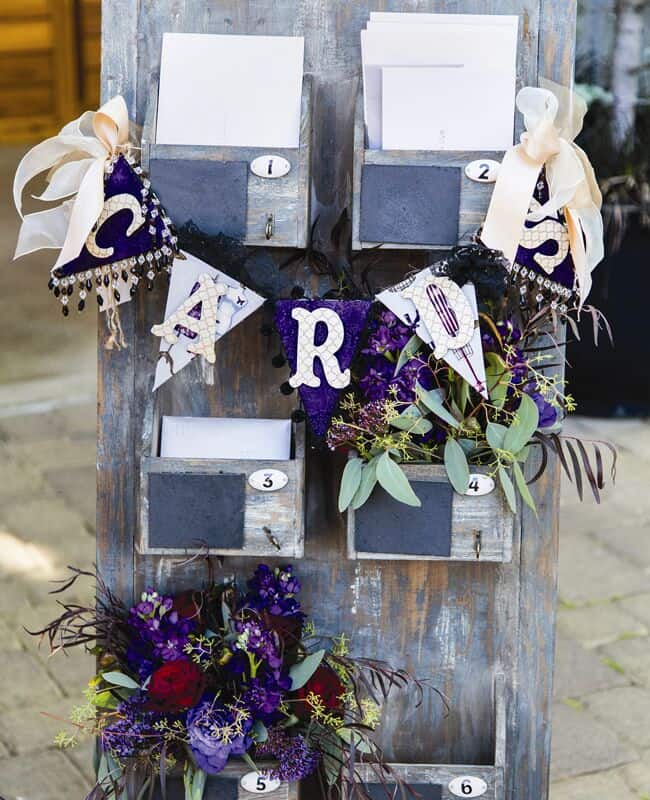 You've probably seen those old mail slot units hung on walls in offices. There tons of styles, like clear acrylic or black metal. But there are also some beautiful old wooden ones you can spot in flea markets and at some feed stores and thrift stores.
If you love upcycling, grab an old shelving unit or inbox style unit and a paint can and create the perfect "you" cardholder than can rest on a table or hang on a wall at your venue.
Via The Knot
Terrarium Box Card Holder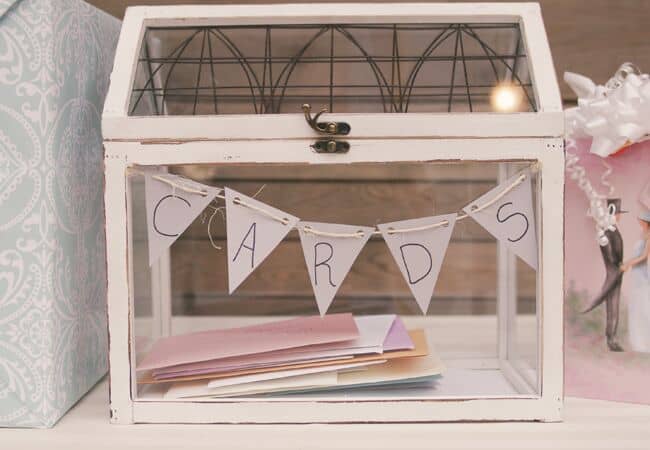 For the plant lovers, this terrarium style glass box is perfect for collecting cards. You can find these boxes at garden stores, hardware stores, or flea markets pretty much anywhere.
For décor, you can go simple – just a tag denoting the purpose – or elaborate, whatever suits you best. Placement nearby of candles, flowers, or sentimental knick-knacks from home will add another layer of beauty. Even better, position some succulents and cacti nearby for your live garden theme to shine.
Via The Knot
Stacked Hat Boxes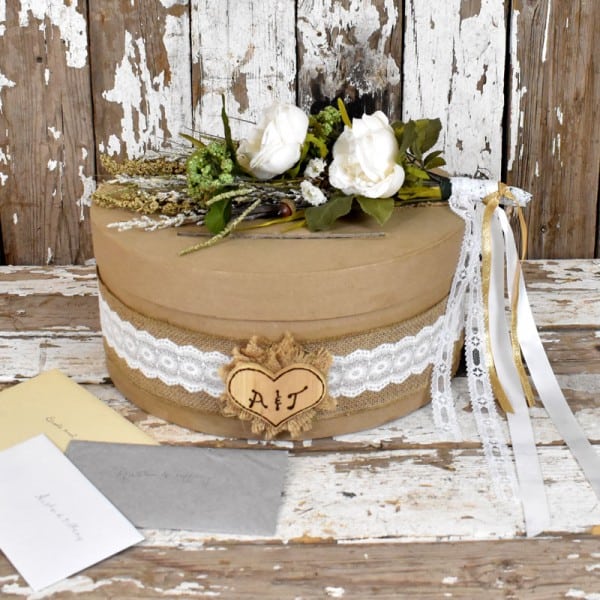 If you're going with a rustic or vintage theme wedding, a collection of stacked hat boxes might just do it for you. They're beautiful and extremely customizable for whatever your color scheme or pattern choice.
You'll need some burlap, wood, flowers, and the hat boxes to create this look. Or grab some paint, stencils, and flowers, and create a whole new look all your own. Whatever you do, people won't forget this charming little touch at your wedding.
Via TeeDiddlyDee
Bushel Basket Card Collector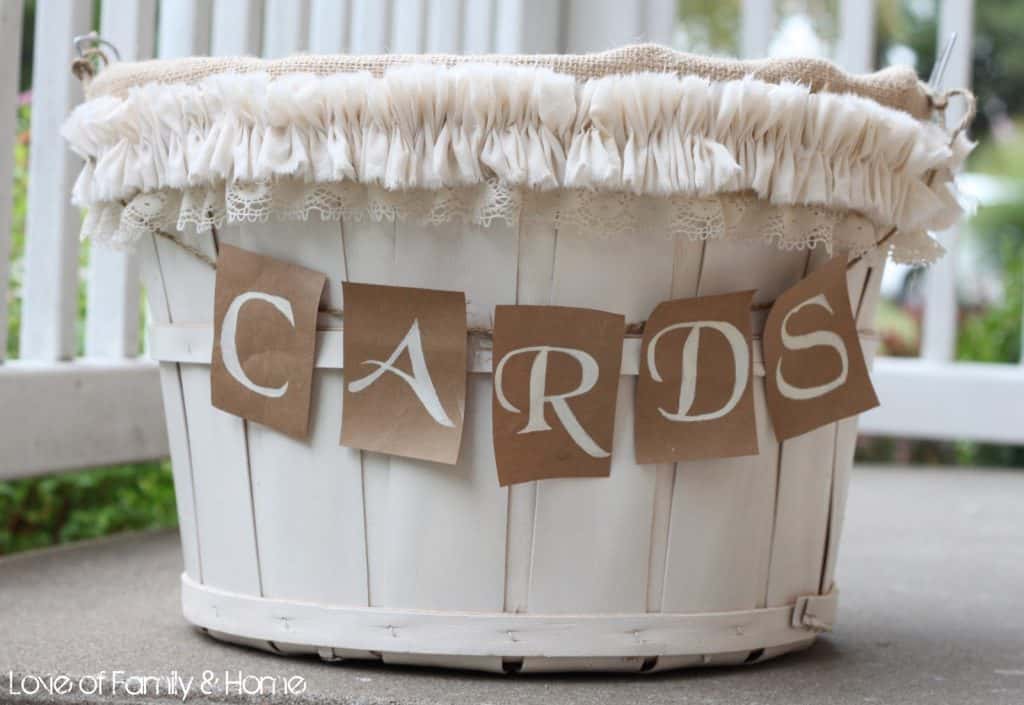 For a country or farm themed wedding, the bushel basket card collector is a perfect choice. It's easy to make, the supplies are readily available, and they're cheap. It's an all-around winner.
Pop into Hobby Lobby or Michaels or visit Amazon to find the peck size basket – or full bushel if you're having a huge wedding. Grab some spray paint and burlap, and you're all set. Just make up a sign to attach and let everything dry thoroughly before the big day.
Vintage Guitar Case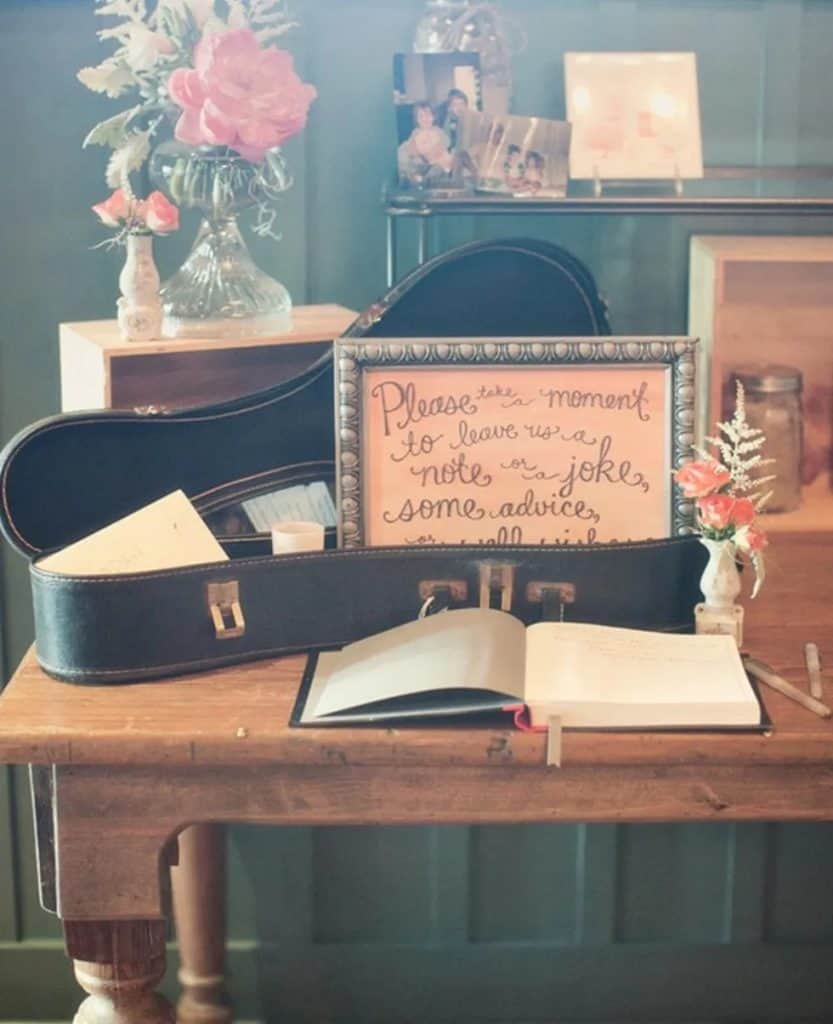 For the music lover, this one is perfect. Even if you don't play, you can go and find an old guitar case at a music shop, thrift store, or more likely, a flea market. Line the case with some elegant fabric, if you like, add a placard letting people know what it's for. Done and done.
Super easy, while being inexpensive, fun, and showing off a bit of your personality.
Or if violin's more your thing, you can usually find old vintage cases at flea markets and in the back corners of music shop storerooms for cheap.
Via Brit+Co
Wooden Drawers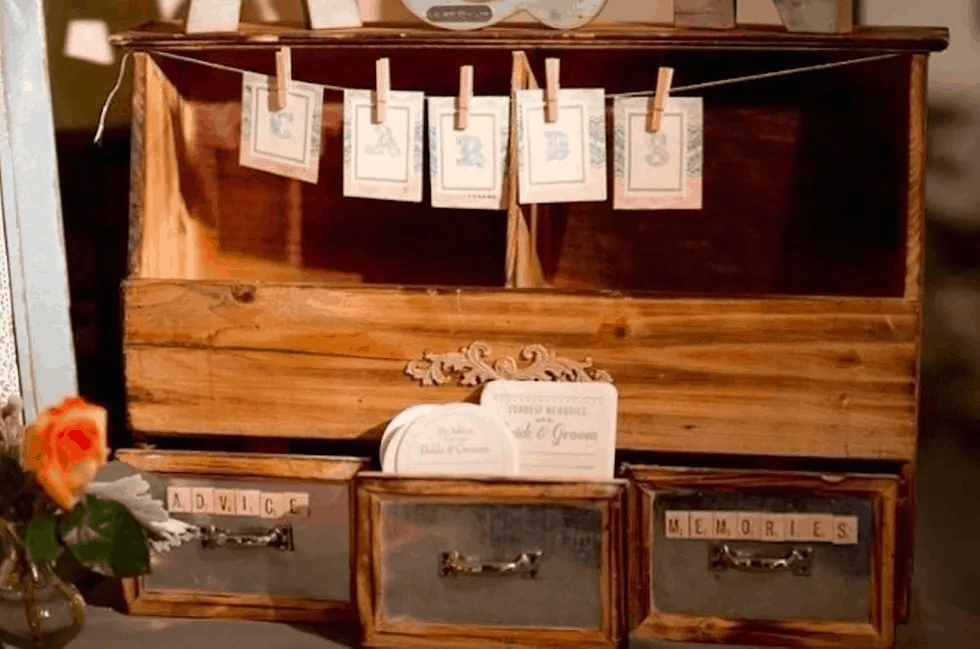 If you love old furniture or just have an old dresser or desk that's in disrepair, you can snatch out the drawers and deck them out as your cardholder. If you can find them, you can use a wooden drawer set for the office, or just stack a few drawers together to create a tiered effect.
Be sure to balance the drawers properly with some books or wood, though, to prevent any mishaps.
Via Brit+Co
Old Wooden Lobster Trap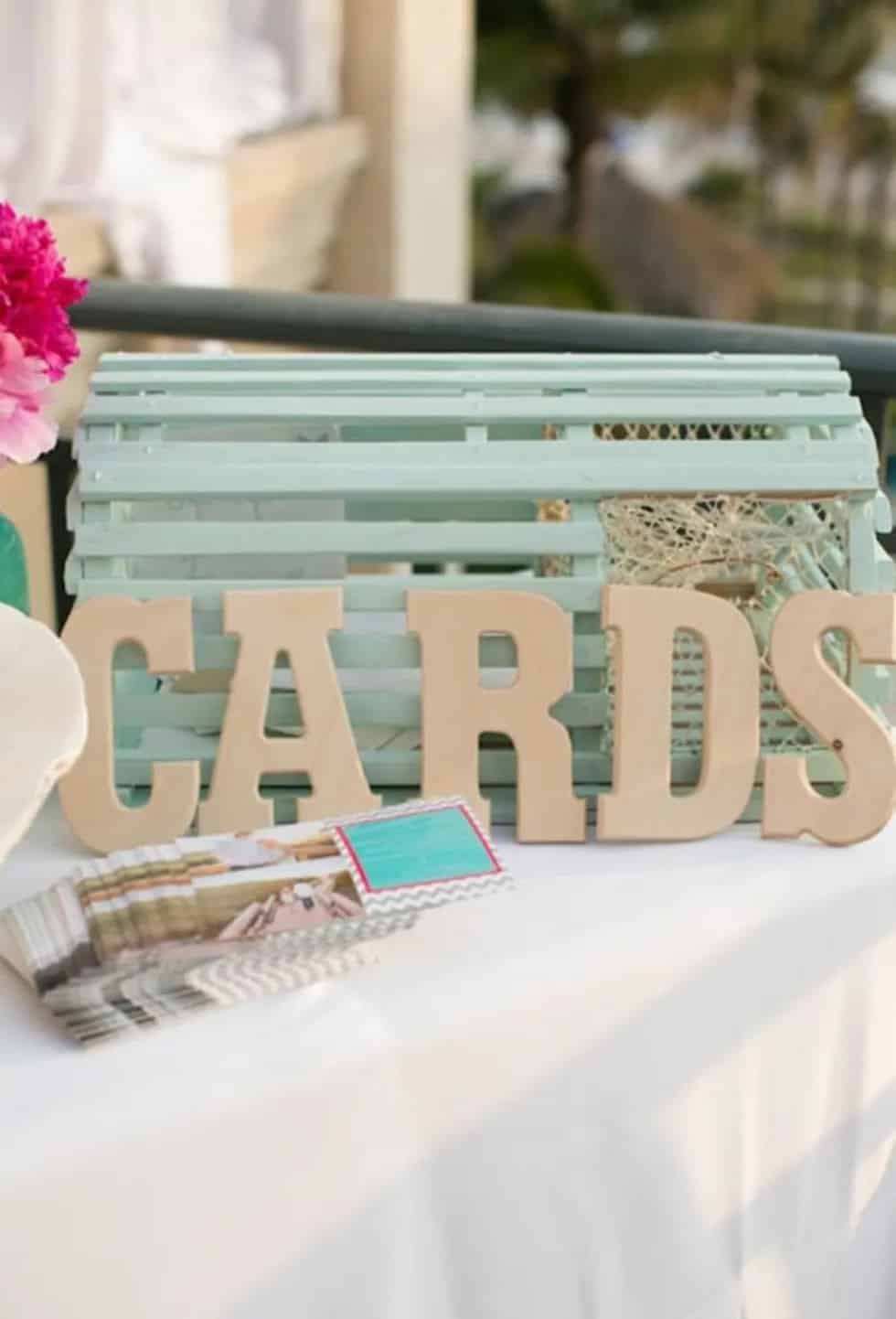 If you're diving in with a nautical theme, or just love a unique concept, you've always got the old lobster trap option. All you have to do with these is paint them up in your color scheme and add a note letting your guests know this is where the cards go.
For a fun flare, add in some fishing net, a couple of bobbers, or some seashells to give the box a boost in the nautical vein.
Simple Wire Basket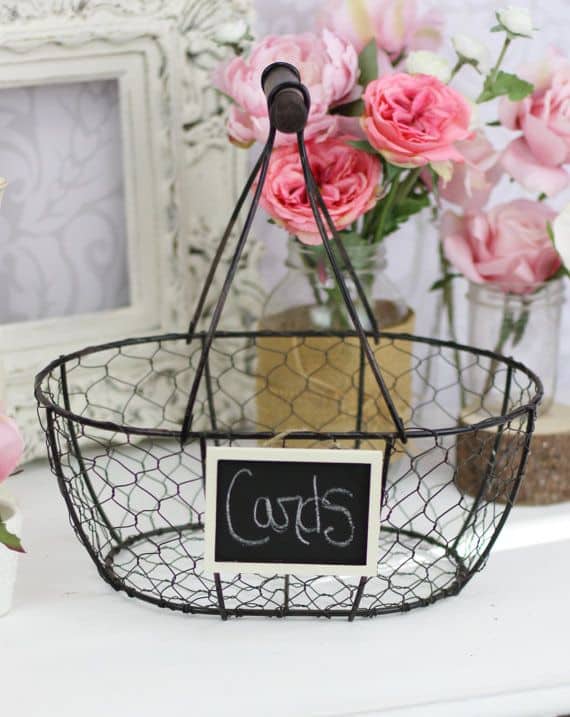 Probably the simplest option of all is a plain wire basket. You can find these in many shapes, colors, and sizes in just about any home goods store, flea market, or even Walmart. Look in the kitchen storage section where you find fruit baskets for the larger options.
Or, if you're getting married around the holidays, look online for some Christmas or New Year's theme baskets and just use those as-is for a simple, sparkly touch.
Stamped Burlap Sack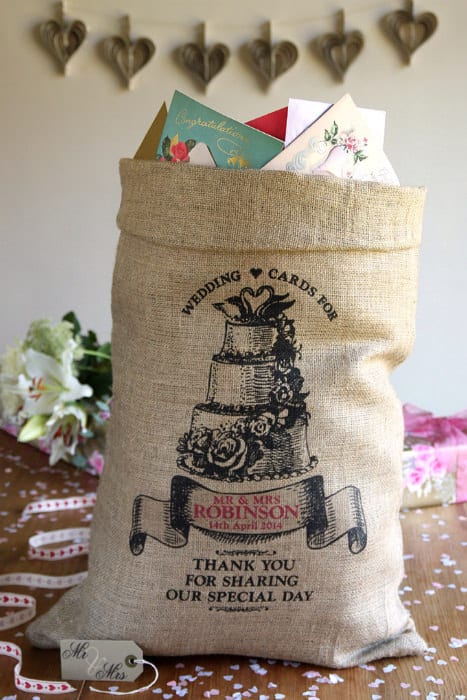 One of the most interesting options for a rustic or country wedding is a stamped burlap sack. Technically, you order one online, but if you want to make one yourself, it's not hard. You'll need to find a sack the right size – think Amazon and Michaels – and the right collection of stamps.
And to learn how to stamp on burlap successfully so that you don't wind up with smeared ink or missing pieces, check out this tutorial from Jennifer Rizzo.
Lego Card Box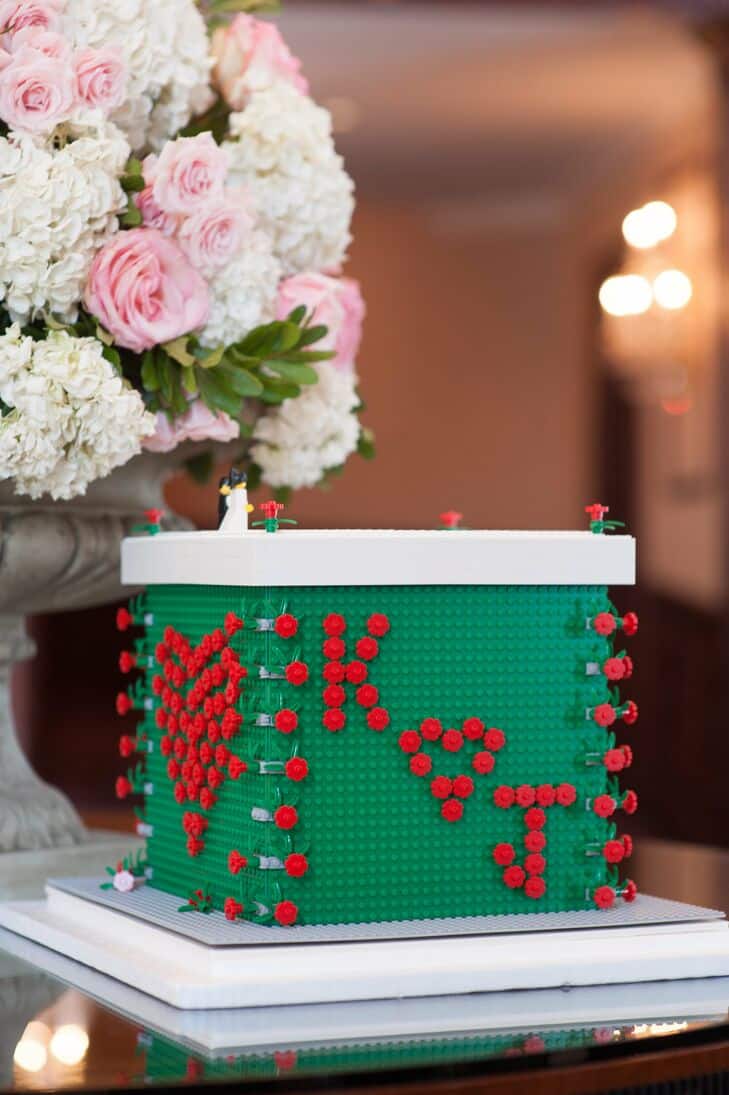 If you're interested in something a bit different, fun, and colorful, you can create for yourself a card box out of that simple child's toy: the Lego.
You can choose a color theme, like that in the photo, or go full rainbow, putting together blocks of every color and shape you can find. Just be sure to snag a "wedding" set somewhere if you want a bridge and groom for the top, or just spell out "Cards" with a contrasting color of blocks.
Via The Knot
Have Fun As You Plan
Don't worry about conforming to someone else's ideal wedding plan. Pick a wedding card box that fits your style, your personality, and your theme.
Try thinking outside the box – literally. Use any kind of receptacle that you think is pretty and happens to be large enough to hold cards. Add some sparkle, flowers, or ribbons, or just go old school with simplistic wood shapes.
And remember to let your personalities and relationship shine through the choices you make. If you're musicians, find that old guitar case. If you're into the beach, have that lobster trap. Whatever you do, make your card box a fun reflection of who you are as a couple.