22 DIY Hat Rack Ideas
It's one of those things that a lot of us don't think about: the hat rack. Unless you're totally obsessed with hats, you might not even realize you need one.
But if you look at that closet shelf sometime and can't find that stylish beret hat for the clog of straw hats and boater caps, then you know it's time to do something about it.
You could go out and buy a hat rack – but why do that when there are so many amazing DIY styles you can create on your own, for a few dollars and using items you can upcycle from a thrift store, yard sale, or freecycle.org give away?
Among these 22 of hat racks and stands, you'll surely find at least a few that you won't be able to choose from.
The Sleek and Modern Wood Wall Mounted Rack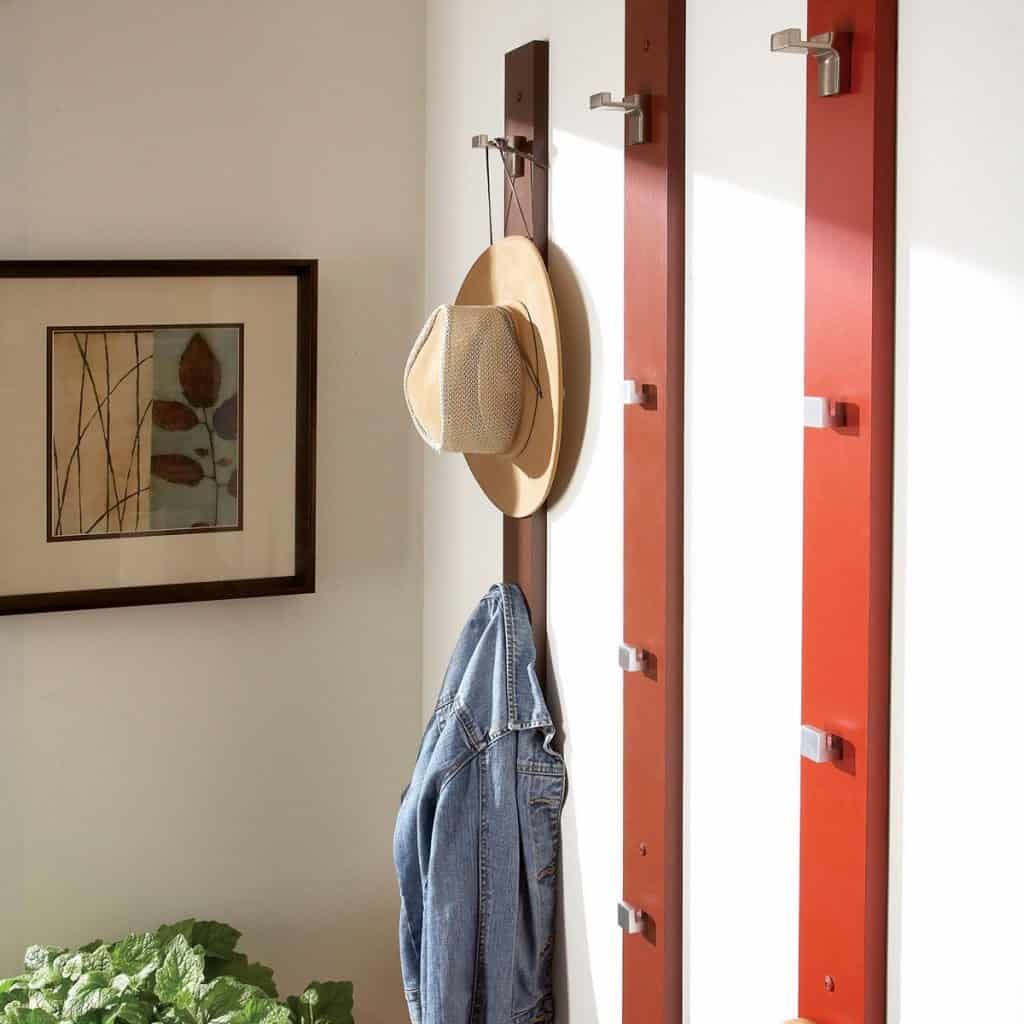 If you like a modern, tidy look, then this sleek wall mounted wood rack is a great option for your home. It's an easy-to-make, beautiful, and stylish option that will fit into just about any entryway – whether we're talking mudroom, foyer, or the cozy kitchen doorway.
For the same sharp look, you'll want to find some smooth, dark wood panels and some square hooks or pegs.
Dowel Pegs Hat Rack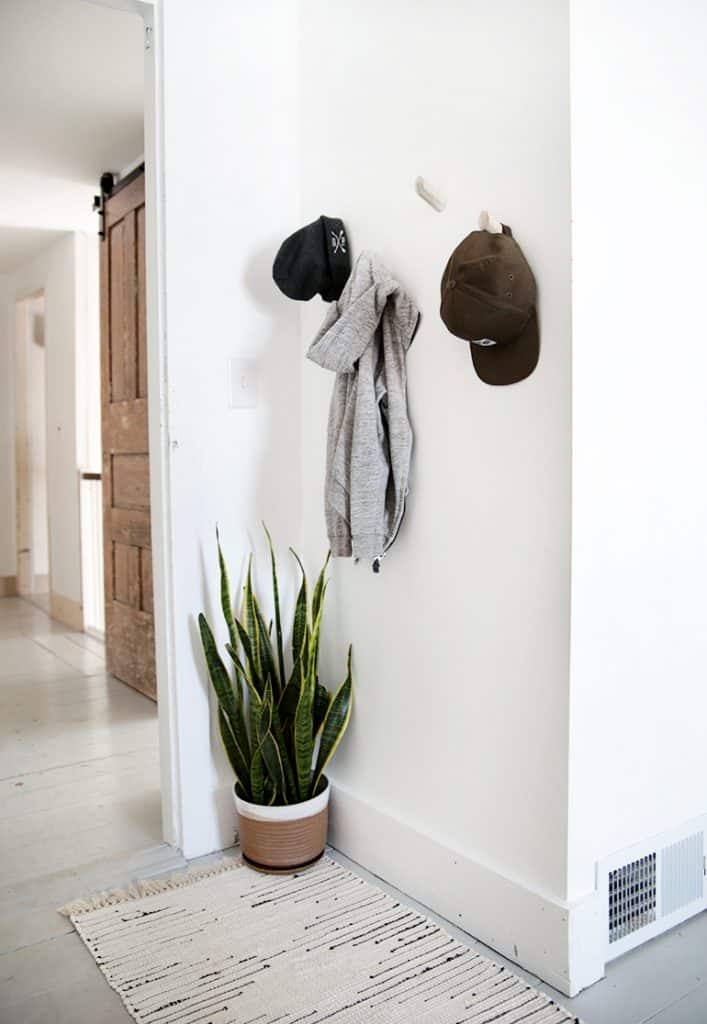 For an attractive, easy, and minimalist look, the dowel peg hat rack is perfect for just about anywhere. It's an especially great system for kids' bedrooms, small spaces – like studios and efficiencies – and modern minimalist spaces.
The dowels can be sanded down and smoothed into a soft wood shade, painted for a bright pop of color, or just used as-is. Check out the easy instructions before heading to the store for supplies.
Zig-Zag Hat Rack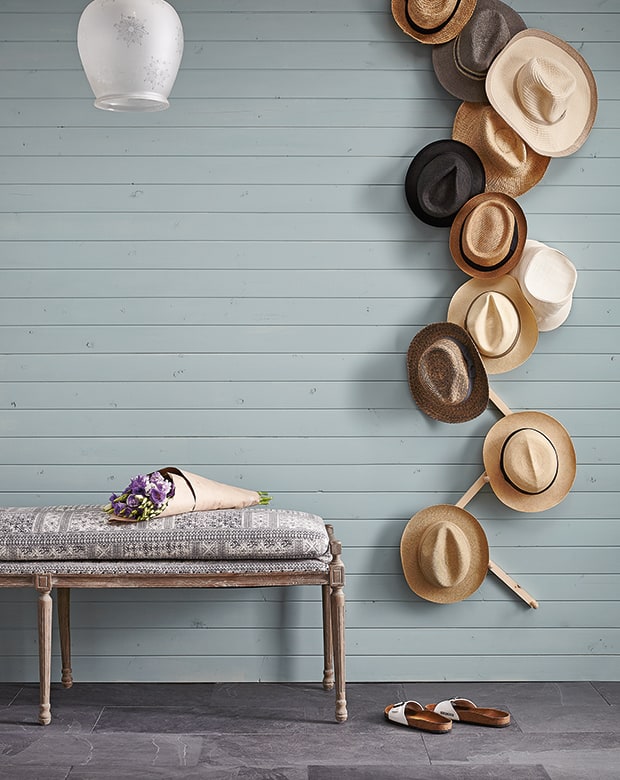 This wall-mounted hat rack has a kind of old-fashioned feel to it. It's reminiscent of those old accordion racks, but with a modern, rustic twist. It's an extremely versatile option for anyone who likes a unique design. It can scale the wall, go over a door, or cross a room.
You just need a few simple supplies available from any hardware store and the right space for this zig-zag rack. Check out the simple instructions for more details.
Via House and Home
Standing Teepee Rack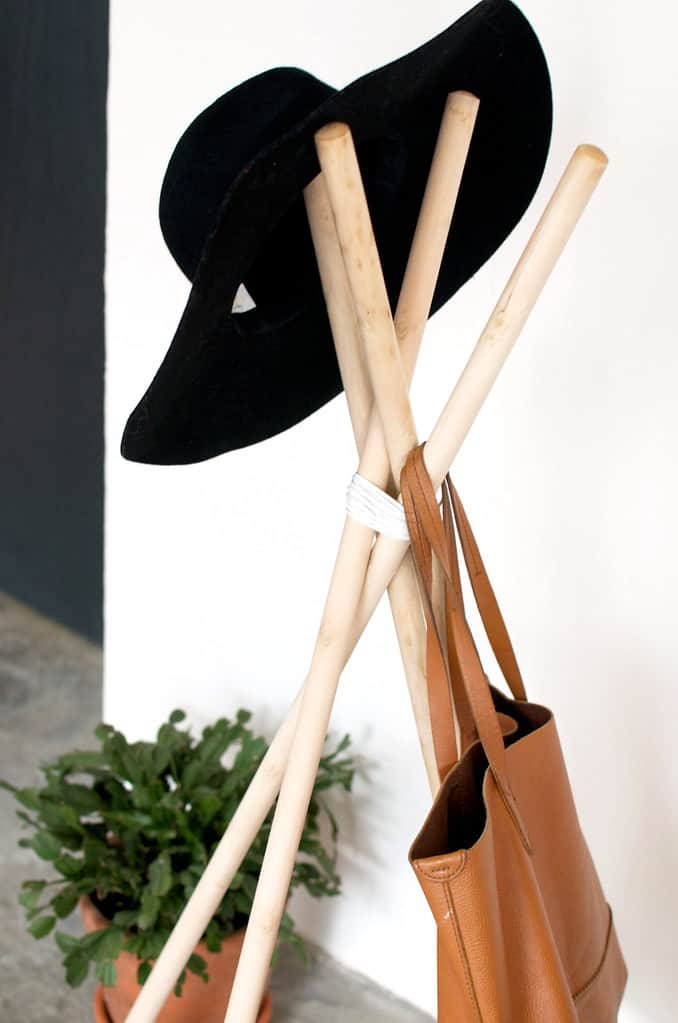 If you're looking for something simple, yet elegant, and happen to have a little space, this standing Teepee hat rack is perfect. Using just a few full-length dowels, some twine, and scissors, you've got an elegantly simple place to hang that hat.
You'll find the instructions easy for this charming design.
Via Collective Gen
Hanging Copper Hat Rack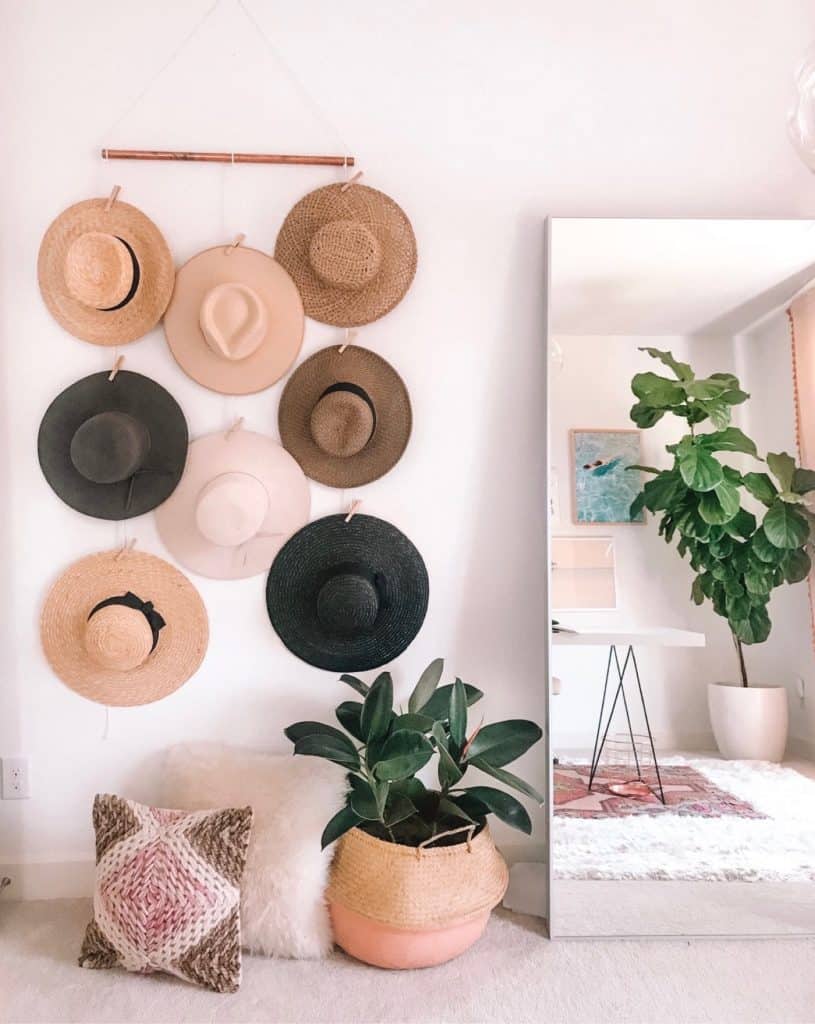 If you're a hat collector, then this one is for you. The design easily allows you to hang as many hats as you like, without a lot of hassle.
For this super simple one, just grab a copper pipe, some rope, and some clothespins. In less than an hour later, you'll have a hat rack that works for any style from modern to rustic to vintage.
Via Collective Gen.
Wall of Hats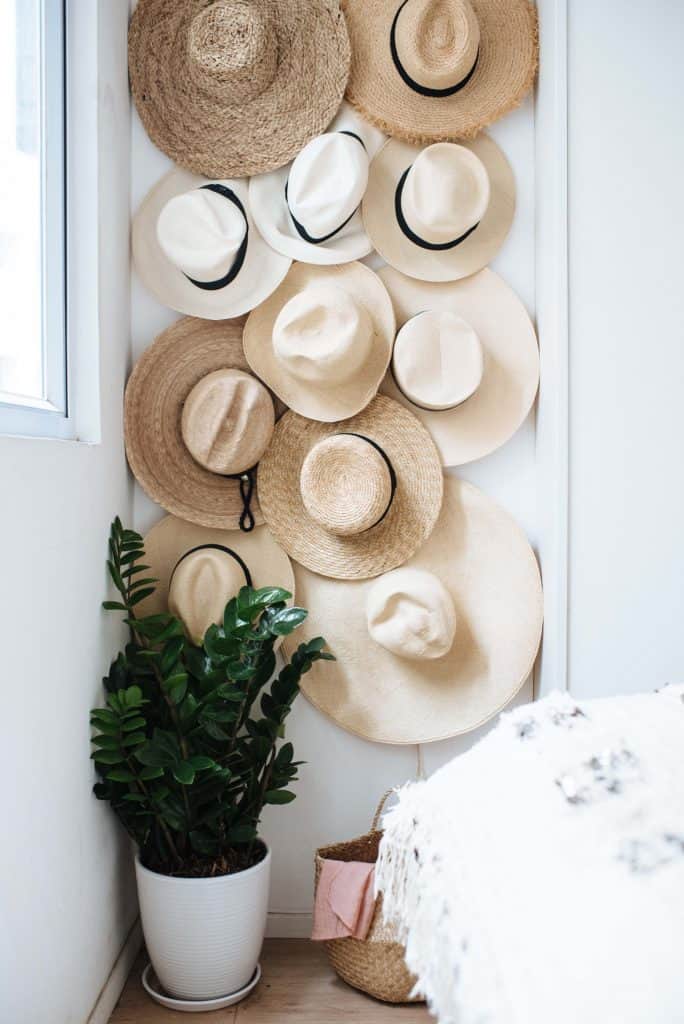 This DIY is perfect for anybody who isn't all that handy. You just need some string, gator style clips – there are some really nice decorative ones you can find online or in craft stores – and a couple of hooks.
And, voila – no one will know that you aren't a creative genius while taking in the gorgeous view of your hat wall. You'll love the incredibly easy how-to.
Via Collective Gen
Mismatched Hooks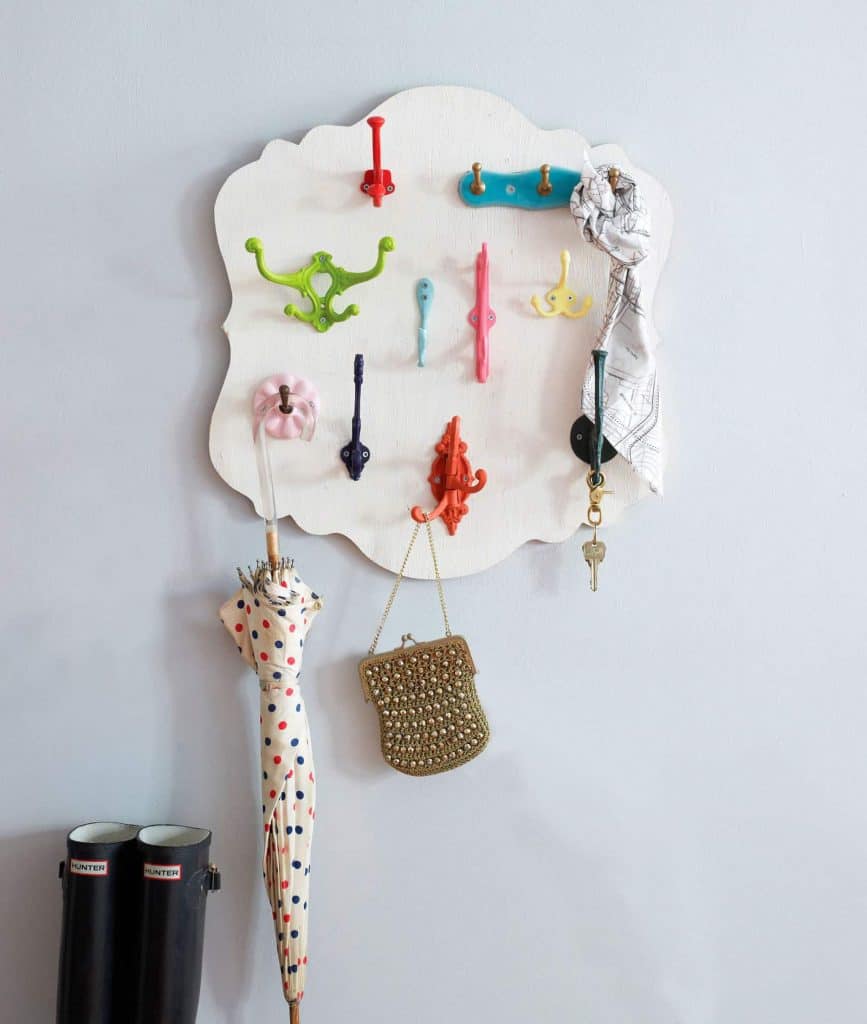 Colorful and quirky, distinct and different is the game of this hat rack. And even when you follow the tutorial precisely, you'll get something just a little different.
The reason? You're going to go find some unique hooks and pegs and mismatch and mount them on a wooden plaque. Flea markets are a great place to start for making this a truly "you" hat rack.
Via Redbook
Vintage Trophy Rack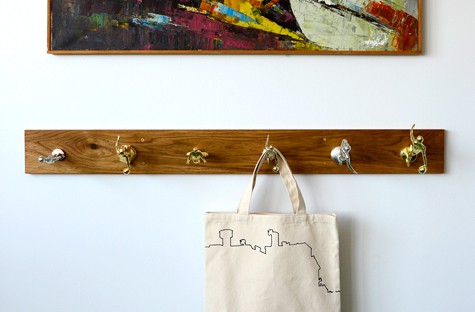 Whether you're a long-time athlete, mathlete or speller, or have a couple of kids that have racked up some trophies over the years, this vintage trophy rack hat holder is a fun, unique way to show off your accomplishments while housing your hats conveniently.
It's one of the more complicated designs in this collection, but most folks are still going to be able to pull it off.
Via Design Sponge
Pegboard Multipurpose Rack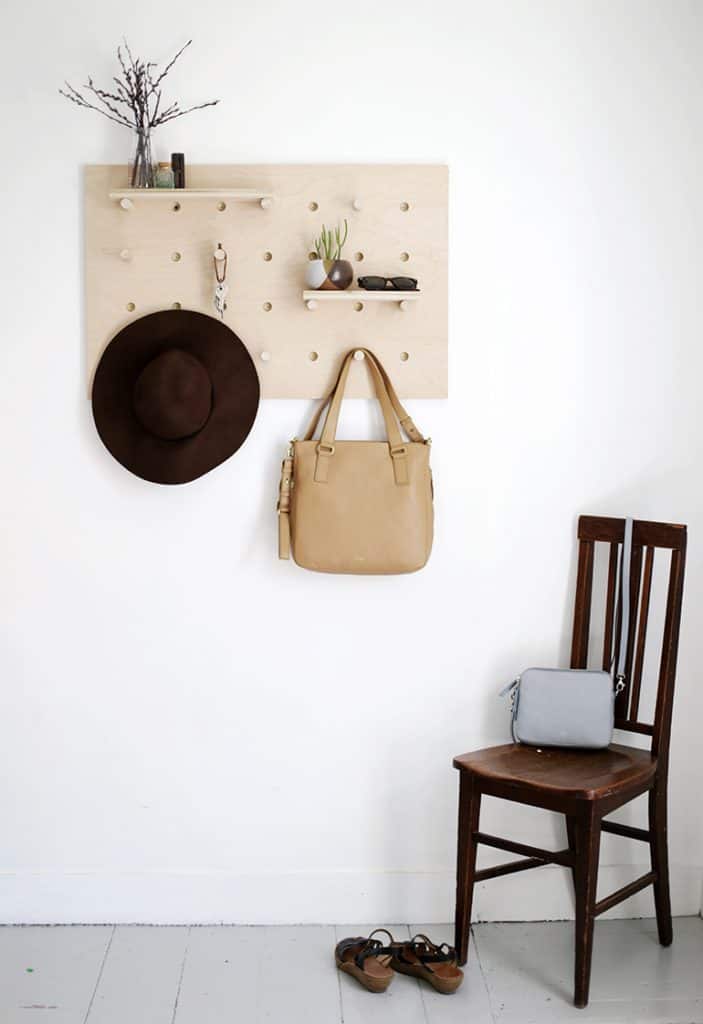 If you're looking for something beyond just a hat rack, this beautiful plywood pegboard multipurpose rack is worth investigating.
It's a bit more advanced than most of the options – for example, you'll need amiter box – but it's still reasonably easy to construct and will add a sleek, modern rustic look to your foyer or mudroom. It's great for hats, jackets, keys, totes, and even your sunglasses.
Vintage Records Hat and Bag Rack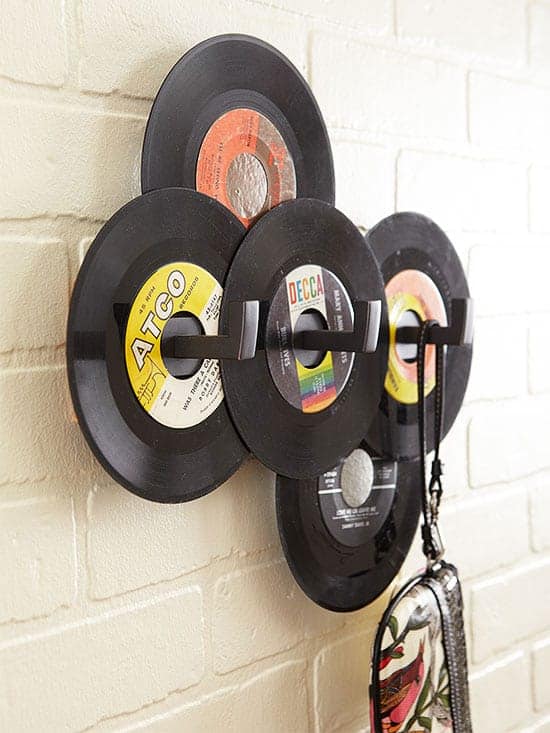 Combining vintage chic with modern conveniences, this three – or four, or five – hook hat rack is an easy project that adds a unique touch to any music lover's home.
You just need to buy a pre-made hook set, score some LPs as a flea market or thrift store, and combine with some heavy-duty adhesive.
The Dino Rack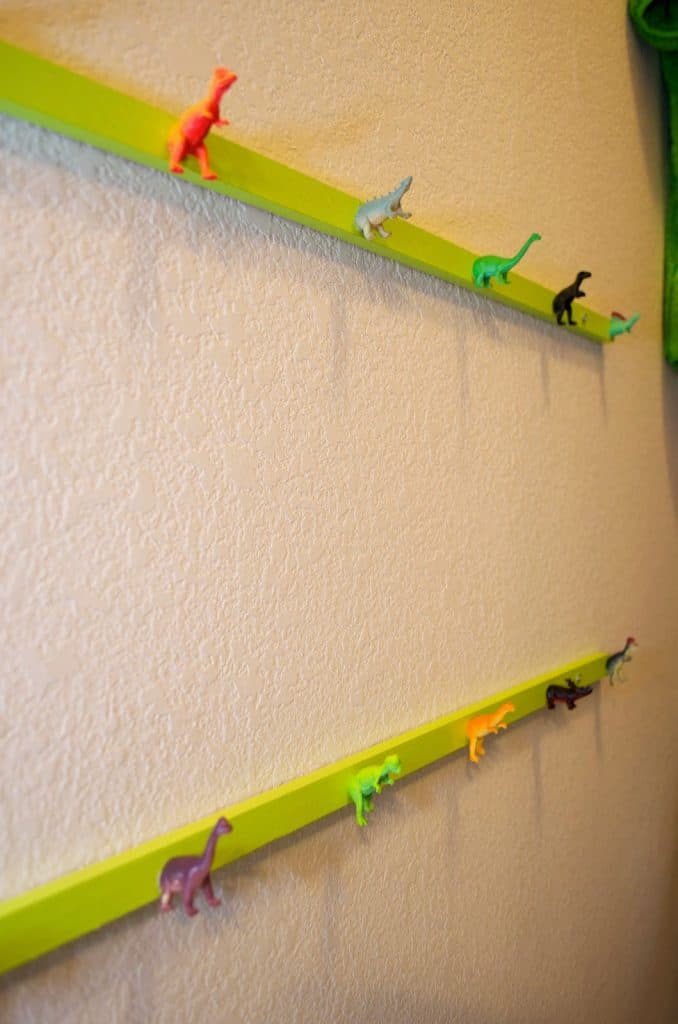 Have a kid who jabbers on about dinosaurs all day? Need a fun hat rack for a classroom? Either way, this cute little piece will add some color and fun through the use of plastic toy dinosaurs and other simple supplies.
Go with the all green super pack of dinos or go crazy with some colored triceratops and brontosaurus for some fun.
Via Crazy Cozads
Animal Hat Rack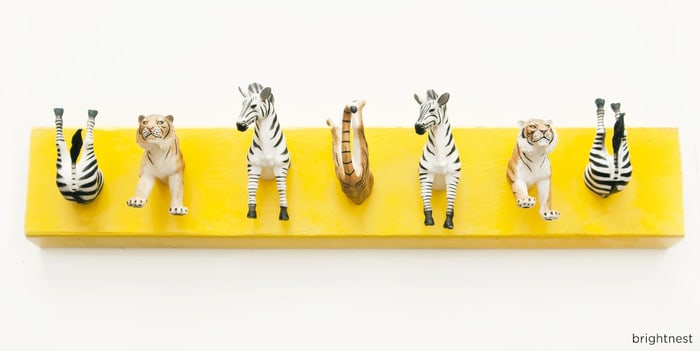 On a similar theme to that dinosaur rack, you've got the animal hat rack. You'll need some simple supplies – think gorilla glue, scrap wood, and plastic toys – and you're all set.
This fun piece can be made for practically any room in the house – whether you've got kids or not. Love Africa? Choose African animals for a safari theme. More of a farm girl? Use horses, goats, and cows.
Via Brightnest
Vintage Shutter Hat Rack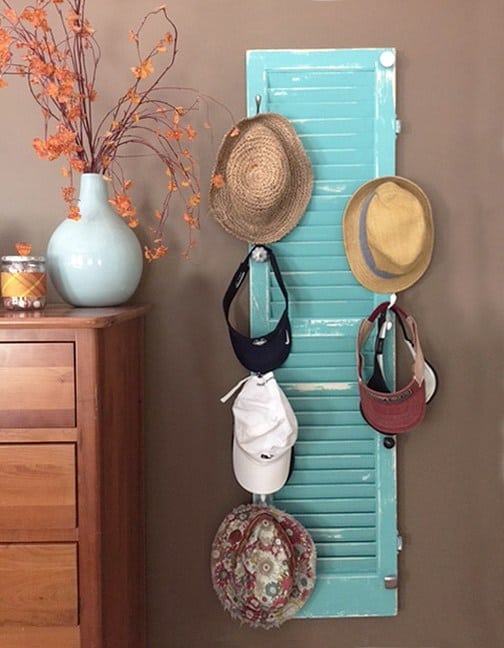 If you're into reclaimed wood, upcycling, and rustic chic, then you'll love this beautiful and easy hat rack made from old wooden shutters.
Choose your best paint color and go take a look around flea markets for the shutter. While you're there grab some cabinet knobs, doorknobs, or old hooks to complete the look.
Industrial Pipe Hat Rack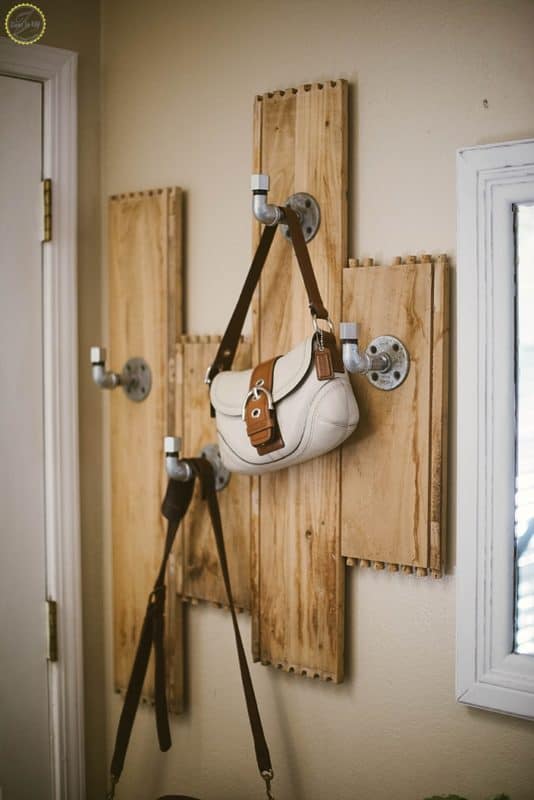 If you're a rustic industrial design lover, you're going to go gaga over this one.
The design uses old industrial pipes and reclaimed wood to create a stunning hat rack that will blend seamlessly into your mudroom, foyer, bedroom, or practically anywhere else. Just make a trip to the hardware store and stock up on supplies.
Building Block Hat Stand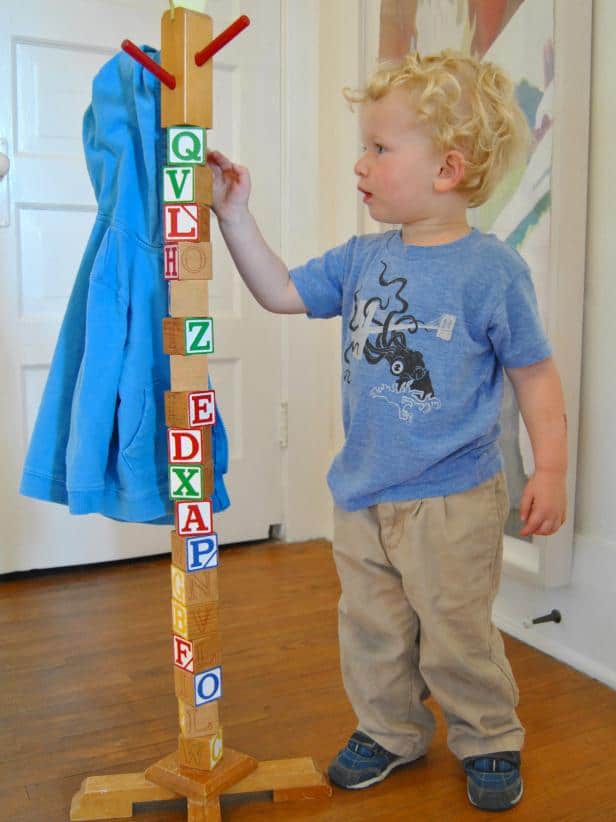 For those with a little more skill and a good drill, this building block hat stand is a super cute option. It's great for the kid's room, the nursery, or dress-up closet.
You'll need a couple dowels, a used lamp, and some toy wooden building blocks. The instructions are for a kid-sized stand, but if you need a taller one, you can just get a longer dowel.
Via DIY Network
The Budget-Friendly Hat Stand
If you're looking for a reasonably easy, inexpensive, but good-looking stand, then the Budget-Friendly or $10 stand is a great pick.
You can paint it a bright color, muted earth tones, or just leave it natural wood for whatever feel you're going for. This is probably an intermediate level project, and not so much for beginners.
Via I Like to Make Stuff.
Reclaimed Wood Frame Rack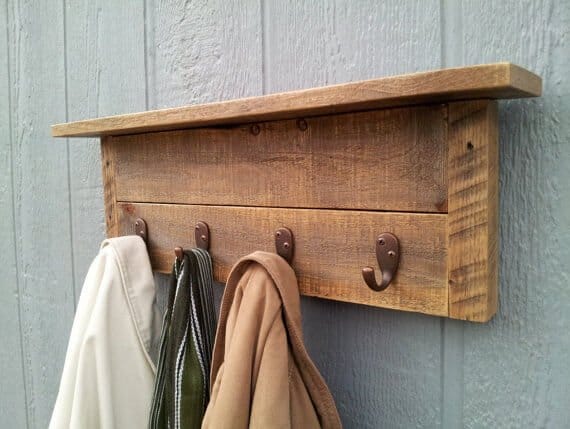 There's a great trend that's been going on for a few years now: using reclaimed wood to build and create. If you love that trend even a little bit, you'll love this gorgeous repurposing of old wood and metal hooks.
It's great for rustic, farm chic, classic, woodsy, or nautical settings in any room you want to show off your hats or make them easy to grab.
Driftwood Hat Rack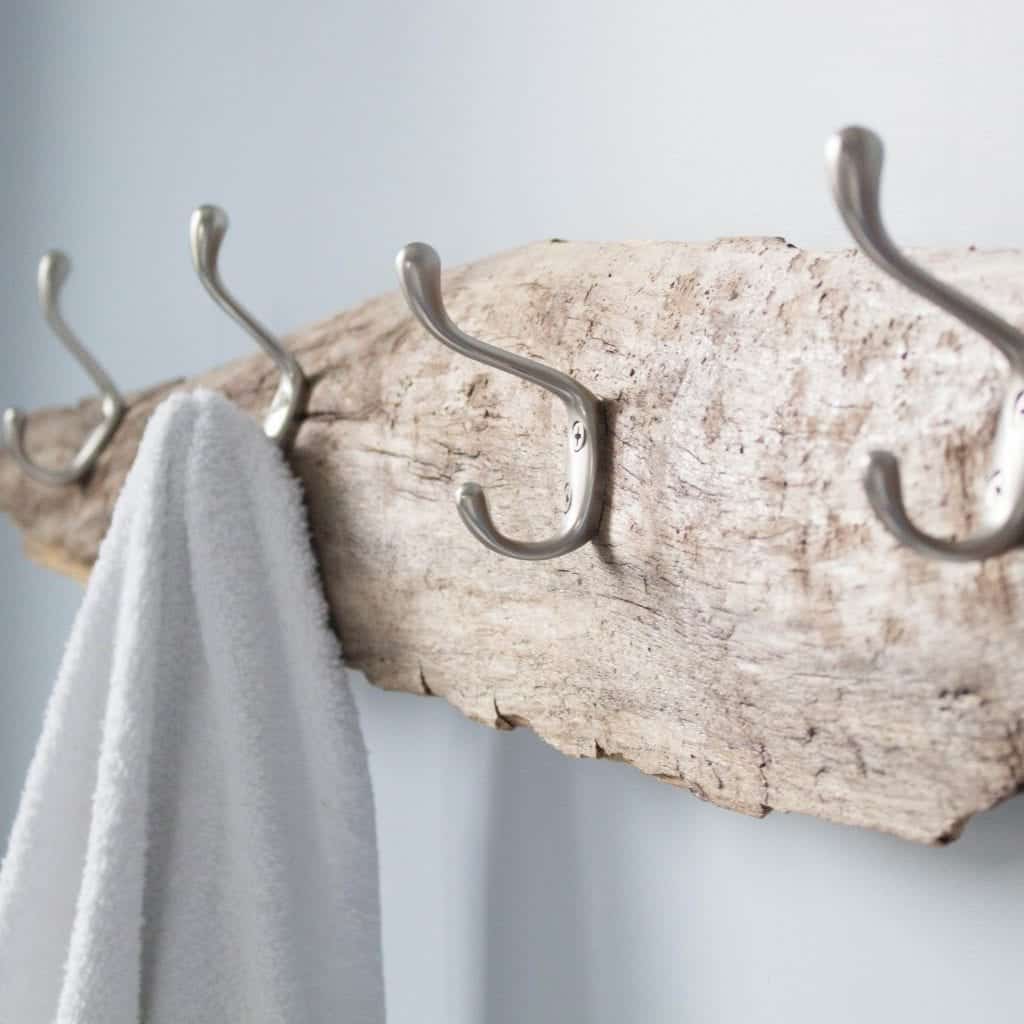 If you've got a beachy setting or nautical theme in your home, you'll love thisnatural driftwood rack.
It's technically a towel rack, but if you use the right hooks or some simple drawer knobs instead, you'll find the perfect frame for your hats. It's quick and easy to make, even for the lesser-skilled among us.
Natural or Painted Branch Hat Rack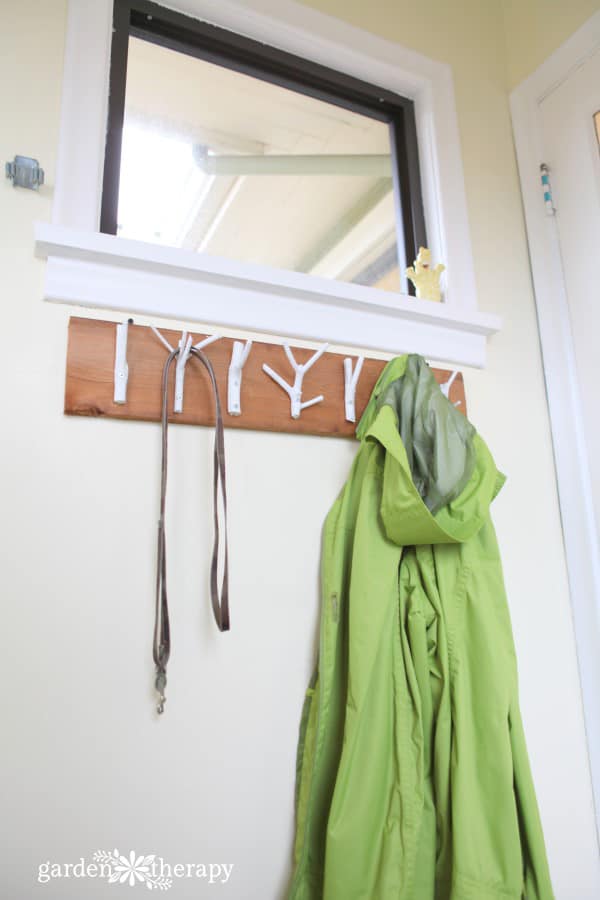 Another simple but beautiful design for the nature lover is the natural or painted branch hat rack. This little beauty won't take long to make.
Once it's crafted, you can easily tuck this into a child's room, foyer, mudroom, or even that walk-in-closet you love. You'll just need to gather some branches, grab a can of paint, a board, and some tools.
Via Garden Therapy
Wood and Leather Peg Rack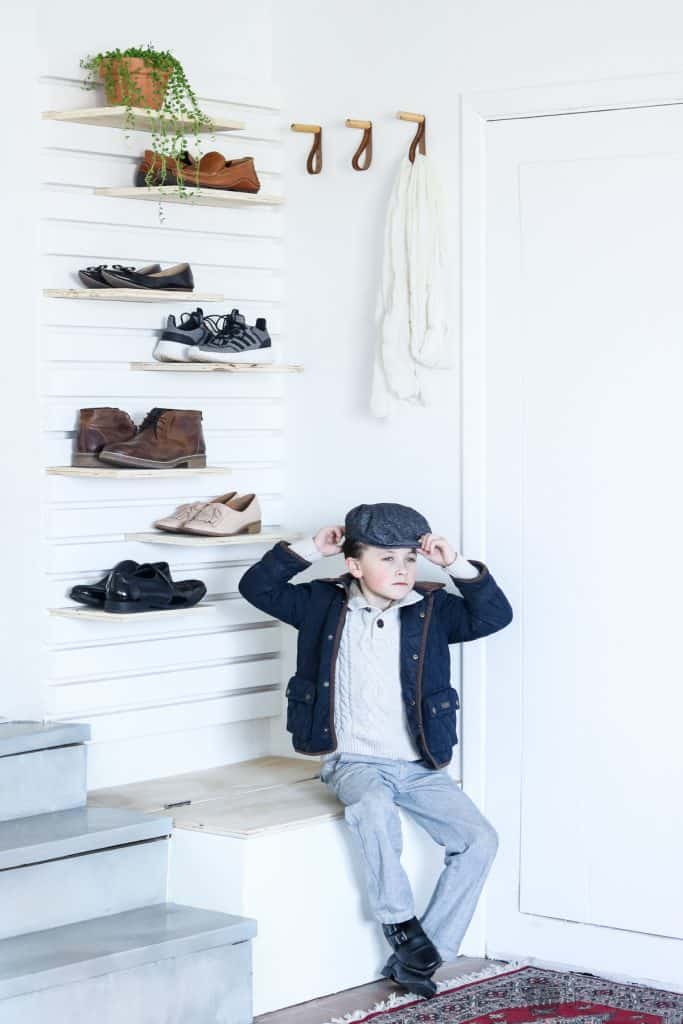 For a more masculine, outdoorsy look, try this simple leather and wood peg rack for your closet, foyer, or mudroom.
One nice thing about this one is that you can have as many pegs – for as many hats – as you need. Plus, you can cleverly use old belts that aren't suitable for wearing anymore. Easy, attractive, and charming in one.
Via Lily Ardor
Baseball Rack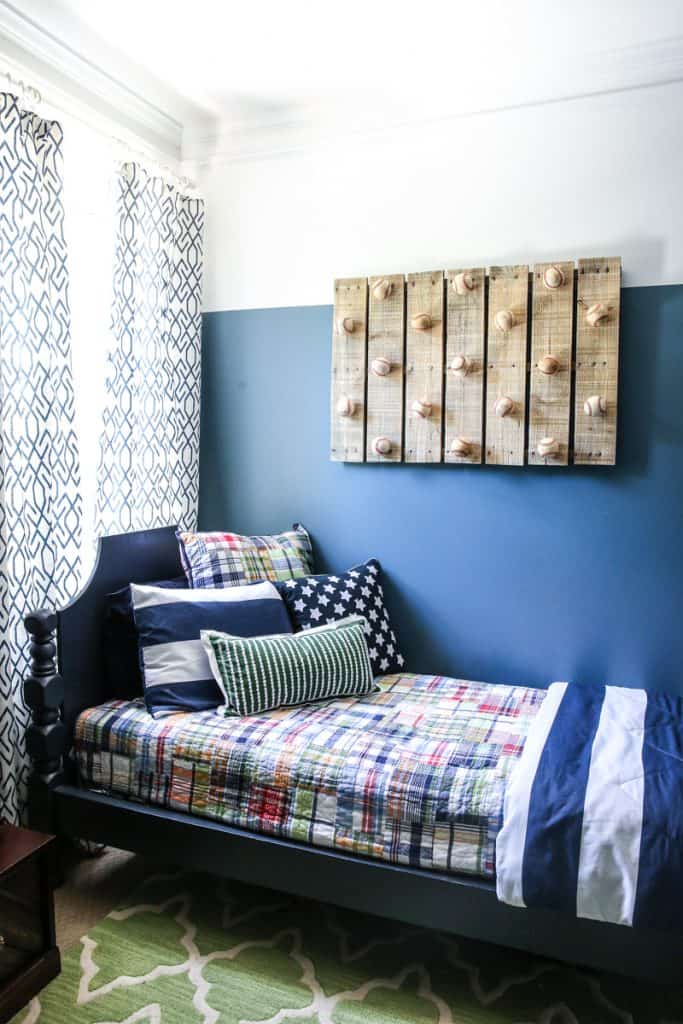 This hat rack hits a homerun for any true baseball fan or T-ballplayer.
You'll need to rummage around at some old baseball diamonds, thrift stores, or eBay, but once you find your pallet wood and however many baseballs you want, you'll be set. Grab a drill and sander for this intermediate skill level fan-favorite.
Via Bower Power Blog
Crafty Individual Hat Stands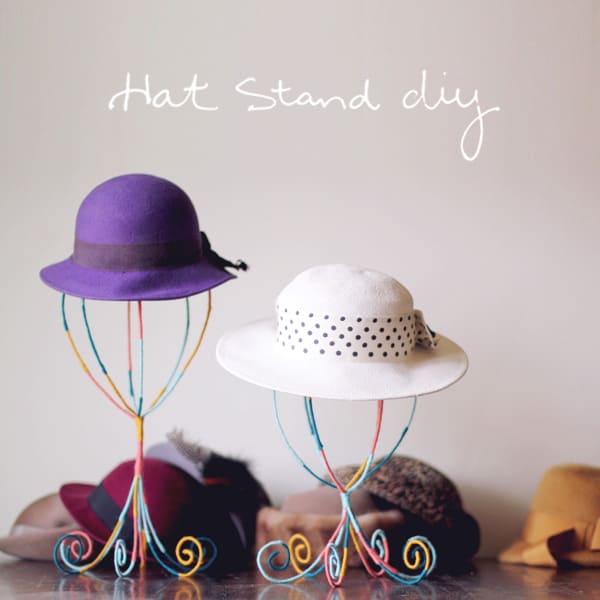 Finally, for the crafty hat collector, these individual hat stands are the end-all for keeping your hats in check. Not only are they adorable, but they're great for keeping the perfect shape for your vintage, straw, and felt hats.
Via Making Nice in the Midwest
Decisions, Decisions: Which DIY Hat Rack is For You?
With these 22 options for DIY hat racks, you're bound to find at least a few you won't be able to decide between.
Just take a couple of days, price the supplies, peruse some thrift stores and flea markets, and soon you'll know which one is perfect for your home. Or, if you really can't decide, make a couple. After all, you can never have too many hats.