35 DIY Wine Racks For Storage, Display, & Functionality
A well-made wine rack is a functional place to store your vino and a design piece to add to your home.
Also, many retailers offer discounts to shoppers who buy several bottles at once, so having a wine rack in the home gives you a spot to put all that product.
Another way to get a discount? Making a DIY wine rack. You can create a rack that suits your needs while also saving money.
Overhead Wine Rack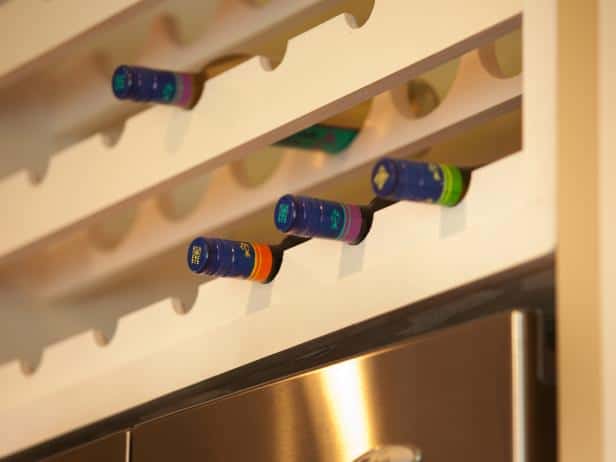 If you have a little usable space over the fridge, or somewhere else in your kitchen, it's the perfect spot to add a wine rack!
This overhead rack is super simple and provides a lot of storage.
How to Build a Custom Wine Rack by DIY Network
Wine & Glass Rack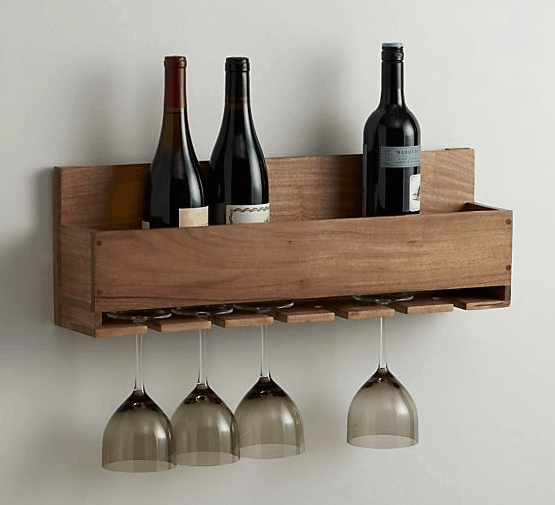 Cabinet space can be a hot commodity, so anything you can do to open up some space is helpful.
This wine rack will house not only bottles but some glasses, too, so you can save your cabinets for things that aren't pretty enough to be out on display.
DIY Wine Rack by Jen Woodhouse
Stylish Wall Rack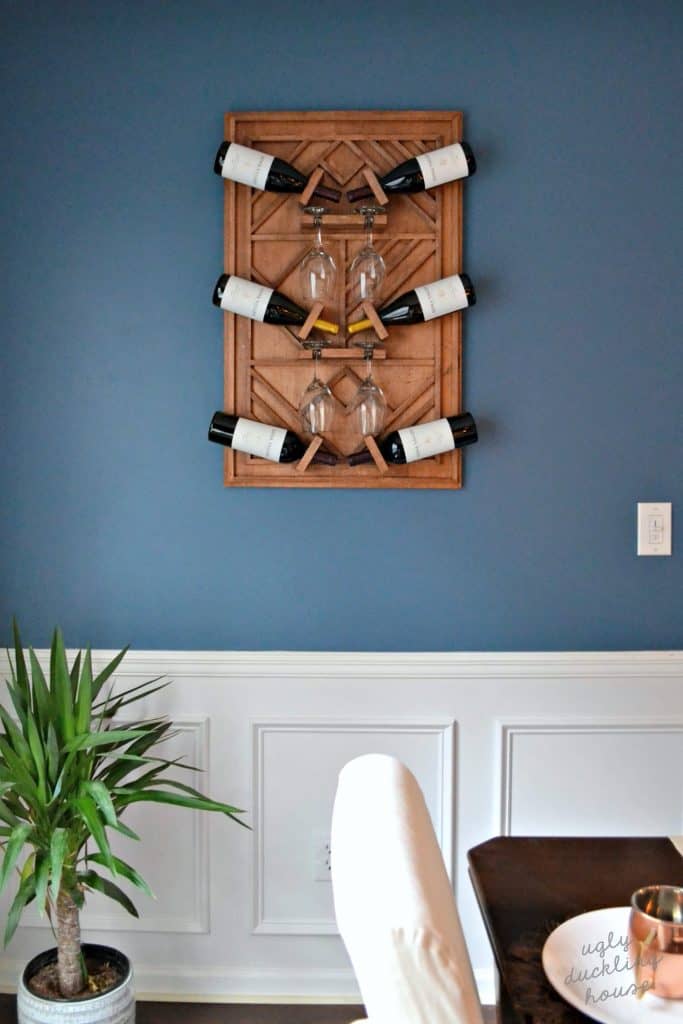 Who knew a wine rack could be a work of art?!
This is a strikingly beautiful wine rack, but surprisingly easy to make! If nothing else, it's a great inspiration for something all your own.
DIY Plywood Art Wine Rack by Ugly Duckling House
X Shelf Rack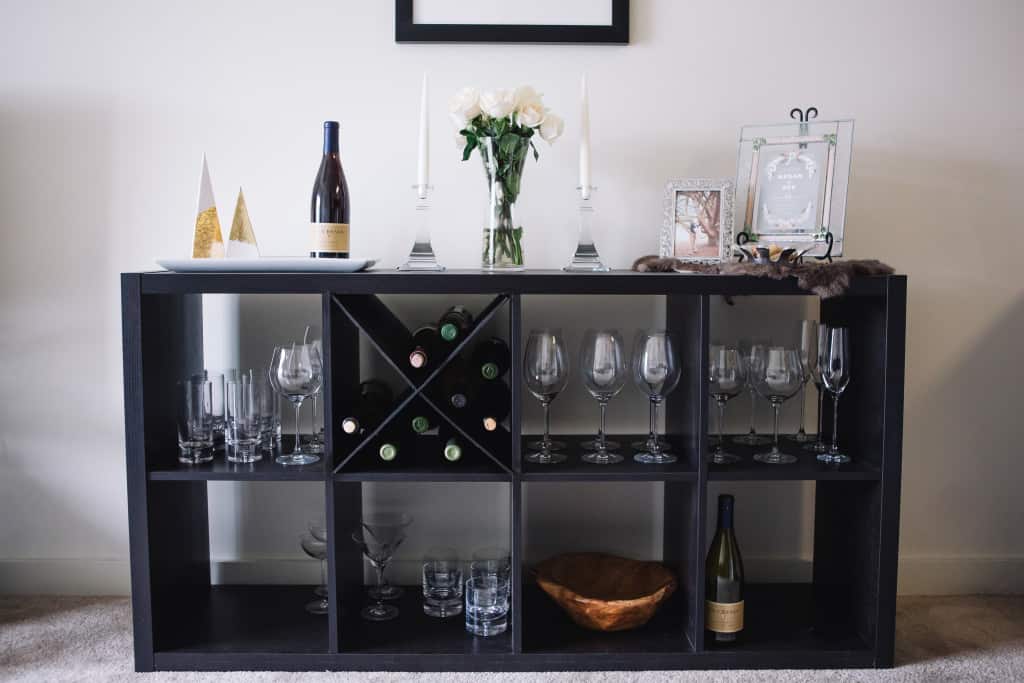 This wine rack was made using an inexpensive IKEA shelf and simply adding an X design to one of the cubes.
If you're lacking on space, you can also create the same rack without the shelf by adding four sides to the X.
DIY Wine Rack by La Crema
Minimalist Wine Rack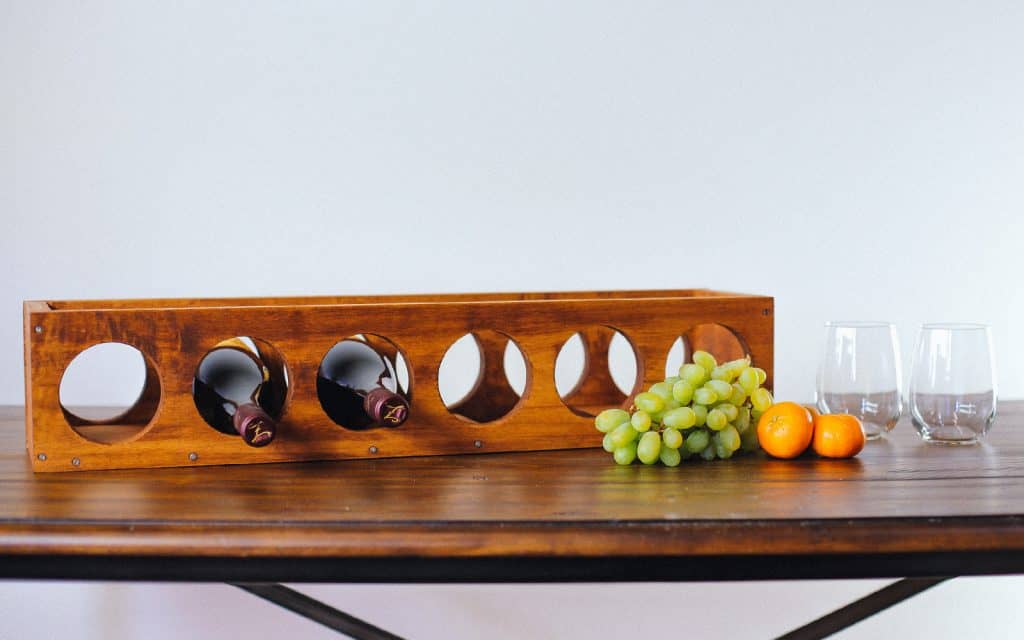 You can make this rack a centerpiece on a table, store it on top of the fridge, or set it on the counter. It's small and versatile.
It's also really easy to make! Even a beginner can recreate it.
DIY Wine Rack by Dunn DIY
Funky Wine Rack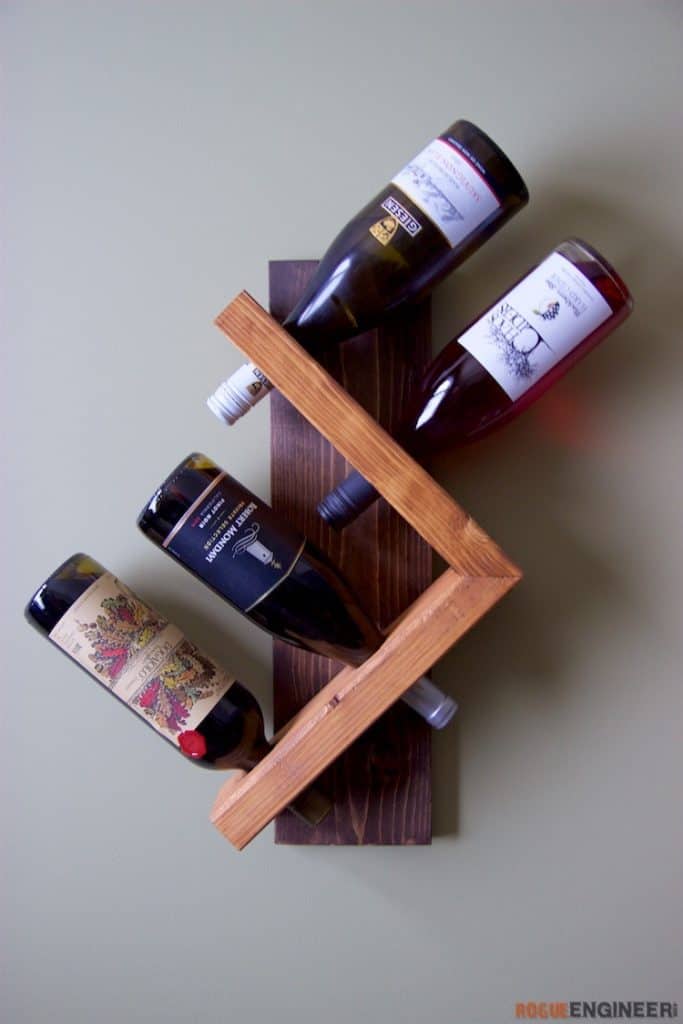 Anyone who likes things to have a little edge and uniqueness to them would love this blogger's take on the traditional wall-mounted wine rack.
You may need a little engineering skill to make this rack, but the end result is worth the extra time.
Wall Wine Holder by Rouge Engineer
Pallet Wine Rack
This is another rack that holds the wine itself as well as some stem wine glasses.
Even better, it's made from a pallet! You'll get a worn, rustic look and have easy access to your vino!
Pallet Wine Rack by Instructables
High Volume Rack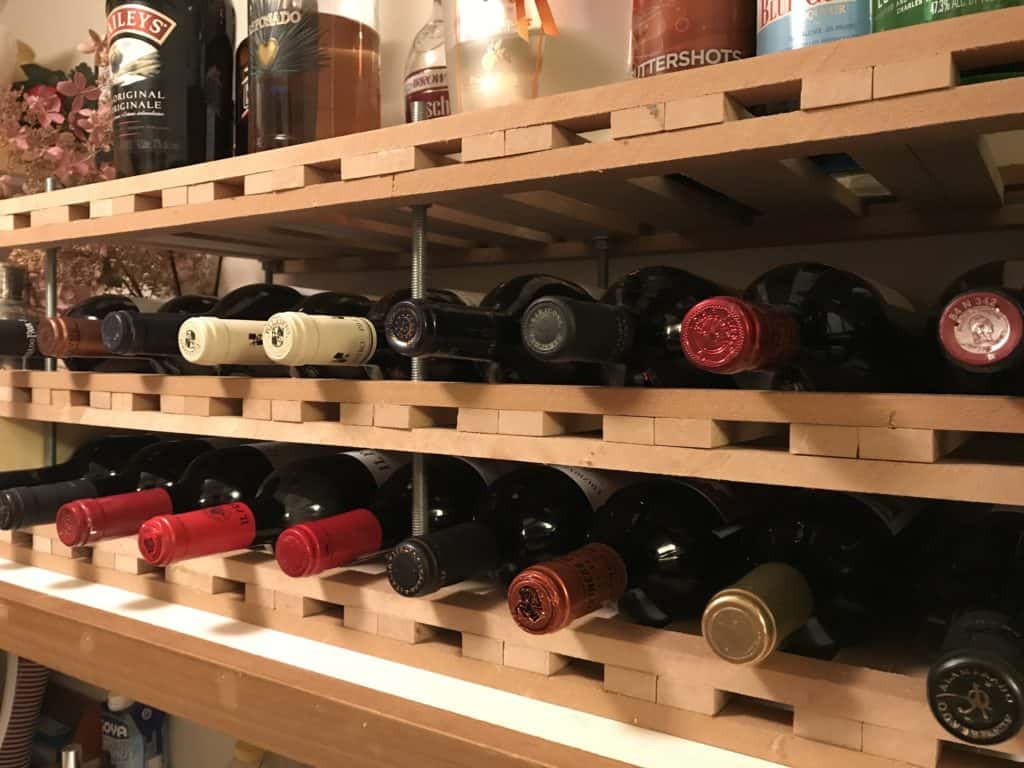 This blogger created a rack that works for both wine and liquor bottles and can be put in a pantry for storage.
It's unique, functional, and really easy to make. What more could you ask for?
DIY Wall Rack by Scott Dawson
Industrial Wine Rack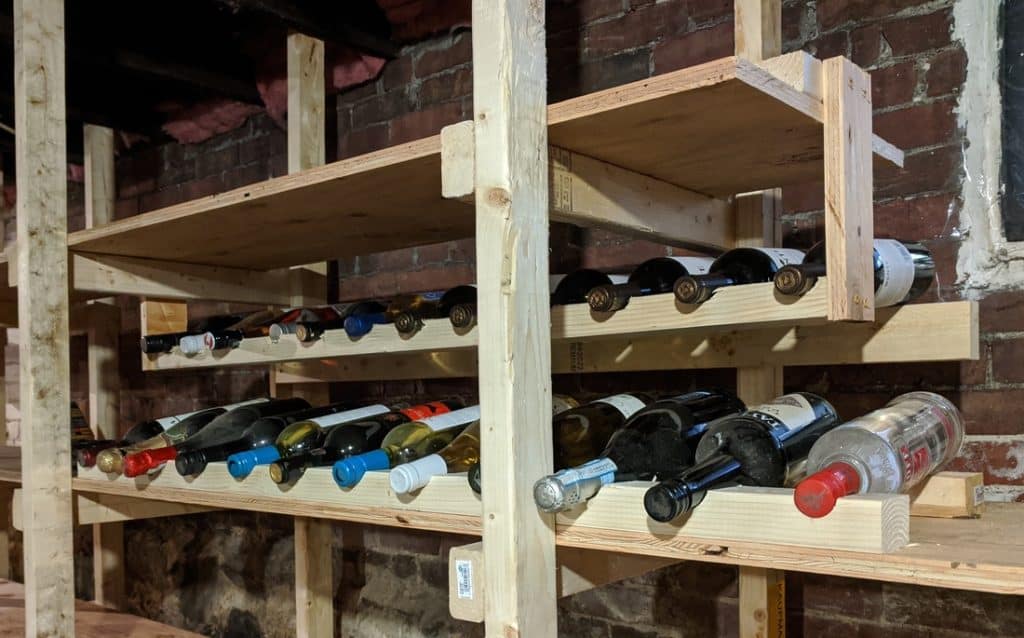 If you simply need a place to store a few bottles of wine, but have no interest in displaying them, this industrial wine rack is perfect.
It may not be the prettiest rack, but it's functional and will hold a *lot* of wine.
DIY Wine Rack by Jeff Kaufman
Shelf-Style Wine Rack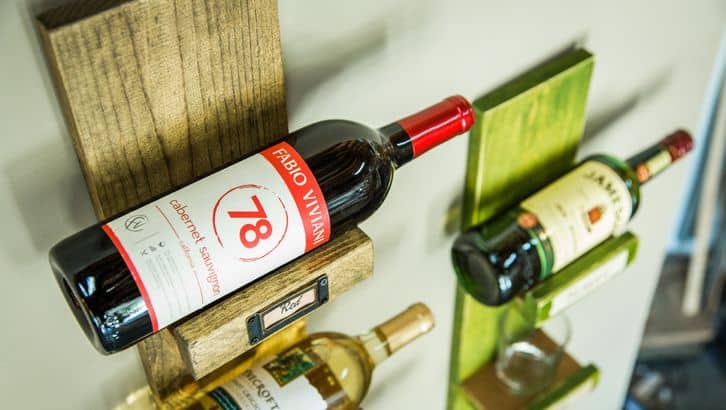 Upon first glance, this rack looks like the bottle will roll right off, but don't worry, it won't.
You can learn how to make this sleek wine rack by following the tutorial on the Hallmark Channel website.
How To: DIY Wine Rack by Hallmark Channel
PVC Pipe Wine Rack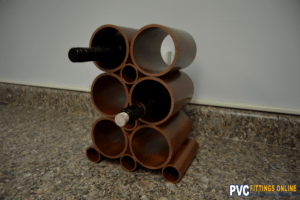 Anything you can make with PVC pipes is going to look unique, and save you some serious money.
This wine rack is no different! Plus, you can spray paint it any color you want to match your home's aesthetic and decor.
DIY PVC Wine Rack by PVC Fittings
Rustic With A Touch Of Copper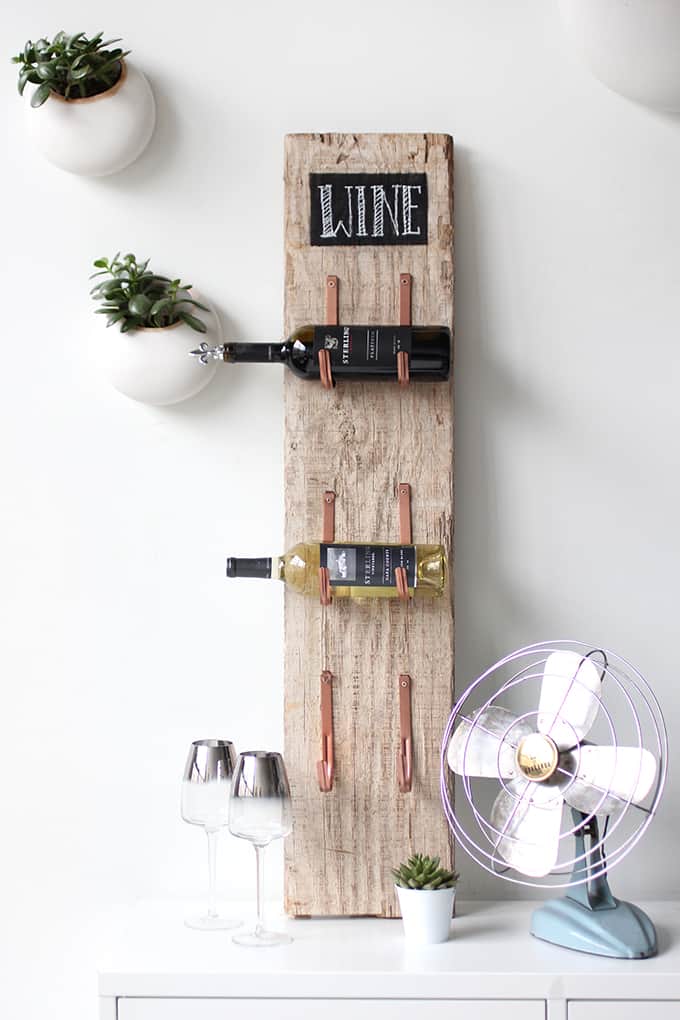 Combining wood and metal isn't a new trend, but it's always so exciting to find a piece of decor that mixes them in a surprising way.
This rustic wine rack has a touch of glam thanks to the copper additions. It takes farmhouse chic to a whole new level.
My DIY Barn Wood Wine Rack by I Spy DIY
Unique Wine Rack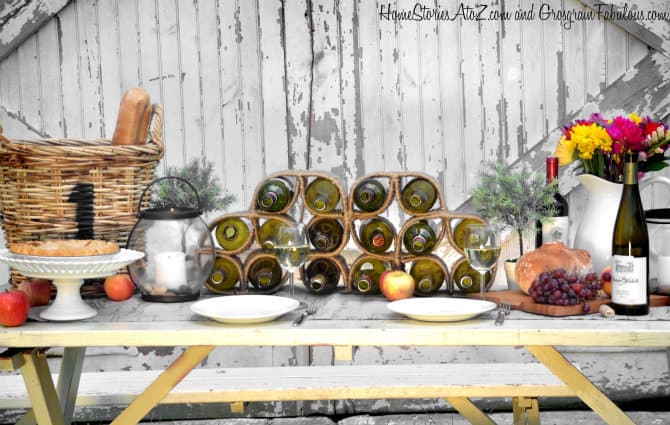 If you're not a fan of wood or metal, check out this wine rack!
The bloggers at Home Stories A to Z provide a step-by-step guide to recreating this unique and fun wine rack.
DIY Wine Rack by Home Stories A to Z
Small Space Wine Rack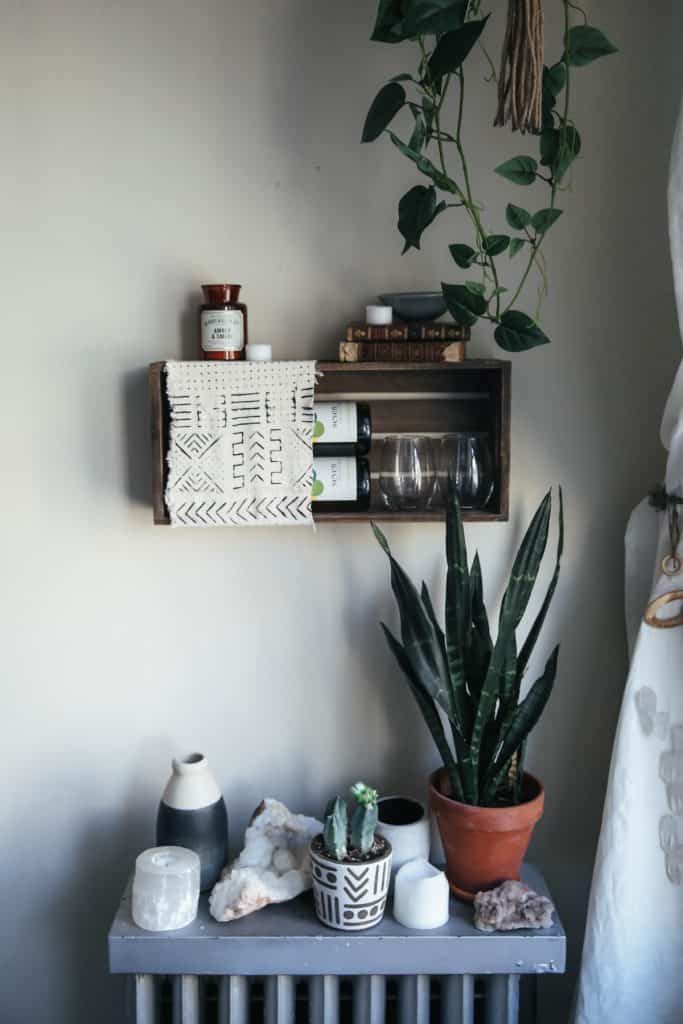 Saving space is the primary purpose of having a wine rack, so it only makes sense that there be an option for wine storage in a small space.
This wine rack has a little added fun thanks to the fabric curtain added to it. You can easily modify this to make it perfect for your own space.
DIY Wine Rack for Small Spaces by Advice from a Twenty Something
Wood and Brass Rack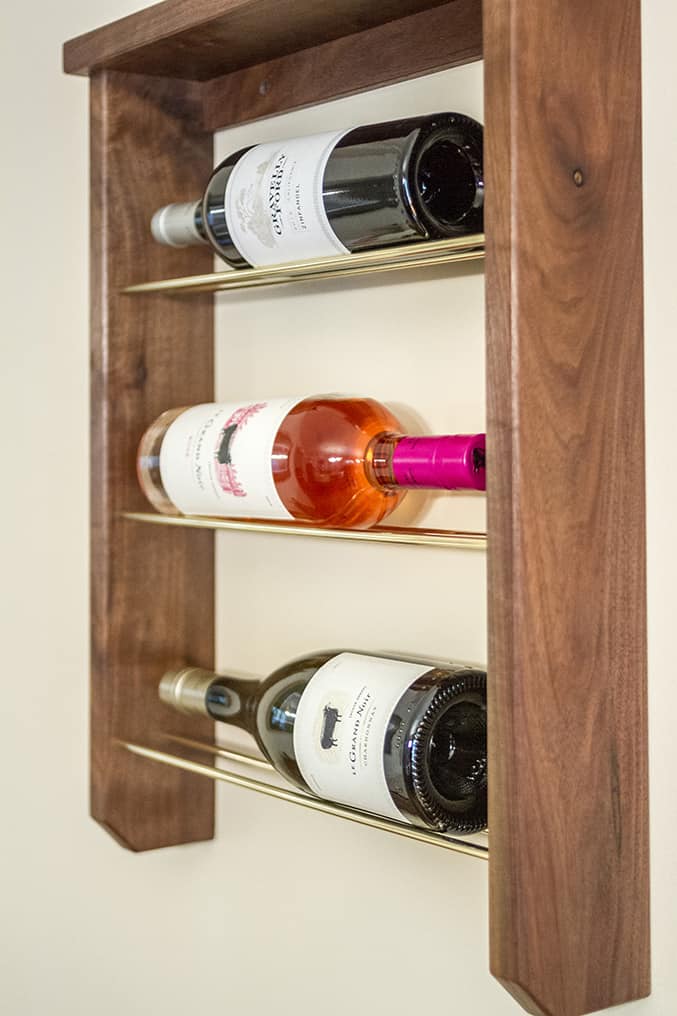 If there is any way to describe how beautiful this DIY wine rack is, it's simply by using the heart-eyes emoji.
Seriously, this rack has a gorgeous blend of rustic and chic with the brass rods. It's warm, pretty, and a lovely spot to rest your favorite bottles of wine.
DIY Wood and Brass Wine Rack by Dream Green DIY
Countertop Wine Rack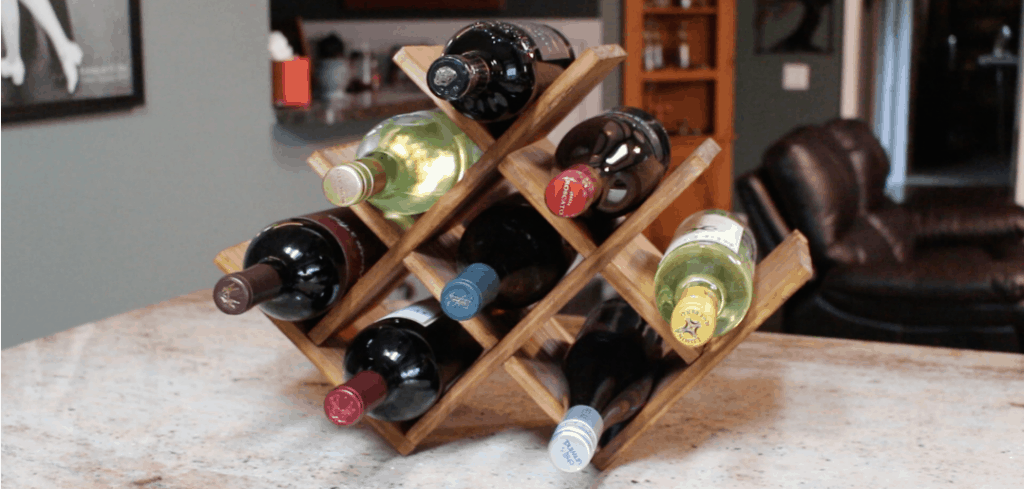 If you're lucky enough to have some spare counter space, you should consider filling it with this DIY wine rack.
It may look complicated, but it's actually a very simple design and provides a lot of storage space.
DIY Countertop Wine Rack by Wilker Do's
Small Tabletop Wine Rack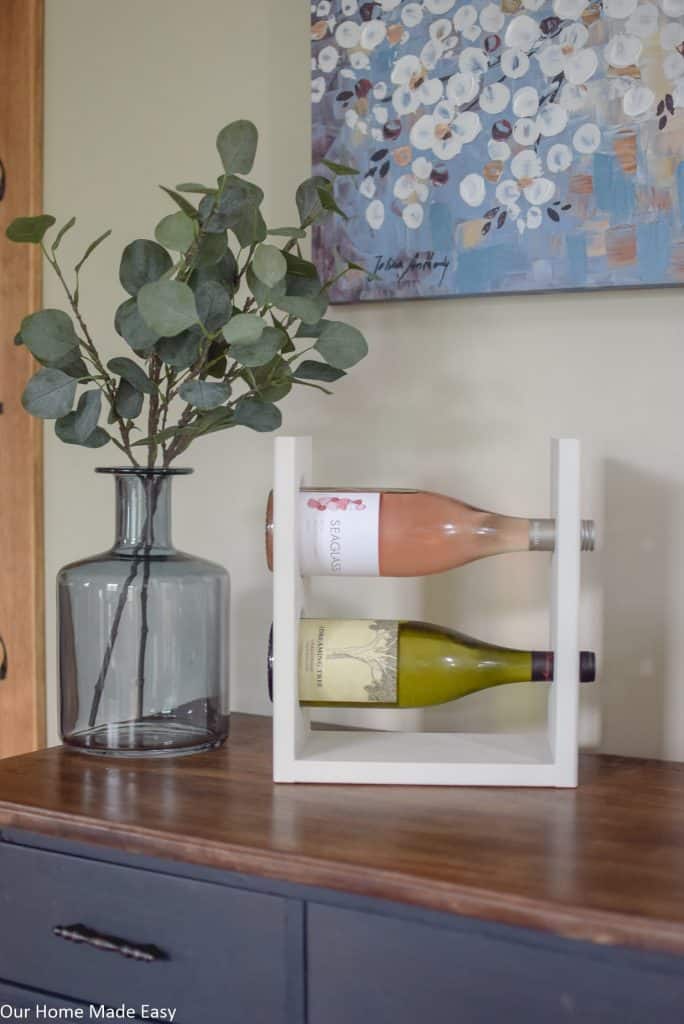 Anyone who enjoys hosting dinner parties could benefit from this simple, but brilliant wine rack.
It's a great way to have bottles of wine be easily accessible for guests without taking up a ton of space. Plus, it's a great conversation starter for the introverts at the table.
Easy DIY Wine Rack for a Tabletop by Our Home Made Easy
Tall Wine Rack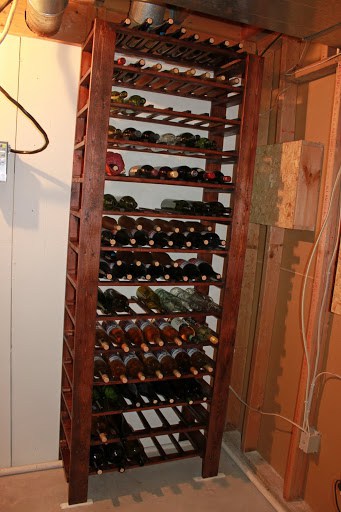 If you're someone who really loves to stock up on wine, and even your regular-size wine rack is overflowing, this is the design for you.
You can modify it to your needs, but this is about as big and beautiful as it gets!
DIY Build Your Own Wine Rack by Between 3 Sisters
Sleek and Chic Wine Rack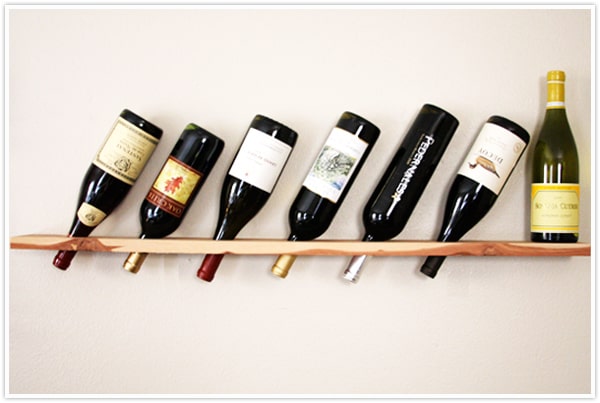 Even the most novice DIYer can recreate this wine rack, and they'll be happy they did!
It's such a fun spin on an otherwise very common piece of decor/storage, and will only add to a home's overall design.
Wood Plank Wine Rack by Camile Styles
Floating Bottles Illusion Rack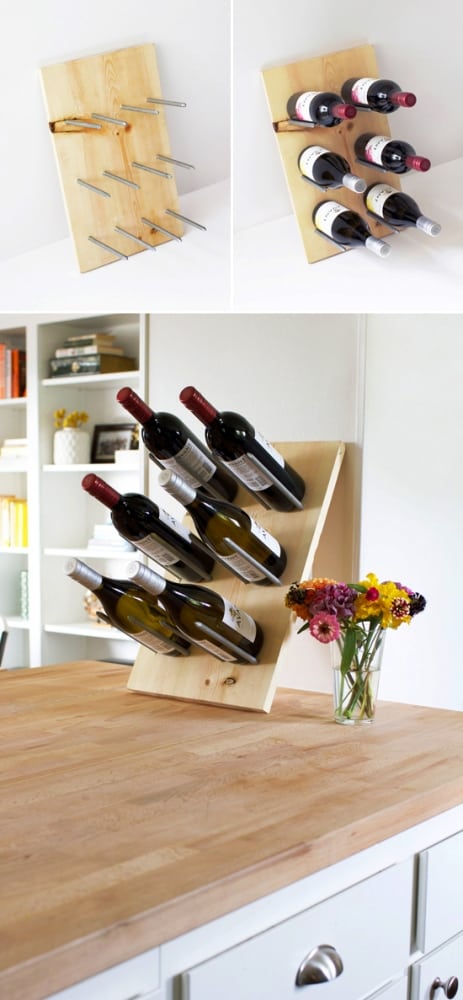 Upon first glance, these bottles look like they're levitating. Thankfully, they're not, but it does make for a fun statement piece.
Even better? This rack is super easy to make and holds six full bottles of wine.
The Easiest DIY Wine Rack by At Home In Love
Wine Rack Book Ends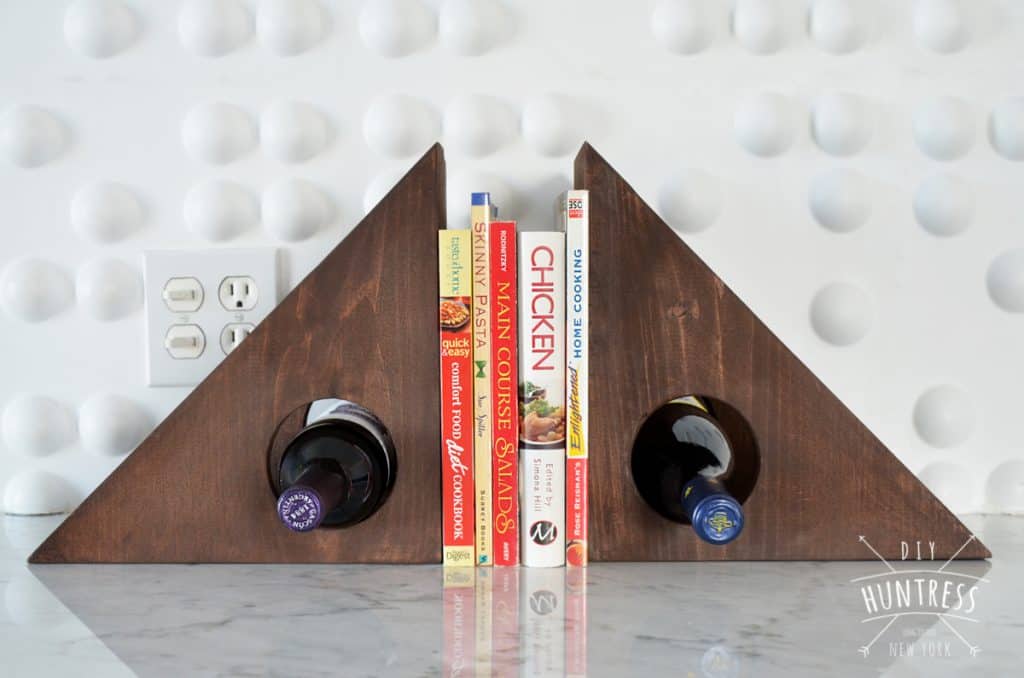 Love wine? Love books? Why not put those two great loves together?
This "wine rack" isn't going to store a ton of vino for you, but looks really good with the two it can hold!
DIY Wine Rack Book Ends by Build Something
Upcycled Cans Wine Rack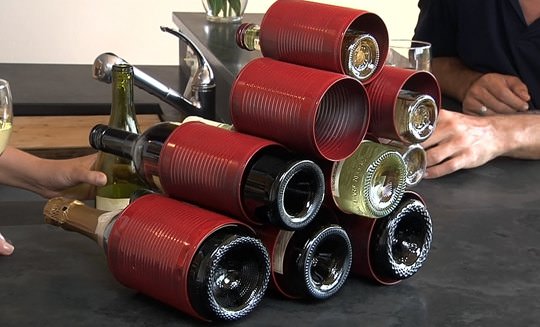 Into more unique pieces? Grab some discarded soup cans and some spray paint, and you can make a one-of-a-kind wine rack.
This blogger did just that, and the result is different, environmentally-friendly, and pretty!
DIY Wine Rack with Cans by Recylart
Pottery Barn Inspired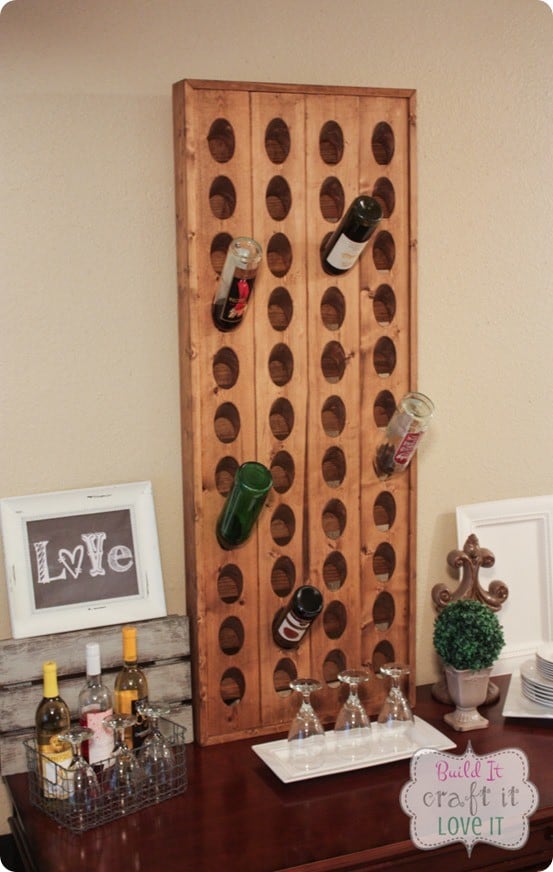 High-end retailers make very pretty, trendy pieces, but they're often not exactly easy on the budget.
Thankfully, there are bloggers who go out of their way to recreate these pieces in cost-efficient ways. Just like this gorgeous Pottery Barn inspired wine rack.
Wooden Wine Bottle Wall Rack by Knock Off Decor
Pipe and Leather Rack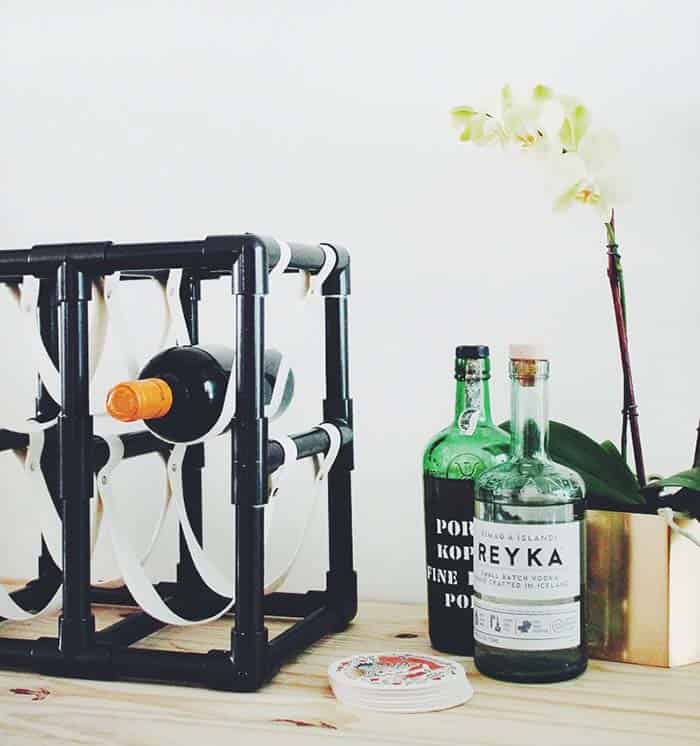 This wine rack was made from PVC pipes and leather straps. It's different, customizable, and functional!
To make it look a little more high end, consider spray painting the pipes gold and using black leather straps.
DIY Project: Pipe + Leather Wine Rack by Design Sponge
Hanging Bottles Wine Rack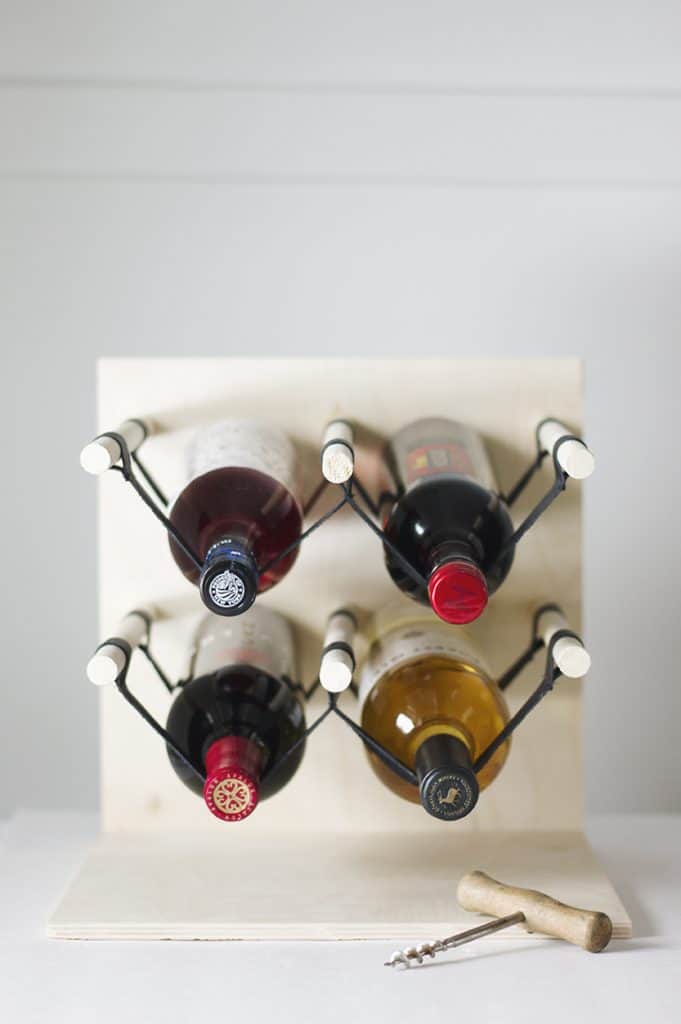 It's like a pegboard for wine bottles!
You can easily recreate this fun DIY wine rack, and customize it even more by making small adjustments to the wood finish, size, or leather color.
DIY Wood & Leather Wine Rack by The Merry Thought
Repurposed Dresser Wine Rack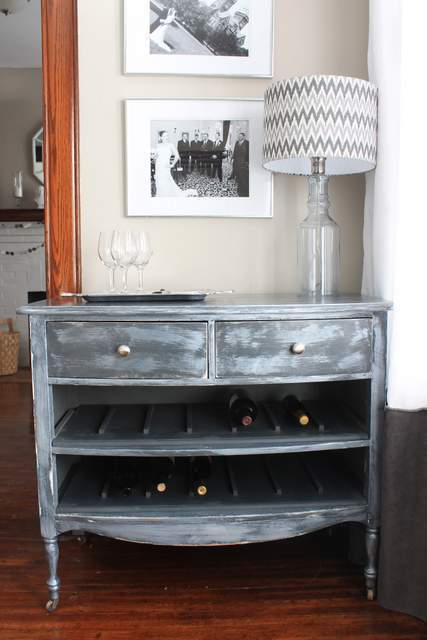 If you have a bare wall in your house you just don't know what to do with – here's an idea!
Head over to your thrift store and get an old dresser to convert into a wine rack/bar combo!
DIY Unique Wine Rack by Pretty Handy Girl
Built-In Wine Rack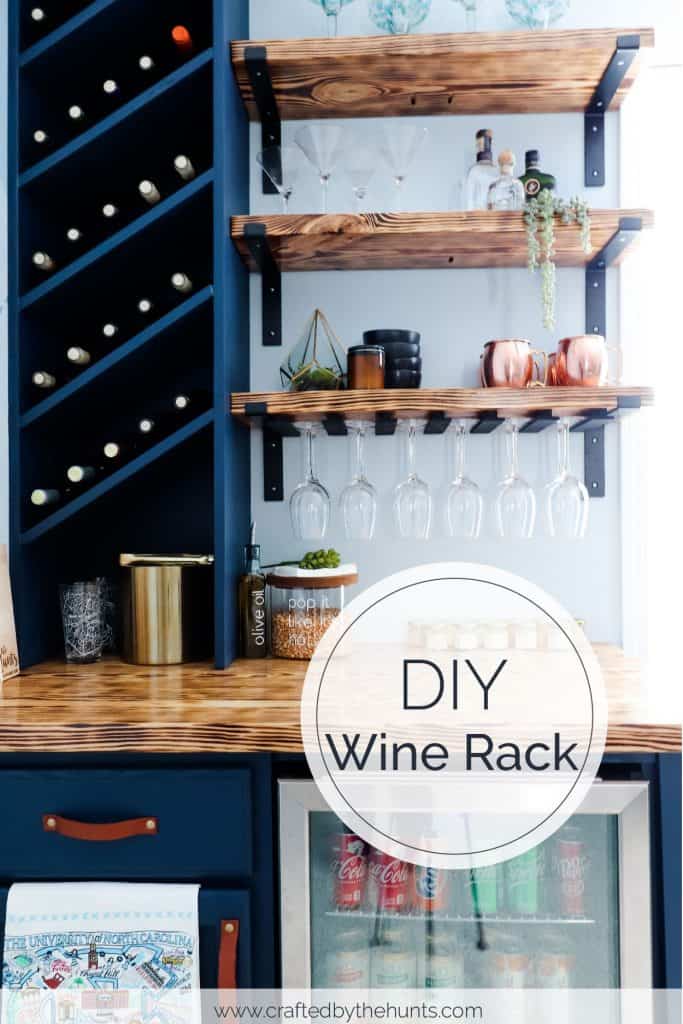 This built-in wine rack is another great example of using empty space to your advantage.
It's unique, stylish, and holds a lot of wine without making the space feel cluttered. It's a great inspiration for something similar in your home!
DIY Built-In Wine Rack by Crafted by the Hunts
Grid Wine Rack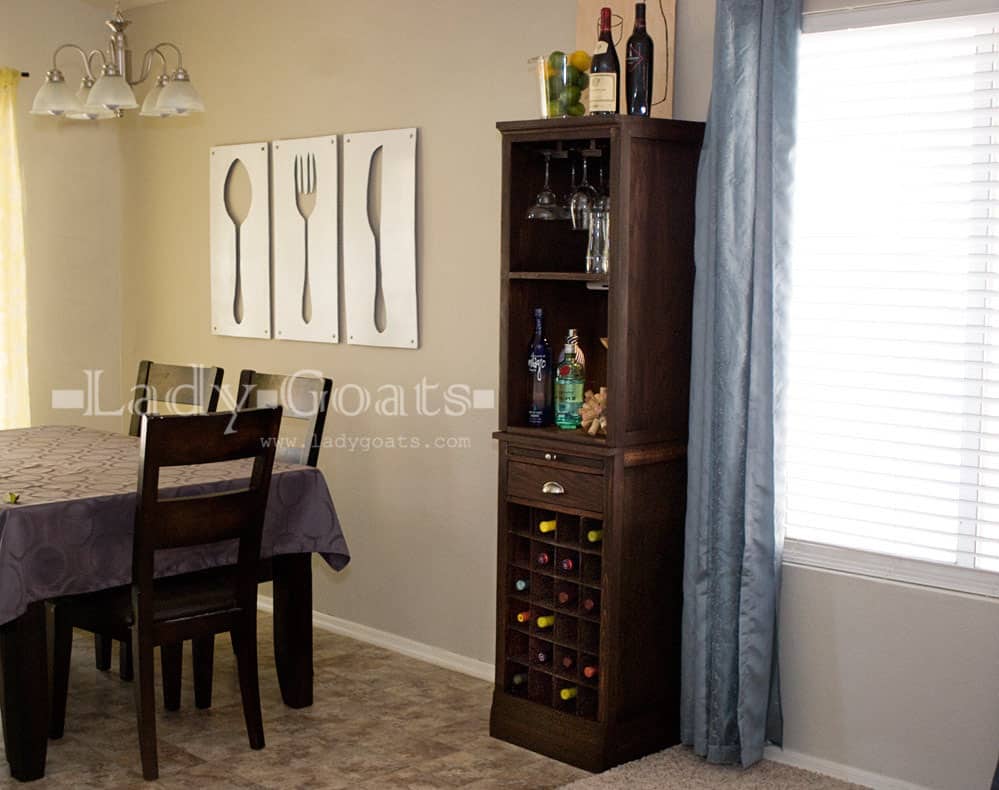 A little wine and liquor hutch is the perfect spot to pour yourself a nightcap after a long day.
You can recreate this one, which has a grid-style wine rack built-in, by following the tutorial on the Ana White website.
Mod Bar – Wine Grid by Ana White
Cabinet Wine Rack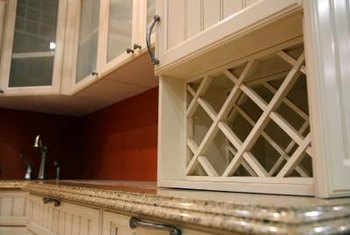 You can build a wine rack right into your cabinets using this website's tutorial.
By the time you're done, it will look like it was custom-made when the cabinets were put in, and will give your kitchen a more upgraded look.
How to Make a Wine Rack for a Small Cabinet by SFGate
Metallic Wine Rack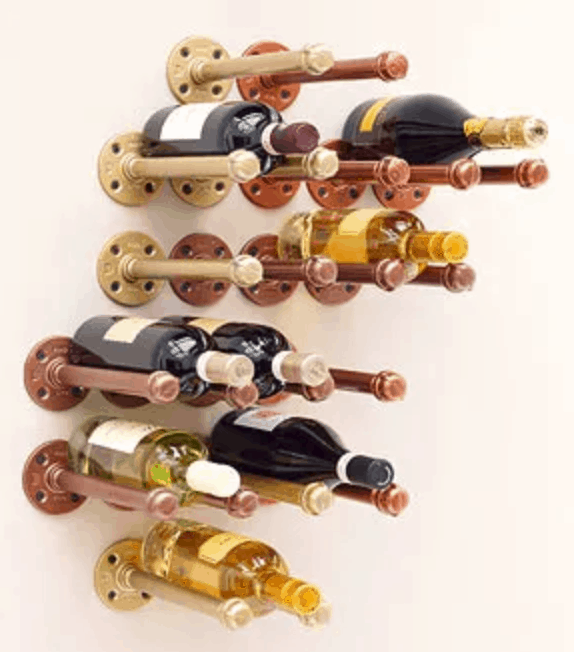 You don't even have to touch a piece of wood to recreate this beauty!
All this "rack" is are some strategically placed, spray painted metal pegs. It's such a fun twist on a traditional wine rack.
Danny Seo's DIY Wine Rack by Rachael Ray Magazine
Planter Box Wine Rack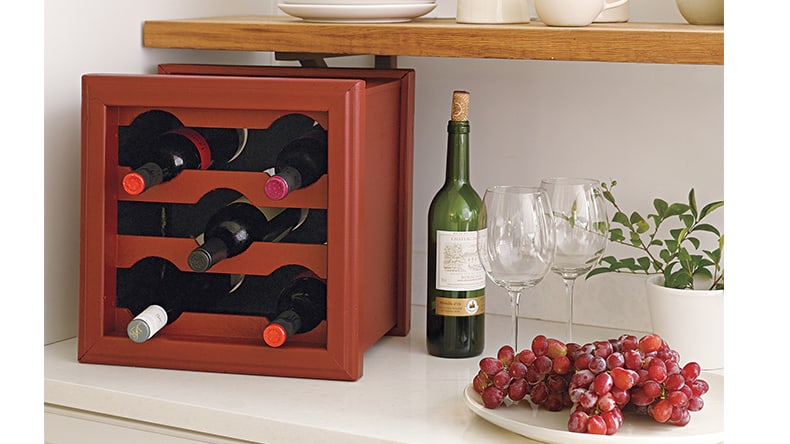 Creating something new out of an already existing item is always a little extra fun.
You can do just that by turning a planter box into a wine rack using the tutorial by House One.
DIY Wood Wine Rack by House One
Wall-Mounted Hexagon Rack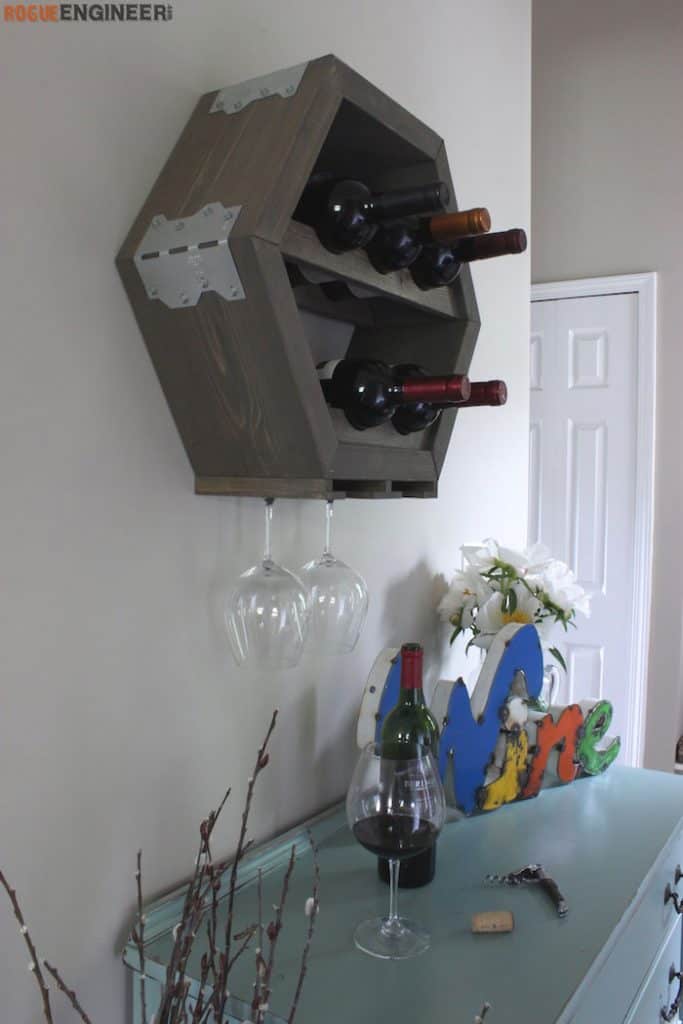 This wine rack has so many special touches from the shape, to the shelves themselves, to touches of metal to give it a little bit of an industrial vibe.
You can recreate this shelf using the guide on Building Strong.
DIY: How to Build an Industrial Wine Rack by Building Strong
Cute and Classic Wine Rack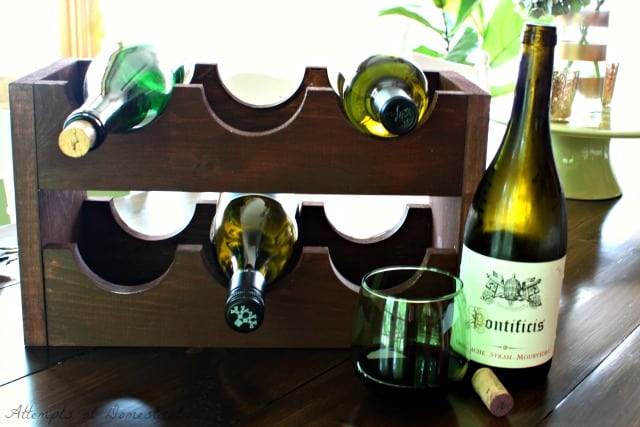 They say there's no reason to try to recreate the wheel, and this is essentially the wine rack version of that sentiment.
It's a classic design, but it's easy to make and has a nice, finished result.
DIY Wine Rack by Attempts at Domestication
Single Bottle Rack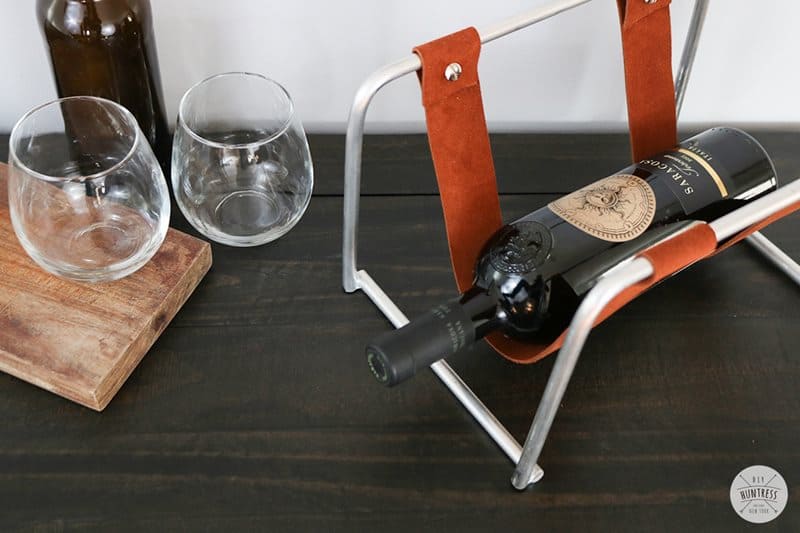 This is another option for a way to display wine during a nice dinner party.
It's a very basic design, but the leather slings give it some extra glam and sophistication.
DIY Metal & Leather Wine Rack by Bernzomatic
Copper Metal Wine Rack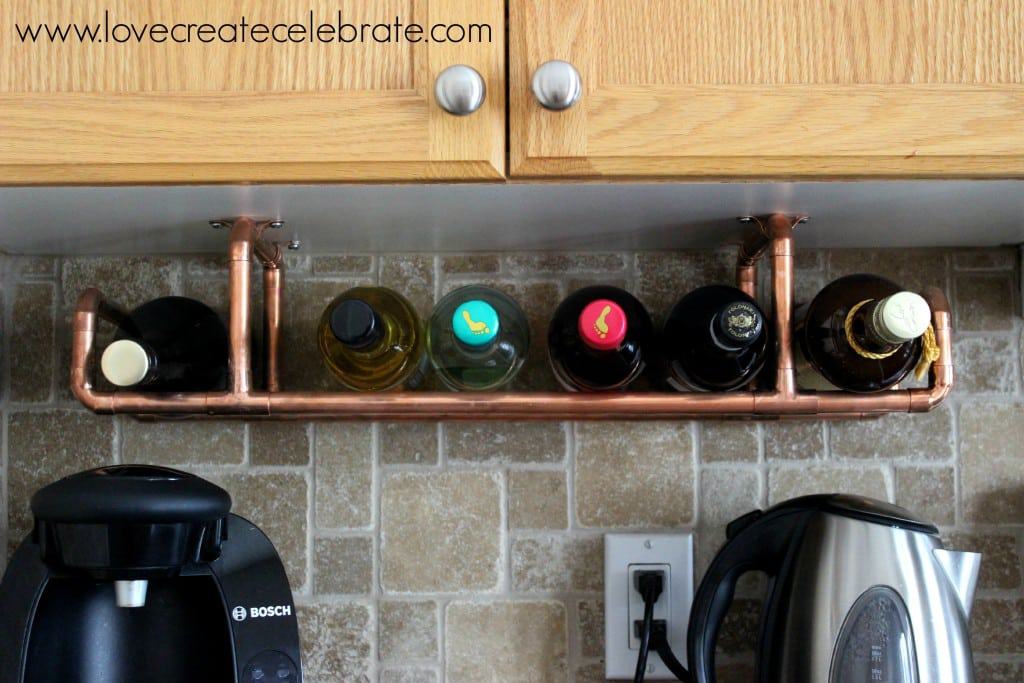 Adding a little copper into your decor is always a good idea, but adding it as a way to hold wine?! Brilliant.
There's no woodworking skill necessary for this rack, just a little elbow grease, and tools to install the piece. It's customizable to fit your space and your wine storage needs.
Copper Wine Rack by Love Create Celebrate
Conclusion
Sure, you can just store your bottles of vino in the garage until you're ready to use them, but then you risk accidentally knocking one over and missing out on that delicious dessert wine you had been waiting to open for a special occasion.
Instead, just make a DIY wine rack like one of these. You can fill up some empty space in the house, have easy access to your beverage of choice, and know that your wine is safe from harm. Not to mention, making a wine rack isn't a bad way to spend a Saturday afternoon!