30 Amazing Fireplace Remodel Ideas
By: Desert Domicile Team
|
If you want to renovate your fireplace, there are so many gorgeous and exciting ideas out there. In this article, there are 30 amazing ideas for remodeling your fireplace, each one different than the last.
Fireplaces can be anything from a contemporary and modern part of a room that blends into the background or they can act as the focal point of a space; it all depends on what you want for your home and decor style.
Get a Wall-Mounted Fireplace With No Mantel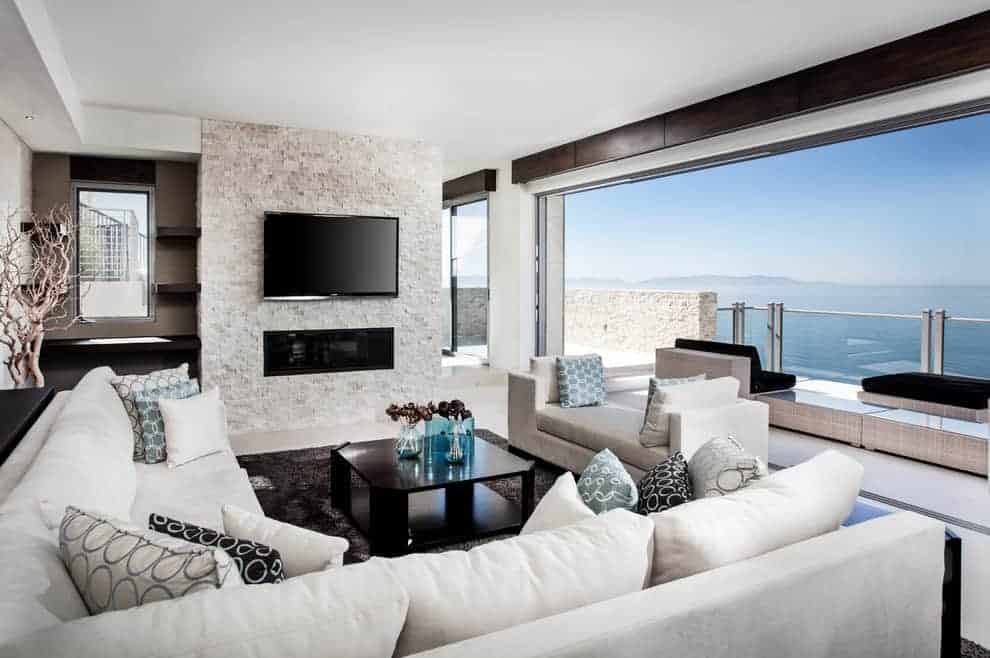 When we think of fireplaces, we tend to usually think of the traditional appearance, with a brick chimney and mantel. However, it's possible to go for a more contemporary look and get rid of the mantel altogether.
In this example, we can see that the electric fireplace is wall-mounted, which eliminates the need for a chimney. It also ensures that your wall stays sleek and smooth to make the room appear larger and less cluttered.
Create a Full Wall For a Brick Fireplace Unit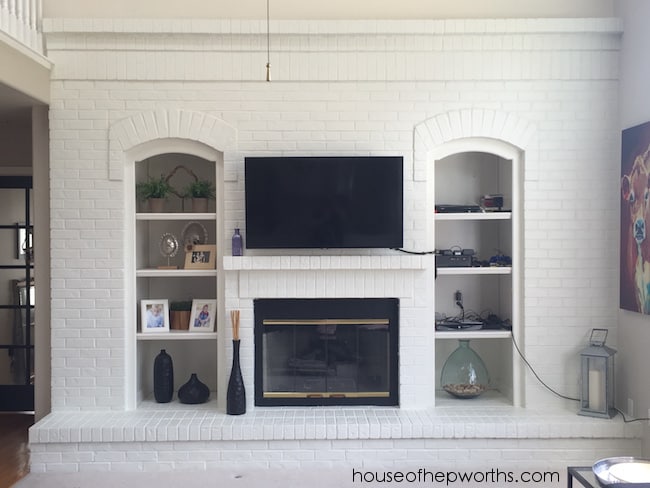 I love that this fireplace has been transformed into a full wall unit but it's still very understated and blends into the rest of the room. The white bricks make the whole unit appear calm and soothing in the room, creating a relaxing atmosphere.
The shelves are set up in two tall, narrow columns with arched tops. There is also a narrow mantel for shelving. By keeping the shelves small, it is more low-key and doesn't overwhelm.
Be More Sustainable With an Electric Fireplace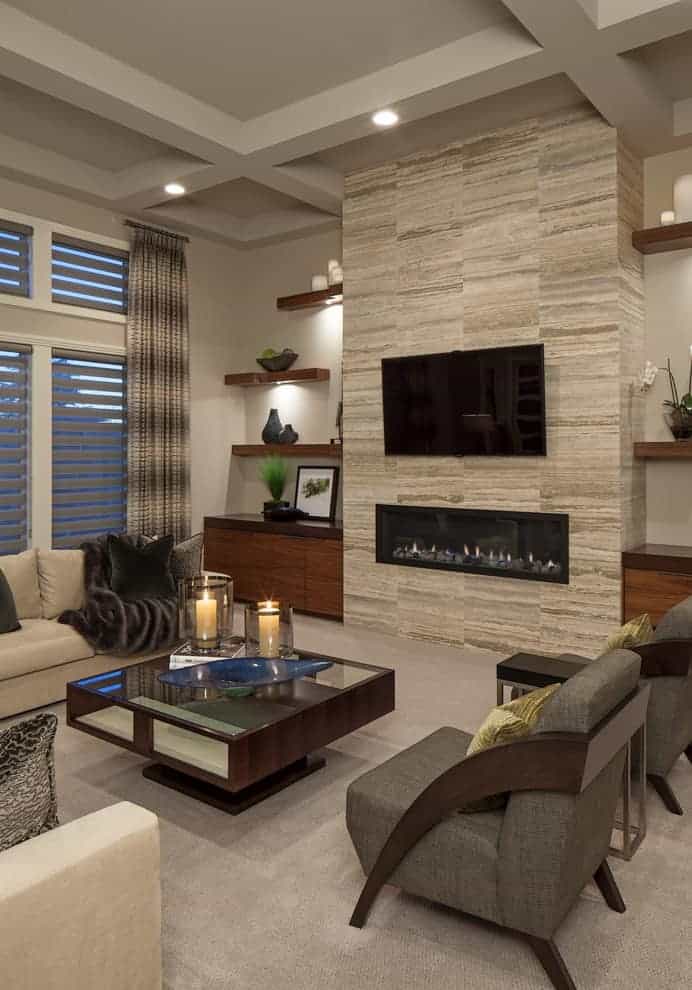 Electric fireplaces are becoming more popular now as environmental friendliness is at the forefront of everyone's minds. They eliminate the need for lumber, there is no smoke or chimney required, and they are made in high quality to make sure your fireplace appears natural.
This type of linear fireplace looks great in a modern living room because it is long and thin, emphasizing the sleek, straight lines of the room.
Go Contemporary With a Fireplace in the Middle of the Room
Another relatively new trend is placing the fireplace in the middle of the room as a focal point in a column, rather than having it tucked against a wall on one side of the room. This is an excellent idea if you want to have a room divider for an open-space concept home.
The fireplace serves as a partial block in the room while allowing different parts of the home to benefit from its charming appearance.
Make an Accent Wall Gas Fireplace With Reclaimed Wood
This is a gorgeous fireplace remodel idea, with the high ceiling allowing for a large accent wall centered on the fireplace. The whole room is decorated in white and muted tones, which makes the fireplace wall stand out even more.
What I really like is that it's not the usual brick accent wall found around and above fireplaces; instead, some wide rustic planks of wood are used to stunning effect.
Add a Lot of Storage Options for a Modern Look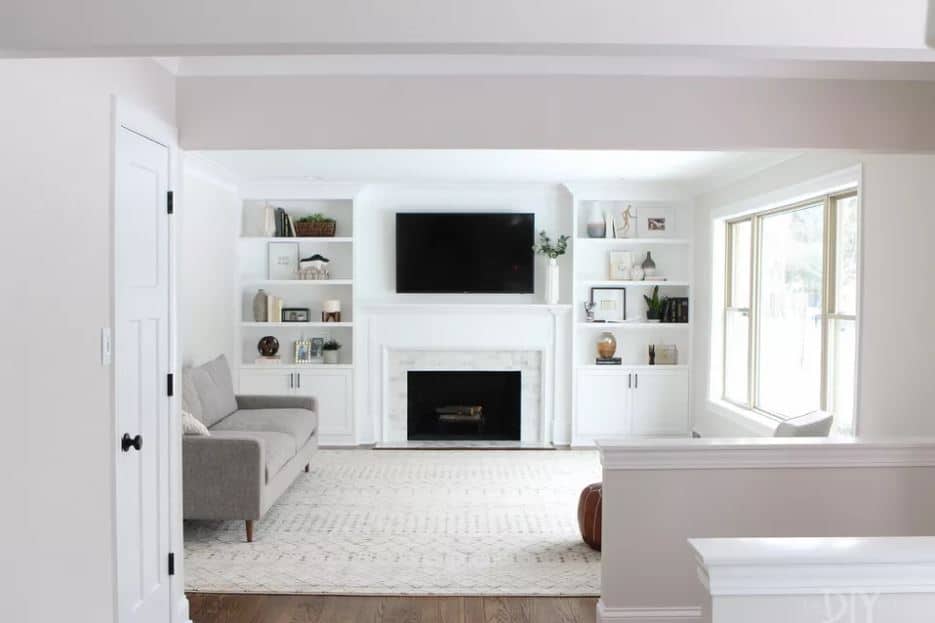 It's quite common to decorate around a fireplace in all white, which helps soften and brighten up the room all at once. If you add lots of shelves on either side, it allows you to keep your mantel free of clutter and the focus on the fireplace.
If this is the look for you, there is a full DIY guide on this site to help you achieve this fireplace renovation yourself.
Create a Round Indoor Firepit For Added Charm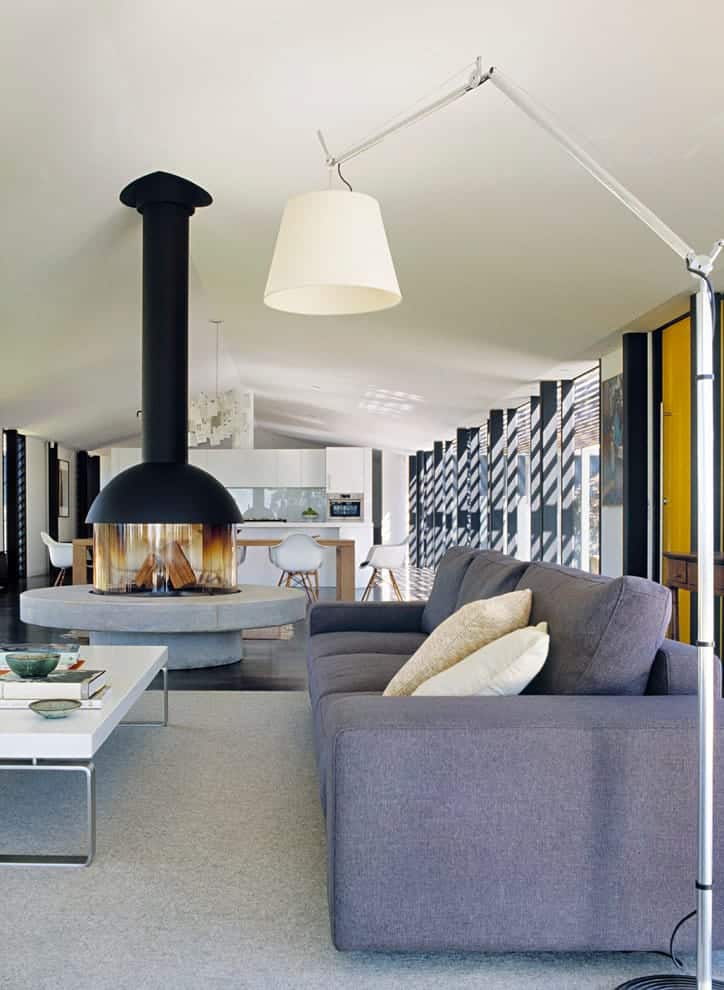 Normally, these types of round firepits are found outdoors in a backyard space, but this one actually works very well inside. The white round marble is set off by the black chimney and it creates a statement in this modern living room.
It's great to have as a room divider or centrally in a living room as a gathering space. Wherever you place it, it's bound to be unique and make a statement.
Make or Buy a Fireplace Cover for Unused Spaces
If you rarely use your fireplace but you're not ready to block it off or remove it, you can get a fireplace cover instead. This type of fireplace renovation is extremely simple, and you can actually make a cover yourself to save money.
This home has decided to place a stack of logs in the fireplace opening, which works well with the theme and the farmhouse style of the room.
Use Messy Mortar to Create the Farmhouse Look
If you're decorating your living room in the farmhouse style of decor, you can add some easy touches to your fireplace makeover to help promote this appearance. One way to do this is to use messy mortar between each fireplace brick to make it less neat and tidy.
As you can see in this example, a simple bit of messy mortar makes the whole fireplace appear more rustic and aged, perfect for the farmhouse vibe.
Stand Out With a Dark Brick Fireplace
Most of the ideas in fireplace makeovers are white or neutral colors, but that doesn't mean you can't go dark if you don't want to. This example is the proof that you can have a dark accent wall without your space looking gloomy.
This full brick wall has been painted dark gray to black but the result is softened thanks to accents like the wooden mantel and artwork above the fireplace.
Add a Thick Antique Wood Mantel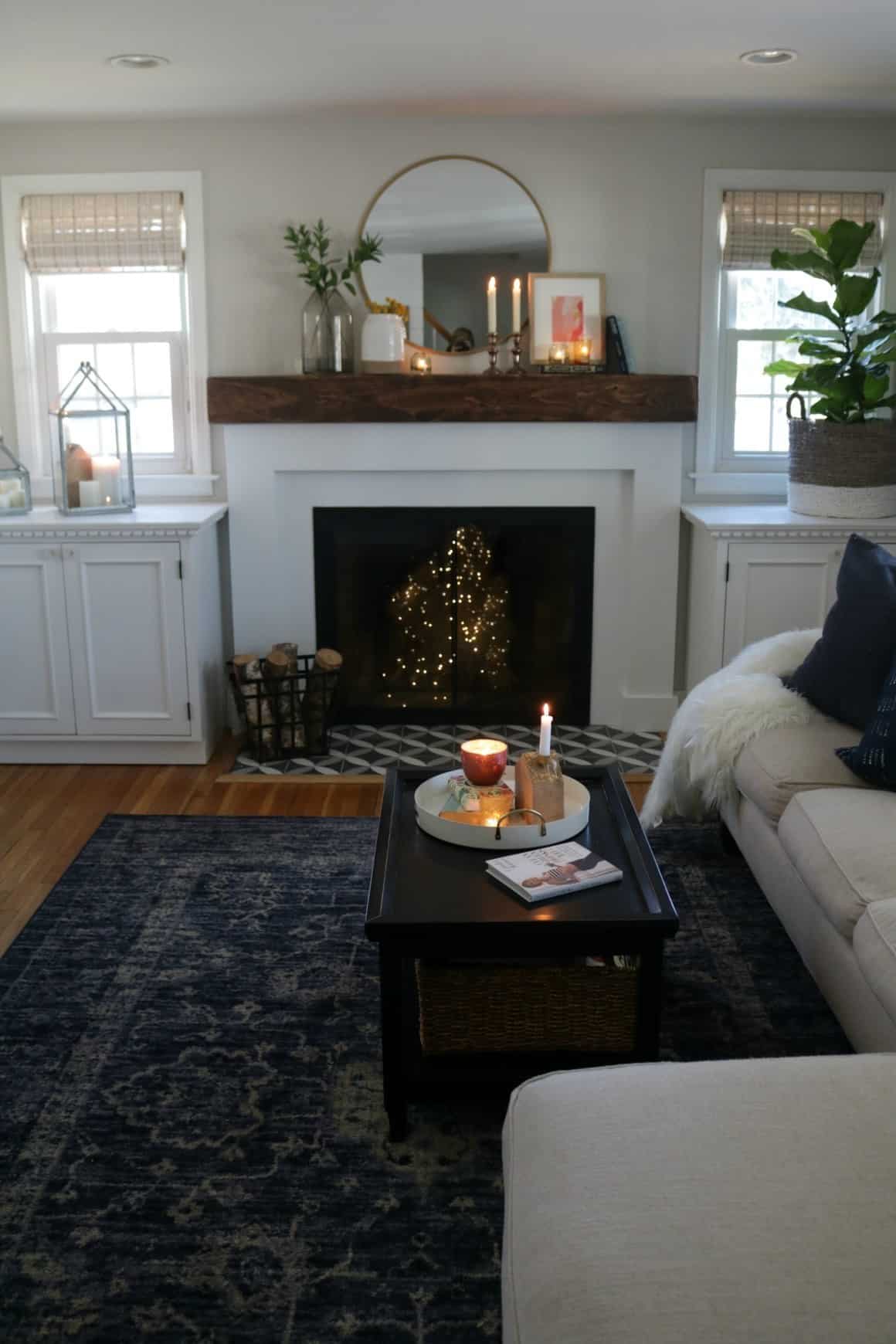 The focus of this fireplace remodel isn't the fireplace itself, but the thick wooden mantel above it. It is made from a dark wood grain to contrast with the white fireplace and is being used to display a mirror, candles, and various decor pieces.
If you want to redo your fireplace but you're on a budget, it's important to think about the small touches and accents too.
Go Modern and Industrial With a Sleek Concrete Fireplace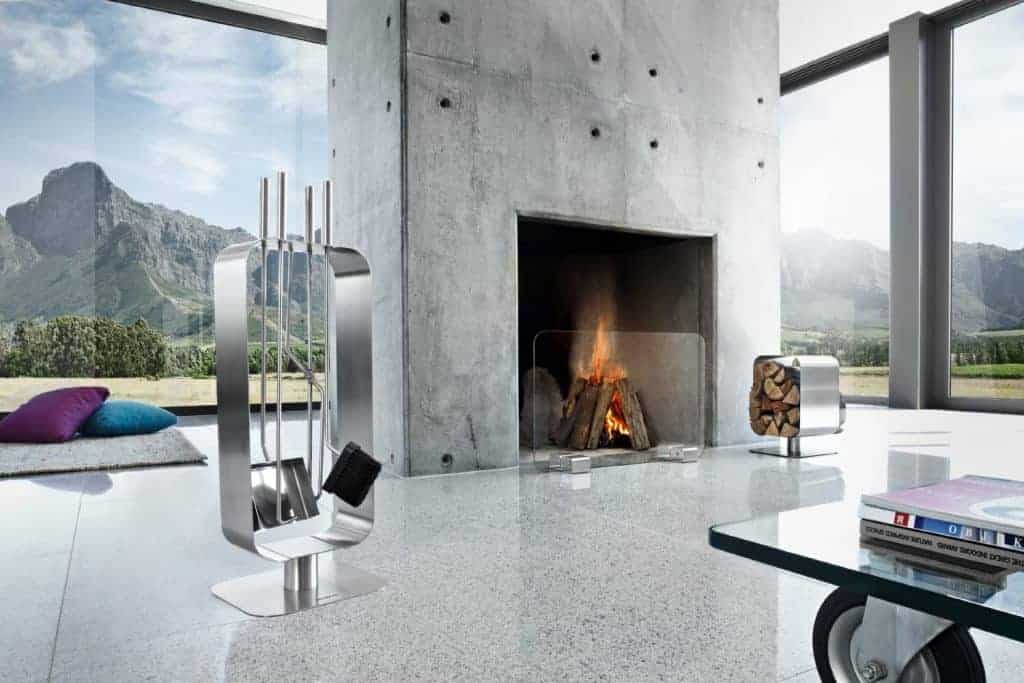 This concrete fireplace is imposing and huge, but it's kept soft and light by the floor to ceiling windows around it. It also works well with the gorgeous view in the background; any extra furniture or clutter would take away from that view.
There are few furnishings around it, making the industrial appearance of the fireplace speak for itself. A glass cover has also been added in front of the fire.
Use Tiling to Make Your Fireplace Stand Out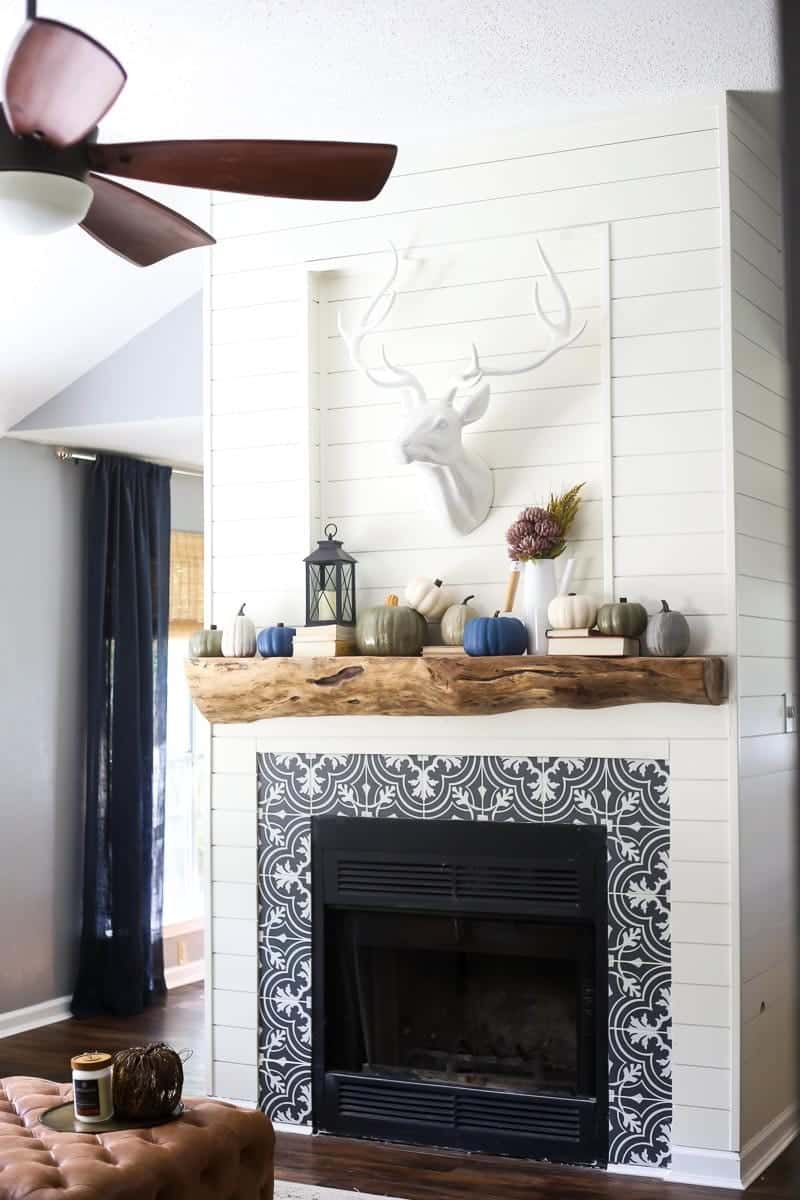 A clever way to make your fireplace stand out is to add a contour of tiles around it. In this example, the tiles are in an interesting black and white geometric pattern, which matches the white of the shiplap walls and the black of the fireplace perfectly.
It's an amazing look, that keeps things simple and low key while adding a flash of personality and style.
Look For a Linear Fireplace For Low Maintenance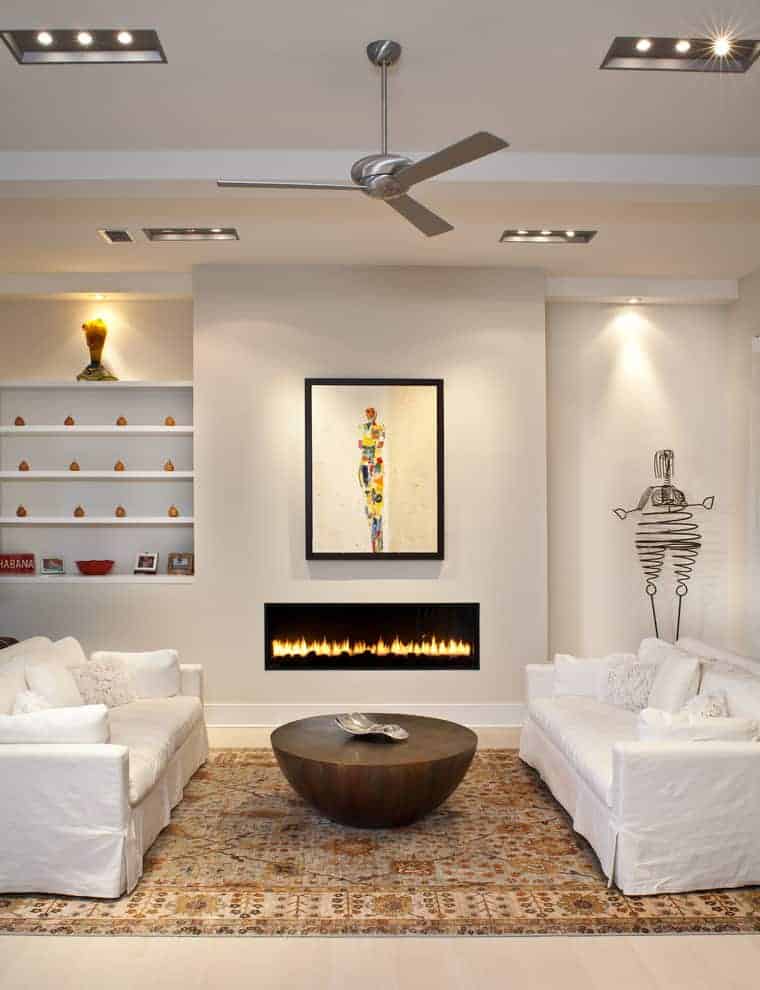 This electric linear fireplace is extremely low maintenance and very understated in the corner of the room. Your fireplace makeover can end up saving you a lot of money if you switch to this type of electric fireplace.
Add a Step With a Raised Hearth Fireplace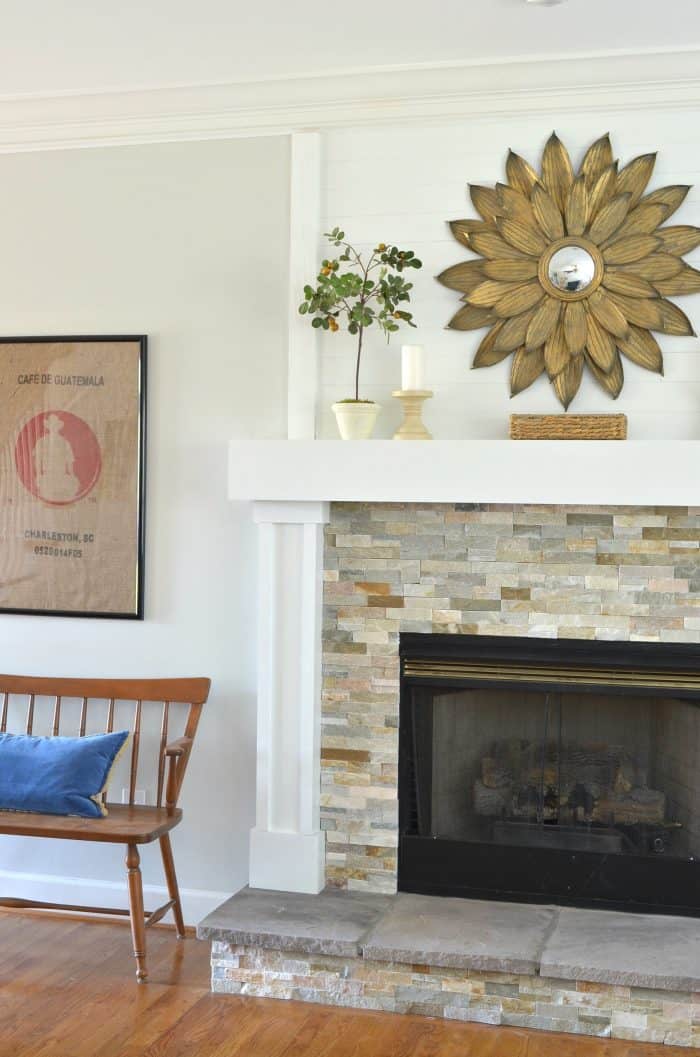 One easy way to do a chimney remodel is to raise the hearth of the fireplace. It adds a step to the room, creating more texture and lines to the space. In this case, some large cut stones have been added to the step, with the underside done in the same brick pattern as the fireplace.
The raised hearth is also a great place to add some decor items, like a plant or a bucket of logs.
Go Classic With Columns and Marble
This is a classic and stately fireplace done in black, with contrasting white marble for the step and contour of the fireplace. The sides of the fireplace are set up in two columns with a wide mantel for decorations.
The result is a classic, almost Roman look, that would fit well in a living room decorated in that same style. Look for soft touches like a wicker basket and wreath to soften the appearance.
Use Drywall and Wood Accents for a Smooth Look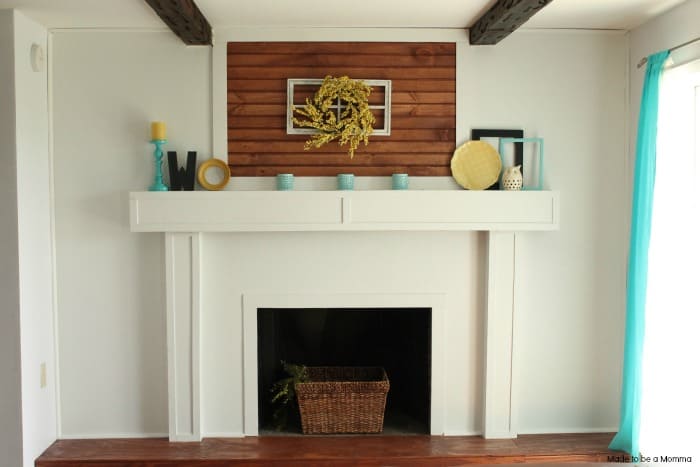 Most fireplaces stick out of the wall, but that can make a room look smaller and more cluttered. Instead, you can use drywall to make the wall smooth against the fireplace. The drywall means there are no lines, cracks, or brick marks.
To spice things up on the smooth wall, the wood paneled accent wall above the fireplace makes for a lovely change from the usual mirror or artwork that's found in that spot.
Install a See-Through Double-Sided Fireplace
This is a gorgeous fireplace, perfect to place as a dividing wall between two open-concept spaces. The see-through glass means that the light can shine through, making the room appear large and bright.
The simple fireplace in the middle adds charm and warmth to both sides of the room effortlessly. It's simple yet stunning, drawing the viewer in immediately without overwhelming.
Build an Attached Shelving Unit For an Attached Bookcase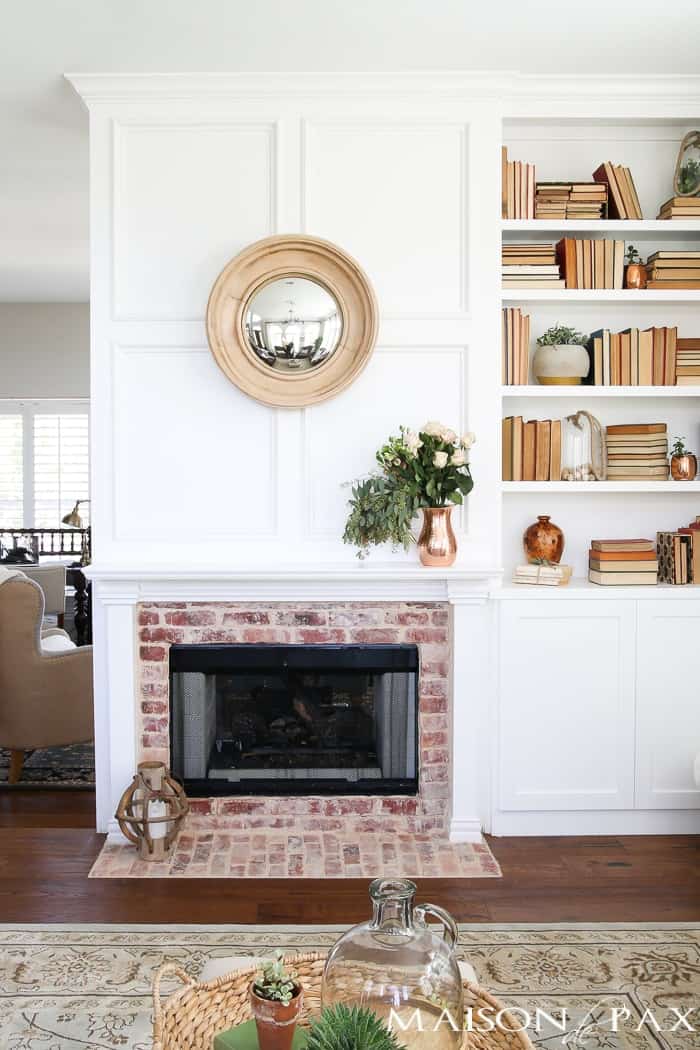 This shelving unit has been added to the side of the fireplace to keep the books away and the mantel clear.
The positioning of the shelving is great to keep the focus on the fireplace, but the fact that the shelving is made in the same style as the fireplace and mantel creates a fantastic unified look for the room.
Put a Wood-Burning Stove in the Fireplace
This is a bit of a unique approach because the wood burning stove has been placed inside a chimney. Homes usually have one or the other but not both. However, it looks great with the wood burning stove keeping everything neat and put together, contrasting the black of the stove to the fireplace. The final effect is cheerful and warm with a touch of farmhouse chic.
Add Cheerful Seasonal Decor to Brighten It Up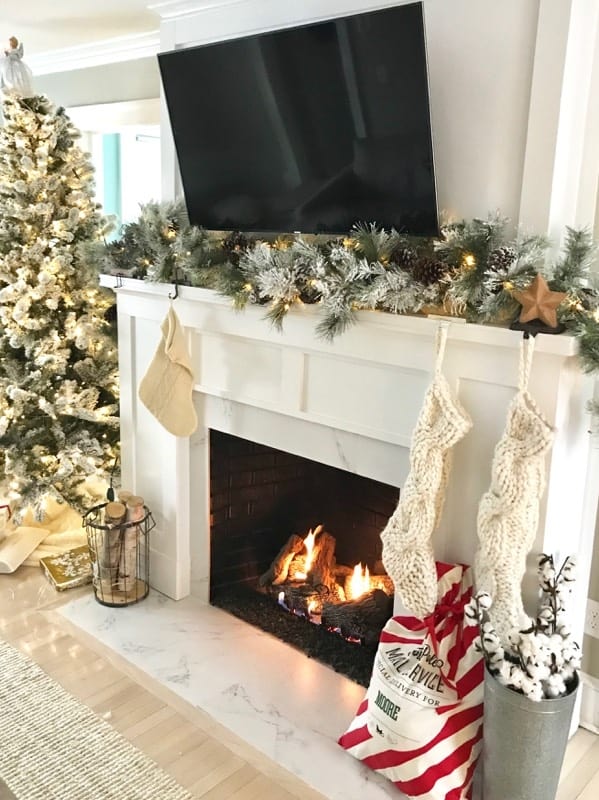 The fireplace and mantel is a great place to add seasonal decor, whether it's spring time and you want to put up fresh flowers and pastel colors, green and red over the holidays, or fall colors during the fall. It's easy to spruce up that space and make your fireplace appear brand new.
In this example, a few lovely touches of frosted winter greens make the stark white of the fireplace appear more cheerful.
Use the Mantel as a Focal Point for Art or Books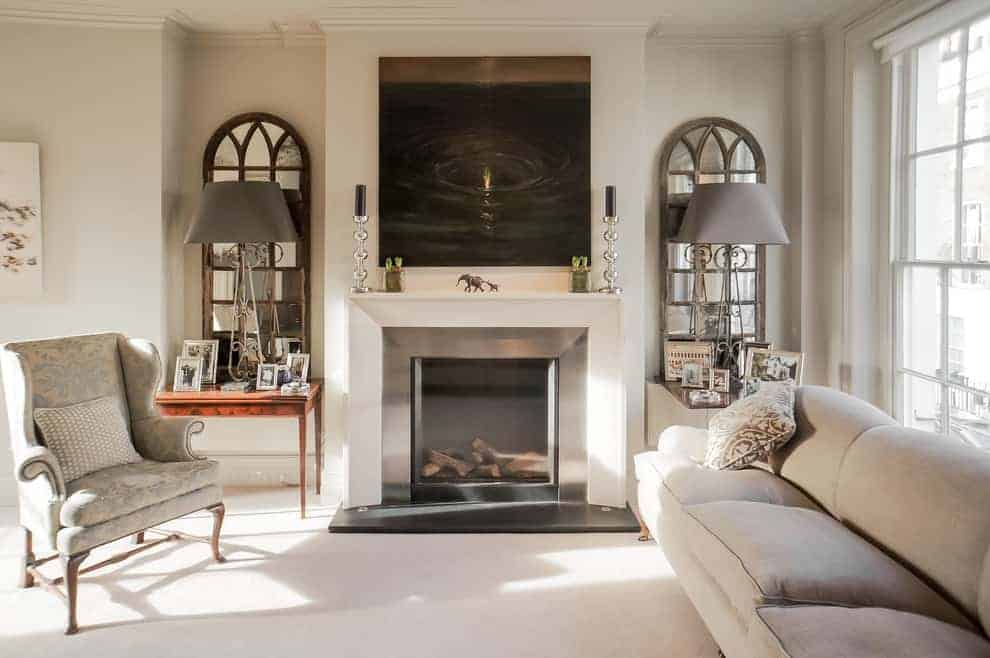 The mantel piece is a great way to enhance a fireplace for a more affordable fireplace renovation. It's a great place to add some artwork, some books, or a mirror. You can also look for plants to add some color.
In this example, a large stunning painting draws in the eye immediately, and the homeowner has only added a couple of pieces to the mantel to avoid detracting from the artwork.
Paint It White For an Inexpensive and Classy Renovation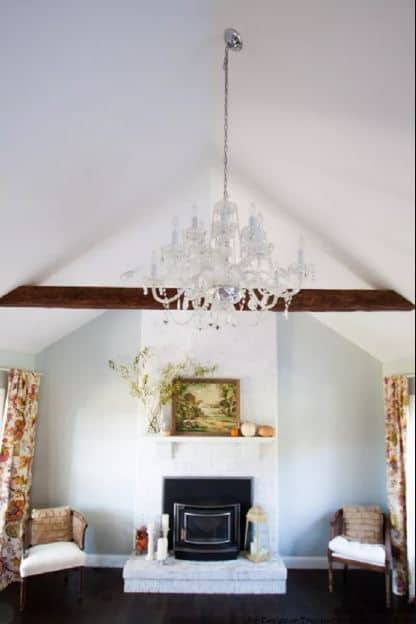 Possibly one of the cheapest remodel ideas out there is simply repainting your fireplace. White is a great color that makes any space look fresh and bright. Painting a brick fireplace isn't exactly the same as painting a wall though, there's a bit more to know ahead of time.
To paint your own brick fireplace, there are some tips and tricks you should know. To help you, here's a handy guide put together by Sherwin-Williams.
Get a Natural and Affordable Look With Stone Veneer
This is a great idea for those who want to have a stone fireplace but have a smaller budget. The good news is that doesn't mean you can't get your dream fireplace makeover.
Instead, look for a stone veneer to have the same finished effect. In this example, it would be very difficult to know that it's not actually real stone.
Use Uneven Stones For a Rustic Look
A lot of fireplaces surrounded by brick use straight even bricks for a neat and classic look. However, using uneven stones as bricks can have a great rustic effect, as we can see here.
Stone fireplaces often look very charming and rustic when paired with a roaring hearth fire. This type of remodel is best done with the help of professionals since a lot has to go in to achieving this look.
Add Contrasting Colors to Make It Pop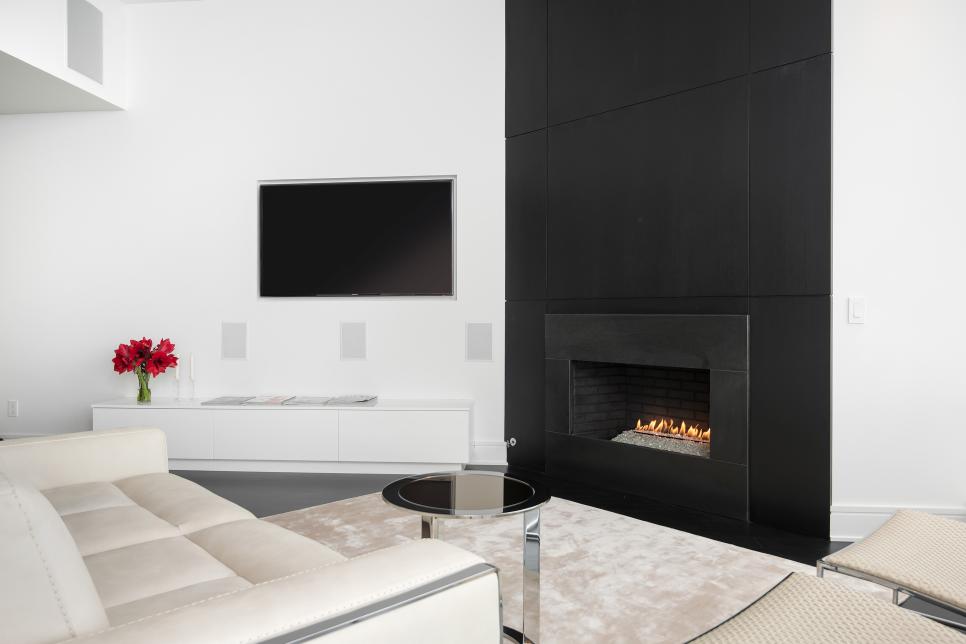 This modern and stark fireplace on a pure black wall is a nice contrast to the pure white of the room. It's an ultra-modern and sleek look, and one that you can look to recreate in your fireplace remodel if you have the furniture style to pull this off.
Look For an Ornate Carved Frame to Stand Out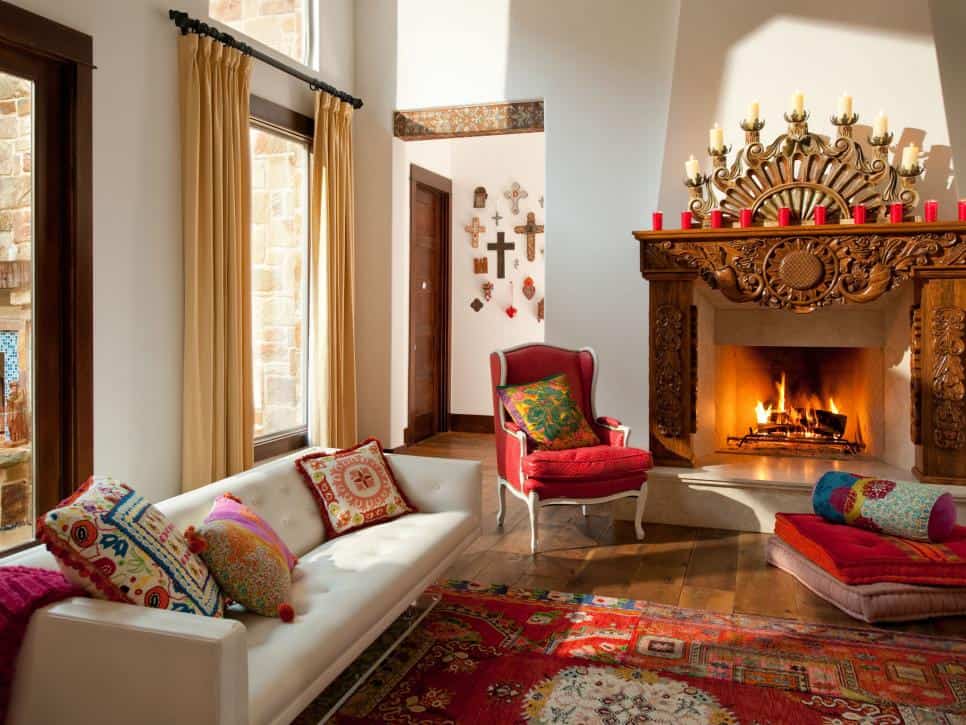 This antique wooden frame is elaborate and glamorous. It looks like it's straight out of an old home or mansion and makes a great statement piece for a home. With a fireplace frame like this one, you don't need much in terms of art and decor because it speaks for itself.
This is excellent for a home looking for a rustic or country style, with a lot of neutral colors and old wood and vintage pieces.
Create an Accent Wall With Tiling
This idea combines two other ideas we've seen previously: adding tiling as an edge to a fireplace and creating an accent wall from the fireplace. In this case, the tiling makes the full accent wall, to make a statement and add some color to the room.
It's different than most homes, but tiling can go quite well on the side of a wall around a fireplace, as you can see.
Channel Glamor With a Mirrored Contour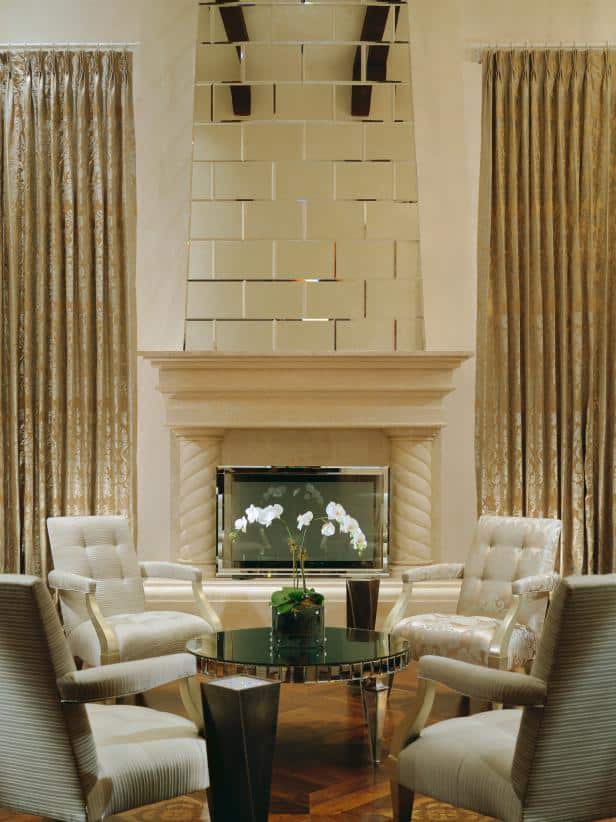 This mirrored edging of the fireplace adds some glamor and appeal to the room, making it an interesting choice for a fireplace makeover. Mirrors also have the added benefit of making a space appear larger than it is, so this is a great way to go for people with smaller living rooms.
This is also a relatively inexpensive remodel because mirrored accents can be added easily to an existing fireplace.
Be Unique By Getting a Round Fireplace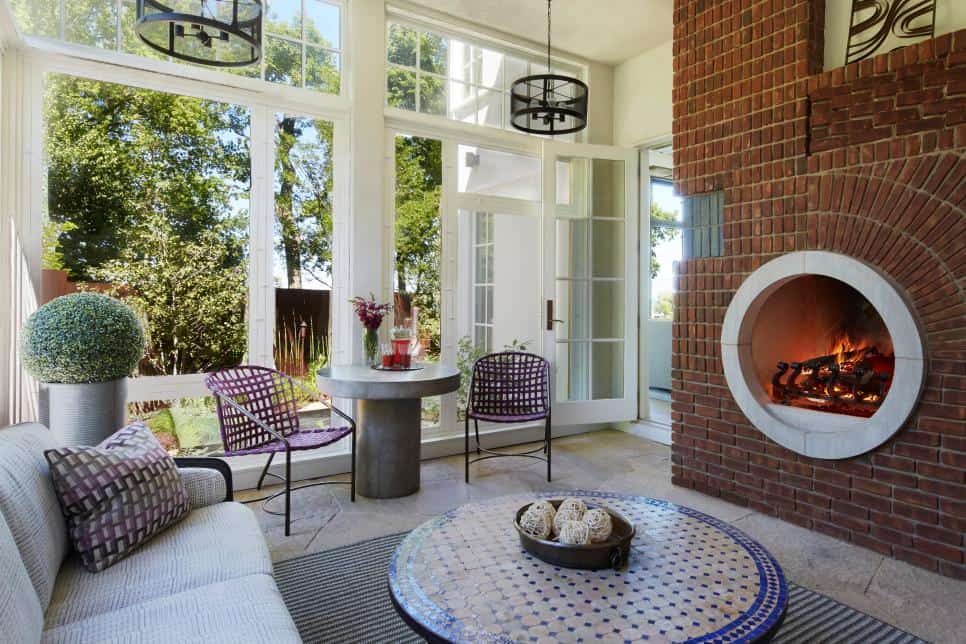 This adorable circular fireplace is completely different from any other, making a refreshing change from the usual square or rectangular fireplaces.
It's great to put in the middle of a brick wall, like here, especially if you're not sold on having a mantel or shelves, as those straight lines will detract from the unique circular nature of the fireplace.
Summary
Starting a fireplace remodel is an involved process ait's important to make sure you follow all the right steps. You need to check that everything is working well to begin with. That includes the trim, the mantel and the inside of the fireplace, which need to be checked for cracks and weaknesses.
Once it's clean you can start the remodel, whether it's for small touches or a complete overhaul. Now that you've gotten some inspiration from all these different and unique look, which of these gorgeous fireplace remodel ideas will you base your chimney makeover on?