17 Scrapbook Paper Storage Ideas
Scrapbooking is a great wintertime or rainy day project. It's easy to accumulate a load of paper and supplies, though, which means your craft space can easily get out of hand. And that means you can't do those craft projects you love.
So, we highly recommend finding the perfect scrapbook paper storage for your exact style and space. From cubbies to desktop organizers, these options should meet your needs.
Turn an Old Inbox Into a Paper Box
This is a super easy and rather clever DIY paper storage idea. Take someone else's work and turn it into a super easy way to store your scrapbook paper!
You'll just need to find some stackable inbox segments to create this storage and have a stable place to set it. We'd recommend using a solid piece of furniture, like a desk against a wall, or similar, to stabilize the stack.
The great thing about this craft paper storage idea is that you can stack as many or as few as you like to fit whatever space you have available.
Buy or Build a Compartment Cubby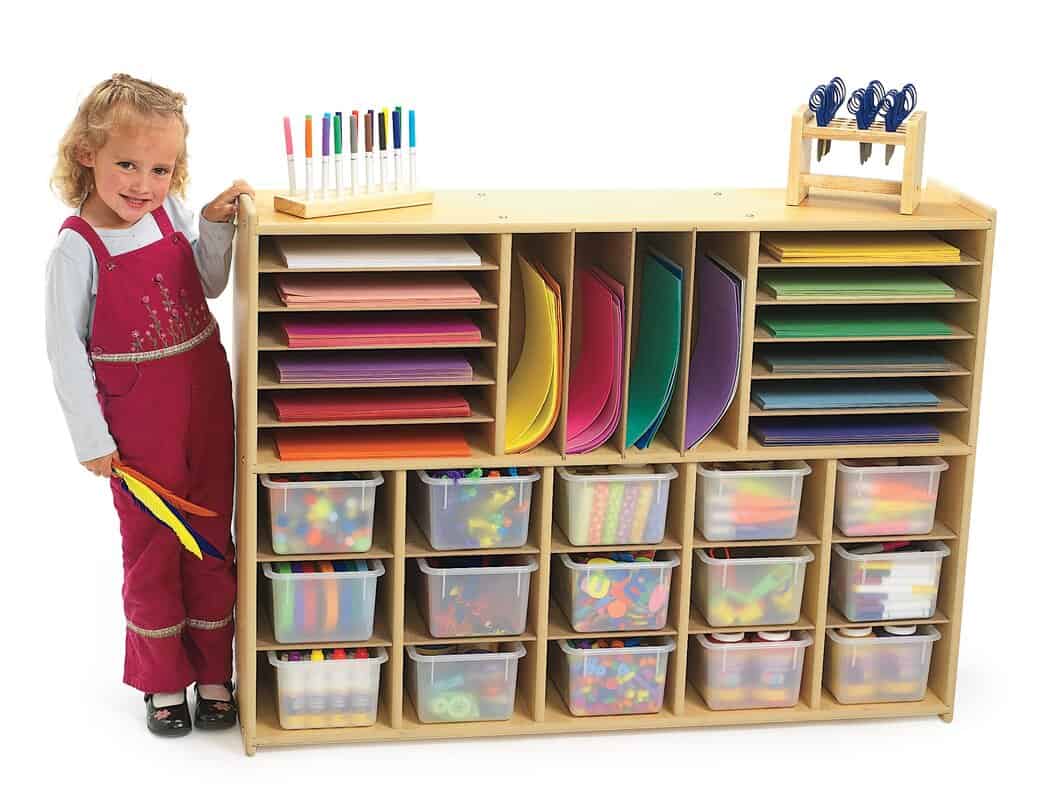 Another option is simply buying a great compartment cubby piece, or if you're feeling handy, building one. You can find exactly the size you need at a great shop, or, again, if you're building it, you can customize it to your needs.
Colored Folders for Keeping Everything Visually Organized
For the visual learner, using some colored folders to organize your craft supplies is a great way to do it. You'll need a shelf or bin to store them in, and, depending on the number you have, you might want to use some bookends to stabilize the folders into place.
Decorate a Crate for Pretty Storage
For a pretty craft paper organizer, locate a crate, buy some paint in your favorite tint, find some nice decals or stickers, or a stencil, and decorate! This fun crate option will blend into any craft room or living room corner if you've got limited space.
Put Some Labels On Binders
If you've got some shelf space, you can buy some plain binders and label them clearly with your scrapbook paper notes. You can do simple, like those seen here, or you can add some details. Just be sure that your inventory or notes are not permanent, since you're unlikely to always have exactly the same supplies.
Put Together Some Modular Wire Shelves
For your 12 x 12 paper storage, think wire modular shelving units. You can build the unit as much as you need for your craft room, living room, storage closet, or wherever else you've got to store the paper. Let the unit tower, build up two towers, or whatever works best. Ideally, have casters on the base level to make moving the system around easily.
Upcycle a Hanging Closet Organizer
An easy and fun way to keep your scrapbook paper shelves available, but out of sight, is upcycling an old hanging closet organizer. It's basically a shelving unit at a much lower price. You can buy a large unit, or several smaller units, to store all that paper in. Just make sure the measurements suit the sizes of paper you have.
Label Some Plastic Bins
Another easy option that requires little effort but adds a lot of value is purchasing some thin plastic bins. You can easily print out some labels and stick them on with some glue or tape, and keep them organized by color, theme, or size, depending on your personal style.
Use a Magazine Rack
If you've got an old magazine rack on hand or can find one at a local thrift store, you've got an easy option for organizing your craft paper. You can add a fabric "bag" as a liner, construct a cardboard liner, or use file folders to keep things in order.
Find a Tabletop File Organizer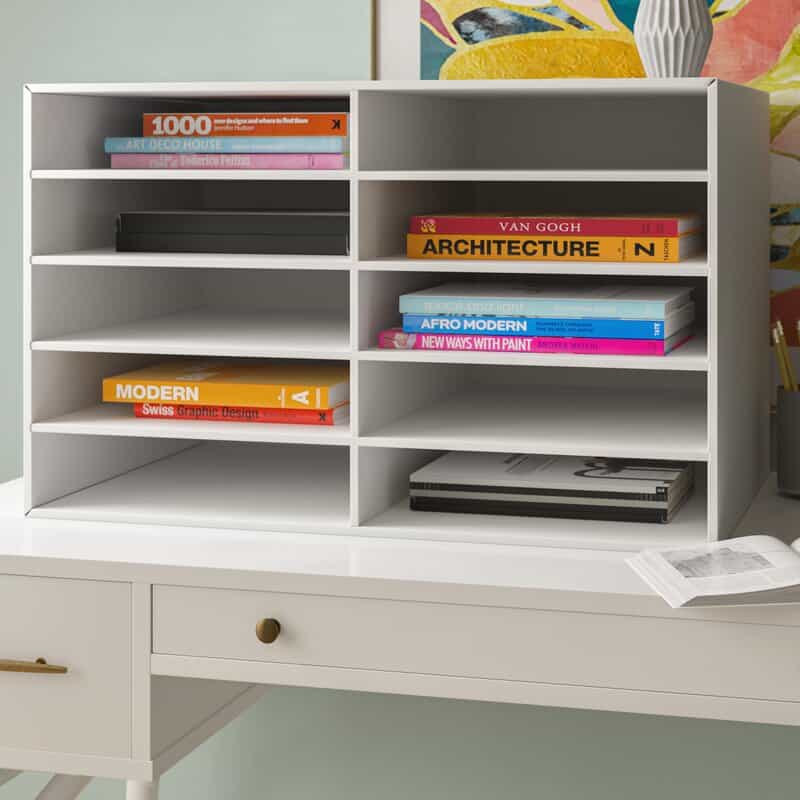 One of the easiest things you can to organize scrapbook paper, if you don't have a ton, is finding a tabletop paper cubby. They're available on a lot of different retail sites, or, if you're handy, you could put one together with the help of a tutorial.
Buy a Paper Storage Rack
Or, a similar option, is using a file organizer. You might be able to find one at a local thrift store or on freecycle.org. Or, you can purchase one from the local office supply store. Easy as that. We'd recommend organizing your papers within the rack by color or theme to make things easy.
Convert a Cubby Unit
If you have a lot of scrapbooking and crafting supplies, you might want to invest in an entire cubby unit. You'll find these cubby units offer a variety of sizes and shapes or with uniform cubbies like this one. Be sure to find some cardboard dividers to help keep everything divided and visible.
Install a Wall-Mounted Paper Storage System
If you need to save some space while still allowing yourself plenty of room in your scrapbook paper organizer, a wall-mounted storage system might be a great option. There are number of ways you can create one, or you can purchase a wall-mounted file system.
Upgrade Your Hanging File Cabinet
If you already have a hanging file cabinet, you can use your existing cabinet to create the perfect, easy scrapbook paper storage system. We'd recommend getting some color-coordinating tabs and folders to make sorting your supplies super easy.
Use Some Cardboard Magazine Files
If you have shelf space to use but not a load of money to invest in storage, you can find some inexpensive cardboard magazine files at stores like Staples or OfficeMax, and use these for your storage.
They're nice for uniformity and come in a wide range of colors. You can match them to your themes or colors for your paper or choose a single color to keep things as clean looking as possible.
Upcycle An Ikea Shoe Holder
An interesting option is this upcycle project using an Ikea shoe holder from Hey Let's Make Stuff. The tutorial requires use of a cricut to make the components. Once you've whipped it up, you'll find neat, clean storage that is easy to sort through is on hand.
Make Your Own from Scratch
Or, if you're all about doing everything from scratch, you can custom build your own setup. This tutorial from Positively Papercraft is easy to follow and requires some basic supplies. It takes an hour or two.
Quick and Easy or Build it From Scratch
Whatever your style is, you'll find that storing your scrapbook paper isn't so hard. You can easily organize by color, theme, or anything else that makes sense for your crafting style. Most likely, you'll want to combine a few options to ensure you've got the perfect setup for all your supplies.